Delta In-Flight Meal/Food Service: The Definitive Thread — 2018/2019 Edition
Sep 2, 20, 7:42 pm - Wikipost
| | | |
| --- | --- | --- |
| Please read: This is a community-maintained wiki post containing the most important information from this thread. You may edit the Wiki once you have been on FT for 90 days and have made 90 posts. | | |
Jan 1, 18, 10:43 am
Join Date: Jul 2015
Location: St. Cloud, FL
Programs: DL PM, UA Silver, Marriott Titanium, Hertz Presidents Circle
Posts: 3,070
Delta In-Flight Meal/Food Service: The Definitive Thread — 2018/2019 Edition
---
Same Thread as last year, just for the new year. Post your meals that you receive on any DL flights or questions you may have regarding meal service.
Jan 2, 18, 12:43 pm
Moderator: Delta SkyMiles, Luxury Hotels, TravelBuzz! and Italy
Join Date: Oct 2001
Location: Los Angeles
Posts: 25,611
This is the current thread and wiki on this topic. Happy 2018
Obscure2K
Delta Moderator.
Jan 4, 18, 7:10 am
Join Date: May 2015
Location: DCA
Programs: AA Gold, DL PM, UA Silver, Hilton Diamond, Marriott Gold
Posts: 5,954
Breakfast service on 700-899 mile AA flight. DL would be well served to offer something like this on flights over 600 miles. When it comes to premium feel and service in domestic first, AA demolishes DL.
Jan 4, 18, 8:19 am
Join Date: Jun 2007
Location: Toledo, Ohio
Programs: Delta, Marriott
Posts: 387
Jan 4, 18, 8:43 am
Join Date: May 2015
Location: DCA
Programs: AA Gold, DL PM, UA Silver, Hilton Diamond, Marriott Gold
Posts: 5,954
Jan 4, 18, 5:55 pm
Join Date: May 2015
Location: DCA
Programs: AA Gold, DL PM, UA Silver, Hilton Diamond, Marriott Gold
Posts: 5,954
The gluten-free pretzels are back, with a new recipe.

They are somehow worse than before.
Jan 4, 18, 6:06 pm
Join Date: Oct 2011
Location: CLT
Programs: Pre✓, Delta PM, Hilton LT Diamond, Mariott Plat, PC Gold, National EE, Hertz PC
Posts: 1,332
Great way to start the DELTA In-Flight Meal/Food Service thread off with the profile of an AMERICAN Breakfast...

... Just sayin'

But, yea, that is pretty pathetic.

Is there a rule here about quoting images in a reply? It really unnecessarily lengthens a thread. I prefer not to scroll past an image more than once.
Jan 4, 18, 6:32 pm
Join Date: Mar 2010
Programs: DL GM, Bonvoy Gold
Posts: 8,120
Jan 4, 18, 8:04 pm
Join Date: Jul 2011
Location: ATL/PDK/LZU
Programs: DL KM, GlobalEntry, TSA Pre✓, CLEAR, Honors Gold, Marriott Gold
Posts: 1,849
DL 26, ICN-ATL, 1 JAN 2018
Seat 10A
Good crew on my side/cabin. Korean FA was extremely polite and efficient and the purser who also helped out on my side was personable and friendly throughout. Got the Korean mean and was not disappointed. Tasty bibimbap and banchan. Apps were okay, with the asparagus rolls being exceptionally tasty. Mid-flight burger was removed from the bun by me as I assessed that to be a mess waiting to happen and a soggy one at that. It was okay with the toppings and ketchup/mustard added, though I would have liked mayo. The potato salad was fine, but very more like a cold, well-seasoned mashed potato than anything. The snack basket was nicely stocked during the flight so no worries on that. Good munchies available. Pre-arrival teriyaki chicken was actually very good, despite appearance. Probably the moistest chicken I've had on a plane before, and the veg atop it were all tasty and not overcooked/mushy. Rice was meh, but improved greatly by the gochujang and a healthy dose of salt.
Good flight, and while these seats are definitely aging (according to
longboater
they'll be gone entirely sometime around Q4 2018 and replaced with the nice suites I got on the way over), it was way better than sitting down back would have been I'd imagine. I slept about seven hours I think, but tossed and turned a few times due to the less comfortable seat padding.
Nuts and beverages to start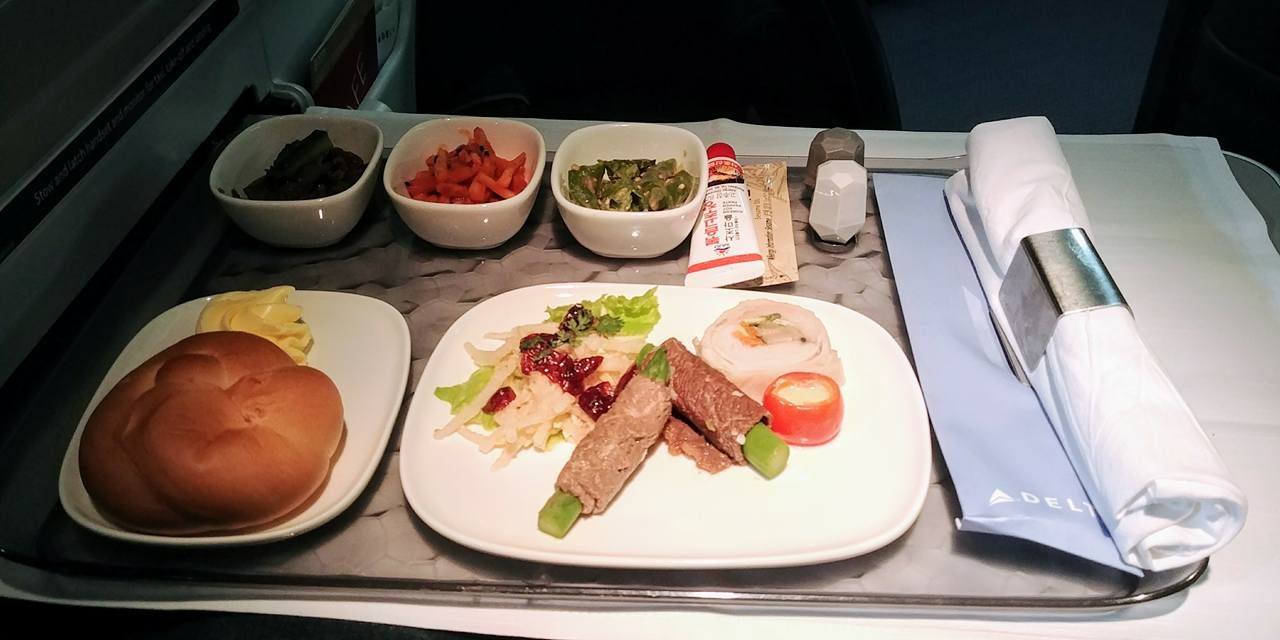 Starters: Pear and Chestnut Salad with Pinenut Dressing and Dried Cranberries, Asparagus and Ribeye Beef Roll, and Chicken and Vegetable Roll Banchan of Braised Cucumbers, Spicy Bluebell Root Salad, and Green Pepper with Soy Bean Paste
Winter Bibimbap with Beef and Assorted Vegetables served with Steamed Brown Rice, Dried Pollack Soup, Gochujang Sauce, and Sesame Oil
Strawberry Tart
Mid-flight Snack of Cheeseburger with Potato Salad
Onigiri and Chips from the "SkyBreak" Basket
Pre-Arrival of Citron Teriyaki Chicken with steamed black rice, vegetables, fruit, and chocolate
Jan 5, 18, 6:36 pm
Join Date: Dec 2002
Location: Bloomfield, MI, USA
Programs: DL peon
Posts: 521
Jan 5, 18, 6:52 pm
Join Date: Jul 2017
Programs: Hilton Gold, Marriott Gold, Delta PM
Posts: 387
Jan 5, 18, 8:02 pm
Join Date: Nov 2006
Location: DFW or Somewhere Else
Programs: UA Plt /Delta DM/ Marriott Platinum Prem./Hilton Diamond / Hyatt Globalist /Hertz PS / National EE
Posts: 1,104
Before the clowns at US Airways took over AA , American had full hot meal service on all flights over 700 miles including DFW-ATL. They used to have a nice Cheese Omelette and a plate of fruit. Delta has always sucked the worse in catering. I always find Delta the most over rated airline in every single category , especially Service and performance. American for me has been more on time and all the US Airlines suck at Service . Delta One being the worst of the 3 intl Biz
Jan 5, 18, 8:10 pm
FlyerTalk Evangelist
Join Date: Jun 2001
Programs: DL 1 million, AA 1 mil, HH lapsed Diamond, Marriott Plat
Posts: 28,192
DL, AA, and UA all use some time-of-day and flight distance/flight duration matrix for plated snacks and meals. A frequent flyer would do well to set expectations.

If one can't go three hours (generously more than an 800-mile flight + boarding time) without something more than a bag of pretzels and a piece of fruit, your nutritionist wants to have a long talk.
Jan 6, 18, 9:16 am
Join Date: Oct 2017
Location: BNA
Programs: DL GM, HH Diamond
Posts: 841
This is a fair point. I mean really in the grand scheme of things this is probably top ten in "first world problems". Perhaps "I don't get an expensive hot meal on my first class flight" should be in the pathetic complaints thread.
Or maybe I am just bitter that I am rarely in first class.
Jan 6, 18, 11:51 am
Join Date: Jan 2010
Location: Boston, MA
Programs: DL Diamond, HHonors Diamond, National Executive Elite
Posts: 2,174
Of course. But the argument here is that, on all but the very shortest flights, Delta could easily serve better snacks than chips, cookies, and candy. It seems AA's service matrix has some middle ground between chips and a proper meal, while Delta's does not (apart from the well-documented "snack" served on long, late-night flights).