Replacement for FlightTrack?
Feb 1, 19, 5:04 pm
Join Date: Jul 2018
Posts: 4
Feb 1, 19, 5:26 pm
Join Date: Aug 2013
Location: YVR - MILLS Waypoint
Programs: AC*SE100K, wood level status in various other programs
Posts: 2,335
Feb 20, 19, 4:01 am
Join Date: May 2009
Posts: 25
For a few months now I have used The Flight Tracker. It worked fine most of the time, but some weeks ago there was that one flight that got totally messed up. At first, the flight got more and more delayed. When the delay reached 5 hours the flight was cancelled. The Flight Tracker, at first, showed the delays, but later reported that cancelled flight as having operated on time.
That same flight, on FlightStats, was reported correctly. Thus, I am very eager to see how FlightStatus will behave in case of operational irregularities.
Jul 6, 19, 12:50 pm
Company Representative, Fighty App
Join Date: Jan 2018
Location: Austin, TX
Programs: flightyapp.com/get
Posts: 37
Old thread warning!
I've got pretty good news... I spent then last 2 years building the ultimate Flight Track Pro replacement, and more. I'm 100% serious, and this is from other people saying it, not me just saying that. This thread was legitimately one of the proof points for quitting my job to build it - 80k viewing (at that time) is a pretty legit proof point.
With the help of 200+ testers that fly 3x per week on average we built something really special. There are certainly some FT members on the beta.
It's called Flighty, and you'll probably see some chatter about it around here soon (hopefully!). But just wanted to stop by and say hi and let you know your dreams might be answered soon. We think launch is just weeks away. I can't post links because I'm a noob but google can find it. I'll be back around when it's available, it would be sweet to get a thread going here, with all your feedback, I can only imagine it'll be one of the Top 2-3 places to get actually good feedback.
Stoked for you all to see it. Way more info and launch soon.
Jul 6, 19, 1:07 pm
Company Representative, Fighty App
Join Date: Jan 2018
Location: Austin, TX
Programs: flightyapp.com/get
Posts: 37
Jul 7, 19, 7:48 am
I love that you spent the effort to type all that in just to contribute this inanity.
With that in mind, I would venture a guess that far more iPhone users travel and have a need for this app than Android users (going by raw numbers / percentages only) so your comment is hardly helpful.
Jul 7, 19, 1:23 pm
Company Representative, Fighty App
Join Date: Jan 2018
Location: Austin, TX
Programs: flightyapp.com/get
Posts: 37
I sincerely hope we get to build an Android version for you! That would mean that the iOS app proved there is a viable market here.
Marketshare isn't the right metric here. From a business point of view, there's really no contest:
1) iOS apps make 2x the revenue Source:
https://cl.ly/428258
2) Android is ~3x more fragmented Source:
https://cl.ly/9e0427
And as you mentioned that's on top of 3x the user base. So I'd have to reach 6x as many people on Android, after building for 3x as many OS versions, to match iOS. I know yall are sick of hearing that, but we really have no choice. (Sorry for the slow reply. I'm still limited to 5 posts per 24h on this new handle.)

Jul 7, 19, 2:00 pm
Moderator: Travel Safety/Security, Travel Tools, California, Los Angeles
Join Date: Dec 2009
Location: VNY | BUR | LAX
Programs: AAdvantage | MileagePlus
Posts: 11,694
Moderator's Note
---
Folks,
Now that we are aware that Flighty is a replacement for Flight Track Pro, for indexing and future search purposes, please let's continue discussing Flighty, its features and its business model in the Flighty thread:
Flighty - A new Flight Tracking app for iOS
Thank you,
TWA884
Moderator
Aug 11, 19, 1:35 pm
Join Date: Nov 2018
Programs: United
Posts: 10
DIY
---
I have been hoping for a FlightTrack Pro replacement and after waiting literally YEARS ... no app has ever met my complete needs like the original. The original FlightTrack was just so good and I feel like it was built for "me". Don't get me wrong, there are some very very polished apps out there, but it just falls short for me.
So last weekend, I called a friend and DIY'ed my own flight tracking app to meet my specific needs. We finished it this weekend and now I have truly custom DIY solution. Going to add a few more features and call it a day!
- Free and no expensive subscription
- No annoying ads
- No bloaty/useless features I don't want
- Clean/simple UI
- Android (for my wife) and iOS (for me)
- Organize flights by trips
- 1-click away to all the flight details of my trip while travelling (no more hunting different screens)
- TripIt integration
- Offline flight path movement
I am flying to Boston next week and cannot wait to give this a spin to see how it works online/offline.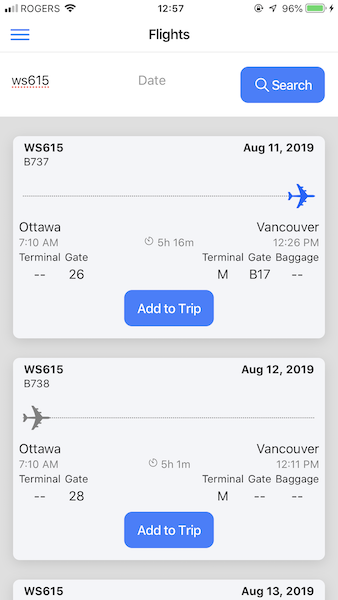 Aug 11, 19, 10:32 pm
Join Date: Nov 2018
Programs: United
Posts: 10
Sure, I will share the .IPA once I figure out how to create one. I don't have an Apple Developer account so didn't think I could create an .IPA without a paid account. This is only my first week trying to build an iOS/Android app so any help is appreciated. Would love to give you all a chance to use it.
The data is pulled from FlightAware (because it was free for developer license). Backend can easily switch to FlightStats or use both in priority order.