UA's Micronesia Island Hopper - consolidated questions, advice, ....
Jan 31, 19, 6:23 pm - Wikipost
| | | |
| --- | --- | --- |
| Please read: This is a community-maintained wiki post containing the most important information from this thread. You may edit the Wiki once you have been on FT for 90 days and have made 90 posts. | | |
Aug 12, 19, 5:52 pm
Join Date: Oct 2001
Location: Austin, TX
Posts: 9,895
Because that's how UA wrote the rule.
If you had a direct flight that didn't include HNL-MAJ, it would be CPU-eligible, but unless the legs are split, it'd need to clear as a unit, at least in advance. My experience with a domestic direct flight is that I still ended up on the upgrade list, but as
findark
pointed out, the entire thing was CPU-eligible in the first place, so it's a little different than HNL-PNI.
Aug 12, 19, 7:02 pm
Join Date: Nov 2014
Location: MSP
Programs: UA 1K, DL PM, WN, Global Entry; +others wherever miles/points are found
Posts: 9,552
Right - the rule is anything crossing the boundary from North America to Oceana is a full GPU-only route, which includes HNL-MAJ (same rules as HNL-GUM). Every other actual segment of the Hopper is CPU-eligible.

These quirks are definitely known to the station agents; I got a bit of a talking-to from the MAJ GA when flying the split-segments Hopper with a GPU applied about how we "weren't really supposed to be eligible for this upgrade" [when flying direct over MAJ to HNL] as part of a supposed apology that the upgrade didn't clear despite being the only one on the list when leaving GUM (no real service or Internet since then).
Aug 12, 19, 7:59 pm
Join Date: Mar 2014
Location: PWM
Programs: UA Silver
Posts: 844
Ok wow. I never realized that. Thanks for the clarification! Does this rule happen to be posted anywhere? LOL
Edit: Oh I just realized that because HNL-MAJ crosses regions, it is not wholly in Oceania. GUM-TKK et al. are contained within Oceania and thus, CPUable. Makes sense. To me, they're all just islands in the stream...
---
Last edited by sexykitten7; Aug 12, 19 at

8:03 pm

Reason: Edit
Aug 15, 19, 7:45 am
Join Date: Mar 2010
Location: TPE, SFO
Posts: 60
Just returned from a brief trip built around the Hopper - so glad that we (mostly myself, kinda dragged my SO) did it. This thread had been immensely helpful in term of planning, especially answers from
jsloan
and
findark
. I'll extend below later with more information and pictures, but want to jog down the information when memory's still fresh.
Booking, upgrade and PNR:
Booking the ticket - booked a mix XN/I ticket as TPE-NGO-GUM-MAJ, MAJ-GUM, GUM-NGO-TPE, with TPE-NGO on X (BR), NGO-GUM on I and GUM-MAJ on I (waitlisted). The agent who helped me with the waitlist told me that as long as one of the segments (say PNI-KSA) has I space I can clear into that, which was not the case.
Splitting PNR - called about 5 times a few days before departure, all used the "different seats on different stops" reason. Some agents flatly told me that this can't be done ("It's like you want to different seats for the first and second parts of the flight"). Two of the agents who seemed to know how to do it told me that they would need to reissue the ticket, but XN is sold out on some of the legs (KWA-MAJ) so they couldn't reissue the ticket.
Selecting different seats - at T-22 the United app shows the check-in option (only available after selecting "change seat" as the first leg is on BR), and we were able to select different seats for different segments. We were able to snatch 7AB/8AB for most of the segments except GUM-TKK. Return was the same - check-in showed up when we arrive MAJ and were able to select front seats for most of the segments.
Clearing the waitlist - called premier desk when I space showed up in some segments, but was told that I can only clear when there is I space all the way. About T-72, we were moved to JI class waitlisted for the outbound and the waitlist disappeared altogether at T-48 or so. Called premier desk and was told that we were moved to the "standby upgrade list" and the list will clear before CPU.
Upgrading - no UA agent at TPE nor NGO, so I asked the check-in counter and UC agents about being on standby for business class. Both told me that only the gate agent can do something about it due to weight control. Gate agent at GUM told me that despite business seats available for several legs (all except KWA-MAJ), we can only upgrade if seats are available the whole way. On return, the check-in counter at MAJ told us that our names were not on any of the list and we should contact Mileage Plus service after completing the trip for a refund (we did get the miles back after the trip). Our names did show up on the in-app upgrade list for MAJ-KWA, but not on any other legs. We got individual BP for each segment, and the BPs we got at MAJ had "Added to upgrade standby list" printed on them but not the ones we got at GUM. Someone saying a gate agent upgraded them after seeing that text, but no such luck for us (actually nobody really checked BPs).
In-flight:
Where to sit - 7AF/8AF have unobstructed view, and 10AF is mostly fine (the window is misaligned a bit toward row 8 but not a problem at all). 11A is missing window but 11F has one. 1/3 of the view from 12AF would be the engine. 36AF/37AF has mostly unobstructed view (although the winglets are hard to avoid). The bulkhead at row 7 has opening at the bottom and therefore unlimited legroom. Row 38 has no recline. A and F seats have entertainment boxes that are about 10cm wide. I sat in 1A for NGO-GUM and the bulkhead was far enough that I could barely touch it. The flights were quite full and we only saw a good number of empty Y seats in PNI-KSA and KSA-KWA (the return was almost full all the way), definitely not possible to move around in the cabin. J had empty window seats in all segments except for KWA-MAJ and MAJ-KWA. Most people (if not everyone except us) on the flight were not for the view, and given how friendly everyone was, I wouldn't assume any issue exchanging seats with someone.
F&B: cupcake and fruits (eastward)/sandwich and fruit bar (westward) for GUM-TKK, drinks and almonds for TKK-PNI and KSA-KWA, drinks only for PNI-KSA, and just water for KWA-MAJ.
IFE: Power available in J and Y+ (not sure about exit rows). Flight map is partly functioning (showing location, altitude but not speed). The view was amazing so the lack of movie obviously didn't bother us, but the new Spiderman safety video got annoying after about 3 times (yes Oscar we got it must be some movie since United was in it...).
Bags: all bags that remain onboard at stops needed to be accounted for. The overhead bin got very full when group 5 was boarding and some of the bags were moved to bins in J.
Airport, Wi-Fi, passport stamps:
GUM - UC was one of the best I've been to recently. A lot of options (hot dishes and fruits and bar) and plenty of seating. The seats are probably not ideal for sleeping. Didn't check out the PP lounge. Managed to clear GE, got our bags and out of the airport within 10 minutes of landing both way. The security line got crazy long for our GUM-NGO flight (lots flights to Asia departs between 7-8am it seems).
TKK - we followed the arrival line and asked an immigration officer in the arrival hall about getting passport stamps. She took our passports to a booth and stamped them, but didn't date nor sign the stamps. There was a small vendor stall selling some drinks, instant noodles and local souvenir in the departure hall. Lady's room was not the cleanest but OK.
PNI - immigration officer told us we have to go through arrival to get the stamp, but suggested the airline staff might help us get them. We went to the departure hall and asked a UA ground staff. She took our passports and got them stamped, dated and signed. There is a restaurant (Neime) where Gate 2 (yes there is a Gate 2) is,

selling burgers, fries, drinks and beer.

KSA - asked an immigration officer in the arrival hall. He took out the stamp from a booth, stamped our passports, signed and dated. The small vendor stall has drinks, some local pastry and the delicious banana chips, but the vendor told us she hasn't got tangerine for a week.
KWA - watching the plane getting fueled JP-5 by an Army tanker was quite interesting. No dismemberment for anyone (unless KWA is the destination) but the mechanic returned with some tangerine...
MAJ - didn't ask for passport stamp as we were turning around here. The immigration line was quite slow. There is a restaurant in the airport lobby (landside) that has amazing grilled tuna, and a small stall in the departure lobby. There is a post office right in the lobby so we managed to send some postcards.
Internet - open Wi-Fi available in PNI (

The "VIP Lounge" has open Wi-Fi, and if you stand by the locked door to the VIP Lounge in the departure hall, the signal should be strong enough

) and MAJ (courtesy of "Henry's Bar", accessible in most of the airport). Paid FSM Wi-Fi available in the three FSM airports. No Wi-Fi found in KWA. T-Mobile does not work in any of the islands between GUM and HNL, despite their support saying that domestic roaming is available on the "US Marshall Islands".
View from different seats:
1A (NGO-GUM)
7A (KWA-MAJ)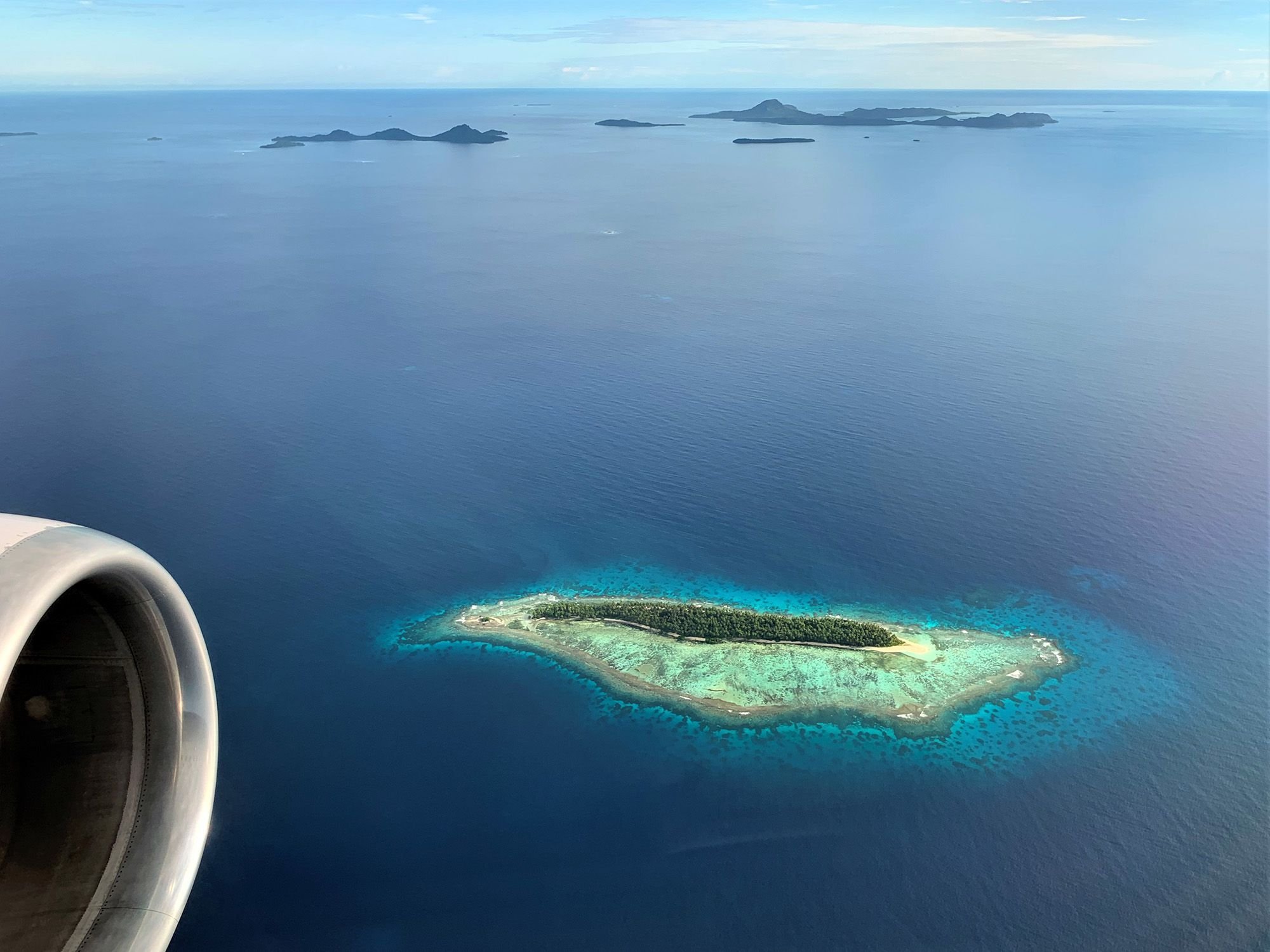 8A (TKK-GUM)
8F (KSA-PNI)
12F (PNI-TKK)
37F (MAJ-KWA)
---
Last edited by ithinkurdumb; Aug 17, 19 at

4:23 am
Aug 15, 19, 10:23 am
Join Date: Jan 2005
Programs: SQ, QF, UA, CO, DL
Posts: 1,310
I am relieved to hear they have stopped dismembering all passengers in KWA!
Seriously, thanks so much for posting all this, it helps all of us contemplating this trip. I have only done part of it and need to find the time to do the complete flight one day.
Aug 15, 19, 10:41 am
Join Date: Jun 2008
Posts: 686
Originally Posted by
md125
So here goes.
We really wanted to sightsee in Micronesia
so rather than do the hopper with maybe just one short stop or straight through, we planned a two-week trip from our home on the US East Coast with several stops in a few of the islands. My sons love history (my older one is especially into WWI and WWII history), so we made that a theme of the trip. Goals were to see Pearl Harbor, War in the Pacific National Historical Park in Guam, the Ghost Fleet in Chuuk and any Japanese ruins we could find on several other islands, along with hiking, kayaking, snorkeling, swimming and other diversions that the islands offer.
My overall takeaway is that if you are going to stop anywhere, Kosrae is one of the most beautiful places on earth and it would be a real shame to skip it. There are fascinating sights on Chuuk and Pohnpei, Guam is worth some time too, but please do yourself a favor and try and spend a couple of days in Kosrae. You won't be disappointed!
Thanks for posting this very detailed report. Very helpful! (See post
#827
- I didn't want to quote the entire report.)
Originally Posted by
ithinkurdumb
Just returned from a brief trip built around the Hopper - so glad that we (mostly myself, kinda dragged my SO) did it. This thread had been immensely helpful in term of planning, especially answers from jsloan and findark. I'll extend below later with more information and pictures, but want to jog down the information when memory's still fresh.

Thanks for posting - very helpful! (See post
#844
- I didn't want to quote the whole post.)
---
Last edited by WineCountryUA; Aug 15, 19 at

7:13 pm

Reason: merging consecutive posts by same member
Aug 16, 19, 8:42 pm
Join Date: Oct 2017
Posts: 52
Yeah, we flew west, and had stopped over for a few days in Pohnpei and Palau. No TMobile signal the whole trip. We arrive in Guam and are sitting around the airport, and suddenly our phones start blowing up with messages saying, "Caution! Your TMobile account reflects you have reached $50 of international data roaming", then a few minutes later: "Caution! Your TMobile account reflects you have reached $100 of international data roaming", Then again, "Caution! ..$200 ....", ...
We're saying to ourselves, "What the hell, TMobile?" Our phones haven't worked for the last week at all. So I actually call TMobile from Guam (20c/min) and ask and they say, "no, we don't see any charges accruing to your account. you're good." I never got charged the huge data roaming fees that the text messages suggested, thankfully, and I called TMob again when I got home to get them to take off the charge for the call from Guam (I was on hold for about 30 minutes).
---
Last edited by physics; Aug 16, 19 at

8:48 pm
Aug 16, 19, 8:46 pm
Join Date: Oct 2017
Posts: 52
Replying to Ithinkurdumb:
Nice photos of the islands/atolls! I took photos of several other little islands that we overflew but didn't stop at, and had fun when I got back home figuring out where they were by matching the island shape in my photo with google maps and the approximate time on our rough flight path.
Sep 8, 19, 11:30 pm
Join Date: Nov 2011
Location: MEL
Programs: Asiana Diamond+, Virgin Australia Gold, Alaska MVP Gold
Posts: 43
Originally Posted by
navigator4309
Thanks for the tip - that indeed looks like a pretty phenomenal way to spend a day, especially coming out of winter in Australia!
As noted, eastbound means it will be dark by Majuro, but it is what it is. I do like that going east means the longest segment is at the end, as I'll still be fresh for all the short hops in the morning. Having lived in a few places in the tropics, I also find mornings typically clearer than the afternoon as clouds and rain start to gather. Not sure if that applies here, but I'm doing my best to rationalise the compromise of Majuro being in the dark.
In reality, though, it just didn't make sense to fly westbound as I'm using Alaska miles back to Australia and was able to get a 45K flight in J on Fiji Airways. I couldn't get either J-class redemption to and from the Hopper in a way that made sense going in reverse, so eastbound it is.
Incidentally, the flight back to Melbourne heads via Samoa and Fiji, so this adventure really is shaping up to be a pretty epic Pacific island hop!
Sad to report that the above trip meant to commence tomorrow will no longer go on, thanks to a broken tailbone (30 really feels like the new 80...). Fortunately, and unlike my current efforts to sit down, I was able to cancel relatively pain-free cost-wise as this was entirely an award ticket.
Not to be discouraged or able to stomach missing out on this bucket-list item, I've already replanned for May 2020, so thought I'd share the revised plans and tips from booking as I am certainly more savvy this time around thanks to this and other forums:
1) As before, I will plan to fly the full Hopper from Guam eastbound. Upon arrival in Honolulu, I will instead continue onto the US Mainland rather than fly straight back to Australia, as it's ultimately closer and more logical to build in the annual visit to some family starting from Hawaii rather than fly back to Melbourne and re-cross the Pacific both ways later in the year.
2) As before, I was able to get a Business Saver Award on UA.com in J from Melbourne - Guam for 40,000 miles, which remains the same as last year and still great value: MEL - SIN (A350 on SQ), SIN - NRT (B789 on NH), and then NRT - GUM (B738 on UA). The final segment on UA-metal is only available in Y at the moment, but I contacted their Twitter team who, within half an hour, had me waitlisted for any J space that opens up, so with any luck, that should clear before departure. Definitely do this if booking an award in J to position to or from Guam, as it seems from the calendar that a lot of Business Saver space on the GUM-NRT / NRT-GUM route only opens up closer to departure, whereas obviously it's ideal to have the long-hauls and Hopper booked and ready to go.
3) After spending two nights in Guam, I hoped to book the Hopper stopping at all five stops en route to HNL on a Friday and then continue to the US Mainland (SGU) on one ticket to keep the miles needed limited to just 35,000 in Y. However, UA.com declined to participate in this scheme and refused to offer the Hopper as an option for the GUM - HNL sector, instead offering either only the nonstop to HNL or a backtrack to Tokyo and then onwards to the US Mainland. Suspecting this had to do with the number of segments, I called UA (four times in total), and begrudgingly gave up only after an extremely helpful and committed pmCO agent tried so methodically to marry the segments together on one ticket that she seemed more personally invested than I was to making this pet project work and nonetheless still failed.
At that point, we instead decided to break the GUM - US Mainland sector into two so as to ensure the Hopper was an option without overblowing the number of segments. Any island a few stops in would work segment-wise and at the same mileage cost, while choosing HNL would significantly increase overall mileage required. I chose Kosrae as the would allow me to pre-select a seat on the first three segments on the usually-preferable right side of the plane and pre-select a seat on the left side for the second three segments on the usually-preferable left side. This required 12,500 for the intra-Micronesia sector and 35,000 for Kosrae to the US Mainland.
So - here's to 26 May 2020.