China and Japan on TG/JL/QF Y, CX J
Jan 23, 19, 1:44 am
Join Date: Nov 2018
Location: MEL/YMML
Programs: QF Platinum, CX Silver, A3 Gold, Hyatt Explorist, Hilton Gold, Amex Platinum (VA lounge access)
Posts: 206
China and Japan on TG/JL/QF Y, CX J
---
To the FlyerTalk community, I'm fairly new to the forum, hope you guys will enjoy my trip.
This trip is already pretty crazy at the start... Leaving for China before Christmas? For what? Confused at the start, but this trip also came with 8 days in Japan, so here we go then.
Everything begins with crazy search for award tickets, I wanted to fly to Guangzhou, and it results in... nothing. Not even in THAI where availability are used to be plenty via united.com. Have to settle for Economy then... What a coincidence, still on THAI, but for A$550 one-way only.
Then it came with how to sort out return tickets. Still nothing, until I found 2 HKG-CNS Cathay Business award on ba.com. Promptly called Alaska to check it, yay, it is indeed available for 30,000 miles and tax of A$98. Since that flight only goes to CNS, have to buy another ticket on Qantas Economy to MEL for A$250, for the sole purpose of bag limits honoured (and start to requalify for 2019 Qantas Platinum)
Finally, tickets to Japan. Some community I typically go taught the intra-Asia stopover trick, HKG-HND-CAN semi-return for the price of one-way (15,000 Alaska miles p/p) on JAL, I wanted to check out how much Business costs, 25,000. For a flight of 4 hours only, don't think that extra 10,000 miles is worth it. (perhaps save some money to buy miles in exchange for few more bottle of whiskies to take home!)
This queue was just insane, and that's queue for OLCI pax dropping off bags. Pre-Christmas season I guess. Good news, my A3 Gold came in handy, took me to the (nearly empty) business class counter. Asked about upgrade by cash at the desk, and they said all seats onboard is sold out, other word, C0 Y0. No option but have to pass this offer.
Security and Passport Control already felt the squeeze of Pre-Christmas travel. Tons of pax. At least I went through quickly. After immigration, another airport that forces you go through duty free to your gate. No shortcuts to bypass them at all.
Then it came the bad news. When I tried to enter NZ lounge MEL, the lounge dragon must had a bad day or what, said this "Aegean Airlines determined that your account is now inactive due to lack of flights record with them, in order to resume your Star Alliance Gold benefits, you must complete at least 2 flights on Aegean or Olympic Air." huh, I don't think I had any plans to travel to Greece in next year. I told her "I didnt know that beforehand at all, and I have successfully used business class check in courtesy of this card. Anyway, can you grant me access for a shower only", she then said "sorry sir, our lounge is closing in 20 minutes." Alrighty then, no more debate with lounge dragon, a cup of cappuccino and a dessert hanged me over until boarding time:
Melbourne MEL to Bangkok BKK
THAI TG 462
A350-900
12:30am-5:40am
December 12, 2018
Economy 51H
A350 is a great plane, in my opinion. The same cannot be said on my seat for the next 9 hours...
Especially when the plane is 100% full...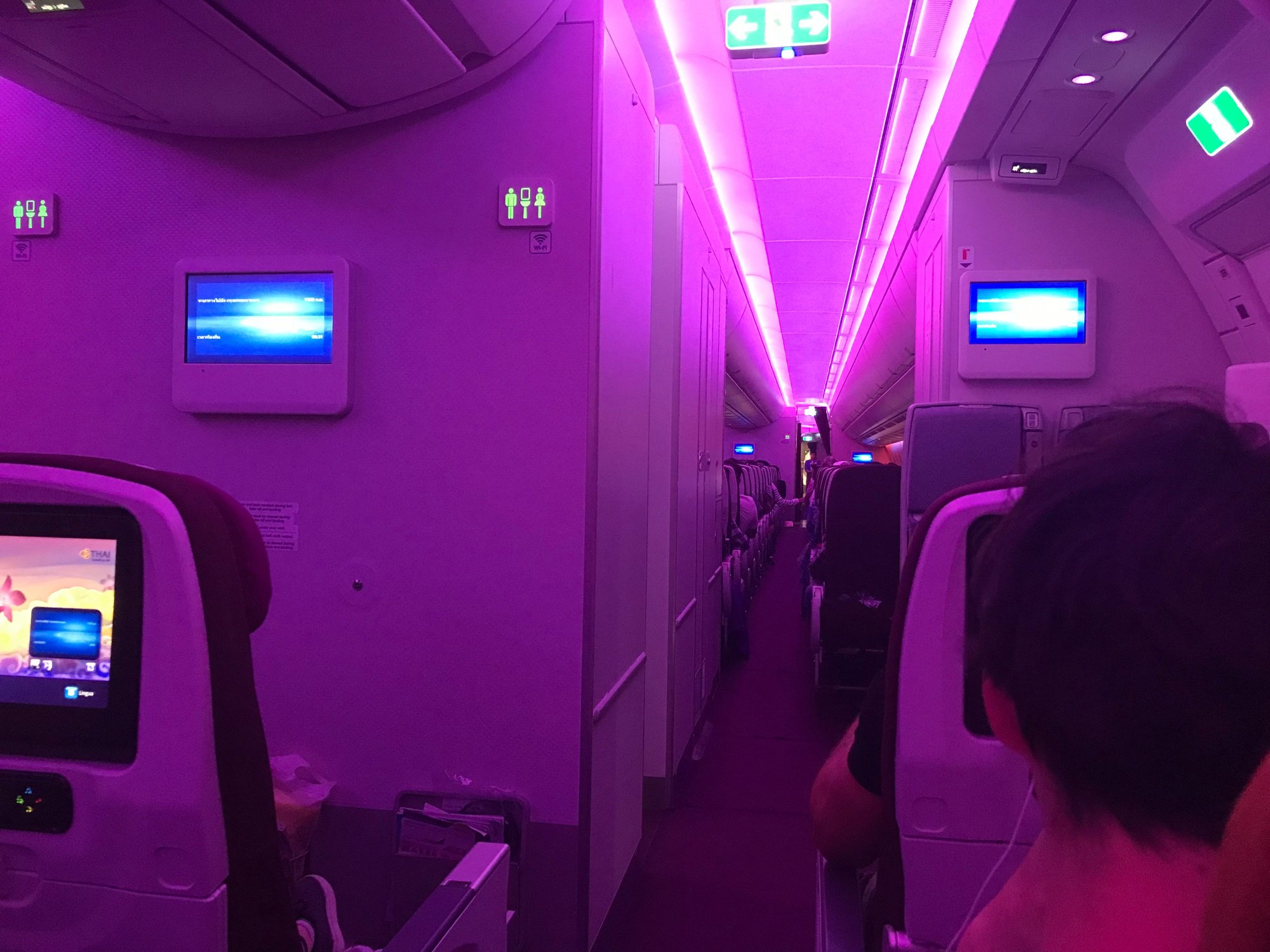 To make this journey worse, THAI's IFE is piece of crap. Handful of Hollywood films, in which none is the latest release, and a "music" folder that contains albums that I know nothing about. Wi-Fi onboard? No coverage for the vast majority of the flight. If you fly THAI next time, BYO entertainment.
Live TV, while a nice feature, only 3 channels were available though.
Live camera were available too, although the whole flight lasted in darkness, nearly useless. Photo was taken at descent.
After takeoff, we hit a crazy turbulence that halted all service until 3 hours after takeoff. I don't sleep more than 30 minutes on Economy flight, as usual. By the time meal is served, everyone fell asleep. The taste and quality of the meal, expected for any Economy flight, meh... The pasta salad was bland, the carrot cake was way too dry for my liking. The only acceptable part of meal was the salmon with cream and potatoes, and packaged cheese with crackers.
After the late dinner, with no intention to sleep, I decided to watch two movies, paid with G&T and nuts, breakfast was served. By then, it was already 2 hours before landing. Happy to report THAI served Bombay Sapphire in Economy. The breakfast was another big meh. Omelet with cheese and chive was dry and cheese-less. "Crispy potatoes" listed on the menu was nowhere near crispy. The sausages and fresh fruits was good, however.
LOL. I wish I was sat here.
Early arrival, but not in a gate. THAI must be being too cheap to pay for a bridge gate or in their words, "bus is more convenient than gate", sure, why not? Especially when weather hits 26C at 5:30AM already.
After disembarked the bus at the arrival point for remote gates, it was another long walk towards transit point. Suvarnabhumi must had one of the best interior design for any airports. Look at that, all the concrete and exposed pipelines. LOL, Classy.
---
Last edited by antebellum; Jan 23, 19 at

5:13 am
Jan 23, 19, 5:01 am
Join Date: Nov 2018
Location: MEL/YMML
Programs: QF Platinum, CX Silver, A3 Gold, Hyatt Explorist, Hilton Gold, Amex Platinum (VA lounge access)
Posts: 206
Since multiple TG lounges were packed to the brim, BR lounge closed and SQ lounge also packed, strolling around the terminal must be a good idea (and gaining lots of steps too). I had 4 hours during morning "rush hour", the lounge situation wouldn't be better anytime soon.
Full of Disney-themed duty free promotion around the airport. Meh. I'll pass that.
4 hours are pretty easy to kill... you know what? Another remote gate. Since I had chosen bulkhead when the plane was scheduled on A350-900, then swapped to 777-300ER (and exit row), and then at the gate, swapped again to antique 777-200 (perhaps just as old as JAL 777-200 I've flown on HKG-HND later on) and assigned me at a regular seat. Delayed an hour as well. After some back and forth with gate agents, they were nice enough to honour an exit row seat for me. Travel drama never ends, hah!
Bangkok BKK to Guangzhou CAN
THAI TG 668
A350-900
777-300ER 777-200 (swapped twice!)
9:40am-1:20pm
December 12, 2018
Economy 50H (Exit Row)
Another bus gate? Come on THAI. This is pathetic.
One (and only) good thing about remote gate was a clearer view of the bird.
My seat today. No one took my row, but the armrest tray table prevented me from making fake "flat bed". Hah. As usual, some obligatory evil-eye.
We must had some technical issues, no wonder why its delayed. The ground agents stayed onboard for half an hour. Some eye candy here, courtesy of THAI:
Wow. Talk about unlimited legroom.
IFE on this plane is even more (out)dated, and screen resolution is terrible. Remind you again, BYO entertainment if you're flying THAI.
Completes with a grainy bottom-view camera.
I pre-booked seafood meal on this sector, and it was pretty good this time. Smoked trout with potato salad rather than fruit for entree, and spinach linguini with mixed seafoods in creamy sauce for main. Mango cheesecake as dessert to end. One of the tastier Y meals I had.
Meh. Those aren't very comfy. For intra-Asia shorthaul? Passable, but for treks to MEL or AKL, simply not okay.
CAN opened new Terminal 2 not long ago, while the new terminal were impressive, on the other hand, it was sterile and not user-friendly, too big to navigate. Now China asks all foreigners to collect fingerprints before proceeding to immigration, and that alone takes 30 minutes already with few machines and 10+ pax deep queue per machine, and another long queue for immigration (fingerprint collection ≠ automated passport control), and compulsory baggage screening after collecting bag, in total, it takes well over an hour to leave the airport after an flight.
After all, THAI delivered what it should be, a regular experience onboard Economy Class, with no extras you can expect. The hour delay on the second segment was annoying though. Then, the ticket was only A$550, not expensive at all.
---
Last edited by antebellum; Jan 23, 19 at

5:06 am
Jan 23, 19, 10:22 pm
Join Date: Nov 2018
Location: MEL/YMML
Programs: QF Platinum, CX Silver, A3 Gold, Hyatt Explorist, Hilton Gold, Amex Platinum (VA lounge access)
Posts: 206
Guangzhou (Part 1)
---
Sure. When I checked the guide from my friend of how to get to the city from airport, ugh, take the metro... Seriously? But that costs only less than A$2, so why not? Although the train was crowded, but that's after the train left the airport. The shopping centre adjacent to Sheraton, where I stayed for the first night thanks to some leftover points.
Nice decoration. All the Christmas decoration for boosting shopping appetite (and revenues)
China must have an obsession with Apple. An authorised reseller decorated much like a genuine Apple store. LOL.
Deli & Leisure? Meh. I'll pass that.
Then I met up with my friend, who brought me for a late lunch/early dinner, looked at all the options and decided on some Japanese food. I am just too tired from two sleepless THAI flights by then.
First time seeing this. Sit-down Haagen-Dazs cafe. We ordered an ice cream boat as dessert. Nothing special, beautiful presentation though. After that, I walked back to the hotel, took a shower and crashed onto the bed and slept for solid 12 hours.
After a great night of sleep, I checked out and headed to my relatives' house. He had an empty apartment usually rented out on airbnb, but since I told him about this trip, he prepared that house for me for the next few weeks or so, free of charge. That also means register yourself at police station. Then my business partner picked me up to see his manufacturing operations. Nice automatic tea table and a Mercedes-branded tea cup? Really?
For dinner, he brought me to a local fish restaurant, not exactly the best environment, but the fish was fresh from the pond and flavourful.
Jan 24, 19, 2:28 am
Join Date: Dec 2009
Location: Bedfordshire, UK
Programs: BA Gold, Geek platinum
Posts: 1,981
Jan 24, 19, 3:25 am
Join Date: Nov 2018
Location: MEL/YMML
Programs: QF Platinum, CX Silver, A3 Gold, Hyatt Explorist, Hilton Gold, Amex Platinum (VA lounge access)
Posts: 206
Jan 24, 19, 6:32 am
Join Date: Dec 2009
Location: Bedfordshire, UK
Programs: BA Gold, Geek platinum
Posts: 1,981
Jan 24, 19, 10:12 pm
Join Date: Nov 2018
Location: MEL/YMML
Programs: QF Platinum, CX Silver, A3 Gold, Hyatt Explorist, Hilton Gold, Amex Platinum (VA lounge access)
Posts: 206
Guangzhou (Part 1 Continued)
---
Off to some mall-hopping, boring and fun at the same time. Taking the metro was a fast and cheap way to get to where you needed to go, although crowded, even on a Saturday morning, standing-room only:
First stop: Parc Central, nicer than its neighbours in terms of outdoor space. It is not everyday you see blue skies in China.
For lunch, I went to a place called Grappa's inside the centre. Nice decor and atmosphere. Apparently there's live music every night.
For main, saffron risotto with seafood, very nice.
Creme brûlée with warm madeleine and vanilla bean ice cream to finish.
After the satisfying lunch, I continued to explore...
Must be people queueing up for audition registration of a Chinese singing show or what. Time to get famous maybe? Side note, particular episodes of this show was featured on Cathay Pacific IFE.
Then the next shopping centre, with a Marriott attached. The guys built this centre managed to move an aquarium inside.
Jan 26, 19, 4:40 am
Join Date: Nov 2018
Location: MEL/YMML
Programs: QF Platinum, CX Silver, A3 Gold, Hyatt Explorist, Hilton Gold, Amex Platinum (VA lounge access)
Posts: 206
Guangzhou (Part 1 Continued)
---
For "brunch", me and my friend met up again and went for some dim sum. Pretty busy hall, although my friend said this suggests the atmosphere for this place is good.
The selections we ordered was truly delicious. Some good photos too.
After that, more mall-hopping. This time in a different location. Must be students having lunch time breaks.
Full of designer brands, and super expensive too. No wonder why the whole mall is basically empty, except the staff.
Four-storey tall fountain. Never seen that before.
A mini-ferris wheel, decoration only. LOL.
I headed back to my apartment, sorting out the trip to Japan. This time it is the hotel and internal transport. My sister went to Japan a year ago, she gave me a list of where to go, and approximately how many days. I had 9 days of "layover" on my stopover JAL flight on Alaska miles (HKG-HND-CAN, since the arrival time and departure time was not ideal, it is basically 7 days only), then it comes to this plan of how many nights: 1 (Tokyo overnight)-2 (Kyoto)-1 (Osaka)-2 (Mt. Fuji)-2 (Tokyo). I decided on Conrad over Park Hyatt for the last two nights (Only $300 per night vs. Park Hyatt which wanted over $500 per night for my date, plus my Hilton Gold was expiring soon). Otherwise, nothing too fancy.
In terms of Shinkansen booking, I found an app called Smart EX, which is run by the JR and allows ticket collection on machines at the station. It helped me a lot to book the ticket for the sectors that need travel on Shinkansen.
Jan 29, 19, 7:41 am
Join Date: Nov 2018
Location: MEL/YMML
Programs: QF Platinum, CX Silver, A3 Gold, Hyatt Explorist, Hilton Gold, Amex Platinum (VA lounge access)
Posts: 206
Guangzhou (Part 1 continued)
---
Since I had a day off from office, more walk and explore...
Compared to explores few days ago, this was obviously the older part of Guangzhou. Many buildings here existed for perhaps over hundred years now.
Mix of old and new. I asked my friend, he said back in 2010, the government wanted to show the old city to visitors coming to Guangzhou for Asian Games, then you had those investments into resurfacing with concretes and stones that looked like constructed back in the old days.
Perhaps those houses will be worth tens (or even hundred) of millions when they sold it to real estate developers.
Does KFC sells matcha soft serve now? I'll pass it this time anyway.
I walked to a nearby shopping centre. Not many people inside.
This one is for you,
sfo777
. That "go fun" in Air China lounge CTU you posted was funny, but this one? Oh my...
They had a pop-up snack street or what, I didn't try anything from the stalls, but there's nothing exotic like fried cockroach when I visited similar stalls in Beijing few years ago.
My business partner called me to join his end-of-year dinner with around 10 of his staffs. The food was excellent, especially the king crab in cheese sauce and e-fu noodles. I'll let pictures speak for themselves, mostly:
After that dinner, it's time for obligatory pre-trip packing and get everything sorted out before 9 days in Japan.
Jan 29, 19, 5:15 pm
Join Date: Oct 2008
Posts: 6,103
Are you uncomfortable that the OP may have found the person resembling (and perhaps identifying) as a man as 'eye candy'?
I think your own (suspiciously SWM) prejudices are showing.
Feb 1, 19, 10:20 am
Join Date: Dec 2009
Location: Bedfordshire, UK
Programs: BA Gold, Geek platinum
Posts: 1,981
Feb 3, 19, 3:21 am
Join Date: Nov 2018
Location: MEL/YMML
Programs: QF Platinum, CX Silver, A3 Gold, Hyatt Explorist, Hilton Gold, Amex Platinum (VA lounge access)
Posts: 206
Feb 3, 19, 4:18 am
Join Date: Nov 2018
Location: MEL/YMML
Programs: QF Platinum, CX Silver, A3 Gold, Hyatt Explorist, Hilton Gold, Amex Platinum (VA lounge access)
Posts: 206
Off to Japan on the first day of 2019
---
The first news in the morning, also probably the biggest mistake in my life. Forgot to book that. $800 DAD-JFK RTN First Class. Apparently the cheapest way to "buy" Alaska miles. 60,000 miles for under $900, 1.4c each. No limits on how many miles you "buy". LOL.
Since this flight to HND originates at HKG, and 2 other colleague also need to get to HKG to fly to CTS (seems like they had better holiday in Japan than mine). they arranged a van to take 4 of us to HKG. Unfortunately, we hit some problem. The bad traffic... this is only one part, we hit more later. Since doing OLCI and select seat is tough on JAL, that means we have to go to the airport. No time for lounge this time
Once you crossed into Hong Kong. Not much traffic at all.
Unfortunately, we arrived at the airport at only T-75 due to the heavy traffic for the first part of trip. Check-in took another 20 minutes since the contract check-in dragon having a hard time checking my ticket. First, my passport out, she said "Sorry sir, I cannot find your reservation. Please show your itinerary and then I can proceed." I showed her the itinerary and she disputed "sir, the document you showed was not an itinerary, but a receipt for your Alaska account activity, which is not sufficient for you to board the plane". We waited for another 15 minutes as she called Alaska agents over the phone, and the good news in the end... it is confirmed. Now it's too late for lounge, even the Qantas lounge (where JAL pax supposed to go to) right after the immigration.
Hong Kong HKG to Tokyo HND
JAL JL 26
777-200
Sked: 3:35pm-8:25pm
Actual: 3:50pm-7:50pm
January 1, 2019
Economy 55K
Economy (no status) line had only 10 waiting, as opposed to Emerald priority line, which had at least 40 waiting. Almost everyone flying today holds at least
one
world Sapphire, I guess? My LATAM Black (matched) and Qantas Platinum didn't cut the queue for me today.
The bird today. Antique (relic) 777-200. Just as bad as that THAI 777 I flown few weeks ago.
Would I pay extra 10,000 miles for this dump? No thanks.
Did I expect this old dump to have Premium Economy? JAL (and ANA) is unique for having lounge access to Premium Economy pax. This wouldn't apply to me today anyway.
Wow. Talk about an even older IFE then THAI. This one don't even have touchscreen. At least our flight is only 3 hours though (typically 4 hours).
Qantas Dreamliner. They're stingy in international award space. If you use Qantas Frequent Flyer, it's even worse. A$500 of fuel surcharge for one-way MEL-LAX. For anyone wondering, that SQ A380 are equipped with 2007 Suites, which I think it's still better than the new 2017 Suites.
Meal time. Only one choice today. Pork rice with vegetables. It was tasty though. Washed it down with some ice cold Green Tea (not the sugary ones, just pure tea)
The best part of any Y meal.
Beautiful sunsets on the way.
At least we had a pretty quick flight today.
Tokyo, here we go again. The real purpose is a quick overnight before continuing to Kyoto.
We parked next to a Qantas at HKG. Now we parked next to another Qantas 747 at HND?? Really? Or it could be just by accident only.
HND is pretty efficient at this hour despite multiple flights from China and an ANA from ORD arrive at same time. Only takes us 20 minutes from off the plane to waiting the train to our hotel.
---
Last edited by antebellum; Feb 3, 19 at

4:34 am