Two weeks in Newfoundland and St. Pierre
Feb 19, 19, 11:56 pm
FlyerTalk Evangelist
Join Date: Apr 2001
Location: nyc
Programs: Marriott Silver, Morton's VIP, Awesomeness EXPLT
Posts: 12,768
Two weeks in Newfoundland and St. Pierre
---
Looking at doing a trip upto Newfoundland and SPM this summer as I've always wanted to go, and the only taste I've had of NL is having the last leg of the LHR-YYT-YHZ flight cancelled many years ago. Any suggestions for a two week trip? I know I want to spend sometime in St. John's and also want an overnight in Gander to check out the aviation museum as well as sometime on St.Pierre. Fogo Island looks incredibly beautiful as well, but wasn't sure if it was worth the trip from Gander if you're not staying at the fancy inn? Curious to hear any awesome thoughts you may have! Thanks in advance!
Cheers
Howie
Feb 20, 19, 6:53 am
Join Date: Jan 2006
Location: YYZ
Programs: AC, SPG, HH
Posts: 578
Assuming you'll have a car for the two weeks, make your way over to the other side of the island to see Gros Morne National Park. It's a seven hour drive and you can pit stop in Gander for the the aviation museum. Two weeks will let you see plenty. If you haven't booked your flights yet, I would suggest going around the time of the Regatta, North America's oldest sporting event. It is scheduled on the first Wednesday of August, but plan for a few days in St John's around then since if it rains they postpone to the next day. It is not the fanciest of events, but gives you a look into the heart and soul of that wonderful province. However, late spring and early summer is best for viewing icebergs.

My favourite activity in St John's was walk up to Signal Hill from downtown, and on the return took the trail down along the coast and through the mouth of the harbour. You exit through the Battery district.
Feb 21, 19, 12:42 pm
Join Date: Jun 2011
Location: NYC
Programs: AA GLD, AC
Posts: 2,399
On the way to Fortune (the town where you get the ferry to St. Pierre), there's a very pretty little town called Grand Bank. I stayed a few nights at the Thorndyke B&B there, and it was first-rate - great accommodations, perfect location right on the water, excellent breakfasts, and charming, friendly family owners. The town itself is full of beautiful old buildings and a pleasant-enough museum. However, dining options -- like most places in Newfoundland other than maybe St. John's -- are sort of a throwback to what you might have seen in the 1960s, hearty comfort food and frozen vegetables.

I've never gone to St. Pierre & Miquelon -- I decided against it because it would have required more traveling and to be honest, the main reason for going would have just been to get a new passport stamp. I'd be curious to hear a trip report upon your return.
Feb 25, 19, 6:26 am
Join Date: Jan 2009
Location: YOW
Programs: AC E75
Posts: 730
Up to you if you want to make it to Fogo or not, I would argue that you'll have as good or better experience visiting Twillingate without having to deal with the uncertainty with the Fogo Island Ferry. Don't plan to spend much time in Gander, really just a hub for area and not much to do.

As others have said, you could go to the west coast with that amount of time, but it is a lot of driving. I would probably focus on the east coast, maybe go down around the Irish Loop during your St. John's time or visit Trinity/Bonavista as part of the trek to St. Pierre. In and around St. John's, you can go whale/puffin watching in Bay Bulls, hike around Signal Hill/Battery, visit Cape Spear, the Rooms, etc. Plenty to do to fill the time.

Be sure to be prepared for nice and not so nice weather. Summer in St. John's can be beautiful and it can be cold, wet and very windy.

If you have other questions, would be happy to help. Originally from YYT and have spent a lot of time in YQX.
May 7, 19, 12:50 pm
Community Director
Join Date: Oct 2000
Location: Anywhere warm
Posts: 29,564
I'd like to piggyback on this thread. I am in early stages of planning a trip to the Fogo Inn, flying into St Johns and driving from there
How long does St Johns deserve?
Is the Irish Loop a day trip from St John's? I'm still googling, but is there a good link describing it?
Is viewing whales seasonal?
Still figuring out The Rooms - as a visitor, is its value as a museum or is it more?
I'd love to learn more from you, @
YZF_Elite
If anyone has experience with the Marriott properties in St Johns, please help in this thread:
Marriott Bonvoy Hotels in St Johns, Newfoundland
---
Last edited by SanDiego1K; May 7, 19 at

1:48 pm
May 7, 19, 1:44 pm
Community Director
Join Date: Oct 2000
Location: Anywhere warm
Posts: 29,564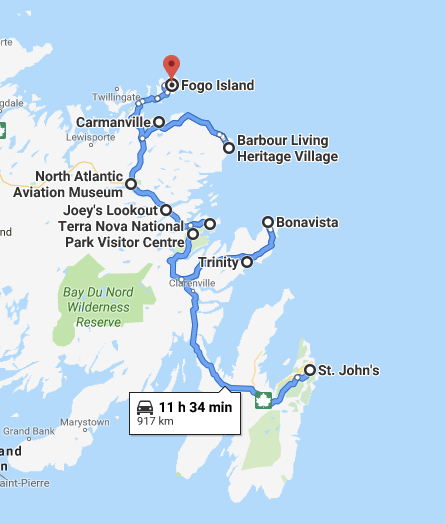 What we see on the drive from St Johns to Fogo Island. Is it worth a stop one direction?
Sightseeing suggestions I've found along the direct route north:
Terra Nova National Park Visitors Centre
Joey's Lookout, Gambo
North Atlantic Aviation Museum, Gander
Eat at Mary Brown's chicken and taters - seems to be a chain with several locations. Is it good?
Are there other places to stop and see? I've read a number of cautions about moose on the road.
As for a one night stop, I've seen suggestions of:
Eastport, a short distance from Terra Nova National Park Visitors Centre - is there anything to see or is it simply a place to break the drive?
Trinity - supposed to be a scenic fishing village with B&Bs such as Artisan Inn and Vacation Home & Twine Loft Dining Trinity, Newfoundland
Bonavista - beyond Trinity - is it worth the additional drive? Is so, where is there to stay?
I've also seen suggestions of driving east in the bulge of land just below Fogo Island to the Barbour Living Heritage Center in Newtown. There appears to be a loop from Carmenville to Gambo via Newtown. Thoughts? What would be more interesting, this loop or driving out to Trinity/Bonavista?
May 10, 19, 1:47 pm
Community Director
Join Date: Oct 2000
Location: Anywhere warm
Posts: 29,564
I've made some decisions. Heading north, we'll spend a night in Twillingate. Does anyone have ideas about what to see/do/stay there? Then we go to Fogo Island and the Fogo Inn. On our drive south, we'll go to Fort Rexton where we will stay at Fishers Loft. This was highly recommended by the folks at Fogo Inn and has received high accolades. Fort Rexton is close to Trinity. I've cut out the north east area of Newfoundland. I'd love comments on this as well as things to see and places to eat in the St John's area.
May 10, 19, 9:23 pm
Join Date: Jan 2005
Location: YYZ
Programs: Nexus
Posts: 13
I visited Twillingate a few years ago. I stayed at the Anchor Inn and Suites hotel. Decent place. We did dinner in the restaurant there one night and there was entertainment. The other night we did the dinner theatre which was a good laugh. It's a good Newfoundland experience. We visited the lighthouse, Auk Island winery, Prime Berth Fishing Museum. There are boat tours available too but did not do that.
I am glad you are going to Trinity too. I stayed in Port Rexton at a motel but did dinner at both the Fishers loft and Artisan Inn. Great places. Make reservations. Rising Tide theatre does shows in Trinity. Last time I was there did the Pageant which is a walking play around town.
A friend of mine lives in St. John's and these are her recommendations that she gives to friends visiting. This is a few years old so times and some places may have changed.
St. John's
Signal Hill (do the hike up from the Battery to Signal Hill – some great views)
Cape Spear Lighthouse (most easterly point in North America)
Must do: Screech In at Christian's Pub, (Nightly at 11:15PM, register before 10:30PM, Call 753-9100 for reservations, they can fill up so pop in during the day or call)
Music - O'Reilly's Sunday afternoon jam session from 3:30 to 5:30
Music – Erin's pub Jam Session Friday night 8 pm
Music - Shamrock City (music every night)
Music - Quidi Vidi Brewery (Friday evenings - music/drinks), can also just go here to check out the local craft brews I like the Iceberg beer
St. John's Haunted Hike
Southern Shore Area
---
Last edited by labrador_ice; May 10, 19 at

9:25 pm

Reason: formatting
May 11, 19, 8:10 am
Join Date: Nov 2001
Location: Ontario, Canada
Programs: AC*E50K MM, PC Plat Ambassador, Hilton Gold, Marriott Gold
Posts: 3,224
labrador_ice has given some great suggestions. I would add:
There is lots of great hiking on the Bonavista peninsula.
Hike Discovery
is a non-profit group that coordinates trail development and maintenance. You can find trail maps to purchase and pictures on their website. The Skerwink Trail is probably the best known and is very popular during the summer. The folks at Fishers Loft will point you in the right direction, it runs right past the property. It can be jammed at times, the nearby Fox Island trail is equally as scenic and much less busy. I think all of the trail starting points show up on Google Maps and you'll find free hiking maps locally. While you're at Fishers Loft, you can walk to the
Port Rexton Brewery
and sample some of their very good beer. They don't have food themselves, but there's a great food truck there that does amazing grilled cheese sandwiches. While you're driving around the peninsula you might want to stop in at the
Bonavista Social Club
Fabulous little place with a wood-fired pizza oven in a tiny village of about 40 people. I highly recommend it.
The Black Sheep Pub
is another great place for live music in St. John's. It's small, but they have a wide variety of live music every night. You might see a great local singer/songwriter, a traditional band, or an open mic night. Florian Hoefner, an amazing jazz pianist relocated from NYC plays there occasionally.
St. John's punches well above its weight as far as restaurants go. Two "don't miss" ones not on labrador_ice's list are
The Adelaide Oyster House
in downtown and
Mallard Cottage
in Quidi Vidi. My favourite walk is through the Battery area of St. Johns to hike the Signal Hill trail to the Cabot Tower. From there, hike along the coast to Quidi Vidi stopping for a beer at the Quidi Vidi brewery or Mallard Cottage for dinner (or their beer garden.) It's about an hour to an hour and a half, depending on where in town you're starting. About an hour's walk back along Quidi Vidi lake or a quick cab ride. No Ubers in St. John's, but lots of cabs.
The Merchant Tavern
is owned by the same people as Raymonds - less formal, less expensive, but also very good. There's a very well-travelled local woman who writes
The Food Girl in Town
, a great blog that's got a lot of good reviews of St. John's restaurants and other cool information.
And to answer your questions about the Rooms, for a visitor it is primarily an art gallery/museum. Well worth seeing, try to have lunch in their cafe. Very good food, but a spectacular view out the narrows.
Many things in Newfoundland are season-dependent - whales, icebergs, festivals, park closures and operating hours, etc. When are you going?
May 11, 19, 8:36 am
Community Director
Join Date: Oct 2000
Location: Anywhere warm
Posts: 29,564
May 11, 19, 1:01 pm
Join Date: Nov 2001
Location: Ontario, Canada
Programs: AC*E50K MM, PC Plat Ambassador, Hilton Gold, Marriott Gold
Posts: 3,224
August is too late for icebergs, but you'll likely still see whales. Lots of festivals going on at that time of year. If you're in St. John's the first week of August, check out the
George Street Festival
They close off the street, there's a headliner band each night at an outdoor stage until 11pm or so and then live music after that in all the bars. The first Wednesday of August, the 7th this year, will be the 201st edition of the
Royal St. John's Regatta.
at Quidi Vidi Lake. It's the oldest organized sporting event in North America. Lots of fun, it's a city-wide holiday and _everything_ closes down during the day, even restaurants. Very unique event. The holiday is weather-dependent and will be postponed if the weather isn't suitable for rowing. They make the call at 6:00 am, so the locals have a ritual called "Regatta Roulette" where they'll stay out late at the pubs the night before in hopes of a day off the following morning. The following weekend is the
Newfoundland Folk Festival
held in a downtown park. Another really fun event, with some great music.
If you're going to be in Port Rexton after the 17th of August make sure to get a map and visit some of the
Bonavista Biennale
exhibits. It's a big art event with about 20 sites scattered over the peninsula featuring a range of contemporary art installations. Some collections, some large-scale single pieces, really, really cool. My favourite from two years ago:
https://bonavistabiennale.com/catalo...sts/will-gill/
Bring a range of clothing, and lots of layers! I've never seen snow in August, but I've seen everything else.
May 13, 19, 8:16 pm
Join Date: Jan 2009
Location: YOW
Programs: AC E75
Posts: 730
Sorry I just checked back in here. I think you've done some great research and have gotten great advice. Mary Brown's is worth a try if you want the greasy Newfoundland fried chicken experience, same goes for making sure you go somewhere for fish and chips - most folks go to Ches', I prefer the Big R. There's a Mary Brown's at the Eastport turnoff from the high way at Splash and Putt (at least last time I was there) if you wanted to stop there for it.

I think you made a great choice going to Twillingate.

In terms of the Irish Loop, you can certainly do it in a day, but it can be a long day depending on what you're up for. Alternatively, drive down the southern shore as far as Calvert/Ferryland and you could come back the same way instead of doing the longer drive.