Is this woman in this UA website photo really small? or did they make her look small?
Apr 29, 17, 2:39 pm
Join Date: Sep 2010
Location: Arlington, VA
Posts: 374
What a real UA 787 E cabin with real people may look like:
[Picture not mine; found it via a Google image search].
From this, I'd say she's just a vertically challenged model shot from a space-maximizing angle. I don't see any photo editing shenanigans.
Apr 29, 17, 4:13 pm
Join Date: Aug 2014
Location: 50.1% in PDX and 49.9% in PVG ( 182 days in Shanghai in 2017 )
Programs: SPG Plat100/LT Gold, UA 1K, AS MVP GLD
Posts: 518
I will have to take a shot flying on HU to Shanghai totally different body profile...
Apr 29, 17, 4:29 pm
FlyerTalk Evangelist
Join Date: Jul 1999
Posts: 10,556
Apr 29, 17, 5:03 pm
Join Date: Sep 2010
Location: Arlington, VA
Posts: 374
Not sure if they've rolled them out in any of the 787s?
Apr 29, 17, 5:04 pm
Join Date: Aug 2004
Location: SIN/ZRH (time, not preference)
Programs: UA1K, LH GM, AA EXP
Posts: 28,478


The proliferation of those 3-3-3 787 is really a nightmare.

Apr 29, 17, 5:14 pm
Join Date: Sep 2010
Location: Arlington, VA
Posts: 374
These excessively medicated people who used to grace the basic economy landing page seem to be sitting in the same seats. I'm baffled by it, though -- you have the slimline leather seats, but the electro-dimming windows which I'd thought were only on the 787's.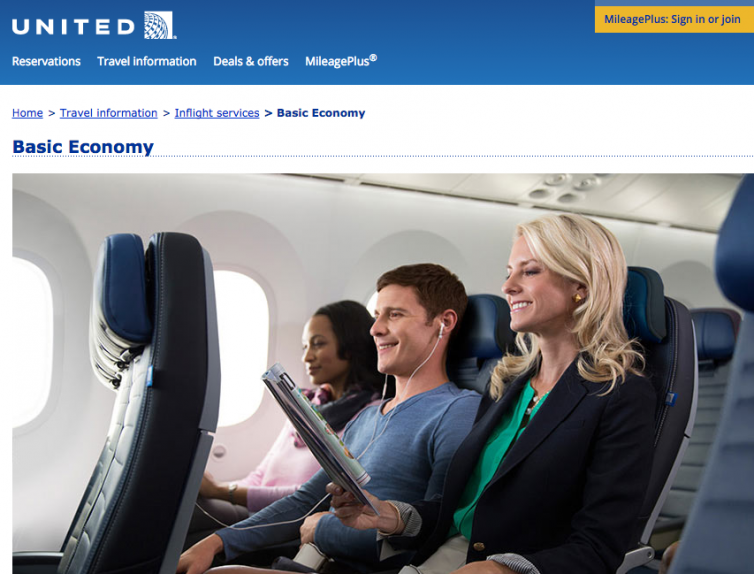 So either this is in fact a mock-up, or....?
Apr 29, 17, 7:49 pm
A FlyerTalk Posting Legend
Join Date: Aug 2003
Programs: WN AL+/CP, IHG AMB/Plat, HH/Mar Gold, UA Dirt
Posts: 46,528
She would be dragged off easy - simple hoist and carry

the explorer card sweater woman should be placed in that seat

the photos upthread are of a single aisle aircraft. Yes the 787 is cramped but at least it has two aisles so more airy.
Apr 29, 17, 7:57 pm
FlyerTalk Evangelist
Join Date: Jul 1999
Posts: 10,556
Apr 29, 17, 8:00 pm
FlyerTalk Evangelist
Join Date: Nov 2003
Location: Irving, TX
Programs: American Airlines
Posts: 16,273
Apr 29, 17, 10:02 pm
Join Date: Mar 2003
Location: New York, NY
Programs: AA CK, A3 Gold, spg100
Posts: 3,659
Apr 30, 17, 8:28 pm
Join Date: Jul 2008
Location: YVR
Programs: OZ Diamond, Jiffypark Manhattan Gold
Posts: 3,877
I don't understand this post/question.

Was there an original ad? She looks like any normal person to me outside of her obviously drawn on eyebrows.

Is the post a shot at how small the seats are, so to make them look bigger they photographed someone small?

I would say if this is PE, they're making the seats look big. But if this is domestic J, or European old school long haul J, or ANA old garbage 767 J, then I'd say they look normal.
Apr 30, 17, 8:59 pm
Join Date: Jul 2009
Programs: none
Posts: 1,483
Over 50 replies (so far) for just an ad photo. An ad agency's dream where everyone is noticing and commenting an ad, and all the responders (including me) are playing along to give a lot of free advertising.
---
Last edited by WineCountryUA; Apr 30, 17 at

9:32 pm

Reason: Discuss the issues, not the poster
May 1, 17, 10:57 am
@
Allan38103
: That's with the assumption that "there is no such thing as bad publicity." Unfortunately for United, they're not exactly in a position to be adopting that mindset yet.
May 2, 17, 6:27 am
Join Date: Jun 2010
Location: Body in YYZ, heart in YYG
Programs: airlines and hotels and rental cars - oh my!
Posts: 1,993
Clearly the lady in the original photo is significantly smaller and more slender than most. And, she's obviously photographed in a way that emphasizes the idea of space. It's a nice photo, but it's just not even close to reality, which would be three overweight people stuffed into a regular economy (not E+) seat, each of them cramming the maximum number of bags possible under the seat in front of them and thus having no leg room or shoulder room whatsoever.

Oh yeah - let's also have the three equally overweight people in the row ahead of them recline their seats as far as they will go. Now we're getting closer. All that's left is to make it warm and stuffy, so everyone starts getting a little ripe.

For Allan38103 - not necessarily so. I noticed it, but it doesn't make me want to open my wallet because I know better. If anything, it just leaves me shaking my head at what I would consider to be deceptive advertising.
May 2, 17, 7:30 am
Join Date: May 2006
Location: DTW, but drive to/from YYZ/ORD
Programs: Chase Ultimate Rewards 2MM, Diner Club points
Posts: 8,533
90% of the people in that photo are borderline obese.
unless they are overflowing the armrests, I don't see how that's UA's problem. An individual should take personal responsibility.