To The Paradise With Malindo Air
Jan 1, 18, 7:43 pm
Join Date: Dec 2017
Posts: 43
To The Paradise With Malindo Air
---
Hello to all FlyerTalk readers!
Welcome to my very first trip report! This trip report will cover my journey to the paradise island of Langkawi with Malaysian hybrid carrier, Malindo Air.
In this trip, I was accompanied by both of my parents and we stayed in the island for 3 days from 23rd-25th December 2017. I booked the flight tickets 4 months before the departure date through Malindo Air's official site. Lucky me as they had a promo fare for the J class on most of its domestic destinations, so I managed to grab a 1- way J ticket from KLIA to Langkawi (LGK) for only RM159 (including taxes) per pax. The booking process was done smoothly.
Unfortunately, about 1 week before departure date, I received a short text message from Malindo that informed our flight's timing have been moved from 12:10pm to 3:40pm. This really affected our itinerary on our 1st day there.
Then, on the morning of 23rd December, another disaster struck! I received the 2nd short text message from Malindo and now our new departure time would be at 4:10pm....wow really not cool Malindo!
My parents and I left our house at 12:30pm with a Grab (the Malaysian version of UBER) and we arrived at the airport about 1 hour later.
I went to the check-in counter to collect the boarding passes (I already did the mobile check-in earlier) and drop our luggage while my parents went to the restroom.
Malindo Air opened 2 check-in counters for their J-class pax and both counters were not busied.
We received a complimentary access to the KLIA Premier Access lounge which located behind the CIMB Bank.
The lounge was quite small with basic facilities and food offerings.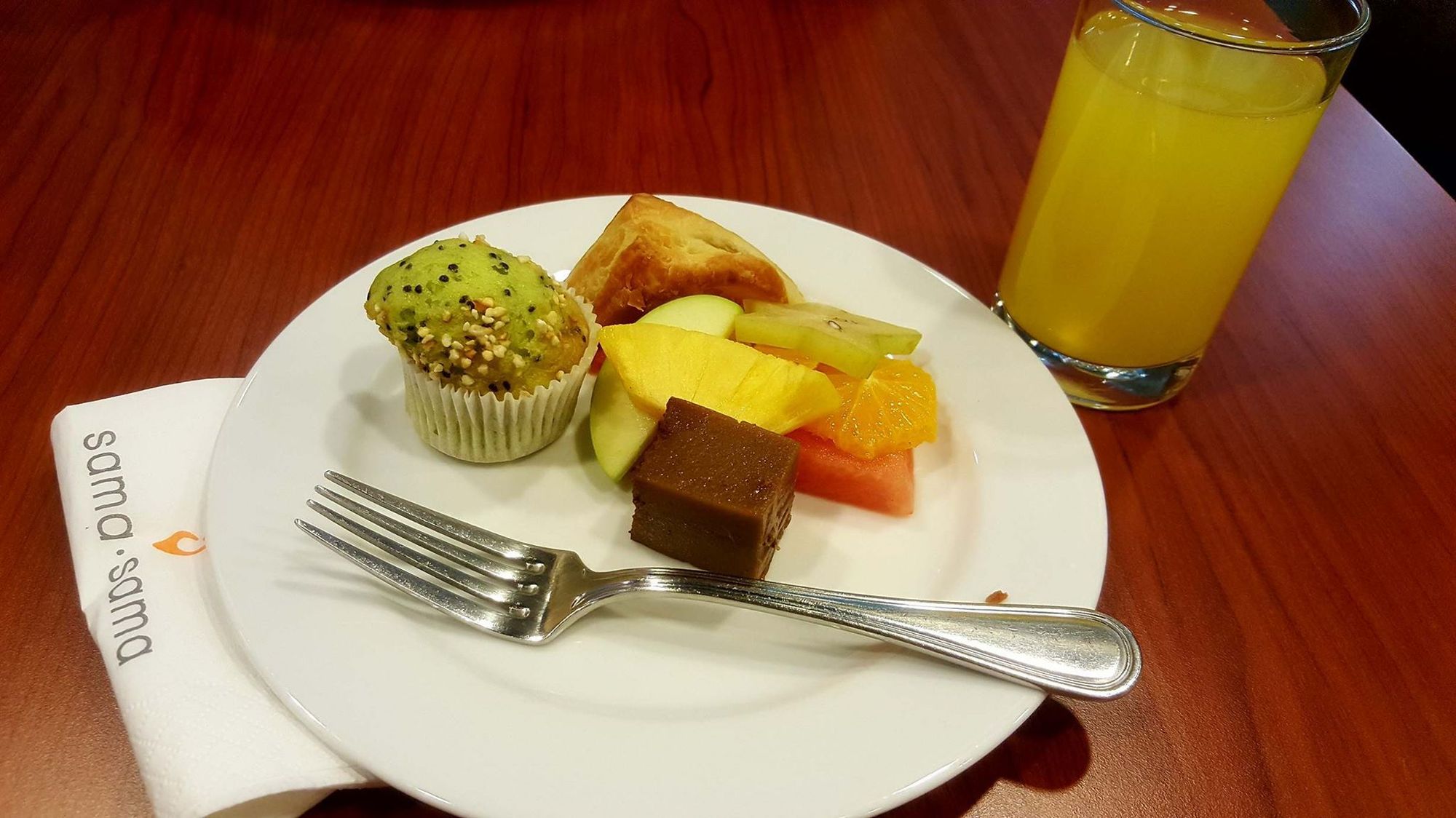 We spent our time inside the lounge until 3pm and then we decided to make our way to the boarding gate, B10.
While walking, we found out that our boarding gate have been changed from gate B10 to B4.
We shared this new boarding gate with Malaysia Airlines' passengers bound for Bangkok with the airlines' new A350 aircraft!
The A350 making its was to the runway.
Not long after, the gate agent announced that Malindo Air flight OD 2202 to Langkawi will be delayed for another half an hour. Great!
Finally, the boarding commenced with the usual group of pax (pax with small kids, disabled pax, Malindo Miles Elite members and of course J-class pax) were invited to board the aircraft first.
Airline: Malindo Air
Flight: OD 2202
Origin: Kuala Lumpur
Destination: Langkawi
Departure Time: 16:40
Arrival Time: 17:30
Seat: 3A
Looking towards the Y-class section.
Malindo Air's J-class seating. My mom and I were sitting in seat 3C and 3A respectively while my father was sitting alone in seat 2A.
Comfortable seat pitch.
The boarding process completed within 20 minutes and we had a healthy load on this flight with around 80% occupancy in J and 90% in Y-class. The cabin crew then offered all J-class pax a welcome drink with a choice of Apple or Mango juice. I chose the former.
There were 4 cabin crew working on this flight with 2 of them in J-class.
At 4:40pm, our aircraft started to push back and readied for departure. The safety demo was played on the screen while our aircraft was taxiing to the runway. The flight time would be around 50 minutes.
Contents of the seat pocket.
The view seconds after takeoff.
10 minutes in the air, the cabin crew made announcement that the seat belt sign has been switched off and light snack service will begin shortly.
1 of the cabin crew in J-class was asking to each passenger if they would like to have something to eat and then she prepared the tray table for those who said "yes".
The light snack service consisted of 1 slice of Chicken Pizza, a Red Velvet Muffin and a glass of plain water. No other option was available.
The cabin crew asked if we would like to have any other drink and I requested for a glass of Pepsi.
I turned on the IFE system only for few minutes before stowed it back as nothing really caught my attention.
Cabin crew walked down the aisle once again to collect the meal trays and distributed the hot towel to every J-class pax. The cockpit crew also announced that we were about to land in LGK shortly.
The resort island of Langkawi became visible as we were approaching the airport.
Almost there.
And we were safely landed! The Mahsuri International Exhibition Centre which located just next to the airport terminal can be seen in this photo below.
Welcome to the paradise!
As there were no aerobridge available in LGK, all of the passengers need to deplane using the staircase.
1 last look to our aircraft.
All luggage of J-class pax including ours received a priority and arrived the earliest at the baggage carousel.
Within few minutes, we all set and made our way out of the terminal.
LGK was undergoing some renovations where they closed the drop off/pick up areas for both arriving and departing passengers. As a result, they set up a temporary drop off/pick up area for arriving passengers at 1 end of the terminal with the other end was for the departing passengers.
---
Last edited by airways91; Jan 14, 18 at

9:29 pm
Jan 2, 18, 2:49 am
Join Date: Dec 2017
Posts: 43
DAY 1
We met with the staff from the car rental company at the outside of the terminal. We booked a compact car from them, but instead, we got an old Nissan sedan car as all of their compact cars were no longer available on that day. The Nissan car was really in a bad condition with ancient interior, dust everywhere and 1 of the doors cannot be opened from the inside. And only 1 bar fuel of the tank was filled.
I would highly advise to everyone who would like to rent a car in Langkawi to deal with any of the car rental companies that available in the airport which seems more reliable than those cheap car rental companies that available online. Dont make a mistake like us.
As we arrived quite late in the evening (thanks to Malindo Air!), we didnt manage to visit any attractions because most of them already closed. Thus, after leaving the airport, we decided to go straight for our first dinner in the island.
Some shops along the small road within the Pantai Cenang (Cenang Beach ) area.
We had our dinner in this Thai-Malay restaurant called "Selera Lubuk Buaya" which located not too far from the busy road of Pantai Cenang.
Although around 90% of its population are the Malays, but due to its geographically location which close to Southern Thailand, Langkawi boasts a significant Thai community that have integrated very well with the locals. Thus, it is not surprising to find many Thai restaurants/food stalls like this in all over the island. We had a Tom Yum Soup, Prawns (deep-fried and coated with flour), Kailan stir-fried with Belacan (shrimp paste) and the main highlight, Ikan Bakar (Grilled Fish)! Not forget, plates of steamed rice to go along with all these meals.
The foods were delicious with all the seafoods were so fresh.
After the wonderful dinner, we jumped back into our car and drove towards Kuah, the main (and I also believe the biggest) town of Langkawi island where our hotel is located.
20 minutes later, we arrived at the hotel, checked-in into our room and went to the bed. And that was the end for our 1st day in Langkawi!
Jan 3, 18, 10:19 pm
Join Date: Dec 2017
Posts: 43
DAY 2
The next morning, we woke up early as we registered ourselves for the mangroves tour which scheduled to depart at 8:45am.
We had our complimentary breakfast in the hotel's cafe. The choices of foods were limited and not so good though.
We stayed at this hotel called "De Baron Resort" which was just ok. The Baron group has few other hotels at different locations in Langkawi.
In this tour, we were joined by my elder brother (who sponsored the whole tour's fees) and his family. They had arrived in the island 1 day earlier than us. After we finished with the breakfast, we left Kuah town and drove towards Cenang Beach as the pick up point for this tour was in Meritus Pelangi Resort where my elder brother and his family stayed.
We met them at the Meritus Pelangi Resort's car park area and few minutes later, the tour van arrived. We all boarded the van and headed towards the Kilim Karst Geoforest Park which located quite far from there. Nevertheless, the scenery along the way was very beautiful.
A green paddy field like this is such a common sight in Langkawi.
Finally, we arrived at the Kilim Karst Geoforest Park which was packed with a lot of group tours and bus operators. We met with our guide at the main entrance of the geoforest park and the guide asked us to use the restroom (if needed) here before the tour starts as there will be no a toilet break during the tour later.
The guide introduced himself and provided some briefing about the tour. We also received complimentary bottles of mineral water, but sunblock lotion was not provided. The guide then handed the safety jackets to small kids (life jacket for adults can be found on the boat) and after that, we started to walk towards the jetty where our boat would be departed from there. While walking, we passed by a small area of Kilim River which experiencing a low tide.
The Kilim Karst Geoforest Park's jetty.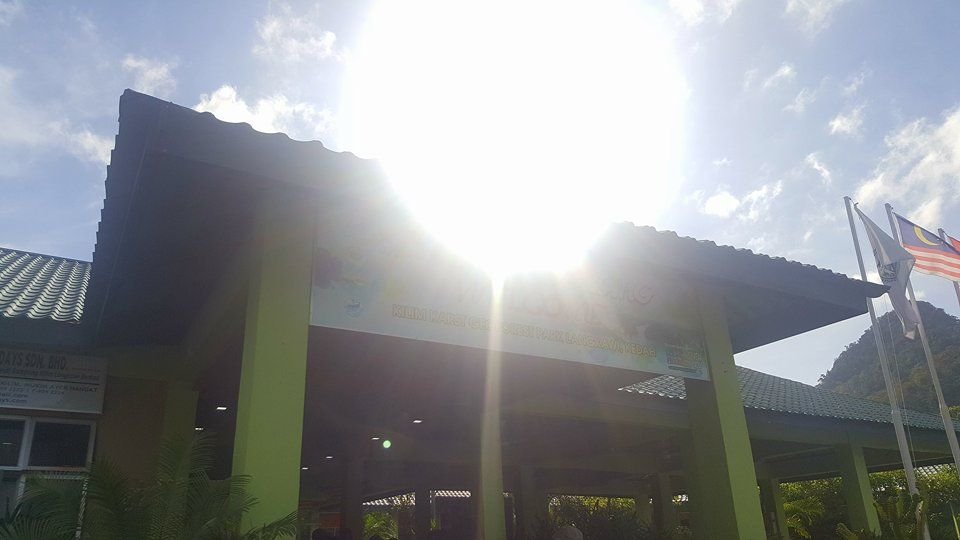 We didnt need to join the long queue to get the ticket as everything was already covered in this tour package. It also didnt take long for our boat to arrive. I would highly recommend for everyone to take the tour package
Our boat ready for boarding.
It was quite tricky to get into the boat, but everyone managed to get on board safely.
After all of us had settle down, the boat began to cruise along the Kilim river and heading towards our 1st attraction of the tour, Gua Kelawar (Bat Cave). At this stage, all of adults were not required to wear the safety jacket.
We arrived at the jetty of Gua Kelawar few minutes later.
All guests were requested to leave their belongings including the backpacks and water bottles at the jetty's counter. Our group was provided with 2 small torch lights to enter the cave.
Guests also were advised to adhere to the rules such as switch off the mobile phone, no flash photography as well as no eating & drinking at all time.
We spotted a group of long-tailed Macaques near the entrance to the cave.
So cute yet brutal! They are the main reason why guests need to leave all their belongings behind before entering the cave
Gua Kelawar, which means "Bat Cave" in Malay, is 1 of the many caves that can be found within the Kilim Karst Geoforest Park. It got its name because of the presence of large population of Malaysian Fruit Bats that have made the cave as their home since centuries ago. The cave was getting darker as we went further inside.
Our guide further explained about the history and some interesting facts about Gua Kelawar with its inhabitants as we walking inside the cave. Gua Kelawar has been existed since few hundred millions years ago and it features a chamber in the form of lung tunnel with gigantic proportions of stalactites and stalagmites. Its main inhabitant, the Bat, can be seen in all over the place. Most of them were hanging on the ceiling and some of them were flying right above our heads. Our guide told us to do not place our hands or touch the fences on the pathway as they were covered with a lot of bat's feces also known as "Guano". I didnt take any photo of the bats as I was too scared to do so. Forgive me....
Some of the stalactites and stalagmites inside the cave joined to each other which lead to the creation of formations with some of them resembled the shape of animals such as snake and crocodile.
We exited from the cave and the pathway lead us to a mangrove swamps area.
Here, we learned more about the Mangrove forest and looked towards the trees much closer.
The spectacular Mangrove forest is a home to various kinds of wildlife which is responsible for the health and wide variety of species in Langkawi and the whole Andaman Sea. It also act as a natural coastal defense for the island from a natural disaster such as in the event of year 2004 Tsunami.
On that tragic day, Langkawi experienced small damages in some parts of the island with only 1 casualty. Research found out that Langkawi didnt received a bigger impact from Tsunami because of the abundant presence of Mangrove trees along the island's coastlines.
And today, the Mangrove forest provides a scenic view which can be turned into a tourist attraction.
From the mangrove swamp area, we exited the Gua Kelawar through a different pathway from where we entered. The pathway for exiting lead us into another cave with a very low ceiling where we got to stoop down while walking. That was quite an adventure! Finally, we managed to exit from the cave and reached the front counter where we left our belongings.
We waited for around 10 minutes before our boat arrived and we were readied for the next attraction.
This time, the boat was moving at a faster speed and all of us were required to wear the safety jacket.
Our next attraction was the eagle feeding session which took place at the North Eastern side of the Kilim River.
It was a very spectacular sight with many eagles hovering the sky and catching the foods which floating on the water. The 2 types of eagles we spotted here were the Reddish Brown Eagles also known as "Brahminy Kites" and the White Bellied Sea Eagles. The Eagle remains as the most iconic figure of Langkawi as the island received its name from this majestic creature.
We were sitting inside the boat watching the Eagles circling in the air, diving and having a feast on its offering for about 20 minutes before we left the place for our next attraction.
The boat now moving at the maximum speed and we felt like we were seating in a roller coaster. We got to ensure that all of our belongings were safely kept and didnt fly out from the boat. At 1 stage, the boat was slowing down as our guide introduced to us some other types of plants and wild creatures that live within the Mangrove forest. We tried our luck to spot a Mangrove snake but sadly, there was none.
Our next attraction was a secluded beach known as "2 Faces Beach" which located in 1 small uninhabited island where we were given a "free at our own leisure" activity. Among the free activities that you can do here are snorkeling, swimming, collecting seashells or just relaxing on the beach. Alas, my mobile phone was ran out of battery when we reached there so no photo of that beach available in my record. We didnt spent a long time at that beach as we didnt bring any snorkeling or swimming equipment, so we only explored some parts of the beach before boarded the boat again.
Our last stop of the tour was the floating restaurant known as "Hole In The Wall" where we had our lunch. This lunch was a complimentary as part of the Mangrove Tour package. We were given a choice of either Chicken, Prawn or Vegetables for the main course with the further option of spicy or non-spicy soup. I had Prawn for the main and a spicy soup which actually was a Tom Yum soup. All mains came with a fried rice. I borrowed my mum's mobile phone to snap this photo.
After lunch, we had a simple tour around the floating restaurant to see many big fishes in the restaurant's floating fish farm such as Stingrays, Groupers and Sea Basses. We also had the opportunity to feed them. This fish farm tour marked the end of our Mangrove Tour in the Kilim Karst Geoforest Park. Minutes later, we found ourselves on board the speed boat again to return to the main jetty.
---
Last edited by airways91; Jan 10, 18 at

2:22 am
Jan 4, 18, 11:40 pm
Join Date: Dec 2001
Posts: 3,097
I read you can't swim in the ocean here because of the jelly fish?
Jan 5, 18, 3:34 am
Join Date: Dec 2017
Posts: 43
At the main jetty, the same tour van was waiting us for the return journey back to Cenang. We said goodbye and thanks to our guide before leaving the Kilim Karst Geoforest Park. I slept for most of the time during the journey as I was really fatigue from the Mangrove tour. We reached Cenang when I woke up and the van driver dropped us at Meritus Pelangi Resort's parking area. We agreed and decided to have our dinner together at Seashells Restaurant which located opposite of Case Del Mar and Meritus Pelangi Resorts later.
As it was still quite early to have the dinner, my elder brother and his family decided to go to Kuah town first for some shopping while my parents and I spent the remaining time in Cenang.
Cenang is a more lively and happening area with full of tourists compared to Kuah. On both sides of its road, there are many shops selling merchandises, souvenirs, handicrafts, clothing, books, fruits and grocery goods in addition to the endless options of restaurants and food stalls.
Fresh seafoods.
There are also a quite few number of spas, massage and reflexology centers along the streets in Cenang.
Some stalls are offering the various kinds of tour packages available in the island and ferry tickets to Southern Thailand. The Island Hopping & Sunset Cruise Tours seem so enticing!
My parents and I stopped at 1 small cafe known as "D' Lima Cafe" to get some rest and drink. While both of my parents still resting inside the cafe, I decided to check out the Cenang Beach.
Getting to Cenang Beach is a painless as there are many small streets that located in between the shops and restaurants which will lead you to the beach.
Cenang Beach or "Pantai Cenang" is no doubt the most popular and happening beach in Langkawi with many visitors came here for sunbathing, swimming in the sea or playing the varieties of water sport activities available there.
Among the water sports activities that you can try in Cenang Beach are jetskis, parasailing, banana boats and wakeboards.
Cenang Beach also gained its popularity due to the high numbers of cafes, bars, lounges and many types of accommodations from 5-star resorts to the budget hotels, homestay and AirBnB available very close to the beach.
Kalut Beach Bar & Cafe, 1 of the latest chill out places in Cenang Beach.
The bar was just about to open when I was there.
Due to its close proximity to Langkawi International Airport (LGK), Cenang Beach also could be a perfect location to spot aircrafts taking off and landing.
AirAsia plane was about to land in LGK.
From the beach, I went back to the small cafe to meet with my parents and we walked towards Laman Padi, where the Seashells Restaurant is located.
While waiting for my elder brother and his family to arrive, we did some sightseeing in Laman Padi. Laman Padi which can be roughly translated as Paddy Garden or Paddy Field, is a large eco-tourism complex that exhibits the process and evolution of rice cultivation and harvesting.
The most prominent structure in Laman Padi is this Paddy Gallery which sometimes referred as the "Rice Museum". This air-conditioned museum showcases the history, information and many interesting facts about paddy plant and how it is manufactured to become rice, the staple food for Langkawian and most people in South-East Asian region. The admission to Laman Padi and this gallery is completely free!
Different types of rice from Malaysia and many other countries are displayed in the Paddy Gallery.
The museum gallery also tells about the evolution of rice harvesting process which has changed from a traditional method to the more modern and efficient technique with the help of advanced technology.
The Langkawian people have involved in the agriculture-related works such as farming and harvesting since long time ago. Agriculture industry is 1 of the most important sources of economy for them.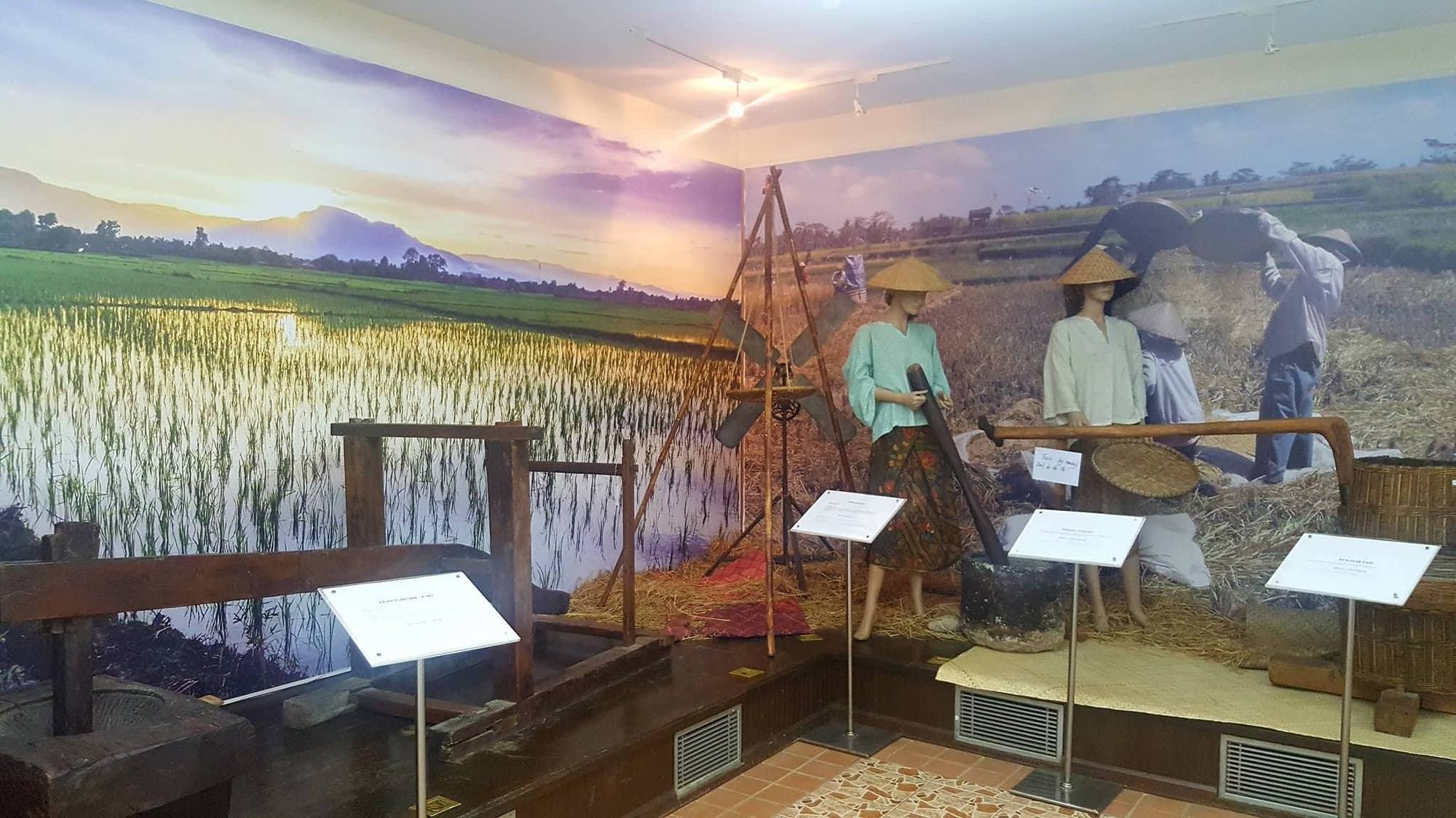 Besides the Paddy Gallery, other attractions that can found in Laman Padi are the herbs Garden, heritage gallery, a floating rice garden and replicas of Malay traditional house.
There is also a spa called "Anggun Spa" located within the Laman Padi compound. Having a nice massage in the middle of paddy field sounds very calming & relaxing.
But the best part for Laman Padi is this neatly planted green paddy field area that offers the senses of freshness and picturesque view.
During certain slots in a day, there will be a specialized guided tour where visitors will able to learn the actual way of planting paddy. It is really a good experience especially for those people who never seen or enter a paddy field before.
It is also a perfect spot to take some photos. And as you can see, this is how scarecrows in Malaysia lookalike. The local people dressed up the scarecrows in a traditional attire of "Baju Kurung" and "Kain Batik" to resemble the villagers.
A closer look to the paddy plants.
At 6:30pm, my elder brother and his family arrived in Laman Padi and we went to the Seashells Restaurant to have our dinner.
A big Eagle sculpture in the restaurant.
Located at the right entrance of Laman Padi, Seashells Restaurant is 1 of the top eating places in Langkawi that provides a traditional "kampung" (village) ambience and sumptuous cuisines. It has several huts surrounded by lush green paddy field that allow customers to sit on the floor while eating. Many people came to this restaurant to experience this unique-style of dining experience.But if you are not comfortable in sitting on the floor while eating, you can always opt for the normal table that come with chairs which located at the main area of the restaurant.
We were sitting in 1 of these wooden huts and ordered our meals in no time.
All meals here come in a set for 2,3,4 or 5 pax where customers can choose the style of cooking such as Deep-Fried, Curry or Rendang. We ordered the Lamb Shank and Chicken sets for 2 and 3 pax portions respectively.
The foods were so amazing and the atmosphere of the paddy field in the evening light was so magical!
We got really full and felt a bit sleepy after the dinner, so it was time for us to leave the restaurant and return back to our hotel. We waved goodbye to my elder brother and his family as they will be leaving Langkawi in tomorrow morning. We reached our hotel in Kuah town 20 minutes later and we called it a day.
---
Last edited by airways91; Feb 8, 18 at

12:48 am
Jan 5, 18, 3:38 am
Join Date: Dec 2017
Posts: 43
Jan 10, 18, 1:49 am
Join Date: Dec 2017
Posts: 43
DAY 3
Third day in Langkawi also marked our last day here, but we still had a lot of time to be spent as our return flight to KL was scheduled at 10:50pm. We started our day by taking the complimentary breakfast at the hotel.
After breakfast, we went back to our room and packed all our stuffs. We did an early check-out, so we can maximize the time that we had to visit many other attractions available in the island. After check-out, we left the hotel for the last time and got ourselves into the car.
The 1st attraction that we visited on that day was Dataran Lang, which probably the best-known man-made attraction in the island.
Driving through the small town of Kuah.
Dataran Lang or "Eagle Square" is located at the end of Kuah and just next to Langkawi Jetty or commonly known as "Kuah Jetty" among locals. It features a beautiful artificial lake, parks, terraces, bridges and a 12-meter tall Eagle statue as its main attraction. It is open to visitors 24 hours daily without an entrance fee.
Kuah Jetty.
The main entrance to Dataran Lang.
The Eagle statue as seen from the distance.
Some shops selling souvenirs, drinks and light snacks are located in the middle between the main entrance and the Eagle statue.
The magnificent Eagle statue was built in the form of flying and facing the Kuah Bay.
Beautiful view of Kuah Bay.
According to the legend, the name of the island was derived from the word "Lang" which means Eagle and "Kawi" which means reddish brown, thus "Langkawi" means Reddish Brown Eagle.
Since its inception, this picturesque Eagle statue has become the most prominent symbol and identity of Langkawi Island. It is visited regularly by both locals and visitors during the day and night. Your visit to Langkawi is not complete without visiting the Dataran Lang!
After we visited the Dataran Lang, my parents wanted to do some shopping. Langkawi received a duty-free status since 1987 which resulted most of the imported items available in the island are cheaper than elsewhere in Malaysia. The most popular duty-free items among shoppers are chocolates, perfumes, kitchenware, liquor and cigarettes.
The first shopping mall that we went was the Langkawi Fair Shopping Mall which located close to Dataran Lang. My parents bought some chocolates and a new luggage bag from here.
From that mall, we went to another famous shopping place in the island, the Haji Ismail Group store. This is 1 of the most commonly visited places for shopping among local Malaysian and the company has several different outlets located at various locations in the island.
We bought more imported chocolates and my mum bought a high quality tableware from here. We then decided that we had enough of shopping imported stuffs, so it was the time for us to shop something that more authentic and locally-made.
1 of the unique Langkawian products that famous among locals is the "Minyak Gamat" or Gamat Oil. There are many factories, shops and stores that sell Gamat products in all over the island with the most well-established is Nusantara Maju Enterprise. From Kuah, the Nusantara Gamat factory is located on the left side of the road that heading towards Cenang.
The main landmark of Nusantara Gamat factory is this big bottle of Gamat Oil.
The Nusantara Maju Enteprise or simply known as "Nusantara Gamat" is currently the largest Gamat manufacturing factory in Langkawi. It acts as an educational center and live gallery where visitors will able to learn the process of making Gamat and purchase more than 40 different Gamat products available at the factory's showroom.
Gamat or the "Sea Cucumber" is a a soft body invertebrate sea animal from the class of Holothuroidea which can be found on the seabed of the ocean in Malaysia and in many other countries. It is called a "Sea Cucumber" due to its cylindrical shape that resembles a cucumber. A Gamat that processed into an oil known as "Minyak Gamat" has been used by most Malaysian since many generations as a traditional medicine and an alternative form of healer. The Gamat Oil is considered as a magic potion that can heal ailments and small injuries such as ulcers, aches, small wounds and swelling. Gamat also can be eaten as a health tonic and applied on body and face to beautify the skin.
This precious marine creature was featured as the main theme in Malaysia Airlines' ads that promoting its short-lived Langkawi to London Heathrow non-stop flight service:
Nowadays, the Gamat industry has been commercialized and varieties of Gamat product other than Gamat Oil has been produced such as Gamat facial cleanser, soap, shampoo and even toothpaste. Some restaurants in the island also served a Gamat Soup as an exotic delicacy.
Dried Gamat on display.
A variety of traditional herbs and wild plants are on display. These herbs and plants are commonly mixed together with the Gamat and Coconut Oil to form a Gamat Oil (Minyak Gamat). If the Gamat is used in pure form without mixing with any other substances, then it will be known as "Ayer Gamat" or Gamat Water.
There is also a dedicated area where visitors can observe the Gamat mixture being cooked and boiled for days. It is believed that a person can dip his or her hand into the boiling Gamat without getting burnt. But it has to be done quickly!
We didnt miss our chance to buy some great Gamat products here. If you are no interested in buying any Gamat-based products (some people do not like the smell), there are many other products that used local plants and fruits as main ingredient available for purchase.
Looking for something memorable from Langkawi? Well, these Gamat products could be the perfect gifts and souvenirs for you!
Look what we bought from the Nusantara Gamat factory; A Gamat facial cleanser, Gamat moisturizing soap and a Papaya soap.
---
Last edited by airways91; Jan 10, 18 at

3:08 am
Jan 10, 18, 6:42 am
Join Date: Jun 2013
Location: Roswell, GA
Programs: AA EXP 2.8m,Lifetime PLT, Hilton Diamond, IHG PlLT, SPG Gold
Posts: 1,332
very nice, glad you had fun
Jan 10, 18, 9:27 pm
Join Date: Dec 2017
Posts: 43
Jan 11, 18, 2:54 am
Join Date: Dec 2001
Posts: 3,097
They have some nice hotels there. Hope to go one day. Thanks.
Jan 11, 18, 3:10 am
Join Date: May 2015
Location: Kuala Lumpur, Malaysia
Posts: 43
Nice report! Always nice to see trip reports about Malaysia. Malindo does have some really great J fares around Malaysia. The pizza looks identical to the one I got on a similar flight a few months ago. The lounge access seems to be a new thing though, I was told it is not available when I last took an OD flight within Malaysia.
Jan 11, 18, 9:36 pm
Join Date: Dec 2017
Posts: 43
Jan 11, 18, 9:44 pm
Join Date: Dec 2017
Posts: 43
Originally Posted by
RttlnSnK
Nice report! Always nice to see trip reports about Malaysia. Malindo does have some really great J fares around Malaysia. The pizza looks identical to the one I got on a similar flight a few months ago. The lounge access seems to be a new thing though, I was told it is not available when I last took an OD flight within Malaysia.
Thank you for taking your time to read it. Malindo offers a very low price for its J-class sometimes, but you need to check out its website regularly.
I guess the pizza is a standard J-class meal for all Malindo's short (<1 hour) flight. And I think the lounge for its domestic J-class passenger is just fine (better than nothing).
Jan 12, 18, 3:36 am
Join Date: Mar 2007
Location: PVG, China
Programs: Platinum Ambassador, SPG Gold, Krisflyer, Accor A-Card Platinum, Hilton Honours Gold, QF Bronze
Posts: 2,288
Thanks for posting this. Sounds like you had a good time.

I find Langkawi to be pretty yucky now as it has been developed so badly, like lots of Malaysia I guess. Pantai Cenang in particular is horrid now. Yoy can't even see the beach as it is almost completely blocked by shops and hotels. They also seem to have big problems managing garbage collection.

Such a shame as I loved it on my first visit about 9 years ago.
Jan 17, 18, 9:54 pm
Join Date: Dec 2017
Posts: 43
From the Gamat factory, we made our way to an attraction that promotes agro-tourism.
Located near the Lubuk Semilang Recreational Park, the MARDI Agro Technology Park is owned and managed by the Malaysian Agricultural Research and Development Institute or better known as "MARDI". It is functioning as a center for technology transfer and information dissemination concerning agro-industry. The major attraction in this agro-park is the vast fruit farm that has over 20 different seasonal and non-seasonal tropical fruit trees such as as Starfruits, Papaya, Guava, Citrus, Mango, Rambutan, Jackfruit, Pineapple and even Durian!
There are several types of tours available for visitors to choose from. We decided to choose the Tropical Fruit Farm Visit package which is a simple and short 30 minutes tour that will bring guests to some interesting spots in the fruit farm with a complimentary fruits buffet. The ticket price for this tour is RM10 per person for a Malaysian ID card holder.
After we purchased the ticket, we had to wait for our buggy ride to arrive in this covered waiting area.
5 minutes later, the buggy ride which seems like a combination of lorry+bus arrived.
We instantly boarded the buggy and after everyone settled in, the buggy started to move and brought us to our first stop of the tour.
Throughout the ride, we were greeted with a scenic view and lush greenery of the tropical fruit farm.
Some of the fruit trees that we passed by.
Our first stop of the tour was at a small cafe where we had the experience to taste assorted types of tropical fruits that harvested from the farm.
The fruits were served in a buffet style and guests were allowed to take as much as they wanted. Some types of fruits will only be served during certain period of months depending on their season. Unfortunately, it wasnt the season for 2 of my favorite fruits, Mango and Mangosteen.
There were Pineapples, Watermelons, Pomeloes, Jackfruits, Rose Apples and Honeydews. All the fruits served were fresh and naturally sweet.
My mum and I also had a fresh Coconut Juice. This juice is not included inside the tour package, so we had to pay it separately.
After we done with the tropical fruits buffet, it was the time for us to get onboard the buggy again and moved to our second stop. There would be a few buggies waiting for the guests in each stop at the same time and guests are free to choose whichever buggy that they would like to ride. So, you dont have to ride the same buggy with the same driver all the time.
Few minutes later, our buggy stopped at an area where many Grape trees are planted.
Here the guide aka the buggy driver gave us some brief explanation about the Grapes and the trees. This Grape Farm provides a great opportunity for many good photos.
A closer look to the locally grown Grapes.
From the Grape Farm, our buggy then took us to our next stop, the indoor Herb Garden. The Herb Garden consists of few covered enclosures where various types of herb and vegetable plants such as Basil, Parsley, Oregano, Rosemary, Chilli, Cucumber and Pumpkin are propagated using a high and advanced technology.
In this Herb Garden, we were exposed to the high-tech farming method that have effectively helped local farmers to grow many herb and vegetable plants originally from cold weather or 4 seasons country in Langkawi under the hot tropical climate.
Besides herbs and vegetables, there are some species of flowering plants cultivated and grown in this garden.
The Herb Garden features a beautiful and soothing landscape.
The Herb Garden was the last stop in our guided tour. After the tour ended, visitors were given a choice to discover and visit other parts of the park on their own if they want to. My parents and I decided to leave the agro park as it was already 3pm and we felt so starving.
We left the MARDI Agro Technology Park and started to look for any restaurant or food stall that located close by. Just only a short drive from the agro park, we found 1 small restaurant located on the left side of the road. It turned out that this restaurant is the famous eatery in Langkawi that went viral among local netizens recently, the "Nasi Arab Kaki Gunung Cafe" or just simply known as "Kaki Gunung Cafe".
The name of this restaurant can be translated as "Arabic rice at the foot of a mountain Cafe", which probably inspired from its location that close to Gunung Raya (Mount Raya), the highest mountain in Langkawi. It is open daily from 11am to 11pm except for Friday.
This restaurant doesnt serve any authentic Langkawian or Kedahan cuisines but it serves a wide variety of Arabic and Western foods with the Chicken Mandi Rice as its main specialty. But please do take note that the service can be quite slow as the restaurant is always full with patrons at most of the time.
We managed to find an empty table and ordered 3 plates of Chicken Mandi Rice once we settled down. Almost 15 minutes later, our foods arrived. The Chicken which marinated with different spices for overnight tasted so juicy and succulent. It was placed on top of aromatic yellow rice and came with some other condiments. Overall, the Mandi was really a good meal and worth waiting for.
Besides the Mandi, we also had a plate of Lamb Kebabs which was equally appetizing!
After the wonderful lunch, we left the restaurant and drove our car to the next attraction which also based on agro-tourism, the Buffalo Park. Getting to this place is very challenging as it is located in a remote village with lack of clear signage. The road leading to the Buffalo Park is small and uneven making it quite difficult to be accessed by a big vehicle. If you are afraid of getting lost, I would highly advise you to get a cab, Uber or Grab instead of driving on your own. Alternatively, you also can rent a motorbike or bicycle which seems a more appropriate mode of transport to move through the isolated village area.
With the help of Google Map and some luck, we managed to arrive at the Buffalo Park safely.
The Buffalo Park is actually a Buffalo Farm that is run by a family. They decided to open the farm to the public so that visitors will be able to observe and learn the process of raising more than 100 Water Buffaloes that called the park as home.
We paid the entrance fee which only costs RM2 per person for Malaysian citizen and later we were invited to taste the park's signature welcome drink, a fresh Buffalo Milk!
We walked past the ticketing counter/reception and came to this open-air large barn where the Buffaloes were enjoying their feast.
The Water Buffalo is a large bovid and native to China, South Asia and South East Asia. They are commonly raised as livestock for their meats, milks and as a mode of transportation. In Langkawi, the Buffalo once played a very important role in agriculture. Although many local farmers have switched to a more modern farming technique nowadays, the Buffalo was heavily used by them to plough the muddy paddy fields in the past.
The baby of Buffalo is called a "Calf" and is born orange. Usually, it will stand right after birth and start eating the grass at the age of 1 month.
This remarkable creature is looking so much bigger in real life than in photos.
Visitors are allowed to feed the Buffaloes using their hands.
All the grasses and hays here are grown and harvested by the Buffalo Park itself.
The Buffaloes are actually live freely in a large open field located next to the barn. The barn is functioning as a feeding place for them.
Besides watching and feeding the Buffaloes, there are some other interesting activities available in the Buffalo Park for guests to try such as the Buffalo Riding, Cart Riding and taking photos with the Buffalo while dressed up like the locals.
Visitors can watch the live process of making the Buffalo Milk Cheese from behind this glass wall.
There is a small cafe located near the ticketing counter that sells various products that specially made and manufactured by the Buffalo Park such as Buffalo Milk, yogurt, ice-cream, Mozzarella and Feta Cheese. Customer also can purchase a fresh Buffalo meat from here.
The cafe provides a serene view and calm environment of the farm.
The Buffalo Milk Ice-Cream is 1 of the hot selling stuffs in this cafe.
The Bufflo Milk Ice-Cream consists of different flavors to choose from such as Strawberry, Vanilla, Corn, Yam, Chocolate, Coffee and Plain (natural Buffalo Milk flavor). I had the Strawberry flavor.
The other famous thing in this cafe is the Buffalo Steak which considered as the main highlight for everyone who visiting the Buffalo Park.
As we just had our lunch at the previous restaurant, we only ordered a plate of the Buffalo Steak to be shared by 3 of us. Around 10 minutes later, the steak was served and it came with Coleslaw and Mashed Potatoes as sides with a generous amount of Black Pepper Sauce.
The Buffalo meat tasted quite chewy and definitely much tougher than the average Beef meat. Nevertheless, the steak was cooked to perfection and tasty.
We also didnt forget to purchase some other items to be brought back home such as the Riccotta Cheese and a Coffee-flavored Buffalo Milk.
We left the Buffalo Park when it was almost 5pm in the evening and made our way to the airport for our flight back to KL. That was the end of our short 3 days and 2 nights trip in this beautiful legendary island.
The details of the return trip will be covered in a separate trip report. Until then, see you guys next time!
Goodbye Langkawi!
---
Last edited by airways91; Jan 18, 18 at

1:20 am