AA 1203 LAX A319 C class - LAS B738 F class
Jul 18, 16, 3:29 pm
AA 1203 LAX A319 C class - LAS B738 F class
---
Hi everyone, after reading and enjoying so many TR , after a recent trip to Las Vegas I thought I would try my hand at it.
Part I
My husband and I decided to join my sister and BIL in Las Vegas for a 3 night getaway. Usually, we drive out with the kids in tow but given that my DH just celebrated his 46th birthday and our 10 year anniversary is coming up, we took our first trip without the kids since they were born.
I had just got a Citi Prestige card , so we decided to fly out given that the $250 air travel credit would pretty much cover the costs of the airfare. Unfortunately, there didn't seem to be any direct or reasonably prices flights from SNA (our closest airport) to LAS , so we decided to fly out of LAX and take a shuttle.
My first mistake was booking a shared shuttle through Primetime, I had used in the past when my father has come to visit from Toronto and he usually seemed to luck out where they put in him a private sedan or the driver had to make only one other stop near by.
This wasn't the case for us- and we ended up all over Orange County as if we were playing Pokemon Go and collecting mythical little creatures. We were the first people picked up in San Clemente, then picked up someone at UC Irvine, then SNA and finally Hunting Beach. It took over 3 hours!!!!
To make matters worse, the driver was lovely so when I went to tip him.I grabbed a crumpled bill from my purse thinking it was a $20, only to later figure out it must have been a $1, I as mortified thinking of the poor driver looking at the it later and thinking we stiffed him . I had to spend 15 minutes on hold with the company while in the lounge get them to add the tip
TSA lines were very light that day and we got through very quickly, our assigned gate was also right across from the AA lounge which was convenient.
We got the the lounge and I presented my Citi Card and gained access without too much trouble other than having to give my card to the agent twice.
Once inside, we had a light snack.
They had just cleared the breakfast offerings but hadn't restocked for lunch (the soup well was empty). An employee offered to get me a toasted bagel from the back and bring it to me.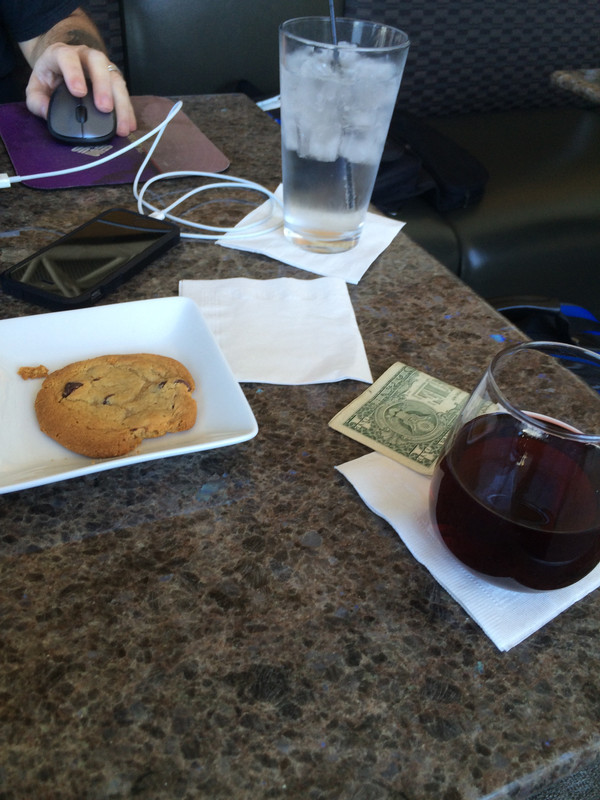 I checked out the bathroom and the walls seemed to be in disrepair, thankfully they are renovating.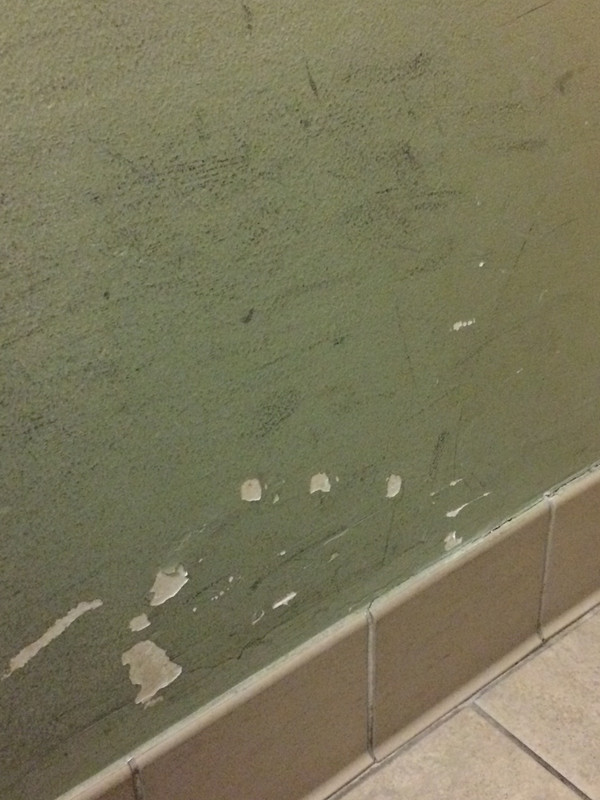 Over all, I wasn't that impressed with the lounge (it was my first visit) as far as offerings (no airlines status, so no premium drinks ) but I found the service to be pleasant. While I will use it again, as long as I have access with my credit card, it's not something I would pay out of pocket for.
Before long, it was time to head to the gate.
---
Last edited by Martina70; Jul 25, 16 at

6:07 pm
Jul 18, 16, 4:19 pm
Part II
We boarded under group 2. When I selected the seats, I picked an isle and window seat for my husband and myself, thinking that since at the time there was a lot of availability, no one would select the middle seat. However, they quickly announced the flight was full so before long, a lady came to join us. My husband asked if is she wanted to trade and she was agreeable to it. We could see her trying to look down toward the front of the aircraft and she mentioned her 12 year old daughter was seated by herself. My husband offered to trade seats with her daughter if they wanted to sit together but before she could accept, the FA came up and told the lady she found seats for them together in another row. I guess some folks didn't make the flight because our middle seat was empty for the flight.
But here is the interesting thing that happened, right before the doors closed we see an FA escort this guy down the isle and help him to his seat. Before they have even started the safety video I hear him ask for water. Then I notice he is so wasted, he can't even hold his head up. While the plane is starting to move, he decides to get up and starts to take off this belt. I thought he was going to pee in the middle of isle. So then , the FA rushes over and gets him to sit back down. I tried to get it on video, but messed up and didn't hit record. But I did catching him bobbing and weaving.
Then, once we landed in Vegas, he got up to get his bag and fell over, smacking his head on the over head bin.
---
Last edited by Martina70; Jul 25, 16 at

6:08 pm
Jul 18, 16, 7:38 pm
Part III
We picked up our bags were were pretty much over whelmed by the heat in LV, I think it was something like 105 which is like a punch in the face for those of us used to a typical high of 80 plus an ocean breeze.
We got into a cab and headed off to the NY NY
This is pretty much my hotel review taken off of Yelp
The Good, The Bad and the Ugly..
My husband and I stayed at the NYNY from July 13-16th. I earned one night free stay by playing MyVegas on facebook plus $75 in free play; which is a great reward for just playing around on facebook and not actual spend in the casino.
We arrived around 2PM and the check in line was pretty long but nothing overwhelming. I was expecting a bigger crowd because when I looked on line, there was zero availability in the hotel that day if you wanted to make a reservation. When we were finally called , I casually asked if there where any upgrades available and was told that for $15 I could upgrade from a Park Ave King to a Madison Avenue comer suite with strip view . so we took it (or a tacky spa suite for an extra $45 bucks-No thanks) . Upon reflection, I should have asked it any FREE upgrades were available since if the hotel was showing ZERO availability and there are upgrades, it means they over sold the lowest category (the one we were staying in) and would have to upgrade folks anyway.
The room was nice, clean and spacious..the down side is that we were right across from the roller coaster, which we could hear at night. If you are a sound or heavy sleeper, it would probably sound like being in a wind tunnel and not too bad. If you are a light sleeper, you could also hear the screams of the riders and it probably sounded more like being in a hurricane.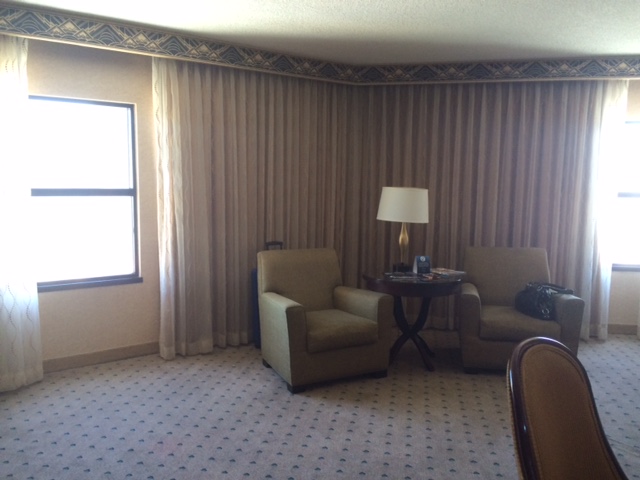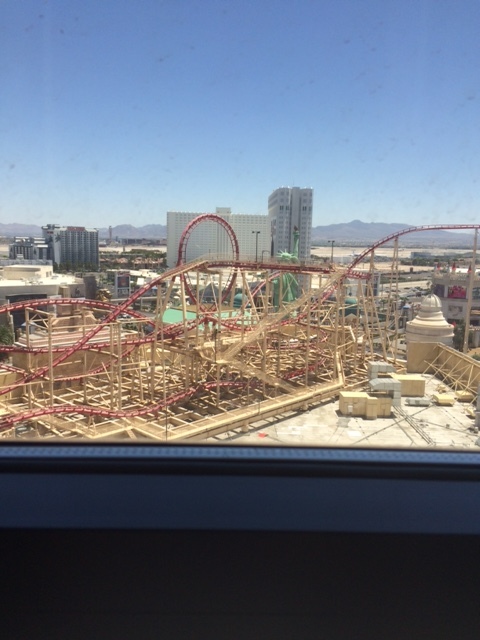 I think a $30 PD resort fee is pretty steep, especially when they don't even have coffee makers or mini fridges in the room. We tipped our house keeper $5 per day and she did nice job of straightening our room up when we were out, even if it was later in the afternoon.
All the cocktail waitresses were very nice and genuinely appreciative of tips. Another plus for the hotel is they hired folks of all shapes, sizes and ages. From an HR perspective, I think that is awesome . especially when the image of as Vegas is show girls galore.
Over all, the employees be it in the shops, casino floor, or restaurants were pleasant and/or engaging.
As far as 'getting lucky'...while at some points were were up a couple of hundred, we probably ended up being down about $500 by the time we left. Which isn't too bad given my sister and her husband were down $1000 on their first night.
There is a lot more new games since I was last in Vegas, many inspired by TV shows such as The Walking Dead, SOA, and Orange is the New Black.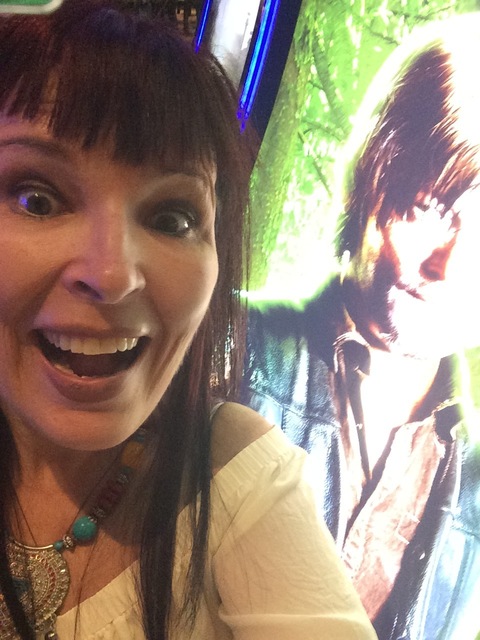 We stopped by the players club on the way out and were happy to learn we earned enough points to have a nights stay and resort fees comped...so be sure to sign up for an Mlife account and if you like to play, stay within MGM casinos to get credit for it. ETA Make sure you do this before you check out and otherwise the bill is finalized. Also remember, if you booked your air and hotel as a package from a third party site, there also isn't a lot of comps they will be able to offer you after the fact since you have pre-paid with another company.
On the down side, as someone else on yelp pointed out there is a huge transient problem on the walk way that connects the NY NY to the MGM. I would think this private property and they could have security clear it out. Going from one casino to another shouldn't feel like crossing the river Styx where guests are subjected to 'bum fights' (it seriously happened)..aggressive pan handlers and disgusting signs asking for money such as "Need money for PXXXX " if you want to know what the p-word is..think of kitty cats.
A really touching gesture was in remembrance to the victims of the terrorist attack in Nice, France, the US flags outside the hotel near the statue of Liberty were flown at half staff.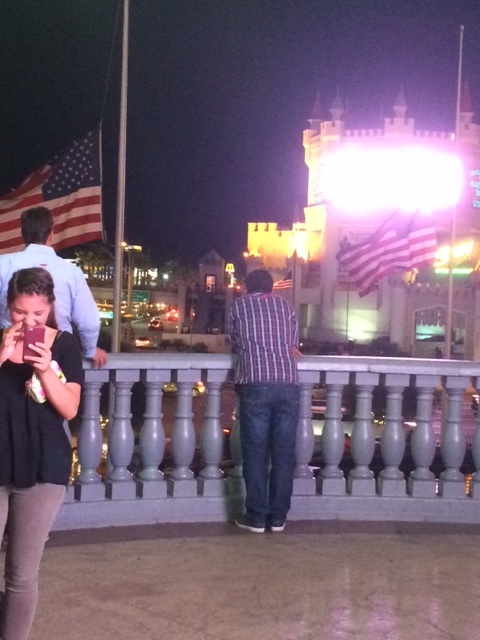 Jul 18, 16, 8:00 pm
Join Date: Apr 2011
Location: Treasure Coast, FL
Programs: DL Diamond, Marriott LT Plat, HH Diamond, Avis Preferred Plus, National Executive
Posts: 4,525
Congrats on your first trip report. Hopefully it won't be your last.

I can't believe they let the intoxicated guy fly.
Jul 18, 16, 9:16 pm
Jul 19, 16, 1:35 pm
Part IV
After checking in and bringing our stuff to our room, we went to Sirricos to grab a slice. They had a special that included a draft beer for $7 something, so we took it back to our room.
The beer was okay, the pizza wasn't all that great because it was pretty much just lukewarm.
On our first night, 6 of us went to IL FORNAIO for diner. The service and the food was excellent, I think the bill was something like $180 which included a bottle of wine . (sorry, I forgot to take pictures) . The bread is fresh and delicious. I had the POLLO TOSCANO, which was very juicy, tender and well seasoned. I also tried the MARGHERITA pizza with pepperoni later that night as we had left overs, and even at room temperature it tasted very good.
PBR Rock Bar & Grill
The next day our group decided we wanted an early dinner. We decided to eat here after taking a short walk from the NY NY.
Outside, we were offered 2 for 1 drink coupons so we came inside and were seated to a small empty bar on the left. Not being happy with the vibe and wanting something a little more lively we moved to the other side of the restaurant and took a seat at an inside picnic bench.
Our waiter quickly arrive and took our orders and advised that the drink coupons were only good on the other side of the bar. We ended up just sticking with water.
There were 6 of us ordering various things. I ordered the ribs and brisket combo with fries. The ribs were okay but the brisket was disgusting , it was shaved and didn't taste like it was smoked. It seemed more like it was boiled and they just poured sauce on it without even letting it caramelize. So I didn't eat it, I also let someone else in my party try it to make sure it wasn't just me and they also found it uneatable.
The waiter was very good and attentive, so at some point he came by and asked how everything was, so I told him I didn't care for the brisket. He offered to bring something else to replace it, which I appreciated it but by that point I was just over it and said no thank you. I also said, I was more than happy to pay for the meal and wasn't expecting a discount or anything , I was just giving feed back because he asked.
Before the bill came, the waiter brought a manger over and he apologized; and asked what was wrong with it ( I didn't think he was challenging my opinion, I think he just wanted feed back on how they could have done it differently) .
I told him that I just thought it tasted gross- and fatty; and again I said I wasn't expecting anything as the service and the rest of the food was good.
When the bill came, they took my entire meal off the menu..which I didn't expect but I think it says a lot about them. They tried to make it right by offering something else..then giving me way more than I asked for (especially because I didn't really ask for anything)
So because all the other food was good, the service was fantastic and they tried to make the customer happy, I am giving them 4 stars. I would eat here again because the over all experience was good.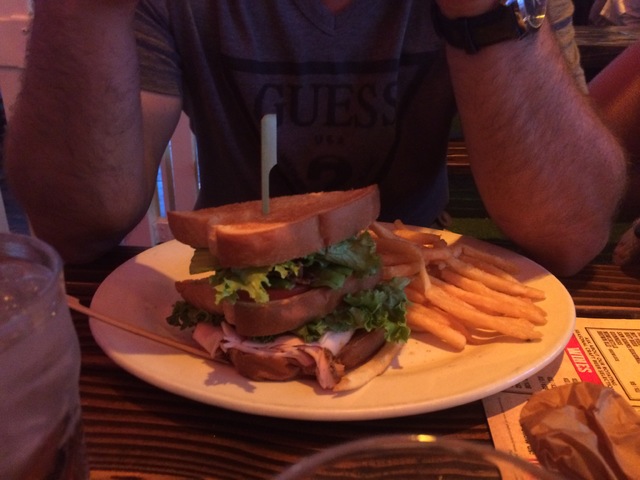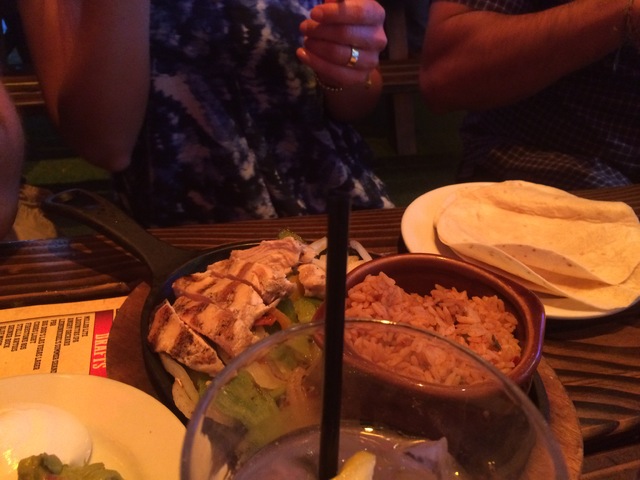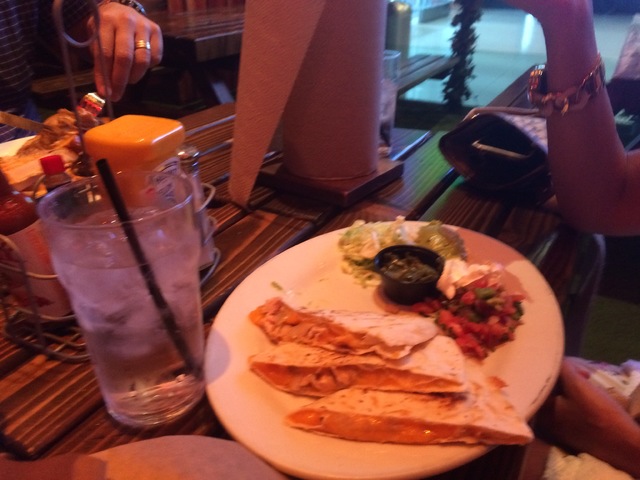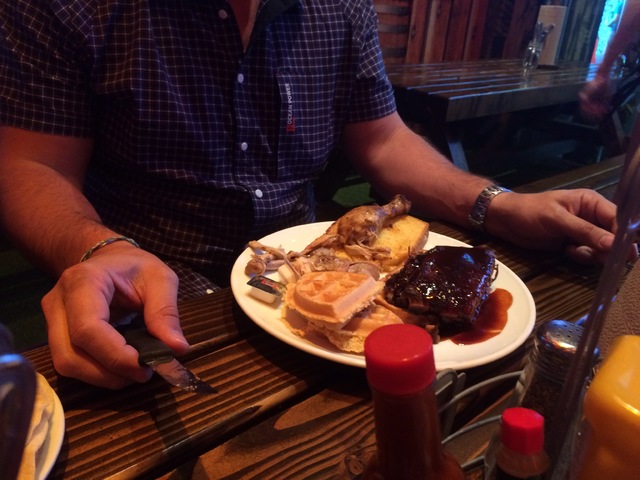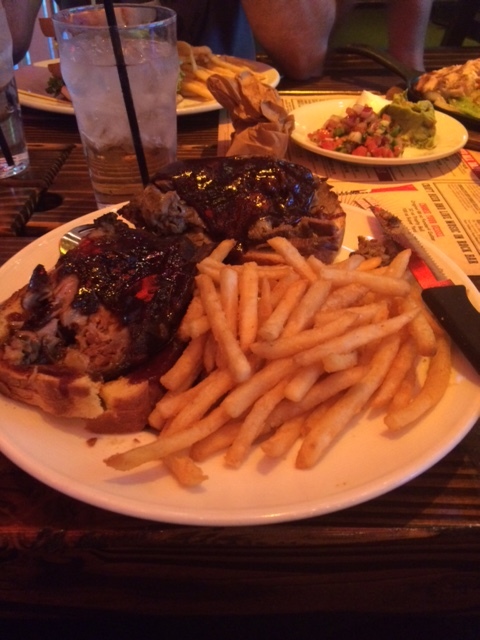 ---
Last edited by Martina70; Jul 21, 16 at

9:24 pm
Jul 21, 16, 9:56 pm
Part V
Our last dinner out we decided to go to Crush located at the MGM grand. It was a quick but rather
interesting
walk from the NY NY as per my hotel review.
While waiting to meet our travel companions, I won $250 bucks
Crush looks small from the front but there are quite a few side and private room for extra seating.
We were quickly seated and given menus and introduced to our waiter and sommelier . I can't remember the wines but they were pretty much the house Merlot and Pinot Grigio
A couple of people ordered starters..the heirloom tomatoes (I didn't try it) and the rock shrimp (which was fantastic).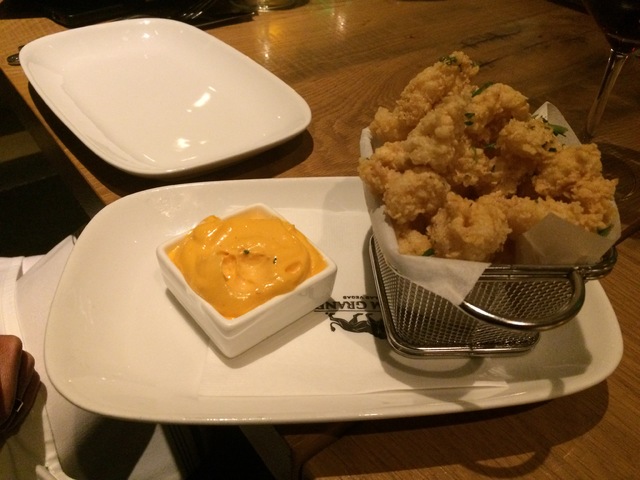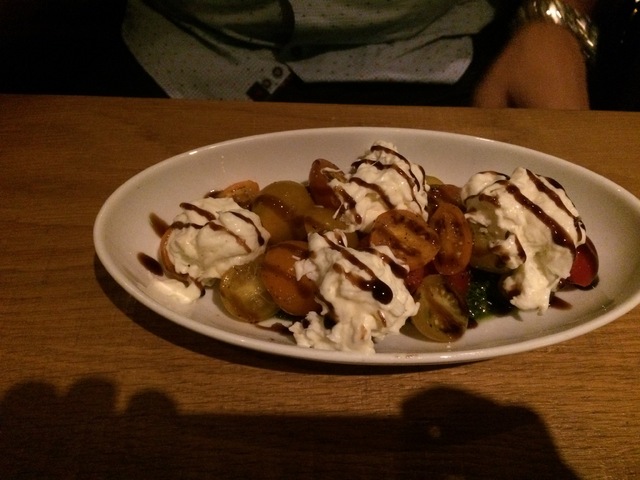 I was also able to capture a few of the dinner orders. I had the NY strip which they served with french fried potatoes per my request. It was very, very good, I wish I wasn't so full as I would have eaten more of it. The rack of lamb was reported to be excellent as was the filet.
We also had a side order of the lobster mash ($11) which ended up being comped because our waiter forgot to put it in with our other order, so we had to wait a couple of extra minutes for it. We never complained or fussed about it, the waiter just offered to comp it, which was really nice of him. With tax and tip, this was our most expensive meal of the trip costing about $150 per couple but it was well worth it. I really liked the mash and could have eaten a whole bowl of it as a main, my sister said she liked it but couldn't taste the lobster.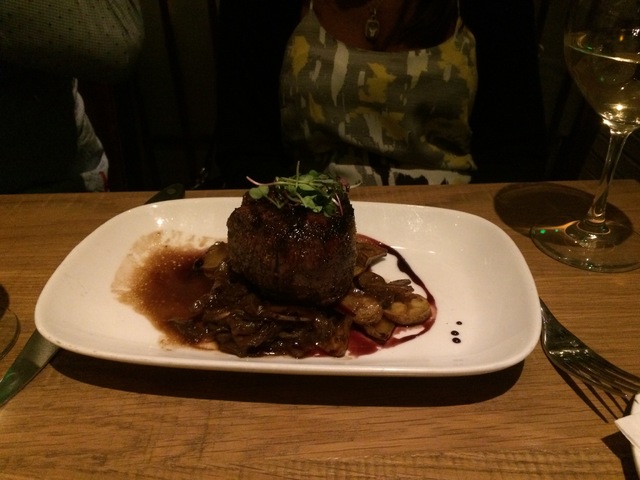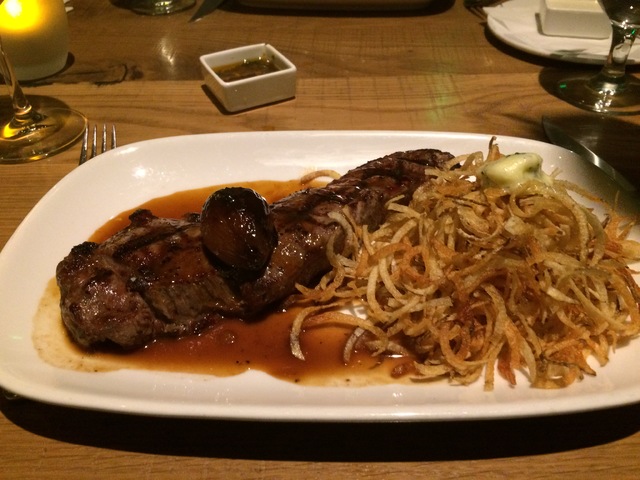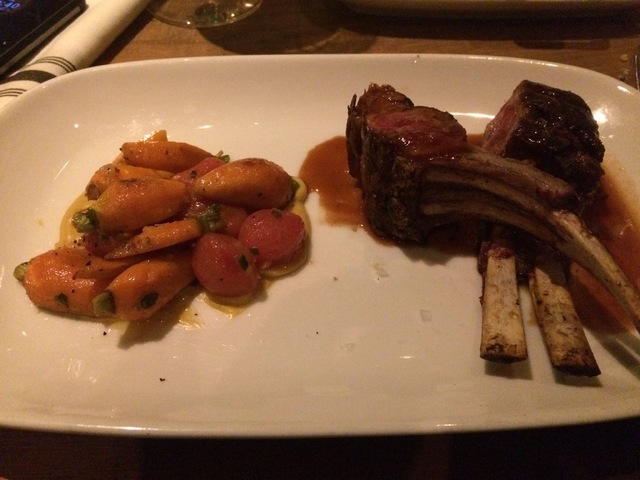 Over all the food and service were excellent and I would eat here again..(although I was secretly hoping our last dinner would have been at Gallagher's- oh well maybe next time
)
Coming up.. The Club at LAS Terminal 1 & 3 review plus the flight home.
Jul 24, 16, 5:34 pm
Thank you for the kind words.
Yes, I thought we would have ended up spending much more on food than we did. But there actually many reasonably priced food options in some decent restaurants.
Jul 24, 16, 6:11 pm
Part VI
As mentioned earlier in the report on our last morning , DH got up early to hit the Mlife desk to see if we had any comps. To our surprise we did , which earned us a free night plus the resort fee. Although we only withdrew about $600 to play with, it translated to about $5500 in play.
We then hit the $5 blackjack table as it was empty, we ended up about $100 ahead before I decided we should head back to our room so we could double check our charges, check out and get to the airport.
Although our flight wasn't leaving until a little after 2pm, I made arrangements with my sister and BIL to meet them at 10ish at the terminal they were flying out of, so we could guest them in the The Club lounge.
We also went to check in to our flights online and saw they were offering upgrades to first for only $50 which is next to nothing given that we would get our bags checked for free, so hopped on it.
We checked out by droppng our keys in the box; I also used the kiosk on the way out for good measure.
We got to the airport and went to the priority lane and were given our boarding passed and made our way to security.
My DH tried to argue with the that we were going the wrong way, but I pointed to the signs showing that TSA precheck and first class were in the same direction.
Thank goodness for first class as the lines looked huge for regular screening.
To my surprise when the TSA agent scanned my pass , he asked me if I knew that I had TSA precheck. I was a bit surprised because I have yet to apply for it, so I said "No???". He told me that meant I didn't need to take off my shoes. Sweet.
My husband and I both take off out belts ( I have since learned that with precheck you can keep your belt on in most cases but I was wearing a metal studded belt , so they would have probably asked me to take it off anyway)., along with my purse, his jacket and lap top/bag and put them in the bins.
My husband went through first with out an issue, but when it was my turn, the agent put up some board preventing me from walking though and screamed at me to make sure my purse goes through the machine. I was a bit taken back so I walk back to the conveyor belt and look around kind of bewildered and threw up my arms and "I'm not carrying my purse". He then softend his tone and said he just wanted be make sure I didn't leave my purse behind without putting it on the belt. Umm okay... then he let me though.
We then got on the tram for T3 to meet my sister and BIL.
---
Last edited by Martina70; Jul 25, 16 at

1:45 pm
Jul 24, 16, 6:47 pm
FlyerTalk Evangelist
Join Date: Nov 2003
Location: Frisco, TX
Programs: The Airline Run by Doug P
Posts: 20,303
Nice trip report, thank you for posting.
Well I don't know how to say this but um....when I watched the 42 second video of the guy slumming it in the seat the video ended. Then the screen filled up with other videos you apparently have? And one is .....OMG.....definitely NSFW.
I mean seriously some major porn and not your typical type porn either
ETA: this was on my laptop not iPhone.
---
Last edited by enviroian; Jul 24, 16 at

6:59 pm
Jul 25, 16, 8:22 am
Join Date: Oct 2015
Location: EUG
Programs: BonVoy Au, IHG Au, HH Au, Nexus, Pilot FlyingJ Preferred, *$ Au
Posts: 4,943
Originally Posted by
enviroian
Nice trip report, thank you for posting.
Well I don't know how to say this but um....when I watched the 42 second video of the guy slumming it in the seat the video ended. Then the screen filled up with other videos you apparently have? And one is .....OMG.....definitely NSFW.
I mean seriously some major porn and not your typical type porn either
ETA: this was on my laptop not iPhone.
I think that's Youtube's recommendations, not the OP's videos. I'm not signed into Google/Youtube and the four videos were all random non-NSFW videos all with same/similar names to the OP's video, which I assume is just the default iphone/android naming scheme. If your signed in, depending on your profile settings, it's quite possible for Youtube to deliver NSFW content.
Martina70
, I travel to Las Vegas every year or so for work and it's really not my thing so it was great to see it through someone doing a vacation style trip! Looking forward to the final installment! I've never been in the Club lounge at LAS.