SV MXP-CGK ow start from 477€ in J
Apr 14, 17, 7:58 pm
Join Date: Dec 2016
Posts: 41
SV MXP-CGK ow start from 477€ in J
---
as above, there are some availability from MXP (and FCO actually) to CGK, one way starts from 477€ in J. mileage accrual around 10k-ish. the layover in JED is quite boring though as there is not so much to see at the airport.
bookable as early as tomorrow
[IMG]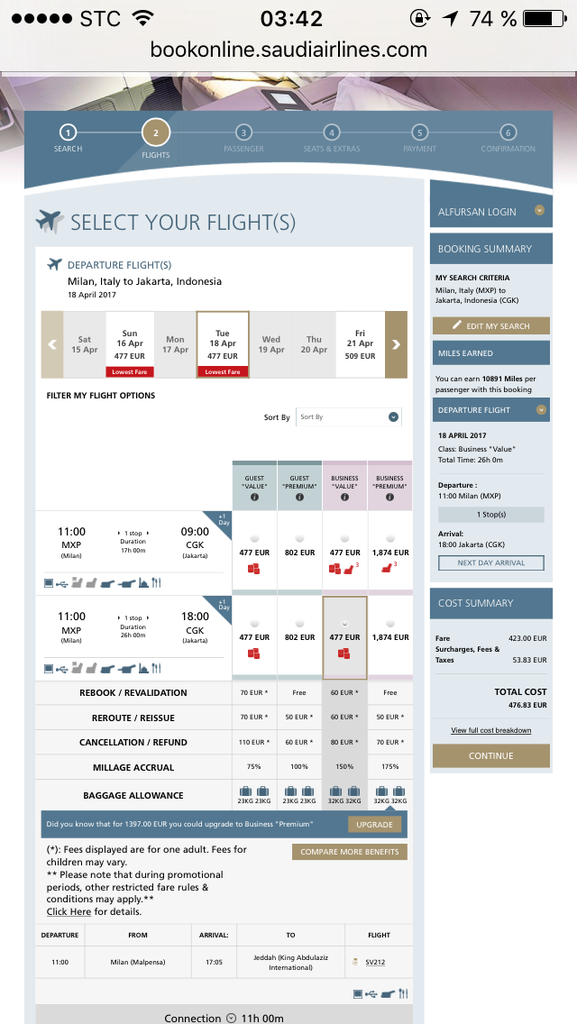 [/IMG]
Apr 14, 17, 8:52 pm
formerly known as Tad's Broiled Steaks
Join Date: Jun 2004
Location: @BuildingMyBento
Programs: Metro-North Rubbish, Keisei Skinflint, KCR Headphones, Kopaja Platinum
Posts: 5,254
The SV lounge in JED is crowded and freezing, but they have a (cold-water) shower, and decent food.
Apr 14, 17, 10:47 pm
Join Date: Feb 2007
Location: U.S. (sometimes)
Programs: UA 1k 1MM, AA Exec Plat, Hyatt Diamond, SPG Plat, Marriott Plat, Hilton Gold, IHG Plat, Accor ?????
Posts: 1,299
Apr 14, 17, 10:56 pm
Join Date: Mar 2009
Location: DEN / CGK
Programs: UA 1K, AS MVPG 75K, Marriott Gold, Hertz PC
Posts: 1,497
You need a visa if the connection is 12+ hours, and not many consulates issue a transit visa anymore...
Trust me, I've tried many many times
Apr 15, 17, 1:02 am
Correct, as per TIMATIC (courtesy of emirates.com):

TWOV (Transit Without Visa):
Holders of onward tickets for a max. transit time of 12 hours.
Only one transit stop-over in Saudi Arabia is permitted.

Apr 15, 17, 4:38 am
FlyerTalk Evangelist
Join Date: Aug 2000
Location: London
Programs: Hilton IHG LH BA TK
Posts: 12,370
Apr 16, 17, 2:29 am
Join Date: Apr 2014
Location: SHA ✈ LIS ✈ NYC
Programs: IHG Spire, CA Gold
Posts: 59
Apr 16, 17, 1:44 pm
Join Date: Dec 2016
Posts: 41
right. one of the downside is transit visa really difficult to get. however for someone who travels to SEA quite often (ex EU), the offer isnt that bad and transit time was alright
i was at JED lounge yesterday, the lounge was a bit busy, didnt go for shower, the food was okay (the finger food was almost finished though and they didnt restock). the breakfast looked yummy as they have waffle with vanilla sauce
look forward to RUH lounge next friday!