Did I bypass customs accidentally?
Aug 5, 19, 11:45 am
Join Date: Dec 2016
Posts: 179
Did I bypass customs accidentally?
---
Hi all,

Last Thursday, I was flying LAX-MUN on LH 453 continuing on to FCO on LH1846. When arriving through Munich, I did not have to clear any sort of immigration control or customs. I headed straight to the LH lounge and remained there until my flight to FCO which departed out of the K gates. Upon arriving in FCO, I did not have to clear any immigration contol either, which was expected.

So basically, after showing my passport upon checking in at LAX, I never had to present it again until I departed FCO two days later (yesterday). This is a different process from last month when I had a similar itinerary to MAD; I remember being required to go through immigration contol in Munich, where my passport was inspected and stamped. This time, nothing.

I will say that upon reflecting back, when departing the aircraft from LAX on Friday (in Munich), it was quite confusing to see which halldays, doors and exists to use after exiting the jetway. A handful of passengers including myself went through an open door to the left, which I noticed many others exited through a door to the right. I have no idea if we accidentally proceeded through an unauthorized area or not.

In any case, I'm back in the states now and was just curious to know if this may have been the explaination for what occured.
---
Last edited by Voldoo; Aug 5, 19 at

12:13 pm
Aug 5, 19, 11:51 am
Join Date: Jan 2015
Location: FDH (Friedrichshafen)
Programs: AAdvantage, BAEC, Avios, Alaska, SAS Eurobonus, DL Skymiles, IHG Priority, Best Western Rewards
Posts: 2,008
Sounds a bit strange. You definitely should have gone through passport control in Munich (not in Rome as this was a Schengen flight).
Aug 5, 19, 12:53 pm
FlyerTalk Evangelist
Join Date: Nov 2003
Location: Jupiter, FL
Programs: DL PM, Starwood Plat, Marriott Lifetime Plat, Hilton Silver
Posts: 16,919
This happened to me 12 or 13 years ago at CDG. Our flight was way early. Kept following halls until we ended up outside. Since I flew back out of FRA, they were unhappy I did not have an arrival stamp. Since you are back, I would think no worries.
Aug 5, 19, 4:59 pm
Join Date: Dec 2016
Posts: 179
Nope, nothing like that, including any sort of biometric. Obviously it ended up not being an issue, but it has me more curious than anything. I included a map below with the very poorly drawn route I took in blue with all of my stops.
We arrived in MUC from LAX at gate L30. I exicted the aircraft (here is where it seemed like myself and a dozen other passengers may have deviated from everyone else), and took an excalator upstairs and arrived at the south side of Terminal 2. I remember this distintcly because I stopped for a cigarette in the smoking lounge next to gates L21.
From there at headed straight to the LH FC lounge; I remember passing a passport control area to my right, but it was for passengers entering T2, not departing. I arrived at the lounge and waited for a few hours for my flight. After learning these would be at the K-gates, I walked downstairs 2 stories from the lounge and walked straight up to the gate. No passport control at this point in the process either.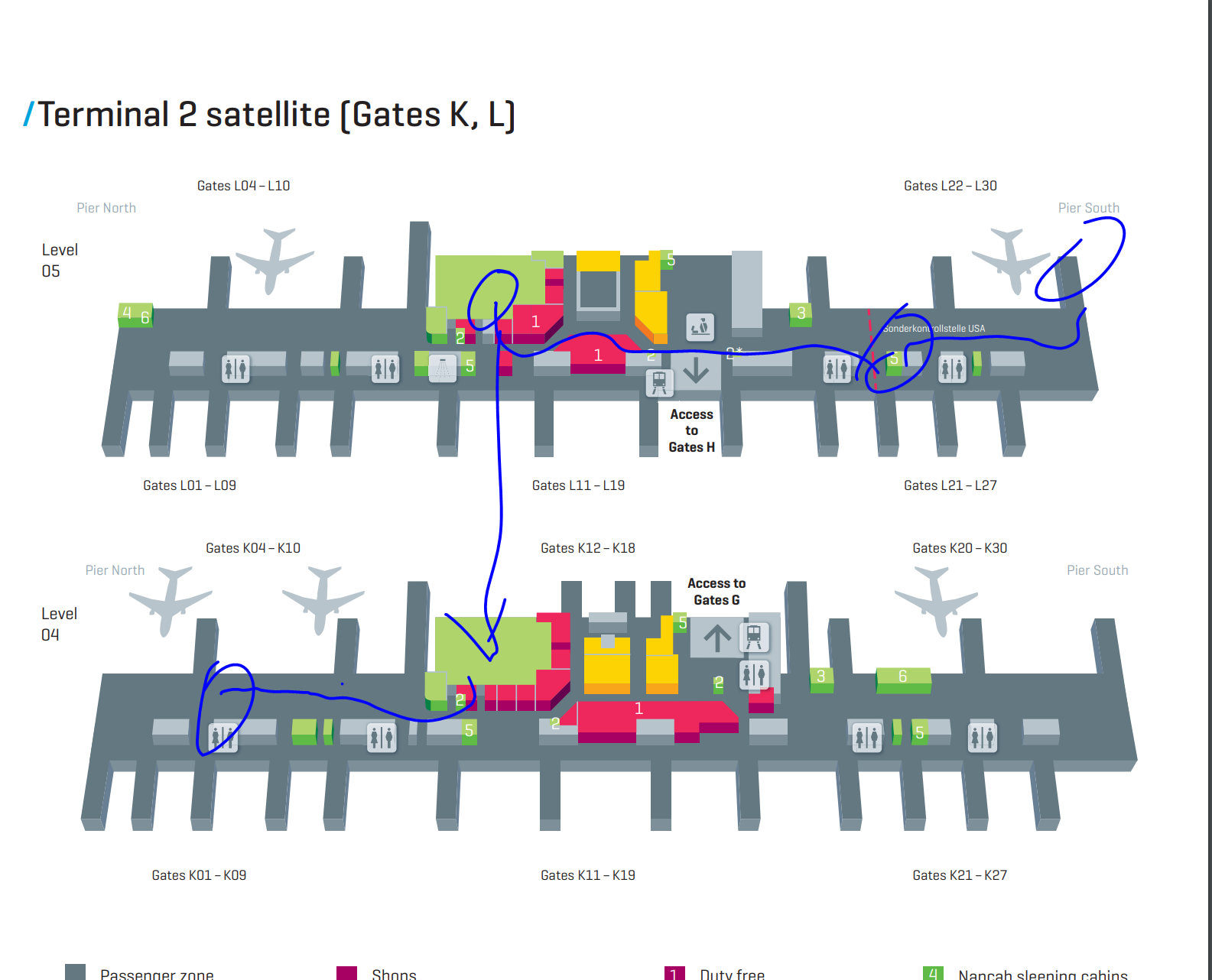 Aug 29, 19, 5:33 pm
Join Date: Jun 2005
Location: MD, USA
Programs: UA- Pl (2MM), AA-Go, Delta-Silver, Hyatt-Globalist!, MR/SPG comb - Plat, Hilton - nada
Posts: 569
Reminds me of a trip to Chiang Mai a few years ago - myself + 2 colleagues (incl my boss) on UA IAD-PEK, then Air China to CM.

Me & my co-worker were together, the boss ended up farther back...I remember as we walked down the hallway, at the turn towards immigration, the corridor wasn't really controlled and there was an opening. Maybe for people going thru to connect?

So we went thru the immigration line, and out to the baggage carousel...and the boss is standing there! We were surprised and asked, how did you get ahead of us?...he said I just walked right here. Did you get your passport stamped? No ...he had to walk back thru to immigration and get stamped.
I assume he would have been in for a rude surprise when he departed, had he not realized. We all know how Thai immi loves to hit people for violations