Turkish Airlines to Tartary: Kazakhstan, Kyrgyzstan - and a Bit of Belarus
Aug 25, 19, 4:35 am
Join Date: Jan 2003
Location: London, UK.
Programs: SQ LPPS, A3 *G, BA Silver - renewed on only two sectors and no other OW flying, is BA desperate?.
Posts: 1,202
Another great report Romanianflyer. I always enjoy markets like that too - even more so if I'm in an apartment and can take things back to try out a bit of local cooking - sometimes it's great and sometimes after some effort I go out to eat!
Aug 26, 19, 9:57 am
Join Date: Feb 2014
Location: OTP, CHQ, EIN and beyond
Programs: AF/KL platinum, Turkish gold, Aegean silver
Posts: 1,060
Thanks
lhrpete
- I fully agree with you here. It always looks tempting to buy some food and cook something with it. That said, given I don't have a clue how to properly cook ethnic Central Asian cuisine, and how good and affordable some of the local restaurants are, it might not be the best idea if I'm after tasting something authentic! It makes me wonder however if there might be some kind of food tours in these countries. It would be great fun to stroll the grounds with a local who knows what to buy and how to prepare some locally favourite dishes! I might very well research that next before I hop on a flight to Central Asia.
Aug 26, 19, 11:12 am
Join Date: Feb 2014
Location: OTP, CHQ, EIN and beyond
Programs: AF/KL platinum, Turkish gold, Aegean silver
Posts: 1,060
Part 14: Second day in Almaty, Kazakhstan
With the morning sun starting to shine through my window, I woke up relatively early after a good night of sleep on my second day in Almaty. When I opened the curtains to lovely sunny mountain views I knew I would be in for a good day.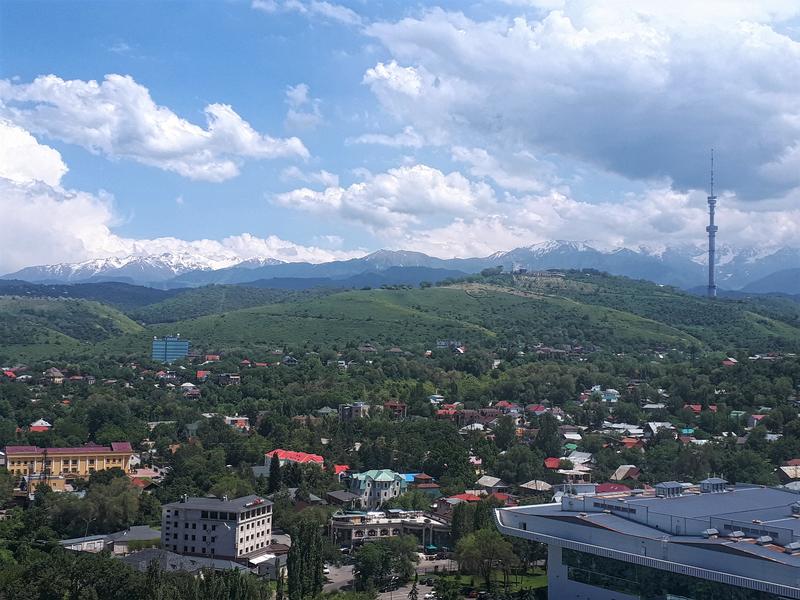 Breakfast at the Hotel Kazakhstan is served on the first floor (second floor that is for the Yanks) overlooking the lobby. The quality and quantity was average – although the egg station for a freshly made omelet was definitely a plus.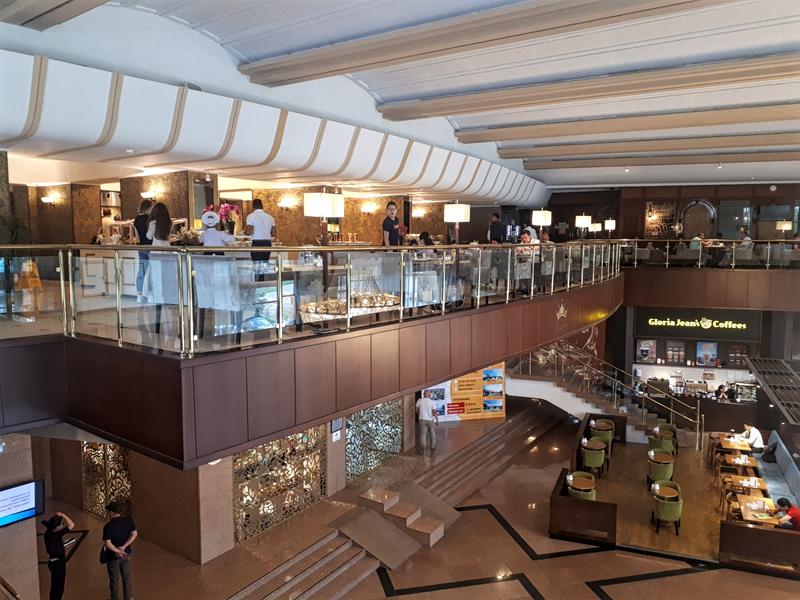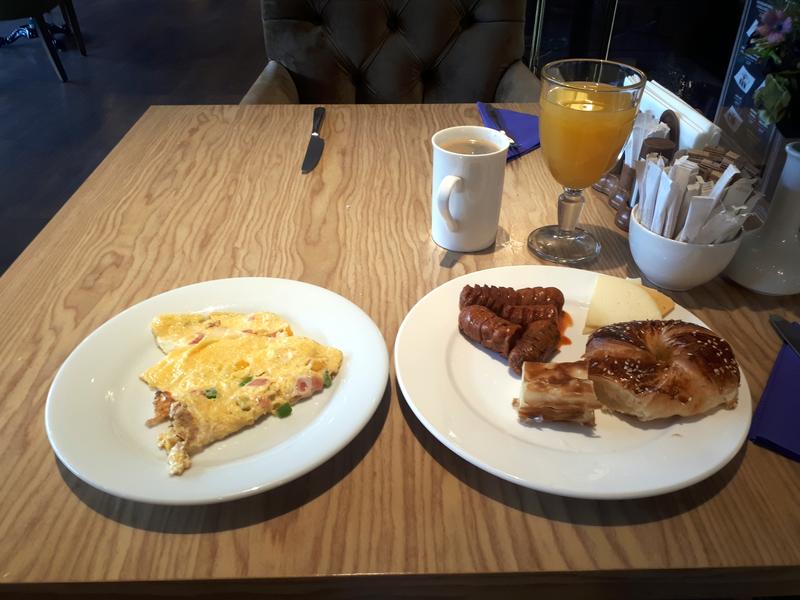 I spent a few hours in my hotel room and in the lobby cafe arranging some logistics for the crucial stage which I needed to travel the next day. Around noon I had it all arranged and was finally free to explore the remainder of the city. I started off at the Mayor's Office – a large communist-style building – and the large square in front of it.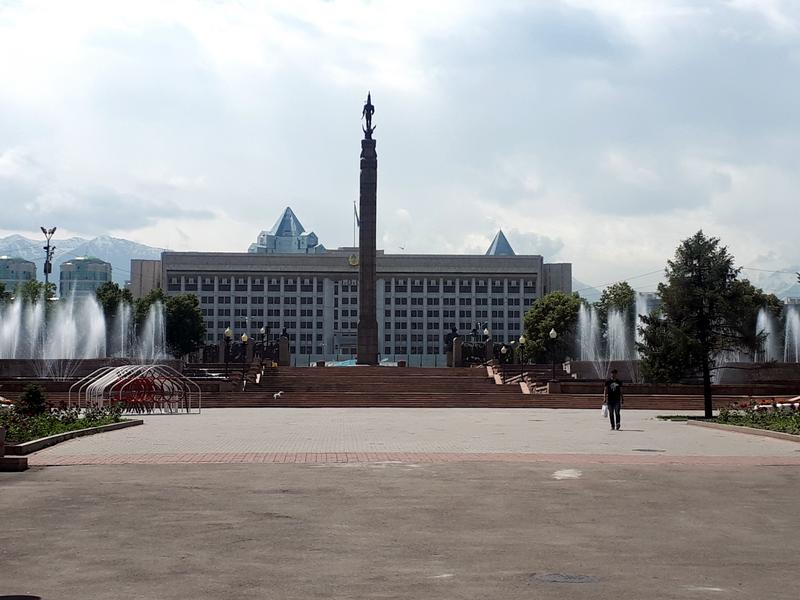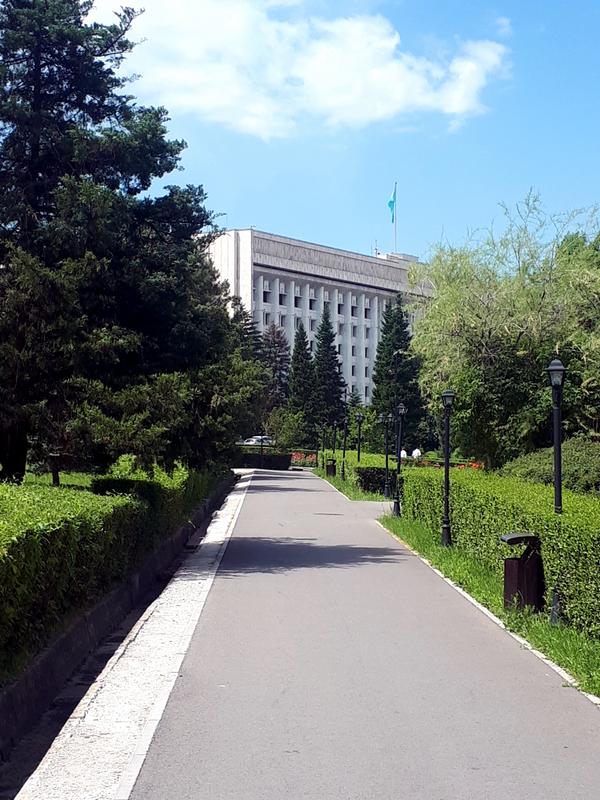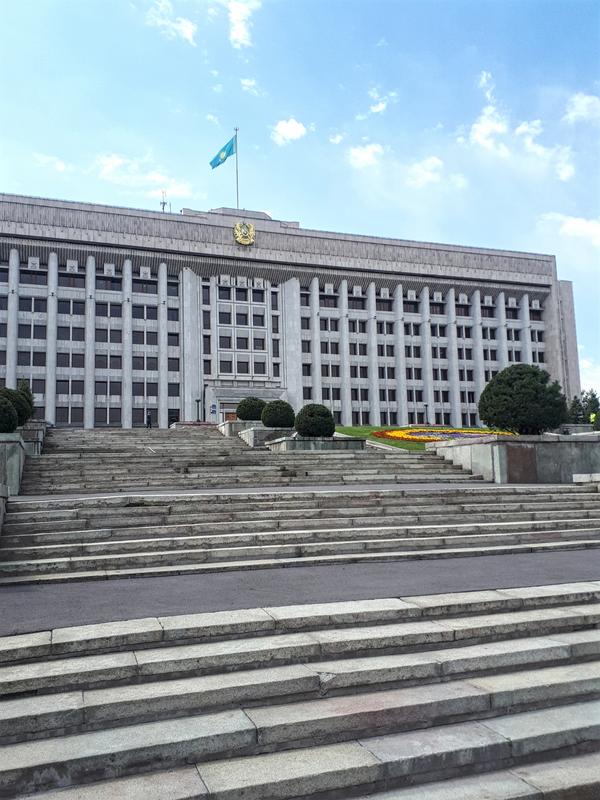 The square has a giant obelisk featuring a golden warrior atop a winged leopard. Which honours Kazakhstan's independence.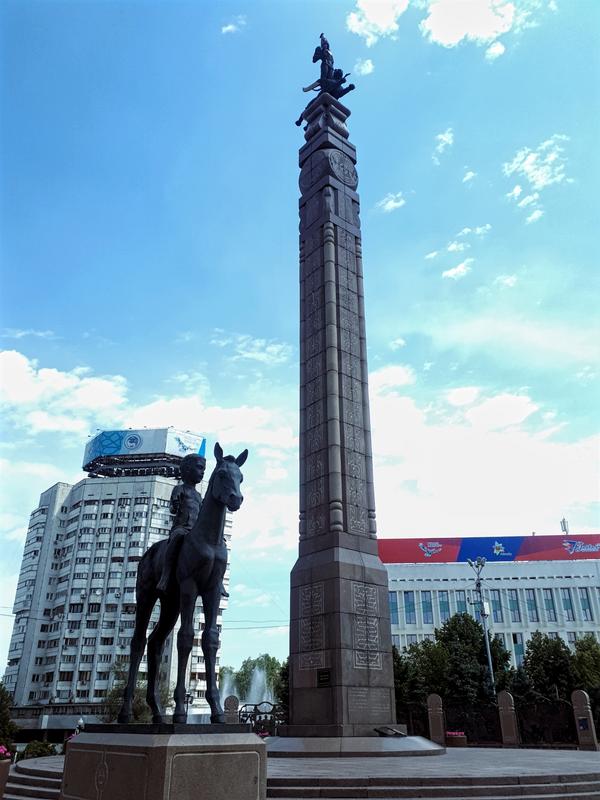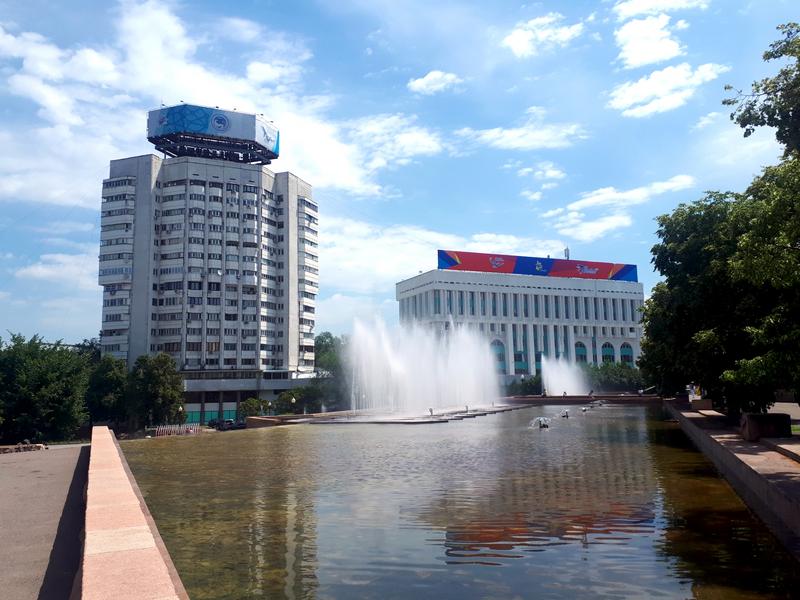 As it was turning out to be a very hot day I decided to take it easy and stop in one of the many nice cafes nearby for an iced coffee.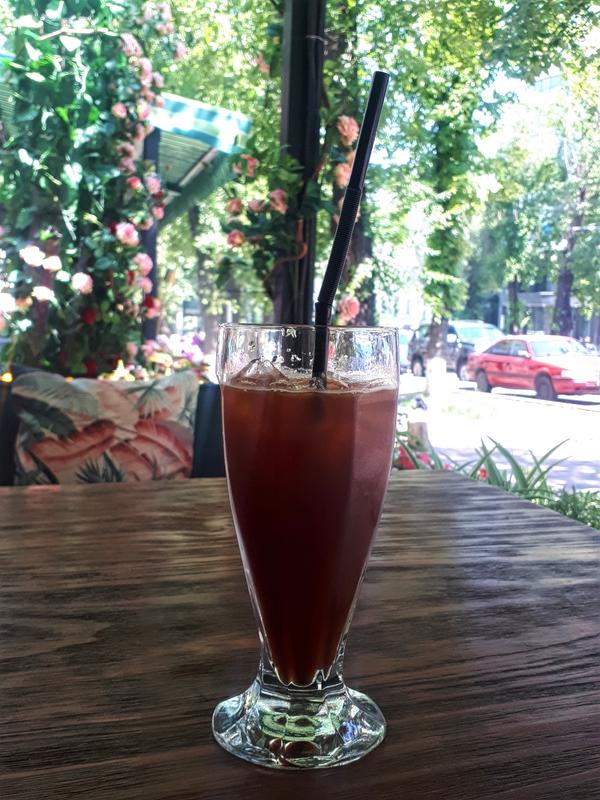 After walking by the small St. Nicholas Church and adjacent – and equally small – Nikolsky Bazaar it was time for an ice cream from an old-fashioned machine.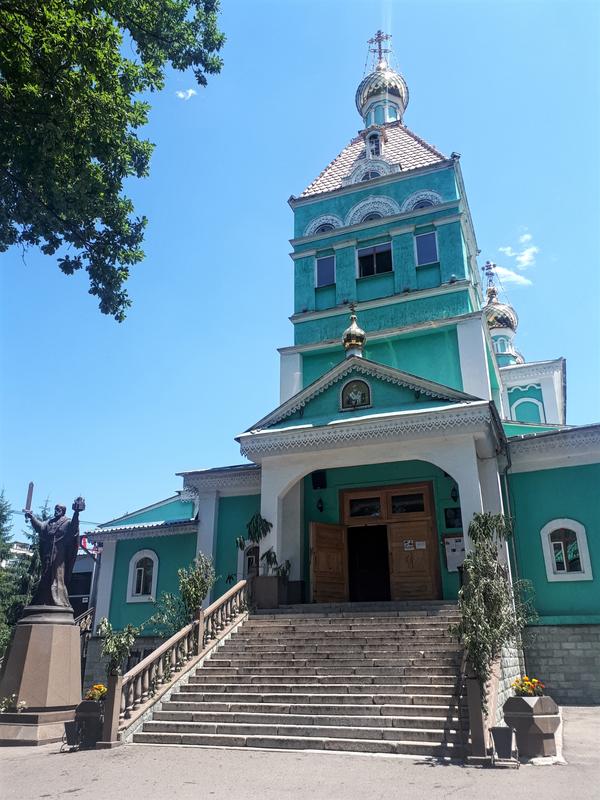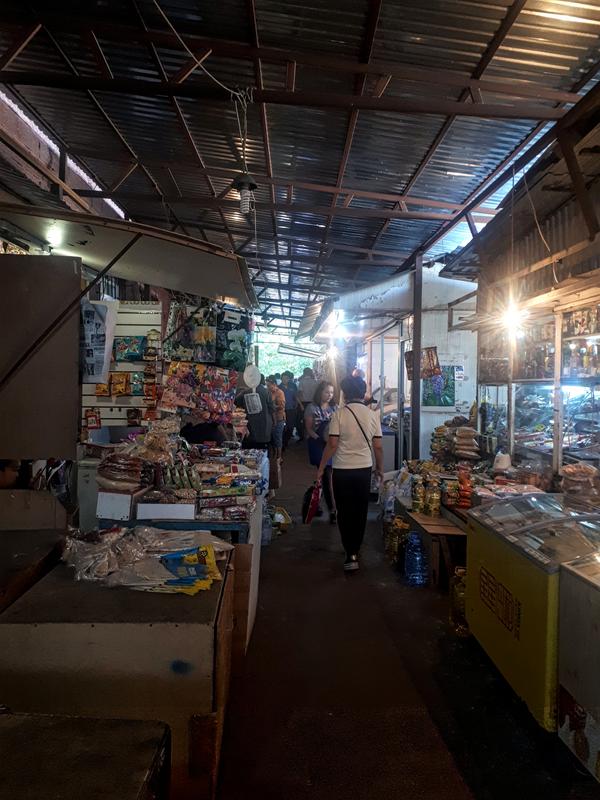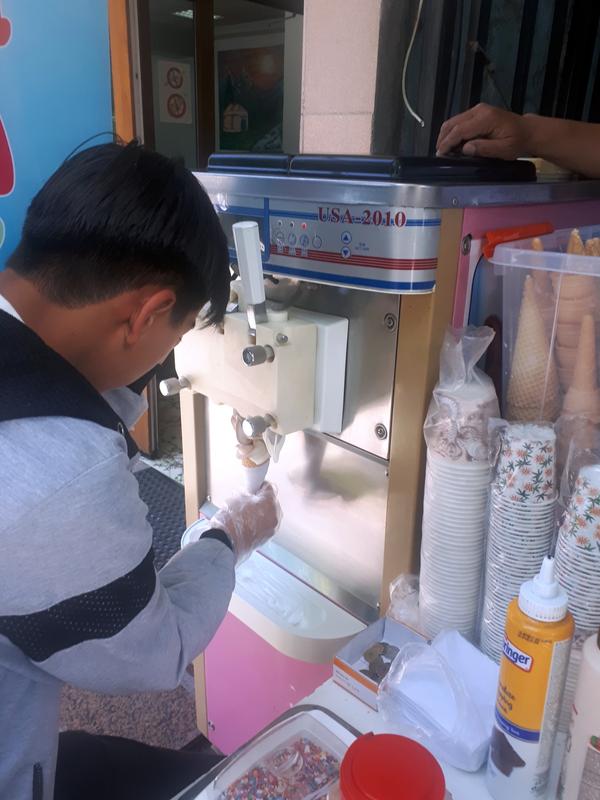 Even though I pretty much checked off all the main sights by now, I still liked Almaty. Compared to other Central Asian cities it feels modern and cosmopolitan and is just a really pleasant city to walk around, with lots of park, tree-lined avenues and plenty of interesting shops and cafes. It's ideal to just wander a bit around and see where you end up.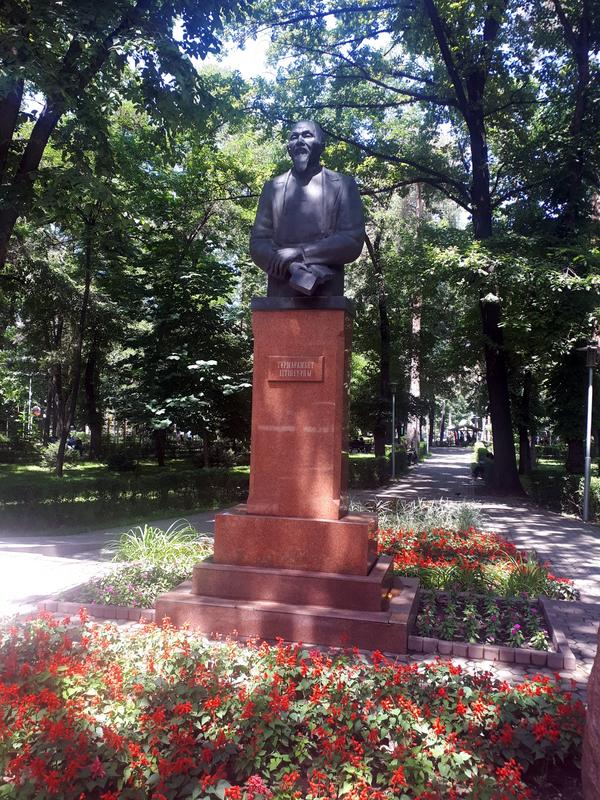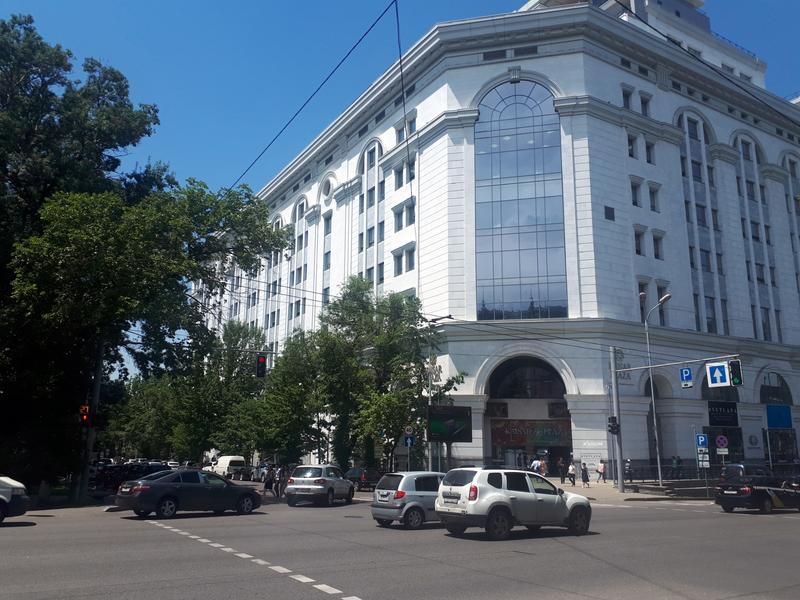 I slowly walked back towards the Kazakh-British Technical University and the nearby Almaly metro station, where I took the metro one stop back to my hotel.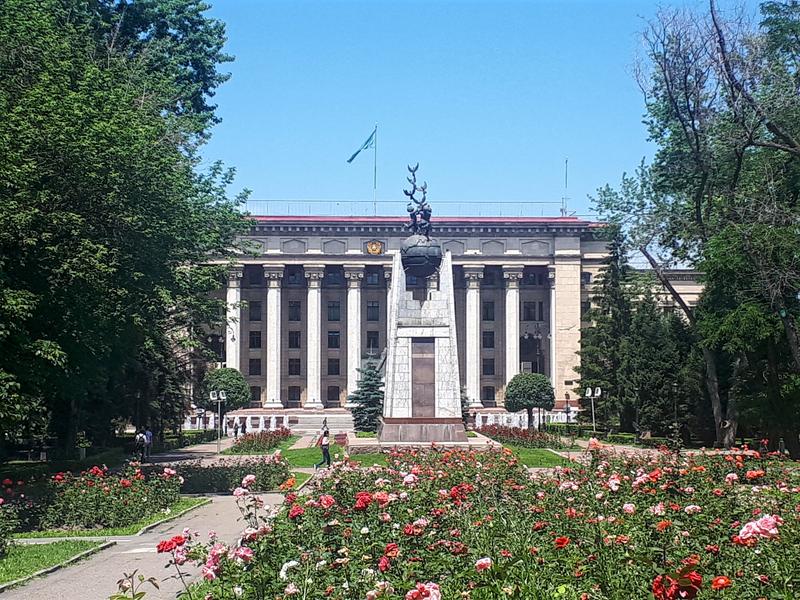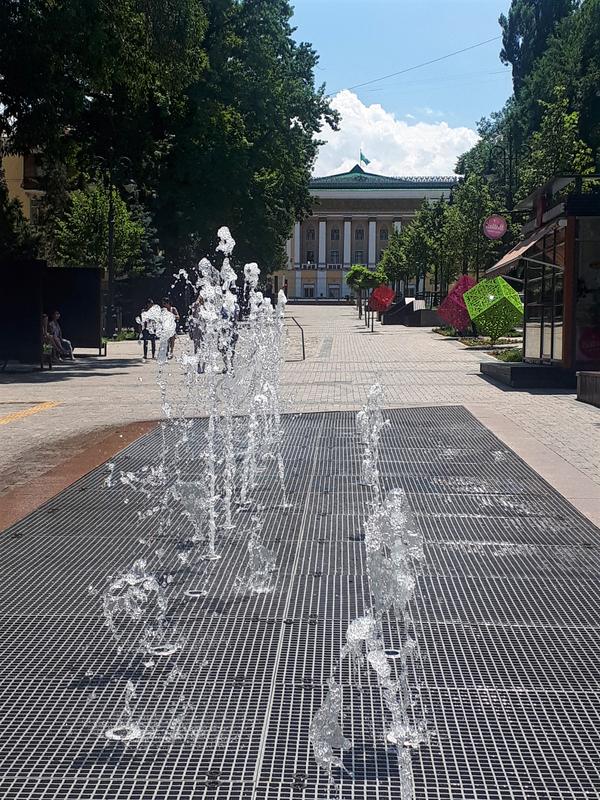 I headed back to the square next to my hotel to take a cable car up to one of the foothills of the Zailiyskiy Alatau mountain range. On this hot day, there were dozens of local childen having fun in the fountains on the square, which made me a bit envious!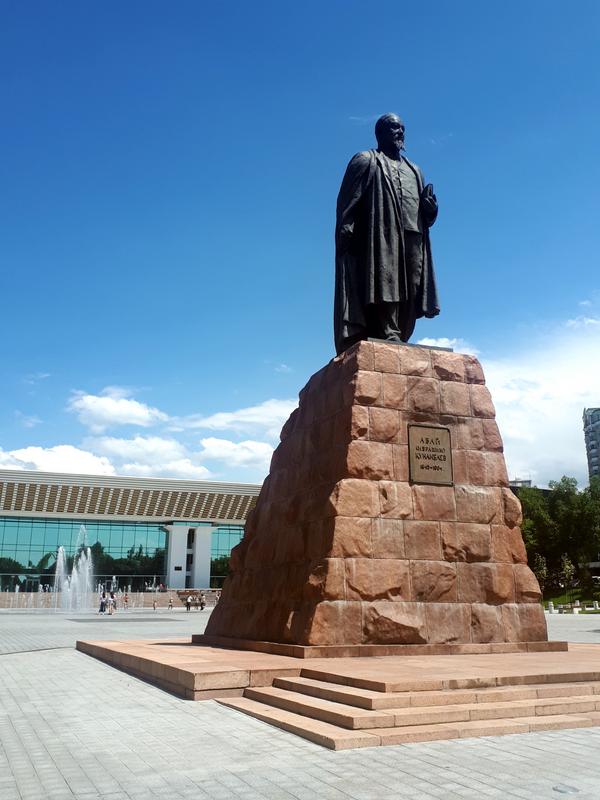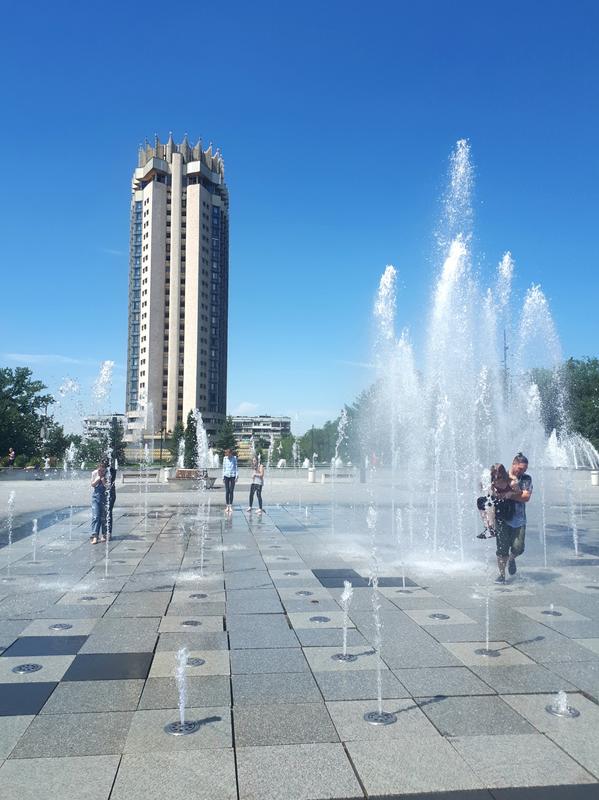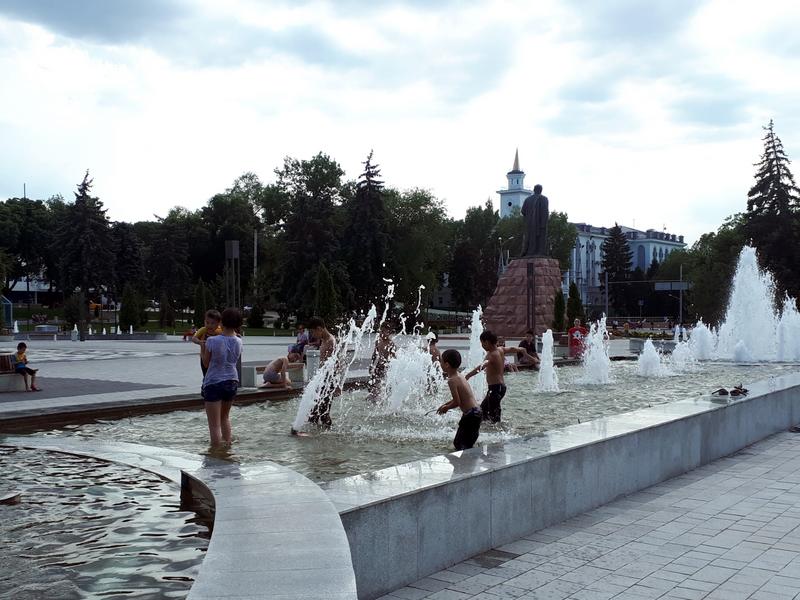 It's a relatively short ride on the modern cable car to the top of the hill.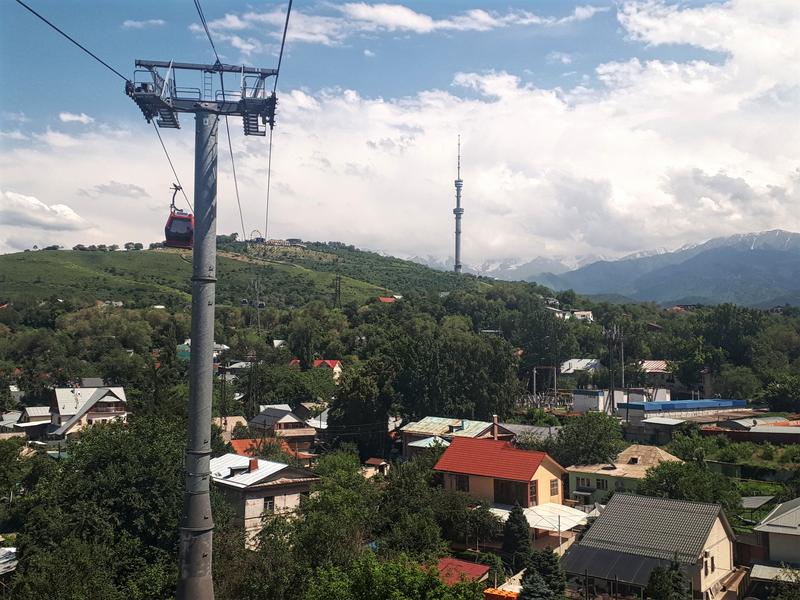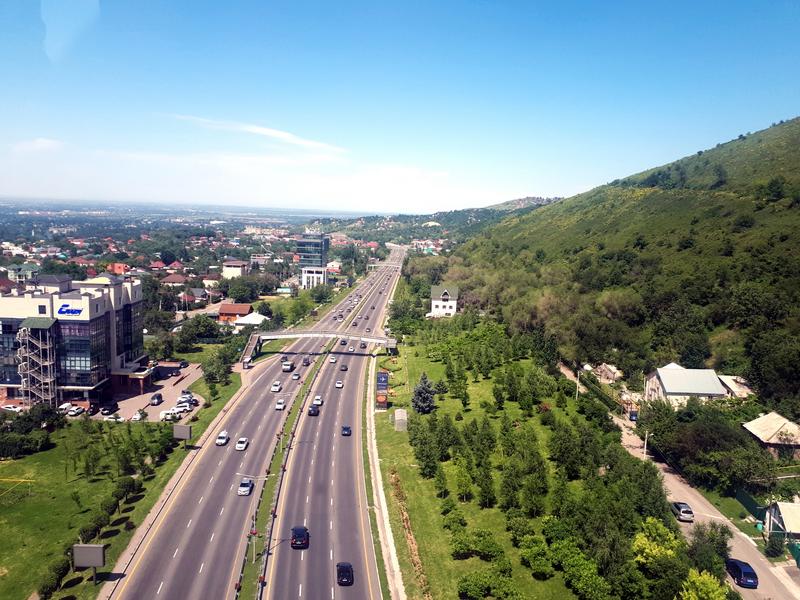 Even though you are really not that high up, the views from the top down over the city and the plains are still nice.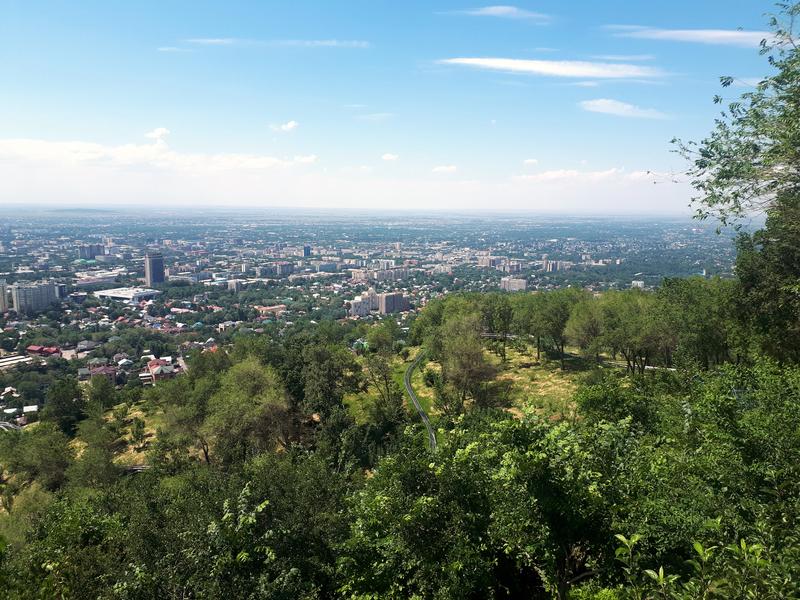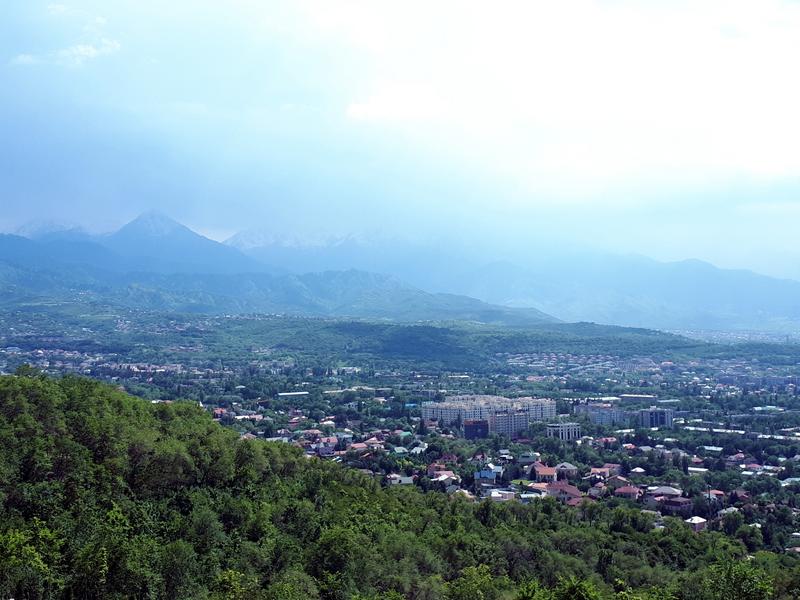 The views on the back of the hill over the Zailiyskiy Alatau mountains were more impressive.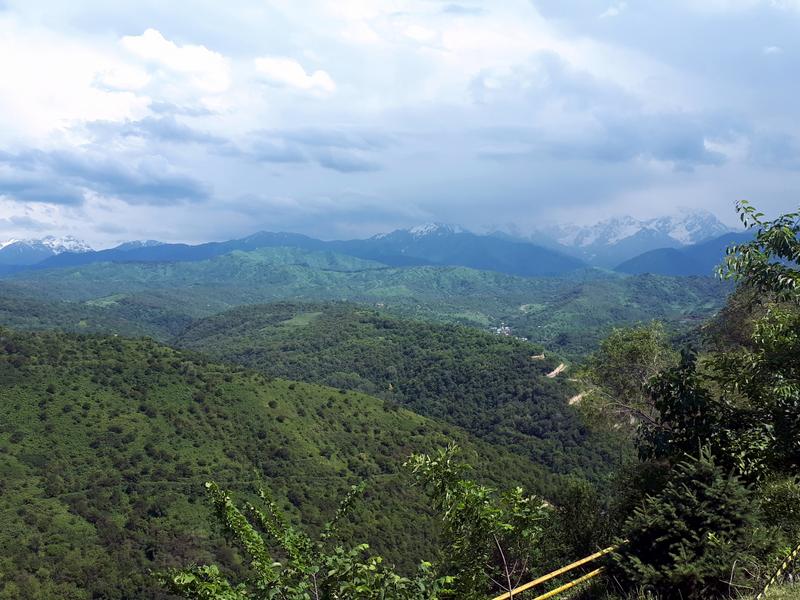 On the hill is a small amusement park which was quite crowded this afternoon with local families. It was however beyond me why on earth of all possible rides someone would put a Ferris Wheel here when already having sweeping views in all directions.
That said, even I could not resist the inner child in me when I saw an Alpine coaster. The English-speaking safety guy at the start of the course, who gives people the green light to commence their ride down, told me that doing the course without breaking before the corners was possible if I wanted maximum enjoyment. He certainly was right as it was jolly good fun to do!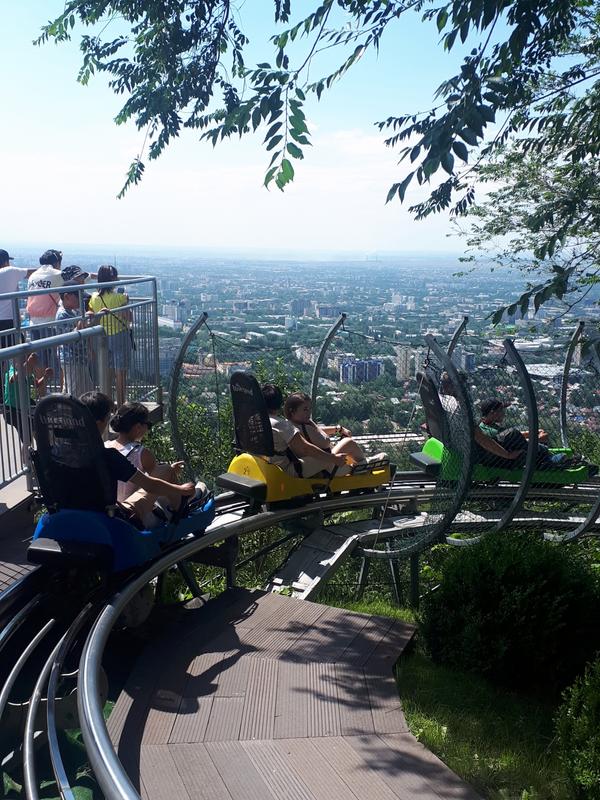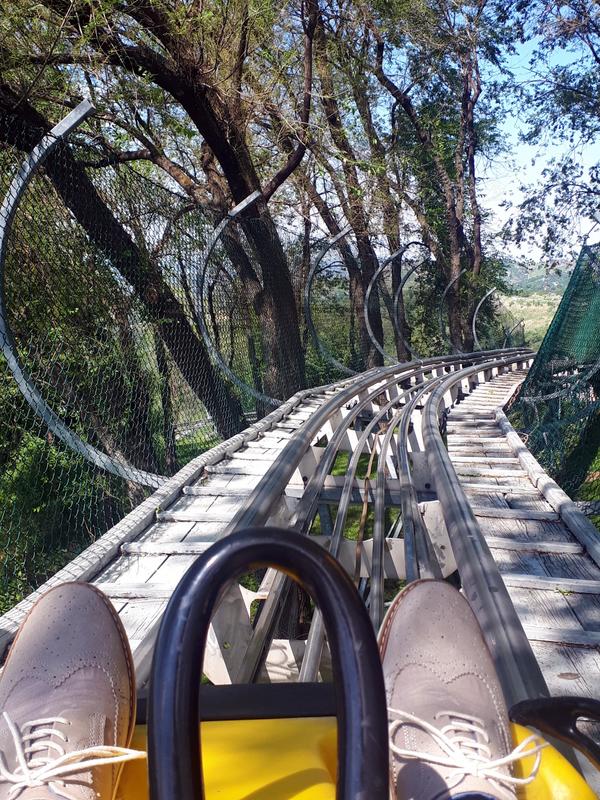 On the hill is an overpriced restaurant and some small stalls selling food. I went for one which seemingly had tasty shashlyks being grilled on the barbecue – only to be told that they didn't have any on offer or that I couldn't have one and that they could only sell me some kebab! Being mildly disappointed, I settled for the kebab, which did however came with a cool-looking drink. Baikal cola, which was supposed to be the Soviet answer to Coca Cola in the late 1960s. Both the Baikal cola and the kebab tasted good.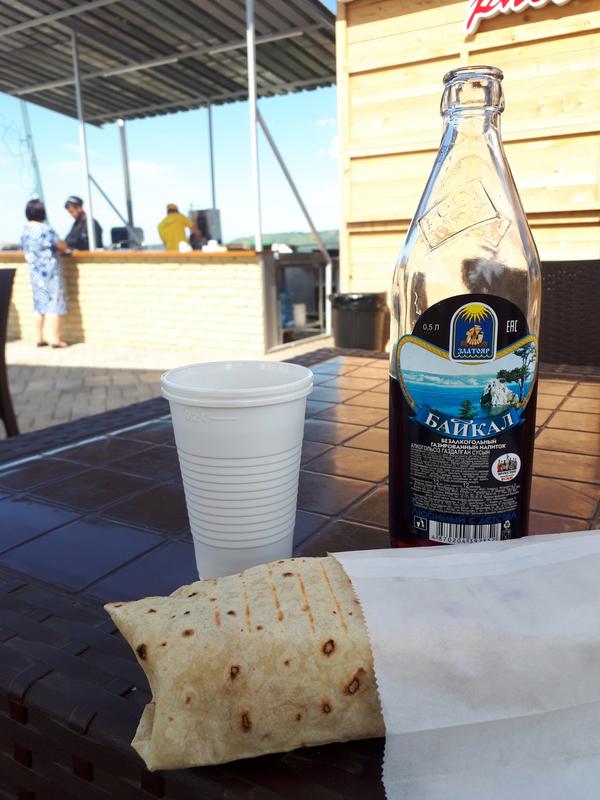 After heading down again with the cable car I decided to take it easy, starting with going to the top floor of the hotel which has a cool bar that was totally empty when I arrived. The local Kazakh weizen beer tasted excellent – and the views were unsurprisingly great!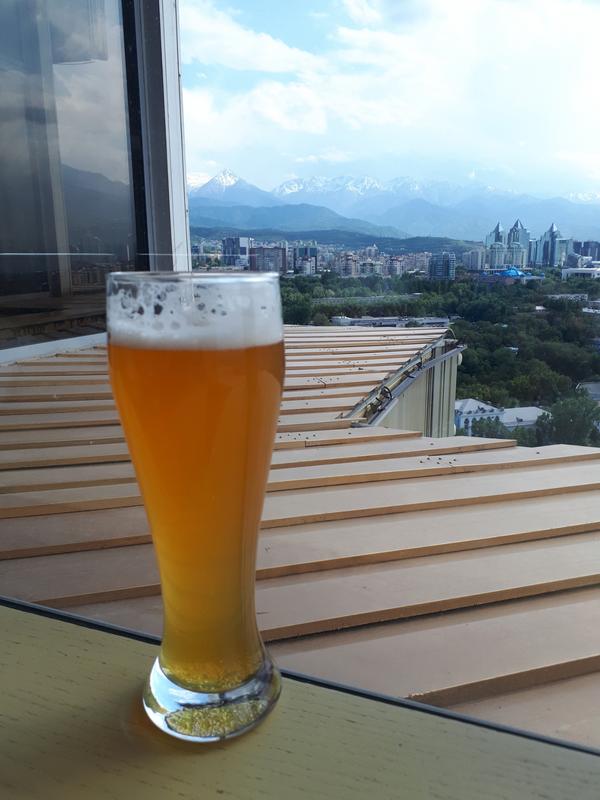 I was a bit clueless where to head for dinner – until I somehow found out that there was a Georgian restaurant just a stone throw away from the hotel which I had somehow overlooked. You can really never go wrong with an Adjaran khachapuri and some Georgian red!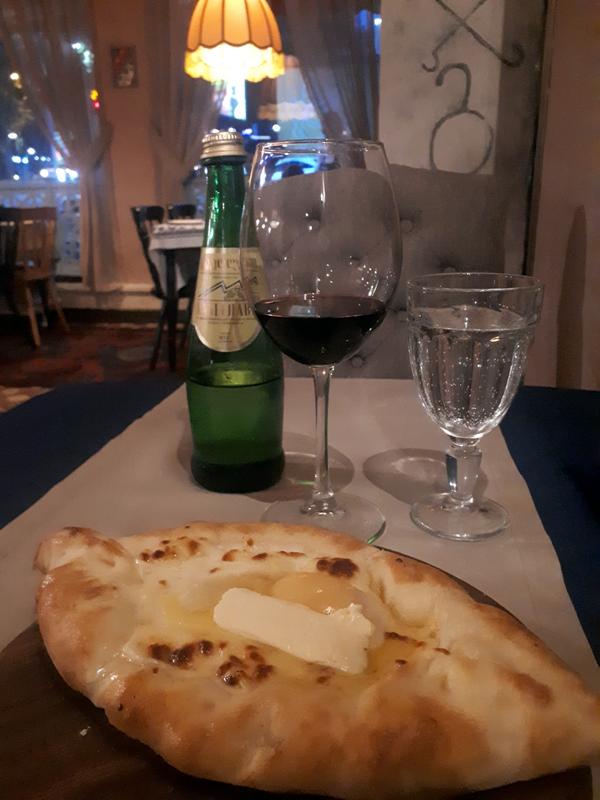 As I had arranged a 7am departure with my driver for the next day, I went to sleep again early as a long, long day on rough roads would follow.
Next up:
Visiting Kazakhstan's version of the Grand Canyon
Aug 26, 19, 3:50 pm
Join Date: Jan 2019
Location: London, UK
Posts: 15
Ah, you're stirring some happy memories I have of riding the 'Alpine Coaster" circa 2009, during one of many 7 day layovers enjoyed whilst working for bmi. What a shame the route was dropped by BA, healthy loads if I remember correctly.
Aug 27, 19, 11:24 am
Join Date: Feb 2014
Location: OTP, CHQ, EIN and beyond
Programs: AF/KL platinum, Turkish gold, Aegean silver
Posts: 1,060
Haha you should definitely make a visit again,
Fredrik74
.
I haven't seen Guns & Roses, nor heard from it. A quick Google learns me it's a pub-grill restaurant which has since been closed!
Great story
smiles in the aisles
- even though BMI was from the days before I started to fly/travel a lot and thus never had the opportunity to hop on one of their flights, I do remember they had a cool network. If my memory serves me right, they also flew to Bishkek, and all of the Caucasus capitals? (Tbilisi/Yerevan/Baku)
A seven day layover sounds like really long! That was always the case working for BMI, or might have something to do with flight schedules or so? (maybe flights being only weekly?)
Aug 27, 19, 1:30 pm
Join Date: Feb 2014
Location: OTP, CHQ, EIN and beyond
Programs: AF/KL platinum, Turkish gold, Aegean silver
Posts: 1,060
Part 15: From Almaty to Karakol with a stop in Charyn Canyon
This day was by far the trickiest day on my planned itinerary. If there is one thing I hate on travels it is backtracking and having to do the same route twice. I always look for the most ideal route which allows me to take in the most sight in the best possible order to get the most out of my time. As on this trip I would fly into Almaty, Kazakhstan, and fly out of Bishkek, Kyrgyzstan, there seemed to be one ideal route which was not only logical but would also take in one blockbuster sight: Charyn Canyon – the Kazakh version of the Grand Canyon.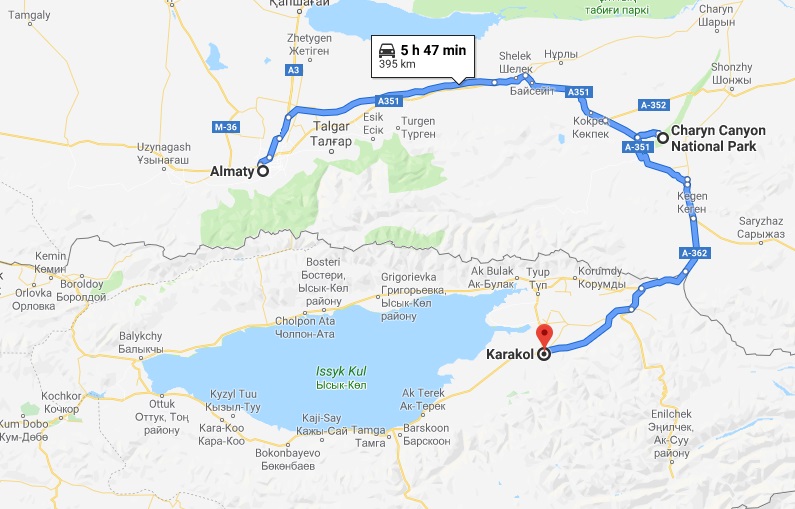 As often happens in Central Asia, theory does not always coincide with the practical situation on the ground. If you look on the map, there is basically a giant mountain range (Zailiyskiy Alatau) straddling the border of Kazakhstan and Kyrgyzstan. To go from Almaty to Karakol, Kyrgyzstan's main hub for outdoor tourism with the most easily accessible mountain hikes, there are basically two ways you can take. You can turn east from Almaty and take the small border post in the Karkara Valley, or go west and take the main border crossing on the Almaty-Bishkek motorway where the mountains flatten out, only to turn east again when in Kyrgyz territory towards Karakol.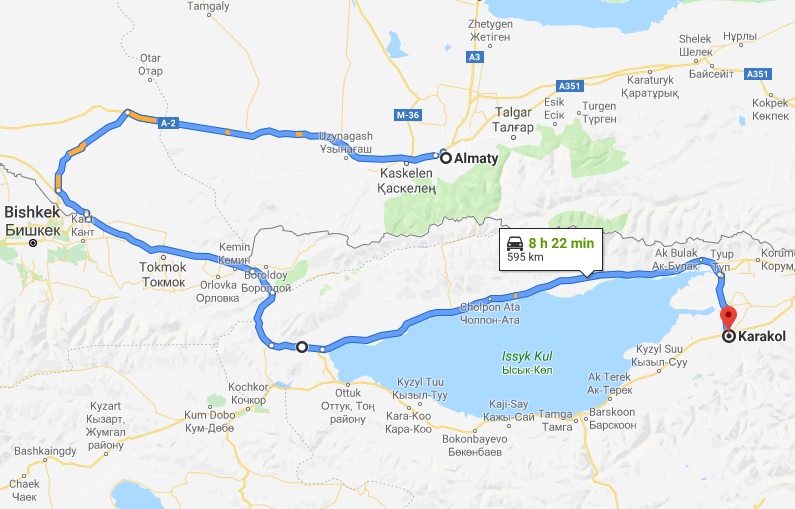 Obviously, that route would have many downsides as it would not only means missing out on Charyn Canyon, but also means that the journey would be much longer and I would have to backtrack the entire road from Bishkek to Karakol when I would return to the Kyrgyz capital to catch my flight back. The problem however is that the sole direct bus which at times runs between Almaty and Karakol takes the anticlockwise route – as this is the main road and has by far the best conditions. The clockwise route which I wanted to take – the one via the Karkara Valley border crossing – is not entirely paved and does involve a gravel road from Kegen, Kazakhstan's last main town, until deep into Kyrgyzstan. All accounts which I read online however said that although rough at times and impassible for half of the year, it is easy enough to drive even with a 2WD car if you know the way.
It took me half a day until I finally managed to find a local tour outfit which had a driver willing to take the Karkara Valley route. I first enquired with the reception desk of the Hotel Kazakhstan in Almaty where I stayed about the possibilities to rent a driver. Even though they were extremely helpful and had some excellent quotes for prices (100 USD for the private transfer), they told me that their driver only wanted to take the main route via Bishkek, saying that my proposed itinerary was simply impossible. I declined the offer and decided to do a quick search of some local tour companies online, which gave me a few email addresses, phone numbers and WhatsApp contacts to try out. While some said it was not possible, others did say they could arrange it, although a few asked ridiculous prices of up to 500 USD. I however found one Almaty-based outfit who said they had a Bishkek-based driver who would be willing to do it for 230 USD. I confirmed the transport through WhatsApp and was given the driver's name and licence plate, and told that the next day, at 7am sharp, he would be waiting for me in the hotel lobby. Needless to say, I was a bit worried if everything would indeed work out as I did not pay any deposit and everything was arranged just a day before by some WhatsApp messages – requiring a bit of trust in both directions!
I woke up at 6am, and given that the breakfast buffet would only open at 7am, opted to have a quick bite and a coffee at the hotel coffee shop while waiting for the driver.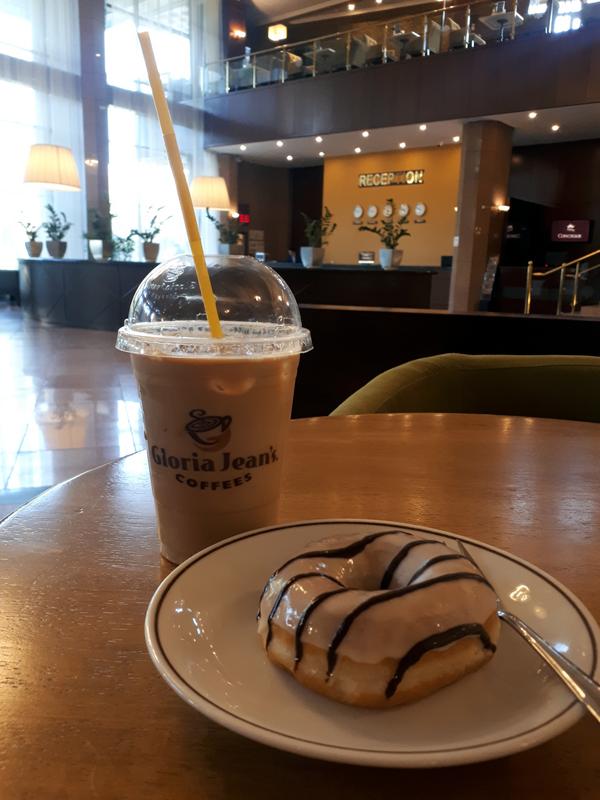 Sure enough, at 6.50am the driver texted me on WhatsApp saying that he would be at my hotel in five minutes. The driver, an ethnic Uyghur living in Kyrgyzstan who from this moment I will solely refer to as Mr. A due to the sensitive situation in his original homeland, turned out to be a godsend. Mr. A spoke excellent English (having worked for a while in Europe and the US) and was a goldmine of local stories and information, be it about tourism, politics or history and languages of all Central Asian countries. I was a bit surprised that he arrived in a minivan – which I would have completely for myself – but Mr. A assured me that he had driven the road many times before and that even a big minivan could easily ride on the unpaved sections.
The first miles from Almaty were on a modern motorway recently constructed adjacent to the old provincial road towards the east. It was turning out to be a lovely day with clear blue skies, allowing for some great views of the Zailiyskiy Alatau range straddling the Kazakh-Kyrgyz border.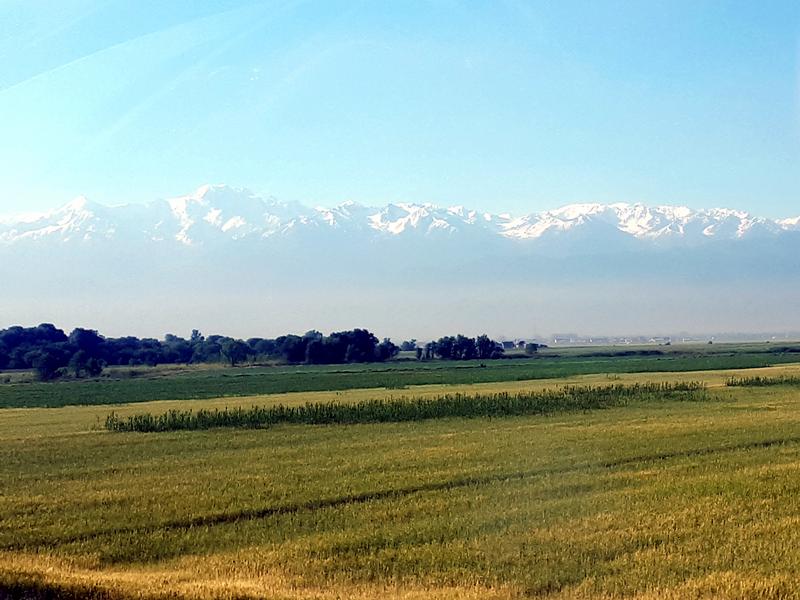 After a while we had to exit the motorway – and continued on the provincial road towards Kegen. We stopped in a small village to stock up on some supplies. Mr. A was absolutely lovely and insisted he'd buy me some water and one or two samsas – a savoury meat pastry popular in entire Central Asia as breakfast food or mid-day snack. It turned out that the village where we stopped was majority Uyghur. Mr. A. explained that many Uyghurs – a Turkic people native to the western Chinese province of Xinjiang – have fled the oppressive Chinese rule and headed to Europe or North America to live in freedom. Many of them however chose to live in countries nearby such as Kazakhstan and Kyrgyzstan, as the Uyghur language is closely related to most of the other Central Asian languages (especially to Uzbek, but also in lesser extent to Kazakh and Kyrgyz) making it easier to integrate. As China holds hundreds of thousands of Uyghurs in modern-day concentration camps, restricts even the most basic of freedoms and movement, and has banned all aspects of Uyghur culture and their religion (Sunni Islam – the big majority fairly moderate akin to their Turkic neighbours in Central Asia) you can see why Mr. A has so much to tell – and why I will not make his identity public.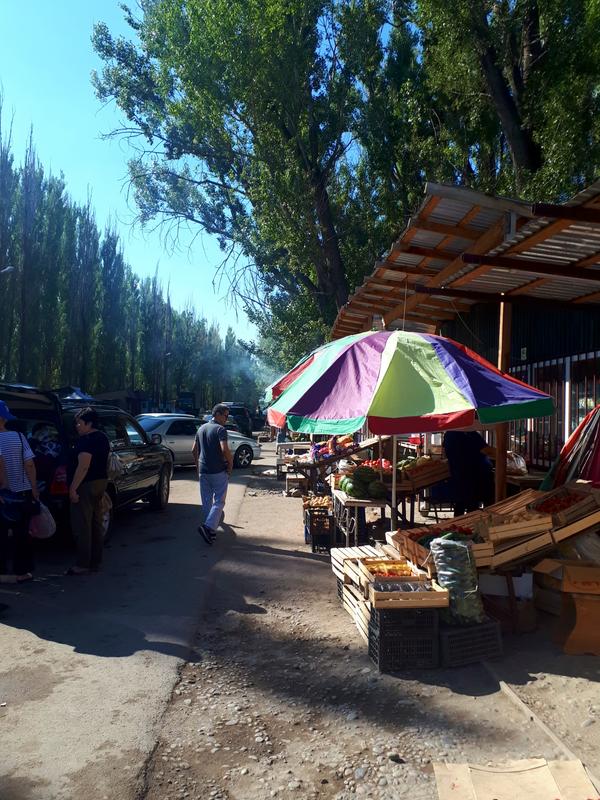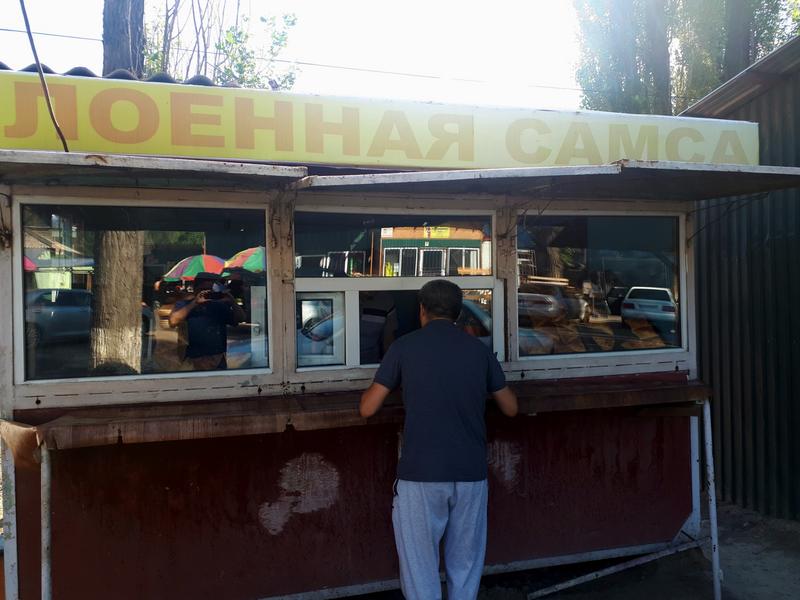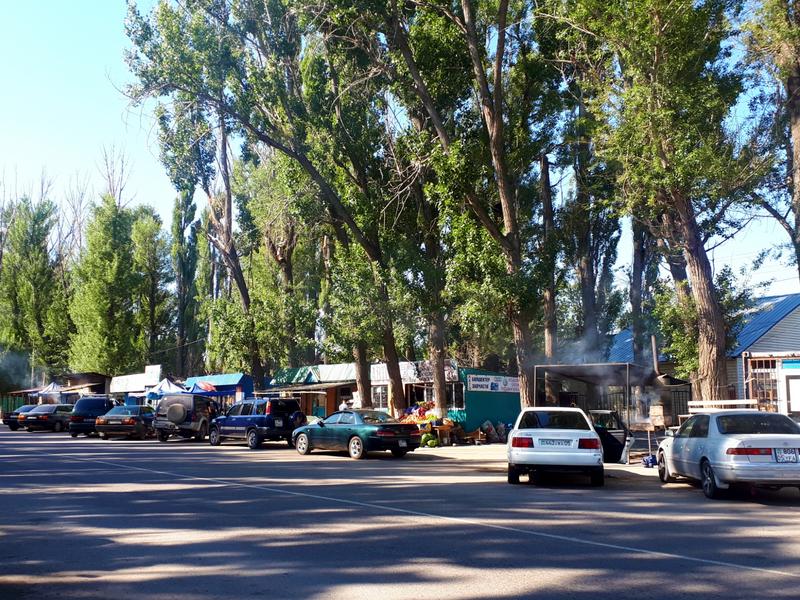 Buying samsas and water at an Uyghur-majority village in Kazakhstan
It would take about one-and-a-half hour more to our first stop: Charyn Canyon. The views from the road were fascinating and reminded me of a road trip many years ago in the south-western US states such as Utah. Bleak, dry mountain and desert landscapes with barely a settlement to be seen.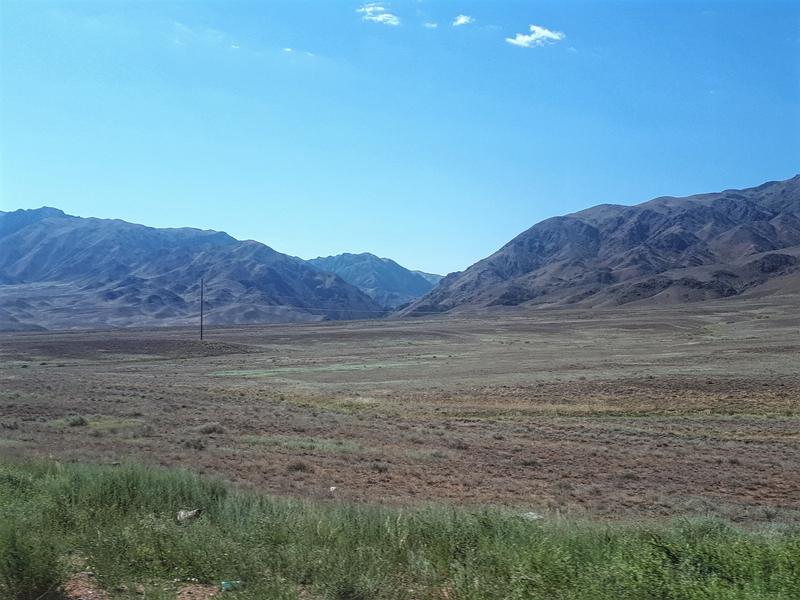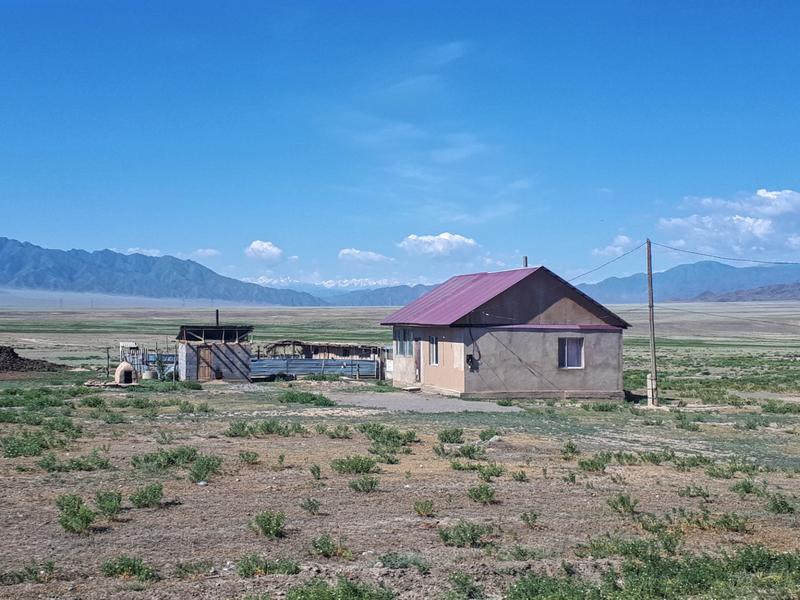 Soon we reached the turn-off point for Charyn Canyon, which is located just a few miles off the main road to Kegen. As you drive on the small access road you have absolutely no idea that soon you will arrive at a spectacular canyon.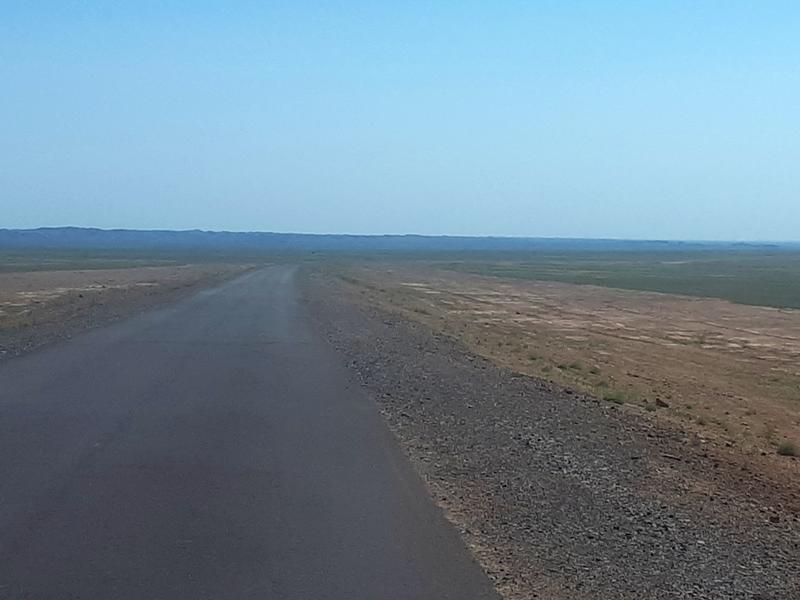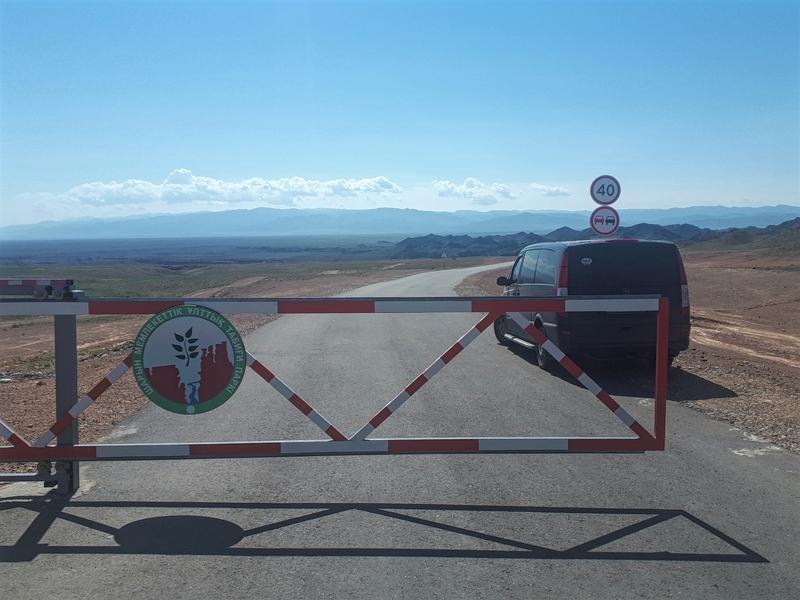 The Charyn Canyon access road and entrance gate
After paying the national park fee (just a few dollars in Kazakh tenge) a guard opened the gate for our car and we continued the short distance to the car park. Surprisingly, I was not the only tourist there. Even though we barely encountered another car on the road, there were two buses full of Chinese tourists, a handful of Chinese 4WD cars, some local Kazakh tourists as well as a handful of Europeans, Indians and Americans. That said, I don't think at one point there were more than 100-150 tourists at the canyon, making it generally easy to avoid the crowds by walking in an opposite direction. As the Chinese bus-loads were heading directly down the stairs into the canyon, I opted instead to first take the path on top of the rocks running parallel to the canyon. Mr. A remained in the car to take a well-deserved nap as he had to make a five hour head-start to drive from Bishkek to Almaty to pick me up this morning!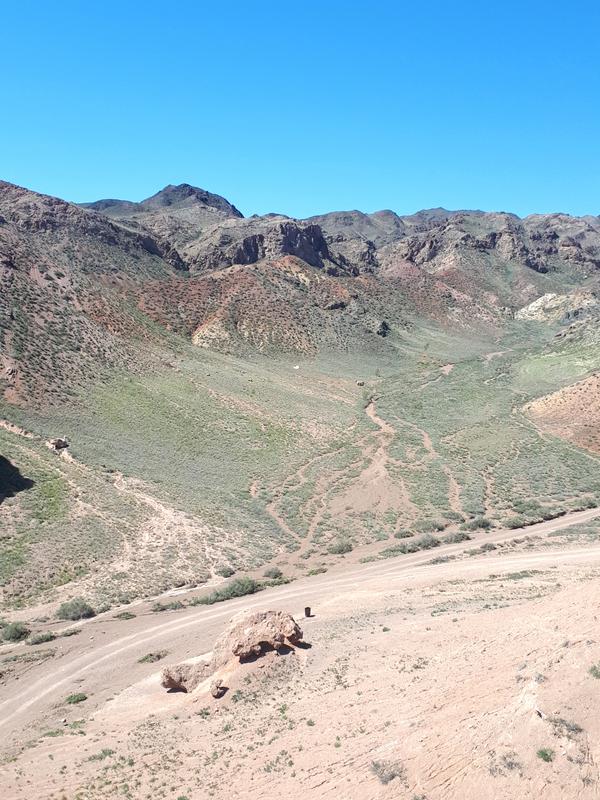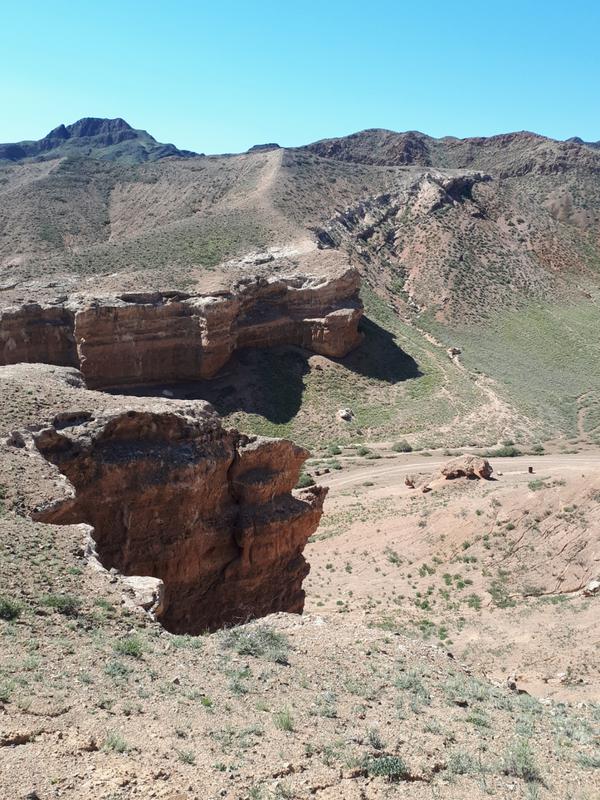 It doesn't require much imagination to see why the place is named the Kazakh version of the Grand Canyon. Although for sure not as 'grand' as the famous US national park in Arizona, Charyn Canyon is for sure a gorgeous natural sight as well.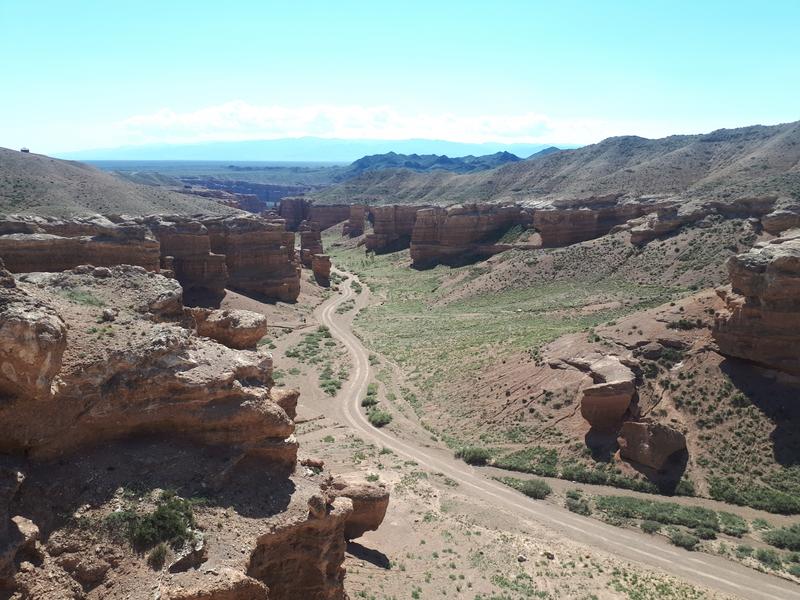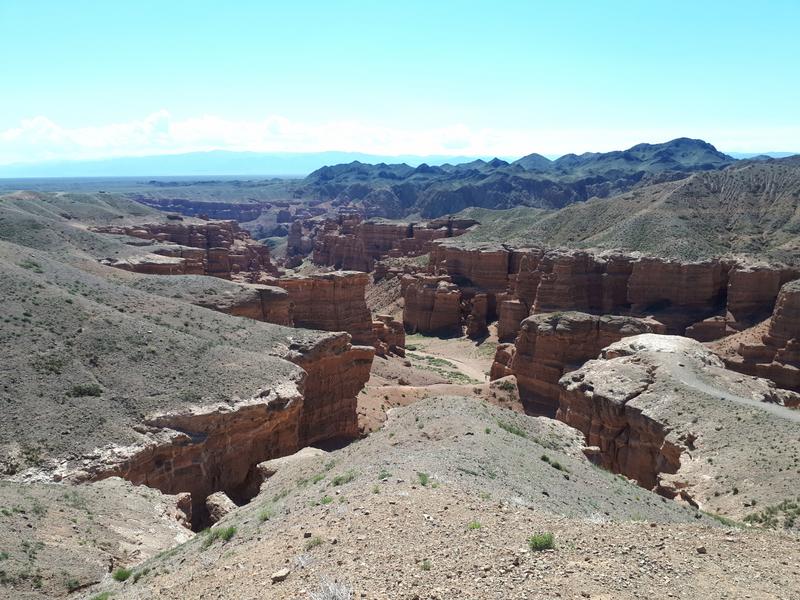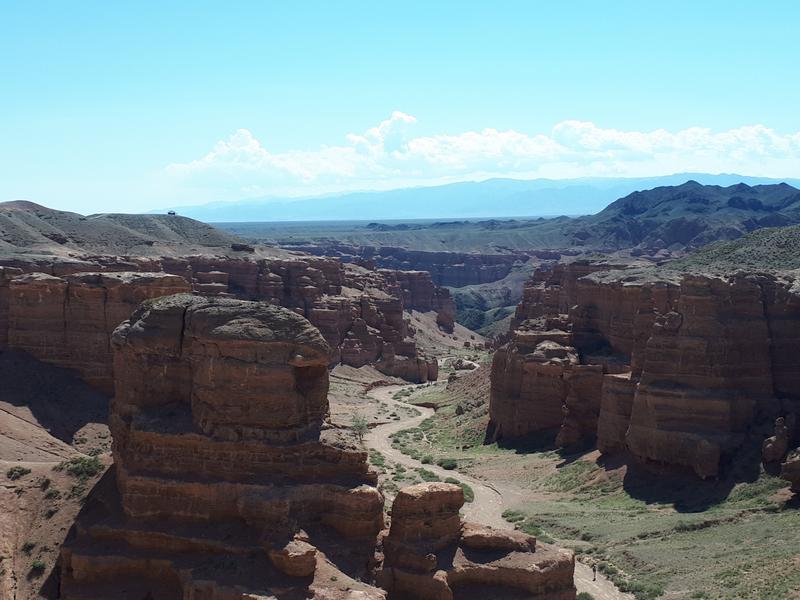 There are lots of smaller side paths taking you right on top of one of the rocks for some sweeping views in all directions.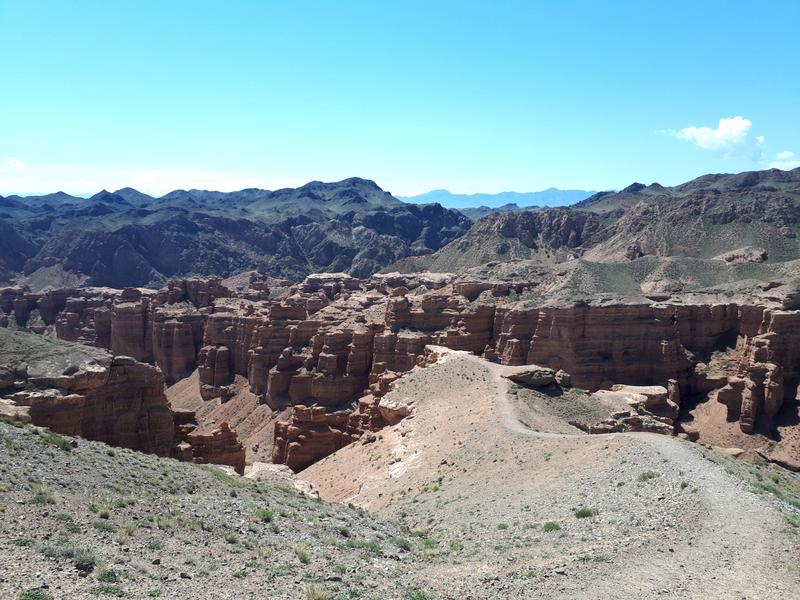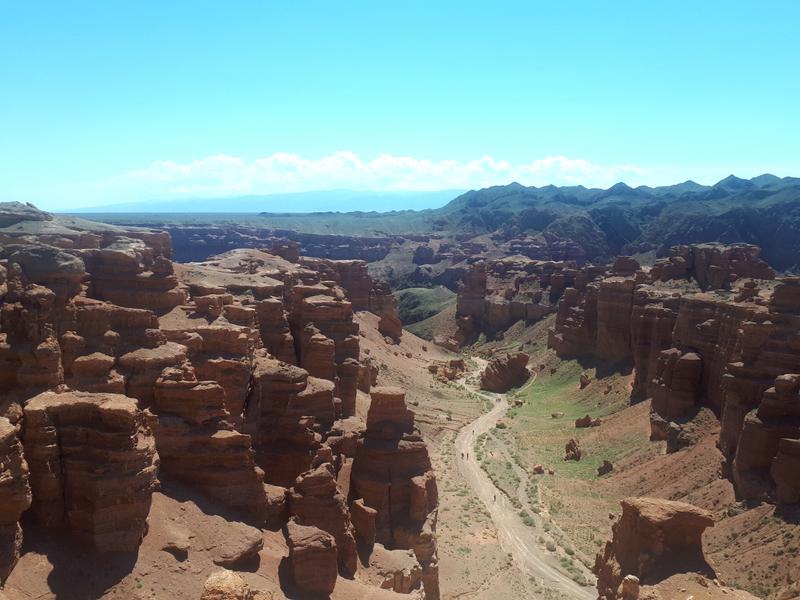 Depending on the angle of the sun, the rocks have a different colour. While straight ahead into the sun the colour seemed to be grey, when looking back the rocks seemed to be more red instead with the sun being in my back.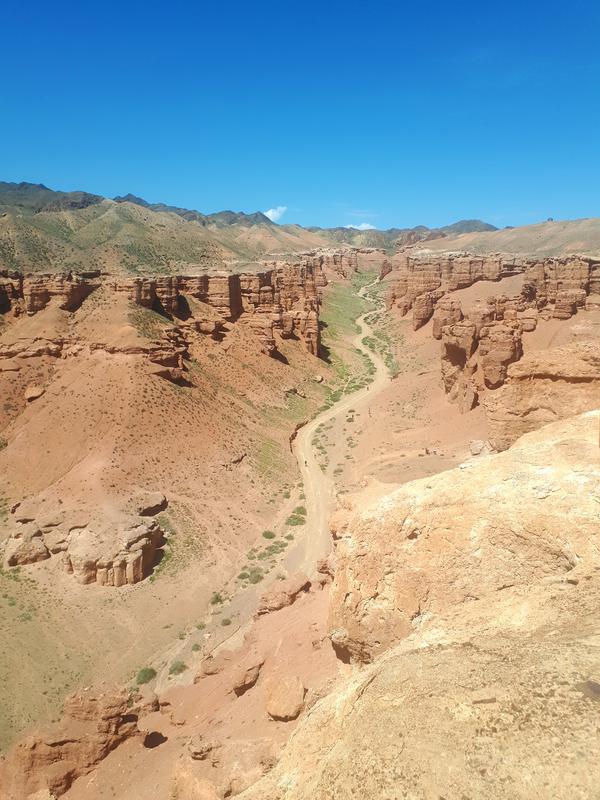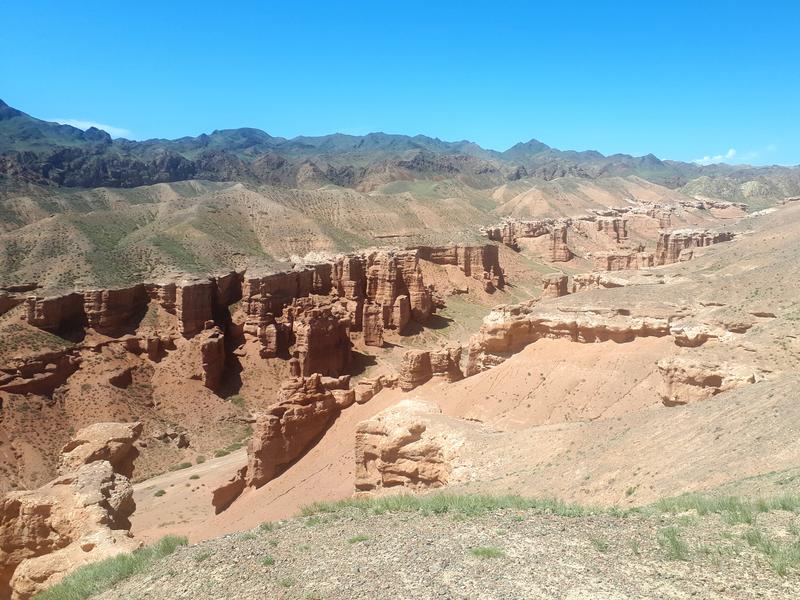 After a while I decided to head down into the canyon as well. Instead of walking all the way back to the parking lot to take the stairs down (did I already mention that I hate backtracking?), I headed onto one of the little paths running down the cliffs. If you have sturdy enough shoes and are used to doing some mountain hiking it is an easy and safe enough descent – as long as you stick to one of the paths! Otherwise, it's best to stick to the 'official' path and take the stairs down at the parking lot.
Once at the bottom of the canyon, you get a completely different view of the scenery. Although not nearly as impressive as from the top, it still is absolutely stunning.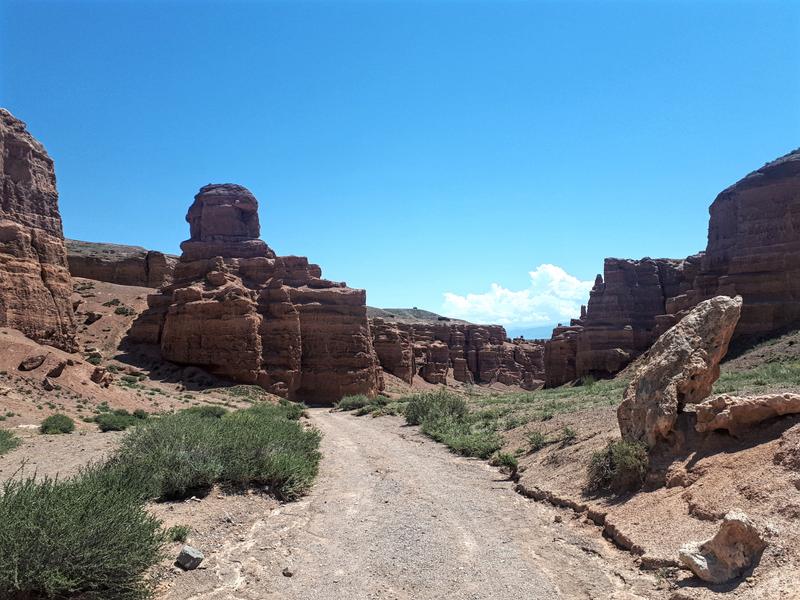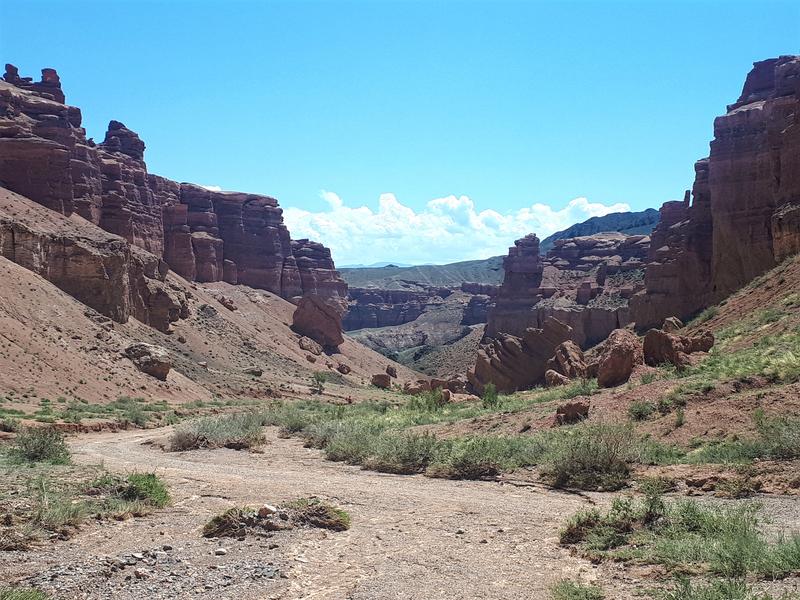 After some two hours exploring the canyon I decided to head back to the parking lot as I started to feel the heat and the sun (I foolishly forgot to bring a hat – which really is an absolute must here). What a wonderful national park Charyn Canyon is! If it would be located in a country like the US or Italy it would be a blockbuster sight. But given it is Kazakhstan – and still a good 2-3 hours out of Almaty in no-man's land – you basically have it all for yourself.
Next up: Driving to Kyrgyzstan via the Karkara Valley – with some equally spectacular landscapes en route
Aug 28, 19, 1:14 pm
Join Date: Feb 2014
Location: OTP, CHQ, EIN and beyond
Programs: AF/KL platinum, Turkish gold, Aegean silver
Posts: 1,060
Part 16: The scenic road to Karakol through the Karkara Valley
After Charyn Canyon we headed straight for the town of Karakol, where we would make a pitstop for petrol (much cheaper in Kazakhstan than in Kyrgyzstan) and to stretch our legs. The scenery was again beautiful in its rugged emptiness.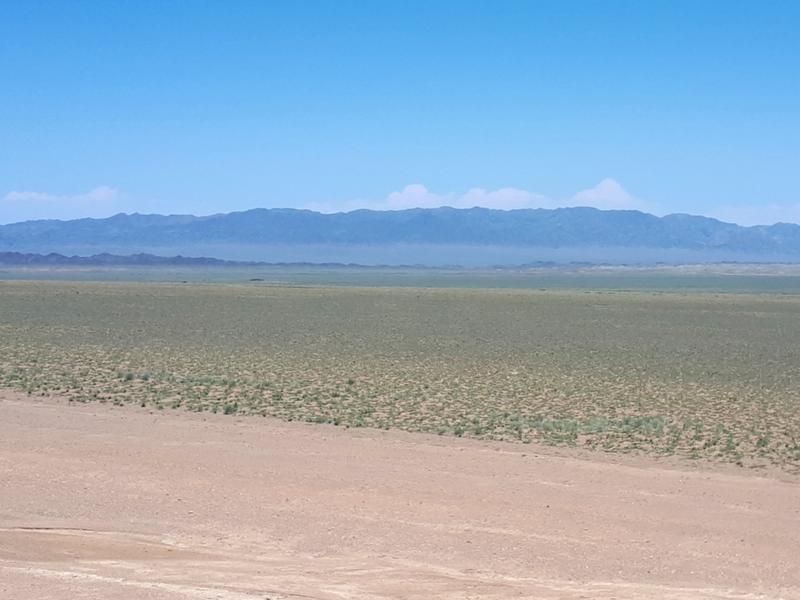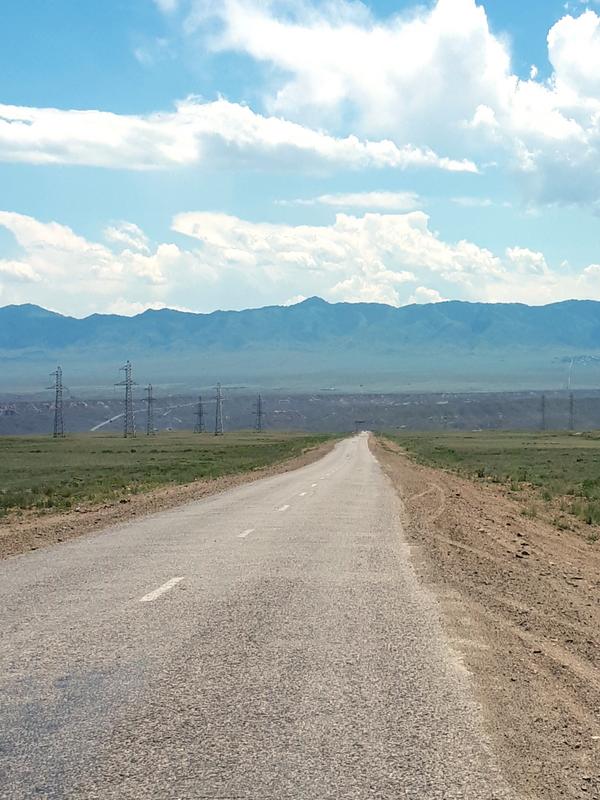 Mr. A told me that we could stop wherever we wanted along the road if I wanted to make some pictures, an offer which I gladly accepted at a few points, to begin with at the bridge over the Charyn River.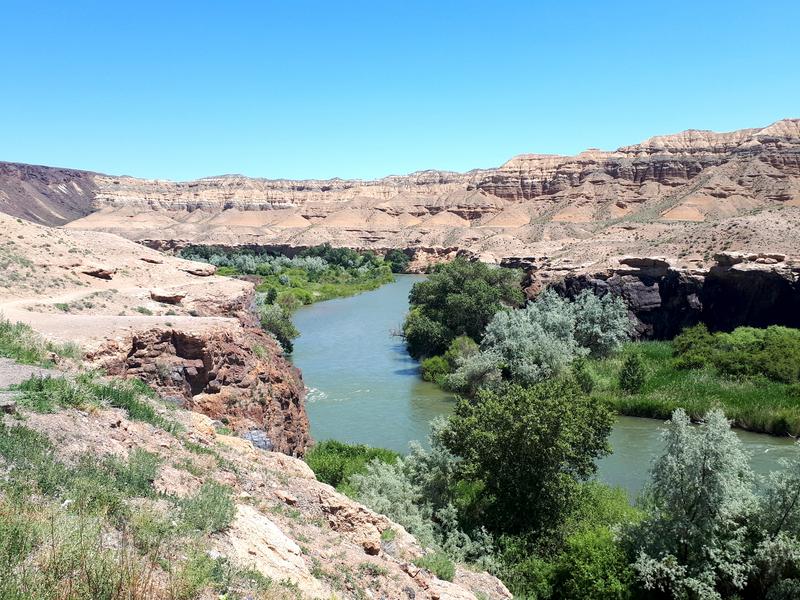 Again there was little to no traffic on the roads except for the odd lorry and old communist car passing by.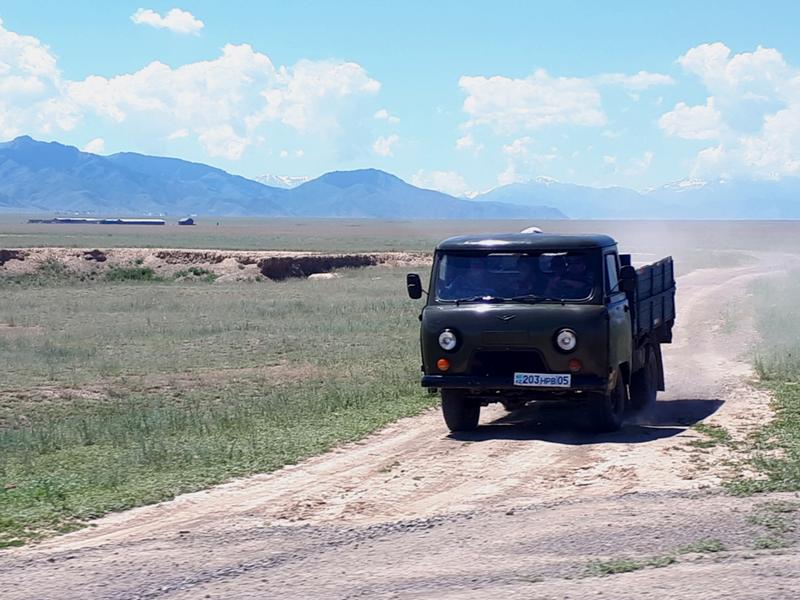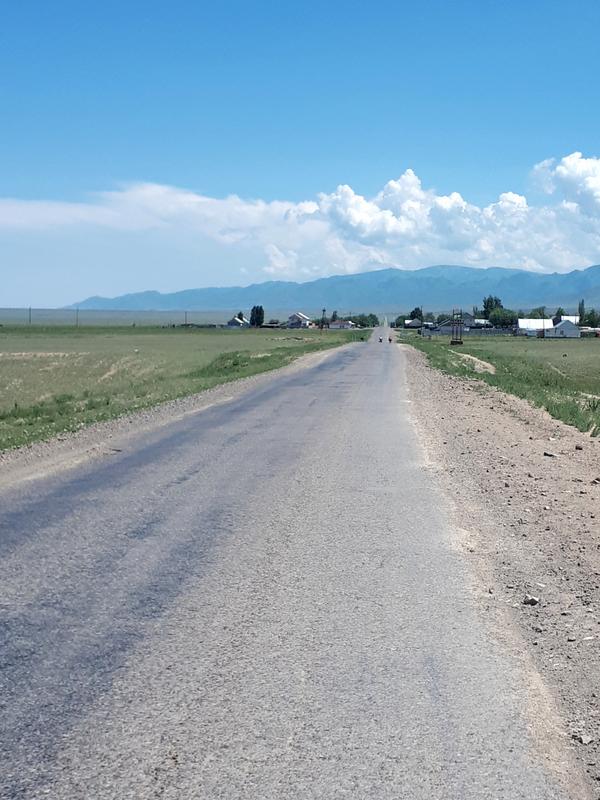 When the road turned south towards Kegen at Timirlik, the scenery started to change as the desert shrublands gave way to green pastures as we started to climb higher. Mr. A told me that this part does see occasional rains and is even covered in snow in winter.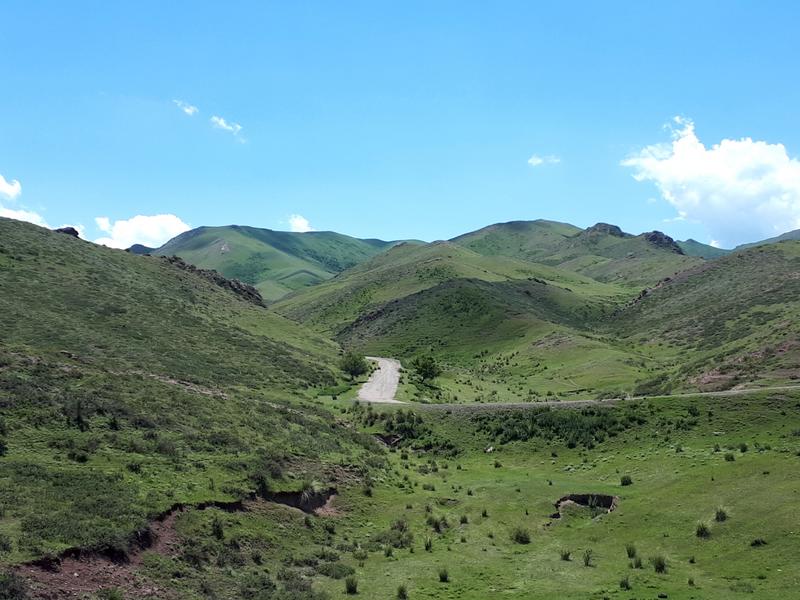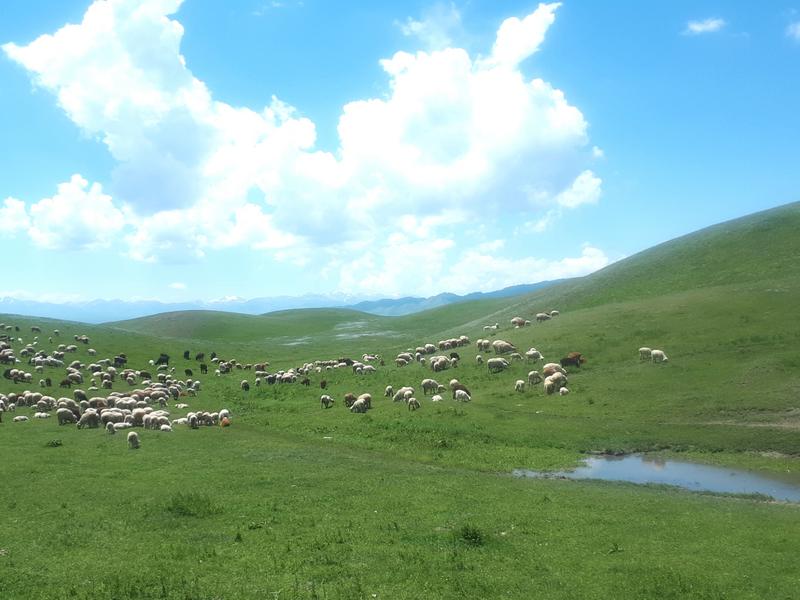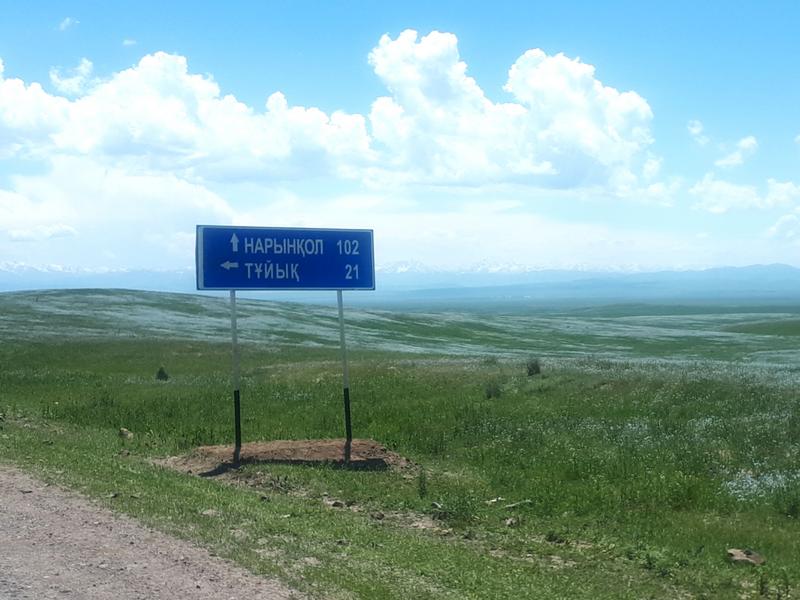 As we approached Kegen, the mighty Tian Shan mountains doomed up in the far distance, creating an awesome backdrop. I was really starting to enjoy this little road trip by now through Big Sky Country. The only thing reminding me that I was still in Kazakhstan and not in Montana or so was the occasional Lada Niva on the road instead of a big pickup truck.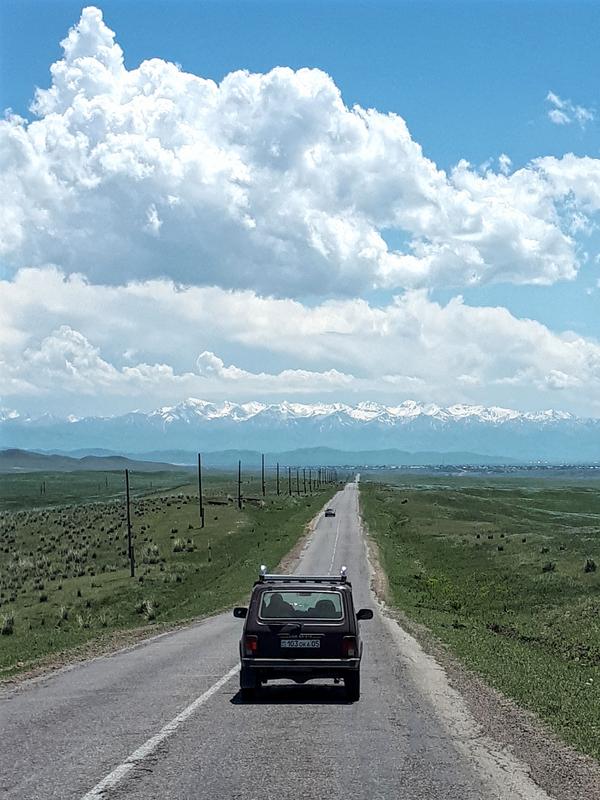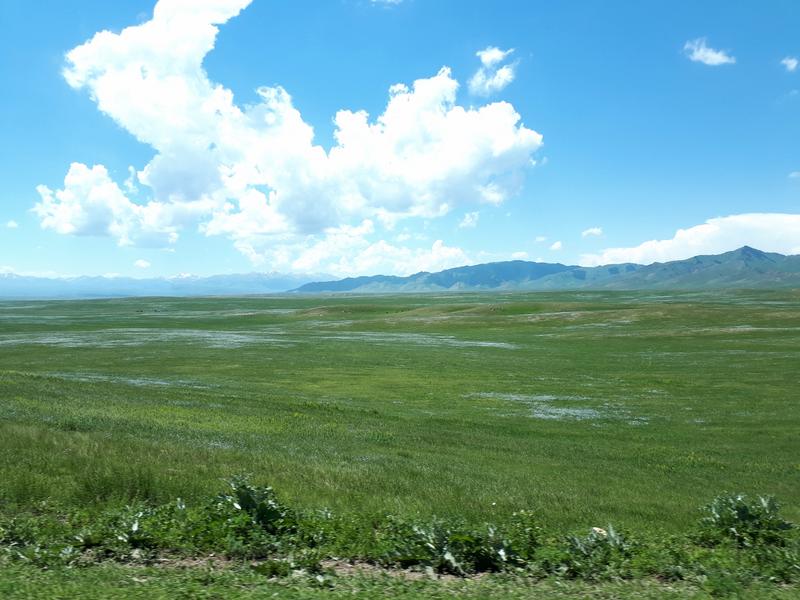 Apart from the odd car, we also had to dodge some cows on the road.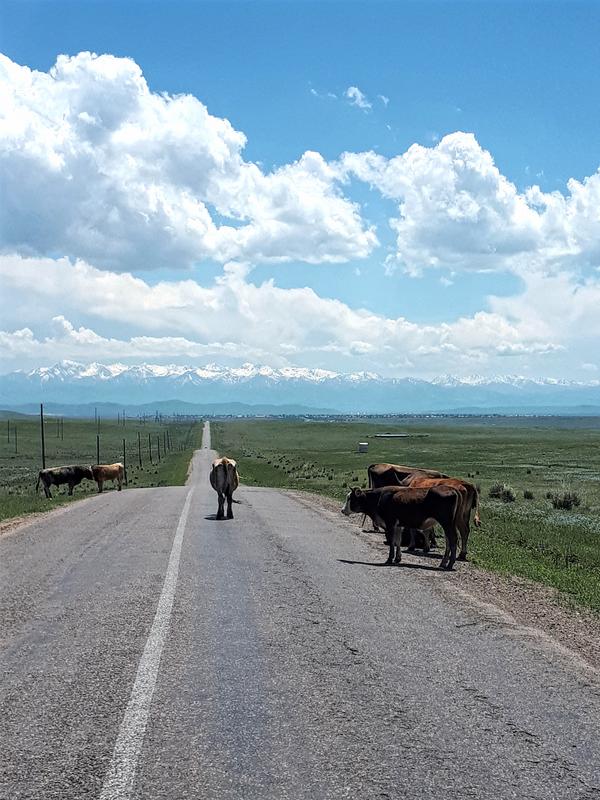 After a while we arrived at Kegen, the last major town before the border with Kyrgyzstan where we stopped for some petrol and some more water. While Mr. A was filling up the car I wandered a bit around to snap some pictures of the town and its surroundings.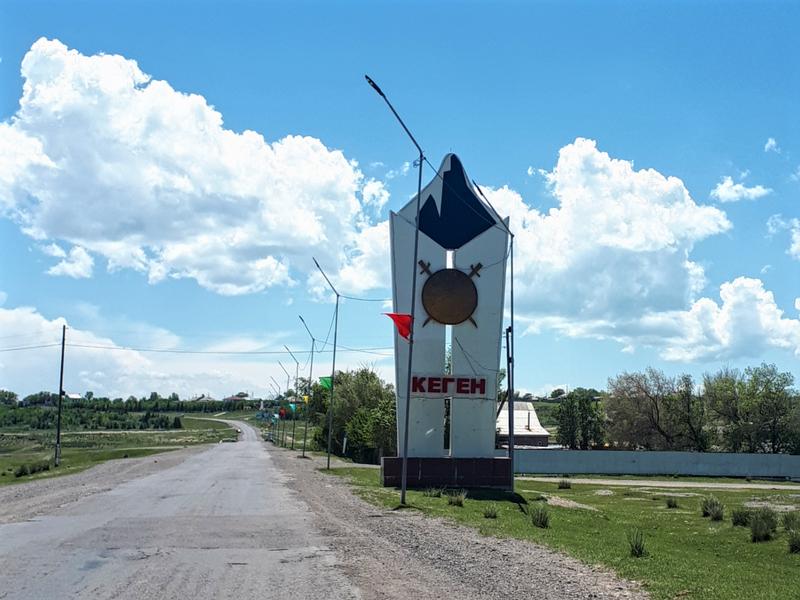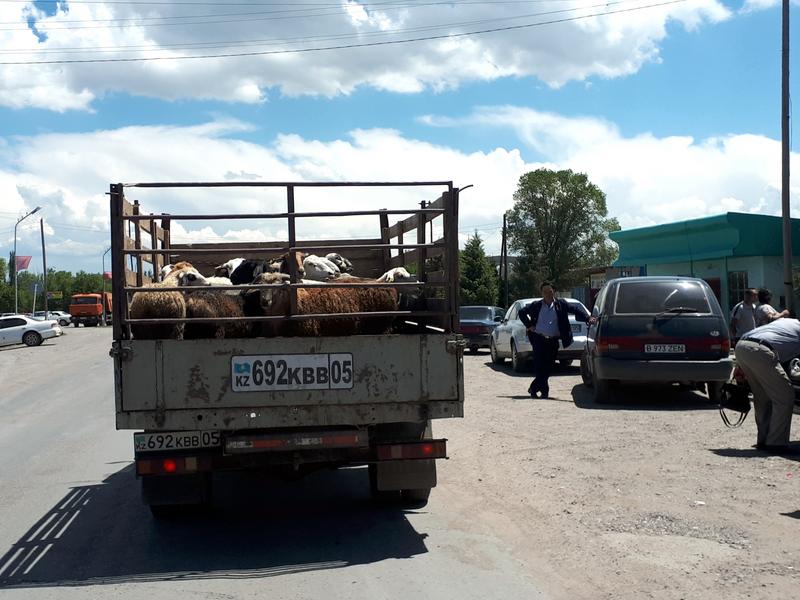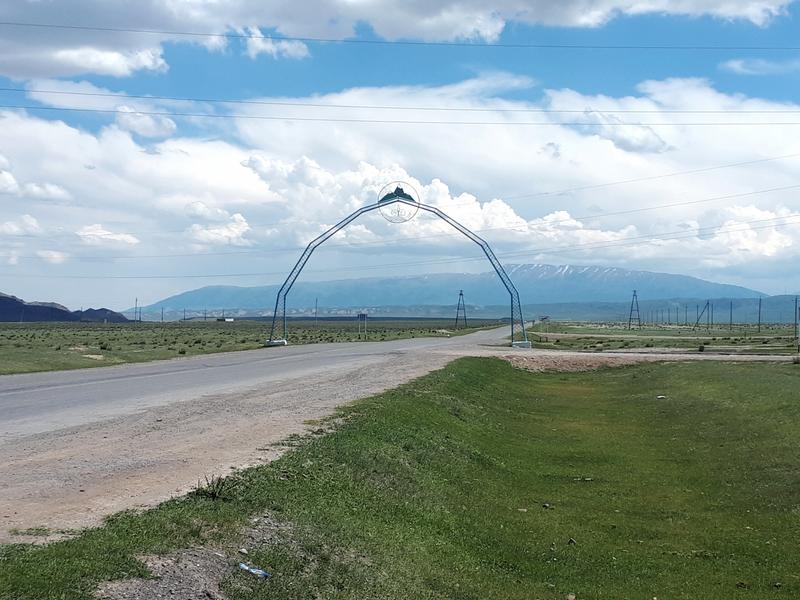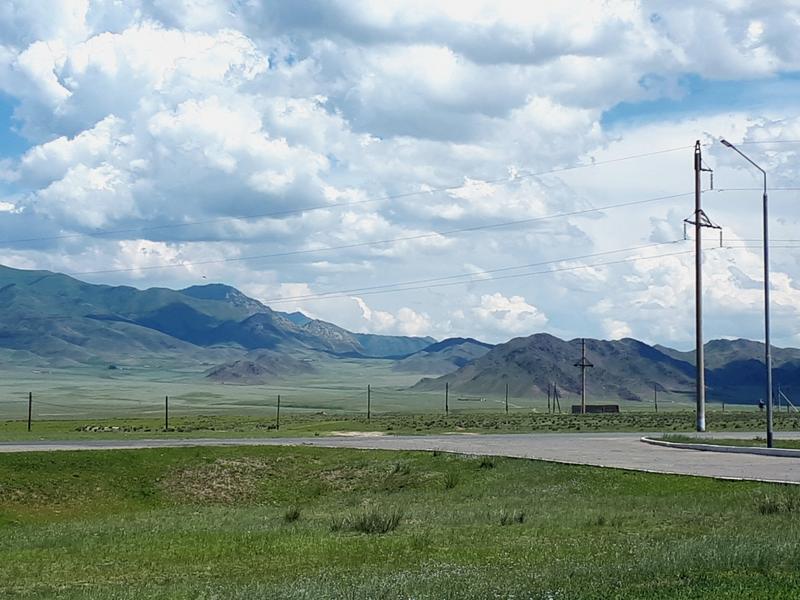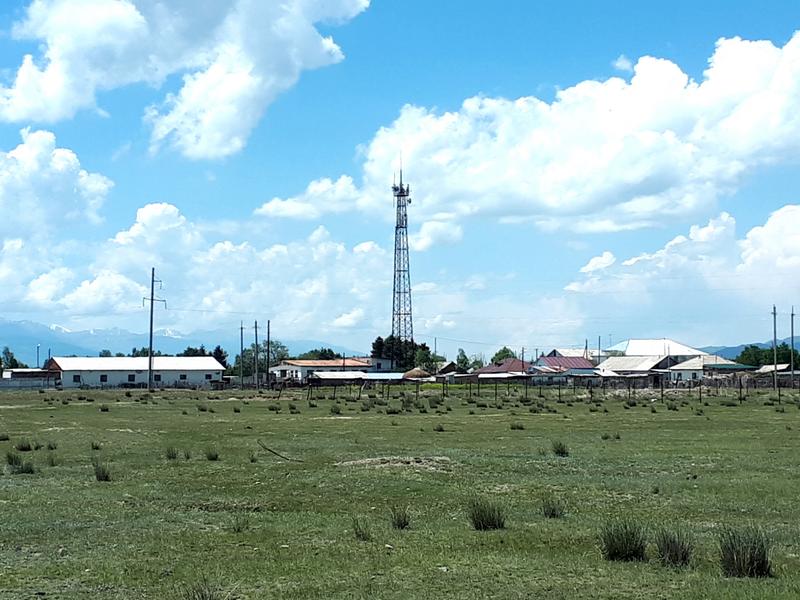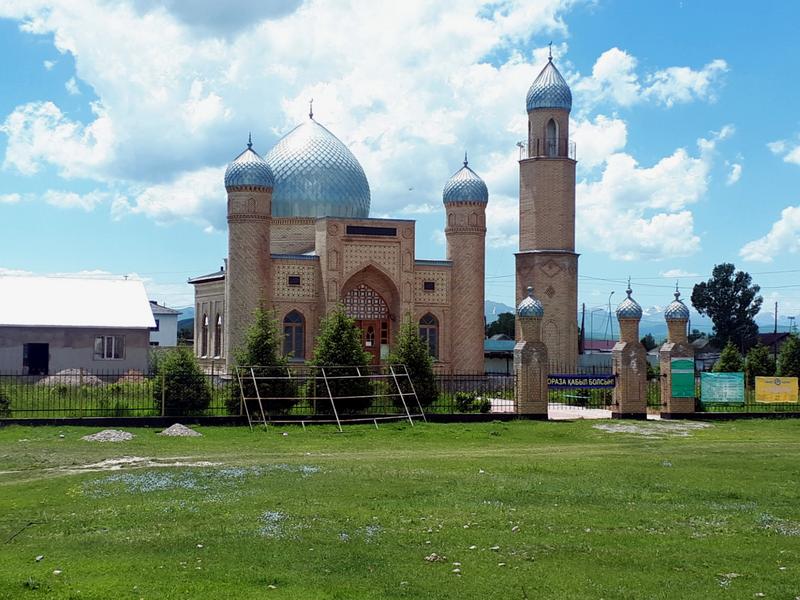 With the main road continuing further east into Kazakhstan towards the Chinese border, we took a side road south towards the Kyrgyz border.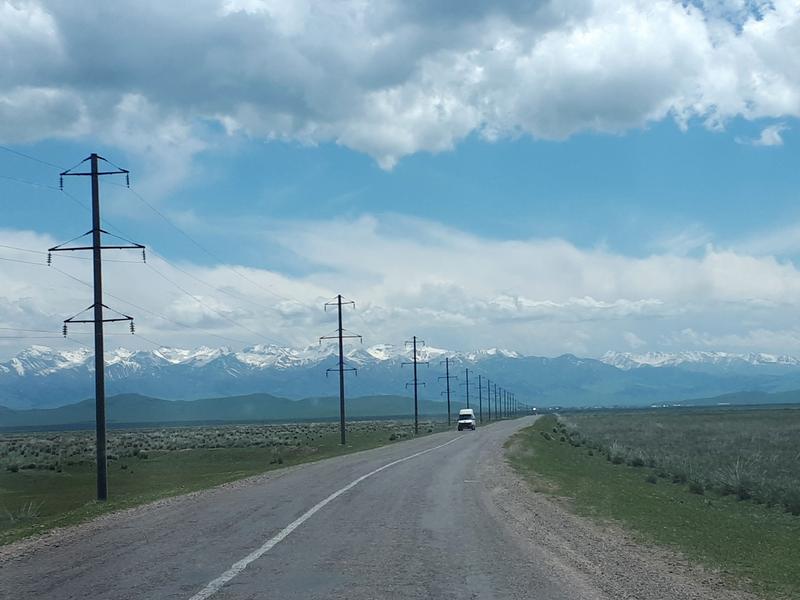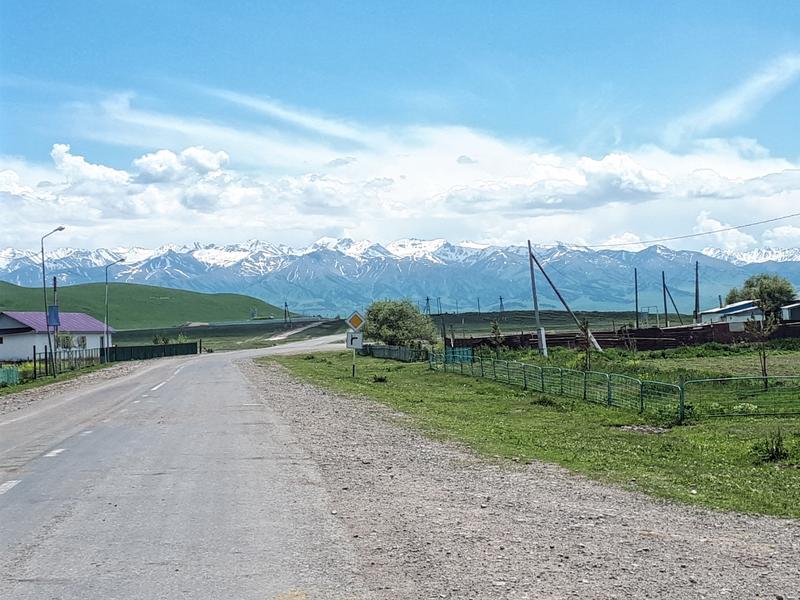 The smooth tarmac road immediately turned into gravel once we had crossed the bridge over the Karkara River. Mr. A told me it would be gravel roads almost the entire way until Karakol from this point on.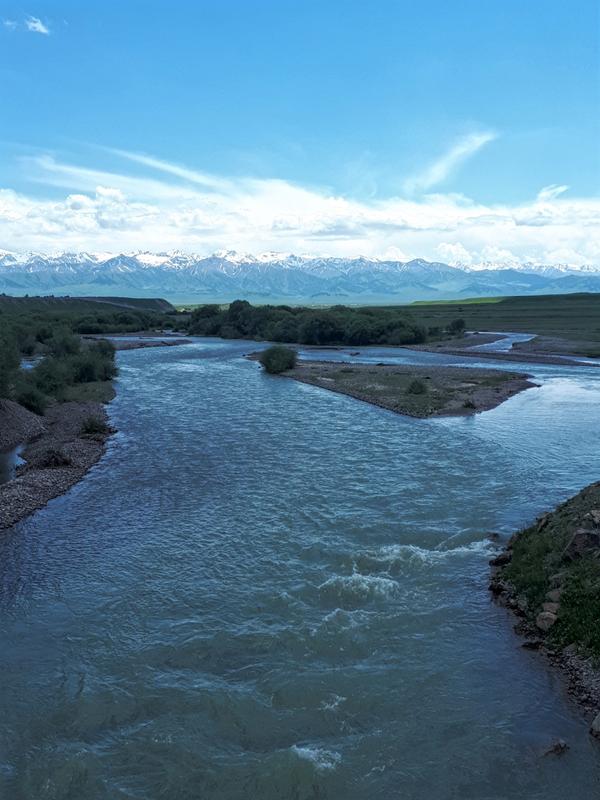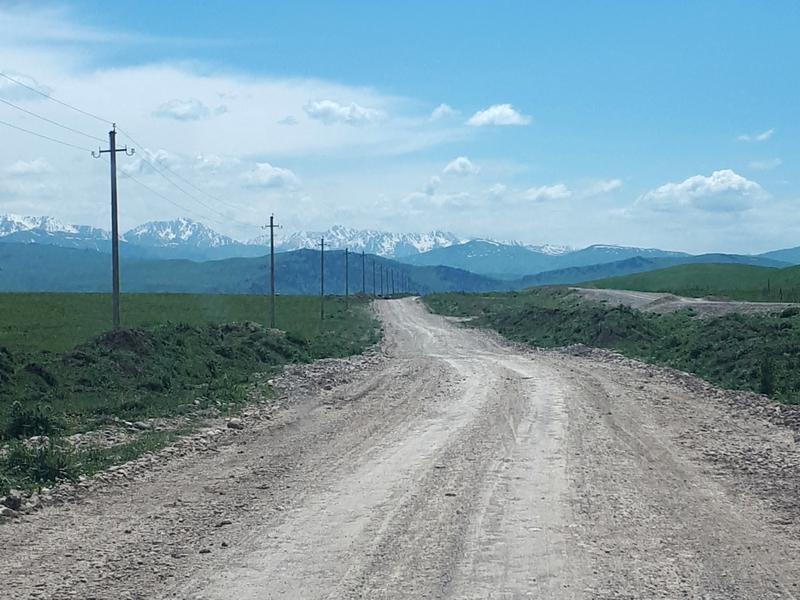 The ride in the minivan was however smooth enough, although speeds dropped drastically as you do of course need to be vigilant for potholes and large boulders. That said, the minivan managed to cope easily and I was certainly not in a position to complain as the views were only getting better. The Karkara Valley is a broad, green valley where mostly semi-nomadic people live who use the lands as summer pasture for their flocks of sheep and goats.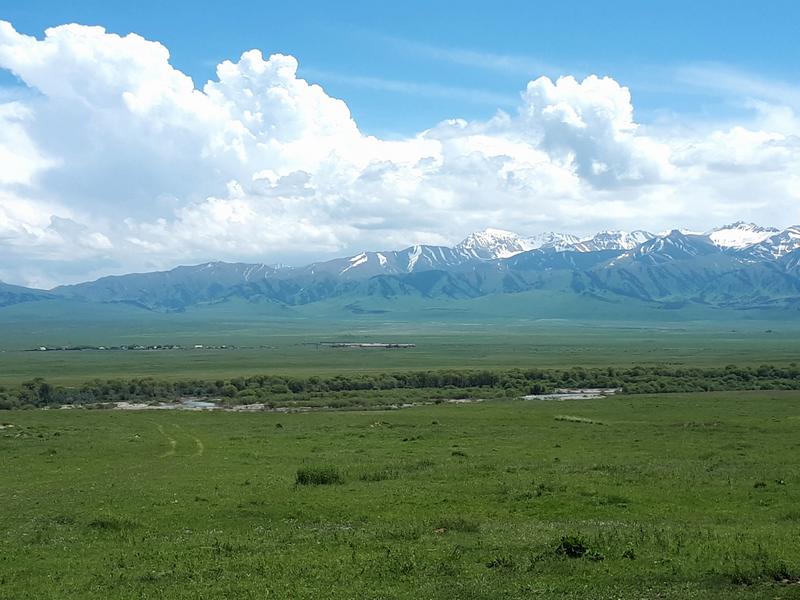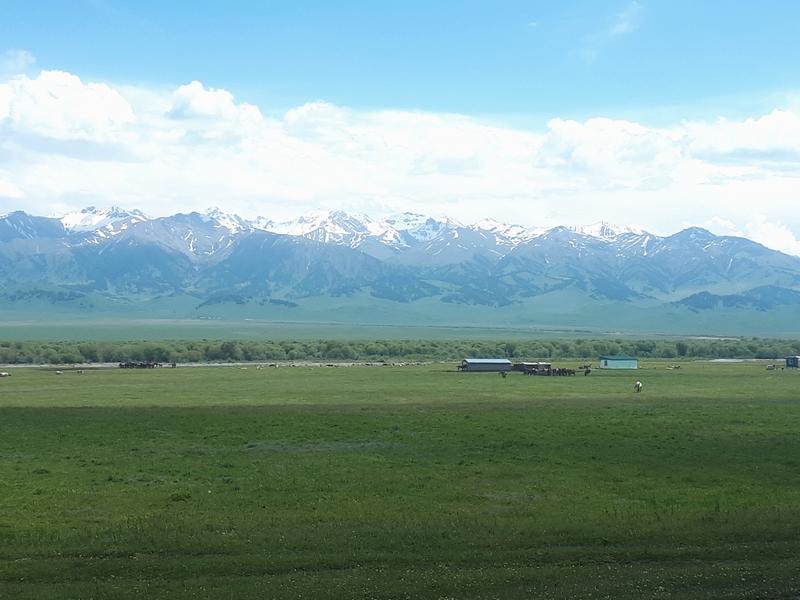 Soon after we reached the Kazakh-Kyrgyz border in the middle of nowhere. After clearing the Kazakh exit control I was told by Mr. A to walk the few feet onwards towards the Kyrgyz border post with both my passport and the one of Mr. A while the Kazakh border guards carried out some more checks on the car. The process was smooth and all officials very friendly. The Kyrgyz guards even shook our hands after we were cleared into their country and wished us a safe onward journey. In total it took about 20 minutes to clear both border posts – which is certainly not bad for an area once infamous for its long border delays, sudden border closure and border guards seeking bribes. Even though it was strictly not allowed to make pictures I felt secure enough to snap a quick picture with my phone of the crossing.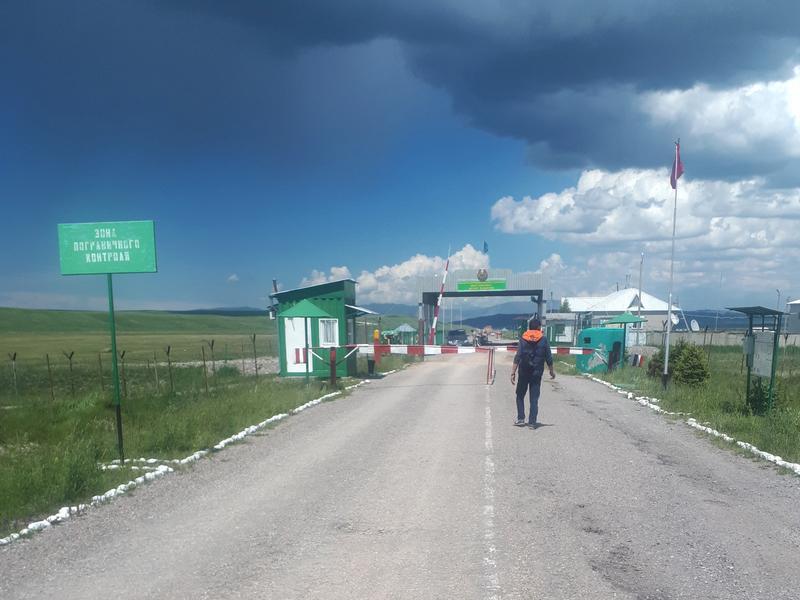 Even though the Kazakh part of the Karkara Valley is already quite remote, the Kyrgyz part is much more so. Not at any point did the long road journey start to get boring.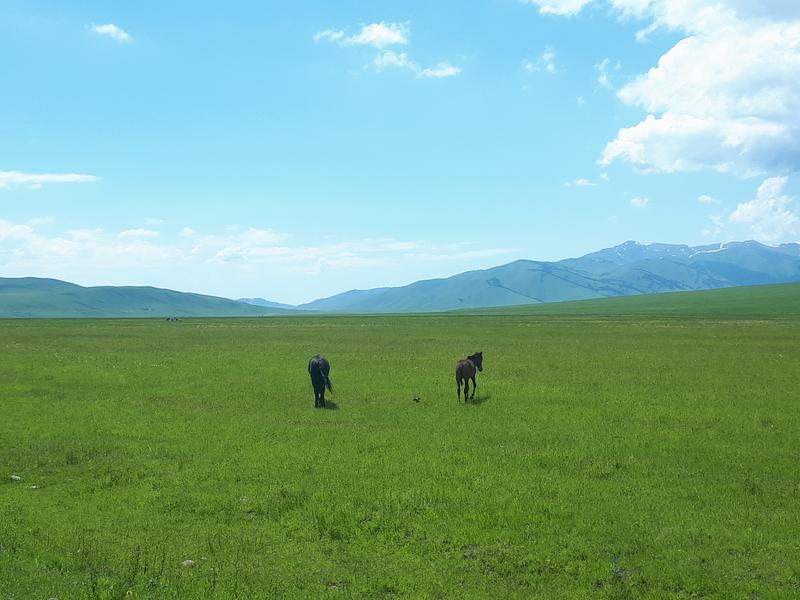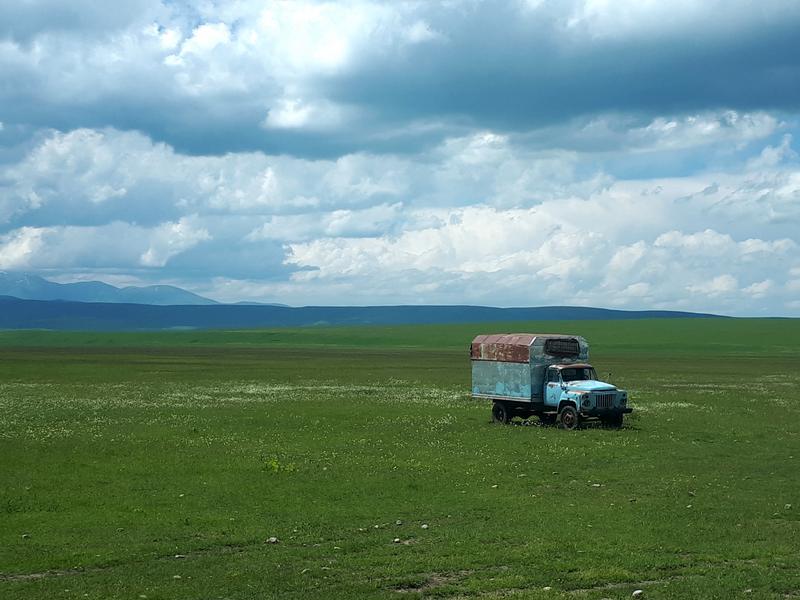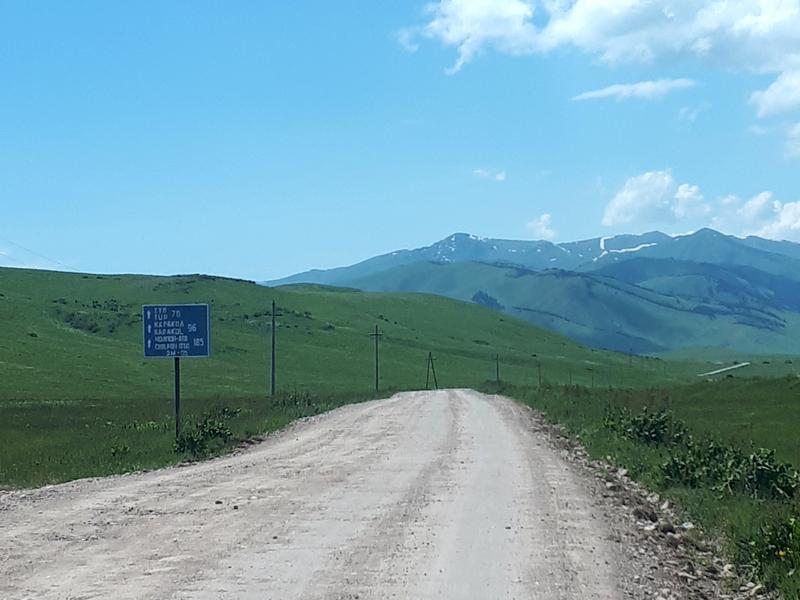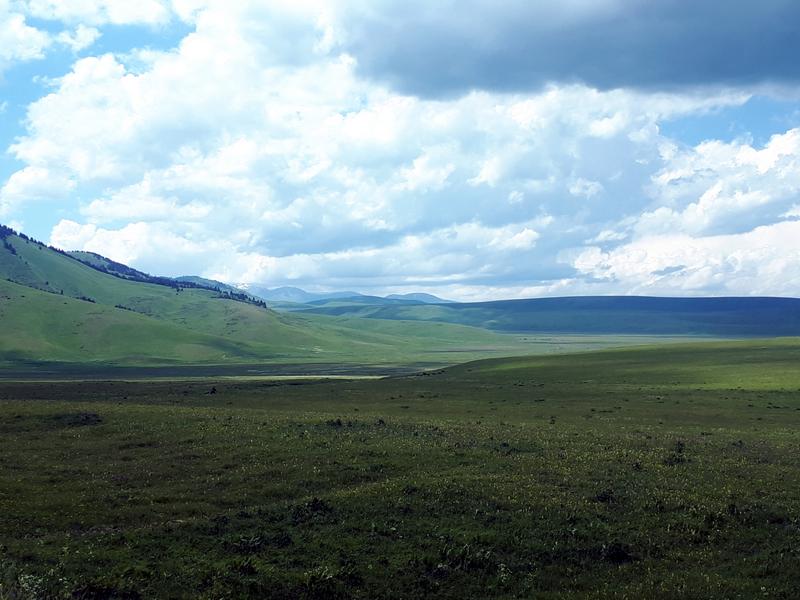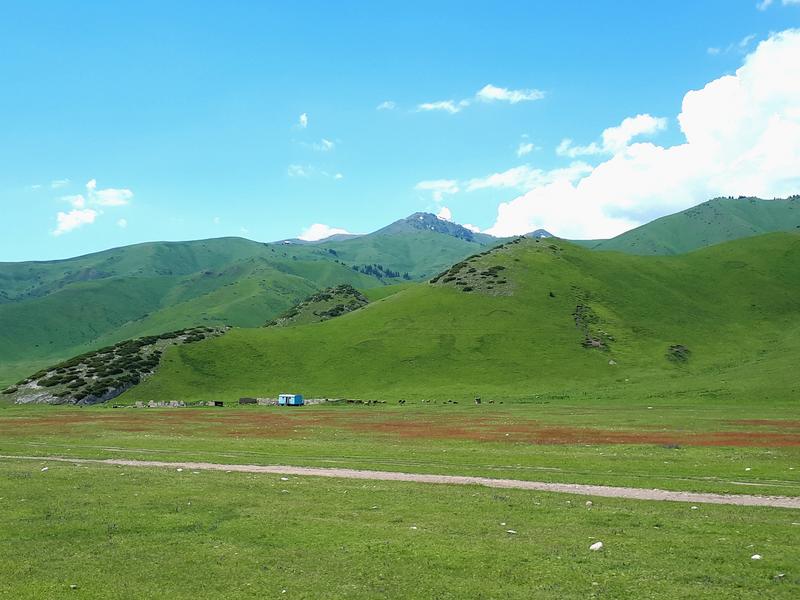 We did however at times get stuck in traffic!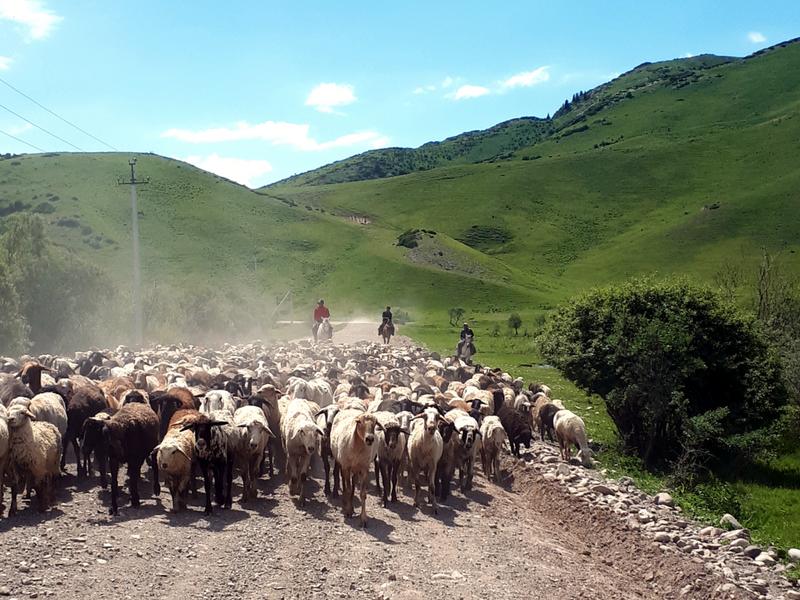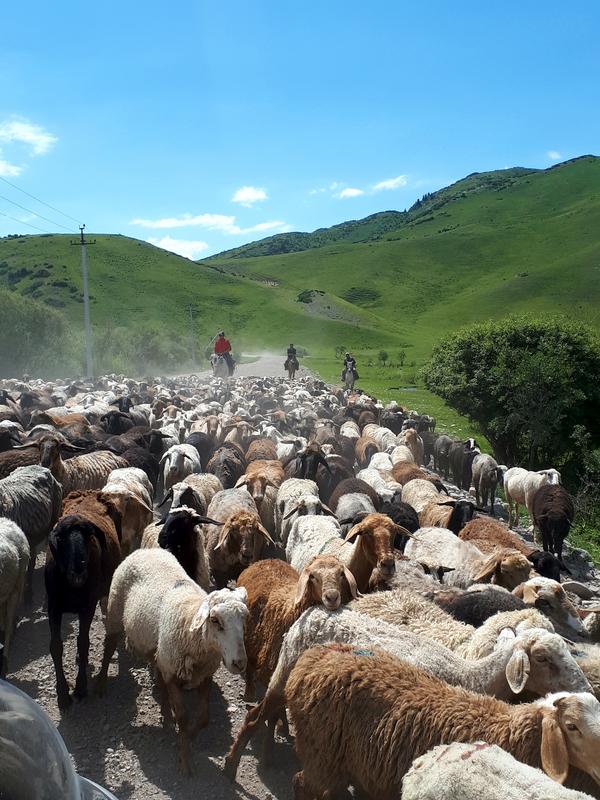 As we started to get closer to Karakol the scenery became more varied again, with pastures giving way to forests and bushes.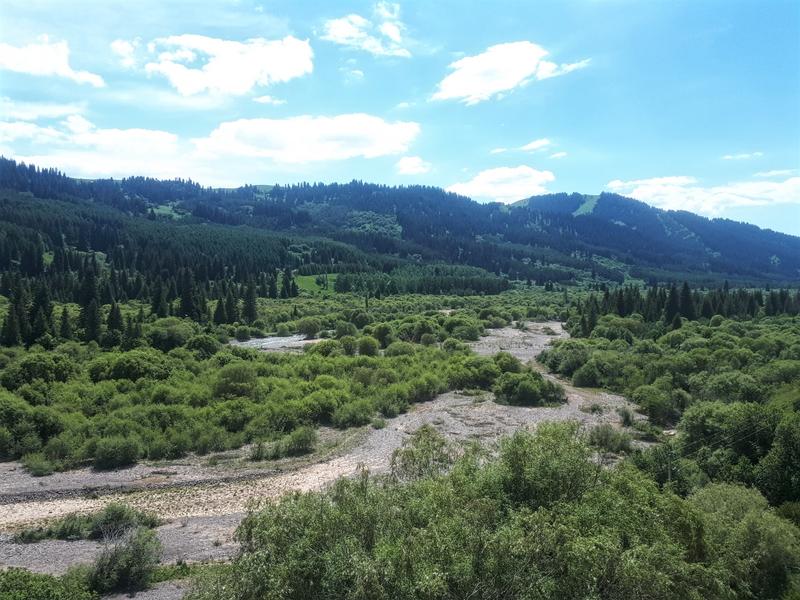 A short while later we completed the long gravel section as we arrived at a crossroads with a modern tarmac road which would take us to Karakol.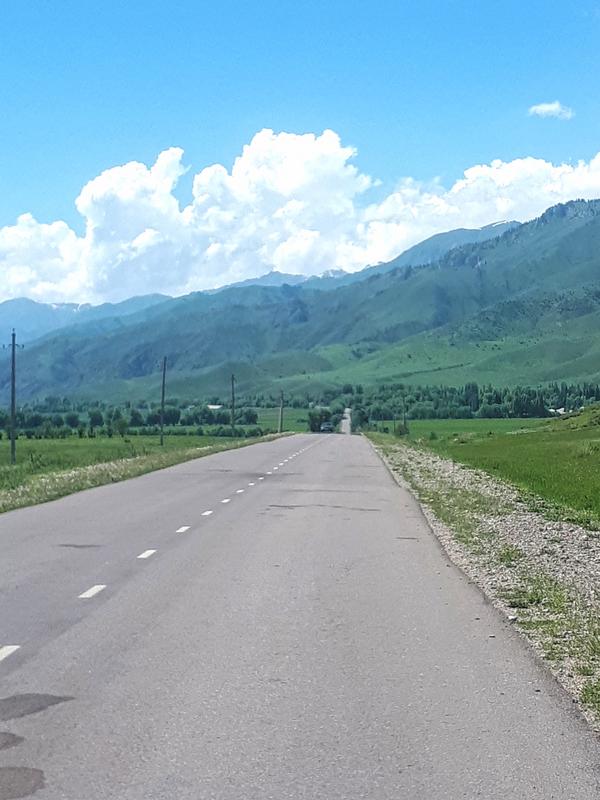 We were now in the area around Issyk-Kul, a large, deep endorheic lake which is the second largest saline lake after the Caspian Sea and second largest Alpine lake after Lake Titicaca on the Peruvian-Bolivian border in South America. Issyk-Kul means 'warm lake' in Kyrgyz – and the lake's thermal waters have remarkable effect on the surrounding area. Despite being located at an altitude of 1,600 metres above sea level, the lake never freezes. The area around the lake is lush and fertile because of it.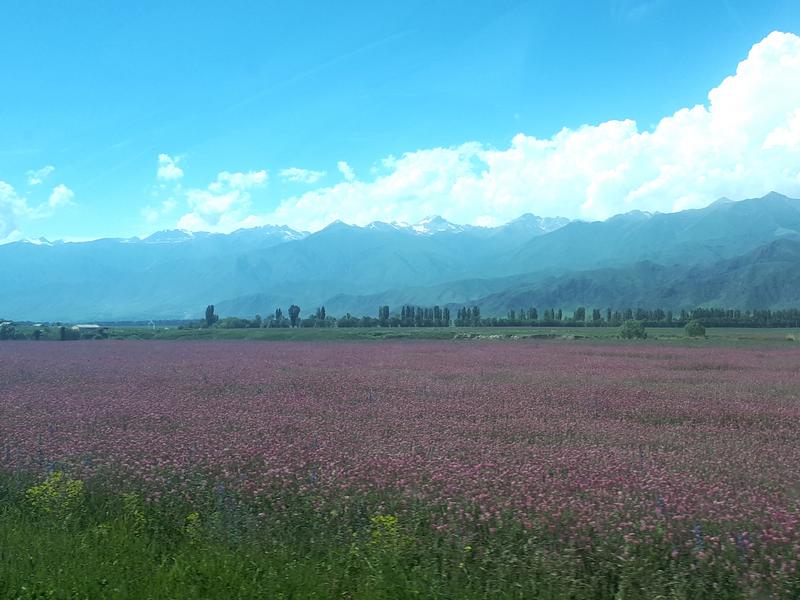 About an hour later we arrived in Karakol, where Mr. A dropped me off at my hotel. I thanked Mr. A from the bottom of my heart for the superb day and the many interesting talks and laughs during the ride. Even though the private transfer from Almaty to Karakol was not cheap (especially not considering local price levels) it was well worth it, and I would really not have wanted to miss out on it. Mr. A gave me some last few tips for the Karakol area before driving off for five more hours behind the wheel to his home in Bishkek, from where he set off very early in the morning to pick me up in Almaty – a long, long day of driving for him!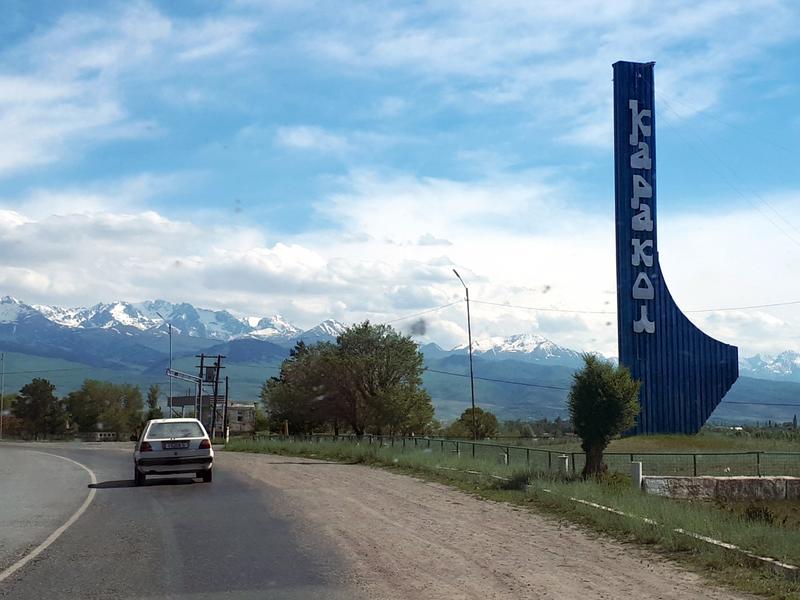 Next up: Exploring the town of Karakol and heading into the Tian Shan mountains
Aug 29, 19, 11:55 pm
Join Date: Feb 2014
Location: OTP, CHQ, EIN and beyond
Programs: AF/KL platinum, Turkish gold, Aegean silver
Posts: 1,060
Part 17: Karakol, Kyrgyzstan
Hotel: Madanur Hotel, 30 USD/night incl. breakfast
Karakol is not only the biggest town in the Issyk-Kul area, but is also considered as the outdoor tourism capital of the country. It is the ideal base to organise hikes, horse rides or homestays to sample Kyrgyz nomadic life. Guidebooks are quite positive about the town, too, with for example Lonely Planet hailing the old Russian colonial architecture. These were not exactly my first impressions of town when I arrived at all. On the contrary, I found Karakol to have a distinct frontier feeling. The few old wooden Russian cottages which I saw from the car window were far outnumbered by uncontrolled construction, including hundreds of containers which are used as shops. My first impression was that the town felt more like a makeshift bazaar.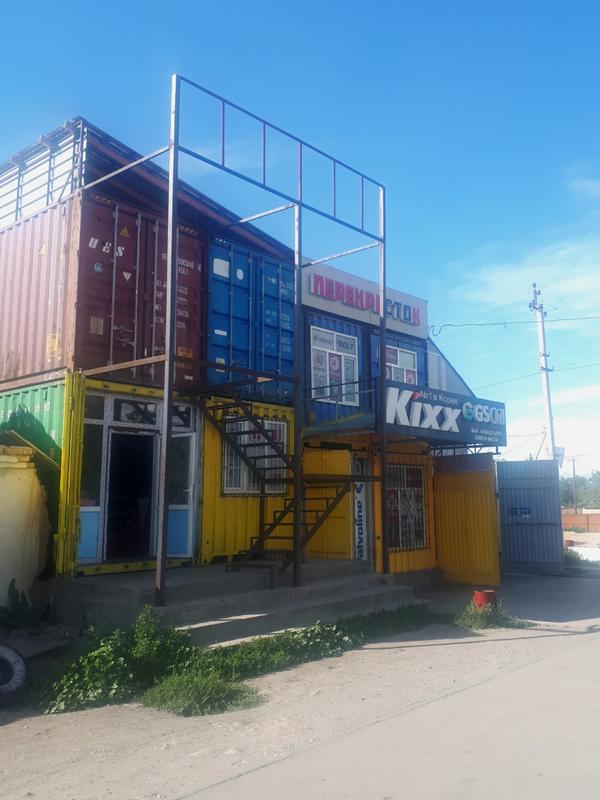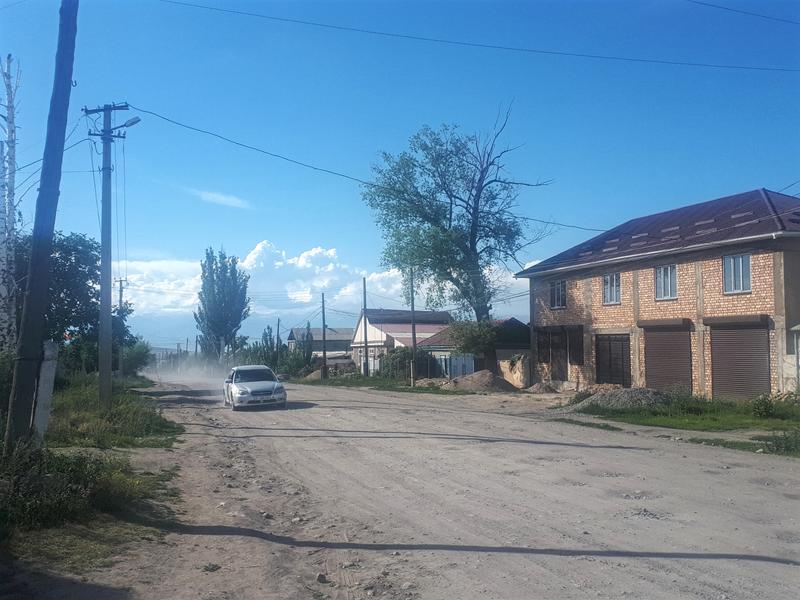 I stayed at the Madanur Hotel, one of the few hotels in town (most accommodation are guesthouses), which was perfectly acceptable. Even though rooms were basic, there was fast internet and cooked breakfasts in the morning served in the next-doors cafe.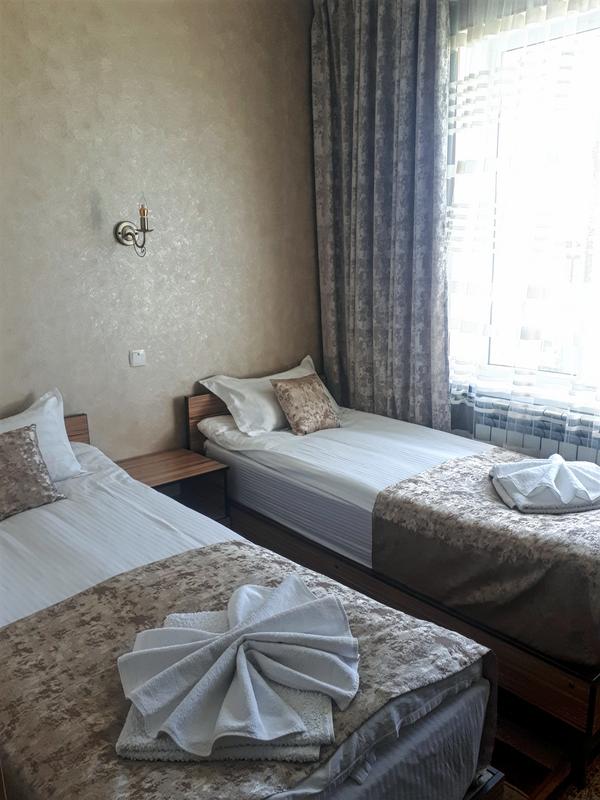 As I still had quite a few hours left on arrival until sunset I had plenty of time to discover the town. When walking more towards the city centre there were already a few more old Russian houses to see.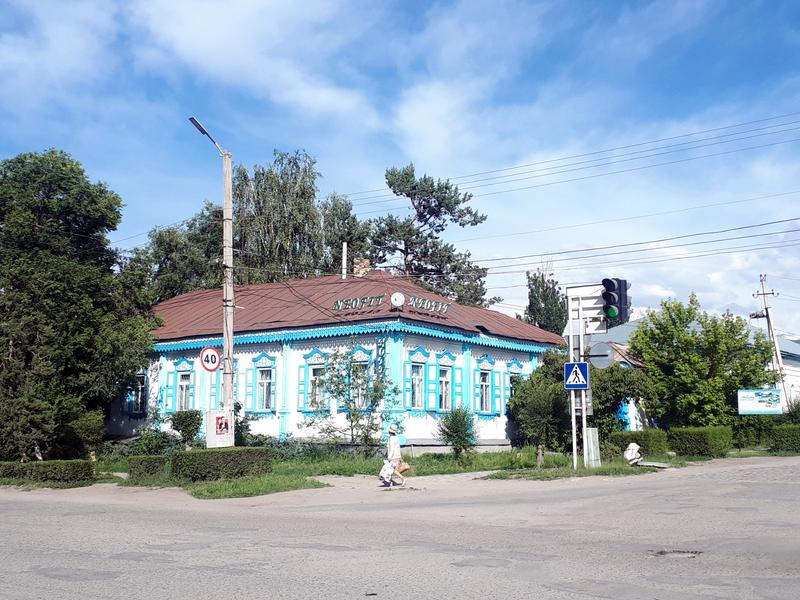 Even though Karakol feels like a backwater, it is indeed a regional centre where you can buy or arrange nearly everything. There are dozens of banks, telephone shops, supermarkets and all kinds of other shops and stalls to be found throughout town.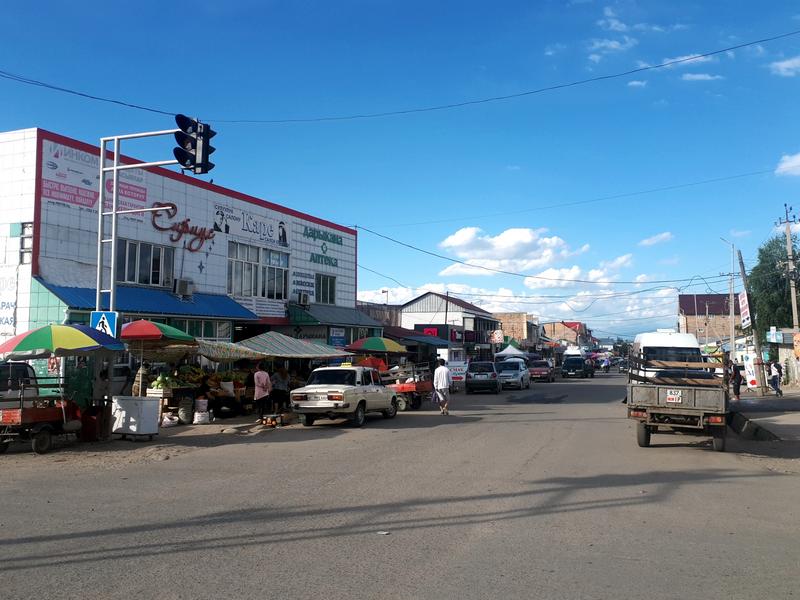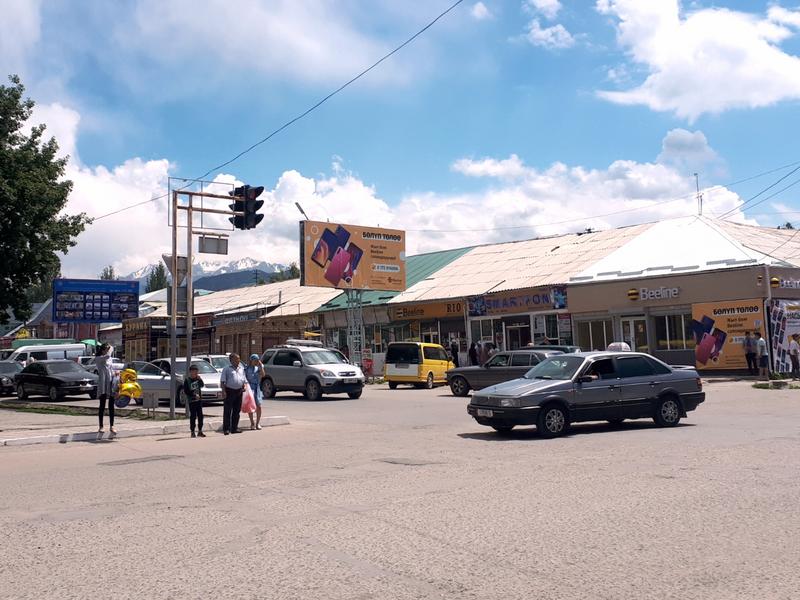 Being so close to some giant peaks well above 5,000 metres high, there is a great backdrop wherever you look.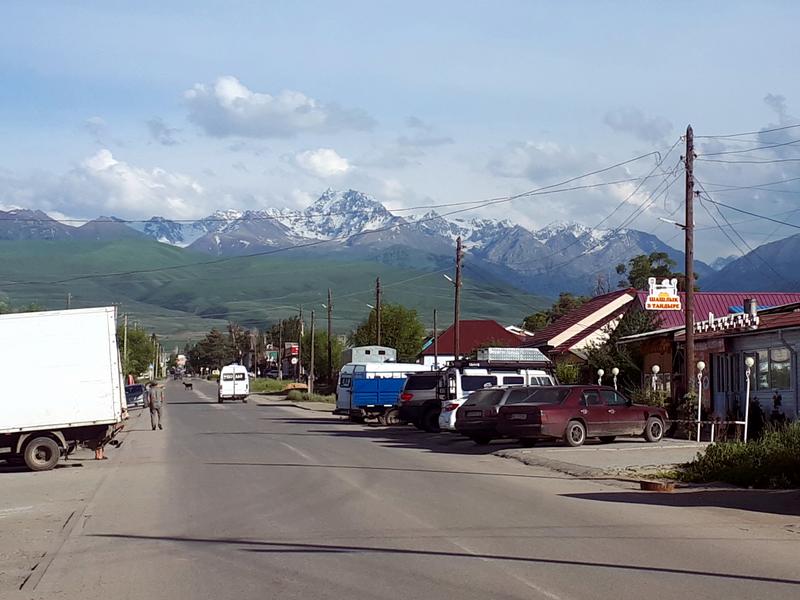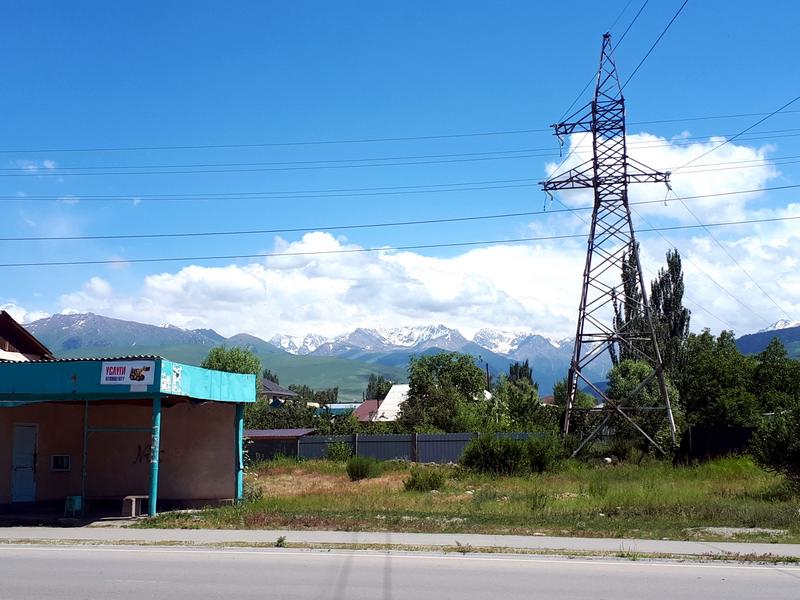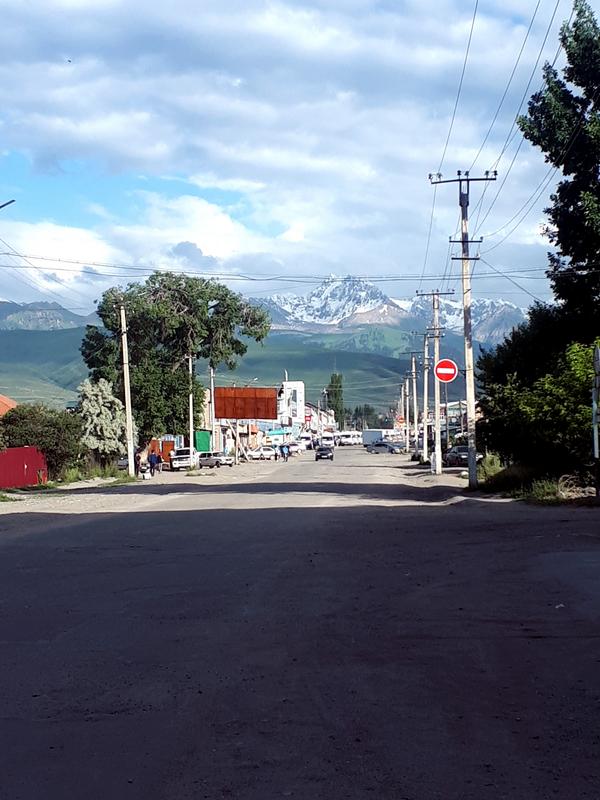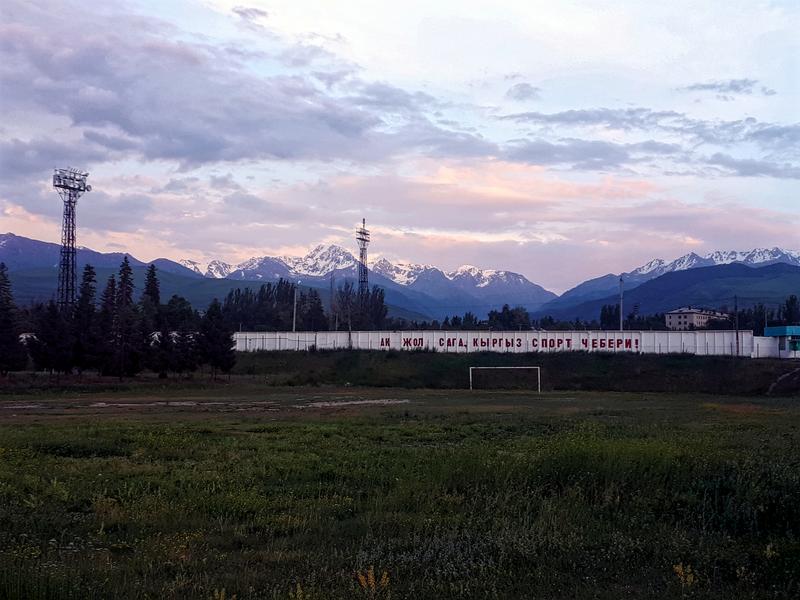 At a local outfit I arranged a one-day horse trek for one of the following two days I would be in town. In Soviet times the town of Karakol was named Przhevalsk after Russian explorer and geographer Nikolay Przewalski (yes, also Przewalski horses were named after him!).
In the centre of town you can find the decidedly communistic-looking university building, which is located next to a park.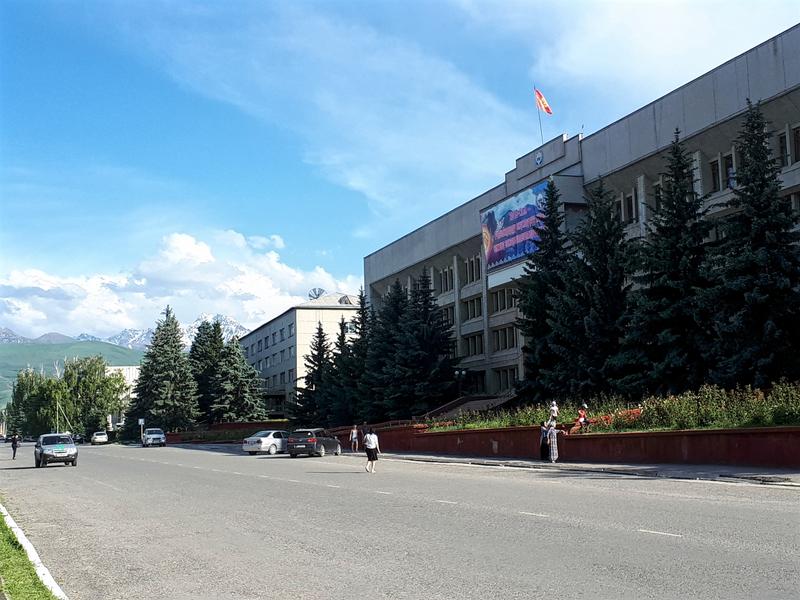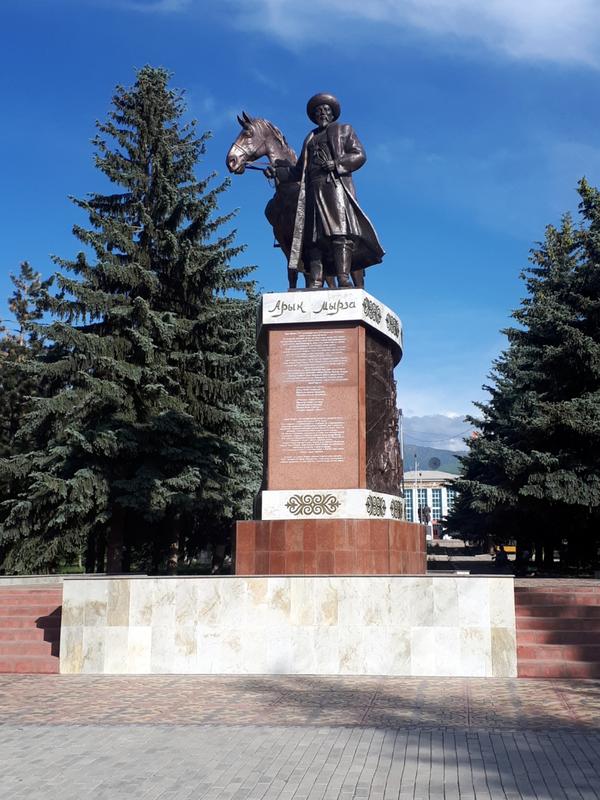 You of course cannot call yourself a tourist hub if you don't have a sign with the town name written as photo op.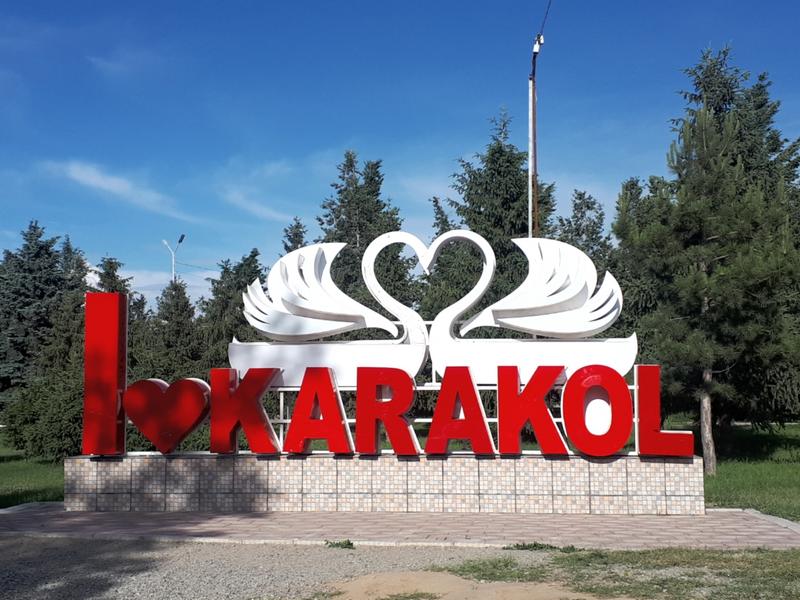 And you are not really a town in the former Soviet Union if you don't have a cool Lenin statue.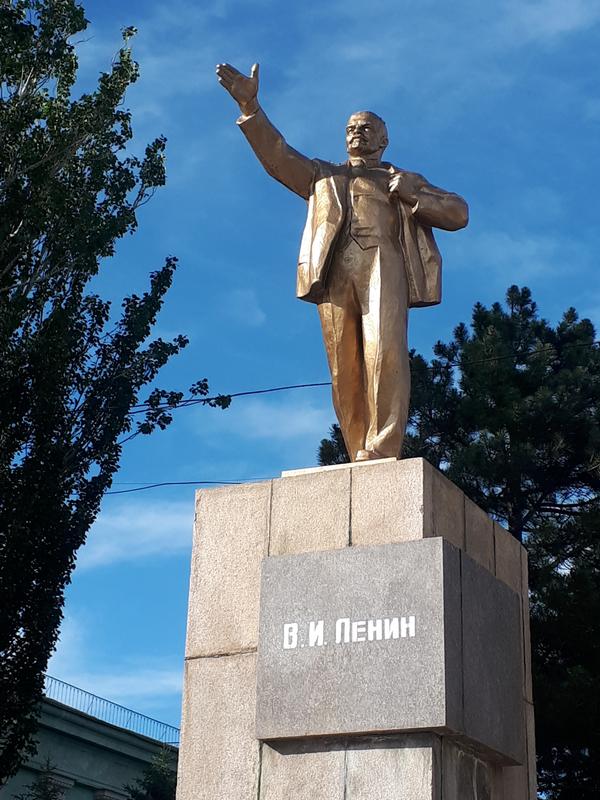 The real heart of Karakol is the central bazaar, where you can mostly find cheap local restaurants to eat. A bowl of ashlyan-fu (the local, slightly spicy noodle dish made from beef, egg and noodles – which is served cold) and some fried bread here does not cost more than 0.50 EUR. Including tea that is. Quite a steal!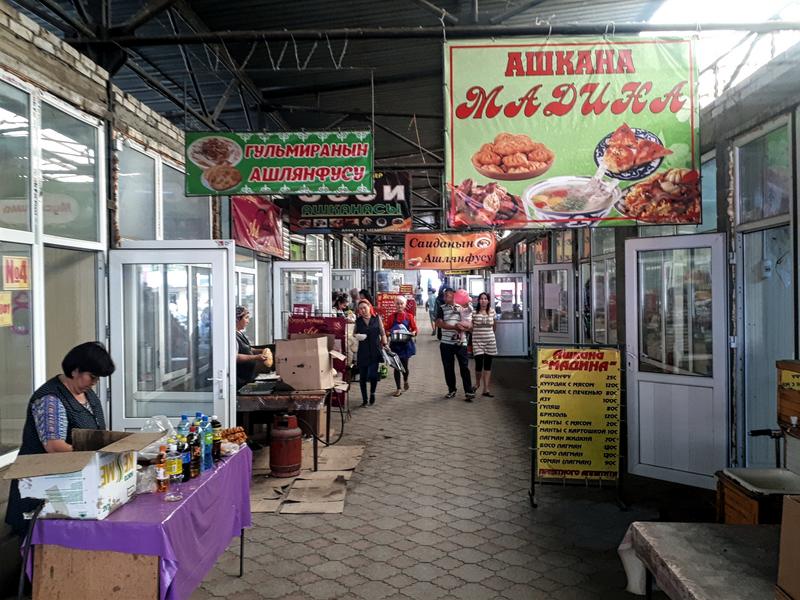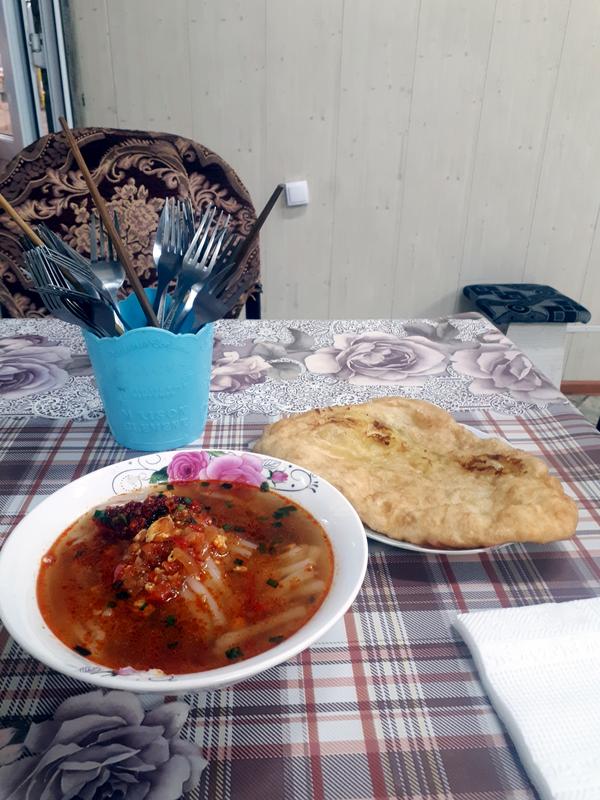 Close to the bazaar is the lovely wooden Holy Trinity Cathedral from the Tsarist Russian era.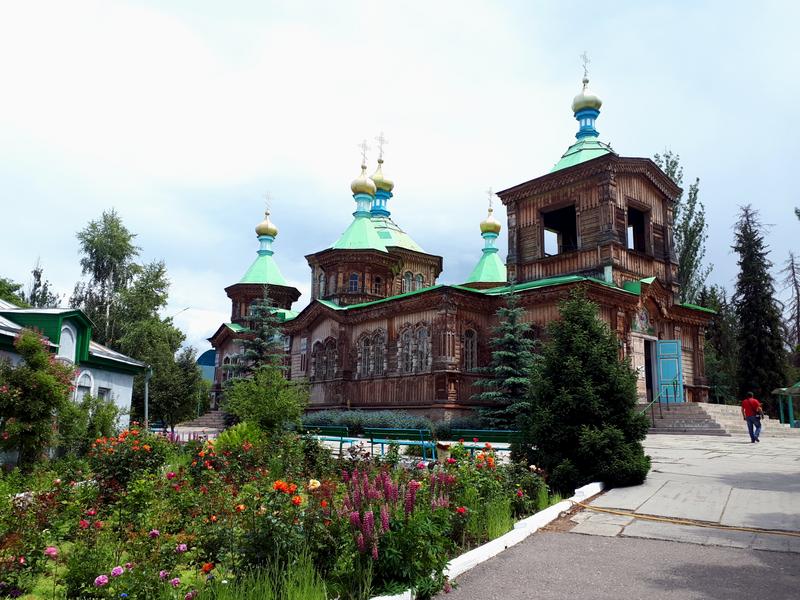 Another local house of worship is the so-called 'Chinese mosque'. No points for guessing where the name comes from.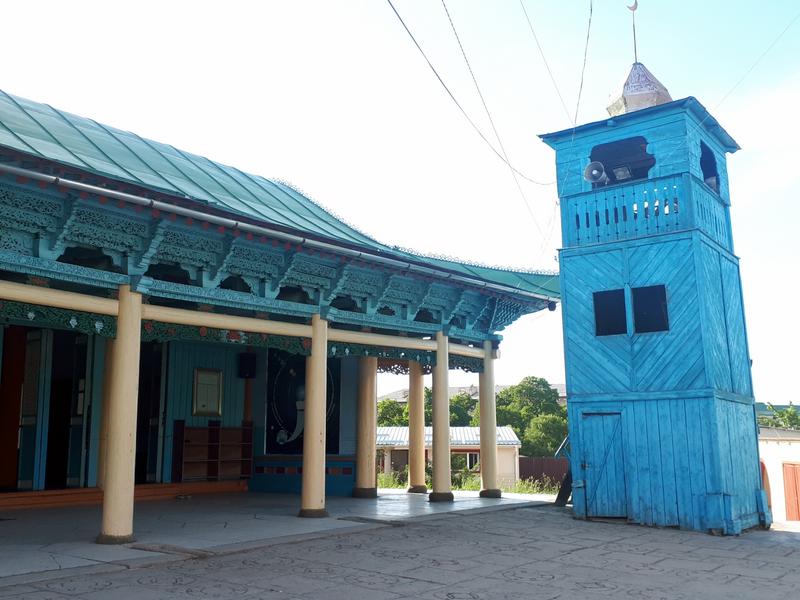 One place in town which I would visit multiple times in the next days turned out to be Dastorkan restaurant – which was recommended to me by Mr. A, the driver who drove me all the way from Almaty to Karakol. He was spot-on that it was indeed a great restaurant. Even though it is popular with tour groups, also local Kyrgyz frequented the restaurant, which has an extensive menu, beer from draught and live Kyrgyz music every evening. Best of all, the waitresses were all absolutely lovely here, being friendly, talkative and eager to explain more about food and local culture (they all spoke excellent English). In general, service levels were extremely high at Dastorkan with the waiting staff looking pro-actively after you. More importantly, the food was great too.
What about some local boorsok bread (complimentary by the house) and again some tasty ashlyan-fu as starter?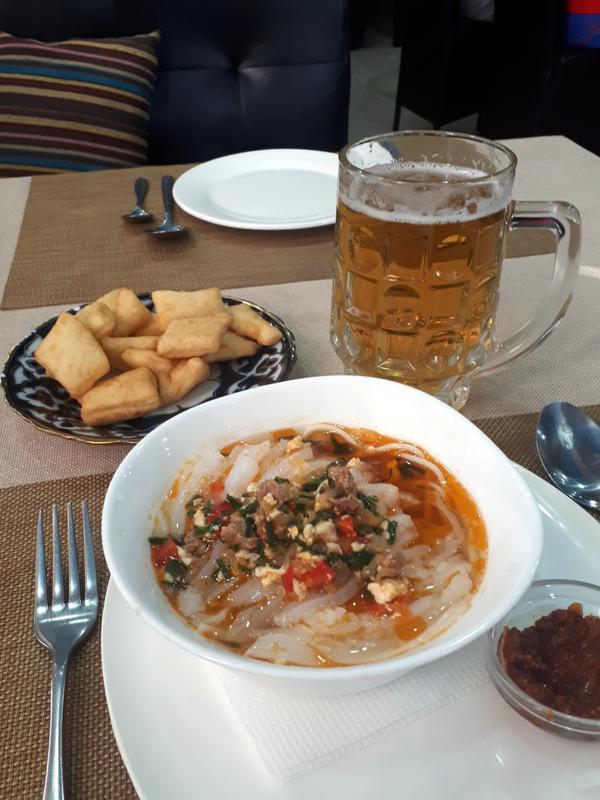 Followed by some manti (Central Asian-style dumplings – on this occasion I had some fried, the other ones boiled) and a horse meat platter containing a few local horse meat variants, as well as stuff such as ram fat and beef tongue.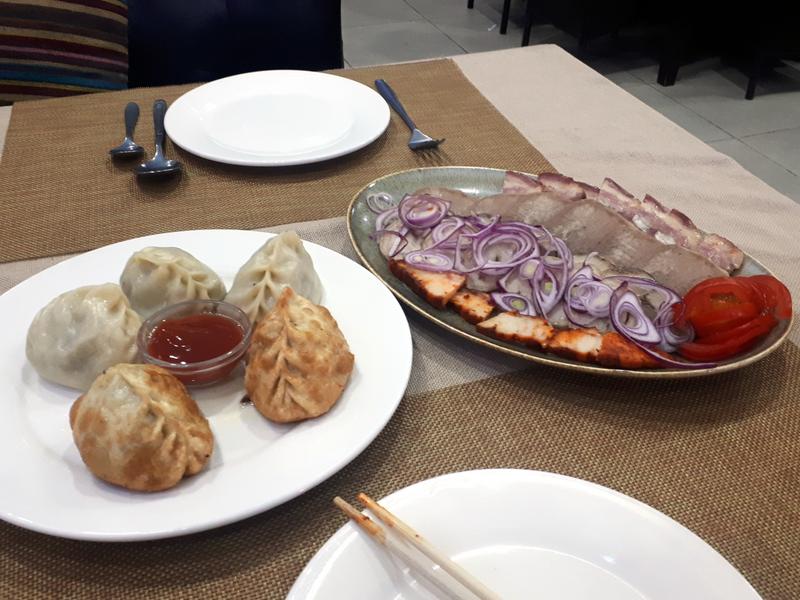 Dastorkan had some tasty shashlyks, too! And for those not too fond of Central Asian food, there are a number of Western options as well, although I didn't try those out.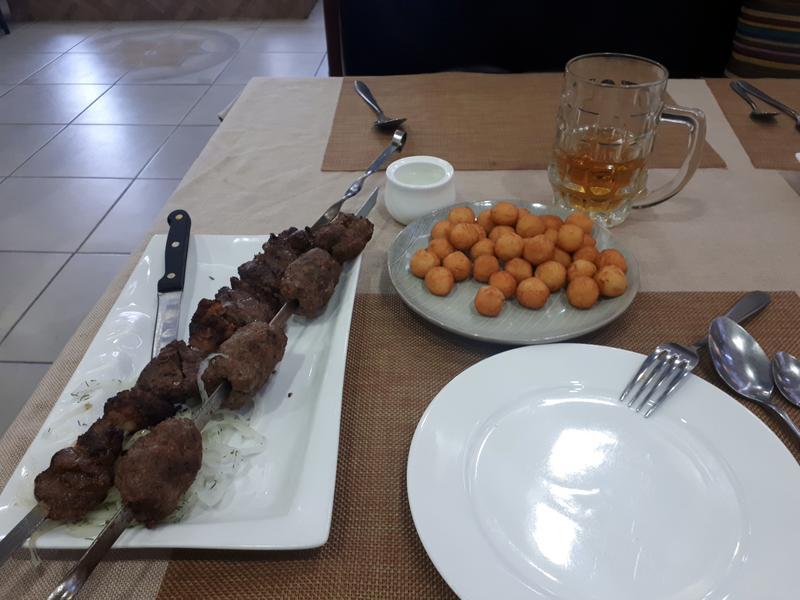 Best of all was the live music – and the fact that the restaurant had some nargilah as well. Nothing better to listen to some music while having a smoke and some tea to settle all the food.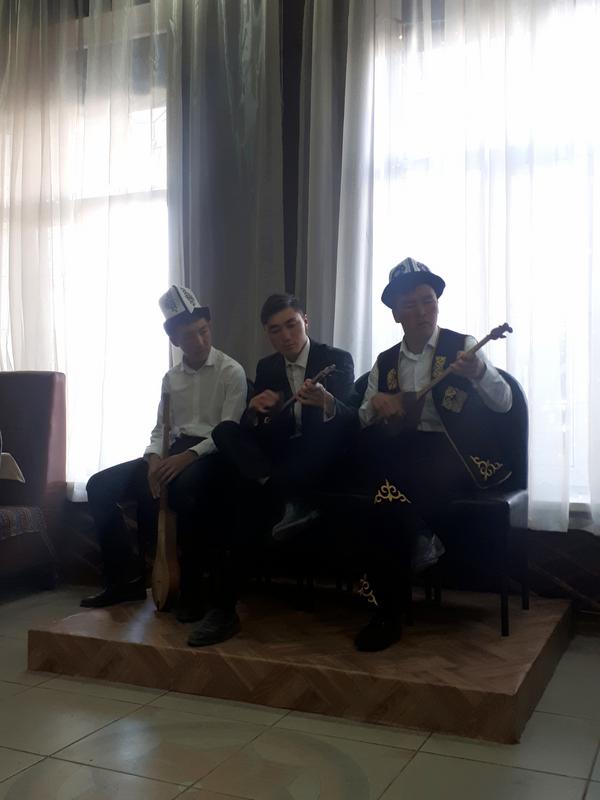 Karakol is really not a bad town to stay for a few nights!
Next up: A day trekking on horseback in the Tian Shan mountains
Aug 30, 19, 6:43 am
Join Date: Feb 2014
Location: OTP, CHQ, EIN and beyond
Programs: AF/KL platinum, Turkish gold, Aegean silver
Posts: 1,060
Part 18: A day trekking in the Tian Shan mountains on horseback
Many people heading to Karakol use it as a jump-off point for multi-day treks. As I was a bit limited in time and only could allocate three nights and two full days to Karakol, I however opted for something different. There are a number of great day treks possible from Karakol which can be done individually or with a guide. There are also lots of other fun activities which you can organise, this basically being the outdoor capital of Kyrgyzstan. One of the activities I chose was a day into the mountains on horseback. I organised the trip through Bulak Say Horseback and Trekking – which asked around 30-40 USD (if memory serves well!) for a private day trip including horse and guide. At 8am sharp I reported to the Bulak's office, from where I was driven to a farmstead just outside of town in the foothills of the Tian Shan mountains.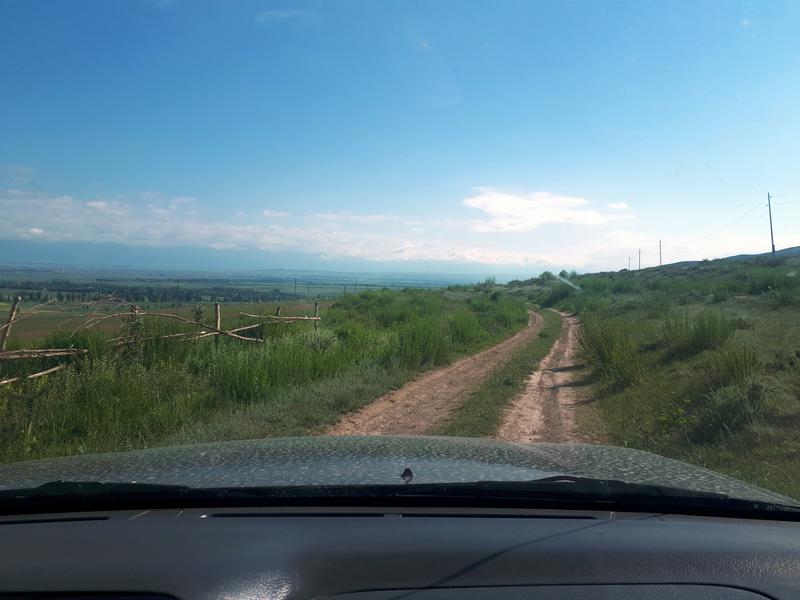 My guide for the day would be a local Kyrgyz farmer as it would just be the two of us heading into the mountains. Even though my guide did not speak much English at all, he would turn out to be fun company and very knowledgeable about the land. As he prepared our horses I played a bit with the farm dogs and helped his cheerful son practising some English words (he spoke quite a bit of English despite his young age!).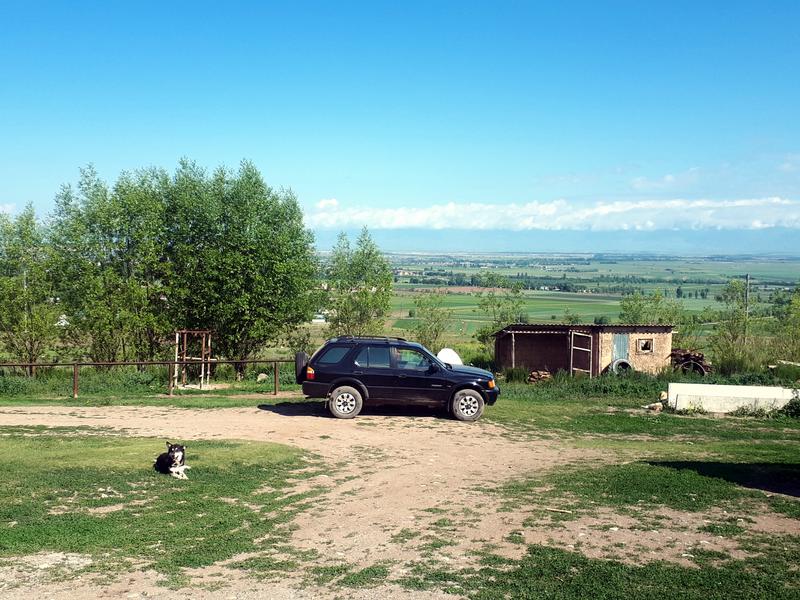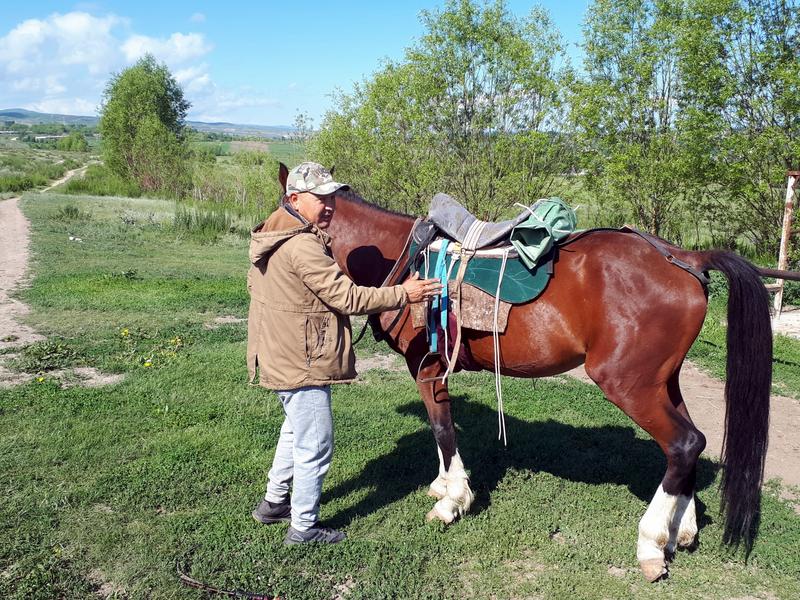 The first part of the journey – a good one to two hours – was uphill on the bare foothills. There were some pretty views looking back towards Karakol and Lake Issyk-Kul, although in front of us there were still no real mountains to see.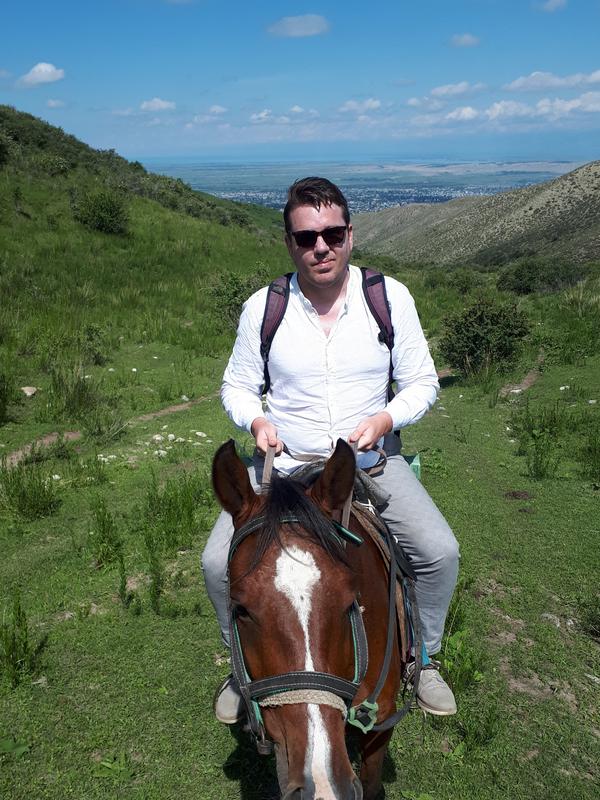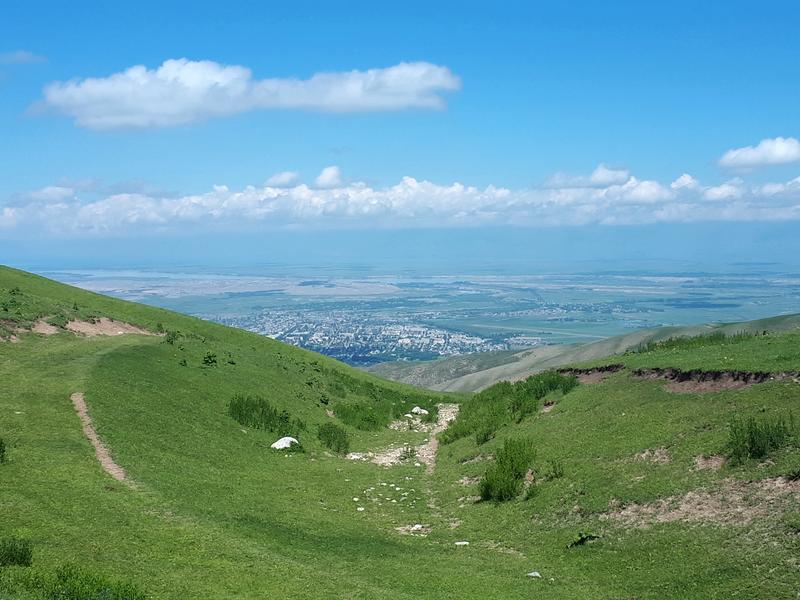 The scenery changed drastically when we got to the top of the hill, which had great views over a lovely valley and the first bit of serious mountains behind.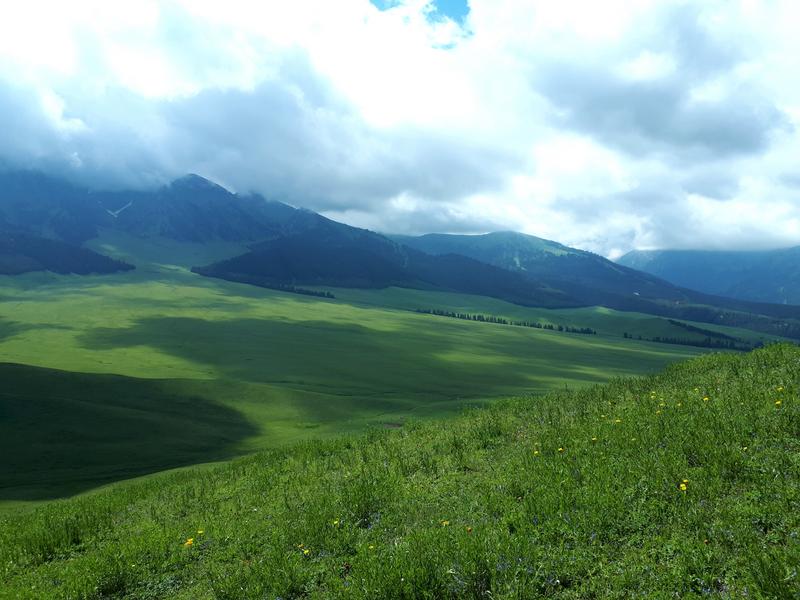 We made a small break here to admire the view and to give the horses a bit of after the uphill trek.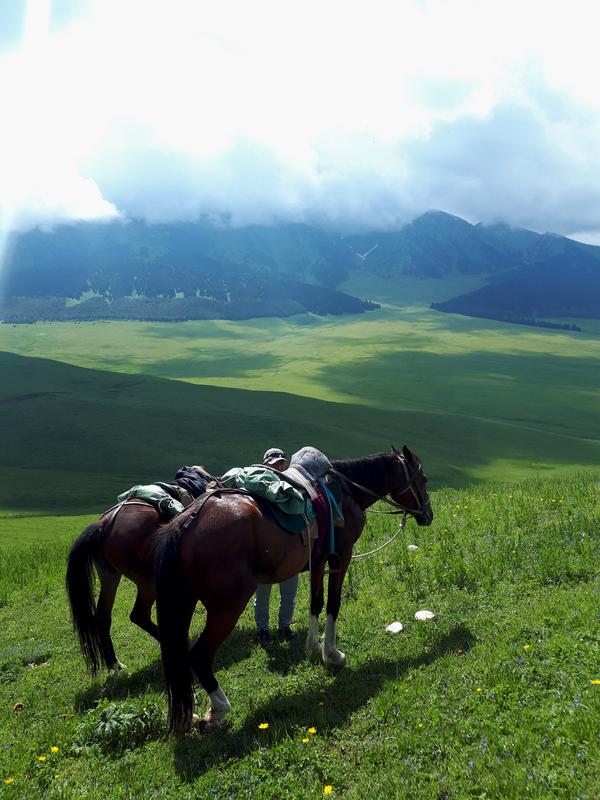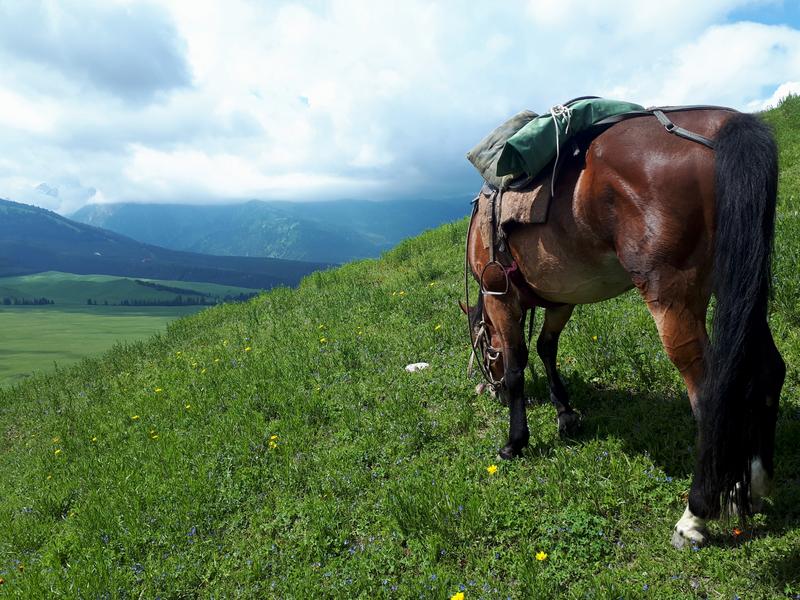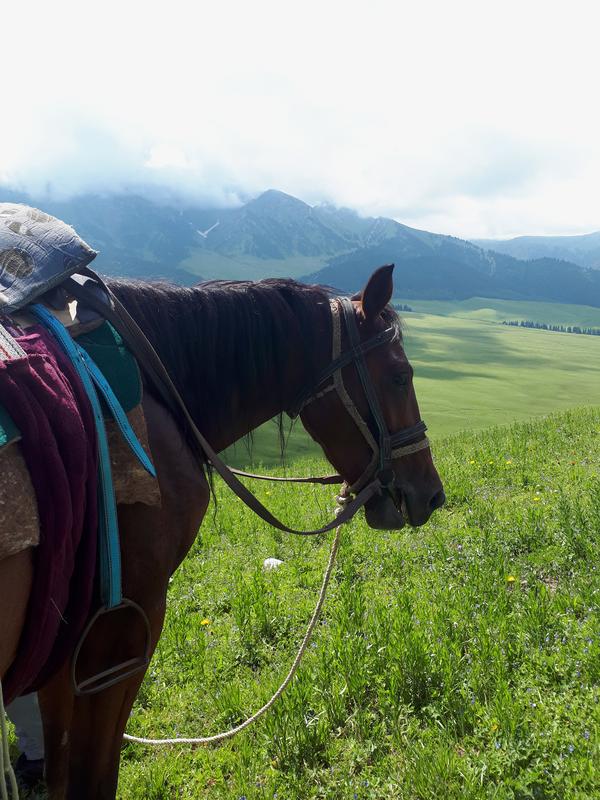 We continued our journey by heading down into the valley, which we followed for a while. At a certain point my guide plucked some kind of plant from the ground while riding. He said that the plant – anyone knows the name? – is actually nourishing, healthy and even tasty. I was sceptical but the inner Bear Grylls in me gave it a try. It turned out he was completely right as it tasted very crispy and fresh.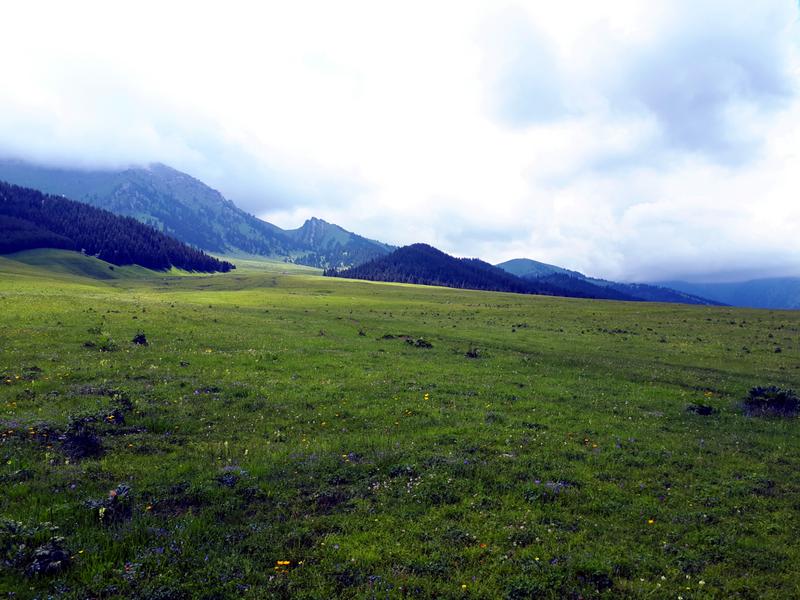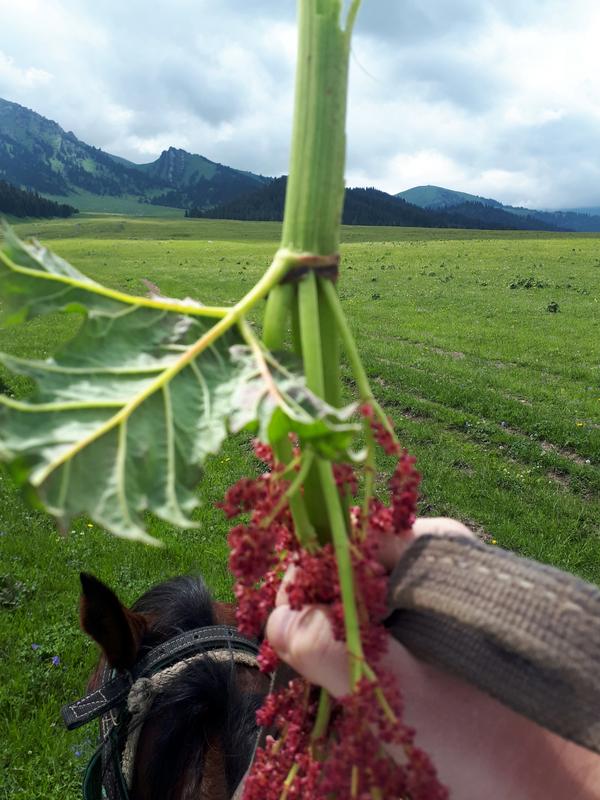 Even though we still did not see the really high peaks the scenery was already lovely with all the wild flowers on the green pastures.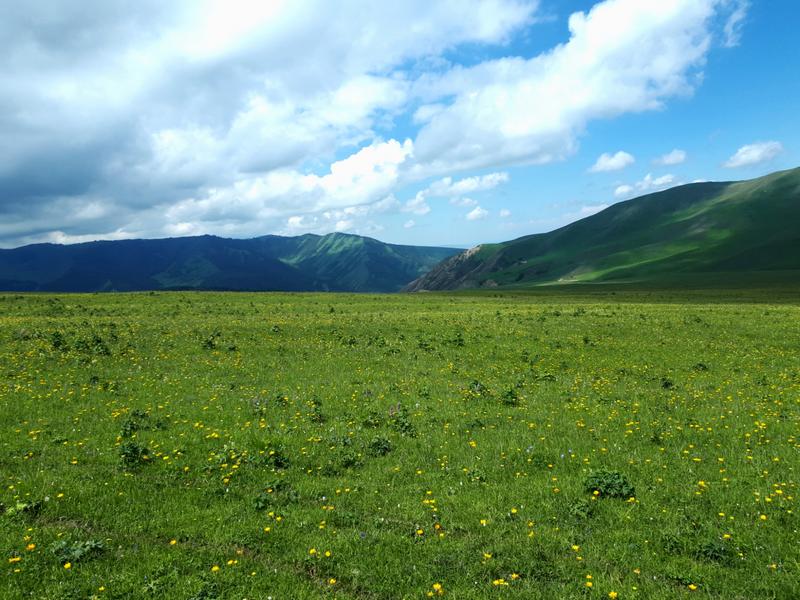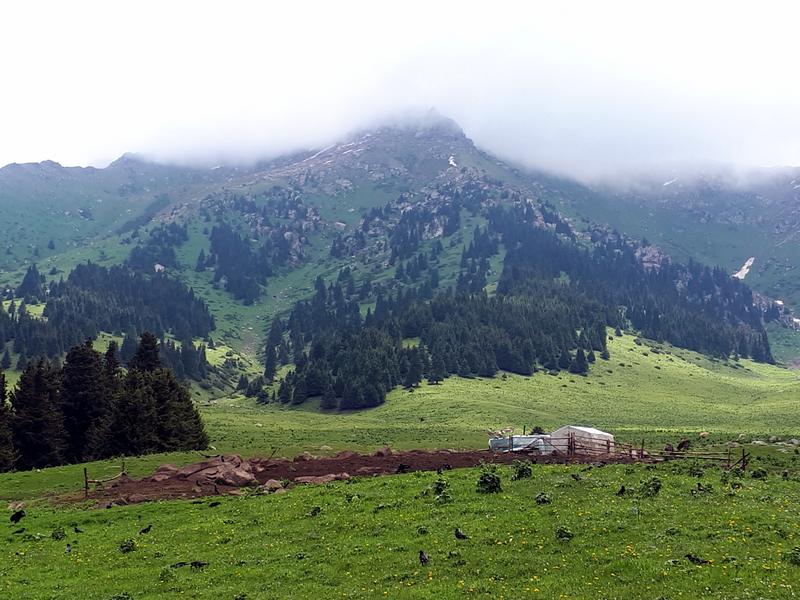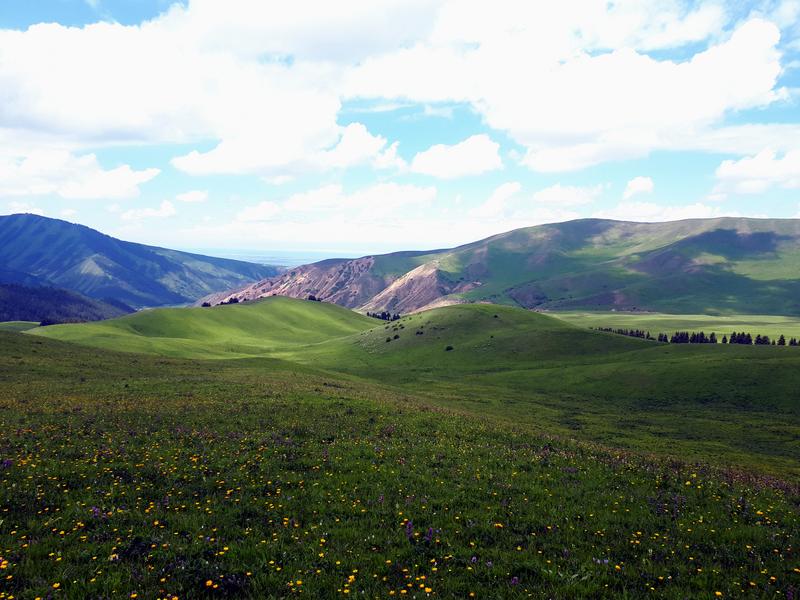 At some places, the pastures however gave way to pine forests.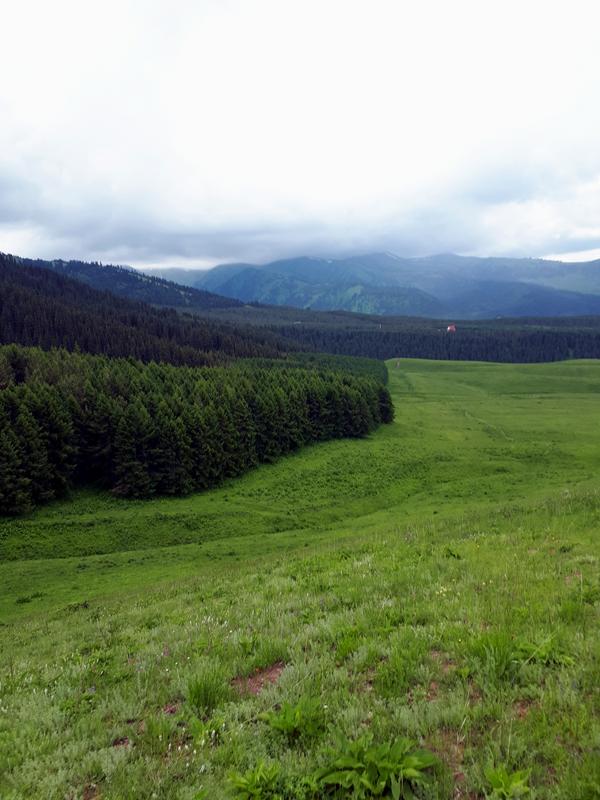 After a while we reached the halfway point – which was also the highest we would get. There were fabulous views here over some really high peaks well over 5,000 metres above sea level.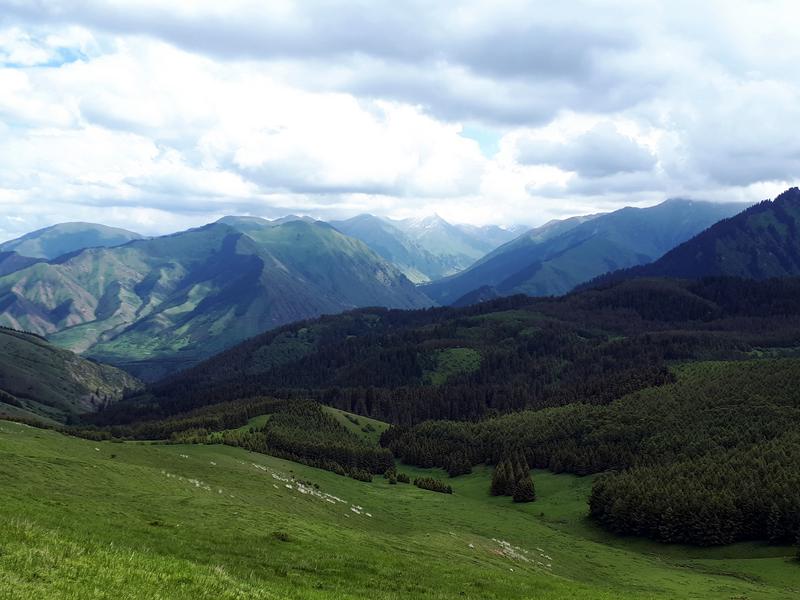 We made another break here to rest the horses – and ourselves. Even though I have done horse riding before, I could start to feel the discomfort of the ride on my buttocks, which is quite normal I guess if you are not a horse riding expert and don't do it at regular intervals to create some 'flesh'. It reminded me how I felt after a three-day horseback journey through the Wadi Rum desert in Jordan in true Lawrence of Arabia style. Back then I could barely even walk up or down the stairs, let alone sit down for a day or two afterwards. But when the scenery is as great as it was this day, you easily forget about the discomfort!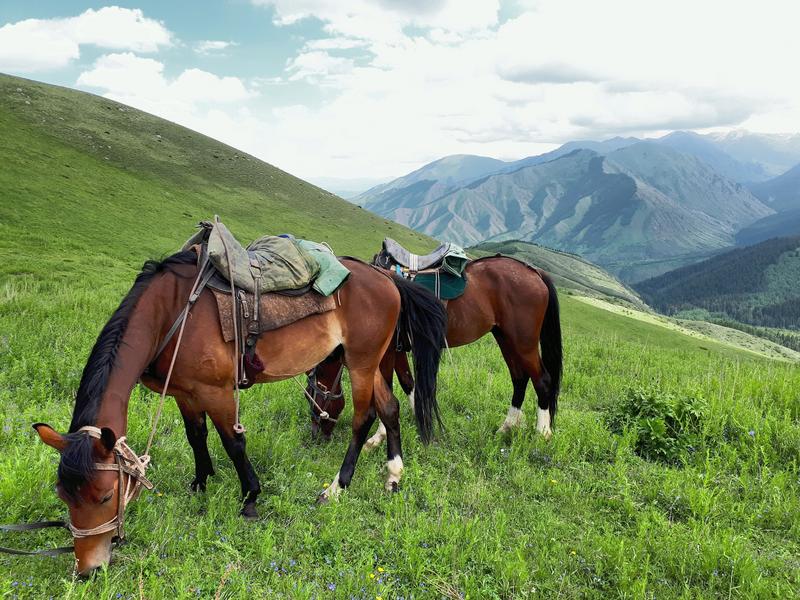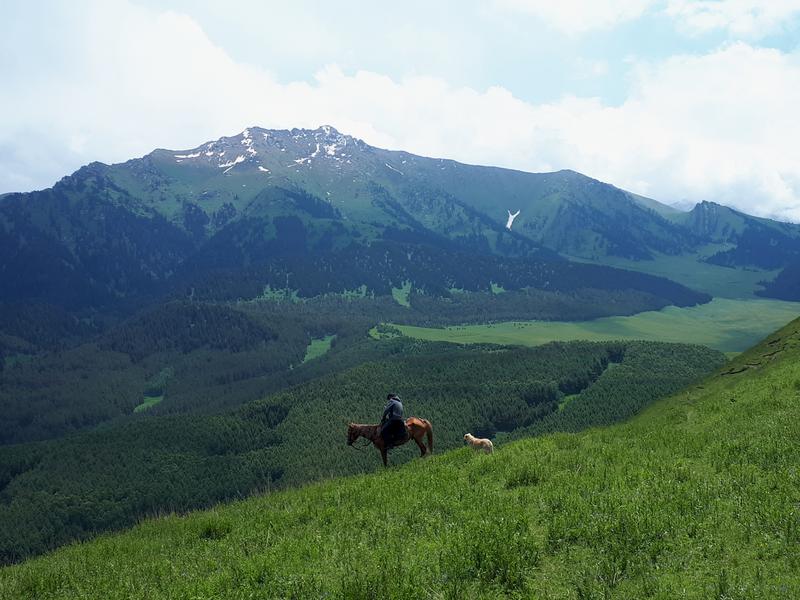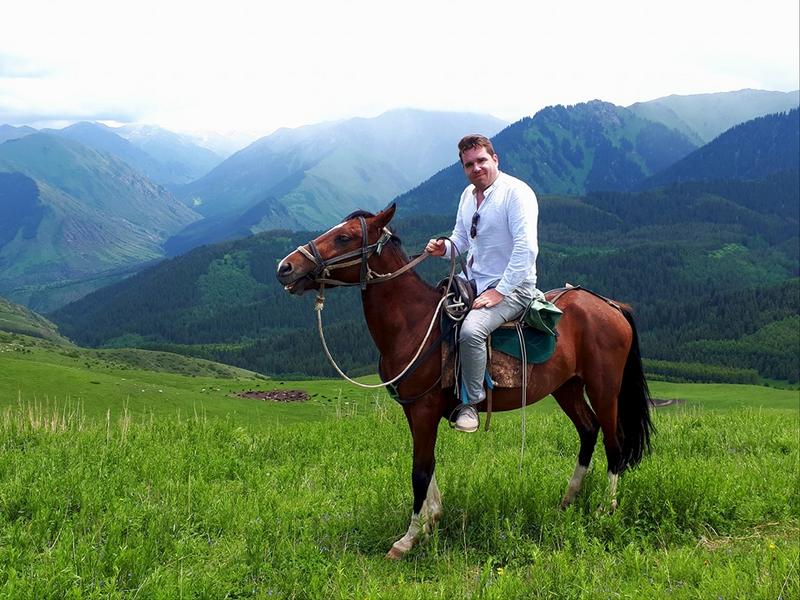 After a while it was time to head back to the farmstead and to end the great day of horse riding.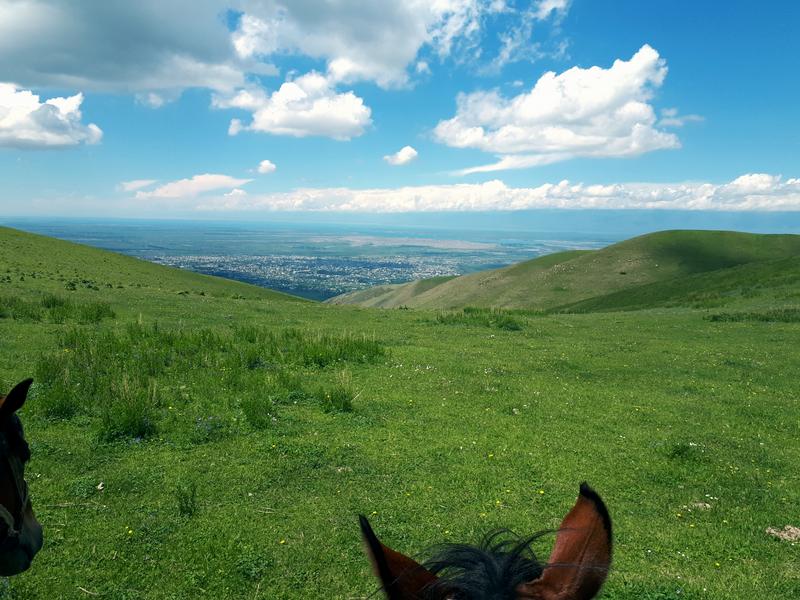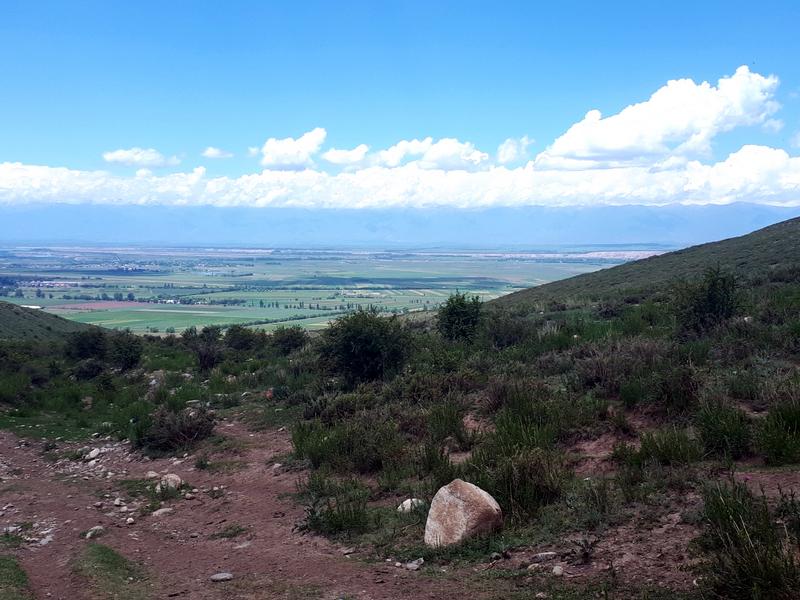 Aug 30, 19, 9:04 am
Join Date: Feb 2013
Location: Yorkshire
Posts: 2
To answer you earlier question about the unidentified aircraft at Minsk (the one with the red star and pointed nose) It is a Tupelov TU-134UBL, which is basically a TU-134 converted as a test aircraft for, I think, Mig fighters.
Aug 31, 19, 10:14 am
Join Date: Feb 2014
Location: OTP, CHQ, EIN and beyond
Programs: AF/KL platinum, Turkish gold, Aegean silver
Posts: 1,060
A big thank you,
englishkev
for solving the mystery!
Aug 31, 19, 6:46 pm
Join Date: Mar 2001
Location: SYD
Programs: OZ*G, VA gold, NZ*G (Elite), QF bronze, Former 'bottom-feeder' AC*G
Posts: 5,038
Really interesting to see this corner of Kazakhstan and Kyrgyzstan - your route so far is exactly what I'd planned to do (but in reverse) when we were in that part of the world but we were foiled by the border crossing being closed to non-locals at the time.

Karakol does look like it's got quite a nicely frontier feel. I do love that wooden Russian architecture - the cathedral is gorgeous!
Sep 1, 19, 10:23 am
Join Date: Feb 2014
Location: OTP, CHQ, EIN and beyond
Programs: AF/KL platinum, Turkish gold, Aegean silver
Posts: 1,060
Thanks
lhrpete
. There was plenty of beer! And besides the beer to wash away dinner I had each evening a nightcap or two in the hotel bar. Just when I need to do hiking and such it's best not to overindulge
Also in general - the further from home I travel the less I drink (to make sure I always have situational awareness etc). The boozing I make up for in Europe, on the plane etc
I'm spending the weekend right now as we speak in Lviv, Ukraine for exactly that purpose
Originally Posted by
mad_atta
Really interesting to see this corner of Kazakhstan and Kyrgyzstan - your route so far is exactly what I'd planned to do (but in reverse) when we were in that part of the world but we were foiled by the border crossing being closed to non-locals at the time.

Karakol does look like it's got quite a nicely frontier feel. I do love that wooden Russian architecture - the cathedral is gorgeous!
It is an interesting route for sure
mad_atta
and I loved every minute of the journey. Pity you couldnt make it the exact same way! Unfortunately sometimes travels dont work out the way we hope. I had it as well this trip as my 2nd day in Karakol (in which I planned a long day hike) I had to cancel the plans because of a thunder storm..
agree on Karakol being an interesting place with a weird but cool enough vibe!