Turkish Airlines to Tartary: Kazakhstan, Kyrgyzstan - and a Bit of Belarus
Jul 25, 19, 7:16 pm
Join Date: Feb 2014
Location: OTP, CHQ, EIN and beyond
Programs: AF/KL platinum, Turkish gold, QR gold
Posts: 1,305
Turkish Airlines to Tartary: Kazakhstan, Kyrgyzstan - and a Bit of Belarus
---
Welcome to yet another trip report – my twelfth already on this forum. Those who might have read some of my previous TRs know about my fascination for remote places in the world, in particular those in the former Soviet Union. This especially rings true when it comes to everything Central Asia – a region which has long fascinated me and which is in my opinion one of the most underrated and unknown places on earth in terms of tourism potential and sheer beauty. Last year,
I visited Uzbekistan and a bit of Kazakhstan on my first trip to Central Asia
and really loved every single bit of it. It would now be time to return for a second visit to the region known as Tartary by the Europeans in the dozens of decades before the 18th Century.
Before I embarked on my trip to Uzbekistan last autumn, I got my Flying Blue platinum status matched to *Gold on Turkish Airlines' Miles & Smiles programme. In the first year of the status match, you need to fly 15,000 miles on Turkish Airlines flights only to retain the status for a second year. I had flown a fair bit on TK within Europe and Turkey this year both for leisure and work, so I knew that flying TK on this trip (which took place last June) would get me well over 15,000 with some months to spare.
Turkish often prices their tickets (both in J and Y) very aggressively in some markets where they do not have a natural share and face stiff competition. One of these markets is flights to and from ex-Soviet republics. While a flight ticket from western or southern Europe to Central Asia on Turkish can still be fairly expensive, you can at times find great deals when you position to countries such as Moldova, Ukraine, Belarus or Russia – as the local airlines dominate the markets there with direct flights to Central Asia. This time, I saw a great business class deal out of the Belarusian capital of Minsk (MSQ), with flights to Almaty, Kazakhstan (ALA) being priced at 440 EUR one-way (returns were a bit over 1,000 EUR). Without thinking, I just booked a one-way, leaving the positioning flight to Belarus and my return ticket to a later time to worry about.
The return from Central Asia to my home airport of Bucharest (OTP) was the easiest to arrange, as again Turkish Airlines had a good deal in Y out of Bishkek, Kyrgyzstan (FRU) for 180 EUR. This allowed me to do a perfect loop from Almaty into eastern Kyrgyzstan, making my way back westwards to the capital of Bishkek for my flight home. I still needed a one-way flight to Minsk. Initially I had my sights set on a ticket on Air France via CDG, with the CDG-MSQ being operated by Belavia on an AF codeshare. Unfortunately, the night before I finally wanted to pull the trigger and book it, the flight jumped up in price. When I went searching for cheap flights to MSQ from other airports in my home region besides OTP, I found out that there were flights from the north-eastern Romanian city of Cluj (CLJ) via Istanbul to Minsk for just 120 EUR one-way – which was a lot cheaper than a similar flight out of OTP for which Turkish dared to ask well over 350 EUR.
What was left was a domestic flight from Bucharest to Cluj to position myself for my positioning flight (yeap, I know I'm crazy, but aren't we all a wee bit on these boards?). This was fairly easy as a morning TAROM flight was just 40 EUR.
On a map, all the flights look like this: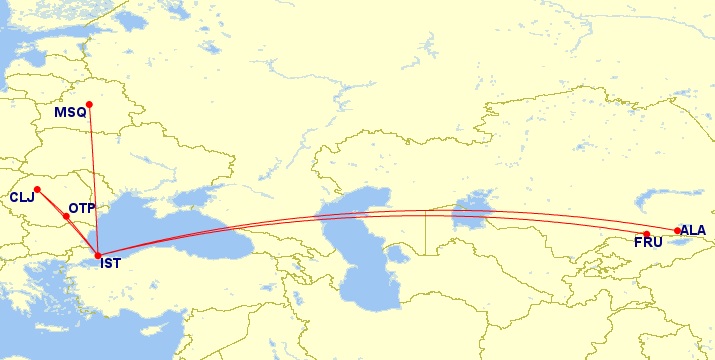 Things to look forward to in this trip report are:
- A lot of flying on TK in both business class and economy
- Hunting communist ghosts in the Belarusian capital of Minsk and the Kyrgyz capital of Bishkek
- Exploring the leafy city of Almaty, Kazakhstan's largest city
- Charyn Canyon, Kazakhstan's version of the Grand Canyon
- Endless Kazakh steppes and soaring Kyrgyz mountain peaks
- Horse riding in the Tian Shan mountains
- A beach holiday at 1,600 metres above sea level on the shores of Lake Issyk-Kul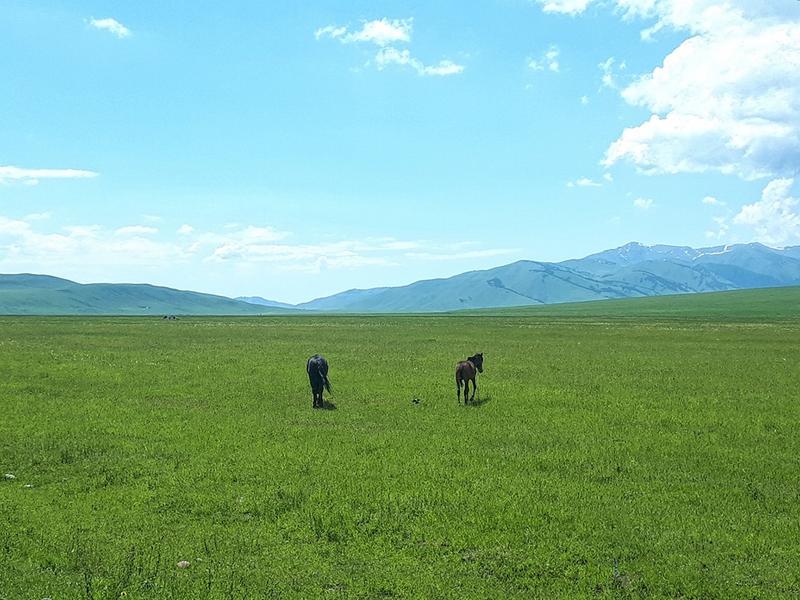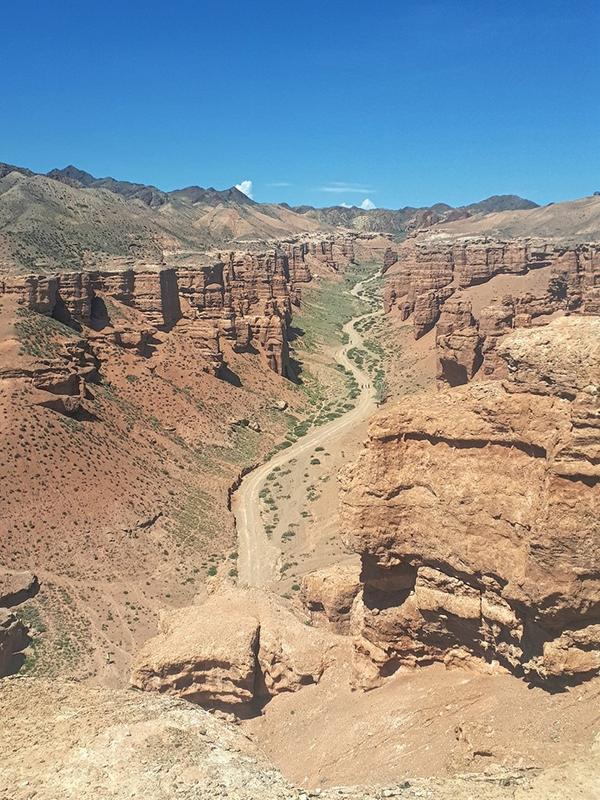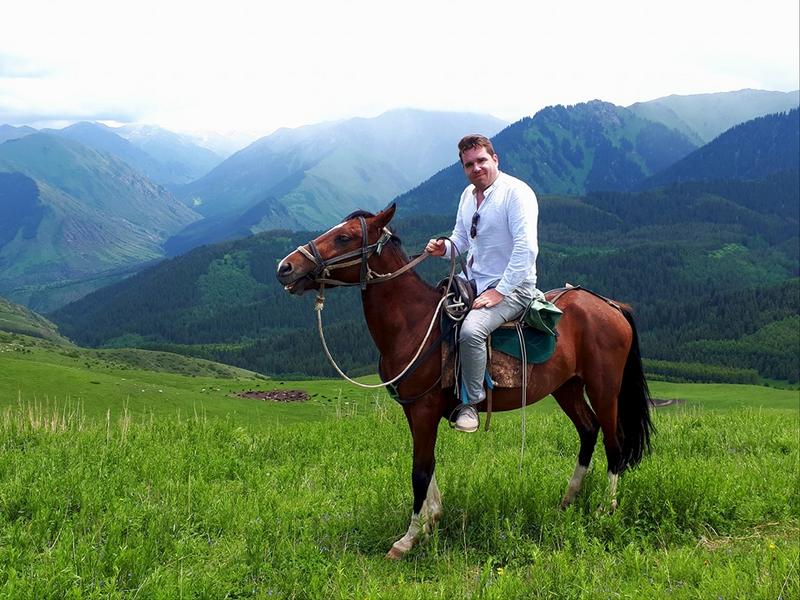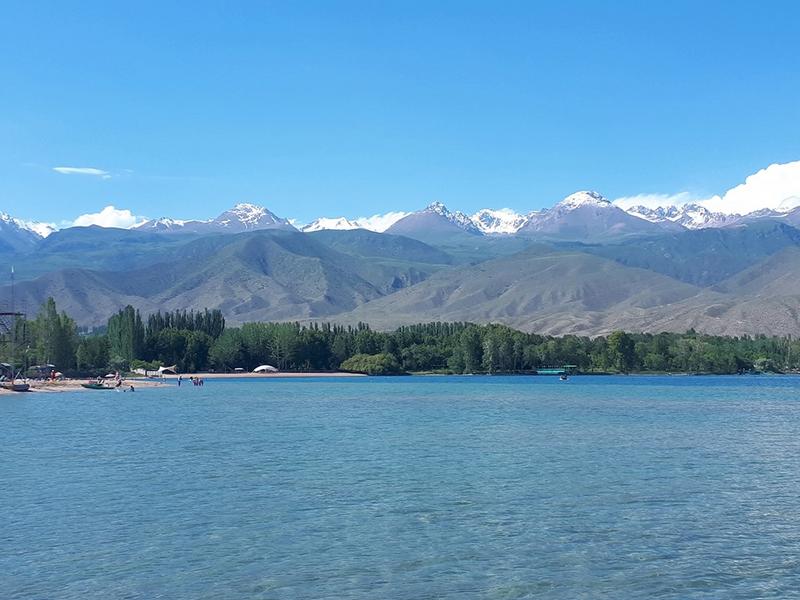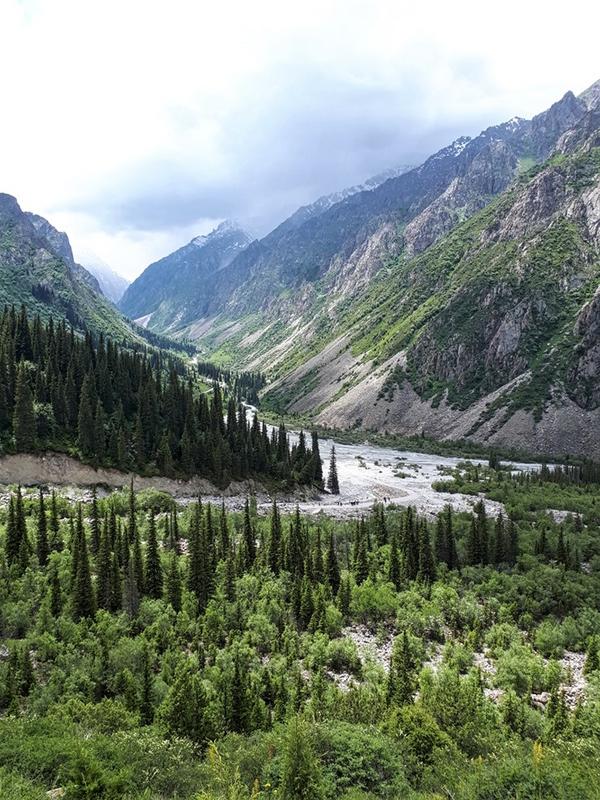 Jul 26, 19, 6:08 am
Join Date: Feb 2014
Location: OTP, CHQ, EIN and beyond
Programs: AF/KL platinum, Turkish gold, QR gold
Posts: 1,305
Part 1: Bucharest (OTP) to Cluj-Napoca (CLJ) on TAROM in economy class
Flight RO641 – Airbus A318 - Seat 2F – 40 EUR
STD 6.50am - STA 7.45am (flight time 0h55m)
Not many people in the world take a positioning flight in order to catch a better deal from a different airport than the one closest to your home. You do however need to be a wee bit crazy (read: a Flyertalker trying to optimise mileage and/or get the cheapest price) in order to position yourself for a positioning flight. That was the case with me on this trip, as the cheapest deal to the Belarusian capital of Minsk was running from the north-eastern Romanian city of Cluj-Napoca. I did not mind the quick hop to Cluj-Napoca, which is the de-facto capital of Romania's Transylvania region and the country's second most important city. Cluj-Napoca, just called Cluj by the locals, was even my home once for a full year when I first moved into Romania. It is a city in which I have many friends and which will always be close to my heart.
Domestic hops in Romania can be cheap, especially if booked in advance. The country's legacy carrier TAROM (a Sky Team member) and low-cost Blue Air (another Romanian company) are the two main airlines, although both Wizzair and Ryanair also operate the odd domestic flights. Unless schedule and price force me to chose otherwise, I always opt for TAROM as I can earn Flying Blue miles and XP (domestic hops don't earn many XP – but Romanian flights earn double the points as standard, which is nice). While TAROM does offer business class on international flights, it is not offered on domestic hops. If you are lucky though you might find yourself in a business class seat if the airline did a last-minute aeroplane swap and you happened to select a seat up front.
My journey to Cluj began with an Uber from my Bucharest home to Otopeni airport. Morning rush hour can be madness here as several airlines operate a hub out of OTP and many European legacy carriers have a plane parked overnight at the airport for an early morning flight to their hub airport. Today was no different – and it took a whopping 40 minutes to clear security (there are no priority lines whatsoever, unless you are cabin crew or a high-ranking diplomat). After clearing security, international passengers turn right to passport control and the main airport hall, while domestic passengers turn left to the small and basic domestic terminal, which only has two shops and an overpriced cafe.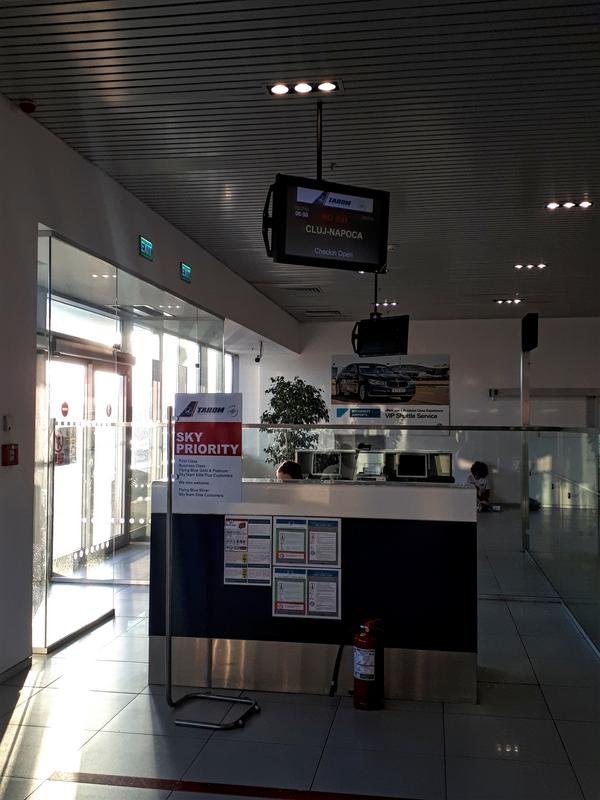 The domestic terminal has bus gates only. An old-fashioned airport bus brought us to our Airbus A318 which would operate today's morning flight to Cluj. The flight seemed close to fully booked.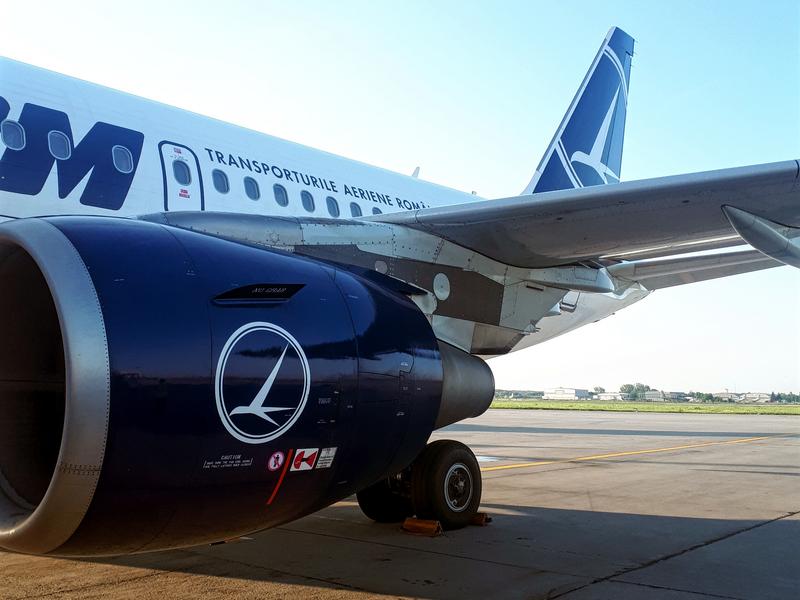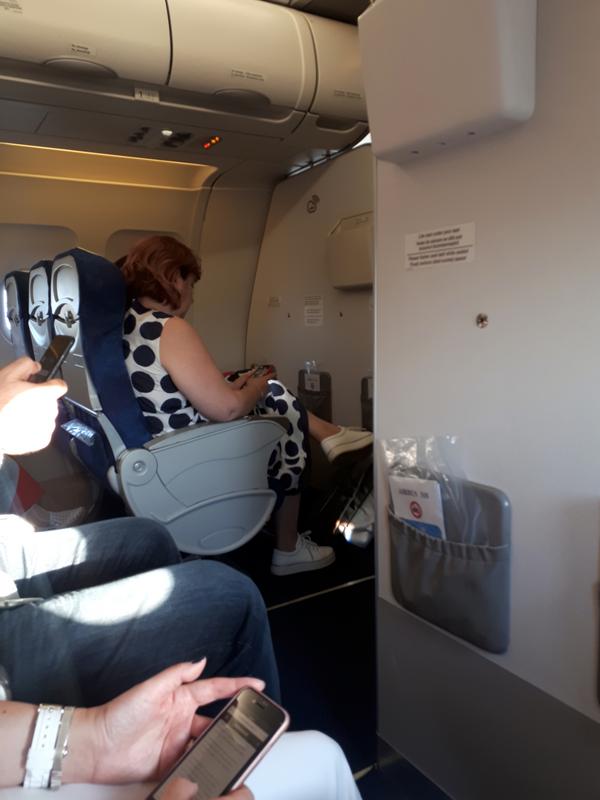 Even though the flight is blocked at 55 minutes, in reality it is closer to 30-40 minutes as it really is just a short hop over the Carpathian mountains. Once the plane is across, it already starts its descent into Cluj. It was a lovely summer day in June today, with clear skies and good views during the entire trip.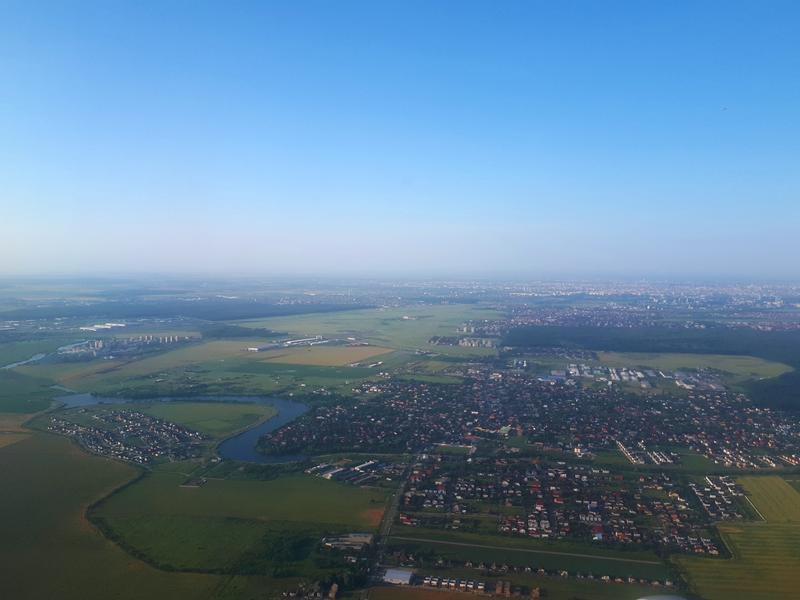 Amazingly, TAROM manages to do a quick service on short domestic hops. Each passenger got a plastic bag with two raisin pastries (sorry, I already ate one before I remembered I had to take a picture) and a drink.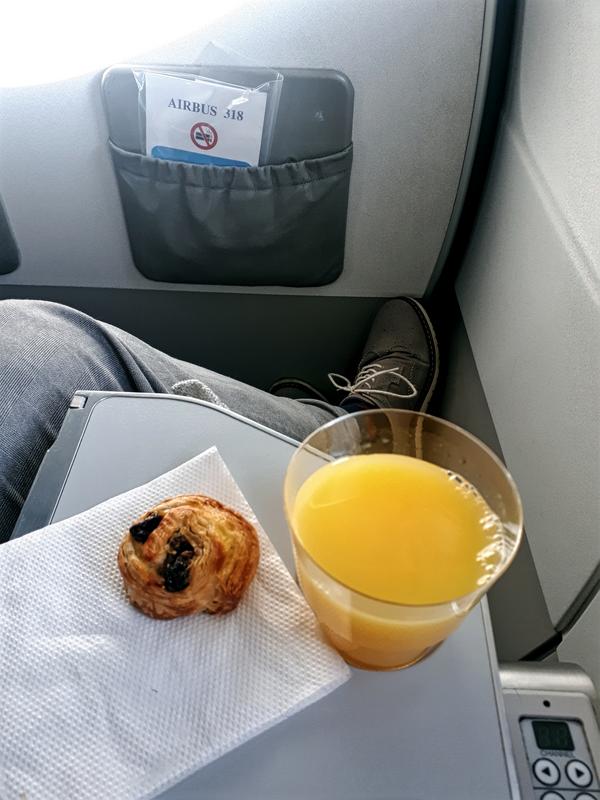 There were some lovely views of the hilly Transylvanian countryside on arrival.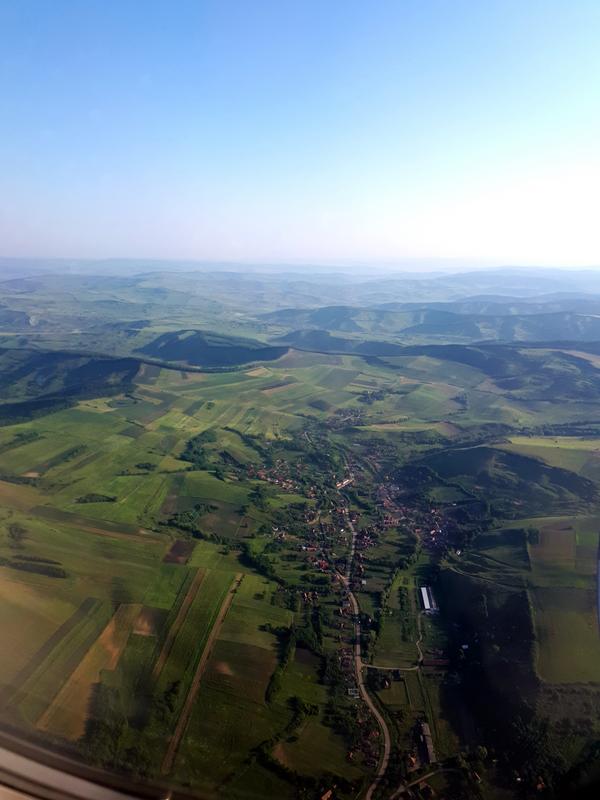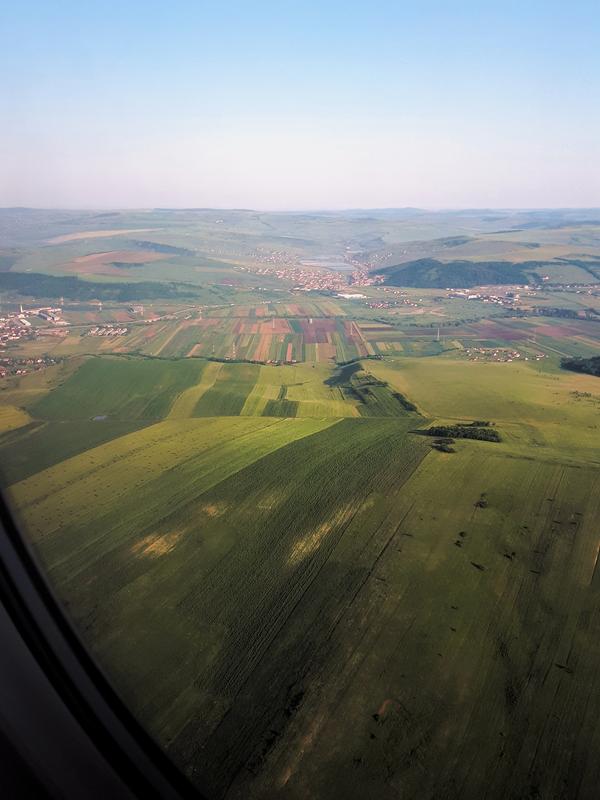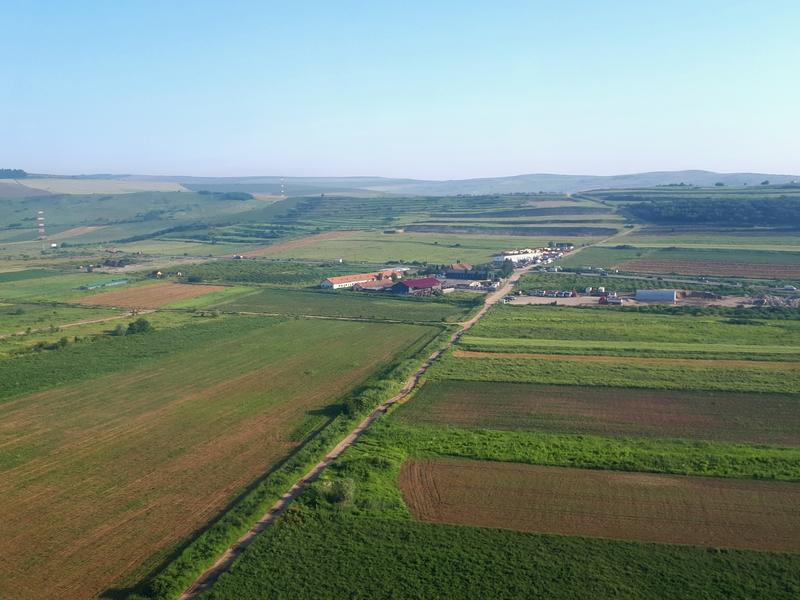 Arrival in Cluj was 10 minutes early. Every passenger managed to disembark quickly and within no-time our airport bus drove off towards the small domestic terminal at CLJ.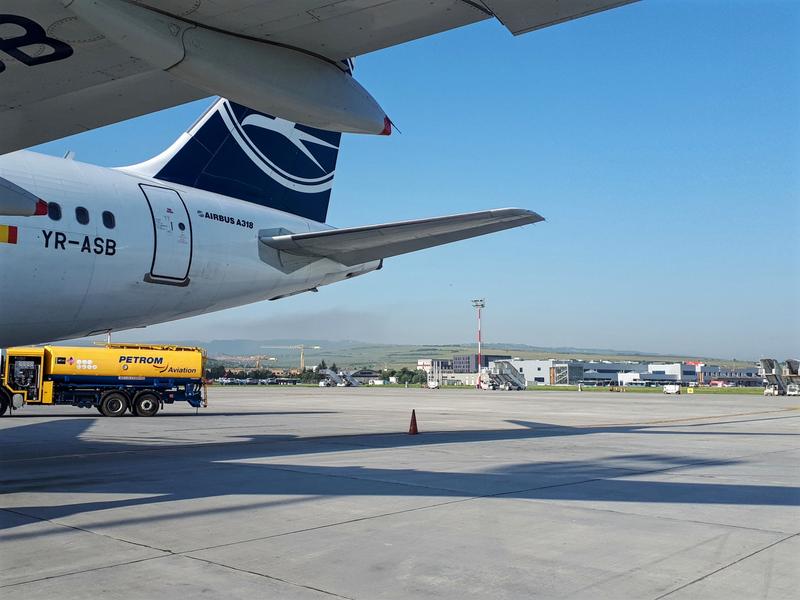 The airport in Cluj is not far from the city centre – on average it takes just 20 minutes to get there, with there not being that much difference between the bus and a taxi in time. Taxis (or an Uber) to the city centre is dirt cheap and unlikely to go over 25 RON (a bit over 5 EUR). That said, taxi drivers might try to negotiate a set price much higher than this if they see you are a foreigner who is unaware of local prices, even though they should by law always drive on the meter. This time, I opted to take the bus, which at just 2 RON (less than 0.50 EUR) for a one-way journey is a steal. The bus stop is right in front of the terminal with (trolley)buses departing every 10 to 15 minutes or so. You buy your tickets at a vending machine at the stop – which does accept cards.
Within 25 minutes, I saw myself standing on Piata Unirii, the central square of Cluj. It is flanked by the city's cathedral and several historic buildings – many of which seemed to be under renovation this month.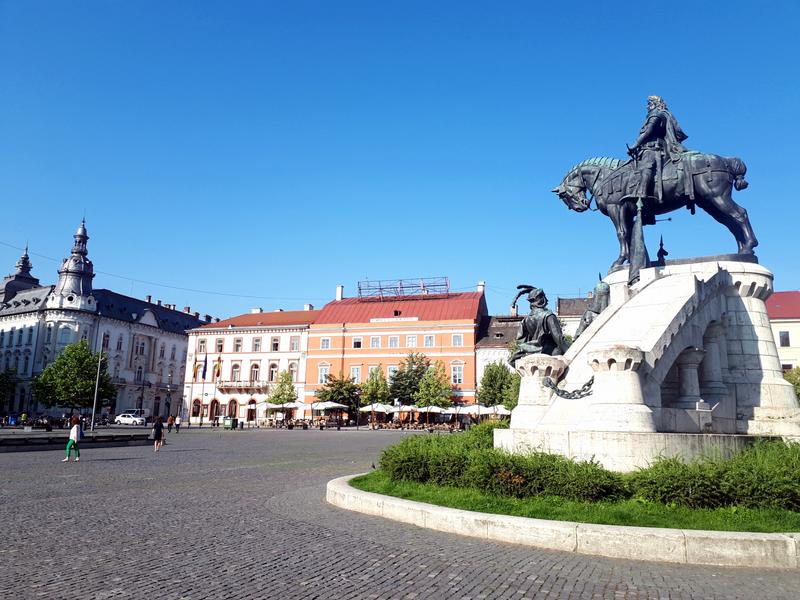 I had a full day in Cluj until my evening departure on Turkish Airlines. This being a weekday, all my friends were unfortunately working so I could not meet up with anyone. That was however also a blessing in disguise, as I would have some time to revisit some of my favourite places which I used to frequent while living in the city. I might be biased on this, but Cluj is a fantastic little city which makes for a great weekend break for those who are tired of the usual destinations like Prague or Rome. Be quick however, as the word is out and the city has become decidedly more busy than it used to be!
Next up: a tour around Cluj-Napoca, Transylvania's most fun city
Jul 26, 19, 8:38 am
Join Date: Jul 2013
Location: JNB
Programs: Flying Blue, Miles and Smiles, Hhonors, ICHotels
Posts: 1,194
Looking forward to yet another TR from you!!!

It will be interesting to hear your thoughts about the new airport in Istanbul. I missed it a few weeks ago since I had a better deal on another airline.
Jul 27, 19, 11:45 pm
Join Date: Feb 2014
Location: OTP, CHQ, EIN and beyond
Programs: AF/KL platinum, Turkish gold, QR gold
Posts: 1,305
Fredrik74
. I think the Stans are always worth a visit - for sure also a lot should have changed in a decade! I don't know what of the two countries you have seen on your trip(s)? I travelled for a bit over a week and I still felt that I only scratched the surface what Kyrgyzstan has to offer.
DominikBlasko
- it is a country with some incredible mountain scenery which is relatively easy to access as independent traveller (or by joining a tour on the spot through one of the many local outfits).
roadwarrier
. The airport is a vast improvement over old Ataturk - and the same counts for the lounges. As I also visited the IGA lounge a few days ago (so far the only other lounge at the airpot besides the TK/*A lounges) I will also mix that in my trip report. The only downside is that the airport is so huge that I even almost missed my flight to Almaty after my inbound flight from Minsk racked up a delay and I had to run all the way to the other side of IST!
lhrpete
- I know what you mean by long lists of places to visit
Cluj is however a great little town. It has a cool vibe, a truly excellent cafe/pub scene, and plenty to see in the immediate area. I hope to have the chapter about it online later in the day. I'm currently trying to write it in between beer boozing in a MNL lounge waiting for my 2 dry Saudia flights back home from my current mileage run
mad_atta
. It was certainly a great trip - and most of it went well logistically speaking, including the plan I had going from Almaty via the Charyn Canyon to Karakol, Kyrgyzstan in a single day, as I managed last-minute to get an excellent driver to do the trip. Unfortunately, I did had to limit the amount of days spend in the Tian Shan mountains due to bad weather, which was the only negative during the trip. I will be sure back again in Central Asia - the region has really grown on me - and there are still some Stans left to visit - as well as areas in Kyrgyzstan/Kazakhstan which I haven't explored so far.
Aug 2, 19, 9:16 pm
Join Date: Feb 2014
Location: OTP, CHQ, EIN and beyond
Programs: AF/KL platinum, Turkish gold, QR gold
Posts: 1,305
Thanks
SkyTeam Flyer
- the rest will follow real soon as I'm only now slowly recovering from a nasty cold after a mileage run on Saudia in which the planes were kept on near-Arctic temperatures.
Your planned trip sounds amazing - I assume it also will include Turkmenistan? I hope the chapters on Almaty and Kyrgyzstan which will soon be there will come in handy for you!
Aug 2, 19, 10:57 pm
Join Date: Feb 2014
Location: OTP, CHQ, EIN and beyond
Programs: AF/KL platinum, Turkish gold, QR gold
Posts: 1,305
Part 2: A day in Cluj-Napoca
It has already been six years or so ago when I lived in Cluj for a full year – and in this six years since the city has made a remarkable transformation. I fondly remember living in a nice, big flat in the city centre for 250 EUR a month – a price which would now be at least double this amount. A lot of big foreign companies have descended upon Cluj in the last few years creating new jobs and the city has seen a big increase in population as well as in tourist numbers. Thanks to its university, relatively young and highly skilled workforce and the fact that Cluj has always been an outward-looking city, industries like IT and finance have burgeoned. It's also popular with tourists nowadays due to the increase in low-cost flights to Cluj Napoca's small airport, mostly with Wizzair (although a few legacy carriers such as RO, LH, LO and TK also fly into CLJ). Some relatively new music festivals – one which are held in the city's stadium (Untold) and one just outside of Cluj in the town of Bontida the grounds of Banffy Castle (Electric Castle) – have become so popular that they are nowadays a firm fixture on the European summer festival season.
There is however much more to Cluj than this. Although it is not Romania's most gorgeous city (Sibiu, Sighisoara and Brasov are prettier in my opinion) the city does have some beautiful parts and sights to see. Most of all, it is however the vibe in this city which I love. It is quaint, laid back – yet still abuzz with people and culture. The cafe and pub scene is excellent and there are some great restaurants in the city as well. Being an university city, obviously the students are a big driving factor in these scenes, but the city is much more than just a place for students or young professionals to have fun. It is an ideal city to stay for a few days and take it easy, just enjoying the vibe, food and drinks.
Like many cities in Transylvania, Cluj has Germanic origins. The city was founded as the settlement of Napoca by the ancient Romans, but became a fully fledged city and really known to the wider world under its German name Klausenburg after the Saxon Germans moved in after being invited by one of the Transylvanian kings. The city has always been multicultural. Even though there aren't really any Transylvanian Saxons living in the city anymore, there is still a big Hungarian minority (the Hungarians call the city Kolozsvár). Interesting fact: the suffix -Napoca was only added to the name of Cluj by the communists in 1974 to emphasise the city's Roman roots (and to p*ss off the Hungarians).
Even though the architecture of the city centre of Cluj is not as unified as Sibiu or Brasov, you can easily see all these past influences. Some parts might feel a bit more Germanic, while most of the centre has distinct eclectic and baroque elements from the times of the Austro-Hungarian empire. Of course, this is all mixed with some more modern and the odd ugly communist structure. These influences make Cluj (and entire Transylvania) so different from the rest of the country – which never had these Germanic and Habsburg influences being instead a vassal of the Ottoman Empire until Romanian independence.
Enough history for now - and back to reality. I started off my day on Piata Unirii – the central square of Cluj – sitting down at one of the many outdoor cafes. My pick for today was Cafe Toulouse, which did a very decent cooked breakfast of shakshuka. Sure – not the real Middle Eastern deal – but it was filling and tasty.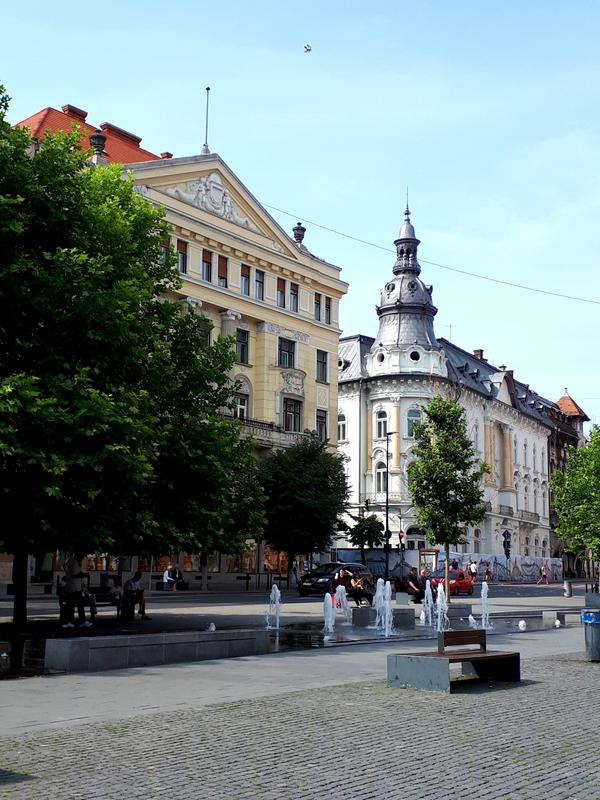 Buildings around Unirii square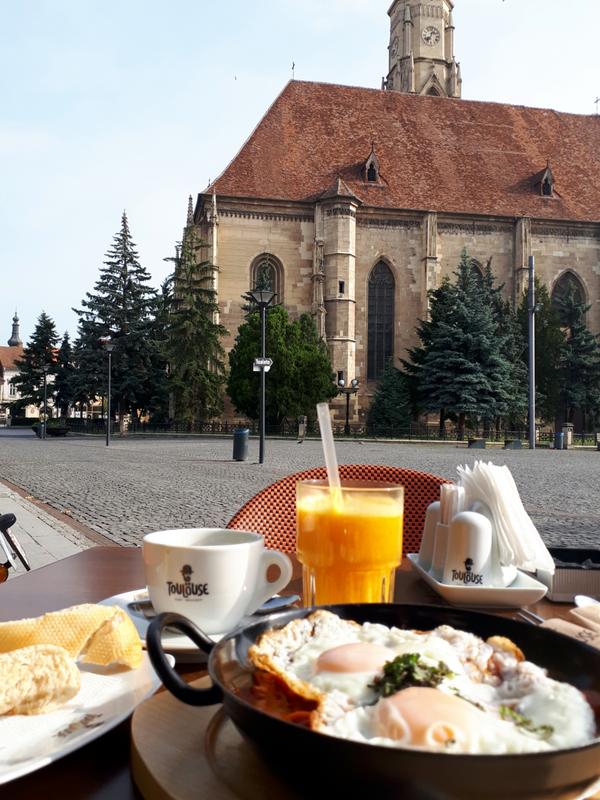 Shakshuka at Cafe Toulouse – picture from an earlier visit
The oldest part of Cluj is found to the south-west of Unirii square, where you can find some lovely cobblestoned streets and the only remaining bit of the old city wall.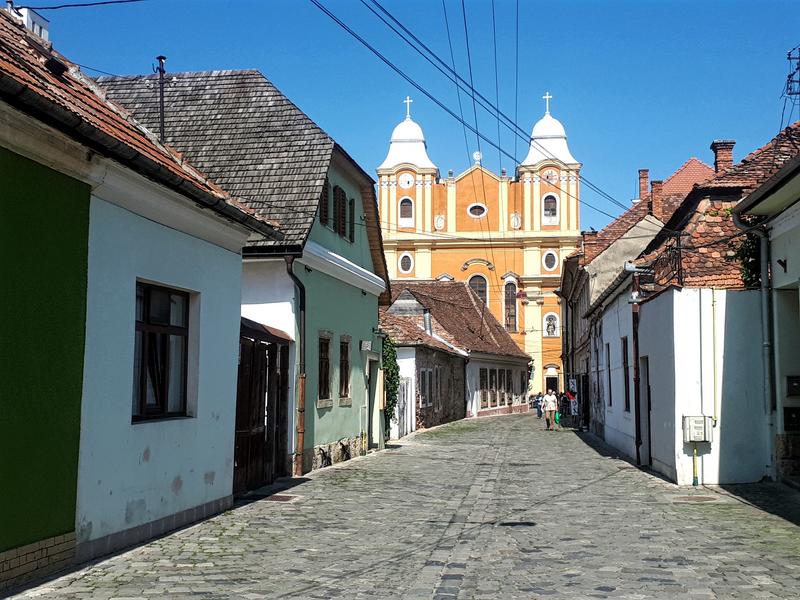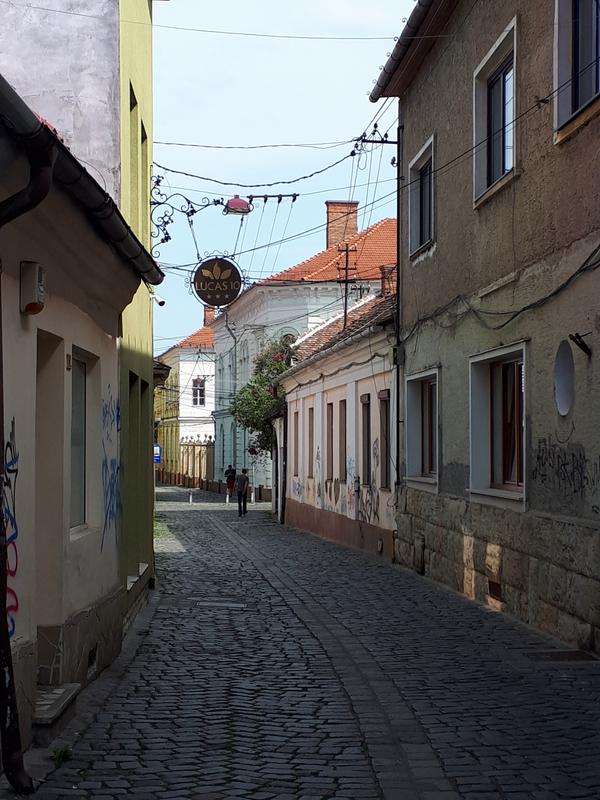 Another beautiful part of the old city is found directly to the north of Unirii square, where among others you can find the old birth house of Matthias Corvinus (an important Transylvanian-Hungarian king of the 15th Century) and lovely museum square (Piata Muzeului) full of more outdoor cafes.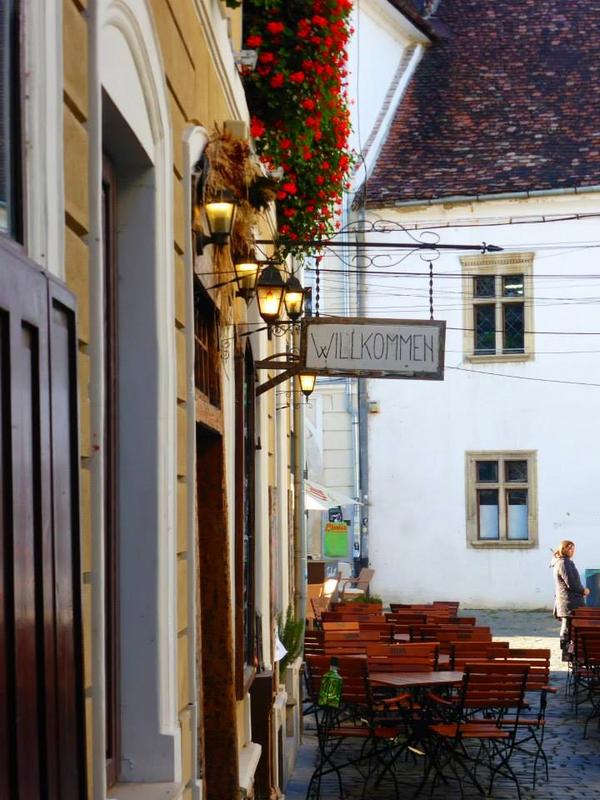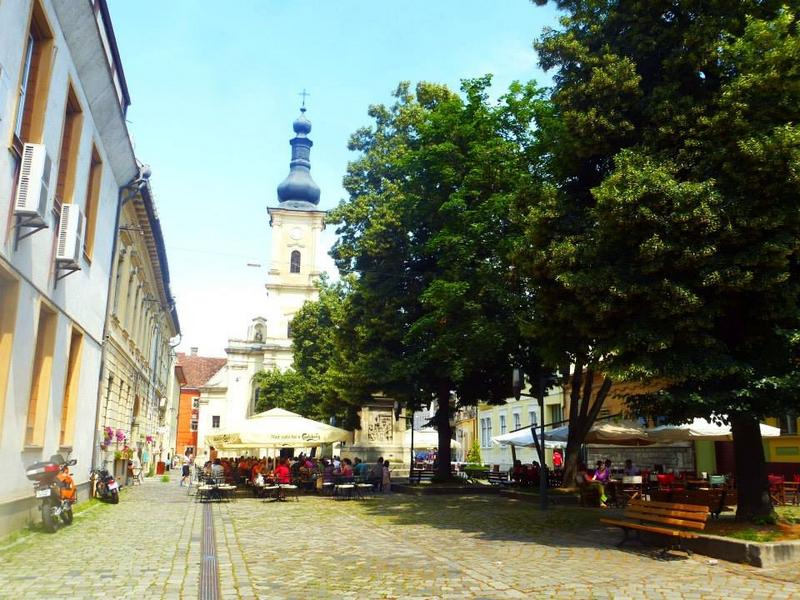 From this part of town it is a short walk to the city's Central Park (Parcul Central) with its old casino and big pond where locals take rides on paddle swan boats. On the way there, I made my first beer stop of the day at Euphoria Biergarten's lovely outdoor terrace to drink a pint of Ursus weizen beer. Ursus is one of the main Romanian beer brands and was originally brewed in Cluj. After acquisation by a foreign conglomerate, production has been moved to Bucharest, although the old brewery has remained open as a brewpub and is still worth a visit for a pint.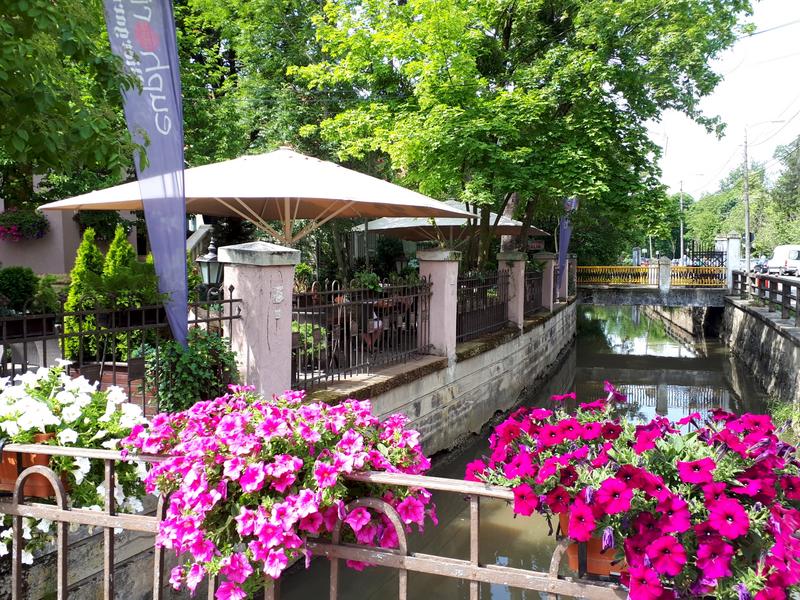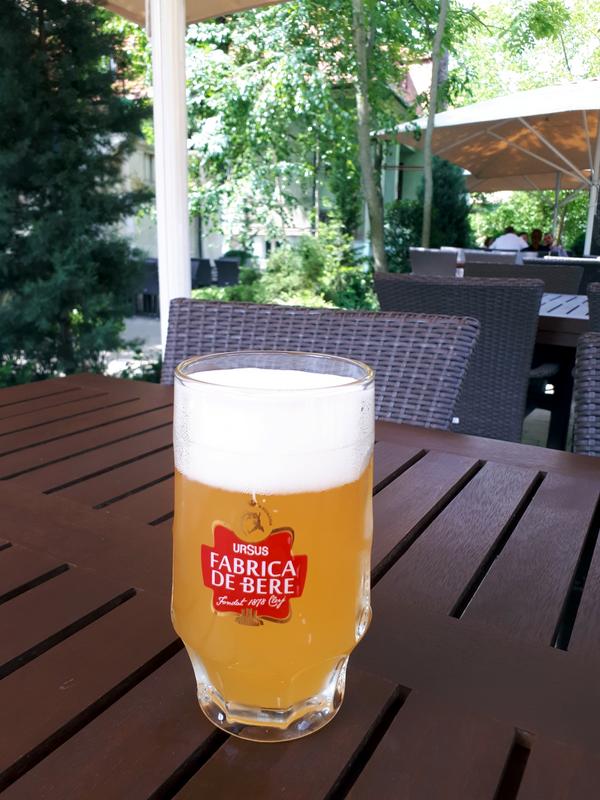 At Euphoria Biergarten drinking a pint of Ursus weizen (Ursus nefiltrata, meaning Usus unfiltered, being the official name in Romanian)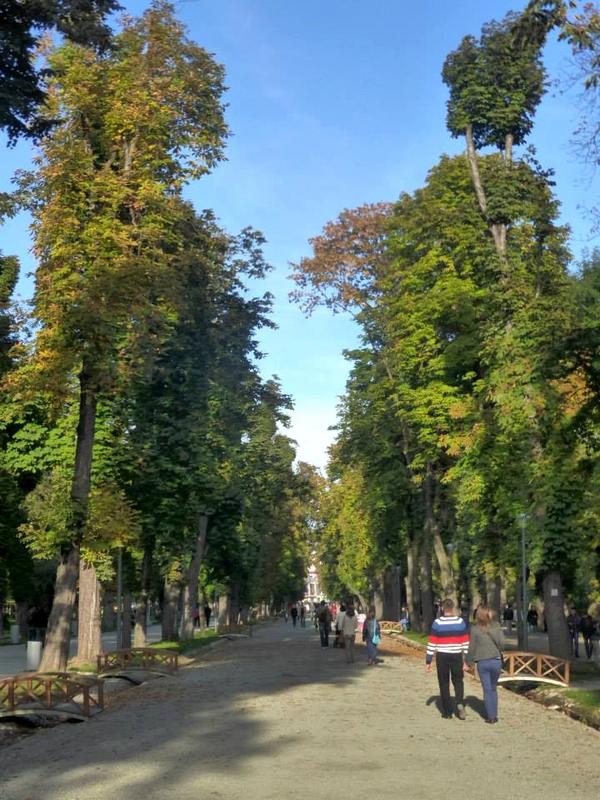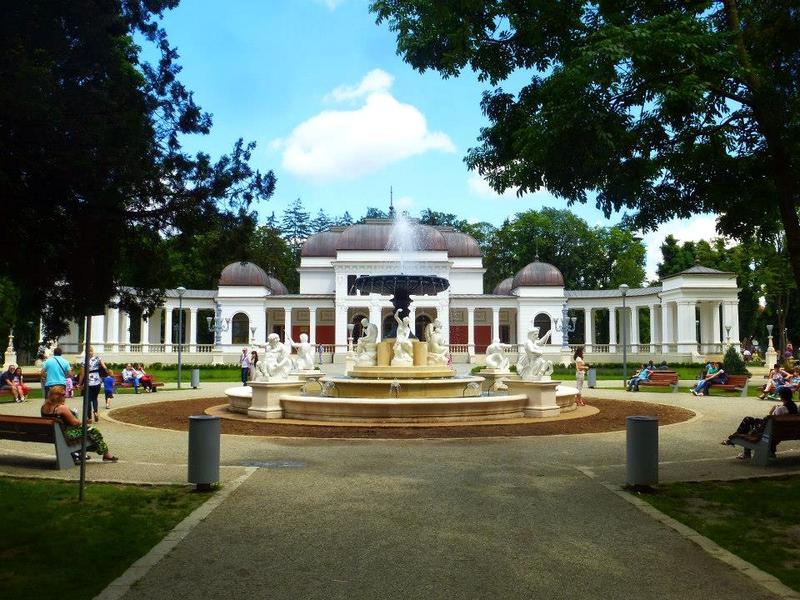 Parcul Central and the old casino
After the park, I headed back into the city centre for an early lunch at Bulgakov, an Hungarian-owned restaurant in the old town. Needless to say, they do some good goulash and other Hungarian comfort food. They also have a really pleasant inner courtyard to sit down for a while and drink another pint – which is what I did as well.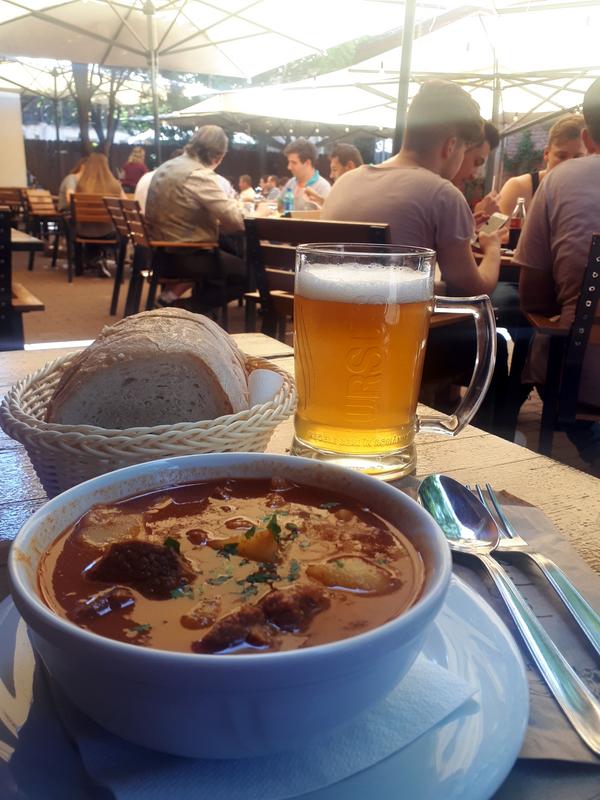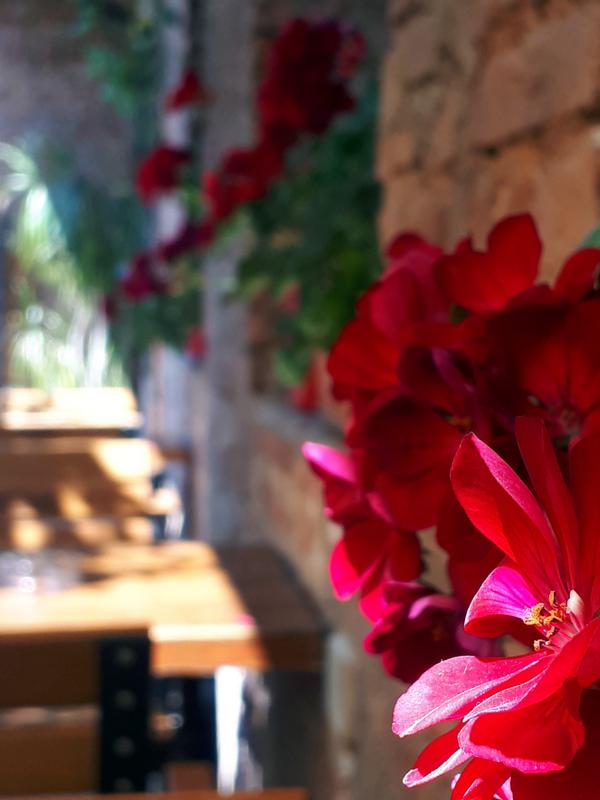 After the lunch I took a walk towards the east of the city centre. Of course, you cannot call yourself a town in Romania if you don't have a Romulus and Remus statue. Cluj has one too, of course. Romanians are proud of their Latin heritage – and it is indeed a very intriguing aspect of the country. Romanians are a Latin people who speak a Latin language – in a sea of mostly Slavic people in the surrounding Eastern European countries (OK, Hungarian is another odd one out!). Historians and linguists are still unsure how this happened exactly, also because little is known from the centuries directly after the collapse of the Roman Empire. Historically, the area was populated by the ancient Dacians until Roman Emperor Trajan finally managed to defeat them. Yet the Romans never really settled the area what is nowadays Romania – for most they remained along the other side of the Danube except for the odd expedition into the interior and the odd trading post and settlement, as it was much easier to defend. Yet somehow they still had some influence over the areas that the locals went on to develop a Latin language. Compare that for example to the UK – where the Romans did have a firm foothold – but where such a language was not developed!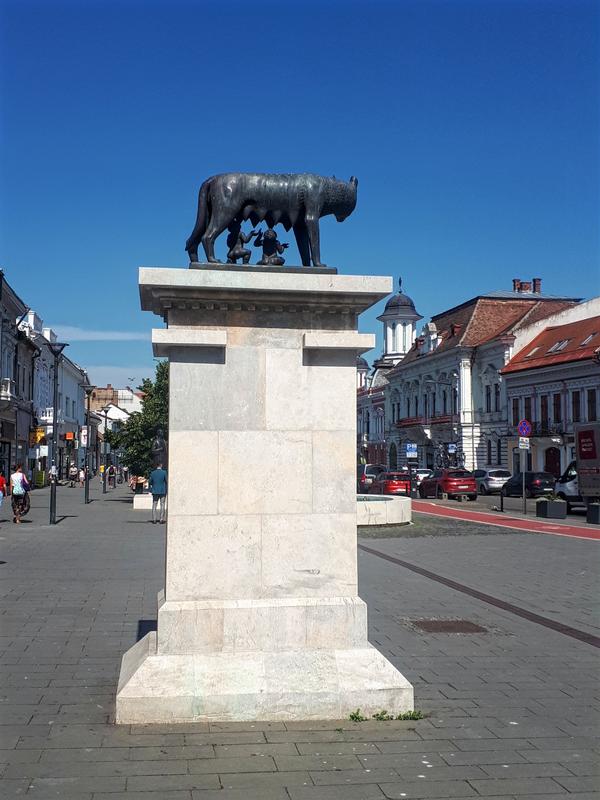 Close by is also the lovely city theatre. If you travel to Cluj do check the schedule if some play or opera might be on – as it is absolutely stunning from inside.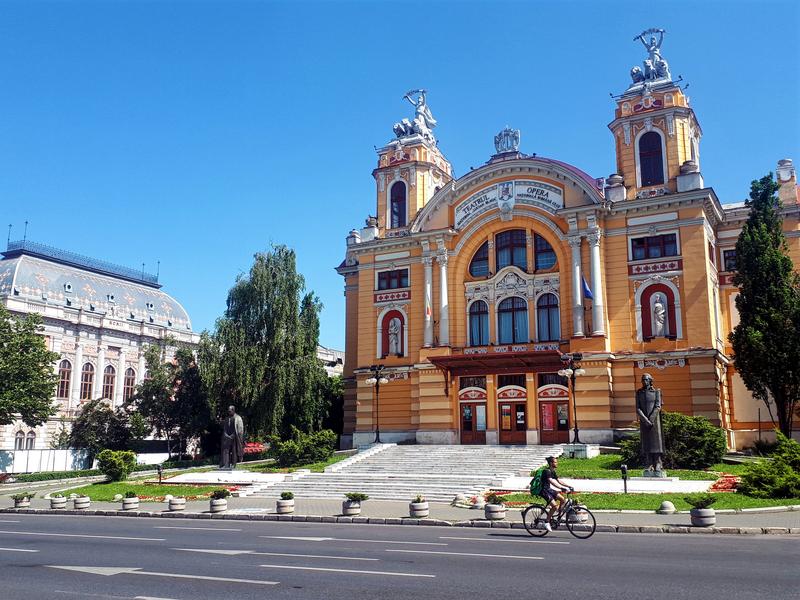 Opposite the theatre is the big Orthodox cathedral on a lovely square with a big fountain and surrounded by lovely baroque buildings.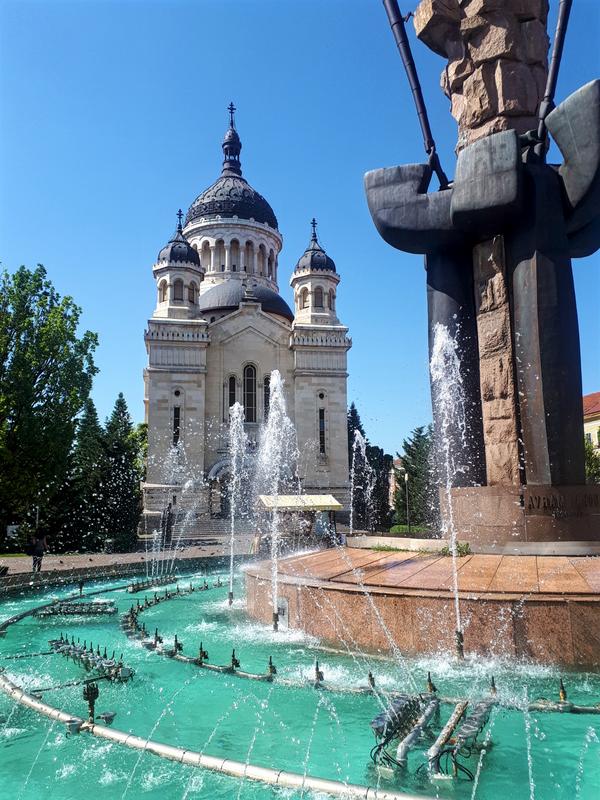 As I was getting thirsty again, I walked towards the Centrul Comercial Central, an ugly shopping centre just north of Unirii square which has one interesting feature: it has a lovely rooftop pub and restaurant (called Klausenburger, take the lift on the outside of the building to the top floor). I spent some time sampling some craft beers (OKish – there are much better ones in the country) and admiring the view.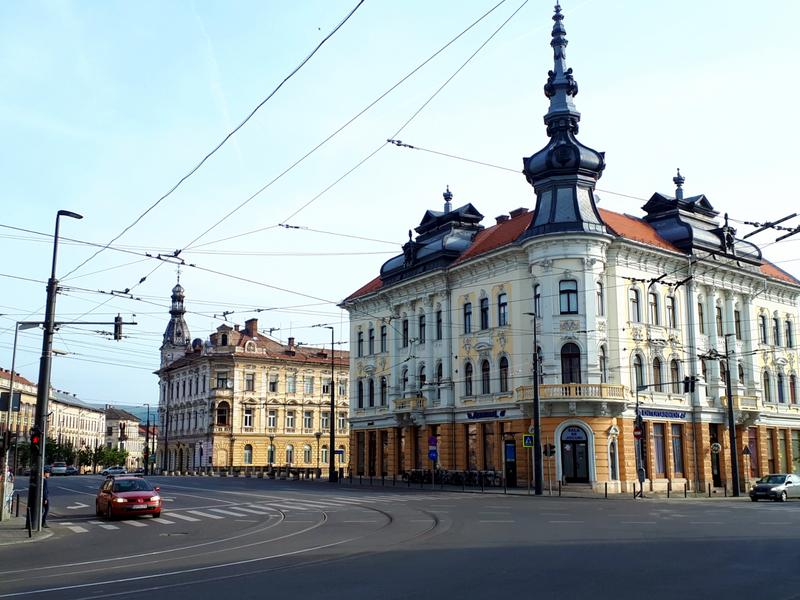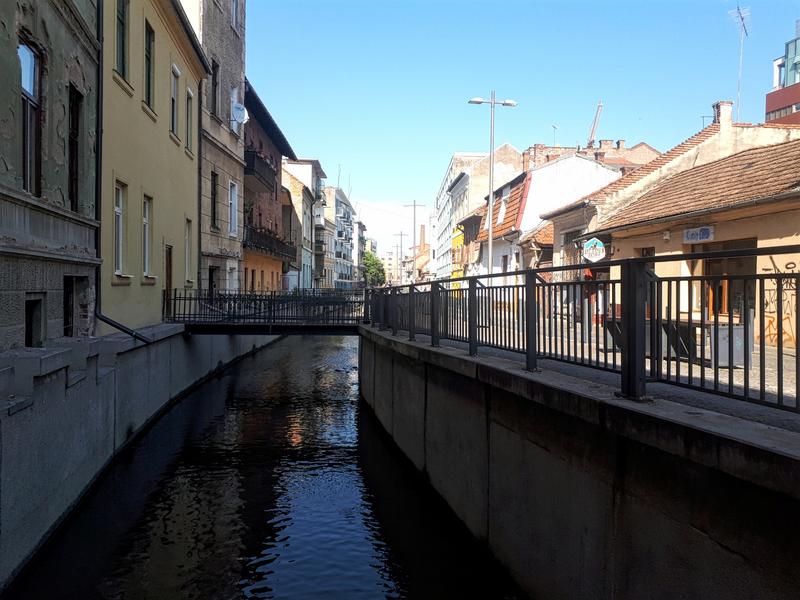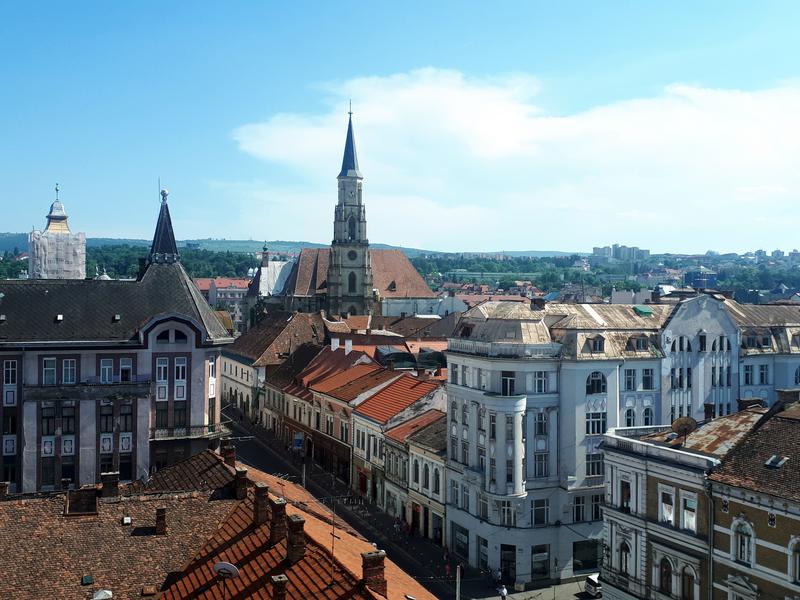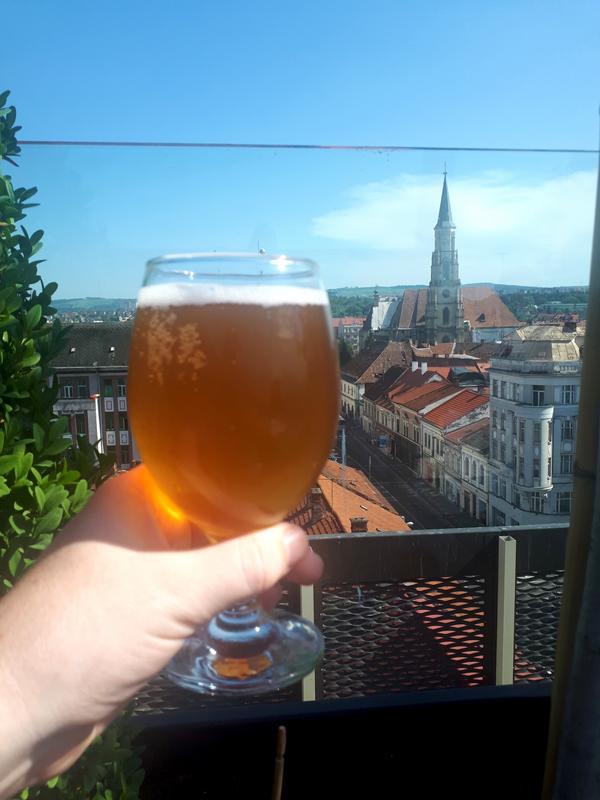 A relatively short walk away is another one of my local favourites called Samsara Teahouse (don't confuse it with Samsara Foodhouse, which does great vegetarian food). It is perhaps the most laid-back place in town. It is an old villa with a huge garden in the back. The three rooms in the villa (it's obligatory to take off your shoes in the hallway) are decorated each in their own unique style, while the garden has some comfy seating and even hammocks. There is a huge tea menu, although if you prefer there is also booze, as well as nargilah for those who like a smoke. The only downside to the place is that it is so chilled out that it does have an effect on the serving staff (service can be really slow here).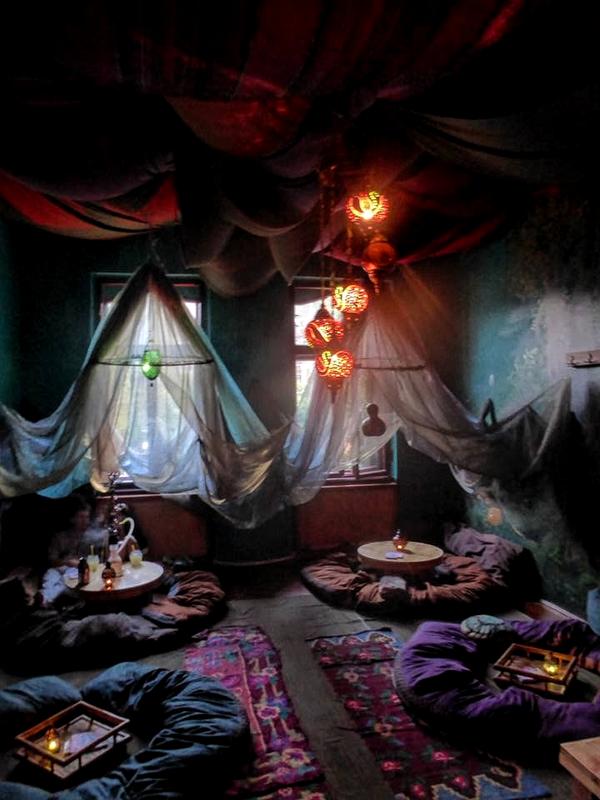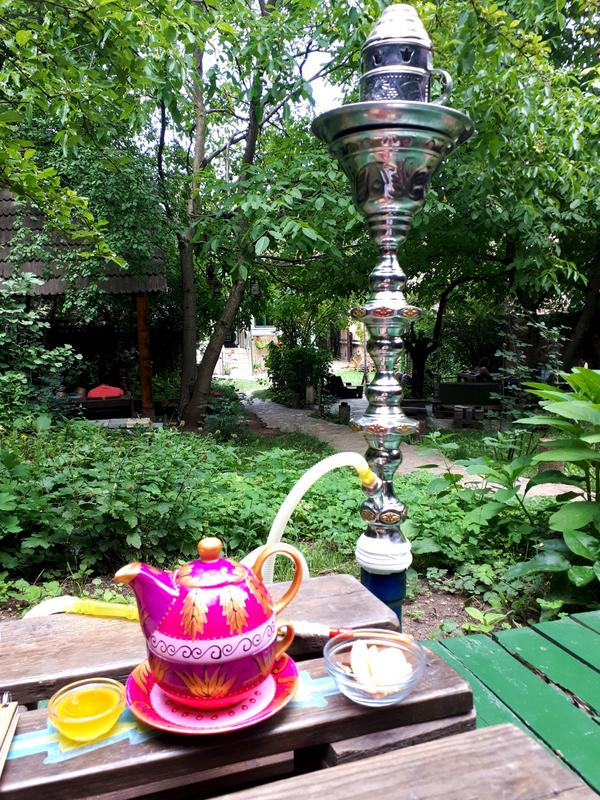 From Samsara it is a short walk to Parcul Cetățuia, a deconstructed Habsburg hilltop citadel which is nowadays a park. Needless to say, there are some superb views over the city here.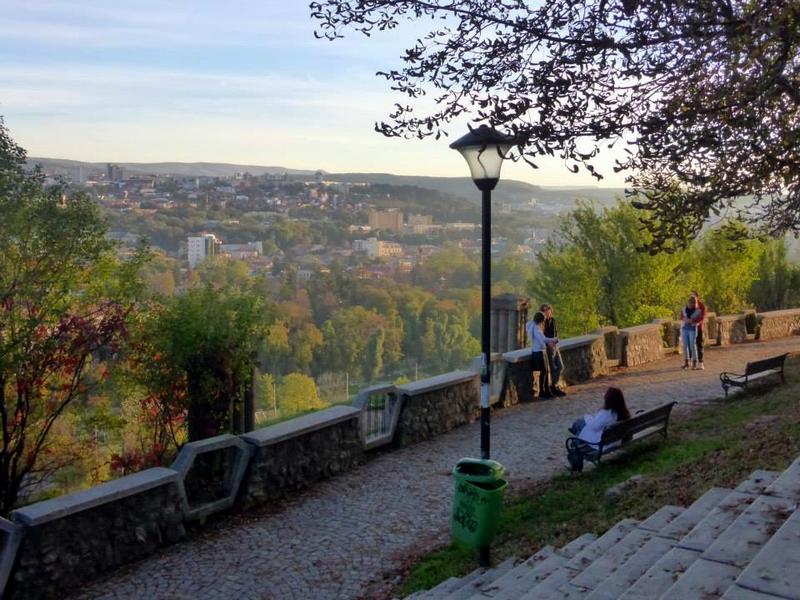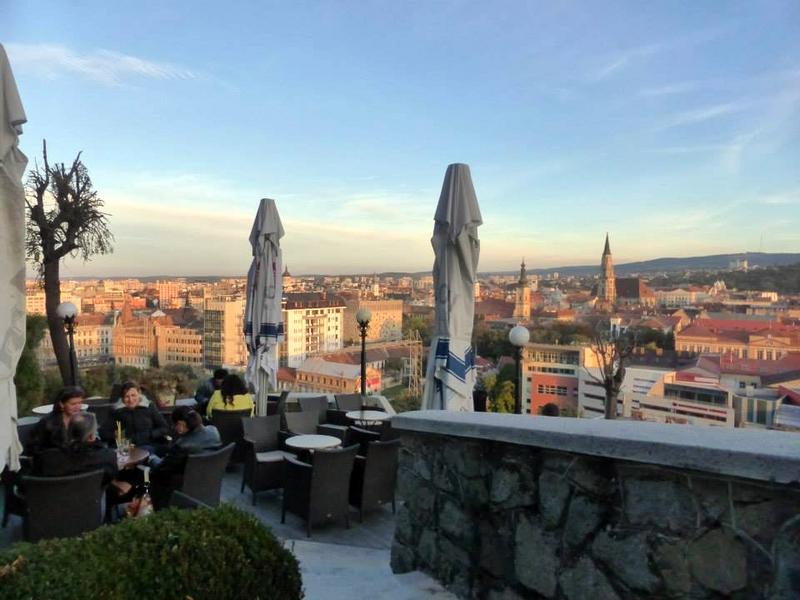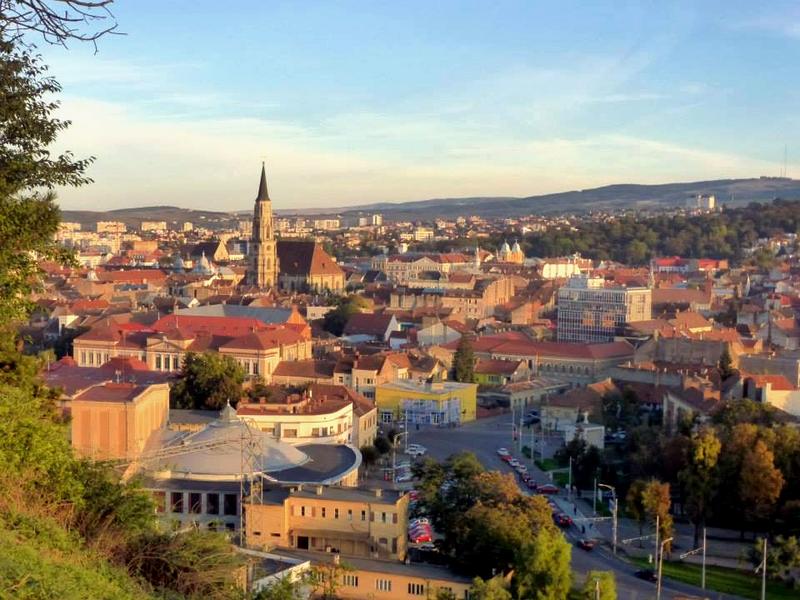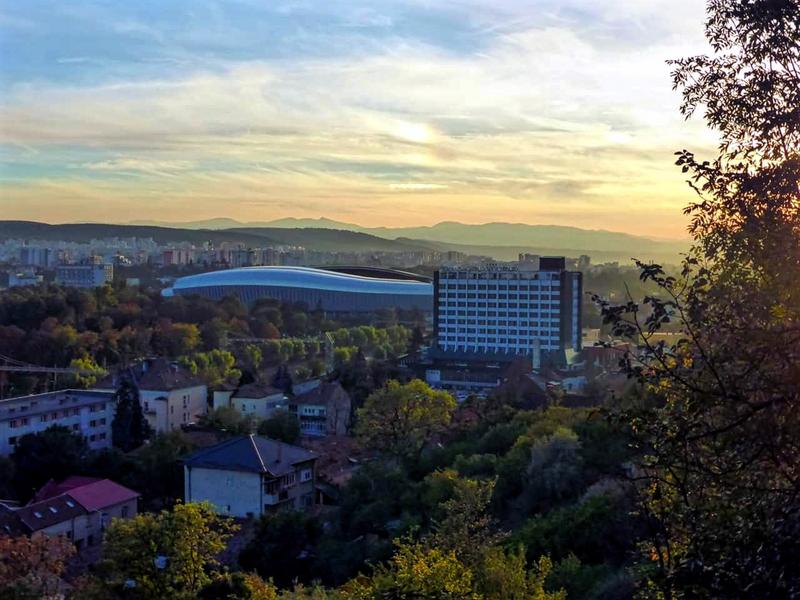 Cetățuia hill – all pics above taken during an earlier trip
Before I knew it, it was time already to head back to the airport for my flight to Istanbul. If you really want to visit a place off the beaten track with a great cafe scene and unique vibe – then go to Cluj, and do it soon – as word is already out! To me, whatever the future will hold for Cluj, it will always have a special place in my heart.
Aug 4, 19, 2:10 pm
Join Date: Feb 2014
Location: OTP, CHQ, EIN and beyond
Programs: AF/KL platinum, Turkish gold, QR gold
Posts: 1,305
Thanks
fotographer
! I have a good memory in general, so most is just from the top of my head. At times I do make short notes in a small notebook, and all flight data and boarding passes I have saved in my email (and immediately file into my
https://my.flightradar24.com
account).
Aug 4, 19, 3:31 pm
Join Date: Feb 2014
Location: OTP, CHQ, EIN and beyond
Programs: AF/KL platinum, Turkish gold, QR gold
Posts: 1,305
Part 3: Cluj-Napoca (CLJ) to Istanbul (IST) on Turkish Airlines in economy class
Flight TK1348 – Airbus A320 - Seat 7F – 120 EUR for CLJ-IST-MSQ
STD 9.20pm - STA 10.55pm (flight time 1h35m)
Cluj-Napoca's airport is very small and despite the warehouse-like building being fairly modern it is a distinctively bare-bones facility. It therefore doesn't come as a surprise that the airport is dominated by low-cost Wizzair and some summer charter airlines bringing Romanian holidaymakers to the Med in the summer months. That said, in the last years a few other legacy carriers (Turkish, LOT) have began service to CLJ besides TAROM and Lufthansa who have been there for much longer.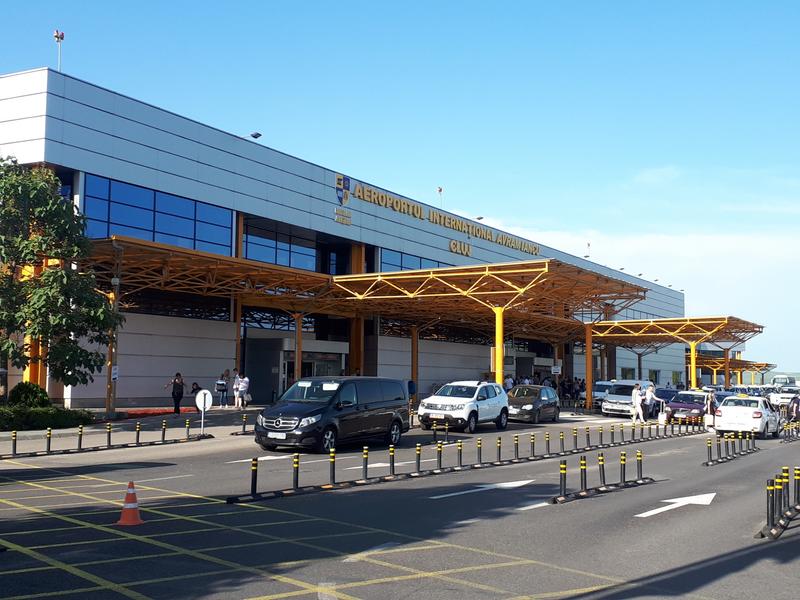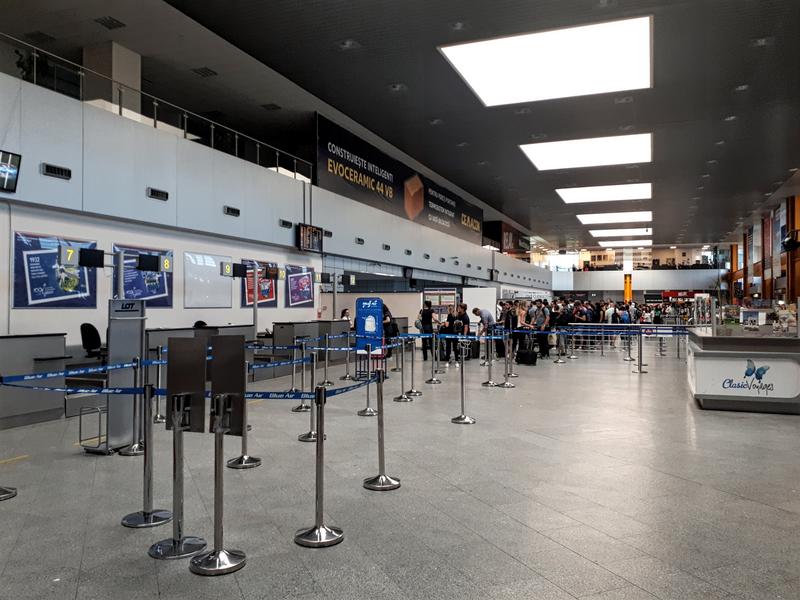 At the time I arrived, the check-in staff and the Turkish Airlines station manager were just setting up the check-in boots. The manager told that today's flight would be fully booked. Business class was entirely full from the start – which meant that some in Y would face being bumped from the flight.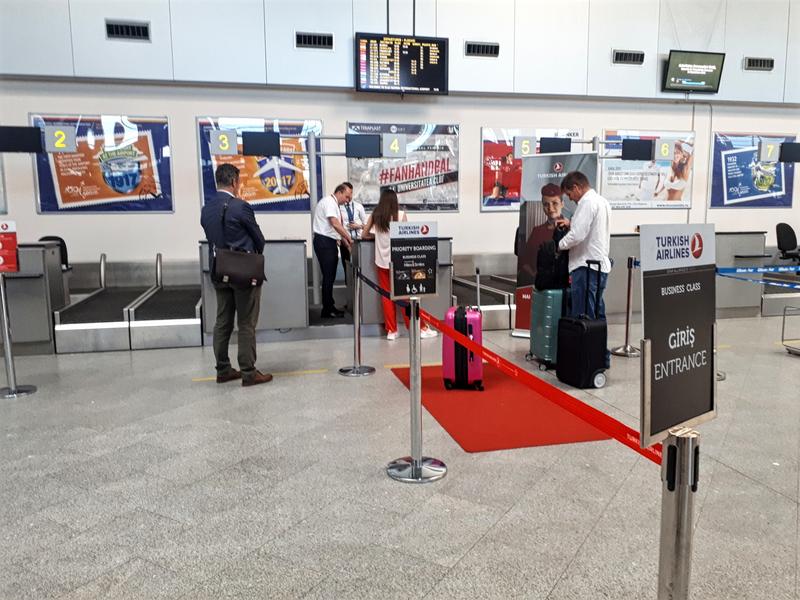 I was second in line at the priority check-in desk and within minutes was checked in by a friendly agent, who also handed out a lounge invitation courtesy of my *G status. Security and passport control took about 25 minutes to clear (no priority lanes at CLJ) as I made my way to the upper floor where the only airport lounge is located (there is also a very tiny lounge in the domestic part of the airport).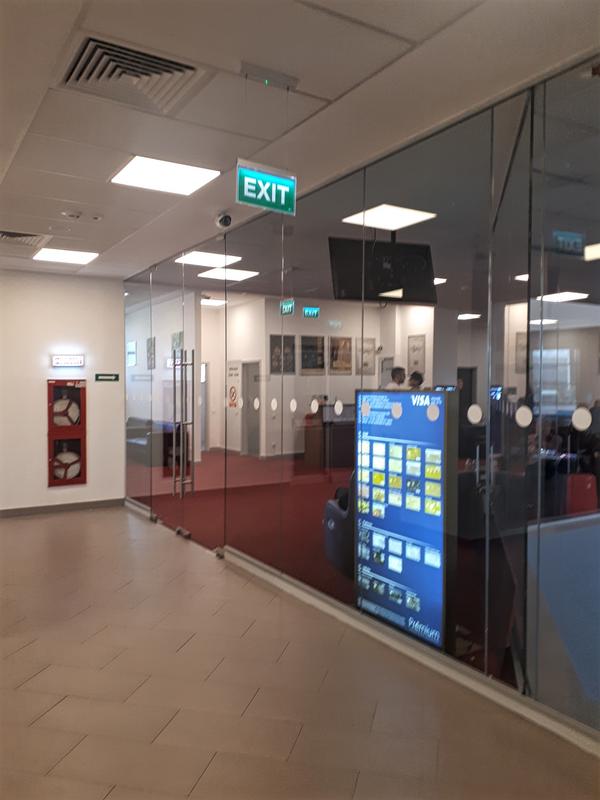 I was happy I arrived a bit early as the lounge got really packed later on with literally every single seat in the small lounge being taken. Despite having lived in Cluj for a year, it was actually my first time in a CLJ lounge (back in those days I almost solely flew low-cost having just graduated from university and not being as much into the whole frequent flyer scenes as I am now). The lounge is quite poor in every single aspect. It's just a few chairs and sofas thrown on a red carpet in a single, small L-shaped room. There are some OK views over the check-in desks. In one corner, a small buffet (cookies and nuts only) was set out next to a few fridges with some drinks and some bottles of booze. The only bit of décor in the lounge to give it a bit of charm was a model Turkish Airlines aeroplane put on top one of the fridges. This really is a depressing lounge!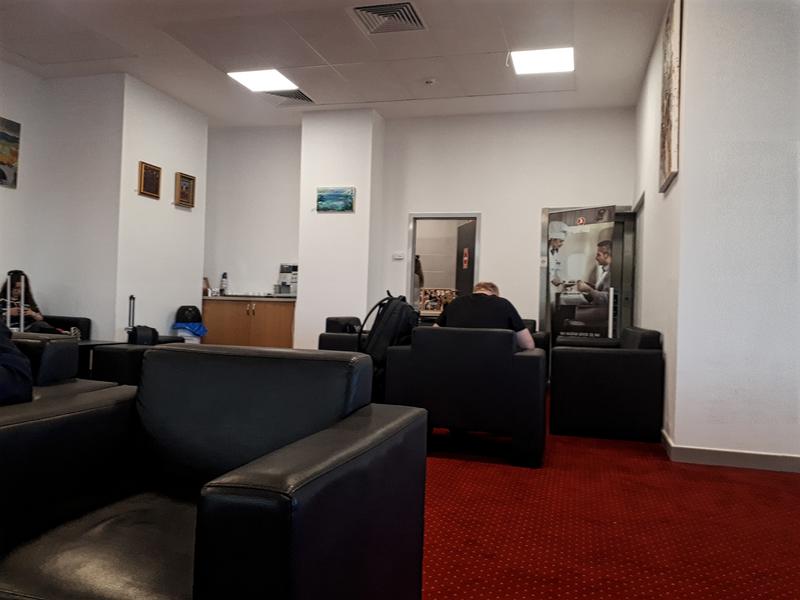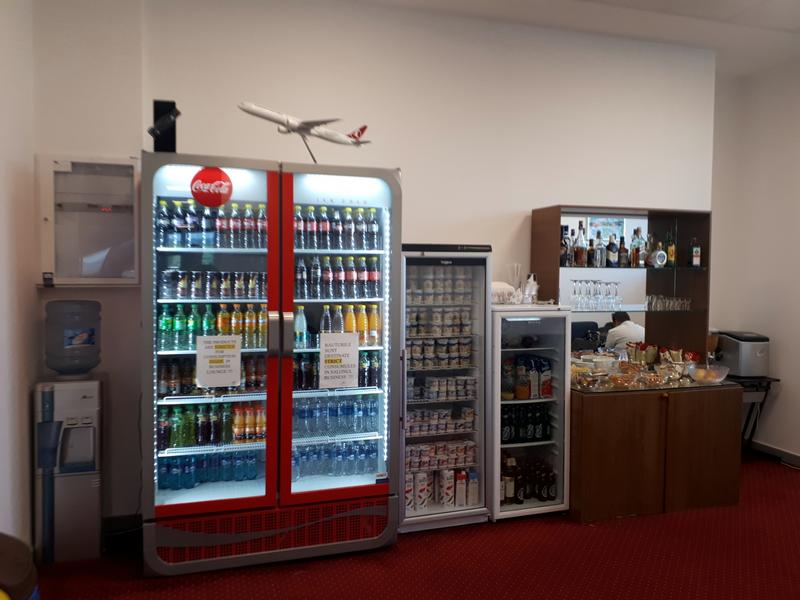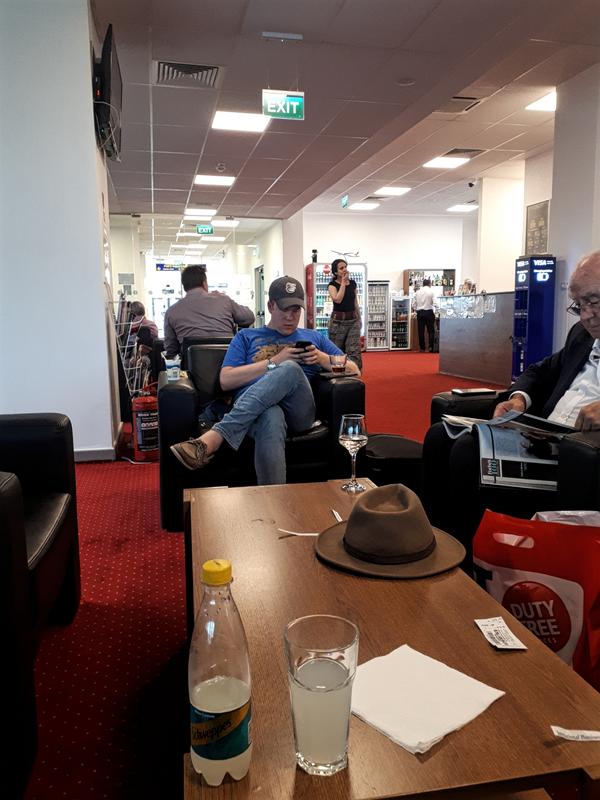 I took a few cookies and a bitter lemon as I watched the lounge fill to its capacity. As the lounge became so full and there was zero privacy, I ended up in a nice chat with some American and Asian tourists who just completed a tour of Romania and were on their way back home flying in J on Turkish. I take a nice, private and secluded lounge at any day above a crowded mess of a lounge – but at times I do like this bit of airport small talk and meeting different people from different backgrounds and nationalities (it is one of the reasons why I always liked the pool table in the old Turkish Airlines lounge at IST so much).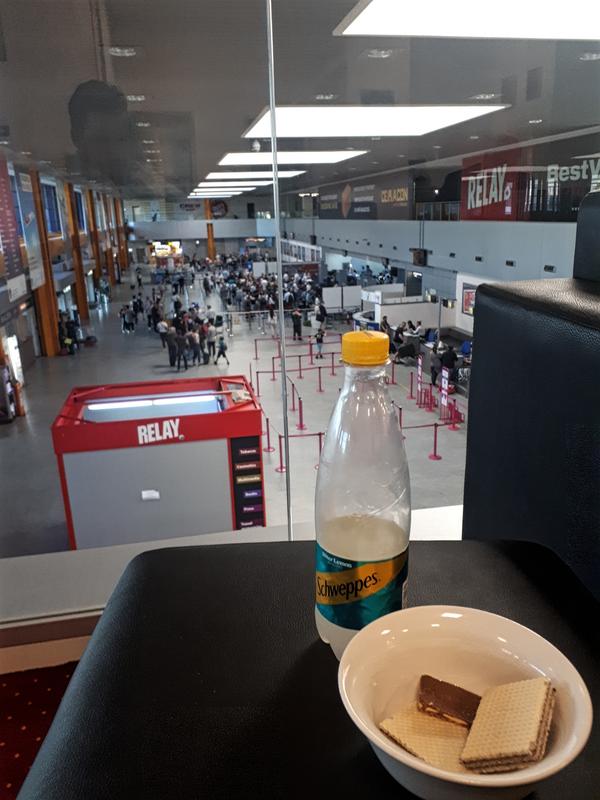 As the lounge was so depressive I poured myself a glass of the (cheap and not very good) wine on offer in the lounge. It was still better than hanging out in the public spaces of the airport, which really is not much fun at all (I really don't recommend coming to CLJ too early). After clearing passport control you are led into the obligatory duty free shop, after which there is just one small departure hall in which all bus gates are located. At a busy departure hour, that means that also every single seat in there (and there aren't many to begin with!) will be taken. There is just one small cafe selling drinks and snacks, and really nothing more.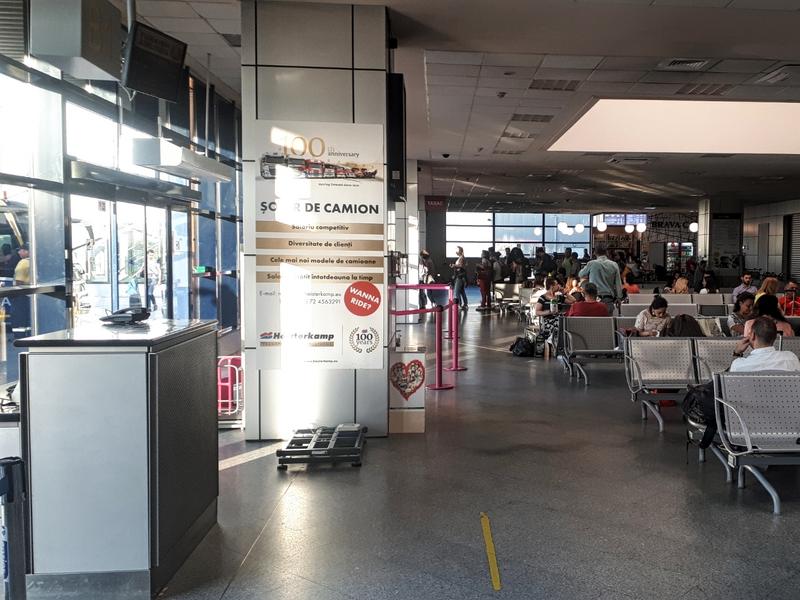 The only thing which is actually nice of CLJ as an airport are the large glass windows and the view of the runway. I could see my Turkish aeroplane landing at with a slight delay.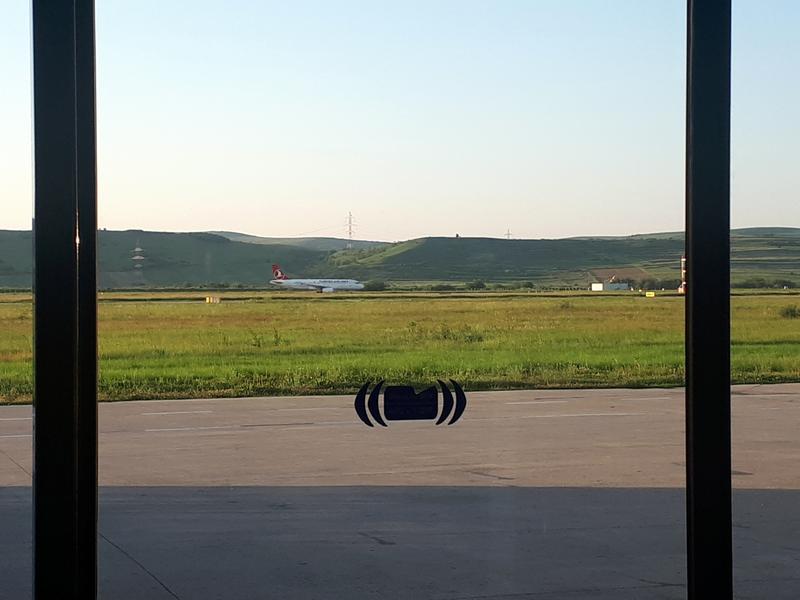 We were bussed to the aeroplane in two buses – which were neatly parked one at each side of the doors, with the gate agents sending the front row passengers to the left bus and the back row passengers to the right-side bus. Priority boarding was nicely enforced, although this only gives you a spot on the bus first, making it fairly useless (at least for me as there is 0 point for me being in my 30s to sit down when there are also the elderly who can use a seat much more). Both buses only drove off to the aeroplane parked on the apron when they were full and boarding was completed. Two unlucky passengers - Turkish male students by their looks - were still standing arguing with the gate agent, being seemingly bumped from the flight as it was overbooked.
I was the last one off the bus, which I did not mind at all having only a small rucksack which would fit under my seat. At least it allowed me plenty of time to snap some pictures of the plane.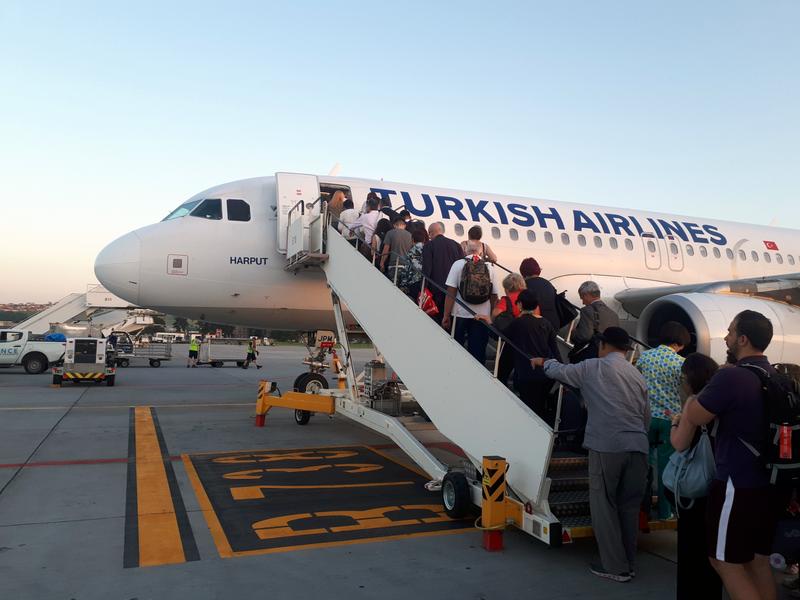 The flight itself was non-eventful. The A320 had quite a decent amount of leg room (me being 6.07 feet tall) which made for a fairly comfortable ride. A simple meal tray was served when we reached cruising altitude.On very short hops like this Turkish does not serve a hot meal but still gives a nicely filled meal box, which in this case contained a so-so mozzarella and tomato salad, a tuna fish sandwich (didn't eat it as I'm not a fan of processed, cold tuna) and a nice little cake. I washed it away with a Turkish red wine.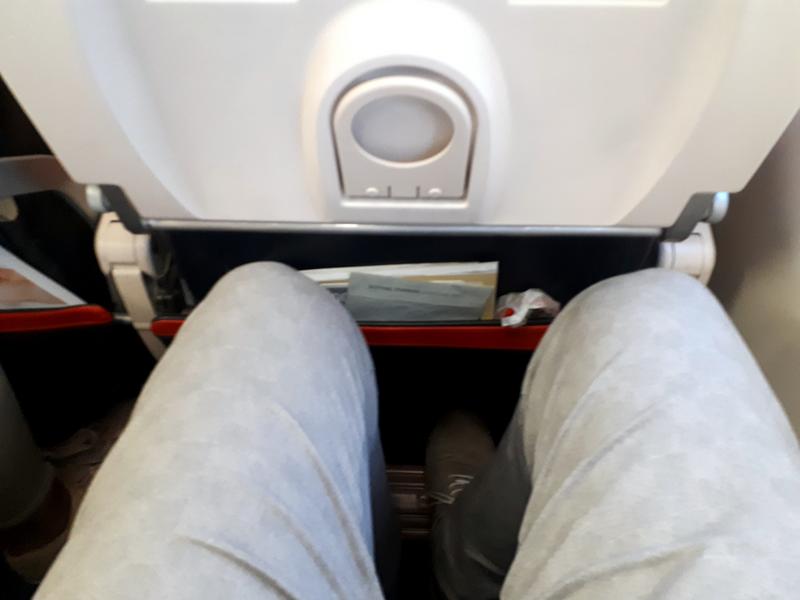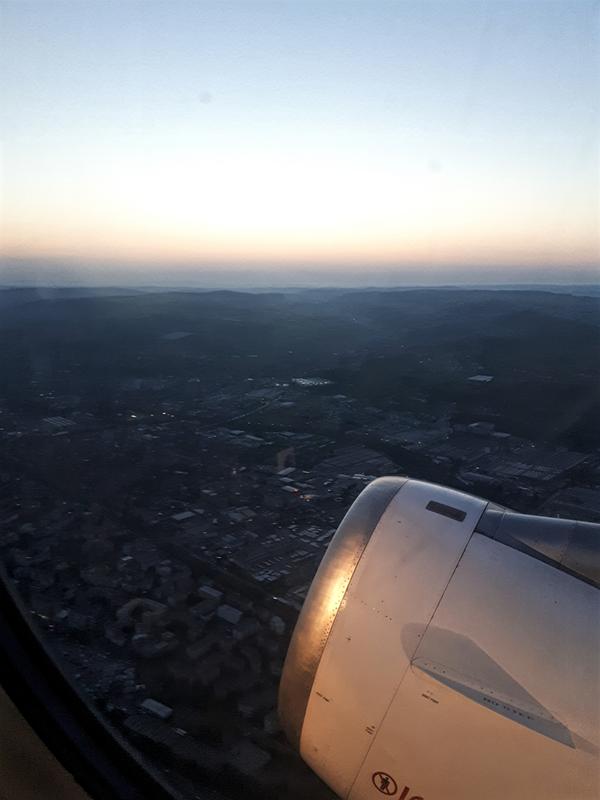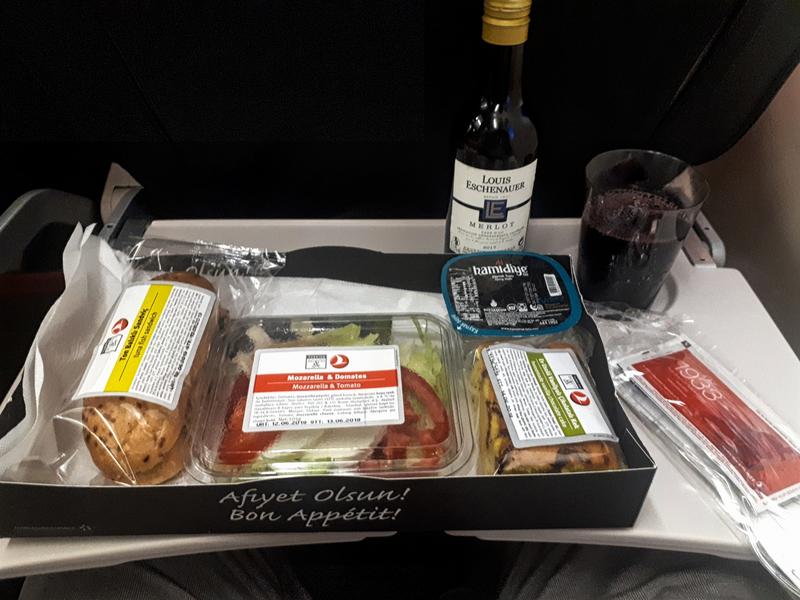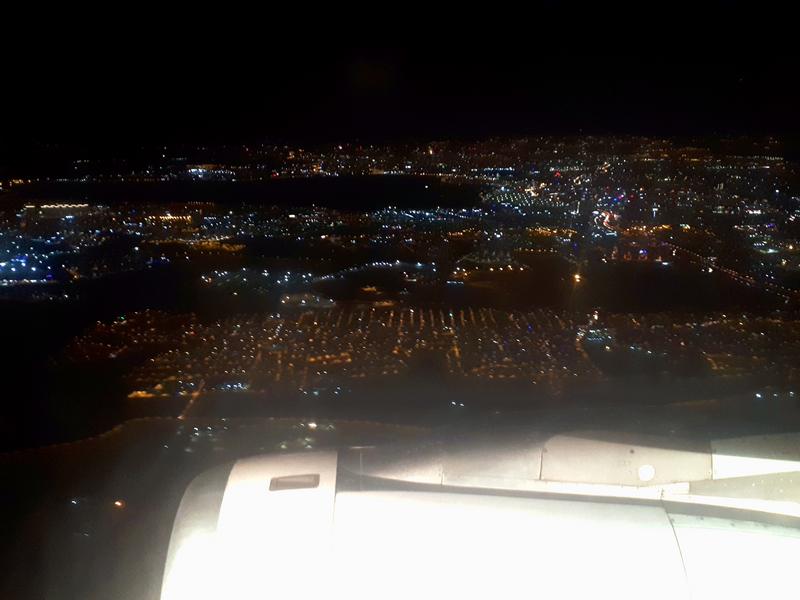 We did not manage to undo the delay in the air and landed in IST 30 minutes behind scheduled arrival time. To make matters worse, it was followed by what must have been the longest airport taxi ride ever to the gate, taking more than 45 minutes. At this point, I got quite a bit annoyed. I knew already beforehand that I would be in for a short night of sleep having to wake up early for a work conference call. This delay and long taxiing was eaten away even more time from some much-needed slip. To my sheer horror, we had a bus gate as well. I therefore *may* even have sneakily jumped aboard the special business class passengers' bus which was still waiting with doors opened when I disembarked the aeroplane as one of the first economy passengers, pretending to be the stupid and clueless tourist. Luckily this worked as the doors closed right behind me, saving me at least another 15 or so minutes. Luckily, queues at passport control were non-existent and I was quickly stamped into Turkey. Having no checked baggage, I then made my way to the Turkish Airlines hotel desk for my complimentary layover hotel.
Next up: Turkish Airlines free transit hotel and the new airport & its lounges