5.5 Days in the Canadian Rockies - Banff - Jasper and more
Jul 28, 16, 9:58 pm
Join Date: Jul 2016
Location: Montreal
Posts: 4
5.5 Days in the Canadian Rockies - Banff - Jasper and more
---
Hi, I'm new here, just wanted to share my last trip report, had a short but amazing trip in the Canadian Rockies.
More trip reports on my "blog"
www.cassetrop.com
if you feel like it.
Complete Album here :
http://www.oneilcastro.com/gallery/i...?/category/113
Can't really call this a "road trip" because the route was planned due to restricted time but still did 2400 KM in ~6 days.
The Plan: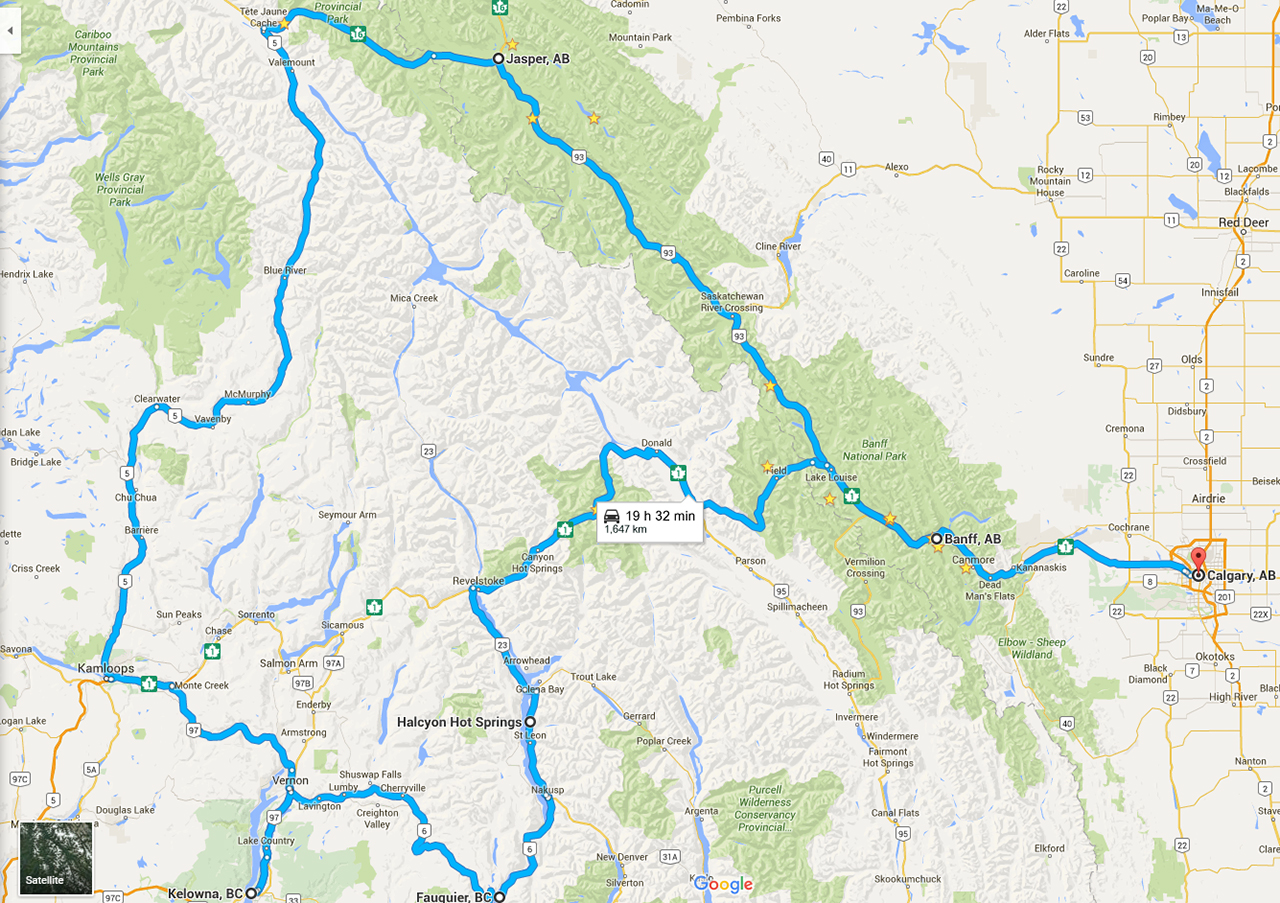 Day 1.
Landed in Calgary at 00:30 July 1st. Went to sleep and the next day the adventure began!
Went to Walmart for some provisions and off to the rockies. First planned stop was Grassi Lakes in Canmore.
On the way there we stopped at Gap Lake, didn't really know what we were going to see so this was pretty impressive as the first sight of the Rockies.
Gap Lake:
Drove a little further and got to Canmore. This is the view of Grassi Lakes from the Three Sisters Parkway
https://goo.gl/6btzJx
.
View of Canmore from the same place.
Went down to the park for a hike, the hike is about 1h30 round trip. This is the first lake you see when you get there.
Go around the lake and behind it you'll find the other one.
You can also see a waterfall from the Grassi Lakes parking lot.
Went on to the next stop, Vermillions Lakes. The view of Rundle 1 is stunning from there, you can also see Mount Inglismaldie and others.
Rundle 1
Mount Inglismaldie
Drove out of Banff and went on to take the 1A (old route along the Trans-Canada Highway) to drive to Johnston Canyon, this is the view as you exit the city of Banff.
Johnston Canyon, a ~2h round trip "hike/walk" to the "Upper Falls" with a lot of stops for pictures etc.
The "main" fall of Upper Falls:
On the hike back just a couple of minutes from the "main" Upper Fall we saw a little path to go down to another of the "Upper Falls". This is the nicest spot at Johnston Canyon in my opinion, but it's off the path, we had to be careful.
On the way back to the entrance of the park:
That's it for Johnston Canyon, time for Moraine Lake, my favorite lake in the Banff National Park.
From water level:
From the viewing "deck":
Even with a cloudy sky, the view and colors are stunning.
On the way back to Banff to our hotel the lighting on Rundle 1 was different, had to stop for another picture.
We went to our B&B, later went out for the Canada Day fireworks and then sleep! Didn't even visit the village. Oops.
Day 2.
This was probably the most amazing day ever, the things we saw in one day were just crazy.
First stop, Morantís Curve (
https://goo.gl/wTJ25o
) on the 1A, very nice alternative route to the Trans-Canada to get to Lake Louise from Banff.
Had to stop in Lake Louise, it is very busy but the lake is very impressive, the Fairmont hotel and the glaciers make it a special place. Not my favorite but still worth a visit.
We then proceeded to go to Emerald Lake before heading up to Jasper.
Stopped for lunch in Field, cute little village with a nice river and viewpoints.
Before getting to Emerald Lake on the same road you'll see Natural Bridge, worth a stop.
Emerald Lake :
Good place to rent a Canoe, 45$/hour, expensive but it's a pretty cool feeling to be in the middle of an emerald lake between those huge mountains.
Drove out of Emerald Lake, took a shot of the mountains on the way out.
It was now time to get on the Icefield Parkway. Probably the most incredible route I've ever driven on.
Random mountain:
Bow Lake viewed from
https://goo.gl/pOenHe
Bow Lake
And then... Peyto Lake! Unbelievable.
The glacier feeding it:
Next lake on the parkway is Waterfowl Lake.
Random mountain on the parkway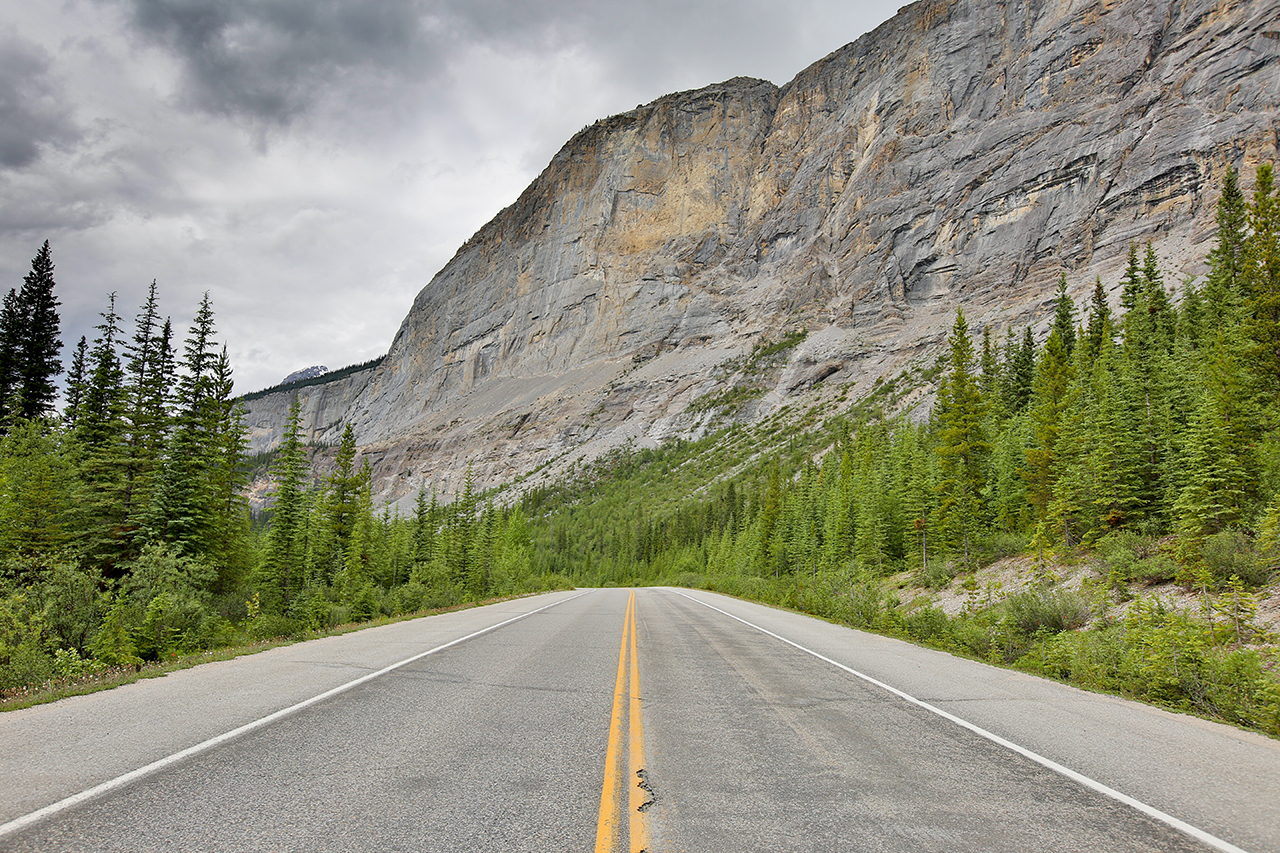 Continued driving until the next view point.
https://goo.gl/HtmUY6
And the last stop of the day before Jasper, the Athabasca glacier.
Again...wow.
Drove off and had to stop about 5 minutes later, the view in the rear view mirror was too beautiful to ignore.
Day 3.
Woke up to a very rainy day in Jasper.
Still decided to follow the plan and go to Maligne Lake. On the way there you'll come across Medicine Lake
Fires destroyed part of the forest around there
Got to Maligne Lake and the rain had stopped but it was still a little windy. We walked around and left, decided not to the take the boat ride to Spirit Island.
Drove back on the same road and stopped at the Maligne Canyon.
As we drove back to Jasper the weather was much nicer so we went to the Jasper Skytram. 40$ each for a ride up the Whistlers Mountain, once there you can hike to the summit, about 2 hours round trip. The 360 view is just incredible from the summit.
We got stuck at the top of the mountain for almost 1 hour because the weather got bad real quick and the SkyTram couldn't operate.
Drove off to Mount Robson, highest peak of the Canadian Rockies. Stopped along the way at Moose Lake.
And then got to the Mount Robson tourist center where you can see the tallest mountain of the Canadian Rockies, 3954 meters.
Went on to our cabin, 5 minutes away. Nice view from there too.
http://www.mountrobsonlodge.com/
Day 4.
Woke up to this view
It was time to drive to Kelowna, BC.
On the way there we were fortunate enough to see a black bear having breakfast by the road, this was just past Blue River.
Got to Kelowna around 1PM to enjoy the day by the lake but it was very cloudy and windy, so we just walked around town.
We decided to treat ourselves to a nice restaurant since the weather was so bad, we looked into wineries and decided to go the Mission Hill Terrace. WOW! The place is stunning and the food delicious.
Day 5.
Another cloudy day, drove to Fauquier, then Nakusp and to the Halcyon Hot Springs.
Cell phone picture
We also went to the "natural" and free St-Leon hot springs in the middle of the woods, cool spot.
Cell phone picture - Exact Location of the springs :
https://goo.gl/YGHVYm
Day 6.
Time to go back home, let's ferry across Arrow Lake.
First stop for breakfast, Revelstoke, BC.
Drove on to Rogers Pass, very nice road too!
We were a little ahead of schedule and it was nice, so we decided to stop at Emerald Lake again. Even better with nice sunlight.
Also tried going back to Moraine Lake but when we got close the weather was bad, there was a lot of people so we turned back.
Drove to Banff for lunch, saw a little more of the village too.
And then we left for YYC -> YUL.
Thanks for viewer/reading!
Jul 30, 16, 6:03 pm
FlyerTalk Evangelist
Join Date: Apr 2000
Location: FLL -> Where The Boyars Are
Programs: AA EXP 1.7 M, Hilton Gold, Hertz 5*, AARP Sophomore, 14-time Croix de Candlestick
Posts: 18,669
Add me to the chorus of praise - absolutely stunning images.
I'm so happy to see more and more trip reports that tell and show us what the author actually experienced on his/her journey - procedural reports limited to loungesee and aircraft seats are good as far as they go, but it's what happened between flights that elevates reports into something special.
Aug 3, 16, 7:22 am
Join Date: Oct 2007
Location: Left
Programs: FT
Posts: 7,285
great pics. the last time i was in the area i was on my way to school from my home in YVR to Toontown.
the pic on the 16 as you can see mt. robson is a sweet sight and was what brought back memories from my drive coming on 20 years ago...
.
Aug 3, 16, 8:58 pm
Join Date: Jul 2016
Location: Montreal
Posts: 4
Google Maps:
https://goo.gl/7XQnbJ
Check List:
Grassi Lakes - Canmore Region
Vermilion Lakes - Banff Region
Johnston Canyon - Banff Region
Moraine Lake - Banff Region
Lake Louise - Banff Region
Emerald Lake - Yoho National Park
Bow Lake - Icefields Parkway
Tangle Creek Falls, AB - Icefields Parkway
Peyto Lake, Bow Summit - Icefields Parkway
Athabasca Falls - Jasper Region
Maligne Canyon - Jasper Region
Maligne park - Spirit Island - Jasper Region
Only thing you have to be careful is animals and tourists stopping to look at animals haha.
Aug 4, 16, 9:11 am
Join Date: Jul 2016
Location: Montreal
Posts: 4
Thanks!
I used a Canon 5D MKIII with the 16-35 F/2.8 L and 70-200 F/2.8 L IS for this trip.
I usually shoot in aperture mode, no real special techniques except maybe for the fall picture where I did a longer exposure with the camera laying on a rock.
Other then that it's pretty much point and shoot when on such a trip since time is limited.
Aug 14, 17, 7:23 am
Join Date: Apr 2012
Location: Michigan
Programs: Hyatt Diamond; Hilton Diamond; SPG Gold; IHG Spire Elite; National Executive
Posts: 496
Originally Posted by Cassetrop
Amazing trip report! My wife and I are planning a visit next month and are looking to visit many of the same places. Your photos are stunning.
One question - was the loop down to Kamloops, Kelowna, and Fauquier worth all the driving, or would you recommend we simply retrace our steps back down the Parkway, from Jasper back through Banff and ultimately back to Calgary again?