Five Days In Japan
Mar 25, 14, 7:31 am
Moderator: Trip Reports
Join Date: Jul 2013
Location: Dubai
Posts: 3,060
Mar 25, 14, 7:33 am
Moderator: Trip Reports
Join Date: Jul 2013
Location: Dubai
Posts: 3,060
Day 0.
About to board the EK 777 at Dubai at 3am in the morning.
My neighbour borrowing a shoulder
.
The Japanese breakfast option in Economy.
After arriving at Narita airport at ~5:30pm, got my passport stamped, exchanged some yen, bought N'EX tickets, a SUICA card (for the subway), and hopped on the Narita Express train for Tokyo.
Trying to comprehend the spaghetti-like map on the Tokyo subway
.
A crossing just outside my hotel in Suidobashi, with the Tokyo Dome on the left where the Rolling Stones played a week prior.
My hotel. A reasonable ~8000 yen a night including breakfast.
I had a 3am start tomorrow, so dinner was just at the local 7/11
.
Still quite tasty though
.
---
Last edited by DanielW; Mar 25, 14 at

7:37 am

Reason: fixed photo
Mar 25, 14, 7:41 am
Moderator: Trip Reports
Join Date: Jul 2013
Location: Dubai
Posts: 3,060
Day 1.
Up early to catch up a taxi to the Tsukiji Fish Markets. ~3000 yen, so not cheap but not unreasonable.
I got there before 4am, and although the tour didn't start until 5:20am, there was still a decent queue already.
After putting on yellow fluoro vests we were directed into the main tuna auctions.
The frozen tuna ready for auction.
The buyers doing alot of poking & prodding and close inspection it with a torch
.
Looks like he is happy with this one
.
There are two (free) tours most mornings, with each tour limited to ~75 people which quickly fill up.
Discussing the days catch
.
One of the auctions underway.
The tour lasted ~25 minutes, after which we are escorted out of the inner markets.
Organising the days orders.
Morning cigarette on a skewer
.
Ready with the bandsaw to cut up the frozen tuna.
After the end of the tour, I went for a walk through Ginza.
Not many people or cars about at ~6am
.
Kabuki-za in Ginza, the principal theater in Tokyo for traditional Kabuki theater. I would later come back on day 3 to watch a performance.
Traffic on the roads through Ginza.
Conductor on one of the JR lines.
After going back to my hotel for breakfast and a quick nap, I headed down to Tokyo Station to get my Shinkansen tickets to Kyoto on day 4. 21,000 yen for the Japanican deal for return un-reserved Shinkansen tickets and a day pass for buses/metro in Kyoto, and was quite a good bargain.
Heading underground.
The famous crossing in Shibuya, as seen in films such as '
Lost in Translation
', and '
Fast and the Furious: Tokyo Drift
'.
Out shopping in Shibuya.
Graffiti.
I then walked up to
Meiji Shrine
, where there was a traditional Japanese wedding procression.
Group photo
.
Barrels of sake. The shrine is situated in a 175 acre forest.
I then walked to Takeshita-dori, a pedestrian-only street lined with fashion boutiques, cafes and restaurants in Harajuku.
A great place to watch all the latest Japanese fashions
.
The Mods.
Fluorescent
.
In Black.
Blonde.
I then caught the metro to Sumida to see the Tokyo Skytree.
The weather wasn't ideal, but still had some great views of the city below.
I then caught the JR train back to Suidobashi.
Bookshop.
Dinner of pork & noodles after a great first day in Tokyo
.
Mar 25, 14, 7:43 am
Moderator: Trip Reports
Join Date: Jul 2013
Location: Dubai
Posts: 3,060
Day 2.
After going for a run around Tokyo Dome and then grabbing some breakfast, I walked down to Yasukuni Shrine in Chiyoda. This is the shrine that is often in the media whenever the Japanese prime minister (controversially) pays his respects to the war dead.
I then visited Yūshūkan, the war museum next door. A Yokosuka MXY7 Ohka, or rocket powered flying bomb used by Kamikaze.
The museum wasn't as controversial as I expected, with most of the exhibits and information being relatively factual. The Pearl Harbour attack had quite alot of displays, model aeroplanes, photo's etc. but the atomic bombings of Hiroshima & Nagasaki were limited to a few sentences of text though. The description of the
Nanking 'Incident'
also differed significantly from the Chinese version.
Just outside Yasukuni Shrine, a busy flea market.
I then walked down to the Imperial Palace Grounds. It was Saturday morning, and literally hundreds of runners were doing laps of the grounds
.
Some blossoms in the east gardens of the Imperial Palace.
Some buildings on the Palace grounds beside the moat.
Back in Ginza again.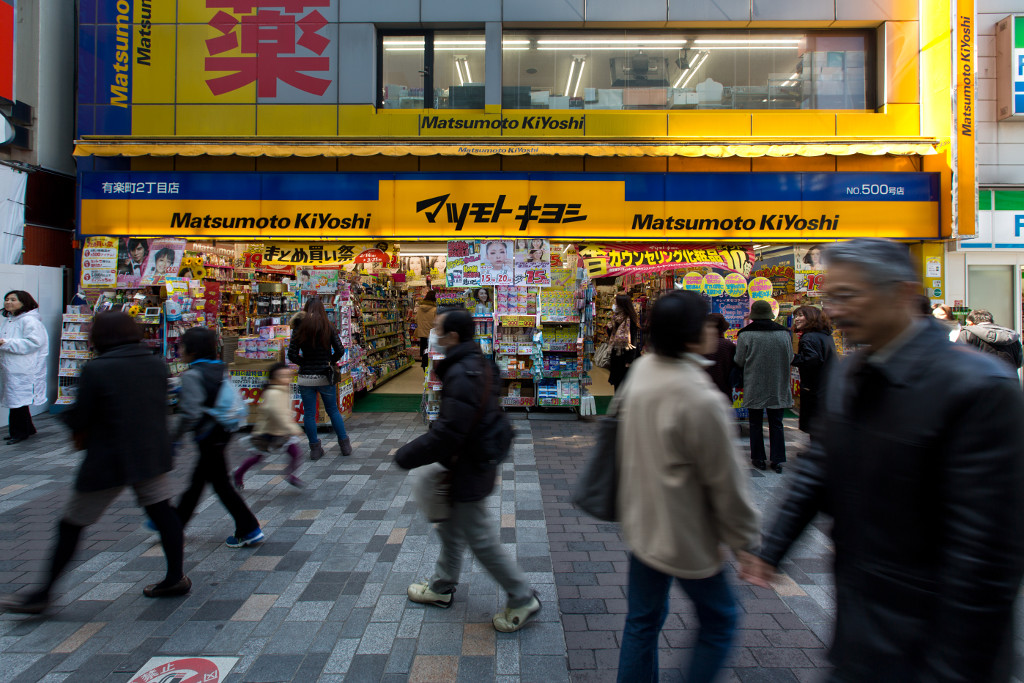 No photo's
!
A street closed for pedestrians in Ginza.
Pachinko
!
At the outer markets of Tsukiji.
[
Lots of different foods as well as fish for sale.
Queueing for bbq'ed shellfish.
Stopping for lunch at one of the Tsukiji restaurants.
The chef preparing my dish.
It definitely tasted as good as it looks
!
After a good feed at Tsukiji, I caught the metro out west to Shinjuku, and went up one of the observatories of the Tokyo Metropolitan Government Building.
Looking down at a flea market in Shinjuku Central Park.
Looking South-East. Not as high as Tokyo Skytree, but a great price though (free
).
Sofia Coppola, the director of the Tokyo film, 'Lost in Translation'.
Walkway.
More pachinko in Shinjuku.
The ubiquitous Japanese drink vending machines which seem to be everywhere
.
Prayer cards at Hanazono Shrine.
Some of the neon in Shinjuku.
One last photo of the day, back at Shibuya crossing
.
Mar 25, 14, 7:44 am
Mar 25, 14, 7:45 am
Moderator: Trip Reports
Join Date: Jul 2013
Location: Dubai
Posts: 3,060
Day 3.
Back on the underground again, this time to Asakusa.
Senso-ji, Tokyo's oldest temple. I only had a short time here unfortunately...
...as I needed to get to Ginza for Kabuki tickets
. Only 1000 yen for the 50 minute morning matinee.
Was a great, cheap way to experience traditional Japanese theater
.
I then headed out to Minato to Tokyo Tower. The tower was the tallest structure in Tokyo up until 2010, when it was surpassed by the Skytree.
The view from the mid-deck
.
Some hot chocolate from a vending machine at the metro. It actually came out steaming hot too
.
I then headed to Akhihabara, the electronics district of Tokyo.
And straight to the camera gear
.
They had almost all the Canon & Nikon lenses available to try, so had a play with a few of them, including this Canon fisheye lens
.
I then went back out to Asakusa to Senso-ji again, since I only had a short time in the morning.
And bought some Kimono's as gifts back home
.
A shop selling sweets, cakes etc., with a 100 metre queue down the street
!
Spicy pork & rice for dinner for a very reasonable ~800 yen.
Since I was in Japan, I figured I had to check out one of the quirky
capsule hotels
.
Vending machines & laundry. It was Sunday night, so I got a reduced rate of 2600 yen.
The communal lounge.
My 'room' for the night
.
Actually not too bad if you're not too claustrophobic
.
Mar 25, 14, 7:46 am
Join Date: Jul 2011
Location: LHR- ish
Programs: MUCCI, BA Blue
Posts: 4,299
Japan's a bit mainstream by your standards isn't it?
Cracking pics though, and I enevy your stamina.
Mar 25, 14, 7:47 am
Moderator: Trip Reports
Join Date: Jul 2013
Location: Dubai
Posts: 3,060
Day 4.
Up early for the 6am Shinkansen to Kyoto from Tokyo Station. My first time on a high speed train so was super-excited
!
The train was reasonably full on the journey west. The seating was 2-3, with the middle seat on the 3 side being ~5cm wider than the rest for some reason (for fat gaijin
?).
Meal & drinks cart coming through.
Great view of Mount Fuji on a nice clear morning.
Plenty of snow as we headed west.
Arriving at Kyoto Station at about ~8:20am.
After arriving at Kyoto, I picked up my bus/train day pass, and caught the 205 bus to Kinkaku-ji.
The 'serious' photo of
Kinkaku-ji
(or Temple of the Golden Pavillion).
And the fun version
!
I then caught the 206 bus to
Kiyomizu-dera
. Some Geisha in the streets while walking up to the temple.
Kiyomizu-dera with downtown Kyoto and Kyoto Tower on the left.
Some more Geisha ladies.
I then caught the metro from Kyoto Station up to the grounds of the Kyoto Imperial palace, and had a walk around the gardens.
One of the gates to the Imperial palace.
I then joined a tour of the Imperial Palace. The royal family seal on one of the Palace eaves.
The well cared for Palace grounds. The Palace tour is only for foreigners, needs to be booked in advance, with Japanese only allowed into the grounds on 2 days of the year.
More blossoms
.
I then went to the Nishiki markets in central Kyoto. Quite a vibrant place with lots of stalls, people and a great atmosphere
.
Lots of fresh food for sale.
And some Japanese sweets I bought
.
I then had some grilled mochi (glutinous rice) at restaurant in the markets for a late lunch
.
Last stop of the day in Kyoto, the view from Kyoto Tower.
And then to catch the 17:06 Nozomi train back to Tokyo
.
Mar 25, 14, 7:49 am
Moderator: Trip Reports
Join Date: Jul 2013
Location: Dubai
Posts: 3,060
Day 5.
Breakfast at the hotel for my last day in Japan.
Tokyo Dome on the right and a roller coaster on the left
.
I then caught the Tokyu Toyoko Line down to Yokohama, the second largest city in Japan. The Chinatown in Yokohama is also the biggest in Japan.
Some locals buying some chinese dumplings
.
I then went for a walk on the waterfront. The museum ship, the Hikawa Maru.
One of the US built bridges (from 1908) on the waterfront walk.
Cosmo Clock 21, a 112.5 m Ferris wheel which doubles as "the world's largest clock"
.
A good view of the city, and Tokyo in the distance from the Cosmo Clock.
The Nippon-maru.
The view from Landmark Tower, the tallest building in Japan. Nippon-maru bottom-middle and the Hikawa-maru top-left.
The view to the west, with Mount Fuji top-right.
Mochigashi sweets at a Yokohama mall.
After catching the train back to Tokyo, I had a late-lunch of chicken, pork & shrimp for 1400 yen
.
And back to Tokyo Station to catch the Narita Express for the flight back home
!
Mar 25, 14, 7:52 am
Moderator: Trip Reports
Join Date: Jul 2013
Location: Dubai
Posts: 3,060
RTW1
. My first time to the land of the rising sun and had a great time.
Thanks, exilencfc
. Next trip is to one of the 'Axis Of Evil' to make up for it
.
Mar 25, 14, 7:58 am
Mar 25, 14, 8:39 am
Join Date: Oct 2012
Programs: SQ,KL,MH,QR,PR, CX,Hyatt,Marriott
Posts: 574
Very nice pictures - thanks! Also, I've always wanted to try one of the capsule hotels...
(PS, you might want to blur out your name/passport - for your own privacy...)
Mar 25, 14, 8:41 am
Join Date: Jan 2014
Programs: BA Bronze
Posts: 46
Loved the report and your photos are amazing!

I'm possibly looking at going to Japan this summer, did you find it expensive to eat out and was it easy to navigate on the subway?
Mar 25, 14, 9:14 am
Join Date: Jan 2013
Location: Duchy of Milan
Programs: BA Gold, TK Elite, AZ CFP
Posts: 1,857
Amazing trip report! I'm going to Japan for the first time in a month and I'm really excited. I think I'll take advantage of this trip for some tips, thanks for sharing!
Mar 25, 14, 9:15 am
Join Date: Dec 2001
Location: Canada / USA
Posts: 6,033
I NEED to get back to Japan!!! Your pictures Were just great.
Travelgirl88: in Japan you can eat very inexpensively or easily drop hundreds of dollars on meal. Either choice will be of at least good quality. The variety of food is amazing.
The subway stations have English signage and the staff will generally try their best to communicate in English, as with most of your fellow passengers. Fair warning, tjoug, the system is vast.
Japan is an incredible country... you will love it! The FT Japan forum is a great resource for trip planning.