BA Tier Points Run on AA - BRU LUX LHR MIA LAX HNL in F & J 1200TPs in 1 shot
Jan 1, 13, 2:48 pm
Join Date: Jul 2007
Programs: GGL, BA lifetime Gold, Many Hotel Sparkles
Posts: 875
BA Tier Points Run on AA - BRU LUX LHR MIA LAX HNL in F & J [1200TPs]
---
My Other Trip Reports
Dec 2009
http://www.flyertalk.com/forum/briti...y-its-big.html
Oct 2010
http://www.flyertalk.com/forum/briti...lgw-ex-eu.html
British Airways 1200 Tier Points Run – using American Airlines

After a 'dry run' some months ago I was itching to do a little more. The BA tier point runs thread has been very busy recently with many questions being repeats of what is already inside this goldmine of a thread.
After some serious reading and my previous Tier Point runs I thought I'd used some of the newer data being brought up by
pinkcat
and others to go for a biggie. Family and Friends now familiar with a 'TP run' I didn't need to reassure them I was trafficking or otherwise engaged in government sponsored espionage.
For those not familiar with the British Airways Executive Club (BAEC) and how you progress through the various status tiers the team have compiled a comprehensive guide. Head over here if you need the details
http://www.flyertalk.com/forum/briti...ing-avios.html
In summary you gain Gold Status (the 'regular' top tier) by poking yourself over the 1500 point barrier.
Inside of my tiny mind I had a number of things to consider
1) Business travel for me had been hectic, I was burning through a number of small intra-Europe trips but they were never going to net me more than a few hundred Tier Points. I wanted to keep the shiny card.
2) Following a prior USA coast to coast TP run I enjoyed a misconnect due to a faulty 757 and thus my carefully crafted plans immediately fell apart and it was the end of the earth… resulting however in ALL the tier points I was due to collect being posted by AA to my BAEC account AND a $500 voucher for my trouble.
3) Work was looking as though I would have a natural gap to get away and just sit on some jet planes for a while.
4) It'd be fun
Extremely, lose justification I was poised to strike.
In order to maximise the points gained, using American Airlines, you need to harvest Domestic First sectors over 2000miles in length. Each of those will reward you 210 Tier Points. Now with the ITA tool I started to craft a ticket that would give me what I wanted.
My final schedule was as follows, ticketed by American Airlines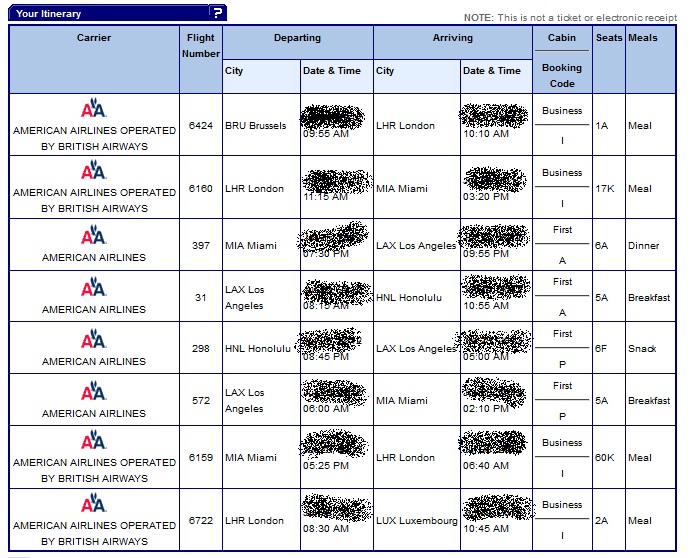 This started on a Thursday and ended on Tuesday Tuesday Morning in the UK
The damage was a cool £1,350 about £1.13 / TP regular fare (after the transport vouchers are deducted it is a more pleasing ~£0.86 / TP)
In terms of tier points it would net me 1200 Tier Points in one swift-ish movement.
40 Brussels to London Heathrow in BA's Club Europe (short haul business product)
140 Heathrow to Miami in BA's Club World (long haul business product)
210 Miami to Los Angelese in AA's Domestic First Product
210 LAX to Honolulu in AA's Domestic First Product
+ the return sectors 210 + 210 + 140 +40
= 1200 Tier Points Total
I had priced this up before, however it was outrageous, I randomly did the stored query via ITA as AA was running a sale. The I0SALE bucket was available to me along with some joy.
Fare 1: Carrier AA I0SALE BRU to HNL (rules)
Passenger type ADT, round trip fare, booking code I, P
Covers BRU-LHR (Business), LHR-MIA (Business), MIA-LAX (First), LAX-HNL (First)
£535.78
Fare 2: Carrier AA I0SALE HNL to LUX (rules)
Passenger type ADT, round trip fare, booking code P, I
Covers HNL-LAX (First), LAX-MIA (First), MIA-LHR (Business), LHR-LUX (Business)
£535.78
Getting this ticketed however proved to be a 'balls ache' I had to present the transport vouchers to an AA ticket desk, thankfully I'm close to LHR. But just as a forwards hint to anyone given a USD$ voucher that needs to go against a ticket to be purchased in another currency you might also run into this.
The team on the AA.com help line were excellent and well informed however after much discussion they could not help me.
Since then I0SALE and I7SALE have been on, quite straight forwards to find especially given the fine folks on the BAEC and AA sections of Flyertalk.com
Step One - Positioning
As I was starting this journey in Brussels I need to get myself over to the heart of Europe. I took a flight out the night before using BA shareholder discount and popping myself into the Crowne Plaza Brussels Airport.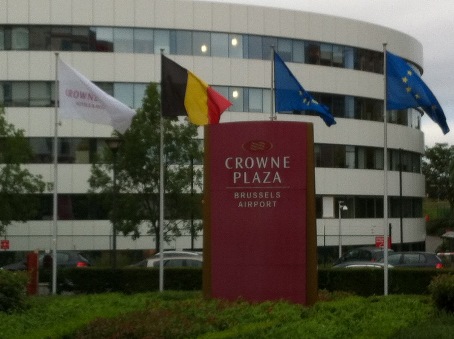 This hotel has a free shuttle bus service and the hotel is literally a mile or less from the airport very quick and easy once you find the secret shuttle bus
[Not really secret just took me a few goes to work out where it was]
Hotel room was the cheapest and I was upgraded to a Club Room, with lounge access. Room was clean, bathroom excellent. Staff were great if a little distracted at check-in.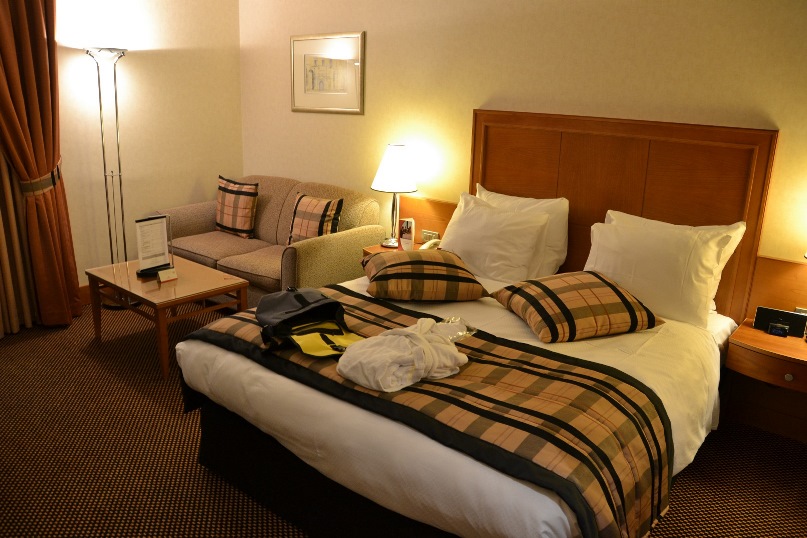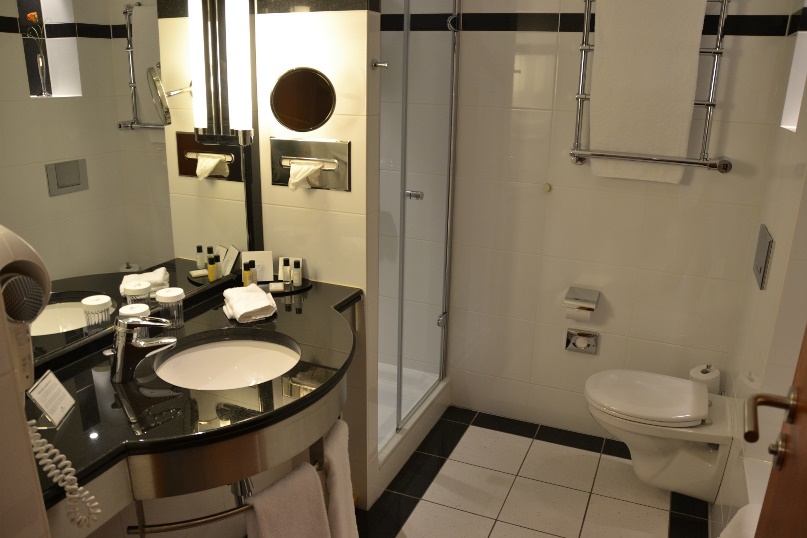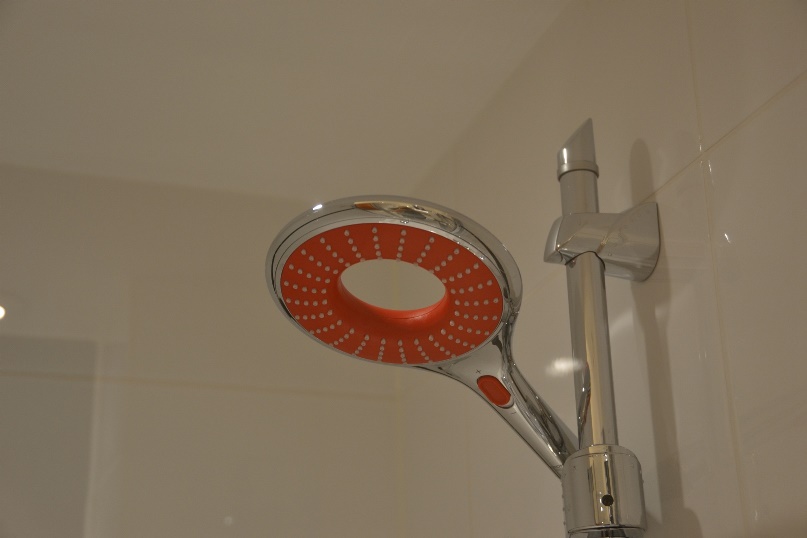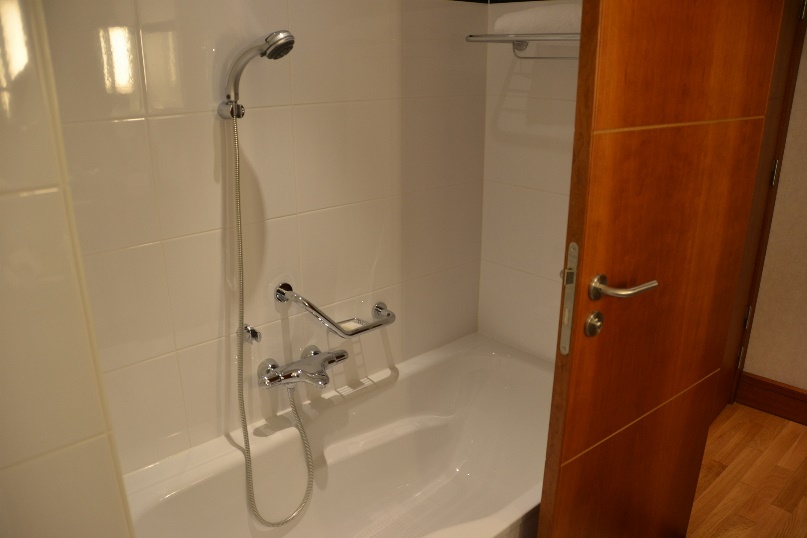 If you plan to explore Brussels centre this isn't the hotel to do it from being at the airport.
Flight 1 – BRU to LHR
The AA6424 Operated by British Airways
09:55 EU Law Maker Time landing at 10:10 Olympic time
I rolled upto the airport in good time, being only with hand luggage I was quickly into the bowels of Brussels airport. I hit the lounge which has been styled in the Galleries concept. A little earlier than normal I headed to the nominated gate.
Now, the smart ones out there will have recognised my transit via Heathrow is 65minutes, perfectly 'legal' but enough to give the most seasoned travellers a little heart burn.
The markings where the plane should park are there, sadly two delayed JET Airways planes are also still on stand. The first moments of heartburn could be felt. BUS it was then. Thankfully it was the BA Bird airbus so obviously we'd just teleport to Heathrow.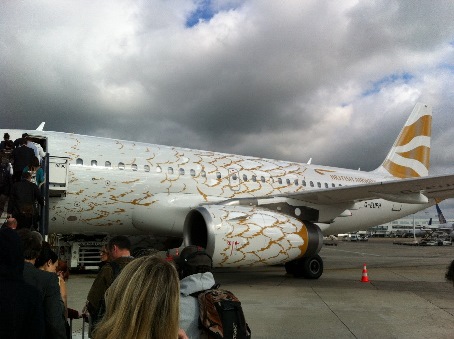 As I climbed the stairs to the plane it was already 5mins behind schedule. I actually had nothing to worry about. I was on a through ticket, all via a one-world carrier. Should anything of happened I would have been rerouted without any level of moon crashing into the sea drama.
To ensure I gave myself as much pressure as possible I set my phone for a T-minus countdown to conformance check. Those of you coming into Heathrow and Terminal 5 should know that you must present yourself at Flight Connections or Security 35mins before your flight or you will be offloaded. If this happens at Flight Connections you will be re-routed (EVEN if you know you can make the sprint)
Coming into the approach to London we flew over the Olympic Park which was in full flow.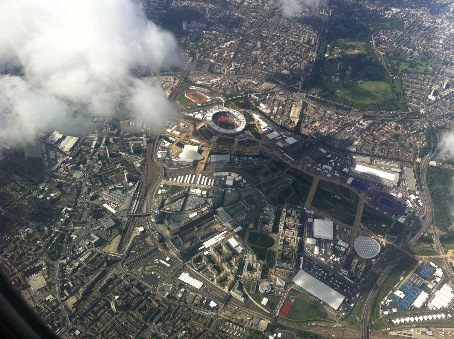 Flight 2 – LHR to MIA
The 6160 Operated by British Airways
11:15 Olympic time landing at 15:20 Florida sunshine time
The tremendous schedule padding of the previous flight, the delay to boarding, the delay to take off, the delay of ATC and the delay of the air bridge still had me showing with 18mins before I would fail flight conformance check.
On scooting out the plane there was a Purple Clad flight connections rep with a BIG ORANGE express connections sign for me. I had come into the main Terminal 5 building so I simply needed to get myself to the BA agent. Once achieving this large orange EXPRESS ARGH EXPRESS QUICK MOVE card I was told to sort my life out and get my way to flight connections. This bright orange ticket had the added benefit of any and all airport staff recognising me as "in possible distress" and whipping me through the corridors of Terminal5. I like to think of it as my very own Olympic event on reflection.
In summary the big orange thing worked and I was quickly pushed, directed and presented to the Conformance check with 8mins to go RESULT but WAIT. *beep* went the machine and the agent was tapping away. Sadly I had had a seat change from my favourite 64K to 1K, why thank you BA little upgrade to First. There was no time to enjoy any of this of course as it was now 35mins to departure and I had to clear security, which was a nightmare. At least the fast track and express connections lanes both got me to the 'front' of a huge huge queue of folks.
I made it to the B gates and onto the place as one of the last to board, I quickly settled down into the Nose of this 747 and seat 1K.
A few mandatory pictures of the food, it was Old First and very old it looked too. Just bleedin tatty, but I wasn't complaining today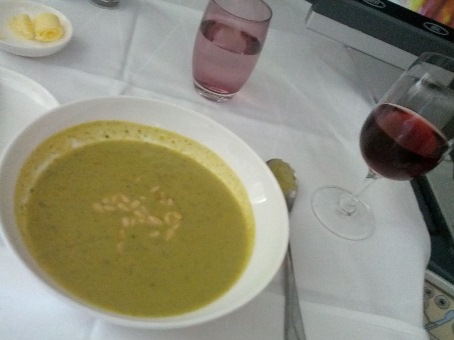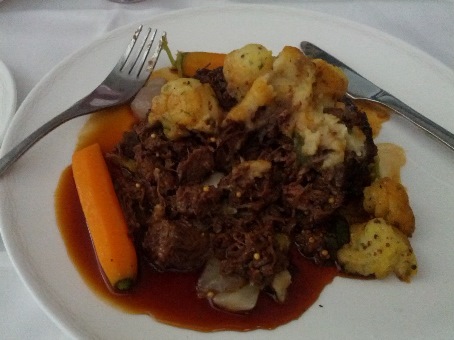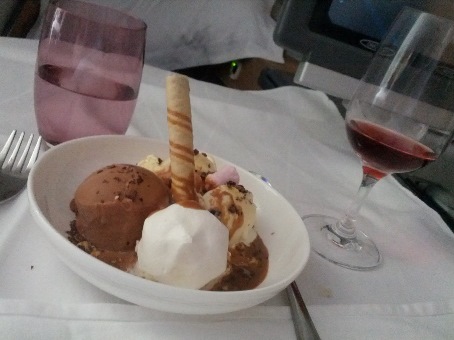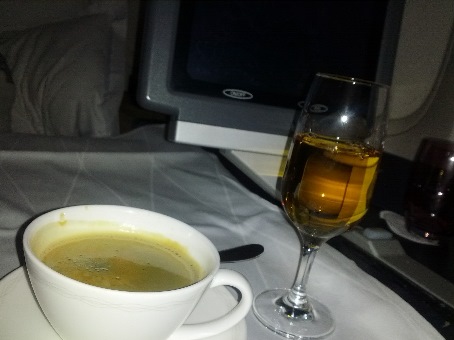 The opener was a salmon thing, the pea soup was amazing, the beef horseradish thing was really nice, the ice cream was just like ice cream and I nestled up to the dessert wine and a little snooze. The Purser here has been working the isles for a long time and she knew what she was about in terms of service.
PART TWO NEXT
---
Last edited by BugAlugs; Jan 3, 13 at

3:57 am

Reason: updates :D
Jan 1, 13, 2:49 pm
Join Date: Jul 2007
Programs: GGL, BA lifetime Gold, Many Hotel Sparkles
Posts: 875
Part 2
---
Flight 3 – MIA to LAX
The AA 397
19:30 Florida Sunshine Time landing at 21:55 Hollywood
I had read that a new immigration hall had opened at MIA and I had also read that MIA immigration can be terrible. Sure enough it was a mixture of both. Great new hall, loads and loads of officers, miles and miles of belt barriers that were all not in use and general confusion / free for all on planes full of visitors arriving. I found a queue and stuck to it, eventually the immigration officers summoned people to do stuff which may of helped others behind me.
I cleared Immigration and then needed to find the entrance for AA flights and re-clear security. AA priority boarding and fast track security is brilliant. Straight to the front of a little lane thing, no waiting for a TSA agent to do the passport honours and through I was to security.
Now my love for American Airlines is only growing at this point. Our flight was a little early and there was an earlier flight to LAX leaving. I recalled that AA allow you to standby as a First class and/or OneWorld elite. I presented myself to the gate agent who told me "no" the gate supervisor appeared and I asked again, he said "yes". The other agent kind of gargled something at him and the supervisor appeared to scold the younger member of staff and promptly throw her down the baggage chute in disgust.
So I didn't get onto the AA397, I've no idea what plane I was on but I was straight into 1A and it was the newer interior.
Lovely flight, nice food, good service.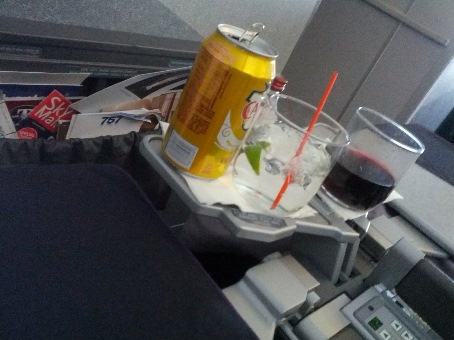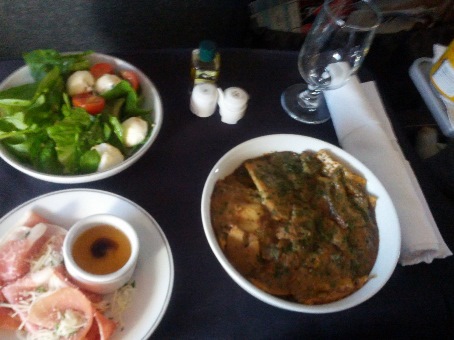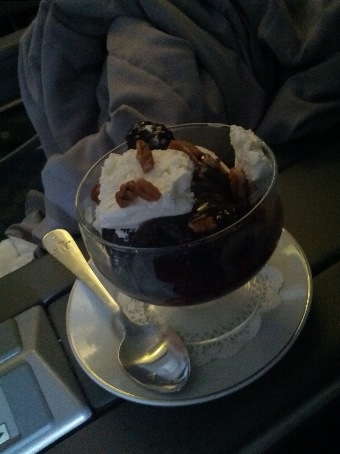 I dozed a little in between the spawn of Satan sat behind me just squealing / tantrum for no apparent reason. I didn't need to huff or puff as I was mostly sleeping off the dessert wine. The dude in 1C took care of cabin based disgust. At some point after the service dad appears (must have been in row 3) and the little one snapped into angelic peaceful babe.
I got into LAX a good few hours earlier than planned so I checked into the Crowne Plaza LAX and collapsed.
Flight 4 – LAX to HNL
The AA 31
06:00 Hollywood time landing at 10:55 Superhot lovely island time.
Despite the very early start the folks on this plane were buzzing. Everyone was off to Hawaii and HOLIDAY TIME BABY. Most tourists already had been Lei'd (lai'd ?) with their own items. The cheeky elder couple across the isle from me were on the bailies and coffee from the get go, so I joined in.
Everyone was in such a great mood, it was infectious.
It was the older style interior and it is fine for me.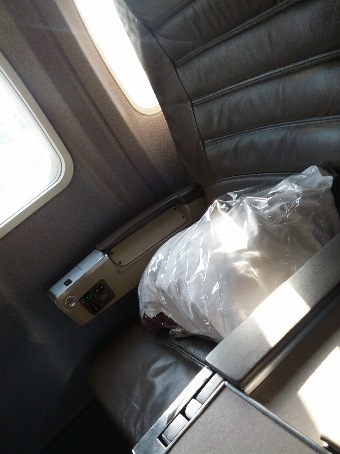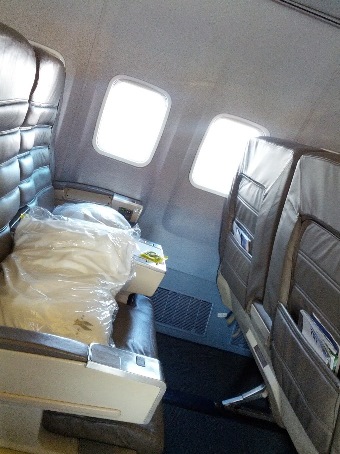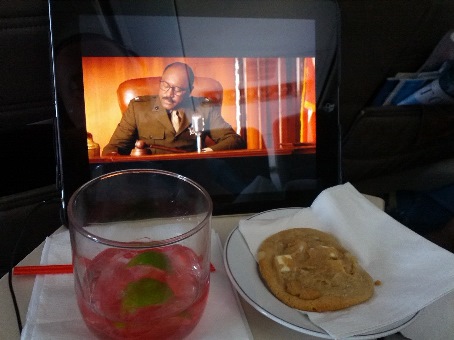 Into Honolulu and it was great. I sunbathed, touristed and slept like a boss before bracing myself for the return.
Flight 5 – HNL to LAX
The AA 298
20:45 Surf's up time landing at 05:00 I really need a strong coffee time

Despite the late departure time I was still fine although my body clock had no idea what was going on. A Smaller meal was offered, hardly anyone took it and most settled directly into sleep.
This was NOT a party flight, everyone was sighing and bracing themselves for a return to reality.
I must of slept for a good few hours as we crossed into the day after we left and landed on the west coast.
Flight 6 – LAX to MIA
The AA 572
06:00 Venice beach time landing at 14:10 something time
Another nice flight, I was joined by a AA three stripe pilot and he was keen to chat for the first couple of hours before sleepy time. Although there was no moving map he was able to tell me exactly where we were at all points. Useful stuff.
We landed on time and I spent quite a bit of time really exploring MIA airport as I'd not done it before and so a bit of a shopping attitude was on me. I needed to locate the OneWorld lounge as the AA agents couldn't properly check me in. British Airways needed to do the Visa/Passport check and the AA folks couldn't do this.
Flight 7 – MIA to LHR
The AA 6159 operated by British Airways
17:25 landing later
It took a huge effort ( I was told ) for the BA rep in the one world lounge to get my boarding cards for the last two flight segments. Looks like there was a problem with AA being able to reconcile they had been paid for my ticket and then system problems. In the end the lounge agents asked me for all my documents so I provide receipts etc etc
About an hour before the flight I was reunited with my passport and documents. I was also told off for giving her too much stuff to sort through, even though she demanded I give her everything I had. I reconciled these issues with a stiff Gin&Tonic.
I was tucked away in seat 64K again and my wheels home had already arrived.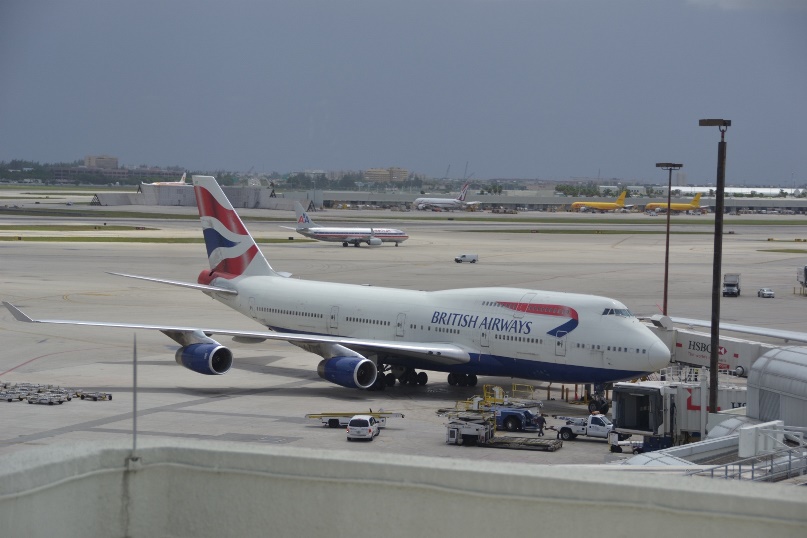 BA had a couple of flights leaving and there was huge confusion with people at the wrong gate at the wrong time. It all became very hectic at some point. I was called twice to have my passport and documents checked.
As I went through boarding *BEEP*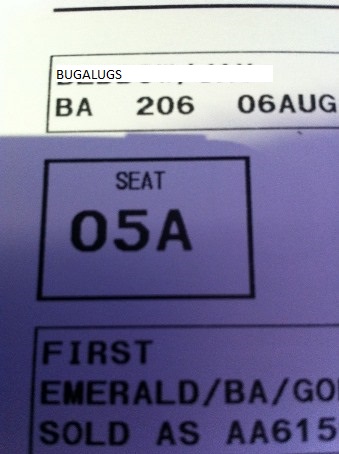 Why thanks BA another upgrade to First
and what is that I see before me NEW First, hurrah.
It was at this point I realised I had been awake for a very long time. One of the First cabin crew was interested in my exploits so we had a good gossip.
Cabin pictures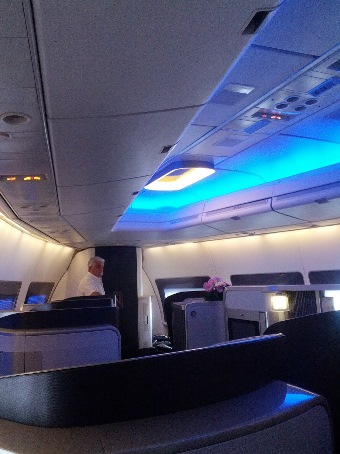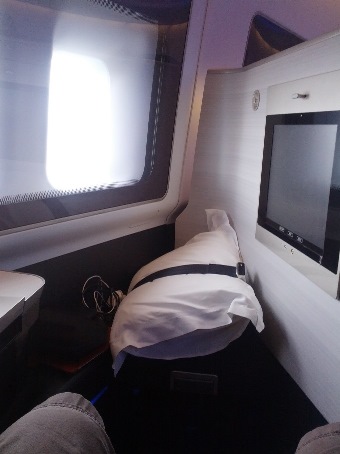 My welcome drink…
Notice that the table cover is not fitting flush to the rest of the table. Obviously I only knocked the fizz over once, such an annoying little fault.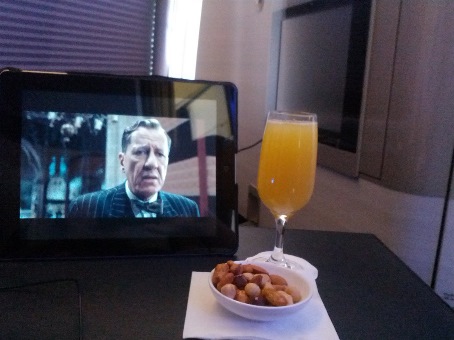 NUTZ
The nosh
Spring roll starter thing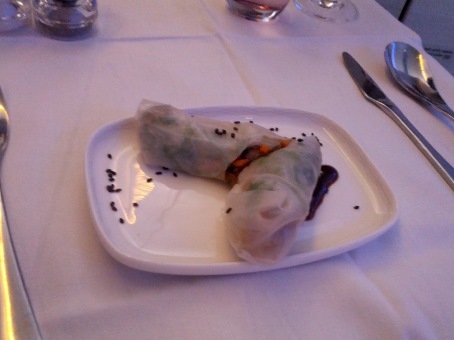 Tomato and red pepper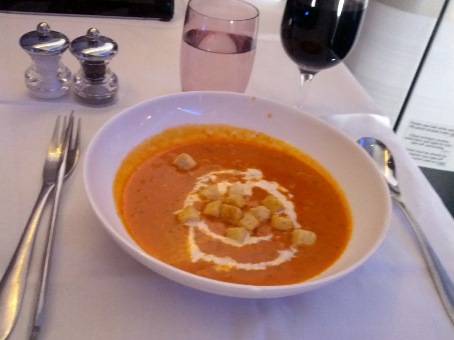 The braised pork thing (didn't like this at all)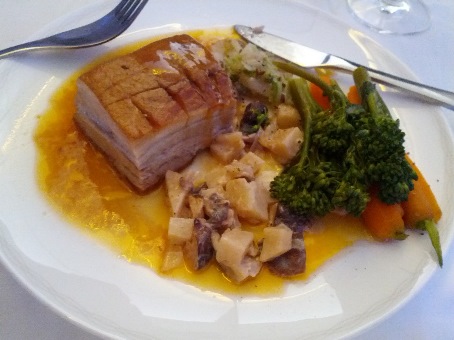 And some strudel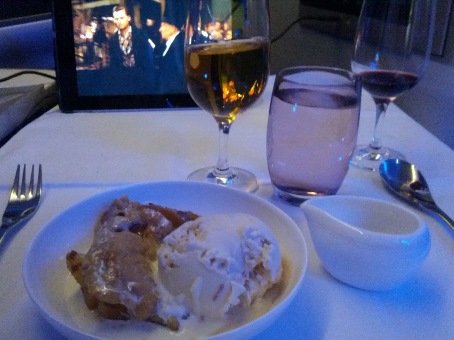 to be continued
---
Last edited by BugAlugs; Jan 1, 13 at

3:36 pm

Reason: Updates
Jan 1, 13, 2:49 pm
Join Date: Jul 2007
Programs: GGL, BA lifetime Gold, Many Hotel Sparkles
Posts: 875
Part 3
---
I had asked for a fast meal and they did it nice and quick I was soon into my bed for much needed shut eye.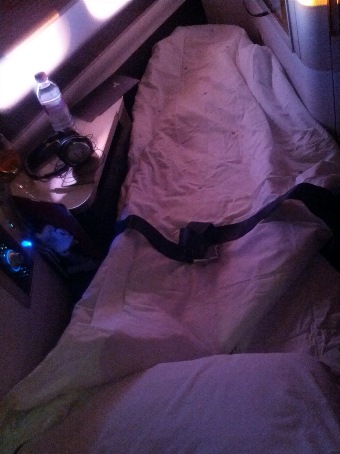 I was well prepared for breakfast, the IFE had broken and so I was onto the ipad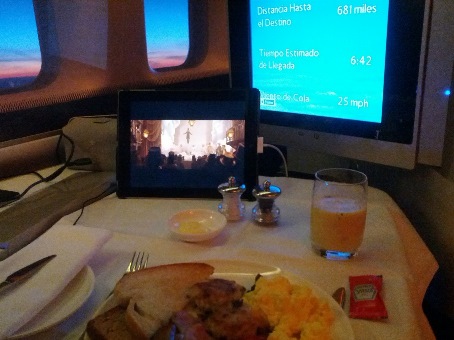 I was then able to investigate the state of this NEW First and I was disappointed to find it was already quite shabby, in fact it was terrible. The aforementioned table problem with the lip not fitting flush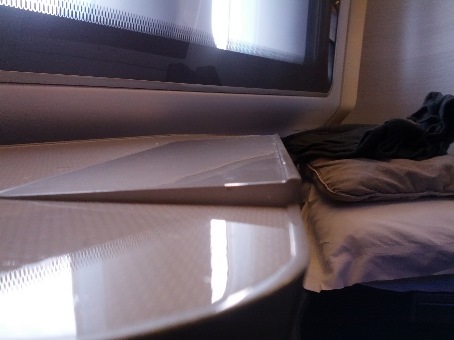 The chair controls were falling apart and flaking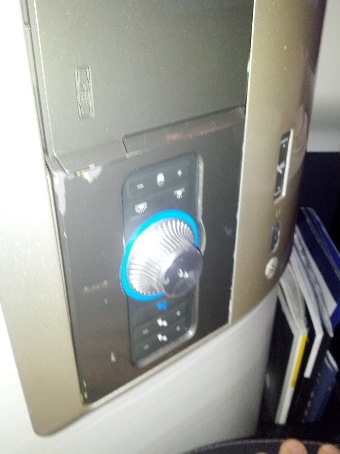 And various areas of trim just looked worn out already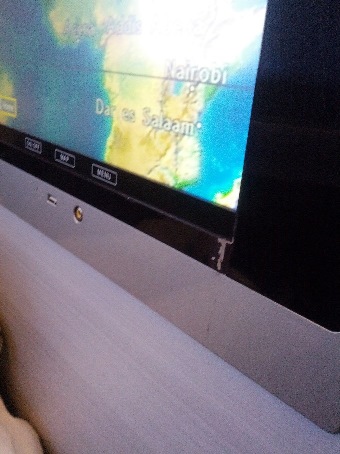 Flight 8 – LHR to LUX
The AA 6722 operated by British Airways
08:30 Olympic time landing at 10:45 private banking time
Really quick flight and I spent a few moments in the BA CCR thanks to my inbound First upgrade. It was the earliest I've ever been into the CCR so it was very quiet and quite nice.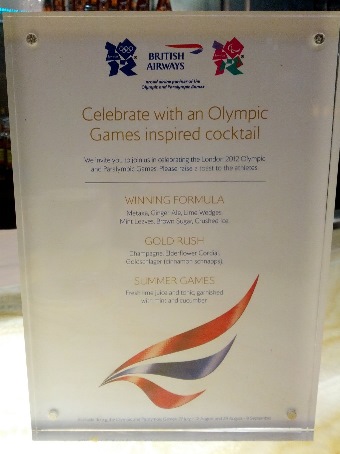 And of course the small flight to LUX I was offered a breakfast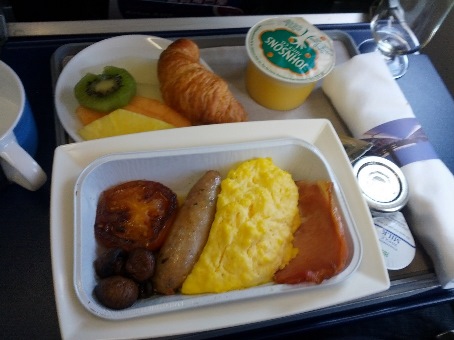 To return myself to London I had booked the turnaround flight of the flight into LUX. The LUX transit lane was not open but security took all of 9mins and I was back airside waiting to board quite quickly.
Follow-up Issues / Items
State of the BA First Cabins
I wrote to BA and received a cut and paste response, hopefully it'll get added to their "really must sort our cabins out" stats
Well Done / Compliments to Staff
2 BA.com well done and a note to AA.com were issued, all the staff were good but a few were great.
LHR>LUX didn't post to my BA account
It took 8 weeks to try and fix the lost flight in my BAEC account, ultimately I needed to contact the BA rep that lurks inside the BAEC forum. As normal it was fixed instantly and I expect it was due to whatever issues the agents in Miami had in making sure I had boarding passes.
Summary
All in All I had a great adventure and I got to do some quick tourism in Honolulu, I've already booked the return journey and allow myself more time in and around Hawaii to make sure I can 'do it' properly.
I would like to thank
pinkcat
and the other regular services of the demands of the TP run thread in the BAEC forum.
---
Last edited by BugAlugs; Jan 1, 13 at

3:37 pm

Reason: updates
Jan 1, 13, 3:34 pm
Join Date: Sep 2007
Location: Wild Wiltshire
Programs: GGL, Cats protection
Posts: 3,394
[I]Summary
All in All I had a great adventure and I got to do some quick tourism in Honolulu, I've already booked the return journey and allow myself more time in and around Hawaii to make sure I can 'do it' properly.

I would like to thank pinkcat and the other regular services of the demands of the TP run thread in the BAEC forum

Thats so sweet, youre welcome
I doubt we will see another sale of that magnitude for a looong tim!

Sounds like you had quite a mixed bag of experiences there, double opup must be a record!
did you take any pics in HNL??
PC x
Jan 1, 13, 3:39 pm
Join Date: Jul 2007
Programs: GGL, BA lifetime Gold, Many Hotel Sparkles
Posts: 875

Where I passed out
and what a pleasant place it was too.
I have many pics from Honalulu so much MOre to do and I even my met my special pal a Humuhumunukunukuapua'a (Hawaiian State Fish)
Jan 1, 13, 6:05 pm
Join Date: Apr 2010
Location: Los Angeles
Programs: AA EXP, SPG Plat, Hilton Gold, TK Elite, A3 Gold
Posts: 145
Nice report! Congrats on the double-upgrades even if BA F is a bit in shambles. I am planning on flying BA F in Feb (my first time flying BA) and am now considering whether it is worth it or to change to another carrier.
Jan 1, 13, 7:52 pm
Join Date: Sep 2011
Location: Riyadh, the Kingdom of Saudi Arabia
Programs: BA Gold. Iberia Plus Blue, Miles and More Blue, Gulf Blue, Tesco Clubcard, Elite PAL Mabuhay
Posts: 421
Interesting. Fiddling around now with a dummy booking gives a similar tier point run for £1,600.