Alaska in the '70s and '80s
Jan 20, 22, 11:22 am
Moderator, OneWorld
Join Date: Feb 2002
Location: SEA
Programs: RAA RIP; AA ExEXP
Posts: 11,666
Alaska in the '70s and '80s
---
I was feeling nostalgic and a little sorry for myself the other day, so I started posting some pictures from Alaska taken between 1970 and around 1982 - on another travel site. Here's the link if interested -
https://www.fodors.com/community/uni...y-80s-1704329/
These include pictures taken around the state, mostly in connection with my work, although there are a number of images taken on outings or recreational trips as well.
I think I've probably posted a couple of these pictures here on FT; if so, sorry for the duplication, but it became an interesting exercise. A couple of samples for those uninterested in clicking...
Bethel Heights, a housing project built for Yupik families in Bethel, with houses based on designs obtained from New Mexico by the federal government. How do you spell disaster? Taken in 1970.
A one-dog musher taken from the train window while passing through Nenana, winter of 1971.
My car parked at Portage Lake, back when Portage Glacier was a thing.
Hot air balloon festival, Anchorage, around 1980
Critter-proofing a friend's garden, Rainbow Valley, around 1979. As I recall the effort was in vain; moose happen.
State Fair rodeo, Palmer, around 1980 or 1981.
Traffic jam, Hope, around 1979
Somewhere along the Richardson Hwy near Glennallen. Frost heaves in evidence.
Clamming at Clam Gulch, with (I think) Iliamna behind.
After panning some concentrate from a friend's placer mine along the El Dorado Creek, a tributary of the Klondike, during a brief visit to Dawson YT. OMG, gold fever.
Saint George village on its eponymous island in the Bering Sea. Most of my work at the time was concentrated in the Aleutian-Pribilof region.
World War II era huts on the hillside above Unalaska village. All the Aleut Natives along the chain were forcibly relocated to internment camps in SE Alaska during the war (similar to Japanese-Americans on the west coast) and many retuned to find their homes ransacked or razed.
A fishing vessel anchored in Summer Bay, Unalaska Island
The Grumman Goose that I commuted on to King Cove, around 1978. This plane crashed a few years later, killing the driver (who I knew) and a passenger from Nikolski as I recall.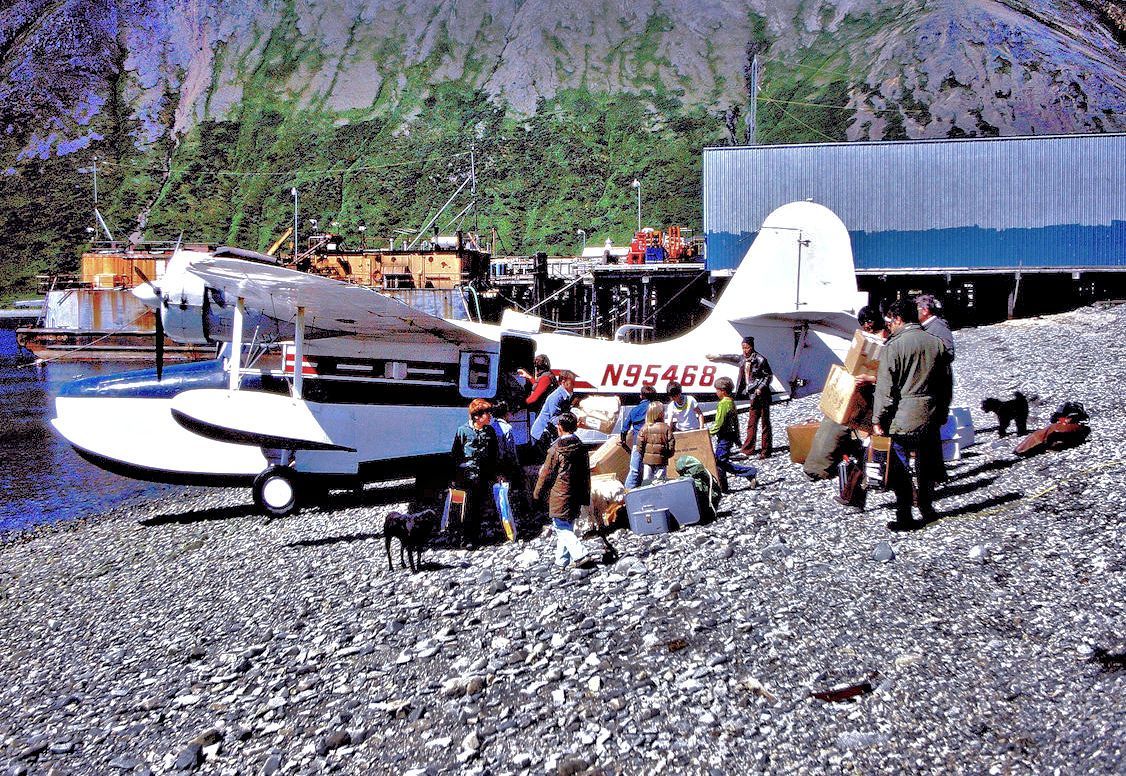 Sorry for the self-indulgence, but maybe of interest.
Jan 23, 22, 2:01 am
Join Date: May 2002
Location: Sacramento, CA, US
Posts: 2,223
Nice photos.

One thing I remember from my first Alaska visit in 1986 was how expensive groceries were, especially items like bread and milk. Canned goods brought in by barge were more reasonable. Items produced locally seemed very expensive. That seems to have changed now.