Photo Trip Report: Madagascar!
May 22, 08, 12:37 am
Join Date: Jun 2001
Location: Lake Oswego, Oregon
Programs: AS MVP, Hilton Gold, Hyatt Platinum, Marriott Gold, Air Madagascar Namako, Crystal Society Diamond
Posts: 714
Photo Trip Report: Madagascar!
---
Trip Report from the beginning:
This 21 day trip has been planned for well over a year. During the year of planning for this trip I found out I had cancer. I had surgery, chemo and radiation. Finally right before the trip test results show I am now cancer-free. This trip was turned into a celebration of sorts. Thinking about this travel has got me through many rough days of medical treatment.
We used our Amex MR points to get our business class seats on Air France from SEA to TNR then open jaw JNB to SEA. I called 330 days in advance. It all went well except that AF told me that this routing was only available at double the points. So we cashed in our points from AMEX to Flying Blue as I was quoted by the agent on the phone per ticket. The good news was we got our award for only 120k miles per ticket. The bad news is I cashed in 120 k EXTRA Flying Blue Miles from Amex based upon the Flying Blue agent's first mileage price quote. So now we have 120 k sitting in Flying Blue and one ticked off husband but I digress.
We also bought separate one way economy tickets from TNR to JNB on SAA. We purchased from Expedia. The flight was a code share SAA and Air Madagascar. We were not sure which airline metal would be flying the route. We will get UA miles for that part of the trip. This was the trip of a lifetime to Africa. We are 50 somethings who had never been to Africa. We have old college friends who have lived in Madagascar for over 25 years. It was time to pay a visit.
Day 1
Arrival in Paris
We flew the non-stop SEA to CDG flight. It was comfortable in seats 2 A and B. The inflight service was friendly and excellent. We spent the night at the CDG Airport Sheraton. It was worth every penny. Wisely we booked a club level room. The food in the lounge was high quality and plentiful enough for all our transit needs. For dinner there was gravlox, salad and other meaty offerings that covered us for dinner. Breakfast in the lounge was hot and plentiful. There was an attendant keeping everything refilled and fresh. We were very pleased with our decision considering the price of food in Euros vs. the Dollar. It was an excellent value. The hotel was clean large and very quiet.
Day 2
Arrival in Madagascar
Air France #908 is a direct non-stop flight from CDG that arrives in Antananarivo at about 10pm at night. It is in my opinion the best option coming from Europe. Air Madagascar's flight arrives in the wee hours. You can save time by buying your Visa prior to arrival in your home country. If you buy one on arrival at the airport then bring cash in dollars or euros and prepare to wait in a long line. Cost is $80 US dollars.
We can't really recommend any place to stay in Tana because we had the good fortune to stay with friends. She lives in the Ivandary neighborhood which is safe and pleasant. There are a couple of good choices for hotels people mentioned. One is Sakamanga which means Blue Cat. The other is the new wing of the Hotel Colbert. The Hilton is now the Carlton Hotel. It is not part of the Carlton national chain. Fellow tourist from England thought it was fine. We were so happy to arrive and see friendly familiar faces. The porters at the airport are pushy and ask for way too much tip. Bargin with them for sure or better yet don't let them grab your cart.
Day 3
Antananarivo "Tana"
Today we took care of business. We changed our US dollars into Ariary. This is easier said than done. The banks in Madagascar are not happy taking $100 US bills. They prefer Euro. I don't think they would have even accepted them at the bank without our friend's personal assistant vouching for our money being good. My advice is bring Euros and lots of them. The next hurdle is how much money you get. Today 1 US dollar (USD) = 1,500 Ariary (AR) That means every hundred dollar bill makes you a millionaire. Woohoo. Oh I forgot the largest denomination in the country is 10,000 Ariary about $7.50 USD. Umm but try and put all that cash in your money belt. Not easy. Did I mention they don't take credit cards most anywhere in the nation? Oh well they don't. Not even at the travel agency. Not even at the hotels except for one in the extreme south of the Nation.
After lunch with our friend our first purchase is an unlocked cell phone for our use during the trip. We got our money's worth for $30 plus SIM cards at $7.50 a piece . We could now call home or anywhere in the country for around 2cents a minute depending on the time of day. It was a wonderful way to stay in touch along the way. We will continue to use this phone in all our other travels.
Next we went to Cortez travel agency to purchase our domestic air tickets. They actually have an office in the USA. Then we went to the other travel agency named Boogie Pilgrim. It is a strange name but a great agency. We met with our driver. We used most of our new millions to pay for our rented car a Nissan 4WD Landcruiser "Patrol" with Expedition tires. Our new best friend is Willy, the driver. Willy is friendly sincere and a wonderful driver, mechanic and soon to be a trusted friend. Willy although fully Malagasy born and raised looks by all appearance "Vazah" (foreign or white). No mind he makes a wonderful first impression and we excitedly make plans to meet the next day for the first day of our trip.
Day 4
Andisibe
After pickup in Tana we head out to Andisibe for our first 2 day trip within the trip to see the lemurs! We stopped enroute to see the sisal plant one of Madagascar's main crops. It is use to make woven goods and raffia. It looks to be the same plant as they make Tequila out of in Mexico.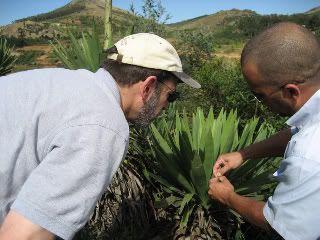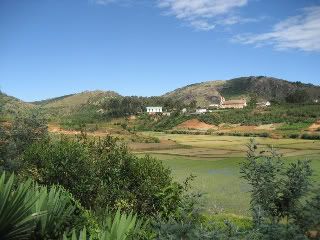 Further along the road west we see rice fields and farms. We stop for lunch in Moramanga at a little hotely the cafes that exist in every little town in Madagascar. Enroute we stop at place called Madagascar Exotic. It is a kind of "zoo" where they have a wonderful variety of reptiles such as chameleons and frogs.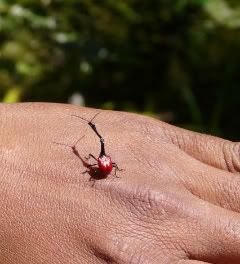 I intentionally avoided any contact with snakes. Finally we arrive at our destination our lodging at Vakona Lodge.
http://www.hotel-vakona.com/home.htm
There we meet our friends who are doing a little work in the area. We all go for a hike into the jungle looking for lemurs. It is the wrong time of day for them but there are fascinating insects like the giraffes beetle, colourful frogs and exotic birds. This little resort in the rainforest is proud that Koffie Anan and other dignitaries have stayed there. Although very nice it is hardly plush. It is clean, has a swimming pool and the rooms are comfortable. There are mosquito nets over each bed. That night I wake up with claustrophobic start. It is only the mosquito netting. I calmed quickly and fell back to sleep. The sounds of the jungle animals and insects are just outside our window. You can hear the eerie cry of the endangered Indri Lemur. This lemurs voice is said to carry for 2 kms.
Day 5
Hiking into the Analazamatra National Reserve. Today we hire a guide at the visitors center and off we go. It is very cleaver of the ANGAP, National Park Service of Madagascar to require visitors to have a guide in the parks. First it employs the locals. Second it gives the visitor a better understand the ecosystem, learn the plants and animals and most importantly optimises seeing the wildlife. The many of the guides speak multiple different languages. Most are very knowledgeable and hike the steep rainforest hills in flip-flops??? I was very happy we had dry weather so leeches were not an issue. During the rains there are small leeches that come out and can attach themselves. The large leeches are only in lakes and streams. Dinner at the Vakona is simple and was a menu that would be repeated most places we visited. The menu includes meat, rice, potatoes and very cooked veggies. Cold salads were available but my stomach couldn't handle it. This evening we all enjoyed a large bottle of South African wine.
Day 6
Hiking into the Mantadia National Park and another night at Vakona Lodge. This evening we decide to go on a canoe around the hotels "Lemur Island".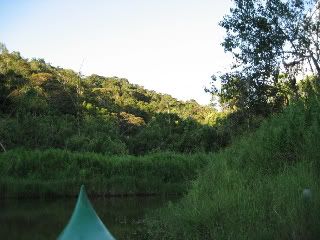 It is an island on which the hotel has released former pet lemurs of all types as a kind of preserve for tame lemur.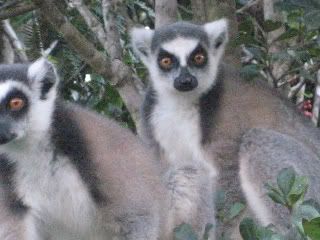 There is an option to walk the island and be jumped upon by the lemur or canoe around the idyllic island.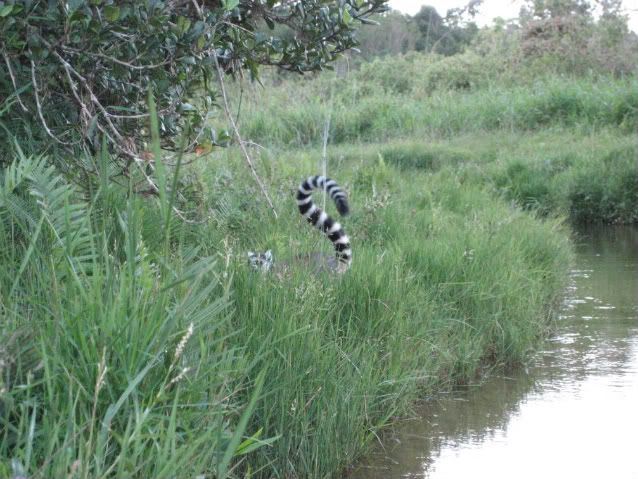 It was sunset and the lemurs were out in full force as we were paddled around by our guide looking at all varieties of lemur and the sun set. It was blissful and we got great photos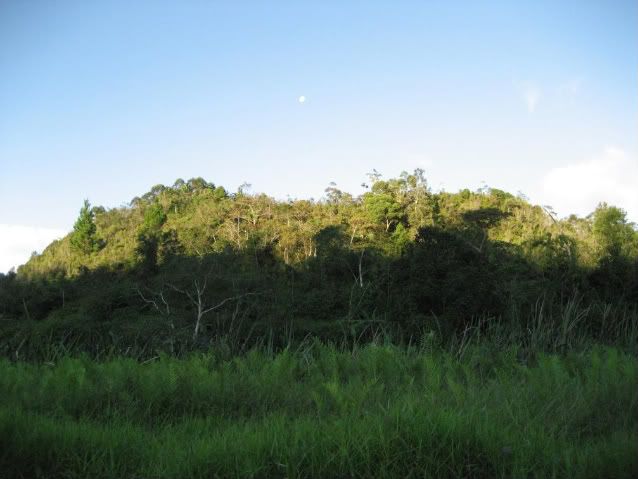 Day 7 Andasibe – Tana (3 hours by road). Today our driver Willy takes us "home" to Tana. We have now had a test run for our longer road trip south. We arrive in the evening and wash our clothes in our friend's washer and dryer. Such a luxury to do laundry during a long trip in a 3rd world country. We slept well.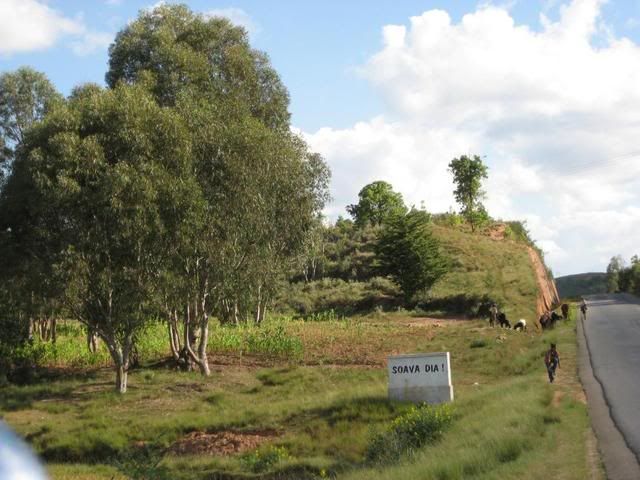 to be continued
---
Last edited by ijkh; May 27, 08 at

11:10 pm

Reason: more photos!
May 22, 08, 1:30 am
Join Date: Jan 2006
Posts: 399
wow, very nice report... look foward to reading more
May 23, 08, 1:01 am
Join Date: Sep 2006
Location: FAT, LHR
Posts: 6,509
africa is a place i havent been yet either. really want to go, need lots more research
thanks for the report and pics. any more pics?
May 23, 08, 4:17 am
Join Date: Mar 2008
Location: Scotland
Programs: PC Spire Amb, HH Diamond, A3 Gold, Cathay Gold
Posts: 187
nice pics - that frog was so tiny and lemurs were cute. looking forward to hearing the rest.
May 23, 08, 5:22 am
Community Director
Join Date: Oct 2000
Location: Anywhere warm
Posts: 27,972
I'm delighted you had happy news to celebrate - and happy that you are sharing a report on Madagascar, a place I've thought about visiting. It's sad to read that it's tough to exchange dollars these days. How our currency has fallen.
May 23, 08, 7:23 am
FlyerTalk Evangelist
Join Date: Apr 2003
Location: 10 minutes from the largest mall in the usa
Programs: AA gold/SPG something or another
Posts: 15,589
The issue seemed to be $100 bills than anything else.
I've had that problem in Macau, where the North Koreans used to launder money so the casinos (among other places) are concerned about anything fraudlent. Plus, I'm sure the banks there sell more Euros than dollars due to their relationship with France and Europe vs. America.
Either way.. Nice report. This may seem like a stupid question but I've heard the people of Madagascar look fairly different when compared to the mainland of Africa, is that true? I'm not trying to be stereotypical or racist but its something I find fascinating.
May 23, 08, 7:33 am
Join Date: Mar 2005
Location: ORD MDW
Programs: AA, UA, DL , PC Gold, SPG Gold, Avis PC - 2009 FT Fantasy Football Champion
Posts: 6,441
Nice report, love the insects!
May 23, 08, 8:56 am
Senior Moderator, Moderator: United MileagePlus & FlyerTalk Cares
Join Date: Jun 1999
Location: SFO
Programs: UA 1.7 MM/Plat; AS MVP 75K; AA gold; Fairmont & Starwood platinum; Hyatt diamond; Kimpton IC Elite
Posts: 17,213
What a wonderful report and a great celebration.
May 23, 08, 6:38 pm
Join Date: Jun 2001
Location: Lake Oswego, Oregon
Programs: AS MVP, Hilton Gold, Hyatt Platinum, Marriott Gold, Air Madagascar Namako, Crystal Society Diamond
Posts: 714
Report continues from Antanarivo to Antsirabe
---
Day 8
Now after resting at our friend's home in Tana we are ready to explore again. This time we head to National Parks and region to South of Tana We will go all the way to Tulear on the Southwest coast. We each packed a rolling 24in duffle and our day packs into the big 4x4. We cash plenty of Ariary and bring them. Our driver Willy arrives perfectly on time with a big smile. The Nissan SUV is clean and ready for our 3 hour drive to the old colonial town of Ansirabe.
The route again takes us through farms and rice paddies.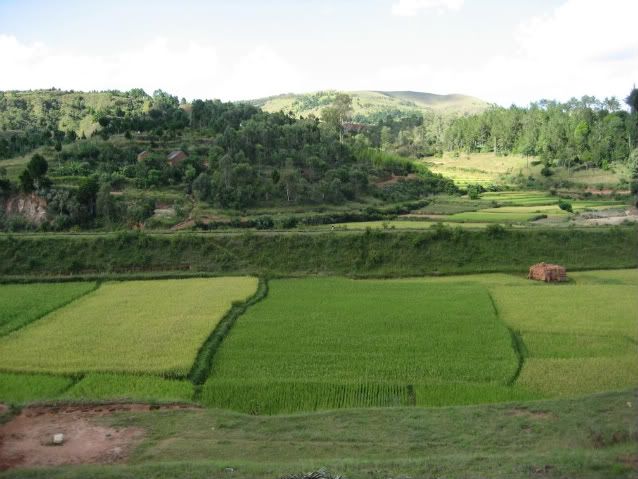 There are plenty of very healthy looking ZEBU, the humpback cattle that are the source of national pride and wealth.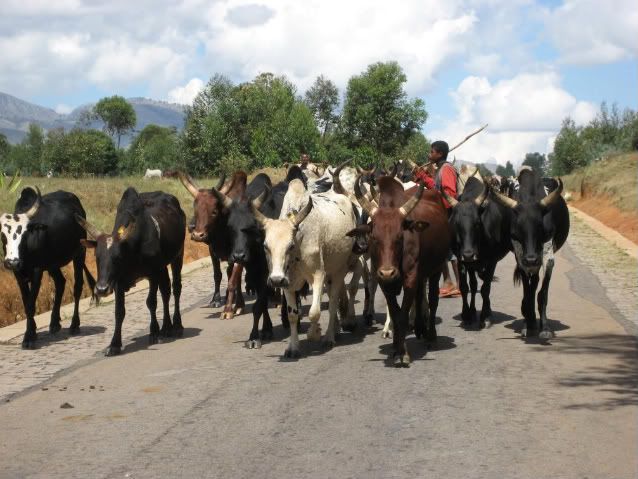 If you strike a zebu with your car you are expected to pay for it. Willy says they are like someone's bank account. They also wander all over the roads. This road pictured here is the country's main National Highway. It is the largest road in the nation. It is two lane and paved...mostly. There are very large potholes though.
The Zebu owners usually control them with a stick and voice. They can be seen hauling a cart here: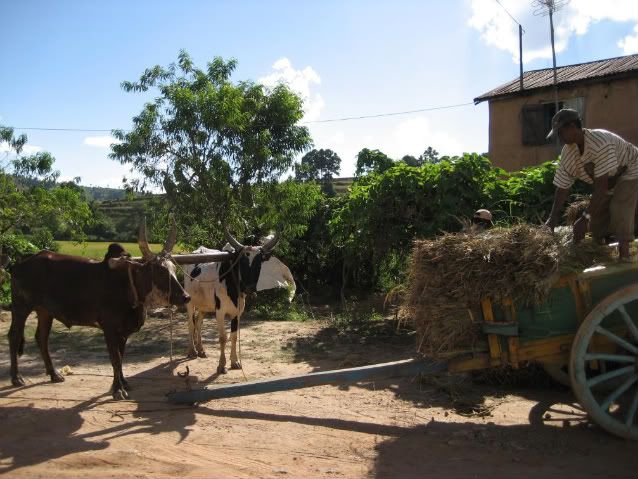 This is known as a Madagascar 4x4. Zebu is also found on most of the menus in the nation. It is very delicious grass fed organic beef. Another nice thing about Madagscar is that everything is organic.
There are some very large and heavy trucks as well on the roads. Not many gas stations except in largest cities. If a truck breaks down it is basically repair en site. We saw one semi getting an engine block replaced in the middle of the road! Freight trucks were also seeb carrying large amounts of "unofficial" weight like bags of concrete and stuff like people.
The locals normally take private minibuses called Taxi-Brousse. The fit about 14 people max and usually carry about 25. Sorry I don't have a photo. There was one I saw with like a hundred ?dead or dying chickens strapped all along the edge of the roof. Willy tells us you get a "hot" seat or "cold". Sitting on someone's lap is called a cold seat.
Along the route are little places called hotelys.
They are Madagascar's fast food. I am happy to report there are no burger joints anywhere in the country. Not one
There is no litter. People are too poor for litter. This is the 9th poorest country in the world. Everything is used and reused. Here is an example of a honey stand.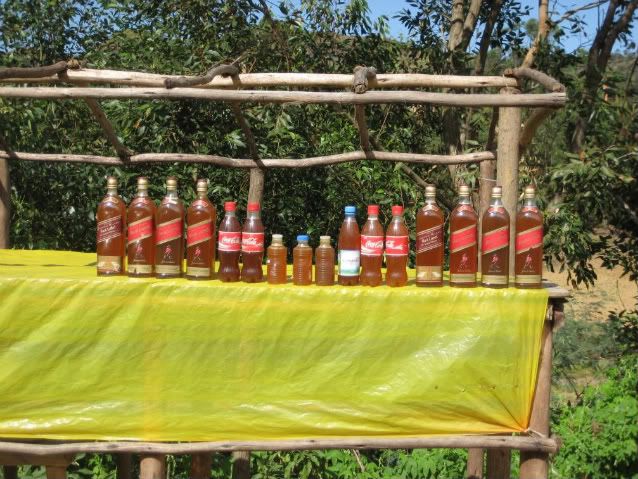 Nice recycling effort eh?
We stop for a visit to a gem and rock store. We didn't buy much and I am glad.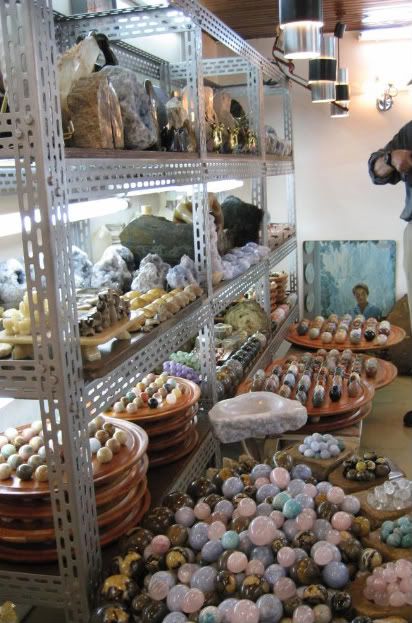 With our weight restrictions on baggage unknown ahead, it just didn't make too much sense. Still we ended up with rocks...which I dutifully carried all the way home
I suppose if we were really gem knowledgeable people you could have bought one of the sapphires or other precious stones for sale.
We arrive at our first night's lodging the Camelia a small bed and breakfast. As we get out of the car we are mobbed by "pus-pus" drivers. They are actually rickshaw drivers. The rickshaws are left over in this railroad town from the Chinese who arrived years before. There are also many Chinese signs and Chinese looking people. The railroads were built by the French colonialists and were not kept up. The railroads with one exception no longer run. The one couple we met who tried to take the rail trip from Finarantosa to Manakara had only dismal things to say about it. It stops, breaks down and is all around something to avoid except for the most die hard of rail fans. Again I digress
Back to the Camelia B&B we are dead tired. It is kind of an old tired French place. The Camelia is about $40 USD per night. The bathroom is ok the bed is just adequate. We used our DreamSaks here. Don't forget to bring one on a trip like this. The silk sleep sacks made every night really comfortable. True the Camelia was preparing for a large wedding in their garden the next day. We kind got of a weird vibe in this town. We just didn't speak good enough French and were hence non-people here. This was the ONLY time on the trip we felt this vibe. We decide against eating dinner tonight having had a filling lunch on the road. Willy is spot on with his recomended stops to eat. So far we are not sick at all...yet. Do not come to rural Africa and not expect some sort of tummy trouble. It comes with the territory. Expect it and "be prepared".
Day 9
The next day we have breakfast part of the B&B and meet Willy who takes us to Lac Triviata. It is a beautiful crystal clear volcanic? lake above Antsirabe. Local mythology has it that two lovers died here ala Romeo and Juliet. There used to be two entwined trees here. The are no longer and we are not sure what happened to them. The lake:
Oh one more thing! Doesn't this place remind some of you of Bali with the rice fields? It sure does to me and I have been to Bali 5 times. So do the beautiful people with the Bali style heart shapped mouth! They look absolutely Indonesian for good reason. The Island was originally populated by Indonesian travelers long long ago. As we traveled further and further south we saw the people and climate turn more and more into African from Asian. Even the Malagasy language has the cadance of Indonesian but none of the same words.
To be continued
---
Last edited by ijkh; May 23, 08 at

6:48 pm

Reason: addition
May 24, 08, 1:34 pm
Join Date: Jun 2001
Location: Lake Oswego, Oregon
Programs: AS MVP, Hilton Gold, Hyatt Platinum, Marriott Gold, Air Madagascar Namako, Crystal Society Diamond
Posts: 714
Ranomafana National Park and Fianarantsoa
---
Day 10: Heading South from Amboistra to Ranomafana National Park
Today is another 4 hours by road. We pack up the Nissan and head out after breakfast. Today is a Sunday and most things in Amboistra are closed. This is a town that is very Catholic based. There is an old cloistered monestary that is said to look like 15th Century France. Obviously we can't stop in so off we go.
The road to Ranomafana turns off the national highway with a big sign announcing the park.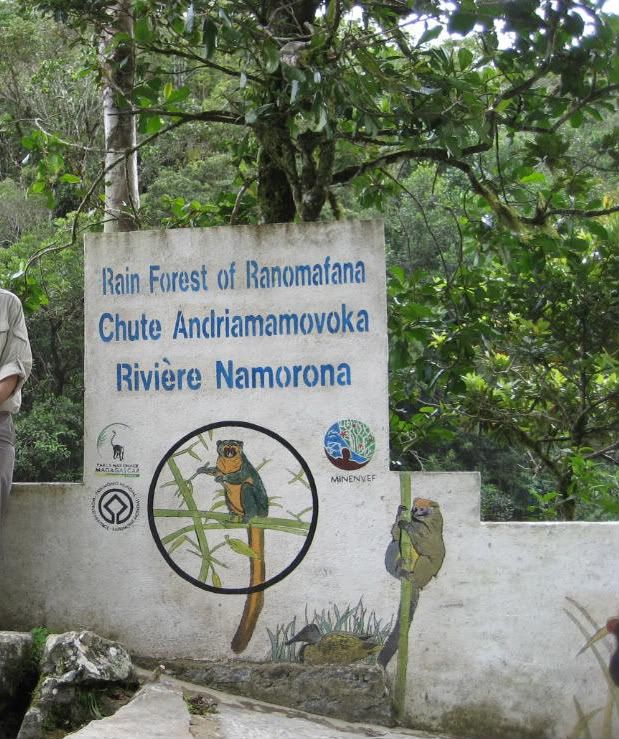 Soon we see the rushing river that runs through the park.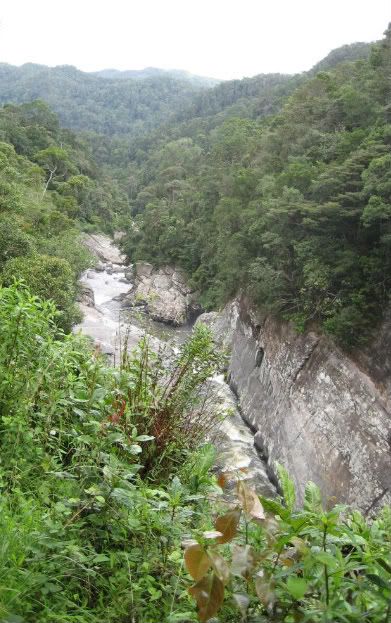 We check into to our lodging and are pleased to find the SETAM Lodge
http://www.setam-madagascar.com/lodge/lodge2.htm
clean newish and bright. The cabins are spacious with good showers and bathrooms. There are no mosquito nets but it is obvious they spray. No bugs were evident during our stay. We have a nice lunch at the Lodge's restaurant. Then we go back less than a half mile to the park head quarters to meet with our guide.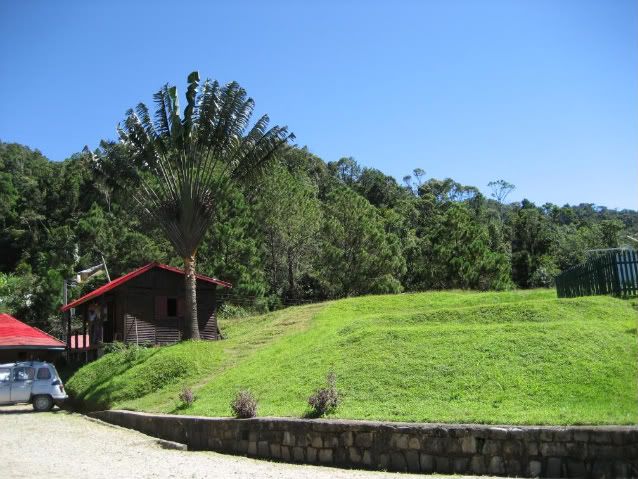 Willy has arranged a visit to the park with one of the most senior guides who speaks perfect English. He is a walking text book of fascinating detail about the flora, fauna and ecology of the place. He asks us to join another couple from Belgum for a night walk in the park in the early evening. We have been warned not to expect much from night walks other than glowing eyes in the trees by our friend who lives in Madagascar. Since we are eager to get started looking at lemurs we agree.
Willy drives us to the park/guide headquarters where we begin the night walk. We have our headlamps and flashlights with us. I hiked in tough running shoes and my husband in his low cut Ecco walking shoes. There are lots of other groups in the park with their guides. We are clearly now on the "tourist trail" if can be said to exist. One group of travelers from England is made up of all senior citizens who are tough as nails hiking up the forest trails. Some of them are mighty hot and red looking but they are out there doing it. They are part of a group called SAGA and our paths crossed many times on trip. They said it stood for "Sex And Games for the Aged".
Along the route before dark we see the endangered Golden Bamboo Lemur. We see in total 6 species of lemur, chameleon, frogs and beautiful birds. The light is tricky and my photos are not so great here. My husband's photos are better. Those will be included later in this report.
The night walk continues up very nicely maintained trails. As opposed to the roads in Madagascar the ANGAP (Madagascar Forest and Park Service) and other NGOs keep the trails very nicely maintained. There are beautiful steps on much of the up hill main trails. The night walk mostly stays on the main route. At the top of the climb I am hot and sweaty. Fortunately at the end of April there are not too many bugs. I do get some mosquito bites even wearing bug stuff. That is why you take anti-malarial drugs right? The reward of the night hike are the nocturnal animals. We were rewarded with the Mouse Lemur and the Fox like Civet creature. There were so many people at the top of the trail it was kind of nuts. It was a good experience…once.
We returned to Setam for dinner shower and fast to sleep. The price of the Setam for us was 100,000 ariary per night. Meals were reasonable. The usual fare was offered of meat chicken or zebu, rice or potatoes, sautéed veggies and salad we didn't dare eat. Even with all are precautions hand sanitizer, bottled water even for tooth brushing and careful food choices there would be trouble ahead. It did not get in our way of enjoying the trip fortunately.
Day 11 Ranomfana to Fianarantsoa The next morning we pack up and prepare to leave but first we are going on a 4 hour hiking trip with our guide through the park. The kind people at SETAM allow us to keep the room until 11 am so we can shower after our hike and have lunch before moving on. This was essential.
The hiking through Ranomafana was beautiful. You begin with a hike down to the river then proceed up the drainage and down and up into a beautiful lush forest. The guide has his "assistant scouts" who let him know where the lemurs are hiding. This young men hike ahead of us and let our guide know by whistles and other means where in this huge park to lead us. We get close to the lemurs and begin going off trail overland to find the lemur. I am thinking "how does he know where we are?" but he does. We spend some close personal time just watching the lemurs eat. The lemurs have no preditors. They don't even compete among themselves for food since every different type eats a different food source or have a different day/night cycle. They are only found on the island of Madagascar. They are adorable and pretty friendly coming down from their trees. The guide points to a variety of plants locals have used for centuries to cure everything that ails a person. He remarks that some plants are now being used in clinical trials for cancer in France. They had been used in Madagascar for ages for that purpose. Seeing the scarcity of modern western medicine here makes one realize that these people had to use something for their health care. The life expectancy in the country is less than 60 yrs of age and there is high infant mortality rate as well.
After the hike a shower is very welcome. After a leisurely lunch we head off back down the road to our next stop Fianarantsoa. This is known as the town of higher learning. There are many schools in this town. It is also known as a little Antananarivo. That is because the old town is built on a very high hill. Originally there was a walled city with the king's palace at the top of the hill. The palace is gone but many of the early buildings still exist and many of them still house people. Unfortunately the tile roofs on the buildings are collapsing. A friend our Tana wants us to meet a American woman who has single handedly saved the old town. She and her NGO are doing amazing work in Finar. They are building composting toilets for the dwellers in the old town so sewage no longer runs down the hill.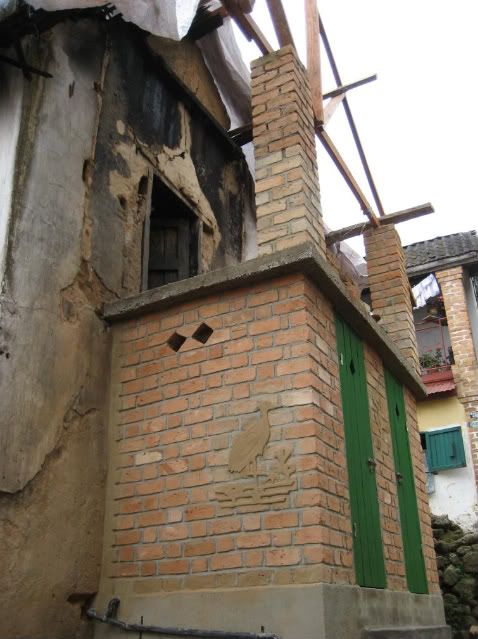 She is also saving these beautiful old homes by raising money and rebuilding the tile roofs.
Their work is impressive and efficient. There is no waste and total town buy in. This town is a far better place to live thanks to Karen. Anyone visiting Finar can see the benefits of a little TLC. This town was selected by a one of the 10 world heritage sites worth saving. We agreed. We eagerly donate to the cause.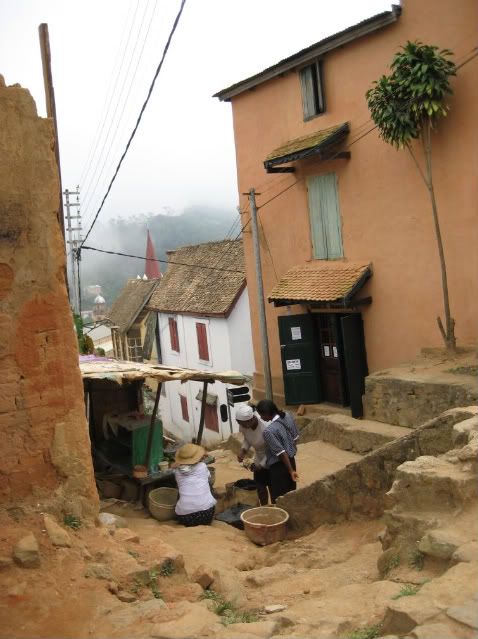 If you are interested in helping to save the old town of Finar please send me a PM and I will connect you to this worthwhile cause. Don't miss the view from the top of the old town: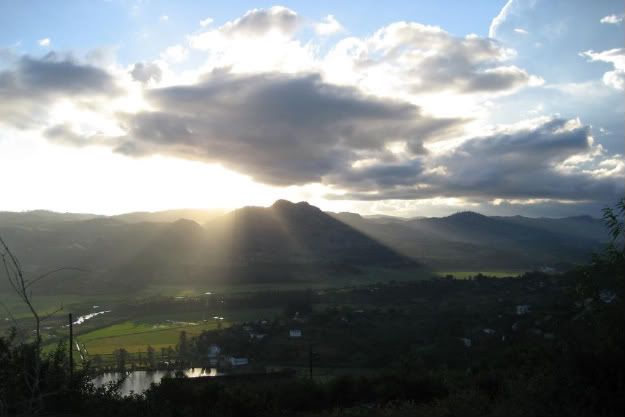 Tonight our lodging is at the Tsara Guest House a darling restored old mansion. It is done with style and panache. The hotel was recognized by Conde Nast Traveller magazine as one of their top value recommendations.
http://www.concierge.com/cntraveler/...rticleId=10833
We agree. The room is as nice as any in the US. The view from the hotel courtyard looks out at the old city and surrounding hills.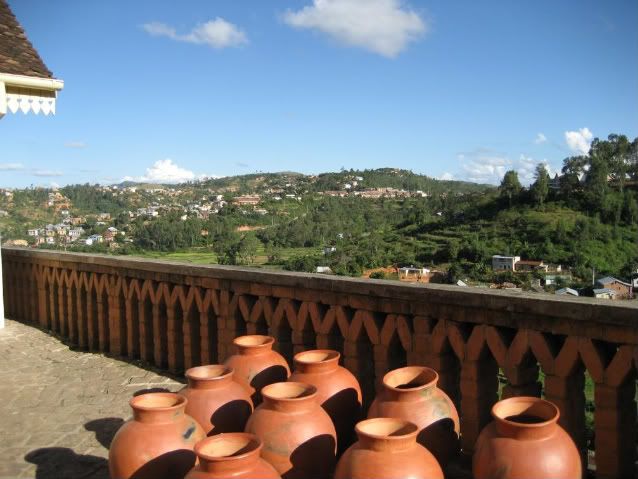 The hotel restaurant is also lovely and elegant. There are pretty French doors on all the room that look out to a courtyard. We are delighted with Finar. The price of the room was 40 Euros/room and NO they don't really take VISA card. "The machine is broken".
We took the opportunity to see the home of our new American friend in Finar. She, her husband, and two school aged girls live in an old converted winery. Their home is gorgeous complete with granite kitchen countertops from local Madagascar granite. The renovation is tasteful yet simple just like all of the town. Unfortunately they will be leaving to return to the US and will no doubt miss their home in Fianarantsoa. In the morning from our bathroom I hear amazing sweet voices singing in Malagash. The harmony is beautiful. I later found out that Fianarantsoa is famous for acappela singing. It was magical.
Before leaving we make an important stop at the photography studio of Pierrot Men the lengendary photographer of Madagscar. We buy two of his classic photos. My husband is disappointed we didn't purchase more. Here are some samples of his work:
http://www.dakotaridgegallery.com/pierrotmen/index.htm
Now we must press ever southward next stop Camp Catta in the Andringtra National Park
to be continued
---
Last edited by ijkh; May 24, 08 at

1:55 pm

Reason: more photos!
May 27, 08, 8:02 pm
Join Date: Jun 2001
Location: Lake Oswego, Oregon
Programs: AS MVP, Hilton Gold, Hyatt Platinum, Marriott Gold, Air Madagascar Namako, Crystal Society Diamond
Posts: 714
Headed South on Route Nationale 7 in Madagascar
---
Today we leave Fianarantsoa and head south to visit the Papier Antamoria in the town of Ambaloavoa. This town makes the most beautiful hand made paper with pressed wild flower mixed into it. We had been given a sample by our friend in Tana as a gift. We planned on picking out some for gifts at home. We arrived at lunch time and the papermakers were at lunch. Fortunately there was a restaurant right at the factory. We sat outside and had a nice little lunch under the umbrellas. We bought our gifts prior to the store closing for siesta time. Things tend to close after lunch in Madagascar. You need to plan for that.
After a restful lunch we headed south in the Nissan south of town by about 40 minutes to the Anja Private Reserve Park.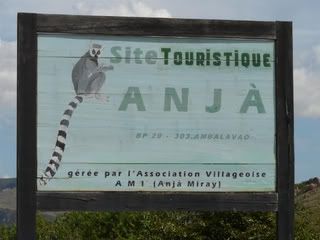 ]
We picked up a guide while at lunch and he came with us. This is the home of many ring tailed lemur.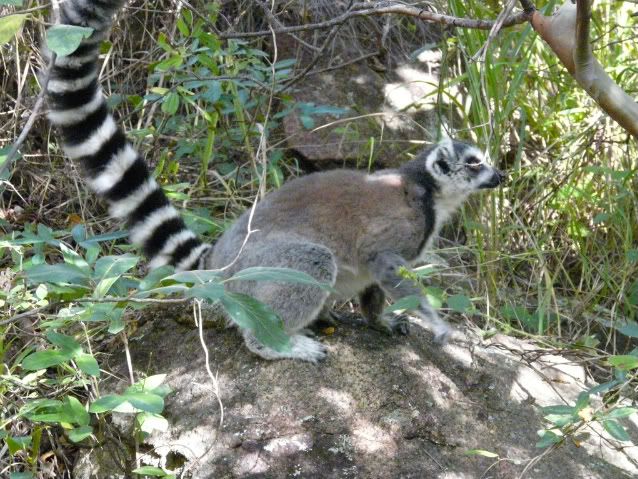 There are also interesting rock out cropping of massive granite that form caves. Some are used by the local tribes as tombs. Malagasy people have very elaborate ritual regarding death. Read about this in Hilary Brandt's Guide to Madagascar which is required reading prior to any trip there.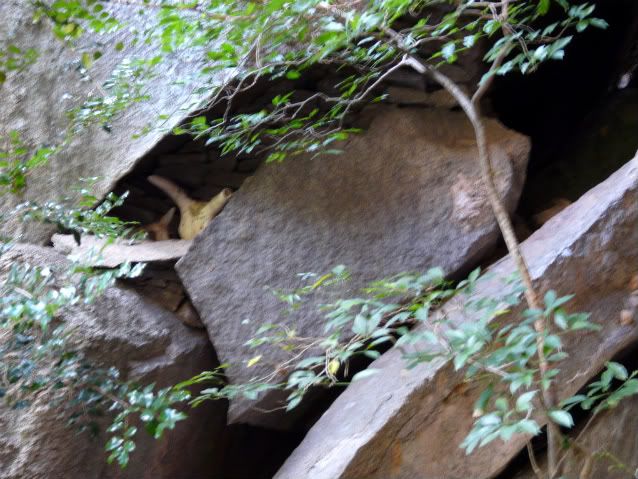 This is the outcropping that smashed the LED on my camera. It still worked but the display feature is gone until I send it in for repair. You can see the zebu horns in the rocks. That is possibly someone burial tomb. It reminded me of Mesa Verde National Park only with adorable lemurs.
Then it was another few hours down the road until we leave the road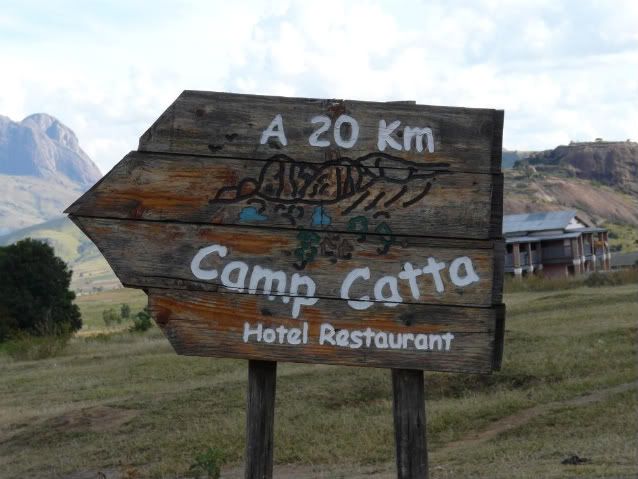 and travel over some of the roughest roads...if you can call them that. At times it feels like we are driving in a stream bed. Eventually the dirt track smoothes out. We meet a few of the locals on the road. They are friendly.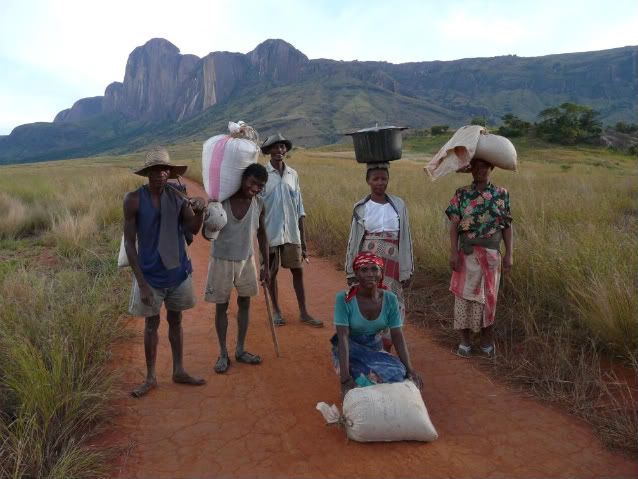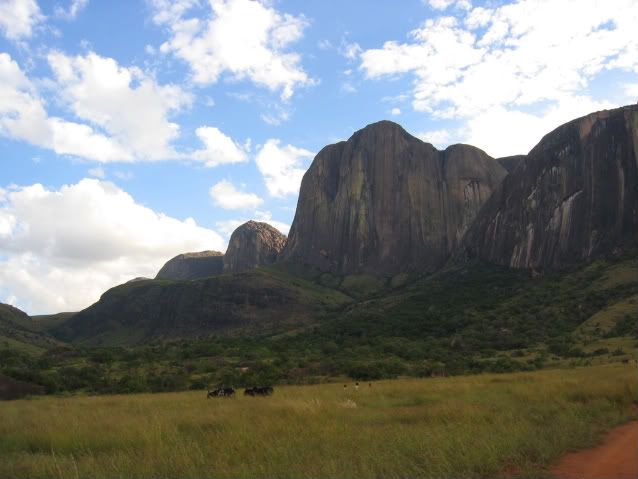 Just look at this place! It looks like Yosemite. In fact this is a famous location for both technical (rock) climbing and parasailing. It is really in the middle of nowhere. All electricity is by generator. The newly built cabins border on luxurious but rustic with nice modern bathrooms and loft bedrooms. The view is sublime. Run to Camp Catta. It is too beautiful for words.
This is the view of Pic Boby the highest point in Madagascar. (um we think anyway)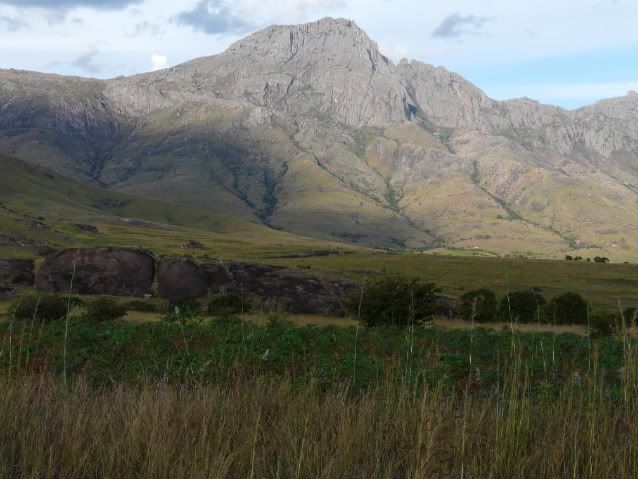 We went into the village one day to meet the local midwife/nurse and health workers. Since I am a pediatric nurse practitioner we took a little time to talk shop. They could not have been more gracious. We brought stickers for the local kids. Everyone seemed to enjoy them.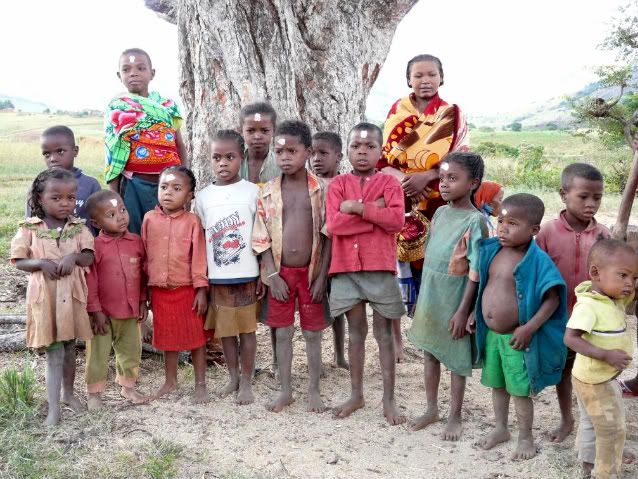 We loved this area and the people. Our wonderful driver Willy served as translator for us. Here is Willy mixing it up with the locals pounding rice: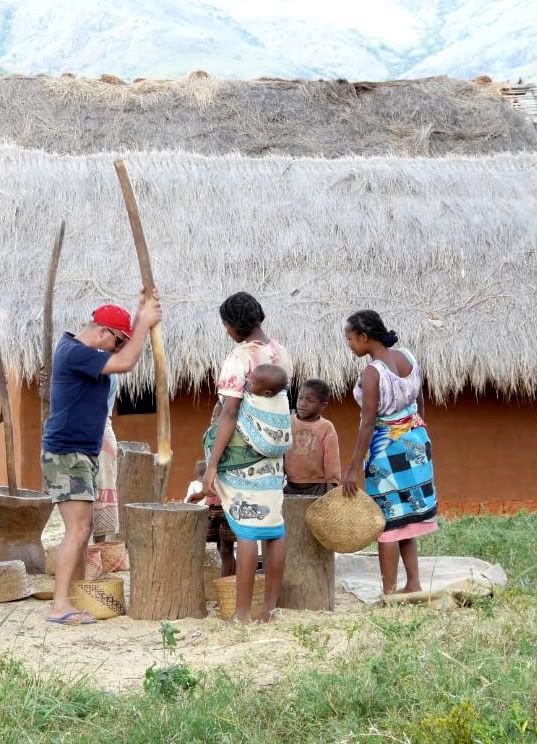 Um Willy the ladies don't look like they trust you to do it right. He is a far better driver than rice pounder.
To be continued next to Isalo National Park
---
Last edited by ijkh; May 27, 08 at

8:04 pm

Reason: opps
May 27, 08, 10:00 pm
Join Date: Dec 2004
Posts: 101
Fun read. Loved your easy going writing style. I'm 43 but looking to go to Africa in the next 3 years. I'm waiting for my 5 year old son to "mature." Safe travels.
May 27, 08, 10:56 pm
Join Date: Jun 2001
Location: Lake Oswego, Oregon
Programs: AS MVP, Hilton Gold, Hyatt Platinum, Marriott Gold, Air Madagascar Namako, Crystal Society Diamond
Posts: 714
Continuing on Southward on RTE 7 Madagascar
---
After three nights at Camp Catta we are truely laid back. The restaurant is open air.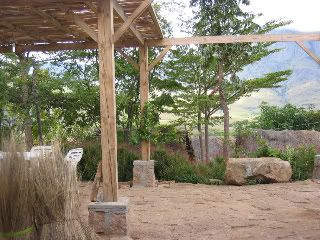 The other guests include British Rock Climbers, a Malagasy family who live in France and another quartet of French. At night the father of the Malagasy French family who is a child psychiatrist sings with two of the local guides old Malagasy folk music.
But now it is time to get back into the Nissan Patrol 4x4 and head for Isalo.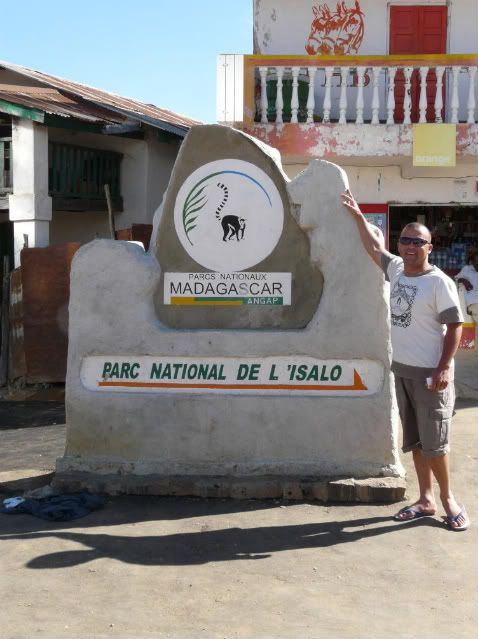 We arrive midday and check into the hotel: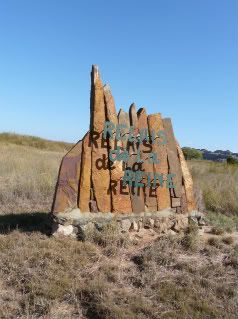 We had heard that the hotel has a more expensive twin the Jardin du Roy. There had been a fire at the Relais de la Reine about 8 months prior. Lucky for us we got to eat and enjoy the facilities at the Jardin du Roy. Tres Chic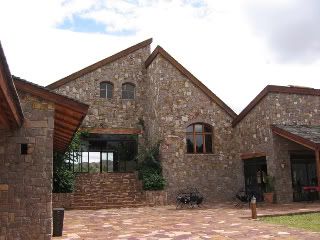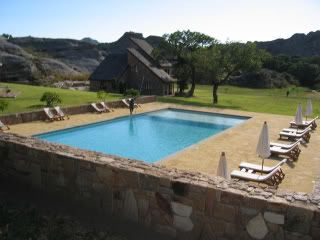 It is gorgeous.
Willy tells us to be ready at 5pm. He has something special to show us. He took us to see the Window to West: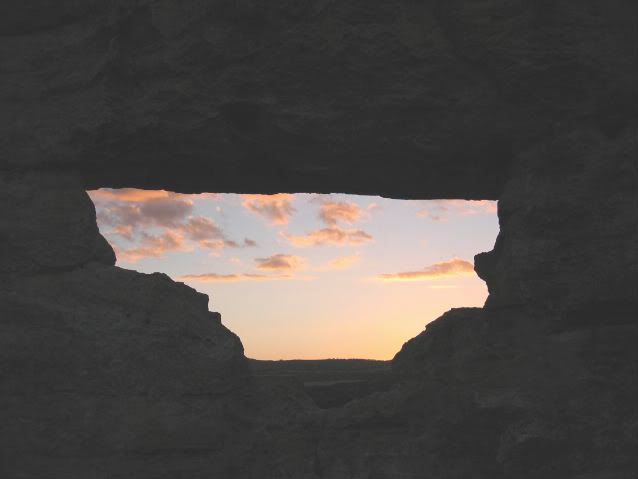 The next evening after a gourmet meal which my stomach barely tolerates we plan for the next day's hiking. Although I am taking the antibiotics (Cipro) for my belly trouble I do not feel fit to hike 6 miles. My husband really wants to go the full distance. So we find a happy compromise. I will begin the hike and go as far as the Piscine Natural which takes less than 2 hours. He will continue on with the guide. Dear Willy agrees to walk me out. That is "against the rules" which say you must be with a guide at all times...but hey this is a well marked trail in a heavily touristed area. Our guide agrees to it.
We do a lovely light little to hike to the natural swimming pool. There are many fat white European tourists in too tight and too tiny bathing suits. Why must they wear those little speedo things?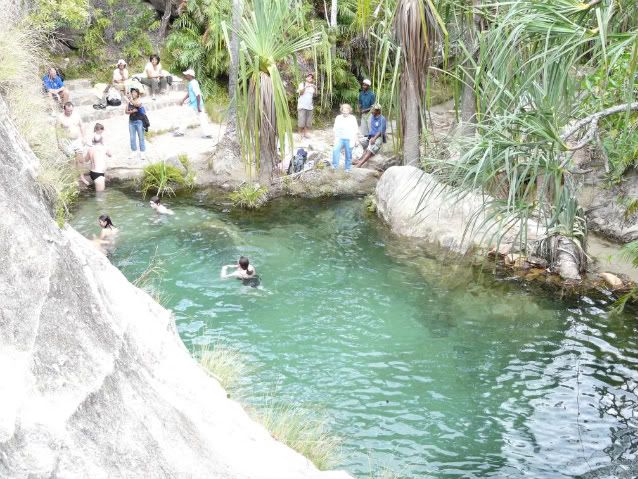 Isalo is pronounced Ishalo and it is a beautiful place that pictures can't do justice.
After two blissful nights at the Relais it is time to head South again this time all the way to the coast at Tulear and Ifaty.
To be continued
---
Last edited by ijkh; May 27, 08 at

11:02 pm
May 28, 08, 11:08 am
In Memoriam
Join Date: Feb 2000
Location: Easton, CT, USA
Programs: ua prem exec, Former hilton diamond
Posts: 31,802
What a wonderful read. Great job.
May 28, 08, 12:26 pm
Join Date: Jul 2004
Location: BOS
Programs: SPG Gold
Posts: 620
A great wite-up of a great trip. I am happy you were able to recover and enjoy this trip you planned out so well.
Posting Rules
You may not post new threads
You may not post replies
You may not post attachments
You may not edit your posts
---
HTML code is Off
---