Oceania the long way and 787 Tour | SEA-SFO-SYD-AKL-NRT-SEA | UA/NZ/NH J
Jul 31, 17, 11:06 am
Join Date: Oct 2012
Programs: DL Diamond, UA Silver, HHonors Diamond, Marriott Ambassador
Posts: 845
Thanks for reading,
nequine.
This is my first time writing something like this -- I definitely consume more TRs than I produce, so it's been a fun experience seeing what people have to say and if they relate in the same way i do to other TRs.
Yes -- gate 16 is a hike! Apparently that wing of the airport is undergoing renovations and will open in 2019 (?). To add insult to injury, Gate 16 is one of the furthest gates, and when you get there, you have to be bussed to a remote stand.
Aug 1, 17, 12:04 pm
Suspended
Join Date: May 2017
Location: In the Swiss amoeba's head
Programs: Lowest level possible
Posts: 2,829


The actual number is 18.
Air Canada, Air China, Air India, Air New Zealand, ANA, Asiana, Austrian, Egyptair, Ethiopian, Eva, LOT, Scandinavian, Shenzhen, Singapore, Swiss, Thai, Turkish, United
Aug 2, 17, 1:55 pm
Join Date: Oct 2012
Programs: DL Diamond, UA Silver, HHonors Diamond, Marriott Ambassador
Posts: 845
Aug 3, 17, 12:59 am
Join Date: Apr 2014
Location: Aberdeen, Scotland
Programs: BA Bronze, Emirates Silver, Virgin Silver, Marriott Titanium
Posts: 1,120
We weren't bussed as it was an A380 we were getting onto. Gates 15 and 16 are the A380 gates at AKL.
ETA according to Wikipedia, its gates 16A & B that are the bus gates.
Aug 4, 17, 7:13 pm
Join Date: Feb 2007
Programs: NZ Koru
Posts: 5,858
Gate 17 and 18 are due to open with airbridges later on this year, although it wont be the end of bus gates.
Gates 15-18 are also known as L/R when used by two 737/320s just to add to the confusion.
Aug 8, 17, 6:32 pm
Join Date: Oct 2012
Programs: DL Diamond, UA Silver, HHonors Diamond, Marriott Ambassador
Posts: 845
NRT – SEA in ANA J on the B787
---
Apologies in the late posting of the last chapter of this report. Work and life are ever the demanding mistresses of late.
NRT - SEA in ANA J on the B787-9
Flight #:
NH 178
Departing:
NRT 6:05pm
Arriving:
SEA 11:25am
Booking Class:
I Class
Equipment:
B787-9
Seat:
10H (moved to 10F)
After leaving the ANA Lounge, I made my way over to gate 58A, where my flight to Seattle would be departing this evening. I was quite surprised I actually had time to visit the lounge at all, given that I only had a 75 minute connection between the inbound flight from AKL and the departure of my flight to SEA.
Gate 58A is
far.
I swear I could have walk almost the rest of the way to Seattle by the time I made it over there. The gate is also not at-level with the rest of the departure concourse, and there is a set of stairs you have to take to get to the boarding area (if you've ever been to AMS or TPE where you get funneled into a holding area, it's similar).
Funnily enough, there was a large supporting pillar directly in front of the gate counter and the boarding area, so the boarding area was very congested. ANA does police their boarding policies: business class and Star Gold, and (seemingly) everyone else. I thought I was running a little late at this point, but when I arrived at the gate, boarding had not commenced. Remember how efficient the Japanese are? Funny how ANA only needs 3 zones (families/preboard, J-class and elite fliers, then everyone else) to board an entire 787 and Delta (other American airlines) need 6 zones to board a regional jet.
Anyways, boarding was announced in typical Japanese fashion. The boarding area (and the terminal in general) was quite warm, and even warmer in the jetway. I was looking forward to getting some relief on the plane... but once I stepped on the 787, there was no temperature difference? Alright.... Still sweating.
I reached my seat in the second J cabin behind doors 2R/L. ANA seems to have outfitted their international 787s in a much lower-density (and high-premium configuration) than most airlines do with their 787s. There seem to be a LOT of J class seats.
ANA's business class seats on the 787 are arranged in a forward-facing, staggered format (a la Delta's 767s, Qantas J product, and numerous other airlines), which means a 1-2-1 configuration where some window seats are close to the window, some close to an aisle. I booked late and ended up with an "aisle-close" window seat (10H).
Initial impressions were favorable.
ANA's finishes are a little bland, but nice nonetheless.
I visited the lavatory pre-door closure to change into shorts, given the cabin temperature was still hot and I was still sweating.
Three cheers for aliens being able to watch you do your business!
Standard lavatory... nothing fancy but there are cleansing wipes, toothbrushes, etc. available in the J lavs.
The IFE screens are massive.
I appreciate ANA's customization here. The "walls" of each seat are much higher than that, say, of Delta's 767 J product, and feels much more private (Delta's cabin feels tremendously open). The rows are also staggered in a way where seats do not line up with each other, adding more privacy.
Did I mention how large the IFE screen is? Delta's cannot compare. Granted, the ANA product is much newer, but their design choices are excellent. I would not hesitate to fly this product again (ANA and DL both fly SEA-NRT) and I'm sure ANA would win my business any day if I had a choice.
Peering out at NRT on a hot evening.
ANA's amenity kit is a cloth zippered bag with products from Neal's Yard Covent Garden (UK-based skincare provider). Here's a stock picture; my amenity kit was pastel purple in color and I gave it to a friend since it did not seem super useful to me.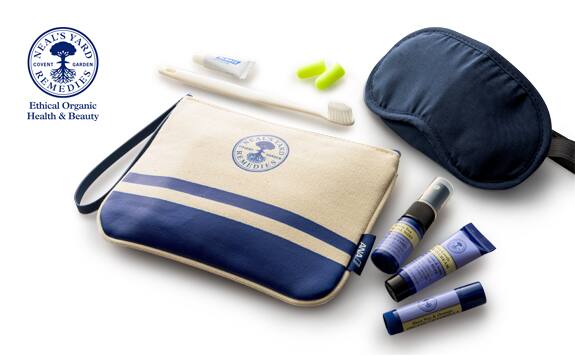 Definitely does not feel like a premium amenity kit, but understandably ANA needs to make a differentiation between their F and J products (where as other airlines like DL and BR don't offer F so J receives all the $$$
).
You also receive slippers, a pillow, a duvet, and a mattress pad. The slippers were appreciated, though the pillow was tiny --and not fluffy all. Almost was so unfluffy to the point where I wondered: "what is the point of this?" and used a rolled-up jacket as a pillow instead.
The mattress pad is actually quite nice -- it has a flexible, honeycomb like interior and makes the seat more comfortable. The duvet is thin and folds into itself for storage (clever Japanese design). It seems very synthetic and plastic-y feeling, though apparently keep you very warm. I didn't think so -- but this was welcome as the cabin was already feverishly warm anyways.
Here are two stock pictures as I forgot to take pictures of these items.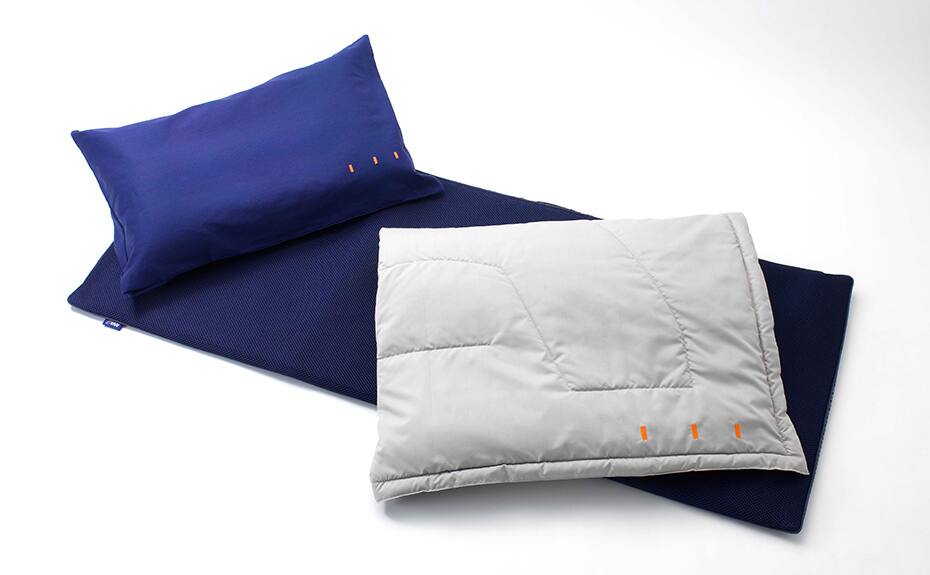 I can only imagine how warm this guy was-- wearing a shirt, a sweater, and with a blanket on in ANA's cabin...? Oof.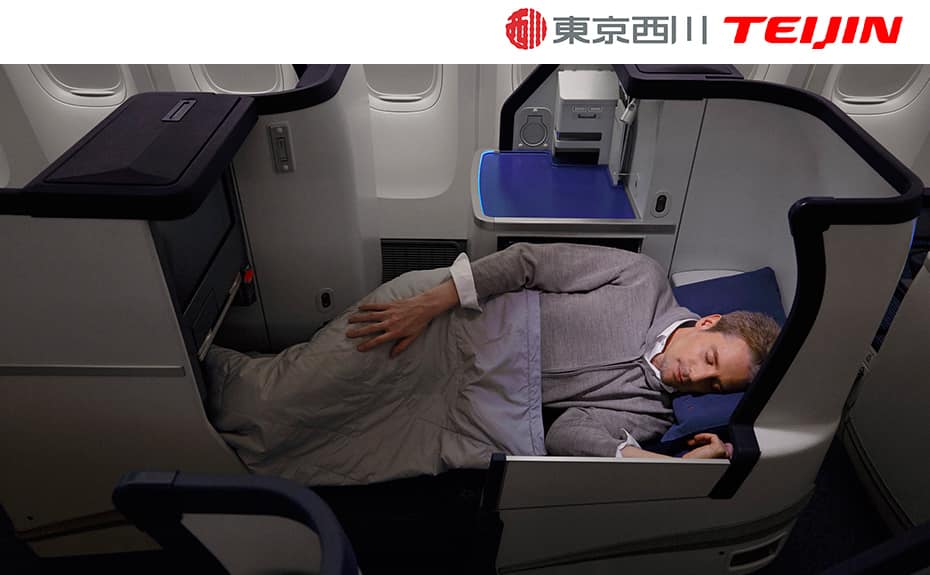 I'll also note the ground staff waved to the departing aircraft as is Japanese custom. I always forget how cute this is.
Menus were distributed shortly after takeoff.
Note the stellar mid-flight options (which unfortunately I did not sample). On hindsight, I really should have sampled the okonomiyaki and the ramen.... You really could make an extended meal out of the snack options alone.
Still
being hot, I requested a sparkling water and a "kabosu" citrus drink from the FA in charge of my section. I also moved over to 10F (in the middle section of the 1-2-1 configuration) to be farther away from the aisle. In true Japanese fashion, this had to be confirmed with the flight leader
Kabosu -- essentially this is a Japanese lemonade made with a special type of lemon grown only in the Oita prefecture and actually quite rare in the rest of Japan. An amazing drink -- a more aromatic and mellow flavor than cousin Yuzu. I love the flavor of Yuzu but it is quite sharp, while Kabosu is a much gentler and full-bodied flavor.
The purser mentioned this drink was popular on "one of those online sites." So I inquired further: "TripAdvisor? Yelp? ... Facebook?"
Her response: "No, one of those specialized sites specifically for airlines."
I actually blanked on what that could be and shrugged my shoulders, and only one my second glass did I think about.... FLYERTALK! So apparently this drink is quite well-discussed in these online forums.
The amuse bouche (or trio or amuse bouches?). This consisted of cheese/paprika flavored breadsticks, chicken and mushroom pate, and a cheese/olive antipasti-type sampler.
All were satisfactory, though nothing special.
The items listed in the Japanese option for dinner actually didn't appeal to me, but remembering my mother's sage advice: "Choose the cuisine respective to the country you are leaving from," I went Japanese anyways.
Appetizers served on one tray.
Sea bream in vinegar sauce, seared grouper, and poached bigfin reef squid.
Soy/ginger simmered beef.
Jellied vegetables.
Now, let me say something here. According to my mother, I made the correct choice of meals here. According to my preferences, I'm not a huge fan of these ingredients (but always listen to your mother right?). That being said, I have always appreciated the thoughtfulness to which the Japanese create their food.
They have utmost respect for ingredients, cooking techniques, and pairing, and I appreciate that you can sample a variety of different dishes in small bites. I have always been in love with Japanese cuisine.
Unfortunately, I just wasn't a big fan of most of these ingredients or preparations.
The seafood selections were... fine, but I did not finish it. The beef was passable. The jellied vegetables were fun to look at, but flavorless (I assume this is where I was supposed to put the accompanying sesame dressing if you can see from the first picture).
Next time, I may ignore my mother's wisdom and choose what actually looks good to... *gasp* me!
Main course of grilled Isaki grunt fish.
This was also just, barely passable. I did not finish it.
However, the rice -- oh my. Some of the most perfectly cooked rice (both in-air and on-ground) I've had. Can you see the perfect slight translucency in the rice grains?
Accompaniments.
Now, for dessert. I wanted to try the "EMOTION MAHOGANY" in partnership with Pierre Herme (famous for macarons and now a worldwide sensation). I really did want to try this collaborative effort from ANA and Pierre Herme. It was advertised as a "unique combination of mango, litchi, caramel, and coconut" without hint to the actual preparation.
Turns out, it's just caramel pudding with mango puree.
It was still delicious, however. Unfortunately the only emotion I felt was disappointment at not being able to taste an embodiment of "mahogany" in the dessert.
I did not fret though, as realistically I'd been eating from the moment I'd woken up, and really did not need to consume anymore (though thinking back now, I really should have tried that okonomiyaki and ramen!).
I asked my FA for a bottle of water (since no refills on drinks during the meal service were proactively offered...), and she smiled and nodded yes. It took nearly 45 minutes to get water -- apparently FAs pass through the cabin after completion of meal service with a 10oz bottle of water for passengers, and rather bring me one separately, the FA thought I should just wait until the standard service brought me some. I'm sure the thought process is:
"Seat 10F wants some water. But he'll get it anyways, in 1 hour from now so it will be fine. We cannot disturb the routine process of our service." Very Japanese
This request has been accommodated many times ad-hoc on other carriers, but I understand the Japanese service culture so cannot blame them for my ignorance.
I reclined my seat and attempted to flick through the IFE and watch some content before sleep depravity (by now it surely had to have been almost 10/11pm in NZ) took its hold.
Here's the tough thing with this itinerary: you take off from NZ in the morning for a 10 hour flight, transit NRT and have another 10 hour flight. You land in Seattle the same day, around 11:25am and still have to make it through the majority of the day before you can sleep again. Granted, you can sleep prior, but it makes adjusting your jetlag difficult.
My original plan was to stay awake for both flights, and for the rest of the day in Seattle, but alas my eyelids closed themselves somewhere over the Pacific Ocean and I succumbed.
I woke up shortly before breakfast and had requested the Western option, since I imagined I'd had plenty of fish for dinner. Still regretting not getting the okonomiyaki or the ramen...
Next time, ANA, next time.
Poached eggs with a veal sausage and some corn and veggies. Again, I'm not the biggest airplane breakfast fan as these meals don't stand a chance when sitting there for the majority of the flight.
I find that in many Asian preparations, the sausages are boiled and not griddled/grilled. I appreciate the uniformity, but I prefer the extra flavor a hot-top can have on cured and cased meats.
Look how sweaty the sausage is!
Much to my surprise, the eggs were actually as overcooked as I had thought they would be. Poached eggs are notoriously difficult to heat up. These ones retained their runny interior.
I did not finish breakfast as was still stuffed from eating all day, but it was average. Unfortunately not even ANA can do a nice breakfast in J I see.
We landed in Seattle more or less on-time to taxied to the S gates.
A quick hike to the customs and immigration facility and with Global Entry, I was out in a jiffy. I'll note that we arrived at the same time as one of the twice-daily flights from LHR on BA, but Global Entry was generally quite empty and it was quick to get through.
So my verdict? ANA is great, but there are still improvement points.
Pros:
Fantastic seat customization: staggered rows, high walls and shelling for privacy.
Extensive food and beverage options -- I just picked the wrong one for me but cannot fault them.
Gigantic IFE screen (unfortunately the selection of content is lagging).
Number of amenities offered is impressive.
FAs are generally friendly if you make an effort to talk to them.
Cons:
The infamous cabin temperature discussion -- it was hot. I've flown BR, CI, and CX many times before and never have experienced a cabin temperature as warm as it was on ANA.
The service culture can be hard for a westerner to get used to -- for example, not getting a bottle of water when you request it but having to wait for the standard passing of water bottles.
I would fly ANA again in a heartbeat, but next time I'll try a different dining option based on my preferences.
However, I still think CI and BR new business class products are superior now that they've been refreshed. I've yet to try JL but that is next on the list!
Thanks for following along on this trip report and reading about this spontaneous adventure -- now it's time to go back to work!
Aug 14, 17, 10:32 pm
Join Date: Oct 2012
Programs: DL Diamond, UA Silver, HHonors Diamond, Marriott Ambassador
Posts: 845
MilesDependent. I really enjoyed writing it as I got to relive my experiences. I have read countless TRs on here and have enjoyed hearing people's perspectives on their travels and the thoughts running through their head.

1P!
Aug 20, 17, 12:01 pm
Join Date: Oct 2012
Programs: DL Diamond, UA Silver, HHonors Diamond, Marriott Ambassador
Posts: 845
Thanks,
r_tsunami!
I think ANA is great, and beats DL in just about every regard (who also flies the route), but just keep in mind Japanese and American services cultures are completely different. And, did I mention ANA's cabin temperature was incredibly warm yet?
Aug 23, 17, 3:09 pm
Join Date: Jun 2012
Location: Toronto, Canada
Programs: Aeroplan Airmiles AMEX-MR Alaska Airlines
Posts: 540
thank you
bj27
for sharing this. this brought back memories of my OZ/NZ trip including flights on air NZ. definitely agree with you about the cabin temperature on ANA.
Aug 29, 17, 12:23 pm
Join Date: Oct 2012
Programs: DL Diamond, UA Silver, HHonors Diamond, Marriott Ambassador
Posts: 845
Thanks,
injian.
One of the things I like about TRs is seeing places I've been before through someone else's eyes. Glad someone else agrees with me about the cabin temp on ANA