Trip Report: Twin Farms, Vermont (Summer w/a Dog)
Nov 26, 14, 1:04 pm
Trip Report: Twin Farms, Vermont (Summer w/a Dog)
---
Map
|
4 Reviews
|
100% Recommended
Twin Farms
452 Royalton Turnpike Barnard, VT US 05031
Recommended
Liked:
Location
Service
Food
Amenities
Room
Trip Report: Twin Farms, Vermont (Summer w/a Dog)
(0 Photo)
Twin Farms
We decided it was time for another weekend getaway with our beagle and were leaning towards The Point when we found out Twin Farms had started accepting dogs. Twin Farms has always been a favorite of ours so it seemed like a logical choice.

We made our reservation with DavidO. The Virtuoso amenities for this property included a bottle of Dom Perignon, artisanal chocolates and an upgrade at check in (which we basically declinedlong story).
Twin Farms Loves Dogs
When we were taken to our cottage, we received a short rules document titled Twin Farms Loves Dogs. Our dog was allowed everywhere except the main building, spa, fitness room and furo. Daisy received her own welcome note from GM Michael Beardsley, a padded crate, food and water bowls, a can opener (brilliant), a chew toy, a grooming kit in a wicker basket including shedding combs, brushes, and even nail clippers. Daisy also received homemade peanut butter dog biscuits that were replenished with each housekeeping visit. They smelled so good we almost tried one, ourselves. All of this was made available for a $75 fee.

More importantly, there was a tremendous feeling of excitement among the staff. Daisy was their first dog and everyone seemed to be having such fun with it. Guest assistants took pride in introducing Daisy to other guests. Even housekeeping, who had undoubtedly spent a lot of time preparing the Log Cabin for Daisy, pulled their van off the side of the cottage road to see her and tell us how adorable she was. Daisy, being the ham that she is, loved every minute of it.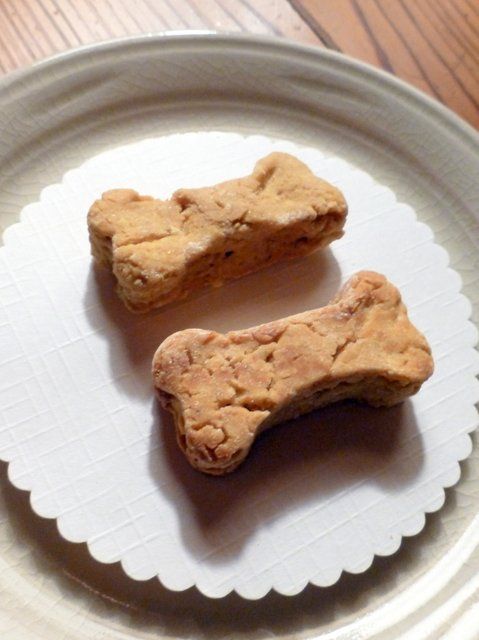 Room
Dogs were only allowed in the Log Cabin, Meadow or Woods cottages. With its dog-themed dcor, the Log Cabin was a natural choice for us and turned out to be our favorite cottage/cabin accommodation of any luxury property thus far.

The interior twig details felt very Adirondack, though the cabin was actually a 19th century Appalachian homestead dismantled in North Carolina and rebuilt in Vermont. The location was incredibly private since the cabin was tucked deep in the pine forest; and it was much larger and fancier than it appeared on the website with its dramatic vaulted ceiling, river rock fireplace, elaborate granite-surfaced bathroom, gorgeous roll-top two person tub and even a bidet. Daisy looked awfully cute lounging on top of the paw print rug. And we all liked viewing wildlife from the screened porch that jutted out into the woods and over a vernal pool. The porch had a seating area and hammock. The guest assistants mentioned there was a moose that came to the pool to drink and lots of owl sounds at night. We were happy to hear the bullfrogs, the wood thrush songs and the hammering of the woodpeckers.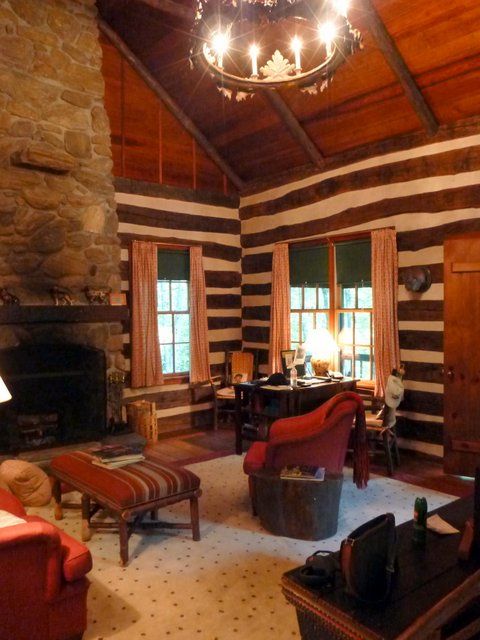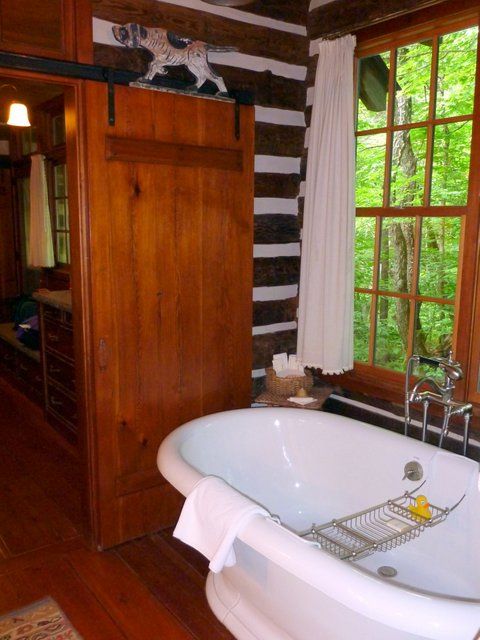 Activities
We did a little hiking while we were at Twin Farms. I say a little because the mosquitoes were especially bad at the time of our visit. The trails there were beautifully maintained, but at a moist 90 degrees it was too hot to be hiking in the sun and too buggy to be hiking in the woods. Its worth noting though that wherever we went, we had guest assistants ready with mosquito repellant, mosquito coils and even an after bite solution.

We spent most of our time by the pond where we had access to the shady cabana and could canoe and fly fish to our hearts content. The fish werent biting when we were there, but someone caught a 14 rainbow trout a few days before we arrived.

We played bocce on the lawn by the main house and because Daisy was allowed in the pub, we played some pool as well. There was a phone in the pub so that a guest assistant could be called over from the main house to prepare cocktails.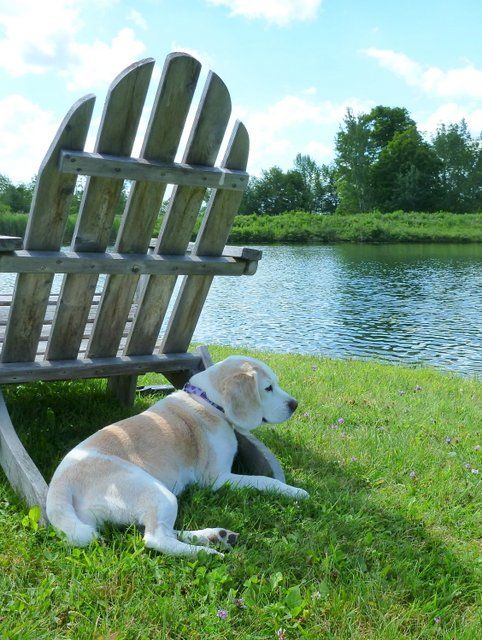 Service
Service continued to be exceptional at Twin Farms.

After securing our reservation, I emailed the guest assistants to ask about the possibility of having dinner somewhere on property with our dog. We knew room service would be an option, but the reservations manager phoned us and suggested we eat in the small dining room, which was technically in the main house but could be accessed through a back door. They set it up so beautifully with music, candles and flowers, and we placed a small bed in the corner for Daisy. We were surprised when they invited ALL of us into the bar area for a pre-dinner cocktail. It seems Twin Farms had decided to allow us into the main building as long as we stayed clear of the main dining room. This was incredibly gracious of them as we were expecting to remain hidden away.

Zigzag, a frequent Twin Farms guest, suggested we eat at least one meal out on the private porch and we decided to do that for breakfast. With prior arrangement, the guest assistants set up a table every bit as lovely as our dinner, only with fantastic morning views.

It was the unseen staff members that were the most impressive, though. The entire property and the Log Cabin were immaculate in a way that other similar luxury hotels (no names) are not. For that we credit maintenance and the invisible but ever present housekeeping ninjas (ala Amanresorts). There was no faded or chipping paint, and everything was so clean that poor Daisy kept putting her head under sofas and coming up empty. And I had absolutely no concerns wearing my white socks on the Log Cabins wood floors.

The Twin Farms team continues to be led by General Manager, Michael Beardsley and they now have a new Managing Partner, John Graham (and golden retriever Maggie!) from Lake Placid Lodge. Both checked in on us regularly in their efforts to perfect the service experience. John was kind enough to follow up after our return home to make sure that we had a good stay. Mr. Ericka made the mistake of wearing a Lake Placid Lodge baseball cap so Michael made sure we left with some Twin Farms caps as well.

There was only one small service hiccup. On our last day, we had arranged to have a box lunch meet us at the pond at a designated time. Ten minutes passed and it hadnt arrived so we called the guest assistants. They apologized and said they would have it down to us right away, and sure enough.3 minutes later, it arrived. Were not sure if it was just a little late or if we had a miscommunication about where it was being sent. Clearly, it was not a big deal for us.


Dining
Food is a highlight of any stay at Twin Farms and this stay was no different. There were no menus, just a wonderful chef that worked from a detailed profile of our likes and dislikes, and staff members that served the food to us wherever and whenever we wanted. We opted for the full multicourse dinner experience which requires guests to be at the main house at 8pm.

At dinner, the food was artfully presented and the wine manager was on hand in the evening to recommend wines for the different courses. At one point, they served Mr. Ericka a first course of scallops and knowing that I dont care for seafood, they had cut two chicken fillets into small rounds and dressed them to look exactly the same as the scallops!

Other meals were equally amazing including the breakfast on the private patio. We loved the petite-diced watermelon, the local eggs, the pain au chocolat and blueberry muffins hot from the oven, and the famous souffl pancakes. For lunch, we chose a picnic by the pond and they surprised us with a bottle of our favorite Flowers chardonnay and a hot berry cobbler for dessert. The Vermont cheese platter was a must-do in our room for an afternoon snack, and on our way out, they made us a box lunch with gourmet sandwiches and homemade cookies.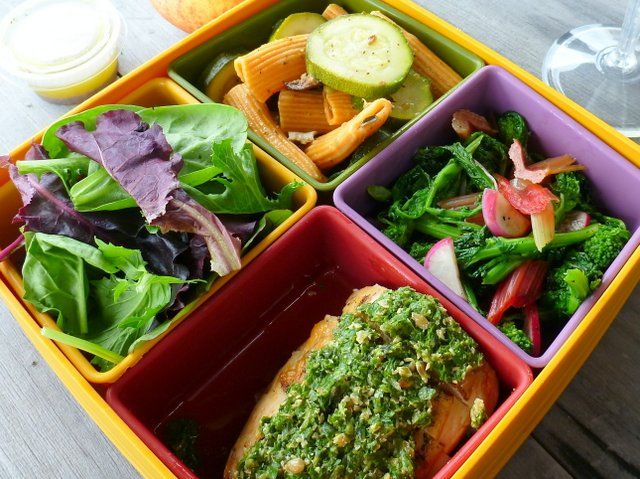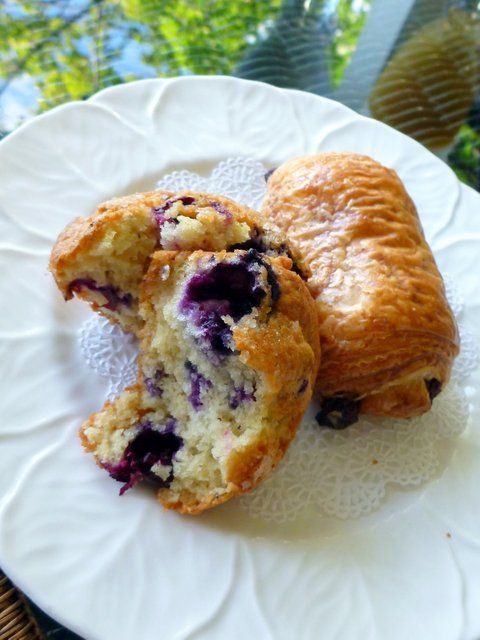 Overall
Its safe to say that when Twin Farms decides to do something, they do it right. The staff members did a wonderful job with the new dog program and made all of us feel very welcome. It got us wondering about family week and the activities they put together for small children. Perhaps next time.hint, hint.
Posting Rules
You may not post new threads
You may not post replies
You may not post attachments
You may not edit your posts
---
HTML code is Off
---