Fee/Fuel Sticker Shock
Aug 4, 22, 5:50 am
Join Date: Feb 2008
Location: Kobe, Japan
Programs: Bonvoy Titanium, IHG Platinum, Hyatt Discoverist
Posts: 1,097
Fee/Fuel Sticker Shock
---
After a couple years of going nowhere I am now thinking about using my KE miles.

First shock was availability in March is much less than before. Very little P or E.
Second shock was it looks like a new (devalued) chart will come in March, 2023, so best I use the miles before then.
Third shock is the fuel charge. I expected one, but 125,000+$800 for a roundtrip Japan-Seattle is about double the fees I expected.
---
Last edited by JapanFlyerT; Aug 5, 22 at

12:34 am
Aug 5, 22, 2:44 pm
Join Date: Oct 2009
Location: New York
Programs: AA Exp / Marriott Titanium / MLife Gold / Hilton Gold / Hyatt Globalist / United Silver
Posts: 929
Aug 5, 22, 2:59 pm
FlyerTalk Evangelist
Join Date: Dec 2003
Location: Not here; there!
Programs: AA Lifetime Gold
Posts: 25,038
Not always. AA redemptions on AAdvantage partner carriers have fixed redemption rates. Here's a TYO-SEA roundtrip in March for 140,000 AA miles plus $50 in taxes. The outbound is in JL Business; the return (which requires a connection in LAX) is in JL
First
.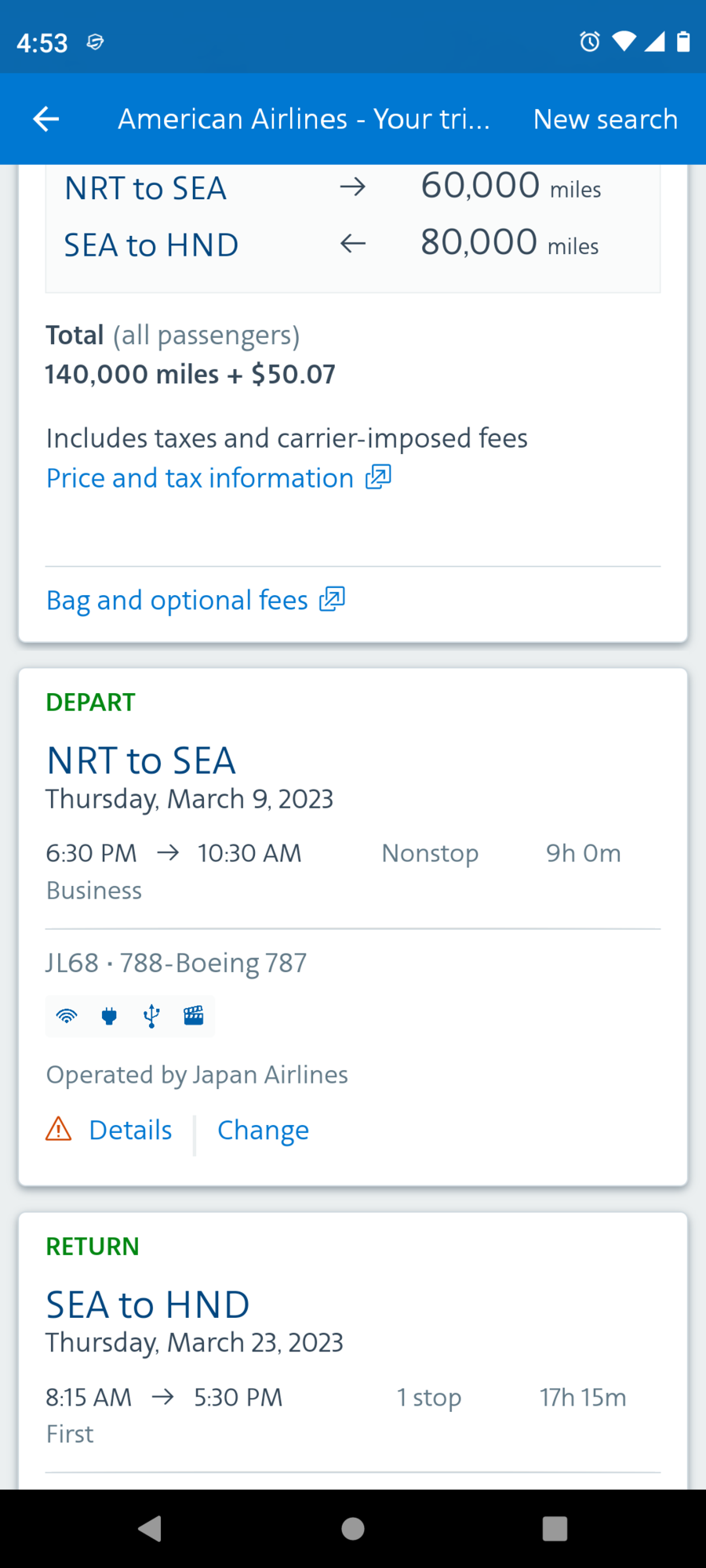 Aug 5, 22, 6:03 pm
Join Date: Feb 2008
Location: Kobe, Japan
Programs: Bonvoy Titanium, IHG Platinum, Hyatt Discoverist
Posts: 1,097
You are right in that (most) business class seats are high, but if I stoop to economy, roundtrip is 70,000-80,000 miles +$70 on United/Star Alliance. The mileage on KE is about the same, but fuel/fees again is $800.
I might bite the bullet though if only to have a chance to burn the miles before the March 2023 devaluation.
Aug 7, 22, 9:55 pm
Join Date: Dec 2010
Location: Gangnam-gu, Seoul, Korea
Programs: KE Skypass Morning Calm Member, OZ Club
Posts: 2,190
Even cash - going to Bangkok for my bday in October. ICN-BKK round trip. The actual fare is like 400 something, and the taxes and fuel fees alone are 300 something. But, ultimately, for miles it's either use them or don't. And calculate the cash price of the same flight on KE in the same class. I can guarantee that in business, even if you spend the miles AND account for their cash value PLUS fuel feesl, it's still cheaper than if you paid cash for it haha.