Vancouver hotels, as low as $30CAD a night
Jan 26, 17, 2:18 pm
Join Date: May 2006
Location: YFC,FOC
Posts: 163
Vancouver hotels, as low as $30CAD a night
---
Book via below link, stay until April 30,2017 to receive CAD$50, $75, $100 or $125 AMEX Prepaid Gift Card per 1st night of booking, next night will be $50.00
A Maximum of 3 bookings per person is enforced
You can only pay $30 per night to stay in Ramada Vancouver Downtown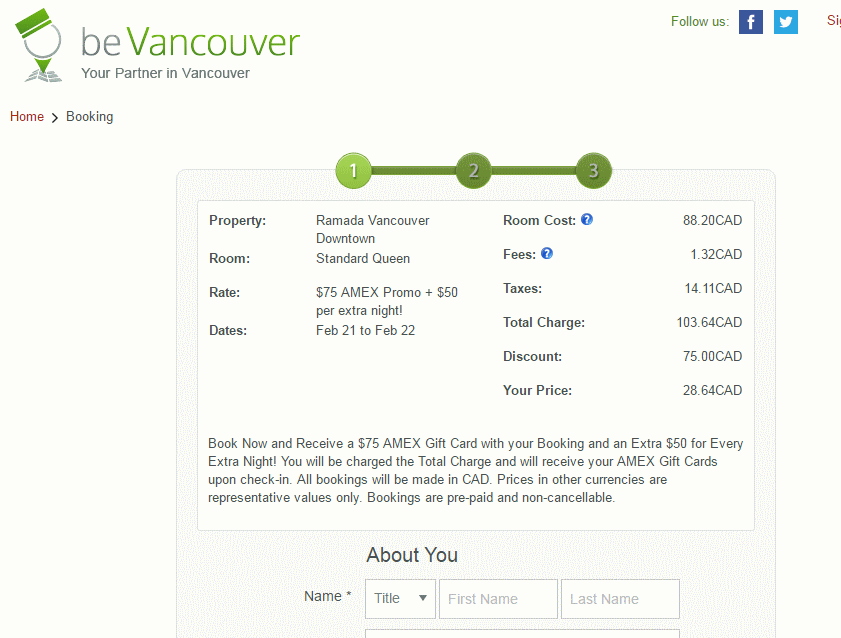 https://amex.bevancouver.com/
T&C:
About This Offer
Looking to visit Vancouver between now and the end of April?
Book today with beVancouver.com and we'll give you a prepaid AMEX Gift Card of up to $125 to reward your booking AND an additional $50 AMEX Gift Card for every subsequent night you stay.
It's that simple ... book a 1 night stay and we'll give you up to $125 in AMEX Gift Cards, book additional nights and we'll add an extra $50 AMEX Gift Card per night.
Gift Cards can be used any way you'd like … to cover hotel costs, on-site restaurants, room service, spas, amenities … or at surrounding restaurants and shops. The choice is yours.
Choose dates above and press 'GO' to view available rooms!
Promotion Details
Check-in must be before or on April 30th 2017
Bookings can be made using VISA, MasterCard, or American Express
This promotion is non-cancellable and non-transferrable
All bookings will be made in CAD and any other currency displayed is a representative value
Guests will receive their $50, $75, $100 or $125 AMEX Prepaid Gift Card per 1st night of booking
Guests will receive an additional $50 AMEX Prepaid Gift Card for every additional night after the 1st night
Separate consecutive night bookings at the same hotel will not result in the guest receiving more than one $50, $75, $100 or $125 AMEX Prepaid Gift Card
A Maximum of 3 bookings per person is enforced - all subsequent bookings will be converted into normal Best Available Rate bookings (and will apply the corresponding Terms and Conditions) and the guest will not receive an AMEX Prepaid Gift Card
beVancouver Terms and Conditions Apply
Feb 3, 17, 10:38 am
Join Date: May 2006
Location: BOS and ...
Programs: UA 2MM, DL 500k, WoH 1M, HH Gold, Rad. Gold, CP Gold, Miracle Fruit-su Club
Posts: 9,908
It's likely here in black and white, but must the gift cards be used
1) in Vancouver?
2) on the trip that earns them?
Thank you. ☺
Feb 3, 17, 3:43 pm
FlyerTalk Evangelist
Join Date: Jan 2012
Location: West Coast, Best Coast
Programs: Flying whoever is most convenient
Posts: 15,343
Feb 3, 17, 4:20 pm
Join Date: May 2006
Location: BOS and ...
Programs: UA 2MM, DL 500k, WoH 1M, HH Gold, Rad. Gold, CP Gold, Miracle Fruit-su Club
Posts: 9,908
Originally Posted by
PV_Premier
Not completely clear but my guess is you are free to spend them whenever and whereever you wish. I do think it's very likely that they will be issued in CDN currency, however, which may complicate spending them outside of Canada or at least subject you to the prevailing exchange rate at the time of redemption.
Thank you again. ☺
Feb 4, 17, 7:33 am
Original Member
Join Date: May 1998
Location: Edmonton, Alberta, Canada
Programs: Starbucks Gold
Posts: 875
DEAD
They have other deals, but nothing as straight forward with value like the Amex promo
"I'm very sorry but the Amex promotion has now ended.
Please visit our homepage
www.bevancouver.com
to see a list of our active promotions.
Many thanks,
[email protected]
"
Feb 6, 17, 5:48 am
Join Date: Aug 2007
Location: CA
Programs: This game has *seriously* lost its luster.
Posts: 6,732
Wow, I can't believe the booking period is already done.
FYI, before I booked, I searched for past 'bevancouver' threads for clarification I could use the earned gift cards to pay for the actual stay. The answer is/was yes. Despite the reservations being prepaid non-refundable, they don't immediately charge the stay to your credit cards. ​​​​You can use the gift cards however you choose, but they are issued in CAD.
Of course, that is information I gathered from past thread reports which is all subject to change I suppose.
Feb 9, 17, 11:08 am
Join Date: Sep 2010
Location: Bali, Indonesia
Programs: AA, DL, AK, UN, CN
Posts: 752
Wow this deal didn't last long. Too bad, as I'm heading to Vancouver!

There's still a landing page, but every hotel I checked had no availability for the gift-card promo. It would show "$100 gift card" for a hotel but when you clicked it would say "no more availability". I was checking yesterday.

If someone wants to try more dates, etc, here's the link:

amexsocial2017.bevancouver.com
Feb 13, 17, 8:21 pm
Join Date: Aug 2007
Location: CA
Programs: This game has *seriously* lost its luster.
Posts: 6,732
I used this deal last week on $75 for first night level hotels.

The first two nights were at Executive Vintage Park. They very conveniently applied the gift cards without me even seeing them. Clean, comfortable, spacious room. Definitely recommended.

The second two nights were at Ramada Downtown (on Granville) who made the 3 x $25 gift card thing an ordeal. They make you sign a log you've received each card, and when applying them, they ring each card through their credit card machine and require a signature on each slip. There is a club next door which goes till 3 am, and the crowd disperses well after 4 am, the hour in which we called a taxi to the airport. At least that was the case last Friday and Saturday nights. Not sure how midweek partying goes. We were given a room on the top floor (6th) overlooking Granville St and easily heard the street/drunk people/police siren noise. Thankfully, we're easy sleepers. Room-wise, the beds were the most comfortable the 10 days I was gone, but there was a mildewy mustiness in the hall and room. Certainly not the best place I've ever been, but if the deal was right, I'd stay again for the convenient location.

Thanks again, raccoon.
Mar 1, 17, 12:32 am
Join Date: Sep 2005
Location: Seattle
Posts: 93