Information on Load requests
The number of seats for sale for a flight are available via ExpertFlyer.com, a subscription-based service with a 5-day free trial. A subscription is $9.99/month and can be enabled and disabled any time. It is encouraged to subscribe rather than post repeatedly in this thread.
NB: Op-up changes or overselling of a flight cannot be determined with certainty from this information, only inferred to be more or less probable.
For a once-off load request please follow these guidelines:
Flight loads >7 days out are not very useful, as the airline could still sell many seats, unless availability of a specific fare bucket (e.g. Business Saver upgrade) is requested. If you wish to know the general flight load please don't post >7 days before departure.
When requesting a load please provide the following information:
- Date of flight (departure date)
- Flight Number
- Origin
- Destination
These four fields are mandatory in searching on ExpertFlyer (see screenshot below) and it isn't fair to except those who pay for their subscriptions to also have to go look up which cities a specific flight number is from and to (also some flight numbers are onward flights (5th freedom routes, e.g. CMB-MLE) and loads will differ significantly depending on which sector of the flight is checked.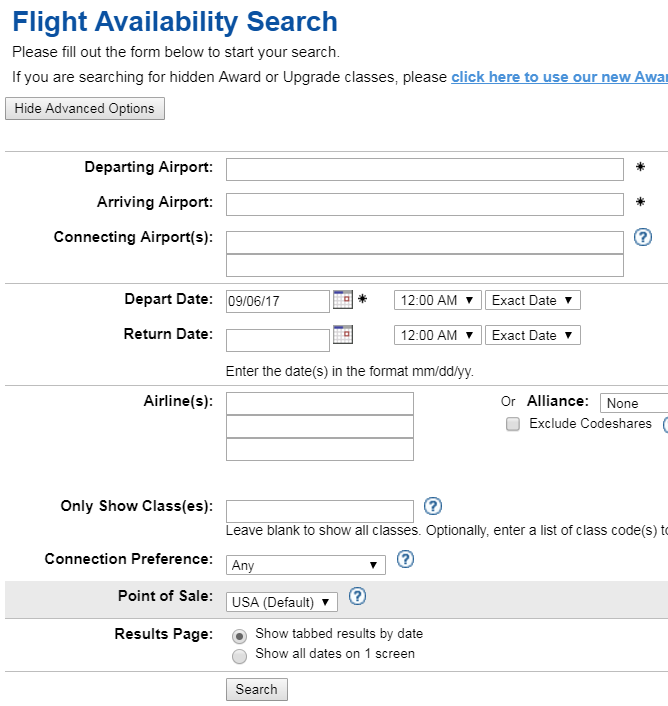 Flight Load Check request