1991 MD-80 interior redesign
Jul 16, 19, 8:57 am
Join Date: Oct 2010
Location: Seattle, WA & Red Lodge, MT
Programs: AA Platinum for Life, AS MVP Gold 75K, Marriott Titanium, Hilton Diamond, Hertz President's Circle
Posts: 114
Great blast from the past! I was on a newly-redone -700 yesterday, and - while the interior was nice, I was a little sad to see the designs on the bulkheads are now gone.
Jul 16, 19, 9:14 am
Join Date: May 2006
Location: TUS/PDX
Programs: WN CP/A-List, AS MVPG75K
Posts: 5,656
Jul 16, 19, 11:28 am
Join Date: May 2003
Location: SFO, mostly
Posts: 1,801
Thanks for the photo! I spent a lot of time on AS MD-80s throughout the 90s (both F and Y), so this brings back some fond memories. Notice the audio jacks...I remember a few times trying to plug in my headphones and being disappointed there was no audio. I loved the intricate fabric patterns, and the F seats were really comfortable and well-padded! Would love to have one of those wide leather seats as a reading chair...

Those interiors remained almost the same until the final MD-80s were retired in 2008. The only change was that the F seats were pretty quickly reupholstered to dark leather, but with the same embossed patterns. Wonder if it was because the light colors showed dirt? Cough...VX F seats...cough.
Jul 16, 19, 6:46 pm
FlyerTalk Evangelist, Moderator, Information Desk, Ambassador, Alaska Airlines
Join Date: Dec 2006
Location: ANC, MRI
Programs: AS MVP Gold75K, AS 1MM, Maika`i Card, AGR, HH Gold, Hertz PC, Marriott LTG, SPG Gold, CO, 7H, BA, 8E
Posts: 41,222
Had one turn SEA-OAK-SEA in F on the MD80's right before they were gone.

I'm sure I flew in the main cabin a few times too.

Miss that slip stream.
Jul 17, 19, 1:44 am
Join Date: Nov 1999
Location: Phoenix, AZ USA
Programs: DL-Platinum / AS-MVPG75K / Hyatt - Glob / Hilton-Diamond
Posts: 1,491
I have a fold out brochure introducing the marketing makeover. It includes the photo from
AirlineLoop
plus others and a lot of text.
It's been ages since I've uploaded photos to FT and it wasn't a user friendly experience. Please have patience if this doesn't work right the first time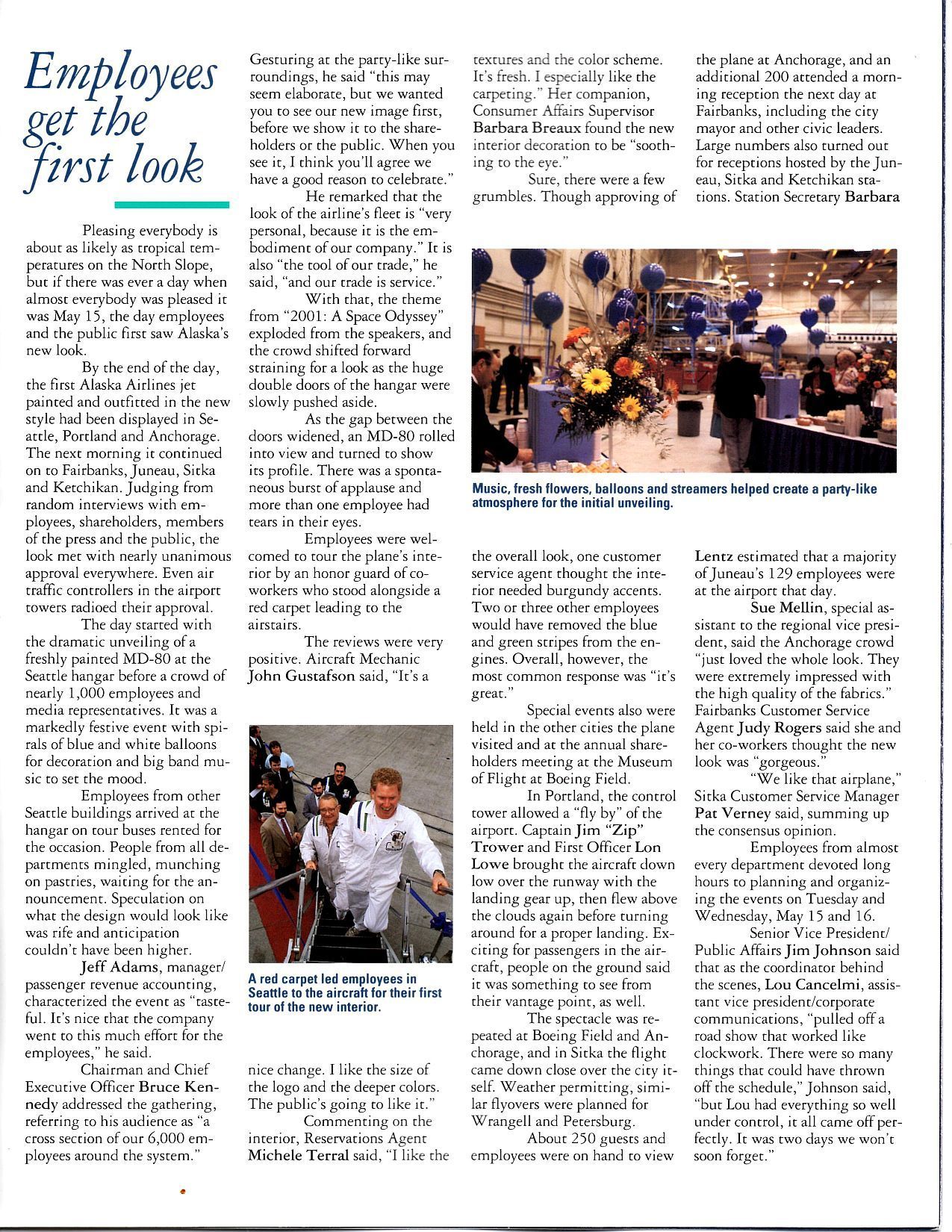 Jul 17, 19, 1:49 am
Join Date: Jan 2010
Location: Anchorage, AK
Programs: CO - Onepass Gold Elite--> UA - MileagePlus Gold Premier--> Silver --> AS - MileagePlan MVPGOLD!
Posts: 692

Pro Tip: you don't NEED an adjustable winged headrest, when the seat has so much padding that your head sinks into it effortlessly!
Jul 17, 19, 4:21 pm
Join Date: Jun 2015
Location: Seattle, WA
Programs: Alaska Airlines
Posts: 450
Aug 2, 19, 5:08 pm
FlyerTalk Evangelist
Join Date: Jul 2002
Location: Durham, NC (RDU/GSO/CLT)
Programs: AA EXP/1MM, DL PM, UA Plat, HH DIA, Hyatt Discoverist, IHG Spire/AMB, Marriott Titanium, Hertz PC
Posts: 29,624
Aug 3, 19, 1:25 pm
Join Date: Oct 2015
Location: EUG/PDX
Programs: AS MVP Au, UA Ag, Marriott Ti, IHG Au, HH Ag, Nexus, Pilot FlyingJ Preferred, *$ Au
Posts: 4,166
And those coach utensils wouldn't be out of place in today First Class cabin either.
AS MD-80's will always have a special place in my heart. My first AS flight was LAS-PDX twenty years ago this month.