2018 Let's Eat - Polaris Business
Jan 14, 18, 1:42 am
FlyerTalk Evangelist
Join Date: Jul 2011
Location: Tokyo
Programs: JMB Diamond Metal Card (OWE) , SAS Eurobonus Gold, (*G) Marriott Ambassador (LTP)
Posts: 12,088
Originally Posted by
cesco.g
There might be quite a difference on a 752 with 16 seats vs a 77W with 60 seats.
Luckily, sofar I always got my couple of glasses of champagne along the appetizer.
But I noticed that the drink cart going around always lacked the Champagne, maybe because they're undersupplied.
They probably leave it in the galley, as people tend to order from what they can see on the cart. A way to keep the consumption lower.
Jan 14, 18, 2:47 am
Join Date: Apr 2014
Location: LHR
Programs: UA 1K, Marriott Gold, mLife Platinum
Posts: 375
Jan 14, 18, 1:52 pm
FlyerTalk Evangelist
Join Date: Oct 1999
Posts: 10,344
Jan 15, 18, 9:21 am
FlyerTalk Evangelist
Join Date: Apr 2003
Location: IAD/DCA/FLL/MIA
Programs: UA*Lifetime GS, SQ*PPS, AA*EXP, Hyatt*Globalist
Posts: 10,991
Jan 14 IAH to London
---
The flight was on the 77W Polaris plane. It was a substitute for the S/CO 772 within 48 hours of the departure.
Jan 15, 18, 7:18 pm
FlyerTalk Evangelist
Join Date: Aug 2005
Location: BOS/EAP
Programs: UA 1K, MR LTT, HH Gold, Amex Plat
Posts: 25,686
Jan 15, 18, 7:24 pm
Join Date: Apr 2004
Location: ONT, LAX
Programs: UA1k 2.5MM, AA Plt, peasant on everybody else, elite something or other at a bunch of hotels.
Posts: 4,526
I don't know why UA just doesn't give up on this pretense of having first class service and just sell all premium international cabins as business and be done with it. For flights with the old F suites, just hold them back for sale or a few hundred dollars unless full fare C or GS. The catering is almost identical and they can save on the soup and few extra starters. The wine and booze haven't been anything to write home about for many years, and now they are being shared between the cabins, so why bother?
Jan 15, 18, 9:56 pm
Join Date: Apr 2009
Location: Houston
Programs: UA GS 2MM, QFF Platinum, HH Diamond, HawaiianMiles
Posts: 6,655
15JAN SIN-LAX (also for SIN-SFO)
Had the fish, it was excellent!
Jan 16, 18, 1:44 am
Join Date: Oct 2005
Location: BUR
Programs: in C/C++, Python, SQL
Posts: 310
UA978
EZE-EWR
01/08/2018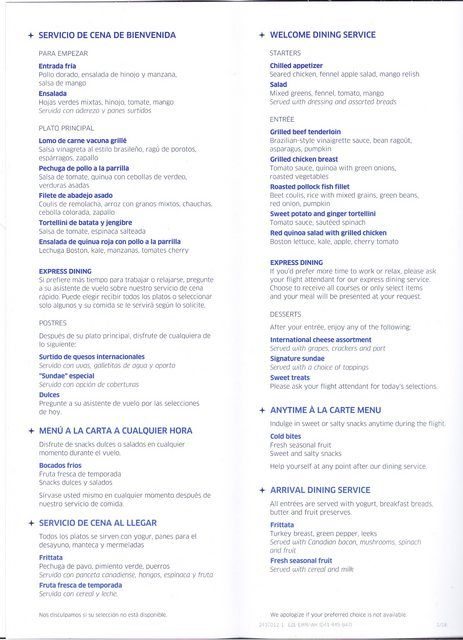 No clue what the champagne was. I was just hoping a glass or two would help me sleep (unfortunately, it didn't).
The dinner was pretty good overall. I'd been eating fairly heavily in BA, so I thought the tortellini would be a nice change.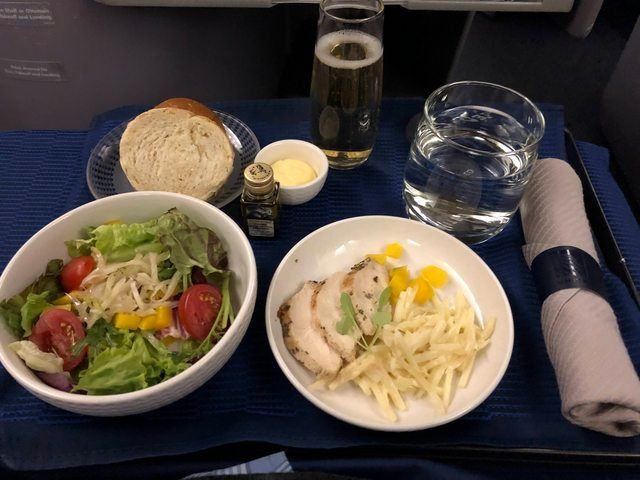 Seemed odd that they had two pieces of the same cheese, but no biggie.
Every sundae should have a macaron on top.
I knew I was going to be served breakfast again on my next flight, so I just had some fruit to tide me over.
Jan 16, 18, 2:26 am
Join Date: May 2010
Location: SFO
Programs: Hilton Diamond, Hyatt Plat, SPG Gold
Posts: 72
15 Jan 2018: UA984 Paris to San Francisco
The starter was the best part of the meal.
Unfortunately, the steak was overcooked in the oven. The beef was tough and cooked well done, and the eggs were quite crumbly and dry.
Like the steak, the chicken was overcooked and was quite tough and hard to cut.
Jan 16, 18, 2:56 am
Join Date: Nov 1999
Location: if it's Thursday, this must be Belgium
Programs: UA 1K MM
Posts: 6,210
Why doesn't UA post even some example menus for the routes like they used to on the CO website? You would think that with the extent they hype Polaris, people would be glad to preview them if they're buying the ticket.
Jan 16, 18, 8:17 am
Join Date: Nov 2012
Programs: BA Bronze, United 1K, HH Gold, SPG Platinum, Marriott Platinum
Posts: 3,468
The Nicolas Feuillatte was the same Champagne in Polaris First on my ORD-PVG flight and on my wife's PVG-ORD flight. Did not test the limit of one bottle as on my flight there were three children out of the six passengers. Thinking that BA serves Laurent Perrier Grand Siecle.....
Polaris First, PVG-ORD: does anybody else think that the menu was poorly decided?
Cocktail snack: Mozzarella, black olive, cherry tomato
Chilled appetizer: Mozzarella, roasted tomato, cucumber
Jan 16, 18, 9:42 am
Join Date: Jan 2009
Location: DUS
Programs: United-1K+1.97MM, Bonvoy-LifetimeGold, PriorityClub-Platin-Ambassador
Posts: 305
Jan 16, 18, 9:56 am
Join Date: Apr 2009
Location: Houston
Programs: UA GS 2MM, QFF Platinum, HH Diamond, HawaiianMiles
Posts: 6,655
Jan 16, 18, 4:34 pm
Join Date: Feb 2015
Location: CA
Programs: United GS, Hyatt Diamond, SPG Plat, IHG Spire
Posts: 193
SFO-HKG the only beer that actually made it onto the plane was Shiner bock, Tsingtao, and Heineken. Maybe I'm one of the few people who likes beer in Polaris, but they seemingly miss the menu list on most flights.
Jan 16, 18, 5:16 pm
Join Date: Nov 2014
Posts: 979