Consolidated cancelled/delayed domestic flights [2017]
Jan 2, 17, 3:54 am
FlyerTalk Evangelist
Join Date: Aug 2005
Location: BOS/EAP
Programs: UA 1K, MR LTT, HH Gold, Amex Plat
Posts: 25,431
Consolidated cancelled/delayed domestic flights [2017]
---
let's start the domestic thread for 2017. Not a good start ...

UA408 SFO-IAD 789 cancelled due to aircraft maintenance
UA1803 SJU-EWR 738 cancelled due to aircraft maintenance
UA325 IAD-LAX 789 cancelled due to aircraft maintenance
Jan 3, 17, 8:05 pm
Join Date: Apr 2004
Location: SFO
Programs: UA Mileage Plus
Posts: 214
Consolidated cancelled/delayed domestic flights [2017]
---
Tuesday, Jan. 3, 2017
UA234 SFO-MCO 753- arrived 4 hours 46 minutes late
Mechanical delay for about 3:15 before leaving gate; then had to go back for another repair and more fuel.

JK-SFO
---
Last edited by JK-SFO; Jan 5, 17 at

8:44 am

Reason: Add equipment type
Jan 5, 17, 11:22 am
Join Date: Dec 2004
Location: SFO/OAK/SJC/LNK/OMA
Programs: UA former 1P, WN A-List, Hyatt Pt, HH Au, Marriott Ag, SPG Pt, Accor Pt, IHG
Posts: 180
I was booked on UA5179 (SKW5179) LNK-DEN today (first leg of LNK-DEN-SFO) leaving at 1245. Last night at 2200 I got a text message that 5179 was cancelled "due to air traffic control" (!?) and a link for rebooking. I rebooked on tomorrow's 5179 and upgraded DEN-SFO to F (it was cheap). Got all the receipts, seat selection, etc.

I got an iPhone notification around 1030 today with "here's your boarding pass" (for today's flight!). And checking the app, it shows today's 5179 as "on schedule". Huh? What the heck is going on here?

1) They "un-cancelled" today's flight?
2) The app/web site is simply wrong?
2) It never was cancelled in the first place and the text message was in error? That's unlikely since I rebooked on the web site with no penalty.
3) What the heck is "due to ATC", anyway, in this context? I have seen it when there is flow control or reduced arrivals/departures/ground stop due to weather or other ops stuff, but this is 15 hours prior to the flight, not likely to be known. And when it is (e.g., blizzard or hurricane predicted) they just say "adverse weather", not "ATC".

Anyway, if anyone has any wisdom on this, please advise. I assume there is no reason to be worried about my status on tomorrow's flights (I hope).
Jan 8, 17, 12:29 pm
FlyerTalk Evangelist
Join Date: Jun 2000
Location: Benicia CA
Programs: Alaska MVP Gold 75K, AA 3.8MM, UA 1.1MM, enjoying the retired life
Posts: 31,504
Noticed at least three UA transcons to SFO making fuel stops along the way today.
The 0815 IAD-SFO, UA492, diverted to Kansas City.
The 0730 DCA-SFO, UA2042, diverted to Omaha.
The 0846 IAD-SFO, UA242, diverted to Denver.
See at least one AA flight that also diverted to Kansas City. Comments with that flight reflected strong headwinds and SFO weather.
Should add:
Due to WEATHER / WIND, there is a Traffic Management Program in effect for traffic arriving San Francisco International Airport, San Francisco, CA (SFO). This is causing some arriving flights to be delayed an average of 4 hours and 36 minutes.
http://www.fly.faa.gov/flyfaa/usmap.jsy
Jan 8, 17, 12:50 pm
FlyerTalk Evangelist
Join Date: Aug 2005
Location: BOS/EAP
Programs: UA 1K, MR LTT, HH Gold, Amex Plat
Posts: 25,431
UA15 EWR-HNL 763 cancelled due to aircraft maintenance
UA14 HNL-EWR 763 cancelled due to aircraft maintanance

ouch. Guess UA is out of 763s with multiple going mechanical TATL these days
Jan 8, 17, 1:47 pm
Join Date: Sep 2008
Location: KSFO/KSQL
Programs: UA Plat, 0.9MM; PPL
Posts: 721
Winds at SF are 180 at 35 gusting 39. Seems they're using 19R/L only. Average arrival rate has been reduced from a max of 60 in good weather to 25.
Jan 8, 17, 3:34 pm
Join Date: May 2001
Location: RNO, NV, USA.
Programs: UA 1K 2MM
Posts: 4,220
As usual, this has been significantly impacting the 4 daily RNO-SFO flights. 6am - on time, 10am -cancelled. 11:35am - cancelled, 5:20pm - still scheduled.
Jan 8, 17, 4:00 pm
Join Date: Apr 2004
Location: SFO
Programs: UA Mileage Plus
Posts: 214
SFO to PHL - Fuel Stop in DEN?
---
Looks like UA267 SFO to PHL is stopping in DEN today. An eastbound flight stopping for fuel? The diversion was planned before takeoff. Anyone have more info? Thanks,

JK-SFO
Jan 8, 17, 4:13 pm
Join Date: Jun 2007
Location: SRQ, PDX
Programs: UA 1 MM
Posts: 662
Jan 8, 17, 4:17 pm
Join Date: Aug 2003
Location: Northern California
Programs: I want to be free! Free!
Posts: 3,035
Jan 8, 17, 4:41 pm
Join Date: Apr 2004
Location: SFO
Programs: UA Mileage Plus
Posts: 214
Thanks, that makes sense and seems like it could be the reason. Meant to say that the aircraft for UA 267 SFO to PHL is the 319. It is now awaiting takeoff in DEN and expected to be 2 hours 16 minutes late to PHL.
JK-SFO
Jan 8, 17, 4:44 pm
Join Date: Feb 2006
Location: Bay Area, CA
Programs: UA 1K; Marriott Platinum, Hilton Diamond, Hyatt Gold
Posts: 763
My son is scheduled to fly out today SFO- SAN at 6:48 pm. I know it is a mess at SFO and could easily reschedule him for tomorrow but no travel waiver listed for SFO yet? His inbound is already showing 1 1/2 hours delayed and is not even scheduled to depart until 5 pm. A little surprised that there is no travel waiver at SFO - would it be worth a call or will they not do anything until it officially shows the delay? Poor guy - his last 4 trips on United have all been delayed at least one hour - last one was 2 hours! Luckily he can hang in the AMEX lounge.

*Update* I went ahead an called and had no problem changing his flight to tomorrow and keeping him in first with no fee. UA rep said even without flight showing delayed, he could tell it would be and considering the weather at SFO, waived the fee.
---
Last edited by sierranevada; Jan 8, 17 at

5:10 pm
Jan 9, 17, 4:38 pm
Join Date: Feb 2000
Location: Lake Oswego, OR
Programs: UA 1K 2MM, Marriott Platinum-Bonvoyage, Hilton Diamond
Posts: 3,187
Summary: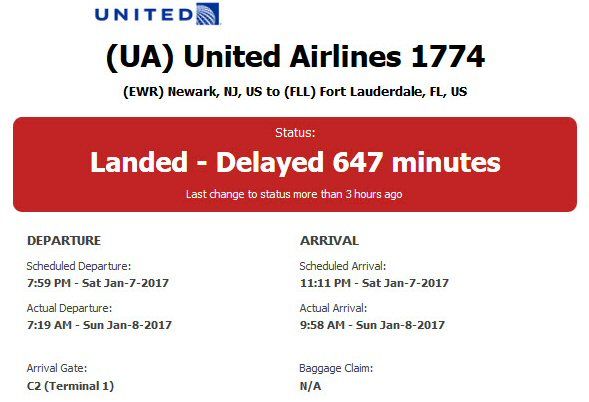 UA 1774 from EWR to FLL on Jan 7 was delayed nearly 12 hours, landing in FLL at 11:11 AM on Jan 8, instead of the originally scheduled 11:11 PM on Jan 7. Once we landed the next day, the crew invited the passengers to log into united.com/appreciation. I just trying doing so, more than one day after the flight had finally landed but the web site responded that the flight had not been flagged for compensation.
TL;DR Version:
EWR had been snowing earlier the day and my PS flight from SFO was delayed for an hour because the initial plane had a mechanical problem and the replacement equipment encountered a ground hold. The FA kept all passengers updated with connecting flight information and my 7:59 PM flight to FLL showed a slight delay by the time we landed in EWR.
I don't know whether the flight status information was accurate but the inbound flight from CUN was shown as having landed some time before. The FLL flight then experienced a series of rolling delays and one gate change. I relocated to the C74 lounge after the C120 lounge closed at 10:30 PM and the staff rechecked my flight, by that point showing an 11:15 PM departure. Within 10 minutes, the flight was listed with a departure at 7 AM the next day. Here is a link to the full
flight event timeline
.
The UA Club staff booked me at the Holiday Inn Carteret and apologized because it was regarded as a very poor hotel but they explained the computer had blocked out everything else. The hotel has a shuttle that runs hourly for the 20 minute ride south of EWR. By the time I checked in a little before 2 AM, I was assigned a room that I later discovered had no heat, half of the power outlets were dead and the telephone was non functional.
I took a 5 AM hotel shuttle for the long ride back to EWR and arrived at the gate for UA 1774 but we were delayed a little longer because the new crew had not been notified in advance so we had to wait a bit for the pilot. Once we landed in FLL, an FA apologized for the delay but the appreciation site failed to recognize the flight delay. I'll give the site one more try tomorrow before reaching out to 1Kvoice.
By the way, just three months ago, I got to enjoy a 13 hour delay on a PS flight that caused me to spend two nights at airport hotels (LAX and EWR) and arrive at my destination
two days late
.
Jan 10, 17, 9:55 pm
Join Date: Dec 2004
Location: SFO/OAK/SJC/LNK/OMA
Programs: UA former 1P, WN A-List, Hyatt Pt, HH Au, Marriott Ag, SPG Pt, Accor Pt, IHG
Posts: 180
UA1572 BOS-SFO diverted to SJC per FR24.

Presumably weather, but 6 or 7 other arrivals are holding over Modesto and then cleared for approach.
Jan 10, 17, 10:05 pm
Join Date: Nov 2016
Location: SJC/SFO (previously BNE, SIN, SHA/PVG)
Programs: UA GS, Marriott TE, National EE, Hertz PC, Global Entry/TSA-Pre, APEC BTC
Posts: 161
UA flight from SFO to EWR was cancelled today due to mechanical issues. i wasn't on it but my colleague was. What's interesting is that he and 4 others were asked off the plane early to transfer to another flight. I asked if he was GS, he said that he's only 1k but he was sitting next to a GS so i think he got included so it wasn't as obviously rude to him as a 1k. Just a guess, not sure of IRROP help as a 1k but that never happened to me when i was 1k.