2016 Let's Eat - Domestic/Canada/Latin America First, Business, & p.s. BusinessFirst
Dec 31, 15, 9:37 pm
Join Date: Mar 2005
Location: BOS and any place close to a lav
Programs: UA 1.6MM
Posts: 5,419
2016 Let's Eat - Domestic/Canada/Latin America First, Business, & p.s. BusinessFirst
---
This thread is for the following First, Business, and p.s. BusinessFirst flights:
North America (including all 50 US States, Canada, and Mexico)
Caribbean, Latin American, and Central American Flights (except Argentina, Brazil, Chile, Peru and Venezuela)
Don't forget to post the date and route information along with the meal information!
Here's United's official page on this category of Premium Cabin dining:
https://www.united.com/web/en-US/con...st/dining.aspx
For the curious folks, the 2015 thread is here:
http://www.flyertalk.com/forum/unite...nessfirst.html
With that, Let's Eat 2016!
Dec 31, 15, 9:41 pm
Join Date: Mar 2005
Location: BOS and any place close to a lav
Programs: UA 1.6MM
Posts: 5,419
Jan 2, 16, 9:11 am
Join Date: Nov 2008
Location: Washington, DC
Programs: United Premier 1K 1MM; AA Plat; Hyatt Explorist; Marriott Titanium; Hertz Pres Cirlce
Posts: 2,384
Stt-iad (1/1/2016)
---
STT-IAD
UA Business
737-700
1/1/2016

We had the option of salmon and rice or chicken and rice. My wife and I both choose the chicken (sorry we didn't take a photo) but it was a substantial piece of chicken with a white coconut/light curry sauce with basmati rice and a zucchini/tomato mix for the vegetable. All in all a decent meal.

We then were offered a freshly baked chocolate chip cookie after the dinner.
Jan 2, 16, 9:29 am
Join Date: Apr 2006
Location: SFO
Programs: UA 1K 1.4MM, HH Diamond
Posts: 208
SFO-BOS 1Jan16
United First
UA444 B753

Dinner

PDB
Hot Towel
Nuts

Arugula Salad w/ Watermelon and Feta
Wholegrain Breadstick

Choice of:
Grilled Chicken w/ White Rice, Carrots and Summer Squash
Grilled Salmon w/ Quiona, Carrots and Summer Squash
Vegetarian Option: Lentil thing (didn't get a look)

Mango Sorbet

White and Dark Chocolate Chip Cookie served on polystyrene plate ~1hr prior to landing
Jan 2, 16, 9:35 am
Join Date: Aug 2002
Programs: UA 1K & 1MM/AA Gold & 1MM/HH Gold/Marriott Ambassador
Posts: 2,682
Lunch on DEN-IAD 1/1
---
1/1/16
DEN-IAD
UA 652
1550 departure
B737-900ER

Choice of chicken sandwich or chicken salad.

Rather curt and unfriendly FA took PDB orders and seemed pretty unhappy about it, especially when a young girl couldn't decide. Meal orders taken front to back with - what is your first choice after take off chicken sandwich or chicken salad then onto the next person "and you?"

Nice salad with breaded chicken served on the side with a bowl of fruit. Cookies distributed after trays were collected. Sandwich was rather large and served with a plate of grapes and small salad. Sandwich also had arugula, mozzarella cheese and marinara sauce (according to my son).
---
Last edited by TWA Guy; Jan 4, 16 at

5:48 pm
Jan 2, 16, 7:54 pm
Join Date: Mar 2015
Location: DFW
Programs: UA, AA, DL, WN, HHonors, Marriott
Posts: 75
Jan 3, 16, 12:49 am
Join Date: Mar 2011
Location: EUG
Programs: UA Gold; IHG Spire Elite
Posts: 443
ORD-DEN, 1/1 7:45 pm departure.

Two choices for dinner -- mushroom risotto (with peas and asparagus mixed in) or a southwest style chicken breast (chicken, southwest tomato-based sauce, white rice with some black beans mixed in, and a side of broccolini). Both came with a pretzel roll and side salad that was mixed greens with grapefruit & mandarin oranges and balsamic dressing. Husband and I got one of each -- the risotto was actually pretty darn delicious. As a vegetarian option, it is way better than the spinach ravioli we had on the way out, but not quite as good as the paneer dish. The chicken was fine -- above average but still a chicken and rice dish. No pics this time, sorry.

And I have no idea where the best place to post this is but SPRITE ZERO IS BACK!!! I just happened to look at the beverage options in the January Hemispheres and it was listed again. I asked for it and got it.... only one flight, so we'll see how consistent it is, but I'm so happy to have a diet, caffeine-free soda option back. The Dasani lime was not cutting it with me.
Jan 4, 16, 4:18 pm
Join Date: Aug 2002
Programs: UA 1K & 1MM/AA Gold & 1MM/HH Gold/Marriott Ambassador
Posts: 2,682
1/4/16
IAD-SEA
UA 1221
0810 departure
B737-900ER

Choice of waffle, cereal, fruit and yogurt or quiche. Looks like each meal started with fruit and yogurt. Orders taken front to back and waffles were gone very quickly. Drinks were refilled the entire flight and cookies offered just before landing.

Biscuits were offered with butter and jelly, I was in the last row so not sure if another bread was offered as well.

Quiche on IAD-SEA

Tray setup with fruit and yogurt on IAD-SEA
---
Last edited by TWA Guy; Jan 4, 16 at

5:44 pm
Jan 4, 16, 6:43 pm
Join Date: Apr 2004
Location: ONT, LAX
Programs: UA1k 2.5MM, AA Plt, peasant on everybody else, elite something or other at a bunch of hotels.
Posts: 4,527
1/4/16
PHL-SFO
UA 653
6AM departure
B737-800

Choice of cereal or quiche, accompanied by fruit and yogurt. I think a waffle was also on offer, but it disappeared after chosen by both 1A & 1B (I was in row 2.) Orders were taken front to back. Biscuits and cinnamon rolls were offered; I had to ask for butter and jelly.

I had the quiche, which was served with potatoes, sausage and grilled asparagus. Everything was overcooked, with the quiche dry but edible and the sausage and asparagus had an unpleasant charred taste; I tasted a small piece of sausage and one asparagus and passed on the rest.

Cookie offered just before landing.

Good crew with frequent beverage refills and minimal announcements given the very early AM departure.
Jan 4, 16, 7:03 pm
Join Date: Aug 2013
Location: SFO
Programs: UA 1K, Marriot, Hilton
Posts: 743
1-3
IAD-SFO on 777
PBD order taken but not delivered
Hot towel,.warm nuts
Salad with mozzarella balls and red, yellow peppers with pommegranette vinegrette, FA forgot butter for my roll.
Entree options only described as
Chicken
Salmon
Shanghai noodles.
I had the noodles, it was pretty bad. 3 wonton and noodles with a very sweet sauce, pretty bad service, had to repeatedly ask for wine refills during the very long dinner service
Sundae with hot fudge and only whip cream offered.
Cookie offered before landing
Jan 6, 16, 10:20 am
Join Date: Jul 2013
Location: MRY - CNX - TXL
Programs: UA 1K / *G / Marriott PE / Expedia Gold+ / Hertz PC
Posts: 7,060
SFO-DEN 5:25am
Choice of egg scramble or oatmeal with fruit.
Scramble had some sausage, pepper, onions and like a broccoli gratin thing. Eggs were lackluster and consistency crap the rest of the stuff had some good flavor.
My Dad next to me got the oatmeal which looked a little dry, came with cranberries on it and then a larger plate of fruit and yogurt.
Jan 6, 16, 2:09 pm
Join Date: Apr 2012
Location: HVN
Programs: UA Silver
Posts: 13
Requalified for silver in 2016 after being demoted in 2015, was pleasantly surprised with a rare CPU on my first flight in 2016!
1/3, SFO-DEN 7:50pm departure
PDB, warm towel and nuts, dinner choices were "chili" or "chicken jambalaya" entrees. Chose the chili, which was actually pretty tasty. Warm chocolate chip cookie to finish.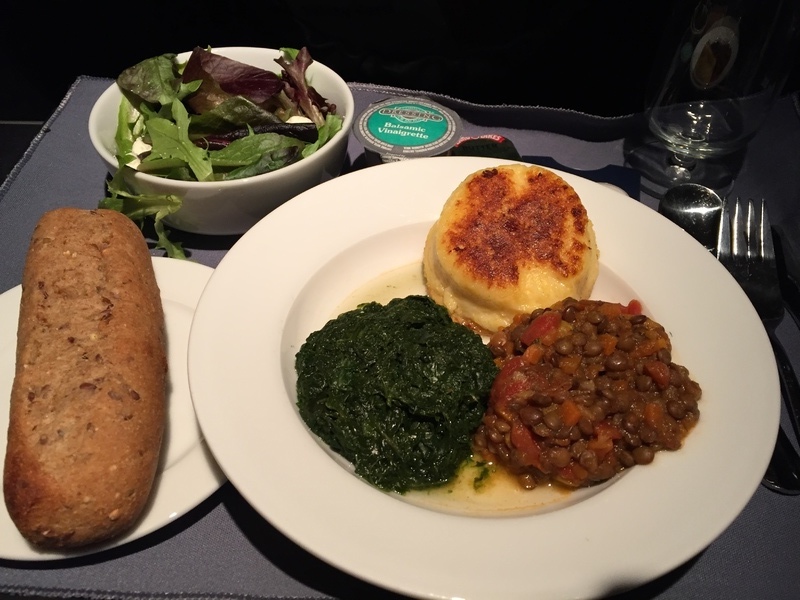 Jan 6, 16, 7:42 pm
Join Date: Oct 2013
Location: SF Bay Area
Programs: UA Platinum
Posts: 491
UA1545
---
Business (SFO-YVR)
A320
1845-2115hrs (+\-)
No PDB (boooooo)
Listed as dinner flight, I'll update as we go: so far already running about 45 min behind.
I'll post pics as they come....
Warm nuts and Gin & Tonic
Choice of lentil chili or cold (salad) glass asian noodles and cold roast beef (I picked the salad)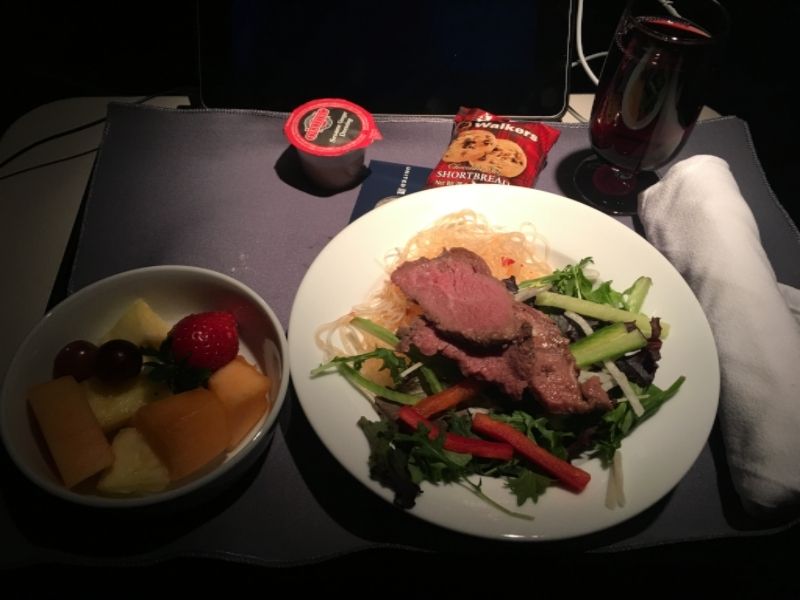 Asked for some red wine, was brought the bottle of 2013 Entwine merlot ($9.99 on google shopping)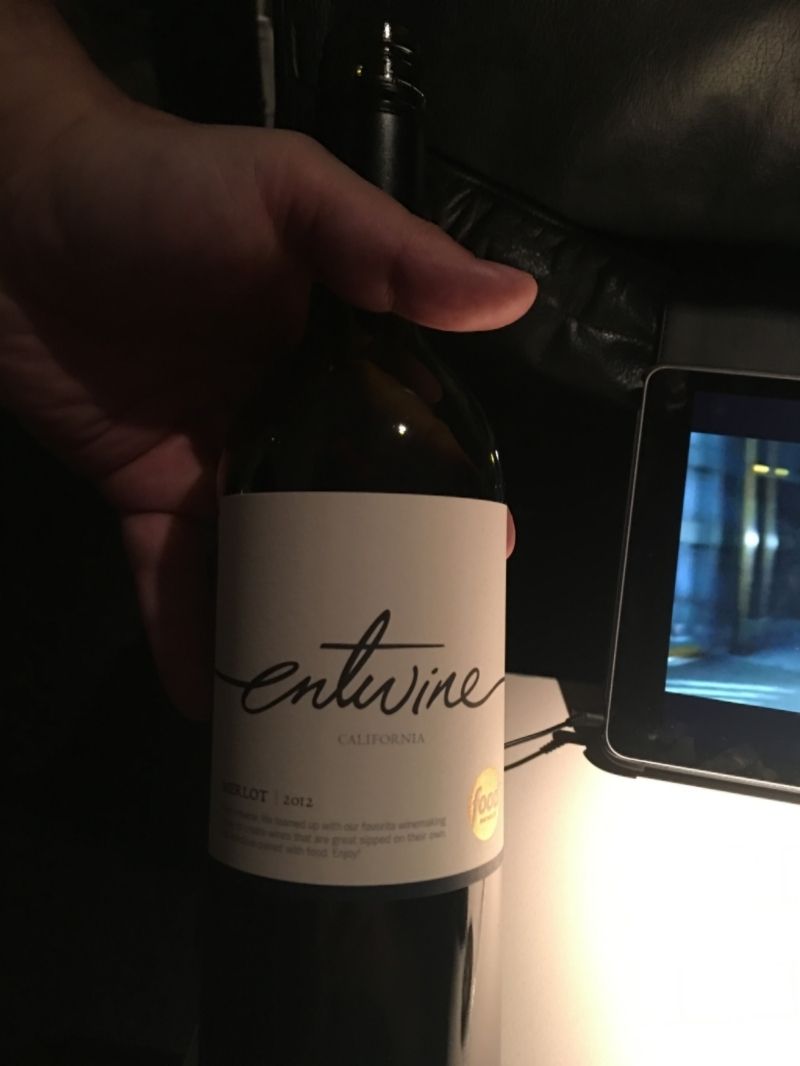 Salad was good, wine was good, not bad for a 2.5 hour flight (although a PDB would have been nice)
---
Last edited by popoemt; Jan 7, 16 at

8:49 am
Jan 7, 16, 8:21 am
Join Date: Apr 2004
Location: ONT, LAX
Programs: UA1k 2.5MM, AA Plt, peasant on everybody else, elite something or other at a bunch of hotels.
Posts: 4,527
Jan 7, 16, 8:46 am
Join Date: Oct 2013
Location: SF Bay Area
Programs: UA Platinum
Posts: 491