Fare Class has Inventory - Not Able to Book into?
Mar 30, 20, 9:32 am - Wikipost
| | | |
| --- | --- | --- |
| Please read: This is a community-maintained wiki post containing the most important information from this thread. You may edit the Wiki once you have been on FT for 90 days and have made 90 posts. | | |
Jul 23, 12, 10:32 am
Join Date: Mar 2009
Location: Los Angeles, CA
Programs: UA Platinum
Posts: 132
Fare Class has Inventory - Not Able to Book into?
---
Has anyone ever seen something like this before, where a less expensive fare inventory is available, yet a higher fare class is the only one bookable? In this instance, I'm looking at a R/T LAX-SYD flight departing 8/15 on UA 839 returning 8/20 on UA 840, which is showing "K9" inventory for both flights on both United's website and ExpertFlyer, however only "L" comes up in the results when searching for lowest fare. I attempted to do a search for only "K" where you can select "Enter specific classes of service" in the advanced reservations search, but get a result of "We were not able to find any available seats meeting your requirements." I tried the same search on Orbitz and Kayak, but I get the same price that United quotes for "L" class. When I searched for this last week on United.com, the ticket was significantly less expensive because the "K" fare class was properly coming up in the results.
Attached is a screenshot illustrating the issue that I'm referring to. Does this make sense to anyone? Thanks for any help!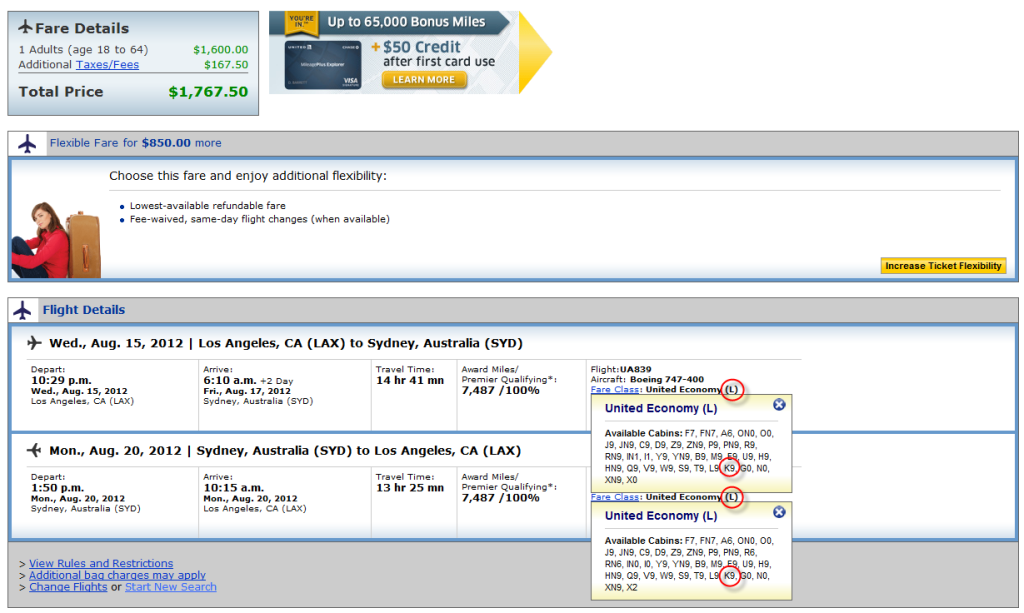 Jul 23, 12, 10:43 am
Join Date: Jan 2008
Location: DEN
Programs: UA Plat 1MM, SPG Plat
Posts: 2,181
You need two things to book a ticket: 1) published fare in a particular class, 2) availability in that class on a specific flight.

Seems like the problem here is that you have #2 but not #1 (i.e., no published K fare to book).

I only glanced quickly at the fares, so could be wrong, but if there is no K fare that would explain it (and they change rapidly enough that its having existed before doesn't mean much).
Jul 23, 12, 10:43 am
Join Date: May 2005
Location: various cities in the USofA: NYC, BWI, IAH, ORD, CVG, NYC
Programs: Former UA 1K, National Exec. Elite
Posts: 5,485
Open inventory does not imply that any fares exist for that bucket. Even if fares do exist, the rules might preclude purchase (e.g. min. stay).

Edit: For example, take a look at flights departing in, say, 2 hours. Almost all buckets may be open, but you almost certainly cannot buy a T fare.

FortFun beat me to it by < 60 seconds....
Jul 23, 12, 10:51 am
FlyerTalk Evangelist
Join Date: Oct 2006
Location: SFO/SJC
Programs: UA Silver
Posts: 12,101
K Inventory Available But Not Bookable ??
---
I see this more often than not, the first two responses are correct.

I book a lot of travel into YYZ, and at least from my city, it's quite common to only be able to book into W as the lowest, though occasionally S and T, even though all buckets show availability.
Jul 23, 12, 10:53 am
Join Date: Nov 2011
Location: IAH
Programs: UA 1K, MR Bonvoy Bonzaiiiii, National EE
Posts: 621
Try again, it's working fine for me. See the screenshot below:
As a side note, I found some issues with UA bookings in that you can find a low fare, and it shows in the calender when doing +/- 3 days, but you cannot seem to book that fare. You can get around this by using matrix.itasoftware.com to find the exact flights, then enter the flights as a multi-destination itinerary. This may do the trick for you, even if in this case they are non-stops.
Jul 23, 12, 10:59 am
Join Date: Mar 2012
Location: SEA
Programs: UA 1k MM, AS Newbie, HH Dia
Posts: 337
Like brp1264, I just pulled up K/K @ US$1356 with no problem.

Not signed in, just chose "Lowest available fare"
---
Last edited by MrOCTeckels; Jul 23, 12 at

11:01 am

Reason: brp1264 beat me to it
Jul 25, 12, 5:48 am
Join Date: Mar 2010
Location: USA
Programs: MVP G, UA G, American AAdvantage 1MM
Posts: 43
I noticed the other week when trying to book in advance my bi-monthly LHR-SFO travel plans that K fares have now gone from the results (even when you specifically search for them) even though it shows them available in the Fare Class list. Extremely frustrating since its hiked the price up by 17% on average making them very uncompetitive. As a result its pushing me back to AA and a status match. With the oil price loosing ground United have pushed the prices up.

http://www.flyertalk.com/forum/united-mileageplus-consolidated/1368094-where-have-all-k-fares-gone-uk-us.html
Jul 25, 12, 4:27 pm
Join Date: Jan 2009
Location: COS
Programs: United 1K
Posts: 463
Maybe unrelated, but I hit this last week with Z fares - even stumped the 1K desk for about an hour.... In my case, the Z fare needed 50 days advance purchase and I had crossed to 49 days. So I saw Z on date X and X+1, could only book X+1. My bad for not checking the fare rules/knowing that I needed 50 days advance purchase, but in my defense the agent didn't notice either.

YMMV of course.

Richard
Jul 25, 12, 6:06 pm
Join Date: Jun 2002
Location: ORD, HKG
Programs: UA*G, AA PLT, HHonors Diamond, Marriott Gold
Posts: 9,796
Jul 25, 12, 6:24 pm
Join Date: May 2005
Location: various cities in the USofA: NYC, BWI, IAH, ORD, CVG, NYC
Programs: Former UA 1K, National Exec. Elite
Posts: 5,485


Heck, there's a refundable SEA-SEL S fare ($821, penalty).

All of these have a $300 charge for refund.
Mar 11, 13, 4:30 am
Join Date: Dec 2011
Location: SOF, ORD
Programs: A3 Gold, BA Silver, Honors Gold, IHG Platinum, Marriott Gold, SPG Gold
Posts: 808
Can't seem to force a lower fare class on a codeshare
---
I'm trying to book codeshares operated by US for PHL-PHX-ANC and ANC-PHX-PHL since they are cheaper than the UA alternatives and also cheapear than purchasing through US but the lowest fare displayed is K even though all 4 flights have availability in the lowest fare class - G. I've tried the multi city search, at which point, the codeshares don't show up at all and I only see UA flights. The fare doesn't change if I book it as one-way or round trip, so I can't figure out why I can't get a single class all G itinerary instead of being forced to book K. Can anyone shed some light on this? Have you had this happen to you? Thanks in advance for any feedback.

P. S. I'm trying to book both in April, so any 14 or 21 days advance purchase requirement will definitely be met.
Mar 11, 13, 5:10 am
Join Date: Jan 2009
Location: LHR (sometimes CLE, SFO, BOS, LAX, SEA)
Programs: UA 1K
Posts: 5,813
In order to buy a ticket with booking class G, you need two things:
G availability on all segments
A valid G fare published in the market
Unless you know that there is a G fare filed in the market and that you meet the advance-purchase / minimum-stay / other requirements, the most likely explanation for "why does the little box say G9 but I'm not being offered a G fare?" is "there is no valid G fare for sale".
The ExpertFlyer "fare information" tool doesn't show any G fares published by UA in this market:
I really gotta get my own GDS access…
We've seen a steady flow of these kinds of questions and I have to wonder whether UA wasn't telling the truth when they said "the reason we turned off Expert Mode fare class display by default was that it was wasting a lot of phone representatives' time to have to explain that just because there's G availability, that doesn't necessarily mean we'll sell you a G fare", and I have to wonder whether UA wasn't kidding when they added that scary multiparagraph disclaimer to "Expert Mode" in your united.com profile where you have to promise not to ask for G fares that don't exist, have to promise one fresh lamb to MileagePlus every week, etc.
Mar 11, 13, 6:14 am
Join Date: Dec 2011
Location: SOF, ORD
Programs: A3 Gold, BA Silver, Honors Gold, IHG Platinum, Marriott Gold, SPG Gold
Posts: 808
Thanks for the responses. Yes, I checked EF and indeed, there is no G fare offered on that route. Which begs the question - why show availability in that fare class if it's not offered. But I guess that's something to be answered some other time. Thanks again for the detailed response.