Virgin Trains trialling cooked-to-order pizza
Mar 17, 14, 9:15 pm
Join Date: Dec 2009
Location: London
Programs: BA bronze card, NHS Blood Donor silver card
Posts: 1,617
Virgin Trains trialling cooked-to-order pizza
---
I had a nice little surprise on the train down from Glasgow this afternoon - we got the usual announcement about the snacks and sandwiches available in the on-board shop, but then something new: pizzas.
here's the rather, ahem, cheesy flyer: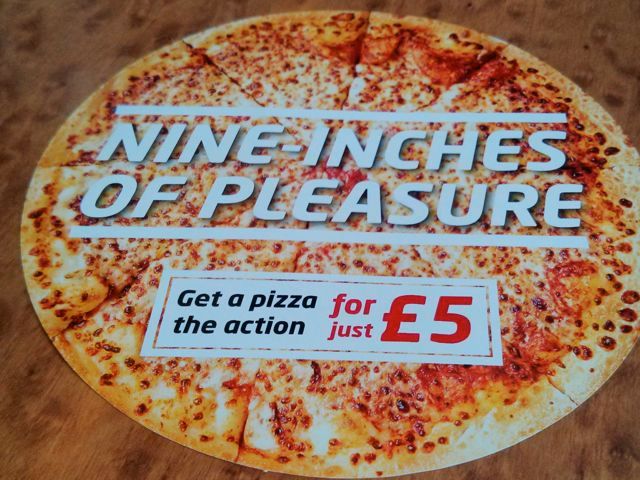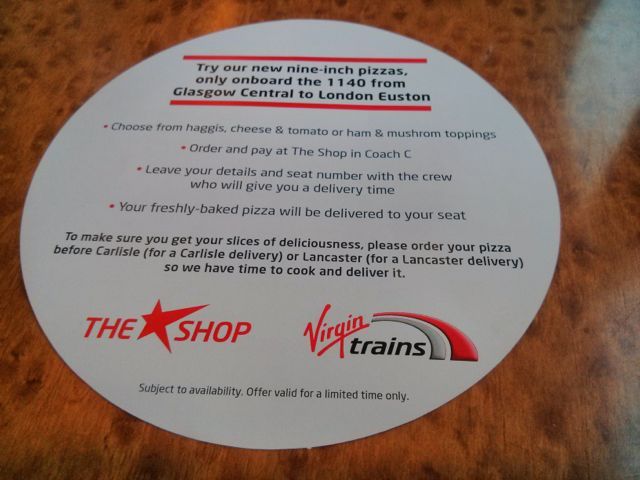 I was quite tempted by the haggis option, but the wife didn't approve, so I ordered the ham and mushroom. About 40 minutes later, it was delivered to my seat from the first class galley.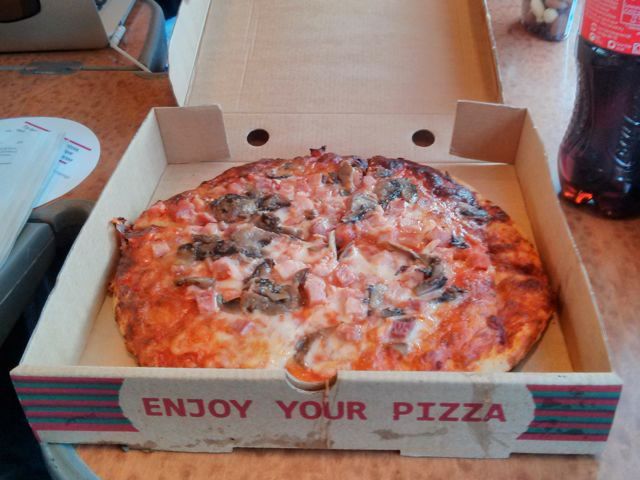 My photo probably belies that it was actually pretty tasty. I think the base was from frozen, but the rest seemed to have been freshly prepared, and certainly nicer than something from a packet that had been thermonucleated in a microwave. It brought to mind the hot meals you used to be able to order from the GNER buffet, though they seem to have disappeared with the demise of the restaurant car.
As the flyer says, it's currently only available on the 1140 from Glasgow Central to London Euston, but the man in the shop said that they were looking to roll it out on other routes. It's a nice idea, though I'm not sure how well it would work on busier services - or whether you'd be able to fit the pizza box on those silly flip-down tables on the airline-style seats.
Of course, on other trains, with a bit of judicious planning, you could call a local takeaway and get them to deliver to a platform en route...
Mar 18, 14, 7:22 am
Join Date: Jul 2011
Location: LHR- ish
Programs: MUCCI, BA Blue
Posts: 4,295
Which has been done apparently. (Oxford would be a good place for pulling that trick, there's a Dominos sort of across the road from the station).

Pizza baked on the train is an intriguing development though, and the price seems quite reasonable.
Mar 18, 14, 12:40 pm
Join Date: Feb 2006
Location: London
Programs: BAEC
Posts: 2,513
Nice idea, although the smell might be a bit antisocial for those not eating. I was sat next to a woman on the tube yesterday all the way from Heathrow to central London, who happily spent 45 minutes munching on a McDonalds
Mar 18, 14, 9:40 pm
Join Date: Feb 2014
Programs: AA Plat SPG Gold
Posts: 292
Mar 23, 14, 5:25 pm
Join Date: Sep 2001
Location: UK. BAEC AAdvantage
Programs: Mucci Des Oeufs Brouilles et des Canards
Posts: 3,542
Is this route or time dependant? Other half went up to Manchester this week form London. Mid morning departure and all he got was a cup of tea and a roll with sausage in it (as opposed to a sausage roll!). Coming back today (Sunday) all he got was a miniature box of miniature snacks - and this was a lunch time train. Thankfully he did buy a sandwich before boarding.
The price from Standard to first was £11 more on the way up, but only £2 more on the Sunday.
Mar 23, 14, 5:44 pm
Join Date: Dec 2009
Location: London
Programs: BA bronze card, NHS Blood Donor silver card
Posts: 1,617
There's a reduced service on weekends and bank holidays - that's why it's so cheap to upgrade. At other times, you get oodles of food, and alcoholic drinks.
Mar 24, 14, 7:22 am
Join Date: Sep 2001
Location: UK. BAEC AAdvantage
Programs: Mucci Des Oeufs Brouilles et des Canards
Posts: 3,542
He was prepared for the snack box for the Sunday journey, but still shocked at the tiny size of it all. Particularly for a lunch time service.
His outbound journey didn't have oodles of food and also a distinct lack of service from the staff. Efficient but no warmth or interest in the passengers. .
Mar 24, 14, 8:05 am
Join Date: Oct 2000
Location: Birmingham, England
Programs: LH SEN, Hilton Diamond, AF/KL & BA basic memberships, Tufty Club Exec Plutonium
Posts: 1,668
Mar 24, 14, 3:39 pm
Ambassador: Emirates Airlines
Join Date: Sep 2004
Location: Manchester, UK
Posts: 17,295