Yotel - LHR T4
Jun 21, 10, 2:18 pm
FlyerTalk Evangelist
Join Date: Feb 2010
Location: LHR
Programs: DL DM 1MM, AA Plat
Posts: 10,157
Yotel - LHR T4
---
Hi Everyone,
I know I've seen questions about the Yotel (LHR, T4) over in the airline forums. I have stayed in both the premium and standard cabins and think it is a good deal for the money, especially since it's in the terminal!
Delta is also using it as an arrivals lounge for its BusinessElite, Diamond Medallion, and Platinum Medallion customers.
Here are some pics of the premium cabins:
Yotel Menu
Bed - not extended: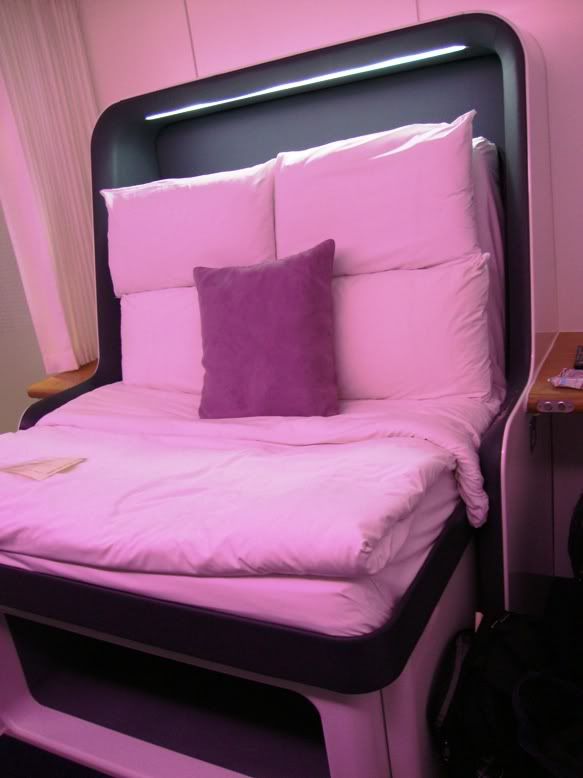 Bed - extended: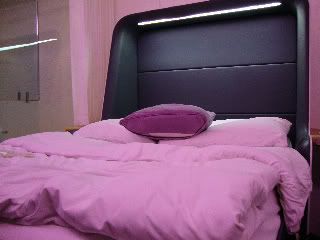 Bathroom/Shower: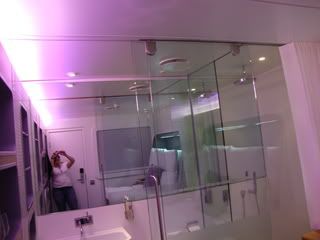 Entertainment area/desk: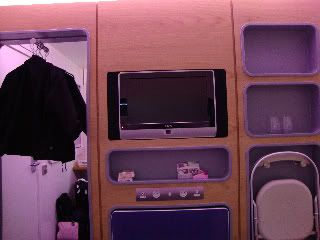 robin
Jul 18, 10, 11:05 am
Join Date: Jul 2010
Posts: 29
Thank you rwoman for your pictures!
I was thinking of staying over one night in Heathrow and was considering Yotel! Thanks for your effort to take pictures and put them on here!
Jul 18, 10, 4:06 pm
Moderator: Luxury Hotels and FlyerTalk Evangelist
Join Date: Sep 2002
Location: Palo Alto, California,USA
Posts: 16,657
It took me a while to figure out how to get the bed to extend from the position shown in the photo above. Turns out everything is controlled from a switch panel next to the bed.
Oct 23, 10, 1:35 pm
Join Date: Jan 2001
Location: Cayman Islands
Programs: AA EXP
Posts: 807
Quick review of Yotel, stayed in standard cabin on Oct 12th
In summary, it does the trick very nicely. For me, I arrived LHR off the last flight from EDI (BA to T5) around 10pm, then had to be at T3 for AA check in around 6:30am the next morning, so just needed somewhere to crash.
Bed was comfortable (and long enough, I am 6'3"), linens clean and crisp, wifi worked, shower in the morning was great.
A few niggles, but only a few :
- first, their post stay survey doesn't work with Chrome.. couldn't be bothered to try in another browser, sorry Yotel
- in general looks quite tired. The space age white plastic airline cabin type design is great, but shows wear.
- individual cabin temperature control would be a big plus, not everybody likes an identical temperature (it was a little too warm for me)
- don't try staying in a standard cabin with two people (not that I did, but have seen it mentioned!). Even if you like a 1m wide bed (cosy!), there is absolutely no room for two people to move around in the cabin.
Now, on transfers from T5 to T4, had not tried it before, but was advised to try the bus. At that time of night they run roughly every 20-30 minutes, and took a little under 20 minutes to drop off at T4. I'd recommend sticking to the HEX train transfer to T1/T3 then back to T4, as time difference won't be much, and you won't have to wait outside (not good in winter months...umm.. about 9 months of the year in London!).
Loved waking in the morning, quick shower, straight down to HEX, short walk from Heathrow central to T3.... from hotel room to check in under 15 minutes, all indoors. Oh, and got to Flagship checkin for AA and they offered me a (better) reroute, so more time at the best lounge in T3, BA F.
Oct 23, 10, 1:45 pm
FlyerTalk Evangelist
Join Date: Apr 2000
Location: FLL -> Where The Boyars Are
Programs: AA EXP 1.7 M, Hilton Gold, Hertz 5*, AARP Sophomore, 14-time Croix de Candlestick
Posts: 18,668
I stayed for one night about three weeks ago (in a standard cabin, no premiums were available), and echo all of the comments made by TomCayman. I would only add that wi-fi access is included in the rate and is fairly fast - the only problem is finding a place for your laptop. Also, the showers are clean but basic and cramped, with a single-squeeze bottle of liquid soap/shampoo. I decided not to shower there, but went instead to use the showers in the AA clubs at T3 (although I was flying out on BA, the showers in the BA F club were down due to a technical problem).
Oct 23, 10, 3:16 pm
Moderator: Luxury Hotels and FlyerTalk Evangelist
Join Date: Sep 2002
Location: Palo Alto, California,USA
Posts: 16,657
In the premium cabin I stayed in, if you move the bed up to the original position, there is a tiny table on the opposite wall that you can pull out and use with a supplied folding chair. Yeah, it's a little like a "business hotel" in Tokyo, you can't swing a cat in it without danger to the cat (as Mark Twain said), but it does work.
Oct 24, 10, 5:16 am
Join Date: Feb 2005
Location: Mid Wales
Programs: BA back down to Blue, PC Plat
Posts: 682
I'm pretty confident that in the standard cabin I stayed in recently at the Yotel at Gatwick S, there was a temperature control.
For late-night arrival + early morning departure, I think these are pretty good.
Oct 24, 10, 3:48 pm
Join Date: Sep 2003
Location: Anwhere ex-MAN
Programs: A3 *G, BA Silver
Posts: 2,706
Just stayed in the AMS version, Premium Cabin, so enough room to swing a small feline if only one occupant.

Echo all that has been said - great for a crash overnight between flights (or overday, if arriving early and leaving late).

TV was down in AMS and the wifi speed was pants.

The AMS Yotel is on the non-schengen side, at the back of McDs at the food court.
Dec 20, 13, 8:17 am
Join Date: Aug 2012
Location: London
Programs: DL FO, BA Bronze, Avis Preferred
Posts: 817
Any news on whether GM can use the Yotel as an arrivals lounge on a Y ticket from the US on DL?
Dec 20, 13, 8:23 am
FlyerTalk Evangelist
Join Date: Feb 2010
Location: LHR
Programs: DL DM 1MM, AA Plat
Posts: 10,157
GMs have been able to do so since they were given Sky Team Elite Plus benefits.
http://www.flyertalk.com/forum/delta...london-dl.html
Dec 24, 13, 2:44 pm
FlyerTalk Evangelist
Join Date: Oct 2006
Location: London, UK
Programs: BA Gold, IHG Platinum Ambassador
Posts: 13,916
Prior to living relatively close to LHR, I had considered staying at the Yotel prior to early morning flights, but always worried about feeling claustrophobic!
Posting Rules
You may not post new threads
You may not post replies
You may not post attachments
You may not edit your posts
---
HTML code is Off
---