call center agent booked wrong fare class
Jul 30, 15, 2:38 am
Join Date: Jan 2012
Location: ZRH
Programs: TK Miles&Smiles Elite, IB Plus Plata
Posts: 62
call center agent booked wrong fare class
---
A few days ago I called Turkish Airlines to book a ticket in booking class Q. (Routing is ZRH-IST-CPT and back) I specifically asked the agent to be put in Q.
Flight was reserved and I was told to pay for the ticket by July 30th. I also received an E-Mail confirming that all my flights are booked in Q.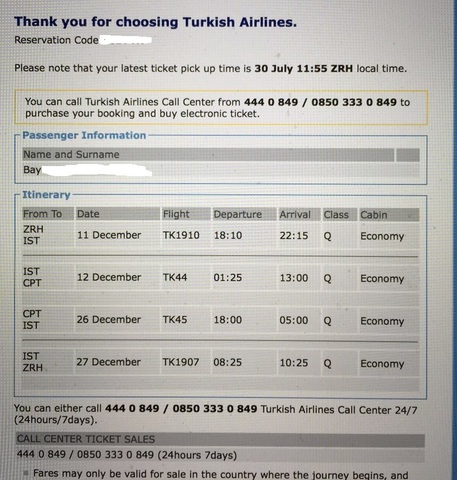 direct upload
On August 29th I called again to make the payment. I asked the agent once again if my flights are in booking class Q. Agent confirms flights are in Q. Shortly after that I received my E-ticket but now the outbound leg is in Q and the return in L.
Just after that I called TK again to rectify their mistake but all they could do is to open a ticket for HQ to investigate my case. Has anybody got experience with this? All the they have to do is to change the return to Q and charge me the fare difference.
This cannot be that difficult.
I also thought of going to their airport sales office to speak to someone in person. Are they able to change the return to Q without charging me anything for the change?
Jul 30, 15, 10:09 am
Join Date: Jan 2012
Location: ZRH
Programs: TK Miles&Smiles Elite, IB Plus Plata
Posts: 62
call center agent booked wrong fare class
---
Problem was solved. I had 4 missed calls today from TK. Ticket is cancelled. Credit card charge reversed and a new ticket in Q issued.