On The Road Again ~ Spring Travels Above And Around North America
May 13, 09, 10:07 pm
Join Date: Apr 2001
Location: East Ester, Alaska
Programs: Alaska Airlines Million Miler, United Airlines Million Miler, Wyndham Rewards Diamond Level
Posts: 9,619
On The Road Again ~ Spring Travels Above And Around North America
---
Here it is springtime and I'm once again faced with that insatiable urge to travel somewhere. Truth be known, I'm faced with it most of the year but it seems strongest in the spring. Given the scope of my past springtime adventures, I really feel that I should apologize to my legion of faithful readers (all 74.7 of you) who, this time of year, have come to expect from me a grand First Class adventure to some far flung corner of the globe aboard one or more of the world's finest airlines. As regular readers of my reports must know by now, I have been battling the debilitating effects of what has been described as a very severe case of spinal stenosis. A number of surgeries appear to have stemmed the disease's progression for now, but of course surgeries of this nature hardly leave you feeling up to throwing on a 40lb. backpack and heading out into the world anytime soon. Rest assured I am planning to return to International Premium Class travel with a vengeance next spring. I am hoping my plans for train travel on six continents over two months is not overly ambitious. So far, the itinerary appears quite doable and as such I have already booked two of the award flights associated with it. But that'll have to wait until next year.
This year, mentally, I remain as ready to go as I ever have. Honestly, if I had the money I'd spend two thirds of the year traveling the roads, rails, sea lanes and air routes of the world and the other third at home in my cabin or at work in Denali National Park. Even if I were worth billions, I'd still work at Denali. After 23 years, I still enjoy being there that much.
Alas, I'm not worth billions or even a million so if I am to continue occasionally living it up in the First Class cabins of airlines like British Airways and Cathay Pacific or even Alaska, I need to go out and earn the requisite mileage. I definitely feel vigorous enough right now to handle a mileage run or two. Or three. Or even four. The trick is to break them up. Do a round trip somewhere, then take a few days off. To that end, I've come up with a simple little itinerary that comprises 31 flights covering 29580 miles aboard seven airlines. Airports visited include Nome, Kotzebue, Tampa, Los Angeles, Memphis, Milwaukee, Portland, Indianapolis, Seattle, Detroit, Miami and Denver.
So, if this sounds like something you care to read about, I reckon I'll try and write about it. Let's head on out to Fairbanks International Airport where the skies are clear and it's a sunny 43°F.
Although I've imbedded alot of photos in this report, you'll find the rest of them
HERE
.
---
Last edited by Seat 2A; May 16, 09 at

9:41 am
May 13, 09, 10:12 pm
Join Date: Apr 2001
Location: East Ester, Alaska
Programs: Alaska Airlines Million Miler, United Airlines Million Miler, Wyndham Rewards Diamond Level
Posts: 9,619
The
new terminal
at Fairbanks International Airport opened in May 2008. It is an attractive facility, at once spacious and well lit with large floor to ceiling windows that allow in plenty of natural light of which Fairbanks has an abundance during the spring and summer months. A stylish coffee stand offers food and beverages for travelers hungry or thirsty enough to pay the exorbitant prices. Alaska Airlines 737s dominate the ramp most of the year with seasonal summer visits from Northwest 757s, Delta 737-800s and Condor 767-300s. Chartered Japan Air Lines 747-400s are also spotted throughout the year.
Still, I do miss the old FAI terminal, much of which is being or will soon be demolished. I recall many a delicious and affordable meal in the full service restaurant, located at ground level where a table by the window offered superb views of the ramp and the colorful variety of aircraft that once served Fairbanks. In years past, jetliners from Wien Consolidated, Pan American, Western, Markair, United and Reno Air along with old piston engine DC-3s and C-46s from carriers like Air North, Pioneer and Audi Air made FAI a plane spotters heaven. Because the old terminal was single level, boarding meant walking out onto the ramp and climbing up the self contained stairway of a Wien 737 or entering a Western or Delta 727 through the rear stairway. To this day I can think of no more exciting way to approach and board an airliner, even in the rain.
No doubt some of you are thinking "This guy's all wet!" but I still enjoy the sheer excitement of flight, much of which is muted when boarding via today's modern jet bridges. Thankfully, not all of the old Fairbanks terminal has been razed. The old 1950s era building still stands and is indeed functional, serving regional carriers like ERA, Pioneer and Warbelow Air. This trip begins with a flight aboard an ERA Aviation DHC-8-100 down to Anchorage, connecting to yet another Dash 8 over to Valdez, Alaska.
April 12, 2009
ERA Aviation Fairbanks – Anchorage 2:25pm – 3:25pm DHC-8-100
ERA Aviation Anchorage – Valdez 4:50pm – 5:30pm DHC-8-100
ERA Aviation got its start in 1948 as Economy Helicopters. Its helicopters helped in surveying the Alaska Territory along with providing petroleum support services. Following a merger with Rotor Aids, Inc., the acronym ERA was born as Economy and Rotor Aids with the company known as ERA Helicopters.
ERA got into the airline business with the purchase of Jet Alaska in 1978. Three 50-passenger Convair 580s were purchased for charter/airline service, joining the company's Twin Otters and a King Air. In1988, ERA Helicopters changed its name to Era Aviation, Inc. to reflect the diversified nature of the company. Today it flies DHC-8s and Beech 1900s to a variety of Alaskan destinations, in addition to providing helicopter support services both in and outside of Alaska.
Though I'd driven to Valdez, Alaska in the early 1990s, I'd never flown there before. About three years ago a good friend of mine took a job with the city water department in Valdez and I'd yet to get back down there for a visit. ERA's 10,000 mile in-state award made the trip both affordable and entertaining as ERA will be my 134th airline flown. I'm always up for a flight on a new airline. I'm especially looking forward to flying with Emirates, Air Seychelles and Air Madagascar. But that's another trip.
There is no formal security checkpoint in FAI's Terminal 1. After checking in for my flight, I proceeded unimpeded to the gate lounge. In lieu of security screening, identification is required with your boarding pass as you exit the terminal. None of the airlines operating out of Terminal 1 offer seat assignments, so those desiring a choice window or bulkhead seat best be poised and ready to go when boarding is announced.
Waiting on the ramp was N883EA, an eighteen year old DHC-8-100 that began service as D-BIRT with the German airline Interot, which became Augsburg Airways in 1995. In 2000 the aircraft was sold, donning the attractive red, white and black livery of ERA Aviation.
ERA's Dash-8s seat 37 passengers and judging by the small group in the gate lounge, we'd all get window seats if we so desired. Not so fast said the flight attendant as we entered the aircraft and I eyed the spacious seats at emergency exit row one. Due to weight and balance considerations, no one may sit forward of row 4. Well dang! This happens to me all the time when flying on American Eagle's ATR-72s out of Miami. Oh well, row 4 it is.
Flight time down to Anchorage was announced as one hour even. Twenty-six minutes into the flight, we flew directly over Cantwell, normally a three hour drive from Fairbanks. I could clearly see a friend's house just a couple hundred yards up the road from the Long Branch Saloon. I missed the days of inflight telephones for it would have been fun to call and say I'm in that plane you hear overhead. I probably would have been able to see them as they ran outside to look.
Following a short layover in Anchorage, I boarded sister ship N882AS for the short 40 minute flight down the coast to Anchorage. It has been said that of all the flights within the state of Alaska, the flight between Anchorage and Valdez might be the most dramatic. Alas, we entered clouds shortly after takeoff and didn't see land again until our approach into rainy Valdez. I took some consolation in the fact that tomorrow's weather called for clearing skies with widely scattered sunlight later in the day.
My friend lives about 10 miles out of Valdez in a well insulated trailer surrounded by tall spruce trees. We enjoyed a good steak dinner and I finally got to photograph the notorious welcome mat that was so instrumental in driving off the unwanted attentions of Mormon and Seventh Day Adventist missionaries hell bent on converting the heathen settlers north of Valdez. After a number of such visits, my friend one day found himself in a thrift shop in Anchorage looking at a door mat that had once welcomed visitors to the home of The Tuckers. He was suddenly smitten with a bolt of inspiration. He bought the mat, took it home and carefully removed the left side of the T from Tuckers. Then he carefully glued that piece on the right side of what was left of the T. Once the glue had set, he placed the mat outside his door and has had no further visits from missionaries of any ilk.
April 13, 2009
ERA Aviation Valdez – Anchorage 8:30am – 9:10am DHC-8-100
Alaska Airlines Anchorage – Nome 11:15pm – 12:51pm 737-400
Alaska Airlines Nome – Kotzebue - Anchorage 1:36pm – 4:34pm 737-400
Alaska Airlines Anchorage – Seattle 5:05pm – 9:23pm 737-800
The one way airfare for the120 mile flight between Valdez and Anchorage is $160.00 with advance purchase. Roundtrip goes for $320.00. The alternative is a six hour, 298 mile drive over Thompson Pass and down the Glenn Highway to Anchorage. Thank goodness for award travel!
Thankfully the weather had improved considerably from the afternoon before. A large patch of clear sky on the horizon bode well for the flight ahead. I was fortunate to snag window seat 1D, at the forward exit row on the left side of the cabin. As the aircraft broke through the cloud layer shortly after takeoff, we entered a bright sunny world of magnificent snow covered peaks below which flowed multiple glaciers toward the clouds below. I stayed busy with my camera all the way through our descent into Anchorage.
My original plan had been to use a one way award from Anchorage down to Denver with a two week stop in Seattle. However, with Alaska's one-way instate awards going for just 7500 miles, I decided to first take an award flight to Nome, then start my one way 12,500 mile award journey to Seattle and Denver from there. As an added bonus, the Nome to Anchorage flight made a stop in Kotzebue, just north of the Arctic Circle.
I looked into spending a night in Nome, but the prices were ridiculous. $140.00 or more per night for rooms that per internet reviews were considered average to below average at best. I'll come back on a summer weekend and camp outside of town. This trip will basically be an air tour.
Because there are no roads out to most of Alaska's bush communities such as Nome and Kotzebue, airplanes are the best way to deliver people and goods. 737-200 Combis performed admirably for many years, having recently been replaced by 737-400s converted to Combis from Alaska's mainline fleet. Generally, the forward half the airplane is utilized for cargo, with the rear half offering a normal passenger cabin. Boarding is via a self-contained stairway that extends from the rear passenger door.
The last time I flew N763AS was in April 2006, when it was a standard 737-400 configured to seat 144 passengers in two classes. Since its conversion to a combination passenger/cargo airplane, it now seats 72 economy class passengers in the back half of the plane starting at the second over wing exit window. Prior to today, I'd logged twelve flights covering 6980 miles aboard ship 763. Hopefully I'll log that many and more on future visits to Alaska's bush communities.
Unfortunately, the flights into Nome and Kotzebue were anticlimactic as clouds covered most of western Alaska. I found it interesting though that the terminal buildings at both airports appeared to be exactly the same. Perhaps there's an Acme Airport Terminal kit available for purchase somewhere. Some assembly required.
Transfer in Anchorage to my connecting flight down to Seattle was the stuff of dreams. I got off the flight from Kotzebue, casually strolled down the concourse to my Seattle flight and walked right on board. There was no rush, there was no line in the jetway and there was plenty of room in the overhead for my carry-on. I settled into my spacious exit row seat and reflected upon another nice day of flying.
On flights of three hours or longer, Alaska offers a choice of a cold turkey sandwich or a hot cheeseburger. Normally it's one or the other but on this evening's flight both were available. Each costs $5.00 and comes with a bag of chips. I think it's a great deal compared to what I've seen offered on other airlines for generally more money. Alaska also treats its MVP Golds to a free drink in Economy, so I washed my burger down with an ice cold Alaska Amber. Ah… If you must fly domestic economy, this is a nice way to do it.
Thanks to Priceline, I spent a comfortable night at the airport Holiday Inn for about the same price I would have paid at one of the decidedly less comfortable airport motels.
April 14, 2009
Alaska Airlines Seattle – Los Angeles 5:00pm – 7:40pm 737-400
Northwest Airlines Los Angeles – Tampa 10:00pm – 5:34am A319-100
One way fares between Seattle and Tampa were going for about $100.00 each way back in March so I purchased three roundtrips over the next two weeks. Today's run starts with a 5:00pm Alaska Airlines departure down to Los Angeles, connecting to Northwest's 10:00pm nonstop across to Tampa. Interestingly, this ticket was purchased via the Delta Air Lines website though none of the flights are on Delta metal.
Alaska's upgrade rules for MVP Golds are a bit different when the flight on Alaska is a codeshare issued on another airline's ticket stock. Whereas on an Alaska issued fare I'd be able to upgrade 72 hours out, on a codeshare flight I can only upgrade on day of departure upon check-in at the airport. I've heard some MVPs grouse about this but I think it's pretty nice Alaska allows us to upgrade at all under the circumstances.
Upon check-in I was told that I was at the top of the upgrade list but upon arriving at the gate I was informed that another MVPG had booked at the last minute to nudge me out. Alas. I took my seat in the reclining exit row and pondered an interesting coincidence: This is my 767th flight with Alaska Airlines. The aircraft operating this flight is N767AS. Go figure.
Flight time down to LAX was a quick two hours and four minutes. Upon arrival I headed over to Gate 35 to catch the American Eagle shuttle bus to AA's commuter terminal where another bus would take me to Terminal 2 and my Northwest flight. Not so fast said the lady guarding the shuttle bus entrance. You must be a passenger on American Eagle in order to take the bus! But I've made this connection dozens of times in the past said I. She would have none of it. You must be a passenger on American Eagle in order to take the bus! she repeated. She further explained that the only way to get from Terminal 3 to my Northwest flight at Terminal 2 is to go back through security, head outside and walk over to Terminal 2.
It would seem things have changed. Apparently American Eagle no longer wants to shuttle non-AE passengers around LAX. Fair enough, but it's now a big pain in the butt to connect between Alaska and Northwest what with the extra trip through Terminal 2 security. In addition to Northwest, Terminal 2 also serves a variety of international airlines so it's busy place, especially in the evening with late night departures from Air New Zealand, Virgin Atlantic, Air Canada and Air France in addition to Northwest's two departures to Detroit and Tampa. Additionally there is no elite lane at the security checkpoint so I spent another half hour standing in line before finally being deemed safe to proceed.
As an Alaska MVP Gold, I'm eligible for free upgrades on Northwest flights at the equivalent status of a Silver in Northwest's WorldPerks program. Once again, I was told I was first on the list for the Tampa flight and once again I was informed at the gate that a couple of last minute Plats had shown up to spirit away the last available seats. Thankfully, I had the next best thing – a window seat in row 5 on the Airbus A319. As configured with Northwest, the first row of economy on both the A319 and A320 offer exceptional legroom and because there's no bulkhead you can store your carry-on under the First Class seat in front of you.
As we pushed back from the gate, I took note of an A320 parked nearby that had been repainted in Delta's new colors. Delta is wasting no time in repainting Northwest's aircraft and I must say Delta's colors are a big improvement over the bland grey Northwest livery.
We're looking at four hours and five minutes over to Tampa tonight. That's a quick flight considering the 2,150 mile distance. I reclined my seat shortly after takeoff and with the help of a Melatonin tablet slept most of the way to Tampa.
April 15, 2009
Northwest Airlines Tampa – Los Angeles 7:00am – 9:18am A319-100 First Class
Delta Air Lines Los Angeles – Salt Lake City 11:25am – 2:12pm CRJ-900
Delta Air Lines Salt Lake City – Seattle 3:15pm – 4:21pm MD-90
Alaska Airlines Seattle – Denver 6:45pm – 10:14pm 737-800 First Class
Our early arrival in Tampa meant an almost two hour layover before re-boarding the same airplane and flying back to L.A.. Thankfully I'd already been upgraded for the return flight with seat 1A having been pre-assigned. Since there are no airline lounges in Northwest's TPA terminal, I stretched out in the gate lounge and caught another hour of fitful sleep.
Flight time to LAX was announced at five hours and ten minutes. I'd slept so comfortably on the flight out from LA that it would have been nice if the headwinds had blown in reverse and given us an extra hour or more of flight time. Ah well, I felt pretty good considering and the hot towel proffered shortly after takeoff did nothing to detract from that.
Coffee and orange juice were delivered in short order followed by a choice of an omelet or a bowl of Corn Chex cereal. Both entrees were served with a fruit plate, yogurt and a croissant or bagel. I ordered the omelet and since the bagel could not be toasted chose the croissant instead. The omelet was accompanied by sausage and was filled with a milky white cheese sauce with bits of veggies. Though nowhere near the best omelet I've ever had, it was reasonably tasty and certainly filling.
It's interesting to see just how far the quality of domestic First Class meal service has fallen over the past twenty years. The breakfast I was served today, presented all on one tray, was pretty much what I would have received in Economy back in the seventies. In First Class on a route of this length back then, Northwest's Regal Imperial Service would have presented a breakfast served course by course from the trolley complete with menus and silver service. Of course, back then I would have also paid the full First Class fare for my First Class seat instead of the $103.80 I paid today for a coach seat with a complimentary upgrade. So, no complaints from my quarter.
With the inter-terminal bus connection no longer an option at LAX, I hoofed it on over to Terminal 5 on foot. It was a beautiful clear day in southern California and it felt good to get out and enjoy the nice weather. The theme building at LAX, the one that looks like a giant white spider in the middle of the airport, was totally encased in scaffolding. The last time I was in that building was in the early seventies. Marriott provided the food service in the revolving restaurant and I remember dining on what may well be the finest Eggs Benedict I've ever eaten. TWA had just introduced its new twin red livery and we rued the loss of the old Starstream banner and the golden globe on the tail, one of the classic airline insignias of all time. Here's how a 747-400 would have looked in that livery:
Aside from being a large and very attractive lounge, the Delta Crown Room at LAX Terminal 5 is the only domestic airline lounge I know of that provides showers. I had plenty of time before my connecting flight to Salt Lake City, so I enjoyed a hot shower, a shave and a fresh shirt followed by a coffee and Baileys at the bar before heading out to my gate. Flying doesn't always have to be the unpleasant experience we so often read of these days. For frequent flyers, a lounge membership is a must and goes a long way towards smoothing the rough edges of modern day air travel.
A long and sleek CRJ-900 awaited Salt Lake bound passengers at gate 65. The airplane looked sharp in Delta's new livery and because of its extended length, even included a First Class cabin. The load was light and pushback was right on time. On our way out to the runway, we taxied by one of Qantas' new A380s. This was my first time ever seeing the huge aircraft and I must say it is quite an impressive sight from the vantage point of ground level on the taxiway as opposed to being twenty feet higher in the airport terminal. Those engines are massive!
In just one hour and thirty-four minutes we were transported from a nice spring day in Los Angeles to a blustery winter like day in Salt Lake City. Snowflakes flurried as we taxied to a jetway equipped gate on the B Concourse. On a day like today this was quite a luxury since most of Delta Connection flights disembark outside and walk into the terminal.
A little more than an hour later I was comfortably sat in the exit row of a Delta MD-90 as we climbed above the cloud layer and re-entered a world of bright warm sunshine. I was reminded of the old Clairol hair color ads from years ago: "Hate those grays, rinse them away" When flying, how about "Hate those grays, fly them away!" Works for me.
An automated phone message received the day before alerted me to the fact that I'd been upgraded to First Class on Alaska's 6:45pm departure to Denver. This was especially good news to me since I hadn't yet sampled Alaska's new catering on short to medium range flights that didn't compete with Virgin America.
Waiting at the gate was N849AS, one of the first 737-800s delivered to Alaska and one that I've flown eight times previously. Boeing 737-800s joined the Alaska Airlines fleet in 2005. They were essentially purchased to replace Alaska's inefficient MD-80s which burned 1,100 gallons of fuel per hour to the 737-800's 850 gallons per hour. My first flight on an Alaska MD-80 was in 1990. Over the next seventeen years I logged exactly 150 flights on Alaska MD-80s and managed to fly upon each and every one in Alaska's fleet. Alaska has since retired its MD-80 fleet and currently operates 46 737-800s, of which I've flown 28. Since I keep track of such things, I'm well aware of all those aircraft that I haven't flown. As with Alaska's 737-200, 737-400 and MD-80 fleets, why not fly them all? For today however, I'll chalk up another flight on ship 849 for a total of 14,110 miles.
To those of you wondering how do I know if I've flown each aircraft, I log the registration numbers. Updated fleet listings can be gotten from a number of sources on the internet. Cross 'em off as you go.
To those of you wondering why do I care if I've flown each aircraft, I'm just plane weird.
Another interesting stat I noticed when logging this flight in the 737-800 database: As of this flight, I've logged 150,000 miles on 737-800s. Sixty-five of those flights have come over the last four years aboard Alaska jets totaling almost 95000 miles.
So, what's for dinner?
A small green salad accompanied by a small rasher of beef smothered in gravy. While tasty enough, this meal was not overly filling. I've had appetizers in International First Class that were larger. I was reminded of some of the smaller microwaveable diet entrees you see in the frozen food section of the grocery store. Still, it was better than a bowl of mixed nuts or nothing. Did I mention the delicious piece of chocolate for dessert? I really like that chocolate! There goes the diet. And what the heck – I'll finish the meal with a coffee and Baileys please.
---
Last edited by Seat 2A; May 16, 09 at

10:04 am
May 13, 09, 10:14 pm
Join Date: Apr 2001
Location: East Ester, Alaska
Programs: Alaska Airlines Million Miler, United Airlines Million Miler, Wyndham Rewards Diamond Level
Posts: 9,619
The primary purpose of my trip to Colorado is to find a "new" car. In my case, that would mean a used light pick-up truck, specifically a Toyota Tacoma. I've already looked at about a dozen, four of which I've had formally inspected, none of which have made the grade. I'm happy to report that on this trip, the very first Tacoma I checked out, checked out. It's an Impulse Red 2001 model with extended cab, 4WD, 3.4L V6 and 106,000 miles on it. It passed two different inspections by competent German mechanics - the best in town. I'm not one to dicker on car prices, but I did get the seller to pay for the cost of installing a new timing belt, water pump and serpentine belts. Now I get to drive back to Alaska instead of fly. If you've got the time, driving is definitely the best way to go!
But enough car talk for while. My mission was accomplished and it was now time for yet another mileage run. Truth be known, because of advance purchase requirements, I was gonna do this run anyway but it's only a short day trip out to Indianapolis and back, all for just $145.00. Here's the itinerary followed by the description:
April 21, 2009
Midwest Express Denver – Milwaukee 9:35am – 12:50pm ERJ-170
Midwest Express Milwaukee – Indianapolis 1:15pm – 3:10pm CRJ-200
Northwest Airlines Indianapolis – Detroit 5:15pm – 6:25pm A319-100
Northwest Airlines Detroit – Denver 7:26pm – 8:44pm A320-200 First Class
Midwest Express is the regional division of Midwest Airlines and will be my 135th airline flown. That's the primary reason I booked with them, even though I'll get no real mileage on account of Alaska's Mileage plan has no partnership with Midwest.
Republic Airlines operates the flight between Denver and Milwaukee on behalf of Midwest Express, A 76 seat Embraer ERJ-170 proved quite sufficient for today's load, though I would rather have flown one of Midwest's 717s. (Once upon a time United operated a 246 seat DC-10 on this route) Still, I quite like the larger Embraers. Indeed, the 170 and 190 are by far my favorite regional jets now that the BAe-146 has been retired from North American skies. And, according to the fleet statistics in the back of Delta Air Lines' inflight magazine, the ERJ-170 rates a faster cruising speed than every other aircraft in the Delta fleet except the 747 and the 777.
Once upon a time, Midwest and its precursor Midwest Express operated its DC-9s and 717s in an all Business Class configuration. Meals were of a superior quality and freshly baked chocolate chip cookies became a service hallmark. Alas, that approach just wasn't a money maker on most routes so Midwest went to a two class configuration on its larger jets and contracted out to regional feeder airlines like Republic to operate the thinner routes as Midwest Express. The gourmet complimentary meals were replaced by fairly decent meals for purchase, including some hot entrees like gourmet meatloaf. Aside from snack items, the only substantial food available for purchase on today's flight into Milwaukee is a Mini-Turkey Sub Sandwich served with Kettle Chips and Dijon Mustard Mayonnaise dipping sauce for $6.00. A blurb in the inflight magazine indicates that Midwest serves nearly 10 million chocolate chip cookies every year.
Although I love the look of the ERJ-170 in Midwest's stylish blue livery, inside the airplane exemplified how generic most airlines have become. The seats were leather, just like so many other airlines, and the only distinguishing service was in the form of a couple of chocolate chip cookies. Otherwise, in terms of cabin ambience, comfort and service it was a flight no different than I could expect on most any other airline these days.
Years ago, when the Civil Aeronautics Board controlled all domestic airfares and even routes, the only means airlines had to differentiate between one another was their onboard service. As advertised and practiced, that service was more than just friendly young stewardesses offering bountiful meals. It also included comfort and style onboard the airplane. Some airlines, like Continental and United, offered five across rather than six across economy class seating aboard select aircraft.
Others, like Braniff, featured bright interiors and colorfully clad flight attendants.
Frontier and Western offered First Class legroom for everyone. American provided a piano lounge in the back of its 747s.
Alaska had a stand-up bar in the middle of its Convair 880 and served tea from a 3' tall golden samovar. Almost every major airline had bright, colorful interiors and an aspect to its service that made it unique.
It used to that be when I'd fly a new airline, I could look forward to real differences aboard the airplanes, be it Braniff's warm yellow and orange wide-bodied interiors to the tables that graced the front of Piedmont 737s and Allegheny DC-9s to the colorful wall panels on TWA's 707s. These days, most planes all look the same inside. Look at how different those two DC-10s are above. These days, if you get on an American 757 versus a Continental 757, there isn't a whole lot of difference. Dark blue or gray fabric or leather seats, 31" to 32" of seat pitch. No doubt everything is a lot more efficient, but for sure domestic air travel isn't anywhere near as fun as it used to be.
We landed on a grey, rainy day at Mitchell Field in Milwaukee and parked just a couple of gates away from the CRJ-200 that would fly me down to Indianapolis. Prior to this year, I hadn't flown through MKE since the seventies. The concourse serving Midwest didn't exist back then, but it's much nicer than the narrow, stuffy corridors of the old concourses. It's ironic that as airliner cabins become more and more plain, airport terminals become more and more pleasant.
On the flight down to Indianapolis, as we were making our final approach into the shiny new airport, I glimpsed the old airport terminal (Weir Cook) about two miles away from the new terminal. The old terminal looked to be fully intact right down to the jetways and I was curious what the plans are for it.
Museum? Office park? Or dismantle it and build something new there?
The new Indianapolis Airport is a beautiful facility but it's missing one very important component. It has no airline lounges.
Detroit lies 235 air miles from Indianapolis but the flight there took our Airbus A319 all of 54 minutes. The IND-DTW route is not typically known for its fierce headwinds.
The highlight of my brief layover at Northwest's McNamara Terminal was getting an up close and personal look at a 747-400 and an A330 painted in Delta's new livery. I like the result. Unfortunately, it'll take a lot longer to upgrade the cabin interiors to Delta's standards.
I don't believe I've ever boarded a jetliner as dirty as the A320 was that was taking us to Denver. An unfolded blanket lay bunched up between my First Class seat and the cabin wall and two empty water bottles assumedly from the flight before remained in my seatback pocket. Across the aisle from me I could see a used napkin under the seat. Seatmate commented that he expected better given the cost of his $1000.00+ DCA-DEN ticket which he'd purchased that morning. I thought it best not to tell him that my IND-DEN fare, tax inclusive came to $73.20.
Dinner was a choice between a turkey sandwich served on a hoagie roll or a grilled chicken breast salad. I chose the salad and was not disappointed. Arrival in Denver was ten minutes early. So, dirty airplane but otherwise a nice flight.
---
Last edited by Seat 2A; May 14, 09 at

12:03 am
May 13, 09, 10:17 pm
Join Date: Apr 2001
Location: East Ester, Alaska
Programs: Alaska Airlines Million Miler, United Airlines Million Miler, Wyndham Rewards Diamond Level
Posts: 9,619
April 24, 2009
Alaska Airlines Denver – Seattle 12:20pm – 2:13pm 737-800 First Class
Horizon Airlines Seattle – Portland 3:30pm – 4:15pm CRJ-700
Alaska Airlines Portland – Los Angeles 5:40pm – 7:55pm 737-400 First Class
Northwest Airlines Los Angeles - Tampa 10:00pm – 5:34am A319-100 First Class
I wish it were thirty three years ago. On this day in 1976, I began a journey that as originally planned would take me to Canada and Mexico but ended up taking my impulsive self to Hawaii and Alaska instead. Indeed, that inadvertent trip to Alaska may well be why I live in Alaska today. You can read all about that trip
HERE
.
Sitting at gate A-51 on this warm sunny afternoon was N508AS, delivered new to Alaska just nine months earlier on July 11th, 2008. It will be my 29th Alaska 737-800 flown. Seat 2C, a bottle of water and a sleepy seatmate awaited my arrival. Fifteen minutes later we were climbing north along the I-25 corridor until we reached Fort Collins where we adopted a more northwesterly heading.
Flight time was projected at two hours and thirty minutes, so service commenced at a leisurely pace. Following a round of cocktails and almonds (I bring my own), I was presented with a small green salad accompanied by a skewer of marinated chicken. While both the salad and chicken were more than sufficient for a midday snack, the real star of the meal was the Naturally Fresh Greek Vinaigrette Dressing. I honestly didn't think the Naturally Fresh brand was capable of producing a tasty dressing but per my tastes at least, that Greek Vinaigrette is pretty good.
I augmented my inflight luncheon with a cup of tasty clam chowder in Alaska's SeaTac Boardroom, then ambled off to Gate C2J where a shiny old (delivered in 2001) CRJ-700 awaited. I've been scheduling a lot of my Horizon flights aboard CRJs of late because they'll soon be replaced by Dash 8s and I'd like to fly on some or all of those collegiate theme aircraft. So far, the only one I've managed is the University of Oregon aircraft.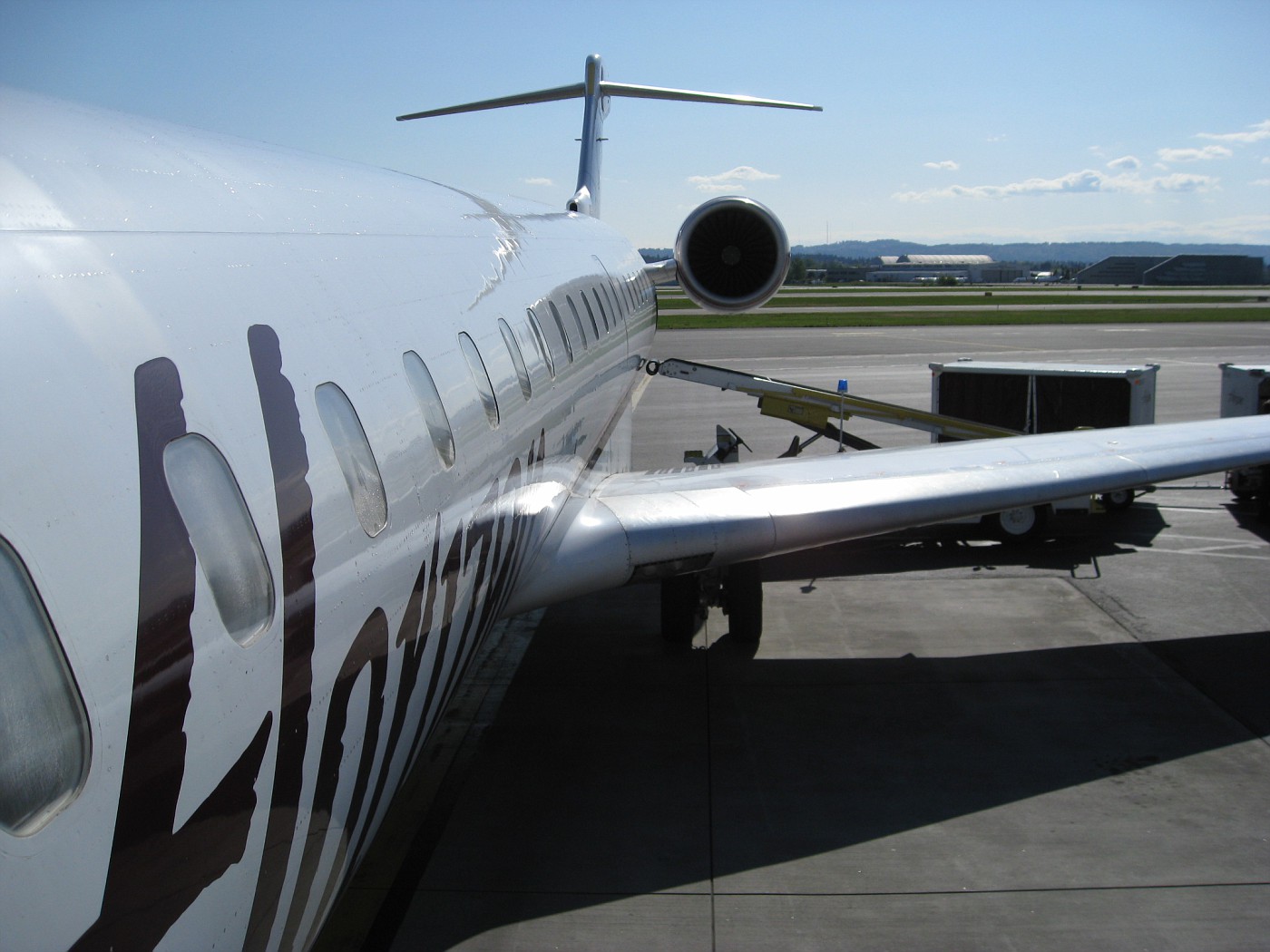 While we're on the subject of theme aircraft, what should be operating my flight down to Los Angeles but N791AS, the 737-400 wearing Disney's 50th Anniversary's paint Scheme featuring "Tinker Bell". How many times have I flown this aircraft? Twelve times for 9,720 miles. The real milestone however is that as of this flight, I've now logged over one quarter million miles aboard Alaska 737-400s – 250,590 miles to be exact. And, it only took me 291 flights to do so! Now if only my upgrade comes through…
Yes! I was instructed to take whatever First Class seat was open as a lady had been attempting to move her family around. I was happy to settle into seat 2F, on the opposite side of the cabin from her screaming two year old.
I've occasionally been asked if I ever share news of my various flight milestones with the crew or with other passengers. Generally, no. The cabin or flight crew could care less as flying these aircraft is a job for them and they've likely already logged a heck of a lot more miles than I ever will. Most passengers could care less as well. I only mention such matters here for the 2.37% of you out there that might possibly find such tidbits of mild interest.
Dinner was described as Barbecue Beef with a Side Salad. In reality it was a salad accompanied by a 1" wide side of beef, itself accompanied not by barbecue sauce but by more of the beef gravy. I washed it all down with a glass of red wine and then turned my attention to the pretty sunset out my window as we descended into LAX.
Thankfully my upgrade on Northwest's nonstop redeye to Tampa had cleared earlier in the day. Seat 1F, a blanket, a pillow and a talkative seatmate awaited. I wish it had been a day flight because I actually enjoyed chatting with seatmate but shortly after takeoff I had to beg off as sleep was essential were I to not only survive but also enjoy my three flights back to Seattle the next day. When I awoke four hours later during our final into Tampa, seatmate informed me that he'd slept not a wit but had enjoyed a good number of drinks and snack items. Thankfully he had a ride arranged from the airport.
April 25, 2009
American Airlines Tampa – Miami 6:45am – 7:45am 737-800
American Airlines Miami – Los Angeles 10:45am – 1:24pm 767-300
Alaska Airlines Los Angeles – Seattle 3:30pm – 6:15pm 737-700 First Class
My return trip to Seattle via Miami and Los Angeles was on an Alaska Airlines fare using American Airlines codeshare flights to Los Angeles. With only an hour and ten minute layover in Tampa, I wasted no time in relocating to American's side of Tampa International. There I was fortunate to procure an exit row aisle down to Miami followed by my favorite coach seat on American's 767-300. Knowledgeable flyers will know of which seat I speak and we'll just keep its location our own little secret.
Though there are no Admiral Clubs at TPA, US Airways operates a very attractive lounge right next door to American's gates. My Priority Pass gained me admittance followed by cold orange juice, hot coffee and a tiny blueberry muffin. I really like the layout of this US Airways Club. It's got great views of the tarmac and plenty of comfortable and quiet seating areas.
American's 737-800 down to Miami was filled to capacity with most of the seats being filled by vacationers headed to the Caribbean. They were excited and chattering and I couldn't help but envy their lot, flying off to island paradise on this beautiful sunny day. I slept most of the way down to Miami and actually felt halfway decent by the time we parked at gate D-46.
My onward flight to Los Angeles was scheduled to depart from E-10, representing very nearly the longest possible distance an online connecting passenger can walk at MIA, much less any other airport. Thankfully I had a three hour connection and so extended my morning walk by heading out past security and up to the Top of the Port Restaurant, located atop the
Miami International Airport Hotel
. Eggs Benedict and hot coffee did a nice job energizing me for the long flight ahead.
And now for yet another personal milestone: This flight to Los Angeles is my 300th flight aboard American. I've come a long way with AA since my first flight with them in 1963 aboard a DC-6 between Idylwild (now JFK) and Providence.
If you know your way around the American West, flying over it on a clear day is a lot of fun. The geography of the region lends itself well to aerial recognition, be it a ski area in Wyoming or a mountain range in southern Colorado. Unlike the Eastern states which are more densely populated, or the Midwestern states which are fairly flat, western landmarks not only stand out but are also fairly isolated. When flying over Colorado, if you know what you're looking for, you won't confuse Vail with Aspen from 40,000 feet. Today's highlight enroute to Los Angeles: Following US180 through the Gila Mountains of southwest New Mexico (Hey! I know someone down there in Glenwood!) and, just over the border, seeing the southern tip of Arizona's White Mountains. Every time I see the Mojave Desert from above, I wish I were down there, cruising along a lonely desert highway at 70mph in air-conditioned ecstasy. Three weeks from now, I will be.
As I disembarked at LAX, I grabbed a copy of the First Class menu. Given that this was a five hour, transcontinental flight, I was frankly shocked at how basic the offerings were. I'm perfectly comfortable in a coach seat, so although I do enjoy the extra space of a domestic First or Business Class seat, on a longer flight the real attraction for me is the meal. Properly served course by course, it represents one of my favorite forms of inflight entertainment. It used to be that a flight of this length would rate
quite a feast
.
American was asking over $200.00 to upgrade on this five hour flight. For that amount, aside from the larger seat, would you be satisfied with this menu?
LUNCHEON
Miami to Los Angeles

Thank you for choosing American Airlines. It is our pleasure to offer you a variety of dining options on today's flight. We invite you to experience new menu items we call American Classics: Where comfort meets gourmet.
To Start
Warm Mixed Nuts
Salad
Fresh Seasonal Greens
Offered with classic Caesar dressing or Sapori d'Arte olive oil and Balsamic vinegar
Bread Basket
Assorted Gourmet Breads
MAIN COURSE

Reuben Sandwich
Corned beef, Swiss cheese, sauerkraut and thousand island dressing on rye bread served warm
Herbed Shrimp
Shrimp sautéed with basil and parsley served chilled with a lemon pastis vinaigrette, asparagus, cous cous and cherry tomatoes
Dine Upon Request
You may choose one of the featured entrees for your Dine Upon Request selection, presented all at once, at any time you wish during the flight.
DESSERT

Dulce De Leche Ice Cream
Topped with a turtle brownie and raspberry sauce
Or
Fruit and Cheese
A selection of seasonal fruit and fine cheeses

Fine Chocolates
It's basically a sandwich or a salad. These used to be the choices in coach, on a two hour flight. My how our standards have dropped, because from what I've read many of us are now satisfied with these basic offerings regardless of the extra amount of money paid. I understand that times are tough for the airlines and that a large portion of the extra money paid for a First Class fare or upgrade goes towards the extra space but if you were to go to a restaurant and pay $30.00 for lunch, would you be satisfied with just a sandwich or a salad? On the other hand, would you be willing to pay say $20.00 more than you currently do if it meant you'd be presented a multi-course meal that was served elegantly from the trolley, such as the TWA meal referenced above?
At LAX, I used the American Eagle connecting bus to get over to my Alaska flight, located across the airport in Terminal 3. I love taking this bus for the great views of airplanes if affords while driving amongst them on the tarmac. Today's highlight: Watching and listening as an ANA 777-300 taxied by just 100' away.
My upgrade came through on Alaska's 3:30pm departure up to Seattle. I was assigned seat 1F, a window seat which provided some pretty views as we climbed out of LAX and headed north off the southern California coast before finally turning inland around Oxnard. Inflight service comprised a glass of Cabernet followed by a tasty plate of fruit, cheese and crackers.
April 27, 2009
Alaska Airlines Seattle – Los Angeles 5:00pm – 7:40pm 737-400
Northwest Airlines Los Angeles - Detroit 10:00pm – 5:11am 757-300 First Class
Northwest Airlines Detroit – Tampa 7:00am – 9:34am 757-200 First Class
Reports of Mexican Swine Flu have dominated the airwaves and while their strident tone was initially cause for some consternation, simple logic suggests that this early in the game, the odds of getting infected on flights within most of the US are still fairly minimal. So, off to the airport went I, fortified with packets of Emergen-C powder and Echinacea, which I carry as a matter of course on airborne travels. While these supplements are unlikely to fend off the flu, they do seem to do a good job of raising my resistance to the colds and coughs that so many people seem to suffer from on board airplanes.
About two months ago I was sat in First Class next to a guy who looked and sounded absolutely miserable. It was obvious very soon after I sat down next to him that he was not well and I discreetly asked the FA if I might be reseated back in Economy. Unfortunately, the flight was completely full and this was not possible. Of course, I did not ask her to move him and she didn't volunteer. First Class notwithstanding, I could hardly ask someone from Coach to trade with me so that I could get away from such an overtly ill passenger, so I toughed it out. Well, this guy coughed his way through much of the two hour flight and when he wasn't coughing he was bent over with his head in his hands. Who knows, the people sitting in front of him may have ended up being more exposed than I, sat as I was in the aisle seat.
The question I have is this: Should people who are quite obviously ill, even with only a cold, who exhibit uncontrollable coughing, sneezing, etc. be prohibited from boarding airplanes?
I know, I know… we all get sick sometimes but we still have to get out to that business meeting or wedding or whatever. Does that still give anyone the right to place a good number of their fellow passengers in jeopardy of contracting whatever ails them? Even if it's "only" a cold? Unlike many situations on land, airplanes are enclosed environments with re-circulated air and generally very little opportunity to place some distance between yourself and someone who is truly sick. It wouldn't surprise me if one of these days here in America some sick person is going to infect some CEO on his way to close a big multi-million dollar deal. The CEO will get sick, perform at a subpar level, not get the deal done and then turn around and sue the sick person he was sitting next to on the flight for recklessly and needlessly causing him to become ill. And in this country, he might very well win that one.
Following a pleasant preflight visit to Alaska's Boardroom, during which I quaffed two fine ales, I made my way up gate D-8, located at the very end of the concourse. Were the distance from the Boardroom to D-8 measured in city blocks, I'd estimate it to be at least three blocks, maybe even four. Despite being first on the wait list for an upgrade to First Class, I once again found myself heading back to my spacious exit row seat in Economy. This 5:00pm departure from Seattle to Los Angeles is quite popular, so I'm really not surprised though I am a tad disappointed in that I won't be able to assuage my curiosity regarding the comparative differences between Alaska's First Class dinner service and that of Virgin Atlantic.
In place of whatever was being served in the First Class cabin, I instead spent $5.00 on what Alaska calls its Anytime Picnic Pack. The contents include:
• Hormel salami
• Copper Cowbell cheese
• Late July organic crackers
• Sweet Perry Orchards cinnamon applesauce
• Justin's almond butter
• Bonne Maman strawberry jam
• Pit Break flax and honey crackers
• Frey Milk Chocolate
• Emergen-C energy-drink mix
Though I'd prefer a hot hamburger or a sandwich any day, this picnic pack provided a satisfying collection of tasty snacks which, while not exactly what I'd call a meal, certainly served to stave off any hunger pangs.
We landed on a pleasant if somewhat muggy evening in Los Angeles and I made my way over to Terminal 2. Northwest's WorldClub offered cold beer, an internet connection and the welcome news that my upgrades on both the redeye to Detroit and the connecting flight to Tampa had cleared. Yesss!
When I was a kid, I used to love the idea of flying at night. As an adult, I can't imagine a worse time to fly unless your flight is more than ten hours long and/or your seat converts into a fully flat bed. Unfortunately, my desire for not only the cheapest fare but also the longest routing left me no choice but to take the overnight connection through DTW. Checking in at a distance of 1,980 miles, the flight from Los Angeles to Detroit would be considered by some to be fairly long. However, the flight time for tonight's eastbound flight is only three hours and forty minutes. Assuming you fell asleep in your own bed, slept soundly and were then woken up after that amount of time, you'd probably feel like you could use at least another four hours of sleep. Now put yourself aboard an airplane where your bed is an upright seat with a bit of recline. You probably won't truly fall asleep until at least twenty minutes into the flight, after which you'll be awoken twenty minutes before landing by bright cabin lights and the loud announcement that all seat backs and tray tables must now be brought to their full upright position. At best, you got three hours of the kind of quality sleep found only while sitting upright with your head wedged between the seat and the cabin wall.
I used my almost two hour layover in Detroit to lie down and doze in a corner of the large gate area. Once boarding was called, I rose like Phoenix from the ashes and glided onboard the plane where I slept right through taxi, takeoff and climb out, awaking about an hour later as breakfast was almost finished being served. Would I care for a bowl of Cheerios? Uh… yeah, sure. Ohhhh, coffee. I'll take two cups of that too, please.
Surprisingly, my total of four hours of sleep and one hour of dozing had me feeling well enough to remain conscious for the remainder of the flight. I was rewarded with a pretty descent along Florida's Gulf Coast followed by the always scenic approach over Tampa Bay into Tampa International Airport.
Good news! Today marks the first day that Northwest flights now operate out of Delta's terminal at TPA. This means I have gate side access to Delta's Crown Club, soon to be renamed the Sky Club. (Note to Delta: The name Crown Club sounds a little more up market and exclusive)
---
Last edited by Seat 2A; May 15, 09 at

11:14 am
May 13, 09, 10:19 pm
Join Date: Apr 2001
Location: East Ester, Alaska
Programs: Alaska Airlines Million Miler, United Airlines Million Miler, Wyndham Rewards Diamond Level
Posts: 9,619
April 28, 2009
Northwest Airlines Tampa - Memphis 12:45pm – 1:48pm DC-9-50 First Class
Northwest Airlines Memphis – Los Angeles 2:35pm – 4:48pm A319-100 First Class
Alaska Airlines Los Angeles – Seattle 6:30pm – 9:16pm 737-400 First Class
There aren't many airlines around the world that still operate the McDonnell-Douglas DC-9-50. Of the few that still do, Northwest operates the largest fleet, which currently stands at 31 planes. The aircraft operating my flight up to Memphis this afternoon was N770NC, an ex-North Central machine that entered service thirty-one years ago in 1978 and has subsequently worn the colors of Republic and then Northwest Airlines. I don't know about you but I love flying these old jetliners. They remind me of the glory days of air travel when a trip on a jet plane was still special and was treated as such by both airlines and passengers alike.
Despite the lunchtime departure and a flight time of one hour and forty-five minutes, the only service offered in the First Class cabin was a pass of Northwest's Snack Basket. Chips, pretzels, peanuts, cookies, etc. No thanks. I'll settle for a gin and tonic to go with my sleeve of Blue Diamond Lightly Roasted and Salted Almonds. Ahh… The good life…
The meal I was really looking forward to awaited me in the Memphis airport on the B Concourse at
Jim Neely's Interstate Barbecue
. I never used to give barbecue much thought one way or the other until I made a connection through MEM in 2002 and had me a pulled pork sandwich soaked in Jim Neely's BBQ sauce and topped with coleslaw. Ahh… Heavenly
For those desiring a bit of variety, MEM also offers another famous barbecue eatery,
Corky's
, located just a couple gates farther down the B Concourse. Any way you slice it, MEM is a great place to connect flights if you're hungry.
Delivered new to Northwest in 2002, the A319 awaiting me at gate B-25 was twenty-four years younger than the DC-9-50 that had just brought me up from Tampa. As I settled into my First Class window seat in row 2, I reminisced that the oldest plane I ever flew upon with Northwest was a 37 year old DC-9-10. The newest was a three week old 757-300.
Flight time was announced at three hours and fifty some odd minutes. Sorry, detail freaks, I must've dozed through that one. Honestly, after a day of less than optimal sleep followed by a satisfying and filling meal just a half hour earlier, it was time for a siesta. As we climbed out of Memphis toward our initial cruising altitude of thirty some odd thousand feet, I reclined my seat and promptly slept right through the meal service (a choice of a Reuben Sandwich or a Chicken Salad) all the way until we were somewhere over western Arizona about to commence our descent into Los Angeles. Unfortunately clouds obscured any views I might have enjoyed of the Mojave Desert below, but I took some solace in the fact that I'd be down there in person just four weeks from today.
On our way to the gate at LAX, we taxied past a beautiful old 707 parked over in the private aviation section of the airport. The aircraft still had all of its windows and may well have been someone's private jet. I've always thought the 707 was one of the most attractive airliners ever built, due in no small measure to the four big Pratt and Whitney JT3Ds slung under sharply swept wings.
My Alaska flight up to Seattle was scheduled to depart at 6:30pm. On the assumption that this was a popular flight for West Coast commuters returning to Seattle after a day or two of business in LA, I wasn't overly sanguine about my chances for an upgrade. Imagine then my surprise and delight when the receptionist in the LAX Boardroom exchanged my Northwest issued Economy boarding pass for a new Alaska boarding pass emblazoned with seat 2D.
I was particularly excited to be upgraded on this dinner hour flight because, as some of you may recall, I was curious to see how Alaska's meal service would match up against that of competitor Virgin America. Well, either Alaska doesn't match up well or Virgin has cut back on their initially fine meal offerings. The meal offered tonight was the same one I've been served on two previous Alaska flights in the past two weeks – to wit a salad accompanied by a slice of beef covered with beef gravy. Interestingly, the Flight Attendant described the beef as being covered with a "gravy sauce". What's a gravy sauce? Or was it a saucy gravy? Last week one of the Flight Attendants described the beef as barbecued. If only to assist in the descriptive presentation of this meal, I would suggest the caterers provide, in bold letters, an easy to read description of this meal.
That said, Alaska's beef and salad meal isn't bad. It's just likely not as elaborate as VA's.
Early flight down to Denver tomorrow morning. Time to blow up the Thermarest pad and crash in my secret spot in the Seattle airport.
April 29, 2009
Alaska Airlines Seattle – Denver 8:00am – 11:35am 737-800
This flight represents the final leg of the one way award trip I'd booked from Nome to Denver and started just over two weeks ago. With no upgrades generally granted to award ticket holders, I happily took my place on the aisle in bulkhead seat 6D. Alaska's 737-800s have only a hanging curtain dividing First Class from the masses in back and so those of us sat in row 6, the bulkhead row, enjoy very nice legroom as well as carryon storage beneath the First Class seats in front of us.
Breakfast was a Burger King Ham and Egg Croissant along with a cup of so-so BK coffee. Though I would have preferred some coffee from the Starbuck's franchise nearby, I had neither the time nor the inclination to join the dozen or so people waiting ever so patiently in the long and sluggish line. Should airport Starbucks outlets ever figure out an expedited way to serve those of us who just want a cup of their regular Coffee of the Day, they'll likely get a lot more of my business.
Descent into Denver was over the Rocky Mountains about 70 miles north of Denver. I caught a nice view out the window of the diamond face on Longs Peak, at 14,259 the highest peak in Rocky Mountain National Park.
DRIVE TO ALASKA
The driving distance between Ft. Collins, Colorado and Fairbanks, Alaska depends upon which route you choose to take. My routing via Wyoming, Montana, Idaho, Washington, BC and the Yukon came to 3,710 miles and took me seven days. Many people have driven it faster, but if anything I'd rather take more time. The western US and Canada are way too pretty to speed through. Many people are put off by the length of the drive to Alaska, but I think if one looks at the beauty of the landscape as a part of the overall trip, the journey becomes much more enjoyable. Still, we're a fast paced society these days and most of us, regardless of the amount of time available to us, desire the near instant gratification of a five hour airplane flight. That's a good thing because the roads would be a lot more crowded otherwise.
I spent one night in a motel and the rest in the back of my truck. Since this is FlyerTalk and not a road trip site, I'll limit my comments on the drive to the above paragraph and instead post a few photos of the trip.
If you made it this far, thanks for hangin' in there. I hope you enjoyed reading this and I welcome any comments or questions that you may have. As well, if anyone has any suggestions on where to go online for cheap air tickets between Hong Kong and Singapore or Bangkok next spring, please let me know.
Happy travels!
---
Last edited by Seat 2A; May 13, 09 at

11:59 pm
May 14, 09, 11:29 am
Join Date: Sep 2000
Location: Indian Harbour Beach, Fla, USA
Programs: AA Lifetime Plt
Posts: 1,986
Once again an excellent trip report. Thanks for giving me reading material to go with today's lunch. I'm glad to see your surgeries went well enough for you to spend a whole bunch of hours sitting on your butt. (And that's not even including the drive, which looks like it was really, really cool by the way.)