MH: More Than Just An Airline Code - SIN to BKI
May 11, 09, 8:39 am
Join Date: May 2009
Posts: 10
MH: More Than Just An Airline Code - SIN to BKI
---
31th March 2009
MH - More Than Just An Airline Code SIN-BKI via KCH Part 1
Firstly, this is my first trip report so sorry for the poor writing or organization. Will write Part 2 of the return trip if free.
After deciding many destinations for a holiday, I decided to go Kota Kinabalu (KK) to get my Scuba Diving SSI Open Water. AirAsia was supposed to be my first choice to travel to KK since it the cheapest but just than Malaysian Airlines was having a promotion and the air ticket cost an additional of $10. For a better leg room and a hot meal, it worth it. So I book the tickets for a direct flight from Singapore to KK on MAS and eagerly waiting for my trip to start. I am also excited to be able to be onboard a MAS Boeing 737-400. The first flight I ever took was also on a MAS 737-400. Furthermore with all Budget Airline in Singapore running on Airbus A320, this could be my last time on a Boeing 737 Classic.
One day before the flight, I check from Changi Airport Website and found out my original flight MH630 was cancelled, I called the operations dept office of MAS in Changi and found out my flight has been cancelled two week ago due to the lack of passengers and was switched to MH638 to Kota Kinabalu via Kuching. Next day, I received a call from MAS stating my flight has been switched and she mention she herself only knew about this switch from MAS Head Office KL that morning. (Operations dept say the flight is cancel two week ago, now the staff says they only know it in morning? Either the communicational between dept is that bad or I am just not an important customer.) But no harm done, the flight I was being switched to depart just 10 mins earlier.
On the day of the flight, I wake up around 8am plus, prepare myself and took MRT to Changi Airport. Decided to have Popeyes Chicken first before checking in. When to MAS counter and a polite staff help me check in and fulfill my request of a Window Seat. So at the end I have the seat of 21F. I walk around the transit area and wow there are plenty of things to buy and do. No wonder Changi is one of the best airports in the world. Went to my airplane gate E3, and there is a 737-400 waiting for me.
31th March 2009
Malaysia Airlines
MH638
Singapore to Kota Kinabalu (Via Kuching)
Boeing 737-400 (9M-MMM)
SDT: 1325
SAT: 1705
I was walking around the airport till I nearly lose track of my time. By the time I was onboard, the plane is already on final call for boarding. Got in the plane, and as usual the air stewardess welcome me onboard but nothing special more than that. The business class was full of red bright flashy seat, to my surprise, the economy is even better, multi-color seats, found my seat and prepare for takeoff.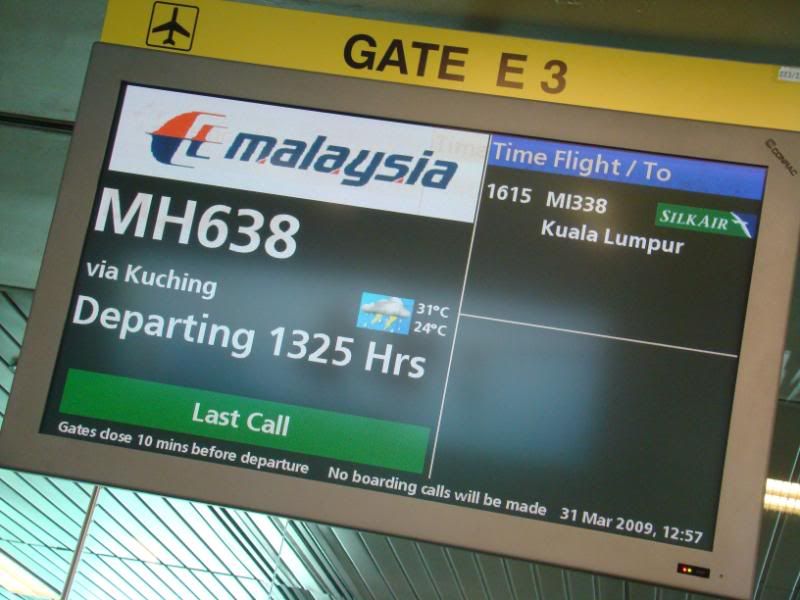 The Plane I Will Be On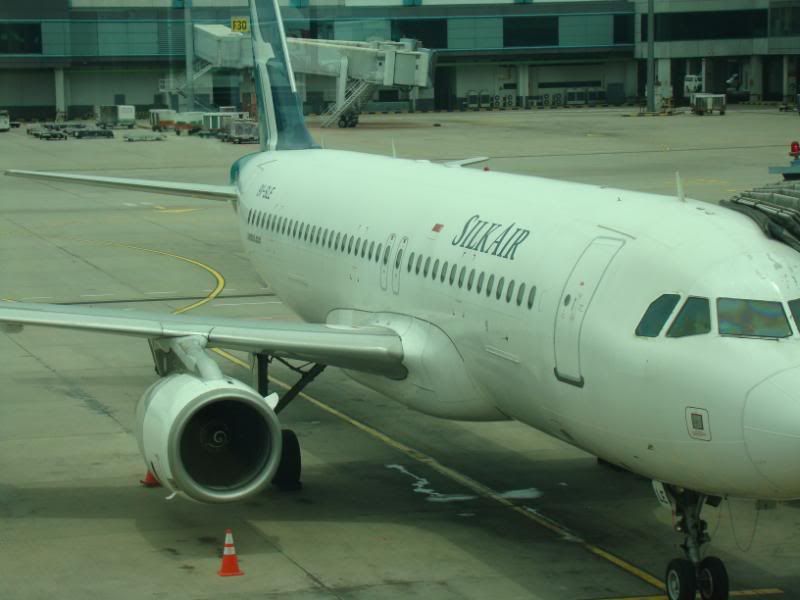 Silk Air Plane that is Park Next to Us.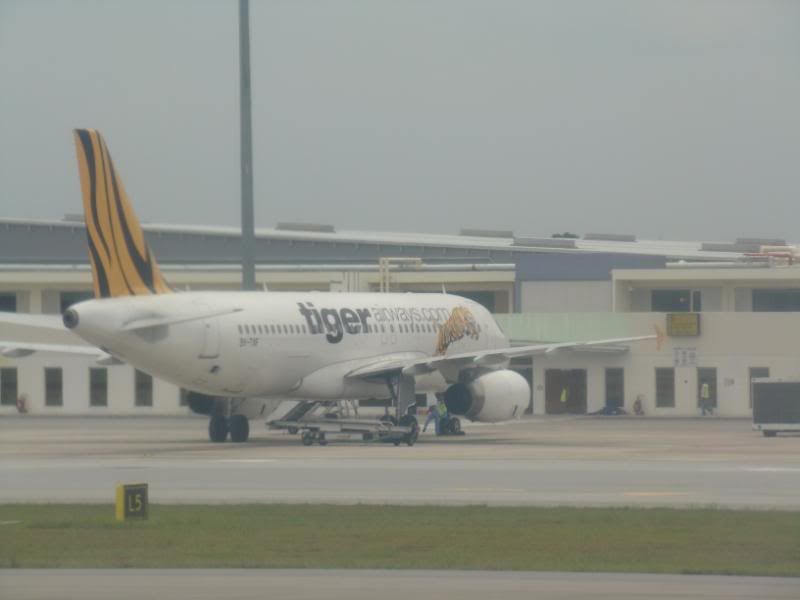 Taking Off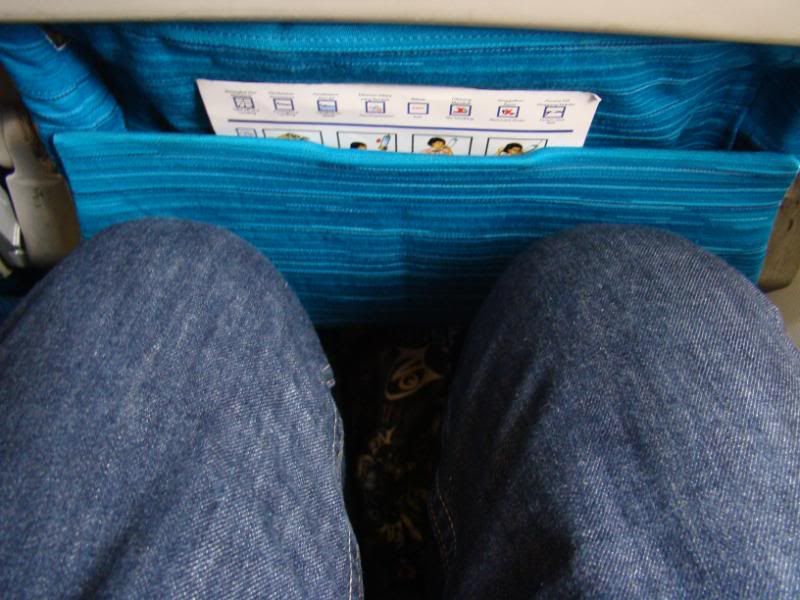 The airplane pushed back around 1325 and the economy is around 80%, no surprising since it a plane consist of two flight of passenger. Traffic was not crowded in Changi and we takeoff without a delay. Our pilot went on air slowly after takeoff and warns us to expect turbulence in this flight. By this time, the food cart is out and the food continued to be given out. There are two choices of food for this flight and I go with Chicken Korma with Tomato Rice. The snack box given out is kind of cute, without the tray I am pretty fine with it. The box has two cookies, one small bread with butter, mini bowl of fruits and water plus the main dish. By the time the plane has stable and the pilot come onboard to gives us the flight information.
Near Kuching
After finishing my delicious meal, the meal box was collected fuss free. Along with the Pepsi I requested, the meal is pretty good and I kind of love it. No tray, not a problem.
Soon after around 1450 we landed at Kuching International Airport. Our pilot told us all passengers has to disembark.
As we walk out of our gate, there is a MAS staff giving out Transit Passenger the boarding pass and told us to come back to the same gate around 1525.Kuching International Airport is rather new and not much of a thing to see. There was a sign, immigration for sabah bound passenger, go ahead and got a exit stamp on the transit ticket. To this point, I never understand what the point of that stamp is for. U-turn and return back to the airport to slack around and prepare for the flight to Kota Kinabalu.
Photo of my Plane
The flight crew and the pilots has been switch for this flight. Push back was around 1545 and soon we takeoff in this low traffic airport. As soon as the flight were on a stable climb, snack was being serve and gosh the Ham and Mayo bun is nearly tasteless, even the butter bun serve on the SIN-KCH is better. For this domestic flight, no Pepsi, only orange juice. Then again, compare to our US counterpart, as least some snack is better than no snack. For this flight, the crew is much of lively and more living up to the World Best Cabin Crew. The pilot of this flight is also much chattier, informing us when we flew pass Brunei and giving us plenty of information. The view is stunning and time pass quick in this 1hr 40mins flight.
Take Off...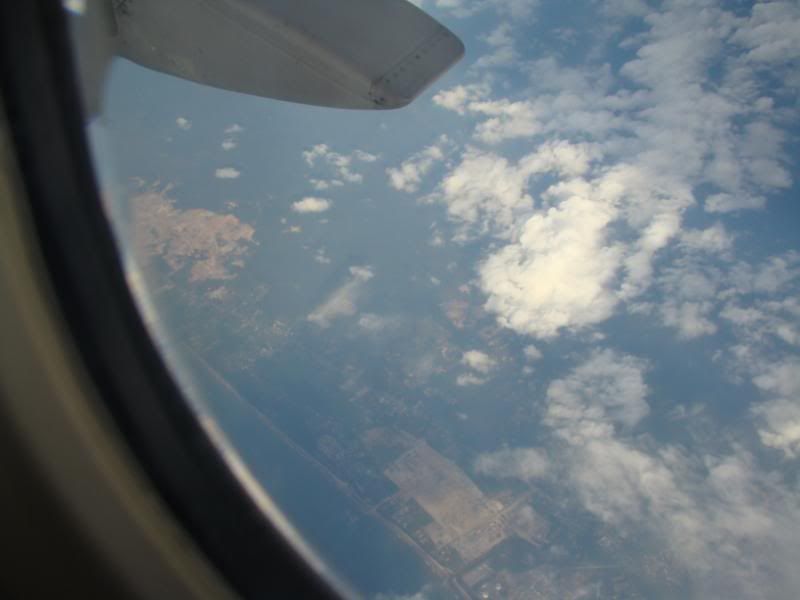 Somewhere near Brunei I would believe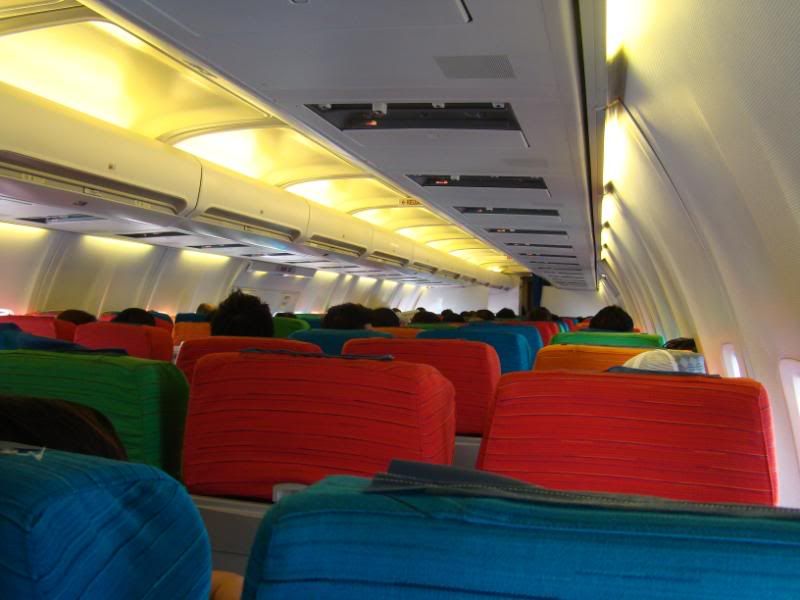 Colourful Seats!
We soon touched down in Kota Kinabalu International Airport in a very bumpy landing (Gosh the wing is slanding left side while landing and only balance off in the last few mins) and the plane soon park at a berth of the New Terminal One Airport. I disembark the plane, and gosh the new airport is beautiful, simple yet elegant. Pass through the custom, get my luggage and begin on my Scuba Diving Trip.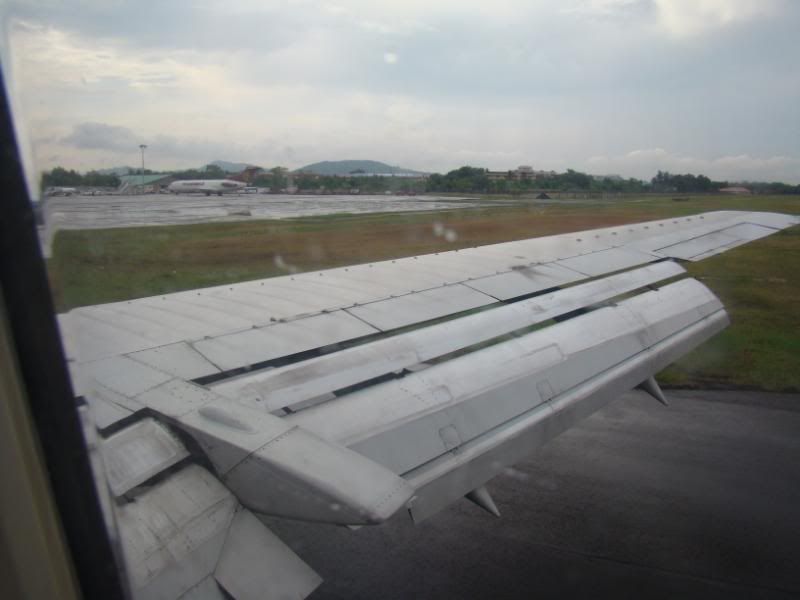 Landing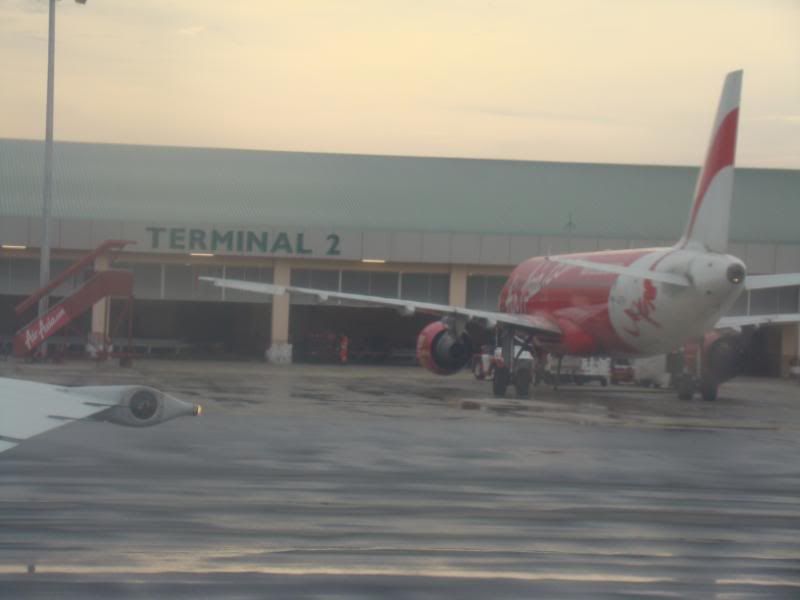 AirAsia Plane at Terminal 1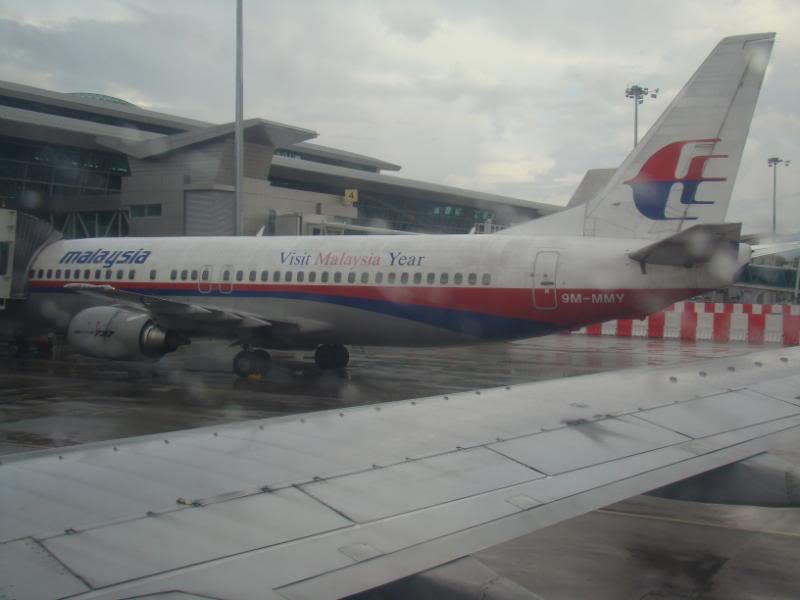 MAS Plane park next to us
KK Airport
KK City
Conclusion:
Malaysian Airlines is my first ever airliner I ever took. So it has quite a memory for me. The service on this plane is pretty good and do live up to the expectation of World Best Cabin Crew. The food is good, the drink choice on the international flight is good, the seat is comfortable, the leg room is good for enough for me, in overall the flight is pretty good experience. Furthermore, with a chance for me to be onboard on a 737-400 just make this flight even better. Then again maybe my expectation is never high as I only took Budget Airline and anything else seems better.
As the trip is rather pleasant, service and food is pretty good and with no other bad experience other than the late info of flight change for overall experience mark I would give...
Overall Experience Marks: 4/5
May 14, 09, 4:23 am
FlyerTalk Evangelist
Join Date: Mar 2001
Location: SDF
Programs: former Olympic Airways Gold (yeah - still proud of that!)
Posts: 13,855
Hi ddren09
Welcome to Flyertalk and thanks for the report!
I'm interested in seats and meals so thanks for the meal shot
Regards
lme ff