*A F Sampler: NH,UA,OZ,TG,LH Int'l F in One Award & My Favorite Resort Ever!
May 10, 09, 5:44 am
FlyerTalk Evangelist
Join Date: Apr 2001
Location: DCA
Programs: AMC MovieWatcher, Giant BonusCard, Petco PALS Card, Silver Diner Blue Plate Club
Posts: 22,223
*A F Sampler: NH,UA,OZ,TG,LH Int'l F in One Award & My Favorite Resort Ever!
---
Iím just back off of a two week trip with
mrs. gleff
, our annual Asia first class redemption.
Prior to the gutting of the United award chart I booked two first class awards that combined five different Star Alliance international first class products, and managed to work around Starnet blocking for my transpac segments.
After much time with agents who insisted that All Nippon Airways doesnít
serve
Washington-Dulles (funny, I attended their party celebrating 20 years of service, and they only refer to the flight as NH
1
) I did secure ANA three-class first, which I hadnít flown since 2006.
One sad note however is that I believe in July three-cabin service will leave DC, meaning Iíll have to hop over to Chicago if I want ANA F.
On the return I fought agents who didn't believe it was possible to find the award seats I wanted, so kept telling me that they were checking on availability and finding one across a huge swath of dates that they couldn't possibly be checking as quickly as they claimed... they just said no availability without even checking. So this award took a few more phone calls than it should have...
The itinerary I put together:
IAD-NRT, NH F
NRT-HKG, NH C (Air Japan)
W Hong Kong, upgraded to a Fantastic Suite
HKG-SGN, UA F (my first time in UAís new F!)
Sheraton Grande, upgraded to a Grand Tower Suite
SGN-BKK, LH F
Royal Orchid Sheraton, upgraded to a top floor junior suite
BKK-CEI, TG C
Le Meridien Chiang Rai
CEI-BKK, TG C
Novotel Suvarnabhumi
BKK-HKG, TG F
HKG-ICN, OZ C
W Seoul, upgraded to a junior Media Suite
ICN-LAX, OZ F
LAX-ORD, UA F
ORD-IAD, UA F
Sadly UA killed its 4pm LAX-IAD flight on Saturdays so I was stuck with the connecting flights on the way home after the long transpac. Of course, United had other ideas in mind for me still, but thatís a story for later in the reportÖ
Now, this represents 11 flights in two weeks and ó mrs. gleff loves me but this is truly pushing the limits of that love!
But I wanted to try out the different F products, spend some time in Chiang Rai, and make our first visit to Vietnam.
The stops on this itinerary in Hong Kong, Bangkok, and Seoul were about 23 hours each, so they didnít count as stopovers but rather connections. I figured it would be enough time to grab some nice dim sum in Hong Kong and enjoy breakfast on the river in Bangkok.
I booked this eight months out, which I never do, but I had time to kill one weekend afternoon or more correctly I was searching for award travel as a way of procrastinating from work. So it was a
very long
time to wait for the trip to happen. But the day finally cameÖ
May 10, 09, 5:47 am
FlyerTalk Evangelist
Join Date: Apr 2001
Location: DCA
Programs: AMC MovieWatcher, Giant BonusCard, Petco PALS Card, Silver Diner Blue Plate Club
Posts: 22,223
Monday, April 13
Washington, DC (IAD) to Tokyo, Japan (NRT)
All Nippon Airways Flight 1
First Class Seats 1D, 1G
Departure: 12:20pm, Scheduled Duration: 14h 5m
Boeing 777 6,752 miles
We arrived at Dulles around 10:45 a.m. and walked up to the check-in counter. First and business were more or less being taken care of together, and we waited for the first available agent. Boarding passes issued, bags tagged to Hong Kong. Lounge passes issued for Dulles, which strikes me odd as at this time of day itís a dedicated lounge for ANA, no lounge pass printed for Tokyo which also seemed odd because passes are much more common in Asia.
Headed down the underground walkway and up to Terminal B, the ANA lounge is opposite gate B46.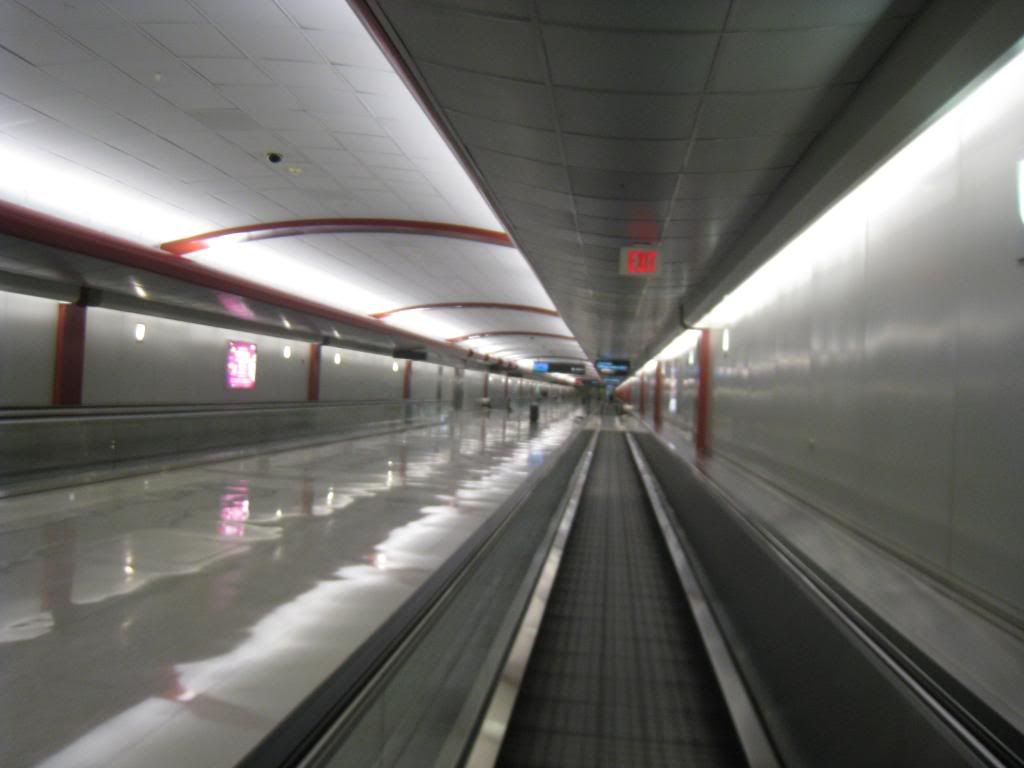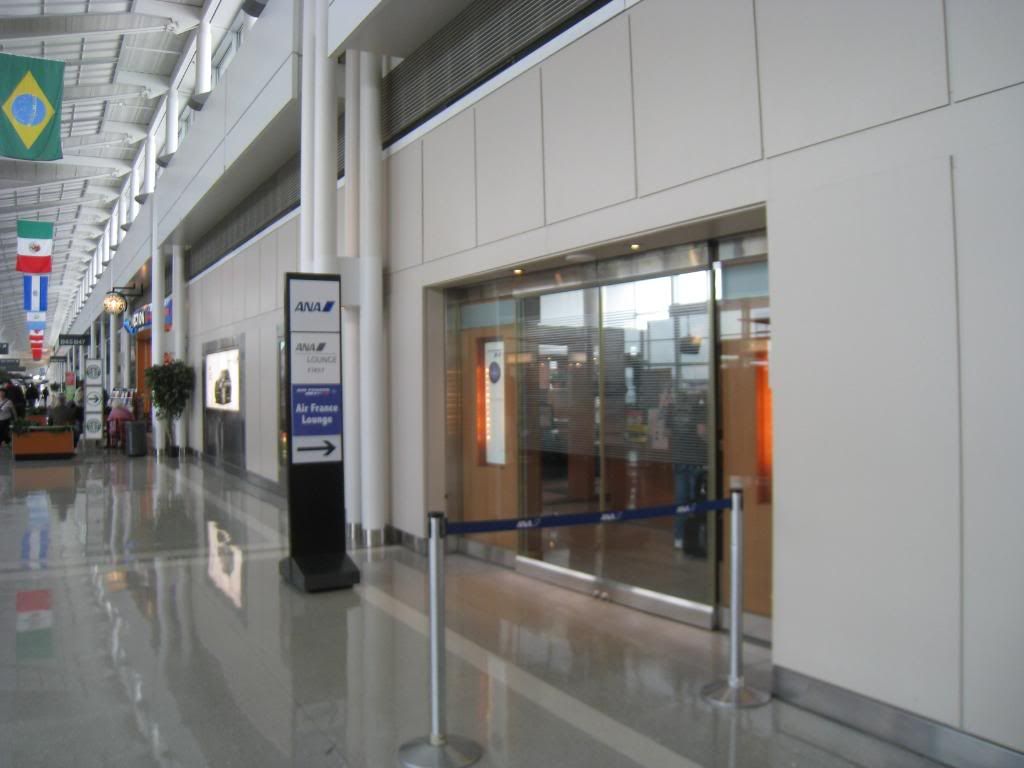 During the late morning itís an ANA lounge, and then becomes the Air France lounge for their departures. Thereís a business class side and a first class side, and the signage clearly indicates such. Still, it appears that only the first class side was being used. Ultimately first was filled only 5/8, and the rest of the crowd was certainly not qualified as ANA Diamond.
The two sides of the lounge share a restroom in the middle, and you can cross between business and first unchecked by walking through the shared restroom facilities. So after visiting the loo I walked into the business class side and found it completely deserted.
The lounge was crowded, fortunately we found ourselves the last two seats by the window, by boarding time there wasnít an open seat outside of the Ďreservedí closed off area where two passengers were seated. I donít know their particular special designation, but they were two of the three other people in first class.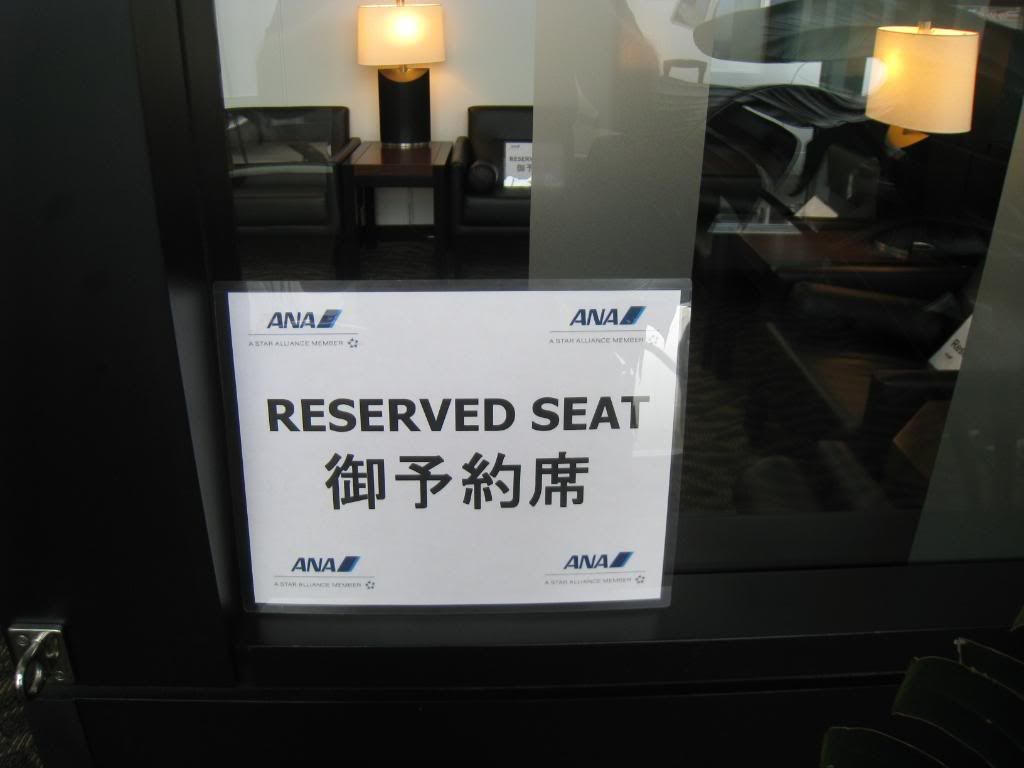 Snacks and drinks are modest, furnishings comfortable, and only one special thing of note about the lounge is that you board the jetway through a doorway in the lounge itself rather than heading back outside into the terminal. Youíre boarded close to departure time, after most of coach is already onboard, which is nice because ANA (and more generally, Japanese carriers) doesnít serve pre-departure beverages.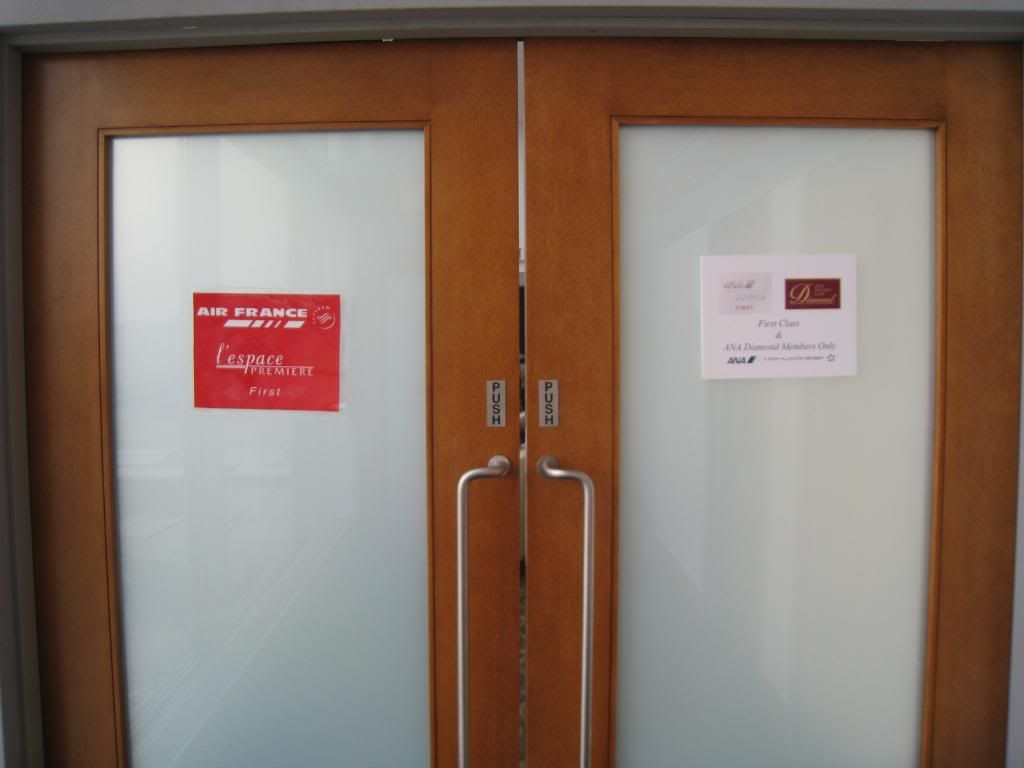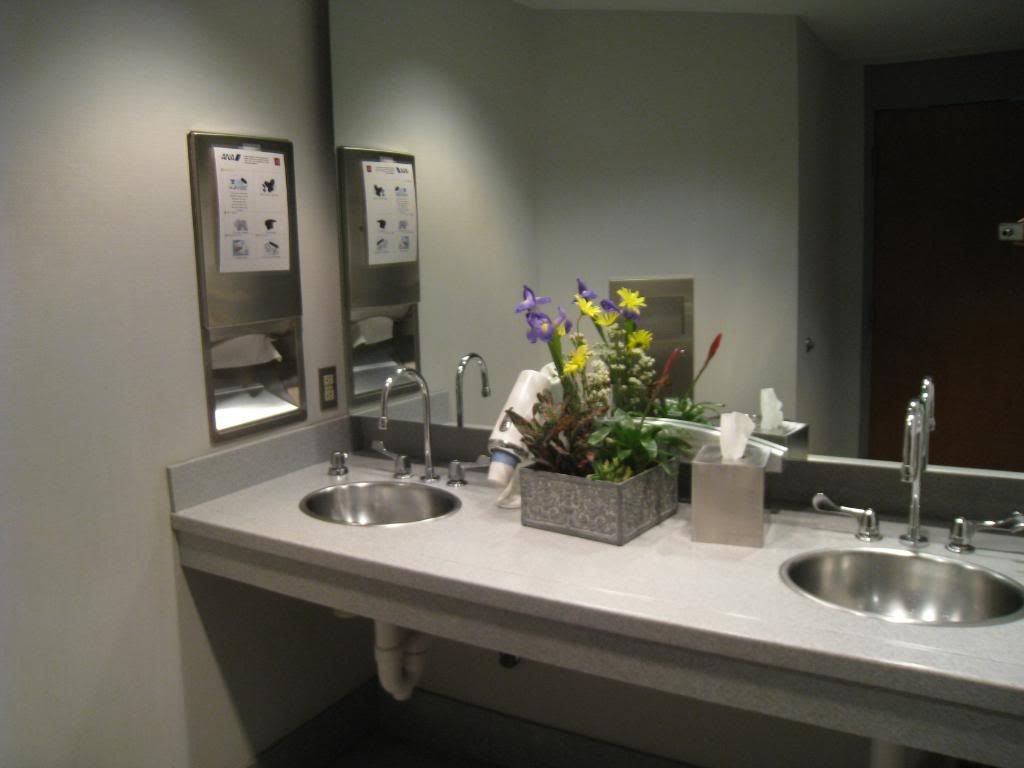 Once onboard the most important thing is the seat. Itís lovely and wide, a nice big screen TV, perfectly comfortable and goes fully flat. The tray table is large, but bounces a bit in turbulence. The only complaint is that thereís really no storage space at all.
May 10, 09, 5:48 am
FlyerTalk Evangelist
Join Date: Apr 2001
Location: DCA
Programs: AMC MovieWatcher, Giant BonusCard, Petco PALS Card, Silver Diner Blue Plate Club
Posts: 22,223
Hereís the menu for the flight.
Kaiseki Course 
Savor the refinement of classical Japanese cuisine. Our master chef selects nature's finest, freshest ingredients to create a menu that evokes the essence of the season. A choice of hand-crafted sake perfectly complements this special dining experience.

Zensai
Broiled rock lobster, sake-steamed red snapper and honeyed fava beans

Nimonowan
Tofu cr醇Spe-wrapped icefish and seasonal garnish in hot seafood stock

Oshinogi
Our selection of sushi

Kobachi
Tender egg pudding with rich shark's fin broth

Shusai
Simmered Chinese cabbage-wrapped cod and tofu in special seafood broth [ 159 kcal ]

Sunomono
Quick-grilled rare beef tenderloin with sesame-flavored citrus soy sauce

Steamed rice, miso soup and assorted pickles

Dessert (your choice of one of the following)
Premium vanilla and mocha chip ice cream duo
Mocha latte mousse with strawberry sauce
Warm apple pie with vanilla ice cream

Selection of fresh seasonal fruit

Wagashi
Toraya "Shin midori" yokan (white adzuki bean and green tea jelly)


A la Carte 
Light, easy, uncomplicated dining. Choose the dishes that catch your imagination and each will be plated on board, producing a freshness and taste not unlike a fine restaurant dining experience. Naturally, we also offer a tempting range of fine wine and sake for your consideration.

Caviar with traditional garnish
Galantine of foie gras and chicken thigh with aromatic saffron mayonnaise
Fried soft-shell crab with citron vinegared soy sauce

Fresh garden salad with Japanese dressing
Lobster and avocado salad exotic with balsamic vinaigrette

Pan-fried beef tenderloin with mustard soy butter [ 422 kcal ]
Pan-fried prawn and pan-roasted Chilean sea bass with saffron sauce [ 406 kcal ]
Ossobuco Piedmontese with saffron risotto [ 567 kcal ]
Braised barley and vegetables with garlic wrapped up in lettuce and tomato coulis [ 111 kcal ]

Selection of breads with a choice of
Isigny butter or extra-virgin olive oil

Premium vanilla and mocha chip ice cream duo
Mocha latte mousse with strawberry sauce
Warm apple pie with vanilla ice cream
Selection of fresh seasonal fruit


Delights 

Sake accompaniment
Caramelized sand eel and walnuts
Cured mackerel in salt and rice bran
Homemade soybean milk jelly with special light soy sauce
Oden (hot pot with fishcakes and vegetables)
Assorted Japanese pickles

With wine
Camembert
Gorgonzola
Comte

Light dishes
Bowl of hot Japanese udon noodles with wild mountain vegetables and green seaweed
Marinated batonnet tuna and grated yam with fruity soy sauce, served over steamed rice
Japanese tea poured over rice, garnished with grilled freshwater eel
Cantonese-style congee
Chicken tikka masala with steamed rice
Cantonese-style stir-fried beef with ginger-oyster sauce
Salmon lasagna Florentine with creamy tomato sauce
Toasted pork cutlet sandwich
Smoked turkey breast and tuna mayonnaise light sandwich

Sweet treats
Premium vanilla ice cream

Post-nap comfort
Fresh garden salad
Cornflakes with milk
Selection of fresh seasonal fruit


Petite Japanese course

Stir-fried yam jelly cakes with piquant soy sauce
Salt-grilled Spanish mackerel garnished with spring vegetables
Steamed rice or creamy rice porridge
Natto (fermented soybeans) and dried seaweed
Miso soup and assorted pickles


Petite International course

Morel mushroom and spring cabbage potage
Bread roll
Fresh seasonal fruit
Shortly after takeoff, drink of choice was offered and I naturally chose Krug. Then it was time for the amuse bouche:
Then it was time to order my meal. I began with the caviar (and more KrugÖ)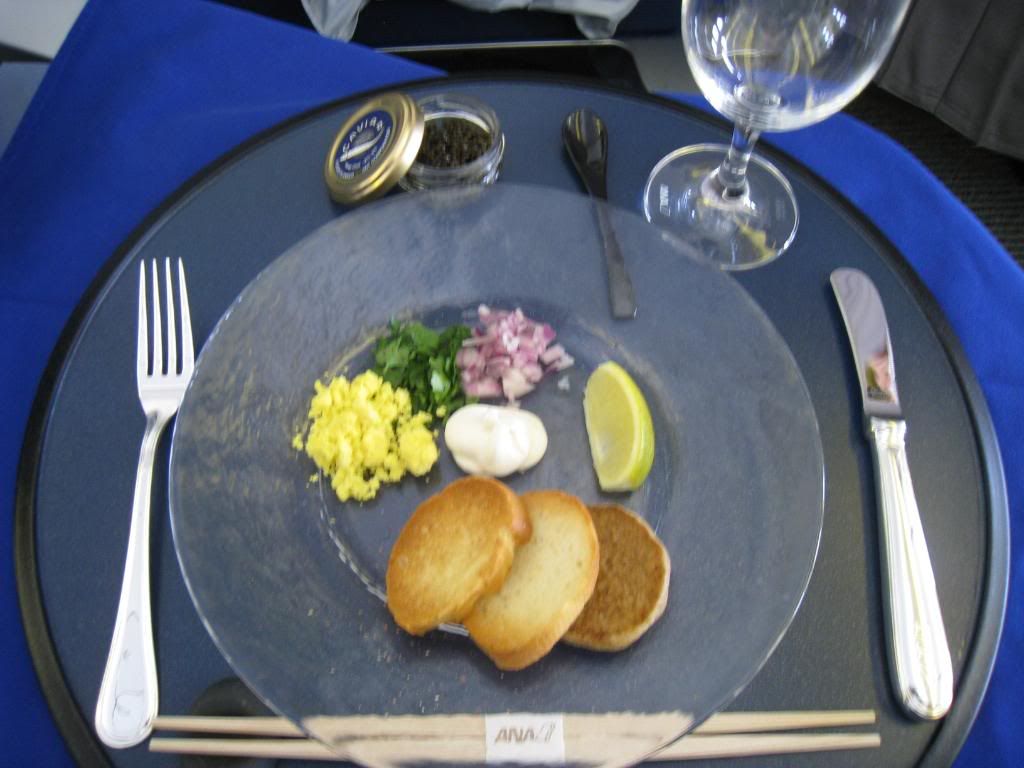 And followed with the galantine of foie gras and chicken thigh
I thought about ordering the Lobster and avocado salad and it looked outstanding on the tray of the woman sitting by the window to my right. But there was no way that I was going to be able to eat everything I had my mind set on, so I then switched to the Japanese menu:
I was full, and yet somehow my flight attendant managed to convince me I should have two desserts
After a full meal, I thought it might be bedtime. I was already dressed comfortably for the flight in black sweat pants and a black polo shirt. Iím not that keen on ANAís pajamas which arenít yours to keep, so I didnít change. But I immediately took up the offer of the FA to make my bed.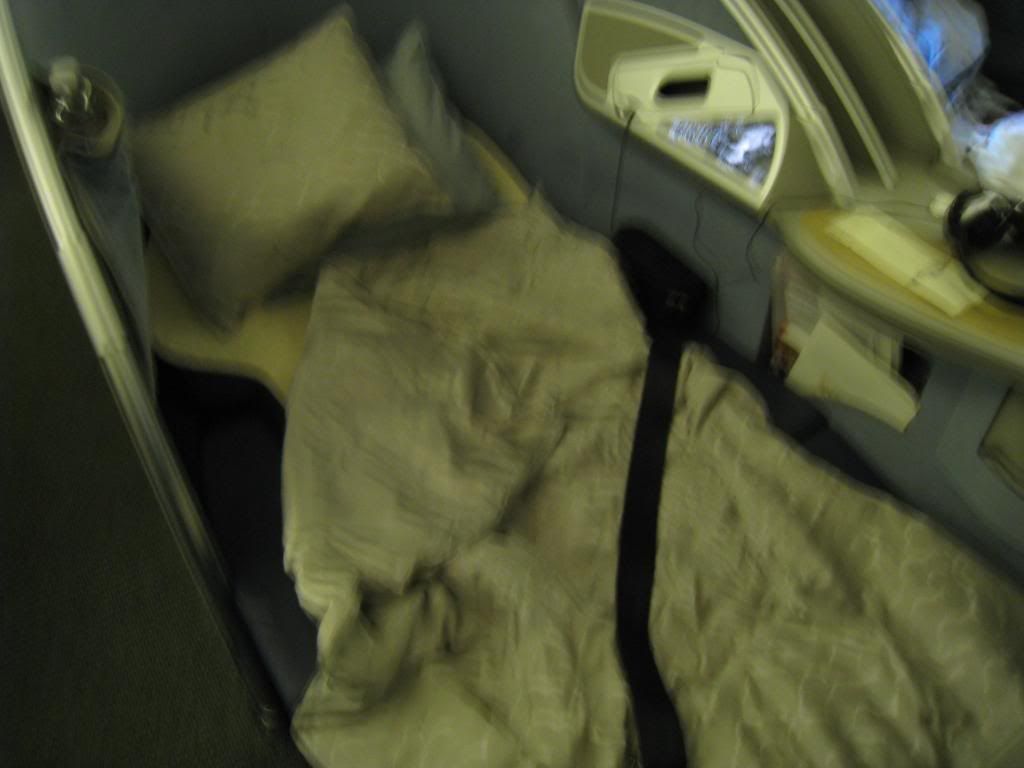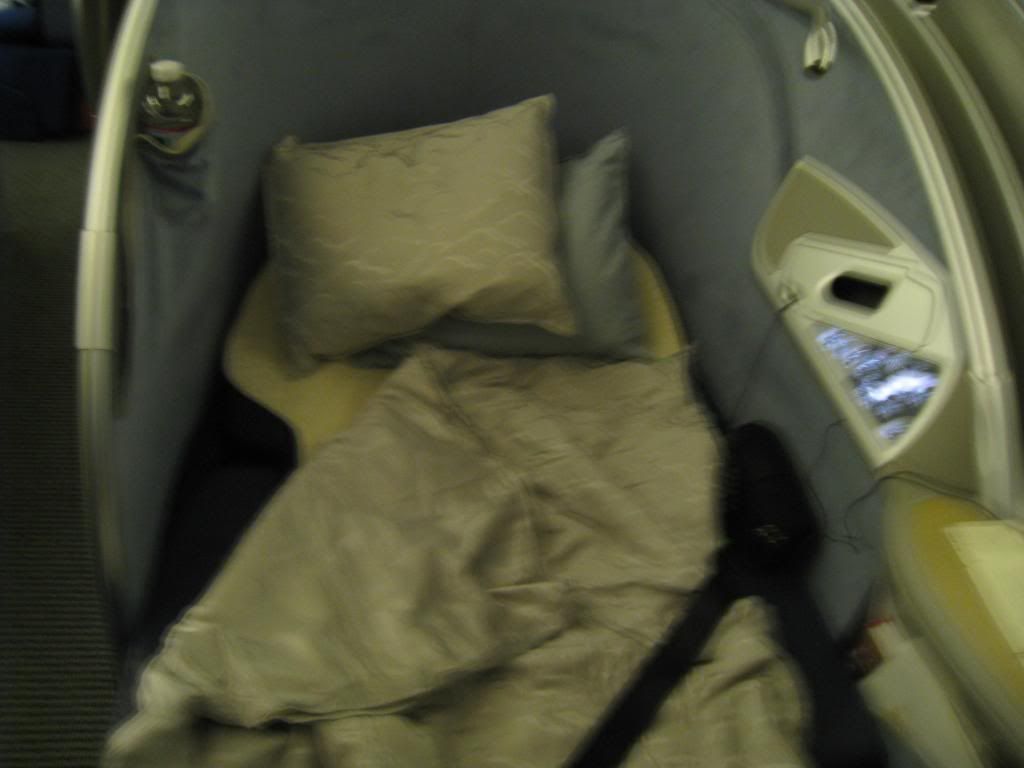 While this was being set up I stood behind my seat (rather than the customary time spent in the lav changing into PJs).
Behind my seat is where the basket of amenities had been placed, perhaps because the seat behind mine was unoccupied. (The couple from the Ďreservedí area of the lounge was onboard together, but seated in a window / middle configuration rather than sharing the two middle seats. I really do understand the impulse.
mrs. gleff
and I shared the two seats in the middle of row one, and the privacy screen is immobile and really did separate us, I think Iíd just have us separated in the future by the aisle instead of that screen Ė donít ask me why that screen doesnít stow as it does on Asiana, or at least I never figured out how to stow it.
In any case, I stocked up on additional amenities while I waited for my bed to be made. ANA hands out a nice zipper bag for amenities, and then offers a basket from which you may take what you wish. I wasnít shy the first go, but I stocked up on the hand cream and lip balm. Of course I could only take so much, I was transiting and Narita and feared the liquid baggie police.
Once my bed was ready I settled in, and the flight attendance put a fragrance card down at my side, ostensibly to aid in restful sleep.
Sadly as comfortable as the seat was for sleeping (though the pillow could have been better for my tastes), I really just wasnít tired. Thatís the trouble for me with early afternoon departures, I much prefer my transpacs to start late in the evening. So I stayed up and watched [i]Slumdog Millionaire[/b] and scanned the rest of the AVOD.
I do have to say that ANA has much improved itsí variety of choice, but there really just wasnít anything else I was interested in watching and I finally managed to doze for about an hour. I got up and ordered a midflight drink and snack: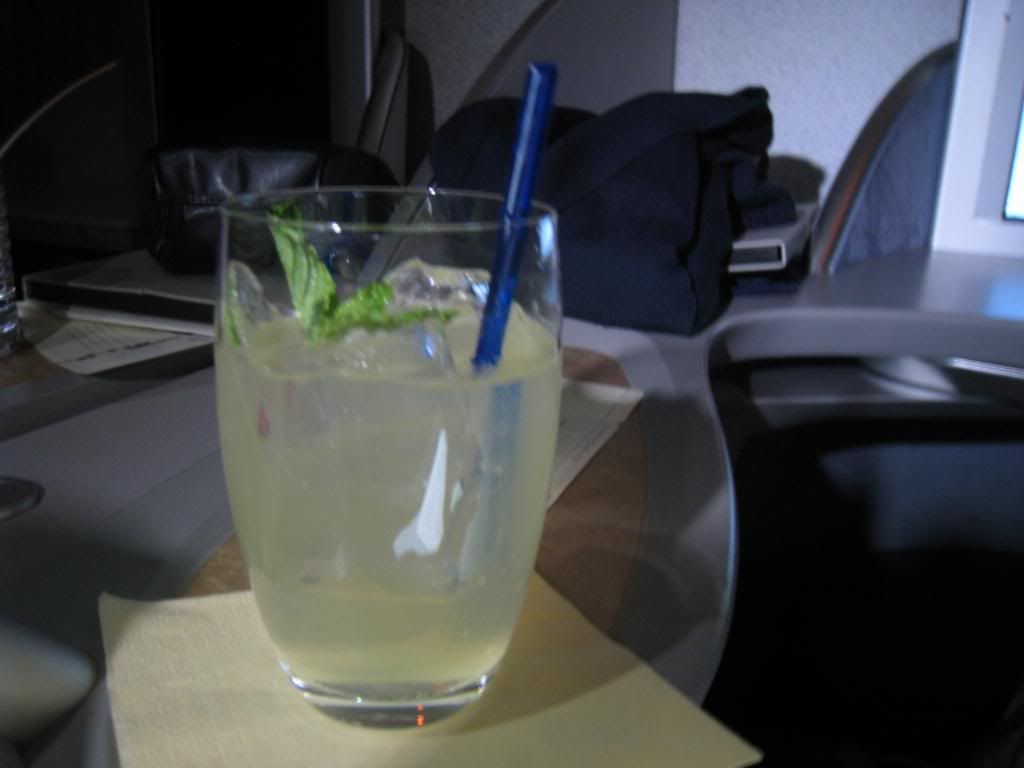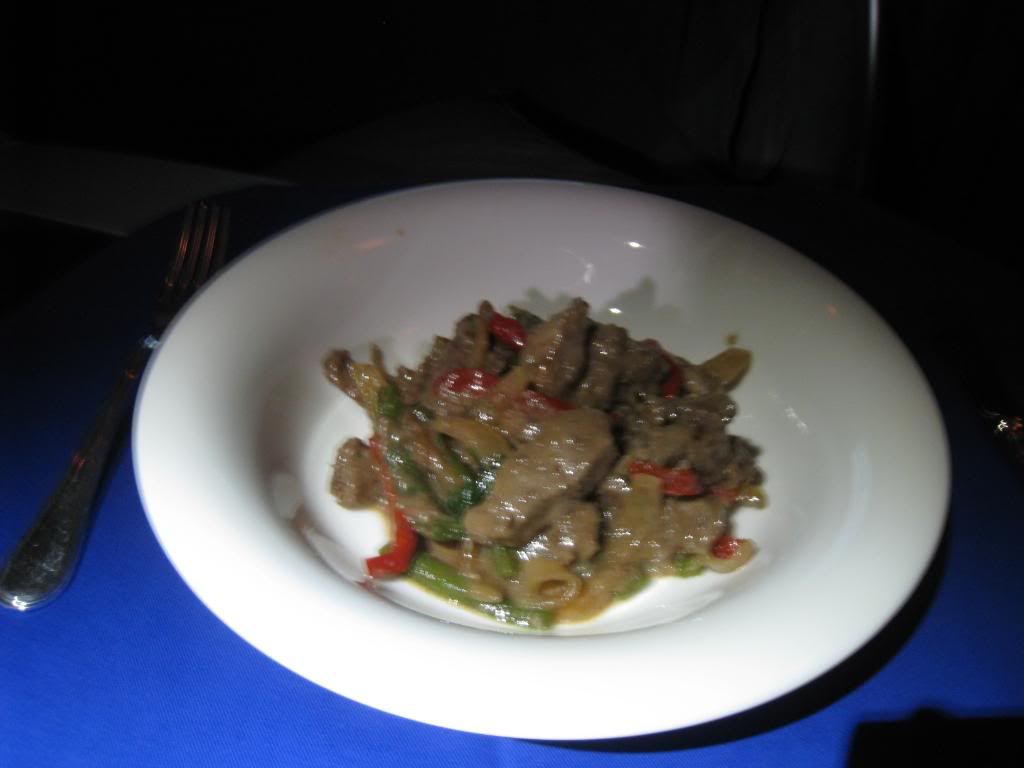 Afterward I did manage to get back to sleep for a couple of hours, and wait out the remainder of the flight. Sadly I wasnít hungry again, though had I been I would have been disappointed because the one dish I really wanted was the Super Cheeseburger but apparently (according to a FA) they only load it ex-NRT. And it certainly wasnít on the menu.
Landing was a bit bumpy, we taxied around much of Narita before finding our gate, and then it was off through transit securityÖ
May 10, 09, 6:27 am
FlyerTalk Evangelist
Join Date: Apr 2001
Location: DCA
Programs: AMC MovieWatcher, Giant BonusCard, Petco PALS Card, Silver Diner Blue Plate Club
Posts: 22,223
We arrived at Narita right on time around 3:25pm. After a quick transit security screening we headed up towards the ANA lounges. We werenít given a lounge pass at check-in, and were continuing in two-cabin business class on ANA subsidiary Air Japanís 6:40pm Hong Kong flight.
I decided to walk towards the First Class lounge, even though ANA treats their lounges as departure rather than arrivals lounges and thus technically I would only be entitled to use the business class lounge.
I approached the woman standing outside the lounge to greet passengers, ostensibly looking for directions, and showed her my first class boarding pass stub from my arriving flight. That was the only thing I showed her, she saw first class on it, and indicated I was in the right place! She escorted my to the loungeís check-in desk and handed my stub to one of the women behind the desk.
That woman asked for my onward boarding pass, which I gave her, and she appeared perplexed. Of course she was, I was flying business class! But the woman out front had invited and escorted me in, she decided not to press the issue and we were brought inside.
Itís a nice, airy, comfortable and decently-stocked lounge but hardly anything special. Though ANA is wonderful in the air (certainly with in my view the best food in the sky, and very efficient service) they really are nothing special at all on the ground. Still, I assumed it was better in here than the business class lounge or at least less crowded so the preferred place to burn a couple of hours before my connecting flight. And itís certainly more stylish than Unitedís Red Carpet Club here which, though one of the better clubs in their system, feels dated Ė almost like a nice Holiday Inn.
Once seated an attendant brought us drinks and modest snacks, and I fired up the laptop. And had a few quick photos of the lounge.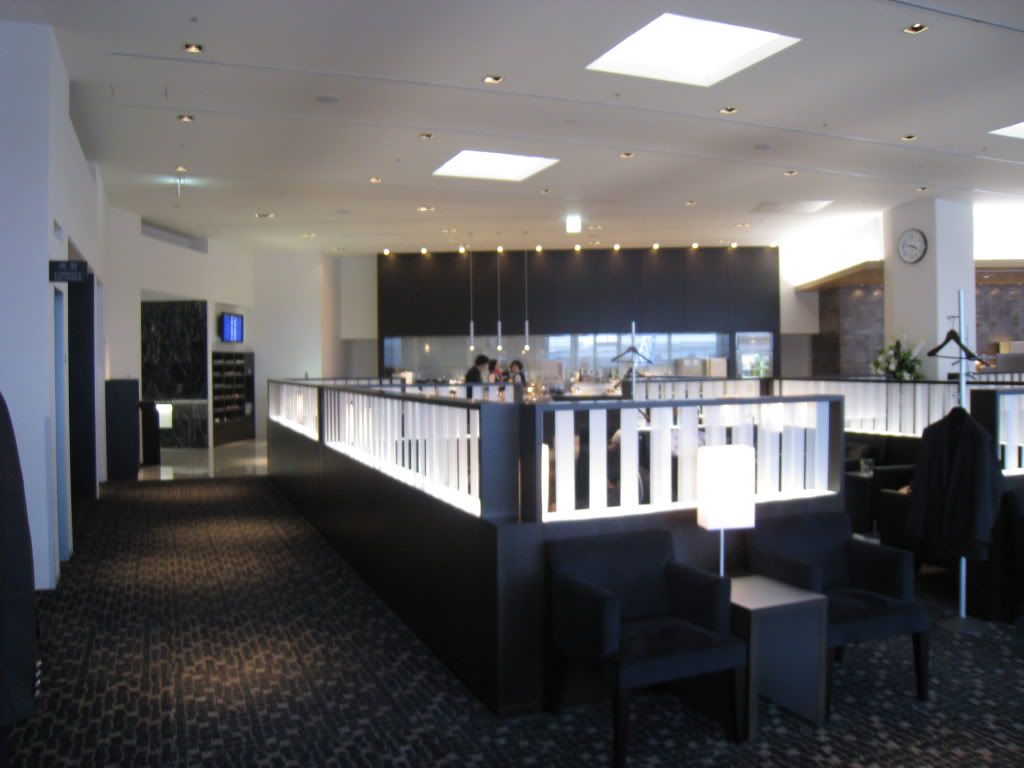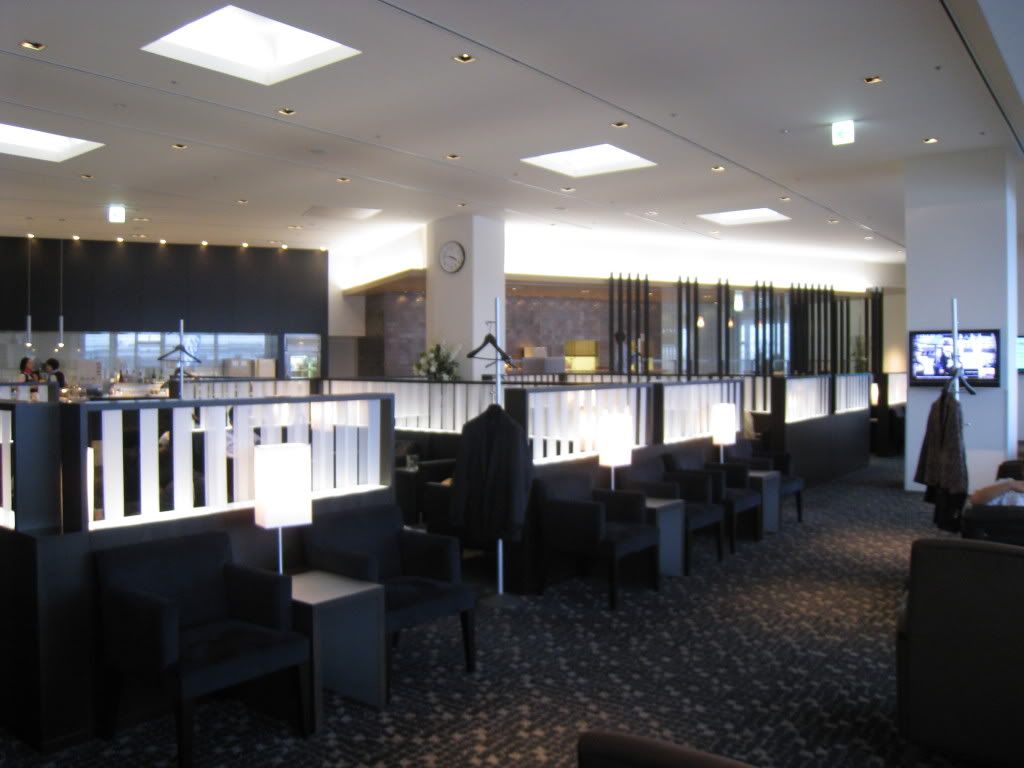 There was a nice view of airport operations
And a decent though not overwhelming food selection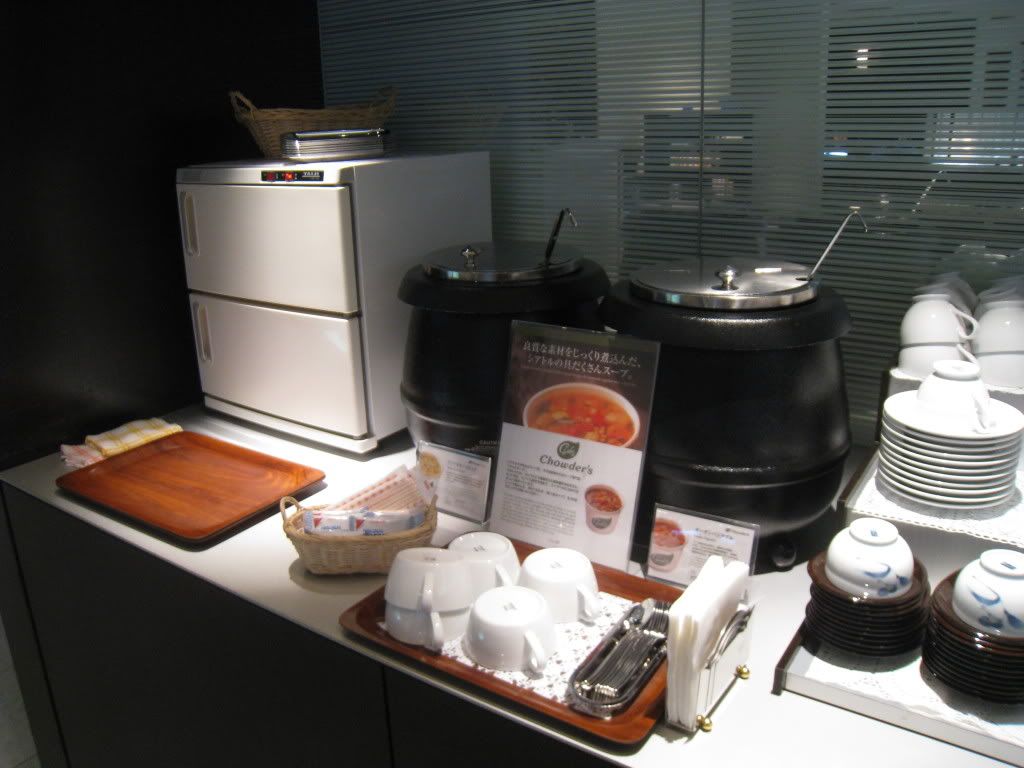 And a made to order noodle bar
After a couple of hours in the lounge we headed off to our gate a bit early, just to do some walking around, after the 14 hour flight from Dulles we really didnít need more time sitting. Boarding was about ten minutes late but everything was handled quickly and efficiently.
6:40 pm Tokyo, Japan (NRT) to Hong Kong, Hong Kong (HKG)
All Nippon Airways Flight 911 Business Class Seats 3A, 3B
Duration: 4h 30m Boeing 767-300 1,827 miles traveled

Hereís the Club ANA seat, a far cry from what we had just come off of but comfortable enough for the much shorter segment to Hong Kong. Plus I could have probably slept well in coach, I was pretty darned exhausted after not getting much shut eye on the long haul segment.
We took our sweet time prior to takeoff, Narita is a busy place around 7pm and it was about 7:35pm before we finally made it into the air. I slept through most of our taxing.
Shortly after takeoff a meal was served, and though a modest one-plate affair it was actually pretty tasty.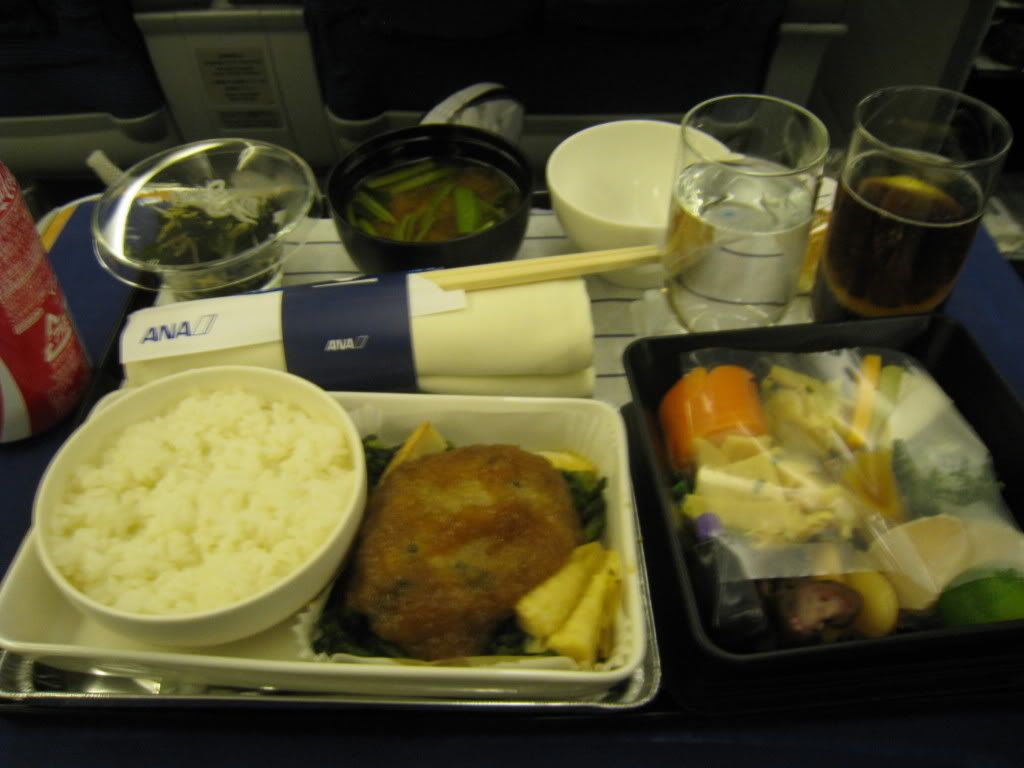 Beyond that not much worth sharing about ANAís regional business class service.
Landing was nearly an hour late at 11:20pm. Immigration was a quick walk from the ANA gate, a nice contrast to arriving on United or Thai as Iíve generally done in the past which necessitates the airport train. And lines were non-existent. Once through, baggage claim was quick as well,
We grabbed a cab, which for those new to Hong Kong is an especially easy thing to do. The taxi station is at the left-hand ramp outside the Arrivals Hall. There will be plenty of touts along the way, of course.. Then a red taxi, as I was headed to Kowloon. Fare down to the W was about HKD270.
May 10, 09, 9:49 am
FlyerTalk Evangelist
Join Date: Apr 2001
Location: DCA
Programs: AMC MovieWatcher, Giant BonusCard, Petco PALS Card, Silver Diner Blue Plate Club
Posts: 22,223
W Kong Kong
1 Austin Road West, Kowloon Station, Kowloon
Phone: (852) 3717 2222 Fax: (852) 3717 2888
Cash & Points Rate

We arrived at the W Hong Kong around midnight and no one from the hotel was there to greet our cab at the entrance. There were two staffers standing inside the door but we turned up and nobody moved. We brought our bags inside ourselves and then the bags were taken from us (not delivered to our room very quickly either, I might add).
The lobby of the hotel is a bit confusing, we came up the driveway and had to take the elevator upstairs, the checkin desk was down the hall and around the corner to the left. I was tired, and it would have been nice had one of the staff members from downstairs had escorted us to checkin. Instead they called the elevator and hit the button for the lobby and sent us on our way.
The elevator itself is pretty cool, here is the elevator floor
: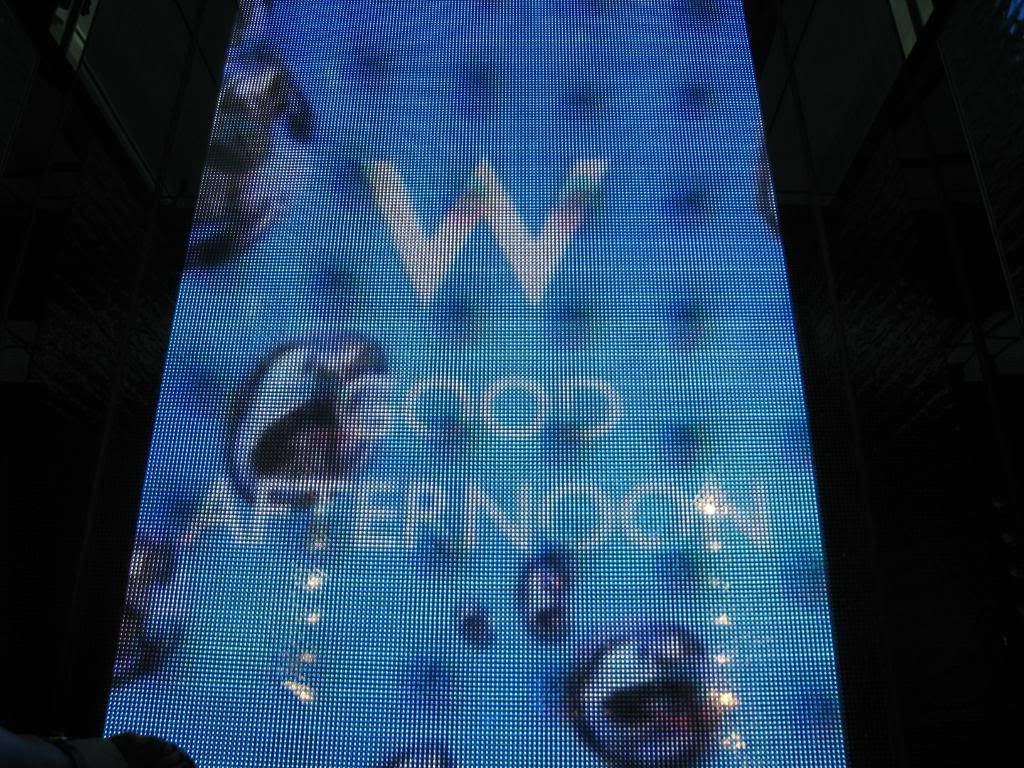 The lobby itself is nice enough.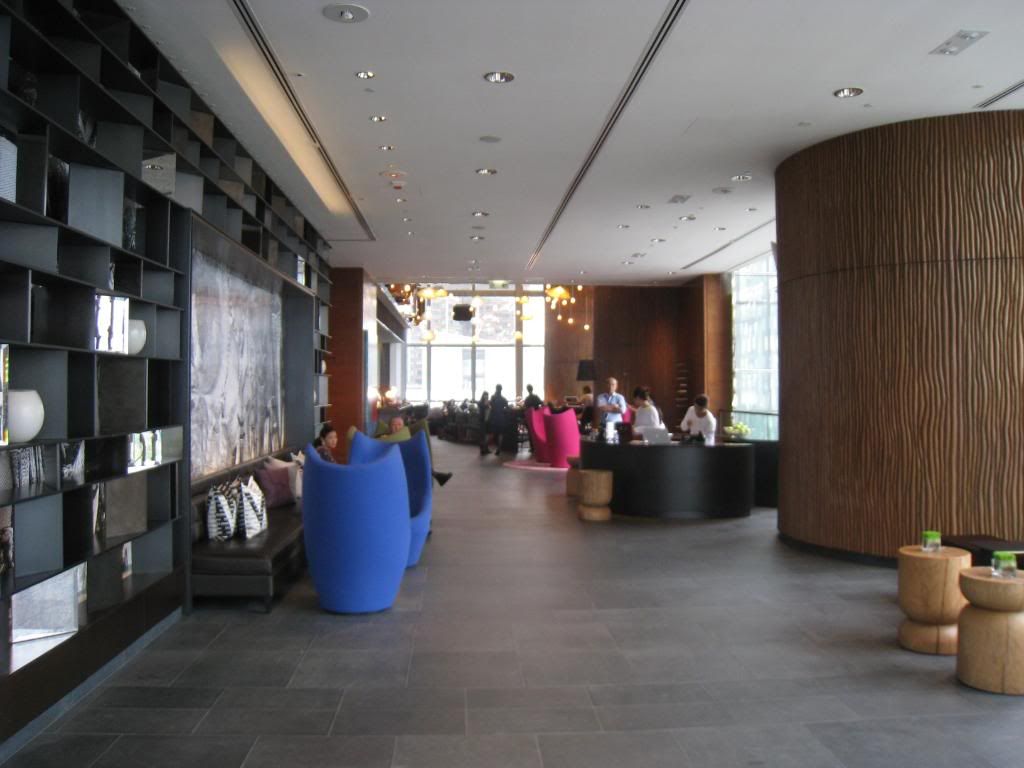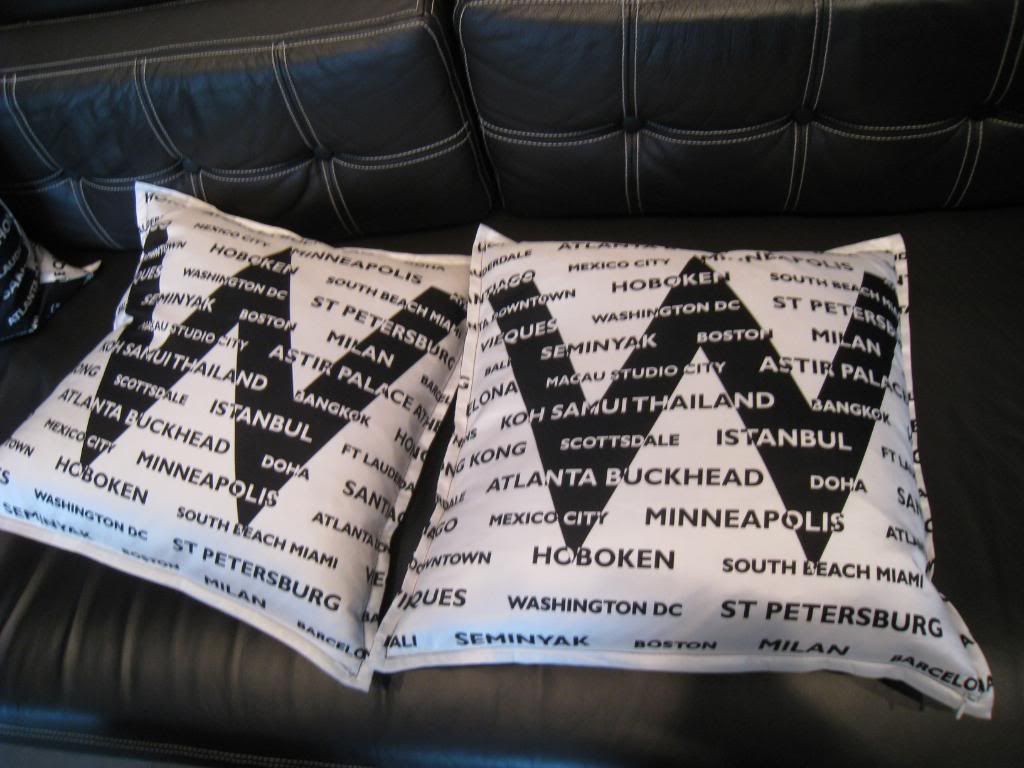 Things got cookiní though when we arrived at the checkin desk. They offered up the 500 point platinum amenity without prompting, already had us upgraded to a Fantastic suite, and when I mentioned my 8:30pm flight the next evening they happily suggested a 6pm checkout. (Of course the keys stopped working at 4, necessitating a visit to the front desk when we returned to the hotel before heading to the airport, but that was easily corrected.)
The hotel must have my favorite interior design of any property I have ever visited, anywhere.
Hallway to the room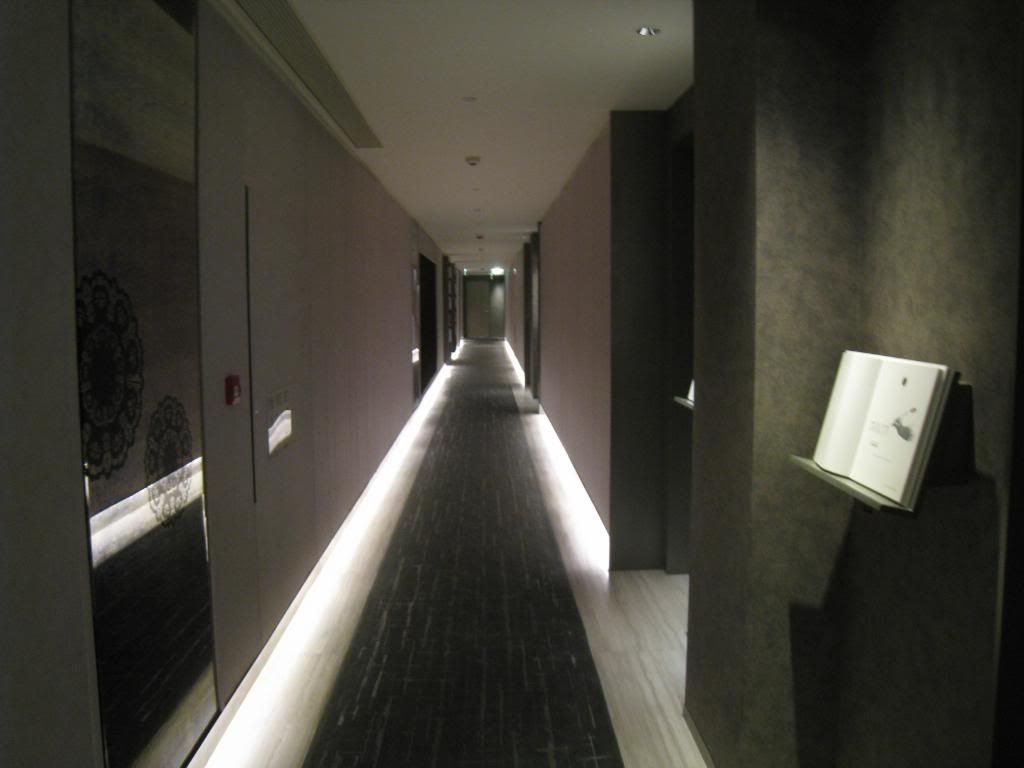 Book outside the door indicates your status in the room
We walked inside the room and were immediately impressed by the design elements of the suite.
Walking down the hall, we entered the living room
Hereís another shot of the living room, from the bedroom
And of the living room during the day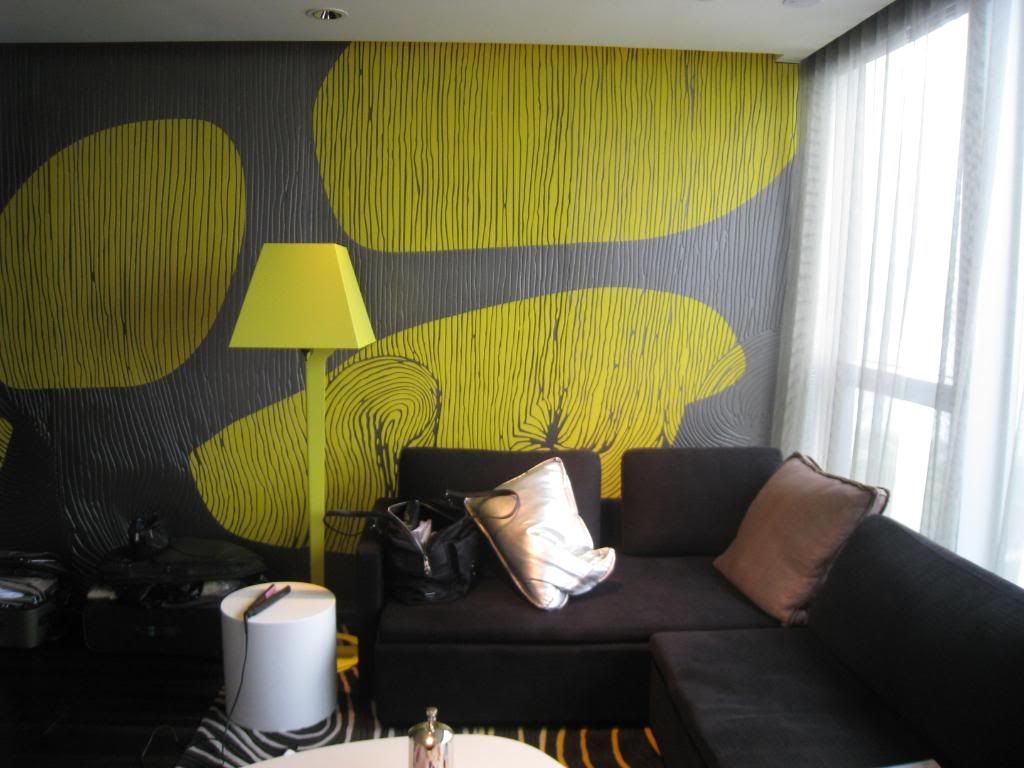 The view from the suite was nice enough, we looked our over the water. But my previous hotel of choice in Hong Kong was the Sheraton (Towers section, harbor view room) and this has nothing on the Sheratonís view, you donít get the famous Hong Kong skyline from the W.
The bedroom was equally stylish.
Probably the most stunning part of the suite was the bathroom, here is the sink..
Walk-in shower and tub with TV.
Anotherr shot of the tub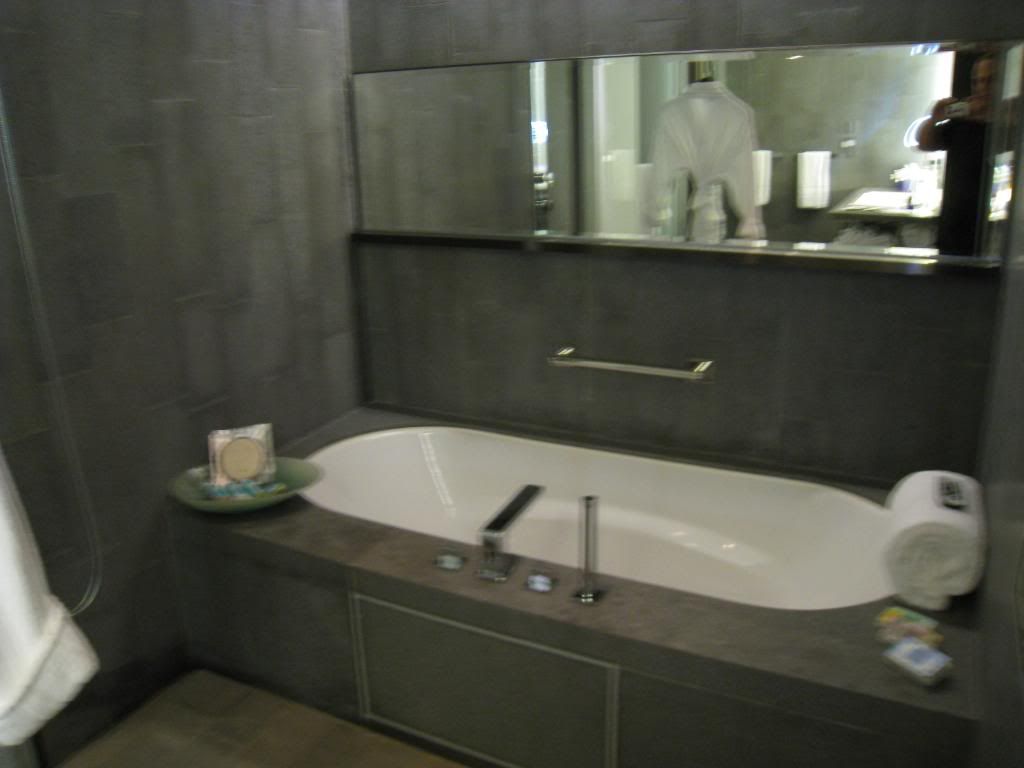 Not bad for a cash and points stay. Itís worth noting that cash and points was never available on the Starwood website, thereís a known glitch Ė especially with Asian properties Ė where cash and points is available but doesnít show online.
The property has developed a good reputation for upgrading platinums, itís perhaps the most stylish hotel Iíve ever stayed in, and I much enjoyed it. Still, itís tough to give up the Harbour skyline view and the Towers benefits at the Sheraton. But Iíd likely make the same choice again.
Though we were pretty tired after all our travels, we decided to order some late room service around 1am, then finally went to bed around 2. Since we didnít really have any plans for the next day Ė other than having dim sum, of course Ė we slept in until noon.
Then it was down to business:
And with our remaining time we just chilled down at the Harbour
Then at 6pm we grabbed a cab back to the airport.
May 10, 09, 12:30 pm
Join Date: Mar 2006
Location: Netherlands
Programs: BA | A3 | AFKL | Hertz | SPG | Avis
Posts: 744
Great report, looking forward to further instalments!

On a side note, I noticed one of the machines (coffee maker?) in the IAD lounge sporting the word "keurig", which is a Dutch adjective and kinda hard to translate. It mostly relates to how people and/or things look (and act, when you use it to describe a person).

My dictionary says: "keurig exquisite [the room was furnished ..ly], trim, dainty, natty"
May 10, 09, 1:49 pm
FlyerTalk Evangelist
Join Date: Apr 2001
Location: DCA
Programs: AMC MovieWatcher, Giant BonusCard, Petco PALS Card, Silver Diner Blue Plate Club
Posts: 22,223
http://www.flyertalk.com/forum/all-n...eseburger.html
Sadly, I'm certain that NH offered it on my last IAD-NRT flight in F, so was most disappointed to hear the FA say they only board it for the flight ex-NRT.
May 10, 09, 2:09 pm
Join Date: Apr 2005
Location: UK
Posts: 1,481
Originally Posted by
gleff
http://www.flyertalk.com/forum/all-n...eseburger.html
Sadly, I'm certain that NH offered it on my last IAD-NRT flight in F, so was most disappointed to hear the FA say they only board it for the flight ex-NRT.
Thanks. I also googled for a pic but nothing. The search continues
The last time, I had a slice pork loin on rice snack & it was lovely.
I guess while at NRT F (you lucky devil showing only your F BP first
) lounge, you did not avail yourself to the shower. You can get free L'Occitane kit if you so wish.
May 10, 09, 2:22 pm
FlyerTalk Evangelist
Join Date: Apr 2001
Location: DCA
Programs: AMC MovieWatcher, Giant BonusCard, Petco PALS Card, Silver Diner Blue Plate Club
Posts: 22,223
I had planned to shower, and had packed a change of clothes for just that purpose, but got caught up in email and Flyertalk and lost my focus and all of a sudden it was time for NRT-HKG. At which point a change of clothes sans shower was sufficiently refreshing
and I had to wait until arriving at the W...
Incidentally, the bathroom in my suite at the W reminded me (somewhat) of the bathroom at the Le Meridien Barcelona.
http://www.flyertalk.com/forum/9589869-post18.html