Accidental French Polynesia + First Time Ever Business Class
Apr 26, 09, 5:40 am
Join Date: Feb 2006
Location: SYD, and not PKC
Programs: QR/VA Gold, QF Silver, HH Diamond, Marriott Gold
Posts: 1,481
Accidental French Polynesia + First Time Ever Business Class
---
This is my first ever Trip Report. Hopefully you will enjoy this. My trip was so enjoyable I just had to share it with everyone.
Edison
__________________________________________________ ____
Accidental French Polynesia + First Time Ever Business Class
Prologue
I still could not believe I just came back from French Polynesia. I still pinched myself that it happened. I also could not believe I got there on business class either. The trip was so good I decided to write a trip report in FT, for the first time, to give back to the FT community.
I did not even dare to think about planning to go to French Polynesia (FP) this year. It is always a place that I want to go for a long time. Whilst FP is such a beautiful place, with pictures that would make my jaw drop, the prices to stay in FP is always way too expensive for me and my wife to even consider going there in the short term. Even with my PriorityClub points I could have redeemed rooms for 3 nights in IC Thalasso Spa or IC Le Moana Bora Bora, everything else seemed so expensive anyway by the time you add flights to Tahiti, inter-island flights, transfers, food, activities etc. It is one of places I wanted to go but I always thought that it would be many years before I will go to such a place. I just couldn't justify a five digit budget for a week's worth of travel. I was already happy with going to Fiji outer islands and Thailand for resort style relaxation. In fact, I had my honeymoon at Le Meridien Khao Lak currency deal which was very well documented in FT …… But that was another story. Whilst I read a lot of people in FT travelling to Tahiti, Moorea and Bora Bora, and looking at comments, I always dreamt that one day I would do the same. However I never expected to be this soon …… Especially in gloomy economic climate such as this?
Planning: by accident ……
It was really an accident that I went to FP this year. The only reason I decided to go was because of the "special offer" from Hilton Moorea as per link below:
http://www.flyertalk.com/forum/hilto...esort-spa.html
The most bizarre thing was that I have never stayed in Hilton family of hotels before, and was not even a Hilton HHonors member. So I have never EVER gone to Hilton forum in FT (I always look at IHG PC, SPG, QF, SQ forums). However, when I go to FT one day, I saw the most recent thread on Hilton HHonors being Hilton having 3 new properties in FP. That got me interested in having a look for curiosity. Then by sheer timing and luck it seemed that Hilton Moorea (previously Sheraton Moorea) loaded with a different currency from XPF (they used CDF which is Congo Franc), and it work out to be very favourable, about $200AUD per day on overwater bungalow with breakfast and dinner for 2 included.
So I quickly look at when Air NZ flies to Tahiti to ensure I can get there, by using ANA tool and airnz.com.au. Then very quickly open a Hilton HHonors acconnt and very quickly book 7 night OWB with Dinner and Breakfast reservation at the week before Easter at Hilton.com. Hilton.com then sent me a confirmation email on the booking. Everything was done very quickly. Surprisingly this was not picked up in the Hotel Deals section of FT. I still don't understand why to this day. Of course, Hilton picked this up very quickly and they corrected their "special offer".
I was very excited at that time because I just could not believe my luck, and I wanted to tell Mrs Edison as soon as possible. However, she was on the phone with her mum so I ended waiting 2 hours for her calls to finish. She was excited about the news, but even more amazed by the "special offer".
Initially Hilton did not honour the original booking, by changing all the bookings to USD 500 per night. Naturally, I was not impressed. However, after some escalations, and emailing, at the end the hotel itself decided to honour the rate which was originally booked at Hilton.com. This is a definite plus to the hotel management. I am quite grateful for that, and still could not believe that I will be going to FP this year.
Business Class from Sydney To French Polynesia
In regard to the business class flights, in all normal circumstances we always fly economy class, as we are not loaded with cash
Also we do not fly regularly enough to collect enough points to fly business class. Also we do not spend enough on credit cards to collect that many points. Australian credit cards are nowhere near as generous as American credit cards where they just gave out all these points for free for signing up …..
However, due to a special and bungled American Express Australia promotion late last year where Amex awards their credit card holders 5000 Membership Rewards points for every 5 transactions, I ended up doing a lot of transactions for three and a half months and collected like 740000 points in the process (ie 740 transactions over three and a half months). That was like 7 transactions per day, visiting all different kinds of shops making purchases. This promotion is well documented in the following thread, if you have the time to read them all:
http://www.frequentflyer.com.au/comm...per-14628.html
Also, some time last year, Amex changed points transfer rate to Singapore KrisFlyer from 2:1 to 1:1 which is great for *A redemptions. So with all these points in hand, I transferred some points across to KrisFlyer, and initially I booked 2 * Y SYD (Sydney)-AKL (Auckland)-PPT (Papeete) on AirNZ using SQ points (50K for 2). Whilst that was not business class, I had previous trip to Auckland and Christchurch on Y and their Y offering was actually pretty good, with great seat pitch, excellent AVOD IFE and good food. So I was already happy with that.
Later I made a change in schedule which cost me 4K points. Then, later business class award (class I) became available on all sectors (I did check this on ANA tool everyday), I immediately get the ticket reissued to business class (24K points). So ended up having 2 * J SYD-AKL-PPT on AirNZ using 78K SQ points (if I booked in 1 hit, it would have been 70K points for 2 pax, rather than paying 8K for ticket reissues). I was very excited because this will be my first ever J flights, likewise for my better half.
After this I called AirNZ directly to select seats. I had a quick check at seatguru.com before calling so I know which seats I want to secure. Ended up booking the following seats with the following schedule:
2nd April: NZ106 SYD-AKL 18:35-23:35 B767 2A/B
3rd April: NZ040 AKL-PPT 19:30-01:30 B767 4J/K
11th April: NZ041 PPT-AKL 18:15-22:20(+1) B767 3A/B
13th April: NZ719 AKL-SYD 13:00-14:30 A320 2A/B
Because I had to book a Friday night flight to PPT rather than Sunday flight due to Award availability, I ended up needing two nights stay in Tahiti itself before going to Hilton Moorea. After some researching and recommendation from people in FT, I decided to settle 2 nights in IC Tahiti, and may as well earn extra PC points (whilst signing up all the special offers of course!).
Also the schedule of AirNZ flights means I will be overnighting in AKL on the way there and back. I decided to book 2 separate nights at Ventura Inn Auckland Airport deluxe room on the way there and back, as it is very close to the airport with free shuttle bus. I ended up getting those rooms for free due to I still have some HotelClub.com accounts where they had USD50 credit given by Hotelclub.com, as well as additional USD20 credit on a booking promotion.
_____________________________________
Off Topic: Just a thought: In regard to NZ040 (AKL-PPT) and NZ041 (PPT-AKL) on Friday, I reckon they really should have better schedule on this. Arriving PPT at 1:30am (or 2:30am during non-daylight saving time) is causing much inconvenience to passengers. Forcing people to either stay extra night in Tahiti for no real good reason apart from 4 hours sleep. Also the turnaround Friday NZ041 departing 03:45am ruins everyone's sleep as they need to get to the airport at 1:45am.
NZ should have done something like this:
Fri NZ040 AKL-PPT 23:30-05:30 (daylight saving) or 06:30, and
Fri NZ041 PPT-AKL 08:30-12:30.
The advantages of this arrangement are:
1) Passengers going to Tahiti could sleep on the plane overnight, saving an additional night's stay. If 777ER is used instead of 767 then J flyers would have proper bed to sleep in.
2) Passengers arrive at Papeete can then transfer to Air Tahiti to everywhere else in FP in the morning, enable them to get to eg Bora Bora at about 9-10am. Of course the passengers can also catch early ferries to Moorea.
3) Passengers from all over NZ can connect to NZ040 after Friday work hours (eg flying from CHC/WLG/ZQN/DUD to AKL then to PPT). So people don't have to take additional day off for connecting flights. Also people in AKL can go home after work, have dinner, then come to airport for the flight. In theory, if NZ040 departs Sat NZ040 00:30 – 06:30/07:30(-1), then it would enable a lot of eastern Aussies (SYD/MEL/BNE at least) to catch late Friday flights after work to connect to NZ040 as well! However departing at 00:30 would probably be too late for most passengers in NZ.
4) Passengers flying back to AKL obviously need to stay overnight at Tahiti but at least they have a proper sleep before heading to the airport at 6:00-6:30am for check-in, which is much more civilised time than 01:45am. Also it enables the flyers to connect to all over NZ as well as all over Oz on the same day.
The only real reason I could see is that NZ can use the plane when there is very few demand for it (7pm Fri – 8am Sat), or the hotels at Tahiti is paying subsidies to AirNZ for such hideous flight schedule ……
Apr 26, 09, 5:45 am
Join Date: Feb 2006
Location: SYD, and not PKC
Programs: QR/VA Gold, QF Silver, HH Diamond, Marriott Gold
Posts: 1,481
2nd April: NZ106 Sydney – Auckland 18:30-23:30
---
2nd April: NZ106 Sydney – Auckland 18:30-23:30
To the Airport
We live in the Hills district of Sydney, and we are planning to go to the airport to catch NZ106 after work. Therefore we caught Hillsbus from our home to city at early morning with our luggages. We got to work early because we need to leave slightly earlier to ensure that we get to the airport on time.
I had a hectic day of work. I went to two different work places to do work, and I ended up not having breakfast and lunch at all because I did not have time to do so.
After 3pm I said goodbye to my work colleagues, Mrs Edison and I met at Museum station entrance to catch Cityrail train to the Airport. The ticket is AUD15.20 each person. We bought the ticket and only had to wait for 5 minutes before the Airport Easthills train came. The train itself was quick and we get to the International Airport in about 12 mins. A small incident on the train occurred when a child hit her head when the train stops and she cried. Her mum then breast feed her in the train (in the view of all other passengers!) to make her happier.
Checkin
After getting out of the International Airport station, we drag our luggage from aisle A all the way to J where the Air New Zealand checkin is located. There were 3 flights leaving Sydney at that time: Auckland, Wellington and Christchurch. There was some chaos in the airport because the flight to Christchurch was cancelled and earlier A320 flight from Auckland was late. This is due to the A320 crew on strike action where they decided to wear wigs onto the plane, and so the A320 plane from Auckland was late and flight to Christchurch was cancelled altogether. Luckily we caught the NZ106 which was on time and was not disrupted.
We went to the Premium check-in and checked in very quickly (about 1 minute). For a change I did not have to wait for about half an hour waiting in the Economy line to check in. We got seats 2A and 2B as expected, and the plane is 767 as expected. They also gave us express path card where we can use express lines through immigration and customs. That is also a plus. We went though immigration and customs without dramas and we proceed to Koru Lounge on the top floor.
Sydney Koru Lounge
The lady checked our tickets and promptly let us in. My first impression is that the Sydney Koru Lounge is spacious, modern design. Also you can see planes take off and land from the lounge itself. There weren't too many people in it even though there were 3 planes taking off with one being late. We quickly found our seats and start to get the food and drinks. I got myself a Konig Pilsener which is nice, but other than that there is usual Steinlagers etc. Mrs Edison got herself a soup. The food range is not that much. There was some fruits, cold sandwiches, make a hot dog, some precooked dishes such as pastas (I didn't like it). Since I didn't eat breakfast and lunch so I just helped myself to eat as much as I can. After this I read the newspaper and then went to the business centre to surf the net before going to boarding.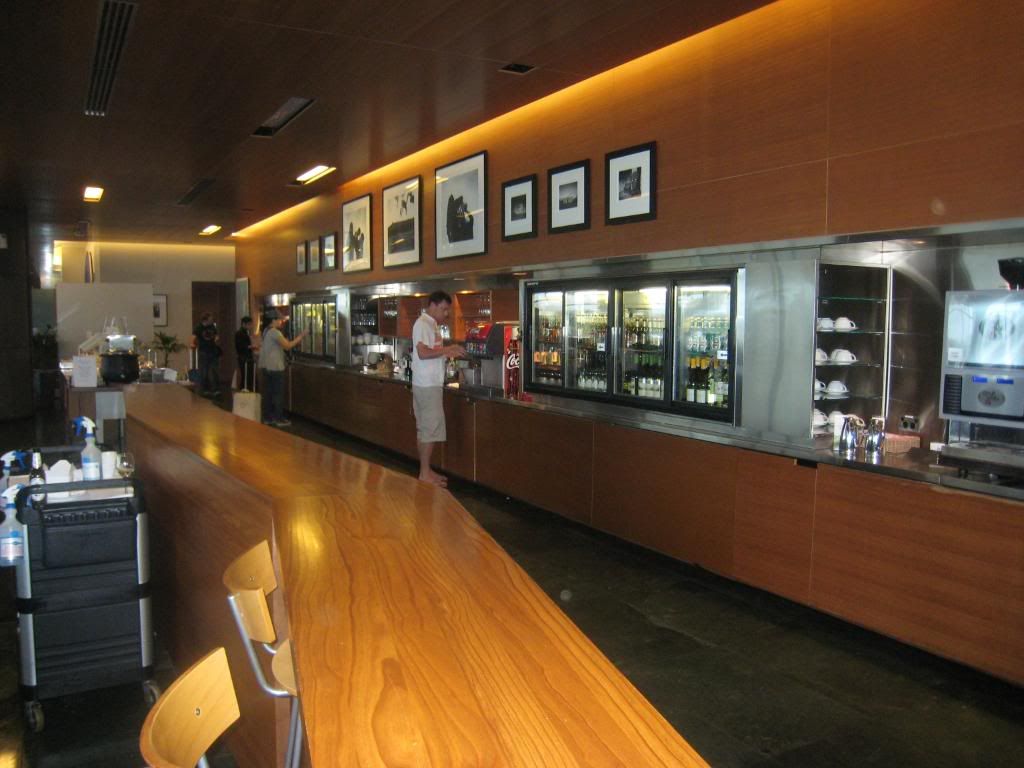 Overall I actually found my previous experience (at last June) of Qantas domestic Cairns lounge provide better food quality. But then it could be because of the GFC where these days AirNZ had to cut costs. Of course I do like the Koru lounge size, layout and the theme.
Boarding
When the announcement of NZ106 boarding was made, we quickly exited Koru lounge and head towards the gate where we boarded very quickly because it was Business only boarding at that time. When get inside the plane we saw our business class (J) seats which is full black leather with 50 inch pitch! The AVOD IFE is about 10.2 inch which was slightly bigger than the ones in Economy, and is folded out from the seat itself. Since this was our first time on J, so I decided to take a photo of Mrs Edison on the J seat. The AirNZ FA saw this and immediately offered to take photo of both of us.
The J section of the flight was exactly half full: 12 of possible 24 seats were taken. We were the only couples in the J section, the rest are all look like business travellers and each of them have a row of 2 to themselves. Middle section of row 1 is completely empty. Some of them have AirNZ Airpoints Gold or Gold Elite tags on them so they must be seasoned travellers.
Service
I quickly noticed that the J FAs are very courteous, very prompt in service and they called us by name. In fact, in the whole flight they were so good we almost could not get used to it because we always fly in Y. They constantly asked us whether anything else we need and almost become a nuisance (please don't take this the wrong way, they are just so nice!). I am not sure if this is the normal standard of J FAs in all airlines, or because the flight is half full so they have more time in their hands but I have to say that their service is excellent! The funny thing is that the J FAs are all male, and that is the first time I ever see an all male crew.
In Flight Entertainment
The flight itself was only 3 hours, I watched Hancock which I enjoyed, and then played some games and listened some classical music. The J IFE is almost identical to Y IFE except the screen is slightly bigger. I wish the J screen is much bigger than the 10.2 inch but it is because of the restriction of the size of the chair where the IFE is folded in. The only other disadvantage of J IFE is that the screen must be folded to the seat at take off and landing time, whereas Y IFE does not have problem with this.
Food
We were offered champagne/juice before takeoff which we took it. The dinner consists of 4 courses which I found was almost too much for both of us. I had the following:
Starter: Oriental duck on gingered gourmet coleslaw
Maincourse: Pan seared blue cod on lentil and vegetable casserole with tomato and capsicum compote
Dessert: Gourmet dessert of manuka chestnut ribbon and triple chocolate ice cream
Cheese Plate: Fine regional cheese and preserved fruit.
Beverages: Orange/Apple juice, tea, white wine, some cocktails.
We did not like the cheese only because we are not cheese person. Also we tried some cocktails and found out that cocktails are not really us at all. We preferred to get juices, tea and beers. However all other three courses are nice and delicious.
Landing
The landing to Auckland at 23:30 was smooth and quick, and because we flew in J we were the first ones out of the plane. This has significant advantage as I don't have to wait on queue on immigrations, as well as luggage were tagged Star Alliance Priority so the luggage is already there when we went to collect it. Custom was a breeze compared to Australia and we immediately exited and call Ventura Inn Auckland Airport reception for free airport pickup.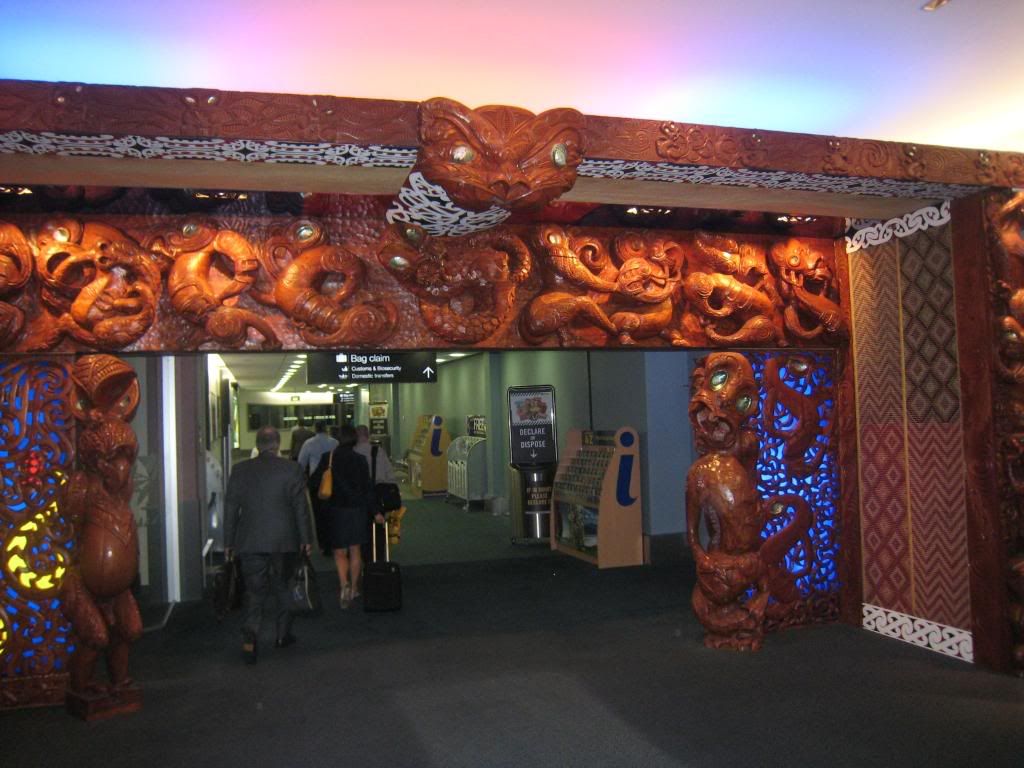 Ventura Inn Auckland Airport
Even though the airport pickup is every 30 mins we waited 35 mins and that seemed an eternity before the bus came and pick us up. During the waiting time there seemed to have a few other planes arrived so the arrivals sections were busy.
The journey of the bus pick up is about 5 minutes, and we were then checking in to the hotel. We booked Deluxe Room using Hotelclub.com $50US new account offer plus $20US Valentine's Day HotelClub.com credit offer, so we ended up getting the room for nothing. The room was clean and spacious. Even though the bath has Jacuzzi function we did not use it at all. All we want was some sleep so we did this after having a shower.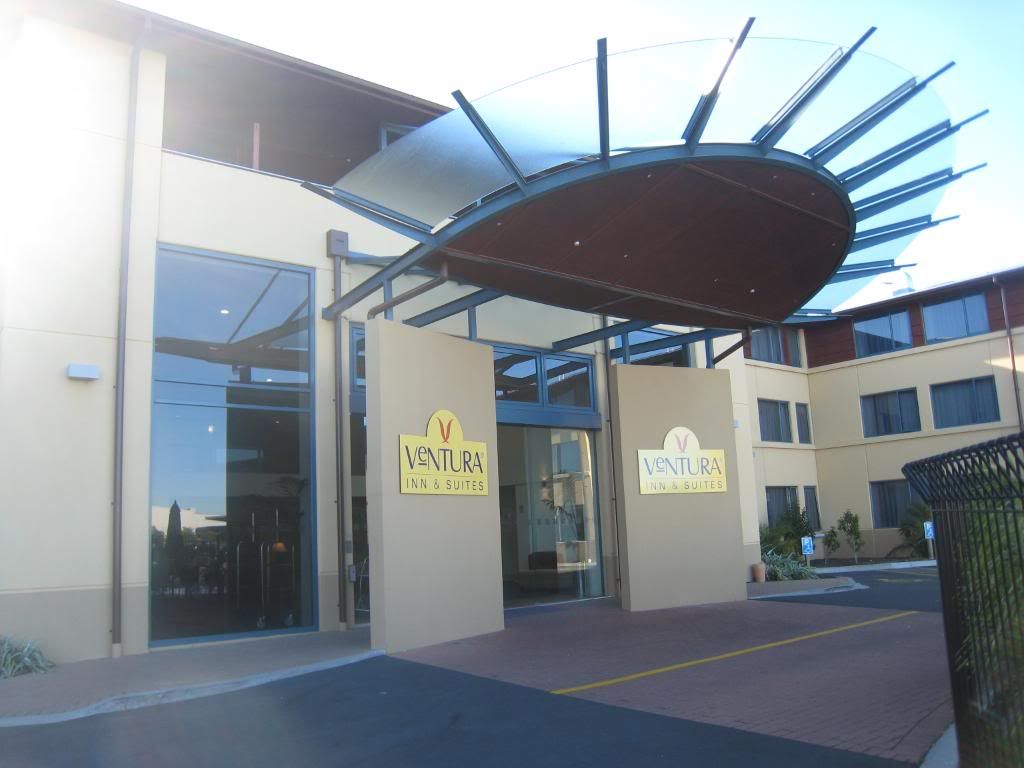 ---
Last edited by kamchatsky; Apr 27, 09 at

4:10 am

Reason: Added photos
Apr 26, 09, 5:48 am
Join Date: Feb 2006
Location: SYD, and not PKC
Programs: QR/VA Gold, QF Silver, HH Diamond, Marriott Gold
Posts: 1,481
3rd April: Auckland transit tour and NZ040 Auckland – Papeete 19:15-01:30
---
3rd April: Auckland transit tour and NZ040 Auckland – Papeete 19:15-01:30
Auckland Tour
I woke up at about 8am where I called Yourway car rental to pick me up for 1 day car hire (for $23NZ). The courtesy car quickly came and picked me up. Mrs Edison is sleeping at that time.
After she woke up at 9 we had breakfast from Ventura Inn, we quickly checked out and drove towards the city of Auckland. We drove through Newmarket as well as Parnell. Then we drove around Auckland City by going past Viaduct Quay, then go SkyCity, Queen Street, etc. Then we decided to drive to Devenport via Northshore for a change. We stopped at Devenport and took picture of Auckland skyline there. We had a relaxing day by doing walks around Devenport. Then we drove up to Takapuna and drove to the beach side where we had a walk. The weather was good with gentle breeze and soft waves. We had late lunch at a Japanese place at Takapuna centre.
At about 3pm we decided to start driving from Takapuna straight back to the airport, as locals mentioned about traffic jam on Friday afternoon. They were right as the traffic get banked up after crossing the harbour to the city. The traffic was snail pace on the freeway. However we managed to get to the Yourway car rental at 4:30pm to return our car and got a free lift to International Airport, where we head straight towards the checkin.
Auckland Skyline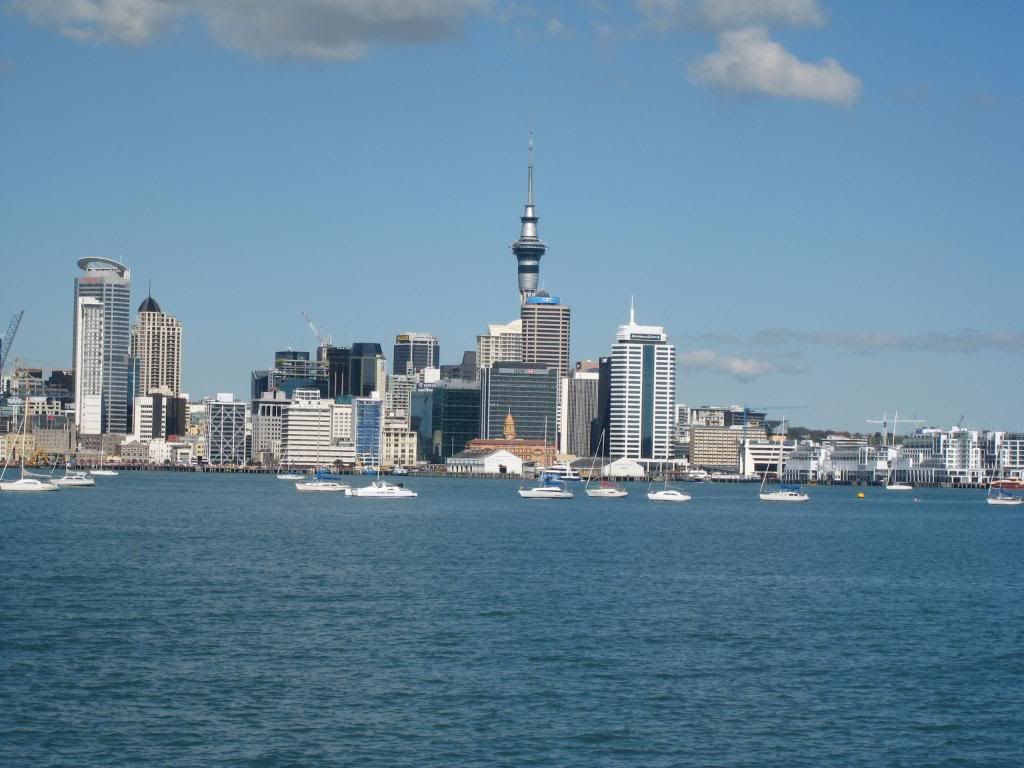 Auckland Northshore Beaches
The City of Sails!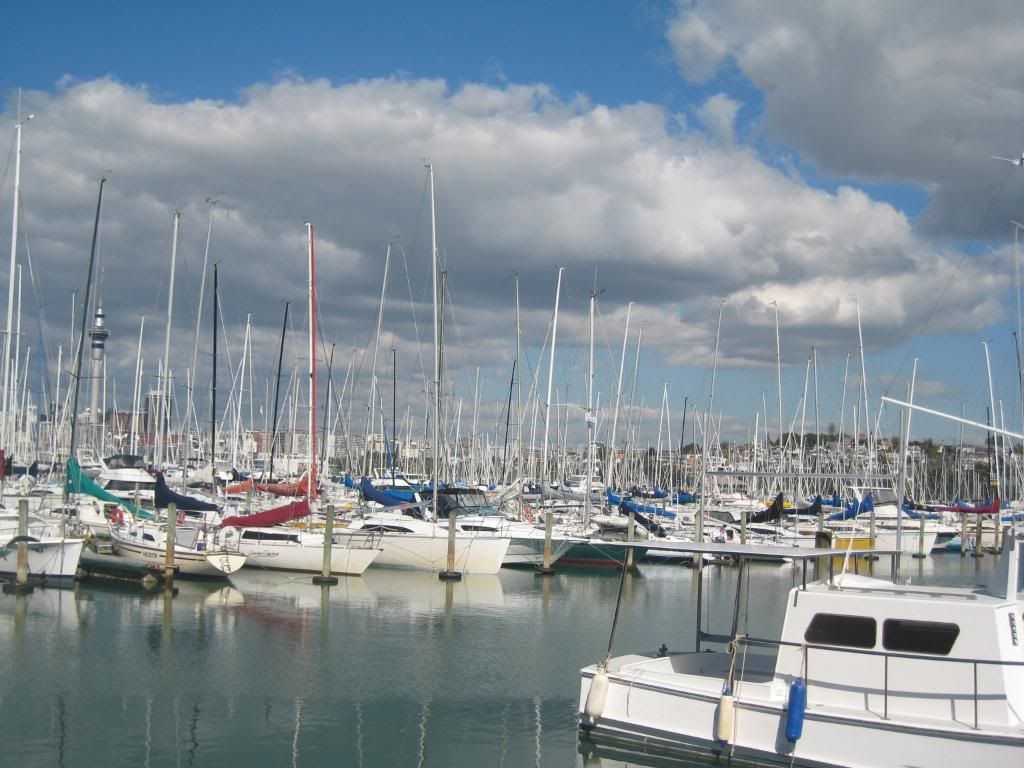 Auckland Airport Check-in
At first we weren't sure where the Premium Checkin line for AirNZ flights was as the queues only has economy. Then we realised that there was a completely separate entry for Premium checkin entry separately with dedicated immigration officer. We really liked that. We quickly went there and checked in. There was no one on the queue. Then we went through the immigration and usual x-ray scan, and went to the Koru lounge.
Auckland Airport Premium Checkin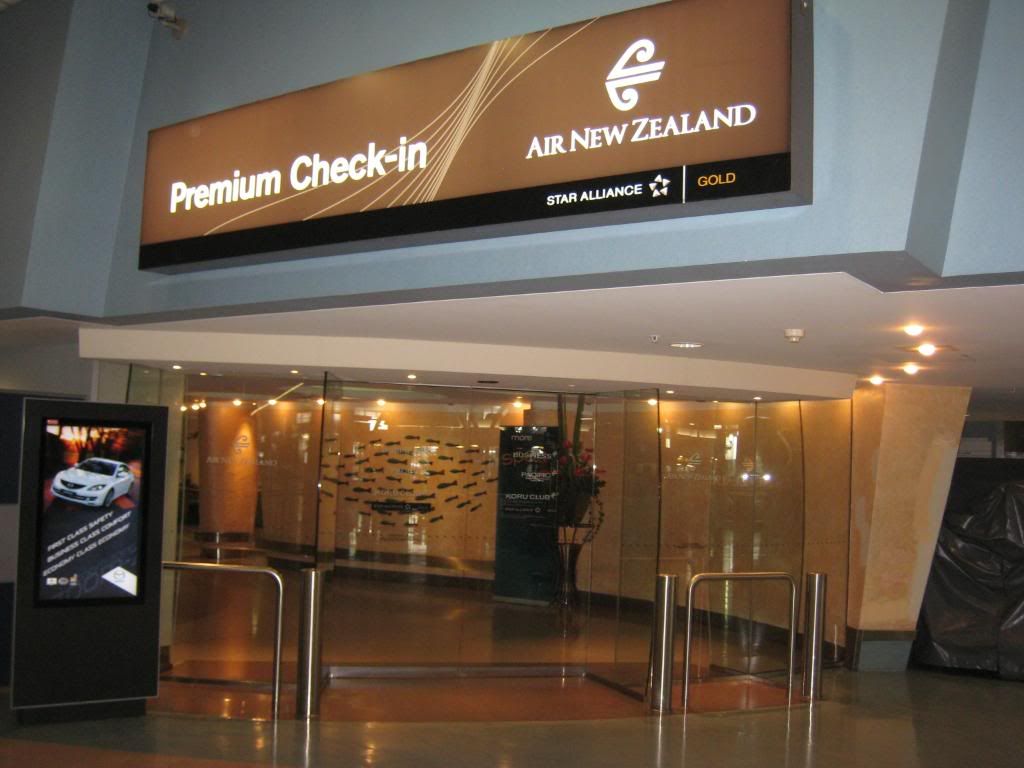 Auckland Koru Lounge
The lounge itself is about the same size as Sydney, however it seems to be a bit old and tired, especially it seems that there were two different themes in different parts of the lounge. There was a lot of people there because there were many flights departing at around the same time, especially to the US. There weren't that much food in the lounge which was a bit disappointing. In regard to drinks they have usual Kiwi beers and wines but nothing really stands out. So I drank some Steinlagers as well as juice and coke.
At least they are planning to renovate the lounge, as in the proposal being displayed at the entrance of the lounge. As the most important hub for Air NZ, this is really necessary.
Auckland International Koru Lounge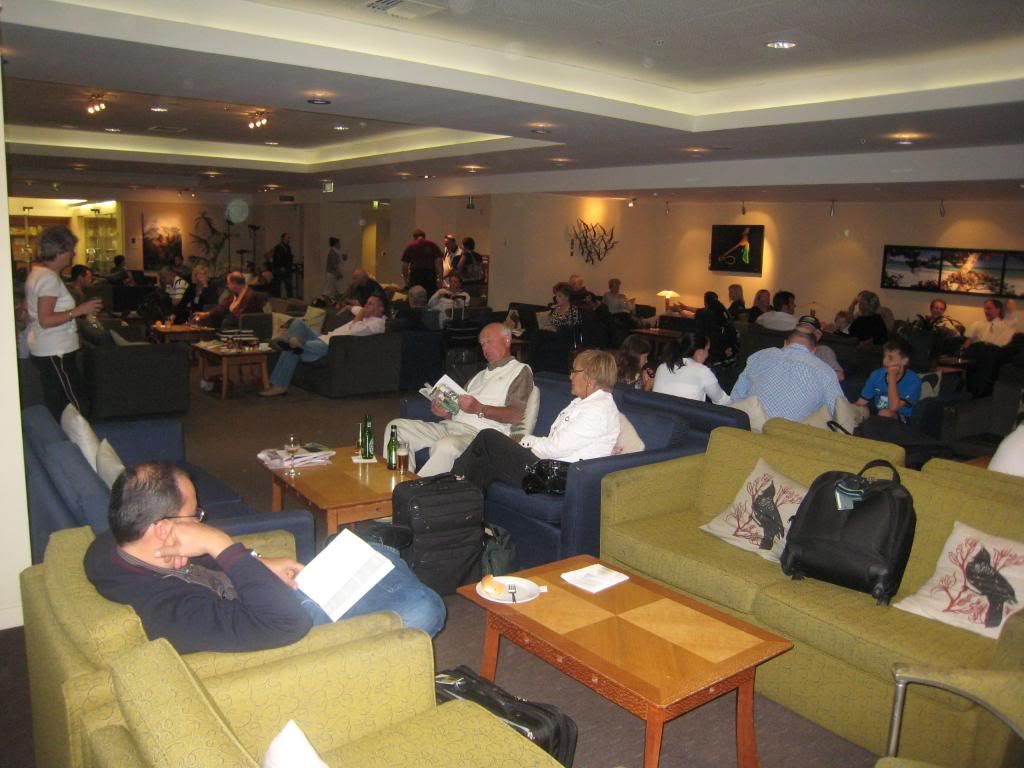 Emirates and Air NZ plane seen from Auckland Airport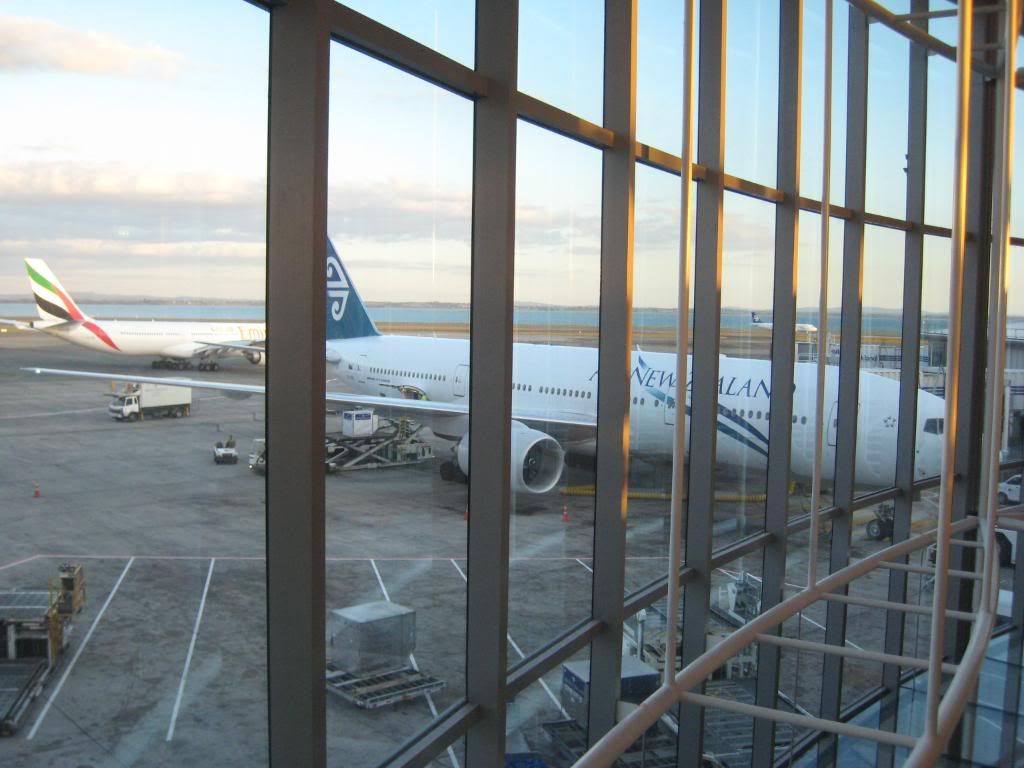 Boarding
Once AirNZ announced the boarding for NZ40 we got off the lounge and head towards the gate and onto the plane. The flight is on Boeing 767, and this time, the business class was almost full except 1 empty seat (ie 23 business passengers). Everyone in business class except 1 guy were couples, which is a great contrast to NZ106 I caught earlier. The economy section is quite full also. Which is quite amazing since Tahiti is not exactly the cheapest place to go to, as well as the current economic climate would prevent people from taking luxury trips.
The plane took off without any issues, and soon we began to enjoy long haul business class.
In-Flight Entertainment
The black leather seats and IFEs are exactly the same as the NZ106 as well, and now I really start to appreciate 50 inch pitch seating because my feet had so much room it is so different to economy. Unfortunately, Airshow 4200D is broken, which was really annoying as I do like seeing the Airshow. I raise this point to the FA but they said that there was nothing they can do.
This time, I listened a lot of music, as well as watching "21", "Leaving Les Vagas", played some games and Topgear TV series. There was a lot more time to kill as the flight was 5 hours. We were also given amenity kit as well, which is the standard Pacifica amenity kit including eye shades, socks, creams, toothbrushes etc.
Food
Since Auckland Papeete is long haul, they have separate menu rather than Trans Tasman menu. Again it is 4 course meal:
Starter: Trio of poached prawn with pepper salsa, smoked snapper, palm sugar cured tuna and red onion compote; and garlic bread
Main Course: Chicken thigh roulade with feta, confit butternut, potatoes, chicken jus and medley of green vegetables
Dessert: Granny Smith apple, almond and hazel nut crumble cake with pohutukawa honey cream
Cheese and Fruit: A selection of fine New Zealand cheese and fresh seasonal fruit
Beverages: Tea, Ginger Ale, On the Fly (cocktail)
Whilst all of them are delicious, the apple, almond and hazel nut crumble cake was outstandingly delicious. In fact, when I asked for seconds they said it was all gone, and some of the people did not get it at all.
I had a chat with the FA, and she mentioned that Auckland – Papeete flight used to be like a holiday for them because they used to stay in Intercontinental Tahiti to recuperate between flights. These days the FA needs to do both flights as the plane does a straight turn around. Therefore they said that by the time they do the Papeete Auckland leg, they would be quite tired.
There was a small incident where I could not get my attention light to turn off, no matter what the FA and I tried. At the end I just told them to ignore it and if I need something I would come and ask myself.
Landing
The landing to Tahiti Faaa Airport at 01:30 was smooth and quick, even though it was pitch black outside. I have to say that I would have loved to see us arriving in Tahiti during day time so that we could see beautiful Moorea and Tahiti in air before landing. Again, we were the first ones out of the plane, and we immediately felt the warm and humid weather conditions, as there were no aerobridge facilities. Of course, I was wearing jacket as well as full length jeans which didn't help. There was Tahitian welcome as well as Tahitians playing music. We were amongst the first ones through the immigration which is good because there were only 2 officers working at that time, and we could see the long queues being formed as the economy class passengers start to line up. Custom was a breeze and we immediately exited and hired a taxi to Intercontinental Tahiti for 1700XPF, since both Mr and Mrs Edison is really looking forward the bed. It was an excellent idea that I got some XPF in Australia before the trip.
Tahitian Welcome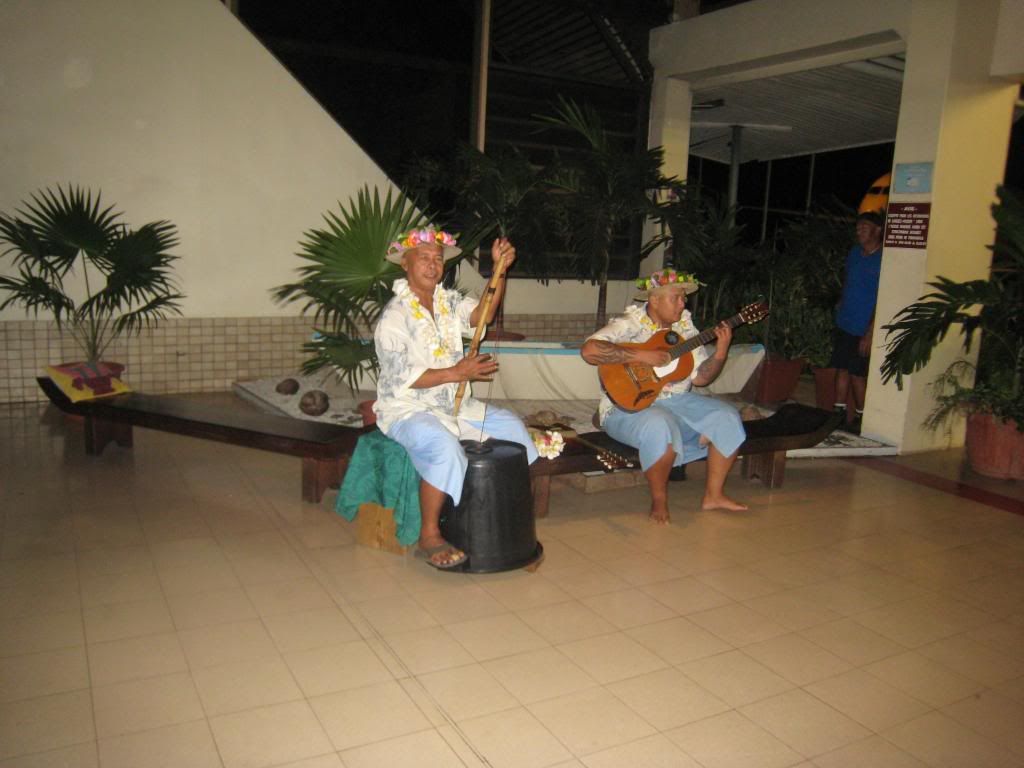 Intercontinental Tahiti Resort
The taxi only took us 5 minutes before arriving at IC Tahiti at 2am, which is very quick since the plane only landed at 01:30am. We checked in quickly and were offered a juice. The porter then picked our luggage, and escorted us to the lift. Then something strange happened: he press level 1 (we were level 3) and then left the lift. So we thought he only escorted us to the lift. However, when the lift went down to level 1, he reappeared and picked our luggage! It looked like he ran down the stairs whilst the lift went down. I still don't understand why he didn't catch the lift with us, maybe that is the requirement from the hotel.
Once we got to our Garden View room (did not get an upgrade since I was not Ambassador), the porter put in the luggage and left. The room whilst not big, it has a nice and cosy feel, with beautiful bathrooms, as well as Tahitian bed. It actually has a view of the sea, through a few palm trees. So it still has some view but not Panoramic. Both Mrs and Mr Edison enjoyed it, however due to lateness we immediately went to bed and slept.
Intercontinental Tahiti - Garden View Room
---
Last edited by kamchatsky; Apr 27, 09 at

4:18 am
Apr 26, 09, 5:52 am
Join Date: Feb 2006
Location: SYD, and not PKC
Programs: QR/VA Gold, QF Silver, HH Diamond, Marriott Gold
Posts: 1,481
3-4 April: Tahiti and Papeete, French Polynesia
---
3rd April: Intercontinental Tahiti Resort and Papeete, French Polynesia
Due to the crossing of international date time, we managed to live through 3rd of April again. We woke up at about 9:30am and went to Tiare restaurant to have breakfast at 10am. Whilst there was great variety, the food was already cold and there were not much left. It was disappointing since I expected more for Intercontinental. I did order a Poisson Cru (Tahitian Raw Fish with salad) and it was OK.
We spent the next few hours swimming in the pool, enjoy the sunshine, walking around, sun bathing, just relaxing.
Intercontinental Tahiti - 1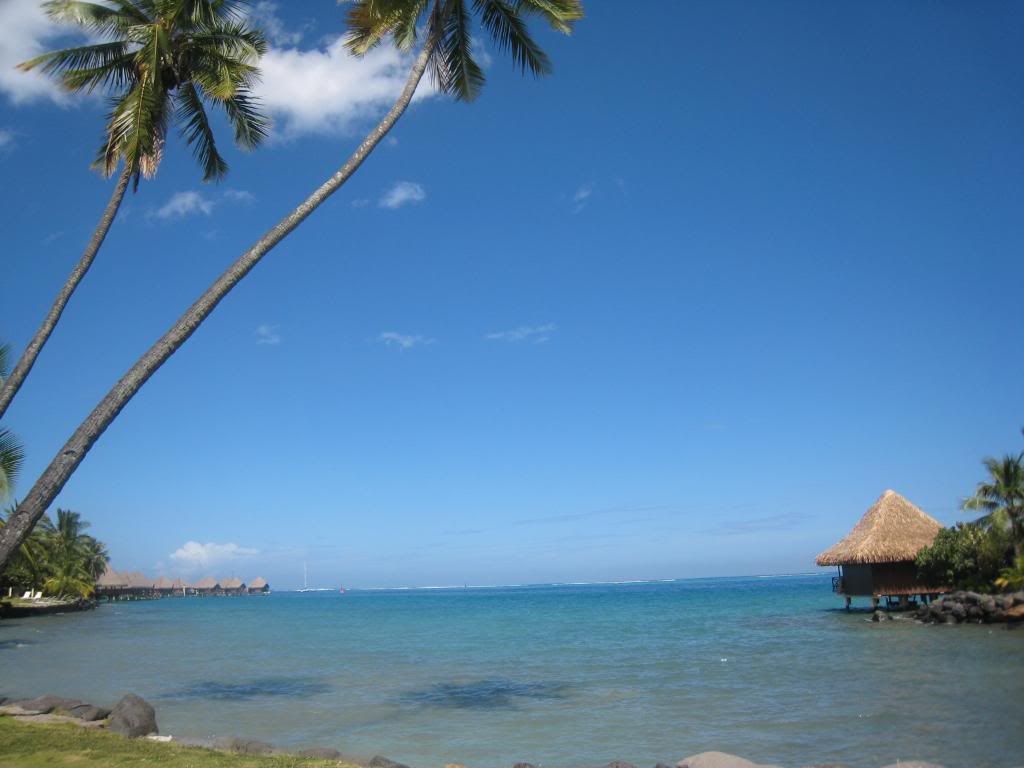 Intercontinental Tahiti - 2
In the afternoon we went to the concierge to ask to get to Papeete. We ended up getting a "free ride" to Tahitian Pearl Market (as recommended by concierge) at Papeete and ended up bought a pearl there. Sure it may not be the cheapest place for pearls but hey it was Mrs Edison's birthday so it all worked out well. We also visited the City Hall, as well as the Papeete market, which was interesting as I could see the locals selling locally produced fruits, vegetables, fishes, arts and crafts.
Papeete Market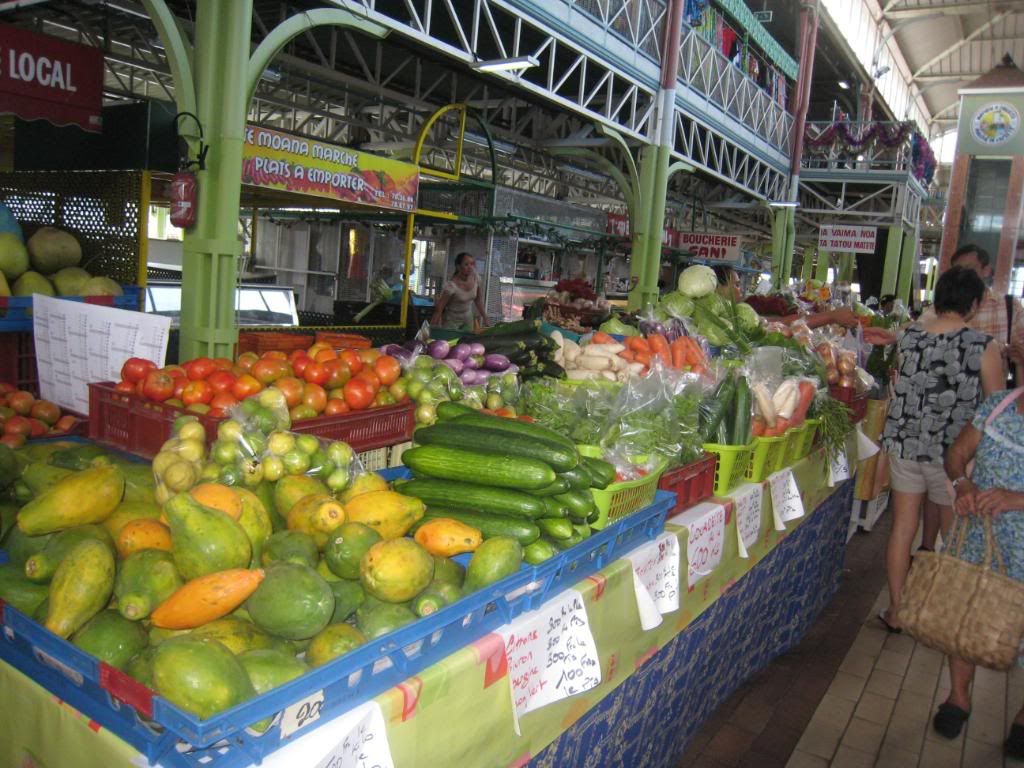 Of course, the local shops decided to all close at 4-4:30pm so ended up spending 1-2 hours walking around before the Les Roulottes comes to the foreshore and setup. At 6pm they began in operation dishing out a variety of food to serve the people. We tried a number of roulottes and ate some beef skewers, spring rolls, tune skewers, crepes and burgers. It was an interesting experience, and we ended up catching a Le Truck back to Intercontinental Tahiti, where we managed to watch a Tahitian dance show.
Les Roulottes
Tahitian Dance Show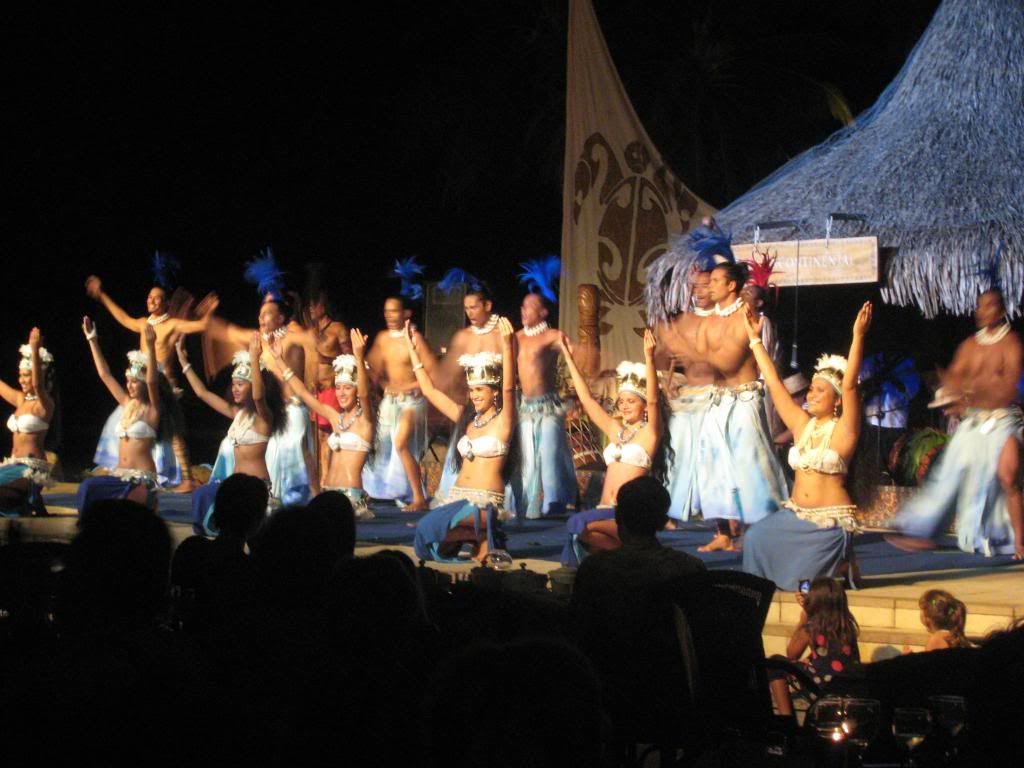 4th April: Tahiti to Moorea
We woke up a little bit earlier and had breakfast at 9am. The variety is the same but at least this time there are plenty of food rather than just leftovers. We had to check out at 11am because apparently there were a lot of people checking in from Paul Gauguin cruises. However, we still spent the next 3 hours on the infinity pool overlooking Moorea. The infinity pool is so beautiful we could not resist ordering drinks and enjoyed the view at the pool bar.
Intercontinental Tahiti Infinity Pool and Swim Up Bar
Intercontinental Tahiti Overwater Bungalow
We hired a taxi from IC Tahiti to the Papeete ferry dock for 1700XPF. After a short wait we caught the Aremiti 5 to Moorea.
Aremiti 5 is actually a very large catamaran that also carries cars. Interestingly there are plenty of seats compared to the number of people catching. The interior was luxurious 80-90s style. However we went straight to the roof deck as the weather was beautiful. The boat slowly but surely leave Papeete and once it got out of the port it went full steam ahead to Moorea.
Aremiti 5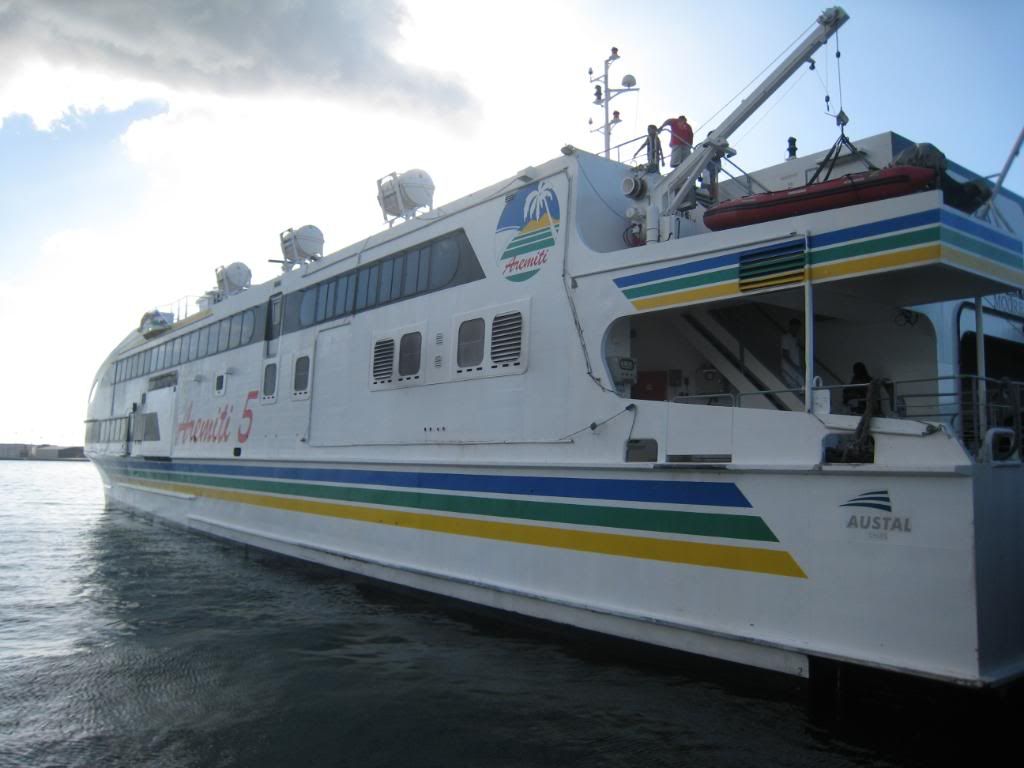 The boat eventually slow down once it gets to Moorea, and you can see all the corals around the island. After half an hour of departure, Aremiti 5 arrived at Moorea dock, where we saw a lot of people waiting to go back to Papeete. We got off quickly and got our luggage. There was already a lady waiting for us for transfer to Hilton Moorea.
It took about 20 minutes of driving to get to Hilton Moorea, going past towns like Pao Pao. Once we got there we quickly check-in at Hilton and were picked up by porter with golf carts to our overwater bungalow (OWB), where we will be spending for the next 7 days and nights.
---
Last edited by kamchatsky; Apr 27, 09 at

4:24 am

Reason: Add photos
Apr 26, 09, 6:05 am
Join Date: Feb 2006
Location: SYD, and not PKC
Programs: QR/VA Gold, QF Silver, HH Diamond, Marriott Gold
Posts: 1,481
4th-11th April: Hilton Moorea Resort and Spa
---
4th-11th April: Hilton Moorea Resort and Spa
We spent the next 7 days at Hilton Moorea Resort and Spa swimming, snorkelling, sunbathing, eating, feeding fishes, laying around, drinking cocktails, watching TV, movies etc etc etc. Most of the days were sunny and had beautiful crystal waters. In regard to the hotel, all I can say is, "absolutely stunning".
Hilton Moorea Overwater Bungalow Bathroom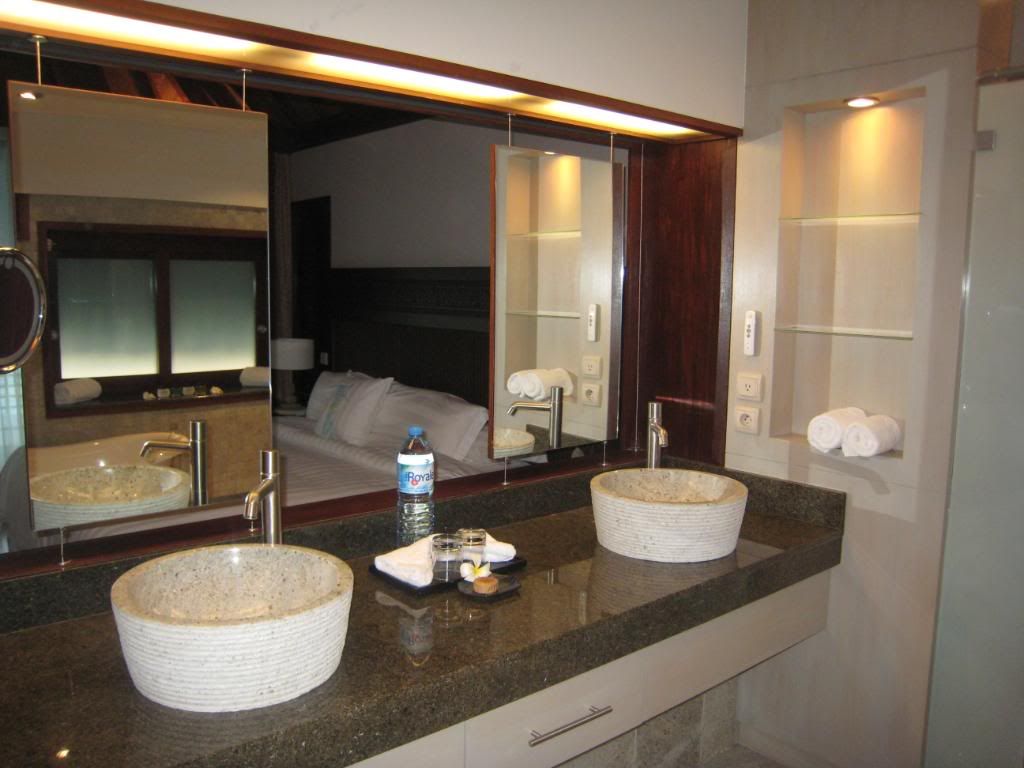 Hilton Moorea Overwater Bungalow Bedroom
Hilton Moorea Overwater Bungalow Lounge Area
Hilton Moorea Overwater Bungalow See Through Glass Bottom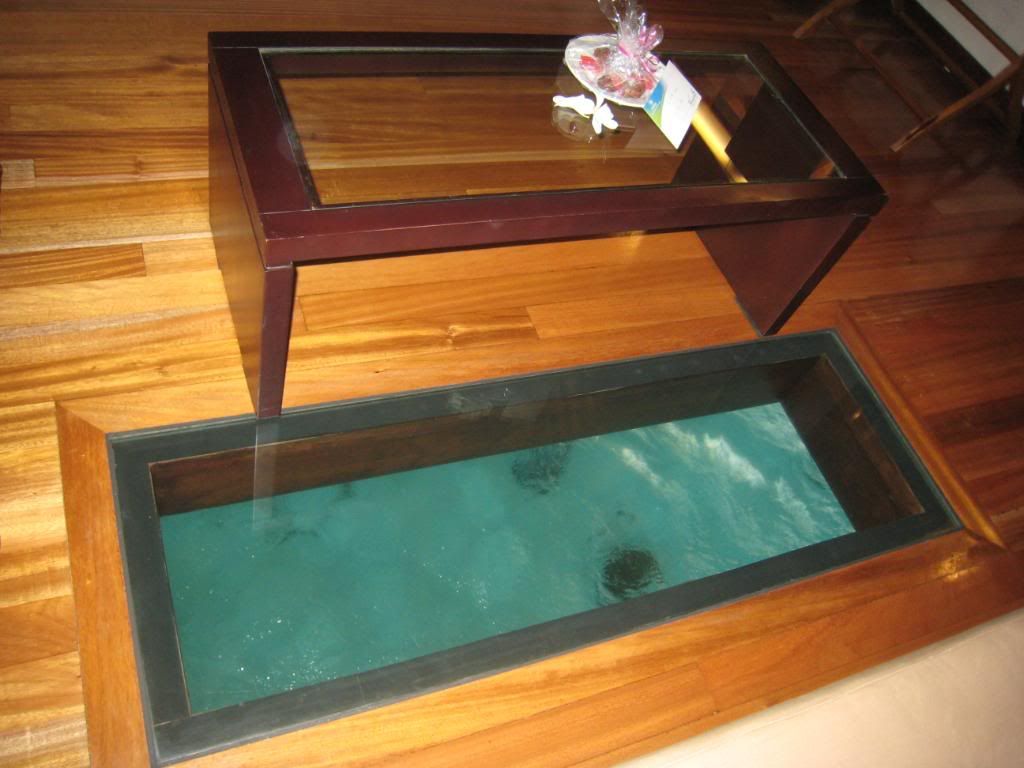 We stayed at the overwater bungalow (OWB), and we were given one that is already renovated, and it is absolutely beautiful property. It was close to the end so from where we are we can see the sea, as well as Cooks Bay and the land. We really liked it. It is not too big and not too small and is beautifully designed. We can see lot of fishes from our OWBs. The water is so crystal blue/green/clear (depending on time of the day) it is so far the best water I have ever seen.
From our OWB, we saw quite a large variety of fishes, sea urchins, sea cucumbers and even sharks that is about 1 metre long. Only saw the turtle and rays once. The water here is absolutely stunning, it is so beautiful even my lazy self forced myself to put on sunscreens and swimming gears to snorkel more because of so beautiful waters and marine life. We have had beautiful weather (with 1-2 days of rain only), even April is the shoulder season where there are supposed to be some rain occurring. Also no matter how strong the waves are outside, as soon as it hits the reefs/corals way outside the water subsides, so the water here are actually quite still.
Overwater Bungalow view to the sea
Hilton Moorea Beach
Hilton Moorea Swimming Pool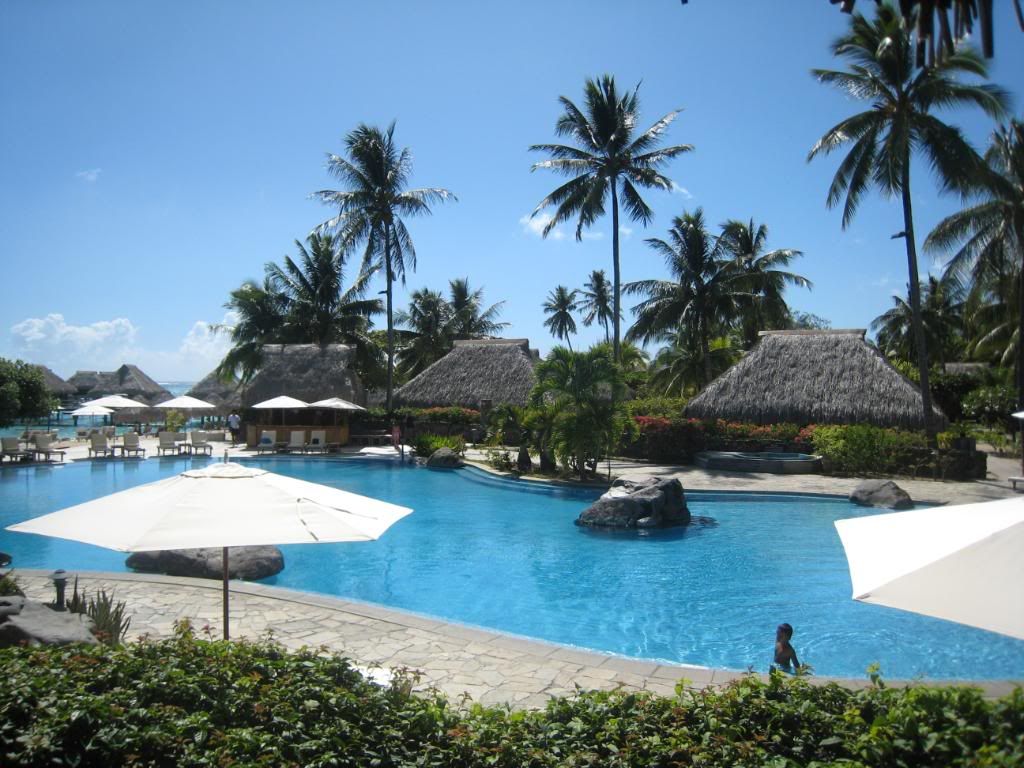 Hilton Moorea Panoramic View of Overwater Bungalows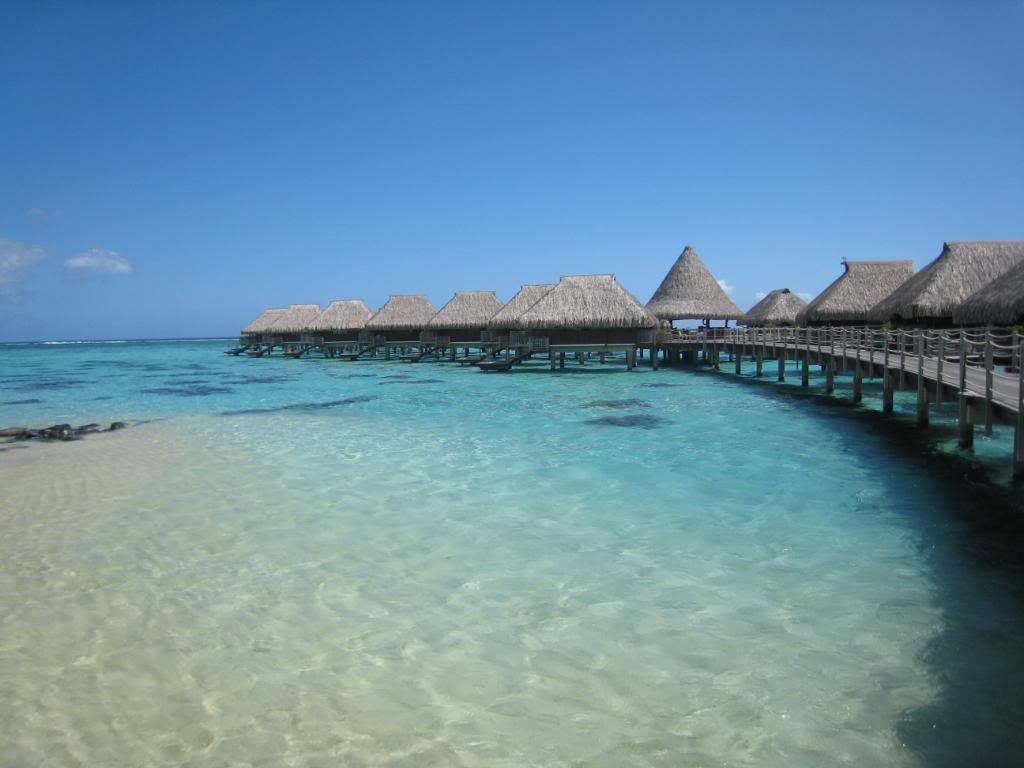 Birds Flying over the Coral Seas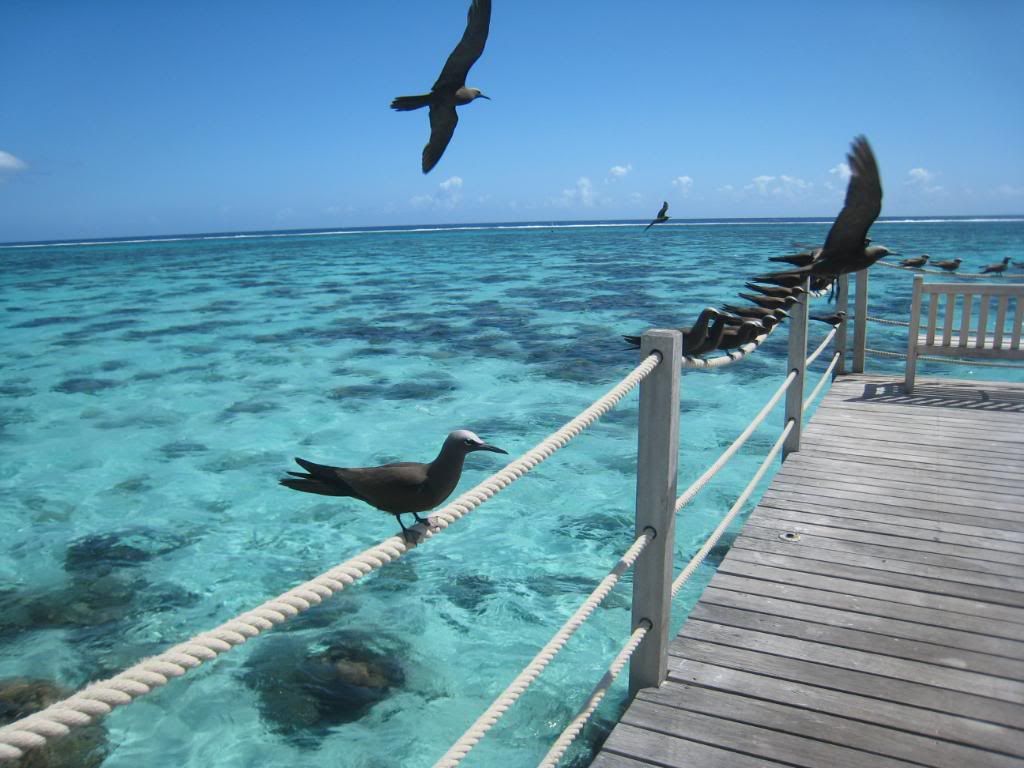 They are still in the middle of renovations. When we stayed, OWB 56-65 were being renovated. I saw quite a number of people doing sawing, painting, hammering, installing solar hot water heater on roof (excellent idea). It only occurred during weekdays though between 8am-5pm. I actually took some photos of them renovating, which is very interesting. Whilst there are sounds I did not really hear it in our OWB.
Hilton Moorea Overwater Bungalow Renovations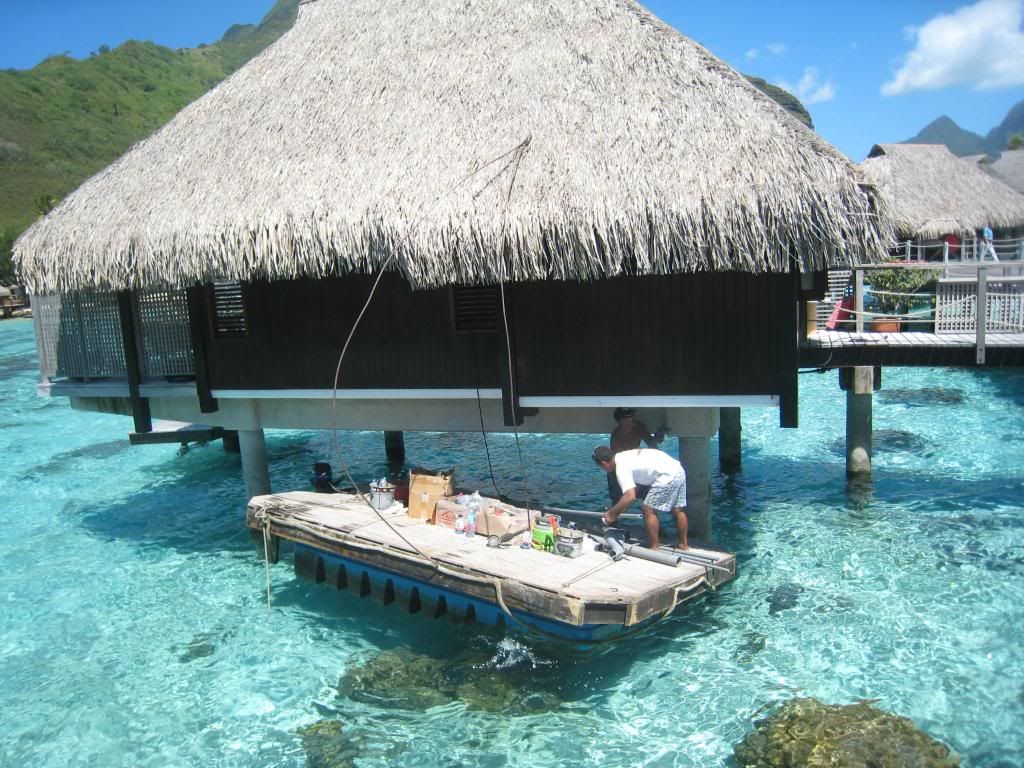 Everyday, we had buffet breakfast, as well as three course dinner (1 starter/entree/appetizer, 1 main/entree, 1 dessert) at Arii Vahine restaurant as part of the meal plan that came with the booking. We have never had three course dinner everyday for 7 days in my life. In fact, it was almost too much for us as we "struggle" to enjoy the starters, main course and dessert. My waistline expanded as a result of these 7 days. On Saturday night they had Seafood buffet, and Tuesday night they had normal buffet, and both nights they have Tahitian dance shows.
Whilst the food I would say average for this kind of hotel, in terms of service they are excellent. They are quite attentive and flexible. In fact, one morning we had 7:30am breakfast, signed off, then had a swim and snorkel, then we were hungry again, and they let us come back for more breakfast at 10:30am (we had breakfast and dinner included in our deal). In terms of dinner they constantly refilled our glasses so we never really poured our own water. The only disadvantage is that some of the people could not speak English well, but I guess this is FP so that is sort of to be expected.
Wifi internet (which you need to pay) cannot be picked up at the OWBs, as the signals are too weak. There are computers at their business centre (next to the billard table). There is 1 English desktop computer and 1 French desktop computer (with French keyboard).
For me it was easily the best ever resort I have ever been, if not the best ever hotel. The view that we have from our OWB makes the 9 hour flying to Tahiti all worth it. OK, I have not been to Bora Bora (and not going in this trip) but I still think it is worth flying all the way here for a week of relaxation.
It would be great if this property is filled with more people though, as currently FP is suffering tourist slump becuase of global financial crisis. It is probably the best time to come. During weekdays, the place is only about 25-30% full, but during Easter the place is full with a lot of people from Tahiti coming over for short break.
---
Last edited by kamchatsky; Apr 27, 09 at

4:46 am
Apr 26, 09, 6:09 am
Join Date: Feb 2006
Location: SYD, and not PKC
Programs: QR/VA Gold, QF Silver, HH Diamond, Marriott Gold
Posts: 1,481
11th April: Leaving French Polynesia: NZ41 Papeete – Auckland 18:15 – 22:30 (+1)
---
11th April: Leaving French Polynesia: NZ41 Papeete – Auckland 18:15 – 22:30 (+1)
Moorea Circle Island Tour
On the last day, we had to check out at 11am because it was Easter Saturday and the place is full. We ended up checking out at 8am because we hired a car from Albert Rent a Car at Pao Pao and decided to drive around the island before catching the ferry back to Papeete.
We drove around the island first, and with frequent stop start to take photos, as well as visiting shops to buy drinks. There were lots of beautiful spots around Moorea to take pictures, even in the south Moorea where it is less developed. Then we drove to Le Belvedere where we saw Cooks and Opahanu Bay. Then we drove to Intercontinental Moorea and visit the property. We also visited the Dolphin Centre as well the Sea Turtle Rehabilitation centre within IC Moorea. We had some lunch there.
Moorea Car Hire .... Driving Around Moorea
Le Belvedere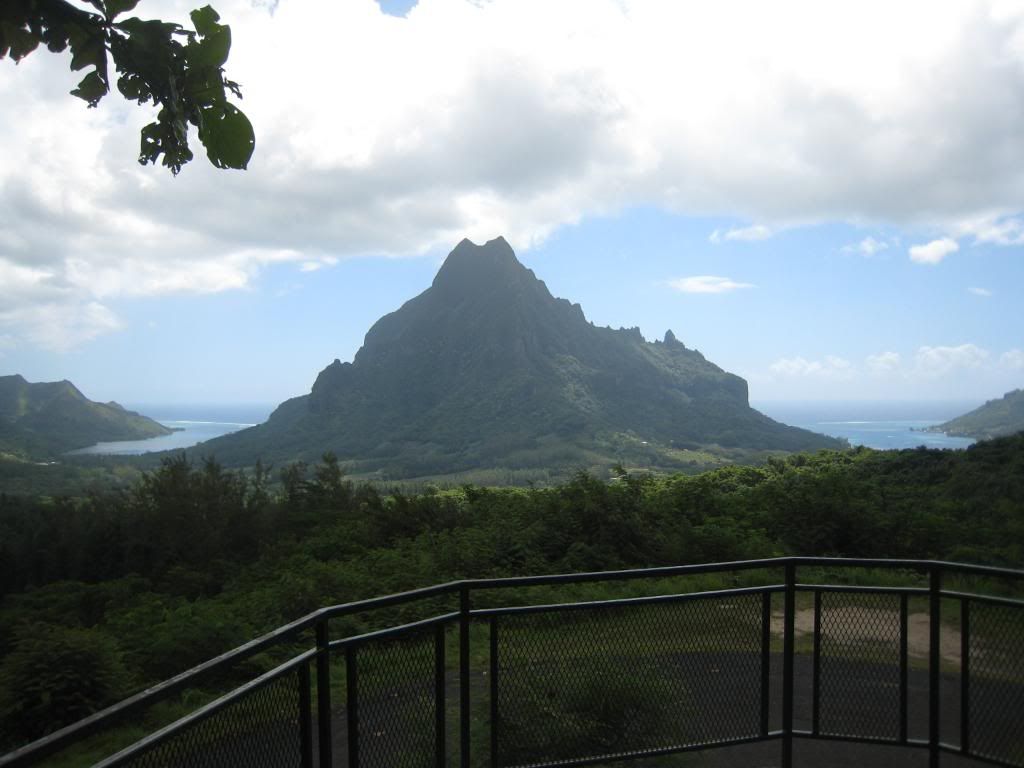 View of Sofitel Moorea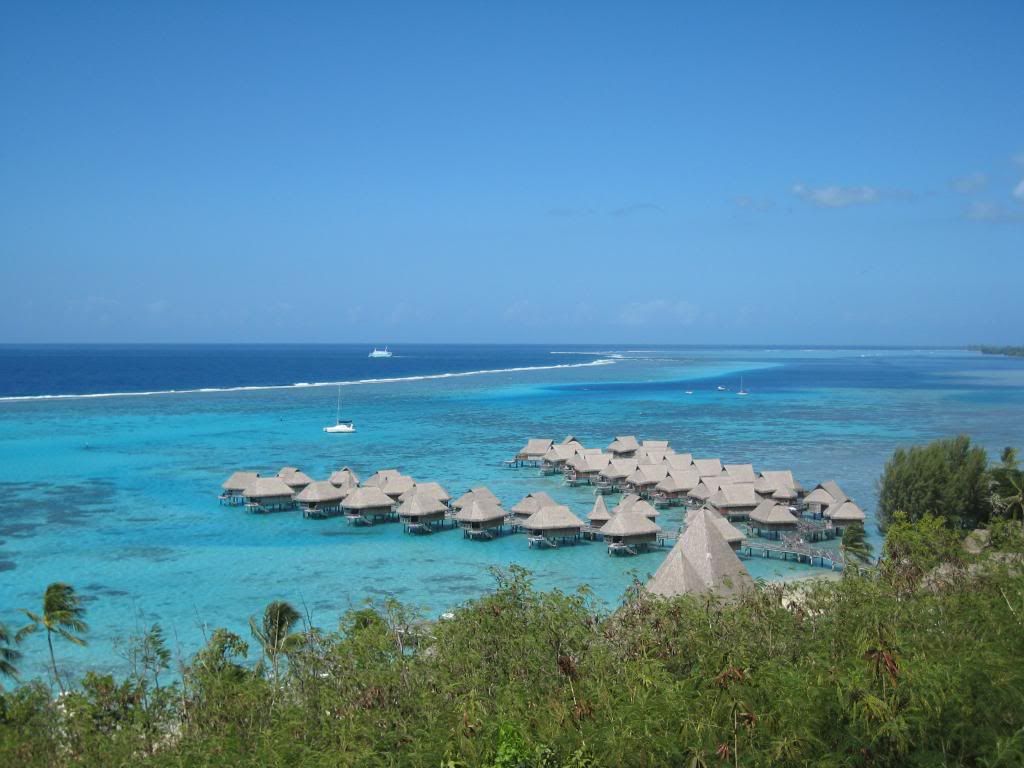 At about 2:30pm we drove from IC Moorea back to the ferry and it took us about 25 minutes. We returned the car at the ferry dock and caught the 15:20 Aremiti 5 back to Papeete. The boat ride is quick and uneventful, apart from thinking that we will miss Moorea because it was so beautiful.
Tahiti Faaa Airport Check in
Once we landed back to Papeete close to 4pm, we picked up our luggage and caught a taxi which was waiting at the ferry dock. We got to the Tahiti Faaa Airport in about 10 minutes and were only charged 1500XPF. At the airport there was only Air NZ NZ41 checkin counter open. We went to the Premium Check-in line, and waited for a long time, even though there was no one else in the queue. In fact, the economy line is faster than business. Once we were waved to check in, we realised why this is the case: we had the slowest ever check in experience in my life, and that includes all my previous experiences checking in as Economy from all previous QF/NZ/CX/OZ/SQ/UA/AA/AN/DJ/JQ flights. Usually any check in would just take 1-2 minutes. However this checkin agent seemed to have no idea what she was doing, it took her about 15 minutes to check us in, and she seems to take forever doing some simple steps, and we were frustrated for the slowness, especially this is the Premium checkin line. It is really unacceptable. However, we could not be bothered to complain as we just want to go to the lounge after checking in.
Tahiti Faaa Airport
Finally after what it seemed to be forever, we were checked in and received our boarding passes. We did not waste time and go through immigration which was a breeze as there was no queue, even though there was only 1 officer working at that time. After this we went to the tax refund section to claim the tax rebate for the pearl we purchased. It seemed quite a number of tourists bought pearls from Tahiti Pearl Market as I saw a stack of envelopes from them.
Tahiti Premium Lounge
We quickly proceeded to the lounge which is upstairs. However, the lounge in Tahiti has no special identifiable signage. In fact, we could not find it at the first place, as the entrance is a very insignificant door like any office door. However, asking the right people led me to the lounge.
Tahiti Premium Lounge 1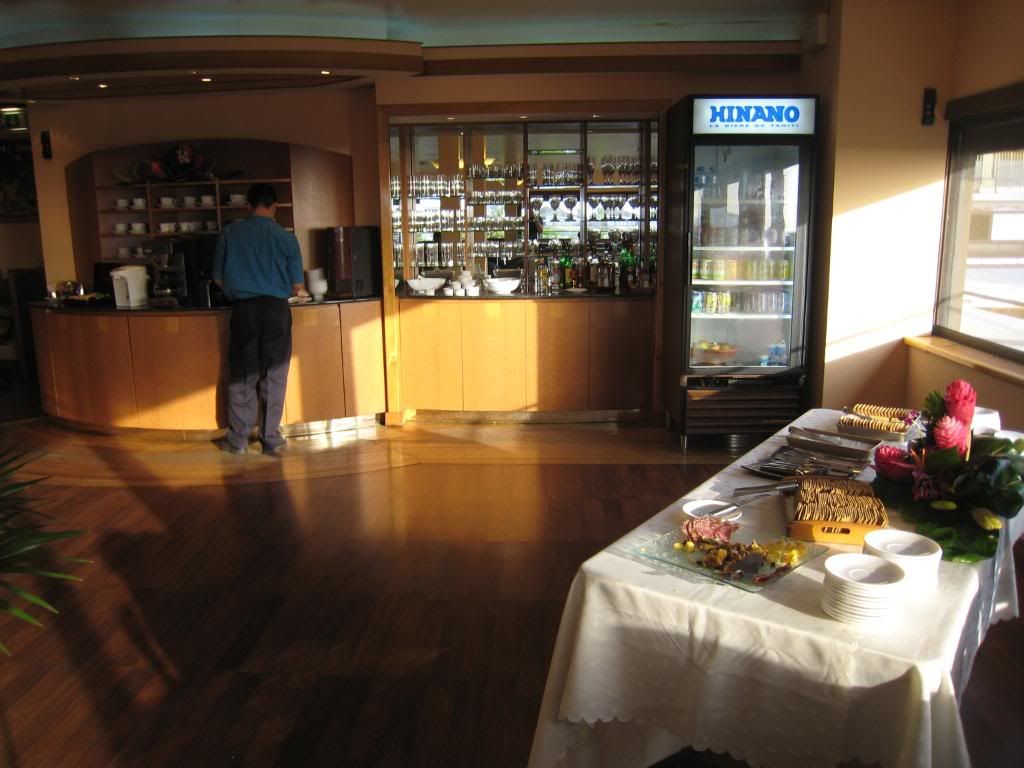 It is not an Air NZ dedicated lounge, but it is a lounge shared by every major airline that flies to Tahiti. It is also the smallest lounge that I have been. In terms of drinks, they have Hinano and Tabu beers (which I had some!) plus some soft drinks and that's it. The food is even less, just a few biscuits and one slice of ham and salami were served. The décor of the lounge is quite old and in need of an upgrade. It does have a TV showing CNN though. I guess the authorities do not see the need to upgrade since this airport is not a busy airport serving that many people, and most people come for holiday, rather than business.
Tahiti Premium Lounge 2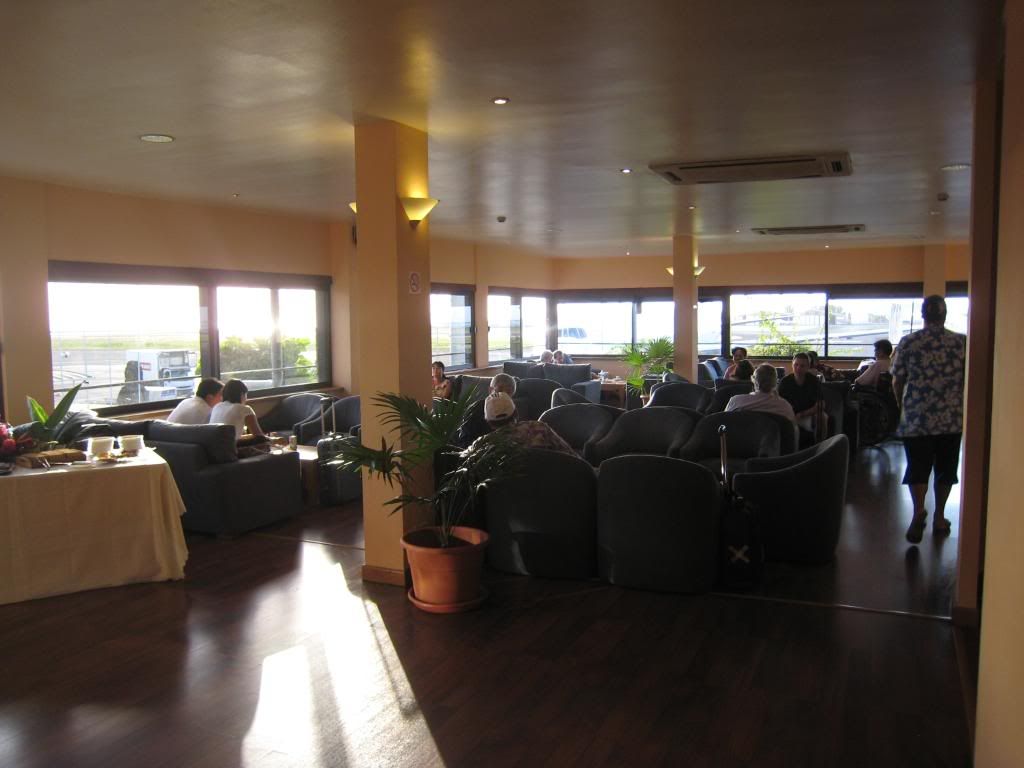 However, there are positives: it has close and direct panoramic view of the runway, so I could see Air New Zealand NZ40 flight landing, as well as taxiing in front of my eyes. We could also see it parked directly in front of the lounge, and see people disembark the plane, as well as the plane being refuelled, catering loaded, etc. That was interesting. We also saw a number of Air Tahiti's small planes landing, taxiing, as well as taking off from the runway. It was enjoyable.
Air New Zealand NZ40 Taxiing from Runway - Seen from Lounge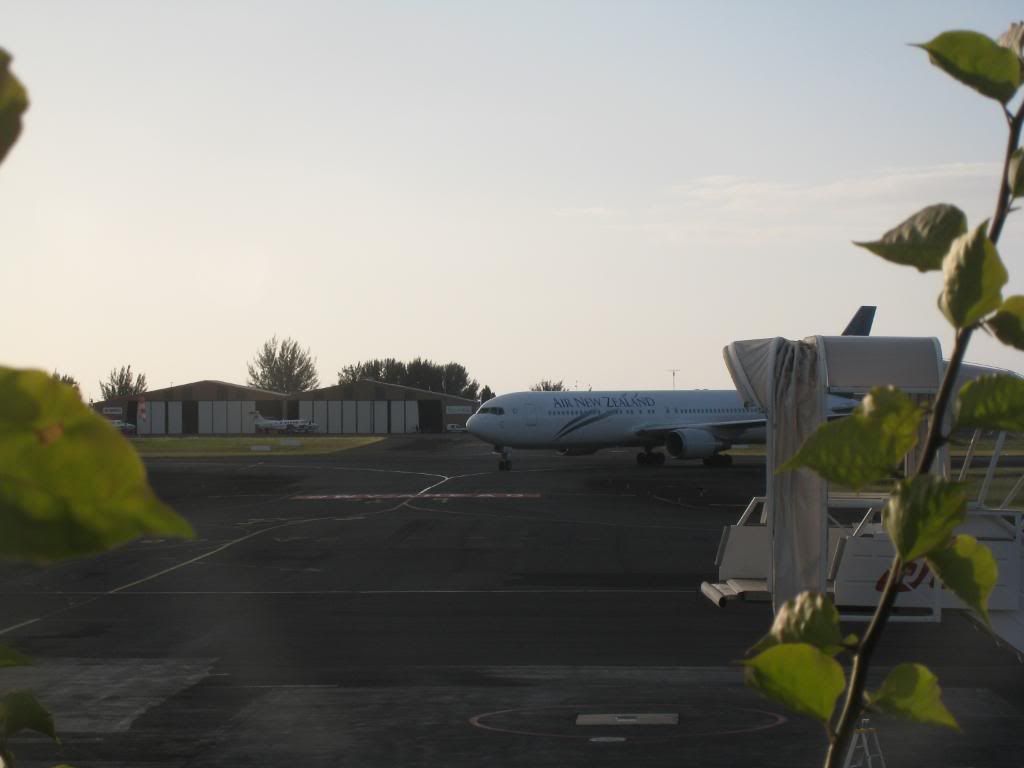 Air New Zealand NZ40 Disembarking - Seen from Lounge
NZ41 Papeete – Auckland 18:15 – 22:30 (+1)
Once the boarding was called we quickly left the lounge and went to the gate where we walked up to the Air NZ plane parked in front of the lounge. I took a photo of Mrs Edison at the last moment before boarding the aircraft. It was again a Boeing 767, as normal, even though I did hope that it was a 777ER so that we could try Business Premier.
We were assigned 2J/K. All the chairs, IFEs are the same as all the previous 767 flights (NZ106, NZ40) so I am not elaborate more here. The whole business class section was full, and some of them seemed to be businessman travelling alone, however majority were couples. We were offered welcoming drinks which we decided to have juice. Soon everyone was onboard and the plane took off! At that time the sky was already quite dark, which is a shame as we were trying to see Moorea from above, but could not see much.
In terms of food, I had the following:
Starter: Sugar and citrus cured salmon, leaf salad, yellow daikon, red capsicum, kaffir lime crème fraiche and citrus, chive dressing; plus garlic bread
Starter
Main course: Glazed chicken breast with tomato and tarragon, roast red onion, mushrooms, potatoes and whole garlic cloves
Main Course
Dessert: Orange almond cake with bay leaf syrup and vanilla
Cheese and Fruit: A selection of fine New Zealand cheese and fresh seasonal fruit
Beverages: Tea, Orange/Apple juice, Steinlager Pure
Since the flight was five and a half hours, I watched "Yes Man", "Iron Man" and half of "Bedtime Stories". Time flies fast when you keep watching movies. I know I could finish "Bedtime Stories" on my next flight to Sydney so I was not worried of not finishing the movie before the plane land. Also Airshow 4200D is working so at the last hour of the flight I put on background music and just watched the plane flying back to Auckland on Airshow.
Since we crossed the International Date Line, the date was move forward by a day, so we landed on Sunday 10:30pm. Again, immigration is quick due to arrival late at night, and we picked up luggage quickly due to priority tags on our luggage. Going through custom was usual with checking food that we brought from French Polynesia, but had no real issues.
Again, we stayed at Ventura Inn Auckland Airport overnight before catching the flight to Sydney home the next day. This time the courtesy bus came relatively quickly and picked us up. Once we got there and checked in we had a shower and went to sleep.
---
Last edited by kamchatsky; Apr 27, 09 at

4:55 am

Reason: Added Photos
Apr 26, 09, 6:13 am
Join Date: Feb 2006
Location: SYD, and not PKC
Programs: QR/VA Gold, QF Silver, HH Diamond, Marriott Gold
Posts: 1,481
13 April Going back to Sydney: NZ 719 Auckland – Sydney 13:00 – 14:30
---
13 April Going back to Sydney: NZ 719 Auckland – Sydney 13:00 – 14:30
We woke up at 8am, and had breakfast provided at Ventura Inn. We checked out at 9:30 and the courtesy bus dropped us at the airport at 10am, which was really early. We checked in at Premium checkin section and there was no one else but us. After going through immigration and x-rays we went straight to the Auckland Koru Lounge, where we discovered that there was virtually no one there. There were hardly any flights departing Auckland at that time. Since Auckland checkin and lounge were described earlier, I am not going to elaborate more.
We ended up surfing the internet for a while, as there was no one using the computers. We also had some soup which was good, as well as having ham slices, plus some coke.
When boarding was called, we went to the gate and got on to the plane, which was an A320, as expected. We were assigned 2A/B, and this time, there were only 8 business class seats (ie 2 rows of 2 on each side), due to the nature of A320 smaller than 767. The business class was also full as well. The seats were all leather seats but with only 41" seat pitch, so not as roomy as 767, and the IFE are mounted on the seats in front of us, rather than the ones that is folded out from the chair. This has an advantage where we could watch TV during taking off and landing. The IFE program is exactly the same as all the 767 flights.
AVOD IFE mounted behind the seat for A320
Due to the plane being A320, and as a result of strike action by the A320 Zeal unions against Air New Zealand management, the FAs wore "AirNZ are ripping us off, it is time to take a stand" stickers on their AirNZ uniforms. I guess I am lucky that they did not strike so that I could not catch this plane home. One of the FAs wore white sneakers as well in defiance to Air NZ uniform standards.
The foods were as follows:
Starter: Kaffir lime and coriander scented salmon with tropical mango chilli salsa, micro greens and lemon oil
Starter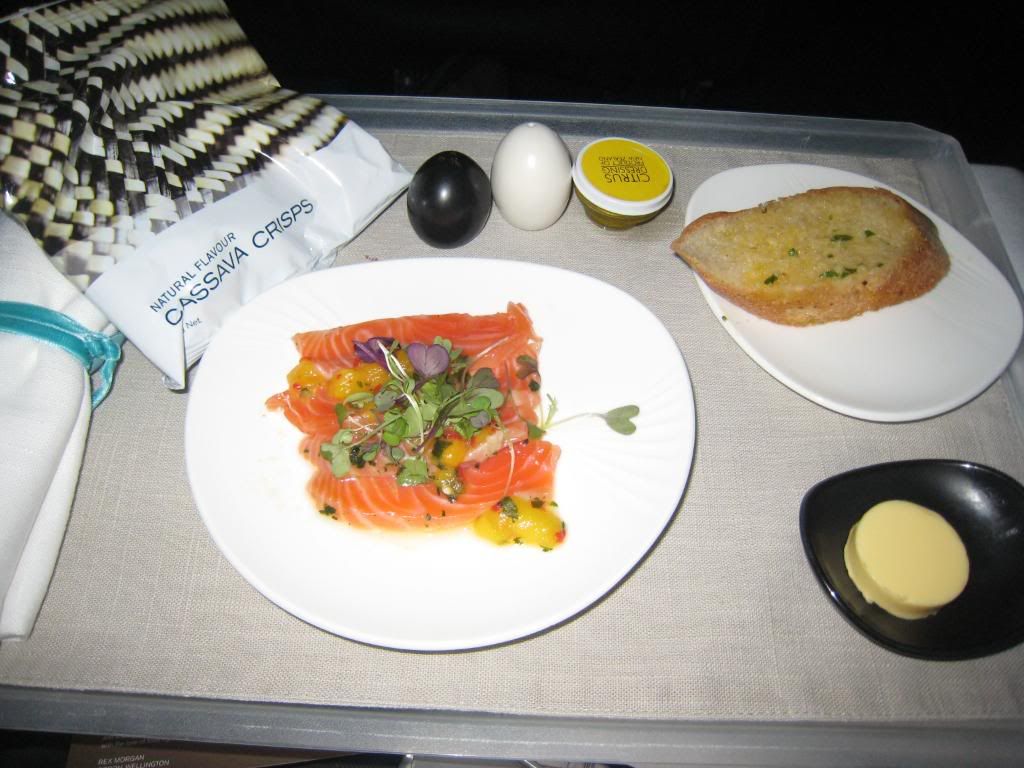 Main course: Oriental tasting plate of Thai roasted beef, rice paper roll, seared tuna, cucumber, daikon and capsicum salad with chilli and lime dressing
Main Course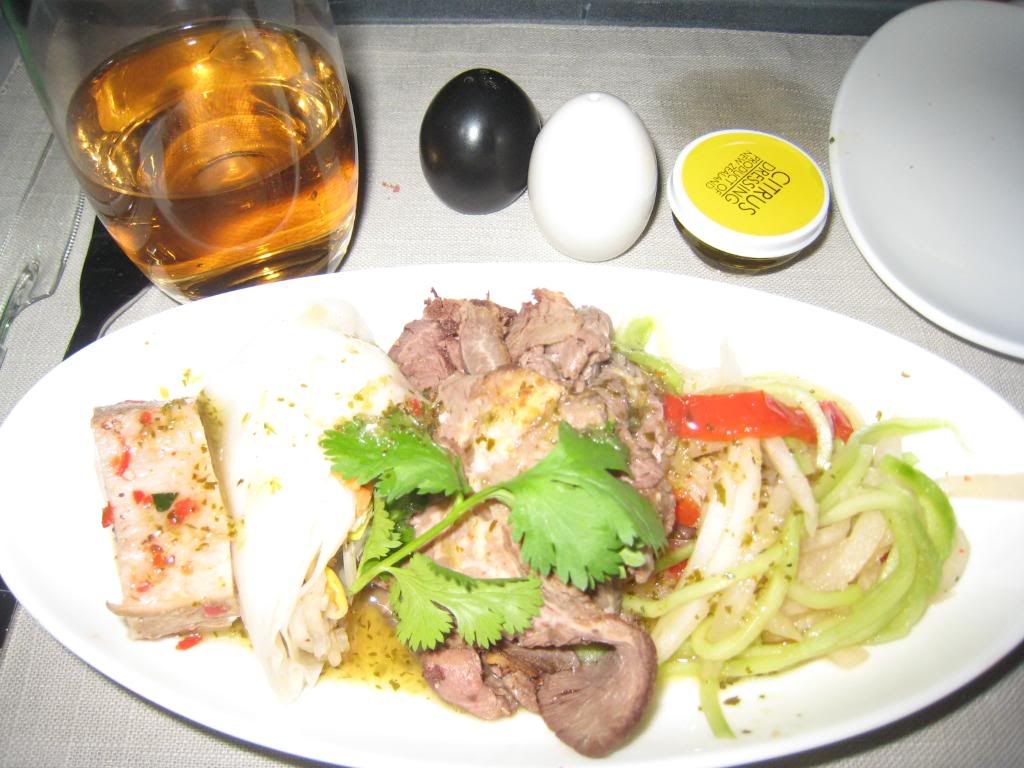 Dessert: Gourmet dessert of feijoa ice cream and blackcurrant and blackberry ice cream
Dessert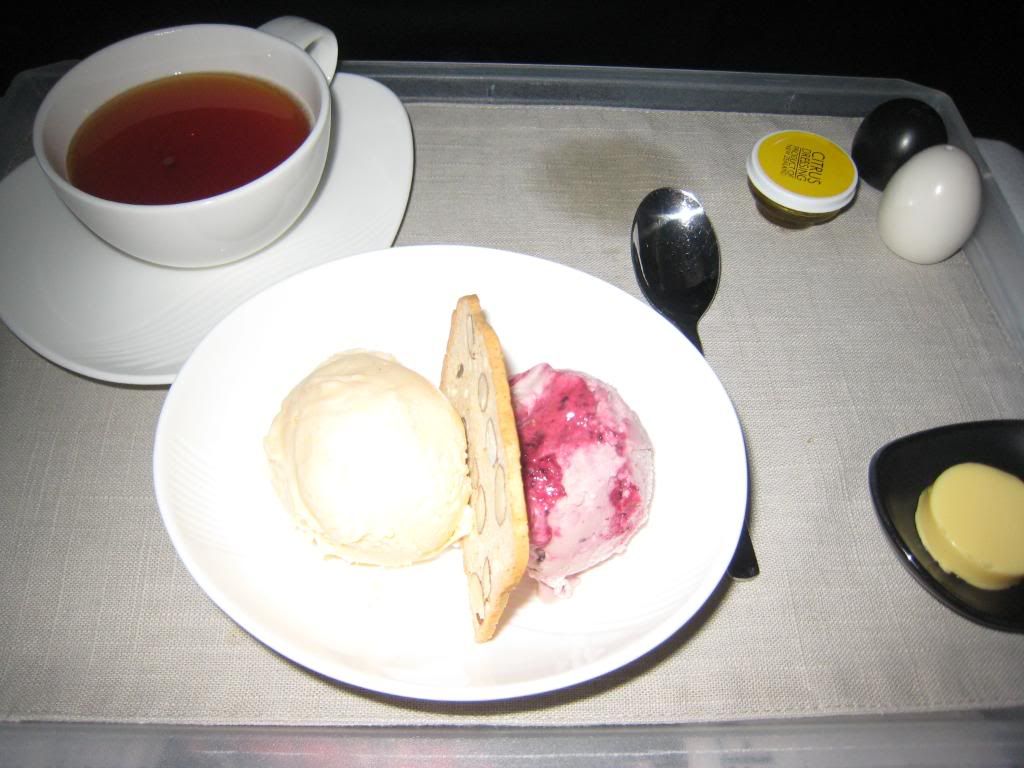 Cheese plate: Fine New Zealand cheese and preserved fruit
I managed to finish watching the other half of "Bedtime stories", as well as watching "Marley and Me". Then because I am sick of watching movies over and over again on the plane, I ended up putting on some music and watched Airshow 4200D, looking at the plane flying back to Sydney.
Air New Zealand Airshow 4200D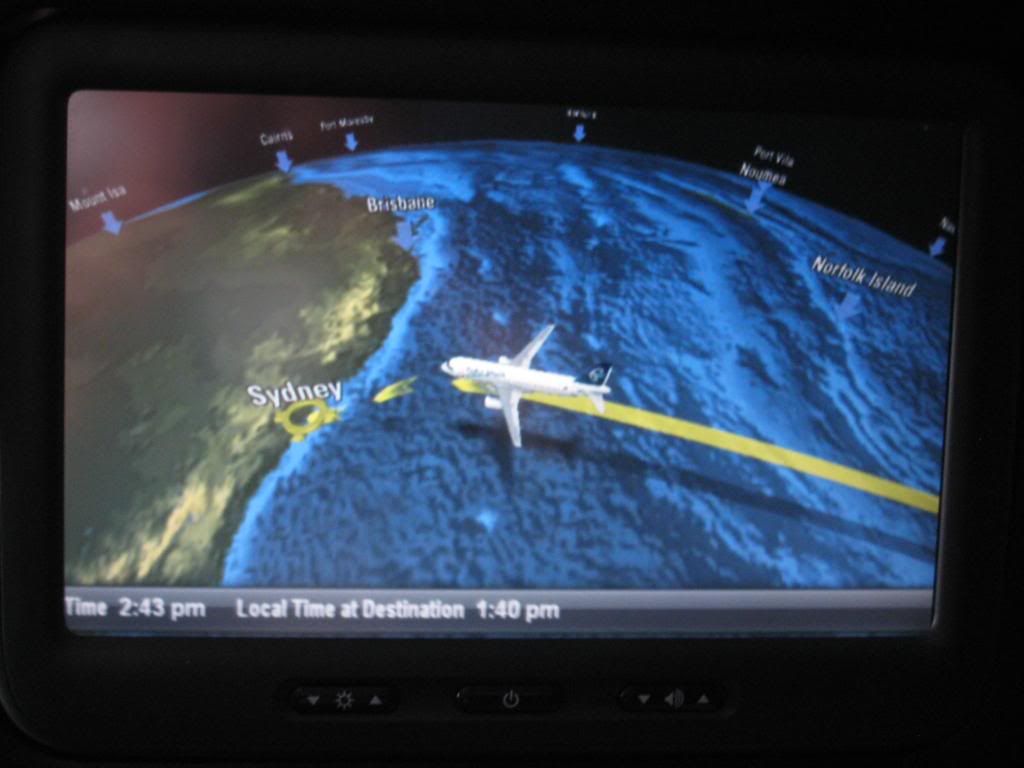 Going all the way back to Sydney (Papeete -> Auckland -> Sydney)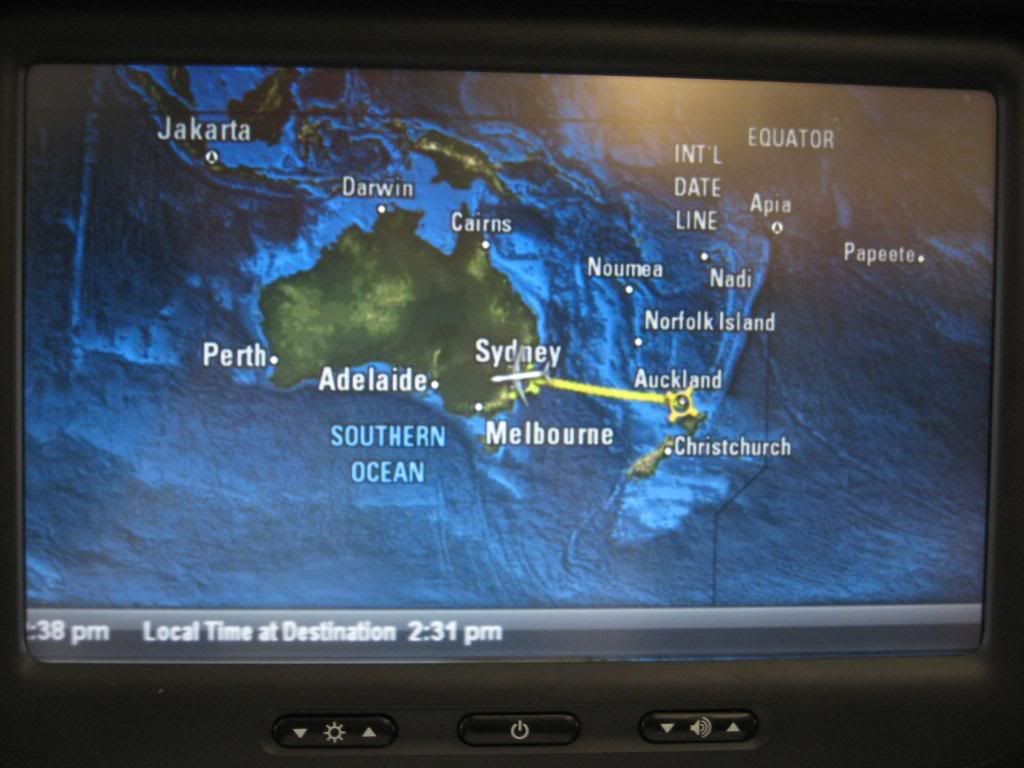 The plane landed at Sydney number 2 north south runway, and that means spending next 15 minutes taxiing back to the terminal. I am always annoyed by that. Why having such a runway so far from the terminal? Of course I knew the answer because of space constraints. When landing in Sydney, it was pouring down, it reminds me of reality, compared to the fantastic weather from paradise called Moorea.
Epilogue
Looking back, we enjoyed every bit of business class in Air New Zealand, from the quick check in line, the lounge, the 50 inch pitch leather seats and service on the plane, as well as quick luggage collection. Whilst we were actually quite happy with Air NZ economy class (we did it in our earlier trip to Christchurch via Auckland on Air NZ 4 months ago), I did feel pampered in business class, and is definitely the most enjoyable plane trips I have ever done. I probably wouldn't pay for business class myself, but I think using points for J redemption is great value, especially with the Krisflyer *A redemption rates for Australia-Oceania which is a bargain.
After this trip, I could understand why people in FT getting used to flying business/first, and hate staying at the back of the plane. I think if I fly enough J/F I will have same issue too.
French Polynesia is definitely a very beautiful country. I will never forget the views from IC Tahiti infinity pool as well as from Hilton Moorea. The snorkelling experience from Hilton Moorea was definitely something I could never forget. In fact, the whole thing was so beautiful it was almost unreal. No, I have not been to Bora Bora, I am sure it is even better. But hey, ignorance is bliss ….. for now (until sometime in the future I go to BB, not sure when though).
Sunset at Hilton Moorea
Of course, I had to thank Hilton Moorea for providing me such an opportunity, and it was something that I will not forget for a long long time. Also, I would like to thank FT for facilitate such great information exchange. That's why I am writing this TR as my contribution.
I knew from Tripadvisor forums, people kept saying that no matter what they said earlier that a trip to French Polynesia was once in a life time experience, they ended up coming back again, again and again. I am not sure if I will be doing that, but since the standard is set, so it is hard to "come down". Maybe I will be one of those people who will continue to come back to French Polynesia, and maybe doing more J redemption on Air NZ using Krisflyer points (provided that they don't change the redemption rate of course!).
THE END
---
Last edited by kamchatsky; Apr 27, 09 at

5:02 am

Reason: Added Photos
Apr 26, 09, 6:17 am
Join Date: Feb 2006
Location: SYD, and not PKC
Programs: QR/VA Gold, QF Silver, HH Diamond, Marriott Gold
Posts: 1,481
Looking Back
---
More Hilton Moorea Photos
Hilton Moorea Breakfast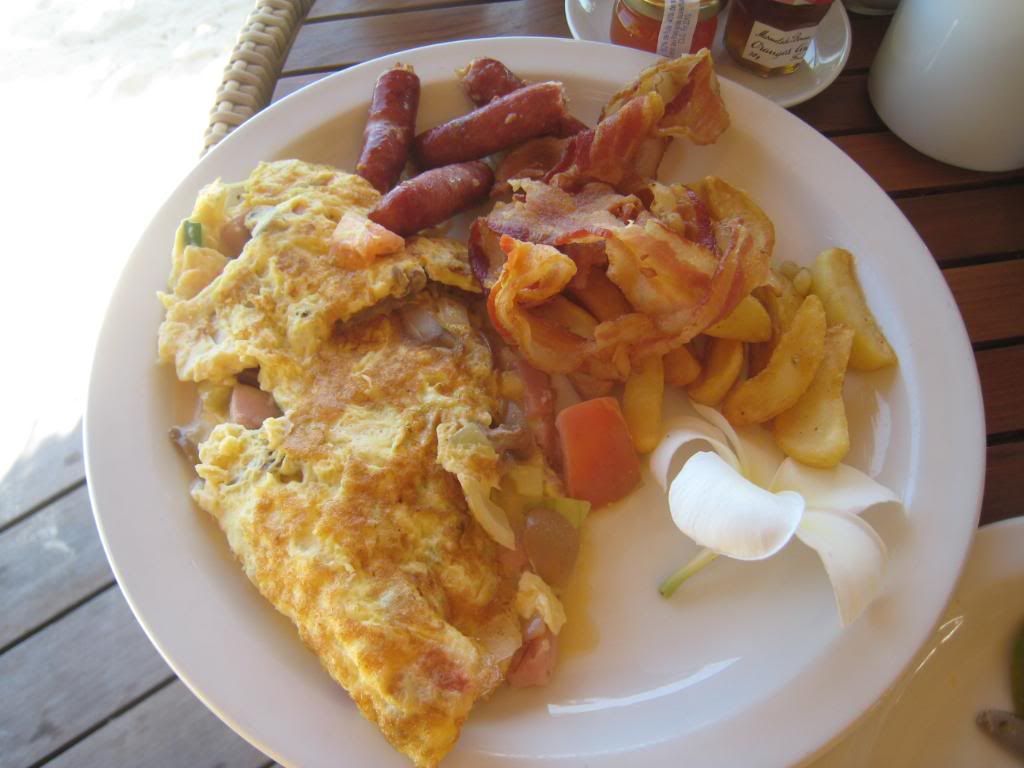 Fruit Plate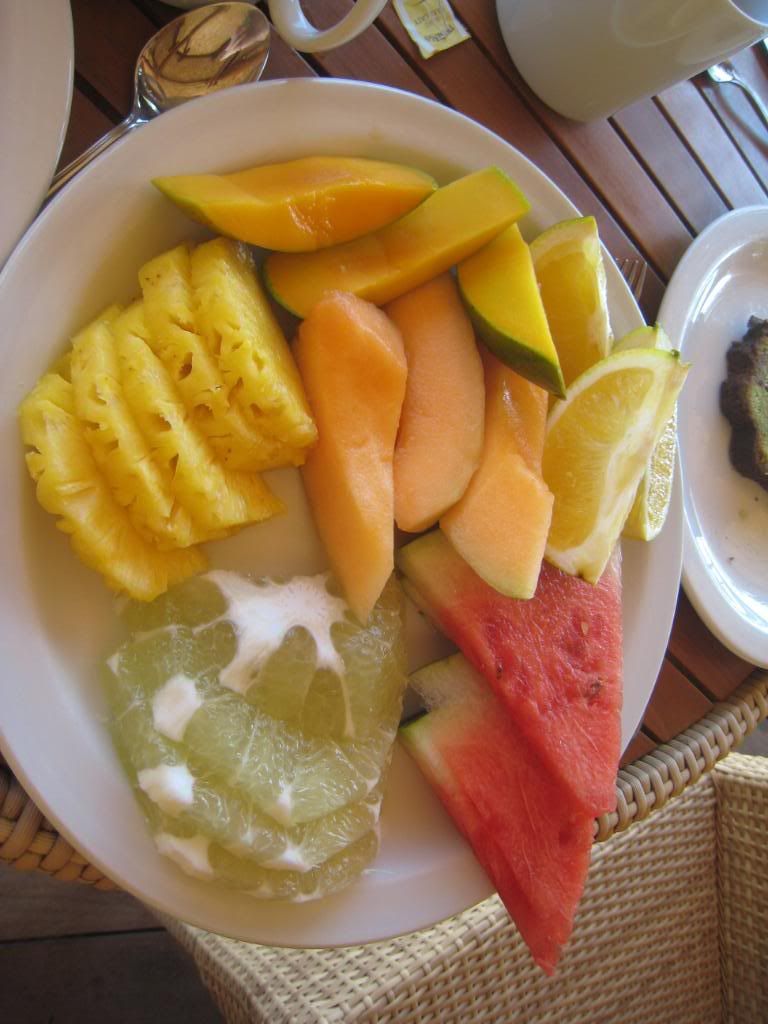 Saturday Night Seafood Buffet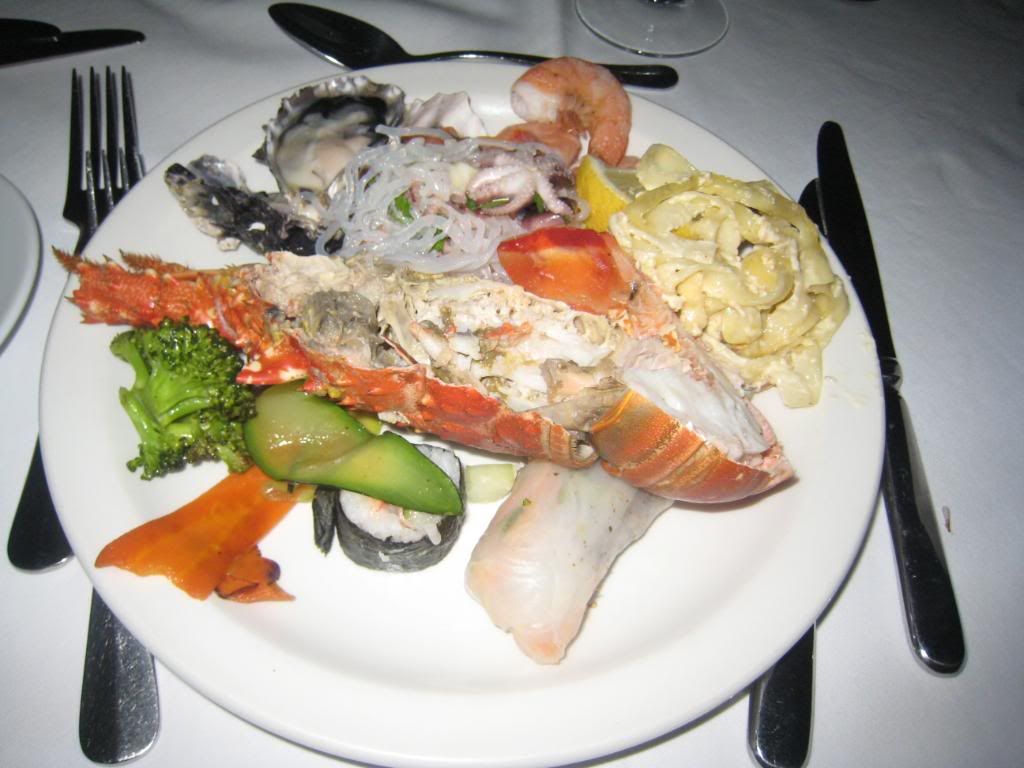 Asian Starter Platter
Tuesday Night Buffet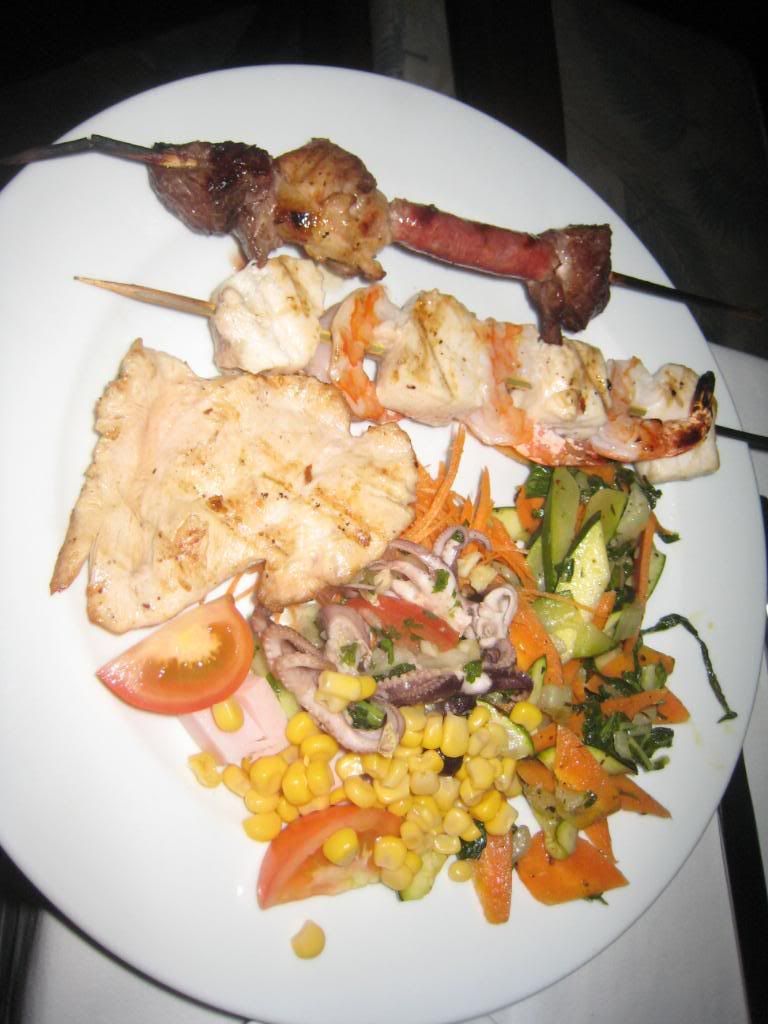 Poisson Cru Starter
Veal Main Course
Chruch at South Moorea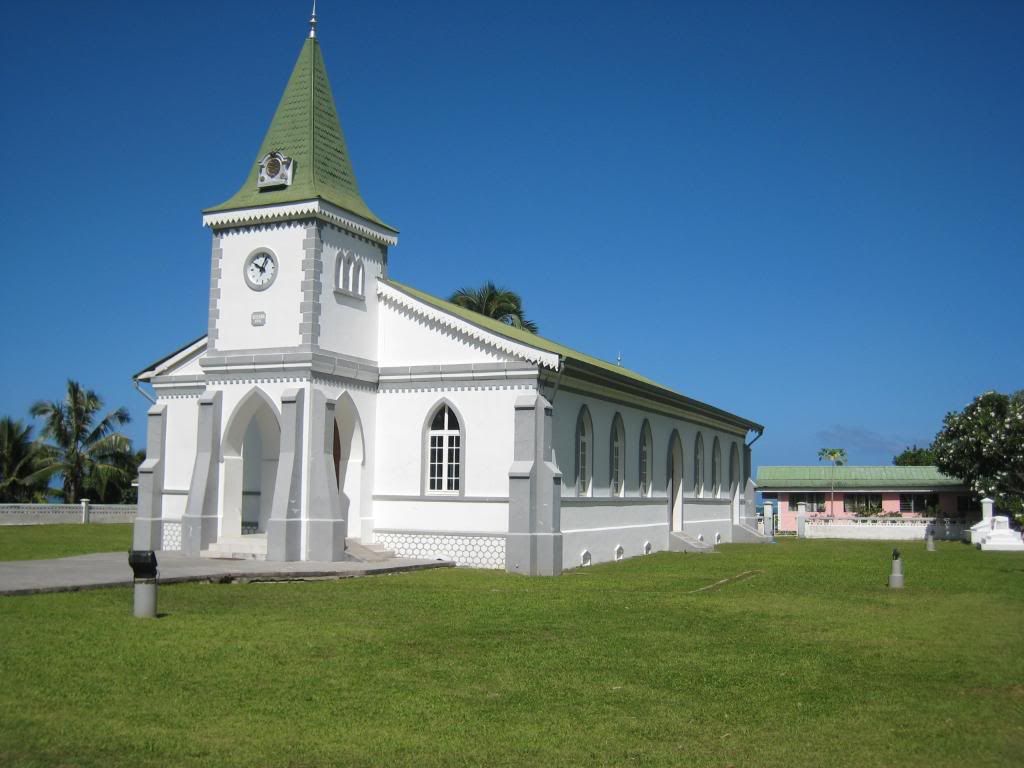 Intercontinental Moorea Overwater Bungalow
Dolphin at Intercontinental Moorea Dolphin Centre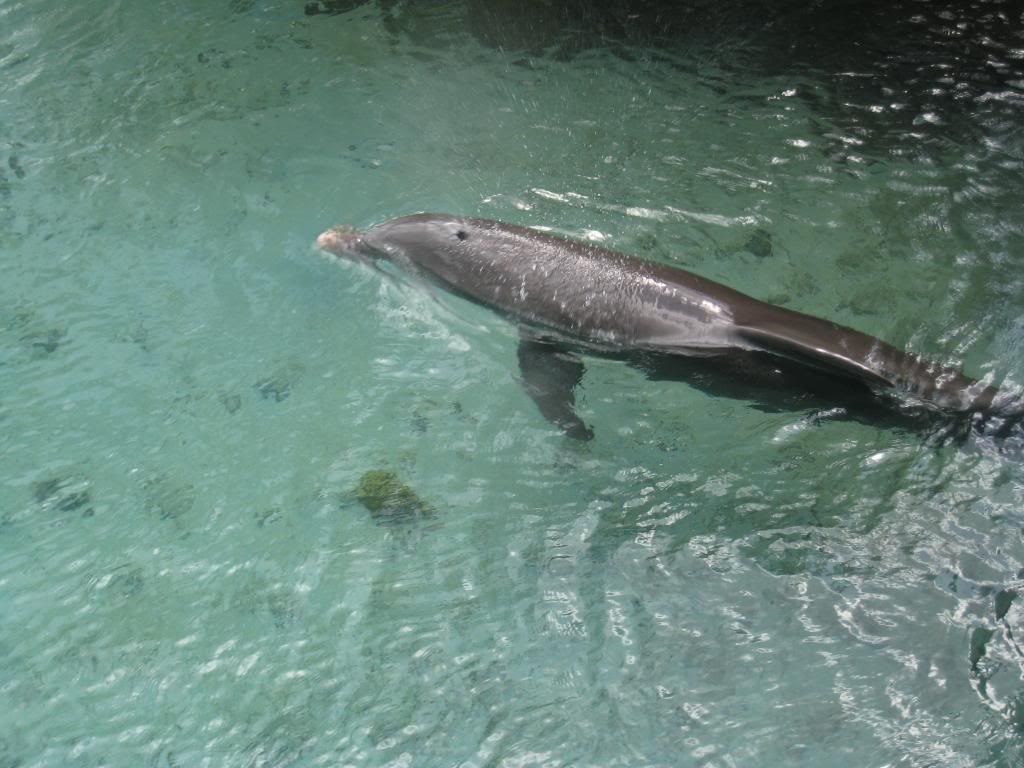 ---
Last edited by kamchatsky; Apr 27, 09 at

5:09 am

Reason: Added Photos
Apr 26, 09, 9:50 am
Community Director
Join Date: Oct 2000
Location: Anywhere warm
Posts: 30,172
It was great to read your thread as our niece leaves tonight for French Polynesia and the Hilton Moorea. She was married yesterday. Was it gof who found the great deal? We were already sending her as our wedding gift, and had the hotel booked with Starwood points. We stayed there last summer and loved the property. With the glitch, we were able to gift her over the water all five nights. So it was terrific to read your report on the renovated bungalows. They were moving in the new TVs last year when we were there. What else are they doing to the units?

It's interesting that you didn't have an internet signal. We were in 101 last year, and had an intermittently excellent signal. I could sit on our deck and read FlyerTalk. Do you know if they plan to put up any more stations?

I learned from you that Sophie Bardot left, which is a shame. I liked her very much. Do you have any idea where she has moved?

I enjoyed very much reading about the "perfect storm" that allowed you to get both your air and hotel in such economical ways. Terrific!
Apr 26, 09, 6:11 pm
Join Date: Feb 2006
Location: SYD, and not PKC
Programs: QR/VA Gold, QF Silver, HH Diamond, Marriott Gold
Posts: 1,481
I will try to put some pictures over the next few days due to some spectators' "requests"
---
Last edited by 2lovelife; Apr 27, 09 at

3:39 pm

Reason: deleted quote of now deleted post
Apr 27, 09, 3:50 am
Join Date: Apr 2007
Location: Australia
Posts: 5,996
Great TR!
I haven't flown on the refurbished a/c yet... so thanks for the excellent descriptions..
..and thanks for the tip about
yourway
rentals... we have a pretty much full day layover in AKL in August.. think we'll grab a car and go for a day trip...