Delayed by the Military & "Meal-on-Ground": SHA-SZX on Shanghai Airlines 757 (+pics)
Apr 5, 09, 4:06 am
Join Date: Dec 2005
Location: Somewhere between HOQ, NUE & MUC
Posts: 87
Delayed by the Military & "Meal-on-Ground": SHA-SZX on Shanghai Airlines 757 (+pics)
---
Delayed by the Military & "Meal-on-Ground": SHA-SZX on Shanghai Airlines Boeing 757
Intro
The focus is on
Shanghai Airlines
and its
757-200
in part 3 of the report series about my recent trip to China. I have also added some pictures from Shenzhen, Hong Kong and a TurboJet ferry ride.
Background

After picking China Eastern's A330-300 on the PEK-SHA route prior to the trip, we had been searching for another wide-body service, this time to Shenzhen Baoan (China's fifth busiest airport). In the end we chose a Shanghai Airlines 767-300 flight. All those who have missed parts 1 and 2 or want to read more about the background of the trip simply need to click here:
Striking Newcomer: Berlin-Beijing On Hainan A330
PEK-SHA, China Eastern A330 & Shanghai At Night
Hazy Morning
Clear skies are rare in Shanghai, so we weren't really surprised about the dense smog in the morning. View from our hotel room: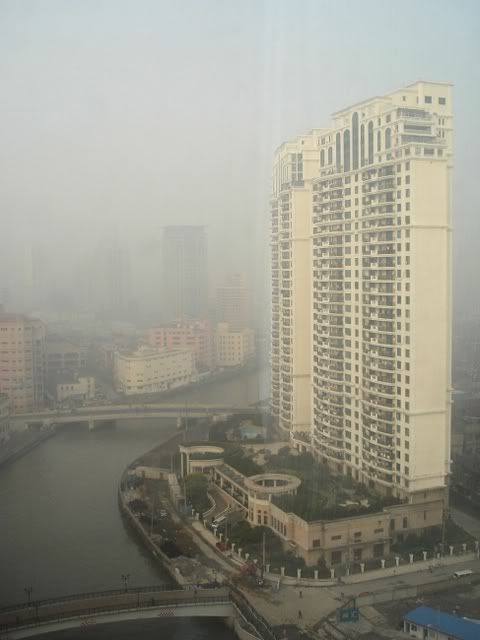 Beautiful flowers in the hotel lobby: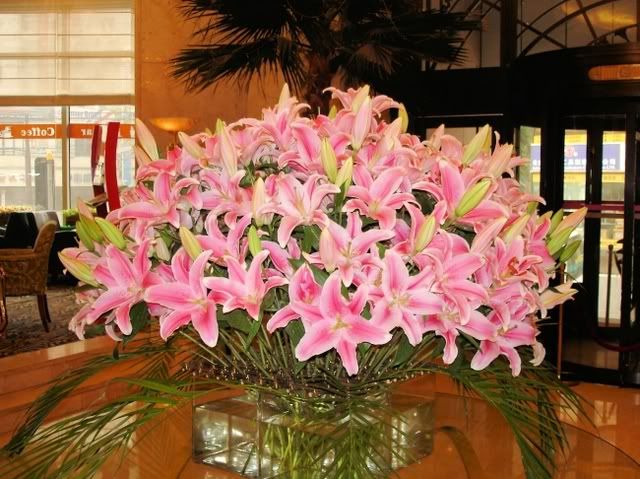 Check-out in
The Bund Riverside Hotel
was quick and easy. The hotel staff called a taxi and minutes later we were on the way to Hongqiao Airport. This time the driver had reacted promptly to our request. After some 20 minutes we entered the airport main hall.
Tuesday, 04 November 2008
Shanghai Hongqiao (SHA) - Shenzhen (SZX)
Shanghai Airlines, FM9377
16:05-18:30 (18:03-20:22)
Flying time: 01:56 (hrs)

Boeing 757-26D
B-2857 (s/n 1044), delivered in 05/2004
Economy Class, Seat 31A
Smooth Check-in
Our flight was scheduled to depart at 16:05, still some eight hours away. We were confident Star Alliance member Shanghai Airlines would check us in that early - unlike China Eastern - because
Satchmo
had already gained experience with the carrier before. And indeed, a friendly (English-speaking) lady welcomed us and immediately entered our Miles&More data. She also willingly accepted our request for a seat in the back. Some minutes later we got our boarding passes and could pass security.
Shanghai Hongqiao: (Airside) Spotting & Pricing
Satchmo
had visited the airport before, so we walked straight to a place in the terminal once offering good views of one of the main taxiways. However, we soon had to stop in front of a wall - end of line. The area had apparently been reconstructed. It was still possible to see the runway and one of the main taxiway from several gates, but only through two glass windows. Taking good pictures was mostly impossible - and due to the haze it was even hard to see certain planes' registrations.
Another bad surprise followed soon: the exorbitant prices! A cup of coffee was sold for about 5 Euro and a piece of pizza for about 8 Euro - no matter what, it was similar in all bars and restaurants.
I had never seen such high prices at an airport before. Hongqiao doesn't even have lots of international traffic - so it's mostly the Chinese passengers who get ripped off. And not all of them are rich businessmen, one shouldn't forget.
Anyway, it was time to concentrate on the movements. Examples:
Shandong Airlines Boeing 737-85N B-5348: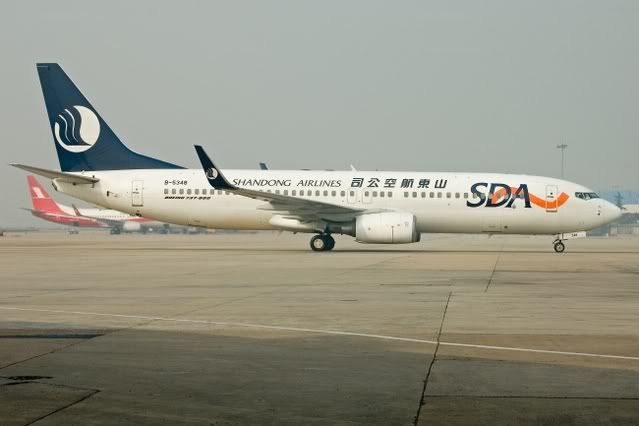 Picture by Satchmo
Close-up of an Air China Boeing 777-2J6: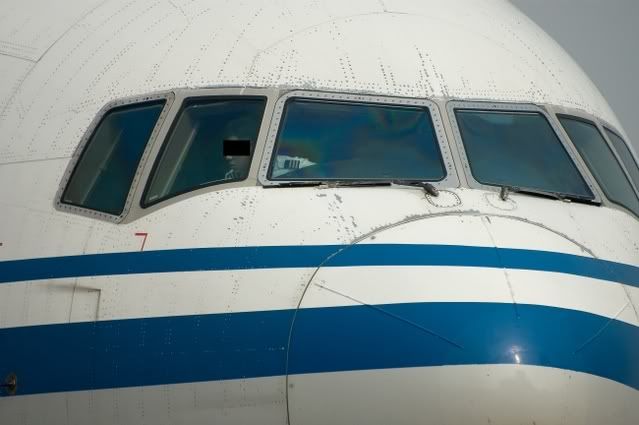 Picture by Satchmo
Spring Airlines Airbus A320-214 B-6320: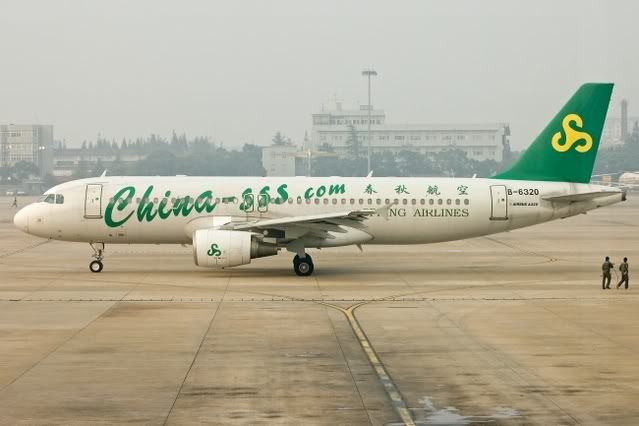 Picture by Satchmo
Juneyao Airlines Airbus A320-214 B-6340, parked next to an Air China Boeing 747-4J6: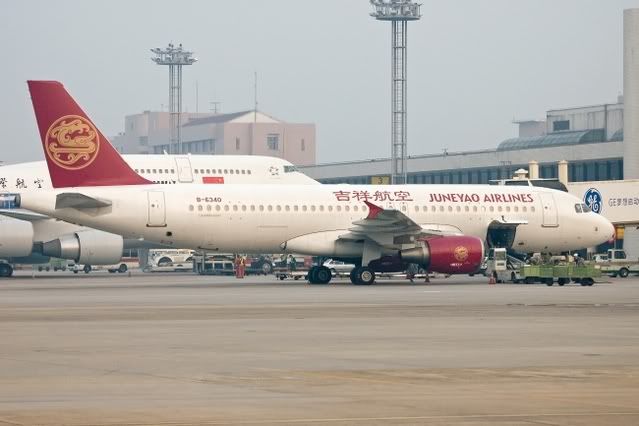 Picture by Satchmo
The variety of airlines and types (including wide-body variants) at Hongqiao is excellent. In addition to the large carriers, you can also see the smaller Chinese airlines which are rare at the international gateways. I got a total of 85 new registrations at Hongqiao in only seven hours.
"Delayed due to Weather"
Almost all flights had been delayed during the day, apparently due to low visibility.
"Delayed due to weather"
was what we heard in the permanent announcements. So it was no surprise that nothing happened for a while after we entered our (bus) gate at 15:30. Even though our flight was shown on the monitor, boarding for another (delayed) flight was started first. Due to unclear announcements people bound for both flights went in line. We weren't sure either, but a helpful Chinese passenger told us what's up. Some 15 minutes after 16:00 it was finally our turn and a crowded bus brought us to the aircraft. Btw - it was interesting to note that the flight was codeshared with Lufthansa - even though LH doesn't fly to Hongqiao and Shenzhen.
Aircraft Change
We were still hoping to get Shanghai Airlines' 767-300 in Star Alliance colors - but our bus stopped next to a plane in regular colors. Once the crowd had left the bus, we were able to see the plane clearly and realized it wasn't even a 767, but a 757. That was particularly annoying for
Satchmo
who had flown on a company's 757 before. I wasn't so much disappointed because I had flown on a 767-300 (non-ER) before and my last 757 flight had taken place years ago. The plane was
B-2857
, s/n 1044, one of the last few 757s built in 2004.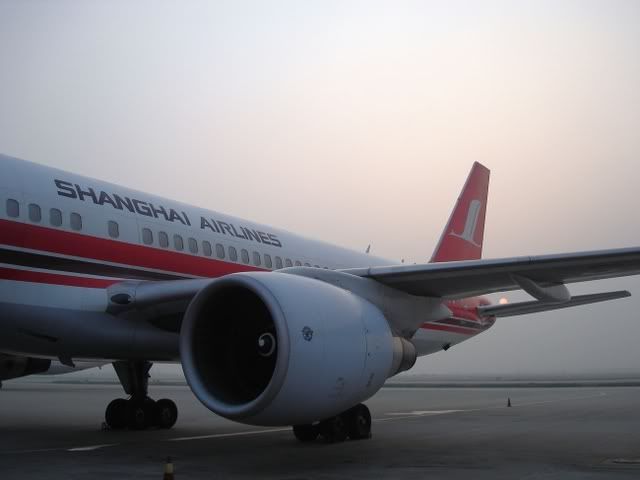 Boarding passes were checked on the stairs, supervised by an officer. Again, taking pictures wasn't a problem at all.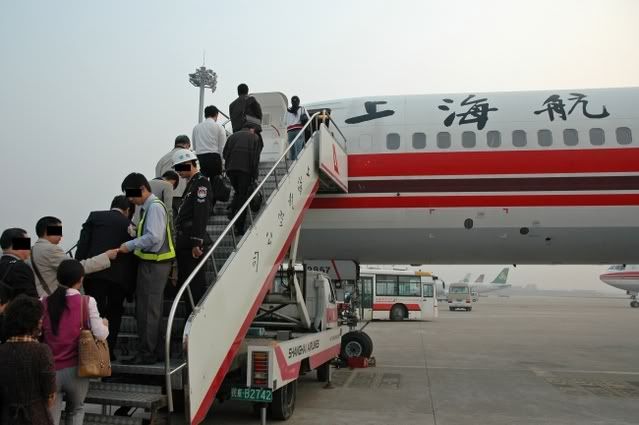 Picture by Satchmo
The distinctive 757's body: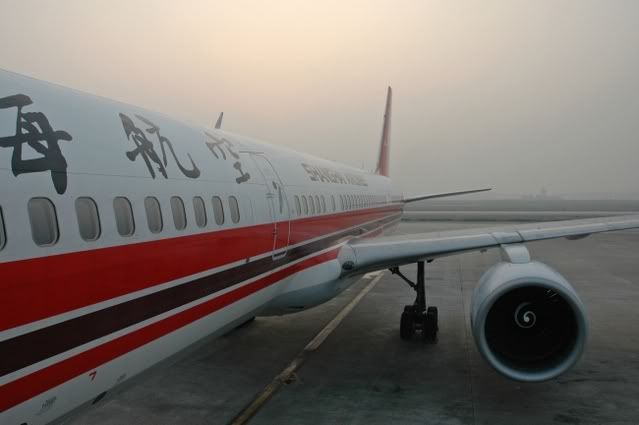 Picture by Satchmo
Apr 5, 09, 4:08 am
Join Date: Dec 2005
Location: Somewhere between HOQ, NUE & MUC
Posts: 87
Cabin Comfort
Friendly FAs in dressy red uniforms welcomed us on board. The new-style cabin is equipped with dark blue slim-line seats...
Picture by Satchmo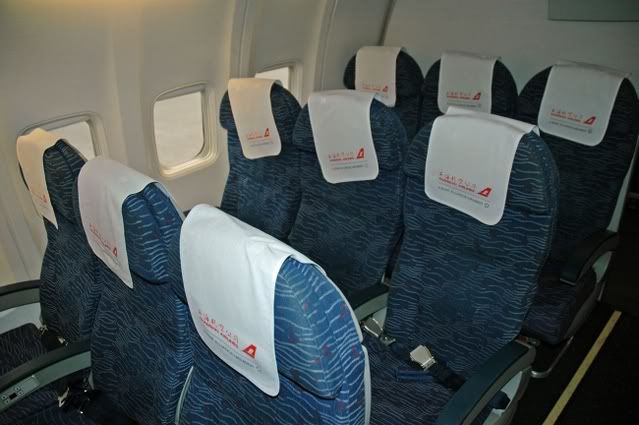 Picture by Satchmo
...which are quite comfortable.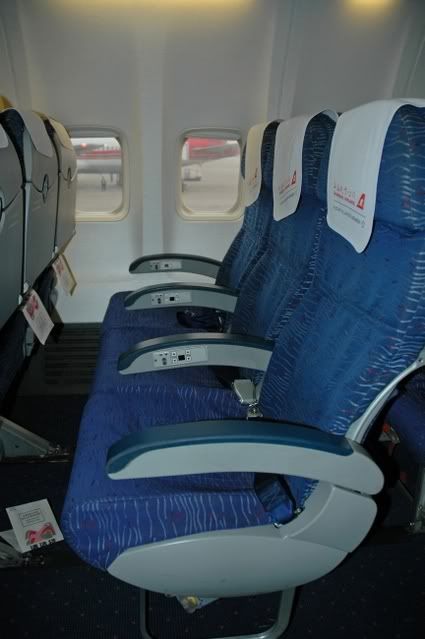 Picture by Satchmo
Seat pitch isn't bad either:
Load factor reached about 70 percent. Cabin view: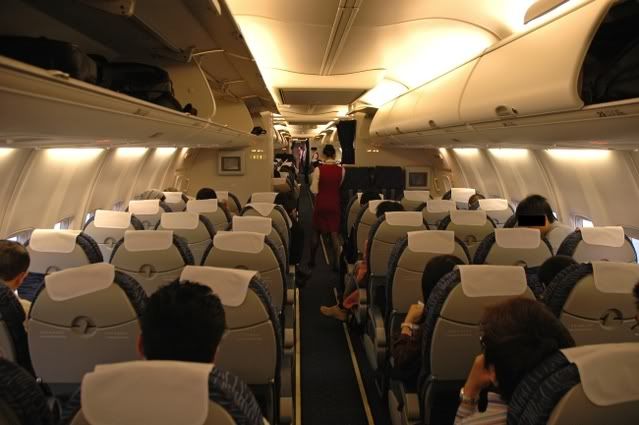 Picture by Satchmo
The cabin is equipped with fold-out video screens which were used on the ground, but not during the flight later. Apparently the plane is also equipped with an audio system, but headsets weren't available.
"Military Exercises"
At about 17:00, some 30 minutes after boarding, the captain made an announcement. He informed us that our departure would be further delayed -
"due to military exercises"
. The question is whether the military had already trained all day and mainly contributed to the delays or whether it started exercises despite the already existing delays at Hongqiao – or whether only certain flights were affected. Anyway, the captain couldn't tell us when we would be able to leave the ground. We weren't very optimistic at this point of time - at least there wasn't a connecting flight to catch. I tried to get some more registrations, but due to the fog it wasn't even easy to identify the planes leaving the runway. Parked next to us was China Eastern Airbus A330-300 B-6096: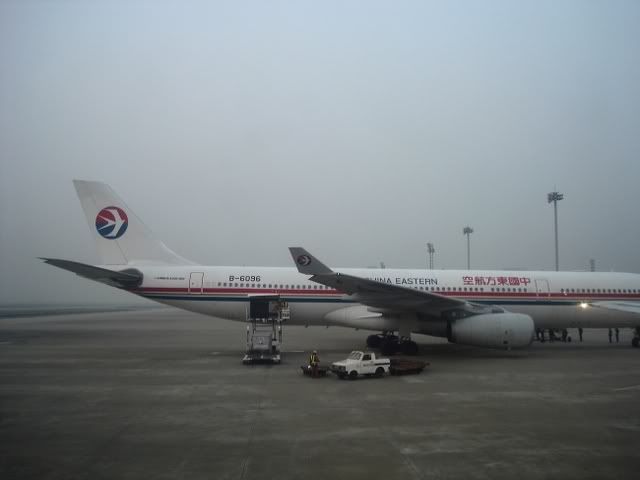 "MOG - Meal-on-Ground"
Only a few minutes after the captain's announcement FAs distributed wet towels. Surprisingly, the purser then also announced that beverage service would start soon - followed by a hot meal! I had never seen or heard before about such a "MOG - Meal-on-ground".
Now it was very clear we would remain on the ground for a while.
I ordered a beer - hoping to get a Chinese one finally. However, I failed for the third time on the third Chinese carrier in three days. All they had was a Carlsberg - and not even a cold one. The FA asked whether we wanted ice - but who on earth drinks beer with ice?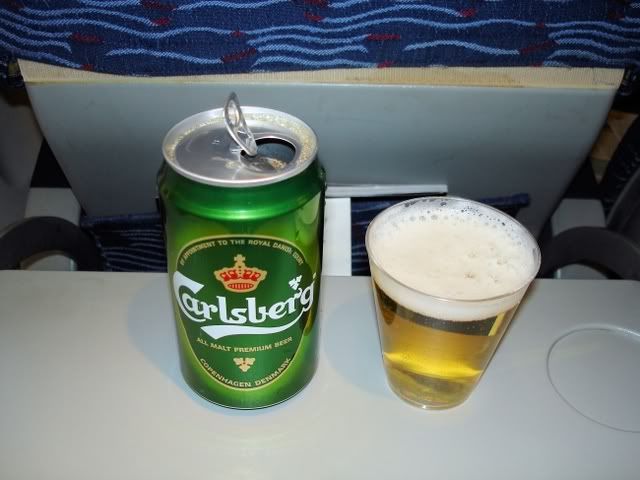 Ten minutes later the meal arrived, consisting of a snack box and a separate bowl with the main course: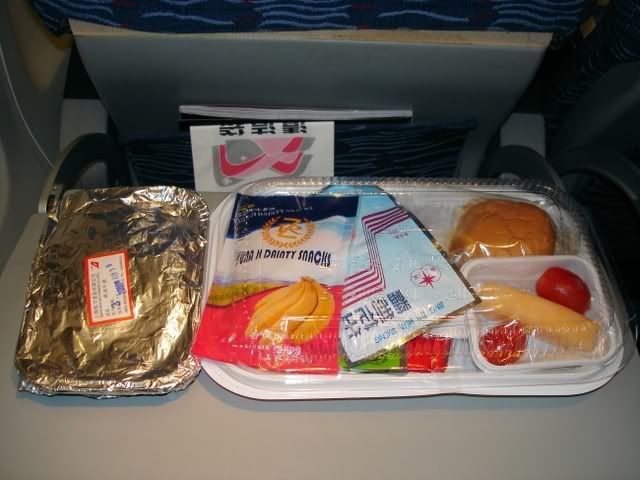 The main course was meat (pork) with mushrooms, accompanied by rice and vegetables. The snack box contained a (sweet) bread roll, a piece of melon and tomatoes, peanuts, banana chips, bamboo shoots and a KitKat bar.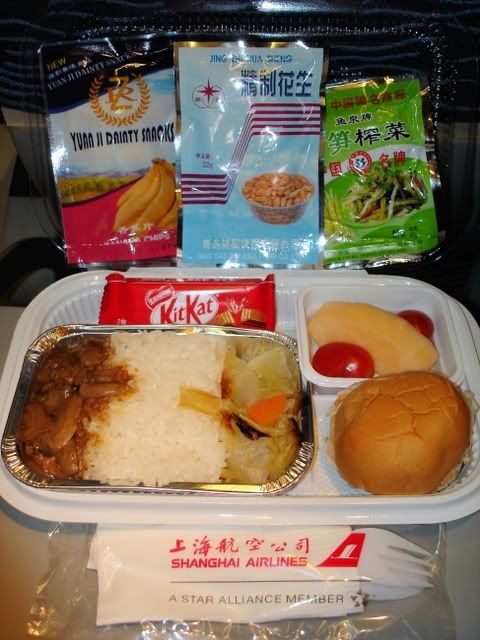 With some fatty pieces of meat it wasn't a culinary delight, but the main course tasted better than on China Eastern. Especially the rice wasn't bad. The bamboo shoots were a bit spicy and tasted a bit strange initially, but they weren't that bad in the end. Unexpectedly, the bread roll contained a sweet filling - probably a kind of chocolate pulp. The banana chips were my favorites. No doubt, it was a very diverse meal.
Apr 5, 09, 4:10 am
Join Date: Dec 2005
Location: Somewhere between HOQ, NUE & MUC
Posts: 87
Powerful Takeoff
Trays were collected again, but there were no signs yet of a speedy departure. However, some ten minutes to 18:00 we were told to sit down and fasten seatbelts. And indeed, we left the parking position at 18:03, almost two hours late. There was another break after push-back, but then
B-2857
started taxiing. We lined up behind a handful of aircraft and finally entered the runway. Takeoff was powerful - as usual on the 757 - and we climbed steeply into the dark skies.
The flight itself was uneventful. Many people were sleeping soon - probably the reason why FAs didn't offer anything during these two hours. But at least one round of drinks would have been adequate. After a flying time of one hour and 56 minutes we touched down at Shenzhen Baoan Airport.
Last shot of
B-2857
from the gate area: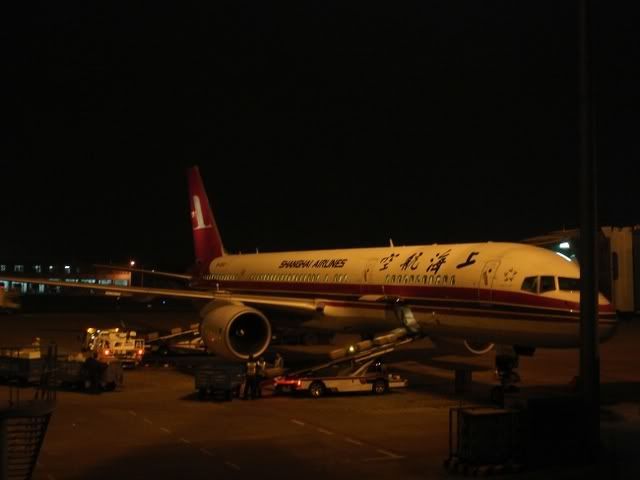 Vienna Hotel Shenzhen
After grabbing our luggage we tried to find the shuttle bus pick-up zone in front of the two terminal sections. It took a while until someone at an information counter could tell us where to go. However, it was clear soon that the
Vienna Hotel's
shuttle bus doesn't run frequently. We tried to call the hotel, but failed to get a connection on the public phones. Interestingly, we could even see the hotel's neon signs in the distance. However, we weren't sure whether a taxi driver would understand us this time - and if he did, whether he would agree to such a short-distance ride. We decided to ask a driver of another bus whether he knew more about our hotel's shuttle. He didn't understand, but immediately informed another guy who spoke English. And that man was very helpful, took his mobile phone and called the hotel. Only five minutes later, the bus arrived. The house itself wasn't a luxury hotel and located in a quite diverse neighborhood with roads in poor condition, but it was clean, very affordable and close to the airport.
View from our room - the airport's two main terminal buildings: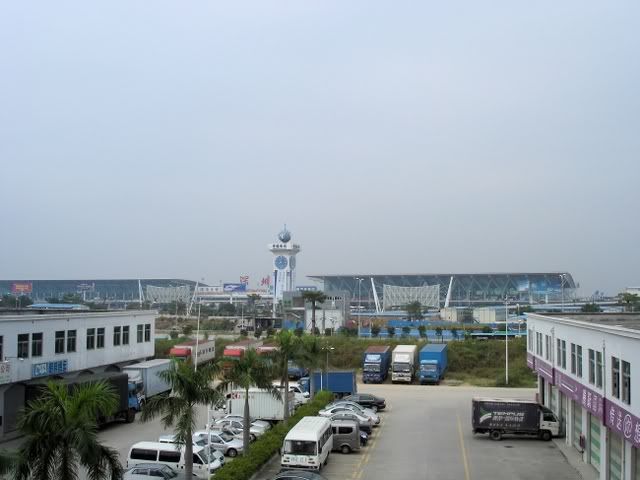 Shenzhen Baoan Spotting
We left the hotel early in the morning and tried to find a spotting spot at the airport. Unfortunately, it was clear soon that it's absolutely impossible to see any aircraft from the public area. And since we were planning to take the ferry to Hong Kong in the later afternoon, we couldn't go airside either. It's also interesting to note that - in contrast to PEK or SHA - the modern terminal building at SZX is not equipped with Western-style toilets. That's quite ridiculous, considering that there are more international flights to SZX than to SHA.
Anyway, we had to find a spotting spot, no matter how. We thought about taking a taxi to a place close to the runway, but didn't know the area around. And who knows where the driver would have gone. Then we had a look at the departures screen with masses of flights. So we decided to check whether it's possible to go on a short round trip to a destination not too far away. There were many options because SZX is well served by the large carriers as well as by the new low cost carriers. We spent about an hour for asking at numerous airline counters - and it was quite shocking to learn that the cheapest round trip would have cost some 200 Euro per person, which was too expensive in our opinion. Finally, we took the free shuttle to the nearby airport ferry terminal. And interestingly, the ferry terminal was ideally located close to the approach path. We took a seat in front of the building and watched the movements.
Air China Boeing 747-4J6: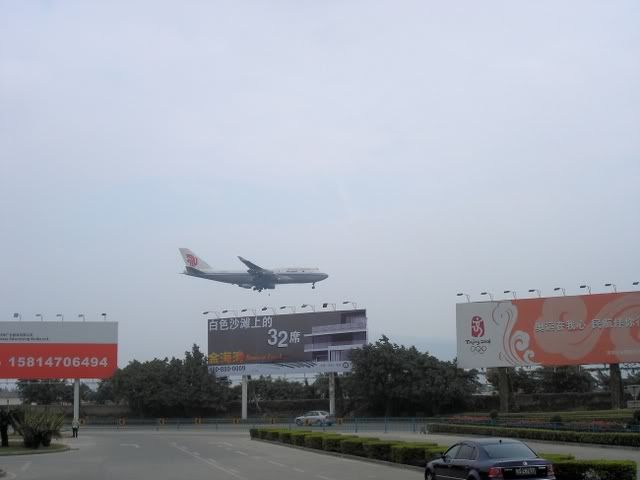 Shenzhen Airlines Boeing 737-33A B-2972 in new colors: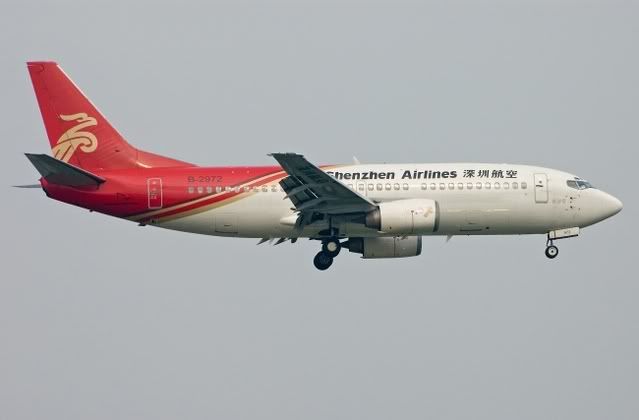 Picture by Satchmo
Air China Boeing 737-79L B-5211 in
Beijing 2008
colors: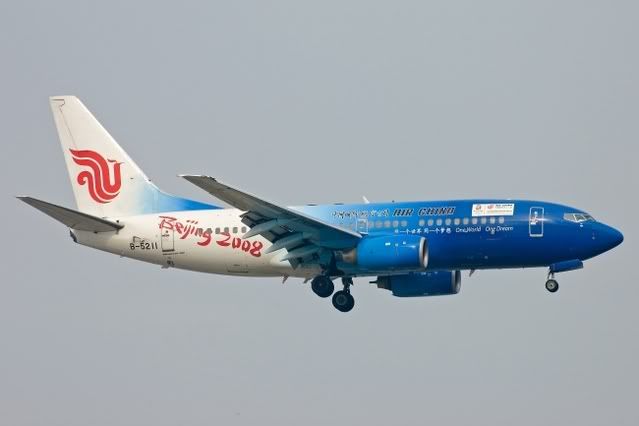 Picture by Satchmo
Just like on the days before, nobody seemed to care about taking pictures and using binoculars - despite the presence of police officers at the ferry terminal. It was just some friendly taxi drivers who asked whether they could use my binoculars for a minute.
The place was great for registration spotting, but it can be disappointing for photo spotters. Only half an hour after our arrival the approach direction was changed - and in most cases departing aircraft are too high for good shots. Spotters should also be aware that there aren't any Western-style toilets in the ferry terminal either - and the toilets existing aren't as clean as at the airport.
The variety of airlines and aircraft (including wide-body variants) at SZX is really good, with China Southern and Shenzhen Airlines dominating. In only a few hours I got 40 new registrations.
Wednesday, 05 November 2008
Shenzhen Airport Fu Yong Ferry Terminal (SZA) - Kowloon China Ferry Terminal (KLN)
TurboJet
16:30-17:30 (16:27-17:32)
Journey time: 01:05 (hrs)

Wavemaster SuperFast
"Nansha No.18", built in 1993
Economy Class
Shortly after 16:15 we joined the fellow passengers in the terminal and entered the
TurboJet
ferry which would bring us to Kowloon in the heart of Hong Kong. The Economy Class ticket price was some 20 Euro (per person). Here's our
Wavemaster SuperFast
vessel, named
"Nansha No.18"
: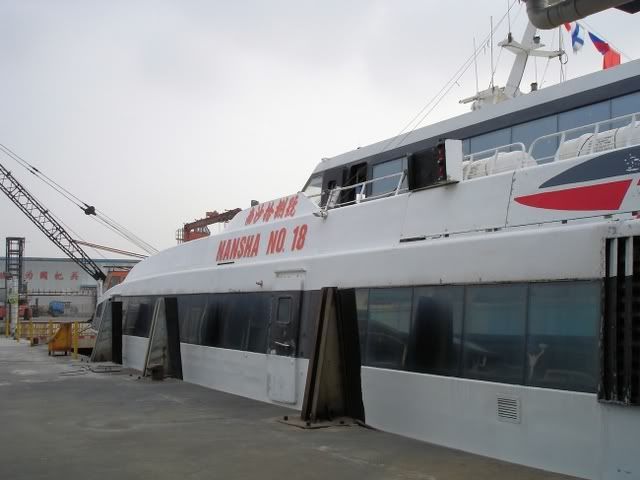 This is what I would call an
"Xtra Wide-Body"
: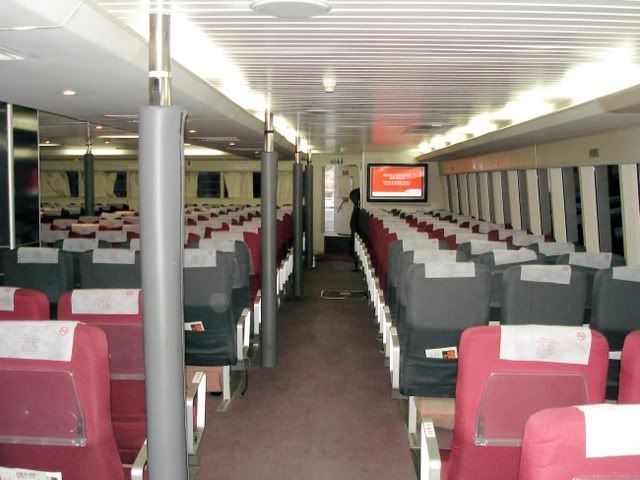 "27A" was printed on my ticket, but the load factor was quite low and so there was a great choice of seats.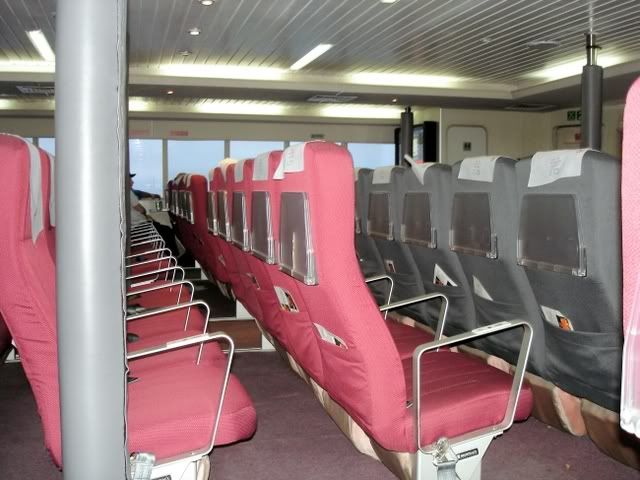 The seats were really comfortable...
...and seat pitch was generous: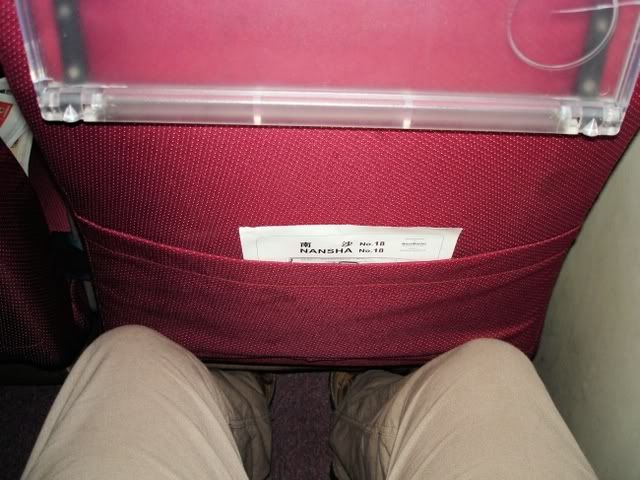 Apr 5, 09, 4:11 am
Join Date: Dec 2005
Location: Somewhere between HOQ, NUE & MUC
Posts: 87
Safety Card: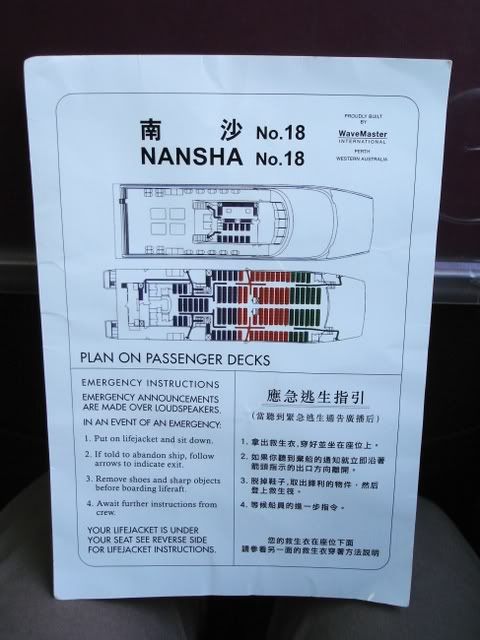 "IFE" on board: TV features about the company and the destination were shown on large screens:
View from my seat: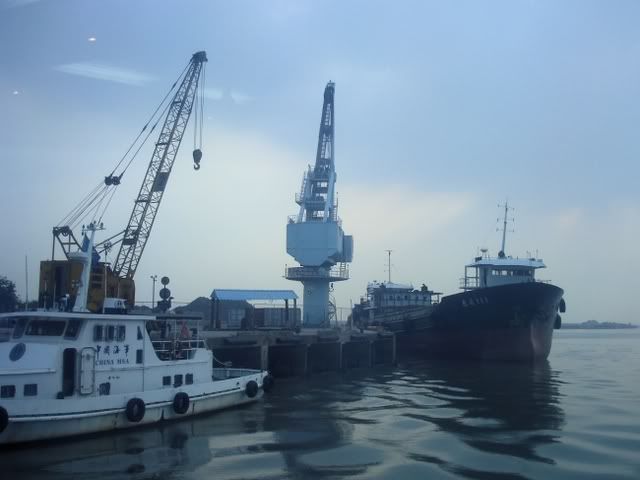 The ferry left the harbor some minutes early and set course for Kowloon. It was a quite smooth and interesting ride along the coastline. I tried to take some pictures of the scenery and some ships, but the windows were dirty and we were also facing the sun sometimes.
Fascinating Hong Kong
About an hour after departure we passed Hong Kong Island's famous skyline:
We quickly passed immigration at the China Ferry Terminal and walked to our hotel,
The Salisbury - YMCA of Hong Kong
. It is very recommendable, considering quality, price and location. We were told by a friendly employee that our booked room category wasn't available today - so we were upgraded and got a room with harbor view. Hong Kong's skyline at night is always a stunning sight: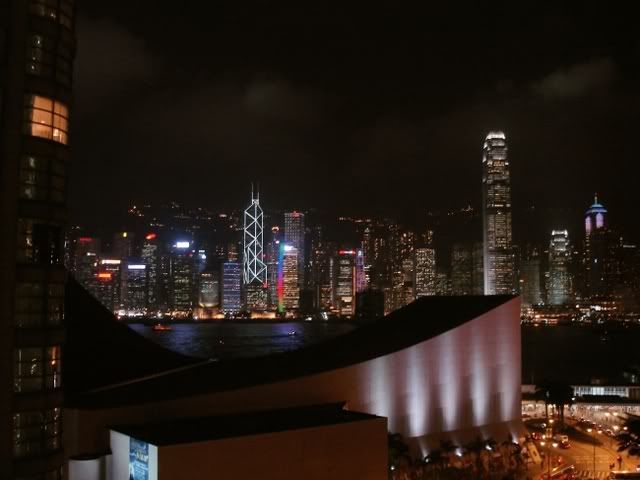 Another view, this time from the pier: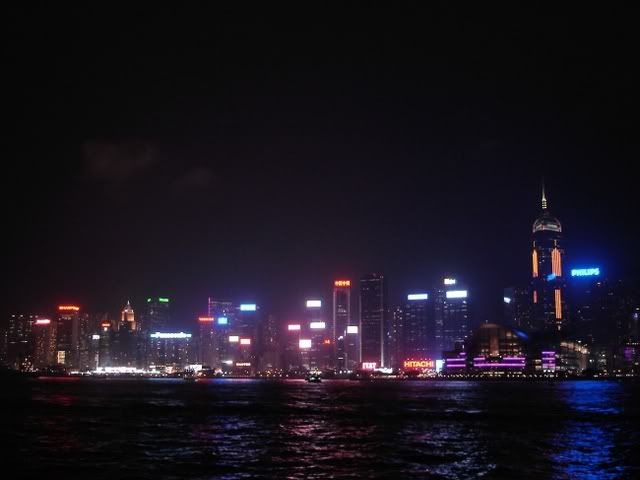 We walked along the pier for a while and decided to have dinner in one of Hong Kong's largest shopping malls, the
Harbour City
. An Indian restaurant caught our attention and I ordered a meal with different tidbits (including grilled chicken breast and lamb curry). Simply delicious: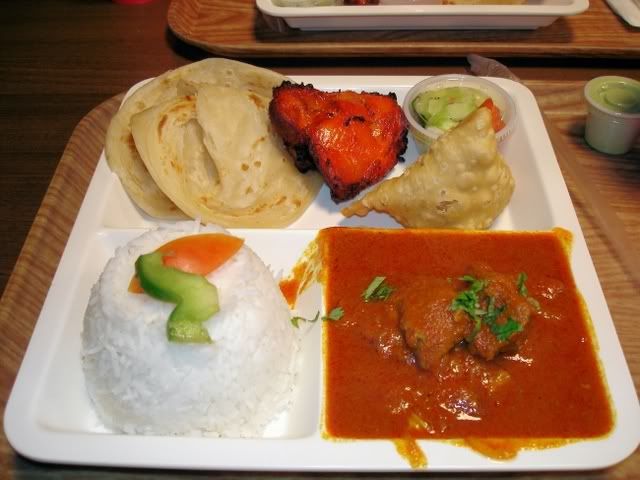 Story to be continued...
Conclusion
Flying
Shanghai Airlines
was a positive experience - despite the delays which weren't caused by the airline. Check-in was smooth, both ground and flight staff were friendly and spoke English quite well. However, the boarding process was a bit chaotic. The aircraft's cabin was clean and in flawless condition, seat comfort and pitch were good. It was the right decision to serve the meal prior to departure, but there should have been at least one more round of drink service later during the flight. While the catering may not be to everyone's taste, it's respectable to get a hot meal with so many items on a two-hour domestic flight. Who knows how long the Chinese carriers will continue to provide that level of service. The lack of IFE during the flight was not a major disappointment. Not to forget: 1128 miles were added to my Miles&More account immediately.
Next report: HKG-TPE-HKG on EVA Air
Best Regards,
PlaneHunter