Beijing-Shanghai/SHA on China Eastern A330-300 & Shanghai at Night (+pics)
Mar 28, 09, 3:23 am
Join Date: Dec 2005
Location: Somewhere between HOQ, NUE & MUC
Posts: 87
Beijing-Shanghai/SHA on China Eastern A330-300 & Shanghai at Night (+pics)
---
Beijing-Shanghai/SHA on China Eastern A330-300 & Shanghai at Night
Intro
The focus is on
China Eastern
and its
A330-300
in part 2 of the report series about my recent trip to China. In addition I have posted some pictures taken in downtown Shanghai at night.
Background

When we were searching for flights prior to the trip, many options were available on the frequent Beijing-Shanghai (Hongqiao) route. In the end we chose China Eastern due to timing and aircraft type. All those who missed part 1 or want to read more about the background of the trip simply need to click here:
Striking Newcomer: Berlin-Beijing On Hainan A330
Beijing Capital Spotting
Immediately after passing immigration we went to the check-in area for the China Eastern flight to Shanghai/Hongqiao. Our plan was to get to the airside area of Terminal 2 as soon as possible. So we would have several hours to hang around at an area reported to be good for spotting. Well, so much for the plan...
The dedicated multi-airline check-in area for the PEK-SHA shuttle was easy to find.
Satchmo
had flown on several Chinese carriers before (not on China Eastern, though) and was expecting a smooth check-in. However, the female agent behind the counter - not speaking English very well - refused to check us in. After a short, but slightly difficult conversation it was clear that she wouldn't be able to check us in more than two hours prior to our 17:00 departure. So there were about three hours left until 15:00 - probably without a chance to see a single aircraft.
So we stored our stuff at a left-luggage office (charging some five Euro) and tried to find a spotting spot, first at Terminal 2 and then at Terminal 1. After 30 minutes without any success we decided to take the shuttle bus to the new state-of-the-art Terminal 3. During the bus ride we discovered several good spots in a public park and near several roads. Next time we know where to go at PEK. After leaving the bus we could indeed confirm all the positive reports about the building - it's huge and simply amazing in terms of architecture.
Interesting roof structure making good use of daylight:
Top level (check-in hall) and second floor: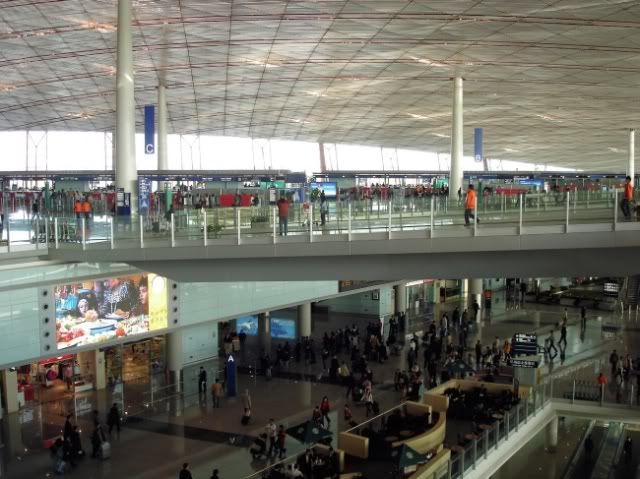 I took a seat at the large glass front and could log all aircraft landing on the new (third) runway.
Satchmo
found a good spot just to the right of the main entrance. Not surprisingly, Air China was dominating on that side of the airport. Air China Boeing 777-2J6 B-2059...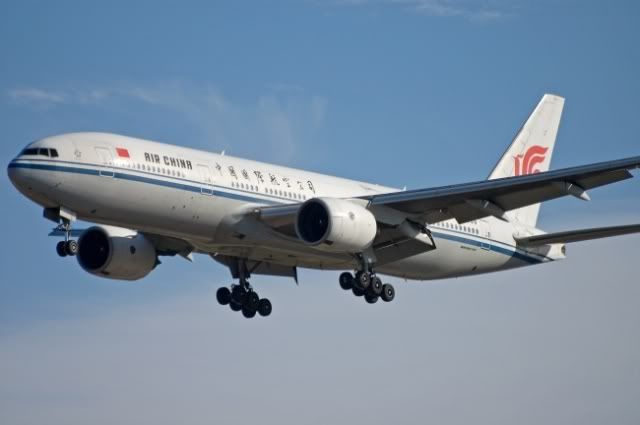 Picture by Satchmo
Air China Airbus A330-243 B-6091: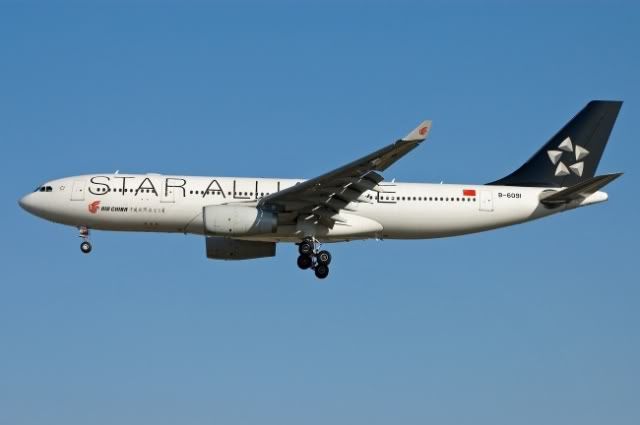 Picture by Satchmo
Singapore Airlines Boeing 777-312ER 9V-SWI:
Picture by Satchmo
At 14:30 we took the shuttle bus back to Terminal 2, picked up our luggage and went to the check-in counters again.
Monday, 03 November 2008
Beijing (PEK) - Shanghai (SHA)
China Eastern, MU5118
16:00-18:05 (17:28-19:23)
Flying time: 01:33 (hrs)

Airbus A330-343X
B-6125 (MSN 773), delivered in 07/2006
Economy Class, Seat 17H
Check-in, Second & Third Try
We had hoped for a fast check-in process now, but another surprise was waiting for us. After checking our reservation an agent explained that our flight MU5120 (scheduled departure at 17:00) would be delayed and told us we should re-book to flight MU5118, departing at 16:00. Of course we wanted to spend as much time as possible at PEK - so a delay would even be welcome.
Satchmo
started several attempts to explain that the delay wouldn't matter to us. But the lady didn't understand our point of view. Instead, she repeatedly said it wasn't clear yet how long the flight would be delayed - and she insisted on rebooking to the earlier flight. Apparently she simply tried to get us to Shanghai as soon as possible. However, then she added that the earlier flight would also be delayed for about an hour - so we stopped arguing and accepted her proposal. We knew most China Eastern flights on the route are operated by widebodies, so we weren't really concerned about the aircraft type.
The lady told us to go to a ticket counter where a friendly agent simply wrote some words onto our reservation confirmation. Fortunately, the rebooking was free of charge. Back at the check-in counter, the agent finally entered our data into the computer.
Satchmo
had never managed to get a seat in the back of the cabin on Chinese domestic flights last year, despite asking for it. The agents had never replied to his requests back then and always filled up the cabin from front to back. So we didn't expect too much now - but at least the agent reacted to our request. However, window rows in the back weren't available any more, the lady explained. So we accepted row 17, took our boarding passes and could finally go airside. Passing security wasn't a big deal. Most officers were friendly, except for one young lady with a grim face. Interestingly, she did the body check and she wasn't really cautious in touching my belt...
Delayed or not Delayed?
After entering the gate area we had a look at the departures screen - and to our surprise MU5118 wasn't classified as delayed. So we went directly to the gate which was badly crowded - just like the other gates around. A China Southern A330 was parked at the gate, so we weren't sure whether the gate had been changed. We didn't see our flight on the gate screen which was reason enough to ask. A friendly male ground staff member told us that MU5118 was definitely delayed - and he pointed to a piece of paper attached to the counter: it simply said
"16:43"
. According to the man, this was the arrival time of our aircraft here at PEK.
At least we could finally settle down at a window and start spotting again. Thai Airways A340-642 HS-TNB taxiing around a section of Terminal 3: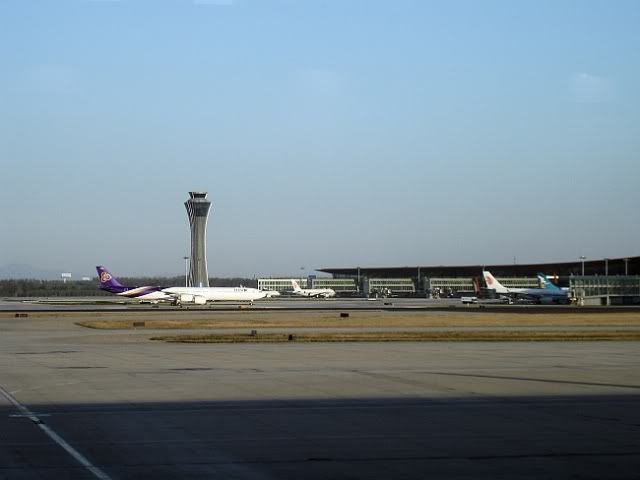 Air China Cargo Boeing 747-2J6F B-2450: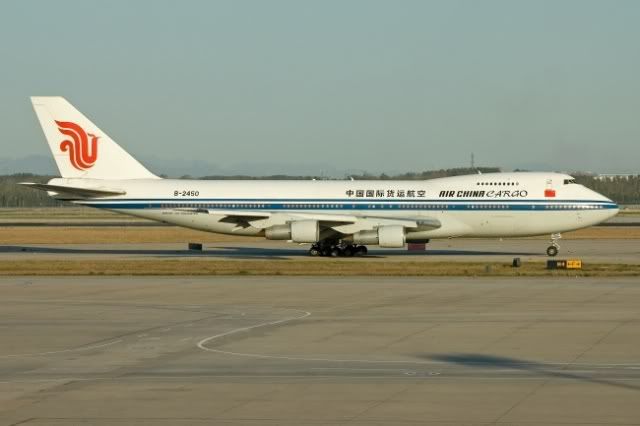 Picture by Satchmo
Grand China Airlines Boeing 737-84P B-2652: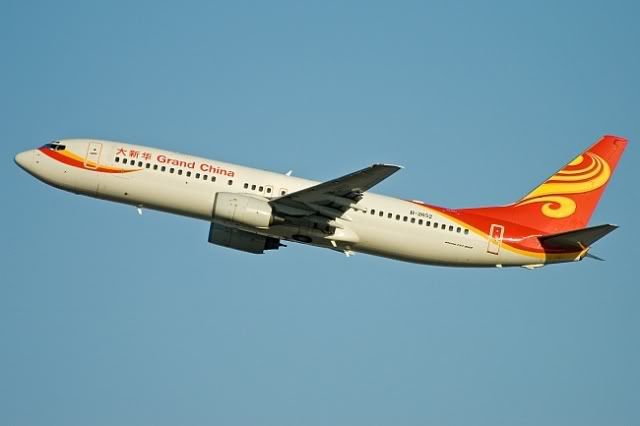 Picture by Satchmo
China Southern Airbus A300-622R B-2327: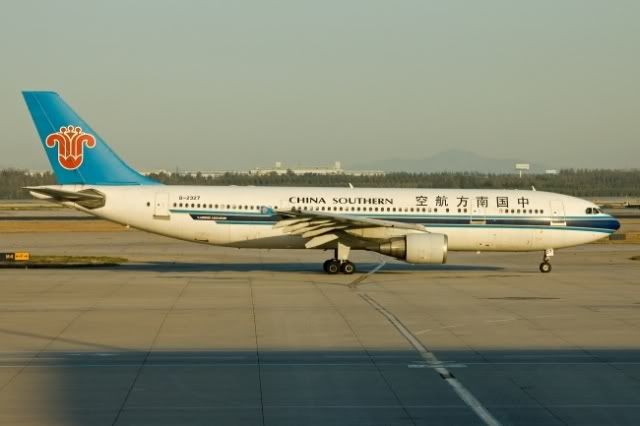 Picture by Satchmo
China Eastern Airbus A319-112 B-2215 and waving rampers: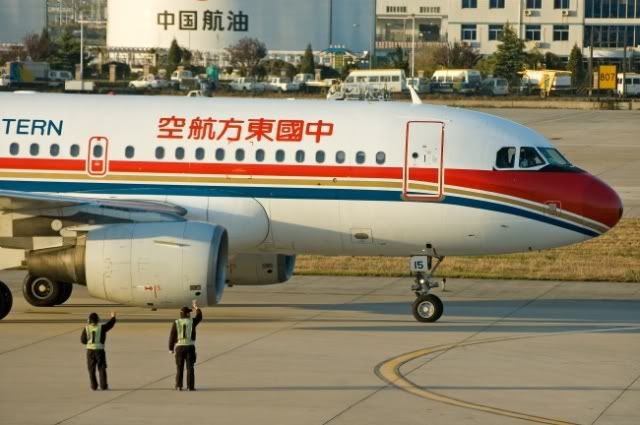 Picture by Satchmo
Together with all aircraft logged after arrival and during our visit to Terminal 3 I got 89 new registrations - not bad for the limited time at PEK. Finally our aircraft arrived - just as expected MU5118 would also be operated by an A330-300. And yes, believe it or not, it arrived at 16:43 - exactly as predicted.
Picture by Satchmo
B-6125
is the third of 15 A330-300s delivered to China Eastern.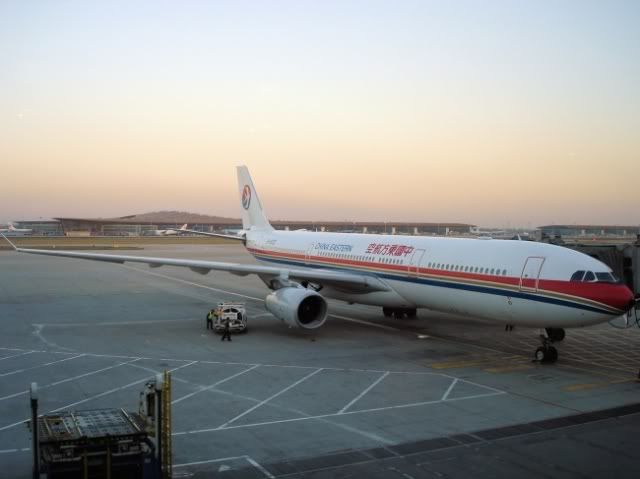 Cabin Comfort
Boarding was started some 20 minutes later and it took a while until everyone was seated - the flight was packed, I didn't see a single empty seat. Friendly FAs welcomed us in the clean cabin which is equipped with blue and red slimline seats which are quite comfortable: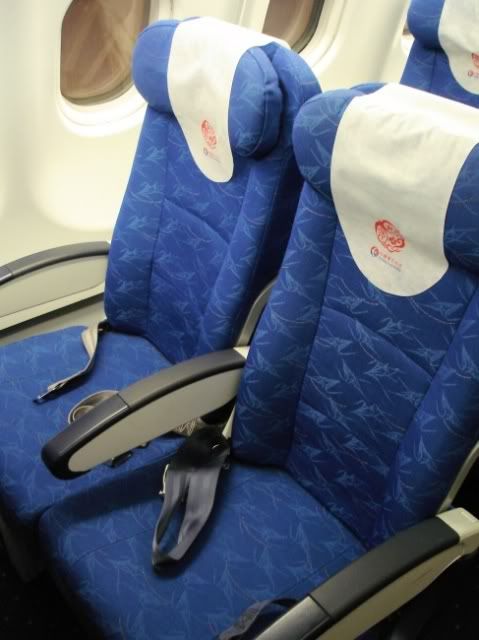 Seat pitch is generous, too. IFE boxes are installed under the seats despite the lack of PTVs: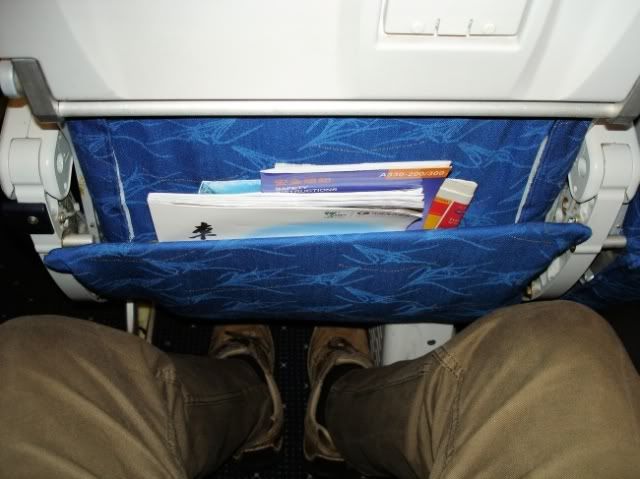 Front Economy cabin view (taken later in the flight):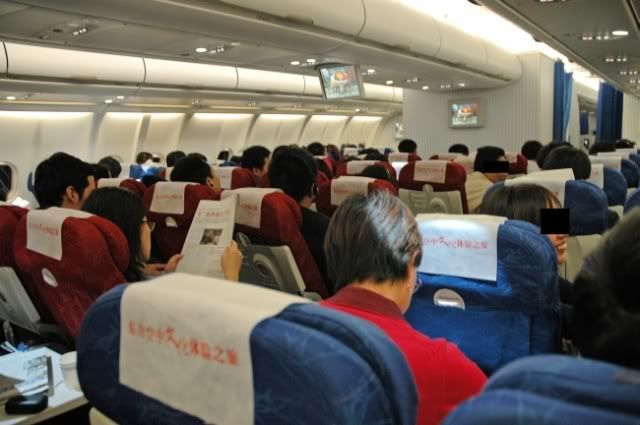 Picture by Satchmo
Departure & IFE
Interestingly, the captain made an announcement - definitely not common on Chinese carriers. He referred to the late arrival of the aircraft (not saying the reason) and explained that one bag had to be unloaded which would take five more minutes.
B-6125
was finally pushed back at 17:28, almost 1,5 hours late. Two China Southern tail logos and a China Eastern logo on the winglet: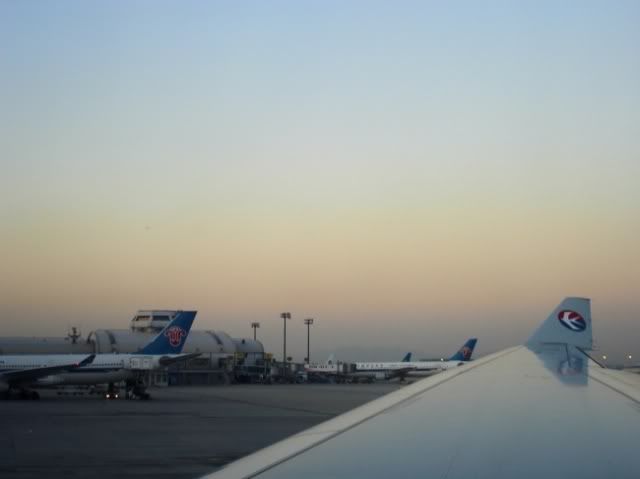 16 minutes later we turned onto the runway and the two RR Trents accelerated our aircraft for an unspectacular takeoff. Beautiful light effects a few minutes later: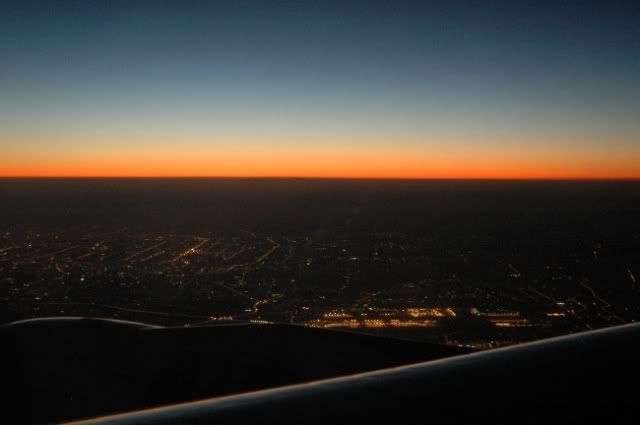 Picture by Satchmo
The IFE was limited to Chinese TV features shown on overhead screens and an inflight magazine written mostly in Chinese. An airshow channel was not available.
Dinner
Even though the flying time was less than two hours, a hot dinner was served. There was a choice between beef and seafood and I ordered the former.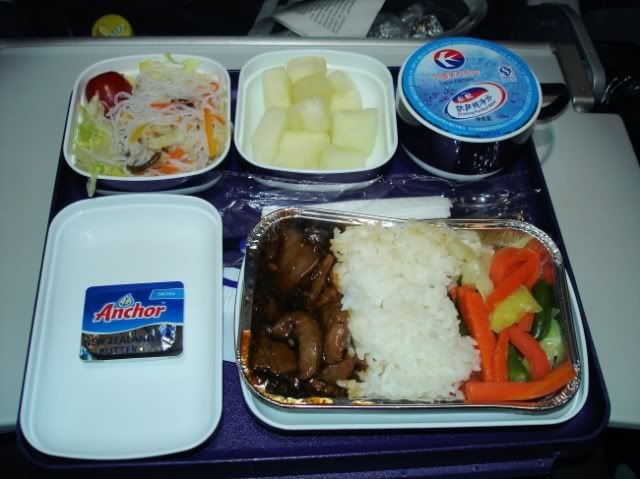 The sauce wasn't a culinary delight and some of the pieces of beef were really fatty, but the vegetables were ok and the rice was even quite good. The salad was ok, too, but the fine Chinese noodles weren't to my taste at all. In contrast, I can't complain about the pieces of melon. Bread rolls were served separately - even warmed up. In addition to the cup of water on the tray, different kinds of alcoholic and non-alcoholic drinks were available. We had hoped to get a Chinese beer this time, but all they had was Budweiser - no thanks. A second round of drinks followed later.
Except for the crossing of an area of turbulence the remaining flight was uneventful. We touched down after a flying time of 01:33 hours and tried to leave the aircraft and the airport as soon as possible.
The Bund Riverside Hotel - the Taxi Driver's Mystery
After grabbing our luggage from the belt we went in line at a taxi stand. There were six rows of taxis and an airport employee told the waiting people which taxi to take. The process was quite efficient and waiting time was minimal. When we were trying to put our luggage into the car, we faced the first problem: Like many taxis in Shanghai, the vehicle was LPG-powered and the tank took away half of the trunk space. So I ended up sitting next to my suitcase in the back.
Then we showed the destination to the driver:
The Bund Riverside Hotel
, very close to
The Bund
and the famous
Nanjing Road
.
Satchmo
had even printed a Chinese version of the hotel description, including address data. However, the driver - not speaking a single English word - seemed to be absolutely clueless. He looked at the piece of paper again and again and said some Chinese words. We were really surprised - he should at least know the road in that central downtown district!
After a while the driver called someone, but it didn't help. Then he had to leave the lane so that other taxis could pass. Finally, he left the car and talked to another driver. When he came back he said something in Chinese which we interpreted as
"Ok"
. He started the motor and joined the heavy traffic into downtown Shanghai. 20 minutes later he stopped in front of the hotel.
The Bund Riverside Hotel
is not a luxury hotel, but clean, comfortable, quite affordable and conveniently located.
Shanghai at Night...
Our time in downtown Shanghai was limited because we would spend the next day at Hongqiao Airport, so we decided to go for a short walk.
The futuristic
Pudong
skyline with the dominating
Oriental Pearl Tower
: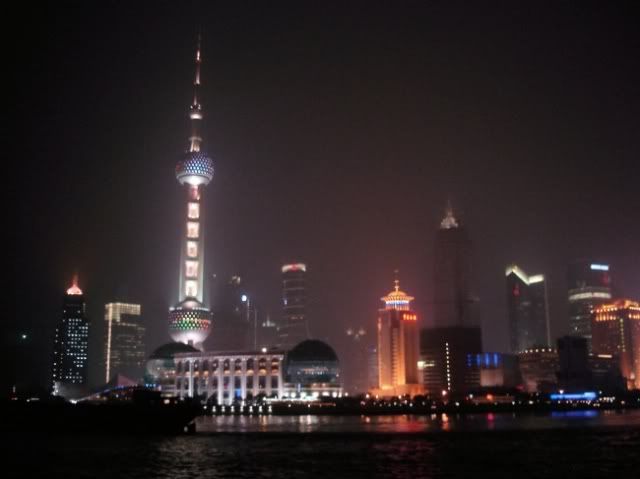 The Bund
area with a mix of historic and modern buildings...
...such as the
Customs House
(left) and the
Bund Financial Center
(center):
Statue of
Chen Yi
, first mayor of Shanghai after the founding of the People's Republic of China: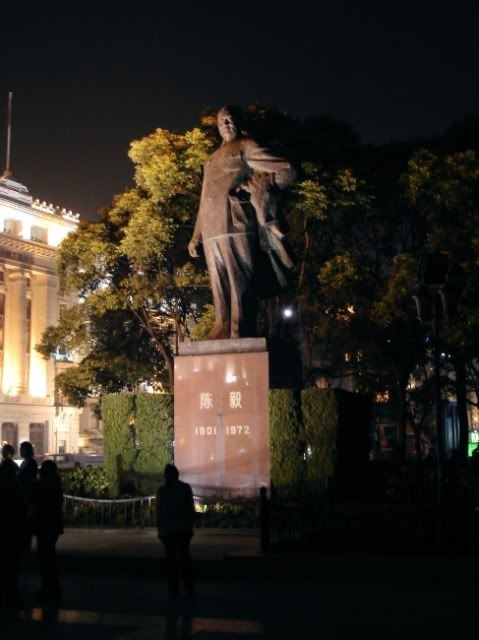 Impressions from the famous neon light flooded
Nanjing Road
...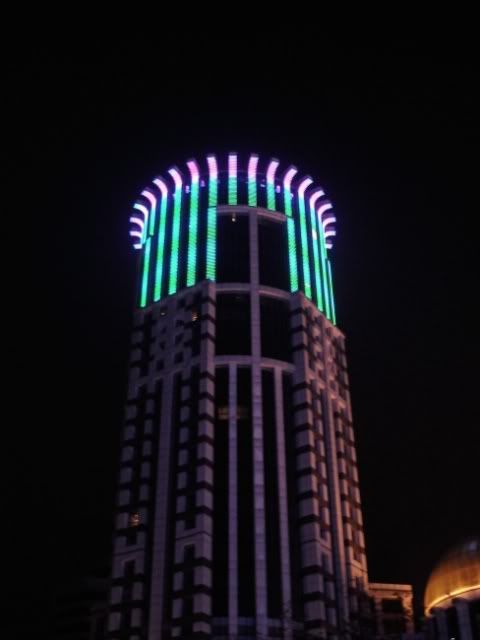 ...with the giant
Shimao International Plaza
...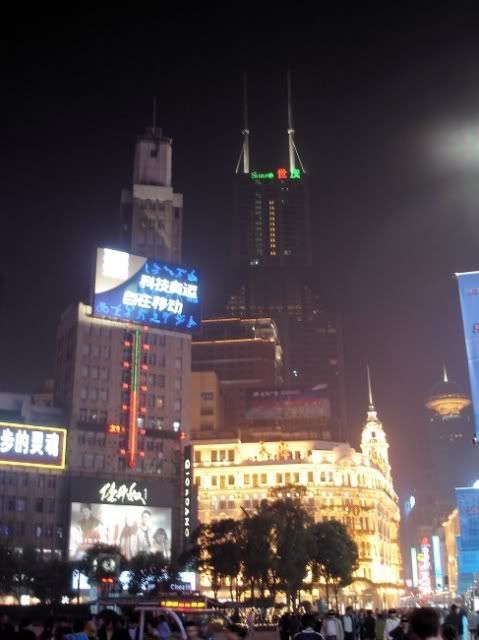 ...and the UFO-like
Radisson Hotel
in the background: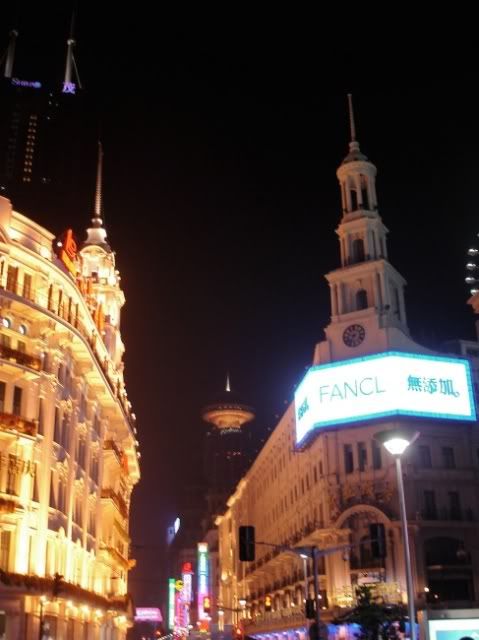 Conclusion
Flying
China Eastern
was a positive experience altogether - even despite the fuss about the delay and the rebooking. Delays can be an issue everywhere, and apparently, the check-in agents were simply trying to get us to Shanghai as soon as possible. Ground staff members were friendly, just like the FAs. The A330 cabin was clean and in good shape, seating was comfortable. The lack of personal IFE was not a major issue on that relatively short domestic flight. Getting a hot meal on such a hop is of course positive, even though the catering was not exactly to my taste. Anyway, I wouldn't hesitate to fly China Eastern again.
Next report: SHA-SZX on Shanghai Airlines
Best Regards,
PlaneHunter
---
Last edited by PlaneHunter; Mar 28, 09 at

3:31 am
Mar 30, 09, 9:40 am
Join Date: Dec 2005
Location: Somewhere between HOQ, NUE & MUC
Posts: 87