Air France La Premiere First Class CDG-LAX
Mar 19, 09, 10:19 am
Suspended
Join Date: Mar 2009
Posts: 23
Air France La Premiere First Class CDG-LAX
---
My best friend, Paul Tucker, has just flown Air France La Premiere from Paris to Los Angeles where he was having a meeting with an executive from a radio station there. We're quite familiar with First Class having toured the world as members of the second best MOR band of the 90's, as voted by readers of Q Magazine (we lost out to Mike and The Mechanics). Paul Tucker always said we were part of the Brit Pop movement, but to be honest, I didn't like to be pigeon holed.
On the ground
Anyway, he said that the new 'La Premiere' product has improved the First Class experience on the ground, but in doing so "has only succeeded in highlighting the feeble on-board offering". His journey got off to a good start when he arrived in CDG on the TGV and was met at the platform by an Air France member of staff. A nice touch and something which is new, as before you had to at least make your own way to the Premiere check-in located in terminal 2E. The Air France escort had his boarding pass with her so they could go straight through immigration and then through the private security lane without fannying about by door 2.12. A few moments later they were at the new 'La Premiere' lounge located to the right as you go through security, and then up a dedicated lift. He made himself at home and had a good look around whilst also taking a few photos. He reports it to be "very nice and luxurious" although it could maybe feel "a bit more welcoming". The food on offer was very tasty and contrasted severely with the food he was to be eating 2 hours later on board the aircraft. He reports the toilets to be "amazing" and the bar to be "far out man". About 35 minutes before departure, a very pleasant young lady came to escort him the short walk to the departure gate where boarding was almost completed.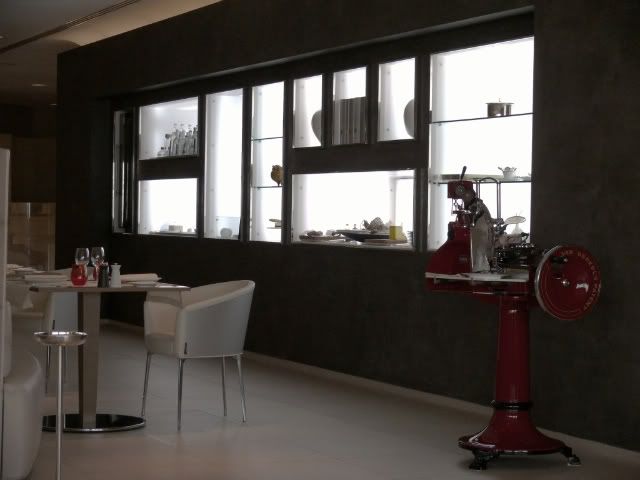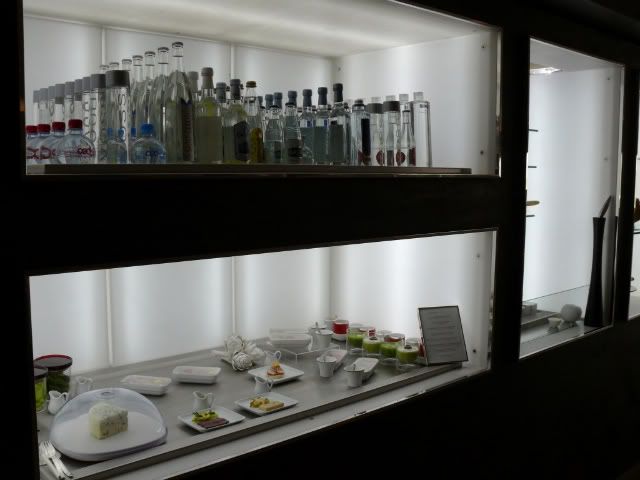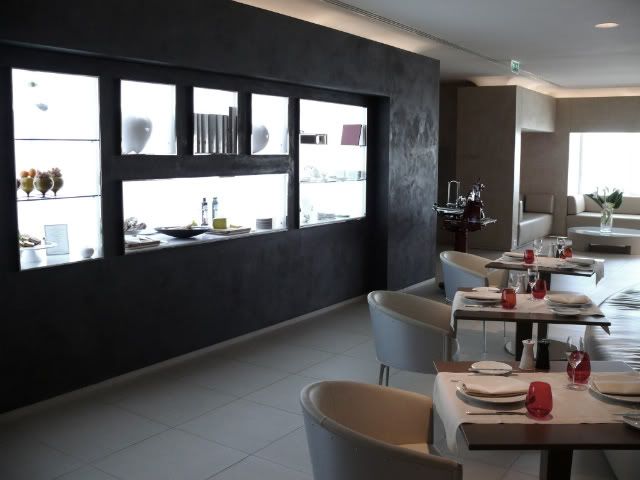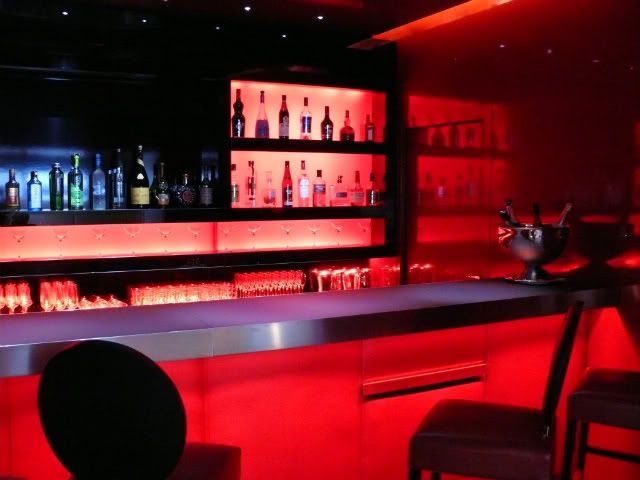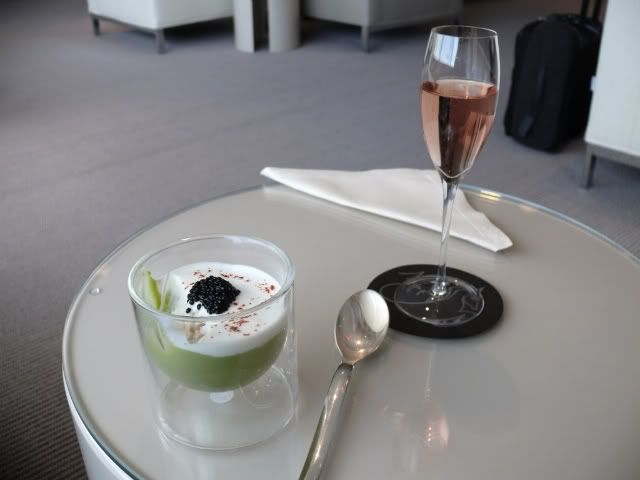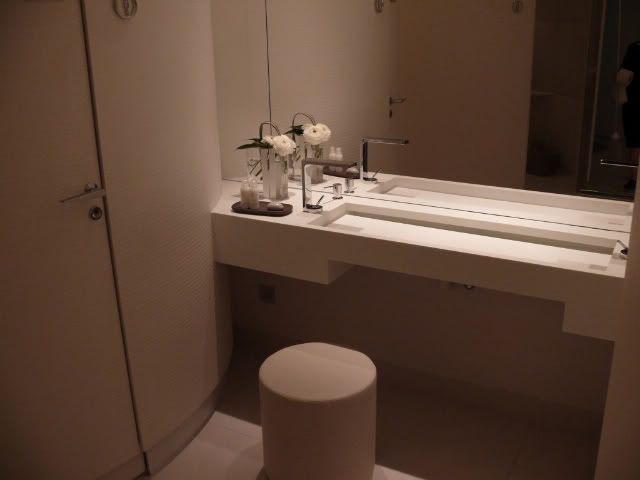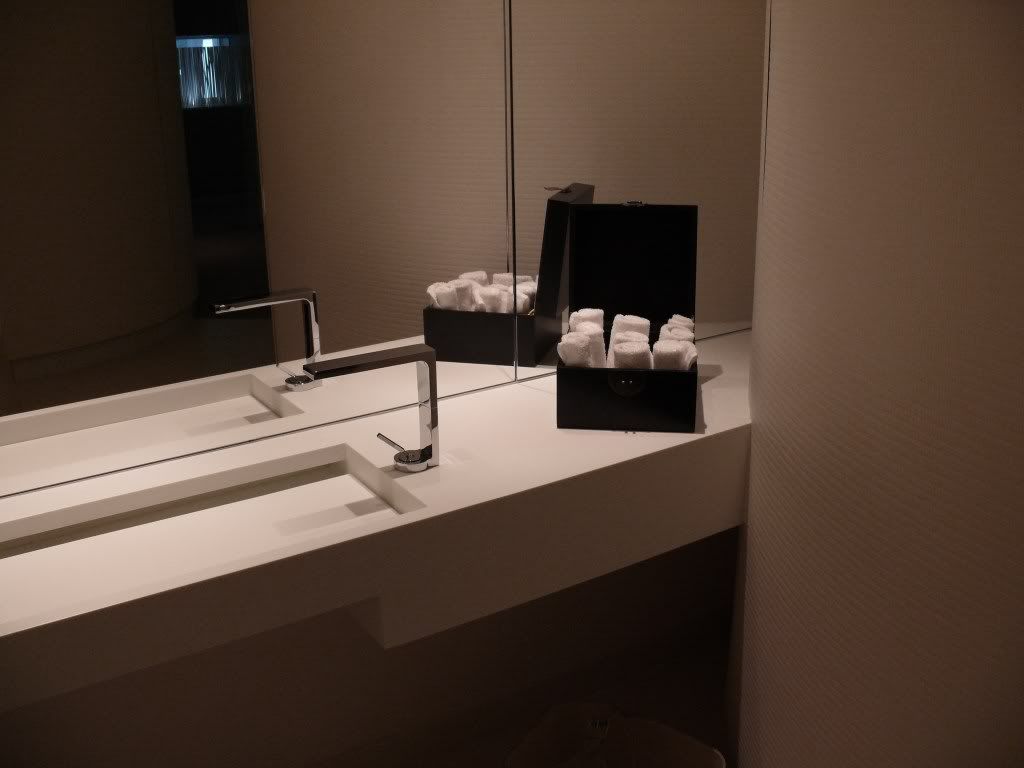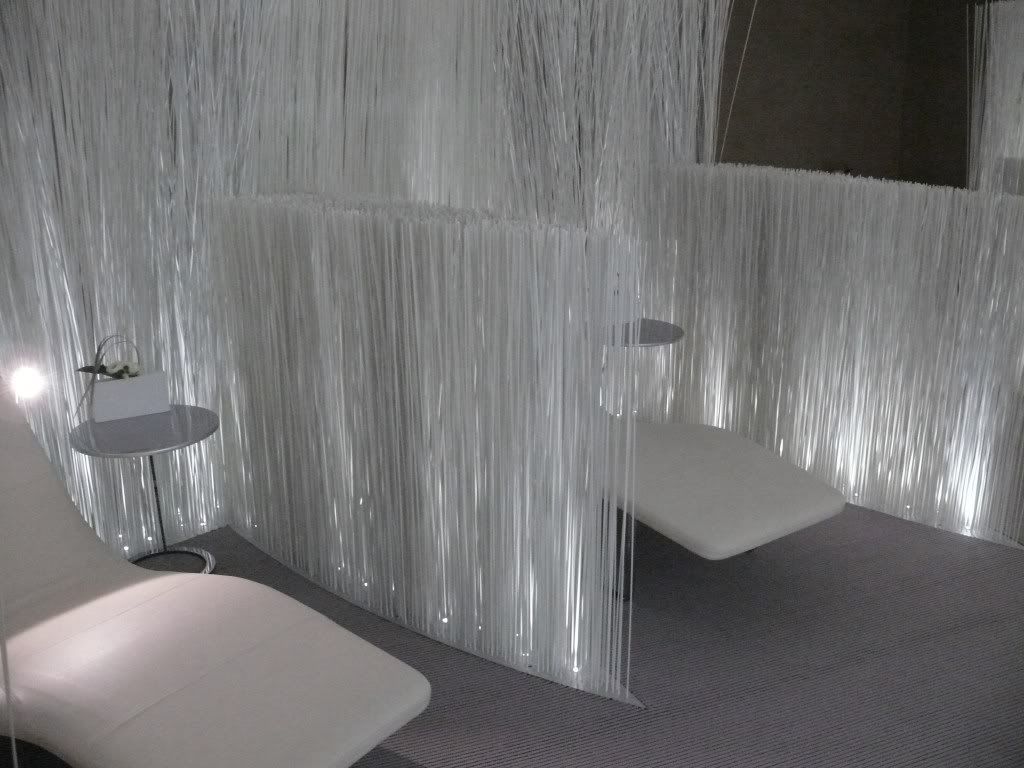 In the air
Paul Tucker was introduced to the crew and then took his seat, 1L, for the 11 hour 26 minute flight to Los Angeles. He was offered the brown pyjamas and a glass of Champagne. The seat on Air France La Premiere is very good if lacking some kind of privacy, which is what an international pop star like Paul Tucker needs. He was airborne 55 minutes late and not long after that, the service began.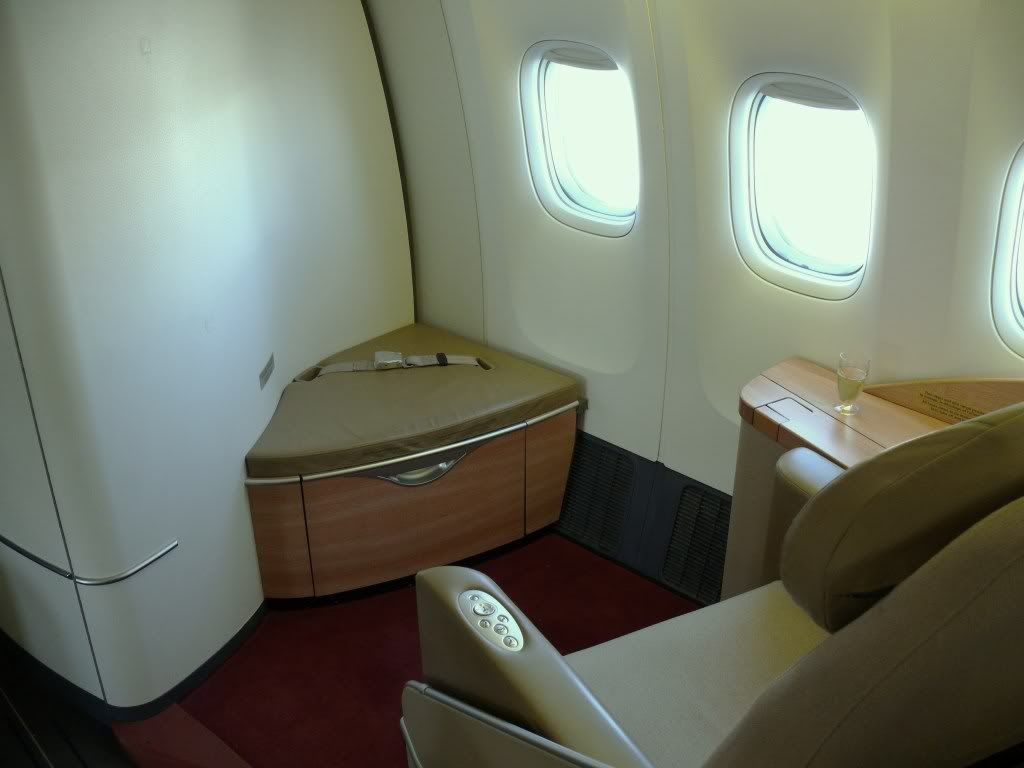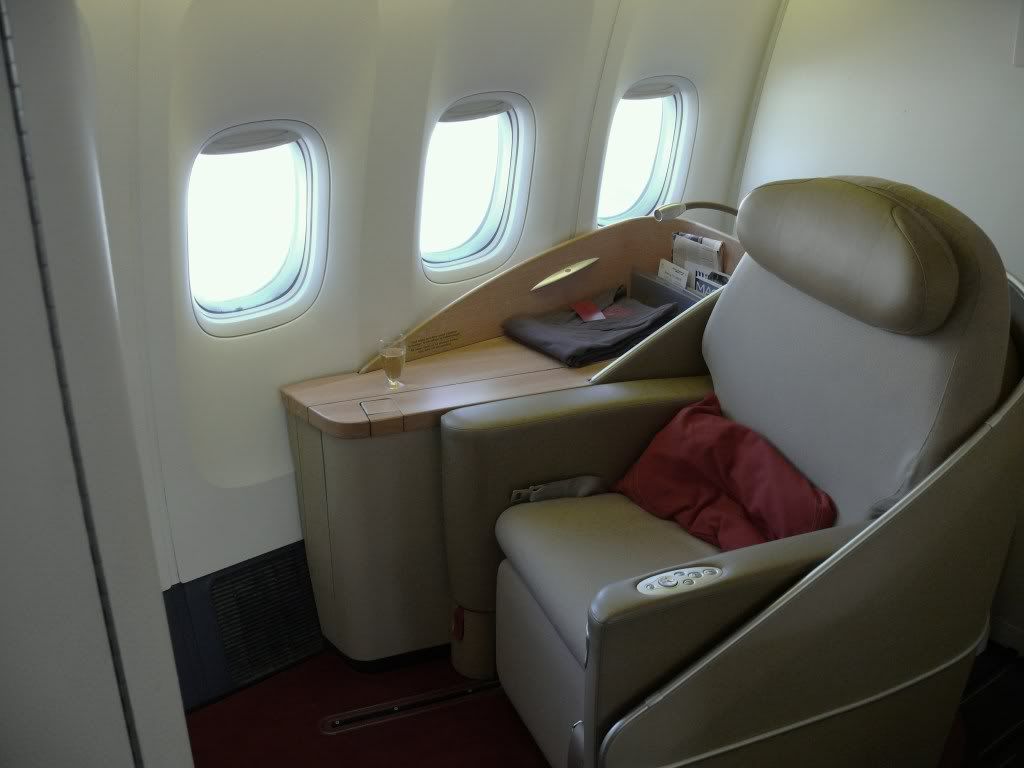 Already though, Paul Tucker had some complaints. There was a constant interruption of other passengers coming into the F cabin from business. One was a man who was travelling with a woman sat in an adjacent seat and was quite clearly off duty crew. He knew this from the obvious friendship between them and the attendant serving the F cabin. He was sat on the ottoman for the first hour of the flight. Then there was the constant presence of 3 male passengers from the business cabin who also looked like off-duty crew members. They also spent a lot of time in the F galley. Finally, there was the unchecked use of the single F toilet (the other one reserved for the pilots) by random people from the business cabin.
Moving on, Paul was looking forward to the meal. The starter of foie gras was reported to be "nice". However, he felt rushed to eat it. He was still chewing his final mouthful of bread and foie gras when the attendant came to take his plate and serve his main course. Paul Tucker got the impression she wanted to get some rest. When the main course came it was very unappetizing to look at. I believe somebody else posted a picture of the same dish last year. It was a lamb fillet with a kind of chocolate sauce. When I saw the picture Paul sent me I was shocked. He said it wasn't "fit for business class never mind first class". Dessert was a very average cake type thing. And that was it. All over in less than an hour. His last contact with the stewardess was to ask for a glass of Pepsi which she failed to bring him, preferring to talk to the off-duty pilot in the galley. It took a passing stewardess from the J cabin to get him it. There was absolutely no service then for the next 8 hours. Appalling.
Foie Gras
Utterly appalling main course
Half way through the flight Paul was a bit peckish, so reading in the menu about the snacks on offer, he went to the F galley in search of some sustinence. It was deserted. So, he had to go into the J cabin where he saw a rather pathetic plate of cheese and a few drinks scattered about. He helped himself to a glass of Pepsi with ice whilst the male steward read his newspaper. He never did get the "sandwiches and various snacks" which were listed in the menu.
About 90 minutes before landing the pre-arrival meal was served. It had been so long since he saw the F stewardess that Paul Tucker remarked she had "visibly aged". Paul reintroduced himself and the stewardess said that he looked familiar. A "very nice" beef fillet was served. Paul said it was "a shame that the main meal couldn't have been so nice".
Just as he was finishing his dessert of fruit, the chief purser came along to ask if Paul had any comments about the F product. However, as soon as she realized it wasn't going to be a glowing report she appeared to lose interest. Paul managed to explain that whilst the ground service is excellent, the on-board experience is far from first class. Certainly not anywhere near the competitors. Before Paul could go further the chief purser walked off! I asked Paul if this was an exaggeration and he promises it wasn't. I couldn't believe it and nor could he. Paul asked to fill out a questionnaire and was provided with one. He said he was able to "vent his spleen" in writing. He also commented on the upcoming changes to the FB programme.
Towards the end of the flight he was also rejoined by the man from J whose wife was travelling in F. On arriving at the gate this same man barged through the curtain and past him to get to the front of the cabin and speak with the crew. Again, Paul said it was no exaggeration.
In Paul's words, the AF 'La Premiere' product at CDG is up there with the best. Sadly, after that it fails miserably.
---
Last edited by Tunde Baiyewu; Mar 19, 09 at

8:04 pm
Mar 19, 09, 10:28 am
Suspended
Join Date: Mar 2009
Posts: 23
Don't know why the pictures are not embedded in my post.
Mar 19, 09, 10:59 am
Join Date: Oct 2007
Location: Upper midwest
Programs: Delta Pb Medallion
Posts: 608
Mar 19, 09, 12:26 pm
Join Date: Feb 2003
Location: Austria (Vbg)
Programs: LX SEN, BA GGL/CCR, IC Plat A, HH Dia, Hyatt Glob, Sixt Plat, regularly in FS & RC
Posts: 1,551
Mar 19, 09, 4:22 pm
Join Date: Jul 2001
Location: ORD/NYC
Programs: AS MVP 75K; UA Plat MM; Hyatt Globalist; Starwood, Marriott, Hilton Gold.
Posts: 5,217
Thanks for sharing. This sounds pathetic. UA level service.
Mar 19, 09, 6:40 pm
FlyerTalk Evangelist
Join Date: Aug 2005
Location: BOS/EAP
Programs: UA 1K, MR LTT, HH Gold, Amex Plat
Posts: 25,683
---
sounds like AF to me ... hope my CDG-LAX in April will be better!
Mar 19, 09, 8:36 pm
Join Date: Sep 2006
Location: FAT, LHR
Posts: 6,624
That lounge is pretty nice. Thanks for the report and pics.
Mar 19, 09, 9:38 pm
Join Date: Jun 2007
Programs: *Gold, Amex Plat
Posts: 122
Thanks for the report and the nice pictures. That dish does truly look appalling.

Though I doubt more than 0-1 people on a CDG-LAX flight know who "Paul Tucker" is, so I'm sure he didn't have to wield off too many paparazzi.
Mar 19, 09, 10:32 pm
Suspended
Join Date: Mar 2009
Posts: 23
Mar 19, 09, 10:39 pm
Join Date: Jun 2007
Programs: *Gold, Amex Plat
Posts: 122
I'm sure if Lindsey Lohan had flown F, you would have had a line of paps all the way til row 55.

Not to mention Ms. Cyrus.
---
Last edited by 2lovelife; Mar 20, 09 at

2:03 pm
Mar 20, 09, 7:52 am
Join Date: Mar 2005
Location: ORD MDW
Programs: AA, UA, DL , IHG Plat, Bonvoy Gold - 2009 FT Fantasy Football Champion
Posts: 6,634
Great report! Thank you!
Mar 20, 09, 8:37 am
Join Date: Jun 2008
Location: AKL
Programs: Skywards Gold, Qantas FF
Posts: 479
Mar 20, 09, 1:21 pm
Join Date: Aug 2007
Location: Marseille, France
Programs: AF Plat Ultimate, BA GGL, MS Elite
Posts: 389
Mar 20, 09, 1:40 pm
Join Date: Apr 2004
Programs: QF; EK; LH
Posts: 120
Don't want to be a cynic if this is genuine- but a second hand TR and I'm certain the main course snap was doing the rounds a few months ago (same menu? Yes. Different Snap? Possibley.)...not sure about this at all.