Asiana (OZ) F HKG-ORD The return to the US (lots of pics)(Part 4)
Feb 17, 09, 9:01 am
Join Date: Jun 2002
Location: ORD, HKG
Programs: UA*G, AA PLT, HHonors Gold, Marriott Gold
Posts: 9,739
Asiana (OZ) F HKG-ORD The return to the US (lots of pics)(Part 4)
---
After the Chinese New Year, with visits to relatives and old schoolmates, I was keep checking with UA and OZ ticket offices in Hong Kong for the segment of HKG-ICN on OZ, as I was in C. UA and OZ now has offices right next to each other, both are in Tsim Sha Tsui Gateway Towers, with UA in Tower 1 and OZ in Tower 2. CX and KA share the same office in Tower 6, so do JL and NH also in Tower 6 but different floors.
I went to the OZ ticket office to check availability, also to ask about pre order the meal for ICN-ORD segment. Since I noticed from the menus from the flight ORD-ICN, it also listed the choices for the return, other than the Royal Korean Meal, it also has a new Chinese option. The agent told me if I don't pre order anything, it would only has the western option. On the Chinese option, it also said Main Course 1 and Main course 2, I thought i have to choose one or the other, but the agent said if I pre ordered the chinese option, it will be fine, I trusted her as it is true.
Check-in for the flight OZ 722 on 2/11/09
This was a bad beginning, I have two serious issues. 1) One of my two luggages was 2kg over weight 2) UA had refused to issue the ticket from I to O.
1) First issue
When I check in at the F desk with OZ (OZ is in the H area in HKG, UA is just behind OZ at the G area). Agent said one of my bag is 34kg instead of 32kg, I knew it may be overweighted, but I told the agent how much would it cost the extra and I am willing to pay for that. She said there is no way I can pay for it, she said there is a law in Hong Kong prohibit any luggages over 32kg, workers can't handle it. She insisted I have to take something out to put in the other checked bag.
I told her this is the first time I ever heard about this issue, although she said this is a new rule since October. In the past in HKG, I know whenever any bags over the limit, you pay per kg overweighted. I asked her if any ways to get around it as I am *G and travel in F class, there is also no way I can put it in the other bag, although it is rather light 25kg, it is all full, the only choice is I have to take something out and dumped it. Since my mother saw that why it was taking me so long for the checkin, she joined me to explain to her about the issue, later she called for a supervisor and let me go without a word.
2) Second issue
(I have started up another thread in the UA board, so I am not going to talk about this too much anymore)
With 3 UA agents told me I can still change from C to F in this OZ flight if F opens, I asked about if F open, indeed it is. But she can't put me in F saying she doesn't know if more mileage require to get to F, I have to go to UA to deal with it. UA lady in HKG said no, even right on her desk i had called up the US 1P line, which the agent on the phone said yes, but the lady at the airport did not believe and refuse to talk to the person on the phone, which turned to a bizzare.
I left disappointed, more disappointed was I asked the OZ checkin about how many rows in C upper deck on my plane, and she replied there were 9 rows, which is definately the old
HL7417
, the only
74M with the old seats
.
HKG now has a new thing about before you get to the security and immigration, there is someone other than checking your boarding pass and passport, also check the size of your carry on. My carryon definately under size, she still want to check it.
From the checkin, I was also issued the lounge pass for the KA lounge, but I decided to visit my beloved RCC first. I took the under ground train to near gate 60 for the RCC.
As I was in no F, I will see if I can get into the IFL with my boarding pass for ICN-ORD. Agent was dressed in LH uniform, I guess she was expecting the LH pax later on, as the UA flight to SFO and ORD were about to leave. She let me into the IFL. I was checking the facility, and grab a bottle of mango juice. She returned and asked for my HKG-ICN boarding pass, once she saw I am in C, she asked me to go back to the RCC.
The RCC has the usual stuff, which I don't need to stay there at all as I can go there any other times as a paid ticket.
I went downstairs, and saw
UA 896 to ORD
is leaving at
gate 63
, with
N179UA (8479)
and
UA 862 to SFO
just started to board at
gate 65
, with
N127UA (8427)
Here is the
N179UA
with new color, behind is
N127UA
As the underground train only goes one way for departure pax, I have to walk back to the OZ gate. Along the way, slap a few photos. It was a sunny but extremely haze day, the reports from previous days had mentioned the visibility of the habor and Chek Lap Kok had down to below 4000 metres.
UO 737-800 B-KBR
and behind
TG 340-600 HS-TNC
9W 330-200
Another
UO 737-800 B-KBP
in new color, note, this
Hong Kong Express (UO)
basically had painted in the updated
Hong Kong Airlines (HX)
color, as they had already merged, but still using different names.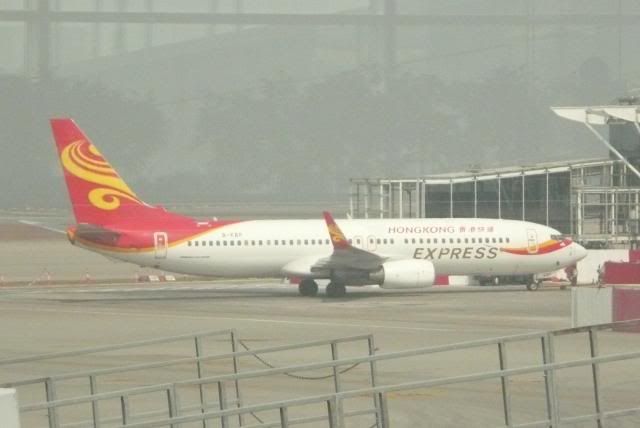 KE 614 737-900 HL7717
to ICN and
PR 320 RP-C8614
,
OZ 74M HL7417
,
KA 330-300
, and MU A300-600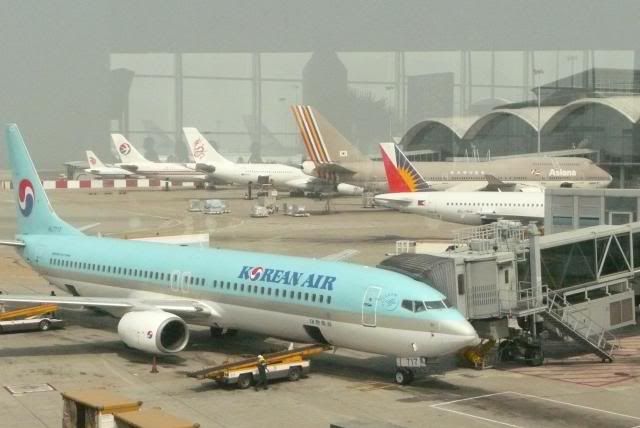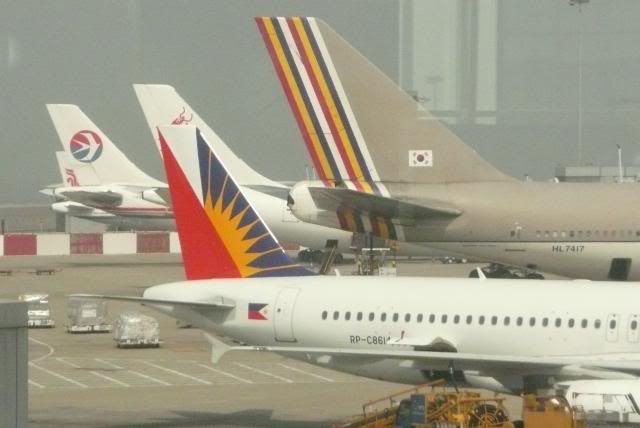 Also along the way, something interesting
---
Last edited by ORDnHKG; Feb 23, 09 at

4:59 pm
Feb 17, 09, 10:17 am
Join Date: Jun 2002
Location: ORD, HKG
Programs: UA*G, AA PLT, HHonors Gold, Marriott Gold
Posts: 9,739
Feb 17, 09, 10:39 am
Join Date: Jun 2002
Location: ORD, HKG
Programs: UA*G, AA PLT, HHonors Gold, Marriott Gold
Posts: 9,739
KA lounge in HKG
---
KA lounge in HKG
As usual, lounge attendant only care about my invite, not boarding pass, if you lost your invite along the way, anyone get pick it up and use the lounge.
This KA lounge although in HKG, in my opinion much worse that the RCC near gate 60, and it also seems to be gone downhill quite a bit since my last visit few years ago. Furniture still the same old ones, lighting is dark, quite depressing, not many drink choices either. There were a total of 2 newspaper racks in such a busy lounge, although most I see are only newspapers, they don't bother to refill either. The only good thing about this lounge is the cook-to-order Hong Kong style noodles soup. Although the KA lounge big in size, did not see that many people working inside to clear dishes. I have finished my noodles for 15 min, no one bother to pick it up. In RCC, I saw at least 10 people working inside, checking and refilling the food, clearing up dirty plates, those guys in there just in standby mode all the time.
Food counter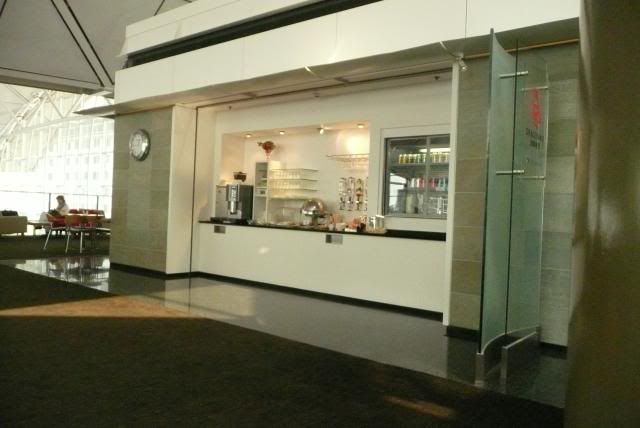 Seating area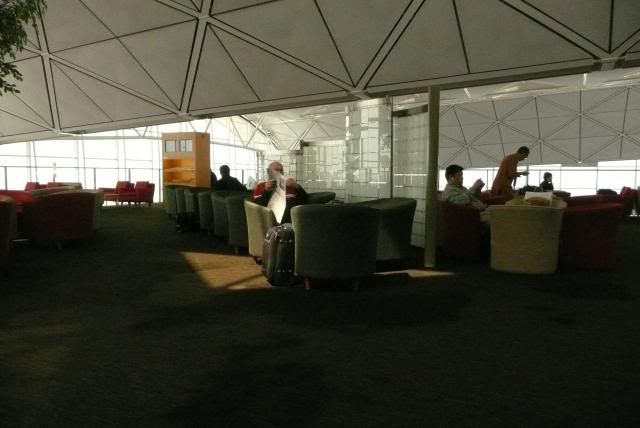 Cook-to-order Hong Kong style noodle soup with wonton and fish ball
.
This is separate from the food counter inside the lounge, the lounge is in L shape, after you go all the way to the end, you will see a separate counter on your right side. There is a paper for you to click on what ingredients do you want, wonton, fish ball, etc, or you can get everything. Give the paper to the lady, and she will give you a number. They don't call the number, you just need to return in 5 min or so to pick up, then you see on the counter next to your bowl it has your number on it, then you pick it up yourself, it is self service.
---
Last edited by ORDnHKG; Feb 18, 09 at

9:45 am
Feb 17, 09, 11:13 am
Join Date: Jun 2002
Location: ORD, HKG
Programs: UA*G, AA PLT, HHonors Gold, Marriott Gold
Posts: 9,739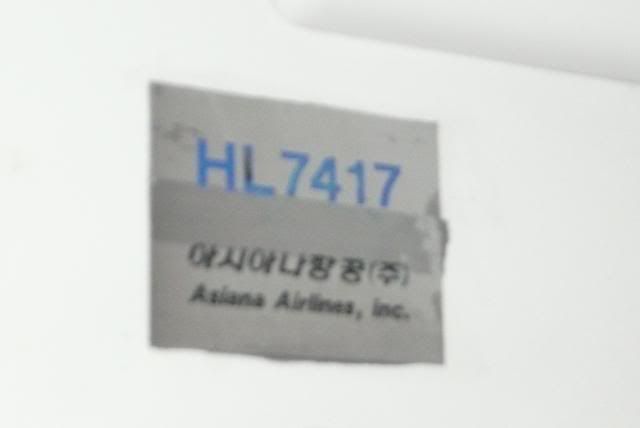 OZ 722 HKG-ICN
HL7417 (417) 3 class 747-400 Combi
Seat 11A C class
1:30pm departure 2/11/09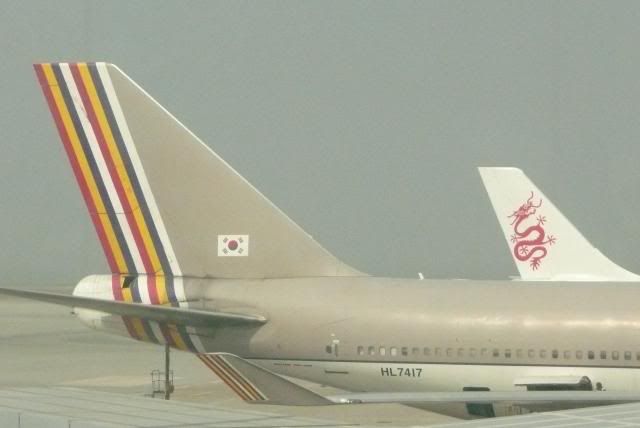 I don't normally like to sit upstairs when flying C, I would much rather sit in the lower deck, I guess i am the only exception, as I know most of you guys really enjoy upper deck. Today I really do not want to go up, as up carryon is quite heavy, and no one offer to help.
I got upstairs finally, saw that it is quite empty. I had the
exit 11A
reserved, just in case it is full if I had a seatmate, I wouldn't be able to get out as not much legroom.
I saw seats behind the exit are all empty except one person in 15K. I ask the FA if anyone in 12AB, she said no, and also there will only be 10 pax on board the C class. I get to 12AB, also has under seat storage, so that I don't have to lift up my heavy carry on.
OJ and Champagne
were offered in real glasses.
Slippers and headsets was given. I noticed there is a different color than in my previous ORD-ICN flight, it is grey, plus it is in a clear bag rather than a black drawstring bag, I guess it is to identify F and C pax. Headsets still the old Y class one.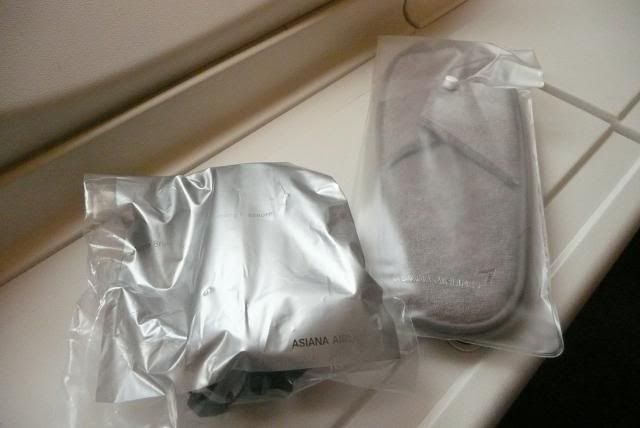 Photo of the ugly old C seat, notice, it doesn't even have a headrest, even UA Y seat has one.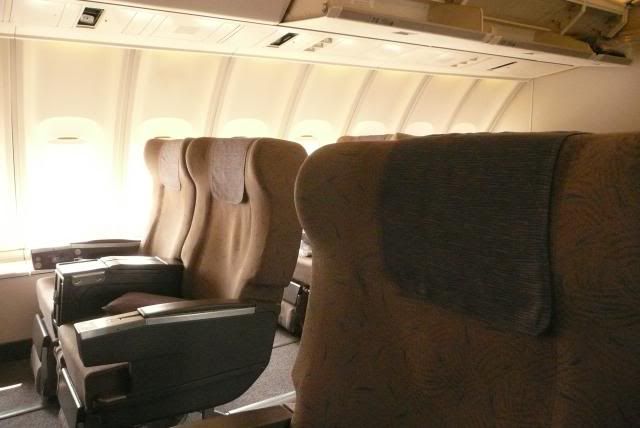 Looking to the front from
12A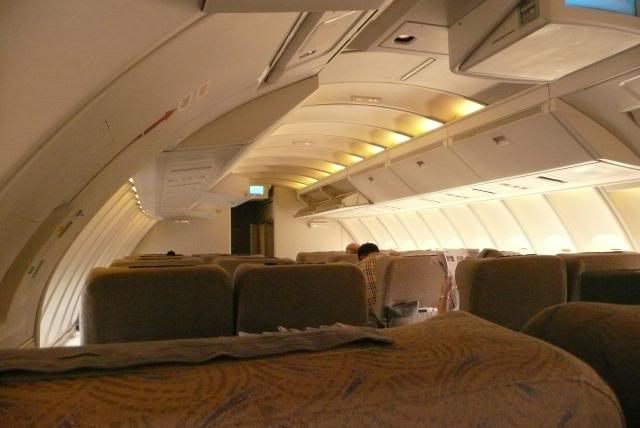 I was using my slippers from ORD-ICN, want to keep the grey one as my collection. This is the photo when the legrest is up, it is very uncomfortable for someone has long legs, I am not a really tall person, only 5"10", maybe it is designed for someone 5"5" or shorter.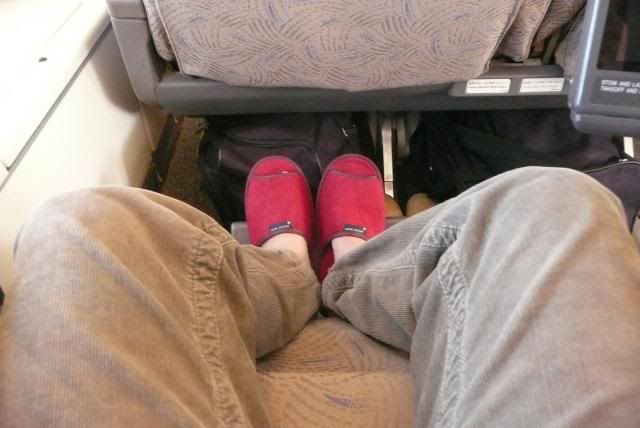 I saw once again out of my window
Air Macau 321 B-MAF
, with the background
CX 777-200
landing.
El Al 777-200ER 4X-ECA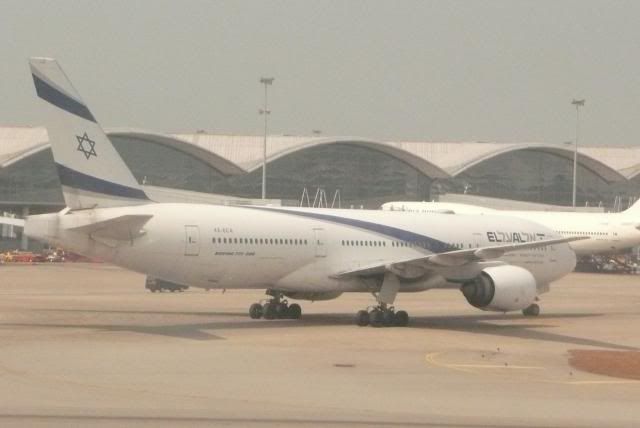 We didn't take off til 2pm, no explanation given. We went on a west route, make a 180 degrees turn west of Lantau Island, if it is a clear day, a would be great to take photo of the Hong Kong Island, Lamma Island and Cheung Chau.
Seat belt sign turned off shortly after take off as no turblence expected, I was asked about my choice of lunch. It was clear they were still using the menus back from December, how much longer are they going to use it ?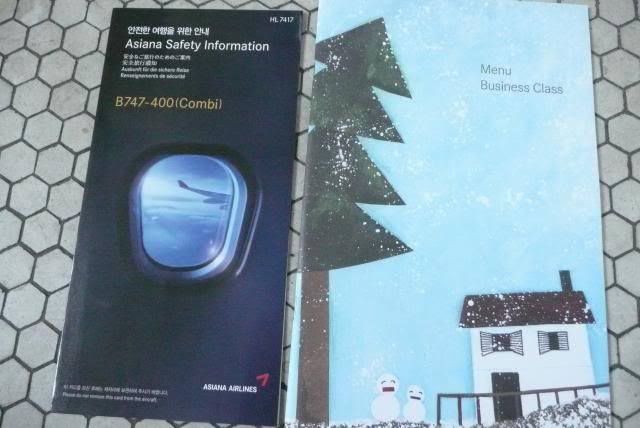 Menus in Chinese Traditional
Western option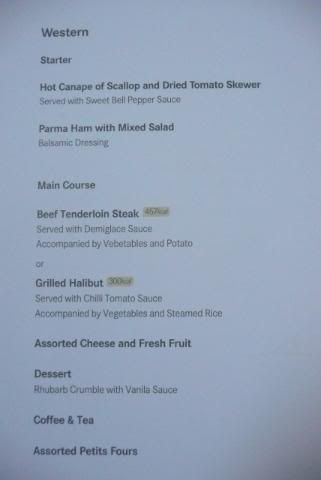 Korean Option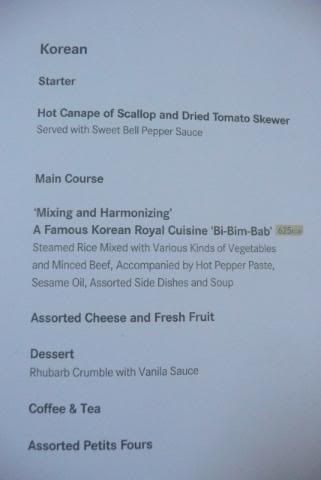 Menus from
F
, not much difference than C, except desert
I had choosen the fish, but then she said she need to check if they have enough on board.
Normally if it is UA, that is not a problem at all, as UA always load meals according to the number of seats on the plane, not about how many pax on board. However, obviously, OZ load meals according to number of pax. FA return said they were out of fish, but they can bring in the fish from F.
First it started out from the cart full of appetizers. They are already preplated
Hot Canape of scallop and dried tomato skewer
Followed by
Parma Ham with Mixed Salad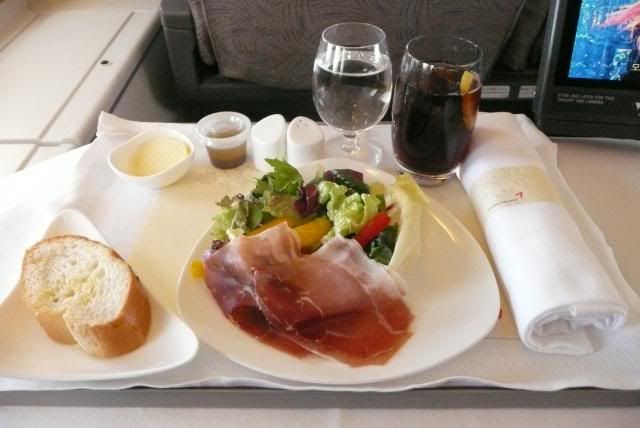 And my main course "
Grilled Halibut served with chilled tomato sauce
"
As you see, it is really tiny portion, if someone had skipped the appetizers, this would just look like a light snack. Besides, this fish were brought in from F, how much smaller in C can it be ? It was very tasty nontheless, just hope the potion is a little bigger.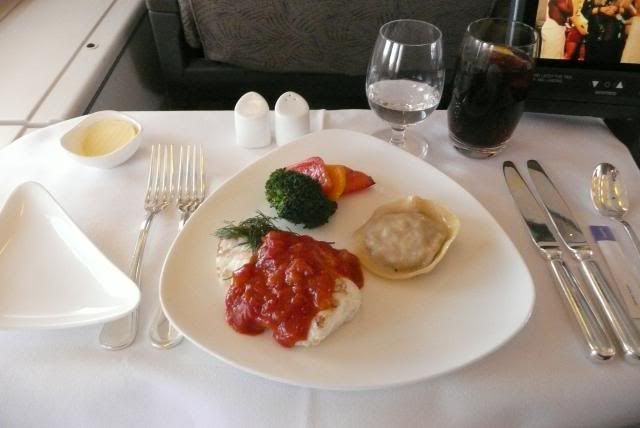 Followed by
fruit and cheese plate
Desert: Rhubarb Crumble with Vanila sauce
and tea. This cake is the best part of the meal, like my previous F flight for ICN-NRT on UA.
In the menus, it also menioned petits fours will be followed, no one mentioned anything or come around, I guess those are the Korean/Chinese snacks in a box you normally see in the F lounge.
Pay attention even this is a folding table, but it does swing.
After lunch, I tried to watch the movie, I go through the channels, not turned on, later explained by FA it start from channel 13, when I clicked it, the movie had already started. There is no mention about when the program starting like on UA flights. I watched part of High School Musical 3.
When the movie was over, I took a stroll around the plane, bathrrom still have the usual stuff except mouthwash packets.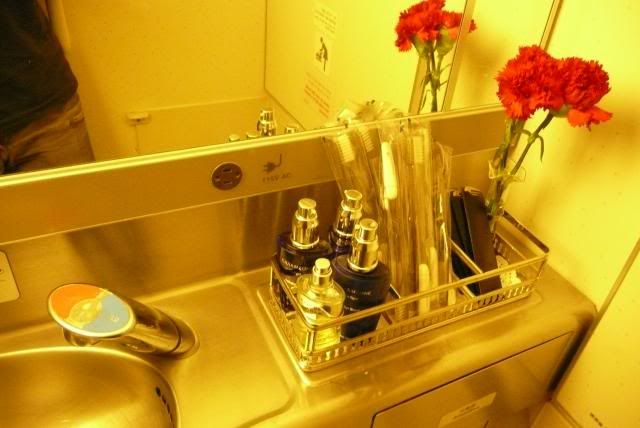 Then I went downstairs, looking at Y, not full even less seats on the combi, the last 10 rows, it is even all empty, someone just use the entire row to lay flat to sleep.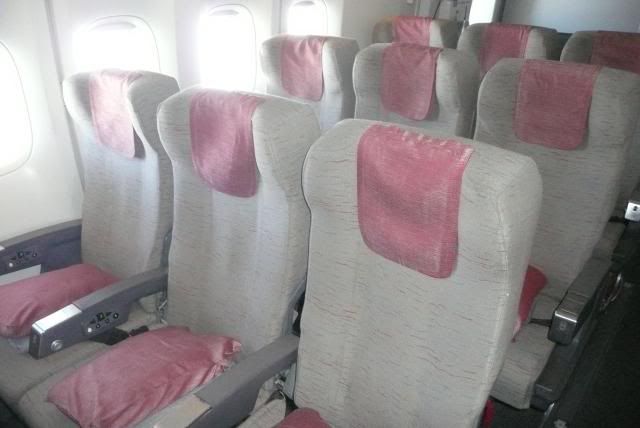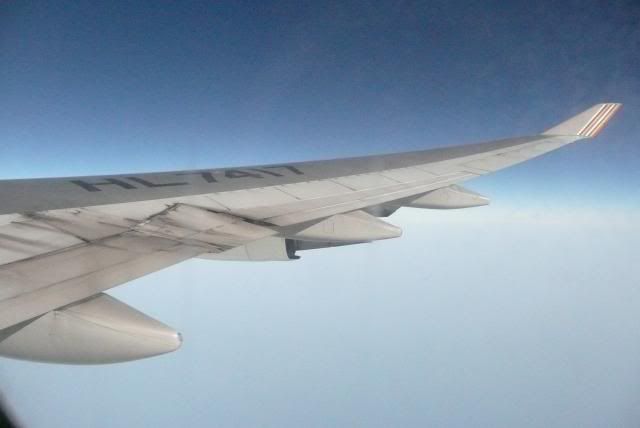 Look how dirty at the wing, compare to my NH 744 flight NRT-HKG in
Part 3
of my report.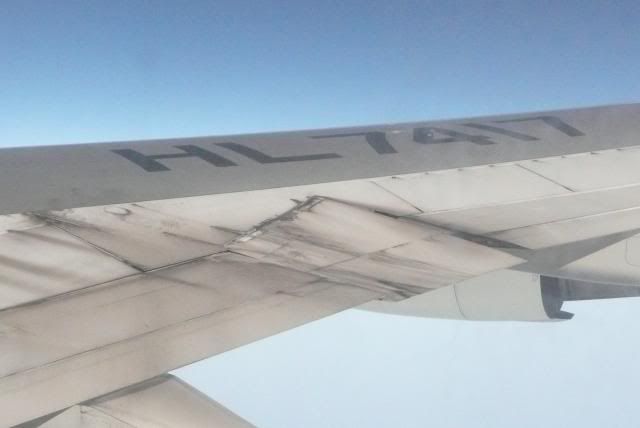 I also take a photo of my seat to let you guys know how much recline it can get, and how far up the legrest can go. This seat is fine if your flight is not full for intra asia flying, but long haul, avoid at all cost. Even on the old UA C seat with no AVOD, the seat is still better, and no broken PTV with several movies in a loop. This seat in OZ is plain o awful.
After that, I went back upstairs to ask for a drink, seems FA had all disappeared for a while, I peek through the galley at the back of upper deck, they were eating and chit chatting, FA said they will come to serve me once they finish, in fact, no one came after 30 min. On this flight previously, I had even worse crew before in F, once lunch had finished, no one came back to check on the pax til almost landing.
Flight didn't land til almost 6:15pm, 30 min behind schedule arrival time, flight crew claimed strong headwind. While I was taking out my quite full carryons from the underseat storage, the entire hard plastic gray cover (which cover both 11AB) fell off (which I had drawn a black circle in my photo), I noticed seats on the other side 11JK also has cracks. I am not sure if they will tape it for the next flight or not, but anyone is going to travel in this bird in C, beware not to put oversize bag underneath 11AB and JK.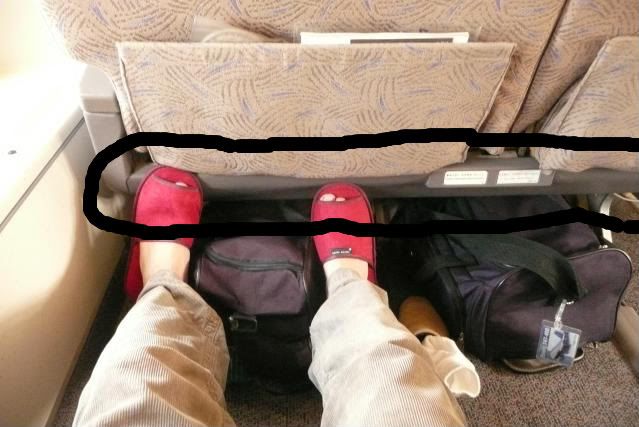 ---
Last edited by ORDnHKG; Feb 23, 09 at

5:03 pm
Feb 17, 09, 11:37 am
Join Date: Jul 2007
Location: Scotland
Posts: 1,301
32Kg is largely becoming a standard maximum weight that for health and safety no-one will accept more than - regardless of what class you're travelling or how much you're prepared to pay. BA don't accept anything over 32Kg.
Feb 17, 09, 4:55 pm
Join Date: Mar 2007
Location: Denver, CO USA
Programs: UA 1P, F9 Ascent, SPG Lifetime Gold, Marriott Silver
Posts: 816
Seriosusly, this is a 5 star airline? Can anyone explain this to me? From almost all measures they would rank as 3 star.

Boarding
Catering
In flight service
IFE
Seats in both C and F except maybe newest seats but then on par with other 5 stars.
Arrivals

Jeez. That flight in those seats for that long looks painful. You'd have been better off in Y with a row of seats to yourself.
Feb 17, 09, 7:54 pm
Join Date: Dec 2002
Location: Chicago
Programs: AA Exp Plat, UA 1K MM, Hyatt Globalist,MGM Noir,Starbucks Gold
Posts: 881
Good Job
---
Good job on a very detailed trip report. The pictures are great and add a lot to your descriptions. I can't wait for the final installment.
Feb 18, 09, 1:03 am
Join Date: Aug 2006
Location: US
Programs: AA/UA/DL
Posts: 2,650
Mar 26, 09, 3:57 pm
Join Date: Jun 2002
Location: ORD, HKG
Programs: UA*G, AA PLT, HHonors Gold, Marriott Gold
Posts: 9,739