Striking Newcomer: Berlin-Beijing on Hainan Airlines A330-200 (+pics)
Dec 27, 08, 8:54 am
Join Date: Dec 2005
Location: Somewhere between HOQ, NUE & MUC
Posts: 87
Striking Newcomer: Berlin-Beijing on Hainan Airlines A330-200 (+pics)
---
Striking Newcomer: Berlin-Beijing on Hainan Airlines A330-200
Intro
Part 1 of my new China trip report series covers
Hainan Airlines
and its
A330-200
on the Berlin-Beijing route which was started only recently on September 5. Reports about Air Berlin are quite common, so I have only added a short review of the connecting flight on the 737-700. The other flights will be discussed in separate reports.
Background: How Air China lost customers to the competition

After a successful and enjoyable spotting tour across Japan last year it was time for another multi-city enthusiast trip to Asia. Originally my friend Satchmo and I had planned to start a tour from Bangkok, but flight options from Munich were either expensive or unspectacular. Then we had earmarked to start the tour from Hong Kong, flying Air China and Dragonair (via Beijing). However, when we were ready to book, Air China bewildered us by a series of negative surprises.

First of all, it was impossible to finalize a booking on CA's website. An error message suggested to contact the airline. So we called - and the desired code-share connections with Dragonair (PEK-HKG on A330s) were referred to as "ghost connections", impossible to book.
Then we discussed the alternatives (PEK-HKG on CA narrow-bodies) - and just when we were ready again on the next day they told us that the fares had been increased. So it took us some more time again to calculate and evaluate the alternatives. And just when we had decided to accept the higher price, an Air China agent suddenly told us that there wouldn't be a flight from Munich to Beijing on the favored day.
Well, our favored day of departure had always been the same from the very beginning - and the very flight still showed up in all booking systems, even on CA's own website. However, the agent insisted that there wouldn't be a flight, period. I wonder what some STAR ALLIANCE executives would have said at this point?

After aircraft types, fares and even the MUC-PEK frequencies had changed, we finally decided to skip the idea of flying Air China. Air France, KLM and others couldn't convince us because we wanted to try a new carrier. So we checked one-way options - which turned out to be a good idea. In the end we booked TXL-PEK on Hainan Airlines (incl. an Air Berlin connection) and HKG-LHR on Air New Zealand (incl. a Lufthansa connection).
In addition to the long-haul sectors, we booked PEK-SHA on China Eastern, SHA-SZX on Shanghai Airlines and HKG-TPE-HKG on EVA Air. Once we arrived at Taipei we also added a short trip to Makung (MZG) on Transasia Airways and UNI Air.

Sunday, 02 November 2008
Munich (MUC) - Berlin (TXL)
Air Berlin, AB6198
15:30-16:40 (16:05-17:16)
Flying time: 00:47 (hrs)

Boeing 737-76J
D-ABLA (s/n 2421), delivered in 11/2007.
Seat 23B
Check-in
Waiting time was minimal in Air Berlin's check-in area at Terminal 1. A friendly male agent accepted our passports and started working. I asked him whether he would be able to print boarding passes for both flights and he confirmed. After a while he said:
"You don't fly Air Berlin to Beijing? Which airline are you going to fly from Berlin?"
So it seems he didn't know about Hainan Airlines and the fact that there are even Air Berlin/Hainan Airlines code-share flights to and from TXL. While he could send our luggage straight to PEK, we would need to pick up boarding passes at Tegel, he explained - just as expected.
Dense Fog: Delay
There had been dense fog around Munich Airport all day and while we were sitting in the gate area it seemed to become even worse. In that situation it was no surprise that a 30 minutes delay of our flight was announced - due to the aircraft's late arrival. Our plane was
D-ABLA
, a 737-700 delivered factory new to Air Berlin - actually it's part of the order once placed by dba.
Interestingly, the plane also turned out to be operated by the still existing dba - which is not visible in public sources and not mentioned on board either. A sticker on the door is the one and only piece of evidence. Unfortunately, Air Berlin/dba have been using the same absurd expression (
"powered by"
) once introduced by Condor/Thomas Cook:
Friendly FAs welcomed us on board and we took our seats in the second last row. Announcements were made by an FA with an apparently Asian accent. The cabin was equipped with comfortable dark blue leather seats (slimline design, similar to seats used on Air Berlin's Airbus aircraft). Pitch was limited, but still acceptable. We left the gate 35 minutes behind schedule, but another 21 minutes passed until we could take off. The fog had become so dense that we could barely see some Lufthansa planes lining up. However, we entered clear skies almost immediately after lift-off. I watched the airshow on the fold-out screens while FAs were serving cold and hot drinks and offering a choice of chocolate biscuits and olive crackers - with the latter ones tasting a bit better than on my recent Air Dolomiti flight.
Picture by Satchmo
The FAs seemed to be very motivated and one of them took good care of two unaccompanied minors in the last row, e.g. by offering an extra round of drinks and snacks. Picturesque scenery shortly before we started the descent:
Picture by Satchmo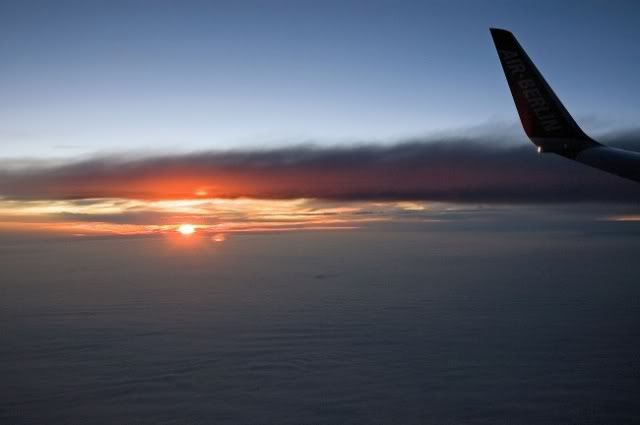 Picture by Satchmo
D-ABLA
touched down on runway 8L and arrived at the gate 36 minutes behind schedule.
Sunday, 02 November 2008
Berlin (TXL) - Beijing (PEK)
Hainan Airlines, HU490
19:25-11:35 (19:32-11:20)
Flying time: 08:24 (hrs)

Airbus A330-243
B-6116 (MSN 875), delivered in 11/2007
Economy Class, Seat 18K
Joining the Queues
Immediately after arrival we went to the main departure hall in order to pick up our boarding passes. While parts of the terminal were already deserted, the Hainan Airlines check-in area was crowded with people, mostly Chinese tourists with lots of luggage (including all kinds of new housewares). There were two long and serpentine Economy Class queues which almost completely blocked the (rather limited) area between check-in counters and the entrance doors - which was a problem for people who wanted to pass.
The queues didn't move very fast, so I went to the Business Class line.
Satchmo
would follow if the agent accepted the switch. We didn't have any luggage, so it was worth a try. Meanwhile
Satchmo
, still waiting in the Economy queue, had been told by a Chinese Hainan Airlines employee that it would be ok to switch to the Business line for the boarding pass pick-up. However, the Business Class queue was somehow stuck and in the end we had to wait longer than the Economy passengers who had been behind us.
As a Business Class passenger I wouldn't have been amused...
Slightly Harsh Welcome
Once at the counter, an older female German agent asked loudly and slightly harshly:
"You are going to travel in Business Class?"
We denied and referred to the advice by the other Hainan Airlines employee.
"Which agent?"
, the lady asked harshly.
Satchmo
pointed towards the Economy queues and the lady said:
"I wish she wouldn't do that! Business Class passengers have to wait because of that!"
That lady really hadn't learned yet that passengers aren't the ones to address in cases of internal disputes. Anyway, at least she became a bit friendlier and soon handed out our boarding passes. Row 18 wasn't our favorite, but considering the overall hecticness and our high sequence number I didn't ask for seats in the back. Row 18 was the one which I had reserved in advance by calling Hainan's office (seat selection on the website hadn't worked). No other row further in the back had been available at that time.
Boarding Gate Rip-Off
We immediately left the crowded check-in hall and went to the gate where
B-6116
, the first A330 delivered to Hainan Airlines, was being prepared for the journey to Beijing.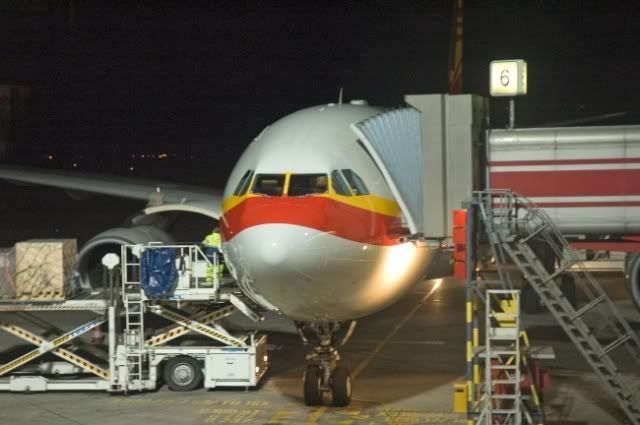 Picture by Satchmo
The area was already crowded, too, so we passed through an open door into the adjacent gate. A duty free shop had already been closed, but it was then opened again for the passengers of our flight. It was amazing to see how many of the Chinese passengers downright stormed into that shop, apparently trying to find a last-minute souvenir. I was already satisfied by finding a beverage vending machine, but I was shocked to see the price of 3,50 Euro for a bottle of water (0,5 liter). What a rip-off!
Cabin Comfort
Boarding was started on time and friendly FAs welcomed us at the door and in the spotless cabin, where Chinese music was playing. A video clip on the screens gave first impressions from China. Red and yellow tones dominate the interior:
Picture by Satchmo
The slimline seats are a bit hard, but comfortable, nevertheless.
Picture by Satchmo
Seat pitch is very generous and the IFE box didn't bother me much.
The IFE hand-sets are fitted next to the 10.6 inch PTVs, so they don't take away elbow space and you can't accidentally switch channels.
Even though the flight was nearly full, boarding was completed quickly. Front Economy cabin view (picture taken later in the flight):
Picture by Satchmo
Inflight Entertainment
Hainan Airlines has selected the
Thales TopSeries i-4000
audio and video on-demand system which is fairly easy to navigate. Main menu:
The system offers a wide selection of entertainment options, e.g.:
50 movies and 23 TV features (on-demand)
8 radio channels
more than 100 music albums (on-demand, playlist builder)
10 games
airshow channel plus 6 interactive maps
The choice of options is not as extensive as on certain other carriers, but absolutely sufficient to keep you entertained on several long-haul flights in a row. The interactive maps with zoom option are a nice addition to the regular airshow - but loading times were long and most of the maps weren't available at all.
Code-sharing with "Berlin Airlines"
After boarding was completed, an FA made a welcome announcement and informed us about the code-sharing with
"Berlin Airlines"
.
Amenity kits weren't available, but FAs offered packs with socks.
B-6116
was pushed back at 19:32 and taxied to runway 08L were it performed a rather unspectacular take-off.
Places of Interest
It took a while until the IFE system was fully operational. While watching the airshow channel about 40 minutes after take-off...
...I noticed an odd entry on the map:
"Wilhelm Gustloff; 1945"
. The entry refers to the sinking of the German passenger ship Wilhelm Gustloff in 1945, actually the worst maritime disaster in history. Other ship accident sites were shown, too.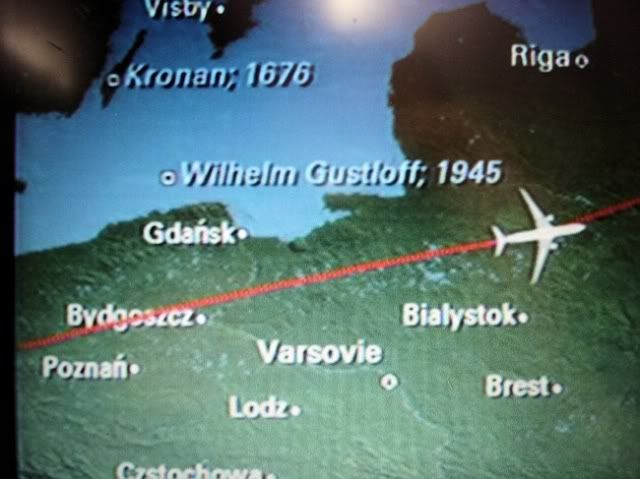 Places of interest on the airshow map are a worthwhile addition, but I'm not sure whether it's a good idea to pick accident sites. Btw - Air New Zealand had almost the same entries on its maps. I hadn't seen that before on any carrier. Another airshow image: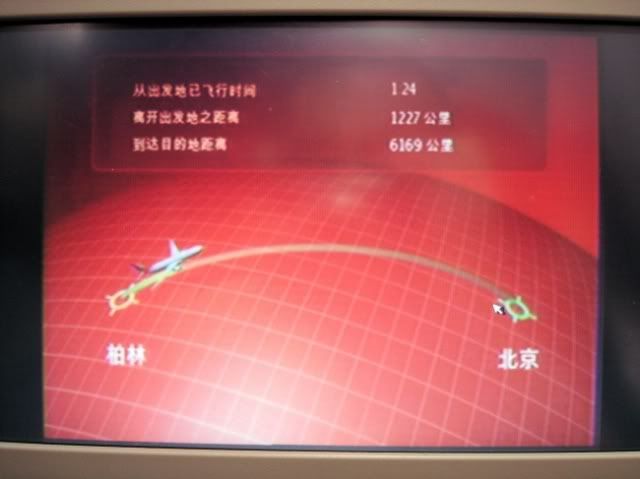 Snack
About an hour after take-off the FAs distributed bags with roasted green peas which tasted quite good. Cold drinks were served from large bottles.
The FAs were friendly, but sometimes I missed a personal touch. First I tried to communicate in English, but they consequently addressed us in German when they offered or asked anything, speaking slowly.
Dinner
was served some 1,5 hours after take-off. My expectations hadn't been too high after reading some reports before the trip, but I was positively surprised. The menu card suggested a choice between
Fiorelli Maxi in white wine sauce
(filled pasta) and
Grilled thyme chicken with saffron rice and vegetables
. I decided to try the chicken:
First of all, the overall meal presentation wasn't bad, though there's room for improvement (e.g. main course). The main course portion was a bit small, but the chicken breast, the rice and the carrots tasted good. However, the piece of broccoli was boiled to a mash. Both the salad, topped with slices of turkey breast, and the fruit salad (apple, pineapple, melon, grapes) looked appetizing and tasted fresh. What I also liked was the
"Donauwelle"
, a piece of chocolate-covered cake with vanilla pudding and sour cherries. Getting both a fruit salad and a piece of cake made up for the small main course portion. Altogether it was a good meal. However, drink service followed a bit late and I was disappointed by getting Beck's and not a Chinese beer.
Crossing Mongolia
After dinner I had a closer look at the IFE system and used some time to rest. Time passed quickly while we were cruising in Russian skies. Cups, soft drinks and bottles of water were available for self-service in the galley. Daylight came back when we were flying across Mongolia:
Picture by Satchmo
The winglet with Hainan's logo gleaming in the morning sun:
Picture by Satchmo
Breakfast
was served about an hour before landing. The menu card suggested a choice between
Spanish Omelette with bacon and braised beans
and
Chinese Noodles with chicken and vegetables
. I decided to try the omelette:
The omelette as well as the asparagus tasted good, the beans were ok. However, I didn't touch that fat piece of bacon. Again I liked the fresh fruit salad (pineapple, melon, papaya, grapes) and I cannot complain about the muffin and the bread roll either.
Drink service followed a bit late again. I had looked forward to a nice hot coffee, but what I got was a kind of dark water which tasted horrible. Quite ironic to see the entry
"Freshly brewed coffee"
on the menu card. No doubts, this was the worst coffee I have ever got in the air.
Approach
We had meanwhile entered Chinese airspace...
...and descent was started soon. Before seatbelt signs were switched on, an FA made an announcement, stating that the
"lavatories will be closed"
. Mountainous terrain on approach to Beijing Capital Airport...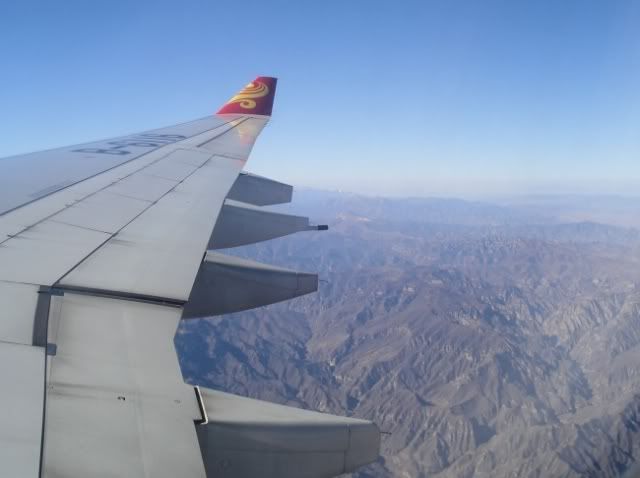 ...followed by industrial facilities.
Parallel approach - the other plane is an Air China A319.
Large housing areas...
...followed by air cargo facilities. A part of the giant Terminal 3 is already visible in the background:
We touched down on runway 36L after a flying time of only 8:24 hours...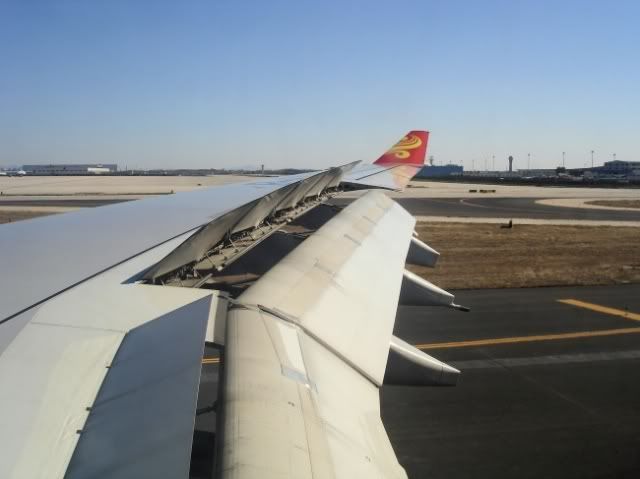 ...and taxied to a remote parking position where we arrived 15 minutes ahead of schedule. Air China A330-200 taking off in the background:
Neither FAs nor ground staff members prevented us from taking pictures on the way to the bus - just too bad we were partly facing the sun. Last shot of
B-6116
: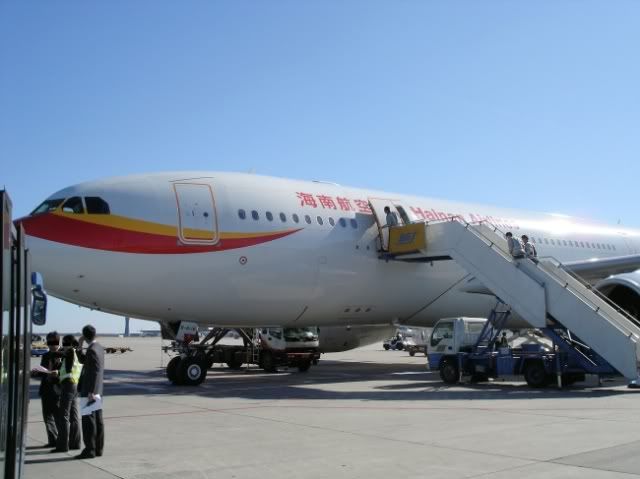 The bus took us to Terminal 2 where we joined the queues in front of the immigration counters. It was interesting to see that all arriving passengers were monitored by infrared cameras - a measure to detect people with fever. I noticed the same at Hong Kong some days later. We passed through immigration very quickly, grabbed our luggage and tried to check in for the China Eastern flight to Shanghai-Hongqiao...story to be continued.
Conclusion
Flying
Hainan Airlines
on the new TXL-PEK route was a pleasure: the cabin was spotless, lavatories were kept clean during the flight, seating comfort and pitch were good. Apart from long loading times for certain features, the IFE system with its wide selection of options worked well. Catering in general can be rated positive, too. The meals were mostly tasty and mostly well presented, but the main course portion size could be increased. Of course, the quality of the coffee needs to be improved. FAs were friendly, but some of them should be more communicative. The check-in at Tegel seemed to be a bit unorganized but that may change with some more experience. Of course, the lack of space at Tegel is part of the problem.
China's fourth largest airline is a striking newcomer to the German market - and I hope it will be able to keep up the capital link. According to the airline, the average load factor on the route has been 65 percent. Currently Hainan offers two flights per week in the winter season (after four initially), but plans to go daily in the long term. That doesn't seem to be unrealistic, considering that Air Berlin is an official partner.
With a widebody fleet of two A340-600s (ex-Cathay Pacific), four A330-200s and three 767-300ERs, Hainan Airlines is still a small player in the long-haul market, but there may be a bright future ahead. Currently it's planned to introduce one more A340-600, six more A330-200s and eight 787-8s. The Economy Class product on the A330 is already competitive today - with a few enhancements it could even go beyond.
Next report: PEK-SHA on China Eastern
Best Regards,
PlaneHunter
---
Last edited by PlaneHunter; Dec 30, 08 at

2:45 pm
Dec 29, 08, 12:07 pm
Join Date: Dec 2005
Location: Somewhere between HOQ, NUE & MUC
Posts: 87
Dec 30, 08, 5:15 am
Join Date: Mar 2008
Location: Brisbane, Australia
Programs: Virgin Australia Velocity Gold
Posts: 40