DFW-AMS, KLM Business class.
May 18, 08, 6:21 am
Suspended
Join Date: Dec 2003
Location: Home for the terminally bewildered.
Posts: 1,621
DFW-AMS, KLM Business class.
---
The Background
A reward ticket using KLM Flying Blue miles. I am a frequent user of KLM, and when I fly with the airline I tend to do it in business class, on reward flights. This is because I find KLM economy poor, and also very expensive. If I do manage to find a reasonably priced economy ticket then it will most likely be in the 25% mileage earning fare bucket. Therefore I earn my miles on other Skyteam airlines whilst burning on KLM. My overall feelings about KLM? They are a 3 to 4 star airline and are at least one tier below real quality airlines such as Singapore Airlines and others that I'm sure everybody could mention. Their business class was good four or five years ago but many airlines have caught up and indeed overtaken KLM now. This is despite KLM only recently introducing a new business class seat, which is fitted on today's flight. I don't feel KLM are as bad as some people would say. So, I hope that gives you an idea of the position I am writing this trip report from.
This is a relatively new route for KLM having only been started a few months previously. Going on what has been written on this forum about the Dallas route, I expected a light load in business, especially as it was a Saturday and probably the quietest day for business passengers. In the end the front cabin was completely full thanks to AT LEAST seven KLM staff who were shown to their seats immediately before departure. The second business cabin was also full. How many of these were non-revs I don't know. Anyway, I have no problem with KLM staff travelling on free or highly reduced tickets. I myself have that privilege through my work. However, there needs to be a system in place, and the staff must stick to that system. Anything which affects the fare paying passengers should not be allowed. And on today's flight that happened. At least five passengers, including myself, had what was at first a spare seat taken from them. Five passengers were asked to move, three of which did (I refused). Yes, a spare seat next to you is not a right but a bonus. My point is that if staff are going to be travelling in the business cabin, for free or reduced rates, then they should take their seats as if they are normal passengers. The key is discretion. When I travel on ID tickets I am told that I have to be discreet. This is very strict. Anyway, I had a long discussion with the purser of the flight about the situation. I made a separate post about this in the KLM forum, which can be viewed
here
.
The Itinerary
Dallas/Ft Worth (DFW) – Amsterdam (AMS)
Date
Saturday 17th May 2008
Airline
KLM
Class of service
World Business Class
Flight number
KL670
Aircraft type
Airbus A330-200
Scheduled (actual) departure time
1505 (1507)
Scheduled (actual) arrival time
0720* (0718*)
Flight duration
8:45
Distance
4,920 miles
Average speed
562 mph
Departure
I arrived at the absolutely huge Dallas/Ft Worth airport after dropping my hire car off at the combined rental car facility. I took the ten minute shuttle bus ride to Terminal D. I arrived at the check-in desk at 1340, one hour and twenty-five minutes before departure. There was one person in front of me, and I received my boarding pass within about two minutes of joining the queue. I made my way to security to find a separate first and business class queue. Although relatively short, it still seemed to be longer than the economy queue. It took about fifteen minutes in total to pass through security. The other passengers and the staff didn't seem so keen to get the job over with as quickly as possible compared with other airports I've passed through.
After security I went to the business lounge which is located between gates 21 and 22. This is a combined facility with other airlines, but once you've passed through the main desk where they check your boarding pass, you are then directed to a separate room dedicated to your particular airline. On arriving in the room I found it to be quite large with a huge glass window looking out onto the tarmac and the two western runways. Snacks on offer were the usual crisps along with soft drinks. Alcoholic drinks were available on request. There was a business centre which contained a computer you could use, but you couldn't access the internet without paying a charge. Paid wireless was also available through T-Mobile. Overall the lounge was quite nice, new and with plenty of space, but the food and drink was nothing special. Free internet access would have been welcome too. At about 1430, an announcement was made that my flight was boarding at gate D15.
As I arrived at the gate boarding was just about to start. Business class and elite passengers were welcomed first. There was not the usual scrum to get passed the economy passengers. Once on board my jacket was taken and I was offered a drink of either water, orange juice or Charles Hiedsieck Champagne. I took the Champagne. We pushed back from the gate two minutes after our scheduled departure time.
Overall this was one of the better departures from an airport. Dallas/Ft Worth, despite it's size, is a really nice facility to use. It's layout, with individual, well spaced terminals which allow short walking distances, is very passenger friendly.
The business lounge in terminal D at Dallas/Ft Worth airport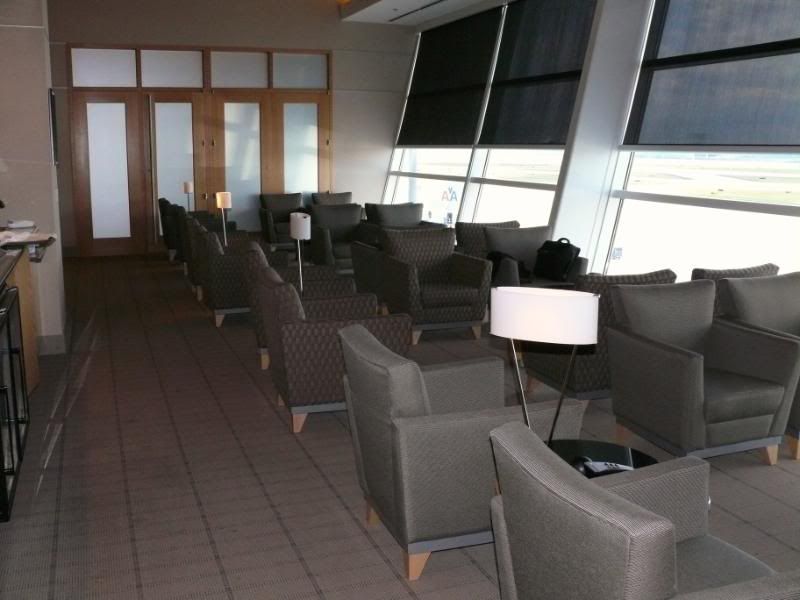 Routing
Our departure from runway 17C took us first of all south. Then we made a left turn and flew over downtown Dallas, before heading north-east over Memphis, Kentucky and New York state before starting our trip across the Atlantic from Newfoundland. We made landfall over Ireland before starting our descent to the north of Norfolk.
Seat and cabin
This was KLM's latest World Business Class seat, and one which is to be found on every KLM Airbus A330 and Boeing 777, the majority of the 747 fleet, and on some MD-11's (as of May 2008). From reading this forum it seems it is not popular, especially compared to the old business class seat. I personally like it. I don't find it that uncomfortable, although many people say it's too easy to slide down it when trying to sleep. OK, I was on the best aircraft for which to sample it, the Airbus A330. The layout is 2-2-2, and there are two separate business class cabins. On the Boeing 777-200 and 300ER though, it's a 2-3-2 layout and just one big cabin.
World Business Class seat on the Airbus A330-200
Entertainment
With the new World Business Class you also get the new entertainment system which is up there with the best. It's got a 10" individual screen (a smaller individual screen features in economy) and about 60 channels, all of which contain programmes you want to watch. I've also found the new system to be very reliable of late.
Food and drink
After take-off drinks were served quickly, with a bowl of nuts. About twenty-five minutes after departure the meal service began. The food on board was very good. Whilst not as good as Singapore Airlines business for example, it was indeed close, and without doubt far better than any Air France flights (the parent of KLM), and that includes L'Espace Premier (First Class). The portions were sufficient and tasty. The beef which I had was one of the best I've had in a long time. The only downside is that there is no choice of starter. Today's was very nice, but what happens if you don't like seafood? Dessert was a slice of fruit tart which again was big and tasty.
In the morning, about 90 minutes before landing, a nice breakfast was served. You had a choice of savoury or sweet. The sweet was French toast with lemon, blueberries and roasted apples. I took the savoury, which was a ham and cheese omelette with roasted red potatoes and pork sausage.
Appetizer of hoisin shrimp with lobster salad, courgette and yellow squash
Main course of peppercorn-crusted beef tenderloin with roasted red potatoes, yellow squash and carrots.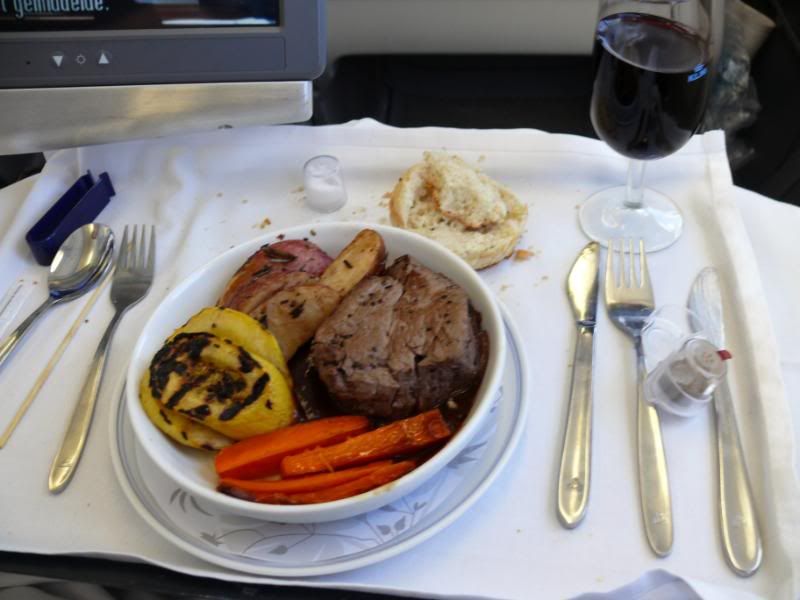 Omelette for breakfast.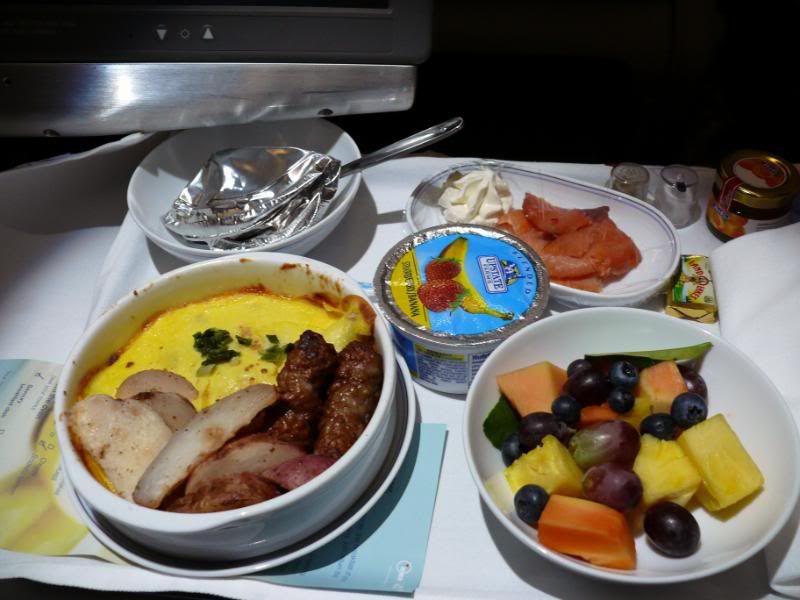 Cabin crew
Today's crew were very, very good (I am ignoring the debacle with the non-revs). They were very friendly without making it seem like they were just doing their job. I accidently spilt my new seatmates drink all over his seat whilst he wasn't there, and the clear up was performed quickly and professionally by the male cabin crew member. He retrieved a spare seat cushion from an empty crew seat. I don't know whether I received better than normal service due to the fact that the crew didn't want me to complain officially to someone about the situation with the non-revs, but I suspect that isn't the case.
Arrival
We touched down on runway 06, before making the short taxi to stand F5.
Overall
A much better than average flight with KLM (again, ignoring the situation with the non-revs). The food was great. The entertainment system fantastic. The departure airport pleasant to use. The crew were friendly and performed their tasks with enthusiasm. The little huisje at the end is a nice bonus.
---
Last edited by Mofomat; May 19, 08 at

4:36 am
May 18, 08, 10:49 am
Join Date: Jul 2002
Location: Dallas, Texas
Programs: AA Exp. Bonvoy Gold, Hilton Gold, IHG Platinum.
Posts: 1,085
Thank you very much for your trip report. Nice to see an experience on a route that I may use often in the future. Thank you very much for the photos. I had actually planned to travel in business on this route then onward to France on KLM this summer with family members. However, prior to my booking, prices for Business jumped from $3,500 return to $11,000 return. The 3 of us opted for Continental BusinessFirst instead at an incredibly low price of $2,600.

I am surprised at all of the upgrades but having read the KLM forum I have gathered it is common KLM practice. I agree that it dilutes the business class experience. As you say, empty seats are not a right but I do think it is reasonable to hope for them.
May 18, 08, 10:50 am
Join Date: Jan 2004
Location: SYD
Programs: UA 1K, VA Platinum, IHG Spire Ambassador, Hilton Diamond, Marriott Gold, Coles FlyBuys
Posts: 2,769
Hi Mofomat... nice TR. I especially liked this passage, I couldn't have said it better myself:
Originally Posted by Mofomat
My overall feelings about KLM? They are a 3 to 4 star airline and are at least one tier below real quality airlines such as Singapore Airlines and others that I'm sure everybody could mention. Their business class was good four or five years ago but many airlines have caught up and indeed overtaken KLM now. This is despite KLM only recently introducing a new business class seat, which is fitted on today's flight. I don't feel KLM are as bad as some people would say.
I've got a KL A330-200 flight coming up in August. I like window seats so I can zonk out after dinner. What seat would you recommend? Forward or rear biz cabin?
May 18, 08, 11:33 am
Suspended
Join Date: Dec 2003
Location: Home for the terminally bewildered.
Posts: 1,621
May 18, 08, 7:41 pm
Join Date: Jun 2004
Location: Netherlands
Programs: FB Platinum, M&M, BA Executive Club, Sofitel Plat, Priority Club, Starwood Preferred Guest
Posts: 1,447
Great trip report, thanks!
The J-class in the A330 is one of the nicest on the KL fleet, especially in the front J-class cabin.
The only one better is the front cabin in the MD-11 where you have even more legroom and space.

As to the non-rev situation, I find this very unprofessional indeed.
I have quite some friends working at KLM, some in the front-line at the airport, some in managerial positions.
And yes, some employees are entitled to travel in J-class apparently.
But discretion is the keyword.
Moving revenue passengers around to accomodate non-revs as well as "upgrading" after doors have closed (which means these employees are officially not entitled to J-class otherwise it would have been done at check-in or at the gate) are big NO's.

I would file a complaint, mentioning either the purser's name or the date and flight number.
May 18, 08, 8:49 pm
Join Date: Jan 2008
Location: Orange County and oftentimes London
Programs: Marriott Bonvoy, HH Diamond, AA EXP, VS Gold, BAEC Silver, Global Entry, UK RT
Posts: 539
Very nice trip report. Thank you very much for posting it. I always enjoy your reports and pictures. I have never tried KLM but always wanted to, so your report has convinced me that I need to definitely try their product out.
May 19, 08, 4:34 am
Suspended
Join Date: Dec 2003
Location: Home for the terminally bewildered.
Posts: 1,621
Nov 9, 08, 10:21 am
Join Date: Jun 2005
Location: DFW
Programs: AA EXP 5MM
Posts: 107
KLM DFW -AMS J ticket prices
---
I have been checking the prices of J tickets on this route but I can't seem to find a reasonable price on it. In EF it appears J is rarely more than 1/2 full. Does anyone have any experience on how to make this trip through upgrade or reasonable ($3k) ticket price?

I have looked at AMEX 2 for 1 but KLM doesn't particiapte. I do have a few DL miles but not enough for J award ticket. Anu suggestions would be appreciated.
Nov 9, 08, 3:47 pm
Join Date: Nov 2008
Posts: 7
I just want to say great trip report. The pictures were great and its nice to see you enjoyed your KLM experience. Sorry to hear about the non rev issue, like you I have always behaved myself when I non rev.
I have to say that surprised me a bit. While I much prefer KLM to Air France in almost every category, its catering that I find Air France to excel at. KLM's food is very hit or miss but from my experience no where near as good as Air France.
Good to see the purser dealt with you in a very classy manor. I believe KLM's crew are some of the best around, a real asset to the company.