CO EWR-MCO-EWR Boeing 757-300 First
May 6, 07, 12:09 pm
Join Date: Oct 2006
Programs: Onepass
Posts: 214
CO EWR-MCO-EWR Boeing 757-300 First
---
Newark Liberty International (EWR)-Orlando International (MCO)
April 9th, 2007
Continental Airlines Flight # 37
Boeing 757-300 Ship 864/N57864 (Former ATA)
Gate C-75
For Spring Break I decided to take my brother down to Florida for some R&R, some golf, theme parks, dinner etc sounded like a nice reprise from the daily grind. My wife recently started a new job running a pediatric dentist office where she also does Hygiene, taking time off for Spring break was not an option for her.
Itís been a while since my Brother and I went any where together, I thought this was a good opportunity to get together. I made the arrangements, I booked us both First Class seats both segments for two reasons, first I wanted to try COís Business First which alluded me and my wife on our European Honeymoon in October, second my Brother is a big guy. I originally booked us to depart on the 6th of April and I booked us at the JW Marriott Grand Lakes which my brother and parents had stayed prior and all raved about the facility, however I decided to spend Easter Sunday at Home with the Wife and leave the next day. The change in plan meant I had to change hotels as the JW and many other hotels I tried including the Marriott Orlando World Center where I had stayed on numerous occasions in the mid-Ď80s-mid-1990s with my Parents were all booked solid.
I was able to get us into the Hyatt Regency Grand Cypress; I had seen the hotel on many previous trips and noted it was convenient to Disney and Lake Buena Vista.
As noted I booked us specifically on a CO 757-200 so we could try Business First, however the night before CO called and citing record bookings that week asked us if we could change our flight from the 10:25 AM 757-200 departure to a 2:15PM 757-300 departure. The fact that I had yet to fly on the 757-300 and the voucher they were offering us made it an easy decision to switch flights, some errands I had to take care of at home prior to departure would not have been down if I had not agreed to take the later flight so it worked out.
On the day of the flight we arrived at the curbside for COís Terminal C, the domestic departures level was packed and the line stretched to Terminal B so I had us dropped off at the International Departure level which was less congested, we proceeded to the Domestic ticketing level and I found the First Class/Elite Access check in area which had been moved from itís central location to the far West end of the Terminal where group check in used to be located. I think Domestic First Class should be in the middle of the domestic ticketing level as thatís the most convenient place from which to access all three concourses and the Airtrain.
Awaiting the First Class and Elite Access Boarding announcement, Gate C-75 EWR.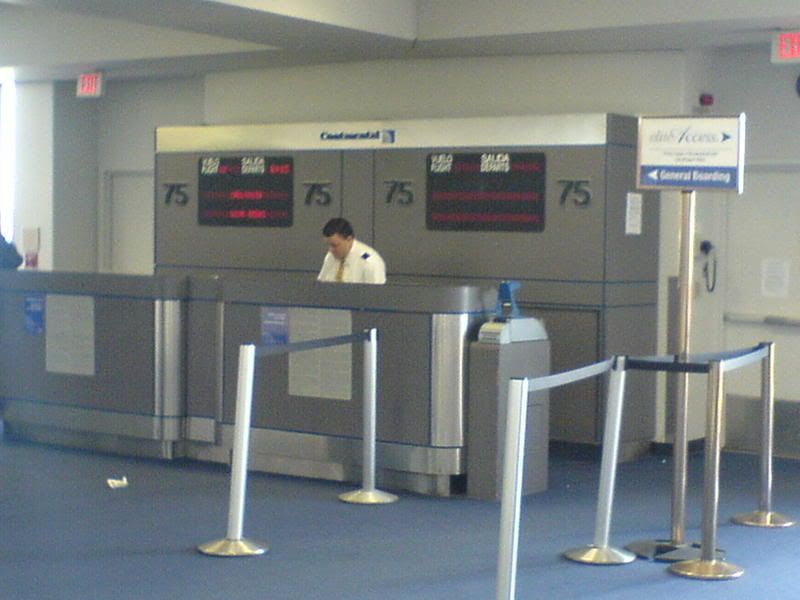 Our 757-300 Ship 864/N57864 (Former ATA) waiting for boarding to begin at gate C-75.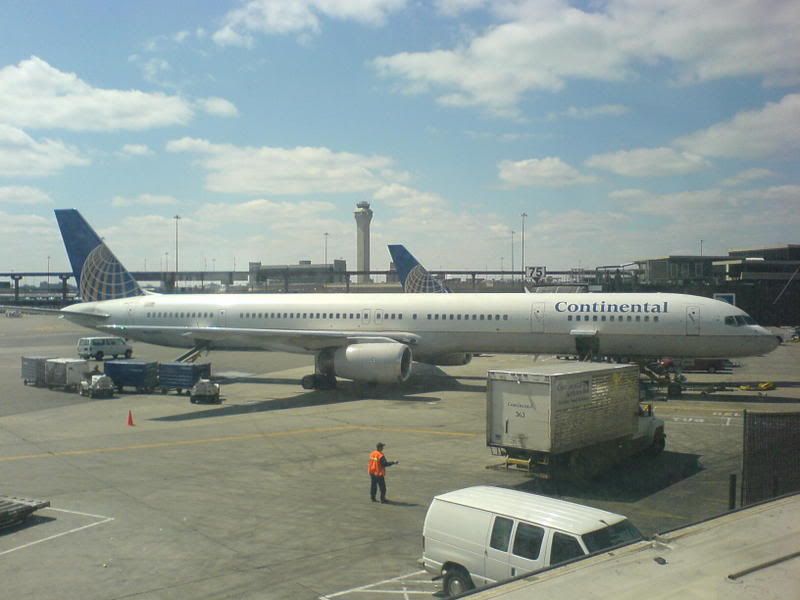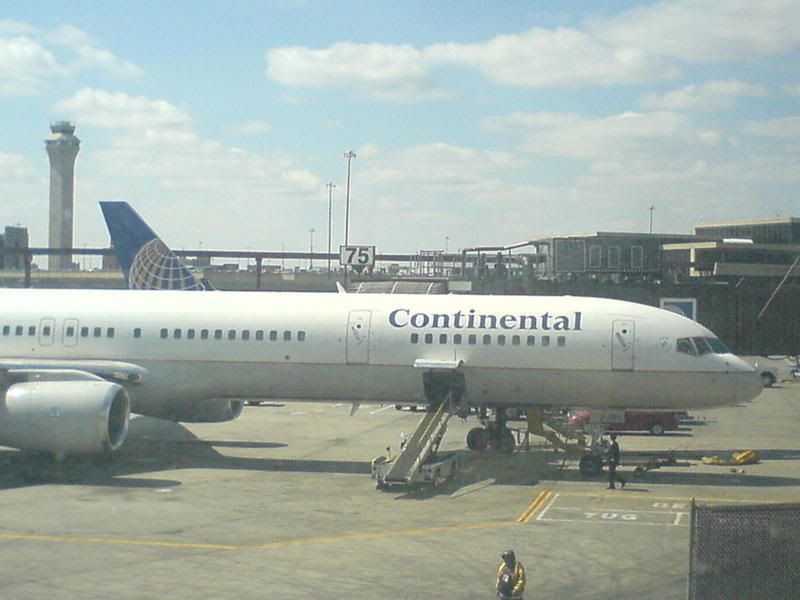 The view from seat 5E/ 5F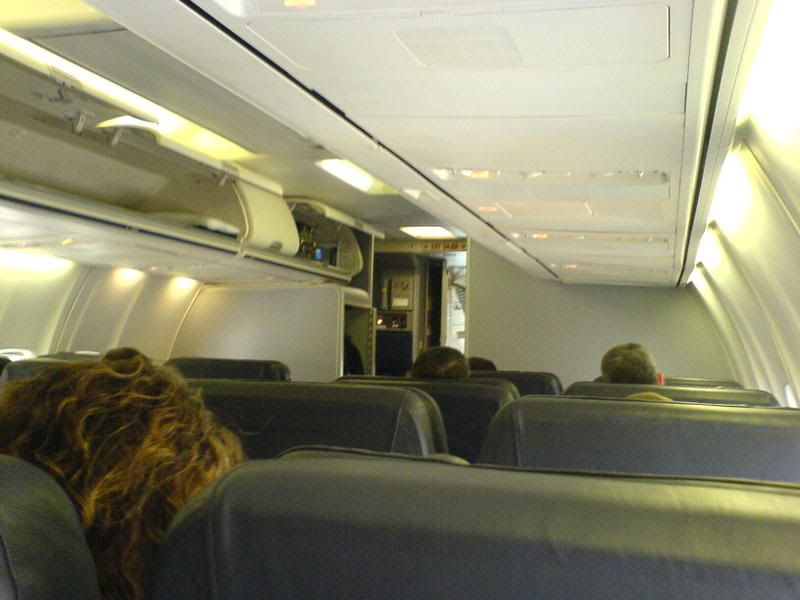 Taxing to runway 4L;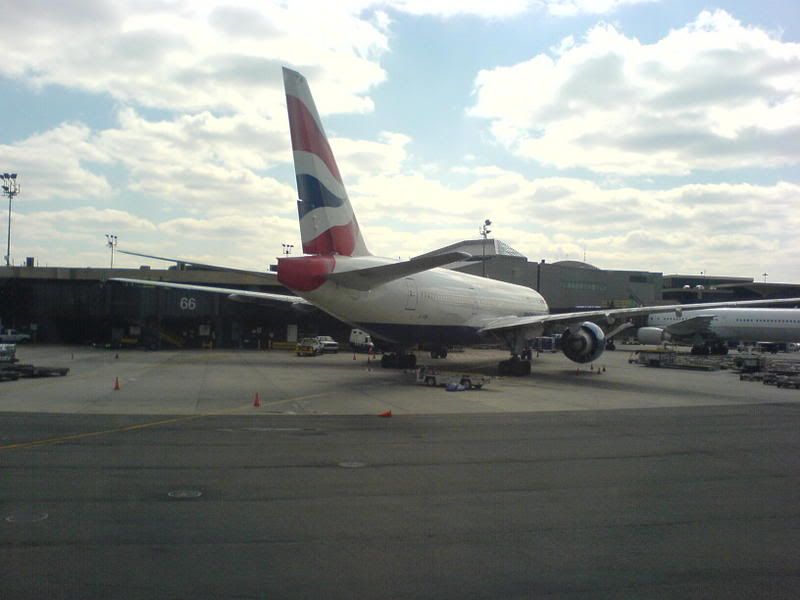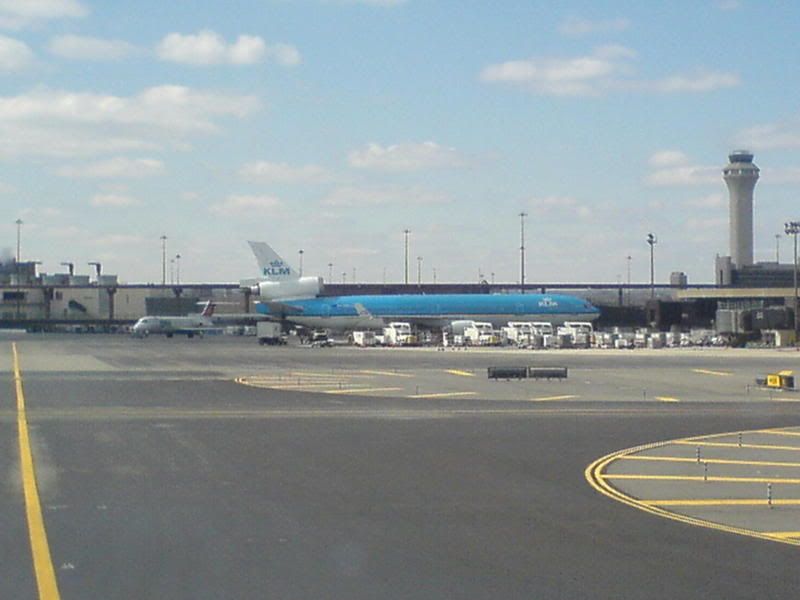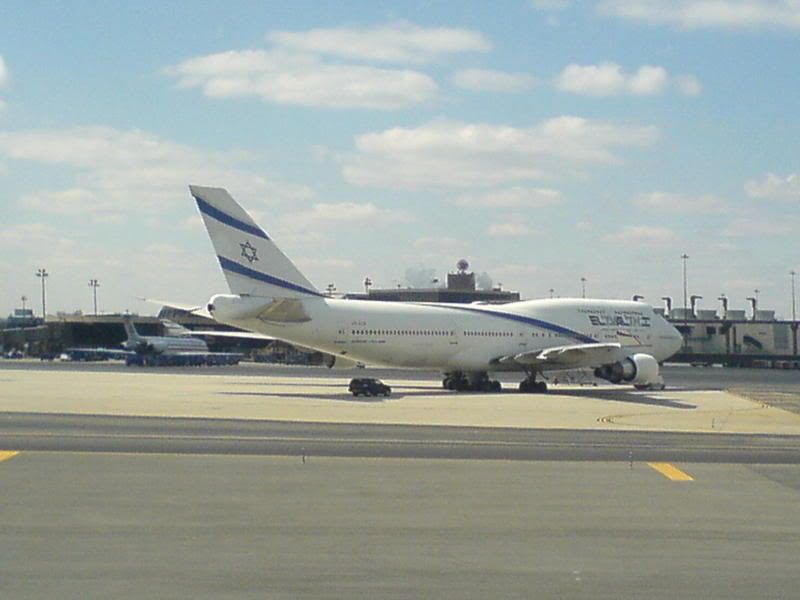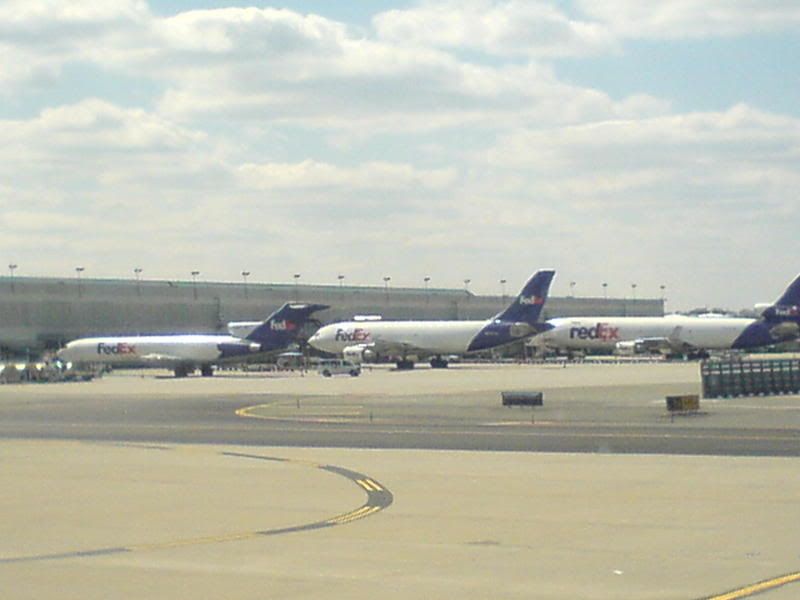 Our flight was departing from the C-1 concourse; gate C-75 across from the food court. I grabbed a couple quick photos with my cell phone camera and we boarded the flight, 5E and 5F which are on the right side second to last row in First Class. Upon entering the aircraft I had a feeling that this was a former ATA bird, I would later find out that in fact this aircraft and the 757-300 that would fly us home on the 14th were both former ATA birds, I donít mean to indicate that there was something a miss or that it was in different condition but the carpeting and wall panels by the windows looked different. Flying CO as much as I do and CO being very conformed with their aircraft interiors I took this as slightly differently looking to the numerous CO 757-200s I have flown on over the years. There was no food service as this was a non food service hour; CO still serves free meals on their flights at meal times thanks to their ownership of their own catering company (Chelsea) however this flight was not at mealtime being between lunch and before dinner.
<object width="425" height="350"><param name="movie" value="http://www.youtube.com/v/TR-TRzg7H_s"></param><param name="wmode" value="transparent"></param><embed src="http://www.youtube.com/v/TR-TRzg7H_s" type="application/x-shockwave-flash" wmode="transparent" width="425" height="350"></embed></object>
We were served plenty of drinks; I had a couple of Margaritas. We were slightly delayed departing the gate as the caterer had to finish prepping the aircraft. Maybe itís me but this is the second time in my last two flights from EWR (the other my Honeymoon trip to Barcelona in October) that we taxied straight to the runway and departed. No waiting, we turned on the active and the pilots gunned the throttles and we were off. The departure was off of runway 4L, having flown the 757 many dozens of times going back to my first 757 flight on Eastern EWR-MCO in 1987 I have always taken note of the superior performance of the aircraft. However this being my first 757-300 flight I felt there was a little bit of a difference, we did not rocket off the runway so much we did however use very little runway to take off. This aircraft does have some short airfield capabilities as Iím guessing we used only about 4,000-4,500 ft of the 11,000ft runway to take off. It was so short the strong turbulence we felt on climb out made me hesitate for a moment and think maybe we took off too soon and the aircraft was struggling a bit.
Lower Manhattan and Jersey City Skyline as we climb off runway 4L at Newark Liberty International Airport.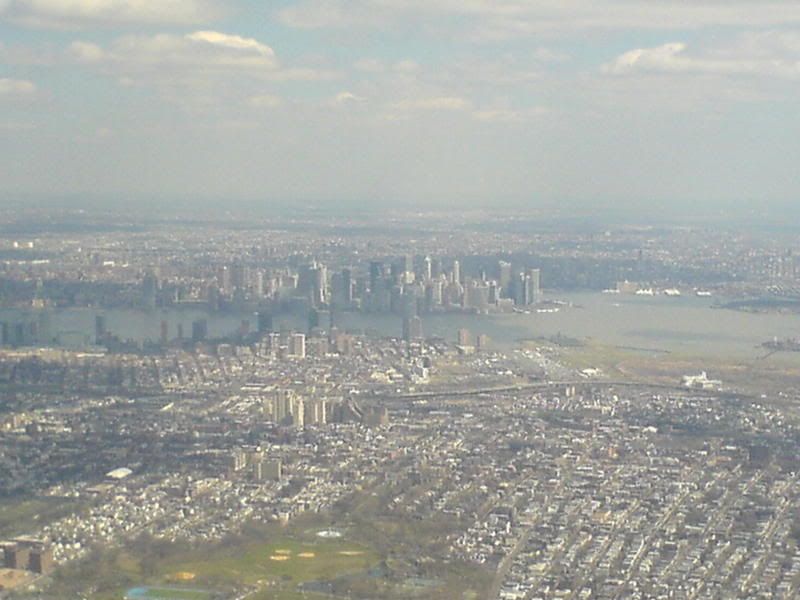 However it was just turbulence and we quickly reached calm air directly over Morristown NJ as we turned south. Having flown EWR, LGA, JFK- Florida many dozens of times since the late 1970s I could tell we were taking an unusual routing. Much further West (in land) than I had ever seen, checking the flight tracker when I got home confirmed my suspicions. Of note during the flight Iím pretty sure that a comedian Iíve seen many times including the Howard Stern show was sitting across from me, I was even more convinced it was her after the flight seeing her up close. I canít remember her name but she is a famous red headed woman comedian. The other thing I took note of was how young the two pilots of the flight were, Iím 31 and these guys could not be much older.
We descended into an overcast Orlando passing over Orlando Executive airport and that big lake, making the downwind leg past the airport then making a 180 back towards the airport landing on 36L passing the two hangars of COís major Orlando Maintenance facility. We pulled into gate 7 of airside One, airside one looks the same as when I used to fly Eastern into the same pier of airside one. Iím comforted after reading a post on the Civil Air forum that a renovation and modernization of Airside One at MCO is in the works, itís definitely needed. CO, AA and the others deserve digs as nice as the ones DL, FL and WN use.
Passing MCO on the downwind leg;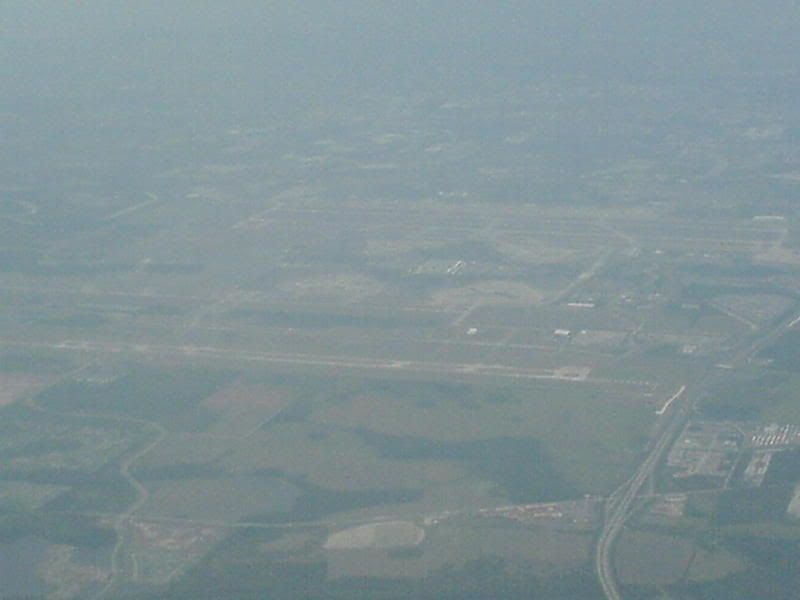 <object width="425" height="350"><param name="movie" value="http://www.youtube.com/v/LPfkMmUXhoI"></param><param name="wmode" value="transparent"></param><embed src="http://www.youtube.com/v/LPfkMmUXhoI" type="application/x-shockwave-flash" wmode="transparent" width="425" height="350"></embed></object>
Passing the two hangars that make up Continental Airlines large Orlando Maintenance base.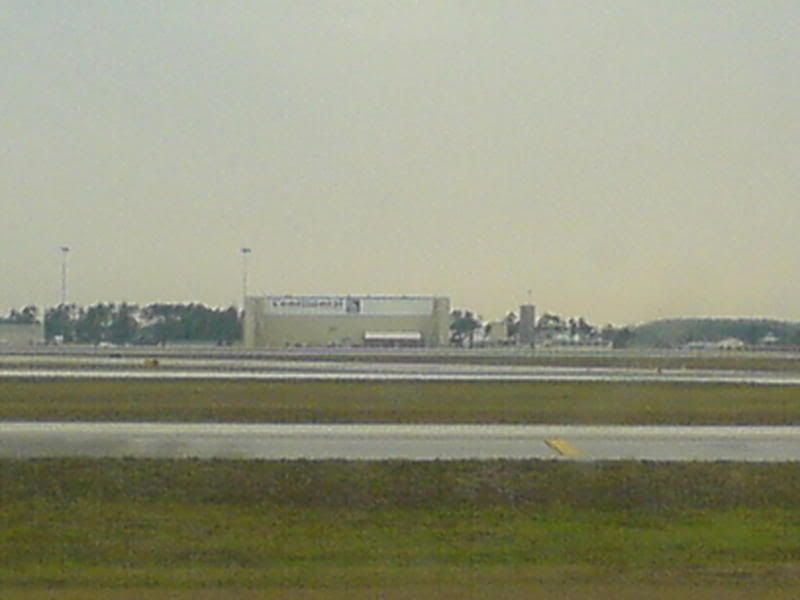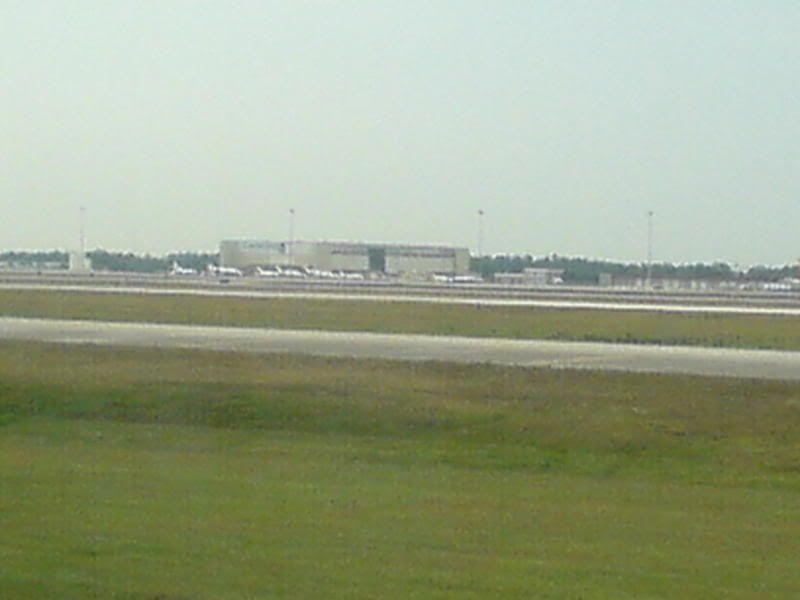 The airport looked the same; Orlando is definitely the best airport in the US (IMO). They just need to fix up airside One. Got our bags first off the conveyer belt (thanks to priority tags) and headed to the car rental where we rented a brand new Jeep Wrangler, itís redesigned and looks a little different but I found it drives much better than the old style Wranglers. We headed out of MCO a way Iíve never gone in all the years Iíve been flying into and out of MCO, usually we go past the B-52 and get on the Bee Way (?) towards the resorts. This time we exited on a highway with lots of construction, Iíve never gone this way it seemed like the back door of MCO.
Arrived at the Hyatt Regency Grand Cypress and enjoyed staying at this beautiful hotel, the grounds are amazing. Iím actually happy we ended up staying here vs. the JW Grand Lakes as the Grand Lakes which we would go by during our stay is in the middle of a residential area away from all the action. The Hyatt and the Marriott Orlando World Center are as close as you can get to Disney without staying at a Disney Resort. Again the grounds in particular were gorgeous at the Hyatt; they even had a Helicopter pad.
We hit all the Disney parks, Epcot, Magic Kingdom, MGM and Animal Kingdom which was a new attraction for me. Hereís my Disney theme park review.
EPCOT: Still my favorite, I love Spaceship Earth, the World Showcase, the GM test track, living with the land, my favorite place to eat in Disney is at the EPCOT World Showcase, inside the Mexican Pavilion thereís a great restaurant overlooking the temples and volcanoes of the El Rio del Tempo. Itís dark with gorgeous scenes of the ride. However we could not get a reservation there nor at any of the EPCOT pavilion restaurants as they were all booked solid.
Magic Kingdom, of course got to go on Space Mountain my favorite ride of all, plus a few others but the crowds and heat (it was in the Ď90s that week) prevented me from going on my other favorite Disney Ride (Pirates of the Caribbean). I just could not take the crowds and heat at the Magic Kingdom.
MGM Studious, Tower of Terror was good but the Aerosmith Rockin roller coaster is the best at the park. The other interesting sights were Walt Disneyís plane on the back lot tour and the Muppets 3D.
No itís not San Francisco, itís MGM studios back lot.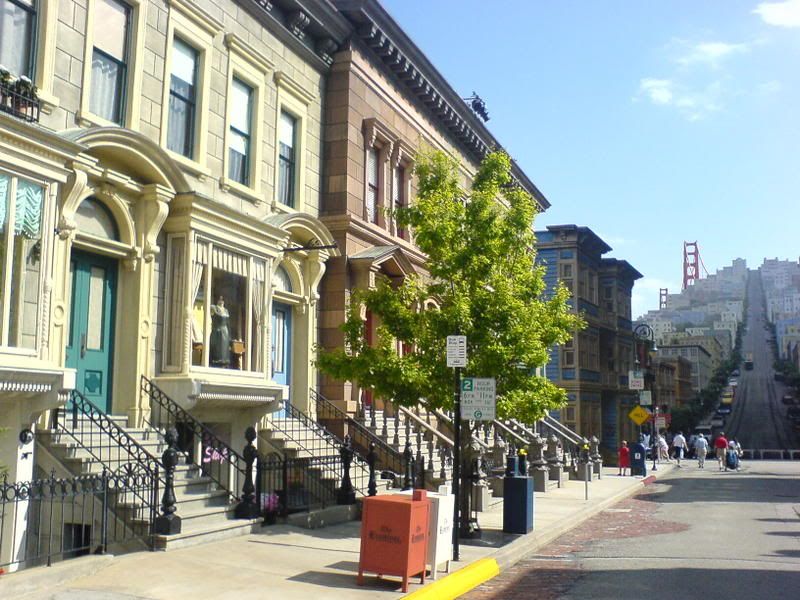 Animal Kingdom, my first visit and I must say they did a fantastic job designing the place. The plants and especially that enormous tree in the center create a great vibe.
My advice to everyone is to learn how to use the Fast Pass; it made a huge difference and made visiting the park enjoyable despite the crowds. Thereís no better feeling than walking past a line where people are waiting over two hours to get right onto a ride. You can only get one Fast Pass every hour but I had as many as 3-4 at one time in pocket, I timed them so when we got off one ride it was time to walk over to the next and get right on. Fast Pass is one of the best developments at Disney I can think of in a long time.
My other advice is to stay at a hotel as close as possible to Disney and Lake Buena Vista area, and to try and eat at one of the EPCOT pavilions at least one night.
My brother and I ate at some great places, Planet Hollywood, House of Blues, at Downtown Disney which is a great place to spend an evening. We also ate at Maggianos near the convention Center off of International Drive. Real nice restaurant, very similar to Carmineís on the Upper West Side of Manhattan and in the Tropicana Casino in Atlantic City.
Found this at the Lego Store in Downtown Disney;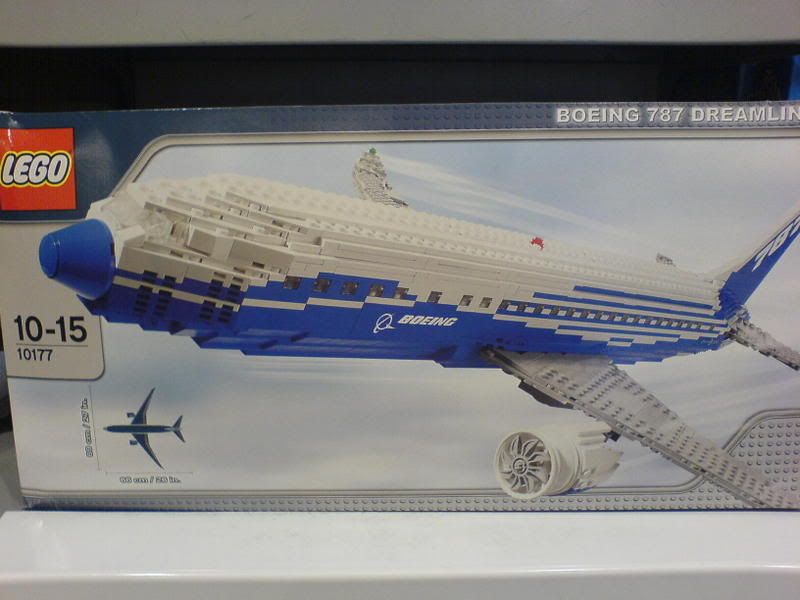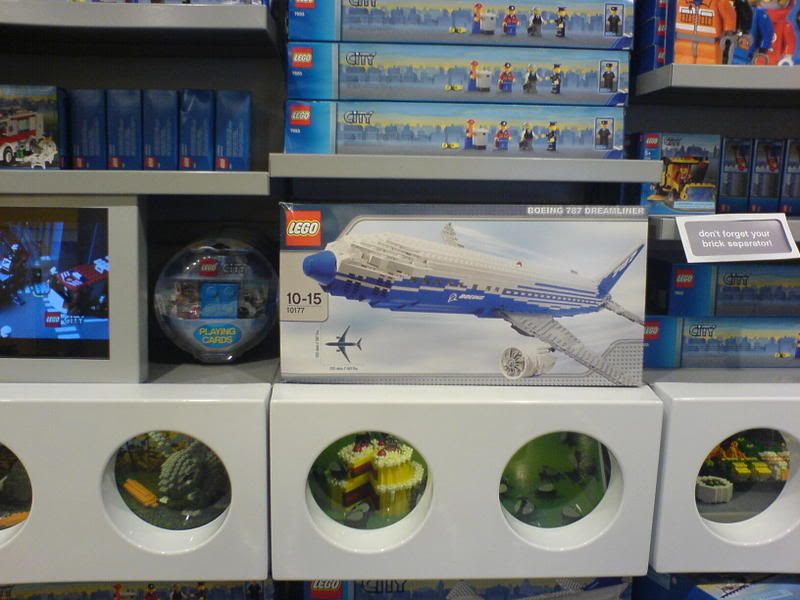 The last day came and so it was time to head home after a great vacation, I hope my brother enjoyed himself. We had plenty of time until our flight which was ďscheduledĒ to depart at 8:10Pm. We had a great breakfast at the Hyatt, then relaxed a bit and hit the road. We stopped at the Florida mall where I was looking for a last minute present for my wife. Nice mall.
Got to the airport and dropped off the rental car, had plenty of time so we ate at the Chiliís upstairs in the main terminal. Iím really impressed with MCO, I love the Chili upstairs and Iím impressed they have a Macaroni Grill. Lotís of shops, beautiful landscaping with waterfalls by the parking garage etc.. They do a great job, just please renovate Airside One!
Airside One, MCO;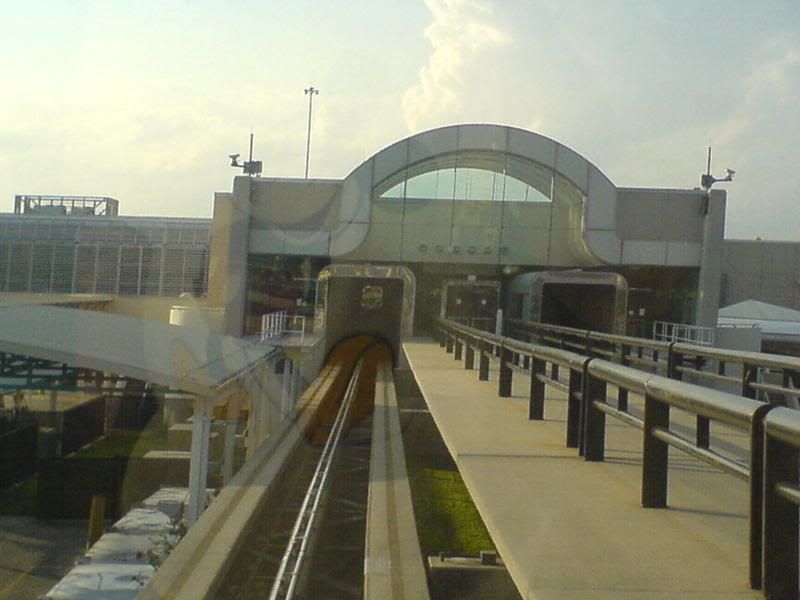 Iím not sure where this CO 757-300 came in from (EWR or IAH), but it departed to EWR as CO # 1693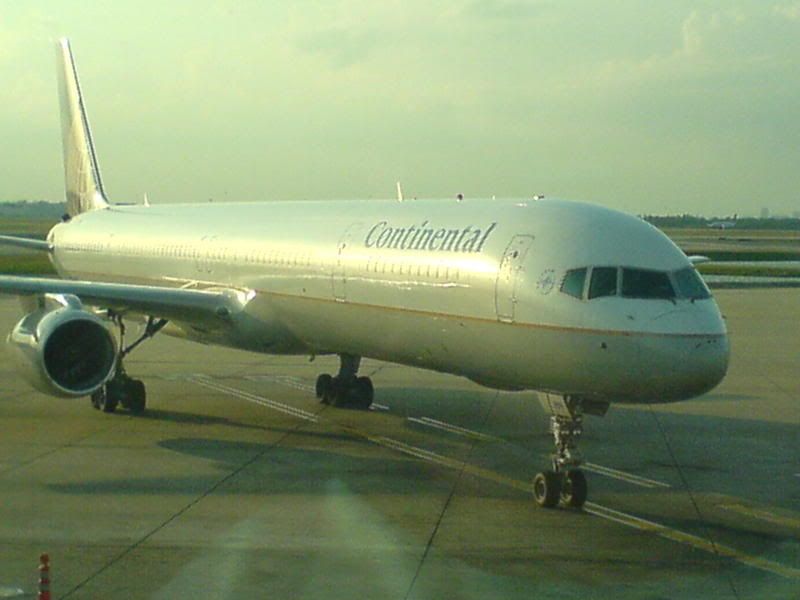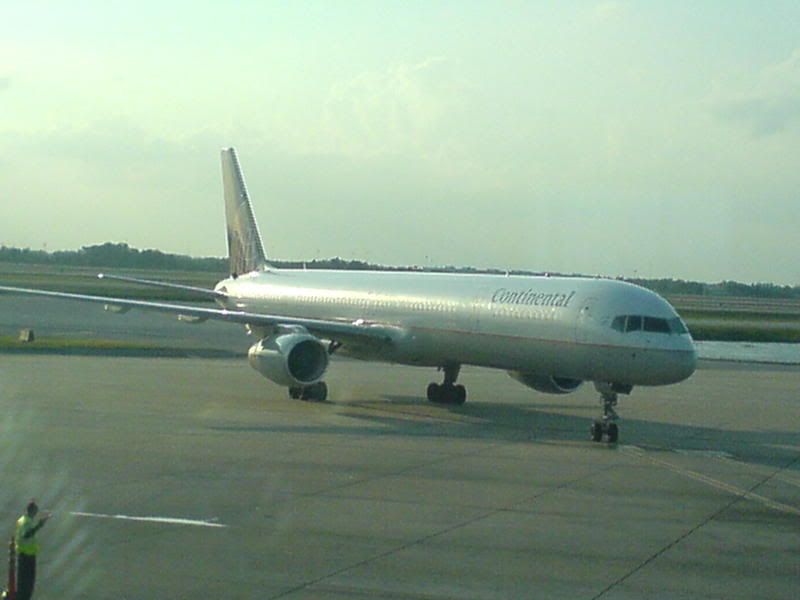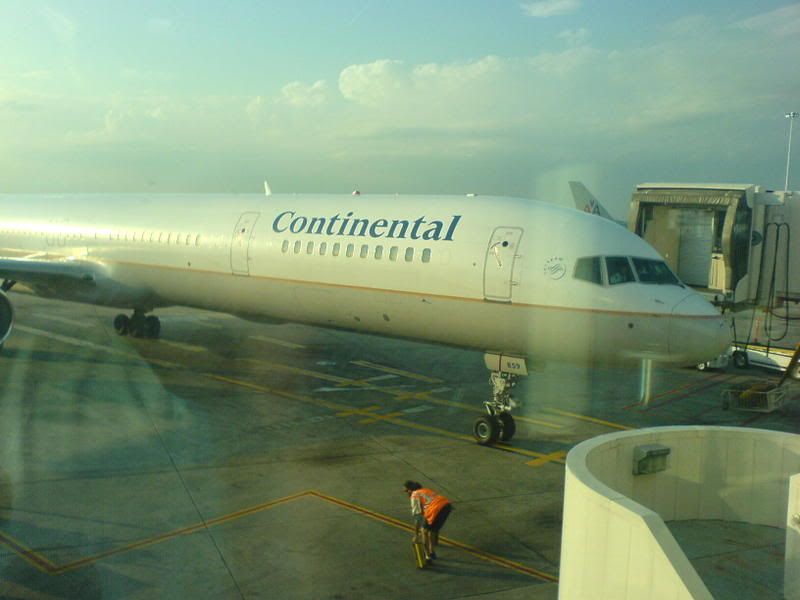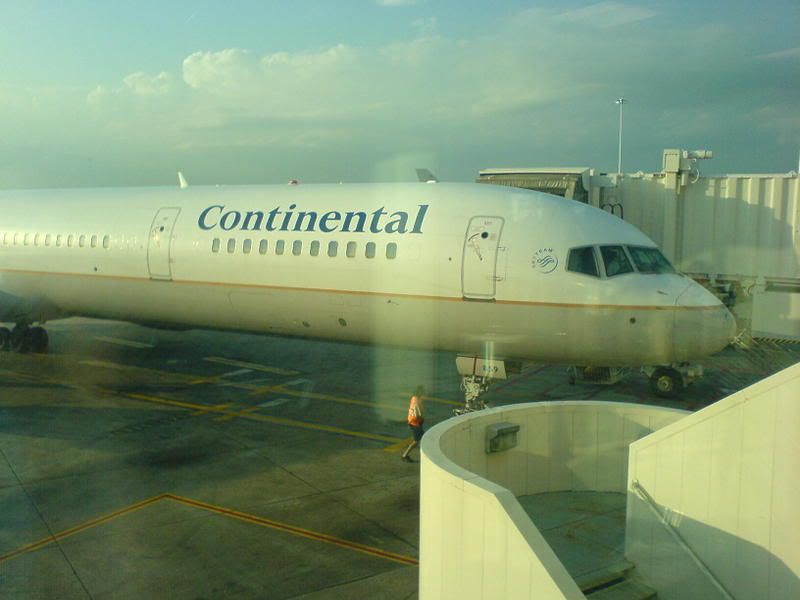 When we checked in the ticket agent notified us that ďeverything is running at least an hour late tonightĒ, there was a huge Noríeaster moving up the East coast delaying many flights. This storm which delayed our departure that night would go on to give me a day off of work on Monday because of the huge flooding New Jersey experienced. We got to the gate area and watched at least two-three other departures to EWR go out, I tried to get us on an earlier flight but again the agents told me over the phone that everything that week was sold out.
CO during this time of year is operating between 10-12 daily flights EWR-MCO-EWR, about 8-9 of those flights are with the 757-300. The 757-300 is the perfect aircraft for EWR-MCO during the peak months, it offers wide body capacity with a LCC CASM. In my opinion all the EWR-MCO-EWR flights during the peak months should be 757-300s, the 737-800 flight left people waiting at the gate as it was over sold. I hope CO could pick up a few more 757-300s, the remaining four 757-300s from ATA. Itís a great aircraft!
MCO-EWR
Continental Airlines # 293
Boeing 757-300 ship 867/ N77867
Gate 7
Our flight was delayed until 9:50Pm, who ever the Red Jacket CO employee working our flight that night needs a recognition of some sort. She did a spectacular job working a huge crowd of people, many with kids who did not understand the severity of the storm bearing down on the Northeast. Iím absolutely sure those same folks complaining sure realized what was going home the next day when they had water coming up their back doors. As mentioned this one Woman whom Iím going to write Continental a positive e-mail handled everything single handed, when the aircraft arrived she announced she was going to run on board to help the cleaners, she then came back to handle the boarding. She first announced First Class and then announced Elite status can board, the two lines at the gate door broke down and everyone just merged into one line of Elites and First Class passengers.
There was a whining Woman from Westchester County with her husband and two kids that whined about everything, the delay, and the real kicker was her horror that folks who were not First Class only Elites were trying to board with First Class passengers. She was bossing her husband around, telling him to inform the Woman promptly that some non First Class elites were mixing with the First Class passengers boarding. Her husband got annoyed at her and told her to calm down, that he travels all the time and she does not understand how things work and how to behave. She calmed down later during the flight, she got the First Class seat and her husband spent most of the flight in the back seating with their kids in coach.
We finally finished boarding and pushed back, this time my brother and I had seats 2A and 2B. I again thought this was a former ATA bird which was again confirmed by the registration. As mentioned this night (Saturday night the 14th of April) was the night that huge Noríeaster bore down on the Northeast, causing record flooding. As a result of this storm we had a bumpy ride all the way, but nothing too terrible and no one got sick. The storm caused disruptions so on April 15th and April 16th our flight CO# 293 was operated with 767-400 in place of the 757-300. I did not get any photos or videos of our flight back because it was dark.
We landed and taxied to gate 135 at Terminal Cís C-3 concourse, the terminal was empty at this hour save the Lisbon cleaning crews. There was a change of carrousels which caused a little bit of confusion, then it took about 15 minutes until the bags started coming out. All the bags were collected and everyone left except I was still standing there waiting for one of my brotherís bags. Luckily after checking the baggage office they notified me that it arrived on an earlier flight and was waiting to be collected by the hold room, walked over and there it was waiting for me. Got home at about 2: AM.
Overall another great CO experience and I enjoyed it so much I hope to take my brother to Florida like this every Spring Break if my Wife doesnít get jealous.
Thanks for reading.
May 14, 07, 3:55 pm
A FlyerTalk Posting Legend
Join Date: Apr 2001
Location: NYC
Posts: 69,198
Pier 1 is horrible. The only redeeming value it has is free wifi, and that it is not pier 2. I've seen nicer gate areas in 3rd world countries than there are by the US gates in pier 2. The DL terminal (pier 3) is quite nice and clean, and I assume that the B6/FL pier is as well. Regarding the aircraft, the 753s stay on EWR-MCO or IAH-MCO, and very, very rarely make a leap from one to the other (I've never seen it in the schedules).

On the plus side, you were in F on the "Disney Express." That flight can be pretty miserable in the back of the bus.
May 16, 07, 11:34 am
Join Date: Oct 2006
Programs: Onepass
Posts: 214
Im heading back to Orlando this memorial day weekend, I'm taking my wife this time and staying at the Orlando World Center. I again booked First Class, the First Class fare is only a little more than the coach so might as well go First.

The EWR-MCO is a 737-900, and the MCO-EWR flight is a 757-200. I hope I get to try out the 757-200 Business First product, my last trip in April I got bumped and back in October for my Honeymoon vacation to Barcelona I could not get an upgrade.