The Summer Series - AKL WLG CHC and DUD with NZ (photo report)
Dec 29, 05, 2:47 am
Join Date: Feb 2004
Posts: 5,958
The Summer Series - AKL WLG CHC and DUD with NZ (photo report)
---
Domestic flights within New Zealand only operate with one class of service, so this trip report is probably not nearly as interesting as one on International First Class. I was planning to do this report several weeks ago but decided to take the lounge photo's on a day when the lounge's would be quieter (I for one would not like to be in some oddies travel photos). While I have included some lo-res travel shots here in due course I'll upload some higher res one's to my photo site, maybe. This first post is of a typical WLGAKL flight which is scheduled for about an hour even though it's only a 480km flight.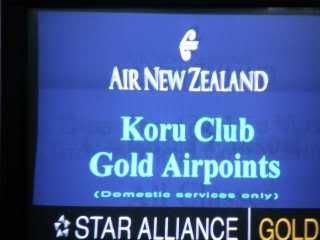 On arrival at the WLG (Wellington International Airport) the Premium Counter (Not plural!) had it's sign up but wasn't staffed, so I stood in the premium queue and was called up by the agent at the adjacent desk which didn't have any sign up. I also ended up with one of those awful boarding passes - NZ would be so much more sensible to print baggage receipts directly onto the boarding pass (because those silly receipt stickers are very fiddly for the agent and often get stuck over the tear off portion).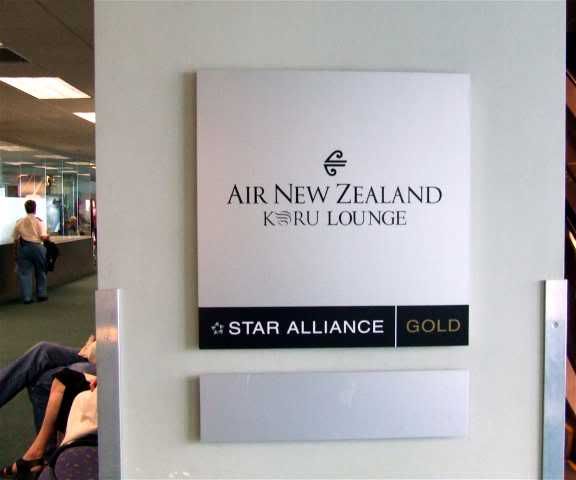 I then proceeded towards the Koru Lounge which is really NZ's saving grace. Unfortunately the WLG one is coming up 7 years old and sees over 370,000 entry's per year so some of the seats are looking a bit tired. The Business centre has 2 slow terminals - both which also have slow internet and were constantly in use. The seats in their especially need replacing (Squeaky chairs anyone ?), along with those IBMs. The toilets are nothing special either, but I didn't wip the camera out there…
The lounge is arranged with a central buffet with seating areas located peripherally facing out onto the apron.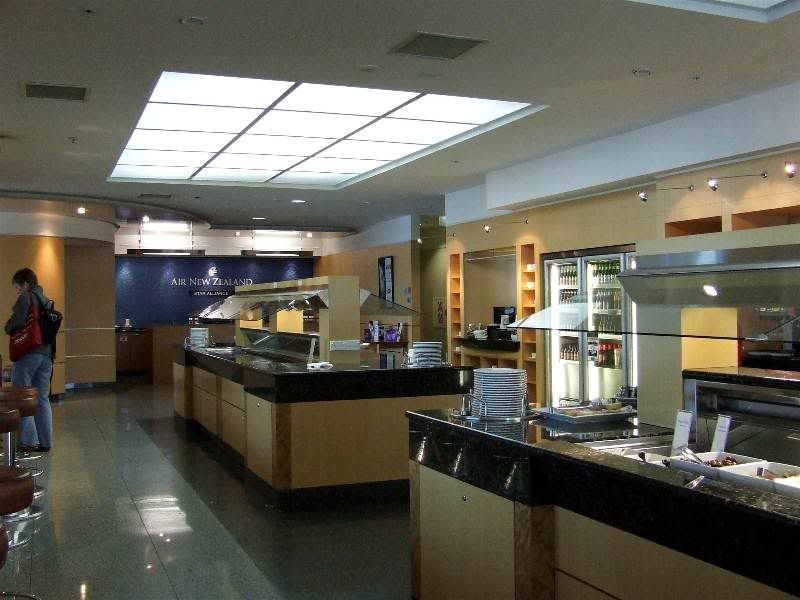 In the lounge is a display case with some NZ aircraft models autographed by some of the LOTR cast –
The top one only had "Sam" and "Frodo's" autograph, and I can't make any of the one's on the lowest model
Recently NZ put in a few of the new wide armchair design (Not those awful narrower one's which seem to take up part of the AKL lounge). These are the only newish seats in the lounge (similar to the armchairs at AKL Domestic and LAX) – hopefully the rest of the lounge will get them soon as the other seats are looking a bit tired.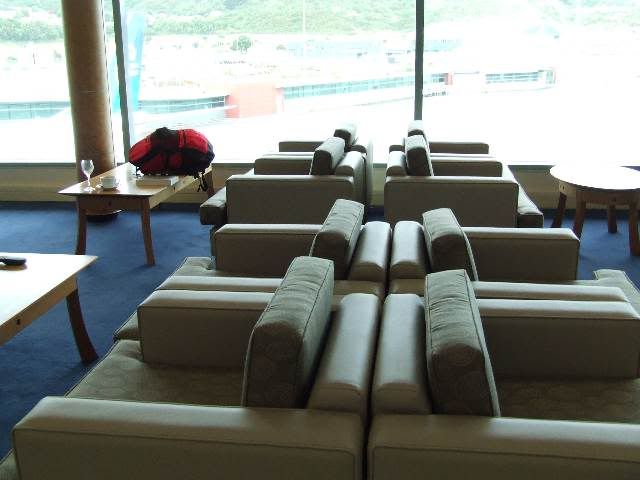 The lounge has 2 televisions which can be intrusive – I would much rather they replaced them with some screens and headphones á la LH SEN.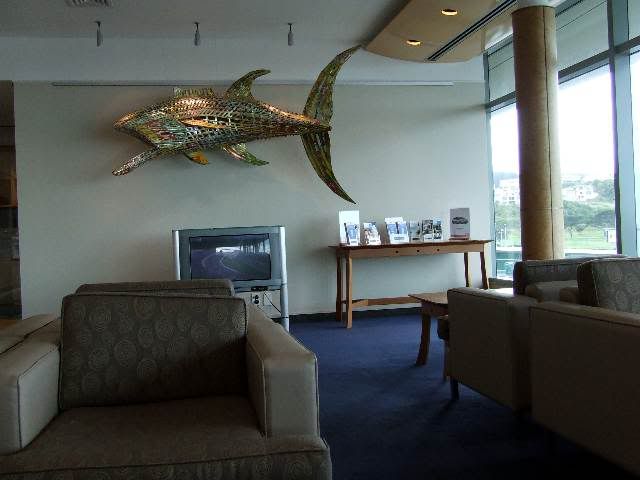 There is an extensive art program which gives you something to look at considering the total LACK of magazines, there were a few NZ Diver or something – but it really is pathetic that NZ can't manage to provide some decent reading material (Well perhaps everyone steals it but still…)
Also in the south western corner of the lounge is a penguin sculpture which was made specially by J G Thompson in 1999.
As you can see in the photograph below there is another hot water dispenser and tea cups though I've never seen it in use – perhaps they could rip it out and replace it with some more lounge seating.
The food and beverages in the lounge are self service (Sorry I forgot to take pictures of the beverage options). On arrival there was virtually nothing out, but soon some cookies arrived and then very shortly thereafter they were withdrawn and replaced with the "dinner menu", which wasn't too special - in fact I was quite disappointed.
There was a selection of rolls, humus, ham, salads and the like – the afternoon tea that day was much better despite the lack of cream for the scones.
The flight was delayed on departure by about half an hour so I shot some pictures out of the window. I could scarcely believe it – the bags on this trolley seemed to have been sorted in the correct priority order.
Rush Hour
I hadn't noticed these markings to park the aircraft before – it's interesting that the shorter the aircraft the further forward it parks.
At one point I looked back across the apron to see not one aircraft. Of course that shot is only of the QF/QO gates.
Boarding was called late, and as usual I waited for the final call before proceeding down the escalator and through security to board this aircraft.
The aircraft had absolutely awful seats (they really felt like washboards in the lower back). I thought it might have been an ex-Freedom aircraft but it appears not – it wasn't a NZ new one though.
The flight took off to the south before commencing a tight bank to head off to the north. Service was typical Express Class (even though NZ seem to have dropped that branding, much to my dismay) – Tea/Coffee/Water and a biscuit. Of course I had filled a bag with cookies from the lounge for consumption during the flight. Unfortunately for you I didn't take any cabin photo's but I had seats 1B and 1C.
We touched down about half an hour behind schedule in Auckland (didn't make much time up) and taxied in to the terminal. NZ (especially domestically) is notorious for their poor priority baggage handling systems - My first 3 pieces were out in 6 minutes (from when I deplaned) but I had to wait for a further 10 minutes for the other 3 pieces. The terminal was quite busy as was the (relatively) new traffic layout in front of the NZ Domestic Terminal which doesn't really seem to work when there is a lot of the traffic – but that's hardly NZ's fault.
Ratings for this service
Check In
5/10
Only because there was no wait

Lounge
8/10
The Food really wasn't as good as usual, the magazine selection was poor and the shortcomings with the Business Centre are unacceptable IMO

On Board Seating
5/10
The Seat wasn't broken but was damned uncomfortable
On Board Service
9/10
The FAs don't have much to do so perhaps they could use the time to greet the pax ?
Luggage Delivery
4/10
Only because they didn't break/lose anything
---
Last edited by everywhere; Oct 23, 08 at

11:11 pm

Reason: Please note the WLG lounge has been refitted since this report.
Dec 29, 05, 3:24 pm
Join Date: Aug 2002
Location: Stanmore, Sydney, Australia.
Programs: NZ Airpoints GE
Posts: 1,360
That was an excellant read - and great photos- having been to the WLG DOM on numerous occassions. Yes it does need a makeover but it has great views - i have many a photo taken from the lounge. Mind you if you think WLG needs a makeover, CHC is even worse.

I find all the NZ lounges in NZ suffer from a serious lack of decent reading material. I am sure on my last visit to CHC there were 200 copies of 'Yachting World' - or whatever its called - and that was about it.
Dec 30, 05, 4:30 pm
Join Date: Feb 2004
Posts: 5,958
Home Again
---
Here's the next installment in the summer series – this time of AKL. When I get time I'll upload more photo's of WLG as well as pictures of the new lounge at DUD and so you can see what
MrSydney
is talking about lots of photo's of CHC - and of course the accompanying trip report.
The airport was relatively empty, the premium counter open and staffed – no line but she spent a long time typing to check me in (this seems to be quite a common occurrence thanks to the antiquated IT). After depositing my 6 pieces of luggage I proceeded through security, up the escalator, right and right again into the Koru lounge. The lounge is a bit newer than most in the system – it was the first with the new seating style (and is much better than the erstwhile lounge, which is a distant memory now).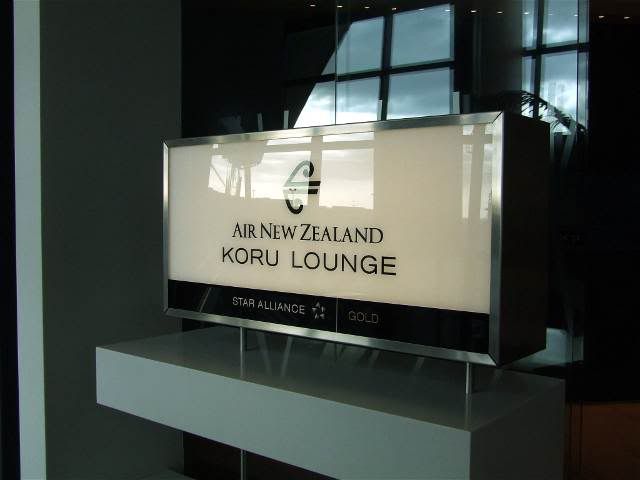 The main lounge is split in two by a strip which acts as a Corridor. This half of the lounge is tiled with the buffet and cafe style seating.
The other half has lounge chairs (There were people scattered in them so I didn't get any photo's of most of it). There's also a bit tucked away with plasma screen's (and there's another TV in another part of the lounge which was thankfully off). The plan when the lounge was built was to split the lounge up into a short, medium and long stay "zone's" - with the long stay "zone" being located at the end of the lounge (near the window) with wide armchairs (pictured below). The concept hasn't really worked I don't think - the narrower armchairs further forward in the lounge don't seem so inviting and alot of the short stay (buffet seating) is never really used.
This is the far back corner which I think should be converted to lounge seating – it's never really used. Before Air New Zealand built this they did some research and found that most people in the lounge were traveling along - hence the absence of couch's. It seems strange then that each of these tables has 4 chairs around it.
The magazine rack/business bench breaks the lounge up so it seems smaller. These business bench's on the other side of the magazine rack have about 5 or 6 office chairs and a bench with telephones which you can plug your laptop into if you wish to Dial up (very 90s - for a lounge built in this millennium you would have though those ports would have been for broadband).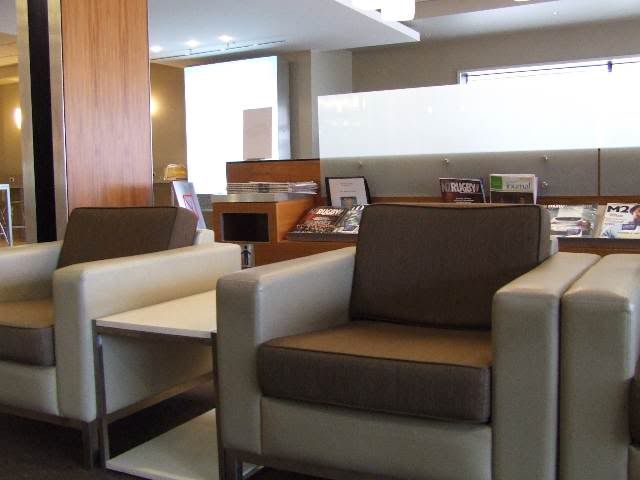 I ambled through to the nicely decorated Business Centre, which only had 4 computers (which might not be such a bad thing). Some of the chairs looked in need of a clean and the computers were the same as the one's found in WLG - running Windows 2000 and highly restrictive in what you can actually do with them.
Those things you can see on the top right of each partition are coat hooks. Through the back of the room is the door to the staff locker room. Here's the 15" screen I was forced to peer into to check flyertalk !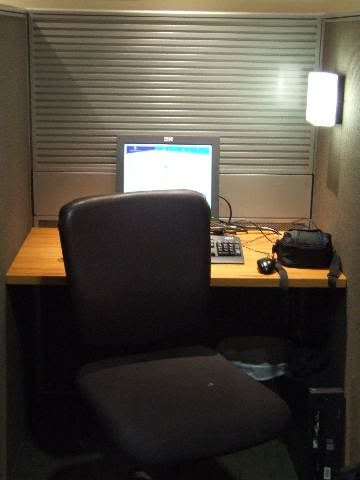 On returning to the main lounge I noticed the Shoe Shine Machine – There is a revolving advertising board just in front of you to watch while it's shining your shoes (well they do have a captive audience). Sorry for the bad picture - it's taken at about 13 x zoom from far back where you turn into the Business Centre.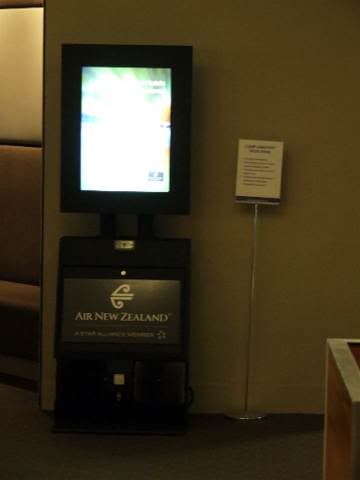 After investigating the machine I went in search of something to read. There were some magazine's, but none caught my interest so I went to check out the buffet. Because of the time of day the spread today was awful (just as well I wasn't hungry, but nevertheless I'm still disappointed) and it's pictured below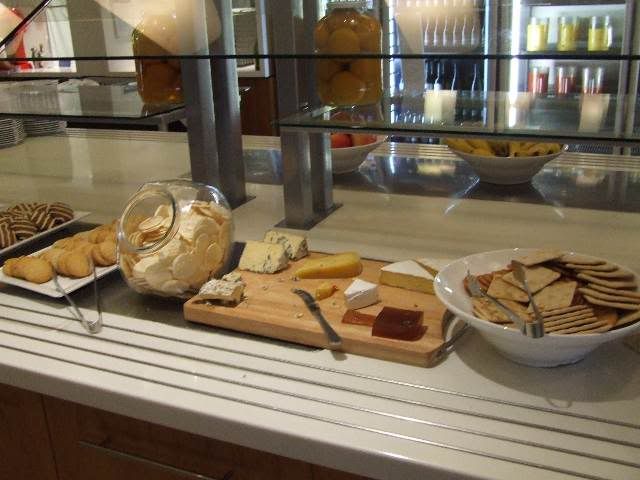 Crackers and Cheese. Some biscuit's and scones without cream (AGAIN !)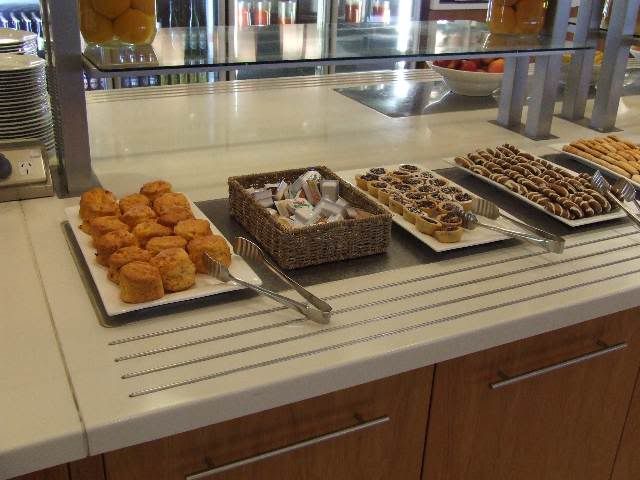 The Bar was stocked and I even counted to check - yep the usual 16 types of beer were there.
For those of you which care about these things here's the line up - Stella Artois, Steinlarger (and Light), Macs Gold, Lion Red, Speights, Export Gold (and Dry), Heineken and 7 types of Monteiths (Yes I know it's cheating
).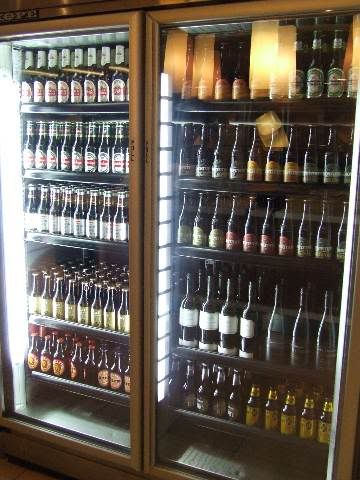 One thing you can't fault is the detailing of the design. It won some kind of award for the architecture firm Brewer Davidson (even though it was designed in partnership with Melbourne-based Cunningham Martyn Design) and was also in the Forbes top airport lounges in the world for 2003 – up there with VS in JFK, BA in JFK, QF in SYD, SA in JNB, SK in CPH, EK in DXB, MY in KUL and SQ in SIN. I remember back to when the 12 week, $1.3 million complete upgrade was in full steam – those temporary facilities almost made me fly QF !
As usual there was the obligatory art even though the full length windows looking out over the apron give me all the art I need
There is some very nice detailing built in. They're Crushed Paua accents from Riverton in the South Island.
After the final call I went to the gate which was empty (seems to be a first - must be an empty flight) but after boarding there was still a wait for a family of 3 connecting from the Pacific islands. Had seats 3ABC (Quite a long way back for me). We pushed back on time and the aircraft took off to the west before banking around to fly south.
During the flight they served the usual Express Class fare and afterwards I noticed the Purser was reading a magazine in the galley – obviously there's not much to do on these short services with no real meal service.
As I was sitting in my seats writing this and eating the biscuit's which I had borrowed from the lounge a FA came up and made conversation about my biscuit. That looks nice, we couldn't have provided you with that, did you buy it; my reply - no, I carried it on though
Apart from that the flight was fairly uneventful (even though those Toilet's are really cramped onboard aren't they). On arrival we landed into the north at WLG, and taxied into gate something-er-rather arriving before schedule (for once !)..
My 6 pieces of luggage were out in 8 minutes – none were sorted in priority order.
Ratings for this service
Check In
8/10
Charming
Lounge
9/10
The Food really wasn't as good as usual and those business centre seats could do with a good clean. Also why can't NZ stock magazine's which I might like to read (The QP usually does after all)
On Board Seating
9/10
Seat was much more comfortable than the previous flight - but still not the best for Coach.
On Board Service
9/10
Perhaps I'm just used to Business Class
Luggage Delivery
4/10
Only because they didn't break/lose anything
---
Last edited by everywhere; Oct 23, 08 at

11:14 pm

Reason: Please note the AKL lounge has been refitted since this report.
Dec 31, 05, 4:26 pm
Join Date: Aug 2002
Location: Stanmore, Sydney, Australia.
Programs: NZ Airpoints GE
Posts: 1,360
Thanks once again for that - most enjoyable. The photo of those scones made my mouth water!! I usual grab a few plus butter when i fly across the Tasman as they are far tastier than the Cafe style rubbish they serve in Y.The AKL Koru Lounge is about the only redeeming feature of that appalling AKL domestic terminal.

I fully endorse your comments about the lack of reading material - crikey even a NZ Womens Weekly would be preferable to Golfers Monthly or Rugby Weekly!

BTW......the taxi fare from WLG to WGN Railway Stn is on average $30 which is a rip off, whereas a simlilar trip in Sydney would be $15!!
Jan 2, 06, 3:19 pm
Join Date: Feb 2004
Posts: 5,958
Originally Posted by MrSydney
I fully endorse your comments about the lack of reading material - crikey even a NZ Womens Weekly would be preferable to Golfers Monthly or Rugby Weekly!
Just as well there's always a plentiful supply of newspapers then.
Originally Posted by MrSydney
BTW......the taxi fare from WLG to WGN Railway Stn is on average $30 which is a rip off, whereas a simlilar trip in Sydney would be $15!!
Or you'd have plenty of change from $5 in Buenos Aires ! Still.. shouldn't complain all three put together are still far cheaper than the cost of running a driver.
For my next 4 segments I'll make sure I get more photographs of the food/beverage offering.
Jan 6, 06, 12:08 pm
Moderator, CoronaVirus and Hilton Honors
Join Date: Nov 2003
Location: on a short leash
Programs: some
Posts: 71,263
Thanks for the report, although I'm annoyed that there never seems to be any Macs in the fridge whenever I visit, but so many other FTers report otherwise.

As for the AKL buffet chairs not being used - I take it you dont visit during peak hours. Pretty much every seat is used at the busiest times.
Jan 10, 06, 12:54 am
Join Date: Feb 2004
Posts: 5,958
Thanks for the kind comments everyone ! Look out tomorrow for the next instalment of my report WLGCHCDUD with an extremely tight connection :EEK
Kiwi Flyer
if by some veracious oversight there is no mac's in the fridge just ask some of the lounge staff and I'm sure they'll find you some
As for those buffet chairs - the whole lounge gets quite full in peak times so people sit there - I'm sure they'd rather some of those nice big wide armchairs such as exist at the back of the lounge.
Jan 10, 06, 1:48 pm
Join Date: Jan 2005
Location: Tokyo & London
Programs: NH DIA SFC (*G), JL JGC (OW Sapphire), AMEX PLT, Priority Club Platinum, SPG Gold
Posts: 258
Great report!!

IMO, the lounge beats the NH lounges I use (mainly HND and NRT) by a million miles. Yes, the lounge agents are very polite and go out of their way to answer to any questions/problems, but looking at facilities, services, food selection this is light years ahead!!

P.S. I love the (AKL) alcohol selection!
Jan 10, 06, 3:32 pm
Join Date: Feb 2004
Posts: 5,958
Back again to a familar place
---
There was no queue for priority check-in but unfortunately the sole premium desk (which seems to have had it's overhead monitor text changed from when I last took a picture of it – it now says "Koru Club-Gold") was busy checking in a group of about 10 from an erstwhile generation (though they were premium pax – confirmed by their later presence in the Koru Lounge). I was called up by an International agent without too much wait.
Anyway after that ordeal (once again check-in took a long time) I proceeded through the public concourse up to the Koru Lounge. Unsurprisingly I didn't see anyone I knew –remember this is the public area. Once again after entering the Koru lounge which, as I suspected was quite empty I drew my camera without delay
…and headed straight for the food selection
On first glance the food selection looked to be the same as last week but on closer inspection I noticed the difference – there was Chicken on the hot plates. It really was good.
There were scones on one servery and cream on the other – quite a strange arrangement.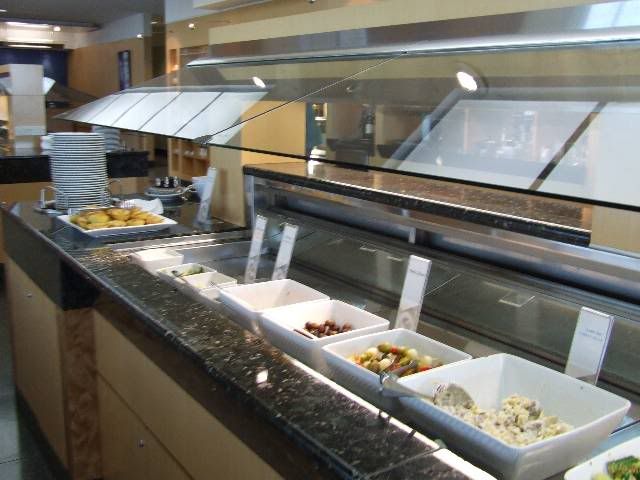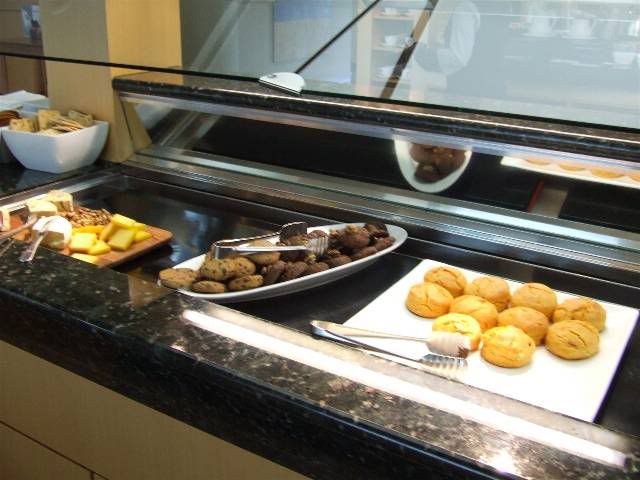 Luckily the lounge was empty enough for me to get a photo down the side of the buffet – without getting too many strange looks…
I went to the beer cabinet but could only count a mere 14 beers today !
The wines were limited to Sileni – you can see that they're pushed for space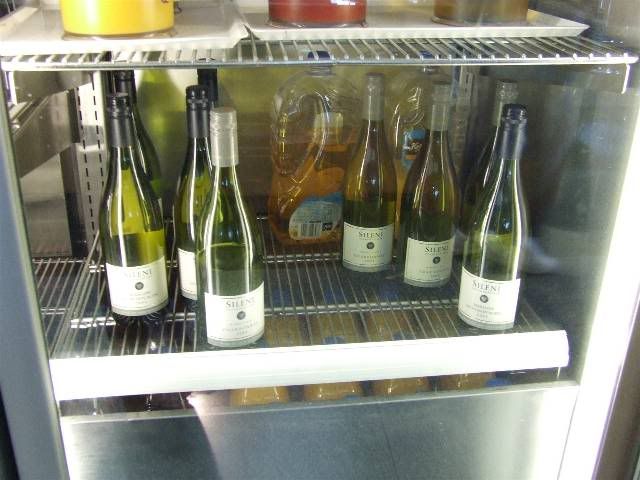 I settled back into my usual seat and watched the baggage handlers working the apron – watching several suitcases drop out of a Saab 340A and onto the tarmac.. oh well
I looked back in that display case but couldn't recognise the autographs on that lowest 747 model – though someone had scribbled "What an amazing way to fly" on the wings.
For solely evaluative purposes I flicked through the magazines – some choice, but not much
Boarded my flight in the usual fashion – except this is an ATR which boards through the rear so I had seats 16AB (the highest row number I've had on any aircraft in years). I had forgotten how narrow these seats were but managed to get myself comfortable – or as comfortable as you can be in an aircraft which has been parked smack bang in the middle of the Wellington crosswinds.
The Captain came on the PA and advised us of his and the First Officers name "on the flight deck" while <insert cabin crew names here> were "on the flight deck" also. We had a full power takeoff to the north (Military style) but we still rotated quite far down the runway. We had barely lifted off that thing that pass's for a tarmac at WLG when the winds started to through us. We then ended up in some very severe turbulence – dropping several meters vertically before the captain managed to regain control and move us forward a few metres when again we dropped even more. Someone quipped up about rollercoaster's – but I tell you this was
much
better than that. The airframe rocked around, all of this happening contemporaneously as I was trying to pour myself a beverage. Highly engaging – WLG never ceases to entertain (the smaller the airframe the better) ! By now we were almost over the Hutt Valley before the pilot commenced a step bank to turn south, providing us with a wonderful view of the Harbour City. We rose rapidly trying to get to above 20,000 feet to avoid flying through lower turbulence. Throughout the trip we repeatedly changed flight level's trying to dodge it. You could tell the pilot's really where earning their keep on this one.
The FAs (all 2 of them – instead of 1 for the Q300) handed out water but not hot beverages (ostensibly for safety reasons). Those 150Ml waters really don't fill you, I or anyone – luckily I had had supplies packed.
Anyhow the flight continued in a relatively uneventful fashion though we did track out to sea more than usual before turning in round the peninsular to land, where we went into full reverse thrust – a full 5 minutes late ! Just as well – I'm still justified in calling the airline Air Delayed. The runway was wet, so quite greasy but you wouldn't have noticed it. Despite an air bridge being available we parked up on a stand to use the inbuilt stairs to disembark. There was a large delay while we waited for some engines somewhere-er-rather to be switched off before we were allowed to disembark. The indignity of it all ! Luckily (for them) all was forgotten as I disembarked and found myself looking at an EK 777.
After hustling off this flight and through security I saw my flight was starting to board – but nevertheless I busted upstairs and into the Koru Lounge to use the lav's and was planning on doing a few other things – but there was no time. The doors on the cubical seem to automatically shut so I always give them a good knock/wack. I hoofed it back downstairs to board my flight – followed by just 1 other person. Oh well, not quite last. That brings me to a "security" point – If an ATR fly's from anywhere to CHC and uses one of the many gates beyond security it would result in the screened and unscreened mingling !
The service today only had 52 pax – so 14 free seats… make that 12 because 17AB is perpetually blocked for the flight crew to use to socialise in flight (nevertheless I quite happily commandeered the other seats). There was a short wait while some luggage was loaded (not mine though as you'll find later), and then we were off across the apron. We held short of joining the taxiway which runs parallel to the runway for a NZ 737 which seemed to get slower and slower until eventually the pilot had established that indeed it was waiting for us. We accelerated down the taxiway before spirally neatly onto the runway and had another wonderful takeoff – hitting some turbulence of course. That 50 knot nor westerly was really proving a problem. Not to worry though – the weather improved as we flew south -at one time the wind was at a mere 4 knots.
Once again the FAs passed out water, but "for safety reasons" flagged on the coffee service (much to the annoyance of many pax on this flight for some reason). Then the pilot ordered everyone into their seats and for the FAs to prepare the cabin for landing – some 200km from the destination ! One FA went up the aisle and stopped to return virtually every second pax's seat to the upright position, including the cow who reclined her seat right into me basically forcing me to recline mine. They didn't realise till after landing and a pax had pointed it out that they hadn't collected the trash – so they did the right thing and made a PA announcement to leave the trash on the seats and they'll collect them after all passengers had disembarked (I must say I was quite surprised – I would have thought they would have asked everyone to take their rubbish with them).
We flew along at around 6,000 feet before diving through various levels to 8,000 feet as the wind dropped. The wind then picked up though, making for a quite bumpy approach (but nothing compared to my earlier flight from WLG). Alas still no go around to report !
Had a good look at the new DUD terminal – which is only half completed but is a substantial improvement. All 8 bags were out in 13 minutes after disembarking, though they weren't sorted in priority order (Hence why my bags weren't being loaded last). While I was waiting I watched many bags come out on the new carousel too far over – they just fall on off.
Ratings for these services
Check In
7/10
Spent a long time at the desk, and staffer was quite patronising
Lounge
9/10
The Food was better than last time – though I still wonder what those consultant chef's are thinking sometimes ! Magazine selection had improved but had a long way to go
Luggage Delivery
6/10
They didn't break/lose anything and it was a bit quicker than at some other stations – but still nothing like my last visits
---
Last edited by everywhere; Oct 23, 08 at

11:20 pm

Reason: Please note the WLG Lounge has been refitted since this report.
Jan 10, 06, 11:10 pm
Join Date: Mar 2001
Location: SYD
Programs: OZ*G, VA Plat, NZ*G (Elite), QF Gold and PC+, Hyatt Explorist, HH Gold, Bonvoyed ("Gold")
Posts: 5,190
Great report and photos, ntddevsys. NZ's domestic lounges are for the most part (i.e. excluding CHC) a cut above almost everyone else's, especially for food and drinks. Looking forward to some photos of the new DUD lounge...
Jan 11, 06, 3:11 pm
Join Date: Feb 2004
Posts: 5,958
A Quick Jaunt
---
Arrived at IVC and just as I'm entering the terminal the phone rings – no need to travel. Luckily the airports not far from town, but after having made the trip I decided I'd look around the terminal (which is very basic)
I was very surprised to find there is a priority check-in desk – considering NSN, ROT, TUO et al don't have one.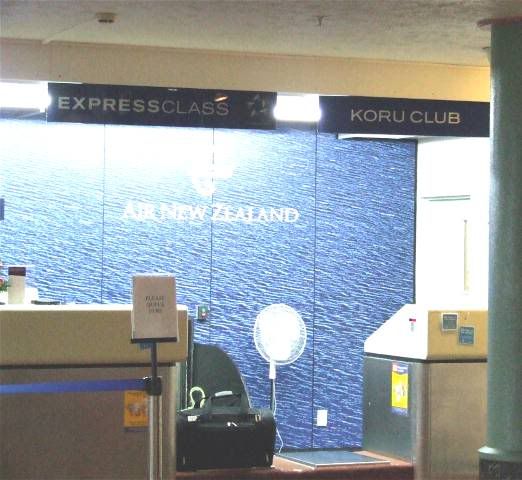 I went on up to find the shoe box of a regional lounge – not that I'd be able to access it anyway because I hadn't checked in to get a code. This reminds me – what happened to the NSN lounge refurbishment or a lounge at ROT – have NZ put regional lounge construction on hold ?
Upon exiting the terminal I realised that I hadn't seen a single person in that terminal – no staff, no passengers. How bizarre.