New year's vacation in Chile, with a touch of Canada…
Dec 25, 22, 12:48 pm
Join Date: Jan 2012
Location: In between BRU, AMS, DUS and LUX...
Programs: AF/KL Plat, BA Gold, A3 Gold, IHG Diamond, MR Gold, HH Diamond, ALL Platinum
Posts: 1,035
New year's vacation in Chile, with a touch of Canada…
---
Merry Christmas to you all ! I hope most of you had relaxing times with your loved-ones and best of luck to the ones stranded due to the winter storms across North America. I am writing those lines as I just took off from Lyon, France to get back "home" to Amsterdam tonight after having spent a week with the family. This is the first time for me that I am flying on Christmas day and I was happy to see some small Christmas touches on board the CityHopper flight this evening !
Christmas is alive on KL CityHopper !
For once, we were quite happy to leave Lyon this year, and the reason was because this meant our official vacation was about to start: We will be spending most of the next 3 weeks in Chile together with a couple friends.
For the last few years, a couple friends of mine (he is Chilean) have asked me find them so good deals in business class to fly back to Chile from the Netherlands for Christmas. Last year, I was happy to find them a round trip for 1600 Euros only a couple months before departure during the busy travel season, and this year, they asked me a bit in advance (May) and I made them benefit from the nice AMS-SCL P fare from Lufthansa, as I managed to find some availability at their dates. The beauty of this fare is that despite being a Lufthansa fare, you could actually fly their transatlantic joint-venture partners, such as other Lufthansa group airlines, United or Air Canada, all of which have much better business class products than Lufthansa. You could also choose the easy route via Central or South American entry points (Brazil, Colombia or Panama mostly) or via the US/Canada.
At the end, I found for them a round trip via Toronto, all in Business class for barely 1400 Euros with departure a week before Xmas and return mid-january. I was actually quite proud of this finding and shared it with my girlfriend, indicating though, that this fare is on star alliance, and that we were no longer star alliance flyers (we prefer oneworld and skyteam as we have top-tier status there). But she immediately replied "Oh that's still a good deal, why don't we go there for new years eve !". (That's why I love her… because of her "spontaneity" J). So after asking our friends and spending another several hours looking for flights for us (trying to find the best compromise between schedule, availability, price, product and mileage earning), we booked a round trip on Air Canada, with the departure being just one week later than our friends and the return on the same dates.
The itinerary of this journey will be the following :
- Air Canada 787-8 business "Signature" class AMS-YYZ
- Air Canada 787-9 business "Signature" class YYZ-SCL (with hopefully a nice visit to the YYZ Signature Suite)
- Air Canada 787-9 "Signature" business class SCL-YYZ
- Air Canada 787-9 "Signature" business class YYZ-VIE
- Austrian airlines 320 business class VIE-AMS.
Trans-atlantic flights in P, LH or OS marketed, but AC operated, Trans-american flights originally booked in Z, AC marketed/operated. Cherry on the cake, since star alliance FFPs credit miles based on the operating carrier (and not the marketing carrier like skyteam or oneworld), this trip should get us quite close to being star alliance Gold on Aegean, thanks to the generous earnings for Air Canada operated flights, even in P. (In light of this, we did a short weekend in Athens early December to have at least 2 A3 segments to get lower silver thresholds since we were starting from zero with Aegean !)
All booked for about 1400 Euros on Lufthansa stock via Expedia (unfortunately the only way to book that fare at our dates; I would have preferred to book directly with the airline).
We indeed had a couple schedule changes since may 2022, and had more or less trouble to get rebooked to proper alternatives since we booked via Expedia.
In between, we will have 36 hour layover in Toronto on the outbound (was supposed to be 8 hours only but Air Canada cancelled all the YYZ-SCL Monday evening departures), and 2 and half days in Toronto on the return. We will also be flying to Patagonia (Punta Arenas, onboard LATAM 320 and 787 premium economy/business class) and Atacama desert region (LATAM 320 Premium economy).
Also, parts of North America are currently struggling with flight cancellations due to current winter storm, so we are hoping to get to our destination without too many issues. So far online check-in was successful and flight AC827 is still planned for tomorrow, Dec. 26th…
We are very excited of this trip, and also to be able to fly Air Canada business class after all those years and discover their Signature Suite in Toronto (
although we read and heard reports of travelers, including our friends, being unfairly refused access to it despite meeting all eligibility criteria
).
Stay tuned !
Dec 26, 22, 9:22 pm
Join Date: Jan 2012
Location: In between BRU, AMS, DUS and LUX...
Programs: AF/KL Plat, BA Gold, A3 Gold, IHG Diamond, MR Gold, HH Diamond, ALL Platinum
Posts: 1,035
Air Canada check-in AMS + Aspire lounge AMS
---
After a good night of rest at the Hampton Inn Schiphol Airport in Hoofdorp (our favourite Schiphol airport hotel when you factor price/convenience), we took our "usual 4-minute train ride" to the Schiphol airport terminal and conveniently reached the airport at 10 O'clock. I made sure to check when I woke up if the inbound flight AC826 actually took off from Toronto and was happy to see it was on it's way to Amsterdam, although it took off almost 3 hours late.
Departure board AMS
AC Priority check in
Air Canada check-in counters are located in the departures 3 section of AMS, and we used the empty business class lane to register our bags. I took this opportunity to ask the friendly agent to update my frequent flyer number to my Aegean one as for whatever reason the system was stuck with my useless Lufthansa miles and less account number with no possibility to change it myself (probably because I added it to my Expedia profile 10 years ago…). It took a few minutes to the agent to do so as there were issues on her side too, but it eventually worked out and the A3 membership was shown on the BP. Afterwards, I asked her if there were any travel alerts for our next flight to SCL (the next day), as I wanted to get more confidence we would not get stuck in Toronto. And this is where things got a bit complicated as she could not find the next flights on our booking (she managed to find the flights after a few minutes though and after providing her the PNR and after explaining her that there was a schedule change 3 months ago when Air Canada decided to cancel the Monday evening departure to SCL) but she eventually asked her supervisor to come over, and he started to make some calls. Although I speak and understand a bit Dutch, I could not grasp the full outcome of the phone discussion, and was started to get afraid that something was wrong with our booking. But there was actually nothing to worry about and all their efforts was actually to get the boarding pass for the next segment printed out, which was not possible as we were more than 24 hours before departure.
Bags in...
...Boarding pass out
After 10 minutes or so, we got our passports and boarding passes back. All agents clearly had the best intentions, but unfortunately, this was another example that a lot of knowledgeable and experienced staff left the aviation sector since COVID, I guess it will take months if not years to fully train everyone again…
We used the priority security which took only 5 minutes to clear (regular security had a waiting time of maybe 20-30 min) and the passport control was, for once in Schiphol, quite fast as it took only 5 minutes using the e-gates to exit the Schengen area.
AMS non-Schengen area
Happy to be there !
AMS by day, with the KLM "Orange Pride" 777-300 in the background
We then walked a bit to the Aspire lounge, which was getting crowded and where there was a bit of a line to enter. There is clearly a lack of lounges in AMS, especially in the non-Schengen area, and this lounge serves most of the non-SkyTeam airlines and also a bunch of membership programs such as Priority Pass.
Aspire lounge AMS non-Schengen
It was clearly rush hour there, but we eventually found a couple seats left.
There is nothing to write home about this lounge, the F&B are pretty basic, and restrooms are located within the lounge (although half of the toilets, sinks and soap dispensers are out of order). Additional (public) restrooms are located right outside the lounge. The Aspire lounge also has showers, although I cannot comment on those.
The good thing about this lounge is that there are nice views on the apron, between the D and E pier, and at that time of the day (around 11 am), one may think to be in a US airport given the amount of Delta Airlines aircrafts there !
View from the Aspire lounge. More DL aircrafts than KLM at this time of day!
Aspire lounge AMS
Buffet
By noon, the lounge started to be more quiet as half of the visitors were gone. This was also around that time that the AC flight from Toronto landed and it was time for a quick snack at lunch time :-)
Snacks since the flight is late :-)
By 13:00 we left the lounge to head toward the departure gate, located at the G pier, a good 10 min walk away… Boarding was about to start a few minutes later, with all families with children first (and there were quite a few in the Christmas season) and then zone 1 passengers (priority boarding was strictly enforced).
C-GHQQ 787-800 dreamliner at the gate
Dec 27, 22, 11:03 am
Join Date: Jan 2012
Location: In between BRU, AMS, DUS and LUX...
Programs: AF/KL Plat, BA Gold, A3 Gold, IHG Diamond, MR Gold, HH Diamond, ALL Platinum
Posts: 1,035
Flight AC827/26DEC2022 - Amsterdam to Toronto in Air Canada 787-8 "Signature" class
---
Air Canada 827 – Monday, December 26th 2022
Amsterdam Schiphol Intl AMS – 11:55 scheduled, 14:15 actual
Toronto Pearson Intl YYZ – 14:00 scheduled, 16:28 actual
Boeing 787-800 Dreamliner – C-GHQQ – Seat 01K – Window – "Signature" business class
Despite the fact the signage indicated that 2 jet bridges were connected, we boarded the aircraft using the only jetty connected to door 2L around 13:20 and were welcomed onboard by a friendly flight attendant. Marie-Claude, the purser on this flight greeted us a few minutes later while the rest of the passengers were still boarding.
Only one jetty connected despite what the display says...
Back to Air Canada 12 years later !
The business class configuration on this shorter version of the Dreamliner consists in 5 rows of 4 seats across (1-2-1 herringbone configuration), resulting in 20 business class seats only, all located between doors 1 and 2. Based on the seat map and the upgrade waitlist from the app, it seems that 15 out the 20 seats were booked 24 hours prior to departure, which means 5 passengers got upgraded.
AC 787-800 Business class cabin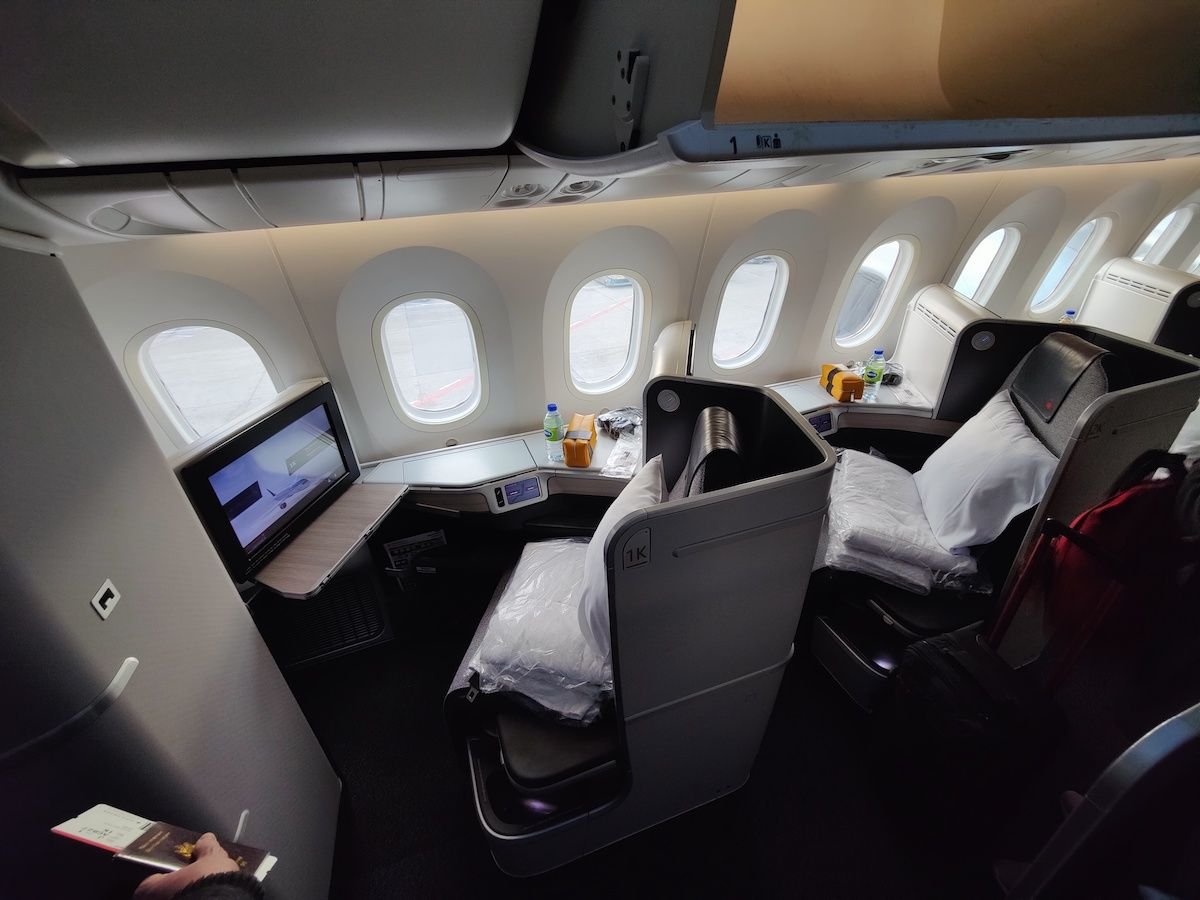 Seats 1K-2K
The Acqua di Parma amenity kit, a half liter bottle of still water, the COVID-19 safety kit and the bedding + pillow set were already there when we entered, and the flight attendant proposed to take our coats to store them in the closet.
Row 1 has 3 windows (although one window is partially obstructed by the IFE screen) while the other rows have 2 windows only. Overhead bins are located at side of the cabin, with none located in the central section of the cabin, the cockpit crew rest being above central section of rows 1-2 and I guess AC decided not to put any overhead bins for the rest of the cabin in the center to give a more spacious feeling.
Seat 1K
Acqua di Parma amenity kit with the COVID-19 safety kit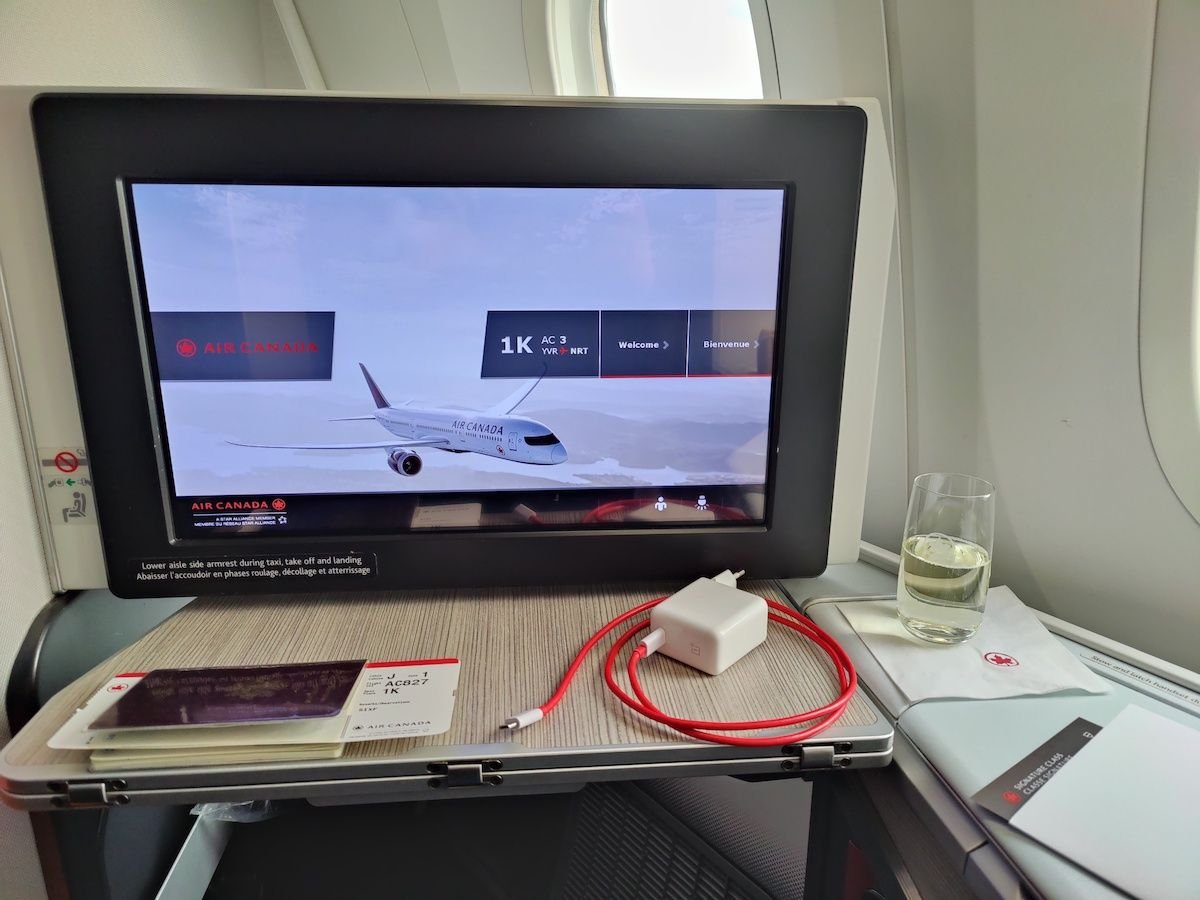 I wish we were going to Japan like the screen says... but not this time !
Like on all Dreamliners, wider, electrochromatic windows were in use, and like on most North American carriers, individual air vents were placed above the seat, which is something other European airlines should definitely do!
One thing that I immediately noticed while setting up my stuff was how little storage this seat had, and this is definitely an improvement point for a future version of those signature pods : Only hard shell seat pockets were available to store documents or a laptop (luckily, AC has not restored inflight magazines leaving some more space available). A bottle holder could be found under the aisle-side armrest and another compartment, to store small items such as a passport, the amenity kit or a cellphone, but not much more…
This is the only real storage on this seat, besides 2 hard shell seat pockets. Inside the compartment are located the IFE remote, a USB and power socket, and the noise cancelling headphones jack.
Plenty of leg room...
Air vents are available !
View from seat 1K
The (oversized) Acqua di Parma amenity kit with the usual stuff inside : Eye shades, ear plugs, tooth brush and tooth paste, moisturizing cream and lip balm, socks and glasses cloth.
Unlike some other business class seats of the same family, this one did not have a shoulder safety belt, but just the conventional waist seat belt. Seat controls are conveniently located on a touch screen (more on that later during the flight) and the IFE can be controlled using the remote located inside the window-console storage compartment but a more convenient way would be to use the touchscreen of the IFE screen itself.
Talking about the IFE, it has all the classical features, such as the moving map and some games but I was a bit disappointed by the movies and TV series selection to be honest, with blockbuster shows you can find on most airlines like "the big bang theory", "Friends" or "How I met your mother" absent. I have to say that I had no clue about most of the shows presented on the IFE, and I spent most of the lunch service watching some episodes of "workaholics" a stupidly funny series I discovered during that flight and listening to some music while typing those notes… Note that this aircraft was not equipped with outside cameras visible to the public.
The noise cancelling headphones were pretty good.
Air Canada IFE
Movie selection
TV series selection
About 5 minutes after settling in, another flight attendant offered us a choice of sparkling wine or sparkling water and also presented us with today's menu with the wine list. Note that on the Air Canada app, the food menu is available a few days before the flight and it the same selection was proposed. She came back 10 minutes later to write down our choice of main course and while I opted for the fish, Myriam took the beef option. I later heard the flight attendants discussing in the galley that they were not getting enough beef on that flight and the purser instructed the crew to prioritize the revenue passengers with this option. The captain also came up in the business class cabin to inform us about the reason of this delay (late arrival of the aircraft due to weather in Toronto) and thanked us for our patience. The crew arrived on the 24th in Amsterdam and spent Christmas there, and I think the captain was having some family members seated at the back of the business class cabin so he came a few times during the flight in the cabin.
AC827 business class menu
Cheers !
We pushed back around 14:15 with the safety video broadcasted on all screens. This safety video featured the different provinces and landscapes of Canada, just like Qantas did a couple years ago.
View from gate G03 in AMS
Easyjet cattle class boarding...
Emirates 380-800 in AMS
Take off from AMS
We took off around 14:35, with unobstructed views on Amsterdam given that I was seated in the first row. I could really appreciate the quietness of the engines, even at full thrust.
Wifi got enable shortly after, but unlike some airlines, there was no free option for messaging only or for business class passengers. Prices were depending on the package selected (duration and connection speed) ranging from 8.75 CAD for a 1-hour connection suited for messaging and basic browsing to 34.95 for a full flight duration high speed connection. Monthly plans were also available for the ones using this service a lot on Air Canada for 89.95 CAD a month. The Air Canada app and website were however functional without any plan purchase, useful in case you want to look up your connection status for example…
AC Wifi plans pricing - too many options and almost nothing for free, even in Business class !
With destination information available.
Two lavatories are located at either end of the cabin with nothing business class specific inside besides moisturizing cream. There were however no cleaning wipes in the toilets, which is a must to have to me.
Second galley lavatory (next to door 2R)
The crew members were mostly available in the front galley during this flight. But unfortunately, and just like on all North American airlines, the crew does not really like when you stay in the front galley and since I am the guy who cannot stay seated for more than a couple hours, and like to chat during a long flight with the crews, I spent a bit of time stretching my legs, alone, in the second galley…
The second galley mid-flight
About 40 minutes after takeoff, a first bar service was offered and I opted for a glass of Laurent Perrier champagne with some Perrier sparkling water. It came with very good warm nuts, a specialty of North American airlines. Marie-Claude the purser together with another flight attendant were serving our side of the business class cabin during most of the flight. While there is no mandatory obligation to wear a face mask anymore on board AC, the other flight attendant was equipped in full PPE gear (protection glasses, double mask, face shield and nitrile gloves), while I fully respect her choice it was funny to see that none of the other crew members were wearing any PPE at all.
Laurent Perrier champagne with warm nuts
About 20 minutes later, the appetizer, a very good smoked salmon on green peas purée was served, with a choice of brown or white bread and a side salad with parmesan cheese and dried tomatoes inside. The look of the salmon reminded me briefly the excellent Balik salmon Swiss sometimes serves in First class, it was not that good, but it was still a very good business class starter I think. Marie-Claude realized at this point that we were French and talked to us in French during the rest of the flight since she was originally from Québec city.
Smoked salmon with green peas purée
Afterwards the red snapper filet was served, the fish was pretty good (not the best I had in the air though) but the sides, especially the green beans were meh.
Myriam had the beef and it was pretty good, very tender she said.
Red snapper filet
Beef filet
The dessert/cheese cart came up afterwards and we both opted for the cheese plate with a fruit salad. The cheese plate was nothing special (we are both cheese amateurs, it may be due to our nationality J) and the fruit salad a good end to the meal.
Cheese plate and fruit salad
I then had a nap with the seat in relax position until I woke up to use the lavatory. I then completely set the seat in flat mode and placed the mattress topper and the duvet, which allowed me to sleep for another small hour. Which brings me to the description of the seat controls : the small touch screen allows to set different mattress softness and also adjust the lumbar and neck support. There is also a massage feature which I tried to use, but I did not feel much. Finally you can control the foot rest and upper lights using that screen together with the window electrochromatic dimming. There is also a do not disturb and crew call function on this control panel.
Seat firmness controls
Seat controls and massage
Lights and window dimming controls
Service controls
Seat in bed mode
Ready to sleep a bit
Moving map feature, I like watching this from time to time when flying
Regarding the specific seat 1K I had, I do not think I will choose this seat for future flights. While the seat is relatively private during the day, when the cabin is dimmed or during night flights, you can see the front galley light from your seat, even when the curtains are closed (and the curtains were not always fully closed during that particular flight). Myriam, seated in seat 2K, was less disturbed by those lights. Some storage is also located right in front of seat 1K and also in front neighbouring seat 1F, which creates some disturbance while sleeping when the crew needs to take something from there.
I slept over Greenland it seems !
During the flight, a snack basket, comprising of potato chips, kit kat, Haribo gummy bears, almonds, granola bar, Biscoff speculoos cookies and Lindt 70% chocolate bar was available on the central section in front of the first row. A crew member came a few times during the flight with some soft drinks in the aisle.
The cabin mid flight
Snack time !...
... while working on another trip report !
About 90 minutes before landing the lights were turned back on and the second meal service began. It consisted in some cold chicken filet with some raw ham and squash salad. Some chocolates and orange supreme quarters were also on the tray. The meal was ok, but I wish airlines would get more creative when it comes to second meals on shorter transatlantic flights.
Second meal service
Cold chicken breast with squash salad and raw ham
Shortly before 16:00 Toronto time the fasten seat belt sign was turned on and we started our descent. The purser announced at the PA all the connections, including the ones which could not be made (mostly short domestic connections since we were almost two and half hours late) where she told passengers to contact ground support for those flights. It clearly felt cold outside ! By 16:20 we were on the ground and reached our parking position, at the same time of another Air Canada 787-900 coming from Narita next to us.
Approaching Toronto... seems fresh !
Who will get to the gate first ? Amsterdam or Narita-flight ?
We briefly chatted with another crew member while waiting for the jetty to be placed and she mentioned that they were actually glad to escape Toronto before Christmas given how bad the weather was. She added that they were not sure if they would be able to leave Toronto on the 23rd as they were running 7 hours behind schedule.
C-GHQQ in YYZ
There was quite a walk to the immigration hall and we waited maybe 20 minutes to get through passport control using the automatic kiosks. The immigration agent asked us a few questions regarding the reason for our short declared stay in Canada and we were soon cleared to get to the baggage claim.
Welcome in Canada !
Immigration hall YYZ Terminal 1
Almost an hour wait to get the bags
It took more than an hour after gate arrival to get our bags. Given the current situation at Pearson airport, we still felt quite fortunate, as the luggage claim area was full of bags waiting to be processed.
Customs clearance was a breeze and we headed towards the rental car center to get a car for those next 36 hours.
Overall it was a pleasant flight. I had worse and better experiences in business class and based on this experience will happily fly Air Canada again if the price is competitive. The Signature pod seat is certainly not the best seat in the world and some things could clearly be improved, such as the IFE content and the storage. But this remains a much better product compared to what Lufthansa offers for example – It is worth noting that haven't tried yet the United Polaris seat, since we are back to flying Star Alliance only with this trip.
Coming next: An afternoon in Toronto + Toronto Pearson Intl terminal check-in with hopefully a review of the Air Canada Signature Suite !
---
Last edited by palmanfr; Dec 29, 22 at

7:42 am

Reason: Corrected flight arrival time
Dec 29, 22, 7:41 am
Join Date: Jan 2012
Location: In between BRU, AMS, DUS and LUX...
Programs: AF/KL Plat, BA Gold, A3 Gold, IHG Diamond, MR Gold, HH Diamond, ALL Platinum
Posts: 1,035
An afternoon in Toronto and YYZ check-in to YYZ + YYZ AC Signature Suite
---
My girlfriend Myriam has a home-office job and can pretty much work anywhere there is an internet connection provided she can connect and work at European working hours. She unfortunately also has less vacation days than me and when we go on travel, she sometimes have to work a bit at the destination so that she saves up some days. This trip was no exception and she had to work in the entire morning from the hotel room. Given how cold the morning was, I decided to stay in the hotel lobby and work on some future travel bookings and also my trip reports. Shortly after noon, we were out of our hotel in Mississauga and parked our rental car at a neighbouring GO station (Go is the suburb train of the Toronto region) to head downtown Toronto for the afternoon. I've been to Toronto a couple times before but it was a first time for her. The weather was decent compared to the few previous days, with outside temperature around –5c and no precipitations.
GO train to Toronto Union Station
The GO train is a convenient way to reach downtown from the suburbs as you can park your car for free at most of the stations. The ticket prices are reasonable, about 18 CAD for a day pass from Clarkson station and the ride to Union station takes about 30 minutes (it can feel long at times but I guess it's a North American thing when it comes to train transportation). Since it was a holiday, a limited schedule was operating, with one train every 30 min. The trains are very clean and comfortable.
After we reached Union station we walked towards the Eaton center for some window shopping and lunch and then walked downtown and back to the lake side. Was a good opportunity to do our steps that day (13000 counted).
Union station and the CN tower in the background.
Toronto Old City Hall
Back to Union Station
Crossing Union station to get to the waterfront
Toronto's waterfront
In Canada, you must get Tim Hortons !
Toronto's downtown skyline with the iconic CN tower
Spot the Porter Dash 8 landing at Toronto's downtown airport :-)
Mmmm... what a legal disclaimer ! If ice falls from the tower and you're below, I guess you're in much trouble !
The big GO train fits just right !
By 5 pm we headed back to Mississauga and did some last minute pharmacy shopping before driving back to the hotel to pick up our bags and go to the airport.
Since we will have almost 3 days in Toronto on the way back, we will discover other areas of the city and also visit the Niagara Falls if weather allows.
We arrived at the busy Terminal 1 around 18:30 and went towards the business class check-in of Air Canada at the beginning of the terminal, and there was a pretty long line to access it. The fact this check-in area is used for both International and Canadian domestic flights did not help (Flights to the USA have a different check-in location and since the last week has been crazy with cancellations, especially on the domestic flights, a lot of people needed rebooking I suppose). The wide eligibility access for this premium check-in area certainly did contribute to the crowdiness (Signature business class, domestic business class, Premium economy, Air Canada Rouge premium class, and all Star Alliance Gold customers can access this area). Note that there was a shortcut to that line for Aeroplan Super Elite customers, although this was not indicated until you were reaching the end of the line (But I guess Super Elite cardholders know this well).
Rush hour in YYZ T1 !
The Air Canada's "Premium" check-in for Domestic and International flights (except USA).
Departure board
Getting a bit closer...
Separate lane for Super Elite customers
We waited a good 30 minutes before see an available agent and since there was an issue with the belt, waited another good 10 minutes to place our bags in. During this time, I asked the agent why the Signature Suite access was not mentioned on the boarding pass and see briefly had a look at our booking and commented that "our fare was not full fare business class and therefore we did not get access". Given all the reported issues to access the Signature Suite on this AMS-SCL fare, I was ready to argue to gain access as we were meeting all egibility criteria and had print outs of our etickets (issued by Lufthansa); the itinerary (from the AC website) and a screenshot of the access rules from the AC website.
Unlike what the agent indicated, the eligibity rules for the Signature Suite are quite clear and easy as you need to fulfill 3 criteria :
- It MUST be an Air Canada operated flight (Code shares are OK as long as it is AC metal you're flying)
- The destination must be Europe, Asia, Oceania or South America (South of Panama pretty much)
- And it MUST be a revenue booking, in classes J,C,D,Z or P OR an Aeroplan flexible award ticket. Standard Aeroplan or partner award tickets, and any purchased or award upgrades will NOT grant you access to the Signature Suite but the regular Maple Leaf Lounge instead.
You will also not have access to the Signature Suite with any Star Alliance or Aeroplan status.
We were meeting all 3 criteria for this booking and I therefore requested to discuss with a manager to sort this out. The lady said that "a manager won't be able to sort that out as they don't know anything about this" and that "the system defines the rules, there was nothing she could do about it" but after insisting a bit, accepted to contact one but this person was already busy and we waiting for 15 minutes more. When I replied to her that since this was the premium product of Air Canada, the rules should be clear and communicated to them, she immediately replied "oh you know… Air Canada does not have a premium product anymore for years now". That was a funny one but I was a bit speechless but replied that overall, the product was not that bad compared to some of the competition…
During this time, a more patient and listening colleague of her came over to assist and also considered that based on the rules, we should be having access, but could not understand why this was not the case.
Eventually, after 15 minutes, the "original" check-in agent took our boarding passes and went to see the manager in the office next to the premium check-in area and eventually came back shaking her head sideways. There was nothing they could do as the reason now invoked was that "It must be an Air Canada issued ticket" (while holding my Lufthansa eticket receipt) but invited me to push for access at the lounge itself and formalize my complaint with Air Canada customer relations. I asked to see this rule in writing and see the manager but this was impossible.
This is unfortunately another example of the significant lack of training - and sometimes commitment – of airline employees since COVID.
No Signature Suite mention on the BP
Heading to security...
By 19:25 we left the premium check-in area, with the fatigue starting to kick-in and went to the dedicated security check point where we used the fast track to gain access. There was quite a line at the security check point but thanks to the fast track we went through in less than 10 minutes.
It was then a long walk to the E gates which are used for international flights and we walked past the International Maple Leaf Lounge where there was quite a line to access.
The terminal was packed that evening and we eventually made our way upstairs gate E77 to the Signature Suite entrance, next to the Premium Plaza lounge which was not accepting guests due to crowdiness anymore.
YYZ T1 domestic terminal
The line at the International Maple Leaf Lounge is just ridiculous (there was a fast track for Super Elite customers though)
YYZ T1 International
AC Signature Suite entrance, right next to the Plaza Premium lounge.
Signature suite entrance
I was ready to pull all my arguments out to the lounge receptionist after handing our boarding passes. The lady scanned our BP and indicated that she was seeing we had only access to the Maple Leaf Lounge, to which I replied, "Well we are travelling to South America with Air Canada and on a Business class revenue fare, you will find here a print out of our booking summary and the eligibility rules both coming from the AC website". She had a brief look and scanned again our BPs. She then said with a smile "well… I can see you are well prepared and there is obviously a system glitch here on our side, welcome to the Signature Suite !". I guess she then saw a big smile of relief on my face and we then made our way inside where an attendant immediately greeted us, asked if this was our first time and if we preferred to go to the buffet or enjoy an a-la-carte dinner.
Welcome in the Signature Suite !
We first opted to freshen up in the restrooms located inside the lounge (God it was warm in the terminal and the lounge and the fact it was crowded everywhere did not help) and we then came back to drop off our luggage and coat since the restaurant area was "luggage free".
Note regarding the shower availability in T1 International those days : Neither the Signature Suite or the Plaza Premium lounge next door have showers and the Maple Leaf Lounge is currently under partial renovation leaving the showers unavailable so there is no way to take a shower in T1 Intl nowadays. Too bad as I like to take a refreshing shower before a night long-haul flight…
Finally, unlike some reports seem to indicate on the dedicated thread when trying to gain entry on this fare, at no point in time the lounge staff was rude to us.
We were greeted by a lovely waitress and were given menus after asking us if we had any dietary requirements or allergies. Funnily enough, we started to talk to the 3 passengers seated next to us, who commented "you guys are the 3rd table seating next to us tonight !" and who were going to Mauritius via CDG and the two guys from this group of 3 were like avgeeks and addicted to loyalty programs just like me. We shared some nice stories for 5-10 minutes or so until it was time for them to board.
Signature Suite food menu (Dec 2022)
Signature Suite drinks menu (Dec 2022)
I opted for a glass of Taittinger champagne to start, while Myriam asked for some herbal tea. She ordered a squash soup and I opted for the endive salad. Both were very tasty. The main course was also excellent : I opted for the cod which was cooked to perfection and Myriam took the beef which was just great (and I don't typically eat meat, but this beef cut could turn a vegetarian into a carnivore !)
Not a bad start :-)
No pics please, I don't have any make up :-)
Winter salad
Ginger squash soup
Fogo Island cod
Beef tenderloin
We finished this nice dinner with some desserts, namely a couple scoops of vanilla ice cream (choice was vanilla or chocolate), some fresh berries to go with and the expresso cake where you could see some edible golden leafs on top. Myriam being a chocolate addict found the cake excellent, and my ice cream was not bad either. She added to it an oat-milk matcha latte which was pretty good too.
Signature Suite dessert menu (Dec 2022)
Matcha oat-latte
Sweet touches at the end of the dinner...
Very good chocolate expresso cake, note the edible golden pieces on top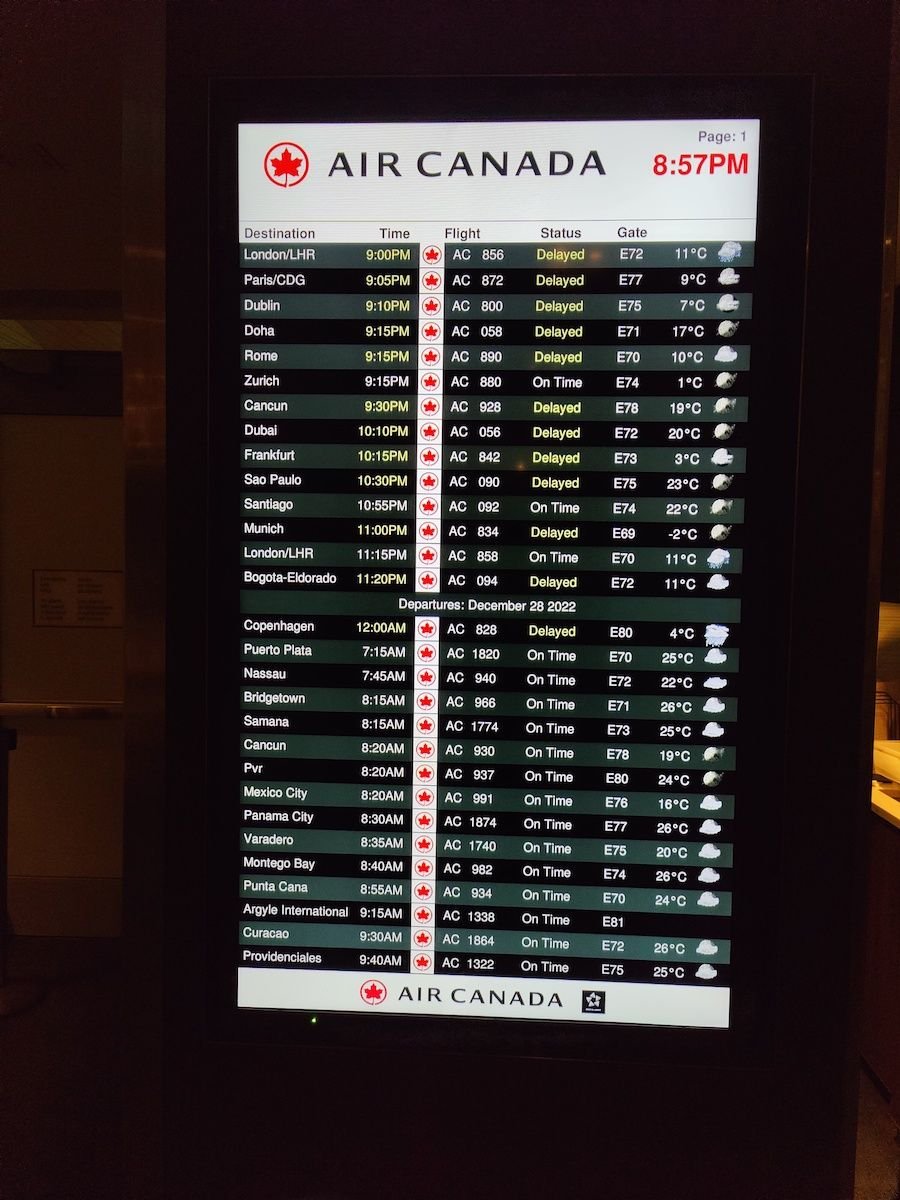 Delays piling up, but not for us...
The entire dinner took maybe an hour and half and after thanking our waitress, headed back to the lounge section to seat down for another 30 minutes. The lounge started to clear up a bit compared to when we arrive, but there were still quite a few people in there, hence the limited amount of pictures I have from this lounge. I had a look at the buffet and most of the food offering looked good, but I did not try anything from it. As indicated earlier, the Signature Suite has no showers but 6 washroom suites, with just enough space to bring your carry on and put fresh clothes on (An improvement idea in that area would be to add a small seat inside).
Signature Suite buffet menu (Dec 2022)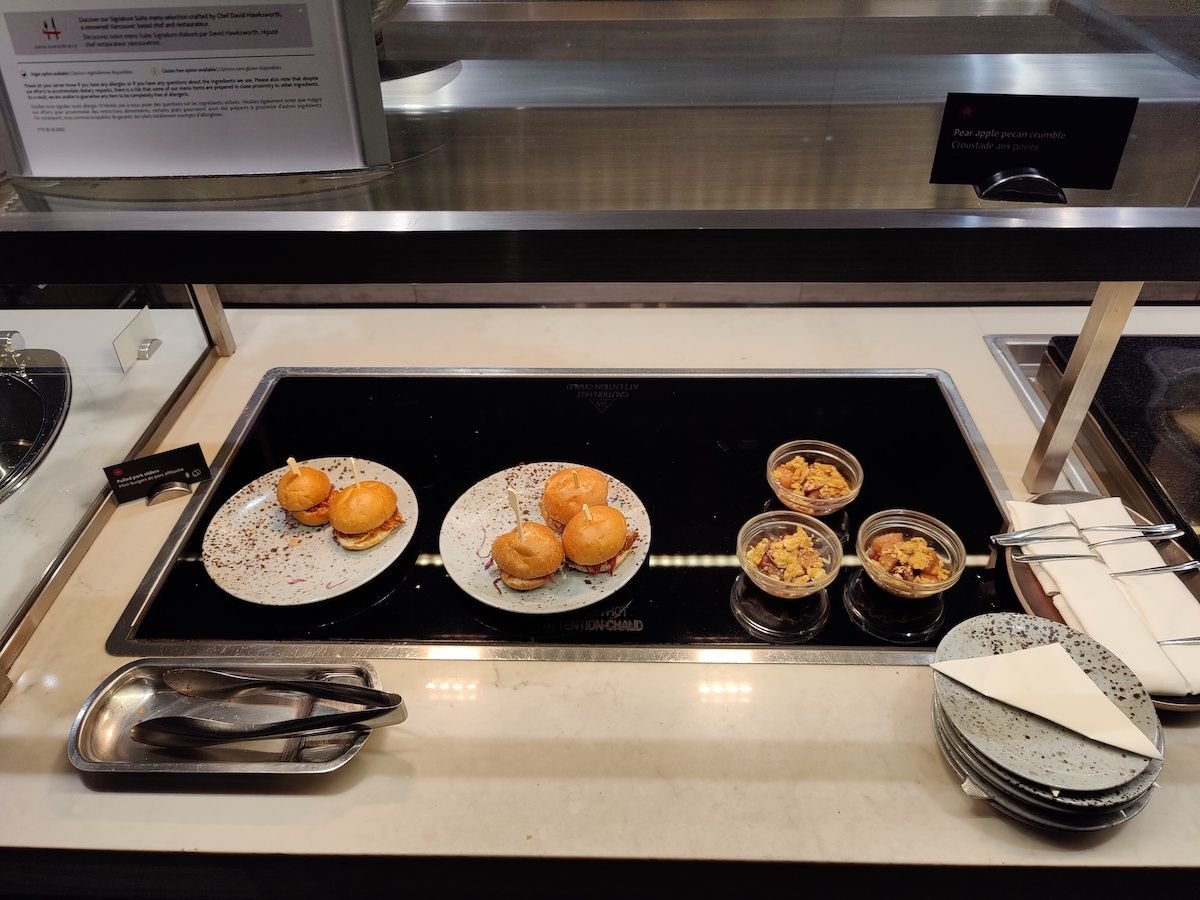 Signature suite seating
There is also a private dining room which could be booked
The bar
The buffet/bar area, I like the overall decoration
Lounge area
Our Santiago flight appeared to be one of the few ones on-time that evening with most of the AC operated flights being delayed.
Delays piling up...
One of the 6 private washrooms
We eventually left the lounge around 22:05 to go downstairs to the gate E74.
Overall, this is a pretty solid premium lounge that Air Canada made here and one of the best (if not the best) by North American standards. Too bad it was more complicated than it should be to get in there but I am glad we made it.
The cherry on the cake would have been to have apron views, just like the Qantas First class lounge in Sydney has for instance but you cannot have it all! The lack of shower rooms is also unfortunate, even though one could go back to the terminal entrance after the Signature Suite visit and go to the Maple Leaf Lounge to get one after the current renovation.
Dec 29, 22, 6:17 pm
Join Date: Jun 2008
Posts: 2,028
As with your other reports, I am really enjoying this report. One comment - good to know re: Signature Suite access. I just started to use Aeroplan and was not aware of the award flexible ticket required for access. One question - you rented a car at YYZ. Was that for
convenience
or because transportation options were limited around YYZ?
---
Last edited by lamphs; Jan 1, 23 at

11:38 am
Dec 30, 22, 10:06 am
FlyerTalk Evangelist
Join Date: Nov 2003
Location: Wesley Chapel, FL
Programs: American Airlines
Posts: 29,034
OP good that you were relentless on gaining access to the lounge and were prepared with written documentation. I would have done the same too. Just think how many rightfully deserved patrons of that club didn't go because of what a lazy gate agent did?
Dec 31, 22, 8:27 am
Join Date: Jan 2012
Location: In between BRU, AMS, DUS and LUX...
Programs: AF/KL Plat, BA Gold, A3 Gold, IHG Diamond, MR Gold, HH Diamond, ALL Platinum
Posts: 1,035
As with your other reports, I am really enjoying this report? One comment - good to know re: Signature Suite access. I just started to use Aeroplan and was not aware of the award flexible ticket required for access. One question - you rented a car at YYZ. Was that for
convenience
or because transportation options were limited around YYZ?
Thanks ! Yes, reports indicate that flexible Aeroplan awards to eligible destinations are eligible to Signature Suite. I personally do not use aeroplan but on
this tread
you will be able to see the full conditions.
Jan 1, 23, 8:39 am
Join Date: Jan 2012
Location: In between BRU, AMS, DUS and LUX...
Programs: AF/KL Plat, BA Gold, A3 Gold, IHG Diamond, MR Gold, HH Diamond, ALL Platinum
Posts: 1,035
AC92 YYZ-SCL Boeing 787-900 "Signature" business class
---
By 22:10 or so we arrived at the gate E74 wishing to board the only on-time flight of Air Canada planned that evening. Our ride to Santiago, a Boeing 787-900 registered as C-FRSA arrived 5 hours earlier from Tel Aviv so we were hoping for an on-time departure. There were already lines for each group boarding, including several passengers on the group 1 lane, reserved for Business class passengers. About 5 minutes later, an announcement was made, indicating that the aircraft was not yet there and therefore the boarding was delayed, and we saw the crew coming over to the gate area and waiting until the aircraft was pulled in.
Gate E74
Group 3-6 boarding lane
We started to talk with the two ladies waiting in front of us, also addicted to travel (one of them was heading to Ushuaia to do an Antarctica cruise) and the 40 min wait flew fast at the end.
We boarded the aircraft using a single jetway connected to door 2L minutes before 23:00.
C-FRSA 787-900 in Toronto
Air Canada 92 – Tuesday, December 27th 2022
Toronto Pearson Intl YYZ – 22:55 scheduled, 23:39 actual
Santiago de Chile Pudahuel SCL – 11:25 (+1 day) scheduled, 11:37 actual
Boeing 787-900 Dreamliner – C-FRSA – Seat 07G – Aisle, central section – "Signature" business class
We were greeted by the flight attendant positioned at door 2L and took our seats located at the central section of the last business class row.
Business class cabin 787-900
Seat 7G
Last row of the cabin
The business class cabin on this longer version of the Dreamliner is very similar to the 787-800, with the exception that there are 10 more seats and overhead bins available in the central section of the cabin. On this particular aircraft, the IFE was of a later generation, but the content was very much the same compared to our previous flight.
New IFE
Menu AC92 YYZ-SCL Business class Dec 2022
Menu AC92 YYZ-SCL Business class Dec 2022
Unlike the previous segment, the crew on this flight was not very friendly and the purser for instance, did not come to greet any of the passengers. Some of the crew members, including the purser, looked quite bored and not really wanting to be there to be honest.
We were offered a choice of sparkling wine or water and presented with the menu. Like on the previous flight, the amenity kit, the duvet and mattress topper were already placed on the seat, but there were no "COVID safety kit" available nor distributed during the flight.
One could think that those central seats are perfect when travelling as a couple, but it is unfortunately not the case as the central divider does not go down, which means that having a discussion together can be complicated. Although I would have preferred to secure two window seats if I could have the option (we got rebooked on that flight a few months ago after the cancellation of the original Monday evening departure to SCL, and the cabin was pretty full already), I was happy to try the central seats nonetheless but will try not to book them in the future. Note that individual air vents are still available, but impossible to reach without standing up, unlike on the window seats.
New IFE
This divider cannot go down...
We were not very hungry and while Myriam opted out on the dinner, I asked to crew to keep my dish (I opted for the seabass) on hold for later, hoping to get a couple hours of sleep.
Second galley lavatory
The newer version of the IFE has a few more features
Let's see if we will be flying in straight line like this...
Air Canada destinations
Right after settling in, I used the lavatory to put some more comfortable clothes and installed the mattress topper. Myriam did the same and fell asleep during the safety demo while I managed to stay awake for maybe 20 minutes more… I was surprised to having slept for so long as I woke up when we passed Panama, which meant about 60% of the flight were done, despite a few turbulences and also despite the noisy meal service shortly after takeoff and the lights being on for more than an hour. I don't get why some crews put the full lights on when departing at midnight…
Good night !
The lights remained on for an hour or so
After I woke up I asked the flight attendant working in the front galley if I could have my dinner, and if this was possible, have the pasta instead of the fish. She immediately replied that they were out of pasta since only 4 were loaded but they kept the fish for me. She also commented that they had to discard the chicken as it was turning bad.
I woke up past Panama
The dinner was meh...
I got my dinner, all on one tray after 30 minutes or so. The smoked salmon starter was ok, but the seabass was way overcooked and not very good (I asked my friend who was on the same flight a week earlier and he said that the fish was fine, so I guess it was because it got heated twice ?). The cheese plate was fine (same as on the previous flight) and the cheesecake was really not to my taste. I finished the meal with a few of the snacks from the galley and watched an episode of Dragon's Den and worked a bit on my laptop afterwards.
Stretched my legs while visiting the front galley. The size is roughly the same as on the smaller version of the dreamliner, but it has to cater 10 passengers more !
The food catered on board that flight was 4 pasta options, 8 fish, 12 chicken and 12 beef. Lots of food waste on this flight given the fact some passengers did not eat at all
Service memo for this flight
About an hour and half before landing, the breakfast service started with a choice of Omelette with sausage or pancakes. I opted for the pancakes and those were surprisingly good. Myriam choose the Omelette option which was good too but was still feeling hungry afterwards and got a serving of pancakes as there were some left. Both trays came with some fresh fruit and muesli.
Pancakes for my breakfast
Omelette for Myriam
Headphones were picked up about 25 minutes before landing and at this time the captain informed us that despite the late departure from Toronto, we should be landing only 10 minutes or so late as we had favourable winds on our way. Too bad we had middle seats as the outside views on the Andes were very scenic !
The final route YYZ-SCL
We landed at 11:35 and reached our gate 5 minutes later. Jetty was connected on door 2L which meant that we were one of the first ones to leave the aircraft.
We arrived at the new Pudahuel terminal and it is certainly an improvement compared to the previous terminal. The immigration area is wide and has outside views, and we had to wait about 30 min to clear immigration (there is a fast track for elderly, families with small children and disabled but not for business class). Surprisingly, there was no dedicated lane for Chilean citizens and residents.
Immigration hall SCL airport
Right after passport control is located the hand baggage screening from SAG (Agricultural services of Chile) and after that a new and nice duty-free store.
The first pieces of luggage were arriving when we reached the luggage claim area but since we forgot to fill up the electronic Customs/SAG declaration, we completed the paper version while waiting at our bags.
There was no priority in the bags delivery at all, but there were a luggage handler and an air Canada agent available at the belt; and the former was taking all bags with a priority tag on it to place them off the belt in a more accessible location.
Luggage claim area SCL airport
We ordered an Uber after customs and reached our hotel in Santiago, the Doubletree Vitacura in 30 min or so.
Nice corner room at the 15th floor at Doubletree Santiago Vitacura
The hard product was fine on this flight (besides the dinner, but I guess this is maybe because I ate it 5 hours later then supposed), the soft product (the crew service) was nothing to write home about.
Jan 1, 23, 10:52 am
Join Date: Jan 2012
Location: In between BRU, AMS, DUS and LUX...
Programs: AF/KL Plat, BA Gold, A3 Gold, IHG Diamond, MR Gold, HH Diamond, ALL Platinum
Posts: 1,035
As with your other reports, I am really enjoying this report? One comment - good to know re: Signature Suite access. I just started to use Aeroplan and was not aware of the award flexible ticket required for access. One question - you rented a car at YYZ. Was that for
convenience
or because transportation options were limited around YYZ?
I realized I forgot to reply to the second part of your question... We will be staying on the way back for 2.5 days in Toronto so we rented a car to explore the surroundings (Niagara falls for example). When aircanada forced us to spend 36 hours on the outbound, i decided to book without thinking too much another rental car (it was not that expensive, like 120 for 2 days) as the airport hotels were very pricey and the hotel we choose was a bit far. I also value freedom of being able to go wherever whenever when being in north America. I now realize that we could have done our visits with Uber and public transport (certainly the latter for downtown Toronto) but with the luggage and everything considered renting a car was not a bad option. (We also went on the day of our arrival to a neighbouring mall as we needed to get some stuff etc...)
Anyway, i filed a request to Air Canada to have the rental car and the hotel night refunded as we had to book those due to a flight cancellation on their side.
Jan 1, 23, 11:37 am
Join Date: Jun 2008
Posts: 2,028
I realized I forgot to reply to the second part of your question... We will be staying on the way back for 2.5 days in Toronto so we rented a car to explore the surroundings (Niagara falls for example). When aircanada forced us to spend 36 hours on the outbound, i decided to book without thinking too much another rental car (it was not that expensive, like 120 for 2 days) as the airport hotels were very pricey and the hotel we choose was a bit far. I also value freedom of being able to go wherever whenever when being in north America. I now realize that we could have done our visits with Uber and public transport (certainly the latter for downtown Toronto) but with the luggage and everything considered renting a car was not a bad option. (We also went on the day of our arrival to a neighbouring mall as we needed to get some stuff etc...)
Anyway, i filed a request to Air Canada to have the rental car and the hotel night refunded as we had to book those due to a flight cancellation on their side.
Thanks. I am US-based and will likely plan a trip to the Toronto area in fall 2023. I was just curious as to the transportation options in/around the city. Safe travels and best wishes for the New Year!
Jan 3, 23, 4:13 pm
Join Date: Sep 2004
Location: PDX
Programs: Free agent!
Posts: 1,399
Nice report and I'm looking forward to reading about your travels in Chile. It's a place I've considered visiting but have never pulled the trigger.

Just a minor quibble: they're 787-8 /787-9/787-10, not 787-800/787-900/787-1000. It's a bit daft but you can blame Boeing!
Jan 5, 23, 9:07 am
FlyerTalk Evangelist
Join Date: Jul 1999
Location: Over the Bay Bridge, CA
Programs: Jumbo mas
Posts: 37,798
Nice report and I'm looking forward to reading about your travels in Chile. It's a place I've considered visiting but have never pulled the trigger.

Just a minor quibble: they're 787-8 /787-9/787-10, not 787-800/787-900/787-1000. It's a bit daft but you can blame Boeing!
Yes, I've been awaiting that part, too. I've ended every year since the end of 2001 in Chile, except for NYE 2020/21.