The Sabbatical - Olafman's solo journey of enlightenment and improvement
Feb 22, 23, 6:19 am
Join Date: Nov 2000
Location: Digital Nomad
Programs: AA2MM LIFETIME PLT, Turkish Miles&Smiles Elite, Marriott Plat
Posts: 1,020
THE SABBATICAL MONTH 4: Qatar, Egypt (and later South Africa, Dubai)
---
After three months in Europe, it was time to move on to the next big section of The Sabbatical focusing on the Middle East and Africa. I am headed to Egypt next. Jorge bought an economy class ticket on Egypt Air which sounds like two bad ideas all rolled up into one. This is especially true when another option was to use 42,500 AA miles and fly on Qatar Business class through Doha. While a nonstop would have been a plus, I really don't mind going out of my way a bit to fly on one of the Qsuites. The problem with Qatar is that they have like six different types of business class seats. So it's a crap shoot if you will end up in a Qsuite. But the food is usually very good regardless and overall it's one of the best business products out there. The other benefit is that I have a nice friend Hassan who is a Qatari and lives in Doha. It's always lots of fun to see him.
The other interesting feature of this routing, MAD-DOH-CAI, is that the Doha to Cairo flight is considered regional First class even though you get the same business class seats they use for all their other non-regional flights. For Avios users, this means you pay the First Class points value for the flight which is not good. Luckily on AA, there is no supplement of miles. But the BIG advantage of it being a First Class ticket is that you get to use the cavernous Al Safwa First Class lounge in Doha. I have flown through Doha many times but have always wanted to experience it. They offer a $200 paid entry option but that has never seemed to be worth it. But this trip would finally get me in!
FLIGHT #8 OF THE SABBATICAL
Qatar Airways #148, B787-900, BUSINESS, New Suite with door
DEPARTURE: Madrid, Spain (MAD) 09:25
ARRIVAL: Doha, Qatar (DOH) 17:05
DURATION: 6h40
So I arrived at Barajas airport in Madrid and quickly got checked in all the way Cairo. Even though I was spending the night in Doha, I could check my bags to Cairo since the layover was less than 24 hours. Not surprisingly Qatar uses the Terminal 4 Satellite terminal and thus the nicer of the Iberia VIP lounges. Security and passport control were easy and soon I was having breakfast in the lounge. Considering I was in Iberia's premier lounge at their main hub, the food offerings were mediocre. Simply your basic, ubiquitous European breakfast buffet. But the machine coffee was good and nobody went hungry.
After I finished eating, I sat and realized that I was excited! I was going to get to see my friend Hassan in Doha for the first time since COVID. Then I get to go to a brand new country for me, Egypt. This was going to be fun.
They announced our flight was boarding and I made my way over to the gate. There I immediately walked on board and was surprised to see the newest Qatar 787-900 business "Qsuites-esque" suite. What a treat! Unfortunately, Qatar wasn't able to install the Qsuite on these 787s because the fuselage is a little narrower than the A350 and the 777. So their designers did a redesign and created a very nice suite, albeit a bit smaller than the Qsuite. The important feature is that it has a door like the Qsuite. As a Flyertalk dork, I was kicking myself that I didn't know that this was going to be my plane. How did I miss that!?!? When I booked, I knew that I wasn't getting Qsuites on either sector at the time. But this was great!
New Qatar B787-900 Business Suite with a door!
Love the new lamp too
My first impressions were very nice. As a Qsuite runner up, it worked well. Normally I can't turn down a welcome drink of champers on the ground, but it was still feeling a bit early so I settled for a nice glass of water. I liked the suite's little light fixture that really warmed up the space.
A calming space
Once in the air, I enjoyed a nice glass of their Bruno Paillard Rosé Premiere Cuvée champagne. And the champer's color matches their interior well. So bonus points for that. Our 5h19 journey to Doha was going fly by. I was interested to see that Qatar uses a tray service on this flight. I don't remember seeing that before in their business. They usually provide a properly set white tablecloth service. I started with a nice tomato soup, followed by a cold lobster and scallops salad, and then braised beef. My meal ended with a nice cheese platter which is always my preference over any dessert. The meal was excellent and I continue to give Qatar top marks for their catering.
A tomato soup, cold lobster and scallops salad, braised beef, and a cheese platter
I managed to doze off a bit. I had been running around for the past few days so a little siesta felt great. Soon enough we were landing in Doha and performing the long taxi to find a gate. I have had my share of bad luck with bus gates at this airport so I was really happy to see the jet bridge. Welcome to Doha.
I made it to passport control quickly but then was sent back to some health desk. It was all very confusing and no flow of traffic had been designed. There a man helped me fill out some sort of questionnaire about where I was staying and maybe a question about fever. But I received an email with a QR code. At no point was I asked to show the required €80 COVID test results that I got in Madrid. Ugh.
The second time the passport person let me in and soon I was met with the typical wall of heat and humidity as I exited the airport. My glasses always instantly fog up as I fumble to see my phone and locate my Uber. It's not exactly a glamorous look.
Grandma Marriott has a lot of different properties to choose from in Doha all waiting to be filled next month for the World Cup. Tonight's selection was the JW Marriott Marquis City Center. They gave me a beautiful corner suite with full living room, guest bathroom, and en-suite bedroom. It was so big you could have landed airplanes in it. A special touch was they left a bottle of wine and a nice cheese platter with a handwritten note. Then in the bedroom, there was another handwritten note to me with kissing towel swans. It was my first time ever getting two handwritten notes!
A bed at Grandma Marriott's for the night
I showered and went up to the Executive lounge to check it out for evening cocktail hour. It had nice views out to the city where I could see lots of buildings bathed in advertisements for the World Cup. I knew I was going to dinner soon but nibbled from the buffet as I enjoyed a glass of wine.
My huge corner suite
Hassan met me in the porte cochere of the hotel. He greeted me with a warm smile and big hug. He looked wonderful. He had chosen to wear western clothes instead of the Qatari dishdasha I had seen him wear sometimes. Like all of us, he had gained a little weight during COVID but it looked great on his bodybuilder body. In his mid thirties, a little Daddy was sneaking in to his look.
He chose a wonderful seafood restaurant called L'wzaan on the waterfront. After getting settled, we walked over to the showcases of seafood and he ordered a feast for us. We ate mussels, calamari, swordfish, an Indian seafood curry, and a Thai mixed seafood dish. The two of us tried but couldn't finish it all. It was quite a meal. I tried to pay but he said the bill was magically taken care of. So generous. Afterwards, we walked along the waterfront to help it all settle. Back at the hotel, we hung out and continued to enjoy catching up after not seeing each other for three years! He's such a lovely person.
Hassan took me to a great seafood dinner at L'wzaan
As I describe interactions about people I meet around the world, it is not always possible to post pictures of them. The Qatari government's involvement in Hassan's life makes discretion a requirement. I am hopeful that by hosting the World Cup they will have an opportunity to grow and become a bit more inclusive. I am an optimist.
I got a nice night's sleep in spite of being still full when I crawled into bed. In the morning I woke up and was smiling even before my eyes were open. Today was the big day that I would get to visit the Qatar Al Safwa First Class Lounge. Yippee. This travel dork was super excited!
I had the option of going up to the hotel's executive lounge for breakfast or down to the main restaurant. Today I chose the latter since sometimes the lounge offerings are limited. I was happy to see smoked salmon at the buffet as this is my preferred morning protein. I nibbled at a variety of things I knew a great lunch was coming at the airport.
Uber got me safely back to the airport and soon I was seated at the exclusive and very private First Class check-in area. I saw one other passenger in an area that could easily accommodate 60 people. It reminded me of the Singapore First Class check-in at their hub. Since I already had a boarding pass, they did a simple passport check but there wasn't much else to do.
A super quiet Qatar Airways First Class Check-in Area
The Al Safwa First Class lounge is like a modern art museum
The entrance to the Al Safwa First Lounge is immense. It's like entering a large museum of modern art. After check-in, you are greeted with a colorful Keith Herring painting. At least the Qatar Airways art curators aren't as homophobic as their government. Continuing into the lounge, I was simply struck by the grandeur of everything. Near the center, there was a huge fountain that was a work of art itself. I had purposely allowed enough time before my flight to really enjoy the experience. This was going to be fun.
The restaurant has lots of different seating areas. I tried to choose one where people weren't loudly talking on their phone or even worse, listening to things on their phone without headphones. I ended up with a beautiful seat against the window with views of the tarmac. I started with a glass of rosé champers and a glass of Perrier. I wasn't hungry yet so I just enjoyed writing and sipping champagne for a while. My waiter seemed genuinely pleased when I finally ordered my lunch of seafood soup and an Angus beef steak served with peppercorn sauce. Everything was wonderful and the waiter even made accompanying wine suggestions. I couldn't eat much after that but he convinced me to try two of the cheeses from the cheese platter. The service was top notch and it felt like I was at a fine dining restaurant.
Lunch at the Al Safwa restaurant
After lunch, I walked around the vast lounge a bit. There were many places to sit but it did all feel a bit exposed. I saw a sign to the "day rooms" for people with a longer layover. It would be fun to try those one day. I ended up just staying at my table against the window in the restaurant. It felt a bit cozier there.
Finally it was time to leave this amazing place. It had lived up to all the reviews I had read. What an experience. I just wish Qatar offered more first class! They only have it remaining on their infrequent A380 flights.
FLIGHT #9 OF THE SABBATICAL
Qatar Airways #1301, B777-300, BUSINESS, Qsuite
DEPARTURE: Doha, Qatar (DOH) 14:30
ARRIVAL: Cairo, Egypt (CAI) 17:05
DURATION: 3h35
Not to sound ungrateful at this point, but I wasn't looking forward to the 777-200 old business class in the 2-2-2 configuration of my flight to Cairo. It is the exact opposite of private. But the frequent flyer gods were looking out for me today because I experienced the typical last minute Qatar Airways aircraft swap and I was greeted by proper Qsuties for my flight! Yay!! My great day had just gotten even better.
The Qsuite, one of the best business class seats in the sky
As soon as I sat down, did it become apparent to me, yes, the Qsuite is bigger than the new business 787-900 seat I had just experienced the day before. The Qsuite is my favorite business class seat in the sky. Bar none.
Our route today DOH-CAI
The meal on the flight was another great example of Qatar catering. A lovely mushroom cream soup, seared spiced beef with pomegranate sauce, Qatari roasted jumbo prawns with Arabic spiced curry, and my usual cheese plate. I ate it all, never mind I had eaten a beautiful lunch in the lounge just a few hours prior. I enjoyed it all. And the flight attendants were all wonderful once again. Soon enough we were on the African continent and I was about to enter a new country for me!
Outstanding catering on the way to Cairo
Just 36 hours after landing in Cairo and my head is spinning. We have just taken off on our early morning domestic flight to Aswan. I am exhilarated and exhausted. It has been a frenetic, whirlwind mix of meeting new people, eating exotic foods, and seeing some of the world's greatest treasures.
For many decades I have been fearful about visiting Egypt. Their horrible track record on civil rights and prosecuting homosexuality kept me far away. For our year of travel with our son, FifthGradeAroundTheWorld, Corbin asked if we could visit Egypt. I explained to him that I was cautious about visiting as a gay family because the government had imprisoned local gay couples there. How would they treat us as a gay family? In weighing the risks of problems versus the benefit of the amazing history available to us, I vetoed the idea.
Unfortunately, we didn't visit my old home of Malawi for the same reasons. Their treatment of gay people was atrocious. I wasn't willing to risk the safety of my family. So we ended up in Madagascar which turned out to be our favorite place we visited the whole year. Egypt remained this out of reach destination that was near the bottom of my list to visit.
Last fall, two of our best friends, Tom and Charlie, visited Egypt for over a week. They returned saying that it was a great experience overall in spite of a number of difficult challenges. The history of this country is simply amazing. It is one of the original ancient cultures. And thanks to their innovative techniques and time-machine like tombs, so many artifacts have been beautifully preserved to give us a glimpse into life over 4000 years ago.
I gave my friend Jorge in Madrid a call and proposed our adventure to Egypt. We talked about our fears and how to make it work. Jorge and I both wear our sexuality on our sleeves. Each of us burst out of the closet many decades ago and we weren't willing to "act straight" in order to see some 4000 year old treasures. But we each did our research and decided there was a way to make it happen. It might involve wearing a big black burka if necessary. We'll do what it takes to not get arrested.
I landed in Cairo around 4:30 pm. Before passport control, I was met by Michael, a representative from TourRadar. He guided me through the health forms, passport control and into the baggage area. I had read a lot on the difficulties of traveling in Egypt, especially the constant scamming that we will face. This made me hyper sensitive to my surroundings and all interactions.
As we were walking, Michael said I needed to pay an additional $50 since Jorge and I were arriving separately and thus two airport transfers were needed. In my many email correspondence, I had been made aware of this months ago. I paid the extra transfer online weeks ago. I confidently let Michael know that I had already paid this and he should check with his company. In an exhausted jet-lagged state it would have been easy for me to have forgotten this but luckily I remembered. But this was not a good first impression.
Next I popped into the arrival duty free to grab a bottle of "Christmas cheer" since I had read drinks were very expensive in this Muslim country. The cashier took my passport and gave it to a man at a nearby table. We completed the credit card transaction and he gave me my bottle and receipts. I could see there was no passport. So I just stared into his eyes and smiled. Then he finally said, "Oh, you want your passport." It was a weird transaction. Throughout daily traveler life, many in Egypt expect tips. I get it's part of the culture that has developed. But I hate all tipping culture. Alas, I have to follow local customs. I have to assume that they were hoping I would forget my passport with them. Then they would get a huge tip when they were holding it for me. Ten minutes into my stay in Cairo, I felt like I had already been scammed twice. Fasten your seat belts.
They had sent a huge mini-bus to collect me at the airport. It was nicely air conditioned as we made our way through the crazy Cairo traffic. Overall it was a forty minute journey with some near-miss collisions with other motorists. The use of the horn is mandatory to announce the presence of your vehicle like in so many cities around the world. There are no lanes of traffic. Instead just cars and trucks willing everyone available space as pedestrians weave in and out of the moving traffic. I had to shut my eyes several times to escape the chaos.
The Steingenburger hotel is located directly across the street from the Ritz Carlton. Each vehicle entering the hotel parking lot is fully searched on the outside. Then you and your hand luggage is x-rayed on your way in the front door. They whisked away my large suitcase and said they would deliver it to my room. The staff at the front desk was very friendly and we joked around as they checked me in. Tour rep Michael and I exchanged WhatsApp numbers and he said he would text me when he was on his way back to the hotel after having picked up Jorge from his later EgyptAir flight.
Once I got to my room and started unpacking my carry-on, I received a call from the hotel manager. They had found a weapon in my suitcase and needed to come downstairs. WHAT? I didn't have any weapons! What the heck was happening here? Had someone planted something in my bag?
Down at the front desk, the manager explained that they found a knife in my bag and I couldn't have it in the hotel. Of course! That was the weapon. I am a chef and I travel with a proper chef's knife instead of using the horrible knives one usually finds in your typical Airbnb. They filled out a "RECEIVING A WHITE WEAPON" form which I had to sign. I would get it back when I stayed again next week on the morning of my departure. I am still not sure what a white weapon is but my knife fell into that category. I was just super glad they hadn't found a gun or nuclear bomb in my bag.
Olafman - International Weapons Smuggler
About a year ago, I started chatting with Zak, a local Egyptian that contacted me through Instagram. He had recently graduated university and had just begun his first job. He was also going to be starting his Masters in AI soon. I was super impressed by his drive and high ambitions. As my visit to Cairo got closer, we both grew more excited about meeting in person after many digital messages and video calls.
As I landed, I texted him and suggested that we meet before Jorge arrived a couple of hours later. This would give us some time to connect one on one. He was finishing up at work and soon would be grabbing an Uber to meet me.
The hotel was a nice German 4-star business hotel offering us two twin beds and a nice bathroom. Our view showed us two run down nearby buildings, a traffic jammed street, and a parking lot. No Nile River view here. The joys of booking a package tour. But the prices on the mini bar were crazy cheap so we helped ourselves throughout our stay without the usual caution. LOVE THAT!
I had read that most tourist hotels do not let locals enter for security reasons. As a 22 year old Egyptian, Zak was reluctant about trying to come in and meet me in the lobby. He too had heard that entering could cause him lots of problems. So he finally texted that he was out front of the hotel.
His broad smile greeted me warmly. It was so great to see him in person. He was just like I had imagined but taller than me! He was full of energy and excitement. We instantly clicked and I knew we were going to have a great time.
He suggested we go for a tea and chat a bit. The area of our hotel is one of the nicer in Cairo and it has lots of cafes and restaurants. He chose a cafe off a Main Street that was a bit quieter He ordered us mint teas and we enjoyed catching up. He recently moved to a shared apartment about five minutes away by metro. It was the first time he had not lived with his family and he was enjoying getting to know the center of Cairo.
I was so happy to meet Zak after a year of chatting
When Zak and I started to chat, he shared that he had never been with anyone, man or woman. He thought he was gay but didn't have any experience. I enjoy being a mentor to younger people and I had been sharing lots of advice over the past few months. My biggest idea that I shared was to go SLOWLY. He had your whole life ahead of him. This is often a hard one on a young person.
So Zak had some news. He had finally connected with someone. He had met a German guy on Growlr, one of the many gay social networking apps. He said it was an amazing experience and that everything had gone great. He told me all about it and I could tell that he was ready for it. I was so pleased that it was a really positive experience.
I was getting a bit hungry but I wanted to wait for Jorge to join us. So Zak started looking for a restaurant with take-away to avoid the issues with street food. He said that he was a good judge of cleanliness. He stayed away from most of the street food and also only drank bottled water. Our snack ended up being hawawshi, an amazing pita stuffed with ground beef. Beautifully seasoned with garlic and cumin and served with a tomato salad and tahini sauce, the ground beef fat had seeped into the pita and then crisped up during grilling. I have even made a version of it on my BBQ at home. But this was absolutely delicious and so much better than mine!
A nice snack of hawawshi
At this point Jorge texted me he had landed and was on the crazy trip through the traffic to the hotel. Welcome to Cairo! Zak and I started making our way back to the hotel but he was still nervous to come in.
A couple of years ago, some tourists died in Egypt. Because tourism is a vital part of the economy, the government created tourist police in spiffy white uniforms to provide an extra level of protection. But because of this, tourists hotels have lots of security. Zak didn't want to interact with them at all. They could cause lots of problems for him. He had heard stories of harassment and incarceration and didn't want any of that.
As I walked in the hotel, I immediately saw Jorge at the check-in desk. We gave each other our usual cheek kisses and a big hug. He survived EgyptAir economy fairly well. He actually said it wasn't bad. From the trip reports I have read online, one should have doubts.
We got up to the room and chatted as he showered and changed his clothes. Zak was waiting to take us to dinner. Jorge was a bit apprehensive about going with a stranger but I reassured him that he is very sweet.
We met Zak across the street from the hotel and he took us to the very famous Abu Tarek restaurant. They are known for the best koshari, which is the national dish of Egypt. It is an interesting mix of pasta, fried rice, lentils, and vermicelli with a bunch of spicy sauces and then topped with chickpeas and fried onions. It was great to have a local show us how to create the dish from the various condiments on the table. It was heavy on the starches and not so much about the vegetables. But it was nice to try it.
Zak took us to the best koshari in Cairo at Abu Tarek
Learning how to sauce the koshari correctly
Zak had paid for the tea so I wanted to buy dinner. But he insisted on paying for our dinner too. It was the second night in a row that I was being treated to dinner! I am very grateful for all the generosity out in the world. By this point, we were both tired and Zak guided us back to our hotel. I had a big smile on my face. Yet again, I had met an incredible, local person. And we had just been here for a few hours!
The breakfast buffet had a huge variety of offerings from typical middle eastern breakfast to even sushi! They passed my breakfast buffet test by offering smoked salmon so I was happy. It was a good start to the day.
A nice variety to the hotel breakfast
This continued as we boarded our tour bus and saw that we were the only passengers. No one else was on our tour so it was now officially a private tour! This made us very happy as group travel can be tiring. Someone is always late and it's never me.
Today was a huge BUCKET LIST day: The Pyramids, The Sphinx, and the Egyptian Museum. Right out the gate, we were going to experience the big E-ticket rides of Cairo. We were both giddy school girls. We left our hotel at 7:30 am with the idea that we would try to beat the heat a bit. In spite of it being October, the sun during the day heated this place up. For the next week, we would be sweating a lot. It's just part of the fun.
A private tour for us! What a nice surprise.
A first glimpse
After about thirty minutes of crazy driving and traffic, we got our first glimpse of the impressive pyramids. Once we parked and got out, I really was amazed at their size. And taking into account that they were built 4500 years ago makes it all the more impressuve. My biggest surprise is the smooth white limestone, outside layer of the pyramids had almost all been stripped and used in other buildings. So the pyramids had jagged edges, almost pixelated. One of the themes that we would discover is that so many artifacts have not been well preserved. When the country's leadership changed, or the religion changed, they often destroyed so much of the previous history. Thousands of years later we can view it as tragic but it made sense at the time to someone.
The Great Pyramids
I was surprised the outside was so jagged.
The smaller pyramid still has the outer stone intact near its apex and gives a good sense of what they used to be like. It would be a huge project to restore the pyramids with their outer stones. Maybe in a thousand years.
The heat was beating down on us as we walked around the pyramids. But it was all part of the awe inspiring experience. I have never seen anything like this. I have seen documentaries on how they built these structures but I could never appreciate the immense size and scale of the project. The one thing that I didn't like was seeing all the camels being offered for tourists rides and photos. I really dislike seeing any animals in captivity. And the camels didn't look like they were having much fun.
We drove to the adjacent Sphinx and I was shocked to see how small it was. It's funny because I almost felt disappointed! But this is why we travel, to actually gain knowledge and experience. So we laughed it off and moved on.
Our next stop was a papyrus "factory", cue Carl rolling his eyes. Jorge is a much more typical tourist than I so he was looking to get some souvenirs for his family and friends. I simply accepted their shop's gifts of cold water and snacks as I observed their sales and marketing skills being used on Jorge. They did an excellent job of upselling lots of things to him. It was fascinating to see it in action. But he left happy and our guide got a nice commission.
Our next big stop was the Egyptian Museum almost adjacent to our hotel. Recently the new Great Egyptian Museum right next to the pyramids has been under construction for a long while constantly but has a constantly changing opening date. At this point it is scheduled to open in the first half of 2023. We'll see! Meanwhile the old museum still has lots of unbelievable artifacts that haven't all been stolen by the British Museum. It was interesting to hear the Egyptian's side of their sticky fingered Imperialist friends. I am sure that the British and French would both argue that they take better care of the artifacts that they robbed from Egypt. But maybe isn't it time to return something like the Rosetta Stone to Egypt's new, modern museum? Come on!
The Egyptian Museum in Cairo
I really enjoyed our guide's tour through the museum. Most of what we saw was 3500 - 5000 years old. Once again I was in awe. I love that we call things "historic" in the USA when they are 200 years old! Perspective is EVERYTHING. I especially enjoyed seeing all the items from King Tut. Fascinating. Some of the more interesting artifacts were the urns to store the lungs, liver, brains and anything else of the body they thought to keep. Finally it had been many hours since we had eaten, so we stopped at Kazaz to enjoy their great shawarma for lunch. It was the perfect grab and go lunch for busy tourists. I would say it was the best shawarma I've ever taste with its amazing flavor.
Street side shawarma lunch
Our final stop of the day was the central bazaar. It was so interesting to see the mix of things for locals and also for tourists. At times it was overwhelming but the narrows streets provided much needed shade to beat the heat. Many vendors also offered water in large Thermoses. The odd part during these COVID times, is that everyone used the same tin cup to drink from. Dr. Fauci would not approve. We didn't end up buying much but it was fascinating to see.
At the Central Bazaar
Everyone drinks from the same cup! Go COVID!!
Finally we were touristed out and headed back to the hotel for a swim, a shower, and a nap. The heat takes a toll on the body. And we had six more days of this ahead of us. Frequent showers and air-conditioned moments definitely help.
I had been chatting with a nice local guy on one of the gay social networking apps, and we agreed to meet for a drink and dinner that night. He was 29 and knew how to deal with the tourist police. He was super confident and well dressed. He had no problem walking in a tourist hotel right past the tourist police.
Ismael turned out to be an amazing person. He was super outgoing and we bonded instantly as we enjoyed a drink at the hotel's lobby bar. He has traveled a lot and has a wonderful adventurous spirit. Jorge joined us after a while and Ismail took us to a great Italian place, Cai Roma. We laughed so much. It was so interesting to hear about actual gay life in Cairo. He was out to all of his siblings but not to his parents. A couple of his siblings still weren't thrilled with him being gay but they were all doing okay. Of course he's a great guncle and his nieces and nephews all love him.
Dinner with Ismail at Cai Roma in Cairo
I had mentioned to him that I would love to see Cairo's equivalent of a gay bar. Of course homosexuality is very illegal. But they gays must hang out somewhere! I have been with Emirati gay friends in Dubai and there is a huge underground scene that constantly changes locations. It's not published anywhere on the internet. You just have to know about it. Cairo works the same way.
So we ended up at this large restaurant/club where there was a huge upstairs patio with about 150 people seated at tables. It was packed with both locals and expats. But without a doubt, this was a place with lots of gay people. The buzzing atmosphere exuded energy and we had a great time. Some of Ismael's friends were already there and soon we all had beers and sodas. We would have loved to stay longer but we had a crazy early flight in the morning.
Joking around with my new friend
Ismael walked us back to our place and even came up to the room to give me a sweet goodnight kiss. Such a gentleman. He said he wanted to see me again when we returned to Cairo. That was an easy proposition to accept with stars in my eyes.
Our alarm bolted us awake at 4:10 am! Travel in Egypt means up early EVERY morning. This ain't no White Lotus vacation. I happily left my large suitcase and weapon under the care of the management and off we went with a breakfast bag from the hotel to the airport.
FLIGHT #10 OF THE SABBATICAL
EgyptAir #82, B737, ECONOMY
DEPARTURE: Cairo, Egypt (CAI) 06:30
ARRIVAL: Aswan, Egypt (ASW) 07:50
DURATION: 1h20
Now for the uninitiated, tourism is BIG in Egypt. And all the tourists tend to do all the same things. So this meant that when we arrived at the airport at 5 am, most of the flights of the day would be leaving in the next two hours! It was chaos! Once again, the security line to enter the building snaked out into the parking lot! Luckily our local guide knew a way around the line. I was grateful and soon we found the domestic Business Class check-in. We had both checked in online and even gotten mobile boarding passes! Go EgyptAir! I thought we could skip the check-in counters. But this all confused our guide. He had never heard of a mobile boarding pass. They printed out a paper one just in case but I ended up using the mobile one everywhere!
We found the domestic Egypt Air Business Class Lounge. Hmmm. It was a room the size of a school bus and all the seats were taken. The F&B offerings were very basic. No cooked food just packaged muffins and coffee. It was full of Americans all harshly judging the place. You know it's bad when you longingly think of the luxuriousness of a United Club in a non-hub city. It was THAT bad.
At the gate I was hoping for some sort of priority boarding but the Star Alliance Gold sign wasn't of much use.
Our flight to Aswan left almost on time and was uneventful. It was a similar 737 that Jorge had flown from Madrid. At least we got there! The flight was packed with Spanish tourists all on a El Corte Inglés Viajes tour. We felt at home. Of course we ended up seeing all these same people at all of the tourist stops for the next four days!
We didn't have any checked bags so soon we met our local tour guide, Islam, for the next few days. He turned out to be a wonderful guy. Father of three girls, super easy going, and very knowledgeable about history. And the best part was that we were the only ones in our group. So we had a private guide and private driver the entire visit to Egypt in spite of having paid for a group of up to 10 people. We had been worried that they would clump us together with others once we got to the Nile cruise portion.
The Aswan Dam that changed the country
Our first stop was the Aswan High Dam. I questioned originally why we needed to visit a dam. But it opened in 1970 and it had a huge effect on Egypt. First and foremost, it provided important hydroelectric power to the entire south and even two turbines for Cairo. It also helped control the flow of the river, preventing some flooding. Incredibly, they ended up having to move the Philae Temple and Abu-Simbel because they would be submerged once the dam was built! What an amazing feat it was to make this transition.
The boat to Philae Temple
Next we traveled to the Philae Temple aboard a private boat. The cool river breeze felt amazing on our faces. The temple was built to honor Isis, the Egyptian goddess of healing and magic. It was your typical, classic story of a goddess, Isis, who was married to her brother, Osiris. I repeat HER BROTHER! Anyway, another brother, Seth, was jealous and killed his brother and chopped him up into 14 pieces and threw him into the Nile. Isis found all the pieces except his penis which a fish ate. So she made another penis out of plant, mummified him, and hiding the body on the island of Philae. This is the story depicted on the walls of this temple. I KID YOU NOT! Out of our week of travels and learning about the history of Egypt, this was BY FAR the best story. Why isn't there a Shakespeare play or an opera about this story!?!?
The Philae Temple
Walking around the Philae Temple
By this time it was like 1 pm. It felt like 6 pm. That happens when you get up at 4:10 am. So Islam announced that we would head to our ship for our three night Nile cruise. Our home would be the five star MS Chateau Lafayette. We had been warned the star rating system is a little skewed along the Nile. Overall it was a nice boat with perfectly fine food. Upon our arrival they said if we didn't mind sharing a king sized bed that they would upgrade us to a nice suite! Sure. I could share a bed with my Spanish daughter Jorge. We had shared one last in the Algarve of Portugal. This turned out to be the right decision because the room was very large for a cruise ship. We peeked into a standard room and it was much smaller. Our room had a large sitting area and a big, non-cruise ship sized bathroom with jacuzzi tub. The interior design of the ship is sort of an Egyptian adaptation of a Mississippi River Belle style boat. We saw a Viking river boat and it was modern, and gorgeous. Our boat was neither of these but perfectly fine.
Our Nile river cruise on the MS Chateau Laffayette
We quickly got into our bathing suits and went to the top floor to go swimming. The sun was blazing and we easily burnt our feet on the cement. It was cooking. But the water felt good and we found some nice umbrellas to shade us. At some point I got home and sliced open my head on a sharp corner of a nearby metal thing. It bled a lot as head wounds do. I felt stupid but things like that happen in unfamiliar surroundings. Jorge and I ordered beers and enjoyed resting a bit after a big day.
Cooling off on the pool deck
Once the sun went down, we took a long walk up the Nile with the destination of a supermarket. We needed to find a place that had actual prices on things. In almost all the stores, they make up prices based on who you were. Being white foreigners, they would charge us five to ten times the local prices even for a bottle of water. I got really tired of this. The supermarket had fixed prices. We filled up our backpacks with drinks and snacks for our Nile adventure. We had a nice refrigerator so we even picked up some cheeses and cold cuts. We also shared a nice shawarma as a snack. One thing I like about Jorge, he's always up for eating just like me!
Sunset on the Nile
Before dinner we made a cocktail in our room and went up to the top deck to watch the port and the main street. All the wait staff was super friendly and we enjoyed chatting with them. Our dinner that night was Italian themed. I am not going to speak much about the food for the three days. All the meals were buffet with a lot of starches. Usually there was a nice fish that I could enjoy. We were both skipping the salads because of the water contamination issue. We didn't want any funny tummy on this trip. Many people had warned us. We both actually enjoyed the cruise overall. Once you adjusted your expectations a little, it was relaxing and fun. Both Jorge and I are pretty easy going travelers and rarely complain. We are just here to enjoy it all.
The next morning we woke with a 4 am alarm for a 4:20 am departure! Today was another BUCKET LIST DAY: a visit to Abu-Simbel. In my research on Egypt, this was a must see even though some tours offer it as optional. After the pyramids, Abu-Simbel was amazing to experience. Our guide offered an SUV type vehicle with ample room in the backseat. And we said yes! It was very comfortable for the four hour drive to the temple. The road was desolate with hardly anything along the road. Just over half way, an oasis appeared with a restaurant and restrooms for us to use! But that was about it. Jorge and I managed to sleep for most of the trip. We saw lots of crowded tourist buses at the stop and were so thankful that we had a private SUV.
We arrived at 8 am and we quickly set out to enjoy the temple. King Ramesses II built himself this temple and a smaller one for his favorite wife next door. His temple had four huge statues of himself. Only three remain but they are very impressive. Once inside the interior spaces were incredible with beautiful depictions of his life and three of his gods. His favorite wife's temple was also beautiful.
The amazing Abu Simbel
Inside Abu Simbel
The tomb deep inside
Head wife also gets a temple
A view of both temples that have been moved 500 m away from the river!
Here we must pause in the description to point out that both of these temples were moved 300m starting in 1959 so that they wouldn't be submerged once they built the Aswan dam. It is mindblowing that they could move these temples. They cut the stone apart, numbered them, moved them, and then reassembled the whole thing a little further up the hill. I just couldn't get over it. And we moved them in MODERN TIMES! It's worth watching some YouTube videos on how they did this.
We spent about two hours touring the two temples. We both felt it was very much worth the four hour car ride each direction. It is something we will never forget as long as we live. It was very much worth it until we found out we could have flown from Cairo directly to Abu Simbel! WHAT?!?! The other benefit of flying is that you don't have to visit when everyone from all the Nile Cruise ships visit. For three hours every morning, these temples are overflowing with tourists. But if you come in the afternoon or early evening, there is NO ONE there. At this point I began to design a perfect Egypt visit.
Luckily on the drive home, Jorge and I mostly slept too. At one point we saw a horrible accident that had just occurred. Our driver recognized one of the drivers involved. He quickly reported the accident but we could see he was very worried about his friend for the rest of our journey together.
We got back around 2 pm and had "Mexican" lunch. And then we finally started sailing up the Nile. It's interesting because overall we never covered much distance and thus we didn't really spend too much time sailing. Instead we were mostly docked. And often this meant no view because they stack up the boats to all share a single dock. Sometimes you have to walk through the lobbies of four other boats just to get off the ship. So for most of the time, you have people meters away in their room looking into yours. At least when we were sailing, we finally had something to look at. There are over 350 of these ships. And most of them move exactly at the same time and then they all dock at the same time.
After a short while, we arrived in Kom Ombo. By the time we got off the boat, it was 4:30 pm and the sun was already setting. It's interesting that Spain and Egypt are in the same time zone. This means the sun sets late in Spain and early in Egypt. The biggest advantage is that we could enjoy the temple with the golden hour colors. This temple is unique because of its dedication to two different deities: Sobek with his crocodile head, and Horus the Elder with his falcon head. The walls of the temples told many stories involving both gods. On the edge of the Nile, the setting was stunning and we really enjoyed touring the place. Unfortunately, this place suffers like many of the other temples in that it was super crowded during the two hours when the cruise ships all docked but then is entirely empty the rest of the time. I continued to design a better trip to Egypt in my head.
Kom Ombo temple
XXX
We made cocktails, grabbed some snacks and went to the top floor pool deck and enjoyed the beautiful view of the temple bathed in evening lights. Today has been absolutely wonderful. Abu-Simbel in the morning and Kom Ombo to finish it off. We both sat enjoying the cooling evening, river breezes relishing the moment. This is why we came to Egypt.
Cocktails on the Nile
Dinner was themed Egyptian night and all the passengers wore traditional Egyptian wear. Our guide hadn't mentioned this to us so we arrived at dinner looking like grumpy old men in normal clothes. There was a party after dinner but we had had enough. A little down time in our room was the way to end the day.
We arrived back to our room and the super friendly cabin stewards had once again made some amazing towel art. When we arrived on the ship, it was a towel crocodile. Now it was a monkey hanging from the ceiling wearing my sunglasses! We loved it!!
We loved our cabin attendants
We met our guide at 6am in the lobby of the boat as did every other person in every boat docked there. Today we were transferred by horse drawn carriage to the Edfu Temple. This is one of the best preserved temples in the whole of Egypt. This happened because it was entirely covered in sand until it was discovered in 1860. It is dedicated to the god Horus who is often merged with the Greek god Apollo during the Greek-Roman rule of Egypt. But the lovely Romans arrived and promptly scraped off the faces of all the gods depicted on the walls of the temple because they didn't like them. Gracie. Unfortunately they weren't the only ones to deface the art when a change of rule occurred. The temple was packed with tourists like so many others. In just two hours, it would remain totally empty for the rest of the day.
Edfu temple so beautiful protected for years under sand
The mighty falcon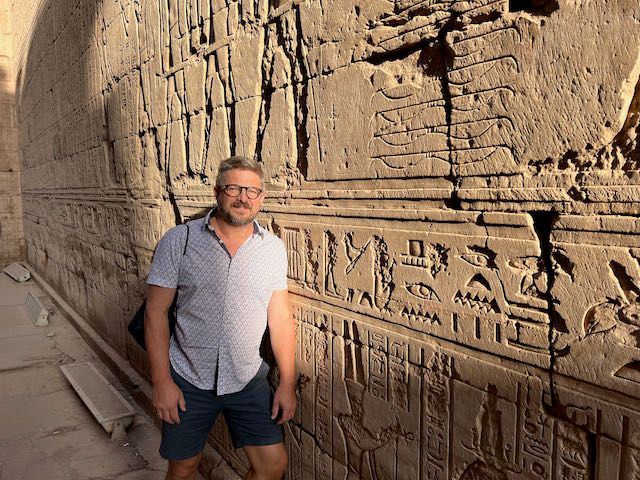 During the horse buggy ride returning the boat, I got increasingly upset as the driver kept beating the horse to make him go faster. We weren't late for anything and even if we were, it is totally unacceptable to beat a horse. Ugh, I hate all these abuses of animals. I finally told Islam to speak with the abuser and said if he hits the animal one more time, we would get out immediately and not pay him. This seemed to work.
This day turned into my favorite day of cruising the Nile. We had a fairly long distance to cover including passing through the Esna Locks. They raised our ship up 24 ft to connect to the Upper Nile. The best part was watching our captain play chicken with another cruise ship. He ended up winning but it was really dangerous. Unfortunately the moment was so intense that I didn't start filming until the worst of it was over.
Enjoying Egyptian beer as we pass through the locke
We finally docked along with all the other hundred boats and set out at 3 pm for the Karnak and Luxor Temples. One of the things I love when we do a transfer is having a private vehicle with separate air conditioning vents for the backseat! These proved to be invaluable in the intense October heat.
The Karnak temple complex is considered to be the largest religious site in the world, even larger than Cambodia's Angkor Wat. A James Bond film was even filmed among its columns. Jorge and I really enjoyed seeing this vast and varied complex. It helped that the place was so big so it helped spread the tourists out.
Entrance to the Karnak Temple
James Bond's "The Spy That Loved Me" movie was filmed among this columns
Our last stop of the day was the Luxor temple that we got to experience in the stunning colors of the golden hour. This temple is not dedicated to a god but instead built to recognize the return to kingship around 1400 BC. I enjoyed seeing some of the art painted during the Greek-Roman time. There is even a granite shrine to Alexander the Great.
At the Luxor Temple with our guide Islam
The Luxor Temple at dusk
Paintings from the Roman-Greco periods still survive
Our boat was docked very nearby the Luxor Temple so we chose to just walk back. I had been chatting on one of my gay social networking apps with one of the captains of a felucca boat on the Nile that was docked near us. He was offering us a tour to the west bank of Luxor. I gave him credit for using the app to find more customers! I love an enterprising young man. I had done enough touring for the day but we settled on meeting on his boat and having a drink together.
The captain turned out to be a lovely person and I really enjoyed chatting with him on his boat. He had several boys working for him doing cleaning and maintenance. He had one of them prepare us a nice floral tea that tasted like pomegranate. Like the others that I had met in Egypt, he talked about the difficulties of being gay here. It is so hard having his family all around. He hopes to save up his money and move to the seaside town of Hurghada where he wants to open a shop. He doesn't have any family there and thinks it will be easier for him to live a more open life there. So many organized religions really make it tough on the LGBTQI+ community.
Tea with a new friend
When I got back on the boat, Jorge and I continued our tradition of cocktails on the roof deck for our last night on the Nile cruise. We had really enjoyed ourselves and learned so much fascinating history. After dinner, we watched a belly dancing and whirling dervish type show. It was a fun way to end the cruise.
We started our hottest day of the trip by visiting the Temple of Deir al-Bahri. It honors Queen Hatshepsut who was the queen who then became a pharaoh. Built into the side of a mountain, its wall paintings retained a surprising amount of vibrant color. The temple had the structure of a luxury hotel next to a mountain. The queen should be happy!
Temple of Deir al-Bahri
Amazing, vivid colors still remain
Our final stop of our Nile adventure was the famous Valley of the Kings featuring the burial sites of almost every pharaoh from 1550–1069 BC. Tunnels burrowed deep into the mountains to protect 63 sacred tombs. At the visitor center at the entrance to the Valley, a 3D plastic model showed the locations of the tunnels and tombs. It was a fantastic representation of the whole area. One of the most famous is the tomb of King Tut. But we couldn't go in that one. We did see lots of its treasures though in the big museum in Cairo. We ventured down three of the tombs: Ramsey 9, Ramsey 3, and Memeptah. The walls were all beautifully decorated and it was crazy to enter these large spaces deep in the earth after traveling down the tunnels. It was all simply incredible. The colors of the wall paintings were so vivid.
The heat was almost unbearable throughout the day. From the moment we left the cruise ship for the last time in the early morning, it was hot and just got hotter. Even the tunnels and tombs deep in the earth were super warm. Throughout the day it was a constant search for shade and water. Also our flight to Cairo wasn't until 19:45 so we didn't really have a place to rest or cool down.
Visiting the tombs of the Valley of the Kings
At the entrance to King Tut
The day before I had a stroke of genius. We should get a hotel room to use in the afternoon. I looked on Booking.com and we reserved a room at the Iberotel on the banks of the Nile for only $80. Such a good solution.
As we spent the morning sweating through the Temple of Deir al-Bahri and the Valley of the Kings, we knew that a super cool room and a nice swimming pool were waiting for us in the afternoon. We let our guide know our plans and he seemed a bit relieved to not have to entertain us after a busy morning.
The hotel had an amazing pool and then ordered poolside lunch. It was also exactly what we needed. We ordered a beef hawawshi and a mezzeh plate. So delicious. Then we napped in our cool hotel room. It all worked out perfectly.
Lunch at the Iberotel Luxor. Our cool oasis for the afternoon.
FLIGHT #11 OF THE SABBATICAL
EgyptAir #69, B737, ECONOMY
DEPARTURE: Luxor, Egypt (LXR) 19:45 (Actual 21:20)
ARRIVAL: Cairo, Egypt (CAI) 20:55 (Actual 22:10)
DURATION: 1h20
We said goodbye to our guide Islam who had been with us for the past four days. We enjoyed getting to know him. He taught us so much about Egyptian history. The Luxor airport was fairly crazy as expected. The check-in person REALLY wanted me to check my rollie bag but I was firm and said I preferred to keep it with me. They finally gave in and we were off to security. The Luxor airport is not big and it is one of the few airports that I have visited lately with no lounge for me to use! We found a restaurant and had some pizza and beers. This turned out to be a great place to wait out the building delays of all the flights.
I could see on FlightAware that our plane was still in Cairo when our departure time came and went. No announcements were made of the delay. Finally they changed the departure to 21:10 which seemed realistic. Unfortunately, I was supposed to meet up with Ismail once we got back. So I was anxious to get back to Cairo.
As we flew north, I thought about our week long trip to Egypt. It just isn't fun to visit all these amazing sites when they are heaving with tourists. In retrospect, we should have flown all the way down to Abu Simbel, visiting during the day after all the Nile cruise ships have departed. Then drive to Aswan to see the dam. I do not think it's worth getting on a cruise ship at this point. Instead, continue with a private car making all the stops at the same places the ships go but visiting them during the hours when the cruise ships are not there. Stay in nice hotels. Eat in nice restaurants. The problem is that most of the time on the cruise ship, you are docked with no view except of the windows of the boat tied to your boat. Instead, after driving your way up and ending in Luxor, you might find a cruise for one night where you can actually enjoy the Nile river! Then fly back to Cairo and finish up your time in Egypt. I think it would have been much more enjoyable to visit all the sites without all the thousands of tourists.
We finally landed around 10:15 pm and made it to the hotel around 11. Ismail was waiting in the lobby. He had been at an event at one of the embassies and looked especially spiffy. We had decided ahead of time that he and I would hang out at his apartment and I would go back to my hotel in the morning. So we hopped into an Uber and made our way across town. I always love seeing the places where local people live. His apartment was a large studio with lots of character and charm. In spite of the late hour, we stayed up late chatting and enjoying our brief time together. In the morning he made us coffee and he got ready for work. We said our goodbyes hoping that we would see each other again at some point. Little did we know at that point, it would be only a month later.
Our final day in Cairo was unplanned by the tour company. They offered an optional day trip to Alexandra. But instead Zak offered to take us around to visit various sites including the Coptic churches. He met us at our hotel on the sidewalk but the tourist police noticed us talking to him and drama ensued. They pulled Zak aside and began asking lots of questions. What was he doing with us? How had he met us? Was he an official tour guide? Then they took his ID card and disappeared. He was really shaken by all this. He really didn't want trouble with the police. Finally they returned and gave him back his ID. But they said he shouldn't be interacting with us but they would let him go.
Undeterred, we all set off to have breakfast at a wonderful chain restaurant called Gad. He ordered a huge variety of food and we couldn't finish the feast in front of us which included hummus, baba ganoush, an omelet, cucumber salad, lentils, veggie fritters… It was all amazing. Unfortunately, Jorge woke up that morning with a slight funny tummy so he wasn't much help with eating it all. Then in the end Zak insisted once again that he pay. So generous! He finally agreed that I could pay for lunch!
Egyptian breakfast at Gad
Zak had designed a wonderful day of touring that focused on the Coptic churches. He was raised in the Coptic religion and it is even listed on his ID card! This collection of churches has an amazing history including housing Joseph, Mary, and Jesus during their flight into Egypt. Jorge is Catholic and really enjoyed seeing all the churches including his name Saint, St George's church. One thing I will never understand is how relics are sought after. I think one of St. George's fingers is housed in the church named after him there. For a non-Christian, the whole idea of keeping different body parts of saints is a bit odd.
Seeing the Coptic churches of Old Cairo
At several of the churches, the tourist police spoke with Zak. They all had been trained to watch for locals mixing with foreigners. At one place, he found a friendly policeman and asked him how he could hang with his foreign friends and not get in trouble. He said any mixing of locals with tourists is discouraged. But he said if Zak could get his tour guide license, he wouldn't have any problems. This is actually an easy process so Zak said he would probably do that to avoid all the harassment. Finally after touring many of the churches in this area, it was time to head to lunch. Unfortunately Jorge was feeling bad and needed to head back to the hotel to rest.
Lunch was the best meal of my entire week in Egypt. Zak chose the super hip and fun, Alku 5 restaurant. He ordered us a delicious beef kafka, dolmas, and some local samosas. Everything was so good! Then we had fruit juices in a room with floor couches where we met a bunch of local students who had just graduated in tourism. They invited us over to sit with them and we ended up having lots of fun! An Algerian guy also came up to us and introduced himself. I love when people are friendly and wonderful connections begin. In spite of our deal, Zak somehow paid for our late lunch too. I figured out his family had money but he didn't need to always be treating us!
At the entrance to the amazing restaurant Alku 5
We really enjoyed getting to know these recent university graduates in tourism!
Zak showed me around some local markets in the area and then I finally paid for something by getting us coffee at a nice shop. I was really impressed by all the work Zak had done with the preparations to show us around. And this all happened because we met through Instagram a year ago. He turned out to be a wonderful young man. He was starting a masters program soon in Artificial Intelligence but really wanted to immigrate to Europe down the road. Things were just too hard for gay people in Egypt. He would have trouble leaving his mom and siblings as the eldest. But in the long run, he had to think about his happiness.
So after a week, I left Egypt having learned so much. The history of Egypt is profoundly significant and so much of our modern society and culture has ancient roots there. I had great reservations about visiting this Muslim country which has horribly prosecuted gay people for many years. But often when we travel, we take risks and seek greater understanding. And that is exactly what has happened to me in Egypt. I not only better understand how significant Egypt's past is, but also how things are today. I feel so fortunate that I got to know two local gay men who both took risks in meeting and getting to know me. Without a doubt, life is hard and even dangerous for gay people in Egypt. Most talk about needing to leave in order to see a better future. Many countries offer gay men from Egypt asylum which shows how bad it really is. But most don't have the means or opportunity to leave and must remain there. As their society slowly changes, life can be very hard. My thoughts go out to all the oppressed people there. As a non-Muslim, non-Christian, it is hard for me to understand how so many organized religions can teach and practice such hate and intolerance. I know very little about most religions, but from the stories I have read about Jesus, he befriended and supported everyone, especially those who had been marginalized. How can his Christian followers foster so much hate ignoring his beautiful example of loving and supporting everyone. As I leave Egypt, these themes are in the forefront of my thoughts.
My departure from Egypt also means saying goodbye to my dear friend Jorge. It's been a wonderful three months together. Our friendship has grown and strengthened. He calls me, "Mama", and I call him "Mi hija" (pronounced "mija".) He is part of my Spanish family. His friendly spirit has helped me become more outgoing and open. I probably won't see him again until next Spring when I fly to Europe for the last three months of The Sabbatical. Until then, I will miss his huge smile, infectious laugh, and wonderful friendship.
My journey must continue so I move on. I am learning so much every day. I am truly grateful for this opportunity to experience joy, friendship, and love with so many that I encounter along my pathway.
---
Last edited by olafman; Feb 22, 23 at

12:30 pm
Feb 22, 23, 7:37 am
Join Date: Jan 2011
Location: ORD
Programs: AA, United, British Airways, Alaska Air
Posts: 242
olafman
that was a great update. Egypt is on my bucket list as I loved learning about ancient Egyptian history (especially the Gods and Goddesses) in grade school, so reading your report was a real treat. Thank you for sharing!
Feb 22, 23, 9:14 am
FlyerTalk Evangelist
Join Date: May 2008
Location: San Francisco
Programs: GM on VX, UA, AA, HA, AS, SY; Budget Fastbreak
Posts: 22,023
Great TR. The CAI airport & city experience was familiar with what my Belgian friends told me decades ago. I'm glad that overall things were nice there. Lucky timing for the Qsuite doh-cai. The tourism police make me think of the morality police in other nations.
Mar 15, 23, 8:30 am
Join Date: Nov 2000
Location: Digital Nomad
Programs: AA2MM LIFETIME PLT, Turkish Miles&Smiles Elite, Marriott Plat
Posts: 1,020
THE SABBATICAL MONTH 4 - South Africa with The Family
---
After a wonderful week in Egypt, it was time for three weeks with my family in South Africa. Once again I will be flying via Doha. American Airlines offers great redemption rates on Qatar so when matched with their Qsuite, food, and service, it's hard to find a better option. Back to Doha I go!
FLIGHT #12 OF THE SABBATICAL
Qatar Airways #1324, A320, FIRST CLASS Fully Flat
DEPARTURE: Cairo, Egypt (CAI) 13:45
ARRIVAL: Doha, Qatar (DOH) 17:30
DURATION: 3h15
I was now a pro at traveling through chaotic airports. Just like when I arrived in Egypt, I was traveling regional First Class on Qatar using their two class planes. I was originally scheduled on a nice B777-300 for my return trip but the Qatar plane swap game downgraded it to a tiny A320. Sometimes you win with Qatar and sometimes you lose. The check-in at the First Class single desk took a while as the family in front of me had many extra bags. And they didn't want to pay any excess fees. Finally an Economy agent helped me out after about ten minutes of waiting. They even printed my First and Business class boarding passes out on the correct card stock! My bag was all properly tagged and everything worked! Qatar First uses the Ahlein Premium Lounge. I was escorted to the innermost area which I could see had better food offerings than the outside area of the lounge. I made a nice plate of local food including some chicken stew and beef stew. Overall all, it was a perfectly fine lounge but not one that I would come to the airport early for.
Regional First Class on Qatar Airways from Cairo to Doha
I knew that once I got to Doha, I would have their wonderful Al Mourjan Business Lounge waiting for me. I had done some research wondering if I might be allowed to use their First Class lounge since I was arriving in First Class. But even their own website that I would need to arrive on a long haul First Class ticket, not regional, to use the First Class lounge. I had a 9 hour layover and unfortunately the transit area hotel had been sold out for months. But their business lounge has several quiet areas for me to relax in. And at least it wasn't a bus station in Africa.
As I boarded my tiny, single aisle aircraft, I was happily surprised that this plane had fully flat seats up front! They were sort of like what AA and UA use on their single aisle trancons. They were much better than I expected and I even had the seat next to me vacant which made it all the better. First Class was only 50% full so it should be a pleasant flight.
I was greeted with a nice glass of champers which I wasn't sure was going to happen in this Muslim country. I love QR's rosé champers to celebrate the start of a good flight. I also accepted their offer of Arabic coffee. It's a really flavorful version of coffee with additional spices to give it a Middle Eastern flair. I enjoyed seeing all the EgyptAir planes as we taxied out to take off.
Flat seats on a A321 Qatar First Class
Once in the air, I continued with the same champagne and some warm nuts. So far regional First has exactly the same catering as their Business long haul. But both are outstanding. I also like that Qatar offers bread that is made from three different doughs. They are all delicious. For lunch today, I had a nice chickpea soup, grilled spiced prawns seared scallops, braised beef cheeks, and my usual cheese plate. The flight attendant was super friendly and said that today's flight featured her favorite dessert, a dark chocolate Pot de Creme. She insisted that I try it too. While not a sweets person, it was pleasantly deep with flavor without lots of sugar. Great recommendation.
A great meal on a three hour hop to Doha
Stuffed from another great meal, I fully reclined my seat and napped until I was being asked to prepare for landing. I was wishing the flight was a little longer since I was comfortable and had a nine hour layover ahead.
We lost today's spin of the DOHA gate roulette wheel and thus we parked in the middle of nowhere, far from the terminals. The good news was that they had a very fancy First Class shuttle bus for the six of us in front. It was definitely nicer than the business class buses. Go Qatar Airlines!
Being a true Flyertalker, I decided to go to the Al Safwa First Class Lounge and try to enter knowing that most probably I would be redirected to the business lounge. The lounge agent asked to see both of my boarding passes and then welcomed me into the First Class Lounge!!! The best part of this is that they have day hotel style rooms for passengers with more than eight hour layovers. That's me!
Since no food or drinks are allowed in the day rooms, I decided to celebrate my unexpected arrival back at Al Safwa with a Grey Goose martini at the glamorous central bar before checking into my day room. Cheers. Here's to an amazing year so far. I was so grateful for this amazing opportunity once again.
Back at the Al Safwa First Class lounge
The day rooms were basic but dim and quiet. I took a nice shower and then climbed into bed for a two hour nap. Life as an international playboy can be tiring at times. Once I climbed into bed, I noticed that the front entry hall light doesn't turn off! I popped my head out into the hall and asked the attendant and they confirmed it doesn't turn off. I guess they don't want you sleeping too soundly.
Luckily as a seasoned traveler, I always carry a pack of deep blue Post-Its which I use in hotel rooms around the world to cover all the ambient lights. I cleverly
used about ten of them to mostly block the hall light and sleep came soon. Very few First Class lounges in the world offer this day room feature. SWISS has two day rooms but you're lucky if they're available.
Al Safwa First Class lounge Day Room
After I woke, I caught up on two episodes of RuPaul's DragRace. I had been too busy to keep up and I hate seeing spoilers on Instagram. It felt luxurious to be tucked in bed quietly relaxing inside this huge airport.
Finally it had been hours, if not minutes since my last meal. The Al Safwa restaurant was calling me. It was time to say goodbye to my little oasis and return to the public. I had spent a nice four hours inside my personal day room. I remember a time limit for using the rooms but it was more than four hours.
Once seated in the restaurant, I chose a nice table on the banquet near the window. It was dark now but I could see the occasional plane go by. For dinner, I started with the traditional Arabic mezze, then had some salmon cakes followed by breaded beef filet. I finished with a nice cheese platter and the waiter pushed me to get the creme brûlée. This was my second dessert of the day! It had been months since I had eaten any dessert.
A great dinner at the Al Safwa lounge
Here is a link to the current offerings at the restaurant:
https://www.qatarairways.com/content...-dining-en.pdf
After this amazing meal, I just sat there writing and enjoying the amazing red wine, Château Ducru-Beaucaillou Cabernet Sauvignon 2008, Merlot, France. The waiter kept coming by and offering more. I wasn't going anywhere, nor was I flying the plane, so I kept saying yes. It was so good. It's not everyday that I enjoyed an endless supply of $300 a bottle wine! My writing does need a bit more editing after drinking several glasses of wine but the experience is wonderful.
FLIGHT #13 OF THE SABBATICAL
Qatar Airways #1363, B777-300, BUSINESS Qsuites
DEPARTURE: Doha, Qatar (DOH) 02:30
ARRIVAL: Johannesburg, South Africa (JNB) 09:55
DURATION: 8h25
My flight to Joburg left at 2:30 am. They had two other flights to choose from but I hate arriving in Joburg during the middle of the night. My family doesn't like picking me up in off hours. I try to pick flights that land midday to also avoid Joburg traffic. Often to South Africa, I have often gotten Qatar's old herribone business seats. Today I ended up with Qsuites! Hoorah! I decided to sleep first during the flight to get on local time. I sure didn't need to eat right away! I slept like a baby and woke up over my old home of Malawi! I put up my window shade and looked longingly at the Warm Heart of Africa. The flight attendants saw when I was awake and instantly began offering me food and drinks. I had a cold plate of cheese and meats and then a tomato and onion omelet with grilled chicken sausage. Both tasted good after my long sleep.
Qsuites on my way down to JNB
Qatar Airlines has a great business class product. The Qsuite is industry leading. Their food and service are also some of the best in the sky for business class. International First class food and service is still a level above on many airlines. Last Christmas, Terry, Corbin and I flew SWISS First SFO-ZRH-JNB and it's really hard to beat that to South Africa. But Qatar is probably my favorite choice using miles these days to go home to South Africa as it's often a bargain.
FLASHBACK PHOTO: Nothing beats SWISS First SFO-ZRH-JNB to go home for Christmas
After starting month four of my Sabbatical with a bucket list week in Egypt, I would be spending the rest of the month with my family in South Africa. Sometimes I refer to them as my second family which doesn't clarify things much either. My best friend's family is German but they have lived in South Africa for many decades. I have always had a wonderful connection with Robert's mother, father, and sister. Without a doubt, after my mom died young of brain cancer, Robert's mom, Resi, and I became super close. Then his father died. Then mine died. I often morbidly joke that I have killed off two sets of parents. It helps me deal with the pain of not having these four important people in my life. Resi not only got to meet Corbin when he was just four months old, she got to see him grow up along with her other two grandsons that were born just six weeks before Corbin.
Robert's parents lived in Johannesburg and our sister and her family always lived next door. While Robert was based for a few years in Joburg, he has long been a Cape Townian. This all means that when I visit I must go to both Joburg and Cape Town to see everyone. My guess is that over the years, I have visited over 50 times. It is truly a second home.
For many years, I would look forward to the warm welcome and hug I would receive as I walked in Resi's house. Regardless of the time of day, and most of the overseas flights arrive in the morning, she would have a bottle of champagne chilled waiting to be immediately opened to celebrate. It is a wonderful tradition that I carry on in her memory anytime far away friends visit.
Towards the end of her life, she fell and broke her shoulder. Then she was diagnosed with cancer. Finally at 83, she was nearing the end. As part of our FifthGradeAroundTheWorld year of travel with our son, I had chosen to spend a month in South Africa. We had all been there many times at that point, but something told me it would be important to be there in September 2010.
She was born in Holland but had lived many years in Germany. Thus she had a very strong constitution. She had lived through WWII. She had so many stories. By the time we arrived on Sept 1, her body was experiencing TBF as here doctor called it, Total Body Failure. As we walked into her TV room on our arrival to South Africa, she stood up and gave us all a hug. This was the last time she would ever do this.
She and I were famous for staying up late playing Rummikub and talking. Very often we would talk so much that we would forget whose turn it was. We enjoyed lots of South African wine with wonderful classical music from the local radio station throughout the evening. If Robert was visiting, he would stay for a game or two. Ruth would last a bit longer. But inevitably Resi and I would end up alone and enjoy ourselves late into the night. Of all my memories of my South African mom, it is these intimate moments together that would forever bond us.
On that Sept 1, she and I stayed up late chatting in spite of her failing health. Her stubbornness had kept her alive until now. Part of me knows she was waiting for us to return to South Africa before she could let go. That evening she shared with me her deep concerns and her final request of me. Her two biological children, Ruth and Robert had long struggled together. She was worried about their relationship once she was gone. It had been one of the reasons she just couldn't let go in spite of her grave health. She finally said, "Charlie, I need your help. I need you to watch after both Ruth and Robert. They are going to struggle. You need to help them get through their rough times together. Please promise me that you'll do this."
I assured her that I would take on this responsibility and we would all be okay. Tears followed from both of us. We both knew she had reached the end. Soon she was transferred to a hospice facility. And then my family and Robert said goodbyes and headed to Cape Town. We knew she didn't want a big bedside death scene. Instead it was easier for her to let go, away from her house, and away from her family.
It all happened so quickly after that. We got an early morning phone call that she had finally passed away. I am so happy that we were all together in South Africa at this moment. We planned the Catholic service and reception at her home afterwards. During the service, the priest spoke of her three kids, Robert, Ruth, and Charlie. She had invented the nickname Charlie when I arrived in 1988 from Malawi where I was a Peace Corps Volunteer. Her husband's name was Karl and thus she didn't want the confusion of two Karl/Carl's coming when she called out our name. So she immediately said "We are going to call you Charlie." And thus, I will forever be Charlie to my South African family.
Tears still fill my eyes each time I land at the Johannesburg airport and I realize that my Resi is no longer there. She was the last surviving parent of the four I had. But her spirit still greets me as I arrive back home.
Unfortunately many airlines slammed the passport control and I ended up waiting for an hour and a half. It was the longest I had ever waited there after so many visits. My sister had come to fetch me so I was texting her to go have a coffee. It was going to be a while.
The benefit of a long wait is that my bag was waiting for me as I ran by and past customs. I saw Ruth instantly and we both were in tears immediately. Being big criers is something that she and I have in common. We cry when we say hello. We cry when we say goodbye. We cry at Hallmark commercials.
So great to see my sis Ruthie again!
Robert had bought her a new Subaru a year ago and it was the first time I had seen it. She was so proud of her new car. We had a quick and fun trip back to Randpark Ridge on the other side of Johannesburg.
Ruth had stocked up on some of my favorite delicatessen favorites for the wonderful German butchery nearby. With a large German community in Joburg, good German food is abundant. We had a delicious lunch and then I went down for a nap. Luckily I was coming from a time zone that was fairly close to South Africa's. So I was just a little jet lagged. Normally, I had the time change from California to South Africa in addition to a 30 year journey to get over. So this was going to be easy.
My nephews, the twins, are now 23 years old just like Corbin. Kyle and Cameron had both graduated university with honors and were working their first jobs. I was very proud of all their hard work. They also had both recently been given offers for big corporate jobs at BMW and Investec. Corbin is graduating in December. It's not a competition but his cousins are winning.
For dinner that night Ruth made one of my favorite dishes, pork loin with bacon in a cream sauce. Pork with pork with cream. Germans really know how to cook. My mom is from Denmark where there are actually more pigs than people. So I grew up on lots of pork. Yummy.
After dinner, we played a round of the board game Catan with the family. That and Rummikub are our go to games that we always play. It felt so nice to be back together again. We loved seeing Kyle's girlfriend that we had met last Christmas. Now Cameron had a girlfriend too. It always warms my heart to see them all grown up.
So nice to be back with the family
As it was a "school night" and they both had work in the morning, they went off to bed. Ruth's husband also followed and soon we were left on our own. Just like I used to with our mom, Ruth and I also have embraced the late night chat over a glass of wine and even a game of Rummikub at times. It's now our special time together. Even though we talk on the phone, we both prefer a nice in-person catch up. It was a beautiful Joburg evening so we sat outside by the pool. Moments like this definitely make up one of my "happy places".
My brother/bff Robert started his career in big tech. He even managed to retire around 38 years old. But not being the sit at home and do nothing kind of guy, he started to build climbing gyms and it's been a fun second career. Sister Ruth now works for his South African company and so we started our day by going over to the Joburg gym. I did a nice cardio workout and then hit some of the walls on the auto-belay. Robert did a great job building this gym and gear shop. Since Ruth had more work to do, I Ubered home and took the boys out for sushi to celebrate their new job offers.
After lunch I set out to buy a local SIM card. This used to be easy in South Africa. It turns out tourists can only easily get SIM cards at the airport now. Anywhere else in the country, you have to provide proof of residency like a bill with your name on it. They have had problems with lots of scams. LESSON LEARNED: Buy your tourist SIM card at the airport before you exit. I would be back at the airport on Sunday and pick one up then.
Because I had some free time in the afternoon when everyone was working, I met up with a local guy from one of the gay social networking applications. We had coffee and hung out a bit. He is a fellow cyclist and he always does the Cape Argus Cycle Tour bike race that I have done five times myself! Usually my time is very limited while visiting Joburg so it was nice to make a new friend.
We were invited that evening to watch Hannah's parents perform in the bar of the country club at the nearby Eagle Canyon. They do a mix of pop music focusing on the 80s and 90s. They are outstanding! And Hannah even joined them and did lead vocals on a couple of songs as we had dinner. The highlight of the evening was when they sang the song "Jerusalema" by Master KG. During COVID, this song swept the world at a time when we needed something positive and happy as we all sheltered in place. It had a fun dance to go along with it and people around the world joined in and started filming themselves dancing to it.
I am not very hip. I had never heard of this song. But the bar in Joburg erupted when Hannah's parents started to play it. What really shocked me was the group dancing was made up of whites, blacks, Indians… all dancing together. This was the new South Africa. Yes, the country still struggles with many things. The electricity goes out for long periods every day. The crime and murder rates are horrible. But seeing this group of strangers dance together gives me hope. As I started to film, the tears began to well up in my eyes. South Africa just might make it.
A nice demo of people joining this dance craze:
Even the airlines got in on the fun:
Austrian Airlines:
Comlux Kazakhstan:
Royal Bhutan Airlines:
SAS:
Ryanair:
AirAsia:
Our day started super early on Saturday with a 6:30 am tennis court reservation. Ruth and the boys had gotten more into tennis during COVID so we had a great time playing together before it got too hot. My nephews tennis skills have officially surpassed mine and they easily kick my butt.
A fun visit to Johannesburg
More love filled my heart that day dear friends Sarah and Glenn came for dinner. They all live in the same housing estate as did Resi and Ruth with her family. It's weird to see Resi's house where I had so many memories but I know she's no longer there. Ruth reports it's a young family that now lives there. And they yell a lot.
I made some smoked salmon appetizers and two butter boards which are all the rave now. I had seen them on Instagram and I enjoyed my first attempt. Frans and the boys did a typical South African summer braai of lots of meats: sausages, chicken, beef, pork.. Ruth made a bunch of different salads to go along with it all. Hannah finished off our meal with a berry pavlova. Nothing beats a homemade meal made with love. It was a wonderful evening of catching up and enjoying life together.
Two butter boards and some smoked salmon to start off dinner
After my brief visit with everyone in Joburg, it was time to head down to Cape Town. As I planned The Sabbatical, I tried my hardest to use miles on every flight. I had originally booked booked a biz class award flight on British Airways which offers their name and support for local SA company Comair. They fly older 737s but have beautiful SLOW lounges in both JNB and CPT. Unfortunately, the global pandemic and some mismanagement led to their demise. I got an email from BA over the summer saying my ticket was canceled. My only other miles option was to fly South African Airways. Once the flagship airline of South Africa and the aviation success story of the entire African continent, SAA is currently on life support. Years of horrible management have taken their toll. They ceased all operations in 2021 and are currently back but with just flying a handful of planes to a few cities. But they still sold me an award ticket to Cape Town!
Maybe it was the AVgeek in me but I wanted to see what was actually left of this shell of a once great airline. None of my South African friends or family could believe that I was willingly choosing to fly on the current SAA. The loss of SAA and British Airways/Comair on domestic travel has been devastating. They both also had low cost versions of their airlines, Mango and Kulula, which all went under too. So the four biggest domestic airlines all disappeared. Supply is weak and demand is huge. The big winner in this fiasco is the quiet little airline SA Airlink. They have been around for 30 years and last year was now the third biggest airline in Africa. They are growing and filling in all the gaps left by SAA and BA. They are also benefiting by historically high ticket prices due to the lack of competition which has helped fund this growth.
Robert and I have often discussed the failing SAA. It should have been left to die years ago. Government involvement hasn't helped at all in spite of spending precious taxpayer money on this dying horse. Nevertheless, today I was flying what was left of SAA from OR Tambo to Cape Town. The advice of "Fasten your seatbelts" was never more poignant.
My nephews and both girlfriends offered to drive me to the airport. I love my time with them. I think they also appreciate their time with Uncle Charlie. We laugh a lot together. It was so much more entertaining than a boring old Uber.
FLIGHT #14 OF THE SABBATICAL
South African Airways #337, A319, ECONOMY
DEPARTURE: Johannesburg, South Africa (JNB) 13:00
ARRIVAL: Cape Town, South Africa (CPT) 15:10
DURATION: 2h10
OR Tambo airport has gone through lots of growing pains over the years since it was named after Jan Smuts, some white oppressor from the apartheid government. It's an airport where you end up walking huge distances. I feel bad for the old travelers. Cape Town has the same problem.
Back in the late 80s, younguns Robert and Carl at then Jan Smuts airport in Joburg
The check-in area is confusing with two separate check-in areas in separate terminals. It would be lovely if the difference was just domestic and international. But it's much more convoluted than that. The old South African Airways used to have a beautiful premium check-in area. But that's now gone and you have to look closely to find the few remaining desks that still exist in a small corner of the airport as ghostly tumbleweeds roll by. I had tried to check-in via the app and website but those too have fallen into disrepair. So sad.
The agent who checked me in was delightful and even managed to make a small seat change for me. I asked if there was still a domestic lounge, and she said yes! All was not lost. I had a backup Priority Pass lounge too just in case.
I love the SAA Domestic lounge because you get great views of the runway and domestic gates. I had my third cup of coffee of the day along with some smoked salmon, croissant, meats, and cheese. If the lounge was any indication of things, SAA was still alive and kicking.
A sad moment came when I could see off in the distance a little aircraft graveyard. There sat a bunch of relics from Mango BA/Comair. There was also an Air Namibia but they must just be storing a plane there as they are not dead yet. I raised my cup of coffee and toasted a remembrance to them.
The "I'm not dead yet!" award for persistent airline goes to South African Airways
At the jet way, I got stopped and they took away my rollie bag. South Africa has had a silly 7 kg limit on all hand baggage for many years. It's super annoying. The rest of the world will let me enter the cabin with a rollie. But someone in the Ministry of Transportation is a rule maker. They also have an incredibly difficult law where you need to bring a copy of your children's birth certificate in order to enter the country with them. A passport just isn't good enough. Both of these laws just make travel needlessly more complicated.
The highlight of my two hour flight to Cape Town were the two flight attendants who served me. I was ready for Nurse Ratchet after all the difficulties the employees have been through. Instead, I got two of the kindest, gracious flight attendants that I have ever met on the continent. Towards the end of the flight, I went up and talked to them. I let them know that they are the best faces of SAA right now. They both should be very proud of their hard work.
The bottom line is that SAA isn't dead yet. All the economists of the world agree it should be dissolved. But it's still here. South African Airways was started in the 1930 and has weathered many storms. So I wish it well. One time I got to experience their International First Class on their 747 before they ditched the whole idea of first class like so many airlines. It was an experience that was uniquely South African and wonderful.
My brother from another mother Robert and I met during my last year of college in the year 1987. I had just returned from 10 weeks of summer travel with my friend Maureen. It was my first round-the-world trip, starting with the student travel thing in Europe for three weeks. Then we did Thailand and Hong Kong. Finally the amazing part was spending three weeks in China. Back in 1987, China was entirely different. It was a backpackers dream if you were adventurous. Things were dirt cheap. Many places were untouched by Westerners. Even in the big cities, we stood out everywhere. I even had an old woman on a crowded bus touching the blond hairs on my arm. She was fascinated by them. At one point she just looked up at me and smiled. The whole experience is something that changed my life forever.
Toward the end of our time in China, right around week 9 of our journey together, Maureen and I had a big fight. Ironically, it was over something trivial. But this trip taught me how important it is to spend some time apart when traveling with friends and even family. We were stir crazy with each other. My rule since then with friends has been two days of full time traveling together must be followed with a morning or afternoon or even the whole day apart. It's a formula that I have found makes traveling with others a success. Even when I travel with my husband, after two days, we part ways for a bit. It works.
Unfortunately, at our young ages, we weren't as wise. Maureen and I never fully recovered. We had experienced so many wonderful things that summer together. But we were both young and stubborn. The worst part of it was we were supposed to return to UC Davis and be flat mates. I loved the apartment complex where I lived. I had lived there my entire four years at Davis. I never made it to the dorms because my high school friend Jane wanted to live together by the time I showed up after my year at the University of Madrid. But all of the sudden I needed a roommate. I had always lived with close friends. What was I going to do?
I told the whole story to the apartment manager Mary as soon as I got back to Davis. She mentioned that a very nice young man had come by looking for a place to live. He was a first year grad student at the business school. And he was from Germany. Or was it Africa? She couldn't exactly remember. But decades later, little would I know that this was a pivotal moment of my life. The next day I would be meeting the person that would become my best friend and who would be forever sharing his family with me.
We met in the Memorial Union building at UCD. We had coffee to get to know each other a bit. He was born in Germany but had moved with his family to South Africa because his father was a journalist, photographer, and author on African politics. He attended German high school in Joburg and then WITS there where he studied Electrical Engineering. He had been working for Siemens in Germany and then Atlanta and now was about to get his MBA. So after a single conversation, we shook hands and agreed to be flatmates. And the rest is history.
He and I have rarely lived in the same place during our friendship. But the beauty of our relationship is we don't mind getting on a plane to meet up. I happened to be placed in the Peace Corps in Malawi which was just two hours from South Africa. He was beginning his career in Big Tech by then back in California. And then he finally moved back to open an office for them in Joburg. Then he got married and they moved to the Bay Area but Terry and I were living in Los Angeles. At least we were in the same state. And it has continued like this through the years as we have lived all around the globe. Thirty-six years later we have shared a lifetime together.
A few years into his second marriage, he really wanted to be a dad. He and his wife decided they would adopt. So they even used the same adoption lawyer we used to have Corbin. Their son Jordan was even born in the same hospital as Corbin. Uncle Bob to his three nephews was now Dad to Jordan. And I got another nephew.
As we were landing in Cape Town, I got a nice glimpse of Table Mountain. It is always such a welcoming sight. Today she had a high layer of clouds which the locals affectionately refer to as the "tablecloth". Over the years we have done lots of hikes and rock climbs on her. And I knew that I had more adventures with her coming during this visit.
After grabbing my checked bag, I started my long walk to meet Robert. In preparation of the World Cup a few years back they made the Cape Town airport bigger and then moved curbside pickup way out into a far away parking garage. I like to blame my favorite rule-making guy back in the Ministry of Transport. A simple curbside pickup means walking through the crowded arrivals area, through the door to the outside. Then down an awkward ramp to get you on the other side of the main road. Then in an elevator to now go back up a level and to the far end of the P2 parking garage building. This is not for the faint at heart. Luckily I made it and eventually found Robert who was trying to time his arrival with mine.
It was great to see him. Our last meeting was in May before I left the US. Once a year, I organize a fun weekend of old friends and he made the trek back to SF to join us for the festivities. But he's happiest in his element of Cape Town. He talks about moving away at some point. But at least now, they have a great life in spite of it all. He often quotes one of his local friends who said, "It's like we're riding in First Class but it's on the top deck of the Titanic." The ship may be going down soon, but until it does, we're going to have a great time. This is South Africa.
Many years back he bought a house in the exclusive enclave of Llandudno between Hout Bay and Camps Bay. I am a big sunset guy. And I have seen some of the best sunsets of my life from his place. It is what has inspired me to seek out sunsets for the rest of my life. He renovated the house when he first bought it with his first wife. And then when he met Trish, she spearheaded a wonderful renovation which takes full advantage of its position on the Atlantic Ocean. He was building another climbing gym at the time, so she was fully in charge of the project. And she did a great job. The best part is that I have an amazing guest apartment now on the lower level of the house also with views and amazing sounds from the ocean.
I said my hellos to Trish and my now seven year old nephew Jordan. I had last seen him when we came for Christmas nine months prior. He had definitely gotten taller. Of course, Resi's tradition required a bottle of champers to be opened marking that I had officially arrived.
That evening, Trish's son from her first marriage and his girlfriend came over for dinner. It's always great to see them and catch up on their young, millennial lives. Trish and Robert collaborated on dinner of tuna on the BBQ and a big salad. Cape Town gets lovely local tuna. As it was early spring, the evenings still chill down and Robert made a nice fire to enjoy as we all began to fade. Robert and Trish are early risers as Jordan is always up by 6 am and often earlier. It was not a late night and soon we all were fast asleep to the sounds of the waves.
Happy to be back in Cape Town with the family
The next morning was a national holiday so Jordan, Trish, and I had an early game of Monopoly Jr. It was a simplified version of the original that all three of us enjoyed. I grew up with tons of board games with my brother and my family. I can really appreciate how much they taught me about numbers, logic, and strategy. Jordan really seemed to enjoy playing too.
In his semi-retired state for the past twenty years, Robert likes to have some sports activity scheduled each day. Today we would be biking over to the Indian Ocean side for lunch and then biking back. It's an iconic ride that we have done many times. The best part of it is the section between Nordhoek and Chapman's Peak along the famous Chapman's Peak drive. It is one of the most scenic rides in the world. Robert loves his adult toys: sailboats, road bikes, mountain bikes, surf skis, kayaks... They all help keep him active and busy. A few years back, he bought two Specialized mountain e-bikes. These things are amazing. They have entirely changed the sport of mountain biking. And as I age, I love that little boost of power especially when going up steep hills. It's like I am 20 again! And in my mid to late fifties, I don't often feel like I am 20. Even when riding them on the road, I feel young and potent. But the competitor in Robert asks at the end of a ride, how much battery do I have left? He's a bit older than me but has always been much more sporty. I don't mind being in second place. Enjoying sports is part of his well-being. I am just along for the fun time. Often I try to suggest that Robert ride one of his non-powered bikes and I take an e-bike. I feel this evens the playing field a bit. If Robert doesn't get a decent workout each day, his mood quickly plummets.
The traditional "top of Chappies" shot
We stopped for lunch as planned in Simonstown. I had some nice mussels in a white wine broth, nothing too heavy but a perfect delicious protein. South Africa is great for seafood and beef. Mama never goes hungry. The way back home was a literal breeze with a strong tailwind pushing us the entire time. The 40 mile bike ride was a good warm up activity for the many outings to come in the next weeks. Robert brought another one of his toys along our ride, the drone. He has bought a number of them but they often meet their demise by crashing or flying away. Luckily they keep coming down in price. He took some lovely footage of me biking Chapman's on the way back.
​​
I signed up to make dinner as Robert and Trish's dear friends Alf and Evelyn were coming for dinner. Robert gets a lot of flack from Alf because he easily throws out the expression "My best friend Carl" when speaking about me. As his local best friend, it pisses Alf off. And they joke about it. But I think he actually gets a bit pissed off. The same happens with my dear friend Tom. He knows that he is one of my best friends. But when I throw out a "My best friend Robert" in front of him, I think it stings a little. Neither of us mean any harm in the least. But I have barely known Tom 23 years! How can that compare to the lifetime of friendship with Robert! Okay, I know that sounds a little crazy. Prior to the big weekend of long time friends that met this past May, Tommy literally asked months before when he heard about it, "How long does someone have to know you before they get an invite to the weekend??? Jesus!" Most of the people that attend the weekend have known each other for 30 to 40 years. It's our annual version of the "Big Chill". So this year, Tom and Charlie were invited to the group. Over the years everyone had already met him but as Tom and I have gotten much closer, it seemed natural that he and his husband should be there.
I made another butter board for tonight's dinner followed by a chicken and biscuit type pot pie with a salad. Both Alf and Evi are avid bikers that have made the leap over to e-bikes. I am totally on their side. We get along great. It was another lovely evening with lots of laughter. Coming home to South Africa always makes me feel so good to see everyone again.
Me with Alf and Trish and another butter board
I had to earn my keep the next morning by spending an hour on the phone with Robert's GM and lead web designer. I am super opinionated about many things. And I always have lots of comments and ideas for Robert's businesses. Best friend status and almost a decade in Silicon Valley buys me some clout. I also had a few comments about the retail gear shop in Joburg that I had just seen. And then Robert asked me to take a look at their new website that was going to launch soon. A fresh pair of eyes is always useful. After an hour, they had a lot to think about. I have worked with so many UX designers that don't always get the product or the users. One thing that I helped Robert's team think about creating User Profiles of the website users. This helps them discover the flow on the site for different users. And then I had them count the number of clicks it took each kind of user to do the things they came to the website for. Each additional click is a barrier for the customer. I actually enjoyed working with them. Robert hires good people that are eager to learn.
For Robert and me, the day's big activity was hiking up Lion's Head. Over the years, we have hiked up and even done some rock climbs on it. Robert likes a brisk pace and I was struggling. I blame that I have been taking a heart beta blocker for the past few years and it makes me feel a hundred years old. Possibly it's also that I am just getting older. But I don't like that reason. But since I started on it, I have played a balancing game of how much to take without zapping my energy. I have endurance and will always make it. But now it takes me a little longer. Luckily the views were outstanding. At the top, we took our traditional picture standing on the peak marker. Somehow all of Table Mountain behind us was cut out of the picture. But I still know it's there.
Top of Lion's Head in Cape Town
Nice views on the way down from Lion's Head
Dinner was just with Trish and Jordan so I enlisted Jordan's help. Once focused, he does a great job helping out. I am very structured. Terry and I learned a wonderful parenting approach when we were raising Corbin called RIE, Respectful Infant Educaring. I know that it sounds super California touchy-feely. But it allows infants to grow their self-confidence and independence. As an infant that means they learn how to be great eaters, great sleepers, and can play independently. Using the RIE approach works with everyone, not just infants. Since I visit often, Robert and Trish have been open to working with me on various parenting issues that have popped up. Giving advice and guidance to friends about their kids is a touchy subject. But like Mary Poppings, with each visit I try to help them with one of the problem areas they are dealing with. During my visit in July 2021, I helped Jordan develop skills to set the table, eat without distractions including the iPad, and then clean it all up. Eating had always been a struggle. During my current visit, his parents were frustrated that he didn't like playing by himself. Jordan always enlisted one of them or his nanny to play with him. Somehow I knew he would benefit by learning how to pay independently so I told them that I thought I could help after they brought it up. Jordan and I would work on this the next day.
After dinner, the three of us had a wonderful moment outside together enjoying the sunset. We even sang songs as we listened to music. It was one of my favorite memories of my time with them.
Enjoying the sunset and singing songs
I was quick to adjust to my life when I am in South Africa. I had a quiet morning of writing. Robert and I decided to do a quick hike up Little Lion's Head just up the hill from their house. He brought his drone and we had fun playing around. I couldn't believe how well it did in spite of super strong winds.
Dinner that night was with Trish's sister and her family. Trish's daughter also joined us. They are a fun Italian family and things often get loud and animated. We had all been together at Christmas so it was fun to see everyone again.
Tragedy struck when I read an email saying Singapore Airlines had downgraded my A380 New Suites flight from Singapore to Hong Kong to a 777 old First Class flight. WHY DO BAD THINGS HAPPEN TO GOOD PEOPLE?? Okay, I know that no one in the world can feel sorry for me. Boo hoo, I have to fly in Singapore First Class on a 777. How HORRIBLE! I get it. The optics aren't good. COVID messed up my first flight in New Suites and now it had messed up my newest reservation.
So being the super AVgeek that I am, I began to wonder where else I might travel to and get to experience the New Suites. SQ had returned to flying their A380s to many destinations. I was going to be in Asia for two months. Maybe I should take a little trip just to experience it. In my research, I saw that they had a nice six hour flight to Mumbai. And there was award space! I could fly in New Suites on the way out and then take Business Class back. But as I thought about it, I decided I should just fly New Suites both directions! I had never been to Mumbai and I was sure I could fill four days. So I booked my ticket SIN-BOM-SIN all in New Suites! The world had righted itself again. I would also get to experience SQ's newly renovated Private Room. I loved the old Private Room and was anxious to see the improvements. The only thing that seemed a little weird was that I would be leaving on this impromptu trip to India just three days after I arrived in Thailand.
After I booked my ticket, I posted on Couchsurfing that I was coming to Mumbai. I wasn't looking to sleep on any couches, but I definitely wanted to meet up with some locals and explore their city. I immediately started hearing from people that wanted to meet and show me around. I love to visit a local gay bar whenever I travel. I am not a big bar guy but it's fun to see the local culture. So Couchsurfing is a great place to find someone to show me the local color. In my profile, it's very clear that I am a big old homo. I talk about my hubby and son. And I am a member of various gay affinity groups that are all listed on my profile. Because of this in countries where homosexuality is illegal or less accepted, locals feel comfortable contacting me since they can see I have many references and I am not the police. India has had a rocky time with homosexuality. It was decriminalized and then criminalized again. Finally in 2018, their Supreme Court decriminalized it. But homophobia is still deeply ingrained in their culture.
Lots of closted Indians began to contact me. Single. Married. All types. One married guy Sam started to chat with me. He actually lives up in Jaipur about an hour by plane from Mumbai. He was married with a son but was bi. Many gay or bi guys just end up getting married in India because their family pressure is so strong. I really respect the guys who fight back and don't get married. But it's hard on the wife when she's married to a gay man, not exactly what she bargained for.
Sam really wanted me to visit. So he said if I extended my trip, I could attend his sister's wedding with him! I wasn't even originally planning on visiting India. Now I was thinking about extending my trip to attend an Indian's wedding that I had never met! This sounded crazy.
As Sam's email with the invitation arrived, I noticed the time and had to jump in a car to go pick up sister Ruth who was flying in to join us for a few days. She would be able to help me with this decision. She's a good sounding board.
Off to the airport to pick up Ruth
She and I ate lunch on the beach at Dunes in Hout Bay as we often do to get some one-on-one time. Then when we got home, Robert was gone so we took a nice bike ride to Chapman's Peak and back. During COVID Ruth lost a bunch of weight. She also loves the e-bikes. So I didn't have to convince her at all. We had a great ride.
Lunch in Hout Bay then a nice bike ride to Nordhoek
Thanks to the Instagrams as I jokingly refer to it as, I learned that one of my Danish cousins was visiting South Africa with his family and would be in Cape Town! We figured out that we last saw each other in 1996 when I brought my mom home when she had cancer so she could say goodbye to her relatives. So we figured out that had been 26 years ago!
Lunch with Danish cousin Claus and his family
We met for breakfast the next morning and it was so great to see him and meet his three kids. His grandmother was my mom's favorite relative. I told lots of stories about spending time with his grandparents at their summer house. My cousin and his family are big travelers and I look forward to our paths crossing again when we have more time.
After thinking about Robert and Trish's concern about Jordan always needing adults around, I figured out how to approach it with Jordan. So that afternoon when he got home from school, we began to work on it. I made sure he had a snack and used the restroom so that he was ready to get down to work. RIE taught me that before tackling difficult tasks, we all need to be rested, fed, and ready to go.
I told him that we would be working on his skills of Independent Playtime. We talked about what this was. Then we discussed why having these skills was important. Finally he brainstormed a list of things he could do during Independent Playtime. He came up with things like: reading, writing, drawing, coloring, building forts out of cushions. Together we also came up with a list of things that didn't work for this time: paints, anything involving liquids or water, anything outside, anything in the parents' office… We created a poster that had all these ideas on it. Finally, I offered that he try to do this for 15 minutes. He could go longer but that was the goal. I asked if he thought he could do it. Yes.
So I gave him a phone and showed him how to turn on the stopwatch. Once he saw it had been 15 minutes, Independent Playtime would be over and he could choose to move on to a different activity. What I didn't do was set a timer. When it would go off, it might interrupt him just as he was doing something very important. If things were going well, he was welcome to keep going. I also sat Robert and Trish down and we talked about creating the appropriate quiet space for him to do this work. They too needed to not interrupt him or talk loudly with each other. This is normally a fairly noisy house so I needed everyone to be involved.
Jordan chose to build a fort out of cushions. He did great. After 16 minutes he said he was done. And he cleaned it all up. He asked for my help but I told him it was his job. As he played, I was in the next room. I could hear it all. He never tried to engage me, which is something we had talked about. Over the next few weeks he would continue to work on building these important skills.
Trish isn't the biggest fan of cooking. And Ruth and I love to cook. So we were going to spend the weekend up in Churchhaven on the Langebaan lagoon about 90 minutes north of Cape Town. It's a stunning setting inside of a national park. Just a few houses have been built there so it is fairly untouched. The toys that live there are two Hobie catamarans, two surf skis, a kayak, and some bikes. These days another pair of electric mountain bikes have also found a home there too. The best part is that the water from the frigid Atlantic Ocean warms nicely in the shallow lagoon making it a perfect playground for everyone.
Jordan gets out around 2 pm and we hit the road from his school. It had been two years since I had been to Churchhaven and it was as beautiful as ever. We brought all our groceries since the nearest grocery was an hour away! That's a lot of food for us all. Robert has a Weber charcoal BBQ there and by the end of the night I had convinced him he needed a gas one. It's just so much easier. I was in charge of braai'ing all the meats and Ruth had made a bunch of salads back in Cape Town. We had a nice beef filet but the fire just wasn't hot enough. Dinner time kept being postponed by in the end we had a lovely meal on the patio to the last glimmer of the day's light. Churchhaven is totally off the grid and we conserve the precious electricity from the solar panels and the batteries.
A fun weekend up at Churchhaven on the Langebaan lagoon
Robert and I started with an early surf ski paddle trying to beat the coming afternoon rains. We rowed all the way across the lagoon to a fascinating shipwreck that is a great halfway point. I really enjoy surf skiing over kayaking. The boat is sleeker and narrower so you can go much faster as you paddle. You feel like you're gliding across the surface of the water.
A morning surf ski paddle out to the shipwreck across the lagoon
During the rains later, Jordan and I had some nice nephew/uncle bonding time by watching the Brady Bunch Hawaiian episodes. He had heard us talking about the cursed tiki and really wanted to see the show. The evening's main event was the traditional Rummikub. It always makes me feel like I am home to play that game.
I made some nice Eggs Benedict to get the day started and then Ruth and I went out on the surf skis. We followed a flock of white flamingos for the longest time. Back at home Jordan had found a tortoise and was trying to get it to play with him but it looked like he just wanted to escape. Both days Jordan did very successful Independent Playtimes. Just with a little structure, he easily adapted to this activity. One day it lasted a half hour!
In the afternoon, Robert and I tried to sail but the wind was a little light. We still had fun out on the water and we made the best of what wind there was. The Hobie is a fun little catamaran that is a good way to learn about sailing. Robert has overturned his before and then whacked his head open with the hull as he tried to get it upright. Never a dull moment.
Sailing with little wind. The views are still lovely.
That evening brought a beautiful sunset and a lovely dinner from Ruth. It was a relaxing time and we all enjoyed being together.
My South African siblings
Dinner by candlelight
On our final morning, we had a more successful sail with better winds. We got some good speed and used some sailing skills. Always eager to maximize our opportunities, we got back and hopped on the mountain bikes for a nice ride including some beach riding. The seagulls were not pleased with us.
Biking along the beach
Overall, our long weekend visit to Churchhaven was wonderful. The location is perfect for doing lots of fun activities. Plus it's close enough to Cape Town that a weekend visit works well.
One of the things keeping Robert and Trish in Cape Town is her parents. I really enjoy them and once or twice a week there is a family breakfast either at a lovely garden center or the Italian cafe. With one of Trish's sister's family in from overseas, we were a big group and it was a lively breakfast.
The next morning we went went to Robert's Cape Town gym for a nice climbing workout. Many years ago, he got me into climbing. I still much prefer climbing outdoors but the gym is convenient. It is a world class climbing gym with huge walls. He's gotten good at building gyms where he pops out the roof offering some nice height.
A fun INSTAGRAM moment at the gym
I love driving around Cape Town in Robert's Miata that he bought after falling in love with mine during our LA years. It's still a great car.
2003 vs. 2023. Los Angeles vs. Cape Town. Still love a Mazda Miata.
With every visit to Cape Town, I always look forward to a trip to the wine country for a nice lunch. Everyone was busy so I decided to go on my own. This year of my solo Sabbatical, I have really learned to appreciate time on my own. A tranquil trip to a wine farm sounded wonderful. The hardest part is trying to decide where to eat lunch. There are MANY delicious options. I love the setting at Glen Carlou with its expansive vistas out across the vines. And the food is very good. I started with lamb croquetas, then a main of pork belly, and ended with a nice cheese plate.
Nothing like a peaceful day of lunch in the wine country
Lunch at Glen Carlou
That evening old friends Andy and Sharon came over for dinner. I see them every time I visit and we always have a great time. So many laughs.
Another staple to each visit I go to Cape Town is a Table Mountain hike. The most popular is India Venster. Luckily there are many routes up to help avoid all the tourists. My favorite is one called Kloof Corner. It follows a nice ridgeline up with a mix of hiking and scrambling. The highlight is an interesting chimney that you have to snake your way up. We've taken a number of non-climbing friends up this way over the years.
Kloof Corner hike/climb up Table Mountain
Corbin even made a nice video about it during our year of travel:
Luckily my energy was holding nicely and while I was slower than the other two, I maintained a constant push and made it to the top. The hike has spectacular views along the way and it is one of my favorite all time hikes in the world.
Robert and I hadn't gotten the sailing we wanted the previous weekend because the wind was not cooperating. We were thinking of heading off into the Cederburg mountains for some rock climbing and mountain biking. But on the way up there, we would spend a few days back in Churchhaven to play with the Hobie more.
One the way up we stopped for lunch and the restaurant was experiencing "load shedding". South Africa has been experiencing huge issues with not producing enough electricity. Because of this, there are specific schedules when the electricity will be shut off. Trying to run a business with no electricity is challenging. Lunch was limited to just a few menu items. Everyone is affected but seems to manage. The worst part is that there is no solution for this problem and it's going to continue for a long time. Luckily those with resources have all installed solar panels and batteries or use generators. But much of the country literally sits in the dark.
That afternoon, Robert was playing with one of his drones at the lagoon and ended up losing it. The headwinds to get it home were so strong that it wasn't going to make it across the lagoon and would instead sink into the water. Once he figured this out, he decided to land it on the opposite bank of the lagoon and try to retrieve it later.
Playing with the drone in Churchhaven
So Robert and I did a morning mountain bike ride around the lagoon. We saw flamingos, a bontebok, a black spitting cobra, and a puff adder. Robert has been coming to this area for several years and he had never seen a single snake. During this visit we saw three! And they weren't the small friendly types. The last thing I want to run over with my mountain bike is a 6 foot long puff adder.
Amazingly, Robert found the drone in the bushes. He used some abandoned buildings as a landmark as he did the emergency landing. Even though this was one of his cheap drones, he was very pleased with himself to have found it.
The wind was strong in the afternoon and we had a fun sail with a couple of hectic moments. My sailing skills are still in development. Luckily we made it back safely and never capsized the boat. Robert took Trish and Jess out for a sail once we got back.
Jordan had been continuing to do well with Independent Playtime. He was now up to 30 minutes a day. After a super active morning, he chose to build a sofa cushion fort. The interesting thing was that he created a little nest inside and then ended up taking a nap. Everyone was in shock. He hadn't taken a nap in years. He was listening to his body now in a way he hadn't been given an opportunity to before. My nephew was growing up.
I had made Ina Garten's roasted veggie lasagne back in Cape Town so dinner was all sorted. Before dinner we played games and enjoyed the colors of the setting sun. It was a nice evening together.
The next day Robert and I said goodbye to the others and headed up into the Cederburg mountains. We arrived in time for a beautiful sunset and a nice dinner together. While it's great to hang with all the family, I also really appreciate our time one-on-one together. All friendships take work, even after 36 years. We took a picture celebrating the moment and then compared it to one from many years ago. Thank goodness we never age. 🙂
Thank goodness Robert and I never age!
The next day we spent rock climbing some wonderful single pitch routes at Truitjes Kraal. He and I have been here three times together before and it's an amazing place that looks like a mix of Bryce Canyon and Zion. We had a nice 30 minute mountain bike ride each way and then did seven nice climbs. It was a perfect day and we avoided climbing in the direct sunshine for most of it. Unfortunately, the next day didn't work out so well.
One of seven routes we did at Truitjes Kraal
Across the valley, Robert had been eyeing a nice arch that he wanted to hike to and play with his drone. We always like setting a nice goal! So we set out at 7:20 am. Unfortunately, we immediately lost the small path and began a 45 journey through dense thicket. I was in a foul mood. It reminded me of an infamous hike we once did from Robert's house in Llandudno where we ended up bruised and bloodied. I am a fair weathered sportsman and my adventuring spirit quickly gets extinguished when trying to get through dense thicket.
Once we found the path, my legs were scratched and bloodied and my spirit defeated. We had a chat where I inquired about the rest of the route. I let it be known that I no longer had the arch as my goal.
At one point I hit my head scrambling through a small tunnel of rocks and had another little moment. Robert said he had enough of my complaining and suggested that he continue and I return home. This was the right solution. I just wasn't feeling this hike. Unfortunately I had used up much of my energy when we lost the path and I was questioning if I would make it back to the house during sunlight. So we parted ways which turned out to be the right thing to do.
The hike that didn't quiet work out
There is no question I am getting older. And let's say I am slowing down a bit. I know that my beta blockers don't help. Both Robert and Trish are in great shape as they do daily outdoor activities. I definitely go slower now and end up hiking on my own most of the time as they always go ahead and then take a break until I catch up. The same thing happens in road biking. These activities used to be more social but now I had the constant feeling of not keeping up Over the years, I have been very good about setting my limits knowing the differences between Robert and me when venturing into the unknown. But my enjoyment of doing these activities has begun to wane when I am on my own for much of the time.
The other thing that has begun to bother me is hearing Robert complain when people come to Churchhaven, Cederburg, or Kynsna to hang out but then don't want to join in on all the sporting activities. Robert is the energizer bunny and he doesn't sit around and just read a book. He's constantly on the go. He loves having a playmate to do his many activities. For many years, I think that has contributed to the longevity of our relationship. When we're together, we do lots of fun things together. But now as we age, I wonder how our relationship will change. Obviously with decades of foundational friendship, I am thinking this might just be a natural ebb and flow of things. But it's made me think of what it all means.
I have known many of my friends now for 30 or 40 years. As I have lived around the world, our friendships have grown through lots of continual hard work. I've really enjoyed living in the Bay Area for the past eleven years because many of my close friends have been near. We have all lived through so much together. And now as I think about moving to Europe, I am confident that these friendships will endure but there remains a question of how they will change.
My relationship with Robert is changing. I have to remind myself that it has always changed and evolved. As he continues to be a passenger on the Titanic known as South Africa, he knows that at some point, he will need to hop in his rowboat and set sail overseas. I am just noticing that I have a feeling of uneasiness that just wasn't there before.
I remind myself that one of the biggest benefits of living in Europe is that South Africa is a simple night flight for both of us. It's even in the same time zone! When we lived in Munich, I think I went down four times in the two years. Compared to the 30 hour trek from California, Europe is almost a neighbor to South Africa!
So as I walked off the mountain, I was pissed off. The hike had not gone well from the first moment. This hike was supposed to be another Robert and Carl fun adventure. And the opposite happened. It ended up highlighting the differences between us now. The hike had failed. And neither Robert nor I are good at failure.
Back in my job in Silicon Valley, I struggled with feeling very frustrated at times. I had a wonderful work wife named Starr. She helped me create the habit of starting my day with a gratitude list. It really worked to put things into perspective and not just focus on the negative. It became a tool I often used to balance my thoughts.
As I descended the mountain, Starr came into my mind and I created an impromptu gratitude list. I was in a beautiful place. The sun hadn't set and I could still see the path. I still had water! I had gotten to spend three whole weeks in my beautiful South Africa. The Sabbatical was giving me so much joy and happiness. Life was good. My mood lightened and by the time I got back to the house, I was in a good place.
The mountain biking is also great up in the Cederberg mountains. It's a mix of fire roads and single track with some technical moments. The electric mountain bikes make me laugh out loud sometimes as I am able to do maneuvers that would have been impossible before. My favorite part of mountain biking is when you successfully make it through a technical moment and then you go back down just to do it again because it was so much fun. That's what mountain biking is all about. So the next morning we set out on a great ride.
There is great mountain biking all around the Cederburgs
This activity was a perfect activity for us to end our time up in the mountains. Long before we ever began rock climbing, we had been mountain biking in Joshua Tree, Moab, and South Africa. It was a wonderful time together and I think we both headed back home to Cape Town with smiles on our faces.
The next day I decided to have a little time on my own after lots of days with Robert and the family. I headed back to the wine country to the beautiful Babylonstoren Gardens. This was my first trip to visit this amazing collection of plants and vegetables all presented in a formal garden setting. I enjoyed the audio guide to talk me through each of the sections that had all been thoughtfully designed. I had lunch at the farm to table restaurant including soup with their famous pot pie. I finished with a latte and some of their delicious scones. In a setting outdoors where the chickens walk past your feet, it was a relaxing and delicious meal.
A beautiful day at Babylonstoren Gardens
That evening, I booked us into a new restaurant by the La Colombe restaurant group. It's called Pier and is located at the V&A Waterfront. Normally we all would have questioned that it might be too touristy but this restaurant group is known for high standards and amazing food. Robert and Trish had treated me to weeks of hospitality so it was a small way for me to say thanks. What followed was a delicious tasting menu mixing delicious flavors with stunning presentation.
A lovely meal at Pier at the V&A Waterfront
A stunning tasting menu of the many flavors of Cape Town
On my last full day, Robert and I decided to get real workout by doing the bike ride to Chapman's Peak and back on non-electric bikes, just like we had done in the olden days! It was a great ride and the famous Suikerbossie hill coming out of Hout Bay was a challenge which we embraced. We still had it in us. During the Cape Argus bike race, Suikerbossie is the last of the ten big hills. During the race, Cape Townians line the route on this section to cheer the riders on and even shoot a refreshing spray of water at times. I still have a wonderful memory from 1997 of my dad and Terry spotting us out of the 35,000 bikers and cheering us on at exactly the moment we needed it. I often think of my father and hear his encouragement as I bike up this hill.
Just before dinner that night, Robert, Jordan, and I took a walk to the rocks out in front of the house. We sat there and enjoyed the sunset and made new friends with the birds. It was a magical moment together that I will never forget. In the midst of the complexity of life, it felt good to share it together.
Out on the rocks in front of the house in Llandudno
FLIGHT #15 OF THE SABBATICAL
Safair #306, B737-800, ECONOMY
DEPARTURE: Cape Town, South Africa (CPT) 11:40
ARRIVAL: Johannesburg, South Africa (HLA) 13:50
DURATION: 2h10
Robert dropped me off at the Cape Town International. We realized that we didn't know when we would see each other again. This was very strange for us. We always had a "next trip" waiting for us on the horizon. I had suggested that Uncle Charlie would love to take Jordan to Disneyland Paris when I am there in April. It's only a simple night flight and they could pop up for a few days. It was a definite maybe.
Today I was flying another one of the smaller South African airlines that has gained prominence simply for also being one of the few airlines still standing. Safair conveniently flies into the smaller airport on the same side of Joburg as my sister Ruth. I was ready to pay some extra baggage charges but she accepted my 26 kg bag with no issue. Love an easy check-in.
The domestic Priority Pass lounge in CPT is the Bidvest Premier Lounge. This lounge offers the typical drinks but excels in the food department. Today I had a fresh pretzel with butter and cheese, a fish curry, and some fried chicken! There were other hot options too including pastas and salads. I debated a Bloody Mary but my liver voted for a nice sparkling water. The lounge has a second story area with far fewer people since it involves climbing up stairs. Both stories offer outstanding views of the planes. I wish all lounges were like this!
Safair to Landseria, Johannesburg
The two hour flight was uneventful. The nice thing about arriving at a small airport is that I got my bag quickly and Ruth was at the curb to fetch me. I loved bookending my time in South Africa with short stops on both ends in Joburg. My last night on the continent was spent celebrating Kyle's girlfriend's birthday with a dinner at her parents' house. It was another fun evening with the family featuring a beautiful African sunset and lots of good food.
Ruthie and me on my last night in Africa
Celebrating Hannah's bday
Back at home Ruthie and I sat outside next to the pool having our final nighttime chat. I was really happy that we had shared so much time together this month. It was a very fulfilling visit. Luckily things between all the siblings were doing good.
The boys and their girlfriends offered to drive me to OR Tambo airport on the other side of Joburg. It was so much better than an Uber! We giggled the whole way there.
The best kind of transfer to the airport, a car full of kids!
I had enjoyed the past three and a half weeks back in Cape Town back with my family. Spending some time in South Africa was an important part of planning The Sabbatical. Four months into this adventure, I was noticing that I was slightly different. I was seeing things differently. I was thinking more about myself and the future. Part of me will always consider South Africa as a home. It's a place where I have had many laughs. And many adventures. And many tears. But most importantly, it's the people there that keep me coming back. For better or worse even as we drive each other crazy. I think our mom Resi and dad Karl would be proud of who each of us has become.
---
Last edited by olafman; Mar 15, 23 at

1:58 pm
Mar 16, 23, 1:18 am
Join Date: Aug 2010
Location: HNL and CBR
Programs: LT Marriott Gold
Posts: 322
thanks for another enjoyable and informative episode. I'm enjoying the travel porn, however I think what I enjoy the most about your updates is the insight into how you are figuring things out and embracing opportunities. I'm already eagerly looking forward to the next month's report.
Mar 18, 23, 12:06 pm
Join Date: Apr 2000
Location: Oakland, CA USA
Posts: 84
Great update! Glad you had the chance to visit Babylonstoren. It is an amazing place both for a visit and to stay a few nights! I've always thought, they should do something similar here in the Bay Area.

Can't wait for your next installment. Take care.

Chris
Mar 18, 23, 9:23 pm
Join Date: Nov 2006
Programs: BA Silver / Aegean
Posts: 169
Olafman. please be careful in M East
---
I am sure you are aware that attitudes towards your open lifestyle are very different even in "tolerant" countries like UAE.

Things do not change if if a local national wants to cause trouble you can easily end up in a nasty place.

Arab People everywhere are wonderful and frankly the most hospitable but my advice is be wary of Grinder and Scruff and know your man beforehand.

In Hotels I don't think anyone cares but be very careful about PDA's and affection in a Public Bar.

I'm straight but I have seen lots of gay friends caught out.

ALWAYS ALWAYS a VPN and buyer beware sometimes .

Im sure you know what I mean

BUT LOVE the POSTS about your FAMILY and TRAVELS

xx