The Sabbatical - Olafman's solo journey of enlightenment and improvement
Sep 17, 22, 10:22 am
Join Date: Jan 2011
Location: ORD
Programs: AA, United, British Airways, Alaska Air
Posts: 237
Olafman, I also want to thank you for sharing your sabbatical with us. I have the same sentiments as you about the US/Trump, and I am much younger so retirement isn't an option for now. I hope to retire in Europe (should be easy enough since I'm a dual US/EU citizen), but that is far off for me since I'm in my upper 30's. I'd love to know how you are managing to retire early if you don't mind sharing... in any case, thank you again and please keep posting about your trip so we can keep following your story and living vicariously through you!
Sep 18, 22, 1:26 am
FlyerTalk Evangelist
Join Date: May 2008
Location: San Francisco
Programs: GM on VX, UA, AA, HA, AS, SY; Budget Fastbreak
Posts: 21,319
Great TR with the new chapter in Portugal. Please keep us posted on stuff and hope the couples therapy session goes well.

as we know, caregiving is excruciating.
Sep 18, 22, 11:22 am
Join Date: Jan 2013
Location: Vancouver
Programs: Aeroplan, BA, QR
Posts: 326
Thank you so much for this trip report. I read every word and I have found it both peaceful and captivating. Your report has a freshness and honesty about it that is unique. I've also learned a lot about European customs, tech and other issues and I'll be following this thread keenly.
Oct 21, 22, 9:59 am
Join Date: Nov 2000
Location: SF Bay Area, California
Programs: AA2MM LIFETIME PLT, Turkish Miles&Smiles Elite, Marriott Plat
Posts: 1,015
The sabbatical: A visit to the relatives in france
---
I have always joked that I am Eurotrash. My mom is Danish. My dad is half Norwegian and half French. Maybe a better name would be EuroMutt. A lot of Scandinavian mixed with some French on the side. I grew up with both my Danish grandparents and my French grandmother all living within five miles of our house. Because of that, we spent lots of time with them during our childhood. We learned their traditions, especially the ones involving food. Because of that we are close to our relatives back in Denmark and France.
When I told my brother that I would be visiting him in August, I suggested that we think about a trip to visit our relatives in the Pyrenees Mountains. I hadn't been back to my grandmother's village in ten years. And for Paul and Susan it had been 18 years! Google Maps told us it was a 10 hour car ride. We planned our route giving us two nights in Bilbao on the way up and then a night in Burgos on the way back. We warned the relatives of our visit. Quickly the news spread. We had lots of people to see and we all got very excited! So on Monday morning, the three of us set off to the north in the brand new RAV4's first road trip! Basque Country and France here we come!
We stopped off outside of Leon to have some lunch. We even used the PLUGSHARE app to find a charging station with a restaurant near. It was the first time Paul had used a public station to charge his plug-in hybrid. Why not get an extra 100 km as we ate?
Lunch in Leon
Luckily the restaurant had a menú del dia and we got seated just as it filled up. The servers were slammed but soon we had our drinks and food. The highlight was one of the best dishes that I have eaten since I arrived in Europe, an octopus purée. It was a bowl of garlic mashed potatoes with huge chunks of tender octopus in it. The Spanish approach food very differently than the French. There is often a simplicity without sauces or other flavors to muddle things up. Granted, I was raised on French food and LOVE my sauces. I make a great Bearnaise sauce that I learned from my family. But Spanish food hardly ever has a sauce, maybe just some olive oil. This dish was light, flavorful and highlighted the octopus. A €10 menú doesn't mean you aren't going to be blown away by amazing food.
Octopus in mashed potatoes
At some point in the afternoon, I was chatting on Whatsapp with a South African friend that works on a Princess cruise ship. We actually met online on one of the gay social networking apps when he was docked in San Francisco. We didn't end up being able to meet in person but have continued to chat from time to time! He's been in Northern Europe this summer and I love checking in with him from time to time. I mentioned that we were on our way to France with two days in Bilbao and surprisingly he responded that he was going to be docking in Bilbao at 7:30 am tomorrow morning! We would be able to meet each other in person for the first time!
Gran Hotel Domine across from The Puppy and The Guggenheim
We arrived in Bilbao around 6 pm and pulled into the Gran Hotel Domine located directly across the street from the Frank Gehry Guggenheim museum. Corbin, Terry, and I had stayed there in 2004 also on our way to visit the relatives in France. We had such fond memories of the hotel and its spectacular views of the museum. When Paul, Susan, and I were planning our visit to Bilbao, I didn't hesitate to book there. After a little internet searching, the cheapest rate was on Priceline for €160 a night including breakfast! Nothing on the hotel's website even got close to that. We could get a room with a museum view for double the price. But I knew that the rooftop bar and restaurant offered us stunning views. I texted Corbin some pictures of the hotel and he identified it immediately.
The hotel had changed a bit since our last visit 17 years ago! The decoration was now simpler. The Lichtenstein in the lobby had been replaced with something less descript. Overall the "art hotel" vibe had been muted into a more basic European business hotel. Nevertheless, nothing could replace the amazing views from the rooftop. Throughout our two days there, we ate breakfast and enjoyed cocktails with amazing views of Bilbao's famous architectural landmark. I still think this is where anyone should to stay when visiting.
We did a late afternoon stroll past the museum and along the river. Bilbao is such a beautiful city. It was easy to see that it has had more prosperity than the cities in Portugal. Everything in the central area is nicely maintained. The Basque are proud of this city and it shows. It has a heritage that is beautifully demonstrated.
The banks of the Nervión River in Bilbao
As we meandered, I had a goal of ending up at the Cafe Bar Bilbao on the Plaza Mayor. My friend Jorge used to date a Basque guy and they often ate there when he visited. Bilbao has a strong "pintxos" culture that takes the idea of a tapa and delivers it in a beautifully regional way. When we arrived all the tables in the plaza were full so we ventured inside and it was also packed. So we did what any local would do and found a corner of the bar, ordered some cañas and picked out our first round of pintxos. The kitchen is constantly creating different pintxos and then putting them with the others on the bar. Nothing lasts there too long as the crowd quickly digs in. Each pintxo is an individual serving meant to be consumed by a single person. All of them are served on toasted bread slice so no utensils are needed. It's much bigger than a single bite though so creative attack is key. Our first was a fried egg with spears of tiny chorizos. So simple but AMAZING. The next was seafood croquetas with a fried calamari on top. Also AMAZING. We had just started and we had gotten our socks knocked off.
Cafe Bar Bilbao
Pintxos
Soon enough a table opened up and we quickly sat down and continued our culinary journey into the Basque Country. The next bites were a beautiful fried fish and then duck breast. Four pintxos each in and we were stuffed and the idea of dinner was long gone. Of course we started chatting with the table next to us and the whole experience was beyond what we could have imagined. We strolled home with big smiles on our faces and full stomaches. We also identified a couple of restaurants that we would look into for the following night. We definitely weren't going to go hungry in this town.
Sunset from Cafe Bar Bilbao on the Plaza Mayor of Bilbao
In the morning, I woke up early with excitement to finally meet Lance in person. They had already docked and were doing all the docking formalities. He said he would be on the first shuttle into the center. I met him outside our hotel and we gave each other a warm embrace. It was incredible that we were finally meeting and in Bilbao of all places. He works in the gift shop and is a very forward facing representative for Princess. He eats with the passengers and even can go on any of the excursions to check on the level of quality. He brought me a gift of some lovely Tommy Hilfiger cologne. SUCH A SWEET GUY.
Great to cross paths with Lance from South Africa at breakfast at the rooftop restaurant of the Gran Hotel Domine
Breakfast at the Gran Hotel Domine is served on the STUNNING rooftop overlooking the Guggenheim museum. Paul and Susan were already there and they seated us adjacent to them. Lance was very impressed with the whole thing. Whenever I book a hotel, I always book for two people. You never know when you're going to have an overnight guest or run into a guy you met on Scuff a year ago! So inviting him for breakfast didn't cost me any extra. In addition to the buffet, I ordered Eggs Benedict and he ordered a delicious avo toast with a fried egg on top. Being in this wonderful setting was a magical moment that I won't forget.
We had booked a free walking tour so I didn't get a long visit with Lance. Soon enough we were walking over to the Teatro Arriaga for the start of our tour. While there were a number of tours starting there, we didn't find ours. Unfortunately, due to a mistake on their website, we were in the wrong place. We were supposed to be at the Puppy right next to our hotel! We texted them and we hopped into the cab. The tour was good and offered background on old and new Bilbao. The guide shared that she was up late with her sick daughter so she was a little slow today. I am not sure I needed to know that. But we got a good basic understanding of the city and I am glad we took the time to do the tour.
It ended and we were all hot and a bit tired. Europe's summer long heat wave was thriving in Bilbao and we were all affected. So once it ended, we ducked into a bar with lots of locals for some cañas. Of course, the pintxos looked amazing so we quickly decided to make them our lunch since we had booked a restaurant for dinner. This time it was Jamón Serrano, seafood salad with smoked salmon and caviar, and a leek and ham salad. All on little toasts. How does anyone ever decide to eat McDonalds in this city??
Let's have some lunch! Pintxos anyone?
A lovely mix of Basque flavors
The Spaniard in me suggested that we return to the hotel for a nice afternoon siesta before more tourism. A quick shower and a nap in the air conditioned room prepared me for the rest of the day.
Next we walked over the river and to the Funicular de Artxanda to take us up high above the city. After a short wait, we boarded only to be stuck for 15 minutes in super stuffy and hot vehicles. There was some issue and we were all cooking like Thanksgiving turkeys. By the time we were moving, we all were sweaty messes. Bilbao is not set up for hot weather.
The view from the top was nice but not spectacular. In the end we decided we should have driven up on our way out of town rather than dealing with the hot funicular. But we stopped for a drink in a tourist cafe at the top and made the best of it. We decided that we wanted to enjoy the sunset views of the Guggenheim from our rooftop so we headed home. Soon we had Negronis in hand, we were playing cards, and enjoying a local cheese platter.
Cocktails and Pupus at our rooftop
Dinner that night was at Bassko serving up some delicious fried starters and then a beautiful white fish with clams, eggs, and asparagus. We also shared a stuffed peppers that was my favorite dish of the night. Our servers were amazing and the whole meal left us wanting to spend more time in Bilbao.
Fish Basque style
Stuffed peppers
We started the next day once again with the amazing rooftop breakfast. I honestly think that the breakfast there is one of my favorite travel experiences. Stunning view, great food. It simply doesn't get better to start your day.
We finally set off for France around 11 am and in only two hours, we were in Biarritz for some lunch. I have always enjoyed coming to Biarritz as a nearby respite from the family. On our last visit, Terry and I left Corbin with his cousins one night, and his parents enjoyed a romantic seaside night in Biarritz. Of course this included a local gay bar there. We had a nice quiet drink upstairs but could hear a thumping disco on the lower level. So we ventured down to take a look. We were surprised to find an entire room of shirtless men dancing away! Within ten seconds, two adorable twinks bounded over and asked us to put our arms in the air. We complied only to have them immediately lift off our shirts! At 39 years old, I hadn't danced shirtless in a bar in a long while. And let's just say the night got crazier from there. Biarritz has a variety of fun memories for me over the years.
Lunch at Cafe Cote de Basque in Biarritz
Eating in Southern France is a joy
At the Cafe Cote de Basque in Biarritz, we ordered a variety of dishes for the table including a local paté, a lovely eggplant, a platter of cheese, and some baby squid. All of this was served with the Atlantic Ocean crashing just steps away. The hardest part of the afternoon was hiking back up to the parking lot from the beach. With the piercing sun, we arrived at the car hot and sweaty. Europe was getting beaten this summer with some global warming heat.
As we set out for the final leg of our journey to our village, I began to feel nostalgic and emotional. Once we left the péage freeway, it all began to look very familiar. Things looked drier than what I was used to. They hadn't gotten their usual rains. As we approached Oloron Sainte Marie, I suggested that we stop at Artigarrede. Immediately Paul and Susan said that they were just thinking the same thing. In our family we have lots of traditions. One of the best traditions is something called Gateau Russe. While many bakeries across France have tried to copy it, only Artigarrede offers the true Gateau Russe. It is a hazelnut cream in between a spongy layers of goodness. I am not religious but God is somehow involved. Tears literally filled my eyes as we pulled into their parking lot just off the round-a-bout. These tears were not only for the sweet goodness but also thinking of my grandmother, my father, and my uncle with whom we had shared so many of these cakes before. Our stay in southern France would bring up lots of emotions for me during the next few days.
Patisserie Artegarrede - Home of the famous Gateau Russe
Our road into the Pyrenees Mountains
As soon as we hit the foothills of the Pyrenee Mountains, everything turned green like I was used to. The drive from Oloron to Arette is spectacular as you climb into the mountains. Their beauty is stunning.
On this visit, we were staying with one of the Bellegarde brothers, Nicolas, and his wife Miho. They met when they both were chefs for Club Med. He was the French chef and she was the Japanese chef. They live just a jump away from my grandma's village in Osse-en-Aspe. I hate to admit it but their valley is even more beautiful than the valley that Arette is nestled in. They had moved from Bedous nearby and this new house was a nice upgrade. The views from their patio are simply spectacular both morning and night.
Explore the garden with Miho
We received warm embraces from both. They had recently become empty nesters but had not slowed down at all. Miho took us through their abundant garden proudly showing off its fruits and vegetables. They are both hard workers and take pride that so many things they eat come from their efforts. Like so many of our relatives, almost everything they eat is "de la maison". It's understandable that the fois gras is from their geese and all the vegetables for dinner are from the garden. But it's when they briefly mention that the wild boar was shot yesterday by their son up in the mountains do you begin to grasp the depths of what "de la maison" means. They would simply roll their eyes if they ever heard Ina Garten say "Store-bought is fine." Ce n'est pas vrai.
Because both are chefs, the food is always amazing at their house. A beautiful starter of tomatoes from the garden in a vinaigrette with artisanal bread baked that morning by Nicholas's brother Jacques. Then it was a beef stew. Followed by local sheep's cheese and then the Gateau Russe that we brought. And it's like this everyday. Life with our family means amazingly fresh food, everything local, and everything especially delicious. It was nice staying with Nicolas and Miho because they both speak wonderful English which really helped Paul and Susan. I was very happy that my French was doing well albeit rusty. In the next few days I would have lots of opportunities to dust it off.
We are home. The Gateau Russe proves it!
In Spain we take the leftover bread from the previous day and spread tomato and olive oil on it for breakfast. In France, you can dip the stale bread into your bowl of chocolate or coffee. Or if you're lucky, the stale bread turns into French toast. As Nicolas was on summer vacation from his job as head chef at a local school, we enjoyed a wonderful breakfast outside on the patio nestled in the Pyrenees. It was wonderful to catch up with them and hear all about their lives. All of our kids are roughly the same age so they have known each other at various stages. Nicolas and Mijo are now living alone but the three kids seem to pop in from time to time. Their local rugby team was hosting a big festival in the village on the weekend so the eldest and youngest were scheduled to help out.
Weekly farmers' markets have been held for years through the region. Luckily, Bedous had theirs that morning so we headed over. As soon as we parked we ran into Kathy, the wife of Nicolas's brother. It had been years since I had had seen her but we were greeted with two kisses and broad smiles. Henri and Kathy were hosting the big luncheon on Sunday to bring together their side of the family in our honor. As we ventured further into the market, we passed amazing local vendors of cheese, meats, fish, veggies… I was in heaven. The highlight was seeing my cousin Jacques who bakes artisanal breads in his wood ovens at their mill. As my uncle Daryl would say, we get to experience "La France Profund".
Farmers Market day in Bedous
Jacques spotted us and immediately abandoned all his customers to come give us all big hugs. He spent about a year with our extended family in California so he and I are quite close. It had been ten years since we last saw each other and his infant son was now 11 years old and helping him out with the bread. He was an adorable young man with a big smile. He and I bonded instantly. He also had a cute puppy that also made us all coo. Jacques insisted we come by his house at the mill later to have a little drink and chat more.
Cousin Jacques bakes and sells his artisanal breads
A nice variety on sale
Jacques's son Camille stands next to a little sign to show people the way to the bread
We enjoyed a some homemade sausage that Nicolas made for lunch. Unbelievable flavor. And the meat came from the neighbor's cow. What a great way to live and eat. Our goal is to try to move around a bit between the marathon of meals just to stay ahead of it all!
We're back home in Arette
The farmlands of our family in Arette
The spectacular Pyrenees Mountains
That afternoon we decided to do a stealth visit to our grandmother's village in the next valley over. We wanted to just drive around and look how things had changed. The lovely thing about the Pyrenees is that they are green year round. This happens due to the summer rains that keep things fresh and watered. We arrived in the center of Arette and walked around a bit. They experienced a big earthquake in 1967 so much of the town including the church all were rebuilt after they were destroyed.
Next our tour continued past the family farm and house that was several hundred years old and had withstood the quake. It proudly displays its age on the keystone above the front door. Next we crossed the river to see the farms of several cousins. As we were in the heat of the day, we didn't see any of them out working.
When my brother was 11, he spent the whole summer living with my grandmother who was over visiting her cousin and staying on their farm. They had lots of kids and my brother has wonderful memories of his time there. Unfortunately, the eldest son, Jean Luis, was up in the mountains with the brebis, the flock of sheep. They spend weeks at a time high in the mountains with them to get the milk for the local cheese as they graze on the grasses.
Driving around the village brought up so many memories for all of us. It felt different to visit without my family elders. We were now the elders. A feeling of nostalgia set in with melancholic subtones.
We got back in time to go with Nicolas and Mijo for late afternoon drinks at Jacques's place. A bottle of champagne and other drinks greeted us at a picnic table in front of the house. Being a mill, it is located by a rushing river which makes this setting truly spectacular. It was nice to get to know his son a bit more. Two of his brothers and their families live on the same farm and soon enough we filled the table. The French was flying by this point and I had lost all apprehension of speaking. It was a fun time and we left wanting to hang more.
Afternoon champers at the Bellegarde mill
We started the next day wanting to buy some local, hard sheep's cheese. So we walked a couple of houses down to a nearby neighbor. He welcomed us into his house and soon we were in the room where he ages the cheeses. The smell was amazing as we entered this little den. Of course, we were offered a taste and it was divine. Paul and Susan decided to buy an entire round of the cheese to bring back to Portugal and share with their friends.
Nicolas and Miho's cheesemaking neighbor
You have to taste the sheep's milk cheese before purchasing
Our big plan for the day was a hike and picnic at the Sanchese Plateau and waterfall. It was a super warm day and the heat wave continued. But armed with lots of water and wide brimmed hats, we made our way up into the plateau enjoying the spectacular mountain views along the way. At times, it reminded me of Yosemite. Finally we reached the waterfall and they laid out an amazing picnic of local delights. After eating, we ventured over to the waterfall and I even managed to submerge myself completely under the thundering water. It was very cold but felt so good on this hot day.
The Sanchese Plateau of the Pyrenees
A picnic lunch up near the waterfall
A cooling plunge at the waterfall
We headed back to Arette for drinks with a cousin Christine and her family. Her parents still live in our family house but like everyone, they are getting older. We have always enjoyed Christine and her wonderful husband Boris. Last time we visited, their two daughters played with Corbin but now they were in their late teens! Our problem when we visit is that we never have enough time! We promised that we would be returning sooner than the ten years since we last visited.
Lots of smiles and laughs at Boris and Christine's
Dinner that night was at the home of another cousin Bernard and his wife Muriel. On past visits, we have really enjoyed our time with them and this evening was the same. In spite of the fact they had both recently gotten home from work, they offered us an amazing meal. Muriel even stopped off to get us a Gateau Russe since she knew we are big fans. The evening was a wonderful mix of French, English, and Spanish. Several times I ended up speaking French or Spanish to my brother in all the confusion. Their 17 year old son popped in at one point and it was great to see the young man he had become. During our last visit, he sat on my lap and we read together. Seeing all these kids all grown up sure reminded me of how much time has passed.
A wonderful evening with Bernard and Muriel starts on their terrace
Desserts including Gateau Russe
Over the past few days with Miho, she had been encouraging us to go paragliding. Paul and Susan's boys had visited on their own a couple of years ago and she treated them to a ride. Now she was pressuring me to try out this adventure too! During this year of travel, I have opted to reduce risks that could disrupt my journey. When in Spain, I tried hard to avoid getting monkey pox! So far so good. Now in France, I really didn't want to get hurt paragliding. I have read that the number one accident that can happen with this activity is to break an ankle when landing. My summer in Europe would be hampered if I had to do it on crutches. So I told Miho that I was going to give it a pass. But she was relentless. And with additional peer pressure from Paul and Susan, we started off my birthday morning driving high into the hills for an incredible adventure.
Once we arrived, it all happened quickly. As a novice, I had a professional tandem paragliding partner. He was this extremely handsome guy that put me at ease with his calming gaze and beautiful eyes. That's how they get you! I climbed into the harness and soon he was straddling me from behind. This was the opening to a porno that I have yet to see. But I'm sure it's out there. He only spoke French but we communicated well enough for me to understand that we would be taking a couple of steps down the launching pad. And with an un, deux, trois, we were in the air.
Paragliding for my birthday. He even let me steer!
Flying high above my relative's villages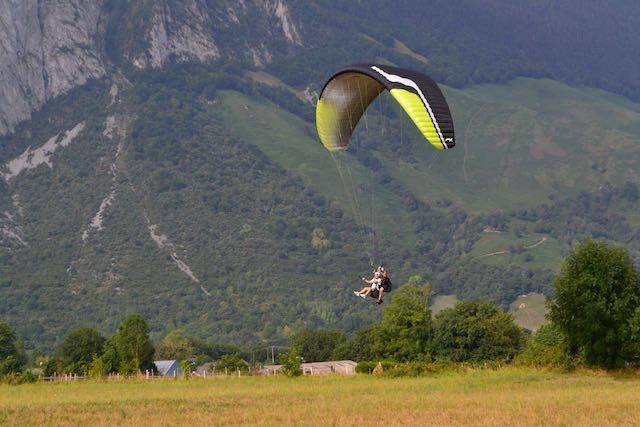 Ladies and gentlemen, we'll be on the ground in just a few moments.
The flight was SPECTACULAR. We were flying, soaring like a bird. From all my rock climbing, I knew that I don't have any fear of heights. So this was simply amazing. The setting couldn't have been more picturesque with the familiar villages of my relatives far below. He had given me a GoPro to hold along the way but I forgot totally about it. Instead it was about this glorious moment. He asked if I would like to steer and I said SURE! So soon I was making loops in both directions and truly feeling the power of the paraglider. After that he asked if I wanted to experience some acrobatics! He took over the controls and I totally lost understanding of where the ground was as we flew almost upside down. My inner ear was totally confused but I loved it. Finally we were nearing the ground and he was steering us toward the landing. As part of my "I don't want to break my ankle" strategy, I kept my legs outstretched as we landed. This meant my French partner was on his own as we touched down. The good news is we landed. But he somehow landed on top of my body in the process. It was all fairly funny and we finally stood up and freed ourselves from our harness. The whole experience was fantastic and I look forward to doing it again somewhere else in the world this year.
As I have told this story to others in my travels, many people know of someone that has died paragliding! Maybe it's a bit more dangerous than I imagined. But if I have to go, flying like a bird would be a great way to die.
Another cousin Marie Josée invited us for lunch at a tiny restaurant near her parent's house in the village. In past visits, her mom would make amazing meals for us. But now in her mid-eighties, she struggles with daily life. Her dad is in his nineties but still manages better than her mom. We stopped by for dessert at their house after lunch. There was still a nice gleam in their eyes, but it was a harsh reminder that we don't live forever. As we sat around the kitchen table, I remembered all the amazing meals we have shared there together. They have a huge garden and meals are planned around its abundances. She is famous for 5 hour meals with course after course of delicious food. Some of my favorite moments in France over the years have occurred in their house. We had brought a fruit tart and then they had a dessert also, so we celebrated my birthday with a song and two desserts. At one point I looked at this pen and ink drawing of the Arette church on their wall. I looked more closely and the artist was my mom! She was a talented artist and it warmed my heart to see one of her works still in Jeanette and Pierre's kitchen.
A lovely birthday lunch with Marie-Josée and Marie-Ange
My first two birthday "cakes" of the day
My mom's sketch hanging in their kitchen
My heart warmed to see Pierre and Jeanette
At the end of our visit, I managed to get everyone out in front of the house for a group photo. I look at it now with some sadness but still full of love. It can be hard to see the realities of aging.
We next headed back home for a nap and then Miho had baked a fig tart for my birthday! So we had our third dessert of the day! This was quite a challenge for me since I usually don't eat anything sweet, no sugar, no fruit, nothing! But my father taught me to be a gracious guest and I really appreciated all the kind gestures.
Our evening plans centered around the big festival hosted by the local Bedous rugby team that all of Miho and Nicolas's kids have been involved with. Their son Pierre was already there to greet us when we arrived. He was selling beers and was happy to sell us some! I had last seen him when he spent a couple of months one summer at my brother's. He's a broad smiling guy who has also inherited his parent's warmth.
Nephew Pierre gets us all drinks at the festival
Nicholas as the entire team of cooks were in full action. We ate baskets of calamari, chorizo, and french fries. All great food to go with beer. Then after a bit, the entire festival paused to sing happy birthday to me as my fourth birthday "cake" of the day arrived at our table. What a fun day it had been.
Henri and the other brothers had organized a big luncheon in our honor to bring together all the families from their branch of our relatives. They set up in the rugby clubhouse and finished up the cooking as we set the tables. Homemade platters of quiches and cured meats arrived just as all the guests walked in. We really enjoyed getting to know all the adult children of our cousins. It's so wonderful to see everyone grownup. Our meal started with platters of local heirloom tomatoes. Then the main course was lamb stew with couscous. Then a green salad with local cheese course. Then the dessert was a duel serving of both Gateau Basque and also Gateau Russe. Oh how our family knows how much we love the Russe. Our family rarely gets all together like this so we were especially touched that they all went to such efforts. We are so luckily to be so connected to our French roots.
Cathy made platters of quiches
Cathy prepares the unbelievable garden tomatoes
A cousin who now lives in London joined us with her parents
La familia Bellegarde
The chefs finish up our amazing luncheon
Of course the cheese course is a staple in the meal
The Bellegarde Brothers
We got back home and took a much needed nap after an afternoon of eating and drinking French style. I awoke to see several texts from Terry. He wanted to talk.
So I called him and he shared that he wanted us to buy Corbin a car. This surprised me as neither of our parents bought us our first cars. Instead we got jobs, saved up, and purchased cars all without the support of our parents. It was an invaluable lesson and an early milestone in becoming an adult. So he and I argued a bit and then I shared that I was hoping that we didn't have to have these kinds of conversations this year. If something is burning down, please call. But otherwise, I need a break from all the family drama of his daily life.
I could tell that he didn't like hearing this. We were still trying to navigate this undefined sabbatical. But this level of connection was disrupting my journey.
He seemed to be upset by this. And then threw out that he insists that our two months of reintegration with each other next summer MUST be in the United States. Ugh. I had previously shared with him that I felt it would be better to pick a neutral place, not in the US and not in Europe, where we can have an easy time reconnecting with each other.
I said that I have no interest in deciding this right now. We didn't need to worry about it until later. I am planning on popping into California and spending four days with him and Corbin over Xmas. I suggested that this might be the right time to discuss this further. I can't spend my sabbatical year disputing things that will happen in far off next summer.
So this turned out to be a bad conversation. We hadn't had many talks since I left but none of them had gone well. I was needing space and he seemed to be inventing things for us to talk about as a reason to communicate.
Paul and Susan had brought some port from Portugal with them and we had a quiet evening of Port Tonics with our hosts and two of their kids. The sun was setting and the views in their beautiful valley were getting more breathtaking with each minute. As it was our last night in France, we all reflected on our wonderful visit back to the homeland. Miho and Nicolas had been amazing hosts for us.
A final sunset in the land our our people
Soon after breakfast the next morning, we were packed. We stopped by my cousin Jacque's mill to say goodbye and he sent us on our way with some of his delicious bread.
Jacques's kitchen at the mill where all the bread is made
Next we headed high into the Pyrenees Mountains towards Spain. We decided that we would stop off in Pamplona for lunch and then had booked a hotel in Burgos that night. As soon as we got out of the mountains, Spain was drier and hotter than up in France. We parked in the center of Pamplona and walked around as we kept an eye out for a nice restaurant. It was some Catholic holiday so many things were closed. We happened to walk past a monument dedicated to the running of the bulls. It was an energetic moment with people in various stages of interacting with the bulls. It conveyed the drama and excitement of the event in a way that I felt I was right in the middle of it.
The statue for the Running of the Bulls
The quaint streets of Pamplona. Much less less hectic than with the bulls running around.
We chose a menú del día restaurant that was a whopping €16.90. While still a bargain, it was much more that we had been paying previously. For starters, we had a paella, mushroom risotto and a seafood crepe followed by pluma iberico, stuffed peppers, and meatballs. Finally the meal ended with cream puffs, cheese cake, and coffees. We all marveled at how good the meal was, especially compared to the reasonable price. I love Spain!
Our starters for lunch
A great way to end our meal
We checked into our Burgos hotel reserved through Booking.com. That site seems to be the best option in Europe. They have the widest selection of places including hotel rooms and Airbnb-like apartments and houses. The rooms were fine but the A/C didn't quite keep us cool enough at night. The heat wave was still going strong and following us throughout our travels.
Burgos turned out to be a great city to spend the night in. I had never been but it was a perfect midway stopping point between south France and Braga. We spent the afternoon walking around and exploring. The cathedral in the center is a beautiful focal point and the city seemed to explode from there. All my Spanish friends had said that Burgos had one of Spain's most beautiful cathedrals and it didn't disappoint. Being a non-Catholic and even an atheist, large churches are a bit of a conflict for me. When so many people at the time when they were built were dying of hunger, did it make sense to pour so much money, time, and people's lives into their construction? I can appreciate it as a historical artifact but am still confused by it all.
The famous cathedral of Burgos
After our eating fest in France, I suggested that maybe we just find a nice tapas bar for dinner instead of a multi-course adventure. We strolled into a lovely plaza and ended up at charming cafe where we ate, drank, and played cards for over two hours. We all took turns walking in and looking at the many tapas on display. Paul and I both spotted the seared fois gras and it was amazing. Susan loves her patatas bravas so they were a hit. The nice thing about tapas is that you can take your time continuing to order as you go. We also enjoyed a fried fish and a good tortilla española. Paul thought the tortilla was a little basic and that it needed some peppers or something. But I explained that to me this is the beauty of Spanish cooking: simplicity. Stunning fresh ingredients that when brought together give an amazing result without the need for lots of spices or sauces.
Like a kid in a candy store but instead there are tapas
Our favorite: fois gras tapa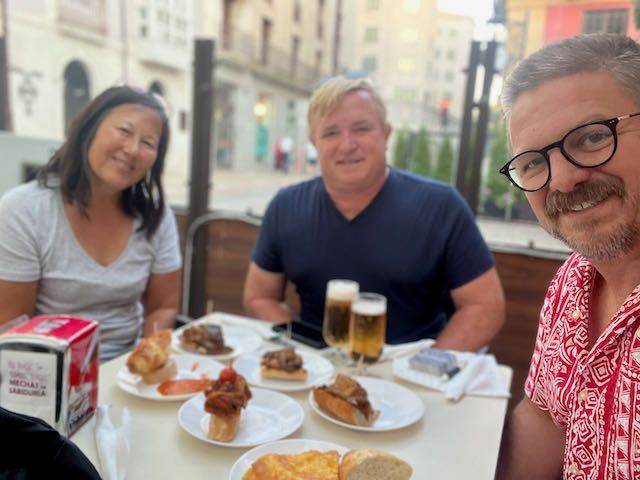 Tapas, beer, and cards. A great evening.
After a fitful night's sleep in a warm hotel room, I woke to a lovely view from my hotel room. Soon we headed to a churreria that I had found on Google Maps. It turned out to be a great find and the three of us really enjoyed this special treat. Thick Spanish hot chocolate with the lightly sugared churros is so good.
A room with a view of the cathedral
Breakfast of Spanish champions
A few hours later, we were pulling into Paul and Susan's house back in Braga. The drive home was fairly easy and we all took turns driving. I wasn't sure how well the three of us would do traveling together for a week. But in the end, it worked out great. We had a wonderful time together and the experience with our family was amazing.
Settling in Europe has so many advantages. I would have easier access to our family both in France and Denmark. Ryanair offers lots of interesting places that are less than two hours away! So much exploring left to do.
The issue is whether Terry wants to live here. I know he struggles with not living near his family. I understand that. But I wonder when I get to be the priority in his life. During COVID it was easy to let him have the time to be away and help out his family. But I have this year to figure out what it is that I need and how we can work this out together. I honestly don't think the solution is going to be easy. But we don't really need to decide anything before next August.
Meanwhile, I need to wake up every morning and take advantage of this wonderful opportunity. I am definitely gaining perspective. I am seeing my life in new ways. Having no job and no house feels wonderfully liberating. So many worries are gone from my life. It is such a luxury to be focused on the pursuit of my happiness. And I am definitely happy. I catch myself smiling as I walk down the street. I catch myself whistling and humming more. This is a good sign. It reminds me of myself in my youth, carefree and eager to adventure and explore. But now it even feels better with the confidence and wisdom of my age. It feels more meaningful.
In a couple of days, I will say goodbye to Paul and Susan and head south to visit a friend. Then I get a week on my own in Lisbon. So many wonderful adventures to come.
---
Last edited by olafman; Oct 21, 22 at

11:35 am
Oct 22, 22, 12:42 am
FlyerTalk Evangelist
Join Date: May 2008
Location: San Francisco
Programs: GM on VX, UA, AA, HA, AS, SY; Budget Fastbreak
Posts: 21,319
Great update. i spent a few days wondering when we would see an update :-)

Sweet family reunions and ace about your mom's drawing!!

At the pubs, is there a charge for the pintxos or are they included with the drinks? I just can't recall as I haven't been to Europe in ages - Sf private school costs more than a European trip a year.

the car thing (for your son) is tricky. My mother enjoys being car-free while periodically renting a car when not using Uber. I enjoy being a 1-car family because now our driveway doesn't have a 2nd car and our car has room to spread for parking. Since 2020 I walk a lot with some bus / Bart use as needed. My spouse wants a 2nd car and I've insisted that I'll never touch it including gas and mechanic visits. I simply love the savings of money / time / stress with not owning a 2nd car.

eta - it's 10:42p and I'm super hungry thanks to your post lol
Oct 22, 22, 2:14 am
Join Date: Nov 2000
Location: SF Bay Area, California
Programs: AA2MM LIFETIME PLT, Turkish Miles&Smiles Elite, Marriott Plat
Posts: 1,015
Originally Posted by
gaobest
Great update. i spent a few days wondering when we would see an update :-)

At the pubs, is there a charge for the pintxos or are they included with the drinks? I just can't recall as I haven't been to Europe in ages - Sf private school costs more than a European trip a year.
Yes, I know I am a bit late in updates. The biggest issue is that there aren't enough hours in the day. I have figured out that I need to be in a special state of mind to write and reflect. It's not something you can force. In Spain that was often towards the end of a day, in a nice outdoor cafe drinking a caña. I am currently down in South Africa for the month and our days are so full, that I barely can quickly write down brief notes. These are good problems to have. Now we are out at my friend's weekend house about 1.5 hours north of Cape Town. Everyone is out surf skiing and sailing so I have a quiet moment to myself and my writing. It feels so good.
A quiet moment in Southern Africa to catch up on my writing
In many cities in Spain, you can ask for some complimentary nibbly bits, "Puedes ponerme algún aperativo?" This will yield you some olives, potato chips, a slice or two of jamón, or nuts. But pintxos are a whole other level and you pay something for them. But they are not expensive in the least. So worth every euro and every bite.
SPOILER ALERT:
I leave for Dubai and Thailand next weekend! My big decision is that I have added some time in India too! I am going to Mumbai and then a wedding in Jaipur in two weeks! I grabbed some Singapore New A380 Suites flights to get me and back there making it even more exciting. This year is about seizing the moment and seeing where the wind blows me. And it looks like it's blowing a little off course but destined for even more fun and adventure.
When I was back in Spain for September, those winds unexpectantly took me to Marrakesh, Morocco! In spite of my hyper organization, I have begun to become more impetuous and accept changes. It worked out wonderfully there and I ended up having a magical time.
So four months into this adventure, I am doing great and am incredibly happy.
Oct 22, 22, 3:44 am
Join Date: Aug 2005
Location: BKK
Programs: Mucci Chevalier de la Brosse a Cheveux Dore, SK *GfL, BA Gold, WY G, HH DIA, IC Plat Amb., Hertz PC
Posts: 2,615
Originally Posted by
olafman
Yes, I know I am a bit late in updates. The biggest issue is that there aren't enough hours in the day. I have figured out that I need to be in a special state of mind to write and reflect. It's not something you can force. In Spain that was often towards the end of a day, in a nice outdoor cafe drinking a caña. I am currently down in South Africa for the month and our days are so full, that I barely can quickly write down brief notes. These are good problems to have. Now we are out at my friend's weekend house about 1.5 hours north of Cape Town. Everyone is out surf skiing and sailing so I have a quiet moment to myself and my writing. It feels so good.

A quiet moment in Southern Africa to catch up on my writing

In many cities in Spain, you can ask for some complimentary nibbly bits, "Puedes ponerme algún aperativo?" This will yield you some olives, potato chips, a slice or two of jamón, or nuts. But pintxos are a whole other level and you pay something for them. But they are not expensive in the least. So worth every euro and every bite.

SPOILER ALERT:
I leave for Dubai and Thailand next weekend! My big decision is that I have added some time in India too! I am going to Mumbai and then a wedding in Jaipur in two weeks! I grabbed some Singapore New A380 Suites flights to get me and back there making it even more exciting. This year is about seizing the moment and seeing where the wind blows me. And it looks like it's blowing a little off course but destined for even more fun and adventure.

When I was back in Spain for September, those winds unexpectantly took me to Marrakesh, Morocco! In spite of my hyper organization, I have begun to become more impetuous and accept changes. It worked out wonderfully there and I ended up having a magical time.

So four months into this adventure, I am doing great and am incredibly happy.
Make sure you get to relax during your busy days too
Still following this with admiration and hope that the year away gives you both the time needed to reflect, recharge and ultimately reconnect at the end. At the end of the day, your last sentence said it all: happiness is all that matters
If you need tips for your time here in Thailand and/or would like to meet for a drink in BKK do not hesitate to let me know!
Oct 22, 22, 10:40 am
FlyerTalk Evangelist
Join Date: May 2008
Location: San Francisco
Programs: GM on VX, UA, AA, HA, AS, SY; Budget Fastbreak
Posts: 21,319
Thanks for clarifying about pintxos and the (cheap) cost. When I visited Spain in the 90s, I had the canyas (draft beer with sparkling water) in Madrid on my own; with Spanish friends I was the passive visitor who let the friends lead.

Enjoy the fun - it's hard to find the time to write the TR updates while having so much fun. I can barely write postcards.
Nov 17, 22, 2:05 am
Join Date: Nov 2000
Location: SF Bay Area, California
Programs: AA2MM LIFETIME PLT, Turkish Miles&Smiles Elite, Marriott Plat
Posts: 1,015
The sabbatical: Leiria and lisbon
---
My visit with my brother and sister-in-law has been wonderful. They are so happy to be living in northern Portugal. They have made great friends which is so important to transitioning to a new home. Our journey to the "old country" to visit my French relatives reminded us all of the deep roots that we have in Europe. We left there wanting to spend much more time there with them.
Leaving half my things behind
I spent the morning going through all my stuff because this was an important moment where I would be leaving half of my things at their house for the next six months until I was back in Europe. Traveling with two suitcases was not sustainable. It actually felt great to be downsizing. Did I really need 13 pairs of pants?!?! Up to this point, I had only worn pants twice! I decided that I could leave most of them behind. Could I make it with just three pairs of pants and a bunch of shorts! I was definitely going to try.
Even though my goal was one suitcase, with all my European flights, they will charge me for bags over 23 kg. So I decided to get a cheap IKEA zipper bag that will collapse into nothing so that I can check in two bags that are less than 23 kg on the flights where they will charge me for one bag at 32 kg. I had no shame of having a suitcase by IKEA that cost €4.
When we were in France, we picked up a variety of local products including fois gras from the Bearn region. So on our last evening together, I made a dish that my hubby taught me. He learned to make it when he worked in an Alsatian restaurant in Strasbourg. You make crepes and then smear them with fois gras. Finally you roll it up and make cut medallions that you fry in butter. They turned out great and we had them with wine before we went off to dinner. Neighbor Silvia joined us and once again we had a little, impromptu party.
Fois gras Alsace style
Dinner that night was at Esperança Verde in Braga. Susan had looked for a nice restaurant that would be a delicious way to end our time together. And it turned out to be amazing.
On our way to our last dinner together in Braga
The restaurant was small and there were only two employees: one waiter and one cook. And many courses of delicious food. We did the tasting menu and we were all very impressed with everything. In total it was eight courses and each was delicious and beautifully executed. The pictures explain it all.
The day of my departure from their place, I spent the morning doing Quicken. My brother had convinced me that it is worth it so I updated everything. The nice thing is that it communicates well with Charles Schwab where all my passive income investments are.
I finished my packing and lugged one very heavy suitcase down the steps to their basement where it would live until next spring. I was down to about 29 kg of checked luggage and it felt great.
I said my goodbyes to Susan and soon Paul dropped me at the Braga bus station. I had booked a direct FlixBus down to Leiria for like €15. I paid the supplement for the front "view" seat and then paid to block the seat next to me. It was a nice experience but there was no bathroom on the bus and I was bursting.
A beautiful FlixBus ride to Leiria
LEIRIA, PORTUGAL
Soon enough we arrived in Leiria and my old friend TJ was waiting to meet me. I last saw him early last spring back in San Francisco when he was applying for his residence visa for Portugal. He ended up getting it and was happily living in Leiria now.
Old friends back together again!
I met TJ in Los Angeles in 1994 when we both joined the Gay Men's Chorus of Los Angeles. We were about 30 new members at that moment and I am still good friends with so many. So it warmed my heart to be meeting up with TJ all these years later in the middle of Portugal. He had been living in Honolulu and then Tuscan prior to moving here. But he like so many others realized that he can live in Portugal for a fraction of what he spent in the US. He's on a fixed budget and he gets a high quality of life for less money in Portugal.
TJ chose Leiria for its affordable cost of living. He did research on the internet and watched a lot of YouTube videos! Just like Paul and Susan! YouTube is the best marketing resource Portugal has! It worked for all of them.
Leiria is a charming little town including a medieval castle up on a high hill. Its name means land of lots of small plots and it remains today the region's second largest city. I had booked a nice €70 a night air-conditioned hotel room about five minutes from his flat. After the heat wave that had been following me around Europe, I decided that a big boy hotel room was best.
We walked through a large plaza to TJ's flat nearby. There I met his newly adopted dog Lilu. She was a rescue and after only two days was still nervously adapting to her new home. His flat is €320 euros a month for a small one bedroom. It's great for him. And he can even have a visitor stay on the sofa in the lounge. His upstairs neighbor is always home so things are safe and everyone is super friendly.
TJ and Lilu
We decided to grab a drink and snack in a little plaza. I love that throughout Europe, the cities have lots of plazas with cafes and stores. They are perfect for breakfast, lunch, an afternoon coffee or beer, and dinner. In this case, a little panini and coffee hit the spot.
Next we did a long walk with his energetic dog to try to tire her out. What happened is that the two late fifty year olds got tired and the dog was still full of life and wanting more! TJ had his lower leg amputated twenty years ago but he does very well. He had recently gotten a new prosthetic leg and he was saying that it needs a little more adjustment. But he gets around just fine. And the Portuguese are not shy about staring at his leg. BLATANTLY. He's gotten used to that but in the beginning he says that it was unnerving. Now with the dog, they have something else to look at. Lilu is a good distraction.
Leira is much quieter than Lisbon, Porto, or Braga. It's a small town with a nice feel. I really enjoyed wandering its streets and appreciating its charm. I popped back to my hotel for a little quiet time before dinner. It had been a long day and I have learned that some "down time" helps me rejuvenate.
As a vegetarian, TJ has discovered some great veg friendly places around town. That evening we ate at Atlas restaurant. It was a hostel before COVID and now is a great restaurant with multiple rooms and fun interior design. We shared a hummus and then I had a great red curry chicken. Everything was done well. After many big Portuguese meals with my brother, his ethnic moment was really refreshing. I really enjoyed hearing about TJ's journey as he settles in his new home. I really appreciate his adventurous spirit that has guided him well throughout his life.
After dinner we decided to call it a night. I was sleepy and never have trouble drifting off to slumberland!
My hotel served a great breakfast. Rather than a buffet, they served a large tray filled with a nice variety of items and eggs made to order. I chatted with a friendly Spanish family next to me. It's funny how I am instantly drawn to Spanish anytime I travel. I hear their Castillian accent and I feel at home.
Our plan today was the castle and the beach. I met TJ and he announced that we would be walking up the hill to visit the castle. The day's heat was already mounting but if TJ could do it with his bionic leg, I could get my fat daddy ... up this hill. By the time we arrived at the top, I was "glowing" with sweat but I enjoyed a slight breeze. Most of my sabbatical year was scheduled to be in summer/warm climates. But the heat waves challenged me a bit. After two months, I was getting used to constantly sweating and drinking lots of water.
Ruins near the Castle of Leiria
A vista of Leiria from the castle
The castle was well worth the hike and offered some beautifully framed vistas of Leiria. The structure was in very good condition and we enjoyed exploring its many nooks and crannies. The sky was a dazzling blue and I began to see the splendor of TJ's city.
Leiria
Lunch was at his favorite vegan restaurant in Leiria, Kukicha. It's run by two handsome and friendly brothers. I had gazpacho and a fried shitake mushroom bowl. Everything was so delicious I easily forgot they didn't have any murdered animal ingredients. Just the mushrooms and tomatoes were murdered.
This reminded me of my favorite dialogue from Notting Hill:
William Thacker: What exactly is a fruitarian?
Keziah: We believe that fruits and vegetables have feelings, so we think cooking is cruel. We only eat things that have already fallen off a tree or bush, that are, in fact, dead already.
William Thacker: Oh, all right. Interesting stuff. So, these carrots...
Keziah: Have been murdered, yes.
I just watched this movie again recently. SO GOOD.
Next we took TJ's new car out to the Sao Pedro de Moel beach about thirty minutes from his place. As we were pulling into this seaside village, I thought it all felt very familiar. I think I have been here before. As we ventured further inside, I was certain that I had come the summer prior as I explored the coast above Ericeira. This was confirmed when I opened up my tracking Arc tracking app and saw that indeed I had been there. It was my favorite of all the coastal villages that I visited that day. It reminded me of Carmel, California with a quaintness of a picturesque spot. The central beach area was packed with people but we found a patch of sand where we pitched our umbrella and enjoyed the afternoon. TJ had swapped to a special leg that he had for the sand. It has less moving parts and is easier to clean. I was fascinated by all his technology!
As we were leaving the parking lot, two young girls backed into TJ's new car as he drove by. They were parked and simply didn't look before pulling out. TJ's car was fine but their car's bumper had damage. I kicked into full dad mode as the driver tried to say it was our fault. I helped to calm her down and explained how clearly she was in the wrong. She kept repeating that her parents were going to kill her. Poor thing. I took pictures of it all including the van parked next to her that was probably blocking her view. Both of us were shaken by it but were happy that we were safe and that his car didn't have any damage. I asked TJ what he was required to do in the case of an accident. He had no clue. But he said he would be calling his insurance later to find out the procedure.
For dinner we went to a great Indian place that TJ had discovered called Coconuts Goa. The Indian owner was super friendly and the food was great. I was loving all the ethnic food I was having with TJ.
On our way home, we stopped at TJ's favorite ice cream place, Gelato Artigianale Italiano Bueno. The line was out the door which was a good sign. I am not sure what my flavor was but it tasted just like a Vicks cough drop, granted, a nice, creamy Vicks cough drop. The owner was a vivacious Italian with a clear gusto for gelato and football. The walls were covered with pictures of him with famous football players that had visited his shop. I love seeing passionate people doing their thing.
After I said goodbye to TJ for the night, I returned home and was greeted by an amazing orchestral sound at the mercado next door. A brass orchestra festival was just coming to an end with the final concert. I love the sound of brass and it was a great way to end my time in Leiria.
After breakfast TJ met me and we walked over to the main plaza for our final moments together before my bus would arrive. It warmed my heart to see him so happy and relaxed here in his new home. His new dog was providing him lots of companionship and seemed to be helping him make new friends! I think coming to Portugal was a great idea for TJ. It suits him well. I look forward to seeing his continued integration into the local community by my next visit.
FlixBus. Sigh. My journey from Braga on FlixBus just a few days earlier went very smoothly and I was expecting the same. Unfortunately that didn't work out. We arrived at the bus station 15 minutes before departure. On my ticket it said that FlixBus uses bays 13 and 14 in Leiria which were easily seen on the side of the station. Unfortunately, the monitors showing departures weren't working. So I was looking at all the buses. Luckily FlixBus uses bright green buses that are hard to miss.
At three minutes before departure, I was getting concerned. I tried to find someone to ask but there was no one around. FlixBus didn't have a ticket office here. I asked at a competitor's window, but they said they didn't know anything. So we just waited. At 10 minutes after departure, I found someone who looked halfway official if he knew anything about the FlixBus to Lisbon. He said it had just departed from Bay 9. Ugh. I had checked all the buses coming and going and it had no markings of FlixBus or going to Lisbon.
Quickly I found another bus headed to Lisbon from another company, bought a €13 ticket and was on my way. I am not sure how to avoid that problem in the future. It seems like it was just a bad series of events. The ride to Lisbon was quiet and uneventful.
It had been a year since I was in Lisbon. During my visit, I met several lovely people including "my pilot" as I have grown to call him. He had texted me recently that he was away flying. And that he had started dating someone. I was happy for him but thought longingly of our time together during the summer of 2021. I was sad that he was out of town and I wouldn't get to see him. Little did I know at this point how wrong I was.
LISBON, PORTUGAL
Last summer I quietly traveled for 8 weeks as COVID began to loosen up. First, three and a half weeks in South Africa with the family. Then I flew up for two weeks in Spain and two and a half weeks in Portugal. My hubby and I had already begun talking about living in Europe (more me than him actually.) So this trip represented my first scouting visit for possible places to live. I arrived in Torremolinos from South Africa and had a fantastic time there. It was a strong contender for moving there. I arrived in Portugal at the end of July 2022 hoping to explore Lisbon and see about living on the coast north of Lisbon.
My time in Portugal that summer turned out to be wonderful. I started with a week on my own in Lisbon. Of course, I wasn't really alone thanks to the gay social networking apps. I could find friends anytime I wanted.
Terry and I have been together for over three decades. And like many other long term gay couples, we have an open relationship. Probably 90% of the long term gay couples we know have an open relationship. We didn't start that way. Instead we sought the traditional monogamous relationship that we learned about our whole lives with examples from our parents, the movies, and Leave It to Beaver. But I struggled with monogamy. Then one trip to London, we were chatting with a guy in a gay bar. Terry suggested that we bring him back to the Langham Hotel with us. I was shocked. But I quickly said, "Well, if that's an option, I don't want the guy we're chatting with, I want the guy across the bar that looks like Colin Ferrell." Terry said, "Okay!" He got up, chatted the guy up, and he came home with us. Thus, our relationship open relationship door was cracked open.
Then at a Xmas party a few weeks later, we found a nice cop hitting on us back in Los Angeles. He wasn't really a cop. But he was wearing a LAPD uniform which went along with the uniform theme of the party. It was our third Xmas party of the night and somehow I had not read the part of the invitation that talked about it being a uniform party. Oops! Can I really be expected to keep all this straight? Anyway, the LAPD's motto is "To protect and to serve." Let's just say our cop took us back to his place and did both, especially the "serve" part. Our open relationship door was swinging wide open.
So after 13 years together, we had an open relationship. Our rules included: no buying flowers for anyone else, no movies, and no falling in love. And it mostly works for us. People often ask what our secret is for staying together for so many years, and I quickly offer "An open relationship definitely helps.".
Terry and I approach the open relationship slightly differently though. Terry prefers the random in-the-moment hookup. And I definitely like a friend with benefits over a hookup. Grindr offers the opportunity for a hookup at your door in about 10 minutes anywhere in the world. It's really amazing how easy it is. With HIV, STDs, and now monkeypox, the use of some caution is advised. But over the years, we have met some wonderful people. Some we have stopped having sex with and transitioned to "good friends". Another joined our COVID bubble since he missed being touched in his isolation. But overall, we have met great people in our sexventures.
The Guardian brought up this issue when couples that have been together for many years take a "gap year". Open relationships are a new issue for many of the straight couples contemplating the idea of a "gap year". If you spend an entire year apart, is it an opportunity to reexamine monogamy norms? Luckily for us, it wasn't an issue at all since we have had an open relationship for decades.
So during the summer of 2021, I met two very nice guys, João and José Miguel. João was a Brazilian guy who was working in a factory in Lisbon. We hung out a couple of times and I could tell he was someone that had set some goals and was working to hard to achieve them. He really impressed me.
José Miguel and I met on Grindr also in Lisbon. He didn't have a picture in his profile. But he sent a face pic quickly and we enjoyed some witty banter before agreeing to meet for dinner. He invited me to his place before dinner. I was a little suspect of this. But he turned out to be a total gentleman. He, like me, was cautious and liked to take things slow. Soon we were seated at one of his favorite local restaurants. We didn't have a reservation but the owners greeted him by name and we were offered a great table. From the beginning, José and I had an amazing connection. We made each other laugh. We quickly dove into interesting topics of conversation. AND HE WAS A PILOT! He was certified on 320s and 767s. I found this super fascinating. After dinner he invited me back to his place and we enjoyed our connection further.
The next day, he offered to take me to the nude, gay beach down the coast from the center of Lisbon. We had lunch at the chiringuito and then enjoyed an afternoon of beach time. It was interesting that he chose to keep on his little Speedo. There was always a little bashfulness with him. On the way back into the city, he took me for a sunset dinner at this wonderful restaurant on the river. The sun was setting directly over their version of the Golden Gate bridge. It was incredibly romantic. ....! This connection was really good.
Then, he offered to make me lunch at his place the next day. Being a home chef and a total foodie, I love it when people cook for me. The fact that this hot Portuguese pilot was offering me a home cooked meal was huge for me. I arrived and the table was set including the traditional starter of soft cheese, a harder cheese, and wonderful butter. His apartment had the original internal structure timbers down the middle which just added to the ambiance. This was a true Portugal experience.
Lunch was a multi-course affair. The first course was barnacles. Their deep sea flavor and was unlike anything I had ever eaten. Next came a roasted fish with root vegetables. So simple like much of Portuguese cuisine but fresh and flavorful. The next course was off the menu and involved some cuddling. Then lunch continued with razor clams which he cooked perfectly.. He also had a jumbo prawn course but we both agreed we were stuffed. He ended the meal with some pasteis de nata from his favorite bakery. I was in a euphoric trance by the end.
When I finally resurfaced to reality, I had 10 messages from my brother on Whatsapp. They had arrived in Lisbon from California and wanted to meet me. We had arranged to meet later after they freshened up but they got excited and Paul found me on the "Find my Friends" app. I had mentioned I was having lunch with a friend so Paul assumed it was at a restaurant. As José Miguel and I were having our amazing afternoon together, Paul and Susan were roaming the streets below trying to find me in some restaurant! After months of planning Susan was finally experiencing Portugal, their new home, for the first time.
I immediately called them and said I would pick a place to meet. José Miguel recommended a nearby rooftop bar and called to reserve us a table. I was sad to leave but since our lunch was now in its fifth hour, I don't think I was breaking any local rules by leaving at this point!
The next day we all moved out to apartments in Ericeira to explore the coastal living above Lisbon. After a week, Paul and Susan continued their adventure discovering Portugal and I was alone. So José Miguel came out one morning and I returned the favor of making him a lunch of presunto wrapped asparagus gratiné, fresh seared scallops, and a nice grilled whitefish. We walked all over the city and the day ended with a beautiful sunset from my balcony.
So my pilot and I really enjoyed our time together. This reminded me of the Sondheim lyrics from "Into the Woods", "This was just a moment into the woods." A very nice moment. Throughout the next year, we would occasionally chat. He returned to flying as COVID lessened. Our lives each continued on their separate pathways.
So as I began to think about spending time again in Portugal during the second month of The Sabbatical, I wondered if we would see each other. Just before I left US, he shared that he had been dating someone for a couple of months. Marco. It's always a "Marco", isn't it?! I immediately wrote that I was very happy for him/them. But part of me was slightly disappointed. We had been a wonderful connection. I wasn't thinking that I would leave Terry and José Manuel and I would go off into the sunset. That is not what I am looking for. That's not what this year is about. BUT, I was still slightly disappointed. This sabbatical was confusing. But I am interested in seeing what issues pop up along the way. They will challenge me. And help me discover more about myself and what I want in the future.
So my non-FlixBus was pulling into the Lisbon bus station. I was looking forward to a quieter week of reflection and writing. João and I had been in contact and I was looking forward to seeing him again. Also a new friend from Couchsurfing had offered to make me dinner at his home that evening. So I would not be lacking for a social life.
In the Uber from the bus station to my rented flat, I texted José Miguel. I was back in Lisbon and was thinking of him. He immediately texted me back! He was in a Lisbon taxi coming home from the airport after being quarantined in a Shanghai hotel for 20 days! He hadn't been allowed to leave his room, even to hang with the other pilot! All his food was delivered to his door. It wasn't supposed to be for 20 days but things during COVID are confusing. And China didn't do a very good job of it all.
BUT HE WAS FREE NOW! They flew their 767 cargo plane home and he was back to civilization. And he had just arrived in Lisbon! He reported that he and Marco were leaving on a small vacation at noon the next day but he wanted to see me tonight! I mentioned that I had dinner plans at 8 pm so he said to drop off my things at my flat and come over. I was definitely a little excited.
The view from my flat
I booked an amazing flat just south of Parliament right on the 28 trolley line. I found the place on Misterb&b which is the gay version of Airbnb. It was a new listing and fell under the category of too-good-to-be-true. But after texting with the owner, I was reassured that he was legit. I walked in and the place was stunning! Two bedrooms, two baths, beautifully decorated living room, dining room, and kitchen. And views out onto the plaza and the occasional yellow trolley. All for €76 a night. Such a bargain.
I quickly changed my clothes and walked the 15 minutes to his flat. He threw his keys down to me from his third story window. And soon he was giving me a warm embrace. He looked great in spite of having been in Chinese jail for three weeks. He suggested that we go to his favorite Austrian bakery and cafe. We had eaten there twice before and after all his isolation, he was excited to eat familiar food.
I could see that he was so happy to be home. Twenty days locked in a hotel room is hard. We caught up. He told me all about Marco. He seemed really happy. And I was glad about that. After we finished our coffees and snacks, we walked the streets of Lisbon as we had done before. I felt comfortable with him. At one point he stopped and just hugged me. I was trying to be respectful of his relationship with his new bf but with a longer embrace, my body physically and visibly responded so I separated us. I made a joke that my body was remembering the previous summer.
Finally it was time for me to grab an Uber and head off to my dinner. Just before it arrived, he asked if I had any breakfast plans. He wanted to see me again before he and Marco left on their vacation. Of course I would love to have breakfast with him. So with another warm embrace, we said goodbye. I had a big smile on my face the whole way to the Couchsurfer´s apartment.
João had contacted me several weeks prior when he saw that I would be visiting Lisbon. After chatting for a while, he suggested that I should come over for dinner. I was flattered that he wanted to cook for me so I happily accepted. He also noticed that like him, I was a member of the gay nudist group on CouchSurfing. So he asked if I minded if he was naked at home. Sure! It´s his house. Plus growing up myself in a house with lots of nudity, I would feel right at home.
So he answered the door in a t-shirt with nothing else on. As I expected he was a very sweet, young guy. Anyone that offers to make me dinner has to be a sweet guy. As it was another warm summer evening, I was happy to rid myself of clothes and enjoy being without all the clothes. He opened a bottle of chilled white wine and we hung out in the kitchen as he finished up dinner. I really enjoy meeting people through CouchSurfing because they tend to be great travelers with interesting experiences. Our meal started with some Portuguese soft cheese and good butter. Then he served a crab mixture served in its own shell. He confessed that he hadn't made it but it was a favorite of his. Indeed, it was delicious. For the main course he cooked a typical Portuguese dish of dried cod fish that had been reconstituted and then baked. Served with roast potatoes and veggies, it was a great meal. After dinner we sat on the couch watching some videos about Madeira and the Azores. I need to visit both. They look amazing.
It was a wonderful evening overall. Yes we were naked. But it wasn´t sexual at all. Just two people being comfortable together as they got to know each other. I realize that this is far out of the comfort zone of many people but it was really nice. At one point I realized that it was after midnight and I should head back to my flat. I had a breakfast date in the morning!
I woke before my alarm. I hadn't expected to see Jose Miguel at all. And now I was getting to see him for the second time in 24 hours. Breakfast in a little cafe was wonderful. We had so much to talk about that a single meeting wasn´t enough. After breakfast we walked the streets again. At one point I asked if he had mentioned to Marco that he had met up with me. He said yes he had. And he told Marco that we have a nice connection. It was important to him that he and I spend time together. Ahhhh. It's hard not to smile around him.
As we hugged goodbye, our eyes met for a long while. There were things that each of us wasn't saying. But sometimes a lingering look says things that words can't.
Happy to be back in Lisbon
I returned back to my flat and set up things for the week. It always feels good to "move-in" to a temporary flat. I even went to the nearby grocery store and picked up snacks, and small meals. I picked up lots of cheeses and their version prosciutto called presunto. It doesn't have the same "hammy" flavor as its Spanish cousin. It's much more subtle but still good.
As much as I was trying to keep time for my writing, I still was having a look on Grindr and Scruff. It's always nice to meet people. And I am not a huge fan of eating alone. So as luck would have it, I chatted up a nice guy named Hugo. We agreed to meet at the Duque Brewpub for a beer and a chat. As I meet people during my sabbatical year, I never know if it will be a simple chat or be something more important. Meeting Hugo turned out to be very important to my journey this year as I explore what I want in the future.
He is doing post-doctorate work in the area of the connection of biology and art. He obviously was super smart and I connected with both his science background and also the art background. He was doing fascinating work. But the part of him that has had a lasting effect on me was hearing about his relationships. He lives alone in Lisbon and works very hard much of the time. Not having a live-in partner helps him focus on his important work. But he has two boyfriends in two different cities in Europe. One is in Santiago, Spain. And the other is in Berlin. He sees them about once a month. They have even met each other once. He has distinct relationships with each. This version of polyamory works for him.
I really enjoyed hearing all about how they make it work and also what is difficult about it. The boyfriend in Spain lives with a partner which just complicates things more. The boyfriend in Berlin lives on his own. I love how they are figuring it all out. There aren't many visible role models for this out there. We all know they exist but often behind closed doors hidden from others.
While he is super non-traditional with his relationships, I found it interesting that he wasn't out to his family about his sexuality. He comes from a super conservative, Catholic family, and he doesn't feel comfortable telling them he's gay. It is something that I encountered with several people I met in Portugal. It's just not as modern as some other places in Europe. I always say that we are all on our own pathways with coming out. And I pass no judgment for people's choices with their families.
Terry and I have also walked down the polyamory pathway as we explored our own relationship. About six years ago, I met a guy named Joey. We exchanged numbers but never met up. Then a year later we met again. He was still a very sexy guy. This time we quickly moved to the friends with benefit designation. But I started to feel something more.
So one week at couple's therapy with Terry, I shared my feelings with him and our therapist Joy. It was a safe environment that we often used to work through harder relationship issues. I shared that I wasn't sure what I was looking for. But I wondered if we might reconsider our long standing "No flowers. No Movies. No falling in love." rule. In the end we both agreed that it was okay for me to explore this. So I started dating Joey. In polyamory terms, we had a "V" where I was at the vertex and each of them were connected to me. But the two of them didn't have a romantic connection.
A primary relationship is complicated. Then you add in a boyfriend and it complicates it exponentially. In the beginning it worked. But after a few months, I could see Terry really struggling with it. We talked more about it in therapy. He was hesitant to tell me to stop dating Joey. But I could see he was unhappy. So in the end I chose to break up with Joey.
The breakup was painful. In our time together, Joey and I had created our version of love together. Now, it was very different than the 32 years of love that I have with Terry. Nothing can even compete with that. But my heart also had love for Joey and it hurt to let go of it. Tears were shed. Feelings were hurt. But I felt it best to focus on Terry. This little experiment just hadn't worked out.
During the next month, I continued to mourn the loss of my relationship with Joey. I had opened myself up and now was missing what Joey and I had. I never questioned that breaking up was the right thing to do. My love and relationship with Terry was never in jeopardy. But my heart was hurting. Over the next weeks, this pain slowly went away and I moved on with my life.
So about three months after we broke up, I was in Chicago speaking at a conference. And I got a text from Terry. He had just spent the last eight hours with Joey! WHAT?!?! Of course they had hung out a bit when I was dating Joey. But this news was shocking to me. What happened? What did they talk about for eight hours?
Terry was at the SF Eagle and saw Joey from a distance. They hadn't spoken since I broke up with Joey. Terry often resorts to comedy in uncomfortable situations. So he told Joey something along the lines of "I really want to push you down some stairs". (When Terry reads this, he is going to be SHOCKED that I have forgotten the exact details of this key moment. I have an annoying habit of forgetting things, especially bad things like the origins of our fights. It drives him crazy because he clings on to such things and reprocesses them continually.) So I apologize if the details are a little off with this story. In the second edition of this book, I will make corrections.
So after Terry tells Joey that he wants to push him down some stairs, Joey tells him to do it. He drags Terry over to some steps going up to the upper patio. Luckily there were only about six steps so the fall wasn't a full story of steps. They went to the top of the steps and Joey repeats, "Push me down the steps."
I have to say I am still a little confused by this whole scene. Where was it coming from? Terry was a big fan of Dynasty in the 80s. Alexis and Krystle had many knock down, drag out fights in fountains and I am sure down stairs. But this was real life. Maybe instead it was more a therapeutic moment to help Terry get beyond it all.
So Terry pushed Joey down the steps.
Joey tumbled down and stood up. He walked back up to Terry and said, "Do it again." So he did. Thus this cathartic moment changed something between them and they began to talk. And talk. When I got the text from Terry, I didn't understand anything. He said he would explain it all when I got home on Wednesday.
Then on Tuesday they met up again and talked for another eight hours! What was going on here!?!? They called me at some point during that chat. I was dumbfounded but luckily I would be home the next day. For the second time in our relationship, the Ricky Ricardo quote was very relevant, "Lucy, you got some splain'in to do!" Needless to say I couldn't get home fast enough. What the heck was going on here??!!!
We sat down in our living room, probably with a glass of much needed wine in hand. Terry slowly explained that they both felt lots of tension when they saw each other. The pushing him down the stairs thing was a joke but somehow released a lot of emotion which then opened the door to deep conversation. They both said it felt good to talk. But after eight hours, they felt like they weren't done. So they make plans to meet on Tuesday after work. And then did. And they talked more. And then Terry shared with me that at the end of the night on Tuesday, they kissed!
...!?!?!?!
Terry said that it just happened. HOW DOES THAT JUST HAPPEN?!?! They had shared many tears and much laughter during their sixteen hours together. And then it just felt natural at the end that they kissed! Now, if this had been a sitcom, I would have done a spit take of chardonnay all over Terry. But instead I simply screamed, "WHAT?!?!?!!" Terry just smiled and nodded.
To this day, I still don't fully understand exactly how they arrived at a big, long, passionate kiss. He confirmed it wasn't a cheek peck. Nor short kiss on the lips. Instead, it was a big ol' Hollywood style rom-com kiss.
"So what happens next?", I threw out there. An thus began our new conversations into unchartered territory. We agreed that the three of us would hang out together on Sunday which was the Dore Alley street fair. Google it if you haven't heard of it. But don't Google it at work. It a festival where gay men don their "party dresses" and have fun. It seems like a perfect place for us to go together. We had a great time together. And he came home with us. Corbin was away teaching scuba diving in Hawaii all summer so it was less complicated.
And thus our throuple was born. This time, in polyamorous speak, we didn't have a "V". Instead we had a proper triangle with each of us connected to the other two. He never moved in. We had a senior in high school at home and that was plenty. But we saw him lots and he was around our house a lot. He just never slept over when Corbin was home. We improvised all the rules.
Over time we came out about our throuple to family and friends. There were a lot of confused people. The ABC After School Specials of my youth didn't cover polyamory. People were used to us being non-traditional. Most of our friends seemed to deal with it fairly well with just a couple of exceptions. We never explicitly told Terry's parents but Joey was at the big family Thanksgiving dinner at Aunt Mary-Beths and also at Christmas.
I will never forget telling my close friend Christine about our throuple. I told her first that we had entered into a polyamorous relationship. She immediately had a grave look of concern on her face. Then I mentioned that it was with Joey. Her response was, "Oh! He's lovely!" The concept of us having a boyfriend was scary to her. But the reality that it was with Joey, whom she knew, somehow made more sense.
Just after Christmas we were driving home from San Francisco with Corbin. Terry and I had previously discussed that we would be talking with Corbin about Joey. So we strategically put Corbin in the passenger seat and I sat in the back. Yes, it was an ambush. But it was time to do this. He was 18 years old and a smart kid. We didn't want there to be any perceived shame around this. Talking to him was an important next step.
So we began telling first about our open relationship. He shared that he had already figured that out. I totally blame Terry for that. A couple of years prior, he had written a play that was produced in San Francisco. The main character had gay dads and she had discovered their open relationship and online profiles. She even created a profile and catfished them. Terry took 16 year old Corbin to see his play. On the way to the play, Terry disclaimed that the play wasn't autobiographical. But Corbin ain't dumb. When your parents go OUT OF THEIR WAY to say things like "I've never tried pot", it means they definitely have. We do this because It's in the parenting handbook in the chapter about lies we tell our kids.
Over the first hurdle of talking about the open relationship, we moved on to Joey. We explained that we love him and that we have a special relationship with him. We reassured him that his dads were still going strong and that this was just something additional. Corbin shared he had no idea Joey was our boyfriend, but in that late teenage way, he played it super cool. Lots of nodding and "uh-huhs". Then at one point Terry reached over and held Corbin's hand. It was clammy. This was a big deal.
Even after we talked with Corbin about Joey, we still didn't feel comfortable having Joey spend the night with Corbin just down a very short hallway. It seemed the right thing to do.
We would see him one or two times a week and we all seemed to be figuring it out.
But one of the huge issues was that I was traveling a lot for work and I was gone much of the time. This gave Terry and Joey lots of time together which I think they enjoyed. But then I would come home exhausted and now two people wanted my attention. Plus I wanted to spend time with Corbin. I began to feel like I could never give them enough of me.
After a year together, we began to realize that Joey struggled with some serious mental health issues that were not medicated. He also had a serious alcohol problem that possibly was a consequence of the mental health issue. After not hearing from him for a week, we called the police and had them do a wellness check just to know that he wasn't lying dead in his apartment. This happened twice over the summer.
Terry's own mental health also continued to ebb and flow throughout this as it has for most of his life. But that fall, he seemed to be having his own hard struggles. So we began to discuss a pathway moving forward together without Joey.
From the beginning, Joey was fully aware that when our throuple would end, Terry and I would still be together. And Joey would go off on his own. As easy as this is to talk about in a theoretical idea, it's totally different when it happens.
Both Terry and I decided that we had to make sure that Joey was in a better mental health state when we parted ways. The Boy Scout campsite rule: leave things in better shape than when you found them. Joey had been improving and life was getting better. He quit his job and was taking some time off. So we finally had the talk and it devastated him. He didn't believe it at first. We tried the "let's be friends thing" for a few months. But then the anger set in. He was really angry. Being friends wasn't an option. He told us that we can't be friends. It hurt too much.
So with that the door loudly slammed shut on polyamory for Terry and Carl. We both felt like we wouldn't be trying that again any time soon. It had its wonderful moments. I learned that I have lots of capacity for love. I learned that there can be different kinds of love. But I also learned that throuples are crazy complicated. And when they end, it hurts. A lot.
Being a small village, I ran into Joey a couple of times after that in San Francisco. It's always awkward and slightly painful. I texted him on Christmas and his birthday but he has stopped responding. The thing is that I can say that I still love him. I care deeply for him. But the relationship didn't work. These lingering feelings are not ones where I want to have a relationship with him. But instead they are feelings of connection with someone that I think will always be a part of me.
So back in Lisbon over beers with Hugo, hearing of his experience with having two boyfriends that he loves two people was very interesting to me. I talked about my experience with Joey. The love. The pain. The whole thing. Hugo shared that life with his two boyfriends has issues. But it is worth it enough for them to keep moving forward down their pathways.
Hugo ended up taking me to a Thai restaurant called Nood for dinner. I was enjoying all the ethnic food I was having. As he had to work in the morning, we parted after dinner but not before we shared a warm embrace and kiss. We said that we needed to see each other again.
I woke up and decided that I wanted to find a nice local cafe for breakfast. It needed to only have locals, no tourists. I walked a while until I found the perfect spot. The bar was packed with laborers in their coveralls. None of them sat. Instead they all stood and quickly had their coffees with a bread product. I pointed to a beautiful quiche and ordered my latte. I had been practicing my Portuguese over the past few weeks, but the efficiency of the cafe didn't leave much time or patience for my lack of perfect communication skills. So I enjoyed my breakfast, sat for a while at a table, and wrote. They seemed to be fine with this as most people didn't have the time to sit. It also looked like a great working class place that would serve a great lunch. Hopefully I would have time to come back.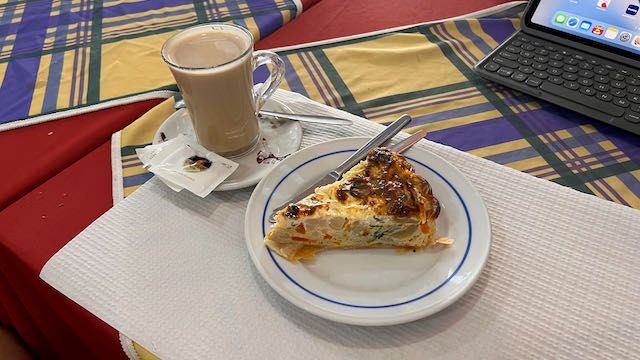 A basic breakfast in Lisbon
I had spent a week in Lisbon the summer prior so I didn't have any pressing need to go touristing. Instead I could spend the day writing. I have been struggling to find the time to write. When I do it, I find it very therapeutic and fulfilling. But when I have been in all these exciting places, going out and experiencing life has won out over spending my time reflecting through my writing. I had a nice lunch at Roots Tapas with its international fusion flare. Of course, I took advantage of my low key day and managed a nice 90 minute nap. Such a luxury!
Writing at my flat
Mexican food with João
For dinner I met up with my Brazilian friend that I met last summer. We ended up at a nearby Mexican restaurant, La Fugitiva, and soon were toasting with margaritas. He had changed jobs and moved closer to the center. He even started Airbnb'ing out his spare bedroom. I loved his hard working spirit. He even shared that he was saving to buy a flat by the fall. After dinner we walked around and he looked at all the places for sale. He loved this area but thought it was a bit out of his price range. I met lots of Brazilians in Portugal. I think nearly all the servers in restaurants are all Brazilians. Many of the gay Brazilians have left their homeland because of the horrible persecution that they faced throughout the country. Many report that once you leave the two big cities, life is full of homophobia and descrimination. Their Trump-like, crazy, right-wing president has only worsened the situation. Portugal represents the chance of a safer and more prosperous life.
I was getting into a nice groove with my writing. It comes in waves and I have to lean into it when it happens. So I spent the next full day writing. I really enjoyed reflecting on my journey so far. Unfortunately I continue to be about a month behind. But I have rationalized it saying that this gives me reflection time which helps my process. Nice excuse!
I didn't leave the flat until the late afternoon. I did a sunset walk down to the river and then through the city to the center. The lighting was amazing and I was enjoying the colors of the sky and the lighting of the buildings. The heat of the day was subsiding and everyone was pouring out into the streets. This is my favorite time of day in Spain too.
The Tagus and the bridge
Commerce Square
Lisbon at night
A protest at the Parliament building
Once it was dark, I had arranged to meet up with another João! We had been chatting on Grindr and he suggested we get a beer together. At Duque Brewpub! What a small world. We had a great time getting to know each other. He had lived in Barcelona so our language of choice together was Spanish. He worked in finance and his English was good. But his Spanish was better. We sat there until the place closed around midnight. And since he worked in the morning, we said goodbye but a nice friendship had begun.
I felt like a big breakfast in the morning and headed to Dear Breakfast. I had read about it online and luckily only had to wait about ten minutes to be seated. It was a bustling cafe and everything was very good. The only thing I didn't like about it was that it was full of tourists. I think spending €20 on breakfast is a bit much for the average Portuguese.
Eggs Benny at Dear Breakfast
I got in an hour of writing before heading west to Cascais. Last summer, I never made it to this upscale little village just 30 minutes west of Lisbon. Paul and Susan told me that they loved it. So I found the train and was easily on my way. It turned out to be a great experience.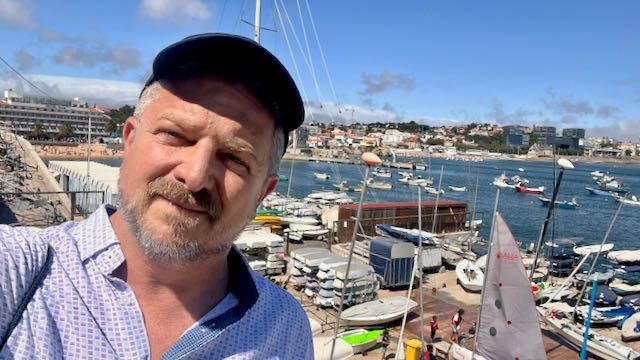 A day trip to Caiscais
Caiscais's main beach
The first thing I did when I arrived there was to eat lunch. It was already 1:45 pm and many places finished their lunch service by 3 pm. I was in a seaside village so I was in the mood for seafood. Luckily I found a cute restaurant off the main plaza that had a table open up. I was tempted by the menu of the day, but I decided to go a la carte and have a starter of mussels and then a white fish with butter sauce. Everything was perfect. My parents taught me that a full restaurant is one of the indicators that the food is fresh and good. While there are exceptions to this, this rule has served me well. Also there were diners speaking Portuguese, another good indicator. I really enjoyed talking to my waiter. He was one of the owners and loved his job. In Europe, service can be slower than in the States. But it is personable and welcoming.
I walked all over the town exploring its sites and corners. The main beach and marina had nice summer crowds. And the strategically placed castle/fort lent a nice medieval feeling. The buildings around town all had been well maintained. Things were in much better condition here than in Lisbon. No wonder the real estate prices in Cascais are some of the highest in Portugal. Throughout the country, I love seeing the healthy bougainvillea with vibrant colors or deep purple, deep red, yellow, orange. When we lived in Los Angeles, I always had bougainvillea in my landscaping. Such beauty.
The walls of the castle
As I waited for the train back to Lisbon, I had a nice conversation with Terry. We hadn't talked much lately and we had a nice conversation. I still avoid the question, "How are you?" With Terry that is a complicated question. I am really avoiding all knowledge about the constant drama that there is around his niece and her two boys. Terry and his sister are co-parenting the kids now as the niece tries to get her life on track. It's the center of Terry's world this year along with caring for his parents. But their drama is hard on me. And I have chosen to stay far away physically and emotionally. He had joined the Gay Men's Chorus in Sacramento and was already meeting friends. He also would be auditioning to be in "Something Rotten" produced at the local community college. He was staying busy. And establishing roots. My fear is that he is not going to want to leave at the end of his sabbatical. I really don't want to live in the States let alone Sacramento, California. One thing that the past two months has taught me is that I need to be near water. It energizes me.
I was excited because I was going to see Hugo again that evening. We decided to have an early dinner and then attend an opera in the park! Lisbon's National Museum of Ancient Art was offering a summer season of opera in the museum's gardens. So Hugo came over after work. We hung out and nibbled on heavy snacks. As he is a vegetarian, I enjoyed creating some non-meat goodies. I miss cooking so much. But I am always tempted to go out and try local foods. I really enjoyed our connection as we got to know each other more. He was a very interesting person. And his polyamorous relationship set up was giving me a lot to think about.
Hugo and I at Opera at the Museum
Verdi's Masked Ball
Tonight's opera was Verdi's "The Masked Ball". Like with many Italian operas, the music is lovely and if you suspend your disbelief, the story isn't hard to follow. Just your typical crazy politicians, forbidden love, and murder scenario. Add to that the farcical idea that if you wear a small mask, no one can recognize you, and you've got your basic opera! I loved being out in the gardens on the Tagus river. It was a magical night.
On my final day in Lisbon, I decided to take myself to a nice lunch. I had gotten a reservation the previous day at the two Michelin starred restaurant, Belcanto. But in the end I decided that it wasn't something I wanted to experience alone. If you're going to spend €400 on lunch, it is something to be shared.
So instead I had a recommendation from my friend John in San Diego. I respect his culinary choices and made a booking at Cantinho do Avillez. It was in the center of the city right on the 28 trolley line. So I walked there and trollied home. My meal was amazing. I started with a fish soup and then continued with scallops on a portobello risotto. Everything was wonderful. Unfortunately, at this price point, the place was filled with tourists.
Fish soup
Scallops and portabello risotto
WARNING - COMPLAINING OLD FART MOMENT:
So I am continually frustrated at our evolving culture where people sit in a public place like a restaurant or airplane and loudly watch videos on their phone. Or even worse, they video chat talking at the top of their voices. Both of these activities are LOUD and disrupt the ambiance. It is simply RUDE. As I was sitting enjoying my lunch, this young person next to me was also eating alone and used their phone as their entertainment. Being only about a meter and a half away, I got to hear everything. The worst was they were swiping through a Facebook or Instagram feed so the noise kept changing every three seconds.
I've read how some people carry cheap airline headphones and offer them as needed to others. But now that Tim Cook had lots of "courage" and removed the headphone port, that trick doesn't work. Instead I mostly say nothing and seethe in silence. Once in a while I try a line like, "Would it be possible for you to use a pair of headphones as your phone is very loud?" But if they are under 30, they look at me like the old fart alien that I have become muttering something like, "okay, boomer." I realize that it is a no-win situation that I seem to be losing worldwide.
After lunch I enjoyed seeing Lisbon from the trolley. It was my first time taking the trolley after two one week visits! People talk about the 28 trolley as the cheapest city tour around as it snakes its way around central Lisbon. It's definitely a must do. I can't believe that I waited so long to hop on board!
I spent the rest of the evening packing up my things in preparation for my departure the next day. I had purchased a cheap €80 ticket and even with my Star Alliance Gold status, I would be charged for a bag over 23 kg. But I could check in two bags for free with my status. So I packed my cheap zippered IKEA bag with some things and hoped it would work out. Unfortunately, it didn't.
My final evening was quiet and I ate the remaining items in my fridge. Having had a big meal at lunch, I was fine with just snacking. One of the João's was texting to meet up but I needed a simple evening. Once packed I decided to watch a movie a friend had recommended, Official Competition. It's a Spanish movie with Penelope Cruz and Antonio Banderas. I really enjoyed its crazy writing and great acting. Quirky.
And with that my month in Portugal came to an end. I was super happy with how it all turned out. Seeing Paul and Susan enjoy their new lives. Visiting with our relatives in France. Seeing TJ in his new home in Leiria. Seeing my pilot and João from last summer. And finally meeting Hugo and hearing about his version of polyamory.
As much as possible I am trying to just be in the moment as I travel and not constantly be thinking about ideas of how Terry and I will move forward together after each of our sabbatical years. But it's hard to do this. My nature is to process and plan. But something in hearing about Hugo's relationships is appealing to me. Something is clicking inside me. I am wondering if there might be a balance of spending time with Terry and then when we are apart, can I connect with others somewhere along the polyamorous pathway? Is this where my happiness lies?
As I contemplate dabbling in polyamory again, does the benefit of the connection and love that I could experience outweigh the possible pain I might feel when we break up? I have lots of time to think about that before meeting Terry for two months next summer and figuring out our future together.
I am expecting that we will have to think outside of the box. My goal is that we just figure out how things are going to work for the next twelve months. Try different things out. We don't need to plan out the rest of our lives. But I know that I want to be with him. Even after two months, I am already missing our connection and companionship. But the space I that I now have is proving useful. And I am seeing that I can also connect meaningfully with others. How does my happiness look in the future? What will be important in my life?
I look forward to spending the next month back in Torremolinos, Spain. It's beginning to feel like a home for me. Toward the end of my month in Spain, I am excited to host Paul and Susan. I am hoping they like it and approve of my ideas to possibly end up there.
A month in Spain also means more time with friends and lots of great Spanish food. I often wake up in the morning with gratitude for this amazing opportunity. So far I am loving it all. The experiences are amazing and I am learning so much.
Bring on month three!
---
Last edited by olafman; Nov 17, 22 at

2:36 am
Nov 17, 22, 6:00 am
Join Date: Apr 2000
Location: LAX and LHR. UA lifetime Gold 1.9MM 1K , DL Gold Medallion, HHonors Gold, Marriott Gold, Avis President's Club
Posts: 3,480
Still admiring your open-ness, and your thoughtfulness. You are talking about areas that are a complete mystery to a married straight guy — it's very illuminating!
Nov 18, 22, 11:50 pm
Join Date: Aug 2005
Location: BKK
Programs: Mucci Chevalier de la Brosse a Cheveux Dore, SK *GfL, BA Gold, WY G, HH DIA, IC Plat Amb., Hertz PC
Posts: 2,615
I still have the utmost respect and admiration for your openness, sharing and brilliant writing.
Looking forward to the next instalment - I am sure you and your husband will find a way that works out for both of you
Nov 30, 22, 6:55 am
Join Date: Nov 2000
Location: SF Bay Area, California
Programs: AA2MM LIFETIME PLT, Turkish Miles&Smiles Elite, Marriott Plat
Posts: 1,015
THE SABBATICAL MONTH THREE: Torremolinos
---
As I initially mapped out my sabbatical journey, I had intentionally kept my September unplanned. I, uncharacteristically, wanted to leave things open and see what I felt like. After spending July in Torremolinos, I hadn't had enough. I wanted more which I thought was a great sign. So I booked a nonstop from Lisbon to Malaga and I would be spending the month of September back in Torremolinos. My 90 day tourist EU visa would be expiring at the end of the month so I would have to move on. Luckily Jorge and I had booked an Egyptian adventure that starts on September 28.
I got up on my departure morning from Lisbon and returned to Pao de Canella where José Miguel had taken me just a few days prior. I was still thinking of him and my nostalgic side wanted to return even if he was on vacation with his Marco. I love pretending to be jealous. But I honestly don't have a jealous bone in my body. I am so happy that he has found someone.
My flight wasn't until later so I had a quiet morning of writing. I didn't get as much writing done in Lisbon as I had hoped. But I was having a great time. If I don't have any fun experiences, then what will I write about?
Waiting for the Uber in Lisboa. Like my IKEA zippered bag? FANCY!! I put a Singapore Airlines Suites tag on it to balance out the fact it's not the fanciest luggage. It didn't work.
FLIGHT: TAP Portugal 1135 LISBON - MALAGA Economy Class
Finally my bags (including my high class blue IKEA zipper bag) and I jumped into an Uber to the airport. I had booked a cheap TAP Portugal flight that is operated by White Airlines on a WWII relic aircraft. Not a big plane. Thanks to my Star Alliance Gold, I thought I would quickly check in at the business class counters instead of just going to a vacant bag drop. This turned out to be a huge mistake.
After tapping on the computer, she finally told me that my IKEA bag wasn't proper baggage. It's stronger than most bags and has a proper zipper. How is it not a bag?? I have seen people check in with some pretty crazy things. But she said I could check it in but I would have to take it upstairs to Oversized Baggage. Okay, whatever.
Of course the escalator going to the security area upstairs wasn't working. So I had to walk the bag up the stairs along with my rollie and backpack. I stood in line for about 10 minutes before they scanned the bag and said it wasn't in the system. I had to return to check-in. So I schleped back downstairs and explained what happened. She shrugged and said it was in the system. I asked if she could accompany me back up and duke it out with them. She finally agreed. By the time we got back up there there were about 20 people in line. Something was wrong with the system. It was rejecting about half the bags. I had arrived to the airport with plenty of time, but now I was getting worried. I pleaded with her to just let me check it in at the check-in counters. But she insisted that it wasn't a bag. I finally asked if there was a supervisor back at check-in that could help. Oversized Baggage was down and nothing good was going to happen there.
So once again, we went back downstairs with all my bags. I was getting good at this. Have I mentioned the heat wave? Finally we spoke with four other check-in people. I began to say that I would be missing my plane because of this. I had been at the airport for 1.5 hours now and this was not going well. Finally a different supervisor finally said she could accept the bag and send it on its way. Thank goodness.
Next the travel gods challenged me with a security scanner breaking down just as my things were getting scanned. This required a full reboot of the system. Today was requiring lots of patience. Finally with five minutes before boarding, I ran inside the lounge to grab some "dinner". I had planned that I would eat at the airport so I was starving by this point. I scarfed down some food and ran over to my gate only to find out it was a BUS GATE. Of course it was! Why wouldn't it be?
A quick 5 minute "dinner" in the TAP lounge
I am not sure when was the last time I had an airplane with a high wing, but it doesn't actually instill the highest level of confidence. Also the plane was so small that we had to board through the "bigger" door in the back of the plane. As I entered the back galley, I was surprised to see my big black bag sitting right there that I had checked in. It had just been loaded in through the door on the other side of the galley. And the flight attendant was putting it in the luggage space behind the galley. Was there no luggage storage underneath the cabin? The good news is that it was on the plane! Let's see what happens to my blue IKEA! The flight was short and sweet. It was nice to have a nonstop since the flight time was just an hour. The crew was fine and I think I got a glass of water.
Not great legroom but a free seat next to me is always appreciated.
At baggage claim, my big black suitcase appeared just as I arrived. And then five more bags appeared. And that was it. Nothing more. Based on what I could see on the plane, there wasn't really room for any more baggage. A crowd of like 15 people were still waiting for bags. After 20 minutes, I bee-lined to the lost baggage window to beat the crowd. Luckily I was second in line. They had no information in their system about my bag. They couldn't even confirm it was still in Lisbon. I got a printout of my claim and soon was in an Uber to my Airbnb.
I had booked two different places for September. The first was a smaller studio very near my last flat there. Then once Paul and Susan arrive, we will switch to this amazing flat with spectacular sunset views. So when I arrived, my best buddy Jorge had already arrived from Madrid and checked us in. It was midnight by the time I walked through the door but he still popped a bottle of cava and put out snacks for us to nibble on. I taught him well how to welcome a visitor! It had been a month since we had seen each other and stayed up late chatting like 14 year old girls.
A great view from my new flat
In the morning, I got to see my new apartment's views in its full glory of daylight. It was spectacular! This time my view was of the sea east toward Malaga. I could even watch the planes take off and land at the nearby Malaga airport! Then in the evenings, I could see the sunset over the mountains to the left. The flat was half the price of my next flat but I loved the views. This flat even had a windowed in balcony where I could sit and write. Jorge liked it because it had a separate twin for him! He didn't have to sleep on an uncomfortable sofa bed!
Like is our tradition, we ate a breakfast of pan con tomate y aceite at Bulevar Cafe. The ever flirty Arón was there to welcome us back and make sexual comments to me like he always does. He's a walking HR nightmare but cute and fun. I worked out after breakfast at my gym next door. I hadn't been going to the gym in Portugal so my heart thanked me for doing some exercise.
Waiting to be sexually harassed at breakfast
As part of "getting the band back together", we booked lunch with Jack. I had missed him during my month away. We had become close friends during my July stay. And the three of us always have a great time together. Jorge chose Yate de Cordova where we had a great meal in July. This time everything was equally delicious: grilled sardines, tortillitas de camerones, asparagus, coquinas, rabe, sardines. The monkfish was amazing. I really enjoyed being back in Spain with amazing seafood.
Great lunch with Jorge and Jack
After lunch we walked back to our flat and stopped by the building's swimming pool. It even had a restaurant/bar. Unfortunately, when we tried to order an iced coffee, we were told they didn't have any ice. A bar without ice. Not good even for Europe! The water was lovely and Jorge flirted with a sexy daddy nearby. He's incorrigible.
Of course Saturday afternoons are made for a siesta. So we went upstairs and fell asleep quickly. Jorge wanted to hit the beach after since the sun didn't set until 8:30 pm. So we went down to our favorite Eden chiringuito and enjoyed the final hours of sun. The water had gotten much colder since July. The locals all said the currents had changed and the cold water was being brought in directly from the Atlantic instead of being pushed up from Africa. We were home again by sunset and enjoyed seeing the colors change from our place for the first time.
Back at Eden with Jorgito
Dinner that night was at our favorite La Pepa tapas restaurant. The waitstaff greeted us warmly as always. It felt great to be back home in Torremolinos. We ate our usual favorites of fried merluza, oxtail buns, and tuna rolls. The quality was simply amazing. Then we did a pub crawl to see José at La Catalina and ended up at Vida. It was Saturday night and all the places were hopping. Luckily we got home by 2:30 am and managed to get a decent night's sleep before our big day on Sunday.
Jorge and I were excited to have breakfast at our favorite Cafe Ávila with Andrés and Alexandra. It was like we had stopped off at our aunt and uncle's house for breakfast. They are both such lovely people. They had survived the crazy August but worked very hard. Soon the crowds would be dying down for the season.
We had such an amazing meal out in the countryside near Antequera in July, all of us wanted to return. Pep was just arriving by train from his place in Barcelona to spend more time with his mom nearby. So we picked him up at the train station and headed to Caserio del San Benito. This time we brought a good friend of Jack's, Fernando from Argentina who also lives in Torremolinos. The five of us were in for a wonderful treat.
Great to see Pep again
The tomatoes that we have all been dreaming about since July
This time we got a table upstairs in a charming dining room. From the moment we arrived, the service was friendly and super attentive. Even the big boss came by our table and chatted us up for a long while. We started the meal with the amazing tomatoes that we had all been dreaming about all summer. Simply par-boiled and peeled, these tomatoes were the most amazing thing I had ever eaten. The big boss explained that the olive oil is from their farm there and they get the sherry vinegar from a place nearby in Huelva. Top notch ingredients make an amazing dish. Next we did a round of raw oysters, salads, chickpea stew with squid, croquetas,... A few bottles of wine later and it was a perfect meal. As we did last time, we moved to the terrace for dessert and then coffees. THIS is why I want to move to Europe. Not only was the food and ambiance amazing, but the conversation was also deep and meaningful. This group of people were all super interesting. Jack and his partner have been struggling for a while. And the four of us had lots of opinions of what he should do. He knew he needed to break up but that's always hard. He lived in Jack's flat. This was going to be hard for both of them to part ways.
Our merry band on this very special Sunday
Dessert and coffees out on the terraza
Pep and his mom in great spirits
After our meal, Pep invited us back to his mom's place for more drinks and fresh grapes from the garden. Last time we visited, his mom had just gotten over COVID. It was great to see her recuperated and much happier. It was a joyous afternoon. By the time we made it home, we were overdue for a nap. The big afternoon had caught up with us.
By 10 pm, our bodies were reminding us that we hadn't eaten in hours, if not minutes. All last summer I had wanted to try this Brazilian crepe restaurant located in the picturesque Pueblo Blanco. We didn't have a reservation but they managed to offer us their last free table. Nestled in a little plaza, the restaurant surrounds the central fountain. It's very Spain land at EPCOT in Disneyworld. The best part is that the crepes were delicious. Jorge and I debated for about one minute if we would each order a crepe or share one. Our waistlines lost and we ordered two. We knew that they weren't small but we enjoyed every bite.
As Jorge was returning to Madrid the next day, this was our final evening together. So tradition required us to have a drink at La Catalina on the way home. As always, we had a nice chat with the owner José to finish off the night. Life in Torremolinos is like living in a small Mediterranean village because that's exactly what it was. It is familiar and easy. It hasn't taken long for me to feel at home here. It is rare to leave my house without running into a familiar face.
A nightcap at La Catalina
Jorge and I started the next day at Churrería Único. Don't judge us! You can't eat pan con aceite y tomate everyday! Luckily Jorge and I vibe well with food. All it takes is for one of us to suggest something, and the other says immediately, "Por favor!" As I dipped my churro into my thick and delicious hot chocolate pudding, I knew I was going to have a great day.
Breakfast of Champions - churros y chocolate
Jorge loves to walk down the Torremolinos boardwalk to Benalmádena. The day was already warming up but it felt good to get out and get the heart rate up. Being Spanish, the walk includes a noon caña (which feels like 10 am if anywhere else in the world.) I have gotten used to it now. But a "mid-morning" small beer really isn't bad. Sort of.
A nice mid-morning beer. WHY NOT?!?!
We invited Jack to join us for lunch at Cafe Ávila as he had never been! Andres greeted us warmly as we took our seats for the menú del día. We all ordered different starts of fideua, croquetas, and mixed salad. Then for mains we had ribs, grilled chicken, and rosada grilled fish. By this point I had learned that whenever I am with Jorge, I have to order a dessert. He has made it clear that it is unacceptable that I order nothing especially when it's included in the price of the meal. So we've created a secret signal communication where he verbally chooses between two. And then I ordered the one he didn't choose. That's true friendship.
Our menu of the day
Fideua - sort of paella but with noodles!
As we were finishing up lunch my friends at TAP Portugal were calling trying to deliver my lost bag. Amen. So I left lunch and high-tailed it back to my flat. I was never so happy to see a €4 bag in my life. This summer had been tough on all the airports throughout Europe. I am just glad that both times, my lost bag had been found. Jorge and I both took a well needed siesta before walking him to the train station. I really enjoy my time with Jorge. I would be back in two weeks to meet my brother and his wife. And then we would be off to Egypt together at the end of September. More than anyone, Jorge had been my significant other throughout my time in Europe, albeit non-sexual. We're just good buddies who enjoy our time together.
Good Morning Torremolinos!
I spent the next morning settling into the flat. With a year of traveling, the settling in is an important ritual. I travel with just a few momentos but their presence in my life helps me remind myself of who I am. I have grown especially fond of the iPad that I use as a digital frame. I am very nostalgic and love seeing pictures from my entire life. I have purposefully set the display length to four minutes. So they don't change that often. If it updated more frequently, I would just stare at the pictures all day and not move.
For lunch I headed to "the other leading brand" of menú del día restaurants, Quinto Pino located just across the street from Cafe Ávila. My meal started with salmorejo soup and then chicken skewers. With a glass of wine, I was a happy camper. This Spanish "Happy Meal" sure made me happy.
Salmorejo
One of the residual effects of being in Portugal was that I kept saying "obrigado" to all the Spanish people. My brain hadn't quite figured out that I had returned home to Spain. I loved seeing the looks the Spanish would give me once I had said "obrigado" to them. The look was something in the category of "stupid tourist".
I began the next morning over at Jack's helping him with some issue with the FBI. He was renewing his Spanish visa which required some document from the FBI showing he was a fine, upstanding citizen. Unfortunately, there was some email/browser/two-factor authentication issue. Along the way there was an issue with his email password which then made our progress come to a screeching halt.
As we worked, Jack's soon to be ex-partner was packing his things. Jack had given him a deadline of Sept 1 and that was tomorrow. It seemed like he still hadn't figured out where he was moving but he knew he couldn't stay in the apartment after that. Breaking up is hard to do.
After I left Jack's, I visited several Chinese grocery stores near him. They had a nice variety of items including fresh Chinese vegetables. I also picked up some frozen shui mai dim sum and I was super content. I used to cook lots of Asian food so this was helping me feels more at home here. I went home and cooked a delicious Chinese lunch.
By 3 pm, Jack had gotten off the phone with Yahoo! Mail. I was actually very impressed that he spoke with a human at Yahoo and got his email password resolved! In this day and age, I would have never imagined this would happen. Then with using his son's US based cellphone in Los Angeles, we got the code from the FBI that we needed to access the report! SUCCESS!!! Retirement living has its challenges but then living outside the US adds to the fun. Many systems are not set up for US citizens living outside the country.
That afternoon at 6 pm, Terry and I met with our therapist Joy on Zoom for joint session. Our phone conversations hadn't been going well and I felt like we needed a place to help figure it out. Joy has worked with us for years through many bumps and hurdles. Terry and I both suffer from a fairly high level of "transference" with her. We honestly believe that she's our close friend and that we love her. I have read that this is a common occurrence for people and their therapist. We have started to joke about it. We have even asked how long we would have to wait to actually become her friend after we stopped seeing her as a therapist. The answer is a decisive "one year".
Before we left Berkeley in May, we had one of our final in-person therapy sessions with her at our home, more specifically in our guest house. We first began seeing her eight years ago when we were thinking about building the guest house. This would be a huge project and it would be trying on our relationship. So we ended up in her office. We also were organizing a huge event for our 50th birthdays and our 25th anniversary. Both of these projects were huge and Joy helped us with the project management and the meeting deadlines. The bottom line is that we completed both projects successfully and are still together! My mom would have been very proud we turned to a therapist who got us through it all. She used therapists throughout her life both individually and with my father.
So when Joy came over for our therapy session in the guest house, I asked if in our professional relationship, I could make dinner? She said no. But I love to cook for people!! We compromised on "heavy hors d'oeuvres".
She had been such a support to get the guest house built that I wanted her to see the fruits of her efforts. It turned out to be a lovely evening and I was proud to share the space with her. The hygge was strong and inviting that night. I am sure I even cried. And needless to say, the food was outstanding as a small demonstration of our affection for her.
So it was to Joy that we turned via Zoom to help us through this difficult period of adjustment with our Sabbatical. I proposed the idea of doing a session with Joy back when I was staying with Paul and Susan. Things weren't working. We needed help.
As soon as I saw her face that evening on Zoom, I teared up a little. It was so good to see her. We began updating her on what our conversations had been like. I was surprised that there were things that had been happening that she didn't know. Terry continues to see her individually. But he didn't tell her about things like when he said,
"You hate [our neice]!" This was a big moment. But it was important to share it all now so we could figure it out.
The other issue that was hard for me was that Terry had been telling me "I miss you.". A lot. What was he trying to change by saying this? I was concerned and feeling pressured that I wasn't doing enough for him.
In the end, he shared that it was just how he was feeling and not that he wanted anything from me. This year of sabbatical was meant to have me step back from the role of supporting Terry. He needed to stand up on his own. And when he needed support, he had friends, family, and Joy to turn to. But Carl wasn't going to be there the way that has happened for the past three decades. We talked about how it was important that I be given space to focus on myself. I needed to figure out where I was and what I needed.
At one point I was frustrated and began asking, "Terry, can you explain to me why you have chosen the Sabbatical that you are pursuing…" And I stopped talking. And I said, "Terry, you don't have to justify your choices of your year to me. The point of this year is that we only have to answer to ourselves."
Joy spoke next. She shared that she was just going to cut me off as I was asking that question. She agreed that Terry didn't have to justify his choices to me. But I had figured that out without her saying anything. This felt like a great moment of progress. Part of the space we offer each other this year includes not judging each other's choices or offering our opinions about them.
Two months into this experiment, I felt like we were beginning to figure out what we were needing from The Sabbatical. It wasn't all worked out. Instead we just were taking small steps to make it work for both of us.
After the session was over, I can't say that I was in a great mood. Therapy is hard. After I often just need some quiet, reflective self-care time. So that is what I gave myself. I hoped that Terry had heard me say that I loved him and that I wanted us to figure this all out and stay together. When I shared that, he seemed fairly surprised to hear me say it. This is part of him that I will never fully understand. Instead as his partner, I reassure him and try to make it all work.
Not even reruns of Friends or Family Guy could help me that night. I just lit some candles and sat there. Therapy had taken a lot out of me. But I think we ended up in a better place. And I still had hope.
The next morning was the big day for Jack's now ex-boyfriend to move out. I had offered to help him move the boxes. He is a nice guy. But at 42 years old, he still needs to grow up and become an adult. He had been relying on his good looks and gregarious personality to find sugar daddies to take care of him. But at his age, you should have a job and be able to take care of yourself financially. This breakup was going to force him to do exactly that. Or it will at least until he finds his next sugar daddy. I wish him all the best.
The good news is that he gave the house keys back to Jack. This was a concern that we had talked about at lunch on Sunday with the guys. I come from the "assume best intentions" camp. Jack said Livan needed to return his keys on the evening of August 31. In Spain, they have the fortress type doors that have locking mechanisms with moving bars throughout the door. To get the door rekeyed can cost over €800.
But in the end the Livan returned the keys to Jack without ceremony. I strongly believe that you always should expect that people will do the right thing and then they prove are capable of that. Living your life any other way invites negativity to take over.
Unfortunately, by 9 am that morning Livan hadn't actually figured out where he was going to live. Jack was holding firm. So somehow, he got Jack to agree that he would put all his boxes of belongings in Jack's car. And then they would live there until he finalized a place to live. It was exactly clean but by the end everything was out of Jack's apartment and Livan was no longer staying there.
Throughout the past couple of days, I helped Jack stay strong. Livan needed to move out. But Livan was a master manipulator and he would try to figure out a way to stay a couple more days. Then a week. Then a month… He needed to follow through with his September 1 deadline and I was there to make sure it happened. Sometimes your friends can help see things more clearly, with less emotion and less baggage.
I encouraged Jack do some self care for the rest of the day after such an emotional morning. He said he was going to go to the gym and then come home and enjoy his quiet apartment. After being awakened often by 5 am arrivals home from partying, screaming, and fighting, peace at home was what he needed.
I finally put together my SF Lego. It makes my place feel a little bit like home.
That afternoon around 7 pm, I had my friend David over before he started work at the hotel. I hadn't seen him for a month and we had lots to catch up on. I told him that I was going to do heavy tapas. He's a great eater and I love cooking for him. I cooked up the rest of the shui mai which were new to him but loved. He's not a super adventurous eater so I was glad to offer him something new that he liked! I also cooked some small peppers, and made secreto pork with garlic bread. I was glad to see him even though it wasn't for very long.
Spain has some lovely basic ingredients
Great to see David again.
Lots of tapas for David. He's such a good eater.
After he left it was still early and I had been chatting online with my friend Thiago who I discovered lived in my new building! So I went down and we had a nice chat. We had gotten to know each other at parties and in groups with common friends. But this was the first time that we spent time together one on one. It turned out to be a great evening. Like so many others, he left Brazil to try and make it out in the world. His story of love, loss, and perseverance was fascinating as he has navigated Western Europe.
I met Thiago in the summer of 2021 as COVID was just loosening up. On my second day in Torremolinos, an artist friend of Jorge's, Javier, invited us to his 60th birthday luncheon at the Eden Beach Club. There were twelve of us and one of them was this stunningly gorgeous Brazilian with a ripped, hairy body. He was in his mid-thirties and I turned into a bumbling idiot when I tried to talk to him. Prior to COVID, he had been a very successful DJ. That evening I googled him and he has DJ'd all around the world. Many videos on YouTube show him spinning his discs in front of crowds of thousands of people. At one point, Jack's then boyfriend Livan came up to me and told me, "Thiago thinks you are really hot!". WHAT? This super star, celebrity hunk is attracted to this dad-bodied, mid-fifty year old? I was flattered but my guard was up.
At one point, I realized that the midday Spanish sun was intense and I needed to reapply sunscreen as we all were standing around in just swimsuits. I grabbed my sunscreen from my bag and started to coat my body. Thiago was seated nearby and offered to do my back. Sure! After about a minute, he abruptly stopped and sat down. He apologized because he had started to get an erection as he rubbed my back and needed to sit down and cross his legs! Oh my god, was this really happening? It was like the start of a bad porno movie. For the rest of the afternoon, he was flirting and I had the confidence of a middle-school, fourteen year old girl. I had to leave because I was meeting up with my friend David. And at that point, we had been at the lunch for five hours!
After talking to Thiago more that afternoon, I began to be cautious with him. He was a gentle kind spirit. But I feared that COVID had put him in a needy financial position with no DJ work for over a year. I didn't need to pick up more baggage let alone be someone's sugar daddy. That summer was about me getting out and enjoying the reopening world. I naturally like to take care of people. But there was a red light for me. So nothing happened beyond that.
So here I was on a late evening at his place in Torremolinos. And I was hearing about his journey since leaving Brazil. The thing that most impressed me was his perseverance. He has had to start from nothing at three different points in this journey. That is so hard to do. I have never had to do that. And he's done it three times. He also supports his family back in Brazil. He talked that during COVID, with no income from DJ'ing, he started to do sex work to pay the bills and help him survive. He amazing looks and body and he used them to survive.
I am very pro sex work. It's been a part of humanity throughout the ages. The fact that there remains any stigma to it is tragic. A good friend of ours in San Francisco was a dominatrix for many years and even ended up meeting her husband through her work. She has written several books on the subject and speaks so articulately about it. I shared with Thiago about our friend Rita and her amazing successes all the while trying not to sound like I was saying, "Some of my best friends are sex workers." This wasn't a Lifetime Movie of the Week.
As COVID has lessened, he is booking more DJ gigs. And supplementing that work with his escort services allows him to earn a living and support his family back in Brazil. He is proud that he now supports himself and isn't dependent on a sugar daddy. He will phase out the sex work over time when he is less reliant on that money. But for now, it is working.
We also talked about my journey and what I thought I was looking for. Both he and I have found lots of community in Torremolinos and that was important to have in life. I was fascinated with hearing how dating works when doing sex work. He said they are two distinctive things. Sex with clients has nothing to do with a romantic relationship. It's easy to compartimentalize the two.
When I finally said goodbye at 2 am, I had a big smile on my face. I had gotten to know a genuinely, nice guy. For a long time, I had been put off by how attractive he was. But to sit and get to know each other was so rewarding. All the awkwardness that I just to feel has now evaporated. And a nice friendship has begun.
My left over tapas that David and I didn't finish turned into a great omelet the next morning. Friday morning are a surf paddle day and I needed some energy. By the time I made it down the beach, Jack and others had begun inflating the boards with the hand pumps. This "warm up" helps get your heart immediately pumping. Today the sea was a little rough and I wasn't sure my skill level was up to it. But Jack guided me saying that you can paddle on your knees which helps the center of balance. He also shared that he sometimes just enjoyed lying down on the board to feel the calm and the waves. So that's what I did. I stood up as much as I could but ended up mostly lower to the water.
Every time I do a DiverSport activity, I meet new local people. This is one of the reasons I joined the gay sports group. It's also nice to meet people somewhere other than the gay apps or in a bar. Many days some of us will hang out after we're done doing the activity and thus community is built.
Boys and their boards
That afternoon I met a Cuban named Jorge for coffee that also lived in Torremolinos. Being a small village, we quickly realized that we had many friends in common. He like many others was a hard worker holding down two jobs to help him move up in life. He really liked the high quality of life in Torremolinos and had dreams of buying a flat and starting his own business. It was a brief meeting because he had to get to his job as a waiter. But I know our paths will cross again.
Around 8 pm as the sun started to set, I walked into the center and found a table at my favorite Bar Jerez. As I have mentioned before, this is the time of day when the heat finally goes down and the locals all come out for a stroll. All over Europe, the seating is set up so that all the guests face the street. This makes it easy to enjoy watching the world go by. Bar Jerez is on a walking street with lots of things going on including the occasional street performance. I enjoyed a beer and some tapas of tuna, fried shrimp, and Malaga salad. As I had eaten a big meal after my paddle surf, it was nice to have a smaller dinner.
Writing at Bar Jerez
A light tapas dinner
I woke up in the morning and brewed my coffee. I felt rested, happy, and content. This was working. After two months, I was getting to a place where I was comfortable and fulfilled. My friends from "back home" continue to tell me how happy I look when we FaceTime. I am definitely noticing it too. And chosing to spend my third month back in Torremolinos was giving me a lot of pleasure.
This new flat had a great balcony where I could sit and write as I enjoyed looking at the sea and appreciating the changing colors of the landscape. I finally put my San Francisco Lego skyline back together and that helped made my temporary place more like my home. Throughout my time in this flat, the balcony became my favorite place to hang out at any time of day.
At noon that day, I met a guy from another gay social networking app called Recon. I am really enjoying meeting people this year and seeing what I can learn from them and their lives. José and I spent a really nice afternoon together. He is a manager at a fast food restaurant down the road in Fuengirola. He is like so many others that take home about a thousand euros a month. At 30 years old, he still lives with his parents to save money. He is out to them and as they age, he supports them in at variety of ways. He has only traveled to nearby Portugal and Morocco but looks forward to saving up for a bigger trip. I am realizing that I was living in a huge bubble in my world in San Francisco. All of the people I surrounded myself with were from similar economic backgrounds to mine. Thus our interests stemmed from what we could afford to do. Hearing about José's happy and content life really helped me understand how most people from the working classes approach the world. I have learned to speak differently about my situation and sabbatical this year. I no longer share that I retired in June. For most people this is just confusing. In Spain when you retire at 67, you get your pension from the government. Most people don't have 401k or similar investments. The idea of retiring at 57 just doesn't compute for most. Also I am slow now to share that I am traveling for a whole year. I am beginning to feel embarrassmed about the luxury of it. For most people saving up for a Ryanair week-long vacation is the big outing of the year.
Back in Malaga with Jack for a movie and dinner
That afternoon Jack and I trained into Malaga to see a documentary called "Fire of Love". My old work wife Lindsay loved it and so we made an excursion of it. A French couple researched and documented volcano eruptions. It is a touching story of their love and shared passion. Some of the footage that they captured is spectacular. Their love story spanning multiple decades brought a pang of sadness to me. I could feel I was missing Terry in this moment. I would have loved to have him seated by my side watching their life together.
After the movie, Jack and I strolled Malaga's vibrant walking streets until we found a nice restaurant. As we always do, we ordered a bunch of dishes and shared them all. I love eating out this way.
By the time we got back to Torremolinios, t was around 11 pm on a Saturday night and the gay nightlife was just waking up. But Jack and I both decided that we'd just prefer to go home and get a good night's sleep. Sometimes it's nice being an old fart. No FOMO here.
On Sunday, I spent the day with Brian. He and I had met online during July. He was an energetic, Irish guy who does quality assurance for an Irish software company with an office in Malaga. He was bi and had just started his exploration of his non-straight side. We never ended up meeting before I left for Portugal, but he continued to text me and chat. So now that I was back in southern Spain, we needed to meet.
Maybe it's the teacher in me but I have always enjoyed being a mentor I like helping younger guys navigate the world especially with coming out and sexuality issues. When we lived in Berkeley, we met a number of younger guys from UC Berkeley that just needed a strong mentor. Terry and I, being the senior statesmen, have stepped up into this role a number of times. As a result we have made incredible connections and life long friendships. These days the young guys are proficient at finding sex online. But they don't understand how to be functioning gay or bi people. They don't have lots of role models unless they have family members who are well adjusted members of the LGBTQI+ community. Most are not that fortunate.
Brian was interesting because he had an aunt that lived in the US who was lesbian and had a wife. He also had a lesbian cousin. So his family had some proven community members and he didn't have to be the pioneer. Identifying as bi, there is often an invisibility since he dates women. The assumption is that he is just straight, no pride parade needed. Most bi folks live their straight lives without mentioning the bi side. It's private and they often don't think there is any reason to come out.
I definitely identify as bi and fall somewhere between zero and six on the Kinsey scale tending to a four or five. But it always amazed me that when I sang with the San Francisco Gay Men's Chorus, none of the 300 members identified as bi. And if I mentioned the fact I wasn't a six, it was often dismissed as confusion or failure to commit. I think the younger generation is embracing the bi label as they demonstrate more fluidity with sexuality.
So Brian came over around lunchtime and we grabbed some burgers at 3 Monkeys. It's a great deal for a €9 huge burger that comes with fries and salad! We stuffed ourselves and then headed down the gay beach club. He had never been to any of the gay places so it was fun to show him around.
Like so many that cross my path, Brian also really likes older people. In the gay community we are known as "daddies". He shared that he also really likes cougars, older women. He's 24 and likes all ages but has a preference for fifty-somethings. Who am I to tell him whom to be attracted to?
Another common issue with younger people is that I think that pornography has messed them up a bit. I agree with columnist Dan Savage who says that porn is to actual, real sex as kabuki theater is to real life. It ain't got nothing to do with it. We parents give our kids their first smartphones around the time when they are hitting puberty. And the first thing they do is watch porn. I affectionately referred to my son's iPhone that I pay for as his porn delivery device. So as Corbin's parents, we had a number of awkward conversations discussing porn, how to use it appropriately, and how to adjust expectations to real sex when the time comes.
I also have some issues that our children are being exposed not just to vanilla porn but also, just as easily, to extreme fringe porn. When presented with a list of different categories of porn, thirteen year olds around the world click through the list instantly losing any innocence that might have still been there. You ask any fifteen year old what "Two girls, one cup" is and most will have some knowledge of it unfortunately.
That's why I think budding young homosexuals, bisexuals, and anyone that isn't a Kinsey zero, can benefit with some guidance. At 24, Brian had a few experiences under his belt but was still walking blindly through this new pathway. Luckily many people figure out things fairly well on their own. But I am happy to lend lots of advice to an eager learner.
Brian was like a happy puppy dog meeting me and experiencing Torremolinos. After the beach, we grabbed some beers and went back to my flat to get clean and hang. I made us some simple dinner and the evening passed quickly. On the way to the train station, we stopped in at a couple of gay bars that were just beginning to come alive. Being a newbie, it was best to give him a small taste of it all before having him jump in head first. By the end, he was grinning ear to ear and said he would love to hang out again next weekend.
I woke up the following morning with a hankering. I wanted a BLT for breakfast. And I happen to make a mean one. Using some amazing Spanish tomatoes, and good bacon from Mercadona, I soon was eating exactly what I was craving. Nirvana.
Today I was being disciplined and focused on my writing. It was going well when I made time for it. But after a number of hours my stomach was saying hello. Luckily my fridge had the contents for some Asian lettuce wraps with Chinese eggplant and shrimp. It was an amazing lunch that I finished up for dinner too. I really enjoyed eating a day's worth of food that I actually prepared myself. So far the thing that I am missing the most with my year is daily cooking. The temptation to eat out is too great. The opportunity costs to be in Spain often have me choosing restaurant meals. I can cook more after my sabbatical is over!
Prepping for a lunch at home
Lunch out on the terrace
Nice to end the day with a little glass of vermouth from David's village
DEAR READER:
After my amazing lunch, I finally was ready to post another installment to Flyertalk. I have dyslexia and am the worst proofreader. Normally I would have Terry, the professional writer, proofread anything I write. But this year I am flying solo. So I apologize if the errors you find in this writing are distracting at times. I like to think of them as adding color to my writing. It's part of the direct connection that this trip report offers.
The wonderful thing that I am discovering is that I love the feedback I am getting from you, the readers. It is inspirational at times. It makes me want to keep writing. And I appreciate that. Not only do people leave comments in the thread, but I receive lots of direct messages. These also are very useful. I am not a writer by nature. This is something new and challenging for me.
I am surprised that Google Page Count tells me I am currently 133 pages into this endeavor. And that doesn't include any of the pictures. I am always writing in arrears. But I am enjoying the experience of writing so far. And many of you have shared that you are enjoying it too. I am glad.
I just wish I wasn't two months behind in the writing. Right now, I am sitting watching the sunset in Thailand as I write. It is spectacular. I had originally programmed my time here in Phuket to be a writer's retreat since I have done many Thai touristy things before. It is working. The writing is flowing.
I have just decided that I am going to end this chapter here. It feels like a natural pausing point. I promise that in the next days, I will continue to write about my adventure that includes Egypt, South Africa, EK First, Dubai, and getting sidetracked to India because of SQ new Suites and a Jaipur wedding. There is a reason that I am two months behind in sharing my journey. It's simply because I have been experiencing life in the best possible way. It's a good problem to have.
---
Last edited by olafman; Nov 30, 22 at

7:36 am
Dec 1, 22, 7:42 pm
FlyerTalk Evangelist
Join Date: May 2008
Location: San Francisco
Programs: GM on VX, UA, AA, HA, AS, SY; Budget Fastbreak
Posts: 21,319
Great update. For couples therapy, I thought that couples therapists didn't see the individuals on their own for 1:1 therapy. I also fear that it'll be tougher for Terry to be a bestie with the couples therapist after couples therapy ends if he's seeing her for individual therapy.

I liked the Dan savage mention because his partner is named Terry. And every time I've read Terry's name in this thread, I've thought of the Terry in Dan savage's life. I used to read his column in the 90s and had to stop especially with the post about how some folks handle the cleanup. Even he ewwwwed over it and… well, some things just can't get forgotten even decades after the column was published and the periodical not just recycled but also fully ended.

Great to see that there are Asian groceries in Spain. The dim sum looked nice. I still have some frozen that I got at 99 ranch in 2020!