The Sabbatical - Olafman's solo journey of enlightenment and improvement
Jul 12, 22, 3:39 pm
FlyerTalk Evangelist
Join Date: May 2000
Location: TPA for now. Hopefully LIS for retirement
Programs: Southwest A-List+ due to work. Otherwise, paid F or Biz for pleasure so not a mileage junkie
Posts: 12,618


Sorry if I missed it, but I assume you are traveling on a US passport. If so, how are you spending six months in Europe given the max-90-of-the-last-180-days EU rule, if you don't mind sharing? Dual citizen / some sort of visa (and if so through which country) / a big chunk of time in non-EU Europe?
Jul 13, 22, 1:38 pm
Join Date: Nov 2000
Location: SF Bay Area, California
Programs: AA2MM LIFETIME PLT, Turkish Miles&Smiles Elite, Marriott Plat
Posts: 1,013
Originally Posted by
Bear96
Great TR! Looks like you are having a blast so far.

Sorry if I missed it, but I assume you are traveling on a US passport. If so, how are you spending six months in Europe given the max-90-of-the-last-180-days EU rule, if you don't mind sharing? Dual citizen / some sort of visa (and if so through which country) / a big chunk of time in non-EU Europe?
I am a US Passport holder. And while the empire seems to be falling, it's all I have for now. So I have to work the system.
When I first was thinking about my sabbatical year, I started looking into get a retirement visa in Spain or Portugal. But the problem was that I wasn't ready to commit to a country.
So I am spending my first 90 days in Europe on a tourist visa. And then I don't return to Europe until April next spring. So I am fine with the 90/180 days rule.
Jul 13, 22, 1:59 pm
FlyerTalk Evangelist
Join Date: May 2000
Location: TPA for now. Hopefully LIS for retirement
Programs: Southwest A-List+ due to work. Otherwise, paid F or Biz for pleasure so not a mileage junkie
Posts: 12,618
Originally Posted by
olafman
I am a US Passport holder. And while the empire seems to be falling, it's all I have for now. So I have to work the system.

When I first was thinking about my sabbatical year, I started looking into get a retirement visa in Spain or Portugal. But the problem was that I wasn't ready to commit to a country.

So I am spending my first 90 days in Europe on a tourist visa. And then I don't return to Europe until April next spring. So I am fine with the 90/180 days rule.
Got it, thank you. I would like to retire in Portugal as well but want to make another, extended trip there before applying to residency, etc. I am limiting it to 89 days but was wondering if there was a way to make it longer that I was not aware of (without breaking any rules of course).
Jul 22, 22, 2:38 am
Join Date: Nov 2000
Location: SF Bay Area, California
Programs: AA2MM LIFETIME PLT, Turkish Miles&Smiles Elite, Marriott Plat
Posts: 1,013
THE SABBATICAL: Torremolinos continued
---
I got up and quickly did some light cleaning before Jorge's arrival. I need to find a local cleaner but I haven't made it that far on my list yet. I am really enjoying the apartment that I rented through Airbnb. It is light and airy. It has large windows that let through lots of breezes. Also everything has been recently renovated so it's clean and new. My only criteria when searching for a place was the view. So it's a great bonus that it's in great condition too.
One of the great things about Torremolinos is that it is less than 15 minutes from the Malaga airport by train. And Malaga has great connections throughout Europe with lots of LLC bringing in all the tourists. This means that if you live here, you can reach all the cities across Europe with cheap airfares. When choosing a destination to retire/live, this is a key factor.
Jorge's train from the airport arrived right on time and soon I saw his smiling face. He was supposed to arrive two days earlier but he had met a nice American recently and he decided to fly up to Bilbao to spend a couple of final nights together before the American flew home. Jorge has a thing about falling in love with geographically challenged guys. So we have been down this path before.
My South African mom Resi taught me the tradition that when visitors arrive, you celebrate the moment with champagne regardless of the time of day. In South Africa, all the overseas flights arrive in the morning so that often meant that champers was being opened at 10 am!
Some cava to celebrate Jorge's arrival
So I had a nice Spanish cava chilled and waiting for Jorge. My biological parents taught me anytime you serve any alcohol, you have to offer snacks with it or the alcohol can hit too hard. So I had a nice plate of aged lamb's cheese, Ibérico ham, and chorizo which he gladly attacked after two nights of little sleep with the new boyfriend. We spent a couple of hours chatting and catching up. It had been a year since we last were together. In spite of lots of texting, a real in-person hang out is the best.
Soon enough our friends were bombing our phones with texts about meeting up and lunch plans. The local gay sporting organization was being interviewed by Spanish TV and our friends were the spokespeople. We got to the beach as they were finishing up. It ended with a short beach drag performance. The two guys were amazing dancers. The TV cameras ate it up.
It was now about 2 pm and we were all hot and sweaty. So a nice dip in the Mediterranean Sea helped to cool us down. Torremolinos has a long stretch of beach without big waves. So it's perfect for swimming and paddling.
Hauling around the blow up paddle surfboards
We had booked a table for four at the nearby restaurant "el gato", a fusion restaurant on the beach boardwalk. Jack and his paddling friend Carlos joined us for an excellent meal. I love how Jack always like to eat family style, sharing all the dishes as they arrive. Croquetas de queso, tuna sashimi, salad, chicken… it was a lovely meal. Paired with two bottles of wine and once again we left full and happy. A siesta wasn't far away.
Lunch at el gato
Because it was Friday and we had booked late, we had to eat early at 9 pm. Jack had chosen a "home cooking" restaurant Casero that had big Moroccan influences. It's like your Spanish family had a cook from Morocco. Jack and Jorge's friend Fernando joined us. He was this beautiful gentle giant originally from Argentina but has lived in Europe since he was 18. At 55 he is a grandfather and has even been married to a woman. Fascinating life.
The food was really good once again. Fried cheese, patatas bravas, beef tagine, tofu in a spicy vegetable sauce and Moroccan sweets for dessert. I can't seem to have a bad meal here.
After dinner we visited La Catalina bar with the wonderful owner José. We met him last year when he opened the bar and now he had just celebrated his year anniversary. I was glad to see he was thriving after all the COVID restrictions last year.
We woke around 9 am and I futzed around until Jorge said we had to go to breakfast. With our coffees, we had pitufo con aceite y tomato and a ham and cheese croissant. For the pitufo, they bring toasted french roll and a squeeze bottle of tomato sauce (it looked like thick gazpacho) and good olive oil. It is missing protein that I need in the morning but tasted very fresh.
Breakfast of cafe con leche and pitufo con aceite y tomate
I have started the routine of doing my daily cardio stint at the gym in the mornings sometime after breakfast. I inherited a heart with some bad filters. Because of this, I have had high cholesterol and high blood pressure my whole life. Luckily the pills of modern medicine have helped this since I was in my early twenties. But in addition to that, I try to do cardio everyday. And I don't smoke the three packs of cigarettes that my dad was addicted to.
I also enjoyed some quiet time that morning writing. Getting my thoughts and experiences written down has been part of my meditation process. The problem is that I am usually behind, I end up writing about several days prior. I've been writing notes now on a more daily basis to help remind me of what I did and things that I want to explore in my writing. But it is truly amazing that I am so busy in my retirement. I still haven't had much time to do any painting. I keep meeting artists and seeing their work. But with Jorge around, we have FOMO on all the fun in life. Too many good times to go experience.
Jorge decided that we were going to find a nice, working class, chiringuito restaurant on the beach for lunch. We would walk down all the steps from our flat to the beach and then walk along until one looked good. And that's exactly how we arrived at Yate del Cordobés. There was a small crowd waiting in the center section of this large restaurant with patios on the street side and also on the beach side. By this point in the day, it was warm. Very warm. Soon we were greeted by a man easily in his eighties who scribbled down our number "3" on a simple piece of paper. We assumed him to be the owner as he carried himself with authority albeit slight confusion.
Jorge suggested that we have some cañas and wood roasted sardines as we waited. Soon we found a little table and were enjoying the wonderfully cold beers. Just as the sardines arrived, the old man called our number and said our table was out in the front street side patio. We collected our drinks and sardines and dutifully followed.
Grilled sardines at the barb before lunch
As we arrived at the table, a group of northern Europeans had taken our table. We figured out that a waiter didn't know there was a queue and had seated them as they walked in from the street. They were seated there when we arrived and our hands were full with all our things from the bar. There were a minute of arguing between the owner and the waiter. Then the seated group chimed in too. Finally it was decided we had been waiting and that we had priority on the table. The family got up and we finally put down all our things. Lunch was going to happen!
The waiter on the front patio turned out to be amazing. In his mid-fifties, he hustled around and never barely paused even a moment. We looked at the QR code menu and chose some Tortillitas de Camarones (fried shrimp things), asparagus salad, and an assortment of fried rake, calamares, and anchovies. The tortillitatas is a typical dish from Cádiz but can be found all over Andalucía. These crunchy little fried dough rounds with tiny bay shrimp were our favorite part of the meal. Everything else was also very fresh and tasty. Fried food needs to be served immediately after cooking. And this was hot and not greasy.
Asparagus salad and mixed fried seafood
As we ate, the queue to be seated was growing. Everyone wanted lunch. So many people arrived and complained that they had to wait! What did they think was going to happen at 3 pm on a Saturday?!
Ready for another night out in Marbella
Our evening plans had us returning once again to the Starlite outdoor concert hall in Marbella. Today the very popular Pablo Alborán played to a sold out house. We met at Jack's for a coffee and some banana bread he had just taken out of the oven. A little coffee before a concert is always a good idea.
As we approached, we could tell this concert had many more people than when we were here for Chucho Valdéz earlier in the week. The parking lot was already packed when we arrived and there was a queue for the shuttle up the hill. At the entrance, we were approached by a TV crew interview. Jorge and Jack became our spokesmen and we enjoyed watching them interact with the reporter.
She was a hilarious interviewer.
Once inside, the bar and various food options were all heaving with patrons. The shortest line was a veggie burger so we chose that. Unfortunately, it was horrible and it wasn't worth the energy to chew it. It made economy class food look like fine dining. I make an incredible smashed Impossible burgers that could teach them a thing or two.
Luckily the concert was great. Pablo sang hit after hit and the audience connected well singing along the whole time. He filled the rock cave with lots of energy and joy. My favorite part of the concert wasn't the music, but the lovely young couple seated next to me. They were in their mid-twenties. When I arrived, I said hello and we chatted a bit. They had seen Pablo a number of times in concert and were really excited about tonight. Throughout the concert, I really enjoyed seeing their young love. One would grab the other's hand at various times. Or they would simply cuddle with an arm around the other. There was a simple shyness to their interactions that I felt lucky to be able to witness.
They definitely reminded me of my husband and me at their age. We dated for two weeks during university and we call that Phase 1. Then we went back to our respective universities and graduated the next year. I went off to Africa for two years and he went to London. Phase 2 didn't begin until I returned and I happened to have lunch with his sister. She invited him along and 32 years later, the rest is history.
Slyly watching them enjoy the concert was comforting to me. Love is a beautiful thing. I definitely had a heart bang of missing my man in this moment. It is natural that I question our process this year. I want this to be a positive experience for both of us. But more importantly, I don't want our sabbatical to cause any damage. Space is an interesting thing to offer each other after all this time together. It's uncomfortable at times. We often feel like we have to fill space. But to leave it open or even empty can be challenging.
We got back to Torremolinos around 1 am and since it was still early for a Saturday night, we walked down to the Nogalera area and started with a drink at La Catalina and the owner José. It was a warm night and it felt great to be outdoors. Our next stop was Men's Bar where we had a beer and met a very nice Norwegian couple who had a vacation flat nearby.
The night continues at José's, La Catalina
Nearby to our Airbnb, there is a performance venue, Teatro Feliz, for sale. It is old and it seems to have a street entrance to some sort of subterranean space. I have been joking with Jorge that we should buy it. Jorge and I would host the main midnight show but there would be entertainment all afternoon and evening. Cher and other icons would randomly pop in for an impromptu concert. It's the kind of place where you would run into your grandma making out with the cigarette girl. Sort of The Birdcage meets Moulin Rouge. Sometimes we would be in drag. And other times, just a nicely tailored suit from our favorite tailor in Milan. We've enjoyed fantasizing about this idea throughout our days and it's been a fun running joke. It would be successful but we'd never make any money.
Well the two Norwegians both work in the theater, one designs theater interiors and the other does costumes! HIRED! As much as we keep joking about it, it is magically coming together. Almost everyday, we encounter someone to add to our merry band of theater people. The Teatro Feliz just might become a thing!
The magic hour of 3 am on early Sunday morning arrived and sent our tired bodies home for some needed rest.
Having been introduced to Spain at the young, ripe age of 18 years old, I maintained nostalgia for so many Spanish things. Every visit here must include a trip to the churreria for a typical churros con chocolate. So I found Jorge, who had gotten up earlier than me, at a cafe known for its fresh churros. Along the way I had run into José Manual and invited him to join us.
Churros con chocolate, Malagueño style
I was used to the Madrid style, teardrop shaped churros. So when he asked me how many I wanted, I said three! When they arrived they were large partial arcs that were cut from big circles. They were served with a thick, pudding like hot chocolate made with a strong dark chocolate. The best part was that they didn't have any sugar all over them. The only sweetness came from the sugar in the chocolate. They were crispy and delicious. As I age, I really don't eat anything sweet, but this was a wonderful treat. I will loose weight in my next life.
My routine is beginning to settle and after breakfast, I wrote a bit and then hit the gym. I have been reading The Margot Affair by Sanae Lemoine as I tackled my cardio. Unfortunately, my routine isn't totally established and I left my Kindle on the elliptical machine. I realized it only the next day but no one had turned it in to the lost and found. Luckily amazon.es can get me another one by Thursday. I hate losing things but it happens.
We had booked lunch at one of my favorite restaurants in Torremolinos, Zabor Fetén. It is owned by a lovely couple that has made it very successful. We had also invited the nice couple from Hong Kong that I met at the Edén chiringuito a few days prior. Will and Joe are both teachers and teach their Hong Kong students over Zoom from their Torremolinos apartment. They recently got married in Gibraltar because it was somehow easier for them with their Commonwealth passports.
We really enjoyed getting to know them and hearing about their lives here. They made some recommendations of local Chinese restaurants and even one called Hot Pot which is a favorite of mine. They were a lovely example of the wonderful people you meet when you travel. Often with a similar traveler spirits, we crossed paths for a few moments and created a nice memory together.
We were the last ones to finish up lunch!
Our Sunday evening brought us to Jack and Livan's house for some simple tapas and wine. He had made some chicken lettuce wraps, a nice shrimp pasta salad, and cooked up some lovely pork tenderloin. These were more "heavy tapas" and we didn't need any dinner after.
His flat faces the mountain behind Torremolinos where the sun sets. The evening sky was spectacular. We enjoyed the cool breezes on his terrace as we let our meal settle.
On our way home Jorge wanted one more drink so we settled on a bar called 3 Monkeys in Nogalera. We would have gone to La Catalina but José gets a day off on Sundays so it's closed.
The Hong Kong boys mentioned they liked the 3 Monkeys so we gave it a try. We had a delightful waiter from Colombia. As we enjoyed our drinks, several friends walked past and added to the communal atmosphere. Torremolinos is a small enough community that everytime you sit down at a cafe or bar, you run into friends who are also out and about. As I am here writing now, Lauren and Alexis just strolled past and stopped for a chat. No one ever seems in a rush. There is always time to be friendly and share a moment.
Monday, July 11
Our Monday began with breakfast at a new cafe recommended by Jack that is right next to my gym, Cafe Bolevar. In the morning it's a nice mix of people but later in the gay it seems to be an older, gay Daddy crowd.
We both had café con leche with a pitufo con aceite y tomate. I am really enjoying this very typical Malgueño breakfast more and more. Good tomatoes and good olive oil make all the difference. Our waiter Aaron was very flirty. Torremolinos is a pretty gay little town. And I find it flattering how forward people are to me here. It's definitely is a nice boost to the ego.
With a little in my stomach, I headed next door to Basic Fit gym and gave my heart a nice long workout to keep it in shape in spite of all the eating and drinking! My 45 minutes of cardio is the least I can do.
Once I got back home, it was a quick shower and prep for our lunch in the country. We had been invited by a friend of Jack and Jorge's, Pep, to visit him at his mother's summer house in Mollina, about 50 km from Torremolinos. Along the way, we saw spectacular countryside and beautiful rock formations.
La Peña
The little village of Mollina welcomed us with a roundabout in the center of the village that had been painted the LGTBQI+ colors along its base. Pep commented that it was a very conservative village and this was a big step for them.
Pep's mom had recently recovered from COVID and still was quite weak. We brought her a nice cake from a bakery in Torremolinos to help her gain back some weight. We arrived and received a super warm welcome from Pep and his mom. We ate on the back patio shaded by stunning grapes and vines. It was quite warm but it felt great to sit outside in this wonderful terraza. Spanish hospitality offered us a local semi-effervescent wine of the village. It was light and refreshing. Of course his mom also put out olives and potato chips. It reminded me of visiting my relatives in the Pyrenees Mountains in southern France. Wonderful hospitality.
Pep and his mom welcome us with drinks in the backyard
Soon we said goodbye to Pep's mom and the four of us headed to lunch about 11 km away. Our afternoon at Caserio de San Benito was the highlight of my time in Europe so far. It's a picturesque setting with amazing old style farm buildings. We sat down and the three of them ordered us a nice variety of food to share. I had no idea what I was in store for.
The highlight of the meal came out first, four perfect tomatoes served in oil and vinegar. They had been peeled revealing deliciously sweet tomato meat. Accented with a coarse salt, it was UNBELIEVABLE. It melted in my mouth. I grew up on a farm in California and we grew tomatoes for lots of different tomato products. It was very normal for me to run out and grab perfectly ripe tomatoes for lunch. There is truly nothing better. These Spanish tomatoes transported me to my youth and all the memories of eating straight from the fields. I felt the tears moisten my eyes as I savored each bite. Paired with fresh bread to soak up the sauce and I was in heaven. It didn't matter what else we ate.
But next was a delicious rolled chicken and ham that had been breaded, fried, and sliced. Next came garbanzo beans with peppers and raw red onions. Everything was super fresh and demonstrated well what it is to eat local and in season. There is no other way to eat.
We moved outside to a wonderful terrace for dessert and coffees. It was like a movie set of a time gone by. The whole meal had been accented by deep conversations about life, love, and passion. Pep had miraculously recovered from a horrible brain cancer and was now cancer free. He is an artist and appreciates each day as it comes. I am beginning to feel like my sabbatical year is being planned by someone, introducing wonderful people to each teach me important lessons along the way.
Back on the coast, Jorge and I headed to the beach for some late afternoon sun and swimming. The water felt so good and cooled us nicely from the strong heat of the day. This was Mediterranean living.
After the beach we headed to the Edén chiringuito for a cool drink. There we met some vacationing Italians that were friendly and spirited. We spent about 45 minutes chatting with them until things took a wrong turn! One of them shared that he wasn't vaccinated and that COVID really isn't a thing. It simply was born from the media. He hadn't gotten it and no one he knew had gotten very sick or died. (Cue sound effect of tires screeching!!) It was all being blown out of proportion by Big Pharma and that it was no big deal.
WOW! I tried talking a bit about the SIX MILLION people worldwide who had died of COVID and the actual infection rates including in Italy right now which are rising. But he clung to his rhetoric about his "freedom" and we got nowhere.
Once we started talking about his "freedom", I pointed out that he lives in a community of people. He's welcome to move to an island in the middle of the Pacific Ocean that I have randomly chosen and renamed "Isla de La Libertad" (Freedom Island.) All the wakos who don't share a community mentality are welcome to express their ideas of freedom there where they can't do harm to others.
Things wrapped up quickly from there and Jorge and I moved on. It reminded me that there are crazies all around the world, even in a gay beach club! Luckily I quickly set this interaction aside and continued enjoying the aftermath of our meal together in the country.
As we made our way up into the village, we stopped at our Bar Jerez for cañas and croquetas. As we sat, various friends walked by and we had nice chats. We even chatted with Jack as he came back from the gym.
We decided that we needed a quiet night in after such an eventful day. So we made it home and watched this week's episode of RuPaul's Dragrace. As I crawled into bed, I was so happy to have met Pep and his mom and shared the wonderful meal with Pep, Jorge, and Jack.
Jorge and I started our day at our local Cafe Avila. The owners Andrés and Alexandra have been so sweet to us. Friendly. Hard working. Andrés mentioned that this summer was still a little on the quiet side compared to previous summers. But they have seen things picking up.
We asked our host for a house cleaner recommendation and to my surprise, an American Mike about my age showed up to clean the house! He was very sweet and he did a great job cleaning and ironing.
I also booked a morning haircut finally. I had gotten a cut just before I left. My stylist had to cancel at the last minute so I went with another from the same salon. I simply said cut it shorter but definitely didn't want the short hair and then super long hair on top cut that all the kids are getting.
Unfortunately he cut my hair exactly like I told him not to. Luckily it's just hair and it grows back. But ever since I arrived in Spain, I was looking forward to getting my summer buzz cut. So finally Josep did a great job. I love short hair especially when it's hot and I'm doing outdoor activities. Horrible haircut on Valencia St in San Francisco: $65. Lovely haircut in Torremolinos, Spain: €13. I love it here.
After my cardio workout at the gym, I made it home but Mike was still cleaning our place. So I grabbed my laptop to do some writing at a nearby cafe. I love that a Coke Zero was €1.80 and was served with a little bowl of potato chips with some jamón sitting on top. It was a great setting as I people watched and processed my thoughts.
Lovely complementary munchies with a Coke Zero
Jorge spent the morning down at the closet beach. Renting a hamaca, a beach lounge chair under Gilligan's Island umbrella cost €6. At the gay beach it's double that price. Like real estate, it's all about location.
We were feeling lazy once we met up again for lunch so we decided to just return to the Cafeteria Avila for a quiet lunch. We could have make a simple sandwich at home but when there is a €9.50 lunch option a block away, it's hard to stay home! Jorge started with a tasty rice with beef ribs and I had the salmorejo soup. I so love a tomato soup and Andalucía is home of all things tomatoes! For our mains, we each had the Albóndigas in a Moroccan style sauce.
Everything was outstanding. So moist and flavorful. Alexandra came by and we raved to her meatballs. Jorge said they were very similar to his mother's. Because it was so hot, Jorge convinced me that a little ice cream would make me feel cooler. Throughout our meal, we enjoyed chatting with both the owners who are friendly and welcoming. The Avila is quickly becoming "our place". With our full stomachs and the afternoon heat upon us, it was time for the delightful siesta. This is a very civilized way of living.
Jorge and I were hosting our first dinner party on Wednesday evening before we headed to Portugal the next day. So I had to do some shopping to prepare. We went first to a recommended frutería and bought most of the ingredients. Fresh and local. I had wanted to go to a pescadería to buy the fish because I never like the fish at supermarkets. But Andrés recommended Supeco supermarket saying the fist was very fresh so we also stopped there. In California I always go to the Asian markets to buy fish because they don't put up with anything but the freshest fish. But here in Spain I would have to adapt.
Today's highlight was a full moon surf paddle organized by the DiverSport, the gay sporting club. When I came here I signed up for paddle, volleyball, and hiking as a way to do some sporting activities and meet more locals. This turned out to be a great decision. We all met in front of Eden chiringuito and pumped up the surf boards. This in itself is a workout. I got hot and sweaty quickly but had the Mediterranean Sea to cool me down! The event officially started at 9:30 pm but a few of us arrived early to help. A couple of people brought their own boards in addition to the three that DiverSport has. Soon they were all ready and we started taking turns out on the water.
Getting ready to paddle in the full moon light
The sea today had some noticeable rolling waves. For a beginning paddler like myself, getting out past the waves required that I paddle on my knees before standing up a bit further out. The early evening twilight and the rising full moon made this moment something unforgettable. The sky kept getting better and better. By the end, it was almost dark but the full moon left a stunning reflection trail on the sea.
I really enjoyed my 10 pm paddle
Afterwards, we all met at the chiringuito for some beers and nice chats. Everyone was super nice. Most were Spanish but there were a couple of other Europeans too. I really enjoyed chatting with Manu who had recently returned from working 10 years in China. He had lots of interesting stories.
We ended up at a nearby Mexican restaurant that had just opened last year when I visited. It was great and hit the spot after the paddle. The strong Silver Patron margarita hit hard though and soon we were headed back home after a lovely day.
We were up early and on our way to Jack's for a 9 am departure to Antequera. It's a lovely medieval city with dolmens constructed 5000 years ago. We started at the Dolmen de Menga which was constructed facing the the sleeping woman rock formation La Peña de los Enamorados. At the newly constructed museum, we learned how these ancient citizens moved huge chunks of rock to construct the dolmen. It reminded me of descriptions of how the Moai on Easter Island were constructed and moved around. What an amazing feat of an ancient society.
The Dolmen
It was an incredibly hot day and walking around in the warm breezes dried us out. So we drank lots of water and did our best to keep hydrated.
Next we drove into the town of Antequera. The temperature was about 30º now and things were cooking. We loved walking around its medieval streets and making our way up to the Alcazaba, a Moorish fortress. We hiked up its various towers for outstanding views out over the city and of the La Peña in the distance.
Entrance to the Alcazaba
One of the many towers built by the Moors
Finally we made our way back to the center of the city where we had booked a table at Mesón Adarve. We were so surprised how wonderful this tiny restaurant was. The menu was written all around the surrounding walls. It all felt very homey. We shared all the dishes as we are now very accustomed to doing. It's so wonderful to get to taste such a variety of things. We started with a typical salmorejo but with additional tuna, next came a lovely mango and shrimp dish, then roast artichokes with jamón, and finally a nice pork tenderloin. It was all outstanding. Can we even have a bad meal in Spain?
Shrimp with Mango
Roast Artichokes with ham
Secreto Ibérico
After lunch we made our way back to Torremolinos for a much needed nap. It wasn't a long one because I had scheduled a tutoring session with my young student Anderson. I started my career as a teacher and have always treasured my special time tutoring. I haven't done much of it but I have been able to fit it in when possible. I have developed wonderful relationships during this one-on-one time. I started in Malawi. Then tutored again when in Munich. Finally during the pandemic, I returned to tutoring but this time, online. I use my laptop to Zoom and then an iPad to use Google's Jamboard which allows us both to write on a page as if we were sitting together. It works wonderfully and is very convenient since I don't have to travel to the student.
I had wondered if I would continue after I retired. But because the tutoring brings such joy to my life, I want to see if I can fit in a few sessions a week. Plus it's great pocket money!
So I managed to schedule Anderson from 6 pm which was 9 am his time. His face lit up when he came online and we spent 10 minutes just catching up. He had been traveling including a week of white water rafting and camping. I showed him my views of the Mediterranean Sea and we talked of Spain. Soon enough we were bisecting equilateral triangles and talking about angles and lengths of sides. The time difference is a problem in Spain but during the summer I can do sessions when it's morning in California. After 60 minutes, my internal joy batteries were fully charged.
That evening Jorge and I held our first dinner party. We only had four dining chairs but that was enough to invite Jack and Livan. They arrived just after 8:30 pm. We were getting up early the next morning so we decided that we should have dinner before the usual 10 or 11 pm.
Our first dinner party!
Jorge made a starter of a layered savory "cake" with bread, mayo, shrimp, tuna, and white asparagus. When sliced it also looks like a slice of cake. Then the taste of tuna let's you know that we're headed in a different direction. For the main I made a favorite Ginger-Dill Salmon from the NY Times. It is a great summer dish that I cooked ahead of time. It all came together easily at the last moment. Jack brought a nice pastry cake for dessert. I love having people over for a meal. And this special time together was so enjoyable.
And with my first dinner party at home under my belt, it was beginning to feel like home. My parents taught me well how to fill a home with love. Inviting friends and family over for a meal is one of the best ways to achieve this. Especially now that we have sold are house and life in flux, having friends over offers much needed stability.
Jorge and I cleaned up quickly and then packed our bags for a short four day trip to the Algarve in southern Portugal. It's sort of weird to take a vacation from my vacation but carpe diem. I can't wait to experience what the Algarve has to offer us.
---
Last edited by olafman; Jul 22, 22 at

3:15 am
Jul 23, 22, 5:30 pm
Join Date: Dec 2011
Location: BRS
Posts: 451
Very glad I found the time this weekend to get up to speed with this one - I'll be following along with the rest for sure.

You seem to pack more socialising into any given couple of days than I manage in a couple of weeks! Definitely making the most of your first destination.


Jul 28, 22, 5:27 am
Join Date: Nov 2000
Location: SF Bay Area, California
Programs: AA2MM LIFETIME PLT, Turkish Miles&Smiles Elite, Marriott Plat
Posts: 1,013
THE SABBATICAL: A quick trip to the Portuguese Algarve
---
Early Thursday morning, Jorge and I were at Jack's place by 7 am so we could hit the road to Portugal. A couple of months ago, they had brought up the idea of spending a few days in the Algarve in southern Portugal. It meant that I would be paying lodging in two places at once but it was a great opportunity to explore an area that I hadn't visited since I was 18! So we formed our band of three musketeers and headed to the Algarve.
Along the way we listened to some YouTube videos in Spanish reminding us of basic Portuguese expressions and also explaining the differences between Spanish and Portuguese. All three of us speak Spanish but Jack's Portuguese is the best. Of course everyone from both countries speak Portugñol, the mix of the two languages.
The journey was about four hours with a stop for breakfast of the typical cafe con leche and a jamón and queso on a roll. Unlike in the Malaga area, they don't call them pitufos!
Our little inn
Jorge had booked us for the first two nights at the Quinto do Caracol in Tavira. What an amazing inn! As we arrived the owner met us and explained the history of her place as we checked in. Her father had constructed and renovated the inn many years back. It was the labor of his life. Everything has a wonderful Portuguese feeling with white, yellow, and blue buildings surrounded by beautiful gardens. He even converted the clothes washing area into a small pool. He ran the place until he died a few years back of brain cancer, she explained.
So his daughters are now running the place and it is thriving. I would HIGHLY recommend this place. Each apartment is unique and all are full of charm. And lovely air conditioners. Margarita offered us several recommendations for restaurants and soon we had a booking for lunch.
Our room was still being cleaned when we arrived, so we dropped our things and walked ten minutes to the center of town. At the main plaza we found the tourist office and found out the summer schedule of events including on the main stage erected in the plaza. Also we found out there was a wine festival the next day. We happen to LOVE wine! Lots to do here!
Our first meal in Portugal was at the Restaurant Avenida just a short walk from the center. We ordered a variety of dishes including a popular cod, with eggs and rice dish, bacalhau à Brás. We also had a delicious seafood rice stew and crepes stuffed with shellfish and spinach. I was complaining that the house wine was an expensive €3.50. WHAT WERE THEY THINKING? A glass of house white in Torremolinos is about €1.50. Perspectives can change quickly! Overall we find dining out here to be a bit more expensive than in Southern Spain.
Stuffed crepes
Rice soup with seafood
Cod rice dish
On the way back to the inn, we stopped at the nearby Lidl to pick up some milk, water, and snacks. By the time we arrived, we were so ready for a refreshing swim and a little snooze under a tree on a super comfortable lounger.
I had a nice Whatsapp conversation with my brother and sister-in-law who are back home in Portugal now after spending two weeks in California. We were all commenting how grateful we are for the wonderful lives we lead. We laughed at my €3.50 wine story. We also spoke of my upcoming trip to spend a couple of weeks with them and witness their new life in northern Portugal. I love having so much to look forward to.
The saudade of fado music
At the tourist office, we had booked a faro concert. During my visit to Portugal during the summer of COVID last year, I never made it to a fado concert because I didn't want to be inside that long. But when Jack suggested it, I decided I was ready. So at 7:30 pm, we entered La Iglesia da la Misericordia and thoroughly enjoyed a concert with a guitar, a Portuguese double stringed guitar, and a lovely Portuguese singer. The guitarist did a great job of describing each song in English, Spanish, and French. Each language brought new information so it was fun to hear all three. Fado music has the reputation of being "saudade". The locals try to describe the meaning but always fail to fully explain the feeling. It's a mix of sadness and melancholy. Sort of. The best example of it was the title of one of the songs, "Tenho as chaves da vida, mas não posso abrir a porta da felicidade" (I have the keys to life but I can't open the door to happiness.) It's with this feeling that the lovely woman sang from her heart. The temperature inside the church was about 33º C which just added to the sorrow. We joked that being the men that we are, we were literally sweating like whores in church.
After the concert we walked along the river and found a nice outdoor restaurant where we shared an evening meal of tuna steak, a white fish, and a mint hummus salad. As the sun set, we enjoyed the cool breezes and delicious food.
Mint hummus salad
Seared tuna
\
A local whitefish
Tonight's main stage entertainment in the plaza was a dance performance. We watched the opening number but soon our eyelids were heavy since we had been up at 6 am. We headed home and soon were all fast asleep.
I woke up fairly early and enjoyed a quiet moment of writing on our front patio. Soon I could smell the pleasant aroma from the Italian Moka Pot that Jack travels with. He delivered my café com leite and we enjoyed seeing our inn slowly coming to life. Morning chats over coffee are often my favorite of the day. I have really enjoyed getting to know Jack better over the past weeks. He also retired early after a career in global marketing. Like me he was a Peace Corps volunteer after university and he also lived in Spain. So when he retired, he sold his house in Wisconsin and moved to Southern Spain. He has loved every day since.
This trip is the first time that the three of us are traveling together and we get along wonderfully. We all take turns organizing and we definitely enjoy eating together. I love surrounding myself with others that share my "up for anything" approach to life.
Like on SWISS business class, we were given a form when we arrived at the inn to select items for our breakfast in the morning. So at 9 am, we went to the outdoor patio and enjoyed a delightful breakfast. The garden setting was perfect. The food was great. It couldn't have been better. I can't remember when I enjoyed breakfast so much.
Our delightful breakfast in the garden
Like the beginning of Gilligan's Island. But Ginger and Mary Ann stayed home.
Jorge had found a four hour boat tour of the area including the islands. So at 11:45 am, we boarded a boat with twelve others and headed first to the fishing village of Santa Luzia. Our captain had a great smile and narrated our journey with warmth and delight. Once we arrived, we went to a restaurant recommended by the waitress from dinner the night before. The village is famous for their octopus and half the menu at the restaurant featured octopus. We selected a grilled octopus, grilled oysters, clams in a garlic butter sauce, and a mixed salad. The food overall was fine but definitely suffered from serving tourists. Most disappointing was that the octopus was quite tough. It was the one thing I expected them to do well. The curse of a tourist restaurant.
After lunch we motored across the river to Praia do Barril. From there we walked five minutes across the island to the coastal beach. As it was super hot, we quickly shed our clothes and jumped in the water which was spectacularly warm in spite of being the Atlantic Ocean! We had failed to see the yellow flag and soon three very sexy lifeguards were by our side to tell us that we had to only swim in the demarcated swim area further down the beach. We joked that it was like the beginning of a porno movie. They were incredibly hot Portuguese men. Jack invented a few follow up questions to continue the interaction long after Jorge and I had left.
Back on the boat, we continued to explore the islands. I can't say that this part of the coastline was stunningly beautiful but it was nice to see everything. At one point, we stopped and saw a group of white flamingos in the distance. We found out later that they have a different diet than their pink cousins in Florida which explains the difference in their color.
A scallops fishing boat
We got back just before 4 pm and pushed slowly through the heat of the day back to our inn for a refreshing swim and some quiet time. Having a pool and shaded gardens has made our stay here so enjoyable. Many of the other guests were taking advantage of the peaceful setting too.
At one point in the afternoon, my husband texted asking if I wanted to chat. We haven't spoken since he dropped me at the curb at SFO. I have been trying to give him space that I easily fill when we are together. At some point we would have to have some financial discussions so he was wanting a check-in of a more social nature first.
So I called him and we chatted as I enjoyed the afternoon breezes of the Quinto's gardens. I was in a lovely mood and I enjoyed catching up a bit. It was a bit weird. It wasn't our usual conversation. There are no rules to what we're doing and we are kind of making them up as we go. We both talked about how it feels so different not sharing all the happenings of our life. But I think we both agree that allowing for some space will be helpful. But what should we share when we speak? How much do we talk about our solo journeys without slipping back into our typical roles and habits.
He was about to visit our son in Hawaii again. We had just popped over for two days before I left. But he wanted a longer visit and some time away from all his family and their drama. So we talked a bit about our son and some of what we had been experiencing. I think we both kept it intentionally light and positive. I didn't dig too deeply into his depression but read between the lines that things had been okay.
I have been chatting more with friends back home and it is interesting that I am hearing more about Terry through them. Luckily they confirm that things are okay. Which for him, is a good place to be.
We were lucky to get a reservation at the very popular Come na Gaveta for dinner. The village has a reputation of not closing their businesses at lunchtime. Instead the shop owners are forced to eat quick bites between customers. Thus, they might have a plate of food hidden in a nearby drawer. So the name of the restaurant celebrates this tradition of eating from a drawer and sharing its contents with the other workers. Sharing food at the restaurant is encouraged over having each person ordering their own dish.
Even though we had to eat early at 7:15 pm, we shared amazing food starting with an Algarve board of octopus salad, tuna spread, Algarve carrots, olives, and bread. This octopus was perfectly tender. It reminded Jorge of his mom's octopus salad. Next came a super flavorful mushroom risotto, tuna sashimi tacos, and pork cheeks. The food was of a super high quality. No wonder we struggled to get a reservation.
During our short time here, we have marveled at the warm service we have received everywhere. Our servers have all been wonderfully friendly and memorable. It is something I look forward to every time we sit down.
In addition, the waiters at Come na Gaveta were all male, young, and very attractive. The owner definitely has a type and hires strictly within those requirements. All three of us felt like 14 year old school girls every time they interacted with us!
During dinner, I received a text from a friend back in California. He said our long time friends Colin and Cassandra were in the area! We all lived in Los Angeles decades ago and our friendship still thrived.
About 10 minutes later a photo arrived showing they were at the Tavira Wine Festival where we were headed after dinner! Colin had posted a picture of them there on the Facebook. I deleted my Facebook account after Trump won in 2016. I blamed all the fake information that influenced many people to vote for Trump. If you only get your news from a single source like Facebook, you are easily swayed and influenced. I deemed Facebook evil and said I would never return. Thus I had no idea they were visiting southern Portugal too.
I tried texting him on WhatsApp but like many Americans, he doesn't use it often and didn't have notifications turned on. So we paid our dinner bill and set off to the main square. I was really hoping that they hadn't gone off to dinner or had left for the evening. We finally arrived at the festival and we began the search.
Literally seated at the first possible table closest to where we entered, I saw them! Colin was facing my direction. And as I walked closer, he saw me and then his face turned into a look of total SHOCK. "What the hell are you doing here?!?!", he exclaimed loudly. Colin is 6' 5" and when he hugs you, you feel totally engulfed. Such a beautiful gentle giant. I hadn't seen Cassandra in a number of years due to COVID but we had done a Zoom cocktail moment with them last year. More hugs and introductions were made. All of us couldn't believe this moment. HOW IS THIS EVEN POSSIBLE??. We were in a tiny town so far from their home now in DC and my life in San Francisco.
Running into old friends from LA at the Tavira Wine Festival
Our friend Tom was instantly jealous back home knowing we were all together. Tom and I have traveled lots together. And we have even run into unexpected friends in Thailand. But his presence was duly missed at this moment with some of his closest friends.
Instead of going around and tasting a variety of wines from different vineyards, we simply sat and bought bottles of tinto e branco to share. We managed to go through four bottles between the five of us. I have had many joyous moments with them over the past decades. And this meeting filled my heart with such joy and love. Tears keep falling from my eyes as I write about it the next day. Friendship and connection are worth so much to me. And being offered this wonderful gift of seeing them as I walk my solo sabbatical path was heartwarming.
I was the first to wake again and I sat on our patio doing my writing. Soon enough Jack appeared with a lovely cup of coffee for me and the day had begun. After such a lovely breakfast the previous day, I was really looking forward to this morning's meal.
One of the daughters was our friendly waitress. We lingered as we enjoyed the great food and the perfect garden setting. When traveling, you never know exactly how your time at a place is going to turn out. But all of us said we will be coming back to this wonderful inn.
Our next two nights would be in Olhão just about a half hour from Tavira. It's a small fishing village also known for the beaches on the surrounding islands. Jack had read about the town and booked us a two bedroom Airbnb in the center of the city. It was blazing hot as we arrived around 1 pm. Luckily we found a place to park and then dropped off the bags at our Airbnb that was still going to get cleaned from the previous guests. I always appreciate when an Airbnb host lets you drop off your bags early.
We decided to head to lunch as Portugal definitely eats earlier than Spain. So we headed to Prazeres, a fish restaurant recommended by our innkeeper in Tavira. The entire town of Olhão was currently overrun with thousands of visitng motorcycle riders. All the restaurants were heaving with black t-shirted bikers from all over Europe. Luckily, we snagged a table at Prazers just as they were getting slammed.
Our Prazeres tourist lunch
The whole experience there was super underwhelming. We ordered their typical seafood platter and a salad to share. They charged us for the €70 platter instead of the €45 one we ordered. They also "upgraded" our wine. Overall, it turned out to be an unsatisfying tourist restaurant. Enough said. Luckily it was my first bad meal since I arrived in Europe.
Our Airbnb had been cleaned by the end of lunch so we went back and enjoyed a nice siesta in the beautifully air conditioned flat. After I woke, I enjoyed strolling around the surrounding streets. Jack shared that here it was forbidden to remove a stork's nest. I loved seeing these huge nests at the top of churches and other buildings. He mentioned that he read that at a construction site, they had to leave part of an original building and its nest as they built new construction around it.
A protected stork's nest high above
The three of us hadn't really planned anything for the rest of the day. But I came up with the plan to take the train into Faro to look around and have a nice dinner in the old town. They both loved the idea and soon we were on the 11 minute train to central Faro. I love figuring out public transportation around the world. Most places do it so much better than the USA. Fast and convenient is key.
At the Faro marina
We arrived in Faro and made our way down to the marina area. There were tons of motorcycle bikers here too with special stages set up for performances. It was all very lively. I had chatted with a local on one of the gay social networking apps for recommendations on food and drink. We ended up at LAB Terrace which is an outdoor "sky bar" overlooking the harbor. It also was a fantastic place to enjoy the sunset. We stayed for over an hour appreciating the beauty of it all.
Sunset at LAB Terrace
Also the Flyertalk dork in me loved that all the planes taking off from the Faro airport could be easily seen from the terrace so we all enjoyed playing my favorite game, Guess where that plane is going!. With so many Ryanair and EasyJet flights, there are lots of choices.
We strolled along the small streets of the old town with its lively bars and restaurants. We were getting concerned that we were a bit late for dinner in Portugal. So we found a nice little restaurant Tertúlia Algarve. We ordered a nice variety of seafood including a maize porridge with lots of shellfish. It reminded me of nsima, the maize porridge in Malawi that was the staple food.
It was late by the time we finished so we decided to forgo public transport and soon an Uber had us quickly back to Olhão for a good night's sleep.
The Algarve is known for its spectacular coastline. Both Jack and Jorge said we had to take a boat ride to see all its splendors. So Jorge booked us a two and a half hour boat excursion from Albufeira. It was an hour drive from Olhão and we arrived plenty early to enjoy a coffee and a bite to eat.
The Albufeira marina was an odd throwback to the early eighties. The entire development had a distinct 80s architecture and colors. It reminded me of the movie "Ruthless People" with Bette Midler. Forty years later, I can't really say that it has stood the test of time. Instead it's a bold testament that has yet to be able to draw on any nostalgia. The architecture is just sort of weird and awkward.
Boarding for the boat reminded me of your typical boarding of a chaotic Emirates flight in Dubai. It's such a lovely airline until they board the plane. Then it seems like it's every man for himself. We ended up toward the front of the boat. Even though that meant that we would feel more of the movement, it was easier to see forward as we sped through the water.
Gilligan's Island, The Sequel
We headed out quite far out from the coast and then went west. We were going at top speed and the sea, white-capped and full of energy, was fighting against us. I kept my eyes on the horizon but could sense that many on the boat were beginning to feel uneasiness. They finally announced that we didn't find any dolphins and that we would be going back close to the coast to explore the caves. They had mentioned something about dolphins in the opening spiel but nothing about flying through the water and bouncing on its surface made me feel like we were dolphin hunting. The journey got instantly more enjoyable once we were back next to the coast and were not at full throttle. The multilayered coastline featured beautiful caves caused by centuries of erosion. Our boat would maneuver in and out and even entering all the way into the caves before backing out slowly as the waves and tides pushed us around. It was thrilling and bordered on scary. I figured they do this everyday so I shouldn't worry too much. But at one point I did turn around to get a good look at the captain. At first glance, he looked competent and confident in his work. Had there been any hint of fear on his face, I would have really started to worry.
We went fully inside this cave!
It's like when things go wrong on an airplane. Long ago, a seasoned traveler shared with me to watch the flight attendants. If the flight attendants don't look worried, just sit back and relax. If it's turbulence, it's just a momentary inconvenience if the flight attendants look blasé. I remember once on a flight from Houston to Paris, we had a little problem after we started out over the Atlantic. A little smoke from something in the cockpit we figured out later. So they quickly turned us around and landed us at Newark. Everyone was a bit on edge but those Continental flight attendants were total pros. They went around checking in with all the passengers and doing some comforting where needed. I will never forget that a young lady next to me was fairly scared and asked if she could hold my hand as we landed. I learned at that moment how powerful the act of human touch was. The flight attendants NEVER looked worried. We landed without incident and all were safe.
The rest of that story was pretty interesting. As I opened my curtains in the morning, instead of seeing the Eiffel Tower and the skyline of Paris, I was shocked into the reality that I was looking out on the industrial factories of Newark, New Jersey. My brother and sister-in-law were picking me up at Orly, the Gatwick of Paris airports. When they flew in themselves many hours earlier, my flight was listed as DELAYED. Then at some point it changed to CANCELED. "What the heck??", he thought. My brother found a Continental representative somewhere and asked WHAT HAPPENED TO MY BROTHER'S FLIGHT? He received an unsatisfying "We don't know." DID IT JUST FALL OUT OF THE SKY?
So at that point he called my parents. In the days before cell phones, coordinating travel was complicated. And when things went wrong, it was even harder. Once it was 6 am in California, I called my parents to let them know what had happened. They weren't awake but it was getting late in Newark and I was already back at Newark trying to figure out how I was getting to Paris. So with sleeply voices, they assured me that at some point my brother would have no other option but to call them. So they would let me know I was delayed on a later flight.
Continental ended putting me on a bus to JFK where I boarded an American Airlines flight to Paris. I remember thinking that the positive result of all this was that I would get all my miles on Continental and also I would claim the AA miles. A nice double dipping. Both flights ended up posting!!
For some reason my brother didn't have my exact flight details so he was meeting all the flights from the east coast outside of customs. When he finally saw me, he screamed, "CARLIE!!!!", his nickname for me. I will never forget that moment. Soon we were in our rental car and on our way to meet my father and uncle at a cousin's house for dinner.
So 30 meters inside a cave in southern Portugal, I wasn't worried. The captain's confidence assured me that we weren't going to die and this was par for the course. Unfortunately the nice Spanish lady behind me suffering from seasickness was less convinced as she gripbed a plastic bag they had passed out.
We spent the next hour exploring the beautiful coastline and the sea calmed down so that most of the passengers had some color return to their faces. Jorge was unusually quiet for a while and I knew he was feeling the effects of the sea. But soon he was perking up as the trip was nearing its close. The purser apologized that we hadn't seen any dolphins but they couldn't control the wildlife. Jorge said that it was a bit like a "snipe hunt" when going camping.
But as fate would have it on our way back to port, some dolphins had been spotted so we headed back out deep into the sea! Jorge who was just beginning to feel normal was not amused.
In the end we spotted a group of boats which meant the dolphins were closeby. Sure enough, soon we were seeing a group of at least four dolphins swimming and jumping in the water. These dolphins were not snipes in the least.
After the cruise we were all happy to be back on land and in need of a nice lunch. So we headed to the old town of Albufeira and found a little fish restaurant that had a good enough Portuguese to foreigner ratio. For once, we each ordered our own dishes and I chose a nice skewer of monkfish and shrimp. I love the firmness and flavor of monkfish as it is often called the poor man's lobster.
Lunch in Albufeira
The heat of the day was upon us and with full bellies we drove back to our little Airbnb. By this time, the western seaboard of the US was coming online, so I used this as an opportunity to call a few friends and my in-laws. I filled a glass of wine, and walked across the street to a park bench where the afternoon sun (at 7:30 pm) was shining bright. It was great to catch up with everyone and to get a nice dose of the people I love. Two glasses of wine later and a brimming heart, we needed to head to dinner.
Walking to dinner in Olhao
We had decided that we wanted cataplanas for dinner. I love seafood and cataplanas is a wonderful "best of the sea" bowl of shellfish. We ended up at Rio Formosa, which was very busy and called itself the "King of the Cataplanas". There were no tables but people were finishing up with the main seating by this point and we got a lovely table in the front. Jorge wasn't super hungry so we ordered a cataplanes for two and a nice salad. We were shocked that the size of the bowl was huge. And so delicious! The three of us barely finished the feast.
Cataplanas for two!
This meal cost HALF of our Plazeres tourist lunch from the day before and was so much better. It was a lovely way to end our time in Portugal. I left wanting more. Portugal has such a different feel than Spain. It's hard to describe the differences between the people of each country. I am so familiar with the Spanish people. But something is also drawing me to the Portuguese. Their hospitality is warm and genuine. As our fado singer sang, "We greet you with open arms."
We had a quiet drive home back to Torremolinos. This was the first trip for Jorge, Jack, and me. As it wrapped, I was super happy that we all ventured so well together. Jack mentioned that he is often the one others turn to for organization and guidance. I feel the same way. We talked about this at length. Both of us have leadership skills and we aren't afraid to use them. In our professions, this served us both well. But he enjoyed that both Jorge and I came up and executed ideas allowing him to not be in charge at times. The only thing we didn't do during our five days together was spend too much time apart.
When I travel with friends, I believe it will be most successful with the 2-1 plan. This means that after two full days of traveling together, part of the third day has to involve some activities apart. This helps keep things fresh and gives something to talk about when you come back for dinner!
Even when traveling with my hubby, I find that there is a huge benefit to spending some time apart. I marvel at my brother and sister-in-law because they are always together. There is no way I could do that in my relationship. I really value my time apart. And I think it makes me a better partner. Whether this translates to spending a year apart has yet to be seen. My optimistic view on life definitely believes that the year will make me a better person. And hopefully a better partner.
As we pulled into Torremolinos, I was feeling very content with this vacation from my vacation. We had seen and experienced a wonderful side of Portugal. And most importantly, the three of us had all grown closer. And as I continue to bill The Sabbatical as a solo journey, it is significant how important others are to me.
---
Last edited by olafman; Jul 28, 22 at

6:10 am
Jul 28, 22, 6:35 am
Join Date: Aug 2005
Location: BKK
Programs: Mucci Chevalier de la Brosse a Cheveux Dore, SK *GfL, BA Gold, WY G, HH DIA, IC Plat Amb., Hertz PC
Posts: 2,501
I really enjoy reading your posts - and I admire both your and your husband's dedication!

Looks like you are having a wonderful time, and I wish you all the very best!
Aug 6, 22, 4:26 am
Join Date: Nov 2000
Location: SF Bay Area, California
Programs: AA2MM LIFETIME PLT, Turkish Miles&Smiles Elite, Marriott Plat
Posts: 1,013
THE SABBATICAL MONTH ONE: Torremolinos, Spain (continued)
---
Back at home in Torremolinos, Jorge and I lunched at our local Cafeteria Avila with Andres and Alexandra. When we were there on Monday last week we really enjoyed the meatballs. So when ordering Jorge mentioned that we were hoping they had meatballs today since it was Monday. Andres was so sweet that he said they hosted a private dinner the previous evening and that he might be able to give us a plate even though they weren't on today's menu! AMAZING. Eating there is like going home to your mom's house for lunch. Except that my mom never offered me a glass of wine with lunch!
Gazpacho at Cafe Avila
After our mandatory nap, another friend Javi from Madrid texted that he was in Torremolinos and was at the beach! So we met him and caught up as we bobbed up and down in the Mediterranean. After he left we went to the Eden chiringuito and David showed up because he was back in town. This is how life seems to go here. It is so easy to create community. Spaniards are so open and friendly. We decided we would have dinner later at Estragon with David. Unfortunately, the only reservation we could get was at 9:30 pm, the sun wasn't even down yet!! But we took it because we wanted to try this offshoot of another favorite restaurant La Caléndula. This was Jorge's last night with me before he had to head back to Madrid for work. Those banks don't run themselves!
At the beach with David
What a spectacular meal we shared together there. I simply love fois gras. Keep the execution simple and I am happy. They did a great job. My doctor might complain that I have eaten fois three times this month. But it pleases me so. At my funeral please say nice things about me and how I really enjoyed life. Skipping an opportunity to eat fois is criminal. We enjoyed a variety of other dishes including a Malagueño sausage dish was deep with flavor. Both of La Calendula's restaurants are top notch and set a high standard for Torremolinos.
Fois gras is my favorite
Our Tuesday began with the usual breakfast at Bolevar and then the gym. I used the rest of the morning to do my writing. As Jorge was flying out at 9 pm, he wanted some quiet beach time on a hamaca under a sombrilla. The rental is a very reasonable €5 at most places. Not bad to spend the day at the beach without getting totally burned.
I am not much of a beach person. With my Scandinavian skin, I do my best to stay out of the sun as much as possible and use sunscreen at all times. I have lots of old man brown spots. My doctor said I could live with them or he could burn them off and have lots of scars. That's a hell of a choice! I have burnt off the bigger ones and yes, the scars ain't so pretty either. The lesser of two evils I guess. In the Bay Area, I spent very little time in the exposed sun but here I am out in it tons. It's a continuing concern.
One of our friends had recommended the sushi place InAsia in Benalmádena so we did the 30 minute boardwalk walk in the midday heat and happily arrived at a nicely air conditioned restaurant. Against my better judgement, it was a sushi buffet which kind of scared me. But my friend explained that there is a menu and you keep ordering from the menu as long as you want. Everything was freshly made to order. This was much better than I had pictured. Overall the sushi was of average quality and definitely met my expectations for €18 a person. And I enjoyed the variety as it was the first ethnic food I had eaten since I left!
The fun part was you ordered from a iPad tablet and your food was delivered by both robots and humans. My nephew in South Africa loves robots and I made him a video of our new robot friend. Due the heat, we opted to Uber back home. Cheap, fast, and cool.
Jorge and I are headed at the end of September to do a week in Egypt. It will be the first and probably only time I make it there. I am really reluctant to go. Their prosecution of gay people is HORRENDOUS. Our son really wanted to go their during his Fifth Grade Around the World year, but I vetoed it because I wouldn't feel safe as a gay family there. Recently, my dear friends Tom and Charlie spent ten days there and really enjoyed it. So much history to see and experience. They reported not having any problems with being a married gay couple. They were a tipping point for me and Jorge and I Iooked into some tour options. Fairly quickly it was all booked.
Before he left for Madrid, we both sat down and applied for our Egypt e-VISA. I think this is much better than having to figure it out on arrival. It was delivered to my email in a couple of days and I just have to remember to print it out before we arrive.
As we walked through town to the Torremolinos station, we left time to have a final drink and tapas together. I had really enjoyed our ten days together. Jorge is an amazing person and inspires me to be more outgoing with strangers. He is so friendly and open with all the people he encounters throughout his day. We travel very well together too as I have written. As a fairly new friend of only five years, I am so glad that we have become such close friends. He always refers to me as Mama and I call him "mija" (my daughter). When people ask if we are a couple, I simply explain that he's my daughter.
After a quick goodbye and a "see you in September", he was off.
My days since his departure have been simpler and quieter but still quite social. I spent a chuck of this day trying to figure out what I was going to do for the rest of the summer until I leave Europe. I intentionally wanted to leave things fairly open. So on this day I decided that I wanted to return to Torremolinos and spent the month of September here. I was really enjoying it. The issue was I needed to book an apartment. I spoke to my brother and sister-in-law in Portugal and asked if they wanted to come spend some time with here with me. They said yes, so I needed to book a two bedroom apartment for the time they are here. I began looking at options and decided to splurge on a stunning apartment right on the coast with an amazing view down the beach to the west. When we traveled the world last time for a year, I had a monthly budget of $2000-ish for our lodging. In India and Vietnam we got wonderful places with that budget. Melbourne was a tiny two bedroom flat. So traveling on my own, I also was thinking I would keep the $2000 a month for lodging as a goal this year. Unfortunately in Europe that budget is proving to be a bit tight so I am pushing it up a bit for some comfort and nice views.
After tapas David and I strolled around and walked past the September Airbnb. It was definitely beautifully located and had a stunning pool too. I love walking around at night because the temperature drops and there is always a nice breeze. On top of that, everyone is at bars and cafes in the streets so it is such a festive ambiance.
My morning started with a text from José Manuel to meet him for a little breakfast. We walked to the Plaza de España near his salon. Since he lives in the area for many years, he knows everyone around. I really enjoy seeing such a connected community. Spanish people live in the streets starting their days in a cafe for breakfast and then a menú for lunch, and then tapas in the evening at another bar/cafe. It's a very social life. As I write this, it is 9:37 pm and there is still sunlight. I am in the center village on the pedestrian street. It seems that all of Torremolinos is out walking, enjoying the cooler air after a very warm day. Today was the hottest I have experienced so far with temperatures reaching 96º here on the coast. The locals said these high temps were due to a strong wind coming up from Africa. The humidity dropped and the temp rose. But around 3 pm, the winds stopped and fog immediately settled in dropping the temperatures considerably. As the news reports record breaking temps across the United States and Europe, I am very content to be seaside here where the climate is much more temperate most of the time.
The retirees of Torremolinos. The question is do I need some white framed glasses to fit in? Or at least some heavier lip liner?
David happened to be in town visiting a friend so he invited me to tapas that evening. I have really enjoyed getting to know him better this visit after meeting him last summer. He offers me refreshing perspective on life here as a working class Spaniard. He is very blunt with his clarifications on how most people in Spain deal with daily life. He comes from a small village up in the mountains behind Malaga. After finishing high school, he worked for many years picking avocados. Growing up his family was poor. They cooked on a wood stove. Birthdays came and there was barely money for food and a gift. His stories were genuine and helped me understand life in the country. I grew up on a big American farm but it was nothing like that. When my grandfather and family came from Denmark, the beginning years were lean. But over time they became middle class and then it grew from there. By the time I was born, my grandparents always drove a Chrysler Imperial the size of a boat. They traveled frequently back to Denmark to see their brothers and sisters and their growing families. America was the land of opportunity and it had provided well for them and their three daughters. The story of David's family was so different and made a huge impression on me.
Working at the hotel, he makes a basic salary and is constantly thinking about money. He has ended up traveling quite a bit around Europe and even made it to New York one time. He mentioned that they went to Frankfurt. And I asked, "Why the hell, did you go on vacation to Frankfurt?" He explained that each time now that he has vacation days, he goes on SkyScanner and finds out the cheapest place he can fly in Europe. Then he and two other friends from his pueblo book €60 plane tickets round trip and start piecing together a super cheap trip. Since they are from the village, being in a big city with large skyscrapers is a great way to spend their vacation. I love his adventurous spirit and his careful understanding on how to do it within their budget.
I woke the next morning not feeling great. My stomach wasn't in great condition but I would push through. So a little breakfast and then I made it to the gym. By the time I returned home though, my stomach was more than talking to me. I had been gone four weeks now and this was the first day that I wasn't feeling great. I usually have an iron stomach. Jack had mentioned that he drinks bottled water here in Torremolinos. I poopoo'ed his caution stating that I drink the water anywhere in the EU because of their controls and regulations. As I spent more and more time in the "smallest room in the house" that day, I began to rethink my openness to drinking from the tap. The tap water did have a peculiar taste that I had been trying to ignore.
I actually went back to bed and slept. I got up to drink some bottled water and then slept the whole afternoon. By 9 pm, I was feeling a bit better and decided I needed to get some electrolyte drinks and maybe some chicken soup. The walk in the late afternoon air felt great and my body really enjoyed the Powerade drinks. I even ate some Cup-O-Noodles type soup.
In the end I was down for a day but felt fine the next morning. I babied my stomach a bit the next day but it seemed like I was back and running. Was it the water? Or something I ate the night before? I will never know. But I am now schelping home bottles of water each time I go out. Better to be cautious. I should have listened to my Papa Jack.
I did remember that it was my son's birthday before I went to bed. He is twelve hours a behind me in Hawaii. And if he wasn't working, he would be sleeping until noon. Luckily I caught him at 9:30 am getting ready for work. My husband is back in Hawaii visiting for two weeks so he was with him for breakfast. It felt weird being so far and disconnected from him on this day. I took pride in throwing elaborate birthday parties over the years. I love any good reason to have a party. And birthdays are a great thing to celebrate. I remember one year I made this 5 foot long train cake. I had to go to Home Depot to buy a piece of plywood to serve as its base. All the other moms and dads were very impressed and asked if I would make cakes for their kid's birthdays! It was an act of love though and I wasn't looking to get into the cake business. My best friend and financial advisor Robert would often caution me that some idea I had wouldn't scale. So I would never make any money. It's good advice that has served me well over the years each time I think I have an idea for a new business.
So a five minute conversation for Corbin's birthday seemed short and very unfulfilling. This was a reminder that in order to go on my solo journey, I would be giving up a number of important things. Connection with Corbin is definitely one. This year is about me. And I sit here wondering what it will do to my relationship with him if we moved to Europe for the next chapter. Maybe once he is married and has kids, we will want to be near our grandkids. But I am really hoping he waits another decade before procreating! This gives us a number of years to adventure and figure out what we are going to do in the future.
My Friday started with a couple hours of writing. It's a great way to start my day with a cup of mediocre Nespresso cafe de casa in hand. But as I was sitting there, my phone kept buzzing. And buzzing. My paddle surf group was meeting and everyone kept texting about running late and other things. The nice thing about being in this WhatsApp group is that it inspires me. I was going to skip the morning paddle because I was trying to nurse my healing stomach but I was finally motivated to quickly get my act together and get down the beach. I had lied low the previous day and it was time to get back into the swing of things.
It was a great decision. Jack and many others had already blown up the boards by the time I got there. But soon, the first set of folks out were on their way back in and I got on a board quickly. I was very wobbly today. I was instantly stressed. I pushed through the paddle but never found my stride. A couple of times, I sat down on the board to catch my breath. Paddling and balancing is hard work. And today it was especially challenging. After about twenty minutes, I headed back in feeling like I never really got my sea legs.
Jack and me after our paddle
The nice thing about DiverSport is that I always meet really nice people. Today I met Rosa who is a grad student and her experience in unicycling has helped her a lot with paddle surfing. I instantly love anyone who can ride a unicycle.
I made it out on the water a second time and it went much better. The key thing that I didn't do the first paddle was to keep my eye on the horizon. I was looking too much at the board and not enough further out. The same has happened to me so often in life. You get too focused on the small details around you and forget the bigger picture. It's a mistake that I keep on making. Often my good friends help pull me out from the weeds, reminding me of the important things of life. But today, it was I who refocused away from my struggling feet and moving board to the far off horizon. In the end, I ended with a real confidence and knew it came from within.
Jack mentioned that he would be hiking up from the beach with TWO deflated boards today. I thought he was crazy. The heat of the day was beginning to hit and 150 steps up the cliff might be a lot for his heart! So I offered to help him out and thus saved him a trip to the hospital. Jack is an amazing organizer. I appreciate all he does to bring folks together and build community.
During our year of FifthGradeAroundTheWorld, we discovered CouchSurfing to meet locals and fellow travelers. I was pleased to see that there was CouchSurfing event "Welcome to Malaga" that evening at 8 pm. It took the train in a little early and enjoyed roaming the streets of the old town before the event. I ended up for a drink at a local place and enjoyed some great conversations with the waiters. He were saying that this year the heat was more than ever. It was definitely taking its toll on them.
The CouchSurfing event was lovely. I met people from all over the world. I really enjoyed chatting with two women from Ukraine. One had been here 12 years and the other was a recently arrived refugee. They both had amazing stories. I met people from Russia, Saudi Arabia, Poland, France, Australia… So many backgrounds and all with the traveler spirit.
By the time I made it back to Torremolinos, David and José María were out and asking if I wanted to join for a drink. Let's say it wasn't just one drink but we had a lovely time albeit late into the night.
Out in the Nogalera
At my age, I definitely pay a price for staying up late. And drinking. My aged body complains the next day, as it should! Spain is an easy place to stay out late and enjoy yourself. Luckily, these days it is the exception and not the normal of everyday life.
The nice thing about the gay, social networking apps is that when you feel social, it's fairly easy to find someone to hang with. I had been chatting with a Moroccan guy who is a hotel manager up in Leeds. He suggested we meet and hang under a sombrilla at a beach nearby. I wasn't up for much more than just laying at the beach so that would be fun.
My straight friends are always amazed how the gay mafia network works. It's like being a member of a secret club with special advantages and privileges. As I used to travel a lot for work and sometimes I would get tired of eating alone. So after chatting with a local in any random city, I might suggest meeting for a drink. And if he was halfway interesting, I would invite him to dinner. Most of the time it worked out great and I got to make a new friend. If the connection wasn't great, who cares? I wouldn't ever see him again. But being the optimist that I am, I expect a positive result.
I do the same thing when I am at an airport. I often have multiple lounges I have access to. So I throw it out there on Grindr and Scruff that I am happy to guest someone in. I tell them that they don't have to sit with me or chat, just happy to do the favor. Well, they ALWAYS sit and chat with me! I have met so many wonderful people this way. And it's not just guys through the app. I have met men and women on the Hertz bus or hotel shuttle, and if it seems appropriate I extend the invitation. I love sharing this with everyone, especially newbies! I love seeing them experience it all for the first time. "YOU MEAN THIS IS ALL FREE?!? AS MUCH AS I WANT?!?!". And like a drug dealer hooking their clients, I create fellow travel dorks. Hong Kong is my favorite place to do this as there are a million lounges I can usually get into. Guesting someone into the Wing or Pier First Class lounge that I just met on Grindr is mind blowing. But then I suggest that we do some lounge hopping. CX has a nice variety of lounges themselves. Qantas has a great lounge in HKG. BA has one too. Then there is the AMEX Centurion Lounge. And the multitude of Priority Pass lounges. It's hard to leave the Wing, but if you have a long layover, it's fun to explore. And make new friends.
So in my mildly hung over state in Torremolinos, I met up with Muss at a chiringuito and we had some coffees. He was a very sweet guy and a knowledgeable traveler. He shared some of his experiences in Taipei which I was very interested in because I am there for a week in December. I also really look forward to exploring Morocco more in the future so he shared lots of ideas. We finally made our way out to an umbrella and beach chairs. It was a warm day so the cooling waters of the Med felt great. We talked the whole time. But finally around 3:30 pm, I needed to go grab a bite to eat and take a much needed siesta.
It's hard to commit to another night of going out after a late Friday night. But David was officially on vacation so we all met up again and had another lovely evening. I really enjoyed getting to know his friend José María who is quite shy at first. But soon enough, he opens up and shares his great spirit. It's a city counselor in their small village which is an unpaid community service position. I kept making jokes about him being a high powered politician but he was assuring me that it was NOTHING glamorous.
On Sundays in Spain, many things still remain closed. This includes the big grocery stores. I am all for it! We learned in Germany that having things closed makes you enjoy your Sundays more with your family and friends. BUT I was having David and José María over on Monday night for a home cooked meal. And I needed to shop. Luckily I found a Mercadona supermarket that was the exception and was open until 3 pm. I bought all the things I needed for their dinner. This allowed me time on Sunday to do lots of the prep later in the evening.
When I was in Spain last summer, Jorge and I walked by a number of McJamon cafes. They were sort of the Spanish food version of McDonalds. Beer, Spanish ham tapas… They must have gotten sued at some point by their American cousin because they now had the name MG JAMÓN. But the little line on the G was tiny. I honestly didn't notice it for the longest time. Ronald McDonald might be a clown. But he also has lots of big lawyers who are really concerned about international copyright.
Spanish fast food at McJamon
This month in Torremolinos required me to go tryout McJamón. Unlike most cafes here, you order inside and pay immediately. Then they call out your name when your food is ready. So they cut down the labor costs and are able to offer cheap prices. And I was amazed at the quality. Jorge had assured me that everything was very good and indeed it was. I sat and did my daily writing as I enjoyed a beer, some Ibérico ham, and some aged lamb's cheese toasts. It beats the heck out of a Happy Meal. Ronaldo McJamon knows what he's doing.
I loved spending my evening prepping for my second dinner party in Spain. Our first course would be languostinos (large prawns) in Spanish olive oil and garlic. More than once, David and José María told me that they are country boys. They don't like fancy food. José María doesn't even like butter, cream, or most cheeses in food. He didn't grow up with it and has never developed a taste. So I enjoyed the challenge of feeding them food that they would enjoy. I ended up asking lots of questions. I suggested I do a shrimp scampi with butter but they nixed that! Olive oil only. "Somos españoles, joder!" So I removed the shells and heads and prepped the bodies for a nice brine before cooking them the next night. I cooked the removed parts to create a flavorful broth adding wine and fresh thyme. I had lots of langostinos so I made a sample. Delicious.
The Spanish don't usually eat garlic bread. But EVERYONE loves garlic bread. I made some with butter and some with olive oil. I prepped the sauce for both so that all I had to do was cook it when we were ready.
I purchased a nice piece of beef. Buying meat in foreign countries is always interesting. I do better if I go to a butcher and can have a conversation. But my Sunday Mercadona choices were slim. So I bought a bone in steak of some sort. It wasn't very marbled but looked good. I salted it and let it dry out in my fridge for a day the way my friend Kenji Lopéz-Alt has taught me. I also bought some pluma Ibérico which is a deliciously tender pork coming from the end of the loin. It is beautifully marbled which gives it such wonderful flavor. The boys from the pueblo would not be leaving hungry.
I also prepped the carrots and made a chimichurri sauce. As I have written, my parents taught my brother and I that entertaining is a wonderful way to create opportunities to deepen relationships. And preparing for a dinner at home is something to be savored. I was in heaven.
The reason I had to shop and prep on Sunday night was that David was fetching me to spend the day visiting his pueblo and other towns near to his home. It was going to be a full day but I wanted to also make them dinner at the end.
So David and José María picked me up at the early hour of 9:30 am. It was an hour journey to cross Malaga and head up into the mountains. We finally arrived at a quaint, little mountain village of Almáchar. Both of them were born there and had lived there their whole lives. The village sat on the side of a mountain and its tiny streets climbed up and down. David said that he usually parks on the main road outside the center and always walks everywhere. Most places are not reachable by car. There is a square and a nearby church helping define the center. A couple of shops are spread out. The post office is open only an hour each day, from 10:30 am - 11:30 am. It really reminded me of my grandmother's village, Arette, in the Pyrenees Mountains. The church is in the center of town. Everything else spans out from there.
Almachar in the mountains above Malaga
The quiet streets of David and Jose Maria's village
Even a tiny village has a gay pride bench! "Kiss me at this corner!"
David explained that there was a horrible sandy wind that arrived in March from Africa painting all the beautiful white buildings in his village a dirty tan. It happened all over this region. Before it was a source of pride to have all the village painted in white. And now it challenges everyone as they try to afford the paint to return everything to its former glory.
At one point, we arrived at a front door and David announced that his sister lived there. He called at the door. Everyone leaves their front door open in the village and has the hanging beads to keep the flies out. His sisters soon appeared and instantly welcomed us. We sat on the patio and she served us cool water. It was a warm day and we were all thirsty. Then she said she had just made a gazpacho. Would we like to try? It was only about 11:30 in the morning, three hours until lunch. But she was insistent and soon I was enjoying her amazing light and flavorful gazpacho. She served it in a glass with ice. Since she had just made it, it hadn't had time to cool. It was amazing. Perfectly seasoned and with a freshness that only comes from using recently picked ingredients.
Her daughter was moving to Chicago on Sunday to teach special education and learn English. David summoned Cristina out of bed in order to have her meet me. Such a delight. Her boyfriend also showed up and I got to meet them all. David says that living in the village with all his family means a lot to him. They don't necessarily have a lot of material things, but he loves spending time with them all.
Soon enough we were saying our goodbyes. I was so happy to meet them. David had told me about them all and I felt privileged that he shared his family with me. We tried to stop in on his nephew and his family but they were out. I loved seeing them both greet everyone as we walked around. The village only had 1800 inhabitants. They know and say hi to everyone.
David drove us next to Frigiliana which has been voted one of the most beautiful villages in Spain. They were hit by the same sand storm but the local government has helped the villagers afford paint as the village depends so much on tourism. So most of the village is a gleaming white like many Mediterranean villages. By this point, the temperature was rising. We were inland and it felt hotter than my coastal town on Torremolinos.
As we walked the streets, we were greeted by one picturesque sight after another. In the center area, it was very touristy with lots of shops and restaurants but still lovely. We walked up and down and around the tiny streets and enjoyed all its beauty. Frigiliana was well worth the heat of midsummer.
Firgiliana - one of Spain's most picturesque villages
David had planned that we would wait to have lunch in Nerja, about 30 minutes away down on the coast. So we drove down with big appetites. The center was a labyrinth of tiny walking streets which luckily provided lots of shade. We arrived at a great place where we could sit outside where we could enjoy the energy of the pedestrians. David and José María did the ordering and we started with some fried eggplant with local honey made from sugar cane. Delicious! Next we had two of my favorites: croquetas and meatballs. More food arrived and soon we were all stuffed. I had tried to negotiate with David ahead of time that I would like to treat them to lunch or fill up his car with gas! He could choose. Unfortunately, I lost on both accounts. They treated me and also wouldn't let me pay all the gas for the day. Their generosity overwhelmed me. Truly amazing.
We walked out to the Balcony of Europe on a cliff overlooking the surrounding beaches and the Mediterranean. It was a glorious day and we could see forever. We took a picture with a statue of an old Spanish King, Alfonso XIII. I wanted to put my hat on the king as we took a photo with him but they dissuaded me.
The Balcony of Europe in Nerja
Nerja
I look forward to repeating this trip when my brother and his wife visit me in September. I really have been enjoying my time in Southern Spain. When I thought of three months in Europe, I only committed to the first month in Torremolinos. And then I decided that I would visit my brother next in Portugal. But recently, I decided that I wanted more time here so I would be returning to Torremolinos for a month before Europe kicks me out and we head to Egypt.
The decision felt good. I am enjoying my life here. I keep wondering if it is going to get a little quieter at some point. I feel like I am not doing enough reading. I just finished one, single book in the month that I have been here. That only happened because I only read on the elliptical machine at the gym. I haven't even finished any painting. I started the trip with high hopes that I would be painting every day. Finally I am always behind on my writing. But I am okay with this because I like letting all my experiences settle in a bit before talking about them here in my writing. In the end, I leave feeling like I want to experience more. So another month is now booked. And it feels good.
We drove back to Torremolinos and we all took a nap. David and Jóśe María had been staying at a friend's flat near me so we enjoyed some quiet time after a day in the heat. This had been a hot day. Leaving the coast made a huge difference. Here, I rarely see the temp get past 85º. And there is always some sort of cooling breeze. I hear that Sevilla was over 100º yesterday. But there, it's a "dry heat". Still hot.
I was very excited to have my local boys over for a home cooked meal. David shared that they don't eat much in the homes of their family and friends. They just always go out. So it was something different for them to be invited in. He kept reminding me to keep it simple.
The evening turned out wonderfully. I really enjoy the intimacy of eating in. In spite of having prepped many things, I still had some cooking to do. So we chatted as I cooked. José María was appointed DJ and had Spotify serving us up a nice variety. Our first course was my version of Gambas Pil-Pil, garlic-chili prawns in olive oil. I served this with the garlic bread that I made from two whole loaves of bread. I am famous for burning the garlic bread. I somehow always forget it as I try to get dinner on the table. So I assigned our DJ to sit in front of the oven and continually watch it. He did a great job. It came out perfectly. He was very proud. They liked the gambas, but the LOVED the garlic bread. In fact at the end of the first course, it was all gone except one piece.
We had a nice pause again between courses so I could cook the steak and pork. The roast carrots and potatoes had just finished. Since the garlic bread had gone down so well, I found more bread and quickly threw it in the oven. Everything finished perfectly except by the time I remembered the second batch of garlic bread, it was black. I kept to tradition and burnt the garlic bread. I hadn't wanted to interrupt our discussions by asking JM to watch it and now I was paying the price.
Luckily the meats were all perfectly browned and cooked. I had bought lots because I knew they were good eaters. We sat for an hour chatting and slowly eating. They complained about being full but continued to eat until we finished it all. The evening was one of my favorite moments in Spain.
I'm a "do the dishes in the morning" kind of guy. My husband complains most of the time I am in "Mommie Dearest" mode where I love things clean and he fears getting hit with a wire hanger if they aren't. But when David and José María finally left, I sat on the couch and enjoyed the evening breezes. I love enjoying a quiet moment after entertaining. I witnessed my parents experience this many times. For my father, it meant a moment to sit and have another cigarette. He might have a bourbon too. He and my mom enjoyed these moments together as much as they enjoyed when the people were around. As I got older, I would return home from an evening out and find them in this exact moment. Even on my own, there is something special about processing the evening in a more private manner.
Last summer I approached my 8 week adventure to South Africa and Europe with lots of flexibility. COVID was going strong and regulations were changing daily. For the most part everything worked out. I had backup plans of going to Servia or scuba diving in Egypt for two weeks. But my original plans mostly unfolded the way I had planned.
I didn't anticipate that COVID would still be an issue a year later. A couple of weeks ago, Singapore canceled my new Suites flight to Hong Kong. And now I received an email that Cathay Pacific had canceled my flight to Taipei. Poor Hong Kong. As of this writing, they still have a 7 day quarantine and it's killing passenger traffic. So the flights are getting canceled for December. I had hoped that Hong Kong would be open and I could stop off and see friends. But I am giving up on that hope. My thoughts go out to everyone at CX. It's a disaster for them. My canceled flights are just the tip of the iceberg. This is huge for so many in Hong Kong. I look forward to returning one day after all this is over.
I loved spending a chill day at home doing dishes and working on future travel. I didn't leave my flat until 9:15 pm and the sun had just set. I took a long walk and enjoyed the summer evening. Torremolinos is a perfect place to do this. I stopped at a new cafe to write and have some yummy tapas.
I did my first round-the-world trip at age 20 during the summer before my senior year of university. A friend and I spent three weeks hosteling through Europe and then moved on to Asia for five weeks. The previous summer I had sung in a concert tour in Moscow, Estonia, Kiev, and Paris. I loved summer traveling but wasn't the biggest fan of traveling in a group. So the following summer one of my fellow singers and I set out on our own on an amazing trip but no concert performances. Just travel. I learned so much about traveling that summer. The eight week trip took tons of planning. And that useful tool called "the internet" hadn't been invented yet in 1987 so we bought travel books and talked to people. The highlight of the trip was to spend three weeks in China. Tourism in China was just starting for westerners. The bible of travel there was the Lonely Planet book that gave some ideas on how to make it work. Another big resource was a hostel on Nathan Rd in Kowloon, Hong Kong. It was the launching point for budget travelers into China. I remember talking to so many travelers there who had recently returned from the middle country. It was a great way to experience the world. I always recommend that new travelers stay in hostels to meet people and exchange ideas and experiences.
Now I am a bitter, jaded, old queen that likes First Class and five star hotels. But in my youth, hostels were exciting. They opened the world to two, poor college students.
Malaga's mayor transformed his city from an industrial town to a city of museums. There are now 30 new museums due largely to his influence. So I was long overdue for a museum day.
I decided I wanted a day in Malaga to explore some of its many museums. The internet has changed access to information for planning travel. Prior to my morning departure, I researched taking the bus, I bought a ticket for the bus on my phone, booked a time and bought my ticket to the Museum Picasso, downloaded the museum app and the complete audio guide, found a place for ramen… I am a planner and love organizing my day's excursion.
I loved the bus ride into the center of Malaga. The bus had wonderful air conditioning, much better than the train. I also enjoyed seeing all the morning sights. I arrived a bit early before my scheduled entrance so I enjoyed a nice coffee nearby. I love cafe living. It's the best part of arriving early. And I think my cafe con leche con un vaso de hielo was €1.50!
A Malagueño cafe con leche
Pablo Picasso was born in Malaga so it is a fitting setting for a museum in his honor. His grandkids donated lots of wonderful original pieces. I really enjoyed seeing everything. I also much preferred using my own headphones and phone instead of holding a museum device to my ear. I wish every museum offered this option.
The streets of Malaga
Back at work in San Francisco, I would go out to lunch each day. At least once a week, I would have ramen. I had a fantastic place near my work. I would enter and they wouldn't even bother giving me a menu; they knew why I was there.. Spicy black miso ramen would just appear at some point and I would be happy. I looked for ramen in Torremolinos but couldn't find what I was looking for. So I found a place called Udon that had ramen on the menu according to the internet.
Well, unfortunately, I should have stuck with Spanish food. Spaghetti noodles in a chicken broth with some pork bits didn't exactly meet my expectations of pork tonkatsu ramen. I will hopefully be in Japan this December if they let me in. I will get my fill of ramen then.
In the afternoon, I visited the Museo Carmen Thyssen. I hadn't pre booked a ticket because I was unsure I would make it there. So I simply asked for an entrance ticket at the main counter. MUCH TO MY SURPRISE, she charged me for a senior citizen ticket at only €6! DID I LOOK 65 YEARS OLD?!?!? My bruised ego and I entered the museum and enjoyed the art of 19th-century Spanish paintings. While it's a small museum, it was worth the visit. I noticed that the museum restaurant even had a Menú del Día for only €12! I should have eaten there.
SERIOUSLY??? Do I look 65 years old??!?
I took the train back to Torremolinos stopping along the way at the outlet shopping center, Plaza Mayor. I had been trying to find a white long sleeved swim shirt to use while paddle surfing. But I didn't find anything close. I hate shopping and soon was back in Torremolinos.
I got home and read yet another article on the monkey pox issue. This is getting serious. Spain has the second highest number of cases after the US. And it doubled in the past month. Ugh. Last summer I was battling COVID issues. And now this summer monkey pox is causing me to be cautious. And I hear from friends that the sores are EXTREMELY painful. The last thing I need is to be quarantining for three weeks. I leave for my brother's in Portugal soon. And we have lots of plans. I don't want monkey pox to mess up all my plans. I will have a better understanding of the state of monkey pox once I return to Torremolinos in a month. But I fear this is just getting worse. Much worse.
That evening Spanish TV aired a show "Toda La Costa" (All about the coast). Earlier in the month, TV cameras caught Jorge and me at the gay chiringuito watching a drag show. Well Jorge and I did end up in the broadcast. Here's a screenshot of our moment.
Spanish TV with Jorge and me on the left!
On my last final day in Torremolinos, I spent the morning packing. I wore about 20% of the clothes I brought with me. I traveled with two 32 kg checked bags from San Francisco. My plan all along was to leave one of my bags with my brother. So it's going to be fun reducing down. Do I really need two winter jackets? And 12 pairs of pants?
The joys of packing
As I packed I tried packing my black bag with all the things that I would be traveling with for the rest of the year. Then I put everything else in the purple bag that I would leave with my brother. It was an interesting exercise. Unfortunately, I would find out later that packing this way was a HORRIBLE MISTAKE.
By noon, I was mostly packed. I was really scared that my bags would would be over the 32 kg per bag limit. I could still lift each bag so I figured they were okay.
I looked at both menús of the nearby restaurants for my last lunch. Today Gran Cafe Quinto Pinos won with its offering of soup, Secreto Ibérico, bread, and a glass of wine. I even had a lovely melon as my postre. A bargain at €9.
My last lunch in Torremolinos for this visit
I went home after and took my traditional nap. I was slowly winding things down. Friends were texting to meet for dinner but I had an early morning so I needed to be in bed by 10 pm. Instead, I took a long walk and spent some time at my Bar Jerez writing. Of course some octopus in vinegar and gambas pil-pil helped keep my beer and me happy. After a month of The Sabbatical, I was a seasoned cafe writer. People see me alone writing and often will ask if I'm a writer. Am I a writer? It's not my profession in the least. My husband is the professional writer in our family. He has been a paid writer for his whole his life. Peg Bundy didn't think up all those funny lines herself! In fact on the 11th season of Married…With Children, Katey Sagal told the writers that she didn't want to learn too much blocking so, when possible, please write her lines to be delivered from their iconic couch. Of course, once when I was visiting for a taping, Terry and I took a Peg and Al style picture on "the couch".
So this year I guess I am a writer. I am documenting my life, my thoughts, and my journey. As month one comes to a close, I can say that it's not exactly what I thought it would be like. I am busier than I would have ever expected. I led a busy life back in San Francisco. So why should it be any different here. But I wonder if I am journeying enough? Am I pushing myself enough? Am I exploring and reflecting enough? I don't feel that I am.
The first month has been about getting my sabbatical sea legs. There is no rule book guiding me. Terry and I are trying to figure out how much space we should offer to each other. I expected to miss him. We are apart. It's natural.
But when I am talking to friends or FaceTiming, there is a common theme that they all report how happy I seem. I am beaming. And relaxed. My friends are noticing a difference.
My husband deals with chronic depression. It makes his life so different from mine. I am the eternal optimist. Always perky. Always excited about the coming of a new day. Luckily he has the benefit of lithium. And also the benefit of the best antidepressant, going jogging. The problem is he doesn't jog everyday. And the lithium doesn't always make him feel okay. Some days the depression wins. Those are hard for him. And they are hard for me. Winnie The Pooh has his friend Eeyore who seems to struggle with depression. Pooh is a supportive friend and they navigate life in the Hundred Acre Wood together and with a community of others. Pooh and I have a lot in common.
This first month of The Sabbatical has shown me there is a significant weight on me from Terry's depression. I have realized this before. But I was not able to judge how heavy that weight feels. With a month apart, I am different. I am lighter. But I am worried of course. I hope Terry is okay. I hope that he is dealing with his family. I hope that he is figuring out his pathway without feeling overwhelmed. Part of my journey is to allow him room to be okay and to not be okay. But I am not his key support for now.
I am also feeling some healing a month into my journey. I left my job in Silicon Valley during COVID. I was broken. I knew it wasn't sustainable. But I kept it for a variety of complicated reasons that I am finally dealing with. But the result was I left my 8 years there in a sensitive state. For the next two years, I have been working with the Quakers who are very different than the folks in Silicon Valley. The healing began with the first meeting where we began with a moment of silence. What a wonderful moment it was that allowed us all to walk into the light and come together. I learned so much from the Quakers during our time together.
But this past month has also helped me heal from my eight years in Palo Alto. The decision to retire was one I thought long and hard about. Most of the world sees me as ridiculously young to retire. But I think it was the correct thing for me to do. This past month, I focused on myself more than on anyone else. I did not focus on my husband. I did not focus on my son. I did not focus on my close friends.
I have been focused this month on myself. And I feel more healed now than I have in many years. It feels good. It feels correct. It has also helped me return to feeling more optimistic. And that is what I think my friends are seeing. Hearing their feedback is a useful perspective.
So lots of good things happened this first month. Tomorrow I get on a plane and fly to Portugal for month two. I can't believe I am already a month into this experiment. I expect month two to be very different than month one. But I am excited. The journey has offered me so much so far. I am excited to see what happens next.
---
Last edited by olafman; Aug 6, 22 at

5:02 am
Aug 6, 22, 10:53 am
Join Date: Mar 2018
Programs: AA gold, Hilton Diamond
Posts: 148
Hi Olafman,

No, you do not look 65! I think you will be fine in Egypt. One of the families on my street is Egyptian and they do a lot of business in Egypt. The son is mid 30's and he is gay. He was trapped in a middle eastern country for about 18 months due to unexpected Covid lock down. I can't remember which country he was in but it is one that is much tougher than Egypt on gay people.
I had a nice conversation with the son when he could finally return to Florida. The son said he never expected to be locked down as long as he was but he met a lot of nice people and made a lot of new friends in the country that does not treat gay people well.
Sep 5, 22, 3:32 pm
Join Date: Nov 2000
Location: SF Bay Area, California
Programs: AA2MM LIFETIME PLT, Turkish Miles&Smiles Elite, Marriott Plat
Posts: 1,013
THE SABBATICAL: Month Two
---
The second month of my year long Sabbatical began with an early morning alarm and a quick Uber to the Malaga airport. I was a bit sad to leave my lovely flat in Torremolinos. I really enjoyed its views of the Med. I am a total sucker for a room with a view. I will be returning for my final month in Europe and both places have a nice view. It's a nice luxury that I really value.
This would be my last flight with two large, heavy bags. Time to leave one at my brother's house.
Since I was dealing with lots of check-in luggage, I arrived two hours before departure. Little did I know at this point the long day I had ahead of me. Today's flight to Porto was through Iberia's hub in Madrid. A while back I opened both the Chase Iberia and British Airways credit cards yielding 200,000 Avíos without much work. These points are great for short hops around Europe. Unfortunately, the points needed are by the sector but that allows for easy stopovers. Today it worked out to be 10,000 Avíos and $35 in taxes for an economy seat. I had debated going business but European "business class" is simply having the middle seat free. I get most of the other benefits due to my lifetime Oneworld Sapphire status. Plus it's good to fly economy class once in a while. It reminds me how most people experience flying. Luckily, once I leave Europe, I have just a few economy flights planned in South Africa but the rest are business and first.
As this is supposed to be a Trip Report on Flyertalk, I've been doing a lot of talking and not much flying! So today I will right this wrong and dig deep into my dorky AVGEEK-dom. Flyertalk SUPER POWERS unite!
FLIGHT #3 - Malaga - Madrid - Porto
IBERIA #3865 AGP - MAD 09:15 - 10:30 Seat 10C
IBERIA #8744 MAD - OPO 11:25 - 11:45 Seat 18C
CHECK-IN: (3/5)
The business class line was short for Iberia. I quickly was served and greeting the agent with a friendly, "Good morning." I had two very heavy bags to check in. I was worried that they might over the absolute limit of 32 kg. Luckily they came in at 29 and 31 kgs. Phew! The day before, I had successfully checked in online and gotten my boarding passes. I had purchased a second 32 kg bag for €45. But I wondered if they would charge me for the extra weight over the allotted 23 kg for my first bag. Unfortunately, there was no way to pay for this supplement on the website. In retrospect I should have just paid for two bags. The supplement turned out to be €88 at the airport. As a Star Alliance Gold, I always get an extra bag free. But Oneworld only offers extra baggage allowance to their top tier Emeralds. It has been decades since I have paid for any extra bags and in the game of being an AVGeek, paying for bags is a huge deduction of points in the game of travel. I asked her if I could have purchased the supplement online when it would be cheaper, but she shared that she doesn't know anything about the website.
I inquired about accessing a lounge because of my Oneworld status, she simply said there wasn't one. I questioned this in my mind but knew I could access the Sala VIP with one of my Priority Pass cards. She turned out to be wrong in the end.
I was frustrated at paying so much at the airport for the supplement of the bag when I should have been able to do it online at a cheaper rate. While I know it is not her fault about the website, she definitely should have known about the lounge. Check-in could have been a lot better. I was grateful that I didn't have to stand in line to check-in.
LOUNGE: (4/5)
Security was about 10 minutes this morning. I preemptively removed ALL my electronics and cables. The screener even told me that it wasn't necessary but I offered that in the end it saves me time. Soon enough I was upstairs and entering the Sala VIP lounge.
The lounge agent scanned my digital Priority Pass card and then asked to see the physical Capital One Venture X card! This had never happened to me. As I was digging it out, he said that I didn't need to bother since my Oneworld Sapphire status was on my boarding pass. That's all he needed! The check-in agent should have known this.
Love the TAP Lounge with a tarmac view!
I entered the lounge and it was spacious with great views of several aircraft parked at gates. While there were no hot items offered, the buffet had great croissants and other traditional cold breakfast items. I made a couple of phone calls and even went back for an extra croissant.
Overall, this lounge was very nice and I enjoyed passing the time there. Soon enough it was time to board and I was on my way.
BOARDING: (3/5)
Iberia has a priority line for Groups 1 and 2 and a general line for Groups 3-99. Unfortunately, they clump Group 1 and 2 together so there is no benefit for being Group 1. They simply invited priority passengers to board at the same time and one third of the passengers crowded through the priority lane. My pole position wasn't very good and I was late in the priority boarding.
FLIGHT: (4/5)
Luckily I had snagged an exit row seat and I had tons of leg room. It's definitely the way to fly economy. I was surprised that Iberia charges for water and soft drinks in economy! Times have definitely changed. Luckily I had snagged a bottle of water and a Coke Zero in the lounge so I was well hydrated. The flight up to Madrid was under an hour and my 55 minute connection time was fine.
CONNECTING FLIGHT BOARDING: (1/5)
We landed at one end of Terminal 4 and my connecting flight was literally at the other end of this super long terminal. Just minutes from my boarding time, I abandoned all thoughts of the Iberia lounge as I trekked across the terminal. I arrived at the new gate just at the boarding time on my ticket.
I knew enough to get in the priority line and I was set to be the first to board this time. More people filled in behind me. Then we waited. And we waited. No announcements were made. At the departure time, I saw the flight crew board which is often a good sign. Then we waited and waited more. Still no update announcements. After standing there for 40 minutes, they began boarding still with no announcements. They just started processing passengers. I was happy to board.
The gate ramp led us down to the ground level. It became apparent that no one told the ground staff that we were boarding because a young man in a yellow vest ran up to me and told me that they were not ready for boarding and I should go back! He asked me to stand back in the building and wait. I found this all to be humorous at this point. To make things even more confusing, the same gate was also boarding an Iberia flight to Vigo, passengers were now beginning to queue up for the wrong flight.
We all began to chat as we stood there. It seemed the polite thing to do: band together amidst the chaos. The couple behind me was American and they were returning to their home in Porto. Like so many others, they had moved to Portugal recently and were loving the whole experience. Finally my young gate worker invited us to follow him back outside to begin boarding. Portugal here we come!
Finally ready to board my flight to Oporto!
FLIGHT: (4/5)
Boarding happened quickly as we did the typical "hurry up and then wait" routine. My seatmate was a young 16 year old traveling with her family from South Africa. They were here visiting family back in her parent's homeland. She was excited to see all her cousins. I shared I was on my way to see my family too. I love the excitement of travel when you are visiting family.
Love a nice 2-2 layout
The flight was uneventful and in less than an hour we were touching down in Porto. It is interesting because in Spanish, the city is called Oporto. This came from confusion hearing the Portugués talk about the city. The "O" that was added in front is actually the word "the". The Portuguese always referred to the city as "the Port". The silly foreigners just heard "O Porto" and merged them together to call the city "Oporto".
We landed and the lottery handed us a bus gate. I was surprised that a legacy carrier like Iberia had bus gates as LLC EasyJet had several of the jetway gates! A wall of heat hit us all as we exited the aircraft. Europe had been experiencing a very hot summer. And this current heatwave was challenging for everyone. Northern Portugal was struggling.
BAGGAGE COLLECTION: (0/5)
I was surprised to only see four baggage carousels for the number of planes on the tarmac. We were directed to carousel 3 and we began our wait. Our flight was listed on the monitor along with two other flights that had already landed. As bags came out we quickly figured out they were for earlier flights. So we just kept waiting. Finally it seemed like it was the time for our bags to come out. But nothing came. Then another flight was listed on the carousel monitor and their bags started coming out. When an additional flight was listed for the carousel, our flight disappeared! We had been waiting for about 50 minutes at this point and didn't take this to be a good sign. My band of new friends from my flight began to chat about this curious turn of events. No one from Iberia was around and our flight even disappeared from the main monitor at the entrance to the hall.
Global pandemic, labor shortages, challenging summer of travel… We were all trying to be patient but MAMA needed her bags! Around this time a baggage handler appeared and reported that the bags would be coming out on Carousel 4! Huzzah!
We all quickly migrated over to the next carousel with glee and anticipation. Indeed, some bags from our flight were beginning to come out interspersed with bags from other flights. People audibly cheered when seeing their bag. We had been waiting about an hour and half and it seemed like it was all working out.
Now, as a Flyertalker, I could have been mildly upset that the priority bags weren't the first bags out. But we were just happy to see ANYTHING from our flight. No explanation was given ever but here they were finally.
My purple bag containing all the things I was leaving at my brother's house appeared and I was super excited. This was the second batch of bags from our flight. My other black bag must be in the next batches! But nothing more came. After an additional 20 minutes, someone reported that there were no more bags. About 30 of us still needed bags!
I quickly headed around the corner in search of the baggage handling office to begin reporting the loss. I joined the queue with about 10 people in front of me. Quickly the other 20 lined up behind me. It was going to be a long day. The travel gods were not smiling upon me today!
The lost luggage line in front of me. Ugh.
The processing of all the lost bags was excruciatingly slow. My brother had been waiting outside expectantly but at this point I directed him to go have some lunch. He had been there 3.5 hours and it was going to take longer.
We were scheduled to arrive at 11:45 am. I left the airport with one of my bags and lost bag report at 4:15 pm. Unfortunately ALL of my clothes that I would be traveling with for the next six months were in the lost bag. Why had I ever thought to pack my bags this way!! Also all my AirTags were in my backpack. I had forgotten to put them in the checked baggage. WAS THIS MY FIRST TIME TRAVELING?
As I exited the hall, I saw my brother and we cheerfully embraced. He looked great. Retirement and Portugal had been good to him. He has always been more easygoing that me. And he took these baggage delays in stride and soon we were in the car on our way to his house about 25 minutes away.
Summer of 2021: Paul and Susan arrive for their new life in Portugal
Last summer Paul and Susan arrived in Lisbon while I happened to be there also. I welcomed them with some local sparkling wine at a beautiful Rooftop Bar Ático. It was a magical moment as they were beginning retirement and their new life in Portugal. Susan had never visited Portugal but they had steadfastly chosen this place as their new home sight unseen. She often explains that they had watched a LOT of YouTube videos about Portugal during the pandemic. So once they arrived, they toured Portugal for three months exploring all its regions.
They booked an Airbnb outside of Braga run by a delightful woman Silvia and her husband Rui. They became fast friends and Paul and Susan were sad to move on with the rest of their trip of discovery. A few weeks later, Silvia called with a proposition. She had another house on their farm and she was wondering if they wanted to rent it. They needed a one year lease for their retirement visa so this could work out well.
A year later, it has worked out so well. Silvia and Rui have become their best friends. They share at least one meal together and see each other daily. Silvia has been invaluable with helping them navigate getting settled with the healthcare, buying a car, getting insurance and a Via Verde… A year later, Paul and Susan have learned minimal Portuguese because they report that everyone their age and younger speaks wonderful English. I have chastised them a bit because I think it is super important to learn some of the local language. They quickly got tired of my comments and have pledged to start language classes in September. Eles tem de.
As we entered the farm in Padim da Graça, Rui and their two children were just leaving to go to Coimbra. But they stopped and got out of the car to meet me. I was impressed that that Ricardo, 20, and Catarina, 16, both spoke excellent English.
As we parked, Susan and Silvia were chatting and I was warmly embraced by both. Susan too looked fantastic. Previously she worked in financial services for a major bank. She worked hard and it took its toll on her. The Susan of Portugal looked relaxed and happy. Their huge Great Pyrenees/Swiss Shepard dog quickly joined in on the greetings covering me instantly with white hair. At least he is a sweet dog!
A nice local sparkling wine started my month finally in Portugal
Their house had four bedrooms, three of which were on the upper level. With the current heat wave, my room was very hot as I entered around 5 pm. How would I ever sleep in this weather? Their room was downstairs where it was a bit cooler but they too complained it was uncomfortable. The forecast didn't show any improvement in the next week.
Quickly my brother made Porto Tonics with a lovely white port and we were on our way to hang out in the swimming pool. The water was delightful and provided a much needed break from this crazy heat. We spent an hour enjoying our cocktails and bobbing up and down in the pool.
Beat the heat with Porto Tonics in the pool
Their little village is about 4 miles from downtown Braga giving them country living with direct access to a bigger city with malls, an IKEA, city center walking streets, and many great restaurants. We parked in the main underground parking lot, and came out next to the beautiful Jardim de Santa Barbara with its beautiful flower gardens set against medieval arches. As we strolled Braga's streets, I was charmed by how beautiful the city was. I really appreciated how the city plants and maintains all the flowers throughout the city. We stopped as the sun was setting for a photo in front of the big Braga sign at the Santa Cruz church. The setting was perfect. From the beginning moments, I fell in love with this city.
Jardim Santa Barbara, Braga
Love all the flowers in Braga
Brothers back together
Paul and Susan hadn't booked our dinner and since it was Saturday night, most places were fully committed. We finally ended up at Palatu for a nice meal of Portuguese favorites. A pitcher of sangria helped with the evening heat. Soon we were full and the day's activities were hitting us hard.
Unfortunately even with a fan pointed on me all night, I didn't sleep much. At one point I wetted a large towel and placed it over my body to try to cool myself down. It must has worked because I got a couple of hours of sleep before waking up. The heat was ínstense and unrelenting.
Even Paul and Susan downstairs had struggled to sleep. Europe has been hit hard this summer with continual heat waves. Coastal living in Torremolinos had protected me enough. But I wasn't getting any relief in Braga. So that morning Paul and I headed to the local Leroy Merlin hardware store to buy a portable air conditioner. Susan prepared a lovely cold salmon and garbanzo salad for lunch. Like many people, we dealt with the afternoon heat by going to the Braga Parque mall because I needed to buy some clothes! My missing suitcase still hadn't been found. Twenty-four hours later and I didn't know if I would see my things again.
When we got home, the only option was hanging out in the pool. It was just too hot to do anything else. Silvia came out and joined us and I really enjoyed getting to know her more. She is such a wonderful addition to Paul and Susan's lives.
My hubby had texted saying he would like to chat and catch up. Before I left, we had decided that we would play it by ear to see how much we communicated. There were no definitive rules to our relationship Sabbatical. Instead we were inventing things as we go. Unfortunately, our latest conversation hadn't gone so well. So I was apprehensive about engaging again.
I poured a glass of wine and gave Terry a call. The conversation was awkward. I avoided talking about his parents, his sister, his troubled niece and her kids. I knew that if I asked, there would be some new episode of drama and I really had enjoyed not being part of it all. I quickly figured out that he has chosen to simply continue his life in Sacramento amongst it all. I was hoping he would use the summer to adventure and focus a bit on himself. But this year was his to spend as he chooses. My opinions and suggestions didn't matter. One of the purposes of this year is that he got to "drive his own car". He just happened to be parking it a lot in Sacramento with his family.
I was pleased to hear that he was going to audition for a part in the fall musical "Something Rotten" at the local community college. Terry is always happy when he is pursuing an artistic endeavor like writing, acting, or directing. I had mentioned that if he spent his sabbatical based in Palm Springs, he could produce a play of his there or get involved with another production. I suggested that this could bring him lots of satisfaction and happiness.
Before I left, I really tried to avoid offering any suggestions about my thoughts on his sabbatical. Of course I asked a few questions and ended up sharing some concerns about him just spending the year helping his parents. But by design the whole point was he got to choose how he would spend each day of his sabbatical.
So our awkward conversation turned more difficult when we started to talk a bit about his family. At one point he responded, "Well you hate my neice." It was an impulsive, stupid thing to say. But it definitely pissed me off and I concluded the conversation quickly after that.
We sent some texts after that but no apology. I let him know that I was pissed off and REALLY wanted to avoid conversations like this in the future. Still no apology.
His family drama has gotten in between us before. I was hoping that this year that I would be relieved of the burden of it.
So I was bit rattled after this phone call. I unloaded it all on Paul and Susan. I knew that communicating less would be challenging. But after the past couple of phone calls, we were struggling.
Paul and I hopped into the car and drove to Churrasqueira Martins where we picked up a roast chicken, some ribs, french fries, beans, and rice. They said they do takeout from this place once a week. It was all delicious and was enough for two meals!
My family has a long tradition of playing cards so our evening ended playing an adapted version of Spades. Paul kicked our butts but we all had lots of fun. By the time I made it to bed, my anger with my conversation with Terry had begun to fade.
I was quickly adapting to country living in northern Portugal. I really appreciated that they were part of a tiny village but still only like 10 minutes from downtown Braga. With the heat, we spent a lot of time in the pool. The world this summer seems to be boiling and on fire. I am sure floods are next. The apocalypse is near.
I called and heard my bag had been found and was at the Lisbon airport! Yay!! But they had no idea when it would be delivered. So I had to head to the Nova Arcadia Braga mall for more clothes to wear. Because it was so hot, I was buying sportswear to keep me comfortable.
Many mornings begin with walking the dog. The favorite is a nice hike up the hill to the Monastery of Tabais. Much of the hike is along old Roman roads lined with centuries old rock walls. Much of what we saw was a thousand years old. The hour and a half journey took us through forests, country paths, and village streets. I loved how all of the locals out in their front gardens greeted us with a friendly, "Bom dia". Having a dog the size of a horse draws attention.
Paul told me a story of how one day one of the women that they see daily drove by and stopped to chat. She only spoke Portuguese and they only speak English. She was trying to tell them something but communication wasn't happening. Finally with the help of Google Translate they figured out she wanted to have them over for lunch! They fixed a date and they looked forward to it with anticipation.
They arrived and her daughter was also there. But no one spoke English. So they used translators and shared a two hour lunch together. She offered them some homemade wine and seemed shocked they accepted. They reported that it was not very "drinkable" but they tried their best. In the end they enjoyed the very local experience. They have found the Portuguese to be so friendly and welcoming. They just need to learn some Portuguese to be able to communicate better!
When I was in Braga on my first day, a guy that I had met in Berkeley saw me on SCRUFF and said hello. I knew he had moved to Porto last summer but he had recently bought a flat in downtown Braga!
Great to see Fabio!
Our first Menu do Dia in Portugal
So we met Fabio for lunch at the local restaurant to sample their "menu of the day". Just like in Spain, many restaurants off a specially priced affordable meal. We all started with a nice soup, and then had a clams with pork dish served with both fries and rice. Complete with wine and bread, it was about €10 a piece!
Fabio told us of getting settled in Portugal first in Porto and then deciding on buying in Braga. He was originally from Brazil but worked many years in the Bay Area before moving to Portugal. He was struggling now to connect with local people. Even though he speaks Brazilian Portuguese, he wasn't finding friends easily. So Paul and Susan talked about their experience and offered him some ideas. They have been meeting people through some Facebook expat groups where they get lots of information and advice. I am allergic to Facebook so I will have to rely on other means of meeting people.
Paul and Susan had been renting a car so far while living in Portugal. They finally decided to buy a new Toyota RAV4 but like enerywhere else in the world, it had been back ordered and they had been waiting months. So this afternoon was the big day of picking up the car. They were gone for three hours so I spent the time in the pool chatting with Silvia. She has had a fascinating life. Her dad left Portugal during the Salazar dictatorship to live in France. She was born there and stayed until she was 11. She speaks fluent French and considers herself to be French. But also Portuguese. At one point my mobile rang with the news that my suitcase had arrived and the driver was on the street out front! Four days later and I didn't have to entirely replace my wardrobe. Amen!
The new car arrived in the driveway and I was shocked at how big the RAV4 had gotten. I can't imagine driving such a large vehicle on the tiny village streets in Portugal. Navigating the small parking garages also has involved lots of beeping proximity sensors and using all the perimeter cameras. Technology is nice but it can't change the size of a tiny European parking space.
We grabbed some Portuguese tapas in Braga for dinner at Casa de Pasto das Carbalheiras and then gelato at Pappa Lab. I was surprised that the meals out were all a bit more expensive than in Spain. We had discovered the same thing in the Algarve.
Finally on my fifth day in Portugal, we drove into Porto and I took a free walking tour. What an amazing city. It felt so much bigger and thriving than quiet Braga. As Portugal's second largest city, it has a similar feel to Lisbon: on a river off the coast, lots of hills, bustling central area… I really enjoyed walking around hearing about its past. The most interesting thing is discovering that Ryanair gets credit for making Porto a tourist destination. They set up a hub here and then started offering €20 flights. The tourist started flocking in. And they haven't stopped. The city instantly changed forever. So many restaurants and Airbnbs have popped up to meet the demand. The locals struggle with rents now because of competing with the tourist dollars. But this city is alive and has taken a place among the European cities.
Beautiful Porto train station
Along the river
By the time the tour finished, I was hungry for some lunch. So I met back up with Paul and Susan and they took me back up the hill to Gazela's next to the national theater. This restaurant is famous for their "hot dogs" and beer. Cachorrinhos are actually more like pigs in a blanket with a sausage wrapped in pastry. Whatever they are they were delicious. Paul says it's a perfect late night snack too. I'm sold.
Cachorrinhos at Gazela
We spent the rest of the afternoon with a local real estate agent looking at possible apartments for them in the Gaia area directly across the river from Porto. Many of the buildings are still being built. I was shocked that we could walk around the construction sites with no hard hat. We used our phone flashlights to illuminate our way at times. And we constantly had to be careful not to fall to our death. Their attitude was simply PAY ATTENTION. If you get hurt, it's your fault. Very European approach.
Sure! Have a look around!
The ocean views from this area are spectacular. Perfect oceanfront locations with views of the river and Porto. Some have the floor plan of kitchen/living/dining in front with the bedrooms facing the back parking lot. Others have all the rooms with an ocean front view. These are of course more money, but I say buy the apartment that will appreciate the most since Europeans from all countries love a beautiful ocean sunset view, even from their bedroom.
The tours gave them lots to think about. Of course, the one they want the most is a bit out of their price range so they have to figure it out. They are now thinking they will keep the house near Braga in addition to buying the flat in Gaia. Since the house is just €650 a month, this would give them a nice variety. They also have looked into the possibility of Airbnb'ing the oceanfront flat. The rules are constantly changing so they can't include any rental income in their calculations.
At one point they went to the agent's office in Matosinhos and I enjoyed walking along the beach. It was a beautiful day and the beach was full in spite of being a weekday. I found a nice chiringuito and had a beer to cool me down. Portugal has some amazing coastline. I definitely see us living somewhere along it. I just want to be a little closer to the Lisbon airport.
For dinner that night we ate the famous Portuguese francesinha at Cafe Sanchez. This "gut plugger" uses thick slices of white bread with ham, steak, sausage, and cheese all topped with more cheese and then smothered in gravy. And then served with french fries. Many people pride themselves for being able to finish a whole sandwich. It took me some time, but I did it! I felt like a band should have started playing or at least a server should ring a bell when I was done! It's NOT a meal you eat every night. But I will probably try another on my next trip. It's like climbing Mt. Fuji; you feel like you've accomplished something when you're done.
Francesihna at Cafe Sanchez
One evening we drove into Braga because I had seen a beautiful restaurant Cozinha da Sé and had made us a reservation in the courtyard. It turned out to be a lovely meal. The highlight was a delicious veal steak with a pepper sauce. Absolutely stunning. My un-PC dining tastes challenge lots of people but it's how I was raised and I like all foods.
Mussels with a vinegrette
Veal steak with a pepper sauce
Paul and Susan were throwing a dinner party on Friday night to celebrate Silvia's husband's birthday. Rui was turning 49 and Silvia had a big lunch planned for Saturday including all his brothers and sisters from Coimbra. So the night before it was just the immediate family for dinner. Silvia's parents also got added at the last minute to complete the festivities. Both Paul and Susan love entertaining like me. We all enjoyed spending our day shopping and cooking. Tonight's meal started with a typical Portuguese platter of cold cuts, cheeses, and olives. Then the starter was potatoe leek soup. The main was ribeye steak with chimichurri sauce, brown butter rustic mashed potatoes, roast head of cauliflower, and green beans. The meal was finished with a cream cheese flan. And whiskey. A decent amount of whiskey.
Enough ribeye for 9 people?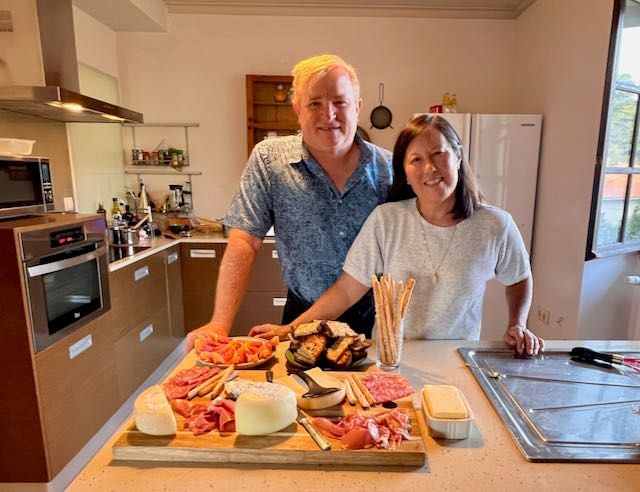 A nice Portuguese tabla
This was my first opportunity to get to know the family. They are all warm, lovely people. The son Ricardo has just graduated from university and is looking for a job now in international business. Catarina is a lovely 16 year old who speaks amazing English and is mature beyond her years. I also loved talking in French with Slivia's parents. Like their daughter, they both have found memories of their years in France and enjoyed dusting off their rusty French conversation. The evening was filled with lots of laughter and joy. To me there is nothing better than sharing food with friends. These kinds of connections are what life is about.
Paul and Susan's newest best friends
A slight food and alcohol hangover made for a quiet morning. Paul and Susan both enjoy a simple morning ritual of hanging out on the terrace drinking coffee and catching up on news and computer stuff. I have adopted a similar start to my day since I have been in Europe. Without a job to rush off to, a leisurely morning is a lovely luxury to be cherished.
I had debated going to Braga or even Porto on my own but the meal at Silvia and Rui's would be starting around 2:30 pm. We, but mostly Susan, finished cleaning up from the night's festivities. Nine people definitely make lots of dishes.
I also spent the morning planning the rest of my month in Portugal. Back in 1994, a mere 28 years ago, I met TJ who was also a new singer with me in the Gay Men's Chorus of Los Angeles. We became fast friends and enjoyed many great years together. Then he moved away to Hawaii and we moved to Europe. Fast forward to February, and TJ gave me a call saying he was coming to San Francisco and was I free for lunch?! Luckily with my job with the Quaker's, I was ALWAYS free for lunch! So he showed up at my work and we went to my ramen place. It turns out TJ was in San Francisco to file his paper for his Portuguese visa! WHAT?!? He had found an apartment in Leiria, a smallish city just south of Coimbra. Like my sister in law, he had never even to Portugal but had done lots of reading and watching YouTube and had decided to pack up and trying living there. He was shocked to hear that Paul and Susan had also moved there! The American Portugal invasion is definitely happening.
Around 2:30 pm, Catarina came over announcing that the party was starting. The first siblings from the south had arrived. Today three of the brothers and one sister arrived with various spouses and teenage-ish kids. We were twenty people in total and they had set a long table under the garden's trees. Platters of Portuguese meats, cheese, olives, and breads lined the tables. Wine was poured and the birthday party began.
Rui's birthday with the family
The brothers all enjoy the party together.
I really treasure eating in locals homes when traveling. It's such a wonderful way to get to know people and understand their culture. All of Rui's family welcomed us warmly and we began communicating in the mix of Portuguese, Spanish, and English. Two in the family were teachers so we really enjoyed hearing about each other's lives. I looked up that the average teacher in Portugal makes about €25,000 a year before taxes. This turns out to be about €1400 a month take home. Salaries in all sectors here in Portugal are much lower than the USA. Like in Spain, people just don't earn much. It greatly affects their housing, spending, and savings. International travel is simply out of many people's financial reach.
We chatted and chatted. And drank and ate. All the family was really good about switching seats so by the end I felt like I had spoken to all the adults.
The "kids" aged 16-24 seemed to get along great and played ball, swam and did a lot of laughing. These cousins had all grown up together and really enjoyed themselves.
As the sun set, I realized that we had been sitting there for many hours. Whisky and port came out and the party didn't show any signs of waning. Then the music started and people took turns putting on a nice variety of music.
At some point, the kids hit their parents up for some money and walked into the village to join others at a local bar.
Finally around 2 am, we headed back to our house and the siblings set out on their two hour drive home! None of them spent the night! This seemed crazy to me. Each of the drivers had stopped drinking at some point in order to make it back home.
This celebration with Rui's family is truly the reason I travel. They shared so much with us during our almost 12 hours together. In a few days we will be in France having similar experiences with our wonderful French family.
Expats sometimes share that the people in the north are more closed and keep to themselves. We never found this to be true with the experiences I had. People were warm, generous, and inviting. Paul and Susan are so lucky to have connected so well with Silvia, Rui, and their kids. They have genuine, deep friendships.
On Sunday we all slept in after two nights of late night fun. Staying up late in Torremolinos is one thing. But staying up late in the Padim da Graça countryside is also hard on my fifty-something body. Who did I think I was??
We would be leaving north in the morning to begin our pilgrimage to our family village in the Pyrenees Mountains in France. I hadn't been there for the past decade. And it had been 18 years since Paul and Susan made it back home. The relatives had been warned and were waiting for another visit of Les Américans. We all were very excited.
We decided that we would visit Guimarães for the afternoon. With its beautiful, renovated palace and ruins of a castle, it has lots of charm. We enjoyed walking the picturesque streets. This is definitely a MUST SEE for anyone making your way to northern Portugal. Paul and Susan mentioned that there are several wonderful restaurants too that all require advanced reservations.
Outside the castle of Guimarães
One of the rooms of the palace
They decided to bring their dog Ghost and he drew lots of attention as we walked around. His size and beauty often make him the central focus. We found a nice cafe in the main plaza and enjoyed some drinks and tapas as we played cards. The nearby church sounded its bells at 6:05 pm encouraging us to stop drinking and playing cards, and presumably encouraging us to get to church. We survived the two minute serenade but decided to stay put. Next came the parade of a brass band followed by lots of locals dressed in traditional costumes and carrying religious artifacts. It was all part of our lovely afternoon in Europe.
Playing cards, listening to the LOUD church bells, and watching a parade. All while drinking Aperol Spritz!
So my first week in Portugal has been wonderful. I really enjoyed my time with Paul and Susan in their new home. Life here agrees with them. They have made good friends which has helped their transition.
On our way home, we stopped by their monastery to see the sunset lights
Up until my arrival, the barometer of where I think I might end up living was definitely pointing towards Spain. I had had a wonderful month in Torremolinos. I love my life there and being able to speak the language was a big part of that. But after a week, I was successfully communicating in Portignol and I know that speaking proper Portuguese was possible.
I also believe that Portugal would be an easier place for Terry to live if I can convince him to live in Europe. Proximity to the Lisbon airport with its nonstop flight on TAP Portugal to San Francisco is a huge advantage over southern Spain. Getting a resident visa is also easier in Portugal compared to Spain. But most importantly, the tax situation is better for residents of Portugal over Spain. With a Spanish retirement visa, there is a significant wealth tax that can be hefty. I definitely need to talk with a financial advisor in Spain to find out how much this could cost us.
But where we will live and with which country we will get our residence visa aren't my biggest problems. Instead, my greatest concern is my relationship with Terry. I anticipated that our relationship would be strained during our Sabbaticals. So far we were struggling to communicate well. In fact, it was going pretty badly. I was hoping we would settle into less communication with ease but that wasn't happening. Instead our few conversations and intermittent texts were causing me grief.
I am scared of pursuing more communication. The little communication that we had attempted was going poorly. But one thing that I have figured out so far with my sabbatical is that the space I am getting is important. I need some distance from Terry, his depression, and all the drama in his family. And I am worried that with more communication, this space will disappear and I will get sucked up into his life and how he's chosen to spend his sabbatical.
Why hadn't he taken a break from them to focus more on himself? Instead he continues life with his family like before I left. He tells me that he misses me. And I can assume that he is reaching out for some support. But I need to take a break from constantly offering this. He has others he can turn to support him during this year. I need him to do that.
At this point I am still pissed off about our last conversation. But I don't want it to get worse. Why didn't he apologize for saying I hate his niece after I told him it really bothered me?? I am definitely avoiding conversations with him now because I don't want it to get worse. I am thinking of contacting our therapist to schedule an hour with the three of us. Something isn't working here. And our therapist has helped in situations like this before so maybe that is a tool we should use to help us to get through this moment.
My brain that loves to plan is still constantly thinking about what our pathway after the sabbatical looks like. What is our relationship going to look like in our next chapter? In the past few years, he spends about half his time with his family and half his time with me. Should this continue? Can we live in Europe and then he goes home to his family just like we have been doing. But instead of our time together happening in Berkeley, it happens in Portugal or Spain.
The other big realization that I have had is that I don't think I want to live in the US anymore. I need a big break. I am fearful that the next election process is going to divide Americans even more. From my position, I cannot understand how HALF of America can follow Donald Trump after EVERYTHING he has done. Then add in all the racism and gun violence that happens on a daily basis and I end up simply worried. I am scared of it all and don't want to be a part of it. If Terry insists on living in the US, this could be a huge problem for our relationship. I don't think I can do it.
When talking on the phone the other day about our two months of "reintegration" next summer, Terry said that he thinks it MUST in the US and not the other more neutral places that I have suggested like India, Madagascar, or Vietnam. I started to share my huge concerns about this, but stopped and said this is a conversation we can have during the couple of days at Xmas when I will see him. I really hope that he doesn't use this to draw a line in the sand. It fills me with dread.
The good news is that I am an eternally optimistic person. I do see this working out between us. I see us being happy. We have often chosen pathways unknown and uncommon. I am used to this. We also have worked through many difficult times during our 32 years together. But we can do this.
I have enjoyed my two months of figuring out who I am as I pause to focus on myself. It has felt so healthy. Invigorating. And hearing from others that they see me happier is a good sign. Let me recharge my batteries. Let me work on some issues with myself. Let me gain confidence as I figure out who I am without work in my life. So much has changed and I hope I can continue to let it all just "be". Live in the moment. I don't have to make any decisions until next summer. I have the luxury of a whole year of exploration. I simply need to appreciate each day for what it brings and what I can make of it.
---
Last edited by olafman; Sep 7, 22 at

3:45 am
Sep 6, 22, 9:17 pm
Join Date: Feb 2003
Posts: 8,989
This is so much better than the usual "let me show you AF Premier and the 5 star restaurants I ate at in Dubai" trip reports. Thanks for being so open and sharing your introspection along this personal and travel journey. Truly feels like I'm traveling along with you and also as someone facing big life changes in the coming year, I really appreciate your openness in sharing your though process and challenges. No matter what happens I'm sure you'll come out of this sabbatical journey knowing yourself better and stronger for it!
Sep 10, 22, 2:52 am
Join Date: Nov 2000
Location: SF Bay Area, California
Programs: AA2MM LIFETIME PLT, Turkish Miles&Smiles Elite, Marriott Plat
Posts: 1,013
Thanks for your kind words of encouragement.

Also thanks to so many people who reached out to me privately to share their own thoughts.

There is a reason that I chose Flyertalk to share my experiences. For over twenty years, I have been a part of this community. We share a passion for travel, adventure, and connection far beyond our borders.