Mexico City to Chicago... via Paris and 24 Hours of Air France La Première
Apr 4, 21, 7:32 am
FlyerTalk Evangelist
Join Date: Nov 2007
Location: The OC • LAX-SNA
Programs: BA Gold, AF/KL Gold, AA LT PLT 2mm
Posts: 20,102
Mexico City to Chicago... via Paris and 24 Hours of Air France La Première
---
It's been well over a year since my last Air France La Première flight and I've been going thru serious La Première withdrawal. The bottom line is that I need an Air France La Première fix and I've been determined to find an itinerary that would work. This proved to be a major challenge considering that US-only passport holders can't actually enter France or anywhere else in the EU at the moment. I tried and booked a couple of times earlier in the year but on both occasions, my plans were disrupted my cancelled flights. LAX-CDG-IST and then MEX-CDG-HND fell by the wayside as flights were cancelled.
The new 3 day PCR test requirement to return to the US makes mileage runs even more difficult since I don't want to test and be stranded overseas by a false positive. So I looked for a return fast enough that I could use my negative US test for both departure and return.
Fast forward to today and I'm off to Mexico City to fly Air France's best in the world La Première from Mexico City to Paris, connecting to… Chicago. Of course.
Although I had my PCR on Tuesday, my first stop this morning was the Clarity Covid test facility at (across from) Terminal 6 to try their PCR testing operation. Easy online registration, booking and payment. I took the 7:30a-8:00a window and arrived early at 7:15a. Once the 7:00am appointments were processed, I was able to join the short queue and had a swab up the nose just before 7:30am. They promised results in 3-5 hours and indeed, I got my results back in under 4 hours, while I was inflight to Mexico City. Cost was a reasonable $125. An all around excellent experience with very pleasant and efficient staff. And even though you don't get the result in time for a US departure, testing the day of US departure gives you a potential extra day before returning without having to rely on a test at your destination.
After my test, I walked to T4 and AA PreCheck.
Then over to the Bradley Terminal to see if the Amex Centurion Lounge had opened.
Sadly, still not open with absolutely no idea when they would open. I passed on the "to go" baggie and headed back to T4 and the Admirals Club.
Gate lice central at Gate 41. Let me guess. JFK of course.
And to the Admirals Club.
AA traffic has clearly improved since my last visit, as AA has opened up the Flagship Lounge as an extension of the Admirals Club.
But not First Dining. Hopefully some day.
This meant plenty of room and seating for everyone today.
No change in the lame food options.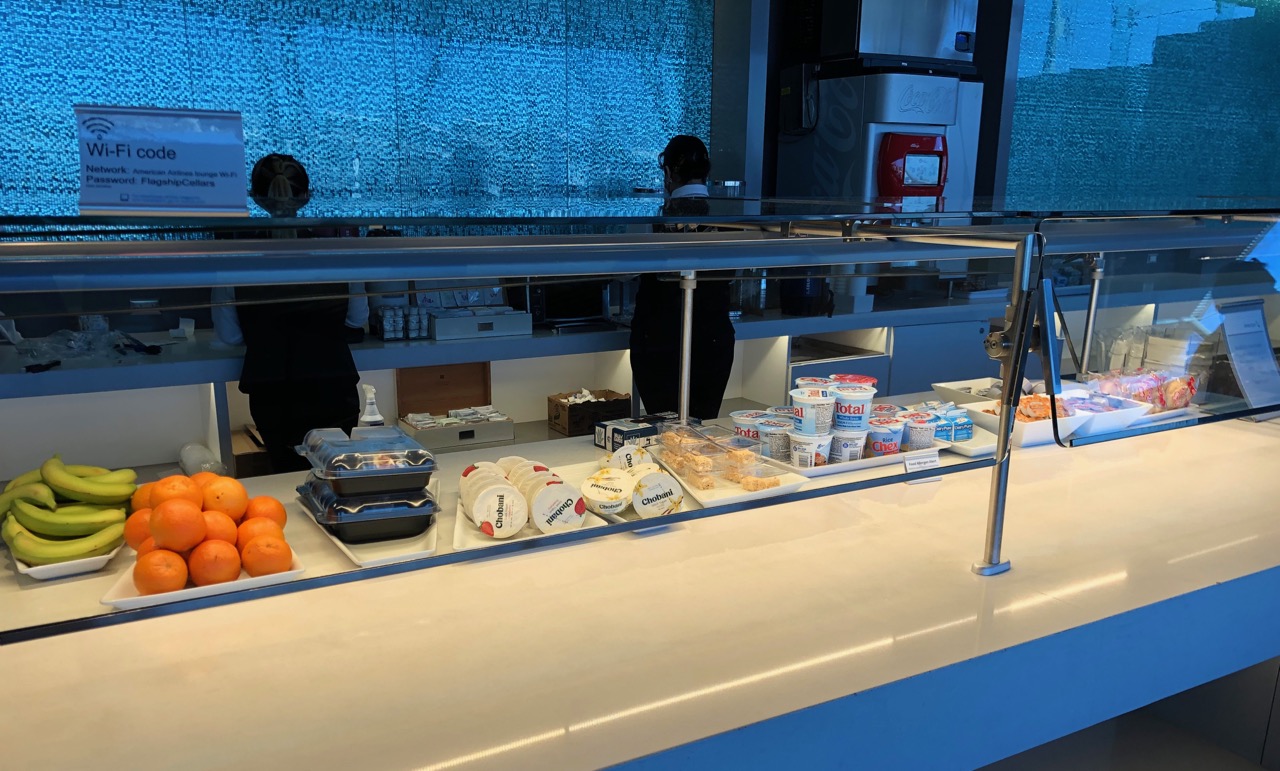 Breakfast, Admirals Club style.
Although buy options are available if you are so inclined.
---
Last edited by SFO777; Apr 4, 21 at

7:39 am
Apr 4, 21, 7:32 am
FlyerTalk Evangelist
Join Date: Nov 2007
Location: The OC • LAX-SNA
Programs: BA Gold, AF/KL Gold, AA LT PLT 2mm
Posts: 20,102
Los Angeles LAX to Mexico City MEX
American AA 2457
Oasis-ized 737-800
10:00am-2:30pm
April 1, 2021
Seat 3F
At 40 minutes before departure I headed downstairs to convenient Gate 40, located just across from the Admirals Club entrance. They were already boarding Group 7 by the time I arrived. Full flight today with lots of gate checked bags.
AA's dreadful new cram-em-in Oasis seating. Flimsy seat with no seat back video. This is a seat for 90 minutes max, not nearly four hours like today. Ugh.
Another gorgeous morning in Southern California.
Every passenger gets an AA baggie of water, Biscoff and sanitizer.
Open bar and sandwich bag.
Turkey Sandwich and chocolate chip cookie. Tumbler is from my DIY travel kit for crappy US3 domestic flights.
Turkey sandwich was actually edible. Much better than what UA or woeful DL offers.
Interesting scenery on descent to MEX.
Wow, there's a lot of people here... over 20 million in the metro area...
The long, long trek to Immigration.
Yikes. This terminal has seen better days.
The foreigner queue wasn't too bad... much better than the mob scene last year in Cabo.
LOL at these three dudes in full head-to-toe hazmat gear. Sheesh.
Apr 4, 21, 7:33 am
FlyerTalk Evangelist
Join Date: Nov 2007
Location: The OC • LAX-SNA
Programs: BA Gold, AF/KL Gold, AA LT PLT 2mm
Posts: 20,102
Since this was my first time at MEX, I had no idea where I was going and just followed the flow.
International departures sounds like a good direction to follow....
Definitely a conveniently location Hilton.
I turned left, followed a few more signs and lo and behold....
With nearly four hours before departure, I had plenty of time to check it out. Pleasant but meh atmosphere. Lack of any windows and view to the outside gave the place a bit of a dark, dungeon like feel.
On the other hand, staff was simply superb and attentive. Drinks are complimentary.
But food was not. There was a limited menu albeit with very reasonable prices. My wagyu burger was only 220 MXN or about 10.75 USD.
---
Last edited by SFO777; Apr 5, 21 at

8:15 pm
Apr 4, 21, 12:21 pm
FlyerTalk Evangelist
Join Date: Nov 2007
Location: The OC • LAX-SNA
Programs: BA Gold, AF/KL Gold, AA LT PLT 2mm
Posts: 20,102
enviroian
. That's too funny.
Thank you very much
injian
. This short trip was really a treat.
Thanks
Francis
. Worked like a charm. Even though they were two separate one way awards, a lucked out with a great Flying Blue agent who had no issue putting them both on one ticket. So it wound up being a regular connection, albeit an odd one.
---
Last edited by SFO777; Apr 4, 21 at

12:31 pm
Apr 4, 21, 4:08 pm
Join Date: Jul 2011
Location: In between IAD and DCA
Programs: UA Plat 1.1MM , Marriott Gold Elite, Hyatt Discoverist
Posts: 2,136
Great as always, SFO777. The picture in the cappuccino is quite the possibly the greatest attention to detail (if not even a little over the top!) I've ever seen from an airline employee on this forum. Holy cow.

And yes, when you land in places like MEX, you forget how big some cities really are. LA and NYC are massive, but still nowhere near places like Mexico City, Moscow, Tokyo, and Shanghai (and others) in density and size.
Apr 4, 21, 5:15 pm
Join Date: May 2010
Location: MidCal
Programs: UA 1K, UC, Lifetime HH Diamond, Avis President's Club
Posts: 212
Great report! Love the creative routings. And are you kidding me! That looks so much better than the Blue Label garbage United is serving. You will see- if you haven't already.
---
Last edited by glasman19; Apr 4, 21 at

5:21 pm
Apr 4, 21, 5:30 pm
FlyerTalk Evangelist
Join Date: Nov 2007
Location: The OC • LAX-SNA
Programs: BA Gold, AF/KL Gold, AA LT PLT 2mm
Posts: 20,102
FlyEndeavorAir
.
UAL250
. The effort she made to find a pic and then upload to the cappuccino was simply amazing. For those that haven't fast forwarded to SFO777.com, here is what
UAL250
was referring to...
---
Last edited by SFO777; Apr 5, 21 at

8:21 am
Apr 4, 21, 7:45 pm
Join Date: Jul 2008
Location: IAH
Programs: DL PM, AS 75K, Hilton Diamond, Starriott Platinum, Hyatt Ist-iest
Posts: 9,651
How was the burger at the CL MEX? I've never ordered from the paid menu, but my experience with the Amex lounges there is that breakfast is good, but the rest of the day menu is pretty forgettable. The margs are delicioso though!
I wonder how AF goes about catering the F meals. Guessing they double cater ex-CDG, since those meals don't strike me as something the local contractors would be capable of provisioning. I say that having sampled AM J's finest meals ex-MEX
Great start though. I'm not sure I'd have thought to time the covid test to be able to use the same one for the inbound EU and inbound US!