2020 Travels: Self-Drive Across Namibia + Ethiopian Airlines Business Class
Mar 1, 21, 5:12 pm
Join Date: Apr 2017
Location: Stockholm
Programs: SQ, SK, QR
Posts: 383
2020 Travels: Self-Drive Across Namibia + Ethiopian Airlines Business Class
---
PROLOGUE
​​​​​​Like any other keen adventurer, I spent a lot of time looking at coloured travel restriction maps in 2020. For quite some time Kayak's map was looking depressingly red across the entire Earth. At some point in September however, the red started to turn green in some African countries. And with that some crazy ideas (at least by the rest of the world's standards) were planted in my head.
Africa is by far my favourite continent, and safari my favourite vacation. I pondered possibilities to visit Zambia and South Africa at first, but squared on Namibia in the end. Somehow Namibia was significantly cheaper than surrounding countries yet looked just as – if not even more - incredible. This combined with supposedly easy self-driving and common-sense covid regulations made the choice seem like a smart one. In my mind at least; definitely not in my colleagues'.
As per my email records I first sent out an enquiry to a tour operator on September 18. Flights were booked by September 23 and accommodation finalised by October 2 for a departure just three weeks later. Time for an adventure!
The final itinerary ended up as follows:
Flights
- ARN-ADD-WDH (Ethiopian Airlines in Business, 787-9 / 787-8)
- WDH-ADD-FRA-ARN (Ethiopian Airlines in Business, 787-8 / A350-900 + Lufthansa in intra-European "Business", A320neo)
Five flight sectors, 12941 miles
Places
- 1 night in Windhoek at the start of the trip
- 2 nights in Sossusvlei
- 1 night in Swakopmund
- 1 night in Brandberg
- 6 nights in Etosha National Park
- 1 night in Otjiwarongo
- 2 nights in Windhoek at the end of the trip
Seven driving sectors, 1250 miles
Flights were booked for 104,000 Krisflyer miles + 135EUR. Accommodation was booked for a few less miles and a lot more cash.
Hope you enjoy the write-up!
Mar 2, 21, 1:27 pm
Join Date: Apr 2017
Location: Stockholm
Programs: SQ, SK, QR
Posts: 383
ETHIOPIAN AIRLINES 787-900 BUSINESS CLASS, ARN-ADD
​​​​​​When originally booking tickets, wide body aircraft were scheduled for all four medium-haul legs on Ethiopian. By T-1 week prior to departure, both ADD-WDH and WDH-ADD legs on 787s had been subbed out for 737-800s. And to my absolute horror Ethiopian had even put a 737 on the ARN-ADD flight the day before mine.
On departure day, I nervously checked FlightRadar24 to see if the inbound flight to Stockholm was still being operated by a 787. Thankfully this was the case. I would not have been a happy chappy if I burnt all my SQ miles on 6-8 hour flights in recliner seats with no entertainment...
Arlanda airport was quiet but not completely dead. Masks were worn by most people in the terminal, but I could not spot a single person in the SAS lounge rocking one. Welcome to Sweden. Food options were sparse and alcohol not available. I settled with a non-alcoholic beer and some light snacks.
The gate was relatively busy prior to boarding. I felt it was a must to photograph the hazmat suit man in front of me. I sure do hope one day soon such a sight will become a thing of the past...
Onboard I settled into 1A on the 787-900. It felt absolutely great to be back on a plane after a six-month absence, and even better knowing I'd be landing in Africa in just a few short hours. Today's load was very light in business with only four passengers occupying 30 seats. Although certainly not a net positive when considering the wider impacts, I must admit flying in empty cabins is fantastic!
Ethiopian's business class seats were nice enough, with ample padding, width and storage space. The entertainment screen was large and worked well, and the foot cubby in the front row is wide. Although not in the same league as many other airlines it certainly did the job. The only negative about the seat in my mind was that the storage space and armrests were absolutely filthy. It looked like they hadn't been cleaned in months.
1A/1C
Larger foot cubbies in the front row
The flight attendants were friendly although a bit slow with service. After some time acquainting myself with the seat one came over to offer champagne and some orange juice. I figured this meant DIY mimosas were a must...
Classy set up with the juice popper
Once in the sky dinner was served along with more bubbly. Menus weren't provided, but I believe there were three choices including beef and chicken. I can't remember what I ate but I do remember it was perfectly edible. Nothing more nothing less.
An interesting point to note is that mask compliance was not enforced at all on this flight, nor any other ET flights I took during this trip. Two out of the three other passengers did not wear their mask at all during the flight, whilst one wore theirs occasionally. This wasn't a problem for me since everyone was quite far from each other, but I was surprised the flight attendants did not seem to care.
Today's flight was only a smidge over seven hours, so after dinner I attempted to get what sleep I could before the early morning arrival into Addis. I managed a good few hours before awakening to a beautiful sunrise over picturesque Ethiopia. I decided then and there that I must pay a proper visit to the country sometime soon.
Beautiful green fields
Final approach
Mar 2, 21, 5:47 pm
Join Date: Apr 2017
Location: Stockholm
Programs: SQ, SK, QR
Posts: 383
ETHIOPIAN AIRLINES 787-800 BUSINESS CLASS, ADD-WDH
I was feeling very buzzed walking into the terminal at Bole International Airport. There was life around! Unlike Arlanda, the airport was quite busy and everything felt "normal" (potentially with the exception of facemasks).
I had heard ET's newly opened lounge was a significant upgrade to their previous dark and drab lounges, and was looking forward to checking it out during the two-hour layover. I was pleased to find out the lounge was well-decorated, modern and had a nice selection of food at the buffet.
After connecting to WiFi and letting family know of my safe arrival, I quickly checked ExpertFlyer, praying for a last-minute equipment swap away from the dreaded 737. I was somewhat shocked to see the 2-2 seat map replaced with a 2-2-2 one. Looks like the stars had aligned for me and a 787-8 was subbed on last minute. The first time that had happened on the ADD-WDH route since I started obsessively tracking a month prior. Woohoo! What a win.
At the gate, I enquired whether I could switch from 1A to another window seat a few rows back. The flight looked about half-full, and as 1C was occupied on the seat map I figured having a free seat next to me beat the vanity of sitting in the front row.
"What, 1A isn't good enough for you?" was the gate agent's response.
And an excellent response that was; I decided the switch wasn't needed.
Boarding was remote, and we were bussed over after a short wait. I was still half expecting to park up next to a 737, but Ethiopian's Star Alliance livery 787-800 awaited instead. Stepping out onto the tarmac next to a wide body will always beat boarding via a jet-bridge in my opinion
ET-ARF
Once onboard, I settled up the front and smirked happily when my supposed seatmate decided to sit down across the aisle. The plane had newer fully flat seats just like the ones on my previous flight. They were equally as dirty too.
787-800 cabin
1C/1A
Interesting traffic awaited as we taxied to the runway. This was the first time I've seen United Nations aircraft.
UN ERJ-135 and 767
Ethiopian 787 and A350
Take-off views were amazing.
I used to think flying business on a daytime flight was totally unnecessary. The same thoughts applied to flights shorter than five or six hours.
After reclining back and starting a movie in absolute comfort whilst the heat from the African sun streamed through the windows, I realized why people choose to jump up front whenever they can.
Because it's a bloody pleasant experience.
After another tasty but forgettable lunch, I took a short nap. Bed-mode on these seats is very comfortable. The armrest can be retracted to provide a bit more space, and Ethiopian provides thick green blankets plus good-sized pillows.
Bed mode
Little cocoon
Surprisingly a second meal was offered on this short five and a half hour flight. I wasn't particularly hungry after having eaten just a few hours before, but I also find it hard to say no to food when offered.
The landscape approaching Namibia was very dry and flat as expected.
African skies
The sky became cloudy as we neared Windhoek.
And soon we touched down at Hosea Kutako International Airport.
Arrival formalities were relatively pain-free. Once off the plane we were asked to join a long, distanced line snaking outside of the building onto the tarmac. Covid test results – which needed to be less than 72hr old – were checked multiple times, along with two separate health declaration forms. Since I was one of the first passengers off the plane, the entire process only took around 20 minutes.
I picked up my suitcase and was happy to see someone holding a piece of paper with my name on it. 45 minutes later, I was at my hotel in Windhoek ready for my journey across Namibia to begin!
---
Last edited by AJ747M; Mar 15, 21 at

6:26 pm
Mar 3, 21, 5:58 pm
Join Date: Apr 2017
Location: Stockholm
Programs: SQ, SK, QR
Posts: 383
DAY 1, WINDHOEK
​​​​​​My first day in Windhoek was a lazy one. Arriving at the hotel I dumped my bags, took a shower and exchanged my pants and shoes for a pair of shorts and flip flops (or thongs, if you speak Australian). No better feeling than arriving from cold, wet Sweden to a hot and dry climate.
Feeling fresh, I walked over to the hotel's bar and settled on an outside table for late lunch. I was very pleased to see milkshakes on the menu, and rather enjoyed downing my first one of about fifteen on this trip. This paired well with a chicken schnitzel.
Hotel Thule
Ahh...
Hotel Thule (pronounced tu-leh) is situated on a hill overlooking the neighbourhood of Klein. It's a laid-back place popular with locals for dinner and drinks. Looking around, it wasn't hard to see why.
View from the bar
By the time I finished lunch I was feeling absolutely shattered. Stockholm and Windhoek only have a one hour time zone difference, but the effects of the long journey were starting to wear on me. Potentially the heat as well. I retired to my room and tried to fight the urge to take an early evening nap, which would invariably turn into a longer sleep with a stupid-early wakeup. Tomorrow's five-hour drive to the desert would best be done feeling awake and alive...
Large and comfortable room. Ignore the shoes and socks...
Somehow, I managed to stay up and later walked back over to the bar for dinner. I tried to check out the restaurant located on the second floor of the main building, but was somewhat shocked to see a very crowded room. Being a little pandemic-nervous – and not wanting to be an irresponsible European tourist bringing the virus to relatively covid-free Namibia – I opted to sit outside instead.
Mar 3, 21, 6:01 pm
Join Date: Apr 2017
Location: Stockholm
Programs: SQ, SK, QR
Posts: 383
I think you've described it well there...a serviceable product, but not much more.
Mar 4, 21, 3:06 pm
Join Date: Apr 2017
Location: Stockholm
Programs: SQ, SK, QR
Posts: 383
DAY 2, ON THE ROAD TO SOSSUSVLEI
The day started with a buffet breakfast, where I met a young Swedish family on a grand tour of Africa. They own a safari company, and decided to take a long vacation whilst business was quiet. I was both inspired and jealous by their three-month itinerary which consisted of around seven countries and all the top national parks.
Croissants, cold cuts, cereal and yoghurt were enjoyed over the backdrop of Klein.
At 9:30 I met with the owner of the tour operator I booked through at the hotel. Nick, from Nature Travel Namibia (which I can highly recommend), handed a full itinerary for the two weeks to come, including information on all the places I'd be visiting, driving routes, vouchers for accommodation and more. We drove down to the car rental where I picked up my travel companion for the two weeks to come – a shiny 2018 Toyota RAV4.
My first task after being handed the keys was to stock up on food and water. Driving through the vast empty landscape of Namibia comes with a not small risk of being stranded for hours on end in forty-degree temperature. Substantial emergency rations seemed like a good idea.
This should have been an easy enough task to complete. It wasn't. After parking up on the main road across from the supermarket, I failed to figure out how to do something very simple – lock the car. Each time I stepped out and hit the lock button on the key, nothing would happen. This was a little scary since whilst I was trying to figure this out, one of the ten opportunists hanging on the sidewalk endlessly (and aggressively) advertised his services of "taking care" of the RAV. This went on for about five minutes until I finally gave up and drove back to the dealership.
Of course, when I told the dealer about the broken key it turned out that I was using it incorrectly. This rental computer on four wheels had a feature I haven't experienced on any other car. Auto-unlock. Pretty basic stuff, but I've not driven many cars. To lock it, I had to walk a few steps away before hitting the button.
I drove back, parked up and did my shopping. "Debotz" (whose name I can't quite recall, but it was very similar) got a little angry when I returned. His friend had overtaken car-guarding duties since Debotz himself was occupied when I returned from the dealer, and I hadn't followed through with my promise to let him do the job. A few minutes of haggling ensued, and in the end, I forked over more money than I should've, but less than they wanted. Both looked very disappointed when I backed out onto the road.
It took a few wrong turns, but eventually I made it to the highway leaving Windhoek. The scenery was filled with parched Earth and hills.
The first leg was an easy 95km to Rehoboth, a small town which I later found out has an interesting history (and interesting people!). This was all on tar road, but the rest of the journey would be on gravel. I pit-stopped quickly to grab an ice cream and deflate the car's tires before continuing on the dirt. My first time doing so.
The landscape changed quite a lot here, with rolling hills in a multitude of muted colours. I stopped for quite a few photos on the way.
RAV4 on the dirt
Maybe rations weren't need after all!
If you ask me, driving on gravel is tremendously fun. Having to constantly look for potential tire-popping objects keeps things interesting, and losing traction for just half a second every now and then had me grinning like a kid. I may or may not have tried to push the boundaries of my skid-controlling skills just a little.
A must-do when driving from Windhoek to Sossusvlei is the Spreetshoogte pass. I'll let the pictures speak for themselves, even though they don't really do any justice to the place.
At the bottom of the pass I stumbled upon my first Oryx. Despite being more than a hundred metres away, it was very camera shy and nervously ran off once I parked up. You can spot it somewhere below.
Spot the Oryx
The next stop was Solitaire, a tiny town – if you can call it that – in the middle of nowhere. Solitaire consists of the world's funkiest petrol station, a small guest lodge, a church and a whole lot of arid land. I stopped to fill up the tank and grab a bite to eat.
I soon ran into Springbok crossing the road near Moon Mountain Lodge, a very Mars-esque looking place.
Moon Mountain Lodge
The only traffic around
Entering the Namib-Naukluft National Park, I was greeted with the sad sight of an emu stuck in the fence. I thought about getting out of the car and seeing if I could somehow help free it, but decided against. It seemed dead already.
Roads in this area are incredibly wide and empty. I felt it was necessary to park up the RAV and grab some photos with this incredible backdrop.
Soon enough I arrived at Desert Quiver Camp, my base for the next two nights. Somehow, this was one of the more affordable places I'd stay in over the next two weeks outside Windhoek. I don't know why they don't charge more, because the property is absolutely stunning. I'd rate it the best spot I stayed in Namibia. The location and surrounding landscapes are out this world.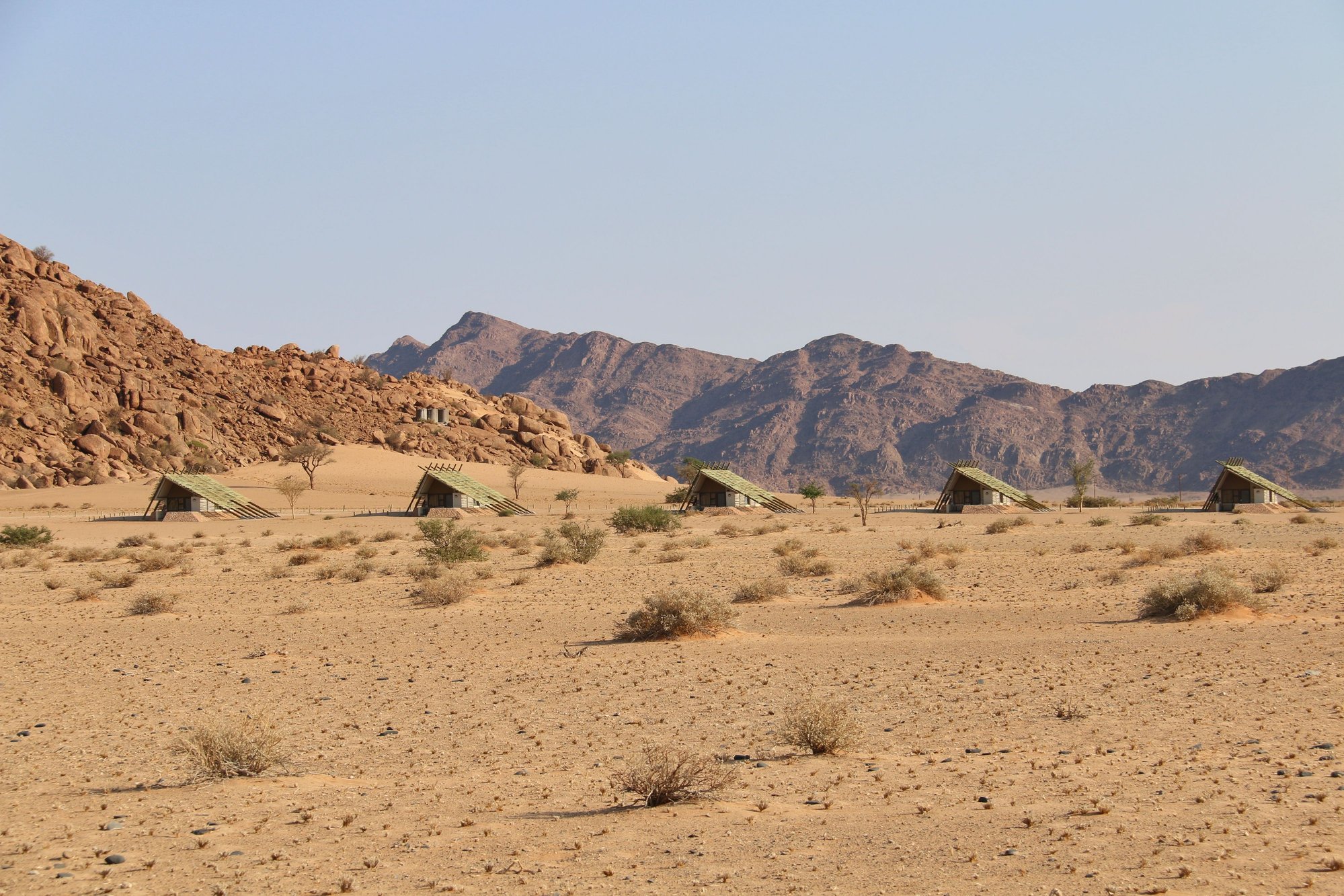 Desert Quiver Camp
My humble abode for two nights
I was dying to take a dip in the pool, but had to settle with dumping my bags and quickly making my way over to Sossusvlei Lodge for a sundowner drive. Desert Quiver Camp is self-catering, so I ate my meals at their sister-property five kilometers up the road. All activities departed from there too.
The sad state of tourism started became evident once I reached the lodge. I was told there were just a handful of guests staying over the next few weeks, in a time period where they're usually booked out months in advance. Today, I'd be the only one going for sundowners.
My guide was Enos, an incredibly friendly person from the north of Namibia close to the Angolan border. If my memory serves me correctly, he moved down to work in Sossusvlei because of an uncle doing the same. Facts were rattled off about fauna and flora in the Namib, and we spoke about life and work. I was excited to hear that big cats do exist this far south in the country; a helicopter pilot had spotted two cheetahs climbing a sand dune some time back.
Sundowner drive
Lone oryx
Our sundowner spot was at the bottom of a neat rock pile, looking over the desert expanse. Enos shared stories about his most memorable moments here, including being stalked by two hyenas and a wedding party lasting till 3am. I asked whether another encounter with the scavengers could be organized. It couldn't.
Sundowner spot
Surrounding landscape
This wonderful day ended perfectly: sipping a cold Namibian beer as the sun slowly disappeared behind the horizon.
Mar 4, 21, 3:09 pm
Join Date: Apr 2017
Location: Stockholm
Programs: SQ, SK, QR
Posts: 383
Awesome! What's your itinerary?
Mar 4, 21, 8:27 pm
FlyerTalk Evangelist
Join Date: May 2008
Location: San Francisco
Programs: GM on VX, UA, AA, HA, AS, SY; Budget Fastbreak
Posts: 25,992
Great first day in Windhoek with the car rental and desert drive. Nice milkshake.
I've never seen a car that needs driver to be further away from car before it locks. In San Francisco, I'm keeping the car locked even when pumping my own gas (petrol)! I lock the car with the key lock button as soon as I've closed the driver door.

ps how did the 15 milkshakes compare to what you have in Sweden and please post pics or flavor names of the milkshakes.
---
Last edited by gaobest; Mar 4, 21 at

8:28 pm

Reason: Kelis
Mar 5, 21, 6:33 am
Join Date: May 2014
Posts: 6,935
I'm absolutely loving this trip report,
AJ747M
! Love the photos and above all the witty writing. A great respite from a day of plan amendments & reporting.
If you ask me, driving on gravel is tremendously fun. Having to constantly look for potential tire-popping objects keeps things interesting, and losing traction for just half a second every now and then had me grinning like a kid. I may or may not have tried to push the boundaries of my skid-controlling skills just a little.
100% agree. I had lots of fun in Chile, especially considering that I had a well-beaten Nissan pick-up with so many gravel impact points that made it clear that AVIS had given up on caring about them!