Searching for Snow: Skiing in Colorado Again and Again
Feb 9, 21, 9:24 am
Join Date: Feb 2017
Location: Dallas
Programs: HHonors Diamond, Marriott Titanium, AAdvantage Platinum Pro, UA Silver
Posts: 644
Searching for Snow: Skiing in Colorado Again and Again
---
After returning from Tulum in December the GF and I had no real upcoming travel plans for the first time in a long time. However, with her having previously lived in Denver we knew some ski trips were in our future. On January 4th my Southwest promotional Companion Pass landed in my inbox, giving us 2 for 1 travel through the end of February (I've since gotten an extended CP through the end of June). With the weather in Dallas getting colder and the boat put away for the winter we jumped at the opportunity to go and do some skiing. We started with booking three RT's DAL-DEN for the last part of January and two weekends in February. With our Companion Pass extended through the end of June and some resorts having snow through May, we have many more ski trips in our future.
While I debated how much of these trips I was going to write or whether to write them up at all, I ultimately decided that there was enough content to warrant a TR. While there may be some gaps (because how much can actually change between the same flights two weeks apart) I hope you all enjoy the information and write-ups of the various ski resorts.
Planning
With the GF being an avid skier and having lived in Colorado for a few years we already held Epic Local season passes when Covid closed down the ski areas in early 2020. When reservations opened for the 2020-21 season we quickly signed up for our discounted passes, giving us access to a ton of resorts (Link below). The fall was spent spending time on the new boat, planning our Tulum trip and the holidays so before we knew it it was January and we still hadn't spend one day on the mountain. We booked a few RT's on WN for the latter half on January and February so at least we had our weekends booked.
While we have a lot of our own gear, the GF and I like to rent our skis because A.) they're a lot of hassle to store and fly around with and B.) we can switch out what we're riding a few times a year. Given that we were now in mid-January with no season long rentals we had to find a sports store that was still offering the full package. Thankfully, Colorado Sports Rent was still offering season-long rentals so that was our first stop when we made our first trip. Thankfully, we still have a base-camp in Denver so we would only need accommodations during the nights we would stay up on the mountain. We used a combination of hotels and rental properties depending on the size of the group we had going with us. Lodging in the ski areas can get expensive, so it may be more cost effective to rent a house with friends.
Hopefully you all enjoy this adventure along with us!
Helpful Links
Epic Pass: https://www.epicpass.com/
Epic Resorts:
https://www.epicpass.com/region/region-overview.aspx
Feb 9, 21, 10:05 am
Join Date: Feb 2017
Location: Dallas
Programs: HHonors Diamond, Marriott Titanium, AAdvantage Platinum Pro, UA Silver
Posts: 644
Off to Colorado: Breckenridge
---
With no meetings scheduled for Friday afternoon the GF and I left the house at 2:45 and we're pulling up curbside at Love Field less that 15 minutes later. While I usually try and fly with only hand luggage, that wasn't an option for this trip since we had all of our ski gear with us. We used the kiosk to check in and self tag our bags before heading through security which took less than a minute. While I'm not a regular WN flier I do love the efficiency and convenience of Love Field compared to DFW.
Once through security it was a quick walk to our departure gate. With only 15 minutes before boarding the GF popped into a store to grab a couple bottles of water and some snacks as WN has cut service back to a water cup and snack mix.

Southwest Airlines


WN 2713
DAL-DEN (Dallas Love Field - Denver International)
Seat: 16A (Economy)
B737-800 (N8602F)
Scheduled: 3:55p-5:00p
Actual: 3:50p-4:53p

Boarding went quickly and with the plane only about 2/3 full, everyone had a middle seat in their row. Boarding in the middle of the A group we managed to grab the best seat on the WN 738 with almost unlimited legroom. We pushed off the gate about 5 minutes early and after a short wait for arriving aircraft we took off to the Northwest. Once airborne I connected to the wifi to try and answer some last minute e-mails but it didn't play nice with my VPN which made working painfully slow. Giving up on that idea I instead kicked back and watched some live TV and soon we were descending into DEN.
since we were cutting it close to get across town to pick up our skis before Colorado Sports Rent closed, the GF headed to baggage claim while I took the shuttle straight to National to pick up our rental car. Given the stories and my own personal experiences there I knew it could take some time to get a vehicle. When I arrived the Executive Aisle was packed with cars but they were all 2wd sedans. Given that we were headed up into the mountains I spoke with the lot attendant and eventually he agreed to let me take an AWD SUV as I was an EE. Just as I was getting in the car the GF showed up with our bags and we made the 30 minute drive over to CSR to pick up our skis.
Covid barrier?
GMC Terrain AWD
One of the stranger gear selectors I've seen in a while.
After getting our gear we dropped our skis at the house and took an Uber over to Tupelo Honey to meet some friends who we were going to be skiing with the next morning. After stuffing our faces on biscuits and fried fish we called it a night as we had a 5am wakeup to head up to Breck. Our Uber driver back home had a full on candy bag sitting on the center console and I may have helped myself to a couple of AirHeads for dessert.
Feb 9, 21, 10:57 am
Join Date: Feb 2017
Location: Dallas
Programs: HHonors Diamond, Marriott Titanium, AAdvantage Platinum Pro, UA Silver
Posts: 644
Breckenridge: Day 1
---
Our alarm went off bright and early at 5:00a, we both had a couple cups of coffee while getting ready and after loading our skis and gear into the car we were on US 6 headed towards the mountains by 5:45a. As the locals say, you have to be on 6 by 6 if you have any hope of beating the traffic up to the mountains. We met up with our friends from dinner at the I-70 merge and convoyed over to Frisco. The road was clear all the way up to the Eisenhower Tunnel and while we hit some traffic and snow flurries on the West side of the Continental Divide we still made it to Frisco in a little over an hour. We stopped at the Safeway to grab some snacks before heading into Breckenridge.
Our hotel, which is located at the end of the Four O'Clock to Town ski run, allowed us to park for the day before our check in. With first chair not until 8:30, we moved our gear to our friends car and headed into town to grab breakfast.
We stopped at the Cool River Coffee House for some breakfast sandwiches and coffee before heading for the mountain. With full, warm bellies we drove up to the Beaver Run parking lot, located right next to the Quicksilver Superchair. With it being Breckenridge, you're sure to see some eye-catching vehicles in the parking lot.
After putting on our gear and skis, we managed to be on first chair up the mountain for our day of skiing.
I bet this thing would be fun in the snow
Once up on the mountain, I was pretty surprised by the lack of snowfall. Everyone we had spoken with said that the mountain was low on base, but I was surprised by how low it was in late January. For those of you familiar with Breck, all of Peak 6 and the south side of Peak 9 were closed during our trip. Many of the runs had rocks and sticks poking through the snow and there were a couple of moguls where you were just as likely to hit dirt as you were snow. However, we still managed to have a good time and thankfully had fairly short wait times for all of the lifts.
Because of Covid, all of the indoor seating in the lodges is by appointment only. You have a 45 minute window to eat and warm up before the next group is seated. With our reservation at the base of Peak 10, we spent most of the day on Peak 9 and 10. I found 9 to be the easiest to move around on because there are multiple lifts that will take you to the summit, as opposed to some of the others that only have one chair.
No eating or drinking inside without a reservation. The coffee cooled off quickly but the beer stayed nice and cold
We skied until about 3:30 when we split from our friends who headed back to Denver while we went to check in to our hotel. We were able to ski right up to the front door which was very convenient.
Feb 9, 21, 6:15 pm
Join Date: May 2010
Location: MidCal
Programs: UA 1K, UC, Lifetime HH Diamond, Avis President's Club
Posts: 214
Great Report! Sorry to hear about the lack of snow at Breckinridge. Copper had 12" of fresh powder from Friday night, the 5th and the conditions on Saturday were fantastic. Looking forward to the rest of the report.
Feb 9, 21, 6:50 pm
Join Date: Feb 2017
Location: Dallas
Programs: HHonors Diamond, Marriott Titanium, AAdvantage Platinum Pro, UA Silver
Posts: 644
Thanks, we've been going every couple of weeks as the GF is a huge skiing fan
Feb 9, 21, 7:25 pm
Join Date: Feb 2017
Location: Dallas
Programs: HHonors Diamond, Marriott Titanium, AAdvantage Platinum Pro, UA Silver
Posts: 644
River Mountain Lodge: Breckenridge
---
For our one night stay in Breckenridge, we decided to stay at the River Mountain Lodge, which is conveniently located right across the street from the Four O'Clock to Town ski run. The lodge operates as a semi-hotel, with all of the units/rooms being individually owned but rented out to visitors and, unlike a typical AirBNB or VRBO, they have a centralized front desk and use keycard access.
The lobby had a small restaurant (closed due to Covid), a reception area, and a meeting room that had been converted into ski storage for the guests.
For our stay, we had reserved the "studio" portion of a three bedroom condo on the second floor. The studio gave us the kitchen, living and dining areas along with a full bathroom. The three bedrooms were blocked off for our stay, presumably rented to other groups as they all had hall access. Our bed was a Murphy bed type which was more than sufficient for our one night in town.
The room overlooked the interior of the lodge grounds, facing the pool area.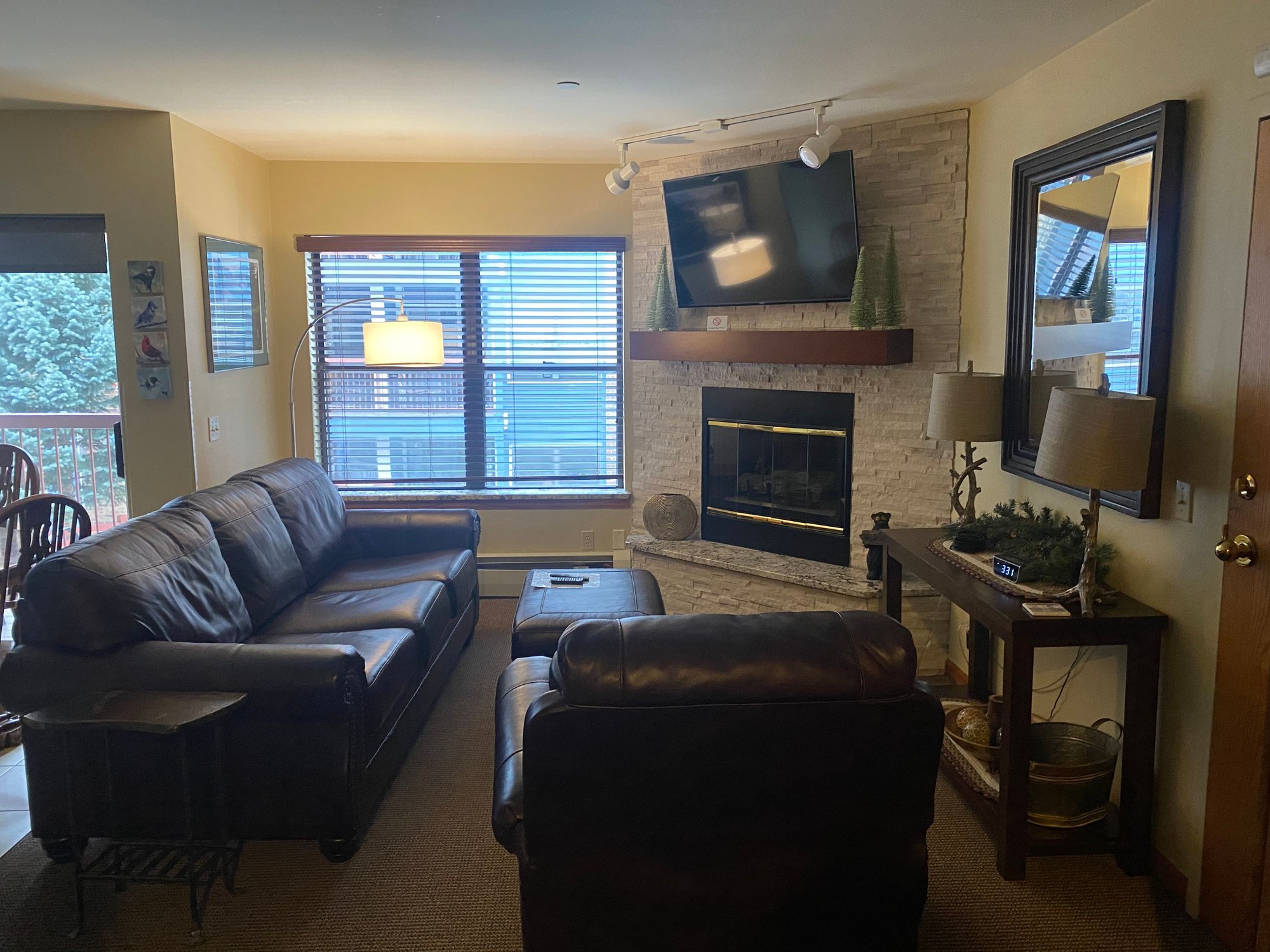 Because of Covid, all of the lodge amenities were by reservation only. We managed to grab a 30 minute hot tub booking shortly after our arrival to relax our muscles from a long day on the mountain.
After changing out of our ski gear and a hot shower, we headed over to Main Street to meet up with some friends for dinner at Rootstalk. It was a quick walk along the path from the lodge over to the restaurant where we were had reservations in advance and were seated almost immediately.
We started with cocktails and ordered some mussels and spinach and artichoke dip while we looked over the menu. I started with The Brakeman before switching over to a Buffalo Trace as I wasn't a fan of the sweetness of the first beverage. This led to one of the strangest interactions I've had with a restaurant server. When I ordered the Buffalo Trace on the rocks, she asked if I wanted to keep the same glass my first drink had come in. When I said no, she told me that she would have to charge me an extra dollar for the ice block in the new drink (even though they had regular ice and I hadn't requested it). I told her that was fine and she brought the drink with no further questions and the extra $1 wasn't on the bill. Minor in the grand scheme of things but still odd.
For my main I went with the sea scallops which were out of this world. After dinner, we made the short trip back to the lodge and called it a night, as we had another big day of skiing ahead of us.
Feb 9, 21, 7:27 pm
Join Date: Feb 2017
Location: Dallas
Programs: HHonors Diamond, Marriott Titanium, AAdvantage Platinum Pro, UA Silver
Posts: 644
Feb 10, 21, 8:30 am
Join Date: Feb 2017
Location: Dallas
Programs: HHonors Diamond, Marriott Titanium, AAdvantage Platinum Pro, UA Silver
Posts: 644
Breckenridge: Day 2
---
After a solid night of sleep we were up slightly later than the day before (one of the perks of staying on the mountain). Some of our Denver friends met us at the lodge and we walked back over to Cool River for another round of breakfast sandwiches. Afterwards, we went back to the hotel, loaded our bags into the car and changed into our ski gear. Checkout was efficient and we were able to keep our car at the lodge throughout the day which was a nice perk, given how expensive parking can get around the slopes.
Right across from the front doors was a bus stop and after a quick 5 minute ride, we were dropped off at the bottom of the Snowflake lift for first chair.
The Snowflake chair drops you off fairly low on the mountain between the bottom of Peak 8 and Peak 9. Given that we had a lunch reservation at the Ski Hill Grill at the base of Peak 8, and had spent the day before mostly on Peak 9, we headed off to Peak 8 and on to Peak 7. While Peak 8 has multiple lifts (similar to Peak 9), Peak 7 only has the one Independence SuperChair serving a ton of runs (mostly blues). This led to some massive lines for the chair lift and we quickly backtracked over to Peak 8 where we had a few more options.
Independence SuperChair lift line
After warming up during our lunch reservation, and eating some overpriced, sad looking chicken strips, the GF and I split for the afternoon. She and half of the other couple went to ski the Blacks out in the bowl while the other member of our group and I headed to Peak 9 to try our hand at moguls for the first time.
After an afternoon skiing Peak 9, we all met back up at the top of Peak 8 and took the Four O'Clock to Town all the way back to the lodge where we loaded up our car and headed towards town. Due to traffic and the rapidly increasing snowfall, we opted to take 285 back as opposed to 70.
Feb 10, 21, 9:25 am
Join Date: Feb 2017
Location: Dallas
Programs: HHonors Diamond, Marriott Titanium, AAdvantage Platinum Pro, UA Silver
Posts: 644
Feb 10, 21, 9:41 am
Join Date: Feb 2017
Location: Dallas
Programs: HHonors Diamond, Marriott Titanium, AAdvantage Platinum Pro, UA Silver
Posts: 644
Feb 10, 21, 11:50 am
Join Date: Sep 2007
Location: HKG
Programs: JL/JGC Diamond (OWE), AS MVPG, AA LT Gold 1MM, A3 *G, Marriott Plat, Hertz 5*, National Exec
Posts: 3,308
wakesetter93
, are you supposed to be able to see a snowline in the winter like that?
The valley look so lacking in snow
Granted I think Pacific Northwest hasn't been much better, it's been unseasonably warm this winter (until this week).
Hurray "Arctic Outflow" Warnings 🤗
Daytime High of 10C/50F and Rain is not Canadian winter 😒
Nor is hiking up to 2500ft in the local mountains and having zero snow on ground in Mid January normal either 😞
Granted I'll take a raincheck on tonight's low for YYC of -35C/-31F with wind chill of -44C/-47F 🥶🥶
Snow Season Total for the local ski hills here are
- 198in/504cm
- 240in/609cm
- 251in/638cm
Even though the view from the city doesn't feel like that at all