Un ballo in maschera?!
Jul 29, 20, 9:29 am
Un ballo in maschera?!
---
This trip report is special.
Iīm a big fan of Italy, their food, fashion and Opera. During my trip last year I liked 2 restaurants of Enrico Bartolini and when I saw his Milan restaurant got a third Michelin-star I wanted to try it. As I also always wanted to see a perfomance at the Scala Milano and always like to shop there it was clear, it should be another trip to Italy. In the end I booked 4 nights at Park Hyatt Milano, 3 nights at Melia Genova (perfect to do Pavia on the way), 4 nights at Castello Guarene (to visit Piazza Duomo in Alba) ánd 3 nights at Chedi Andermatt. On our third day in Milano I wanted to book tickets for the Scale. On the program: Un ballo in maschera by Verdi.
While all my reservations were cancelable I was to get a very good deal at Melia Genova for their Presidential Suite during their black friday sale. No risk in my eyes......
In March I began to doubt it would be a good idea to go to Milano in July, so I canceled first Park Hyatt, later Castello Guarene and Chedi Andermatt. I tried to get also my Genova Reservation canceled or at least to change the dates. I never received answers on my e-mails.
End of May the situation relaxed and I saw a chance to do my trip. Unfortunately during the second week of my planed trip I had now already appointments at my office, but still some time. I saw Mandarin Oriental Milano now offered very good rates so I booked it, but after a short while it was pretty clear the hotel will not re-open in July, same with Park Hyatt. Also limitations in Milano seems to be still more present and the Scala is still closed. Btw I wouldnīt visit a theatre at the Moment if not necessary. So we decided to skip Milano and do it another time (Iīm sure I also need new clothes next year
). Therefore we now planned to shorten our car traveling distance on one day and booked 2 nights at the front at Victoria Jungfrau Interlaken, 1 additional nicht at Melia Genova and 2 nights at Park Hotel Vitznau. One reason was, that I had at the last day a court trial I could do on the way home. Of course this was canceled during my time in Italy (had all deeds, suit and robe with me), but thatīs another story.
BUT - we were not ready. We decided to add a few nights as I were able to "clean" a few days in the week before and I was sad I couldnīt visit Guarene. Also over 1000 Kilometers each way must pay out. So I planed to move the Interlaken reservation and to book 4 nights at Castello Guarene instead. I was also happy to be able to catch a table at Piazza Duomo, normally not possible only 3 weeks in advance. After I canceled my Interlaken reservation I had to learn, that the very attractive 2 for 1 offer ended 2 days before and they now claimed the double price. No thanks! But I found an alternative, the Four Seasons Geneva. Before I booked it I found out Villa Crespi at Lago di Orta also offered pretty good rates. Only Problem: Itīs a 10 hours drive from home and a stay in Switzerland should shorten the drive. In the end we thought a stay at Lago di Orta with Lago Maggiore next door would be more attractive than a stay at Geneva (without question a nice city, but main reason for the stay would have been the FS to be honest) and we booked 2 nights at Villa Crespi. We were also able (with some problems first) to reserve for both evenings a table at their 2 star restaurant.
So this was our liternary:
2 nights Villa Crespi Lago di Orta
4 nights Castello di Guarene
4 nights Melia Genova
2 nights Parkhotel Vitznau
And the best Thing: It happened! So stay tuned for the report.....
Jul 29, 20, 11:53 am
Join Date: Sep 2019
Location: UK
Posts: 185
Jul 29, 20, 4:34 pm
No! The place of the trial would have been on the way. You have to attend in person. When I attend a trial I have to wear my robe (mandatory). Also I always wear a suit with a white shirt and a tie (not mandatory). So I had all with me (didn't need it otherwise during vacation) as well as the deeds. I especially extended my vacation to be able to be at the court this day.
Now - as the trial was moved - I have to drive 500 km each way to attend. Would have been much more convenient on the way.
Jul 30, 20, 9:42 am
Jul 30, 20, 2:20 pm
Furkapass
---
On the way to Italy I decided not to drive through the Gotthard tunnel and to drive over the Furkapass instead. A good decision.
First stop:
Next stop was the (former) hotel Belvedere and the Rhône Glacier. Normally they have a cave inside the glacier this time of the year but due to Covid-19 everything was closed.
Not a great view on the glacier
Last stop at Simplon Pass
Jul 31, 20, 4:10 pm
Villa Crespi
---
Villa Crespi was an interesting hotel from the beginning as the design looked unique, it has a 2 star restaurant and it gets good reviews at the Luxury Forum. The reason I didnīt book it first time was I already booked 4 different hotels and we thought it would be unconveniant to drive directly from Germany to it. Shortly before I booked FS Geneva I saw they offered quite good rates. Also Iīm irritated by meal prices in Switzerland. While I get a 2 star meal in Italy for around 150 €, the easyly Claim 300 CHF in Switzerland.…..
In the end I booked Crespi, especially as my GF is an Orient fan, you will understand later. As a room I choosed Rania suite, one of theit 2 Master suites. The other Master Suite is Sheherazade. While both suites share the same floor plan and more or less furniture in different colors Rania is located at the first floor and Sheherazade at the second. Price diiference was over 250 € per night and I didnīt see the reason to pay the premium.
Before our Arrival I was very unsure as it was our first stay under new circumstances and especially in Italy. When we arrived our fears were washed away. While staff had masks on only few guests had. We were greated very friendly, our car was parked around the corner and check-in very fast after we had send copies of our ID-cards via E-Mail. We were shown our room and it was really unique. We both liked it. What you mustnīt expect is a large park or pool. Itīs both not there. Also the hotel is located at a street, so not very silent. Nevertheless we didnīt have any noise problems. Service was very attentive all the time, really a pleasure. Here some pictures:
The building and park:
The lobby and hallways and bar: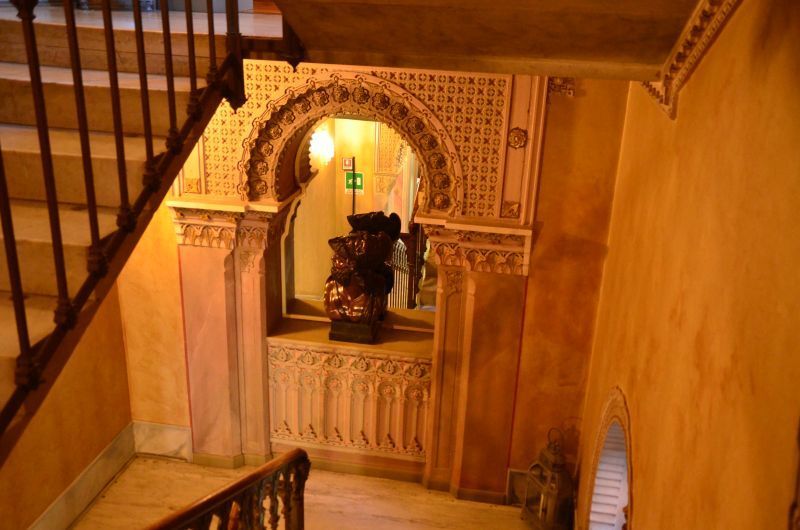 Our suite:
Breakfast was served in room and just OK. It was perhaps the weakest part.
Will report about the restaurant later
Aug 1, 20, 8:32 am
Agrigelateria
---
One of my favorite things in Italy is eating gelato. In a guide I read a good one would be opposite of Villa Crespi. We read they only use biological ingredients and their own milk. So our first tour was to this place. Not spectacular from outside:
The gelato was tasty.
Aug 2, 20, 3:21 am
Sacro Monte d'Orta
---
Near the hotel is the Sacro Monte. This Sacro Montes are typical for the region and are part of UNESCO world heritage.
First up the hill:
There are 20 chapels and one bigger church. Due to Corona most chapels are closed and you could only look in through grids. Hard to take pictures. There were great views on Lago dīOrta.